12 Must-Try Food Items at Disney California Adventure's Festival of Holidays 2021
Festival of Holidays is back at Disney California Adventure. One of the best things about this seasonal celebration is the many unique food items that are only available during this time of year. There's so much good food this year that we couldn't just pick a top 10, so here's our our top 12 must-try food items at Disney California Adventure's Festival of Holidays 2021.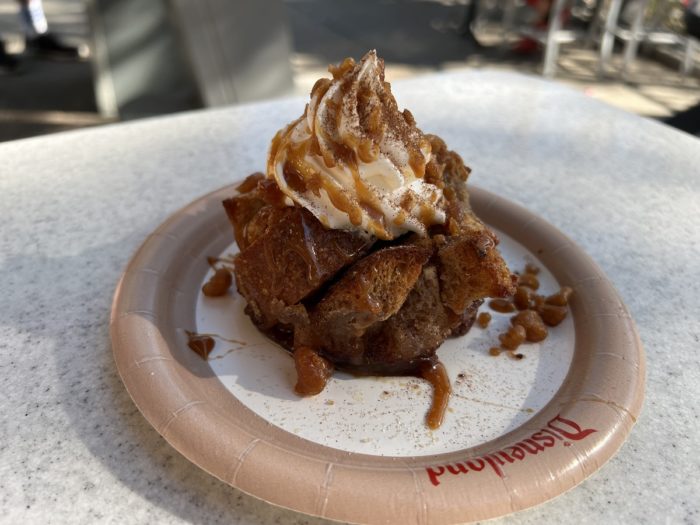 Apple Fritter Bread Pudding – Pacific Wharf Cafe – $11.49
I can't think of many things on this earth better than some wonderful gooey bread pudding. Pacific Wharf Cafe changes up their bread pudding every few months and this apple fritter variety does not disappoint.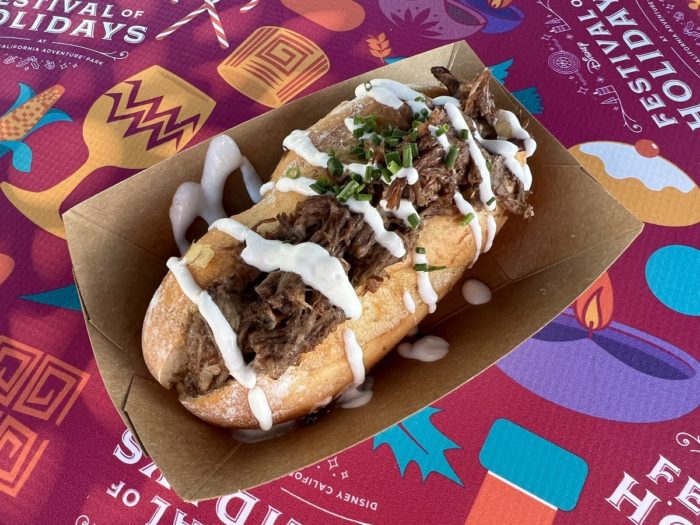 Beef Pot Roast on Potato Roll – Winter Sliderland – $8.50
$8.50 gets you a generous helping of perfectly tender pot roast on a soft potato roll. The horseradish sauce gives the slider a perfect amount of heat. There's nothing exotic about this one, it's just perfectly executed and tastes great.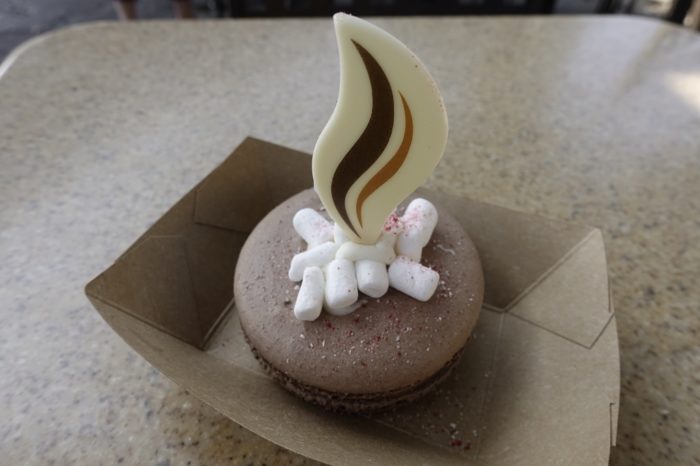 "Hot Cocoa" Marshmallow Macaron – Making Spirits Bright – $5.50
This is a returning favorite from 2019. First of all, take a look at the presentation on this thing. I really like that it looks like a campfire. Second, the taste is very good. It really does taste like a cup of hot cocoa with marshmallows. This item is especially sweet, which may turn some people off. But luckily that leaves more of your precious macaron to eat on your own.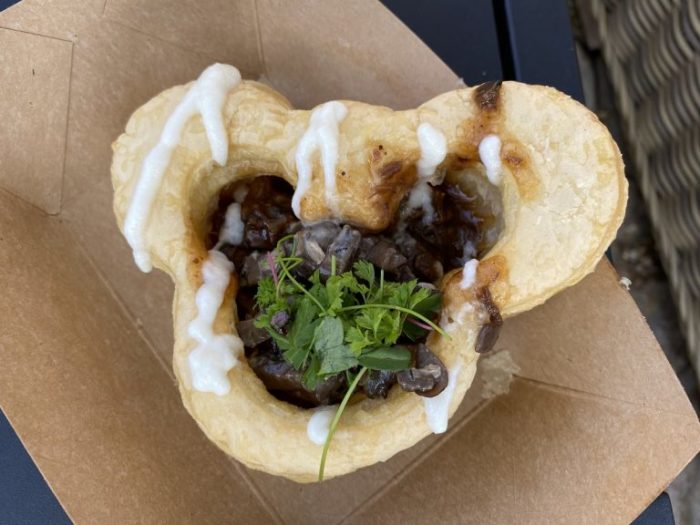 Reimagined Beef Wellington – A Twist on Tradition – $8.50
Another item returning with a bang from 2019 is the Reimagined Beef Wellington. This was my favorite item from the Festival of Holidays and I'm happy to report that it's still excellent. Also, shockingly it did not go up in price. It has a generous portion of beef, wonderfully flaky pastry, table service quality ingredients, and it's Mickey shaped. What more could you want?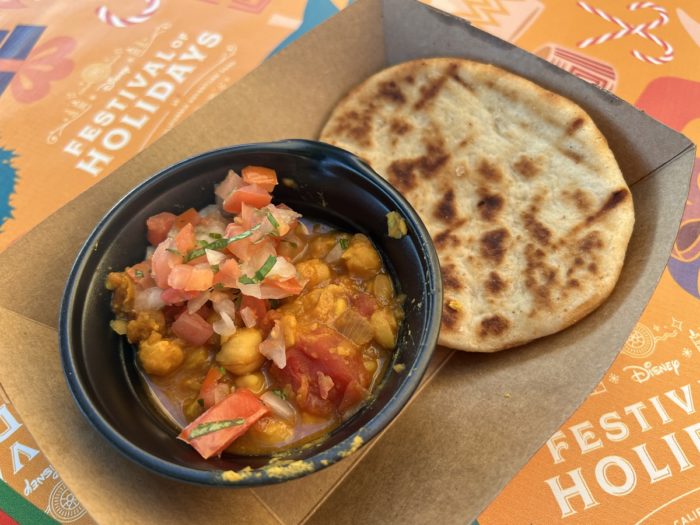 Chana Masala with Grilled Garlic Naan – Favorite Things – $7.00
This was easily one of my favorite items from this year's lineup of holiday food. It makes me wish that Disney would permanently add something like this to one of their quick service dining locations.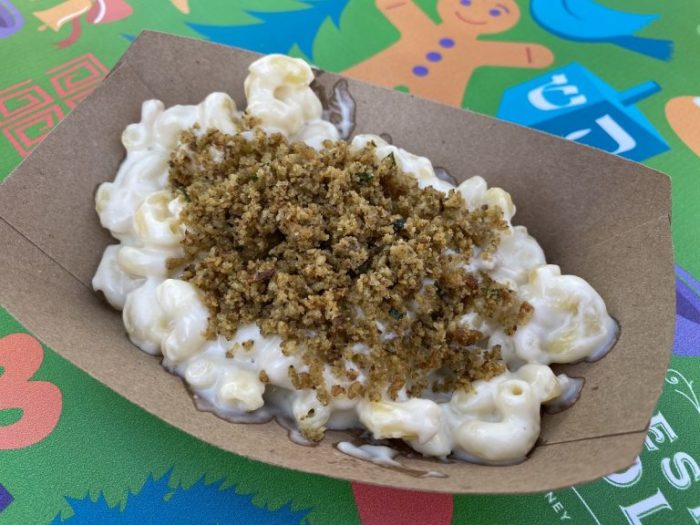 Holiday Stuffing Mac & Cheese – Favorite Things – $7.75
The rich and creamy mac & cheese blends perfectly with the stuffing, which has a wonderfully pleasant crunch to it.
Churro Toffee Cold Brew (Non-Alcoholic) – Holiday Duets – $6.50
You really can't go wrong mixing toffee and churro flavoring in anything. I feel like some people will find this drink too sweet, but if you can handle the other desserts on this list you won't have a problem. Also the Churro Toffee Cold Brew is over $1 more than the cold brew drinks found at the Starbucks on Buena Vista Street, but at least you get some interesting ingredients here that aren't available otherwise.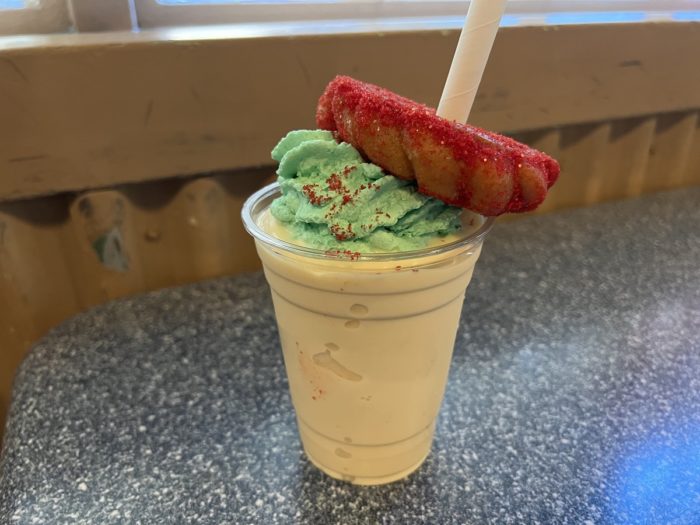 Holiday Shake – Smokejumpers Grill – $8.99
The holiday shake includes green whipped cream, a red "wreath" donut, and a sprinkle of cinnamon spice. This was a darn good shake! The spiced toping, which give a similar sensation of Hot Tamales candies, really sets it apart. What's better than one dessert? TWO! The Holiday Shake includes a donut. Ask for an extra cup and and then pour half of the shake in it so you save some stomach space for the other items on this list.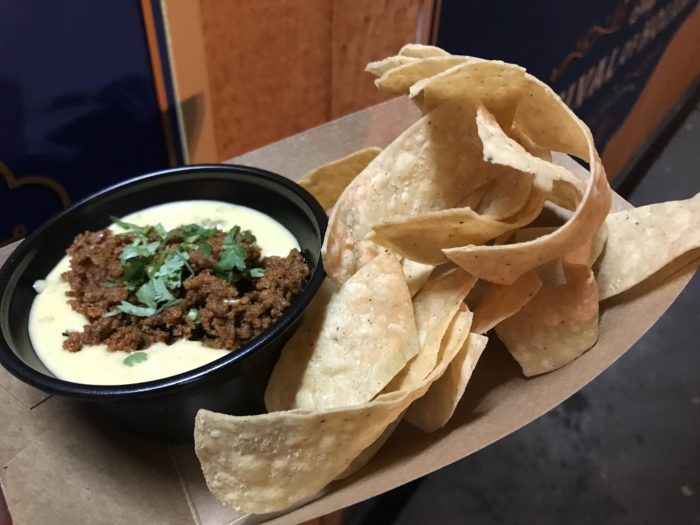 Impossible Chorizo Queso Fundido – Brews & Bites – $7.00
The Impossible Chorizo is sinfully good. If Disney didn't tell us the chorizo was plant based we would have never known the difference, it's that good. The saltiness of the chorizo and chips make this a perfect item to balance out the sweetness of any mixed drinks or desserts you'll be getting. This dish is also easily shareable with a group of people.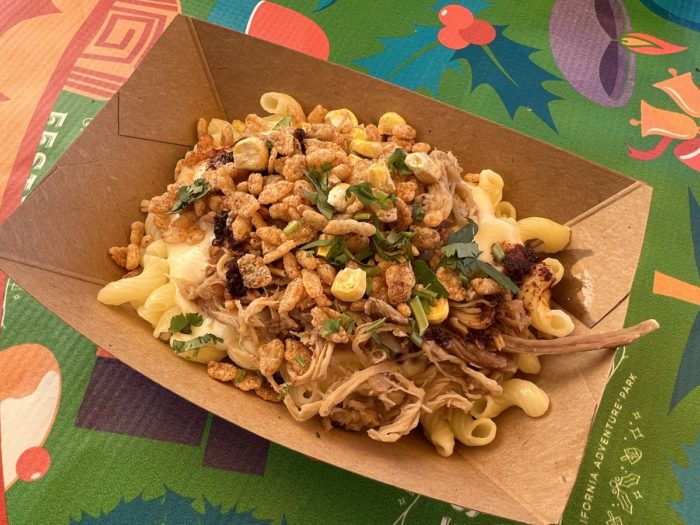 Esquites Carnitas Mac & Cheese – Merry Mashups – $8.00
Shout out to Disney for putting effort into yet another mac & cheese dish. The included carnitas is flavorful and the spiced puffed rice added a satisfying crunch. Mac & cheese lovers should not pass this one up.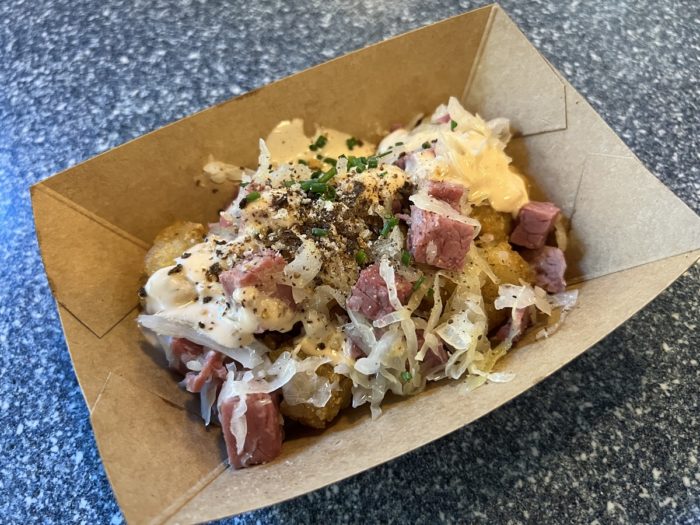 Reuben Potato Bites  – A Twist on Tradition – $7.00
The Russian dressing and sauerkraut give the Reuben Potato Bites a unique flavor you don't find in other Disneyland Resort dining options. We like how substantial the meat and potato bites make this dish feel, especially for $7, which is low compared to other Festival of Holidays options.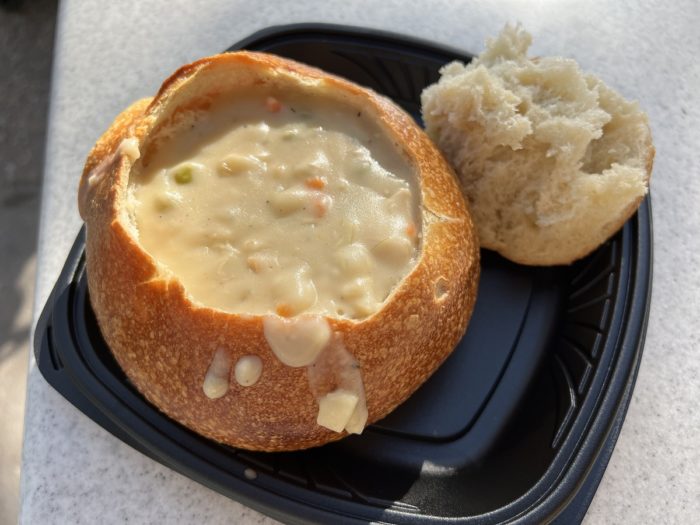 Turkey Pot Pie Soup Bread Bowl – Pacific Wharf Cafe – $11.49
Disneyland bread bowls are hearty and delicious. Also, the bread is made fresh on site so it's extra soft and fluffy. The Turkey Pot Pie Soup is my personal favorite of any park's seasonal bread bowls and I go out of my way to get it every year. The soup itself is rich and creamy, and tender chunks of turkey make this a must-have Festival of Holidays food item.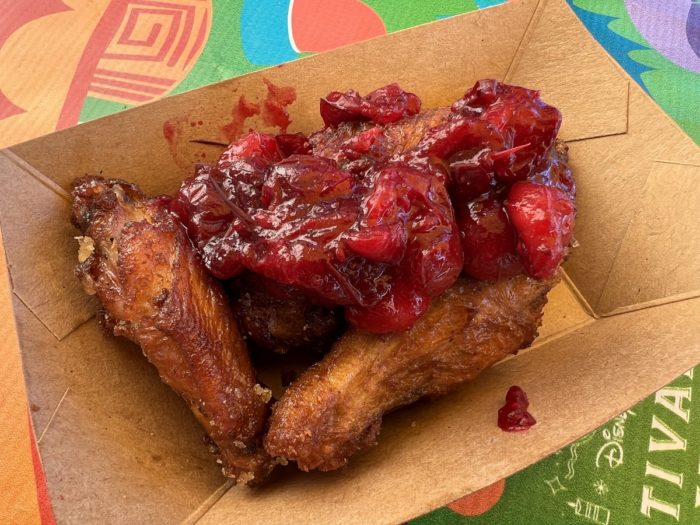 One to Avoid: Holiday Spiced Wings with Citrus Cranberries – Merry Mashups – $8.00
There is a reason why you don't see cranberries served on top of chicken wings very often. It's because it's a horrible mix. The wings included in this dish are also not great. Imagine the pizza shop you went in to on your last vacation. You're in an unfamiliar part of town and you're desperate for food. The 2.5 star rating on Yelp is "good enough" so you go in and get some 'za and an order of wings. As you scarf down the wings in your hotel room while watching reruns of Forensic Files, you turn to your significant other and you say "We wasted 10 bucks on these things, didn't we?" That's the same feeling these wings evoke.
The Christmas season is here and crowds are picking up at Disneyland Resort. Be sure to check out our Disneyland Crowd Calendar, which rates every day of the year on a scale of 1 to 10 so you can see how busy Disneyland and DCA will be during your visit. Also check out our Disneyland Touring Plans. These itineraries can show you how to beat the crowds and spend less time in line at your favorite rides. Our Touring Plans can also be personalized! All of our tools are used by hundreds of thousands of visitors each year and are constantly being updated by our in-park team of researchers and data scientists.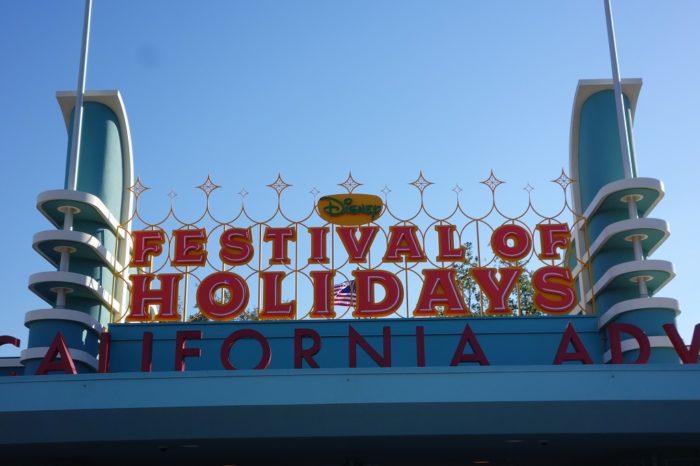 What are some of your must try food items at Disney California Adventure's Festival of Holidays? Did we miss out on any that you enjoyed? Let us know in the comments.