The Best Queues in Walt Disney World
I do not like waiting in lines. I'm an impatient person and I always have been. But I do love Disney World so you can see how this could be a problem for me. Thankfully, Disney is all about making every experience at their parks magical. Yup, even the waiting in long lines part. Over the past several years, I've noticed a trend at Disney Parks where many attraction queues have been getting special care and attention to become more immersive and interactive. Of course, not all lines, waiting areas and queues are created equal. Some attraction queues are done so well that they feel like a natural extension of the attraction itself while others are indistinguishable from waiting in line at the bank only if the bank were outside in 90 degree weather and the customers all wore fanny packs and mouse ears. What was my point again? Oh right, the lines. Some Disney World lines are just a cut above the rest. These selected attractions below feature the Cadillacs of queues. They'll have you saying, "Wow, look at those suckers with Fast Passes. They wish they could experience this line!" In all seriousness, though, I always appreciate excellent Disney Imagineering and I really believe that these queues are representative of that.
At this point, some of you might be thinking, "That introduction paragraph was really long. Why was it so long?!" Well, it is an article about waiting in lines after all…
Without further ado, here, in no particular order, are my personal best queues for attractions at Walt Disney World:
Peter Pan's Flight
Video by Seth Kubersky
If Disney gave out Most Improved Awards, the queue for Peter Pan's Flight, which you can view above, would most certainly be a frontrunner. Before the refurbishment, guests simply had to wait in a long line that practically extended into Liberty Square. It's still a long line but you'll now get to walk through the Darling children's nursery with plenty of effects and interactive elements that kids will love. The new queue effectively extends the entire experience and arguably becomes a part of the attraction, which is a trend that I don't expect Disney to stop anytime soon. Good job, Imagineers.
The Sea with Nemo & Friends
The Sea with Nemo & Friends is a rare inclusion on this list because it not only features a fantastically themed queue but it's also a regularly short wait as well. What's better than that? The coolest part about the queue at Nemo is that you actually feel like you're going on a journey before the ride even begins. When you first enter the indoor portion of the queue, you're on the shores of an Australian beach but you eventually end up on the ocean floor. What's really remarkable about this transformation however is that it's not sudden. Through each of the themed portions of the queue, you'll slowly go deeper and deeper into the ocean. For example, at one point, you're just underneath the surface of the water and you know this because you can see the bottom of a fishing boat if you look above you. Coupled with serene music that completely captures the quieter moments of the film, the queue for The Sea with Nemo & Friends is like taking a peaceful walk in the park only if the park was underwater.
The Twilight Zone: Tower of Terror
Confession time: I've never been more scared to go on a Disney attraction than I was when I first saw that tall foreboding building almost twenty years ago. I actually chickened out the first time and didn't go on it until my second trip back there. I think what made it even scarier though was the mood that the queue created leading up to the actual attraction. As you walk through the garden and lobby before eventually making it up to the boiler room area where you'll enter your service elevator, the one thought going through my mind was just how creepy this whole place was. Disney is really good at making something new look old when they want and the Hollywood Tower Hotel looks like the decrepit remains of a formerly glorious and lavish hotel. I also have to give credit to some of the best cast members in Disney when it comes to staying in character. I love seeing a park guest ask one of the bellhops something only to be greeted with a monotone response that's both hilarious and a little scary. The actual ride of Tower of Terror may be over in a few short minutes but the tension that builds up as you wait in line makes the entire experience that much better.
Haunted Mansion
I would've put the Haunted Mansion on this list even before they added the interactive elements. I love its funny tombstones and arguably the best pre-show in all of Disney World. The room stretches! Unlike the Tower of Terror, the Haunted Mansion skews a little more towards funny than scary so younger kids will probably enjoy it more. Just make sure they don't look straight up at the end of the pre-show or they'll be treated to a surprisingly dark side of Disney Parks storytelling that you don't see too much of anymore.
Star Tours—The Adventures Continue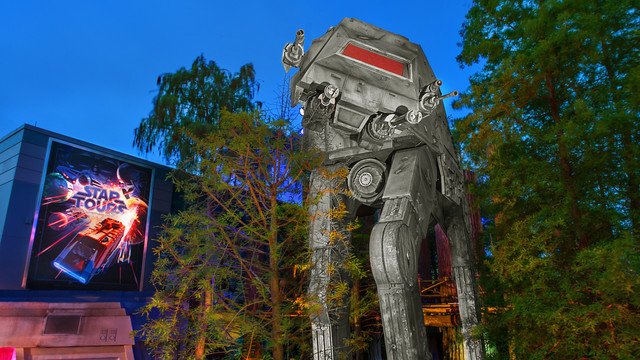 Admittedly, I'm a big Star Wars fan so your mileage may vary on this queue depending on whether or not you love the galaxy far, far away. With the new attraction revamp a few years ago also came a new attraction queue. The outside portion is the same with the AT-AT Walker in Endor but the inside has been completely redone. It features some of the saga's most well-known characters like C-3PO and R2-D2 but there are nods to the earlier attractions as well(bird droids!). Since this is a prequel to the former attraction, you can also spot an earlier model of Captain Rex, the prior attraction's pilot. Since this is a tour after all, the queue is supposed to feel like you're going through an airport of sorts except it's actually fun. I also like the pre-show video because it makes it seem like your shuttle is being prepared in a much larger loading area complete with droids and pilots before being elevated up to where you'll enter the vehicle. I'm always a fan of immersion at Disney and the queue for Star Tours does it excellently.
Expedition Everest
It's hard to imagine Animal Kingdom before Everest. The attraction not only added a much needed thrill boost to the park but it's also one of the most well themed areas of the park. The queue of Everest is also an excellent example of historical fiction. If you weren't paying close attention, it might feel like you're just walking through a ragged museum or exhibit around the Himalayas. Look closer though and you start to notice more and more details of the elusive Yeti amongst the historical "artifacts." My favorite in particular is a display of an earlier expedition with a tent that features large rips and tears in the tent. Mysterious! If you love urban legends or historical fiction, you'll definitely appreciate the lengths Disney went to with the queue of Expedition Everest.
It's Tough to be a Bug
It's Tough to be a Bug is on here for one reason and one reason only and it has nothing to do with the Pixar film. I really enjoy the line here, which is almost always a straight walk on, because it gives you an extremely up close view of the Tree of Life. The centerpiece of the Animal Kingdom features hundreds of different animal carvings and many of them aren't even visible from the main hub of the park. Going on It's Tough to be a Bug, which is located inside the Tree of Life, gets you an intimate look at some of the carvings that aren't visible from the outside. It may not be technologically impressive or feature interactive elements but whenever I see It's Tough to be a Bug, I usually remember the walk through the Tree of Life more than the show itself.
Under the Sea~Journey of the Little Mermaid and Seven Dwarfs Mine Train
I know it's kind of cheating to combine our final two attractions into one entry but they're both a part of New Fantasyland and feature similar approaches to their queues so I figured it made sense to combine them. My article, my rules! The queues for Under the Sea and Seven Dwarfs Mine Train are the closest you can get to actually being in a Disney animated film as far as line going experiences are concerned. They both feature a bevy of interactive elements to keep children (or easily distracted adults) entertained. The interactive elements themselves are similar too in that they involve one of the main characters from the respective films writing a note asking for the guests assistance with a task that takes the form of different games. Personally, I'd say that Seven Dwarfs Mine Train features the better queue because of the wider variety of interactive games along with more entertaining contextual based animations. This shouldn't be surprising though considering Seven Dwarfs is the centerpiece of New Fantasyland and regularly features wait times of two plus hours. You have to keep those patient guests entertained somehow, I suppose.
Those are my personal top queues at Walt Disney World. Honorable mentions also go to Space Mountain, The Jungle Cruise, Thunder Mountain Railroad, Pirates of the Caribbean, Toy Story Midway Mania, Test Track and The Many Adventures of Winnie the Pooh. Let me know what your favorite queues, lines or pre-shows are in the comments below and thanks for reading.