Cars Land Flo's V8 Cafe Review
Flo's V8 Cafe is a quick service restaurant located in Cars Land in Disney California Adventure. This diner themed to the Cars franchise of films serves up classic American comfort food, such as burgers and fried chicken. Since opening in 2012 Flo's has been known for a menu that offers a variety of quality entrees, such as pot pies, tuna melts, and New York strip loin. But as with most Disneyland Resort restaurants, the menu has been stripped down significantly. Today we're going to take a look at the remaining menu items to see if Flo's is worth a visit.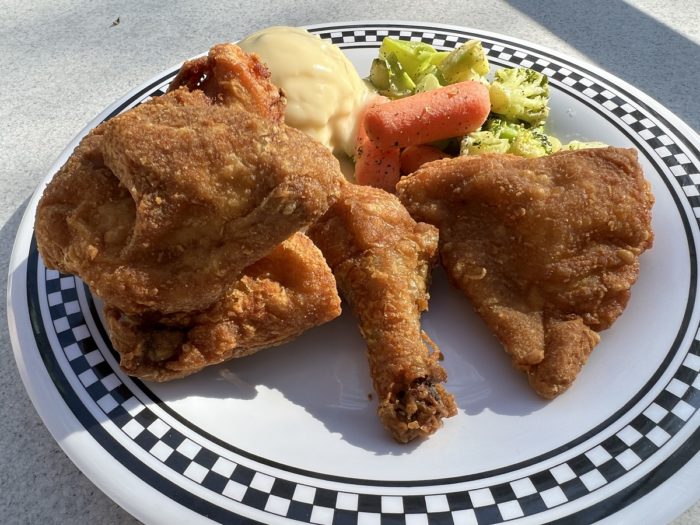 Starting thigs off with the Flo's Famous Fried Chicken coming in at a hefty $18.99. Included is a breast, leg, thigh, mashed potatoes and gravy, and seasonal vegetables. For decades Disneyland has sold fantastic fried chicken across the esplanade at Plaza Inn in Disneyland, so you'd think it would be at least as good as that. Unfortunately I found the chicken to dry and lacking in taste. It's not like I ordered the chicken at an off hour where it had been sitting for a while. This was just after noon on a day that wasn't even that busy. This isn't even in the same ballpark as Plaza Inn's chicken.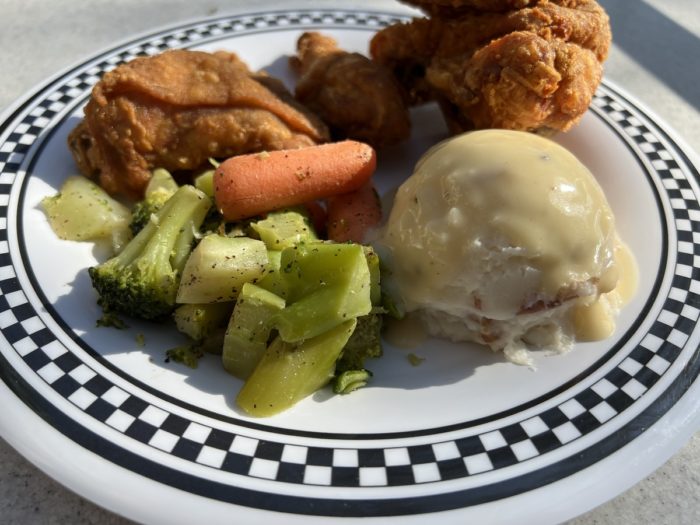 The included sides are as basic as can be. Like something you'd get in a cafeteria. This whole entree is a missed opportunity.
Next up is the Ka-Cheeseburger. For $12.79 you get a 1/3 lb angus beef Patty, cheddar cheese, 1000 Island dressing, and caramelized onions, and steak fries. The patty itself is the same as you'll find in any Disneyland quick service restaurant, which is not exciting at all, but at least here it's served with grilled onions.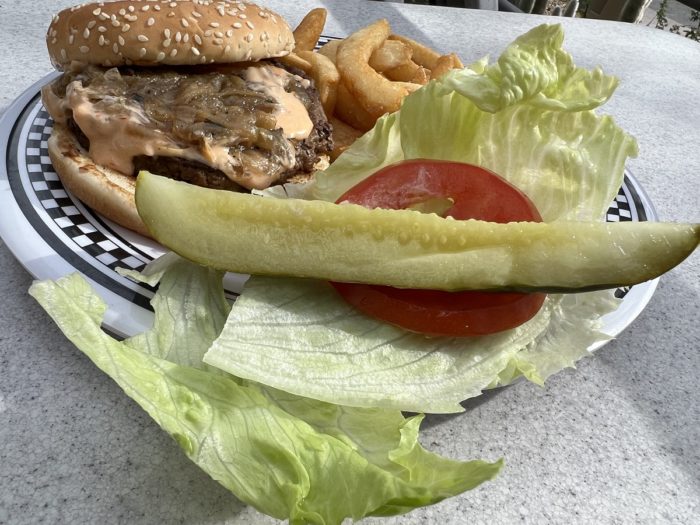 I do appreciate the fresh veggies that are included. Also, I have to admit this is probably the most thematically appropriate item for Flo's. It really does taste like an average burger you'd buy at some diner off of the highway on a road trip.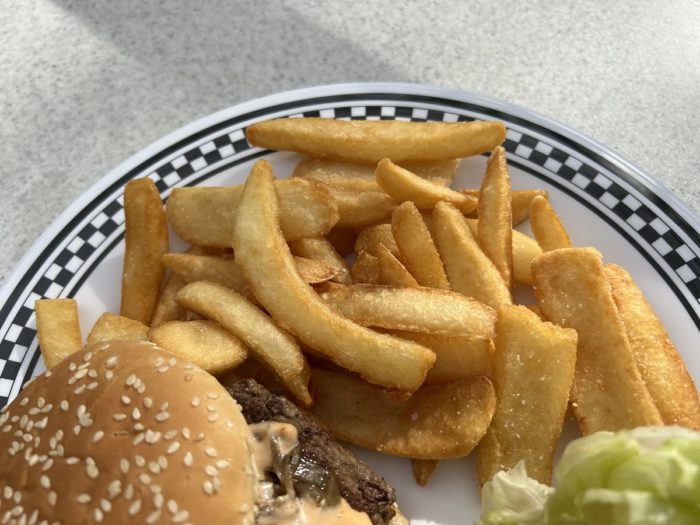 Fans of steak fries rejoice! Speaking of the fries, you can opt to have Cuties oranges instead of the fries. But wow, this is not an equal tradeoff. They only give you two small oranges in exchange for the fries.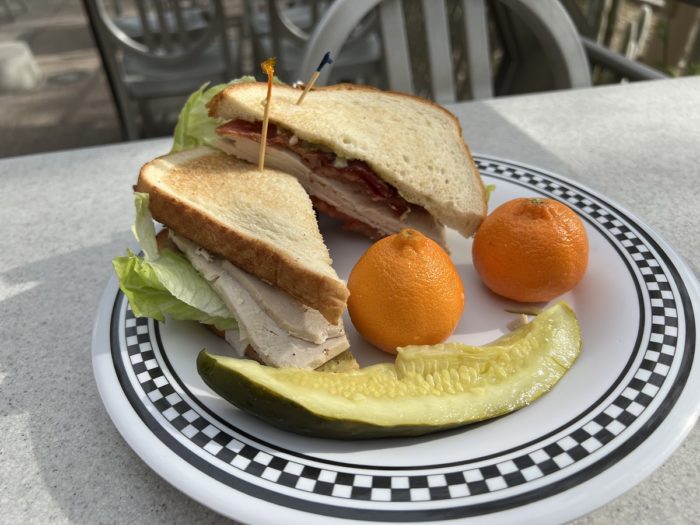 Ramone's Low and Slow Club ($11.99) includes sliced turkey breast, bacon, avocado-bacon mayo, lettuce, and tomato on toasted white bread (with the aforementioned Cuties oranges or steak fries). This was a pretty decent club sandwich. I can't imagine how you'd screw up a club sandwich and I'm happy to report that Disney did not.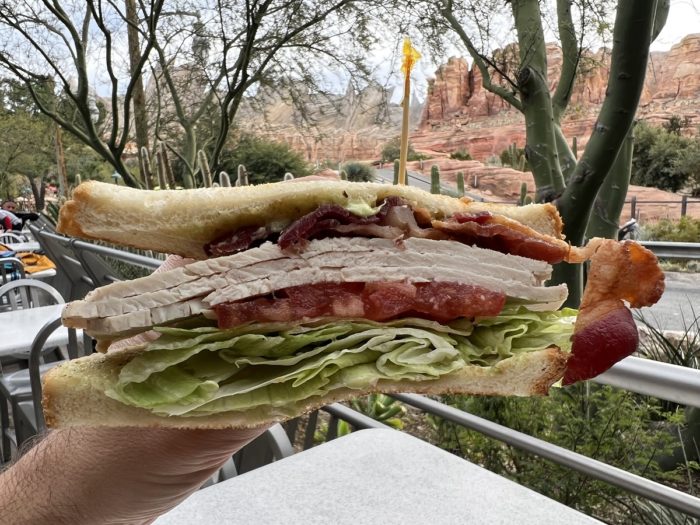 Here's a cross section for you.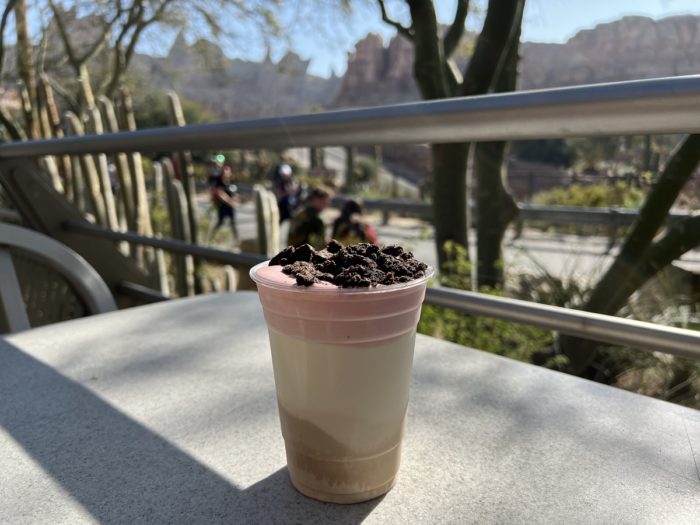 For dessert there's vanilla, chocolate, strawberry, or neopalitan shakes. I opted for the neopalitan which was totally fine. Not great, just fine. If I had to do a blind taste test between Flo's shakes and McDonald's I would not be able to tell the difference. They taste identical to me. The "road gravel," which is crushed Oreo cookies, is a nice touch. Gone are those yummy mini pies Flo's used to sell.
Flo's V8 Cafe can't be talked about without mentioning the theming. At night the exterior really comes alive thanks to a plentiful amount of neon lights.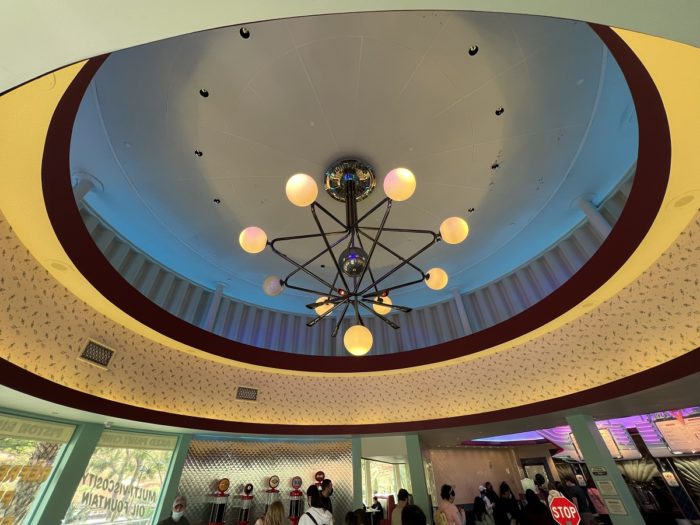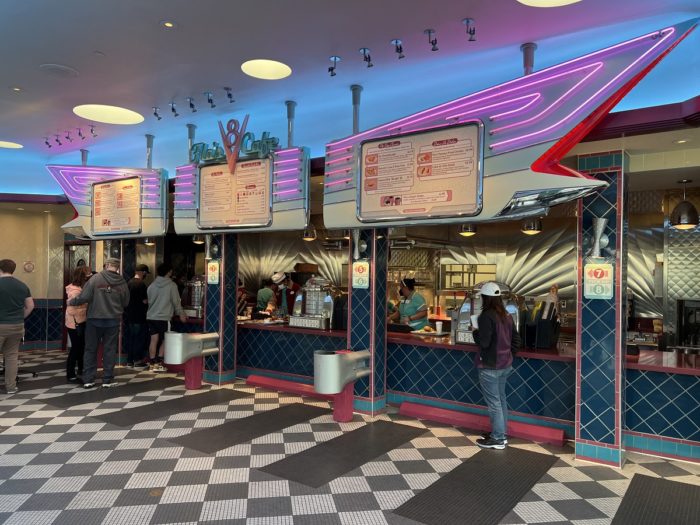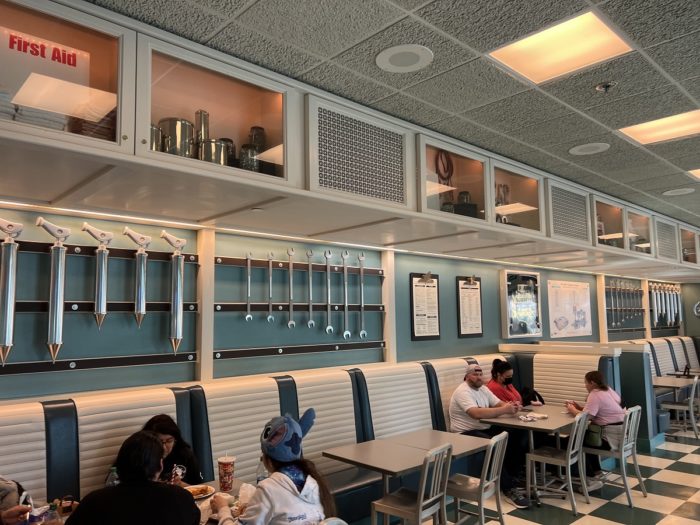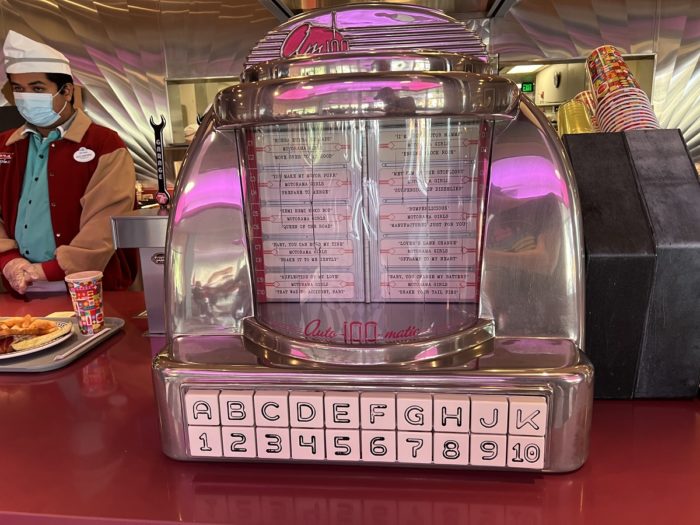 The inside is just as nice with plenty of Cars props, art work, and era-appropriate music.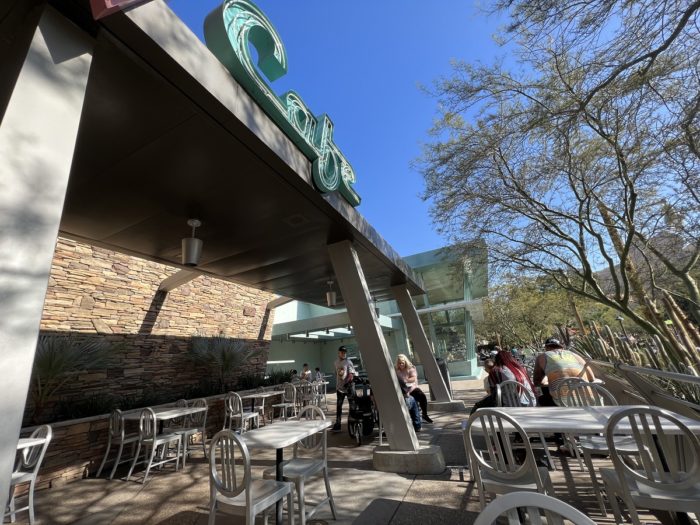 I highly recommend eating in the outside patio that overlooks Radiator Springs Racers. This is one of my favorite places in DCA to sit and relax with friends.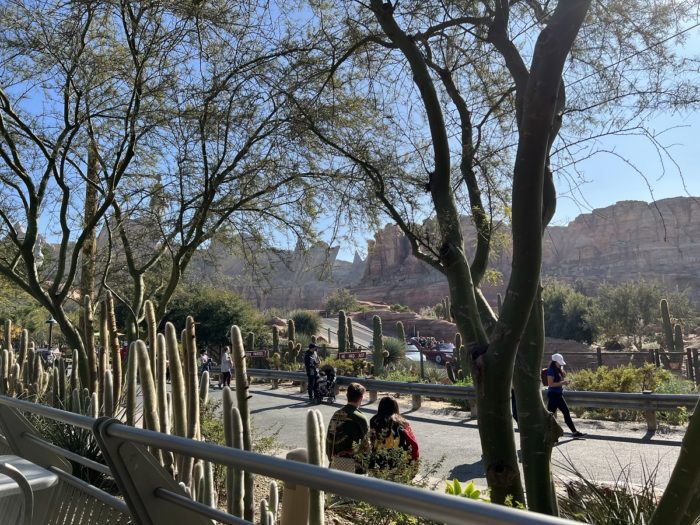 We think this is one of the nicest views in any Disney restaurant.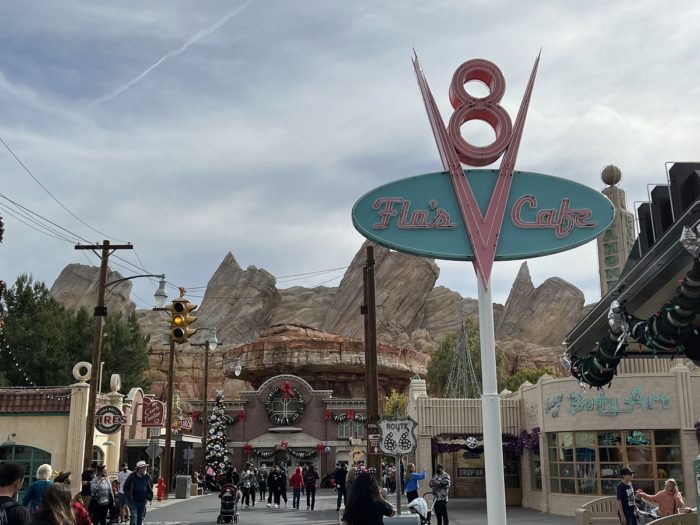 Overall the food at Flo's V8 Cafe is average and there's not a single item that makes it stand out over other quick service restaurants in Disney California Adventure. But it's worth visiting and taking a look around, especially if you're a Cars fan. Hopefully at some point the menu will expand again and some better items will be added.
It's a new year and TouringPlans can help you plan the perfect Disneyland trip for 2022 and beyond. Be sure to check out our Disneyland Crowd Calendar, which rates every day of the year on a scale of 1 to 10 so you can see how busy Disneyland and DCA will be during your visit. Also check out our Disneyland Touring Plans. These itineraries can show you how to beat the crowds and spend less time in line at your favorite rides. Our Touring Plans can also be personalized! All of our tools are used by hundreds of thousands of visitors each year and are constantly being updated by our in-park team of researchers and data scientists. We can even book your vacation for you.
Are you a fan of Flo's V8 Cafe? What's your go to quick service item in DCA? Let us know in the comments.