How Do Disneyland Single Rider Lines Work?
Going solo at Disneyland? Or is your party willing to split up to save some time waiting in line? You can often save valuable time in Disneyland and Disney California Adventure by taking advantage of single-rider lines, a separate line for people who are alone or don't mind riding alone or with a stranger.
The objective is to fill odd spaces left by groups that don't quite fill the entire ride vehicle. Because there aren't many singles and most groups are unwilling to split up, single rider lines are usually much shorter than regular lines. The only downside—
aside from being briefly separated from your traveling companions—is that single riders skip most of the scene-setting queues, which first-time riders may want to experience.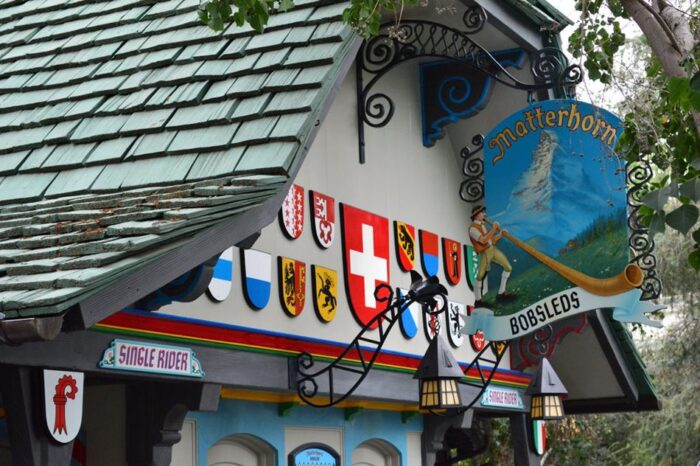 Single rider lines are currently available at the following Disneyland Resort attractions:
Disneyland:
Matterhorn Bobsleds – Matterhorn offers its own single rider queue found at the entrance of the ride. The wait time for the single rider line may be longer than it appears due to the ride's seating configuration. Cast members often make an effort to search for parties of two or three to fill any gaps left by larger groups before asking a single rider to join. You'll likely only get to board the attraction when a group of five joins, or when the standby line is filled with larger parties.
Space Mountain – Space Mountain's single rider line entrance is not located at the main entrance of the ride, it's located at the exit. Head to Space Mountain's exit area, which is past the left side of The Star Trader shop,  and look for signs pointing to the single rider queue. Space Mountain's single rider line is no frills and takes you directly to the ride's loading area, but thankfully you're not missing much by skipping the regular queue.
Millennium Falcon: Smugglers Run – You'll find a clearly marked dedicated single rider queue at the entrance of the attraction. Single riders get a glimpse of the main queue with all the cool Star Wars props, gadgets, and machinery, but most of this area is skipped. Single riders do get to see Hondo Ohnaka's introduction. In our experience, single riders usually get assigned the engineer roll on the ride.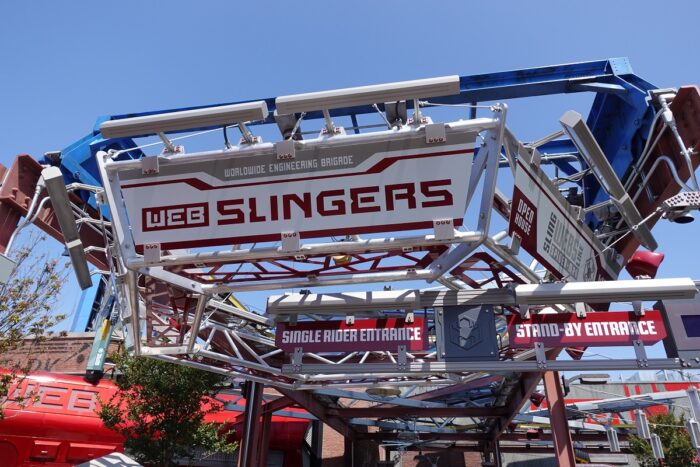 Disney California Adventure:
Radiator Springs Racers – This attraction was built with an entirely separate single rider queue that goes all the way until the loading platform. This way, you're in a separate line but you still get to experience the theming and magnificent views that the standby queue offers. Single riders are placed whenever one of the cars of six is not completely full, so you're most likely to join a group of five or groups of two and three who have been placed together. Radiator Springs Racers has one of the most popular single rider lines. From our experience, the wait can range anywhere from 5-45 minutes on average. Just like with Lightning Lane and standby for this attraction, the shortest waits are in the morning.
Incredicoaster – Look for Incredicoaster's single rider queue to the left of the ride's entrance area.
Goofy's Sky School: For this attraction, you'll enter a separate line to the left of the Lightning Lane and standby lines. Cars seat four guests in this attraction, so as a single rider, a group of three will be your best friend.
Grizzly River Run – This attraction's single rider line will actually have you walking through the exit queue in order to reach the loading platform. The rafts seat six to eight people, so multiple single riders might be placed with a medium sized group.
Soarin' Around the World – Instead of a separate queue or walking through the exit, you will enter through the Lightning Lane queue of this attraction. You'll then join the standby line before the Cast Member directs you to your ride vehicle. Since you're merging in with the standby guests, you won't need to wait until a single seat opens up. But you will need to wait in the same line as all other guests for the last portion of the queue. Because of this, Soarin' is one of my least favorite single rider lines.
WEB SLINGERS: A Spider-Man Adventure – Web Slingers has a separate single rider queue that can be found at the entrance of the attraction. Single riders spend less time in the outdoor queue, but still get to see the preshow with Spider-Man.
Note that single-rider lines are not always available and may be closed if there is too much (or too little) demand.
On rare occasions Monsters, Inc. Mike & Sulley to the Rescue in Disney California Adventure will offer something called a Buddy Pass. If you are a party of one or two adults, with up to two lap-seating small children, you can ask the ride's greeter for a Buddy Pass, which will permit you to enter through the exit. Because Monsters, Inc.'s ride vehicles have three benches, Buddy Pass guests get to fill the otherwise empty back row, resulting in significantly shorter waits. The Buddy Pass isn't always offered, but it doesn't hurt to ask.
Single rider lines can be an excellent way to reduce attraction wait times by a large percent, or almost entirely if you use them at the right time of day or if crowds are low. And unlike the Lightning Lane system, there is no time restriction placed on when you can board your next single rider attraction. So if you wanted, you could ride some of your favorite attractions over and over with minimal waits, or bounce between single rider attractions and experience many attractions in a short amount of time.
Which ride do you wish had a single rider line? What's your favorite single rider line to take advantage of? Let us know in the comments.