Fairfax Fare Food Is. . . Fair
Fairfax Fare at Disney's Hollywood Studios reopened this week, and in my optimistic view, I'm sure someone is very happy about that. Unfortunately, our experience this week left us less than wowed. Here's our experience.
Fairfax Fare Setting and Atmosphere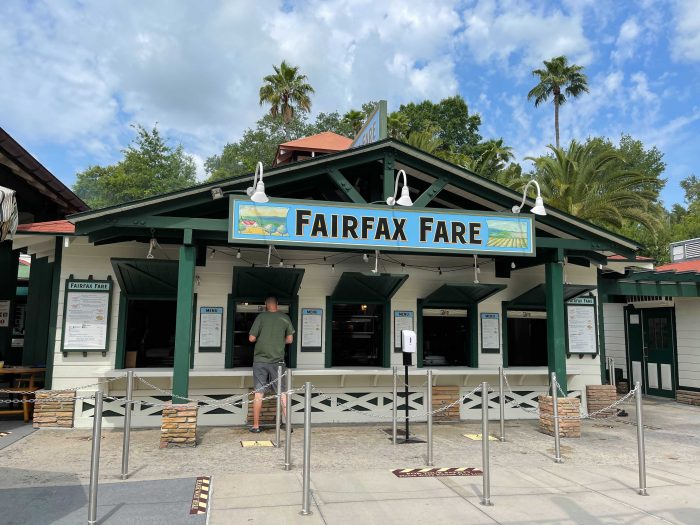 Fairfax Fare is located in Disney's Hollywood Studios on Sunset Boulevard near the entrance to Rock 'n' Roller Coaster and around the corner from Catalina Eddie's and Rosie's All-American Cafe. These three locations have access outdoor covered seating. Mobile order is available.
Fairfax Fare Menu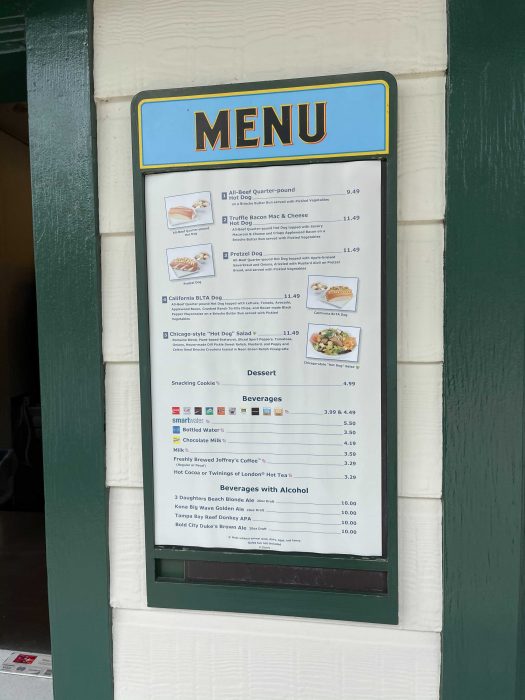 This location is all about the hot dogs. There's a plain hot dog. There's a pretzel dog. There's a hot dog with mac & cheese. There's a California BLTA hot dog. And yes, there's even a vegetarian hot dog salad. If you're not interested in hot dogs, there's not much to see here. Prices hover around the $10-12 mark for a hot dog and side of pickled vegetables.
The Dining Experience at Fairfax Fare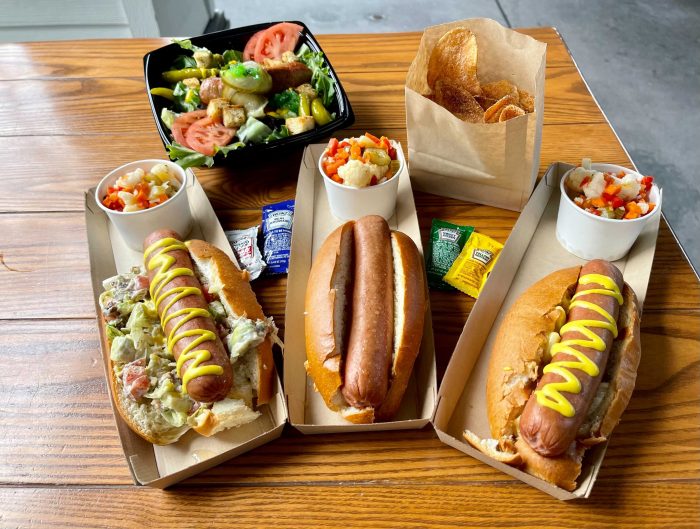 We sampled a variety of items on our visit. Most ranged from good to . . . well, you'll see.
Quarter-Pound Hot Dog with Pickled Vegetables, $9.49.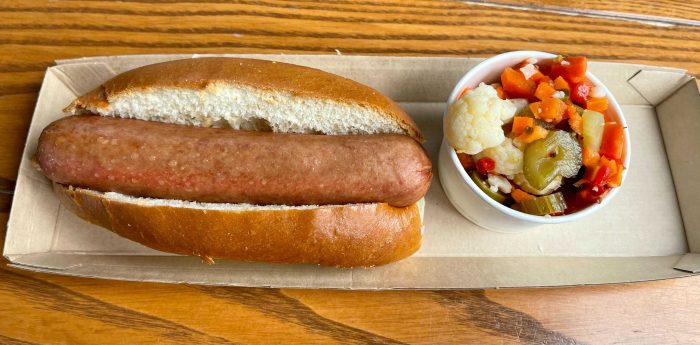 It's a hot dog. It's good, and the bun is soft. If you don't like pickled vegetables, you may want to splurge to buy a side of parmesan chips. The pickled vegetables are okay, but not outstanding. If you don't like pickled vegetables, you won't like these at all. If you do like pickled vegetables, you'll be okay with these.
California BLTA Hot Dog with Pickled Vegetables, $11.49.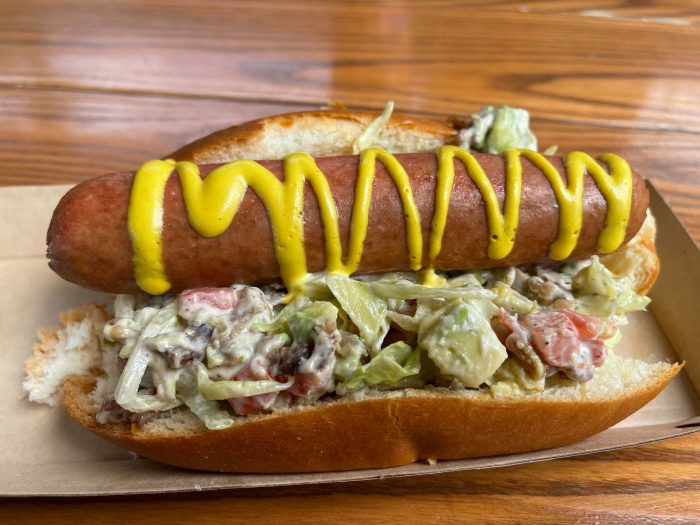 This hot dog bun comes with a slaw of lettuce, tomato, bacon, crushed ranch tortilla chips, and house-made black pepper mayo. The hot dog itself has mustard on top. There's a lot going on with this. It was good but, the bacon and mustard mask the avocado. You can remove the crushed chips through mobile order, but everything else will need to be customized when you go to pick up your order.
Truffle Bacon Macaroni & Cheese Hot Dog with Pickled Vegetables, $11.49.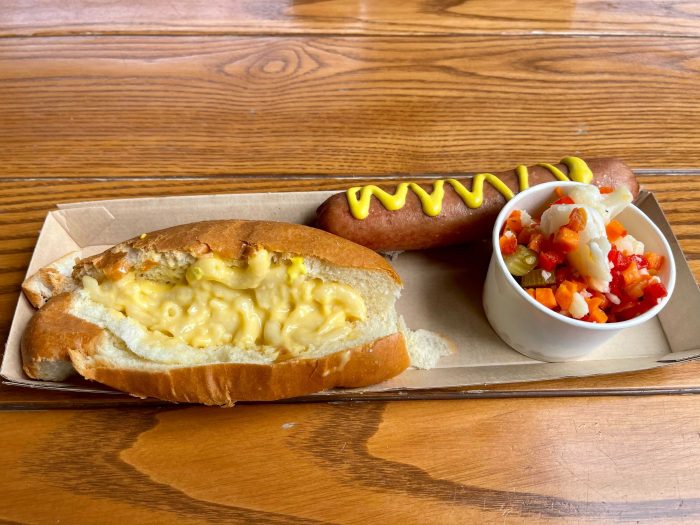 I had wondered why there wasn't an option for just ordering a side of mac & cheese here and it may be the strong truffle flavor. Seeing a side of mac & cheese at Disney makes you think it will be that delicious golden love that is Disney mac, but this had such a strong truffle flavor that it could be off-putting to kids. If you love truffle flavor, you'll like this hot dog. If not, then this is one to skip. For whatever reason, the hot dog here also comes with mustard.
Chicago-Style "Hot Dog" Salad, $11.49.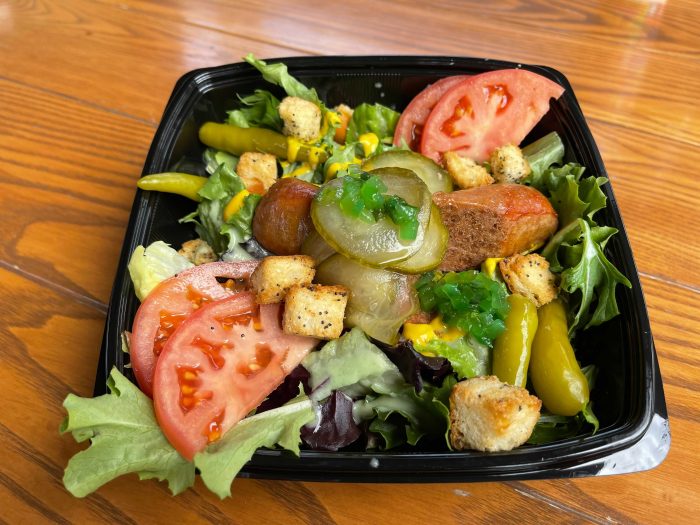 If I invoked the Thumper rule of "If you can't say something nice…" then that would be the end of this review. This is a vegetarian dish with a plant-based bratwurst on a salad. The salad felt like a scant handful of lettuce, a pile of pickled vegetables, and some tomato and croutons  to finish the dish. The brat itself had a mealy texture and a noticeable aftertaste. Visually, it appeared to be one Jell-O mold scoop away from a 1960s cookbook. There are many good options for vegetarians at Hollywood Studios. This isn't one of them.
Parmesan Chips, $4.49.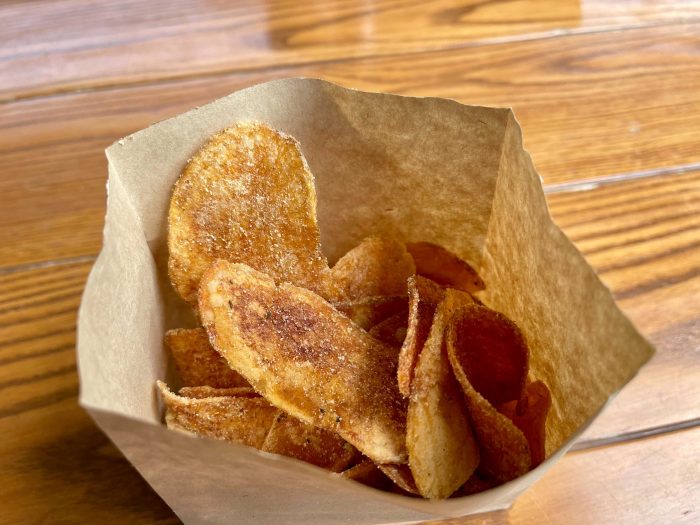 Who doesn't like house-made chips? These have a good crunch and just the right amount of parmesan flavor. It's a much better option for a side than the veggies.
Fairfax Fare Ratings
We have ratings and rankings for every Walt Disney World dining location. Fairfax Fare has a 85% thumbs up rating, placing it at 54 of counter service restaurants at Walt Disney World.
If you really, really want a hot dog-like meal at Hollywood Studios, we'd suggest heading to the other side of the park for a Ronto Wrap from Ronto Roasters.
Have you dined at Fairfax Fare? Let us know what you think in the comments.