Pros and Cons: Bringing Your Own Food to the Walt Disney World Theme Parks
While there is near infinite availability of food on property at Walt Disney Disney World, everything from quick service burgers to gourmet table service meals, some guests prefer to bring their own food to the parks.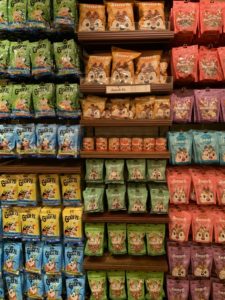 There are pros and cons to bringing your own food to the theme parks. But before we get to that, here are some FAQs about bringing your food with you.
Lots of amusement parks don't allow outside food. Is it really okay to bring your own food into the Disney World theme parks?
Yes. Absolutely.
They're not going to confiscate my food at the park security screening?
Nope. The security screening is for weapons and the like, not foodstuffs. There are a few specific food items that are prohibited from being brought into the parks, notably alcoholic beverages and glass containers (though small baby food jars are okay), as well as those with "pungent odors," other than that you're good to go.
Is there a limit to the quantity of food I'm allowed to bring into the parks?
Not specifically. There are, however, restrictions on the size of the container you can bring into the park. Coolers and bags can be no larger than 24″ x 15″ x 18″. But there's nothing from stopping you from bringing more than one cooler or bag of this size if you have multiple people in your group. TouringPlans stats guru Steve Bloom and his family once brought an entire Thanksgiving dinner into the Magic Kingdom.
PROS
Saving Money: Saving money is probably the number one reason to bring your own food into the Disney parks. Even the most basic foods are ridiculously priced at Disney World. I can get an entire case of water bottles at my local supermarket for about the same price as a single bottle sold at Disney World.
Medical or religious need: The second most common reason guests bring their own food to the Disney World parks is to help navigate a medical issue such as food allergy or a religious issue such as need for kosher products. Disney does a great job of providing food options for many medical and religious needs, but some issues can only be handled by preparing your own meals.
Brand Preference: For example, Disney sells soda, but only Coke products. If you're devoted to Pepsi, then you'll have to bring your own. If you're an adult it might not be a big deal to compromise on your favorite product, but if you're the parent of a toddler who only likes a particular flavor of Goldfish, you know that to avoid a vacation-derailing meltdown you'll have to bring your own rather than substitute Disney's version of cheddar crackers.
Saving Time: During busy times of the year, you might have to wait several minutes just to order a hot dog or popcorn. A table service meal will probably take at least an hour. If you're a theme park commando, you might want to save every second for park touring by bringing your own food and eliminating the need to wait to purchase food.
CONS
Access to shopping: If you're not driving to Orlando or renting a car upon your arrival, then it can be a challenge to get to a supermarket to access food to bring into the parks on your own. There are grocery delivery services, but not all of them are cheap and this can take a bit of planning.
More things to carry: Bringing food into the parks means bringing more stuff into the parks. If you already have lots of camera gear or baby supplies, toting an extra bag around could feel like a lead weight, particularly during the hottest months. You could rent a locker, but there are costs involved with that and the locker locations are not always convenient.
It's hard to keep things cool and fresh: Disney will not refrigerate food for guests in the theme parks. If you're bringing items other than dry snacks, it's likely that some of your food items will need to be kept cool. You can bring ice packs into the parks, but loose ice is no longer permitted. But even with cooling systems in place, summer at WDW can be so hot that the risk of food spoilage is high.
There is no place to heat food: While there are microwave ovens available for guest use in the resort hotel food courts, there is no similar availability in the parks. [Note: There is a single microwave oven available in each of the baby care centers that can be used exclusively for warming baby food and bottles.]
It takes you out of the vacation bubble mindset: For many folks, being on vacation means being on vacation without engaging in chores like meal prep. Eating a sandwich you made yourself can feel less fun than indulging in a restaurant meal.
Do you like to bring your own food into the Disney parks? Or do you prefer to purchase meals on site? What are your pros and cons?