SATURDAY SIX Presents: The Theme Park Artwork of Sterling Denham
This week the SATURDAY SIX Proudly Presents: The Theme Park Artwork of Sterling Denham! For the month of February, the SAT SIX is spending each weekend spotlighting an artist in the community whose work we respect and admire. We kicked off the event with SonderQuest, followed up in week two with Sam Carter, and last week looked at Brian Cooper. Today we are finishing up with an artist who is well known in the "haunt community," Sterling Denham. We're also going to do something a little different. Based in Florida, Sterling is our first "local" artist and has a years of experience working directly with Disney and Universal Orlando. We've reached out to several people in the theme park community to give their thoughts on Sterling, which you will see spread throughout the article.
# 6 – The Icons of Halloween Horror Nights
Jason Perry (@jasonryanperry) Ted "Theodore" Logan, Bill & Ted's Excellent Halloween Adventure: Want to know how brilliant Sterling is as an artist? Thousands of people can walk by a window in a theme park, recognize their work being displayed, and immediately transport to a memory of an event we love.
I don't think there are many artists who can heighten emotions the way Sterling does, and we're truly grateful to have them in our community.
Many people know Sterling by their iconic artwork featuring Halloween Horror Nights characters, specifically the HHN Icons. The HHN community is a passionate one filled with creative people, but each year Sterling delivers amazing artwork featuring the characters us HHN fans want to see represented in the parks.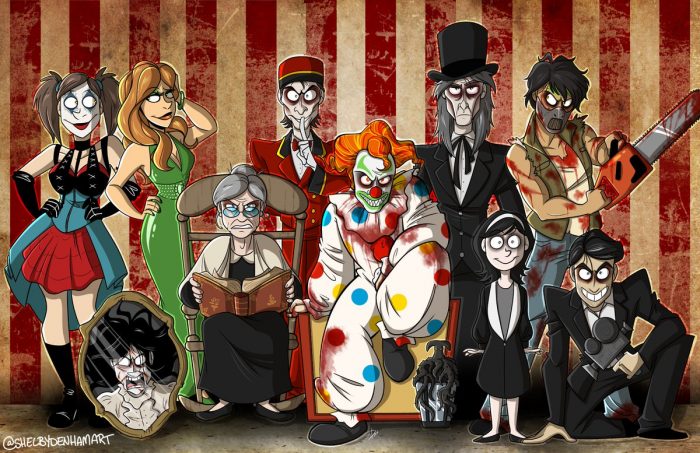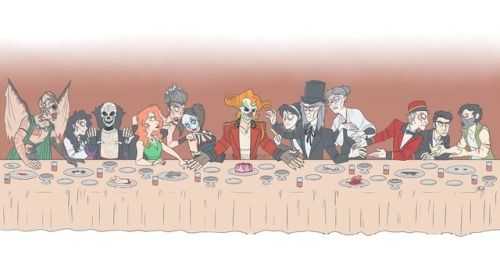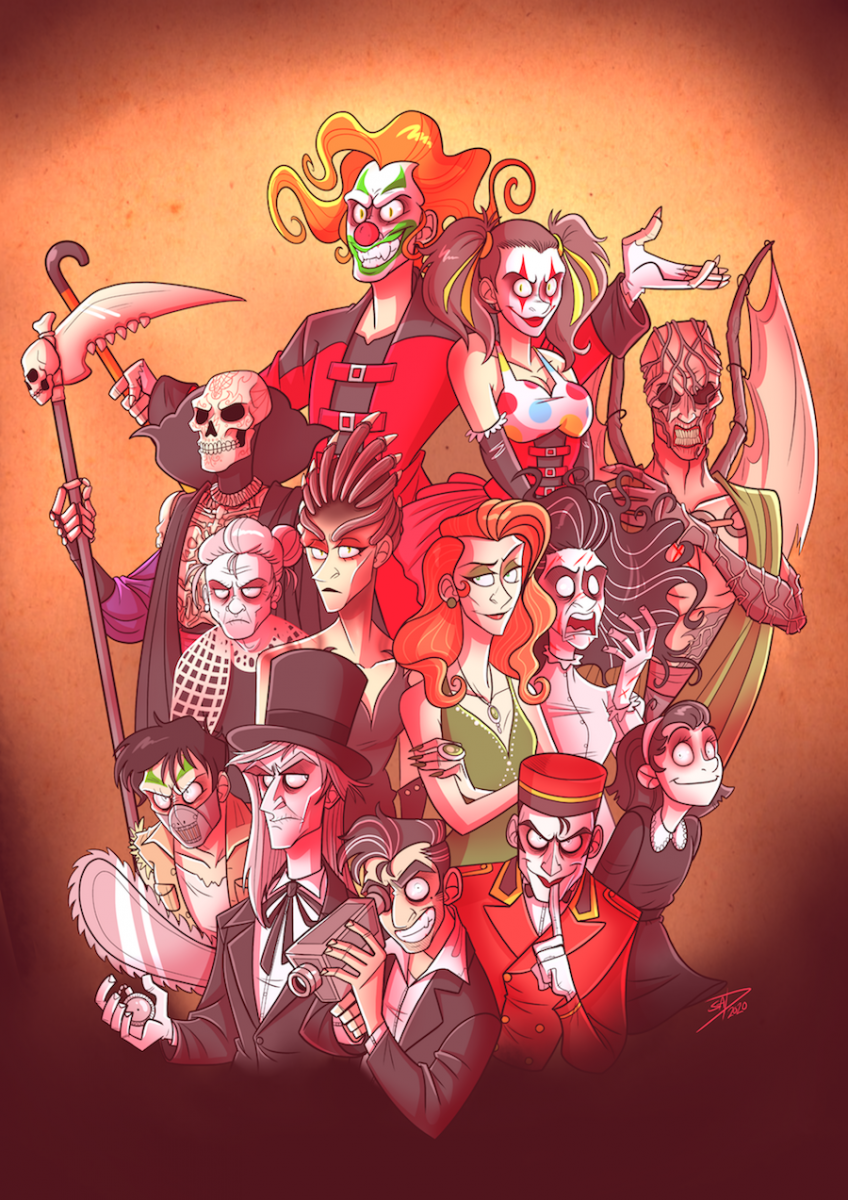 Just stunning work as always, and even the behind-the-scenes look at how a drawing is created is beautiful.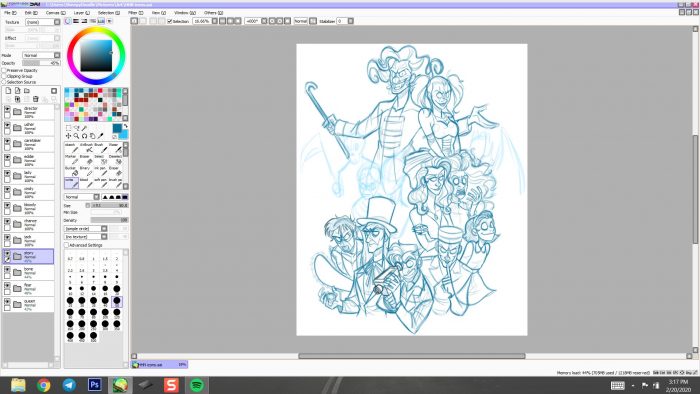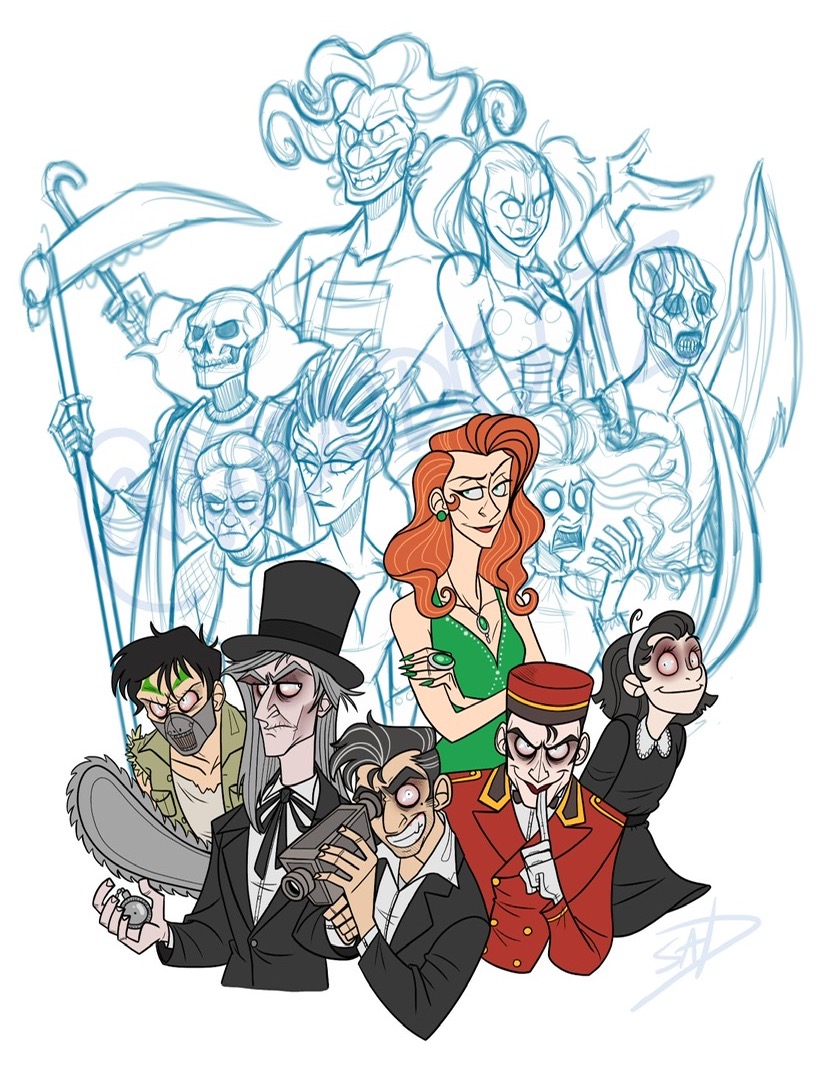 Christopher Ripley (@christopherrip) author HHN Unofficial: The Story and Guide 2020: I've been writing books for many years, and initially, I did not have control of my book covers, but when I gained control on my third edition of the Halloween Horror Nights guidebook, I didn't hesitate to invite Sterling to design the cover immediately.  I had always loved their juxtaposing style of mixing Disney like artwork with iconic horror and sci-fi tropes. This edition then went on to be the best-selling copy of the book and was awarded at the International Book Fair in Miami. Afterwards, we continued to work together where they designed our logo at HHN Unofficial, they designed our first lanyards, collaborated together on the Halloween Horror Stories book and many other projects too.
Through the years, I've seen their artwork progress and watched them develop into the greatest fan theme park artist that exists today.  Where I can, I always try to support them by collecting their artwork and was so proud on their behalf when Sterling was finally recognized by Universal for their unique skills and invited them to provide official artwork for Halloween Horror Nights, such an amazing achievement.  I am humbled to know such a remarkable artist and also to call them my dear friend.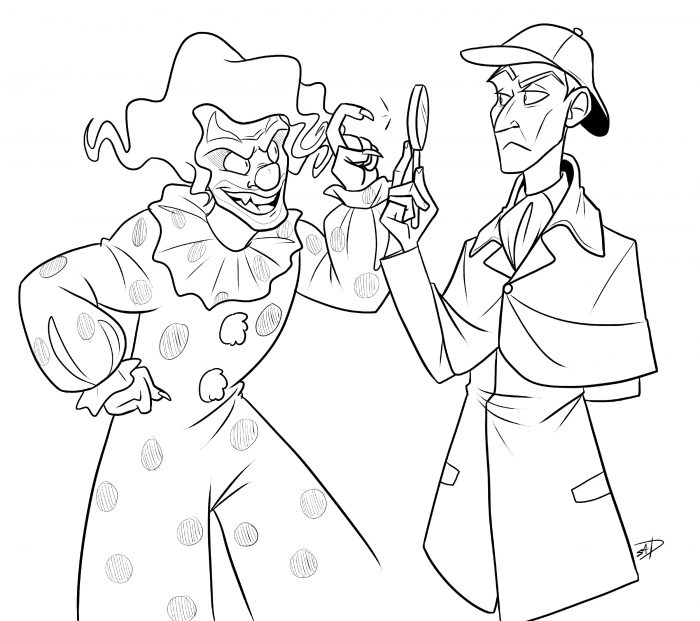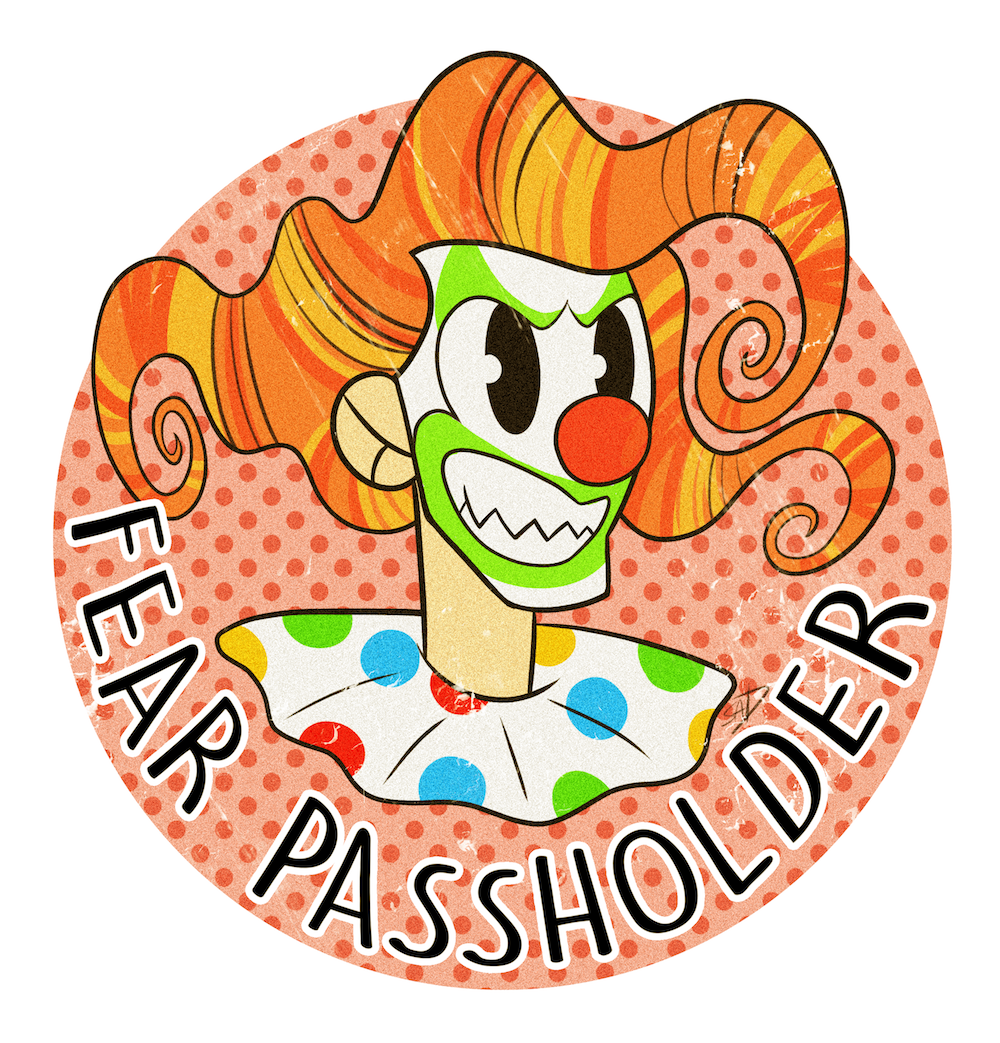 # 5 – Comic Book Style
Hunter F (@HanBrolo77), co-host Grim Grinning Ghosts podcast: When I first met Sterling it was at HHN 27. Appropriate right? From talking quickly about the art to moving into an extravagant and detailed conversation on why TOMB OF THE ANCIENTS was the MVP of the year prior, our friendship grew quickly and I am now so proud to call them not only my co-host on Catacombs of Halloween Horror Nights, but my friend.
When I think of Sterling's art, I'm constantly struck by how much personality hides behind that pencil. I really think that's the key thing with why the art resonates, you can feel the excited nerdy squealing just by looking at it. From fan art on the streets of NYC outside a scarezone to full scale event art…the growth stuns me, inspires me and is a reminder that you truly can achieve more than you ever thought possible just by being you.
Always proud of you kid. And I can't wait for your next adventure.
No one is a bigger fan of comic books that we here at the SATURDAY SIX. We've done several articles revolving around theme park comic books; including EPCOT's Mickey & Goofy Explore the Universe of Energy,  Enchanted Tiki Room and Haunted Mansion books from the Disney Kingdoms line, and – most recently – comics based on Star Wars: Galaxy's Edge and Guardians of the Galaxy: Mission – Breakout. Recently, Sterling has done many pieces of artwork done in the style of faux comic book covers and they are incredible! Below are some of the comic book cover drawings featuring various HHN haunted houses and scarezones. As always, it's the "little things" that stand out to me, and the references to CAREY PRESS along with nods to members of Universal Creative such as Mike Aiello, Lora Sauls, and Blake Braswell.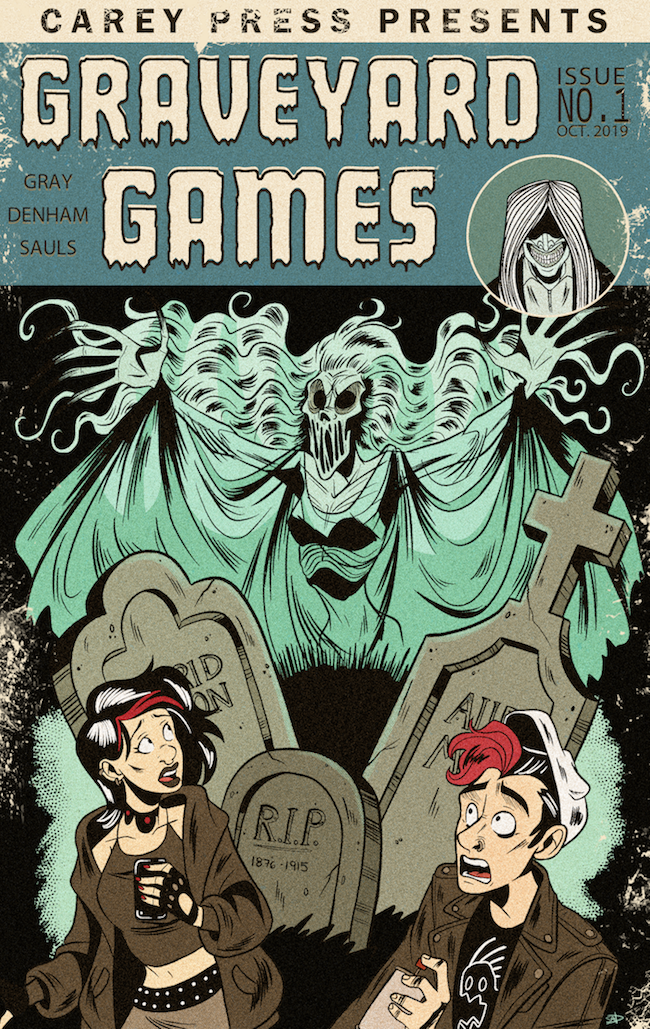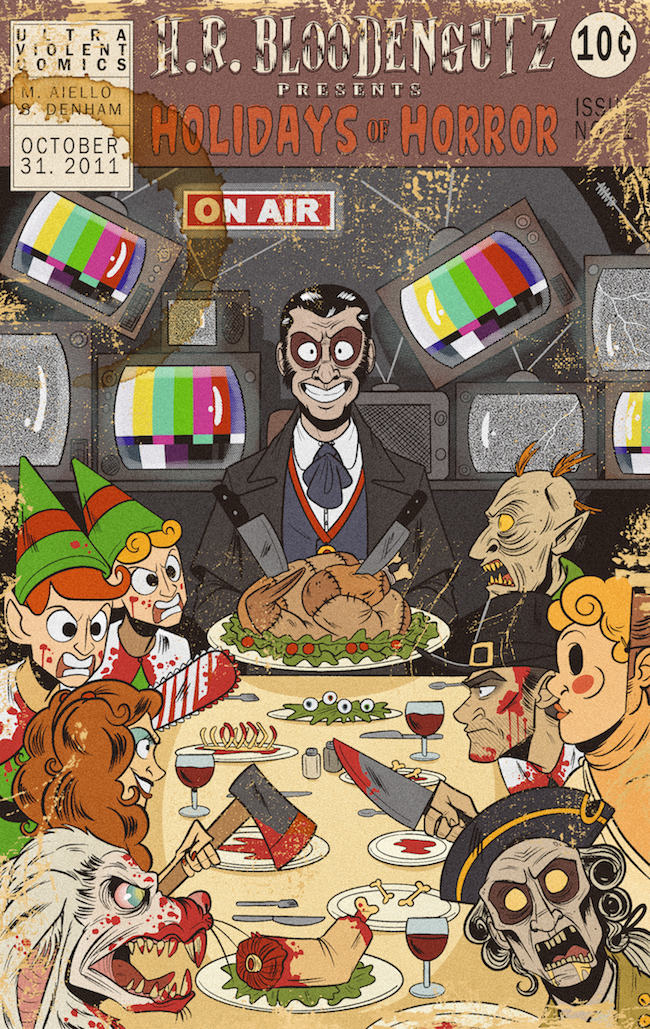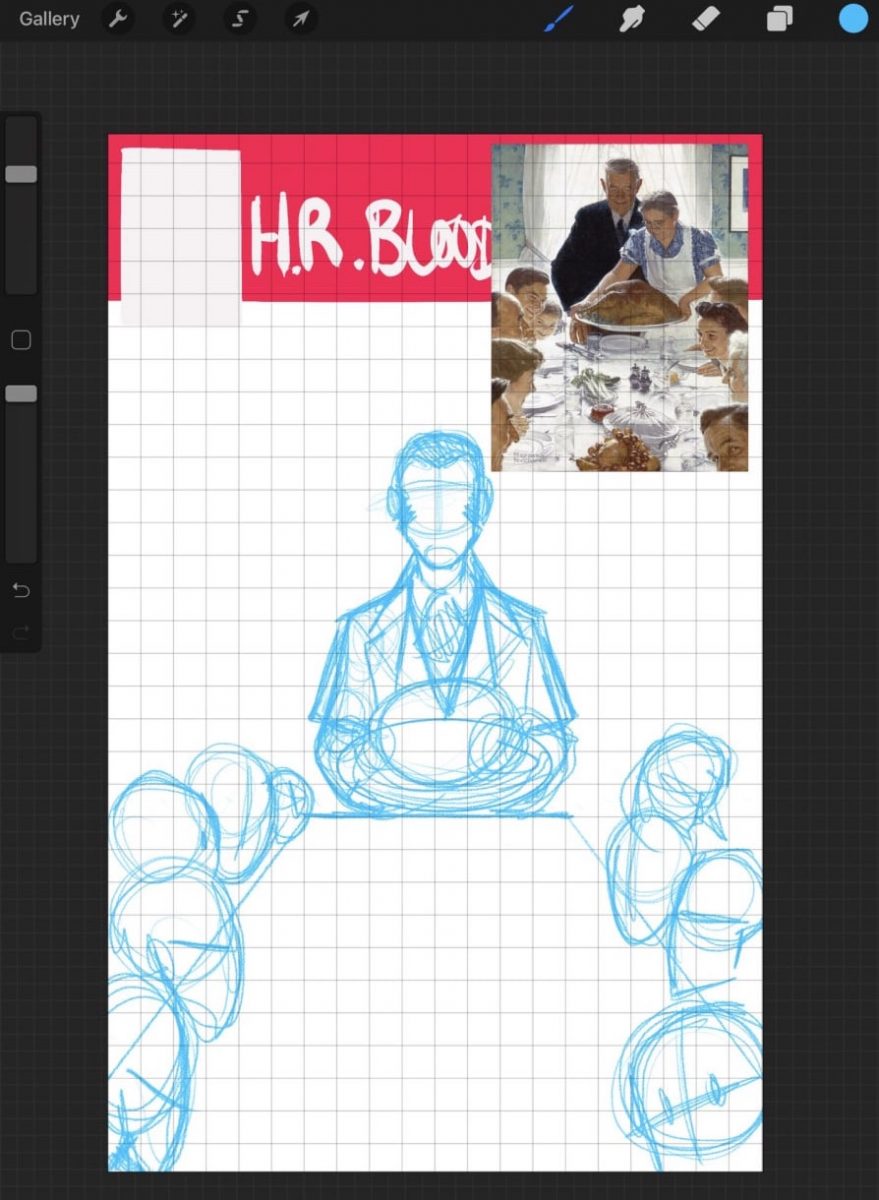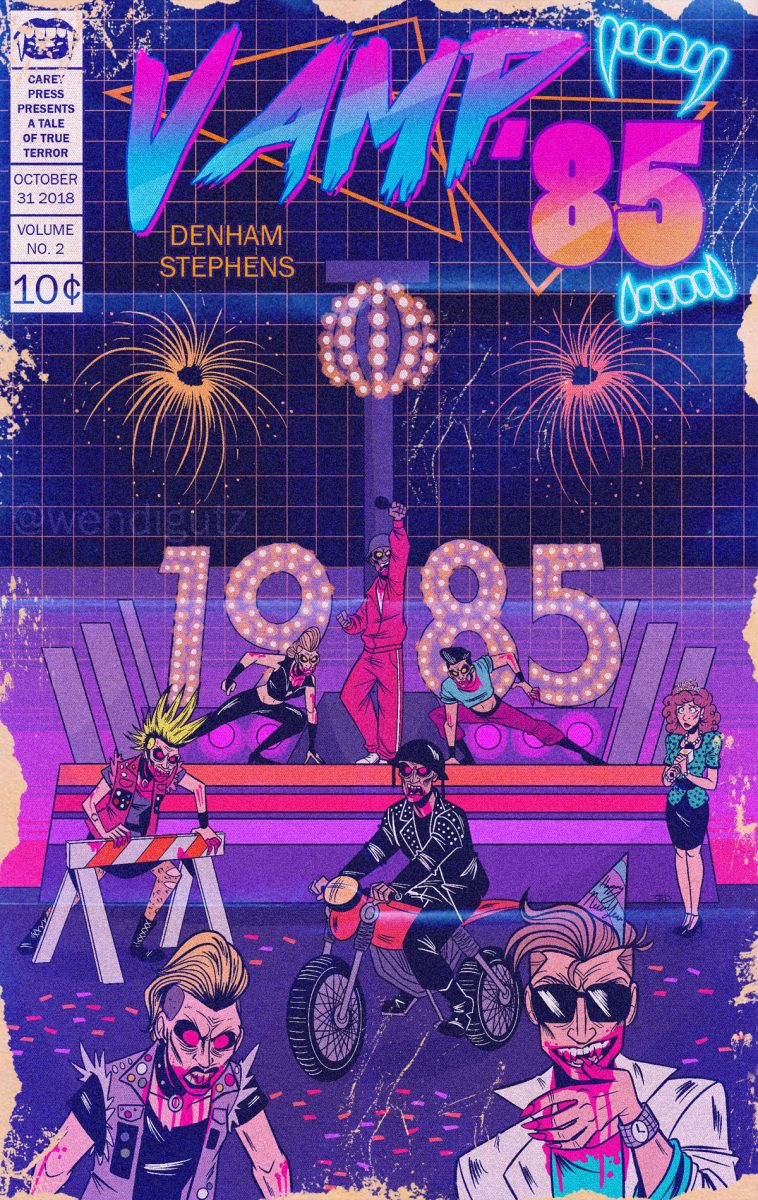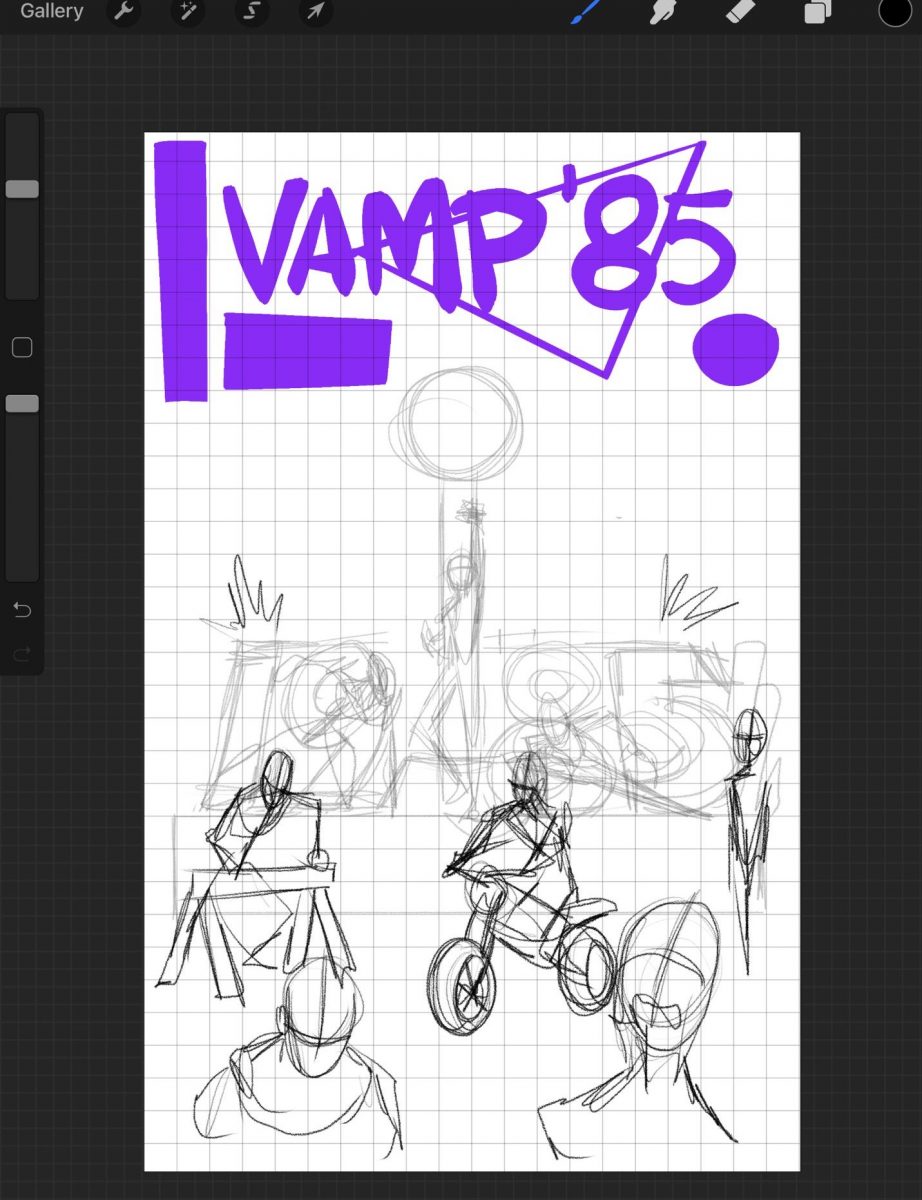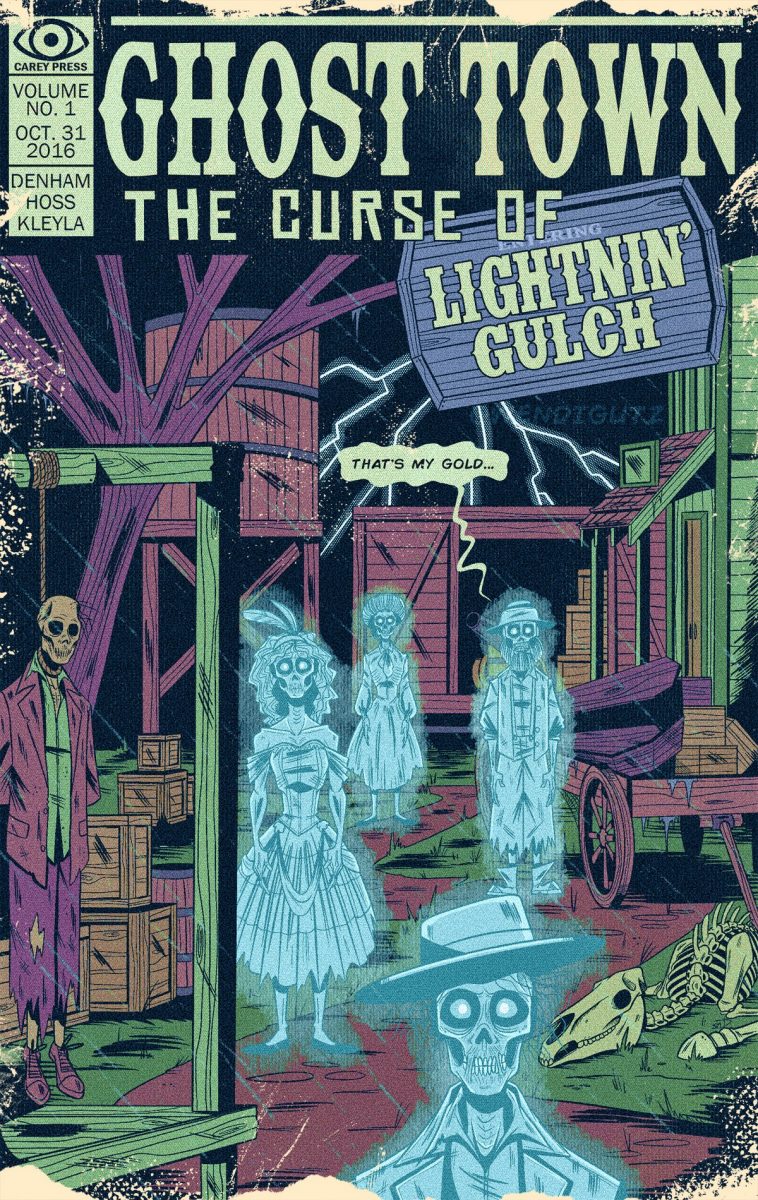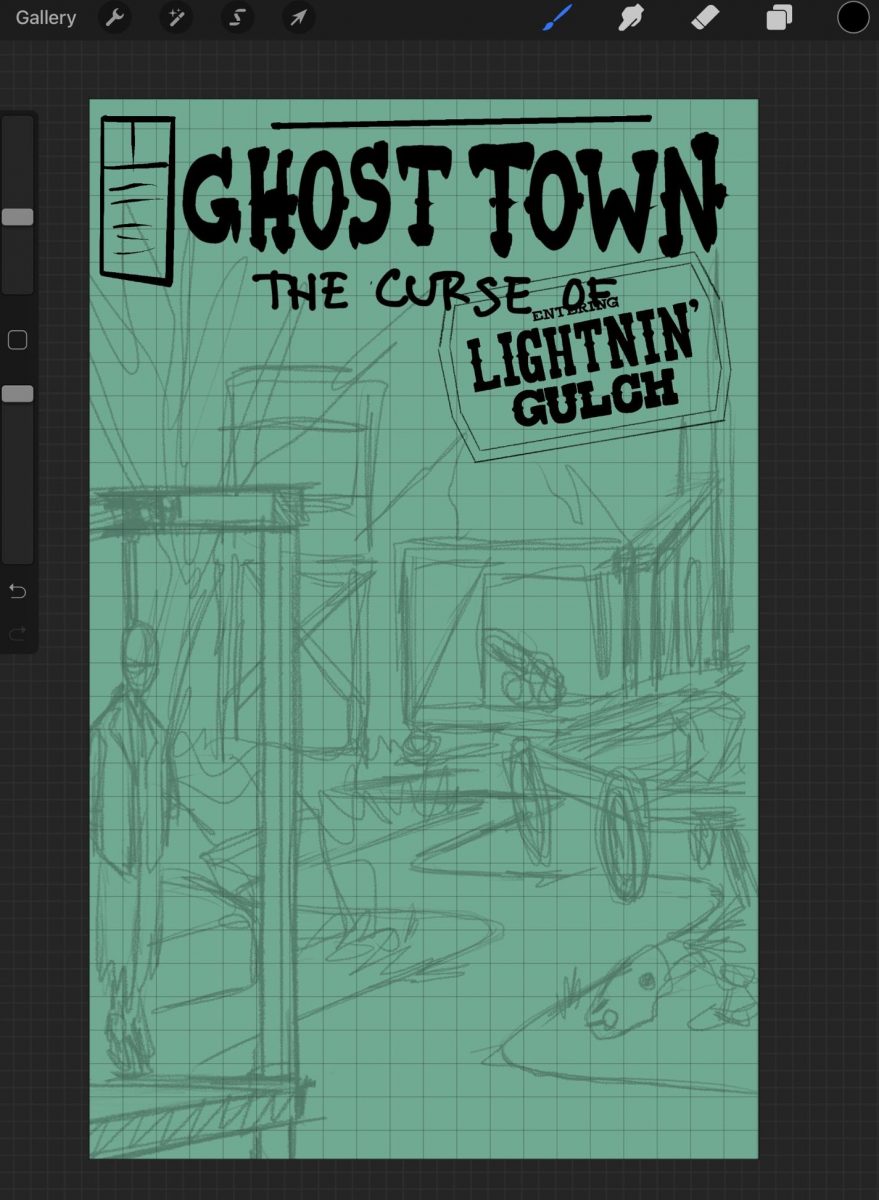 Thanks to the coronavirus, the 30th anniversary of HHN was cancelled, but luckily not all was lost as Universal did give fans a "lite" version of the event, which some dubbed HHN 29.5 (but we prefer Universal's Untitled Daytime Halloween Event). The Bride of Frankenstein Lives, Revenge of the Tooth Fairy, and Beetlejuice were the three houses which Universal let fans get a "taste" of HHN.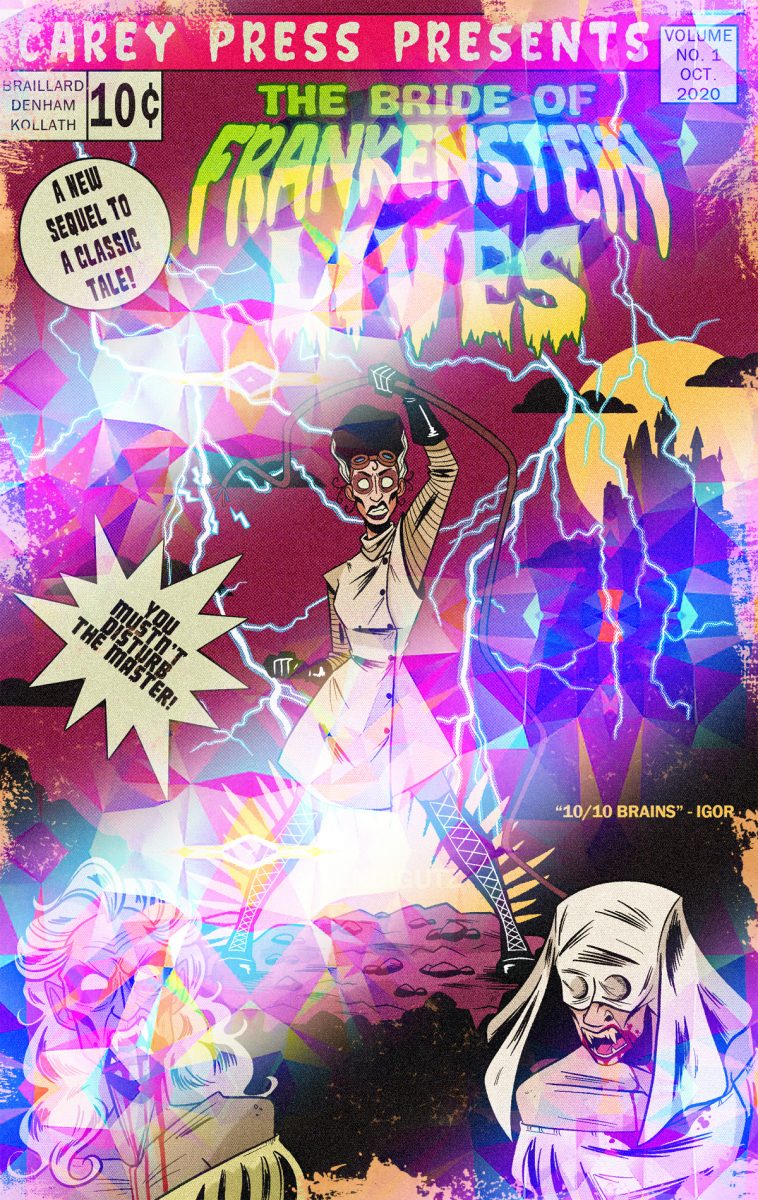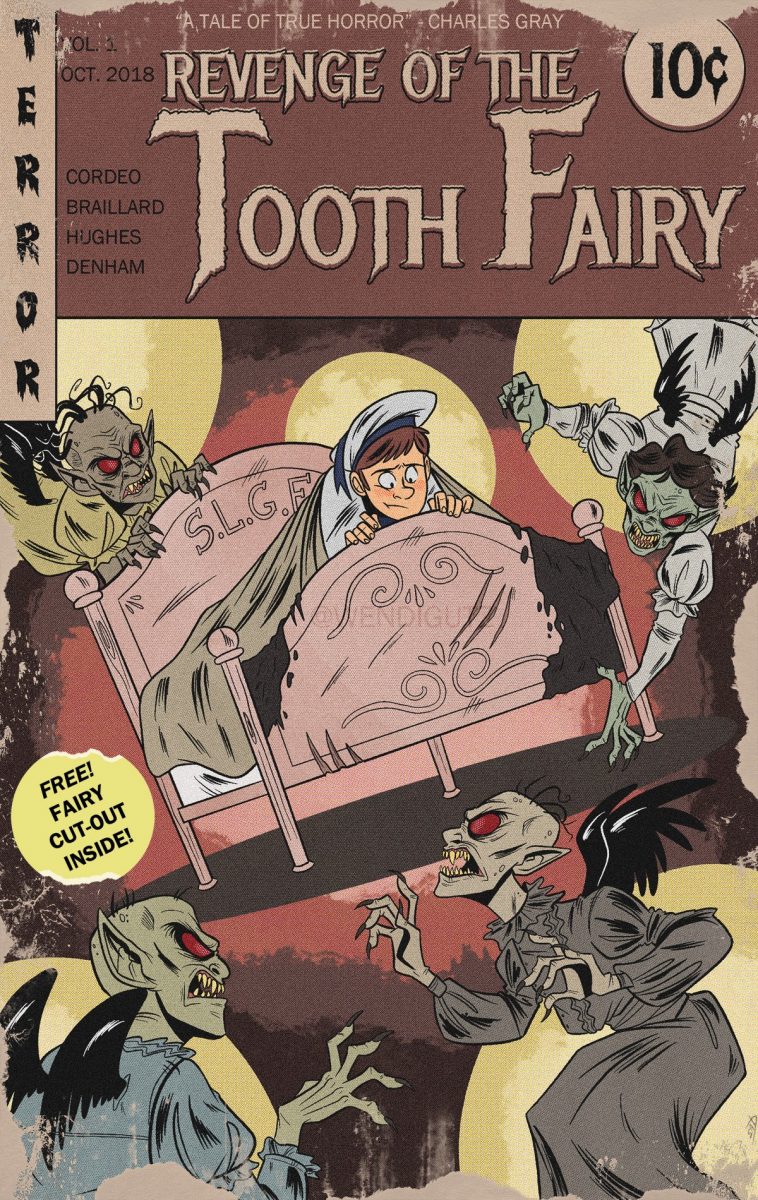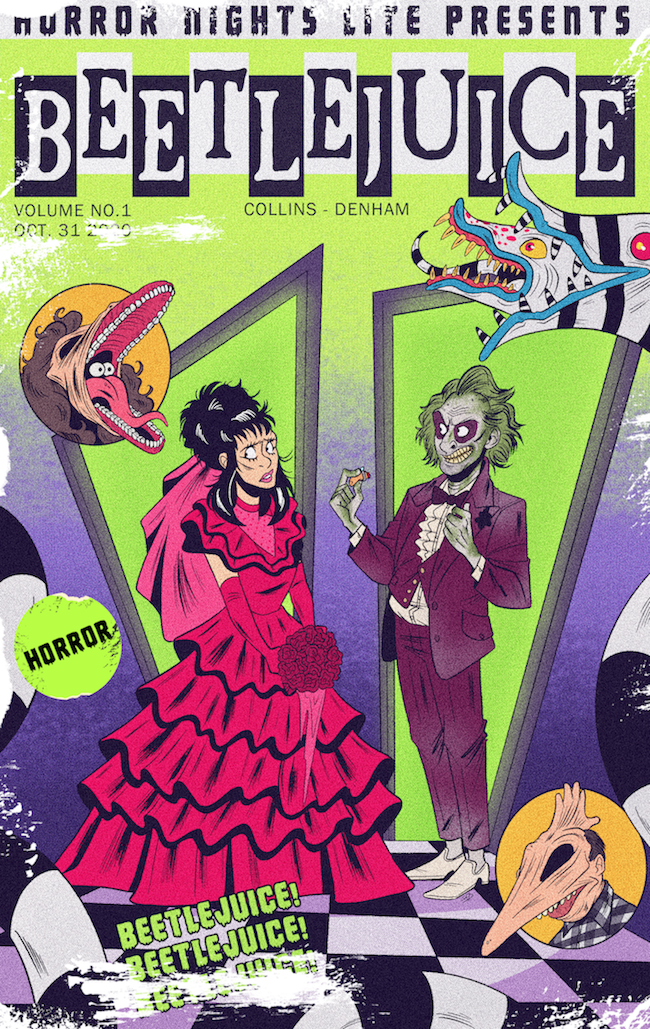 Sterling even did a 3-D variant of the Beetlejuice print!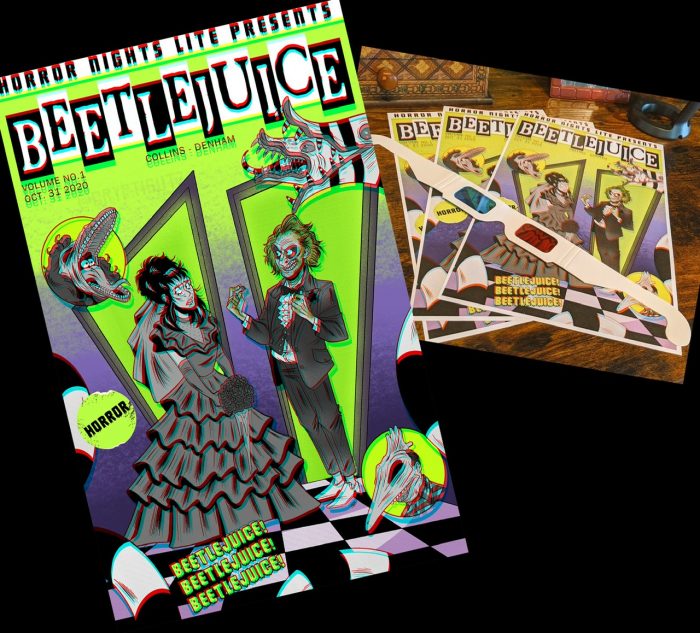 In 2017, Invasion! was a scarezone that was part of HHN 27. This drawing was also made with 3-D in mind.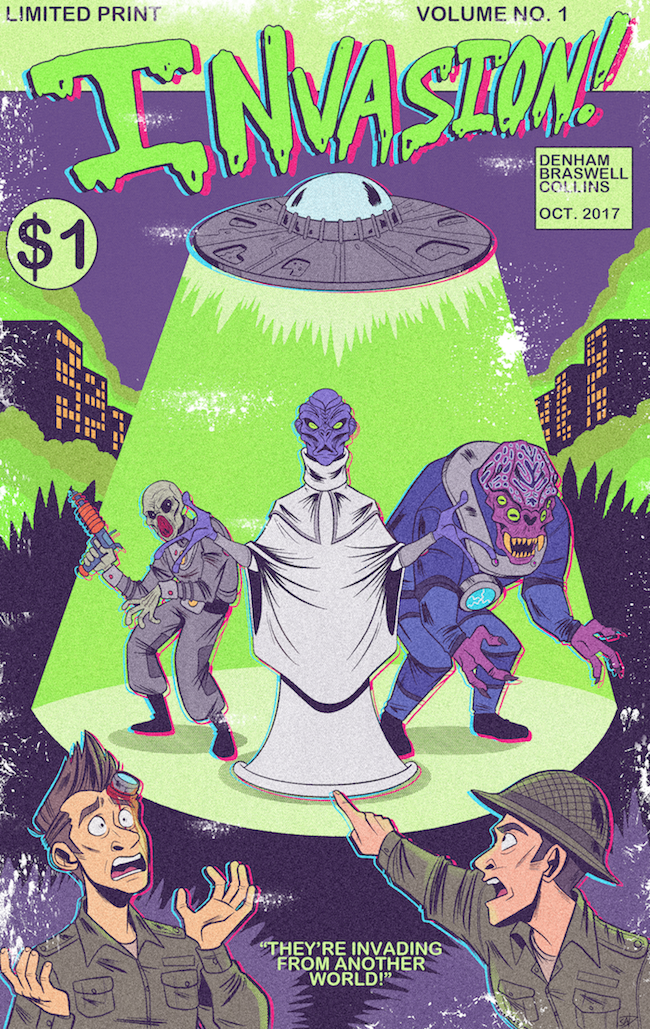 This AMAZING comic book style cover is for the Tomb of the Ancients haunted house from HHN 26.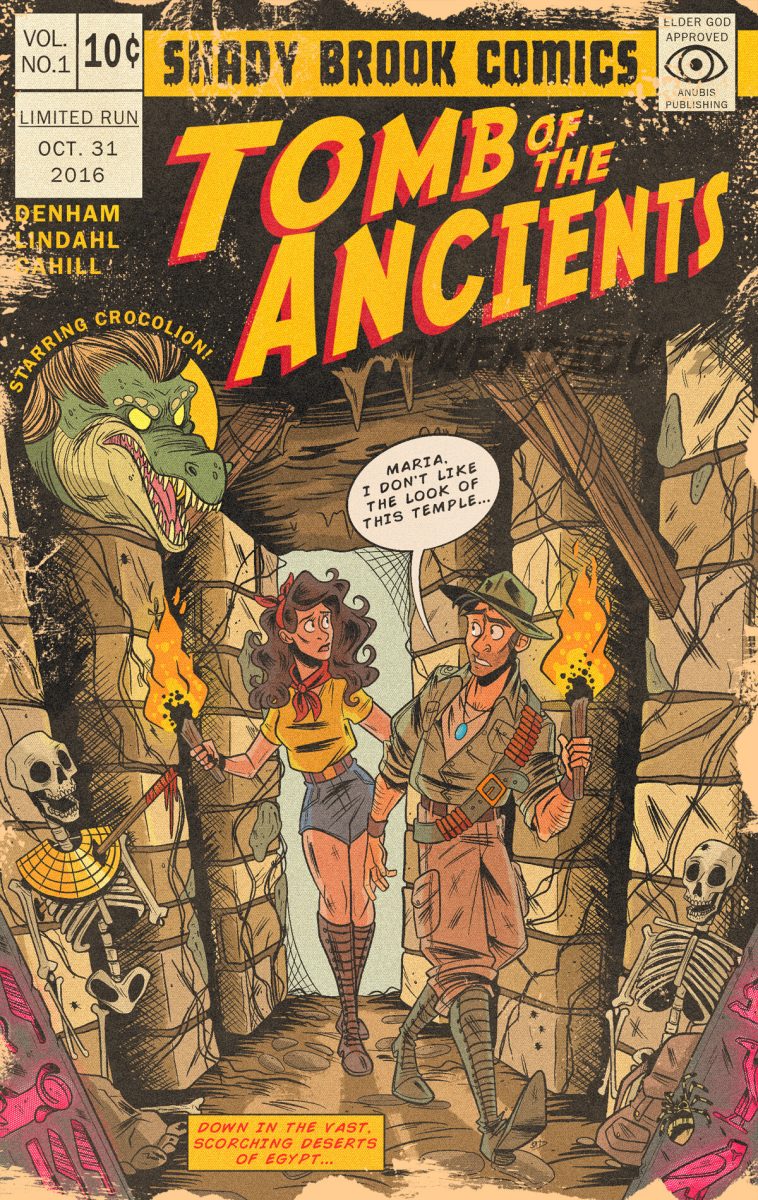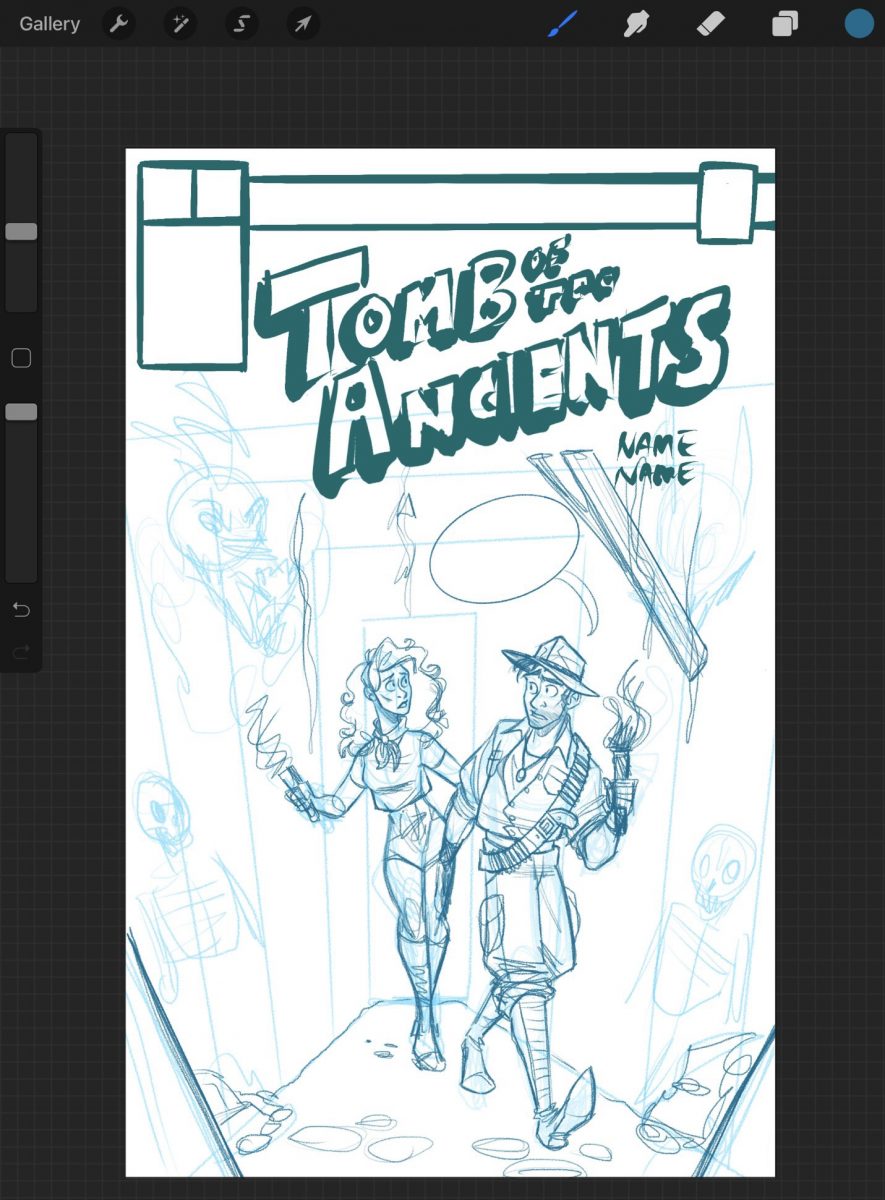 How great does this Mardi Gras themed comic book cover look?!!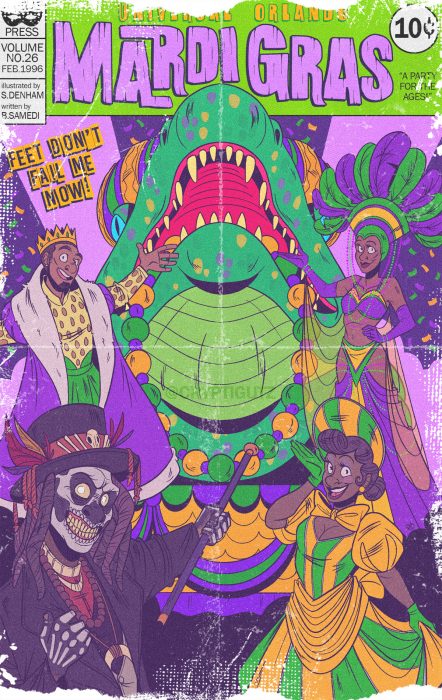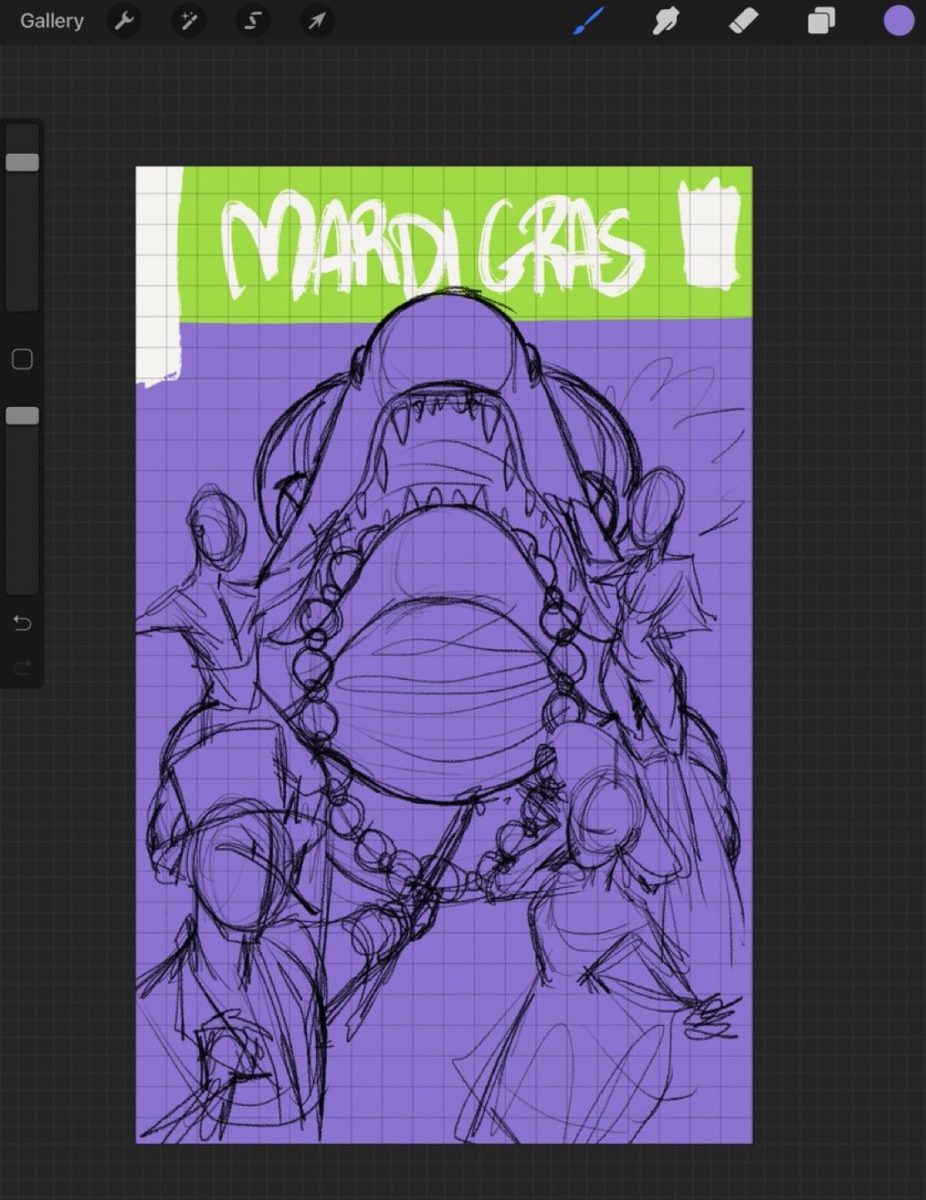 # 4 – BORIS SHUSTER and the Fan Made Characters of IOA
Adam Hostetler (@Skipper_Hoss) Graphic Designer –  I honestly could not tell you the first time I saw Sterling's art. It seems like it had always been a part of the theme park world. Iconic, unique and unmistakably theirs, Sterling gives life to the characters they put on paper and the massive growth in both talent and personal life is inspiring and amazing to watch! Having finally gotten to meet in a random dinosaur-related meeting it was a blast to see that they are as friendly and welcoming in person as they are online. I consider myself lucky to be able to call Sterling a friend and to work alongside on projects small and large even if they are just hiding a name or kick-ass piece of ghostly art someplace for the world to see! I struggle with keeping my daily art journey afloat sometimes but it is a wonderful boost to my day to see what crazy awesome piece Sterling drops online for all of us to "ooh" and "ahh" over. I am also glad my over the top home office rubbed off on them because it really proves that Sterling can do just about anything if they put their mind to. And, although most people know Sterling for the amazing HHN related art, I am still in awe of the amazing original content they create. Stunning! Can't wait to see what is next!
As everyone reading this knows, theme park fans love all the details "hidden in plain sight" throughout the parks. Over in the New York Section of Universal Studios Florida, there is a window advertising Boris Shuster's Private Investigations. This was originally created  as part of the backstory for the icon of HHN 18, Bloody Mary. After HHN ended, this particular window dressing stayed, and has become a fan favorite ever since.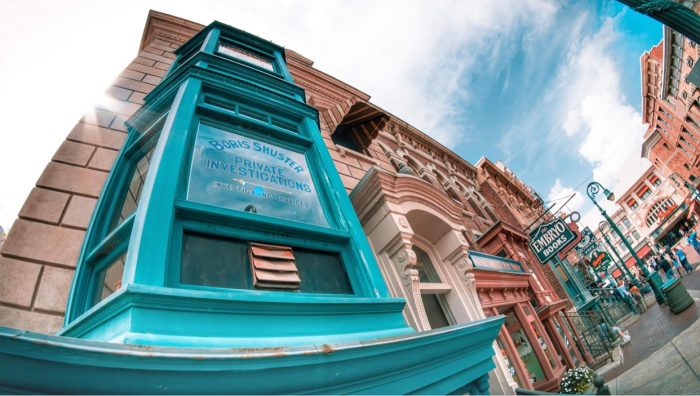 For this drawing, Sterling has Boris Shuster looking wistfully out this very same window.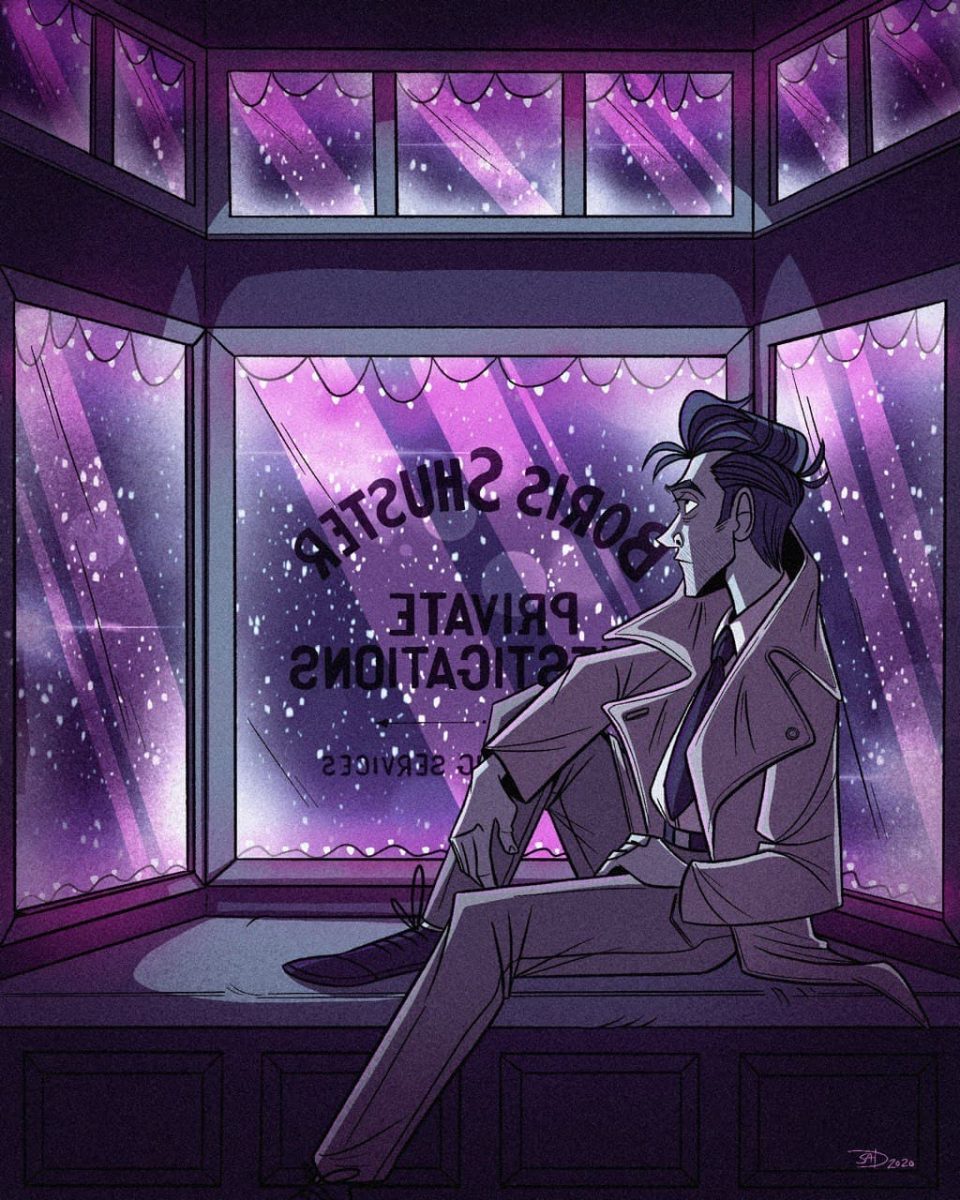 I always find it interesting to see the artist style of an artist develop over the years, and we can see that with the next two drawings featuring Boris Shuster. The first one was drawn in 2017 and was the first piece of Boris fanart ever created.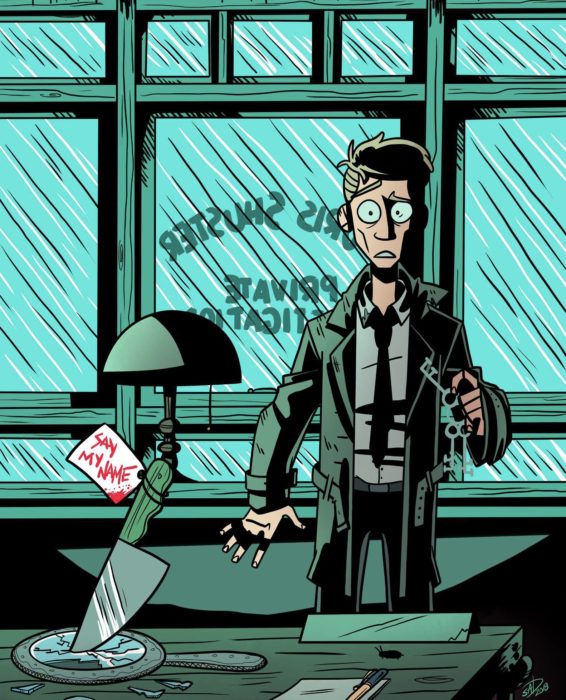 Sterling revisited this drawing in 2021, and the "glow up" is amazing to see. An accomplished artist like Sterling is constantly improving their style (as compared to someone like me who draws literally the exact same way today as I did twenty years ago – as evidenced in this David & Derek article on Guest Etiquette at the Disney Parks. Practice doesn't always make "perfect," it can also make "permanent." It takes a commitment to the craft to continually improve, and Sterling puts in the work.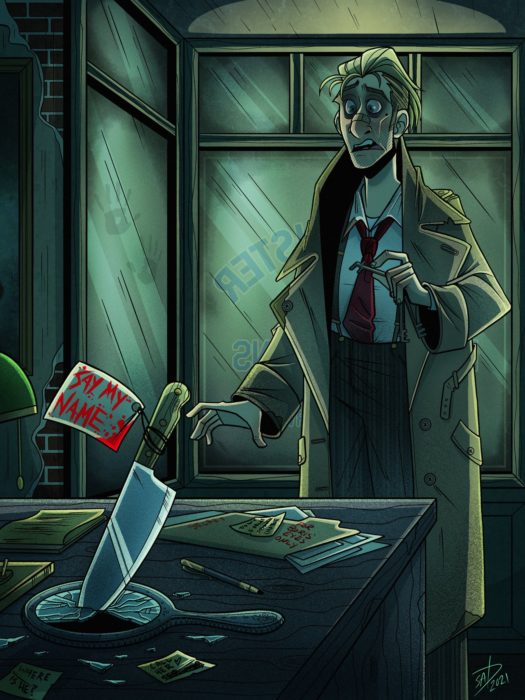 In this amazing piece, Sterling created a mock-up of a pulp noir style book cover featuring Boris and Bloody Mary.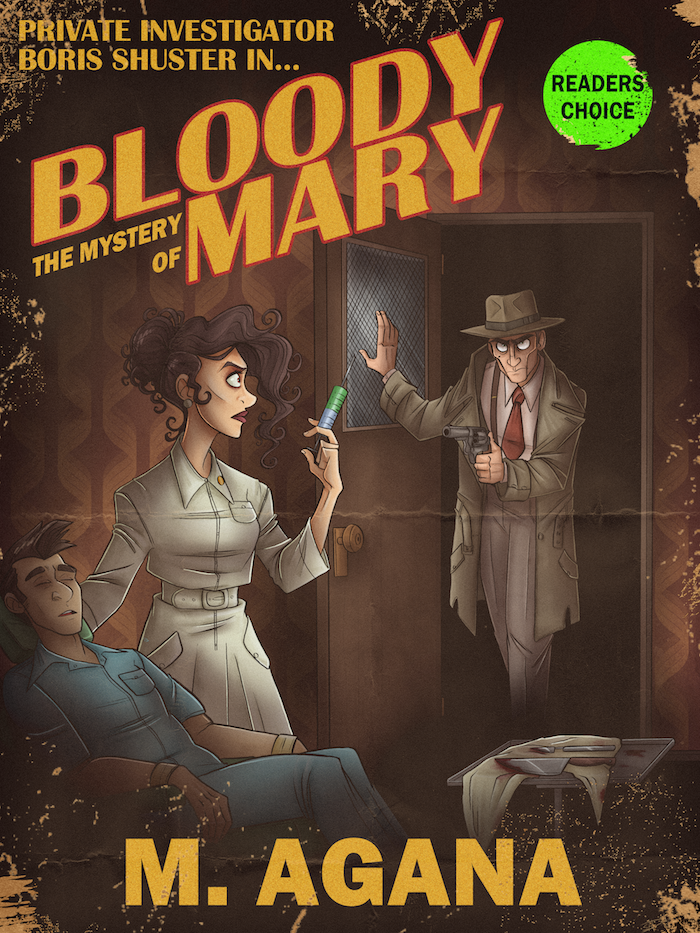 Over in Islands of Adventure, any person who has walked through Port of Entry knows it is one of the best theme park entrances in the entire world. Sterling created characters who would fit perfectly into this land.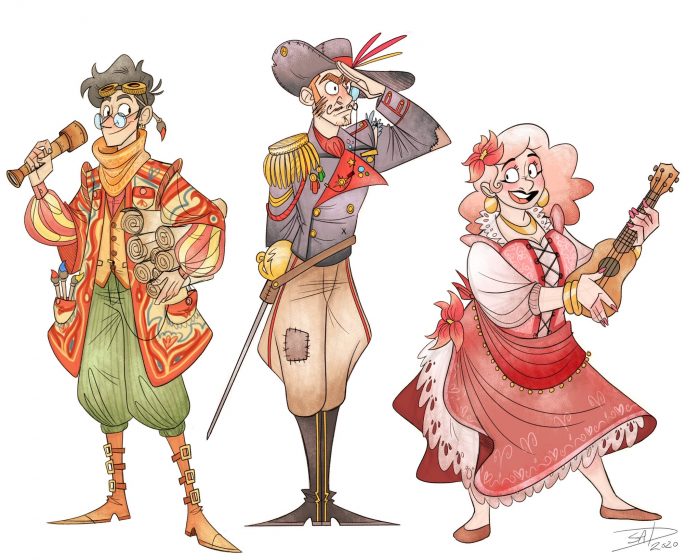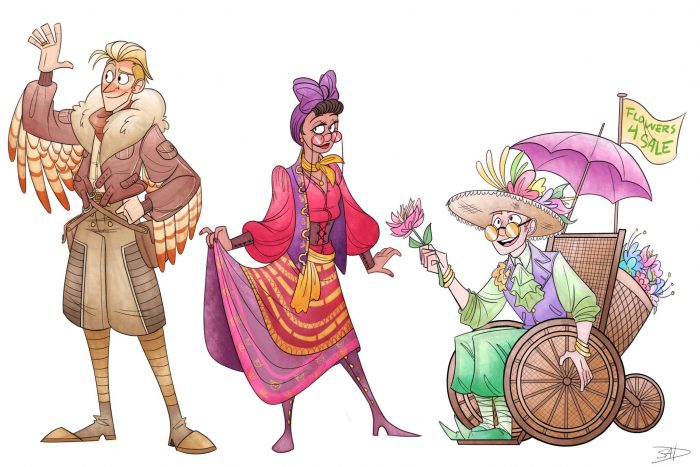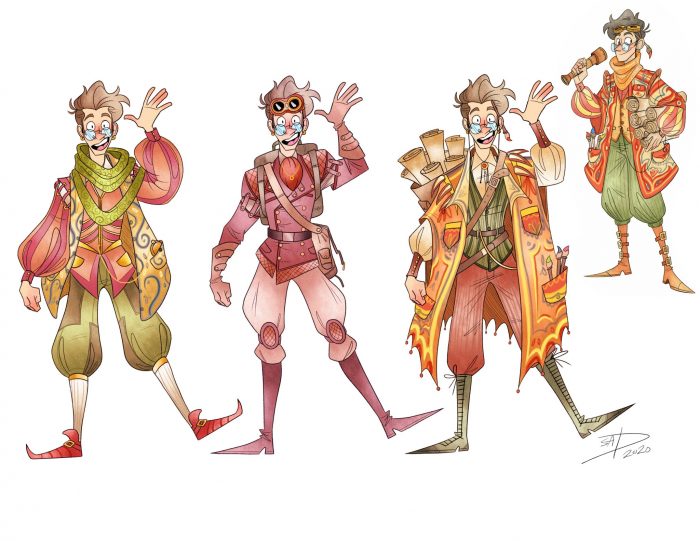 Meanwhile, over in Lost Continent sits the Mystic Fountain. An interactive fountain which talks to guests, you can end up spending a lot of time watching kids be enthralled by the Mystic Fountain.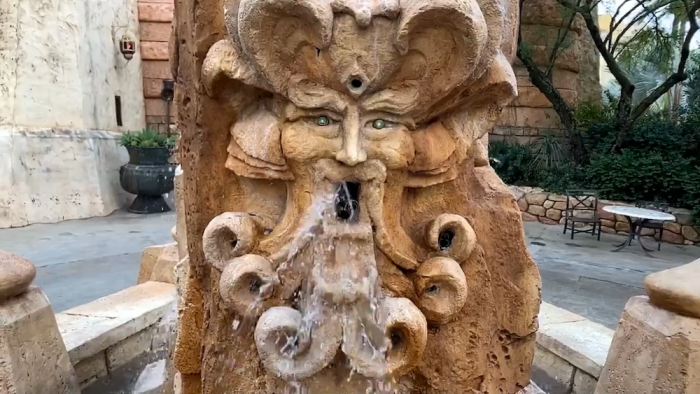 Sterling created a backstory for the Mystic Fountain along a unique character in a relationship akin to Beauty & the Beast.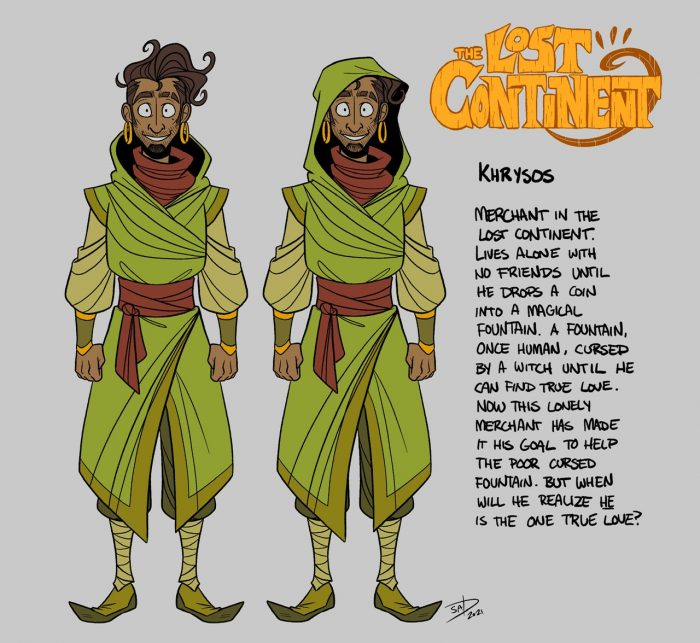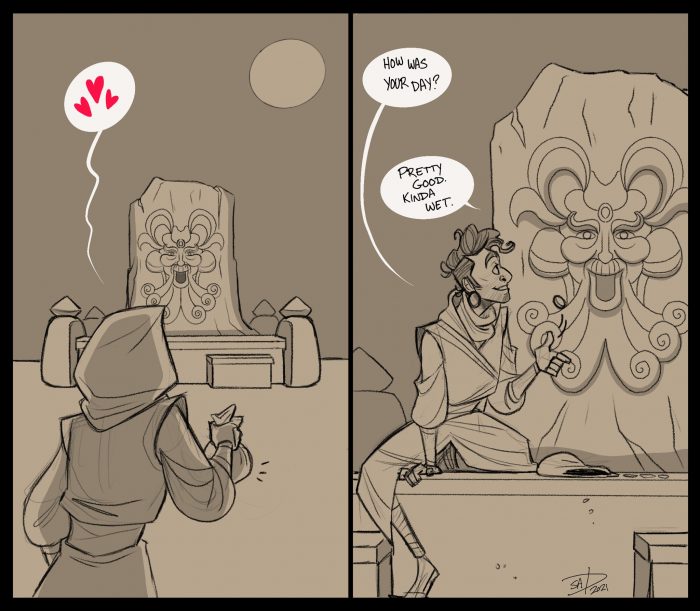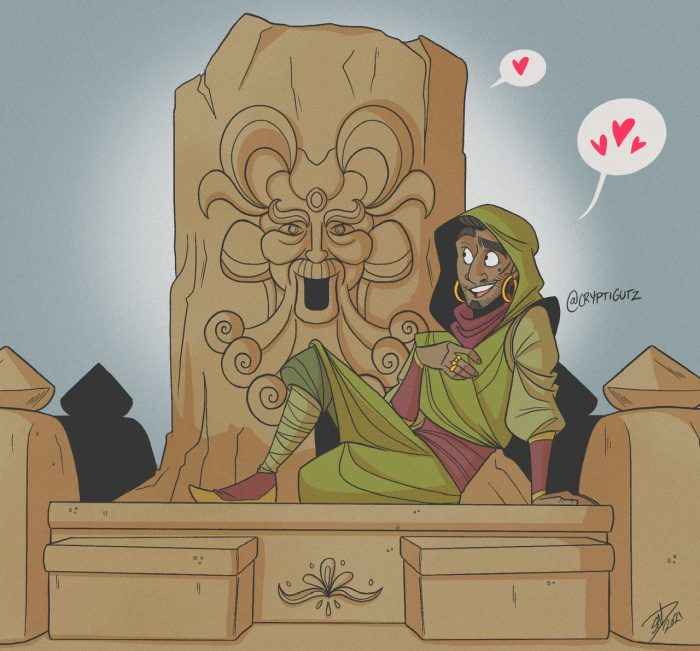 # 3 – Jock and Jake
We have covered the popular #SixFanArts challenge previously, as artists take suggestions from social media users on characters to draw. We've seen artists draw characters from Disney, Universal, and other pop culture favorite movies and video games. For Sterling's #SixFanArts below we have Figment, Norman Bates of Psycho fame, Don Karnage from the Disney Afternoon's TaleSpin, popular video game characters and…Jock Lindsey? Jock Lindsey was an incidental side character from Indiana Jones at the Raiders of the Lost Arc. However, in a surprising move, Disney themed Jock Lindsey's Hangar Bar in Disney Springs around this character and filled the bar with references from the Indiana Jones movies.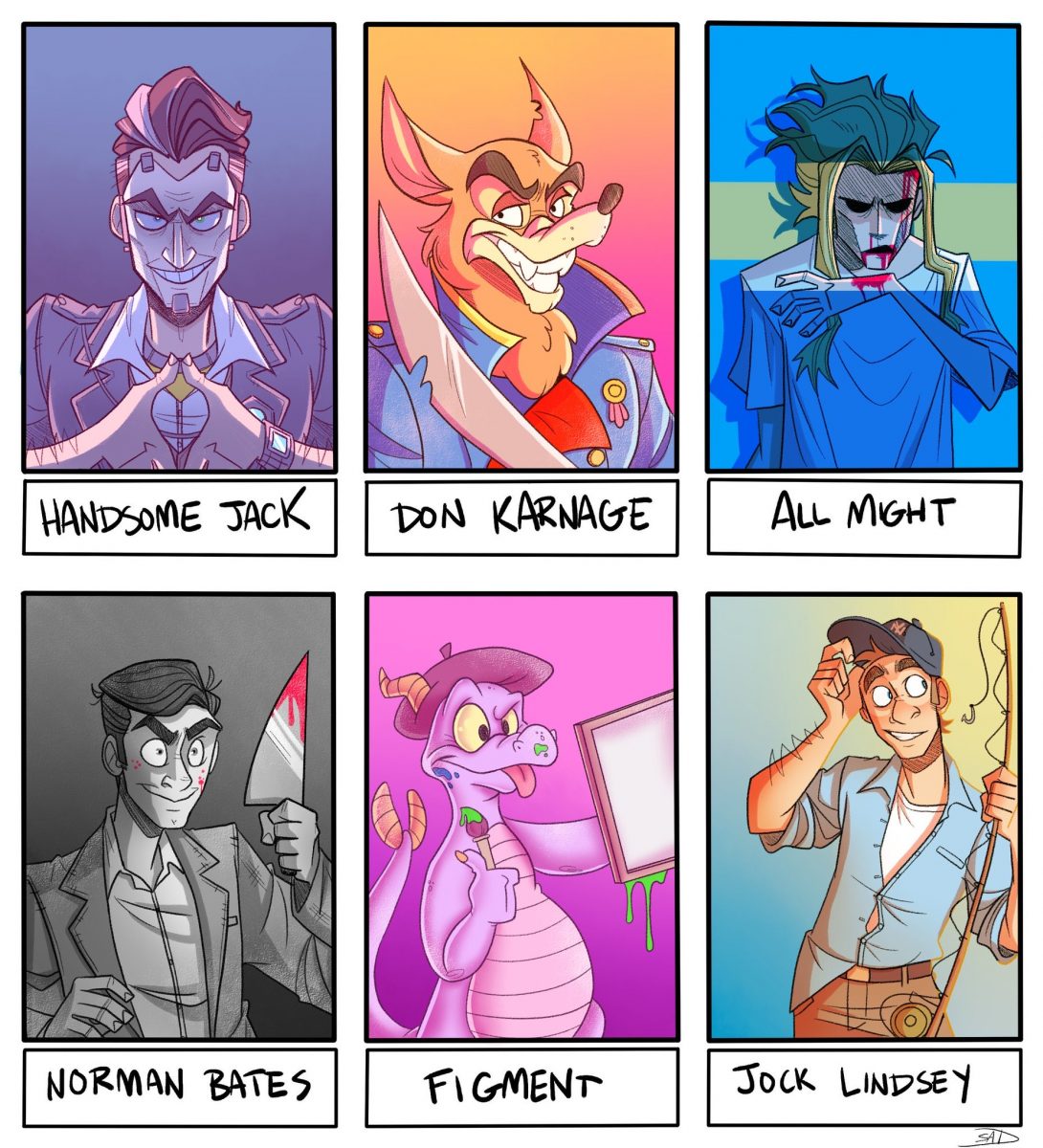 One of the references in the Hangar Bar is this sign below, which features a cup that was prominently featured in Indiana Jones and the Last Crusade.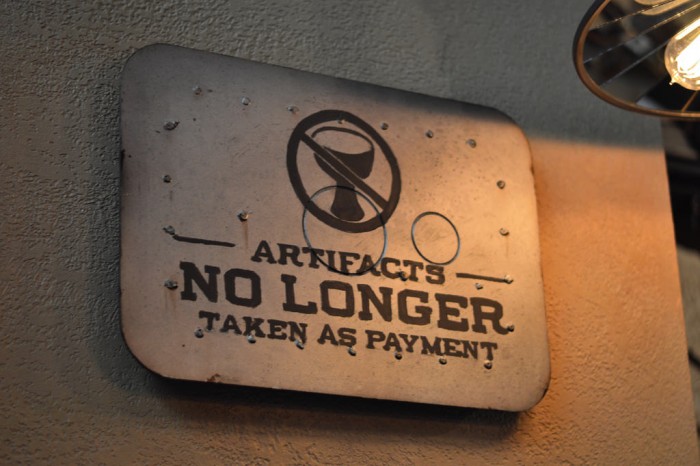 Sterling recreated that sign, and other artifacts, in this drawing of Jock Lindsey.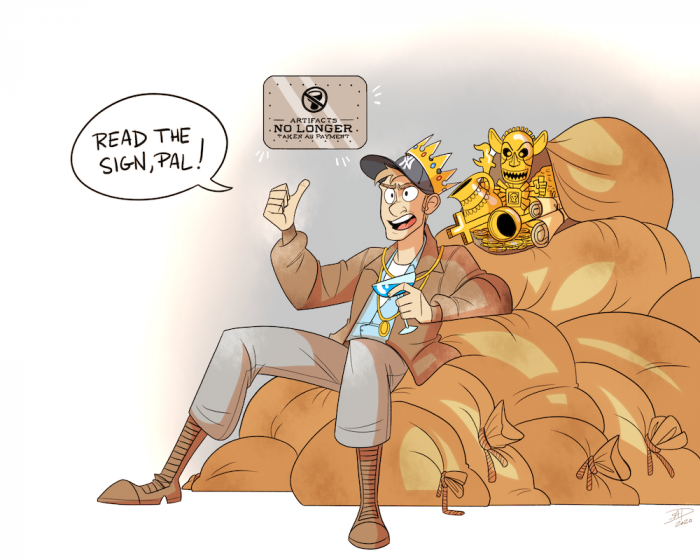 Meanwhile, over at the Universal Orlando Resort, they already had an area themed to a American pilot who opened up a bar serving casual American food. The bar in question is Jake's American Bar at Loews Royal Pacific Resort. In an ingenious creative move, Sterling shipped these two ex-pats into a loving relationship through a series of drawings that are both charming and heartwarming.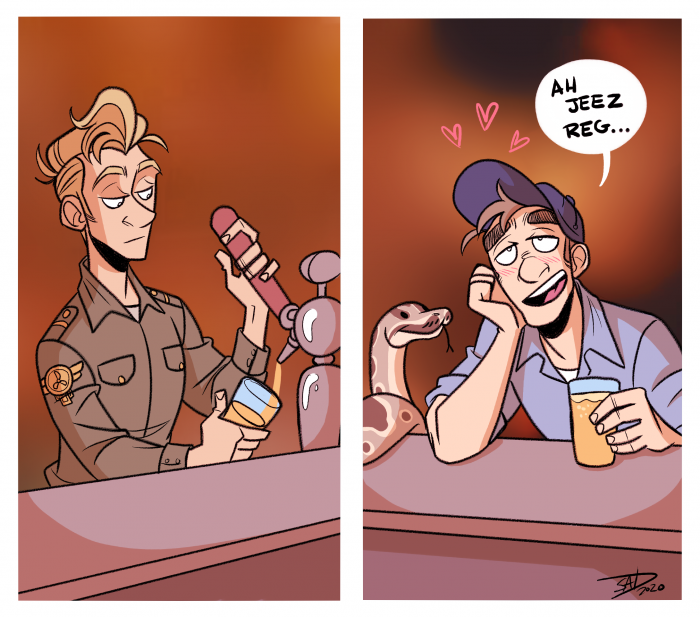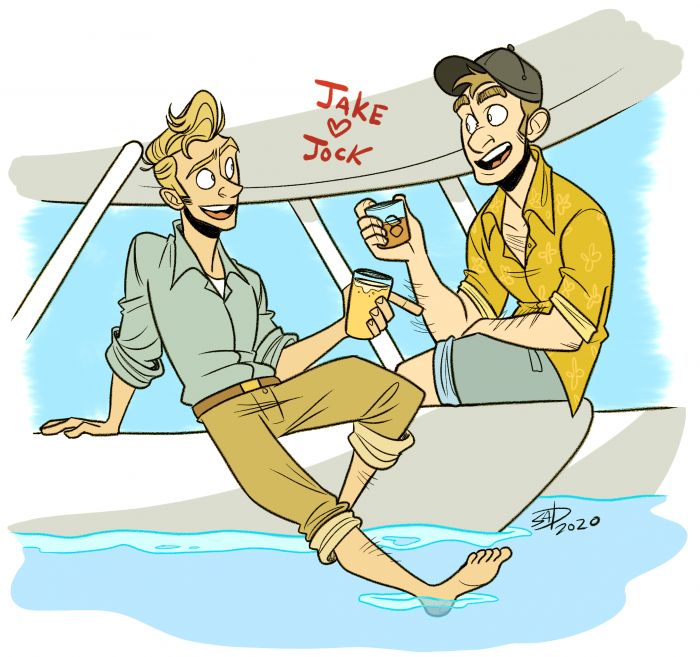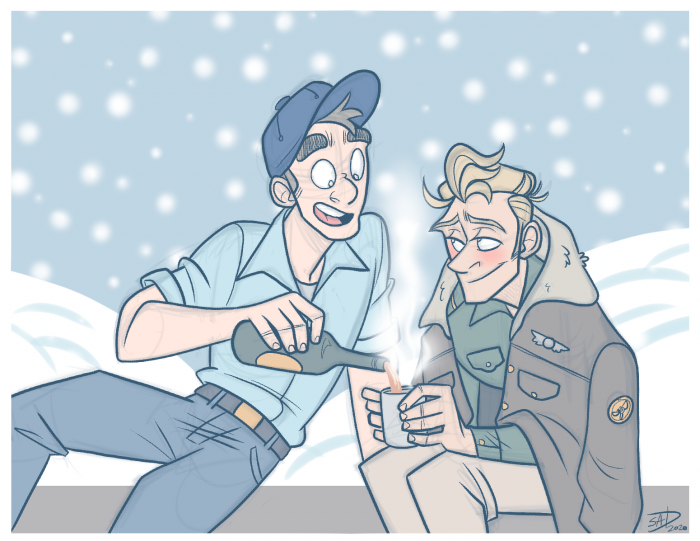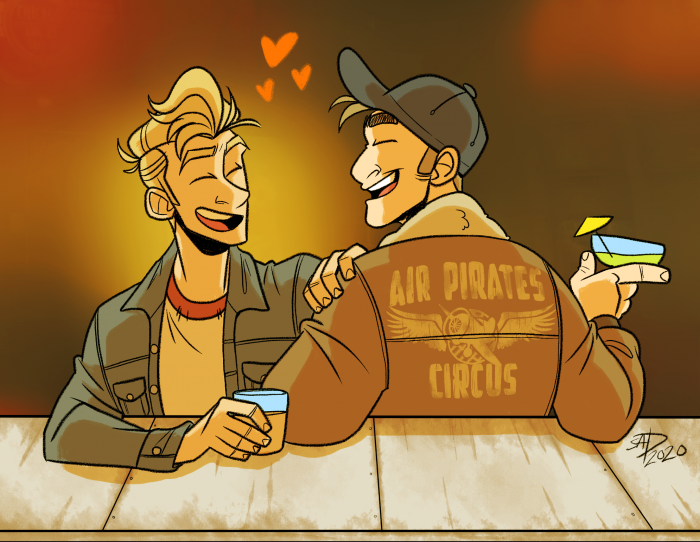 As a straight white male, I am represented throughout the theme parks. Many others, who love the parks just as much as me – if not more – can't say the same. There are scores of theme park fans and theme park employees who are part of the LGBTQ+ community that are sorely lacking any representation in a place they love the most. Sure, the theme parks themselves are great at empty gestures of inclusion, or will be happy to make money off it when it comes to things like Pride themed merchandise, but actual inclusion? Not so much. I love the Jake and Jock drawings because they show a loving relationship transcends what many of us have been taught to believe is "the right way." Happiness, contentment, and representation shouldn't be exclusive to one group of people at the expense of everyone else. Things are changing, slowly, but at least we are moving towards a direction where anyone, regardless of their sexual orientation and/or gender identity, can feel as welcomed at the parks as I do.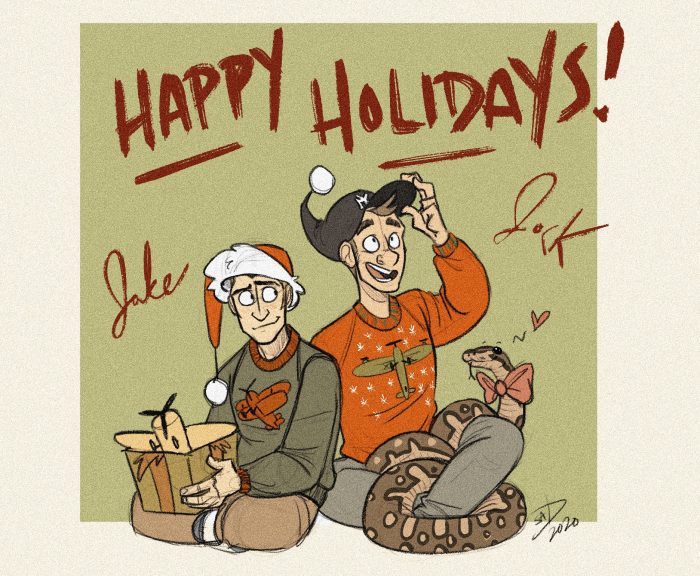 Speaking of Jock Lindsey's Hangar Bar, first let's take a look at some of the themed drinks that were served during the first year of operations.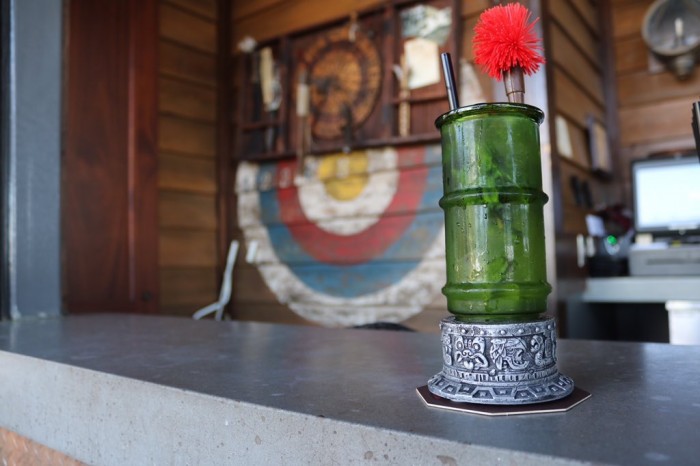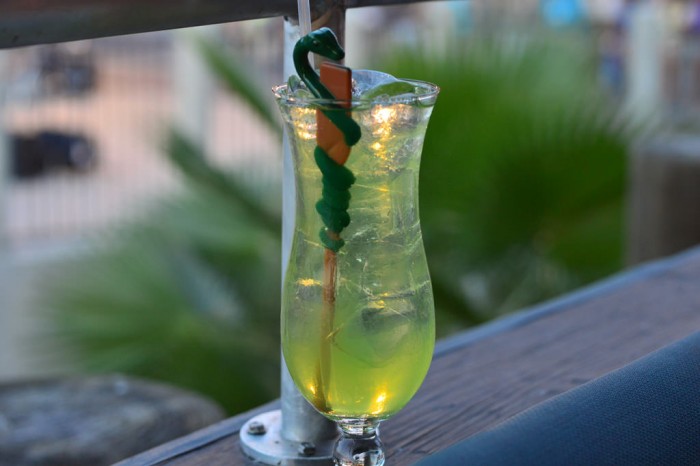 Next up, Sterling's wonderful drawings of these drinks!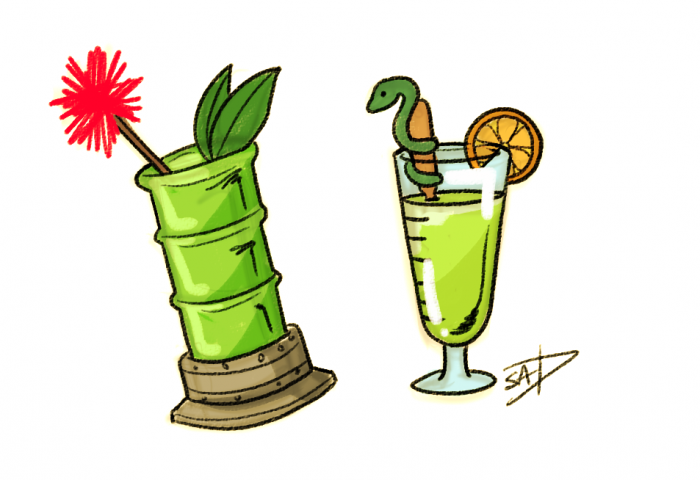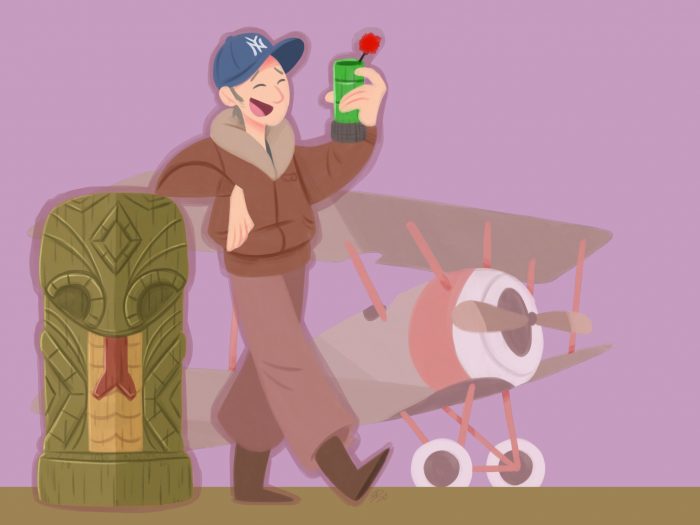 # 2 – Mouse Inspired
They say hindsight is 20/20, but pretty much everyone knew it was going to be a huge mistake to replace DisneyQuest with the NBA Experience in Disney Springs. Turns out, everyone was completely right as there is a good chance the NBA Experience will ever open its doors again (meanwhile we still can't forget
its laughable Grand Opening
). Meanwhile DisneyQuest – while far from perfect – still holds a special place in many fan's memories. One of the attractions in DisneyQuest was Animation Academy, where guests got step by step instructions on how to draw a Disney character. One of the instructors who taught the class how to draw was none other than Sterling!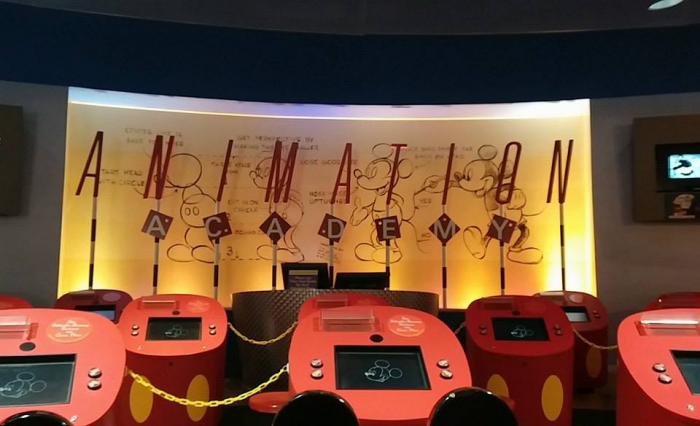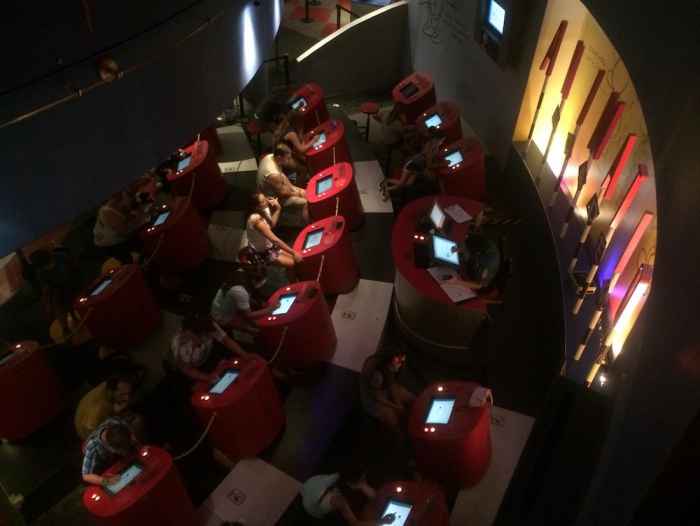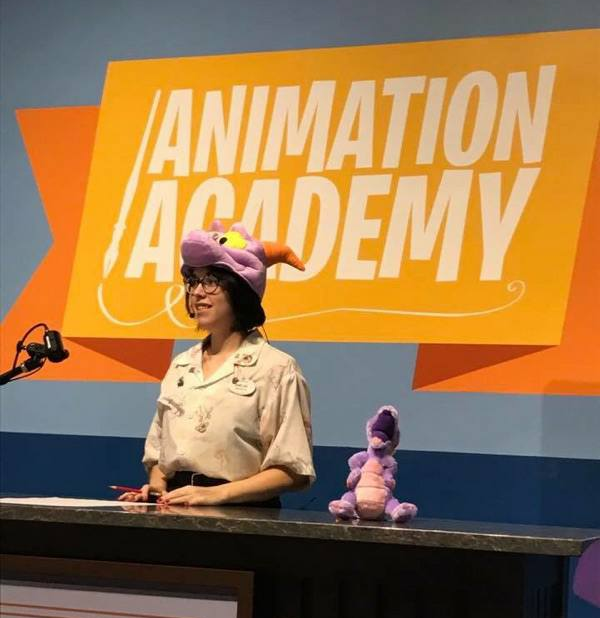 Let's check out some of Sterling's drawings from Animation Academy.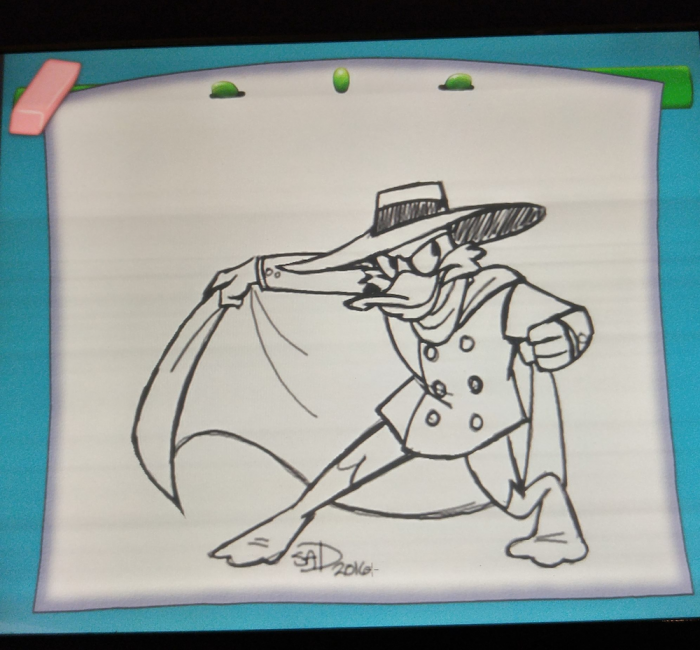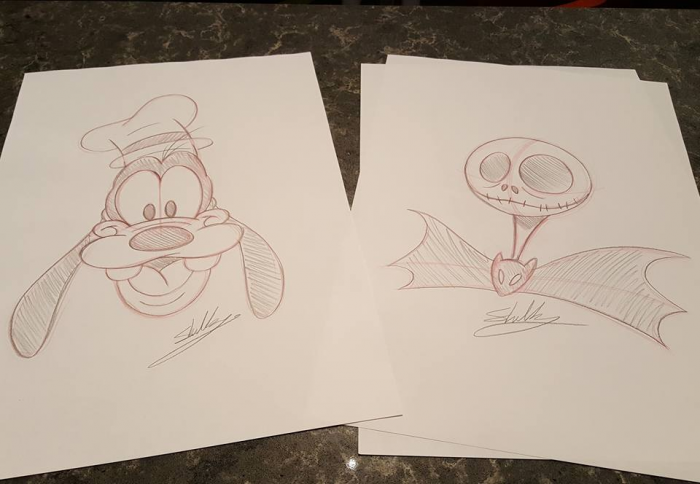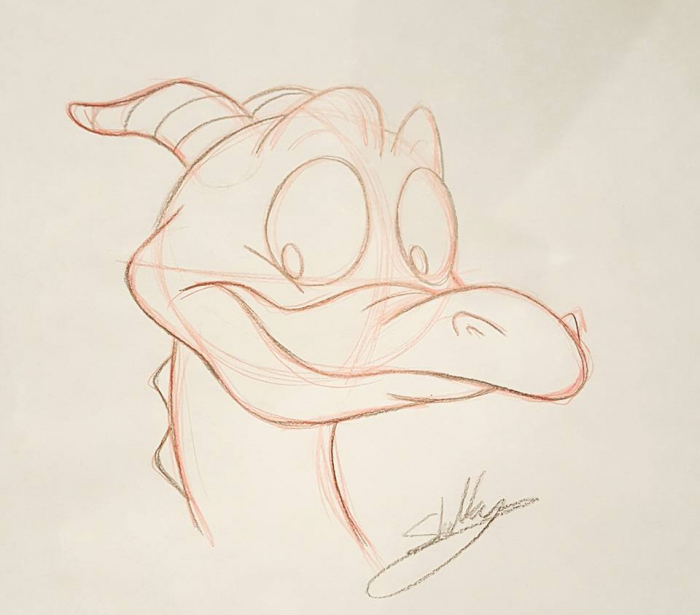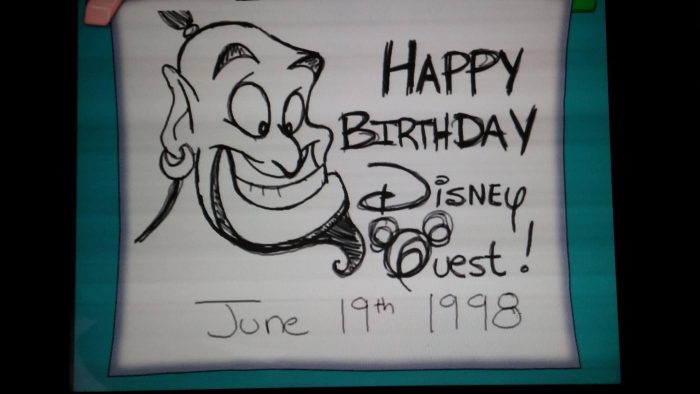 Artistically speaking, Sterling's artwork slaps especially hard when it combines both Disney and Universal. For example, we all love the stretching room portraits in the Haunted Mansion, but we if they were mashed up with HHN Icons? Magic.
Brandon Kleyla (@BrandonKleyla) Art Director: Like many of us, I first became a fan of Sterling's through their art on Twitter. It just kept popping up in my feed! Over time I'd pick up a piece here and there, the Universal Monsters Graveyard Busts being one of them. There's just a fun unique style to everything I'd seen of Sterling's, and it's only grown! It wasn't until Adventureland Day that we got to meet and instantly was like we'd always known each other. We chatted about the parks, tiki mugs, all sorts of random topics as we all matches our way through Adventureland, collecting treasure maps from "A Pirates Adventure." 
One thing I certainly learned from my time at WDI was that you should always surround yourself with the best. In my case, not only that, but also people who you enjoy being around. Its clear why Sterling is popular, because they get it! An artist AND a fan of the product combined is a powerful thing!  When it came to "Mystic Libations," Sterling was the perfect choice to bring on to illustrate over 100 drinks! Not only for the art, but to be able to work with them for a few months. Over that time, there's been great art, which you'll all see soon, but we've bonded over the silliest of things, picked through the wildest fan theories, and of course where would I be now without Dr.Strange in my life? 
I'm thrilled to be a fan of Sterling's art. Thrilled to work with Sterling any chance I can, and thrilled to have gotten to know them as a person! I'm a fan! 
This drawing of the Haunted Mansion bride has a truly otherworldly feel to it.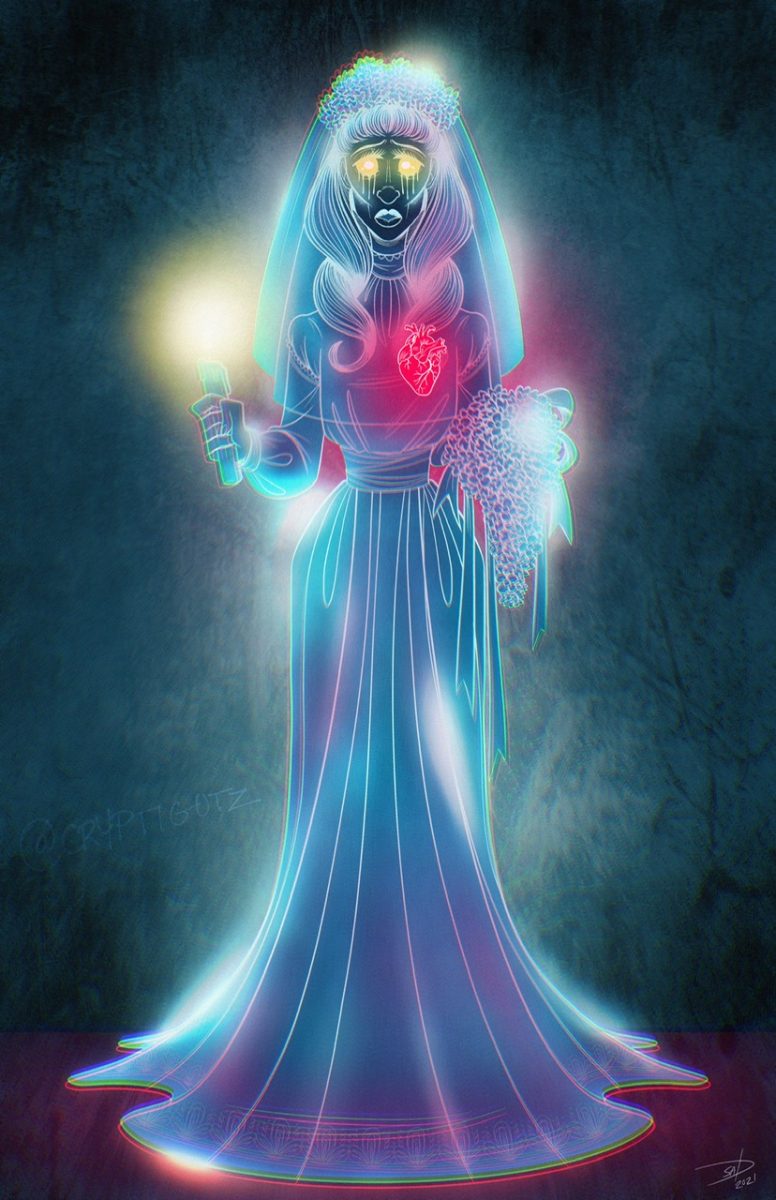 How about the Haunted Mansion stretching room portraits using Figment? ::chef's kiss::

Next up is what I like to call "A Tale of Two Figgys."  First we have a whimsical drawing of everyone's favorite purple dragon opening up a special Christmas present.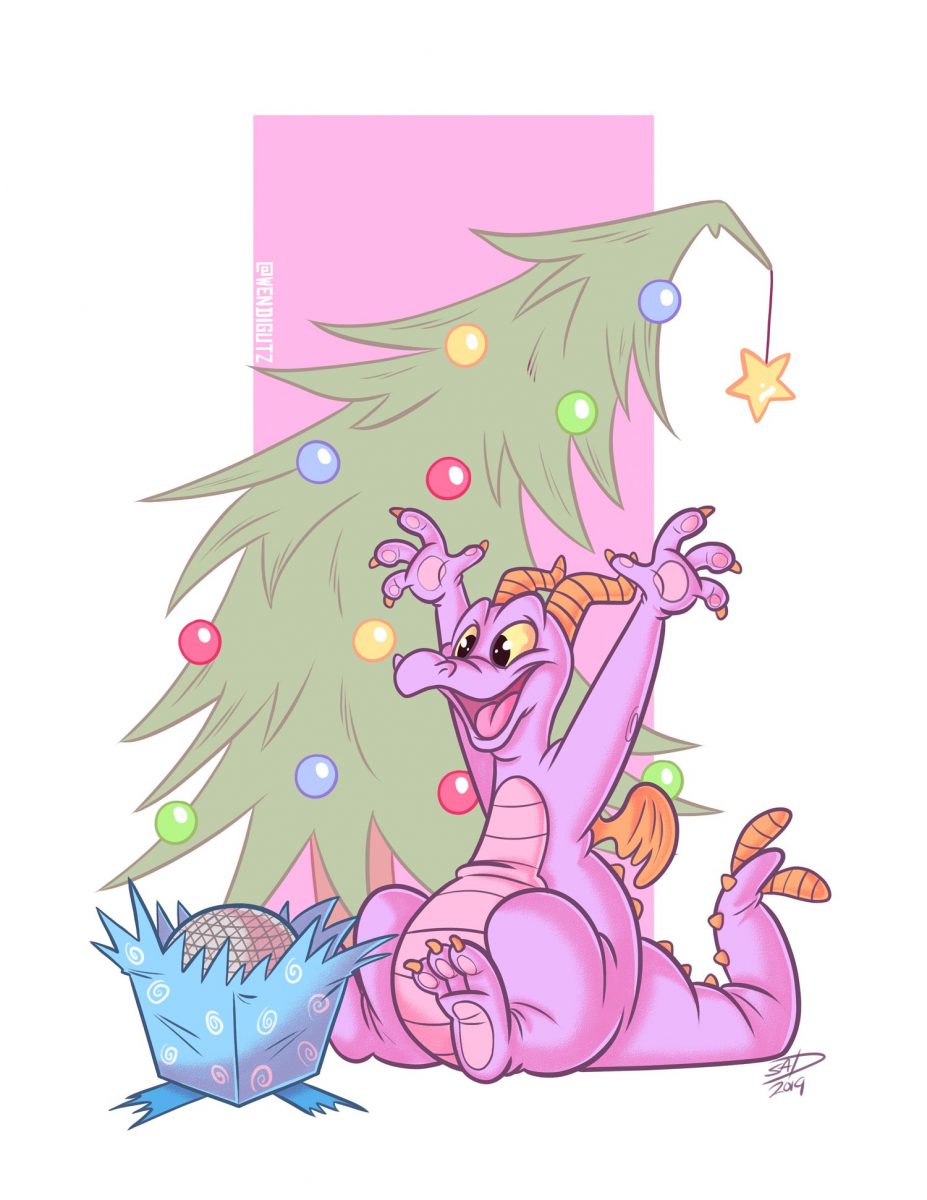 On the other end of the spectrum is this drawing of Figment, which was made recently during a next level bonkers exchange on social media involving some passionate Disney fans and Eric Idle (who plays the character of Dr. Nigel Channing in Journey Into Imagination with Figment.) Essentially, after being driven near mad by Twitter, Idle referred to Figment as the "animated little f—er." Fear not, Dear Reader, we'll be covering all of this in great detail later this year in the 2021 Theme Park Turkeys of the Year Awards.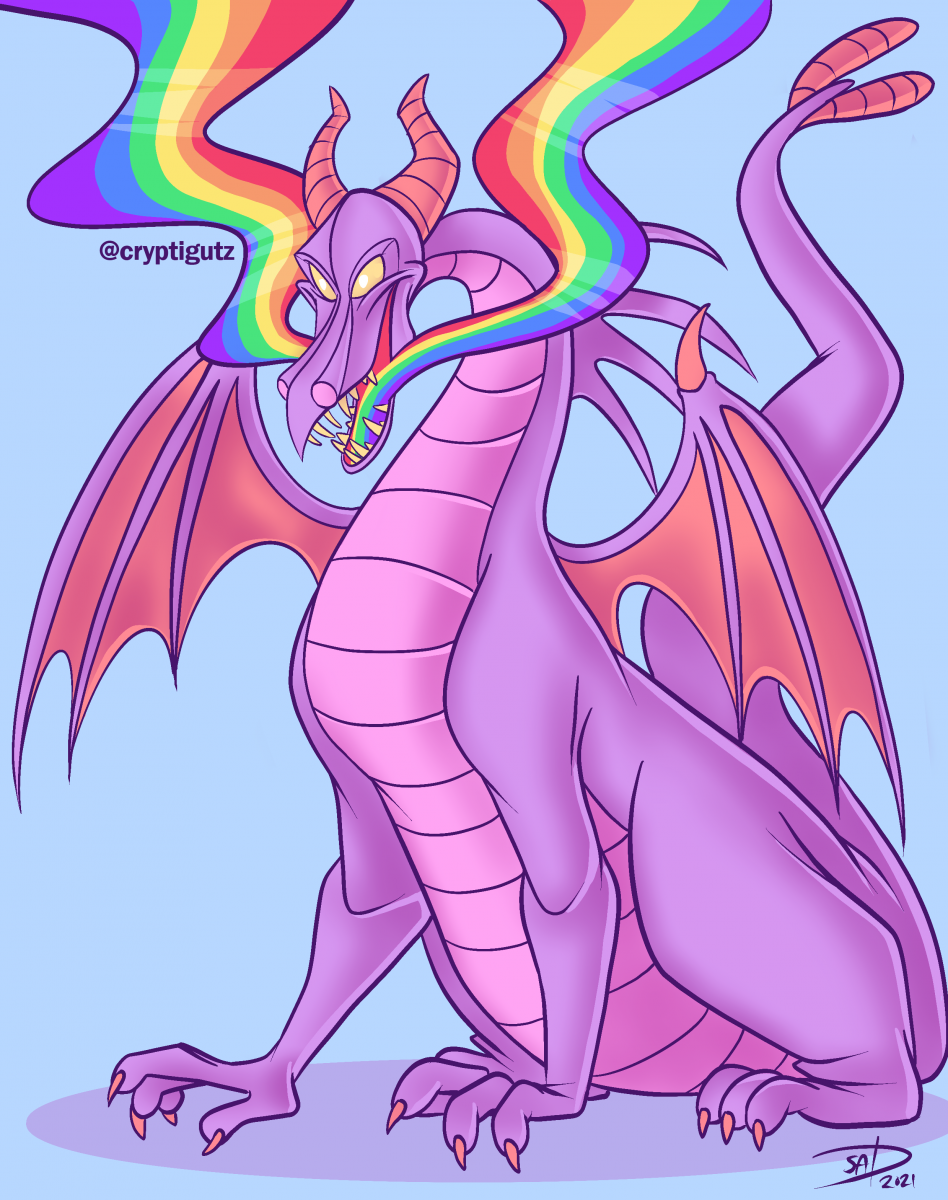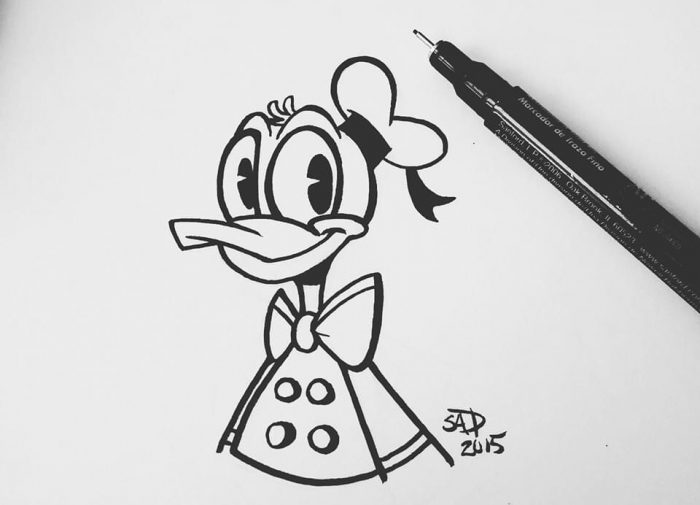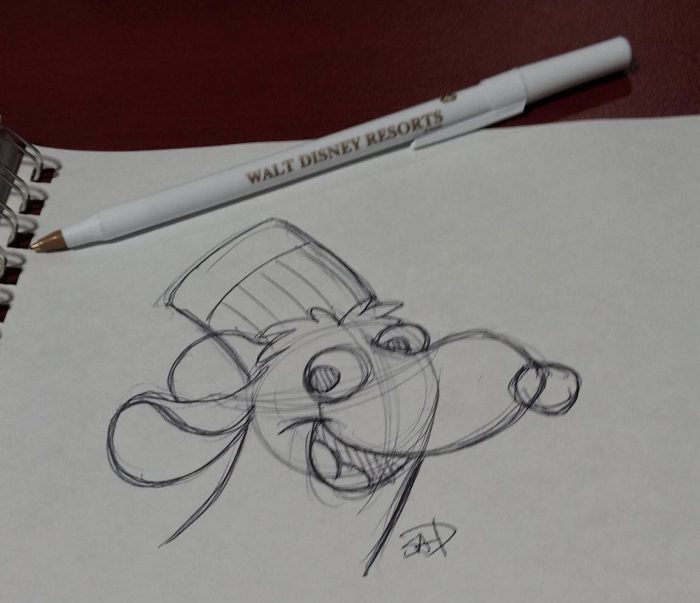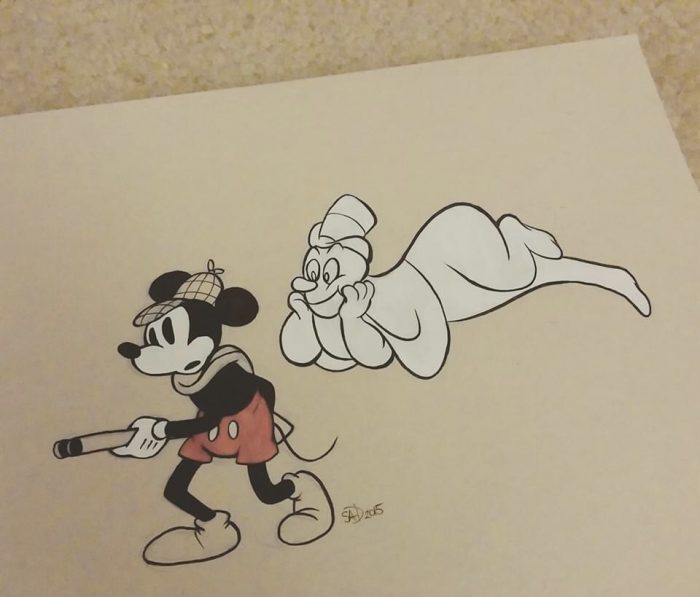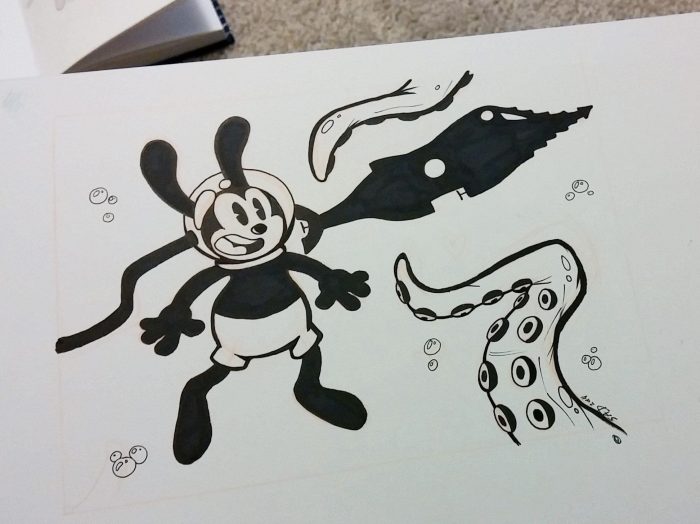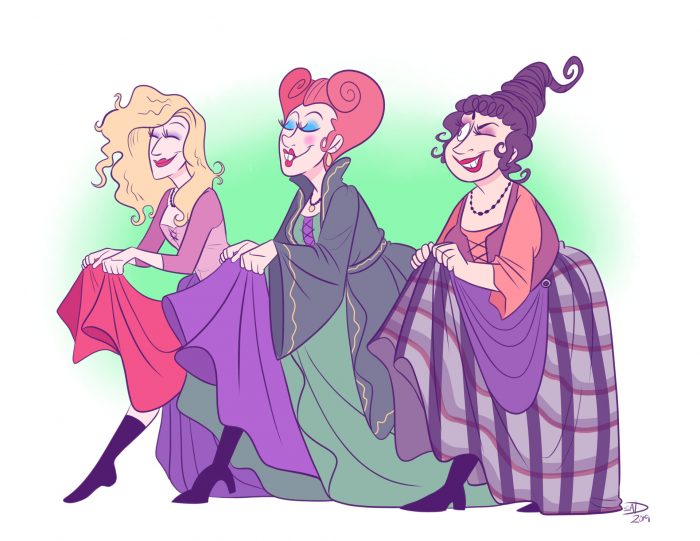 Cult favorite The Rocketeer.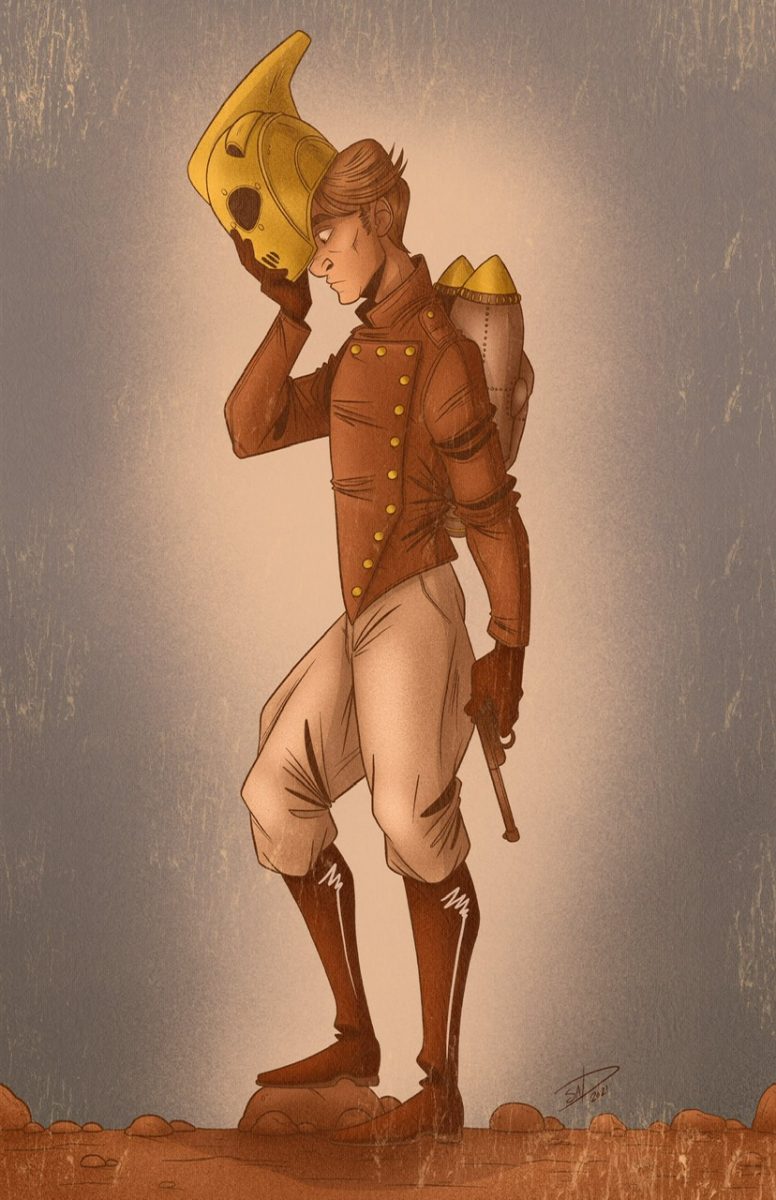 The most buzzed about show on Disney+, WandaVision.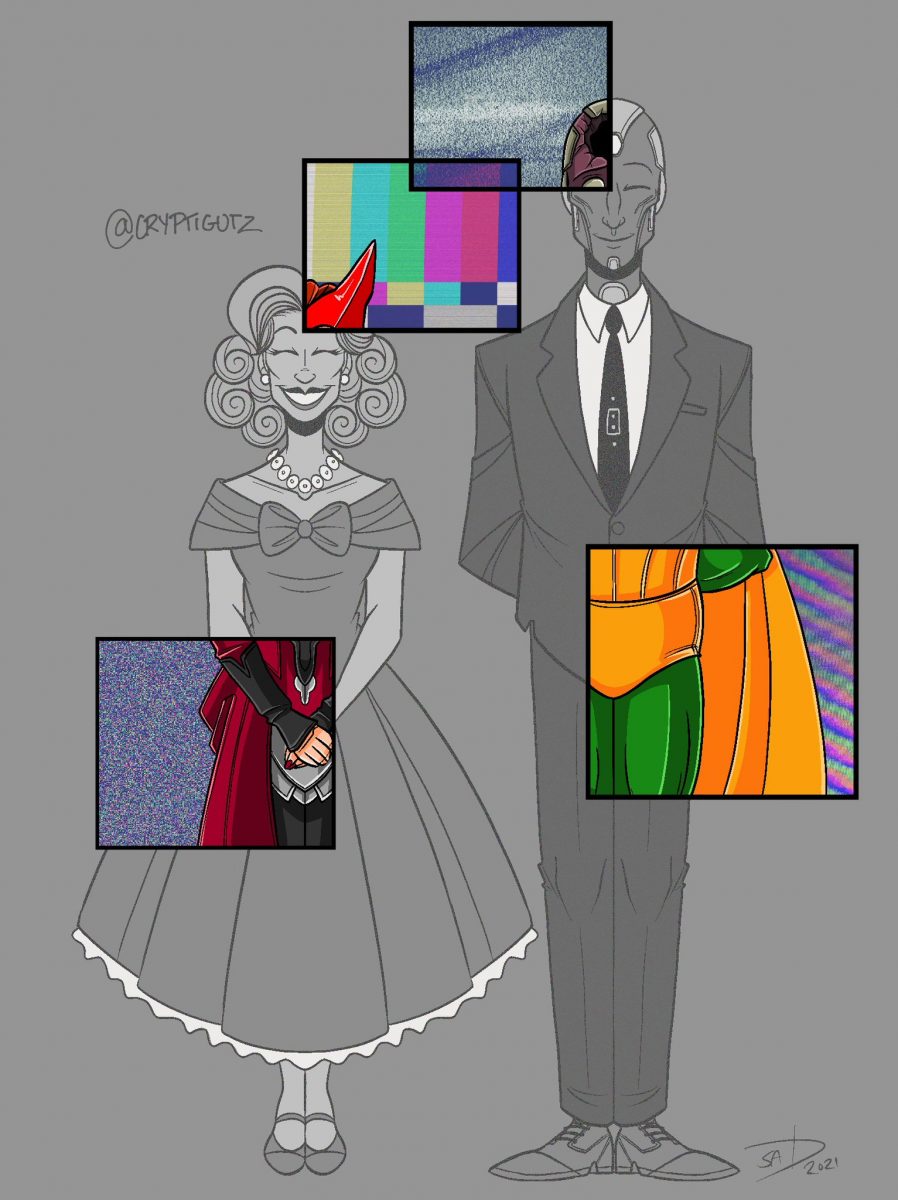 Theme park fans love their buttons, and when Sterling takes a crack at the Fab Four the results get SPOOKY…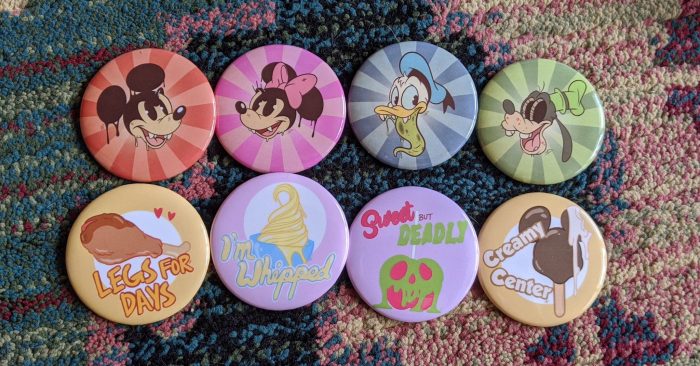 #1 – Universal Orlando FEATURED ARTIST
For us Sterling Denham fans, our world got rocked several years ago when Sterling became a commissioned artist by Universal Orlando. Sterling's artwork was now available to purchase inside Universal Studios Florida during the annual Mardi Gras celebration and – of course – Halloween Horror Nights. During HHN, a new drawing would debut each week based around a a haunted house or scarezone in that year's HHN. Guests could buy prints, magnets, or a even a limited edition super sized print!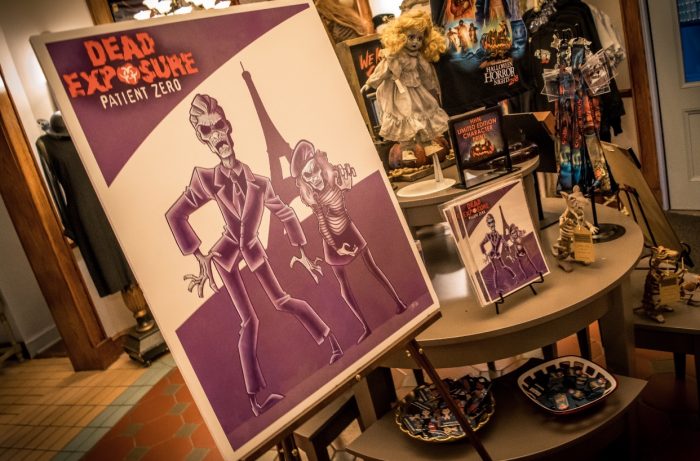 Clint Gamache
(
@ThrillGeek
) Owner & Editor ThrillGeek.com:
I've known Sterling for several years now, and being able to watch them grow and evolve as an artist over these last few years has been an absolute treat. From iconic Halloween Horror Nights inspired pieces to fun – and often hilarious  – character mash-ups, Sterling has such a unique art style and an incredibly vivid imagination that literally anything they do and share with the world to see, you stop and you admire it. There's something about their art style that makes you stop and look. Every. Single Time. No matter what it is.
I own several pieces of Sterling's artwork, including a few of their t-shirt designs, all of which are displayed proudly throughout my house. Sterling was even the artist who did the original logo for the ThrillGeek Podcast when we started it a few years back. When we are covering a local pop culture convention for ThrillGeek, we always make sure to swing by Sterling's booth and see what they have come up with, because it's always a surprise.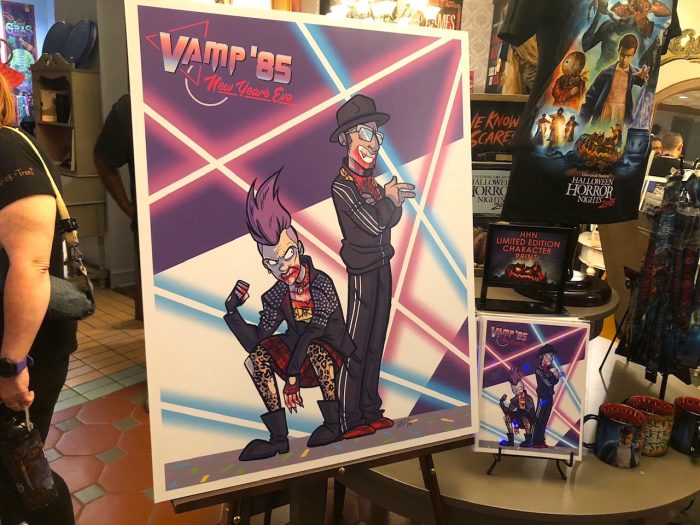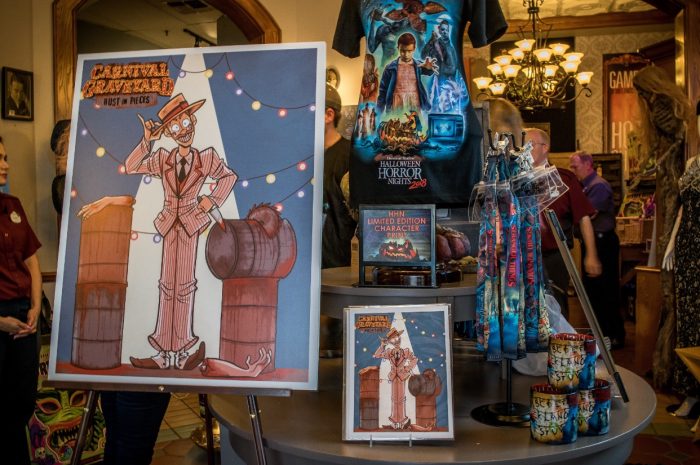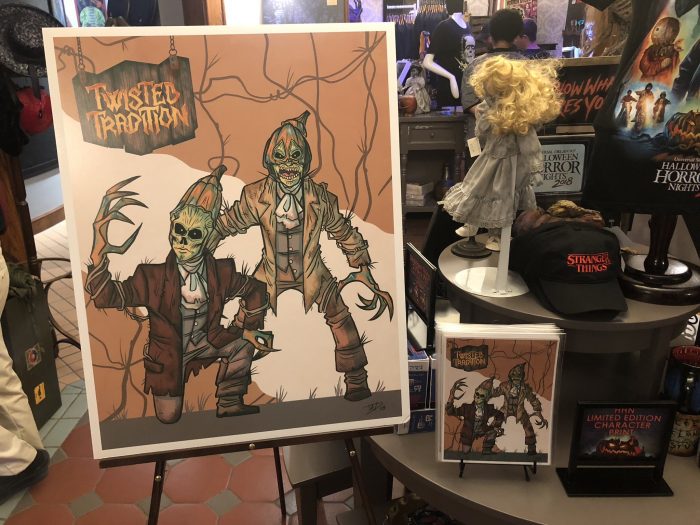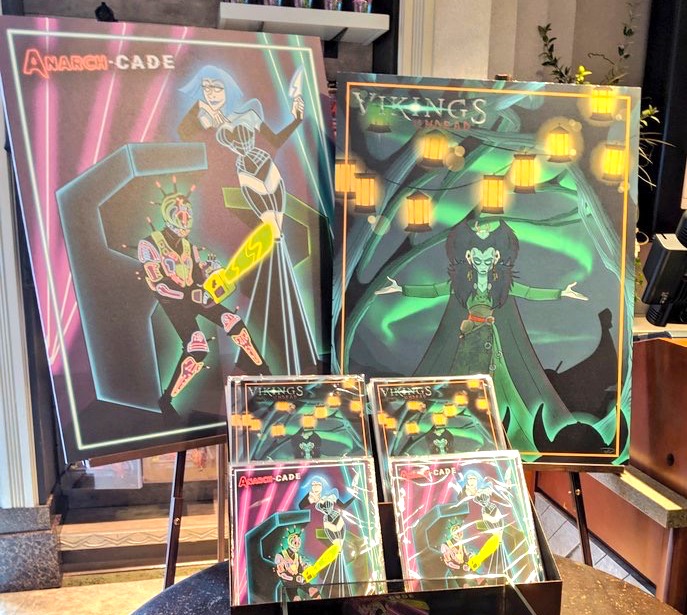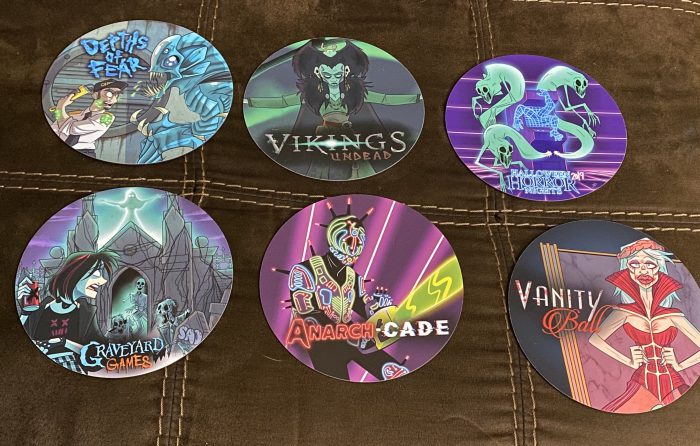 Let's check out some behind-the-scenes drawings for these exclusive prints.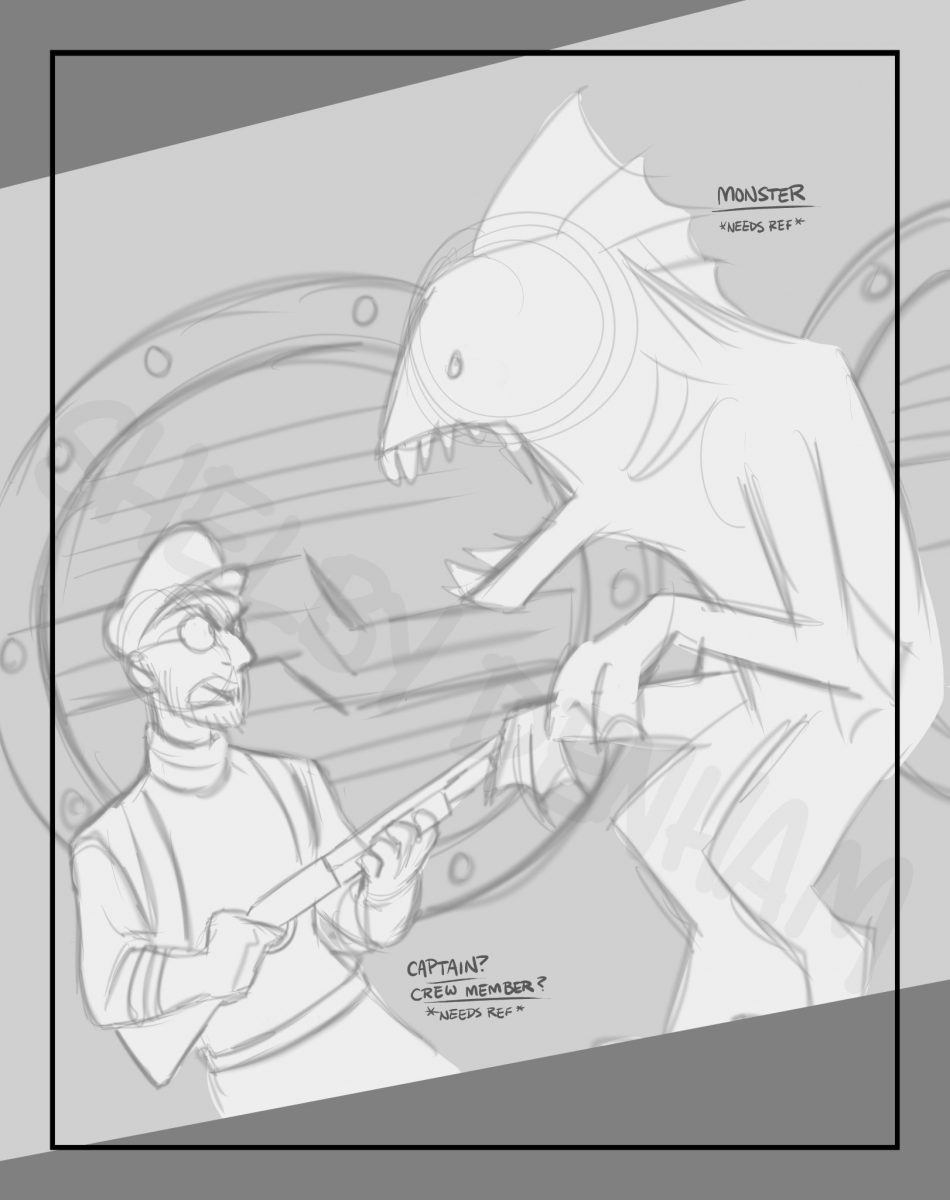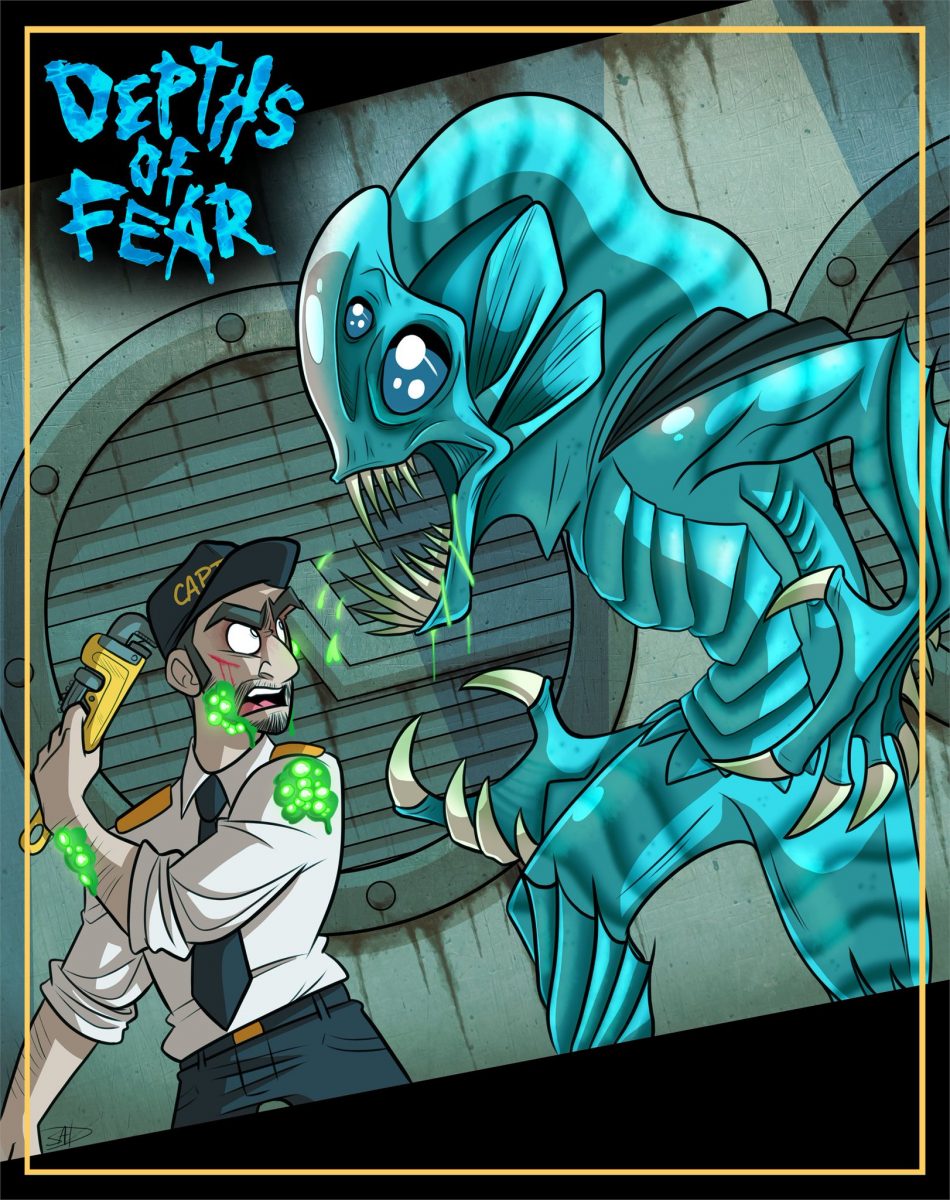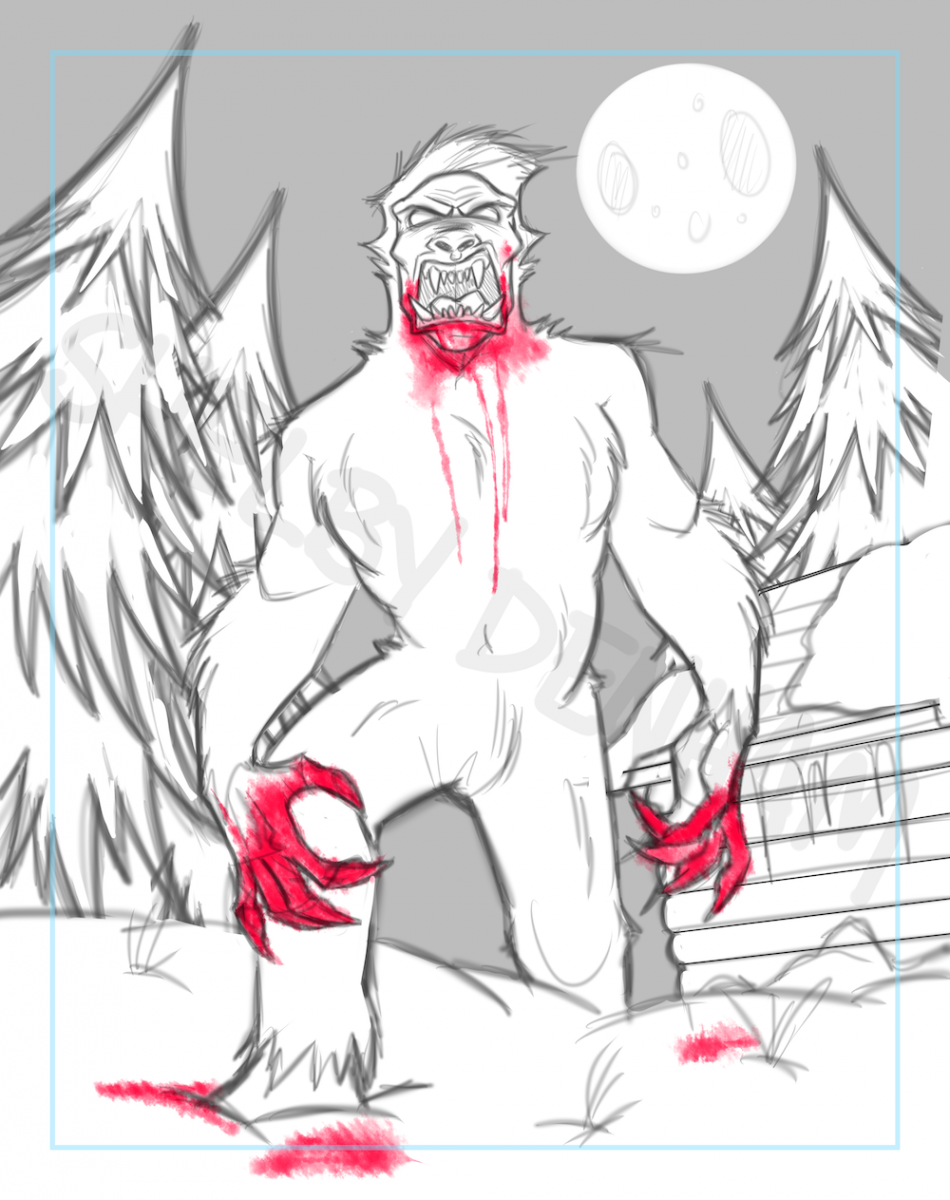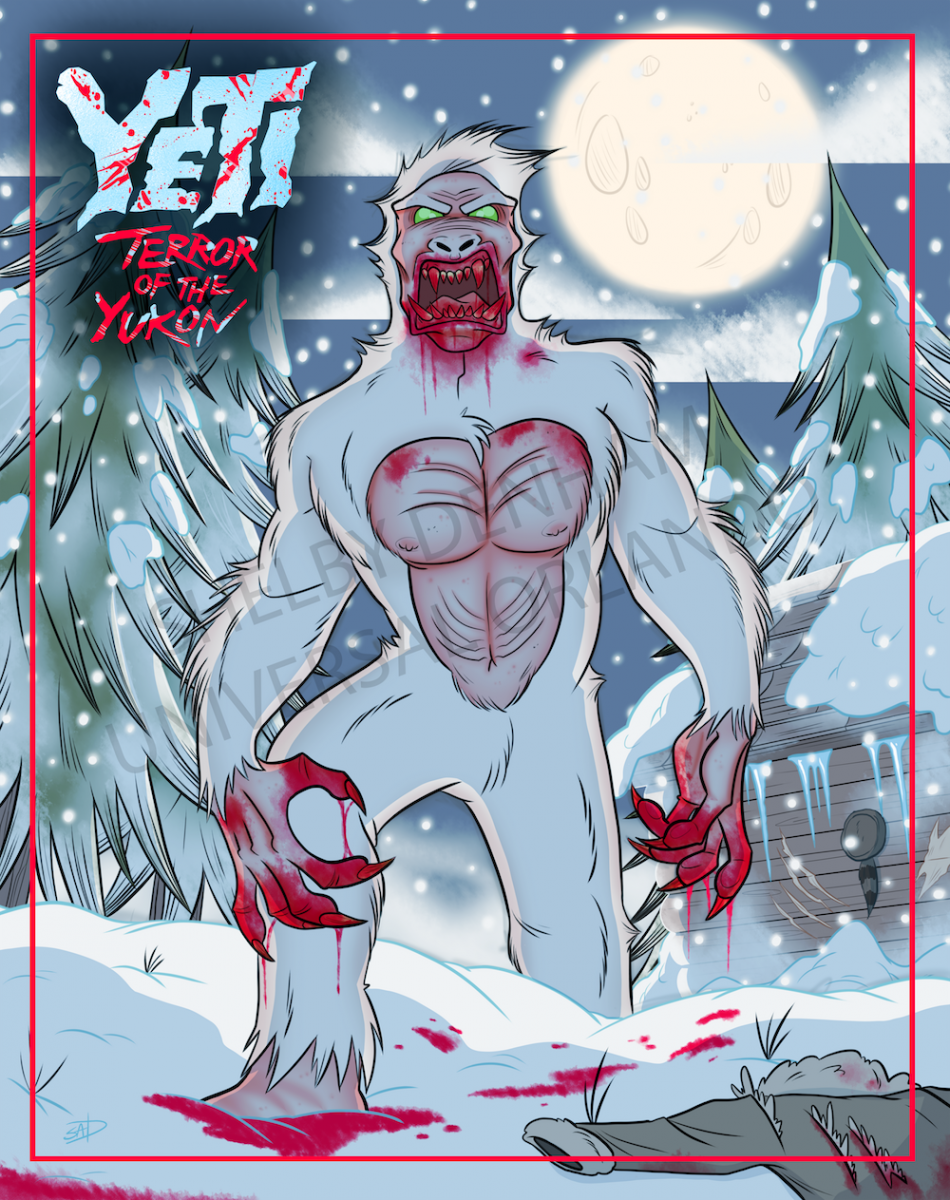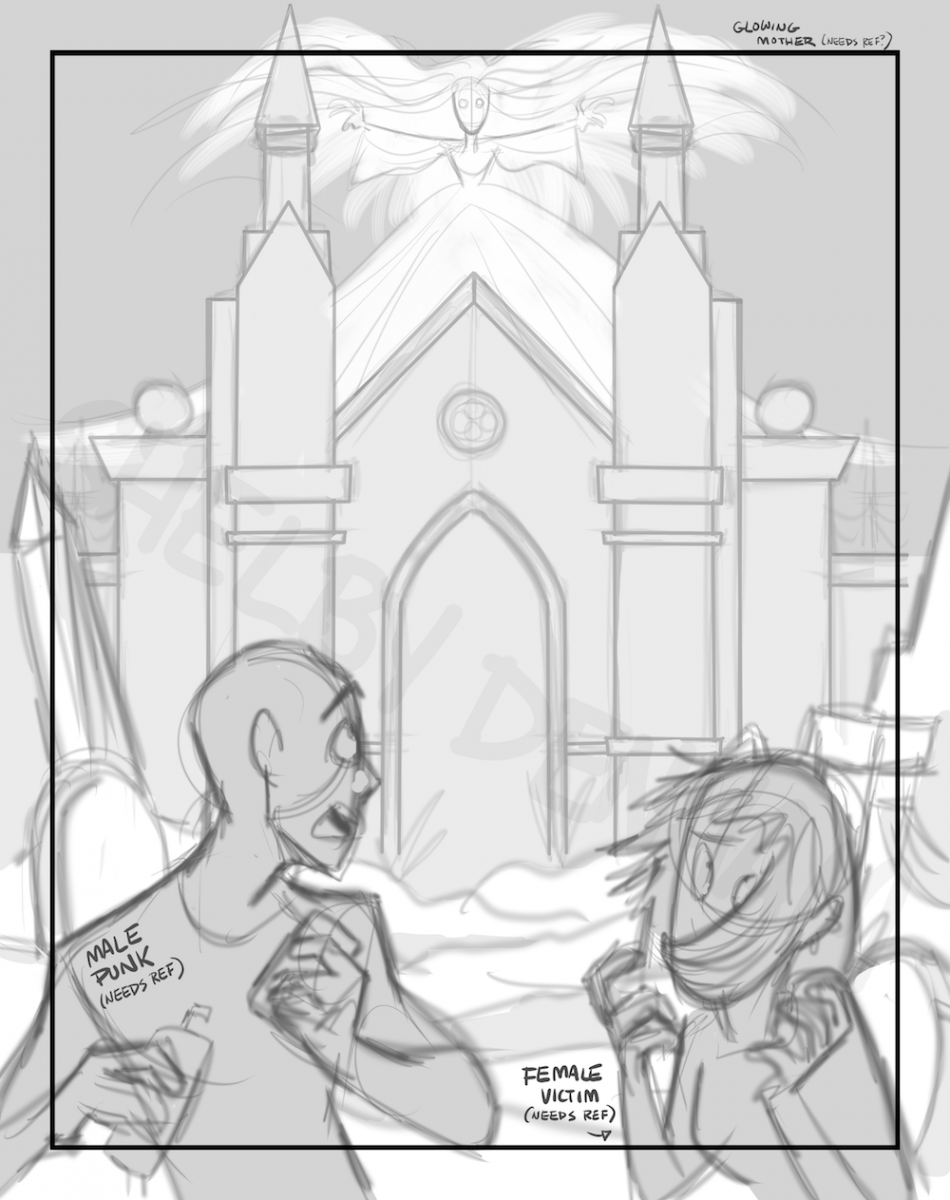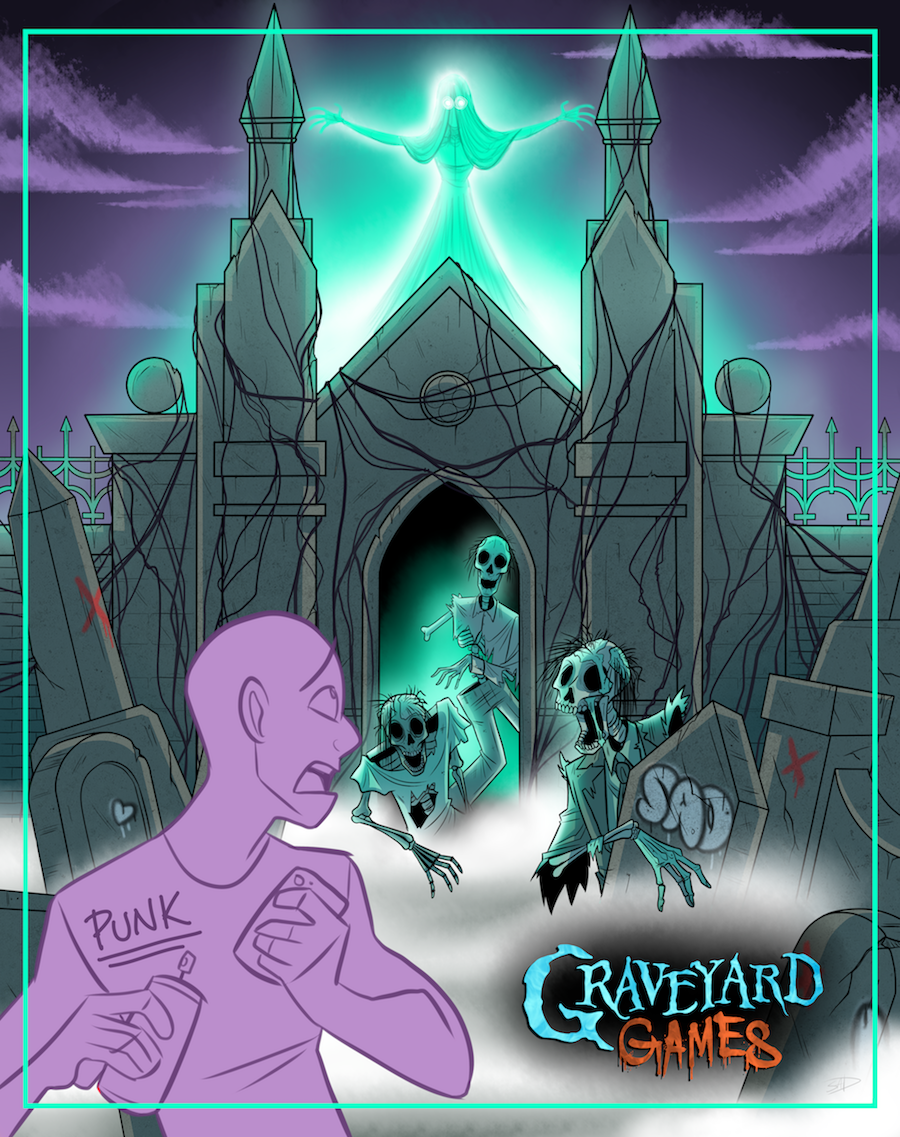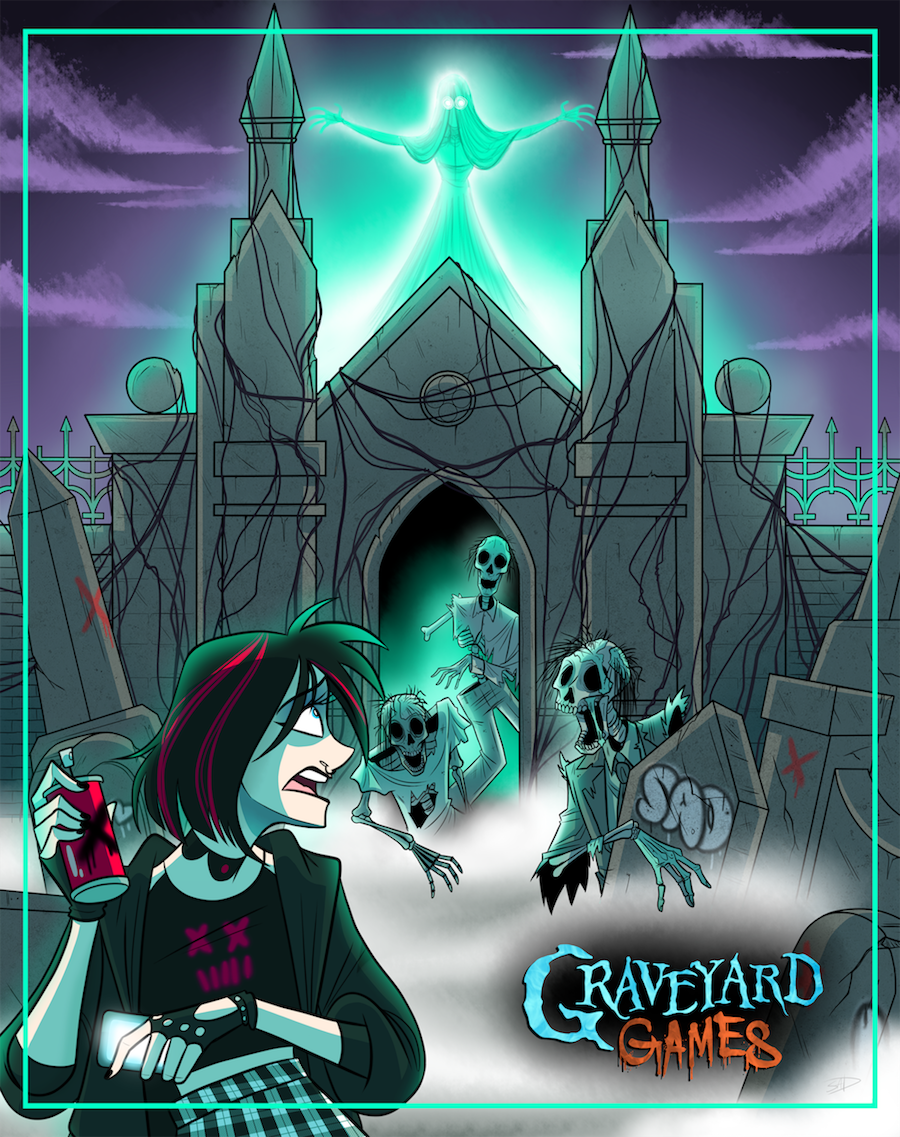 Michael Aiello (@Michael_Aiello) Sr Director Entertainment Creative for Universal Orlando: Sterling is the real deal. I've enjoyed watching their talent grow year after year. The HHN characters they explore take on a brand new life when seen through their lens. I've got Sterling's wonderful art hanging prominently in my office and my son Caden is proud to have a few Sterling Denham originals within view of his piano. I'm thrilled artists like Sterling are so inspired by the characters we've been fortunate to create stories and experiences around. I'm ecstatic they've been able to share their art within the event!  Sterling's love of theme parks and their characters is only rivaled by their love of those who love theme parks.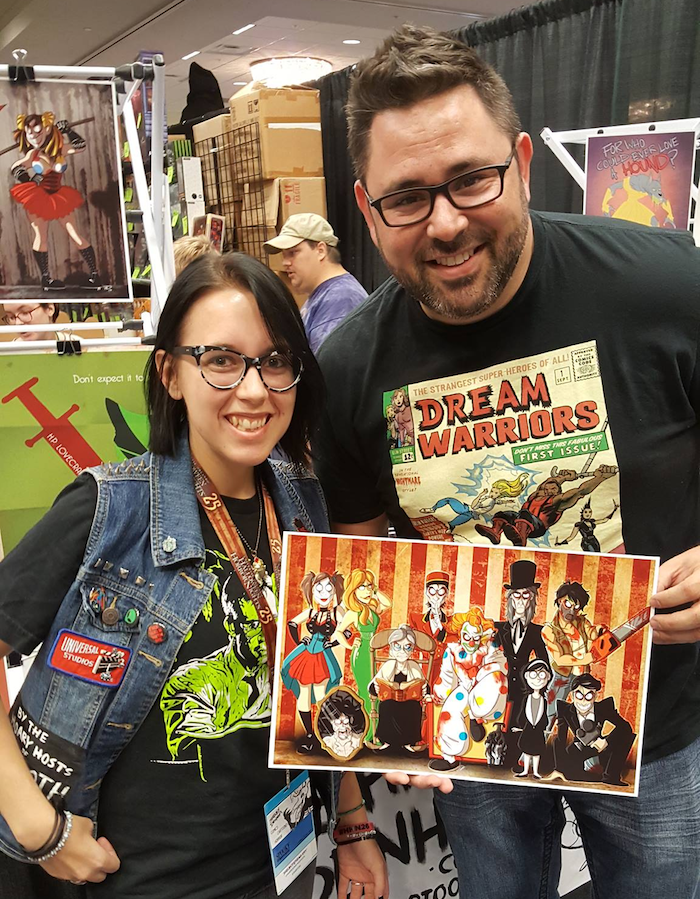 HONORABLE MENTION – Sterling and the SATURDAY SIX
Megan Stump (@megadis13) SATURDAY SIX Editor in Chief – When I first saw that Derek was doing a series on featured artists in February, I knew Sterling would HAVE to be one of the artists, and I couldn't wait. I remember the first time I met Sterling at MegaCon and I was super intimidated because I was completely obsessed with their art. Years later I'm still completely obsessed with their art and I feel lucky to consider them a sweet friend. When they post comparison photos on twitter, it's just amazing how they have grown as an artist. My refrigerator is covered in the HHN magnets, and one of my favorite pieces we have is Figment in the various parts of the stretching room of Haunted Mansion. I'm so glad to have met Sterling, and I cannot wait to see what they have up their sleeve next!
Readers of this fine blog series have seen Sterling's artwork before in these very pages. Back in 2017, I reached out to them for a drawing intended for the Fourth Annual Theme Park Turkey of the Year Awards. The mission, if they chose to accept it, was to draw something related to the bonkers story of an adult guest choking out a teenager for having the temerity to – GASP – stand during the nighttime spectacular Wishes. Believe it or not, every night at Disney's Magic Kingdom there would be a group of people who would sit on the pavement waiting for the fireworks. Most guests however, would stand. On many nights, sitting guests would jeer those standing in front of them, trying to use peer pressure into getting them to sit down. However on one occasion, a sitting guest took matters into her own hands…literally. My only direction to Sterling was, "a typical Karen choking out a teenage Instagramer in front of the castle."  What they came back with was magic.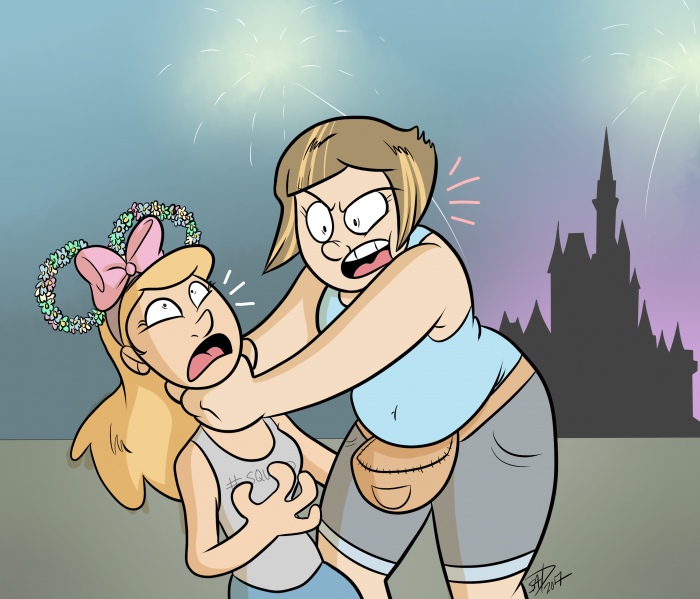 In last week's SATURDAY SIX, I wrote about the evolution of the "David and Derek" series, and explained how I wrote and drew the early ones. When drawing out the Do's and Don'ts of Star Wars: Galaxy's Edge, I just about lost my mind trying to draw the Millennium Falcon. The drawing you see below was like my 100th attempt.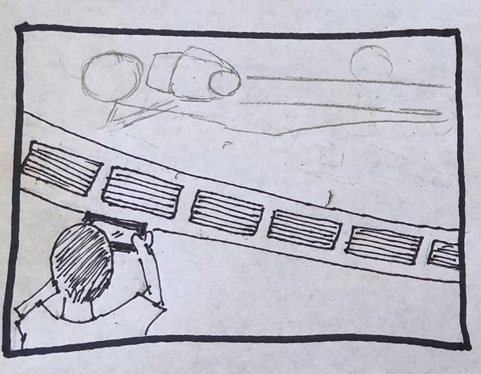 The deadline was fast approaching, and I reached out to see if Sterling could do a last-minute assist and draw the "hunk of junk" for me. I lucked out, and there was some extra time in Sterling's schedule and they delivered exactly what I wanted. In fact, it was so good that it made everything else in the article that I drew look like crap. At that point I swore that I would never do another edition of David & Derek again, even though they are one of my favorite recurring articles. Thankfully artist Brian Cooper stepped up and took over the drawing for the David & Derek series, allowing us to look at the Do's and Don'ts of Vacation Planning and Covid-19 Safety Protocols.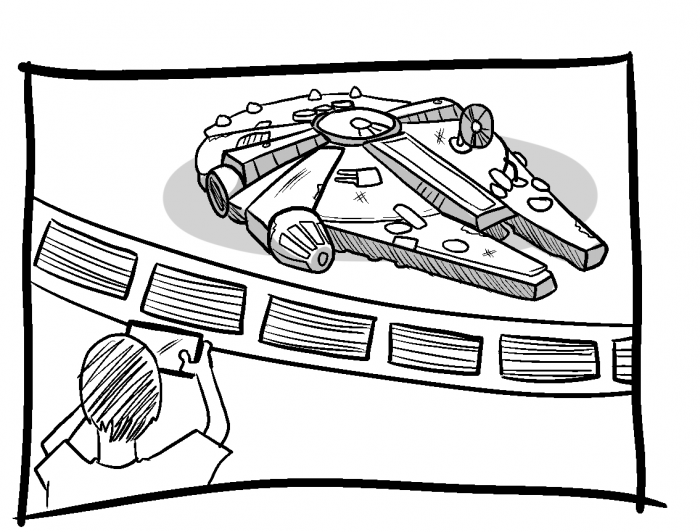 Speaking of recurring characters, who can ever get enough of Bacini, the official dog of DisTwitter? One day on social media I was lucky enough to be around when Sterling announced they were opening up spots for commissions. I reached out and wanted their interpretation of this classic Bacini photo below.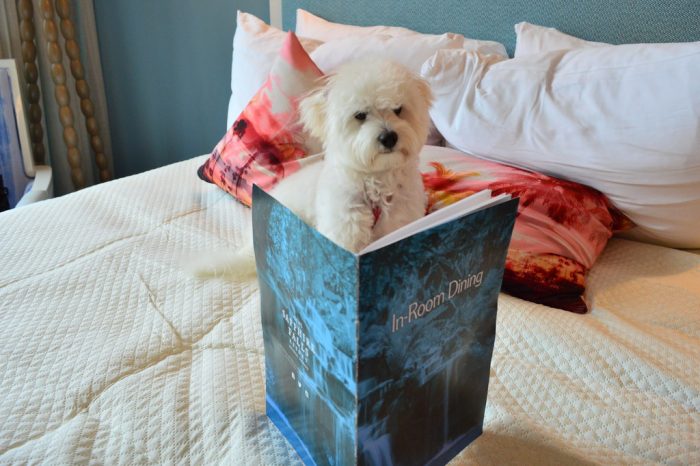 As always, Sterling nailed the assignment.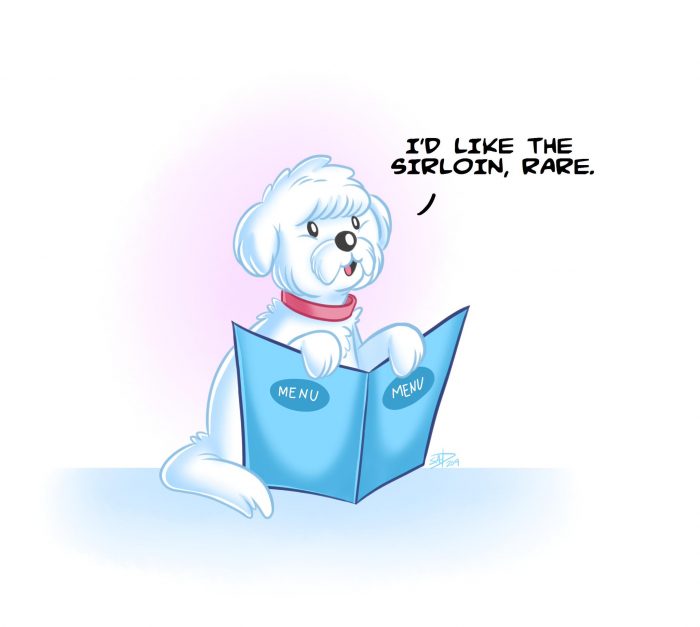 So there you have it: SATURDAY SIX Presents: The Theme Park Artwork of Sterling DENHAM! See you next weekend for the latest installment of the SATURDAY SIX, where we'll look at something fun from the world of Disney and Universal. If you enjoyed yourself, be sure to check out The Magic, The Memories, and Merch! articles covering the latest from the Disney Outlet Stores. You can also follow Your Humble Author on Twitter (@derekburgan).
If you enjoyed this article, you will surely like the following: 
Artist Spotlight Class of 2021: SonderQuest | Sam Carter | Brian Cooper | Sterling Denham
Artist Spotlight Class of 2022: Rob Yeo | Ava Buric | Jess Siswick | Hayden Evans
SATURDAY SIX Presents: Artists Inspired by Universal's VELOCICOASTER
SATURDAY SIX Presents: Artists Inspired by Universal's HALLOWEEN HORROR NIGHTS
SATURDAY SIX Artists Inspired by HHN Series: Dead Skull
Special Thanks to The Elite Brandon Glover, the bio-est of all reconstructs @bioreconstruct, Captain Cruiseline Scott Sanders of the world famous Disney Cruise Line Blog, my personal protege Hunter "Elvey" Underwood, artist @SonderQuest, the SAT SIX Fun Squad of Parkscope Joe and "the Dadalorian" Nick, hot shot Michael Carelli, charter member of the Universal Four @Nitro230, and Hermione Granger's tutor Megan Stump for their invaluable assistance with this article. The SAT SIX is inspired each week by goofballs Aengus Mackenzie and LitemAndHyde and you Potterheads will  enjoy Meg's other blog work over at the Central Florida Slug Club.
Barry Short (@culturenthrills) co-host, Thrillgeek podcast – I continue to be amazed and so proud by how much Sterling has grown as an artist and I am lucky enough to call Cryptigutz a friend. A few years ago my partner, Cyn, commissioned Sterling to create a piece of art that would become the centerpiece of our Haunted Mansion bedroom. They took pictures of us from Dapper Day and of our dogs and created my favorite piece of art they have ever done. Cyn and I (along with our fuzzy children Dexter, Chloe and Oishi) in a doom buggy surrounded by ghosts as we make our way through the Haunted Mansion. The details Sterling included in the drawing blew me away: my Mansion Wallpaper tie… the lace on Cyn's dress… our distinct and different reactions to all the ghosts around us, and how well they captured each of our dogs. The piece has become even more special since one of our dogs, Chloe, passed away over a year ago. The fact that our sweet angel is immortalized in a piece of art that our friend created means the world to myself and Cyn.