SATURDAY SIX: 6 MUST TRY Drinks at Walt Disney World
This week's SATURDAY SIX takes a look at Six MUST TRY Drinks at Walt Disney World! Time to let the kiddos watch PJ Masks or the Lion Guard for a bit so us adults can have a brief moment to ourselves. Yes, we enjoy the great attractions, shows, and hotels at Walt Disney World but one thing we love are the drinks. To paraphrase Homer J Simpson, alcohol can (seemingly) make all the stress in the world disappear, and also make good times even better! While many WDW bars may have the "standard bar menu" with the same ol' same ol', there are a lot of truly fantastic drinks to be found. Today we're going to take a look at some of our favorite Must Try drinks at WDW, focusing on originality and creativity of the cocktails. Let's kickoff the countdown with…
# 6 – Seven Seas Lagoon (The Wave)
You may want to pack an insulin pump if you plan on heading to The Wave… Of America Flavors for this behemoth, because it is SWEET. While this 24 ounce drink only contains about 4 ounces of alcohol (Skyy vodka and Parrot Bay coconut rum), its presentation is off the charts! The glow cube inside the drink really makes the blue "water" pop, and swimming on top are Swedish fish. The best little touch of all may be the fun candy "life preservers" put on each Mickey straw.
–
# 5  – Nautilus (Trader Sam's Grog Grotto)
Served in an amazing souvenir bowl with the form of the Nautilus from Disney's 20,000 Leagues Under the Sea, this is another drink meant to be shared, as you could possibly be seeing a giant squid outside in the Seven Seas Lagoon if you tried to go it alone. The entire room of Trader Sam's Grog Grotto transforms when a Nautilus is ordered and even the servers get in on the fun. Lighting effects make the room appear as if you are going under water, audio plays orders from the Nautilus captain, and there are several  physical effects happening across the Grotto (keep your head on a swivel).  The Nautilus is an E-Ticket drink in an E-Ticket bar. 
Ingredients: Barbancourt Pango Rhum, Appleton Estate Reserve Rum, Combier Crème de Pêche de Vigne Liqueur, Tropical Juices, and Falernum. Served in a souvenir Nautilus.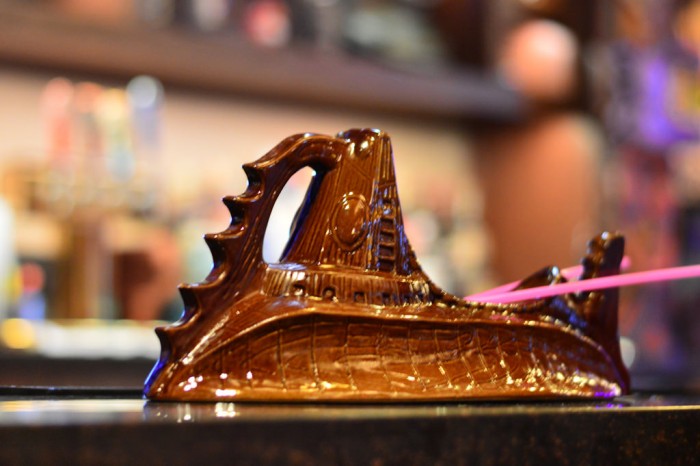 –
# 4 – Candy Apple Cotton-Tini (T-REX Cafe)
T-REX Cafe in Disney Springs is a true dining experience that you can't get anywhere else. Over-the-top theme park quality theming, an excavation site where guests can dig up fossils, Build-A Dino, the awesome Chocolate Extinction dessert and more, T-Rex cafe is the restaurant your kids always dreamed of. While foodies may find a better meal at the nearby Morimoto Asia, Chef Art Smith's Homecoming, or the BOATHOUSE, those looking for an adult beverage are going to be more than happy at the massive Watering Hole bar. The gigantic fishtanks are gorgeous, and the huge octopus above the bar (along with the jelly fish lighting fixtures) is impressive. T-REX has a good selection of signature drinks, but for today's selection we are going with the most theatrical.
Cotton-Tinis are exclusive to T-REX and combine cotton candy, a staple of theme parks, with alcohol. This is a true marriage made in heaven. T-REX offers three varieties, but we went with the Candy Apple Cotton-Tini (also available are Cosmo-Paleo and Tropical versions). Cotton candy is put into the glass, while the bartender mixes the cocktail in a shaker. The cocktail is then poured over the cotton candy and you get to see the liquid completely absorb the candy. It is a very sweet tasting drink and don't be surprised to see a good amount of sugar at the bottom of the glass when you are done. As a bonus, you get to keep the shaker as well!
Ingredients: Sobieski vodka, DeKuyper sour apple pucker Schnapps and a splash of sweet and sour.
–
# 3 – Smoking Red Sangria (Todd English's bluezoo)
One of the most underrated restaurants on Disney property is Todd English's bluezoo located on the ground floor of the Dolphin. The bar area is visually stunning, and sets up the unique food and drink menu perfectly. Last year, we did a tongue in cheek look at a Disney Value Resort Bar Crawl, but one thing that stood out at those bars – and as we mentioned earlier, many others, is the overall reliance on the standard Disney bar menu. Todd English's bluezoo is the complete opposite of that. Whether you get a Burnt Orange that arrives on fire or a Swedish Fish with its infused foam, the drinks served at bluezoo are served with creativity and flair.
The Smoking Sangria is always a must get for us (it comes in both a red and white version) as the liquid nitrogen makes the drink seem like it has come straight out of a bar in Star Trek. Not only is it refreshing, it is just plain cool.
–
# 2 – Lapu Lapu (Tambu Lounge)
The iconic Lapu Lapu at Tambu Lounge is hands-down the most photographed drink in all of Walt Disney World (and that's just counting @drunkatdisney selfies.) Served in a hollowed out pineapple, this legendary drink is a combination of Myers' Original dark rum and tropical fruit juices while topped with Bacardi 151 rum. When you are in the islands you drink out of a coconut, and when you are in The Poly you drink out of a pineapple, it's just that simple.
–
Tambu Lounge is also home to another iconic WDW drink with The Backscratcher. Seriously, if you've gone to WDW and you don't have a picture enjoying a Lapu Lapu or Backscratcher (preferably BOTH) you're doing it wrong.
Ingredients: Bacardi Superior Rum, Myers's Original Dark Rum, and Passion Fruit Juice topped with Jack Daniel's Tennessee Whiskey and a Bamboo Backscratcher.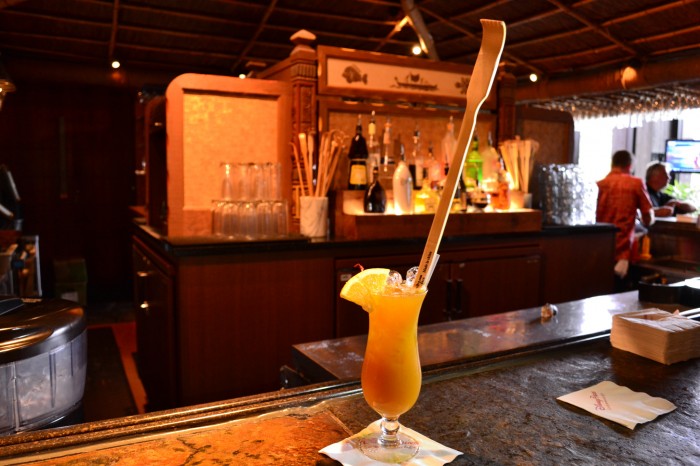 –
# 1 – Casa Noble Reposado Tequila in Alan Mize's glass (La Cava del Tequila)
Right before Christmas, the theme park community lost one of its own. Like all of us, Alan Mize (@NORMB8S) was a theme park fan through and through. He co-hosted a popular podcast with the Enchanted Tiki Talk, and was there to talk with anyone, whether he knew you or not, about his love of Disney and life in general. He was also a husband and devoted father. When Alan suddenly passed, a GoFundMe account was created for his daughter's college education. With a swelling of support from the entire community, the account has raised almost $20,000.
While many in the Disney community stepped up, over in Epcot something special happened in the Mexico Pavilion. La Cava del Tequila created a glass in Alan's honor. This allows family, friends, and fans to pay tribute to a man who touched the lives of many. Treasure your time in the parks. Treasure your time with your friends and family. Let people you know how much you appreciate them in your life.
Here's to you Alan.
"It's amazing how people on twitter, who I've never met, can become such amazing friends whose place in my life is priceless to me." – Alan Mize, 12/2016
–
I encourage all to check out the Tiki Trot Race Series. Friends of Alan have put together a series of virtual races in which everyone reading this can participate in. All proceeds will go directly to Alan's wife and daughter. On Twitter, I had talked to Alan about running, especially after he found out his wife was pregnant. He was trying to be a healthier Alan and here I was, taking up runDisney races just for the medals. Alan was definitely the nicest person I never met, with a compassion and love for his fellow man that I find myself envious of. To learn more about the Tiki Trot races CLICK HERE.
––
So there you have it: The SATURDAY SIX Look at Six MUST DO Drinks at Disney! See you next weekend for the latest installment of the SATURDAY SIX, where we'll look at something fun from the world of Disney and Universal. If you enjoyed yourself, be sure to check out The Magic, The Memories, and Merch! articles, or, for your listening pleasure, check out the E-Ticket Report podcast. You can also follow Your Humble Author on Twitter (@derekburgan).
If you enjoyed this article, you will surely like the following:
Six Reasons We LOVE Disney's Contemporary Resort
The SATURDAY SIX Father's Day Special: Celebrating Dads at WDW and Universal
Six "Easter Eggs" in the Magic Kingdom
Six Things We STILL Can't Believe Actually Happened at WDW
Six Reasons We Love Univesal's Toothsome Chocolate Emporium
Special Thanks to crack staff photographer Brandon Glover and blogger to the stars Megan Stump for their invaluable assistance with this article. Be sure to also check out Brandon on The Park Blogger podcast with goofballs co-hosts Aengus Mackenzie and LitemAndHyde , while fellow Potterheads may enjoy Meg's work on the Central Florida Slug Club.
FINAL PLUG! Did you know The 2017 Unofficial Guide to Universal Orlando has a special edition of the SATURDAY SIX in it? Finally, someone came up with an actual reason to read a book. ORDER this baby now and support SIX NATION (boy do we need a better name than that.)