Seventeen Reasons to Stay Off-Site When Visiting Walt Disney World
We do a lot of research on the hotels on Walt Disney World property and generally find them to be great places to stay when you're on a Disney vacation. But the Disney-owned hotels are not your only accommodation options when you're visiting the theme parks, not by a long shot. There are tens of thousands of non-Disney hotel rooms, timeshares, Airbnb apartments, condos, and houses, available to rent at a huge variety of price points.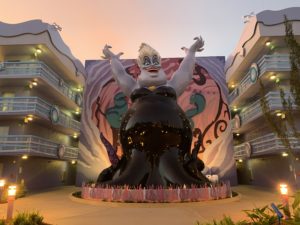 For some guests, these off-site venues are a better option than staying at a Disney hotel. Here are some reasons why:
To save money: This is the classic reason people cite for choosing to stay off-site. And it's often true, particularly during holidays and other peak seasons. Comparing apples to apples, a standard hotel room off-site is likely cheaper than one on site. Comparing apples to fancy caramel-coated, chocolate-enrobed, macadamia-encrusted apples, you can sometimes find entire Airbnb home rentals for the price of a moderate resort on Disney property.
To get access to kitchen facilities: Many guests with food allergies, religious considerations, or health issues prefer to cook most of their own meals. There are rooms on Disney property that have kitchenettes or kitchens, but they tend toward expensive. And while the on-site rooms with kitchens include the basics, they might not be equipped with specialty gadgets, copious freezer space, or other niche items you might need.
To expand restaurant dining options: The array of on-site Disney restaurants is varied and generally high quality (there's everything from food carts to gourmet dining), but they are finite. Some guests may have food needs from a price or preference standpoint, that can be best served by often dining off-property. These folk might opt for either something like known chain fast food (on one end of the spectrum) to upscale farm-to-table venues (on the other), that Disney can't provide. It can be easier to eat off-site if you're staying off-site.
You want to escape the Disney bubble: Not everyone, gasp, wants all Disney all the time. Particularly if you're traveling with a Disney naysayer, staying off-site can be a good way to decompress from all the theme park merriment.
You want larger rooms: All the WDW hotel rooms are functional, but some (notably those at the value resorts) are small. If you're traveling with a lot of baby gear, for example, having a room where not you're tripping over the crib during the night can make for a better vacation.
You want more separate sleep surfaces: Guests traveling with a blended family, for example, might be fine traveling together, but might not want to share a bed. There are a wider variety of bed configurations at some off-site venues than at Disney hotels.
You want more bathrooms: Again, a blended family or a large group might want the privacy of separate bathrooms. This can be easier to find in an economical fashion off-site.
You want different amenities: Most Disney hotel rooms are hotel rooms. Some off-site accommodations have amenities like private pools or spa facilities, private tennis courts, game rooms, movie projectors, swing sets, and the like. If you want these things, then off-site might be a better option.
To get access to private outdoor space: The only Disney World resorts with real outdoor space are the Fort Wilderness cabins and the Saratoga Springs Treehouses. While these do have a bit of outdoor area, it's not expansive. If you want a place to, say, play touch football on a lawn with your college buddies, then off-site could be the way to go.
You're traveling with a large group: Most Disney hotel rooms max out capacity at four or five guests, with a few of the larger Disney Vacation Club villas sleeping 8 or 12 guests. But sometimes you're traveling with an even larger group, such as a family reunion, and all want to stay together (especially at a less-than-Disney price). Renting an off-site house could be your answer.
You've already stayed on property: If you enjoy the theme parks and have already scratched the on-site itch, you may not feel the need to repeat that part of the experience.
Disney is just one part of your Central Florida vacation: If you're visiting other area attractions (Universal Orlando, Sea World, Legoland, NASA, the beach, etc.) for a larger part of your trip than you'll be at Disney World, it may be more convenient to stay closer to the focus of some other part of your trip.
You have a loyalty program relationship with a particular hotel chain: If you're a rewards point warrior and want to amass as many Hilton or Bonvoy (for example) points as possible, then you may only want to stay at hotels associated with those brands. Similarly, if you have enough points with one of those programs to redeem them for a free stay, then that's your better choice.
You enjoy the themeing at a non-Disney location: If you love retro Americana, for example, you might be more inclined to stay at Universal's Cabana Bay hotel, even if you're visiting the Disney parks for some of your trip.
You need medical accommodations: There are ADA-compliant rooms at all the Disney resort hotels, but some guests have specialized medical needs, such as a hospital-style bed, that might be available at a specialized offsite location. Similarly, if you need medical treatment during your trip (dialysis, for example), you might want to stay close to that facility.
You have an electric car: Some, but not all, of Disney's hotels have charging stations for electric vehicles. The ones that do exist are available on a first-come, first-served basis. If you want ready access to your own charge point, you'll need to look off-site.
You prefer another chain's bedding: Some hotel chains have a particular type pillow, firmness of mattress, or thread count of sheets (the Westin heavenly beds, for example) that you know provide you with a great night's sleep. If that's important to you, you may want to stick with that location.
What have I forgotten? Why have you chosen to stay off-site rather than at a Disney World hotel? Please let us know your experiences.