Top 3 Things We Ate or Drank This Week at Disney, June 12, 2021
The TouringPlans in-park team gets to try a lot of food. From quick service locations to table service meals and snacks in between, we try so many different foods to help keep information on our site up to date. Sometimes foods and drinks are wonderful. Other times, not as much. But what really rose to the top? Here's our top 3 foods the in-park team sampled this week.
Egg Rolls from Lotus Blossom Cafe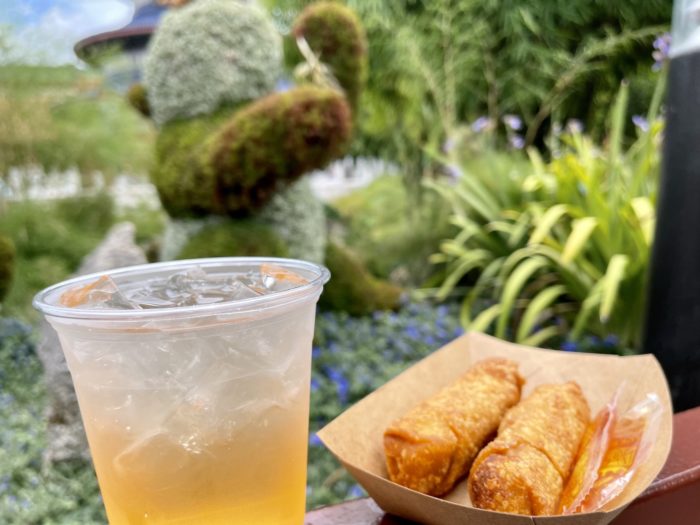 I know what you're thinking — these are just regular ol' egg rolls that you can get pretty much anywhere in the U.S. You're absolutely correct. And sometimes there's a certain comfort that comes with familiarity that makes something taste just right. Because of the volume that is served at Lotus Blossom Cafe in EPCOT's China pavilion, these are delightfully fresh and exactly what an egg roll should be. They're crispy on the outside, wrapped in that chewy wonton goodness, and then filled with pork and vegetables. Yes, it's nothing earth-shattering. It's still really darn tasty, though.
Violet Sake at Garden House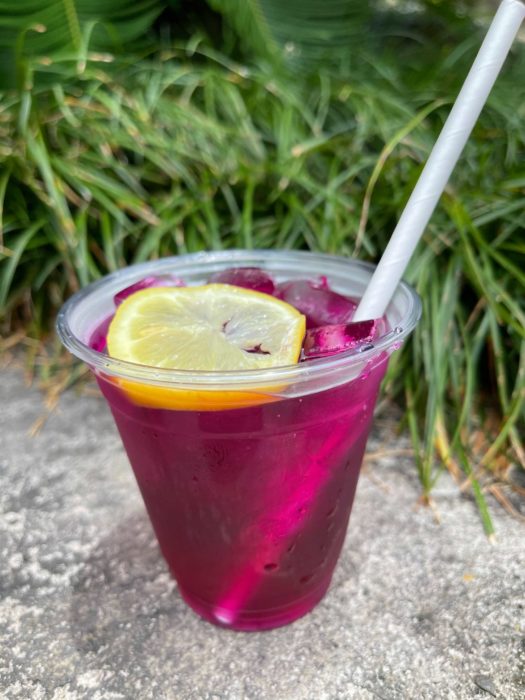 Over at the Japan pavilion you can find one of the most beautiful drinks in all of EPCOT. The Violet Sake refers not only to its brilliant color, but also to the delicate floral taste. The sake doesn't overpower the drink, and so this makes for a delightfully refreshing cocktail. You can also get it at Katsura Grill during the busy season, but wherever you pick it up, we suggest wandering around near the gardens in Japan and maybe finding a bench nearby to take a moment of zen with this beautiful and refreshing drink.
Crickets at La Cava Del Tequila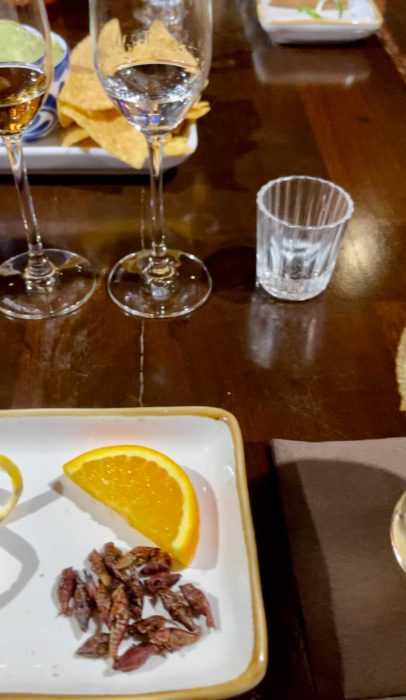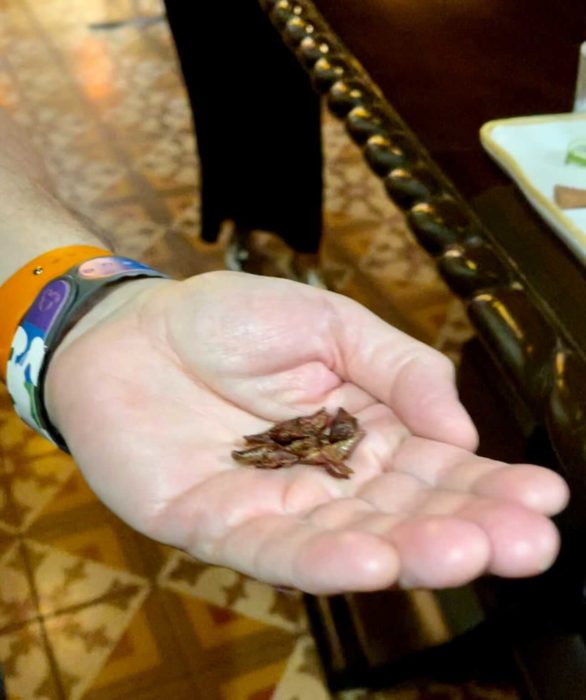 Back when Chrissy, Ivonne, and Dani from our team did the Agave Experience at La Cava del Tequila, Len mentioned that he'd need to make time out to take one for the team and experience it for himself–for quality control, of course. We're pleased to report that it still holds up as an absolute must for anyone from tequila aficionados to the tequila novice.  The wealth of information and quality of samplings are exceptional and worth every penny. Like various alcohol pairings, small amounts of food are often used to help heighten or change flavors with the drinks. For this experience, one of the things to dine on are . . . crickets. Yes, honest to goodness cricket bugs. (For those who are curious, these are paired with the Mezcal.) Len swore up and down they taste like Doritos, whereas everyone else on the team was pretty sure they tasted like. . . crickets. We would not be likely to grab a bag of these to nosh around World Showcase (or anywhere else for that matter). But because it was such a magical experience for Ivonne, Chrissy, Len, and friend of TouringPlans Bethany Vinton, plus the simply incredible Hilda from La Cava, it was a magical experience and magical crickets are one of the best things we ate this week. Yes, really.
That's just some of the amazing things we've eaten this week. Have any suggestions for us next week? Let us know in the comments.