Conquering the Magic Kingdom Mountains in an Hour
While it's true that the Magic Kingdom is home to a number of classic family attractions, such as "it's a small world" and the Jungle Cruise, the park is also home to a number of thrill rides promising speed, drops, and screams!
It seems, however, that at the Magic Kingdom there is a rule that the park's thrill rides must be delivered in the form of mountains. Attractions such as Splash Mountain and Space Mountain are some of the park's most popular and both are known to flood their queues with guests and evaporate those FastPass+ reservations. This causes guests like myself to plan and strategize on how to get that adrenaline fix without wasting valuable park time in line.
Usually I trust FastPass+ or a Magic Kingdom Touring Plan to get me on these mountain-shaped attractions without suffering long waits, but during my last trip I had a crazy thought — Can you conquer the Magic Kingdom Mountains in an hour? Feeling confident, as well as caffeinated, I decided to find out.
The Magic Kingdom Mountains: There are four "mountain" attractions at the Magic Kingdom: Splash Mountain, Big Thunder Mountain Railroad, Space Mountain, and the Seven Dwarfs Mine Train. Now, there may be some debate over whether or not the Seven Dwarfs Mine Train is considered a Magic Kingdom Mountain, but I'm included it in this challenge as most Disney coasters are found in mountains and the ride structure does resemble mountain or hill terrain. Also, like the other Magic Kingdom Mountains, it's pretty hard to miss!
My Plan: I decided to set aside the morning of June 2nd to take on this challenge. The Touring Plans Crowd Calendar predicted the Magic Kingdom to be an 8 out of 10, which is crowded, but not completely unmanageable. I already had early reservations at the Crystal Palace at 8:00 AM and the park was scheduled to open at 9:00 AM. I figured that I would be finished with my meal at the time the park opened and would have a little jump start on the crowds by already being in the park. I booked one FastPass+ for Space Mountain; For the other three mountains, I planned to ride it out in the stand-by queues.
What Actually Happened: I was staying at Animal Kingdom Lodge's Jambo House and arrived at the bus stop at 7:15 AM. For whatever reason, a Magic Kingdom bus didn't arrive until after 8:00 AM! After my family and I had squeezed on board, our bus still had to pick up guests at Animal Kingdom Lodge's Kidani Village where only four people out of the dozens waiting were able to get on — and remember, I had reservations for 8:00 AM! So yeah, the day was looking anything but magical and my plans for this Magic Kingdom Mountain Challenge were on life support.
By the time our bus arrived at the Magic Kingdom, the Magic Kingdom Welcome Show was happening and my family and I had some decisions to make. We entered the park through the early reservation and tour entrance at the left side of the gate and immediately headed towards the Crystal Palace. There, we spoke with an understanding Cast Member about what happened and they were willing to cancel our reservation for us without penalty. While I love the Crystal Palace, I had dined there before; on this particular day, time in the park was more important than characters.
So by the time that was all taken care of, we heard over the speakers that the park was being opened! Early! My brother (who volunteered to be my partner for this challenge) and I hurried from the Crystal Palace, through Cinderella Castle, and straight to the first mountain on my list: Seven Dwarfs Mine Train.
8:51 – Enter the Seven Dwarfs Mine Train queue.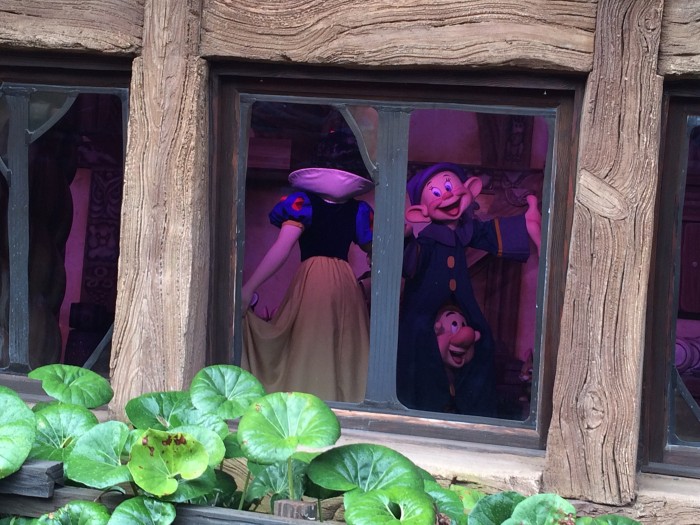 I decided to tackle Seven Dwarfs Mine Train first as it is the newest attraction at the Magic Kingdom and is incredibly popular. It's also unique in that it's both a mild coaster and a dark ride! Guests board a mine car that swings slightly and are sent smoothly and speedily up and over grassy hills and around turns before entering the Seven Dwarfs Mine. Inside, the mine cars slow down and take guests past incredibly realistic audio-animatronic dwarfs as they sing iconic songs from the film and mine for glittering jewels and diamonds. There are a few more dips and hills in store before the cars slow down yet again for the finale, where guests pass by the dwarfs cottage where Snow White and the dwarfs are dancing inside!
During my ride that morning, I was in for a special treat. The cars were a little backed up and the car my brother and I were in stopped right in front of the cottage. In the past, the sun was either too bright to see inside the cottage or the car took me by too fast. But that day, I got a good long look, as well as a photo of the Evil Queen with her basket of apples!
8:58 – Exit the Seven Dwarfs Mine Train
After riding the Mine Train, my brother and I left New Fantasyland, went past the beloved Tangled Bathrooms, through a beautifully empty Liberty Square, and then up the slight hill in Frontierland to where our next two Magic Kingdom Mountains sit: Big Thunder Mountain Railroad and Splash Mountain. I decided to take on Big Thunder Mountain Railroad first as Splash Mountain's queue tends to move quickly and I wasn't sure if that would be the case for Big Thunder later.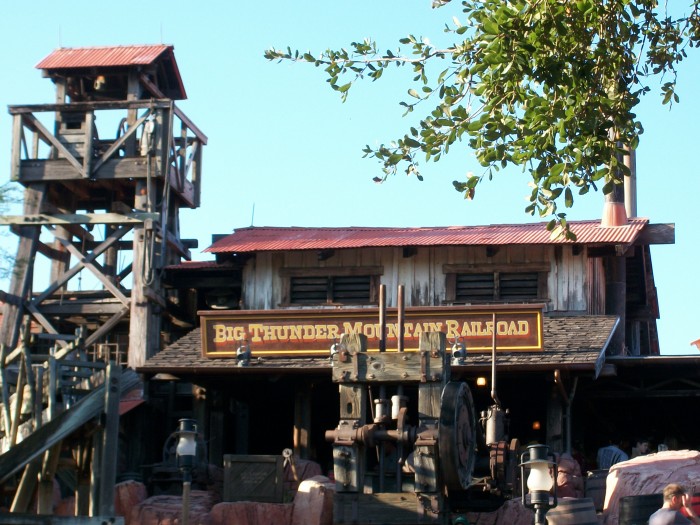 9:04 – Enter Big Thunder Mountain Railroad Queue
Big Thunder Mountain Railroad is the Magic Kingdom's other mine train attraction, but this one takes you back in time to the Old West during the gold rush. On this attraction, guests board a train in a mine shaft and are then sent on a bumpy, rickety ride around curves, over hills, and in and out of the detailed mountain. It's a little rough and pretty fast, but a lot of fun and still mild enough for kids over 40 in.
My brother and I had no one in front of us as we passed through the outdoor portion of the queue with its gags, and there was no one at the top in the interactive portion either. In fact, I never realized just how much walking you have to do and how many lines to pass through before you head down the ramps into the mine. Only there did we find a handful of people waiting to ride — and that's when a Cast Member directed the two of us to the first row on the train! The first row! Yeah, I was excited.
Big Thunder Mountain Railroad isn't called "the wildest ride in the wilderness" for nothing. The ride is jerky and takes your stomach a time or two; while riding up front was a fun experience for the two of us, we both agree the riding in the back offers a much better experience. The front part of the train seems to slow down much more in order for the back to catch up, and the seats towards the rear of the train just seem faster. Also, I think riding this attraction at night (which is what I usually do) is better than during the day. Just try it for yourself — I think you'll agree with me.
9:12 – Exit Big Thunder Mountain Railroad
Next, my brother and I went right next door to Splash Mountain. This is one of my all-time favorite Disney World attractions and it's one of my brother's favorites too. It's one of the park's longest and we love the attraction's excellent storytelling of Br'er Rabbit's quest for his "laughing place" while trying to avoid Br'er Fox and Br'er Bear. Although I must confess: while I love the attraction, I do skip it at times because I'm not a big fan of getting drenched. But for this morning's challenge, I came prepared; I brought a rain poncho.
9:15 – Enter Splash Mountain's queue
Like the Seven Dwarfs Mine Train and Big Thunder Mountain Railroad, my brother and I wound our way through Splash Mountain's queue and saw no one until we until we reached the boarding platform. We were ushered to our log so quickly that I was still struggling to pull on my poncho as I climbed in the second row of our log. That's important to note too, as some argue that the second row is one of the wettest places to sit on Splash Mountain!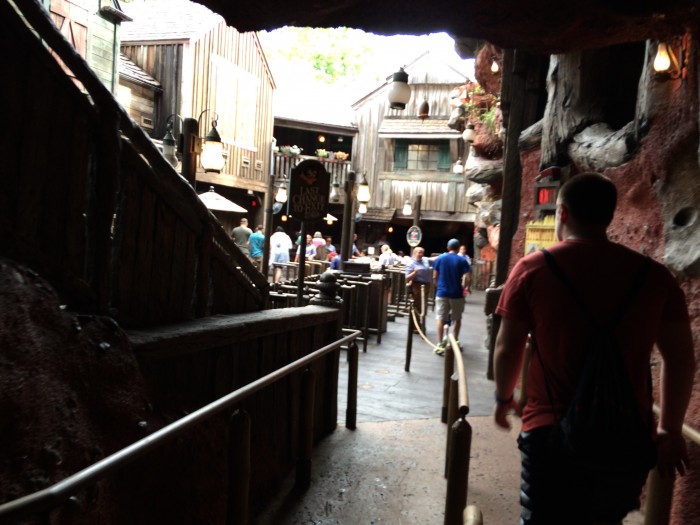 The outside portions of our ride were beautiful that morning as it was sunny and just starting to get warm; but during the part of the attraction where your log floats next to a splashing waterfall, the logs ahead of us backed up and I had to endure some spray for a moment or two. I always love the build-up of anticipation for that huge drop, and I can't help scream as we go down. It helps somehow? Anyway, as we floated through the last scenes, the logs backed up again for a few minutes. Fortunately I was still doing good on time for the challenge and was beginning to believe that I just might be able to pull it off!
9:29 – Exit Splash Mountain queue
After peeling off my poncho, my brother and I took a slight detour. We had only one mountain left in our challenge, Space Mountain, but we were in desperate need of some breakfast. So we left Frontierland and cut through Adventureland. That's where I dropped by the new location of Sunshine Tree Terrace, formerly the site of Aloha Isle, to say good morning to the Orange Bird and to see if he had settled in his new home. From there, we headed over to the umbrellas in front of The Plaza where the rest of our family had coffees and breakfast treats.
With something now on my stomach, I then started towards Tomorrowland to ride Space Mountain. For this attraction though, I was riding solo. My brother decided to opt out for this part of the challenge as Space Mountain isn't his favorite. I walked quickly because I knew Space Mountain has a lengthy queue to pass through and because Tomorrowland was already pretty crowded. But then again, Tomorrowland always feels crowded to me. Am I the only one?
9:42 – Entered the Space Mountain queue
Once I scanned my MagicBand in the FastPass+ line and the little Mickey icon turned green, I hurried inside the dark queue and kept a brisk pace in order to make up the time I lost during my Main Street detour.
I can never decide if I like Space Mountain's queue or not. The darkness is kinda cool because it's a nice break from the glaring Florida sun and sets the stage for the feeling that you're in outer space. But then again, it's so dark that it hurts my eyes at times and the line feels like it goes on and on! The standby line already had quite a few people waiting; fortunately for me, the FastPass+ queue was empty until I reached the short lines by the boarding platform.
Space Mountain is an indoor coaster that takes places in the dark! The concept is simple, a rocket ride through space and all the thrills that come with such a venture. Space Mountain was Disney World's very first coaster and even though it's several decades old, it still offers an exciting ride! But to be honest, I don't think it's as great as it used to be. I miss not being able to see the projections of asteroids and other details.
Once my rocket ride to space had returned to earth and I climbed out onto the platform, it was 9:51. Exactly an hour since I stepped foot into the Seven Dwarfs Mine Train queue. You know what that means? It means I did it! Without a minute to spare!
So… the challenge was a success and I can personally attest that it is possible to ride the Magic Kingdom Mountains in an hour! It's also exhausting — but totally fun — and it worked to my family's advantage as it freed up a lot of our time at the Magic Kingdom to experience other attractions and entertainment since I had already checked the ever-popular mountains off my to-do list. Hopefully, this will help our families and individuals who don't have the luxury of a long stay at Disney World or a lot of time in the park. But before you start making plans to tackle the mountains in an hour yourself, there are a few things to consider.
A Few Things to Note:
While Touring Plans predicted an 8 out of 10 at the Magic Kingdom, what they saw that day was actually a 7 out of 10.
I booked only one FastPass+ for this challenge and I had to book it in advance in order to secure it for the hour window that I had set aside for this challenge. If you can't get a FastPass+ reservation for the time you want, keep checking! Something could open up at any time.
The best chance to experience the most attractions in the shortest period of time is first thing after rope drop. While different times of the year make a difference in the crowd levels guests experience at the Magic Kingdom, that first hour of the day almost always has low crowds and the chance to walk on a number of attractions. I highly doubt I could've completed challenge could be completed within an hour, particularly during the summer months, if I hadn't arrived at rope drop or with only one FastPass+ reservation.
During this challenge, my brother and I kept a quick, steady pace when going from one attraction to the next, something that not all guests may be able to do or maintain. Be sure to factor in and consider your group's pace, as well as your own, when planning to take on the Magic Kingdom Mountains in an Hour.
Alternatives:
Couldn't get a FastPass+ for a Magic Kingdom Mountain in your hour window? Is one of the attractions down for maintenance or refurbishment? Are you or any members of your family prone to motion sickness or don't quite meet the height requirements? Here are a few worthy alternatives:
Pirates of the Caribbean: While it's not a mountain, Pirates of the Caribbean does possess the same excitement and thrill of adventure as the mountain attractions at the Magic Kingdom. In addition, it also has a great drop, just like the Magic Kingdom Mountains! During my challenge, Pirates of the Caribbean still boasted a 5 minute wait at 9:45 AM. (Pirates of the Caribbean is currently closed and is scheduled to re-open September 26, 2015)
The Barnstormer: The Barnstormer at Storybook Circus is a whimsical, mild coaster that's aimed towards young kids. The reason why the Barnstormer is a great substitute attraction for one of the Magic Kingdom Mountains is because it's the only other coaster in the park that doesn't have a mountain theme and has several hills and dips of its own. It also doesn't form much of a wait until 30 minutes or so after the park has opened and sometimes even later than that.
Looking to see if you can experience other big Magic Kingdom attractions in an hour? Consider taking on the park's most iconic attractions, such as Pirates of the Caribbean, Dumbo the Flying Elephant, "it's a small world," and the Jungle Cruise. These attractions are much more friendly for all members of the family, especially for your little princes and princesses who may not be ready for a spin on Space Mountain or a drop into the Briar Patch on Splash Mountain. They also can be done in an hour if you arrive at the park early as I did.
So have you ever tackled the Magic Kingdom Mountains in an hour? Or are you willing to? Feeling better about what you can do in the most popular park, even during busy times of year? Do you have any park attraction challenges of your own that you would like to try? I want to hear from you!