The SATURDAY SIX Looks at Universal Studios Florida's MINION CAFE (Details, Secrets, THE FOOD, and more!)
This week's SATURDAY SIX looks at Universal Studios Florida's MINION CAFE! This month had the official opening of Minion Land in USF, and for the first time in 30+ years the front section of the park has a cohesive land rather than a hodge-podge collection of unrelated attractions. One of the key additions to this new land is the opening of Minion Cafe, a kid friendly quick service restaurant that just so happens to offer some of the best meals in the entire park.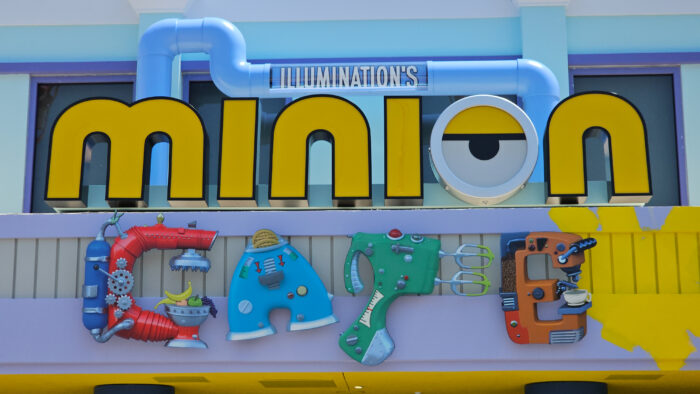 # 6 – Replacing Universal Studios' Classic Monster's Cafe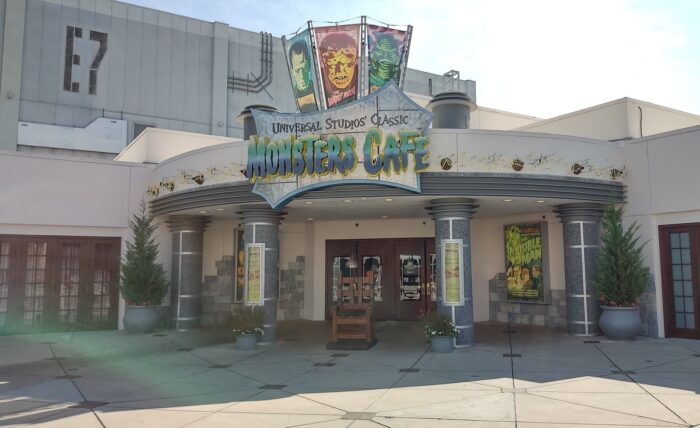 Believe it or not, in a park that is constantly in transition, Monsters Cafe was a staple in Universal Studios Florida for over twenty years. Opening in 1998, Monsters Cafe was my personal favorite restaurant in USF for years thanks to a menu that included "monster" sized pizza slices and Nathan's crinkle cut fries. Anytime I needed to reference something from Universal, I invariably chose Monsters Cafe because I think the restaurant best summarized the casual insanity of a theme park blogger's life (including this Len "Testa-monial" from the Disney Outlet Report's Three Year Anniversary special back in 2016).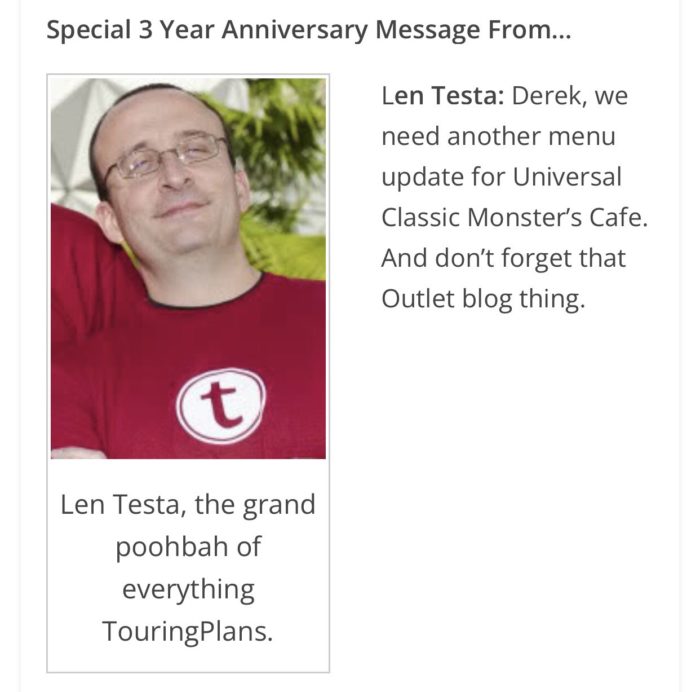 With a lot of indoor seating and ice cold air conditioning,  Universal Studios' Classic Monsters Cafe was a great place for a meal and to get out of the hot sun. The restaurant was filled with movie props from various monster films, including The Creature from the Black Lagoon and The Mummy, but also had references from The Munsters TV show. Televisions throughout the restaurant would play clips from various movies.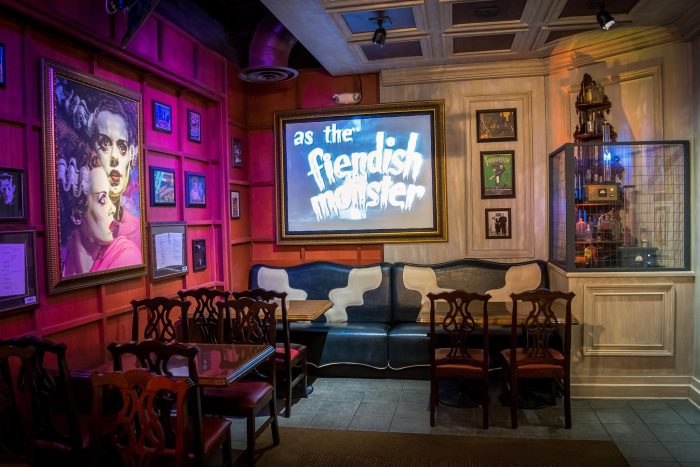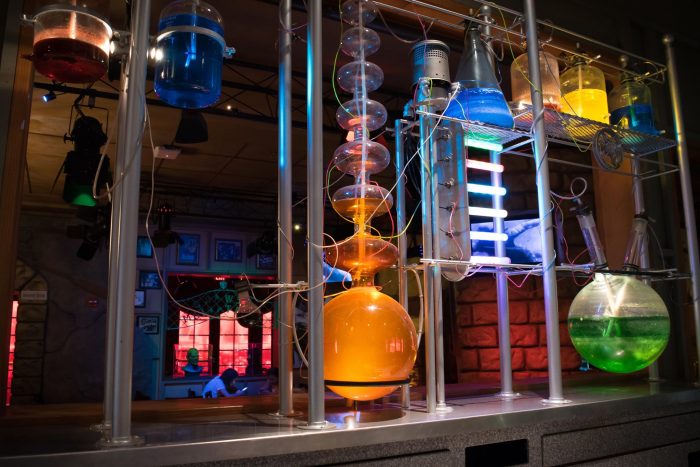 After Beetlejuice's Graveyard Revue closed to make way for Fast & Furious – Supercharged (don't get me started on that) Monsters Cafe was one of the only places in the park where you could get your fix of the Classic Monsters. These are iconic characters that have been a staple of the park since opening day, but their presence has been slowly erased over time (something that looks to be fixed in a major way in the upcoming EPIC Universe park.)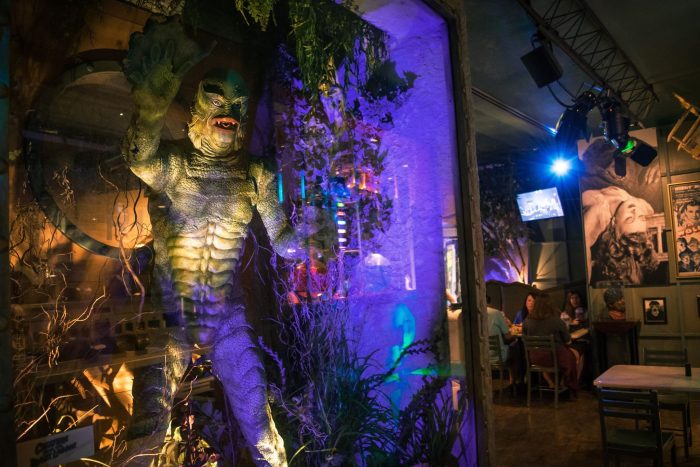 Back in the summer of 2019, Monsters Cafe completely revamped its menu and changed to a theme park version of Boston Market. This allowed guests to pick their own meat and side combinations to make a meal. For pretty much everyone, this was a HUGE improvement on the menu and immediately made Monsters Cafe one of the best bets in the park outside of the Leaky Cauldron in Diagon Alley and Fast Food Blvd. in Springfield.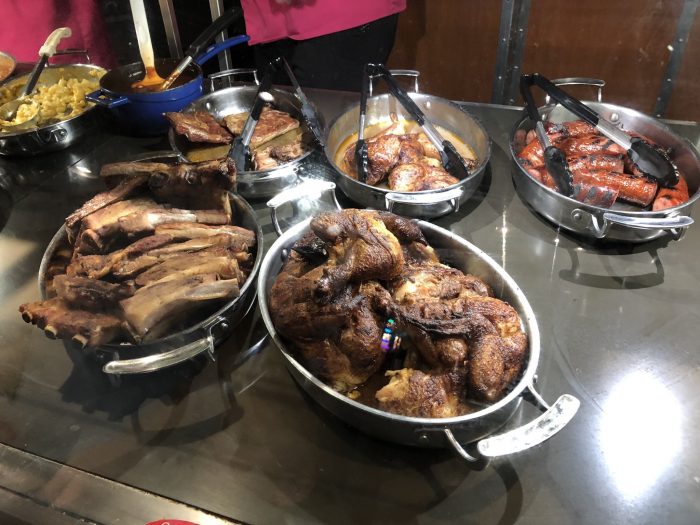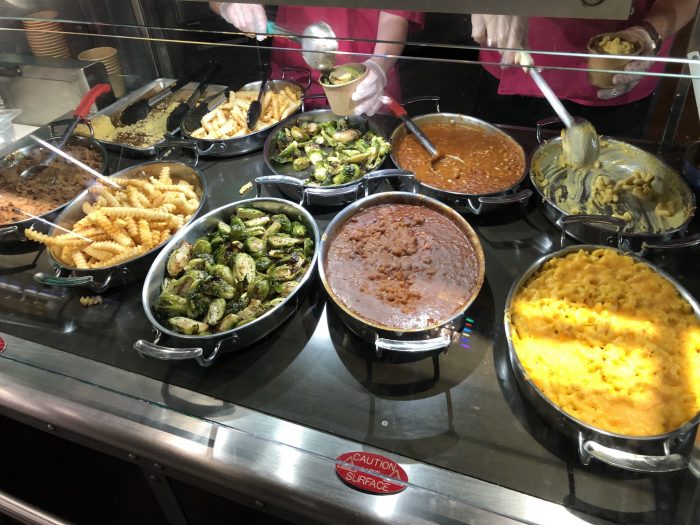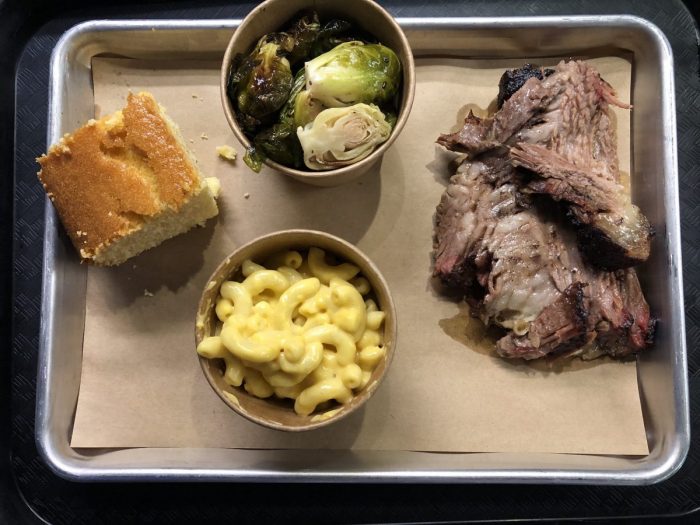 You could also order burgers and sandwiches off the new menu, all themed to various classic monsters.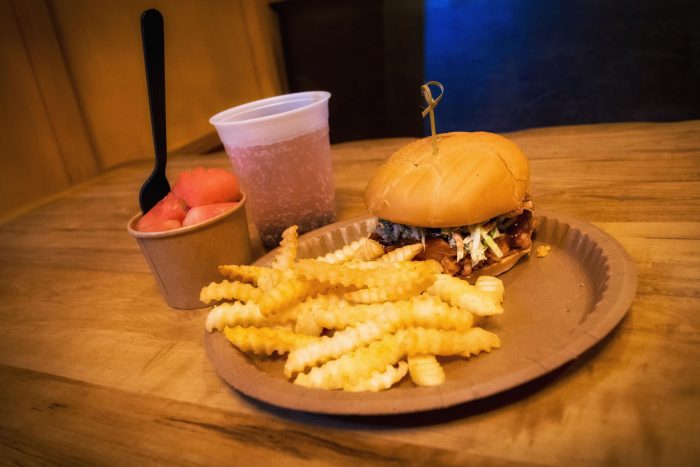 Okay, so let's get a bird's-eye-view of the transition of Monsters Cafe over to Minion Cafe (along with several other venues in Minion Land.) Below is a picture taken on July 8th, 2022, and you can see the humongous Monsters Cafe walled off and has begun its remodel.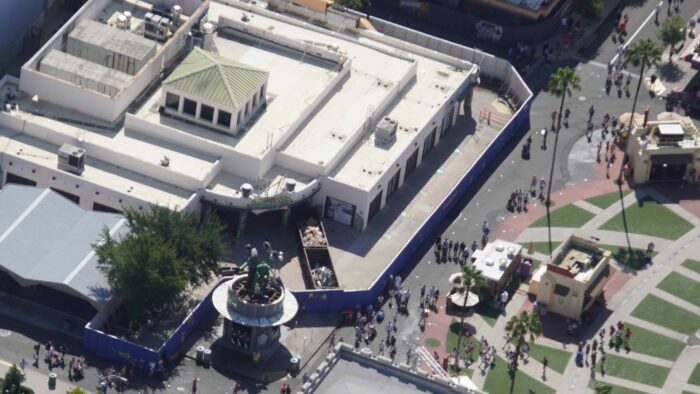 Our next photo was taken on February 3rd, 2023. In this photo you'll see an extension to the old Monsters Cafe building is being constructed. This new build is specifically for the entrance to the upcoming Minion Cafe.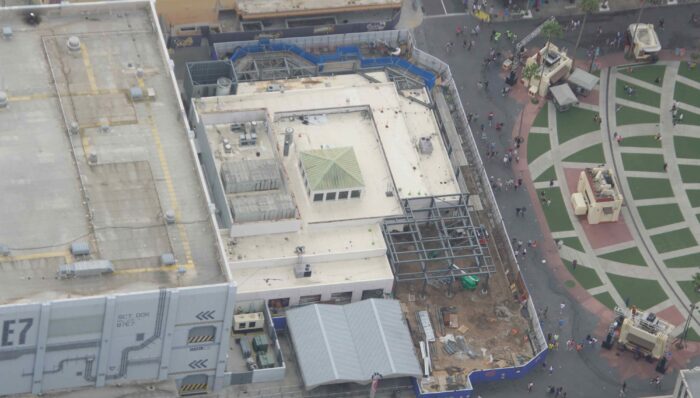 Which leads us to today, and the yellow arrow below is pointing at the entrance to Minion Cafe. You'll see facades for other venues of Minion Land below including Freeze Ray Pops and the Bake-My-Day bakery, but they take up little space in the overall scheme of things with Minion Cafe having the lion's share of space from the old Monsters Cafe building.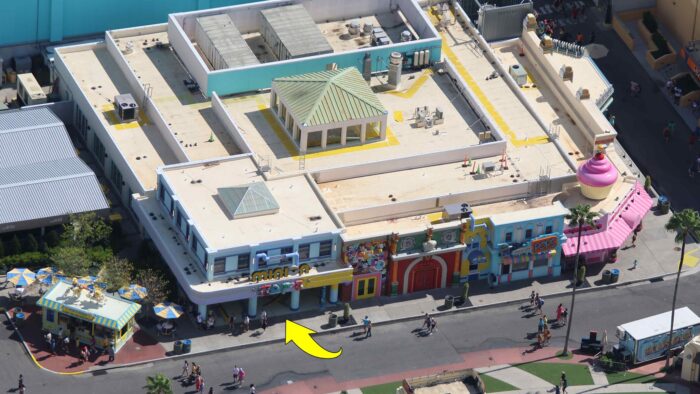 So, let's head on in!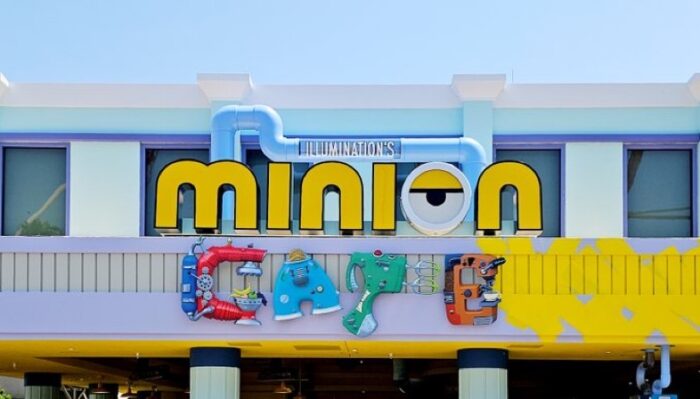 # 5 – Minion Motivational Posters
The walls of Minion Café are loaded with great details, but my personal favorites are the Minion Motivational Posters that do a great job mocking real motivational posters you see in the Real World. The posters will definitely connect with anyone who has worked within the restaurant industry in any capacity. In fact, some of these are so well done I wish Universal was selling them as prints for people to hang up at home.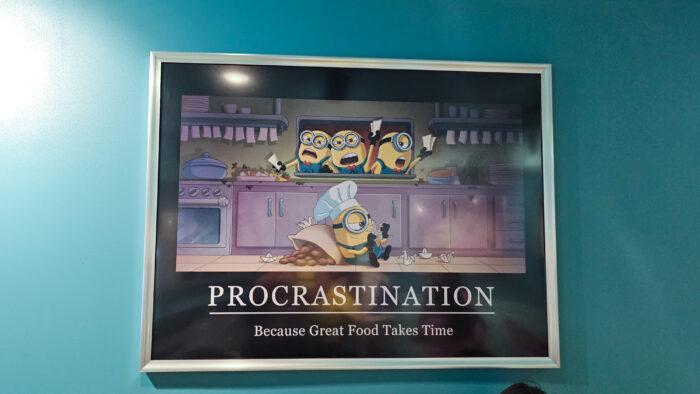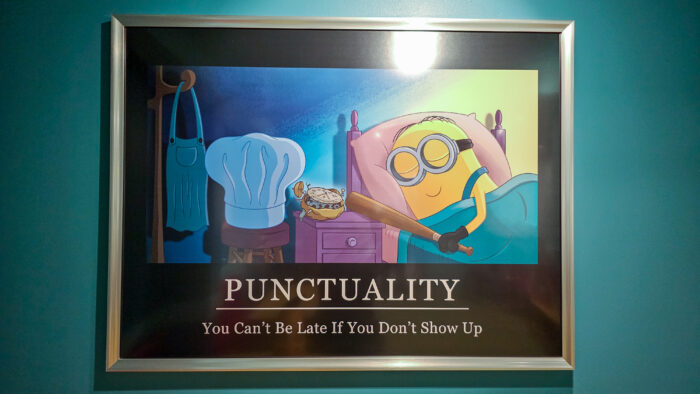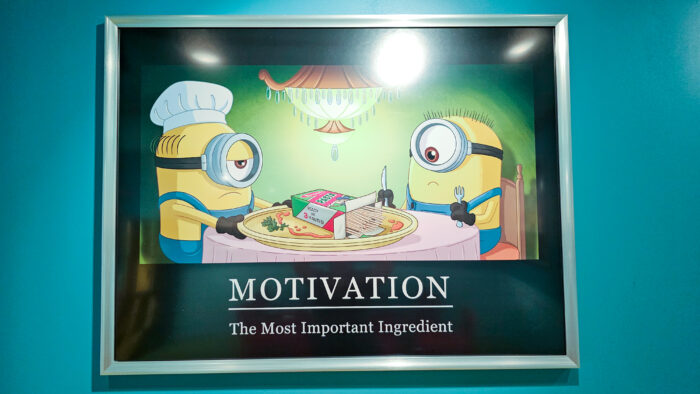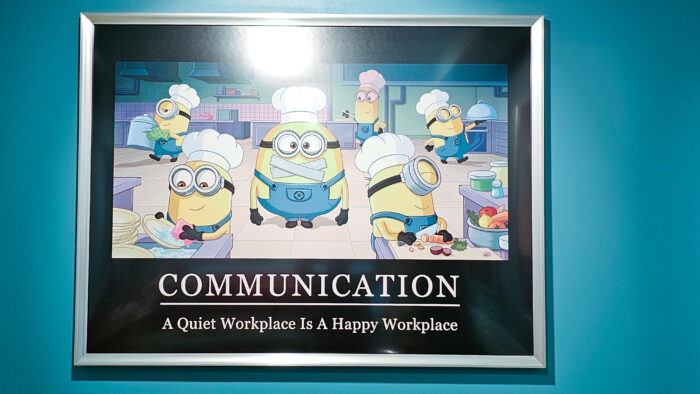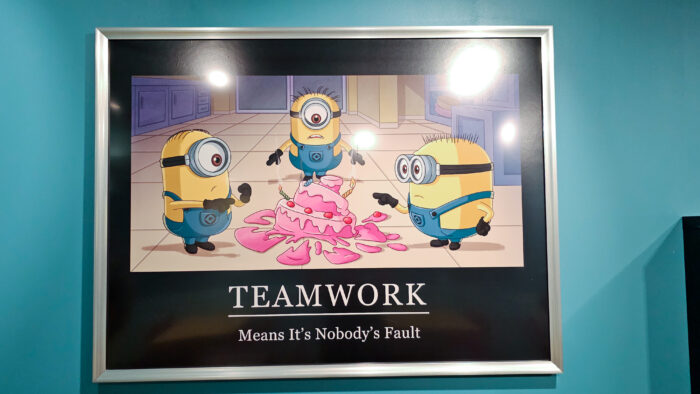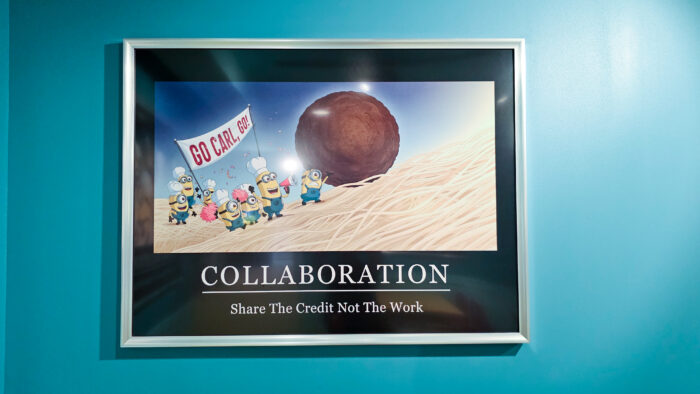 There are many other whimsical posters displayed throughout Minion Café as well, including one featuring a Minion riding a Corgi, which seemingly was made just to curry the favor of TouringPlans' own Joseph Matt.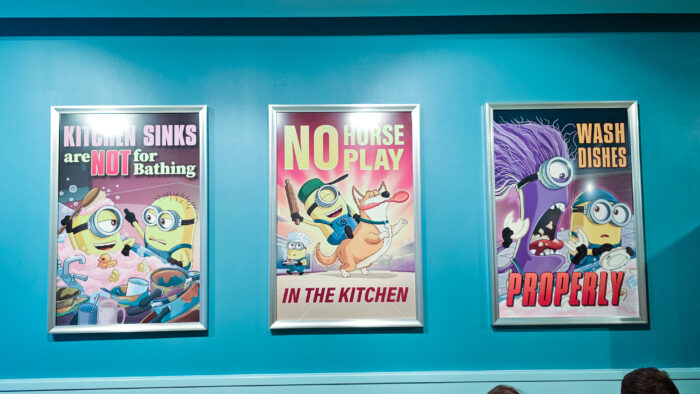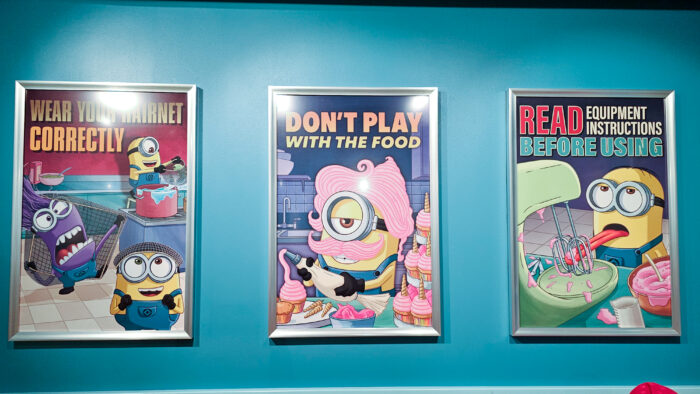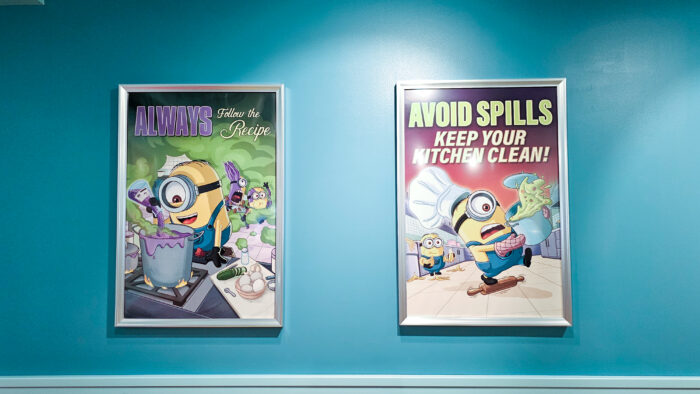 This flow chart explaining the Y.E.L.L.O.W. process is next level incredible. First of all, the acronym stands for Yell Escalate Laugh Lie Offend Wallow. The chart is filled with wonderful tips including "quit before you get fired" and "take full credit." Just brilliant work.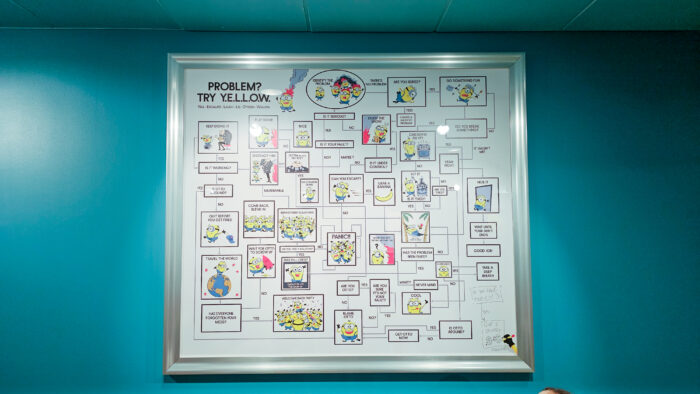 # 4 – The DETAILS
Minion Café has three main seating areas inside the restaurant, each themed to a different area. There is one area is themed to "the kitchen," one area themed to a "Minions break room," and one area themed to a traditional "dining room" which features artwork created by the Minions.
For me, the Minions break room is just incredible, filled with great details like this poster below featuring 33 Ways To Take a Minion Break. These ways include an "enriching debate" featuring two Minions fighting and "get fired."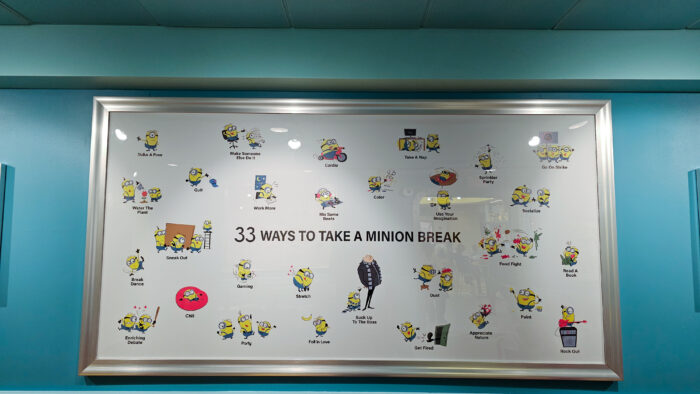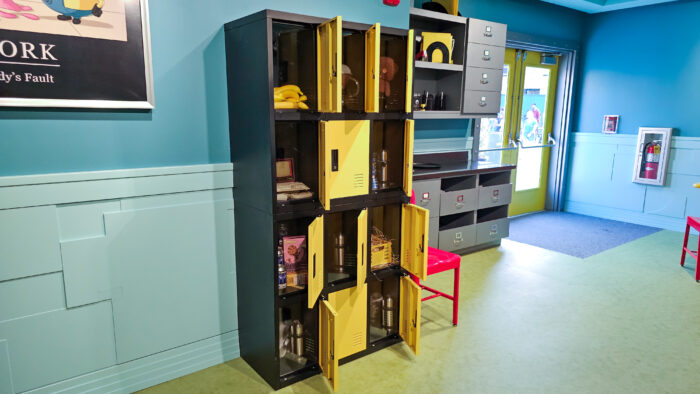 Inside the Minion's lockers you'll see details such as bananas and Tim the teddy bear.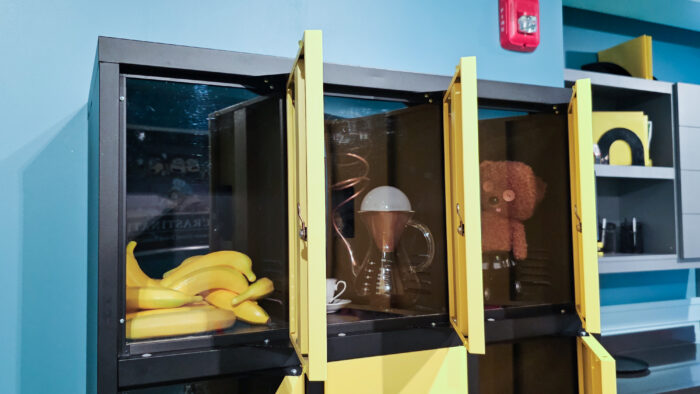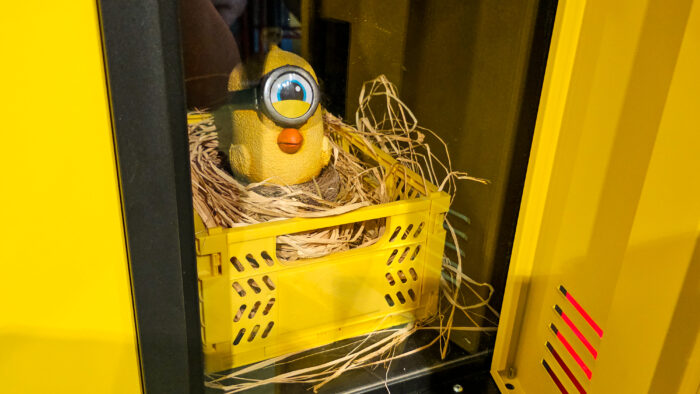 These "file cabinets" below are actually clever theming for a station to hold guest's trays, napkins, and silverware. Above it you'll see a bulletin board…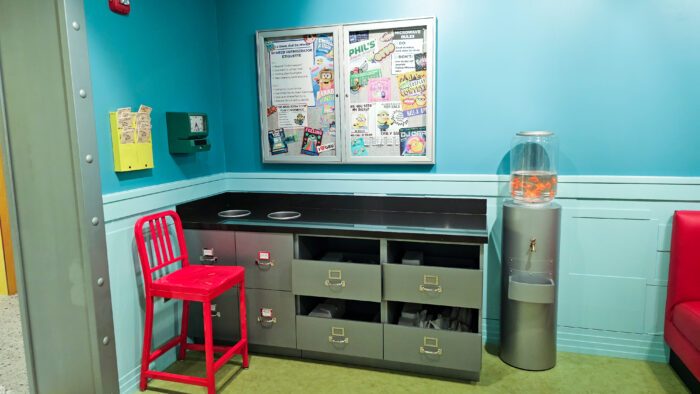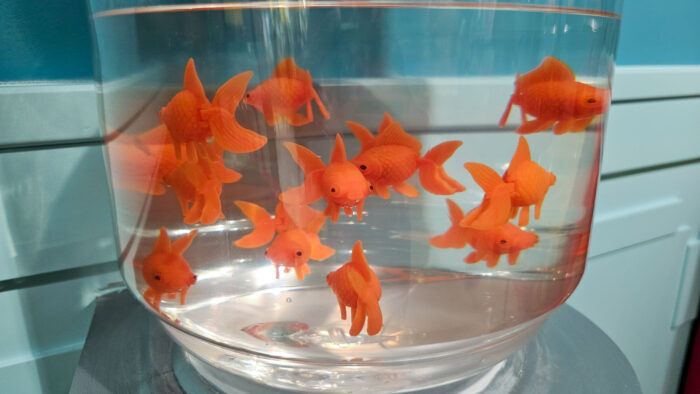 …which is loaded with fun details, including an ad from one Minion looking for a lost rubber ducky and one from another Minion selling a rubber ducky that looks awfully familiar.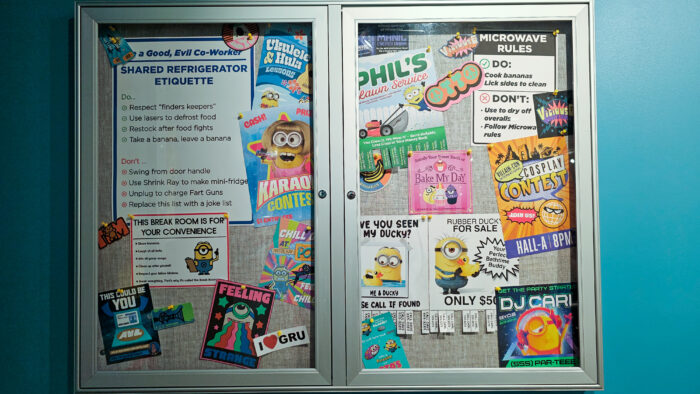 The faux vending machine in the break room is filled with great items, including several bananas.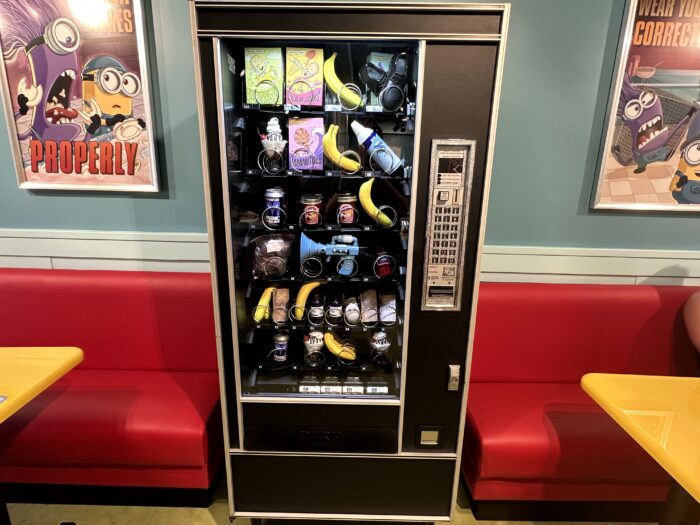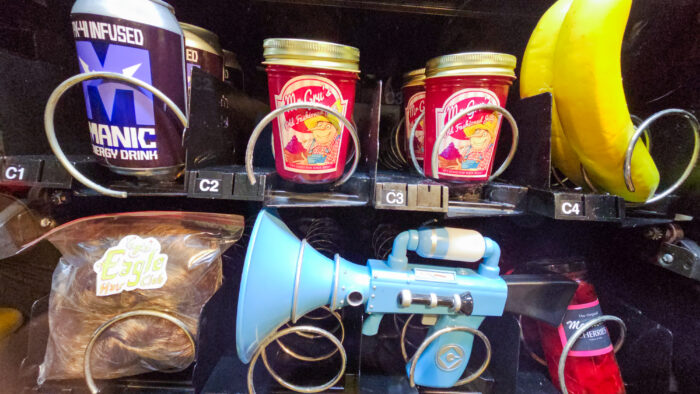 I loved seeing boxes of Yummy Cookies in the machine. These are referencing the first Despicable Me movie.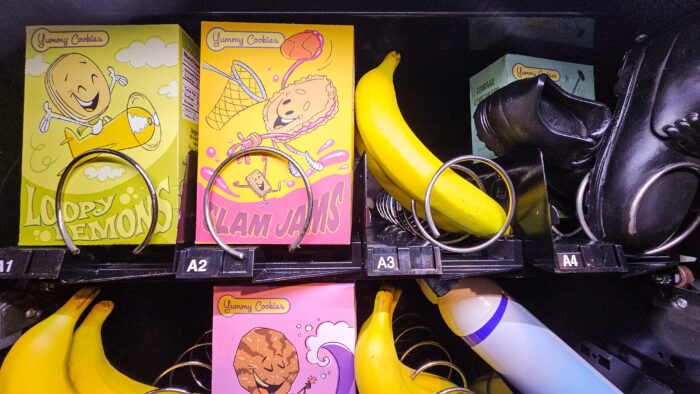 The picture below is one I took years ago at Universal Studios Florida, back when they used to actually sell these cookies in the park!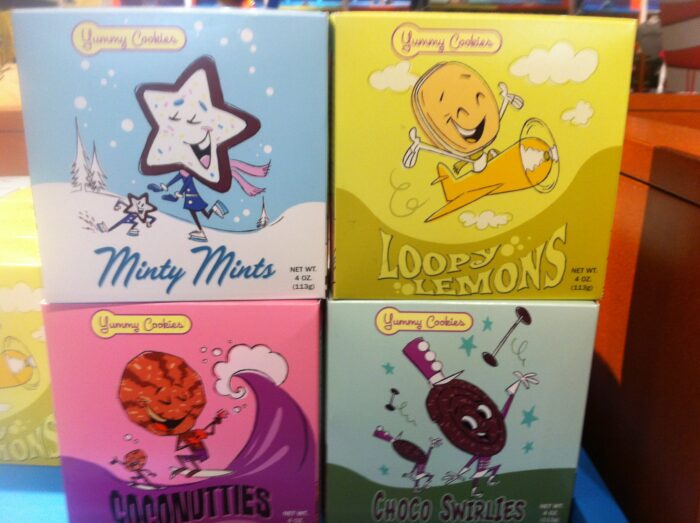 Ice cream sundae anyone?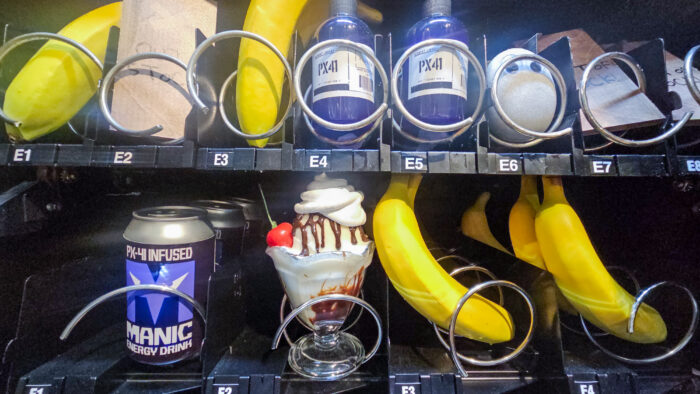 One running theme you'll see throughout Minion Café is the Minions tendency to put googly eyes on many items, including office supplies…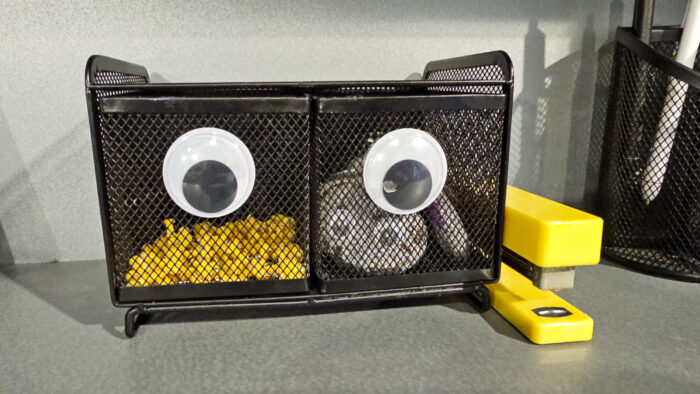 …and kitchenware.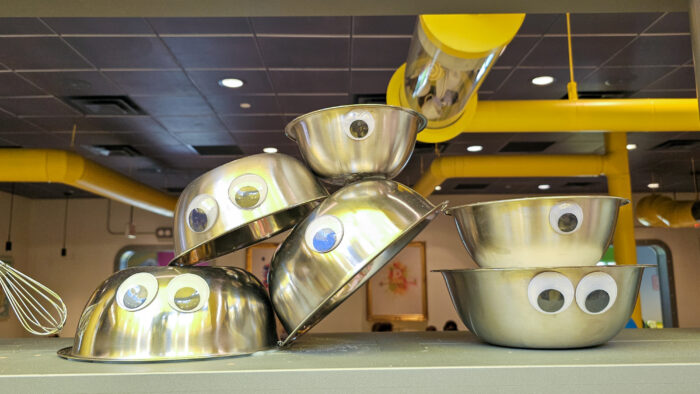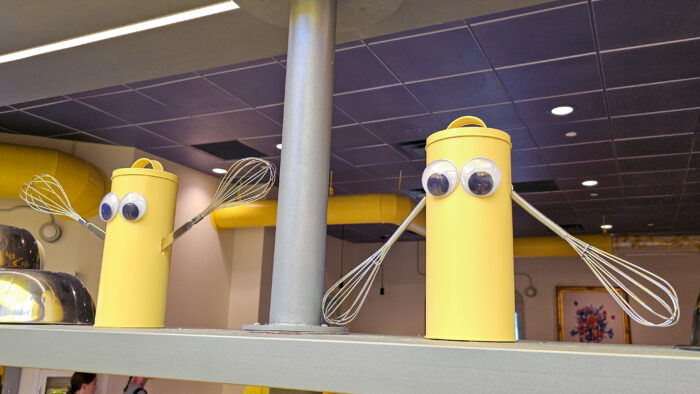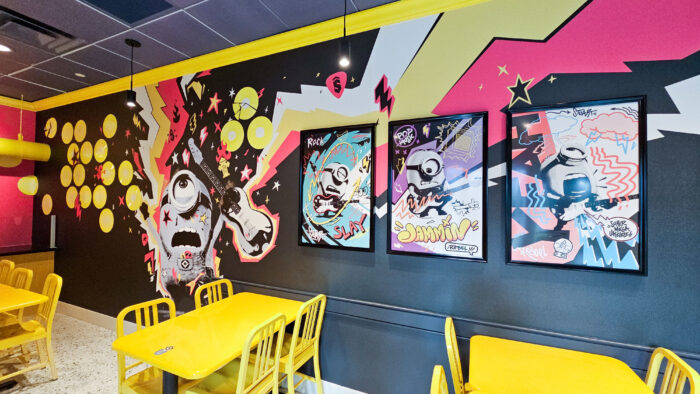 There is a great photo-op at Minion Café that will surely get the attention of a lot of kids.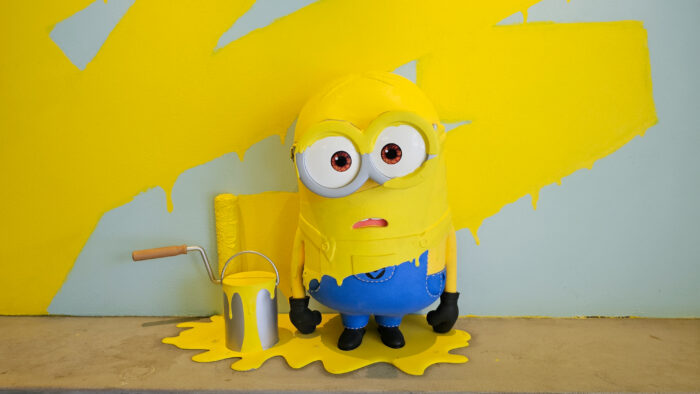 Be sure to look up both inside and outside Minion Cafe, as you'll see large "pneumatic tubes" that are sending food and orders throughout the restaurant.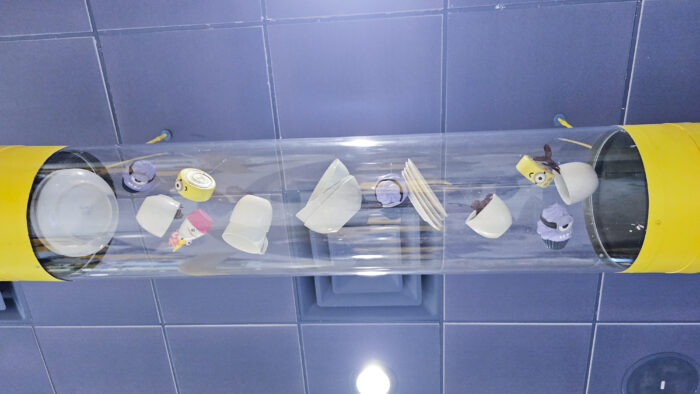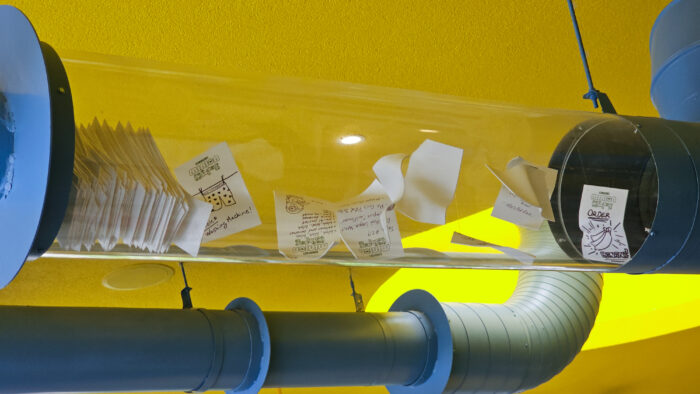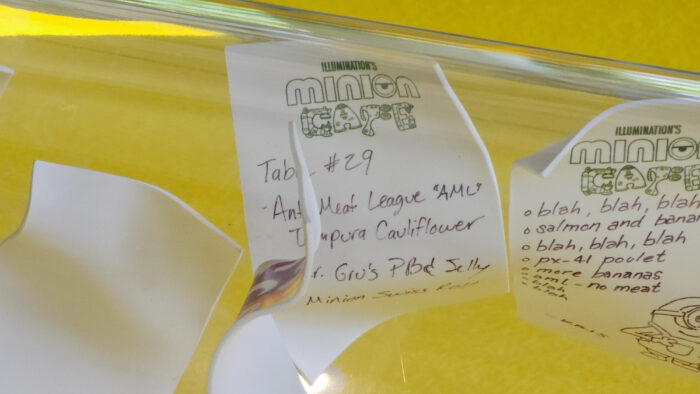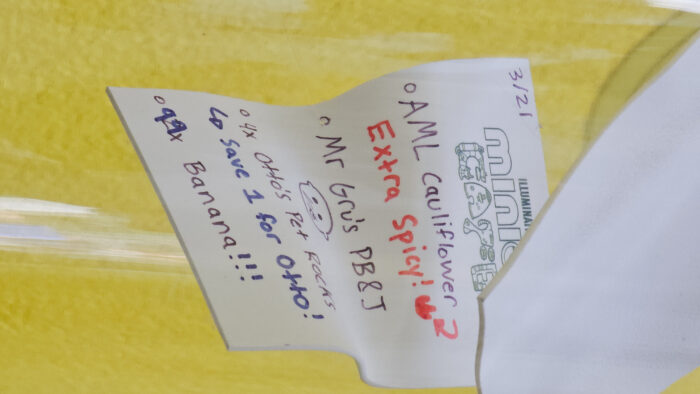 # 3 – The Rube Goldberg-esque Food Display
At the center of The Kitchen seating area is a large display that features Minions preparing meals.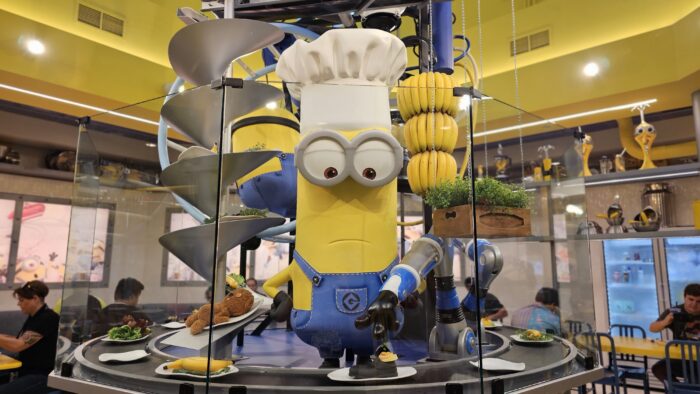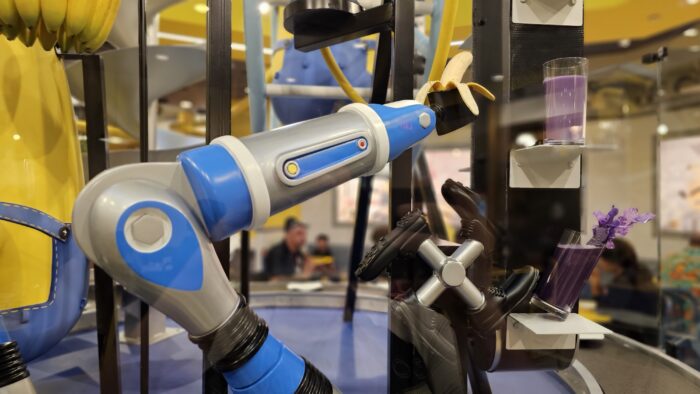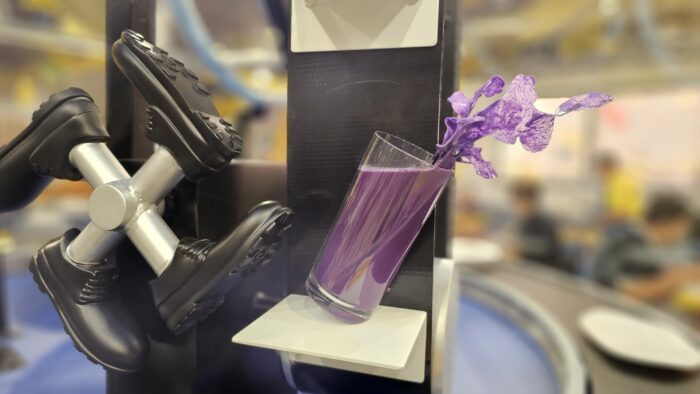 The food displays at Minion Café features a mix of food you would see in the restaurant…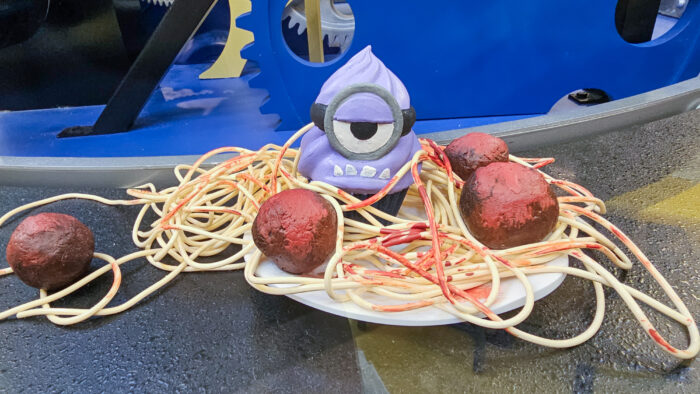 …including this artfully presented piece of chicken.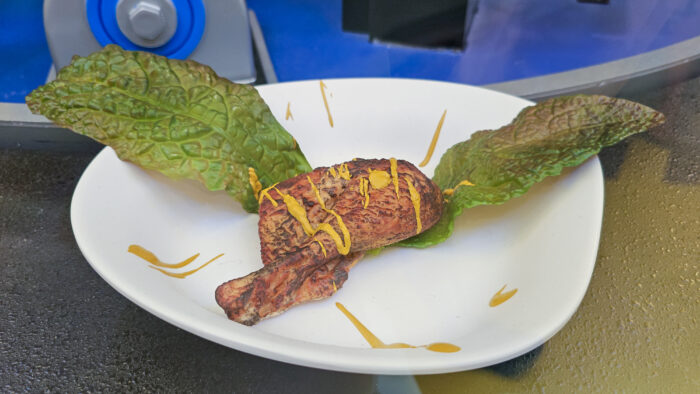 Along with meals the Minions would want to eat, such as this banana…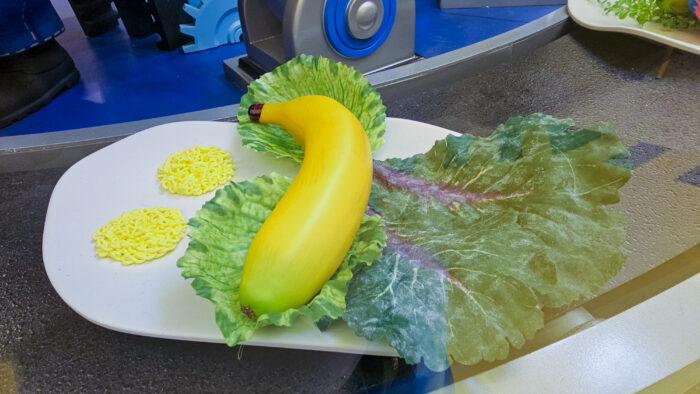 …and these bananas.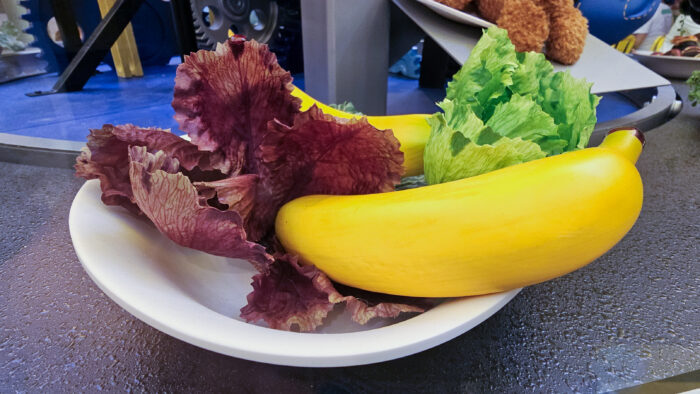 I love the fact that – in the world of the Minions – presenting a Fluffy Unicorn Cupcake like this exists.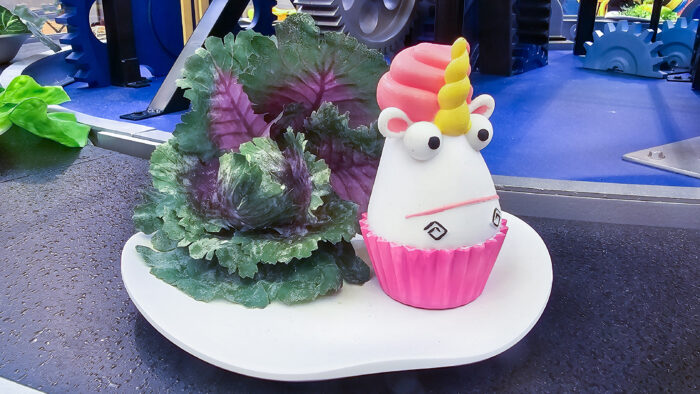 One display plate features Tim the teddy bear.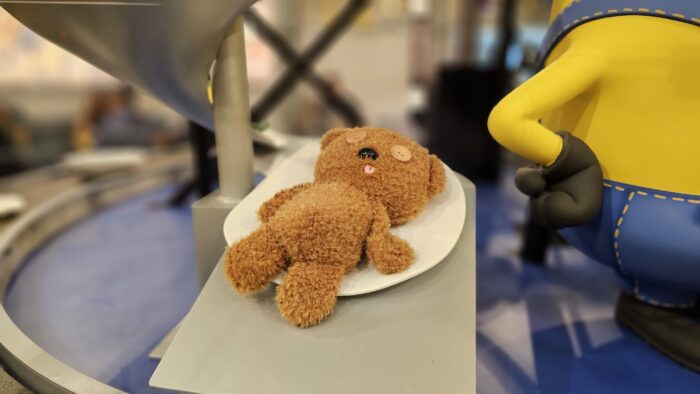 Lots of shenanigans as you work your way up this contraption.
At the very top, you'll see one of the tubes has a Minion stuck in it.
This Minion is also missing a shoe…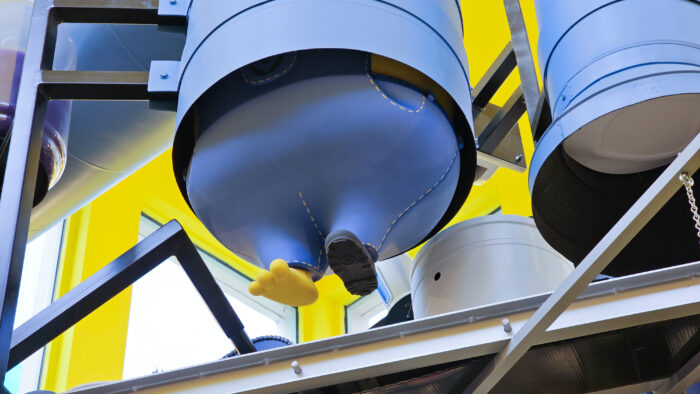 …which explains why one of the display dishes has pasta served in a Minion boot!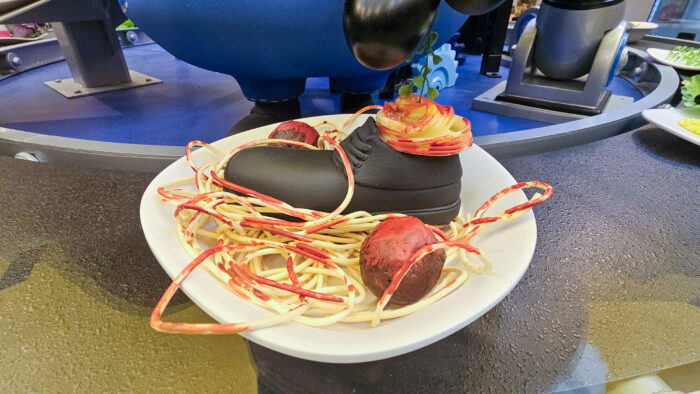 # 2 – The Seating
There is a ton of seating at Minion Café, both inside the restaurant as well as outdoor dining.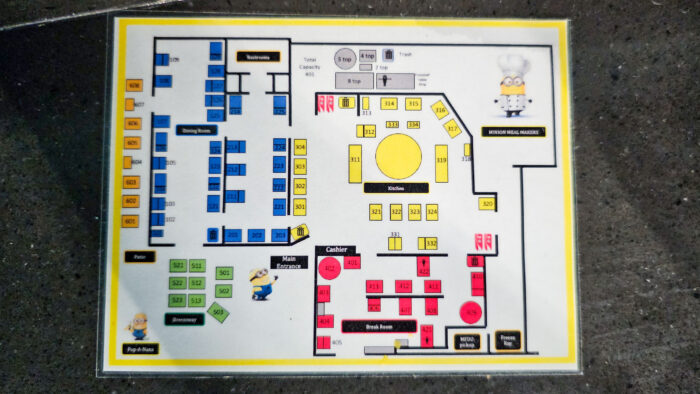 Like the restaurant itself, even the seating areas have some incredible design choices, such as this table built around a large pole.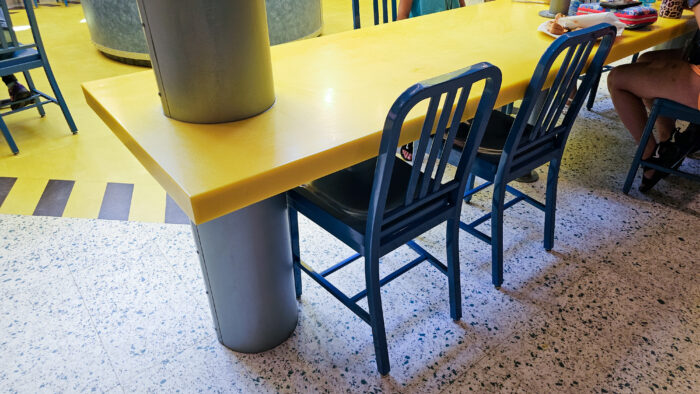 There's always something for kids to look at while in Minion Café, and those seated at this table will notice a Minion taking inventory in the freezer nearby..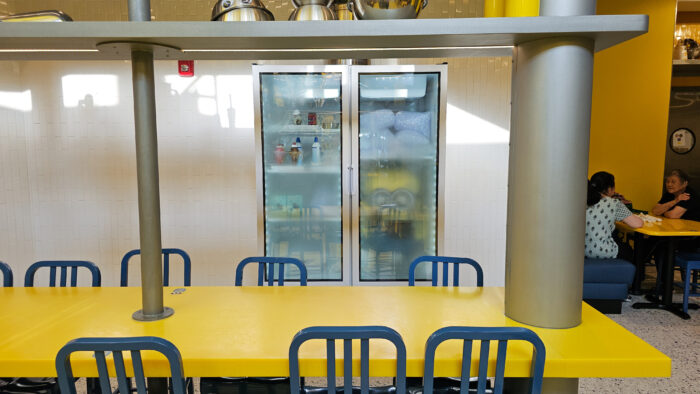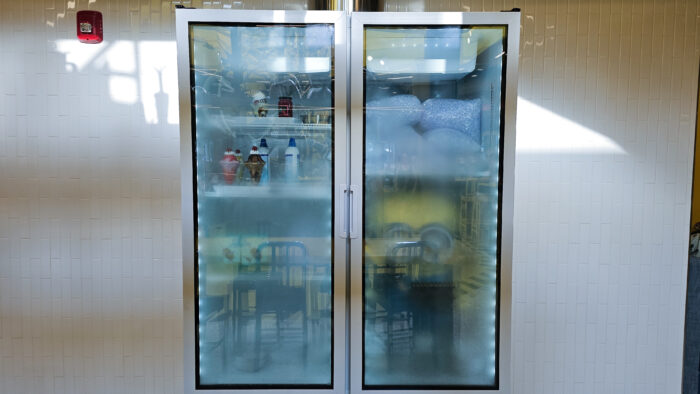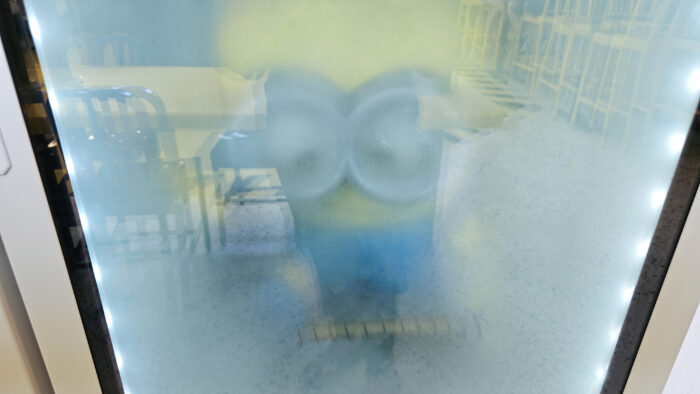 My favorite table in the restaurant is this one themed to a foosball table with Minions as the players.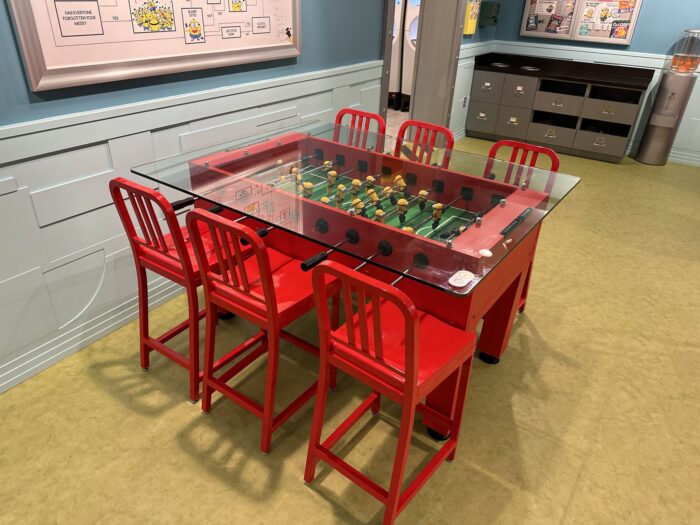 Gru as the goalie!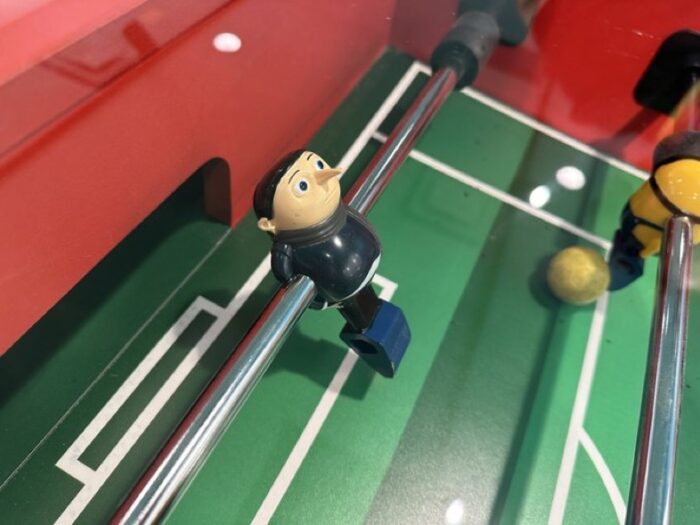 We'll close with a quick look at just some of the large amount of seating you'll find throughout Minion Café.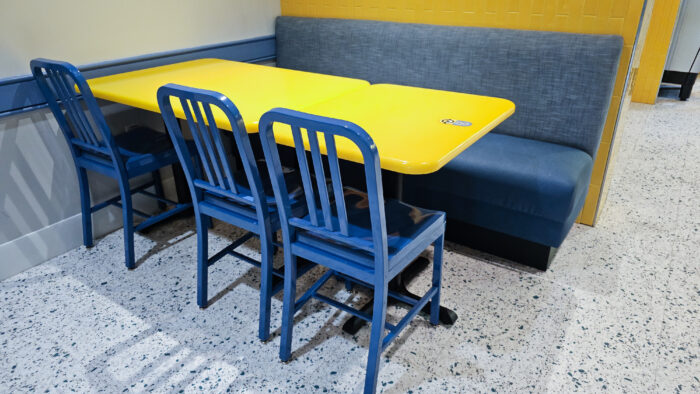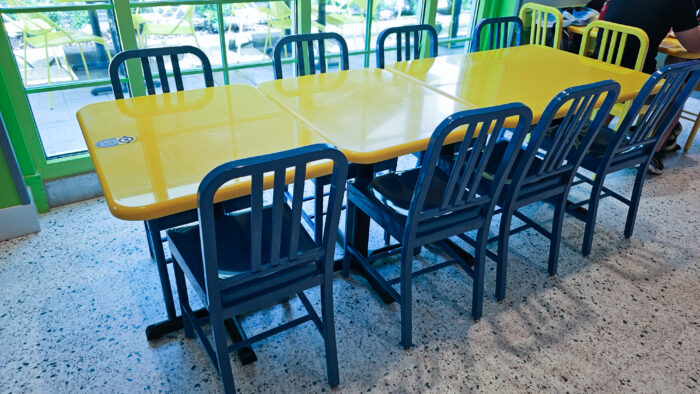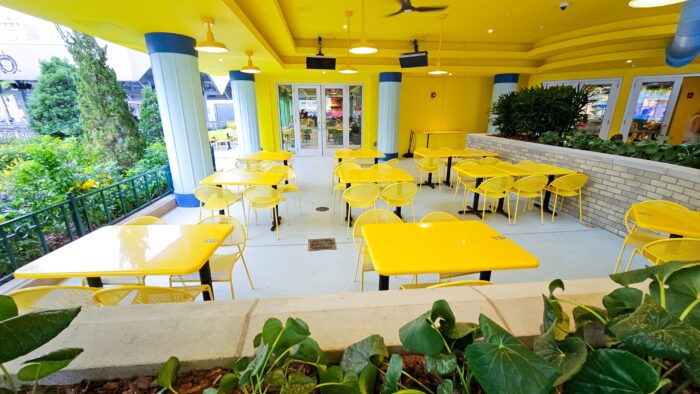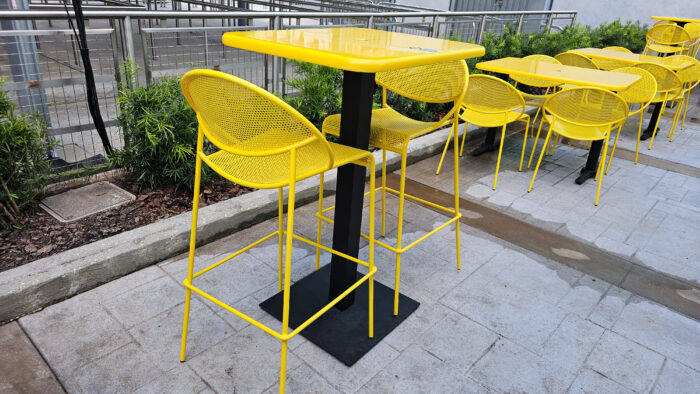 You'll notice that every single table at Minion Café has a QR code sticker on it. That's because Minion Café is 100% mobile order. Guests place their order via the Universal Orlando app, and the last step involves scanning your table number so that your order can be brought directly to you. The QR code doesn't sync up unless you literally lay your phone on the table. It will give buzz feedback response and connect to your order. There is also a register by the entrance for guests using cash or gift cards.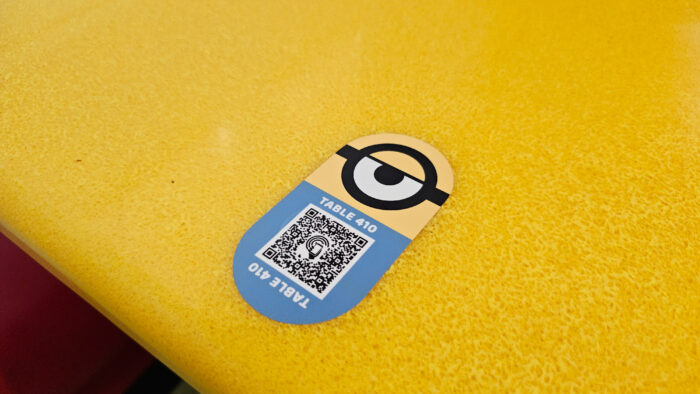 # 1 – THE FOOD
This may seem hard to believe, but it wasn't that long ago that Universal Studios Florida was the absolute worst park at Universal or Disney to eat at. Specifically the quick service restaurants. Over the last few years it has – in my opinion – become the best park to eat at when you consider the varied menus at Diagon Alley, Fast Food Boulevard, the TODAY Café, and Louie's Italian Restaurant. Now we're still in the honeymoon period, but I also have to say that Minion Café has jumped to the top of the list and is the best quick service restaurant at the Universal Orlando Resort.
You would think that – like Café 4 and Captain America Diner over in Marvel Superhero Island – Universal would just completely mail in this restaurant with the same ol' burgers and chicken nuggies you can find anywhere else. NAY NAY. Let's check out the Minion Café menu…
Otto's Noodle Bowl  – Unfortunately the waiter who served us kept the minion themed glasses that contained the noodles & broth. He poured broth before he left. The pork was very thin and tender, slightly fatty and edges were crispy and had lots of pepper. It tasted more like western smoked brisket. Noodles surprise me because they were not normal udon noodles. They were softer and had more of a potato flavor. The egg was hard boiled and had been previously marinated in a familiar Asian sauce [ED NOTE – Tare Eggs are usually soaked in miso paste, soy sauce, and sugar]. The shrimp dumpling was the weakest item. It had one shrimp and was very thick and bland. There was a bunch of roasted corn in the creamy salty broth which I loved.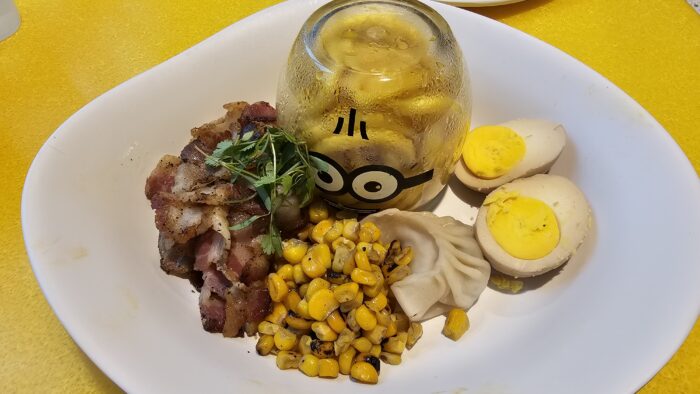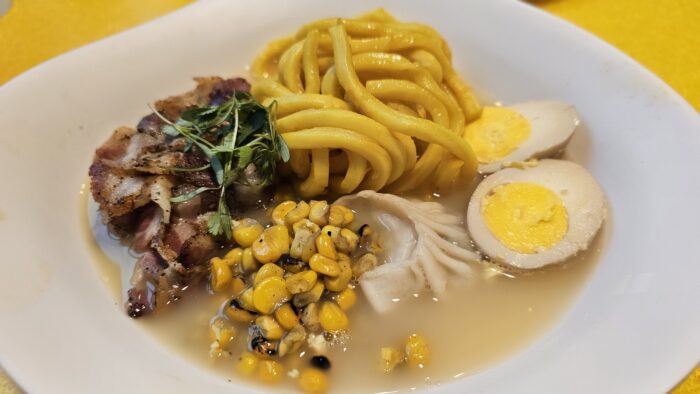 El Macho's Salsa y Salsa Ropa Vieja had a great mix of flavors, with everything cooked perfectly. The cilantro rice was really nice. The tostones could have been bigger and they were chewy, but still enjoyable.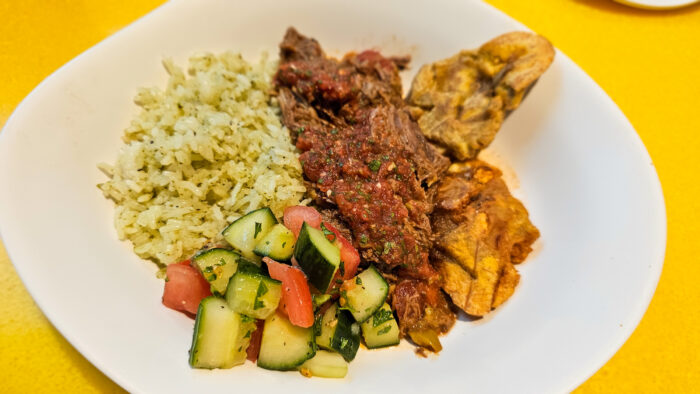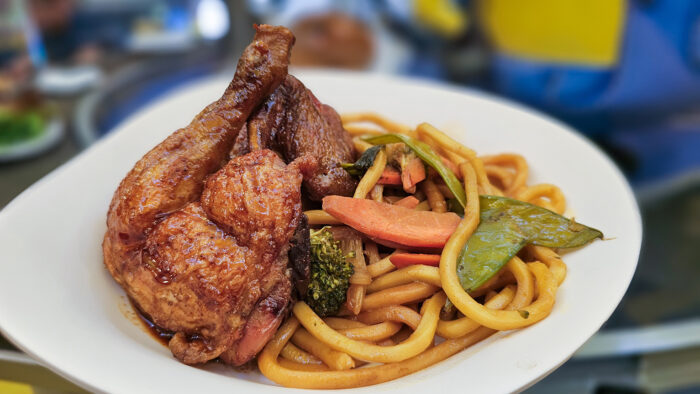 Carl's Crispy Cauliflower was delicious. It was the consistency of tempura shrimp and had a spicy sweet chili sauce. Blue rice tasted normal and was very nice to pair with. Cucumber was pickled in sweet vinegar. In the future I want to try the chili sauce as a dip for Minion Tots.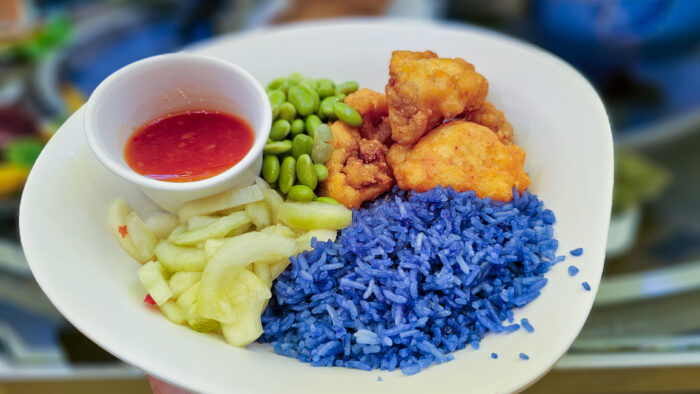 Uncle Dru's Belly Fillin' Pork Sandwich is quite possibly the best sandwich in the entire park. Love the presentation of the green banana chips.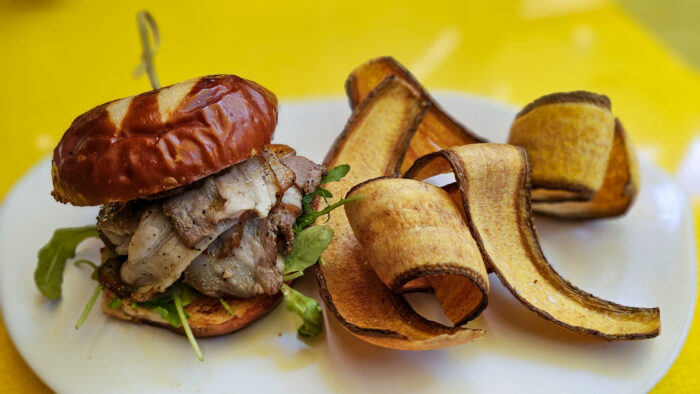 Steak & "Cheese Ray" Sandwich was tasty, but "shrinking ray" would be more appropriate name. Would be much better value if sandwich size was larger. Excellent flavor and filled with melted cheese.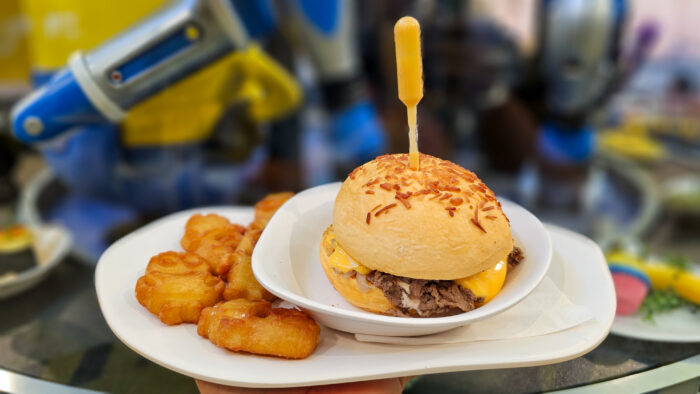 Game changing element with the addition of a cheese filled pipette.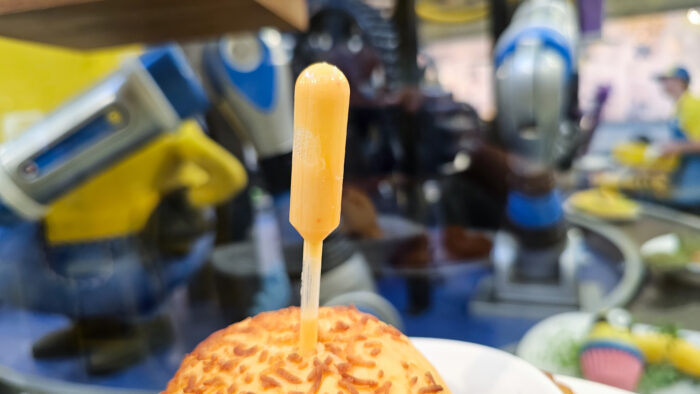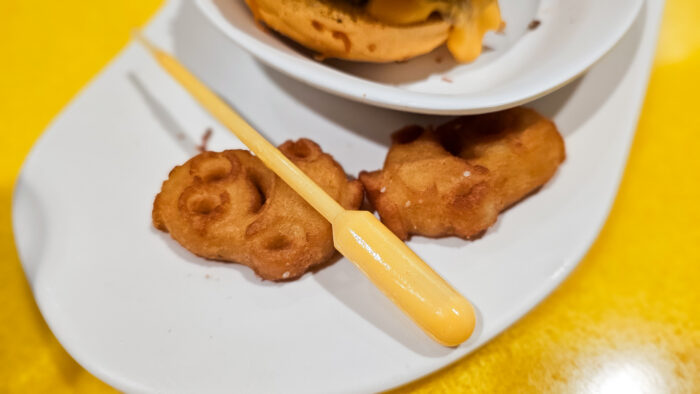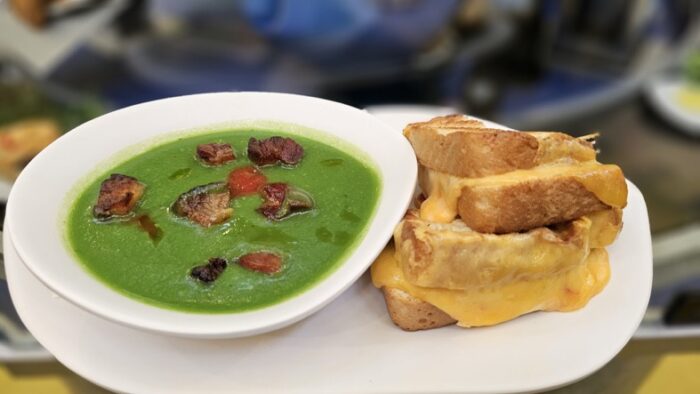 Kevin's Chopa Chopa Sala is full of flavors. It's a big portion, loaded shredded chicken.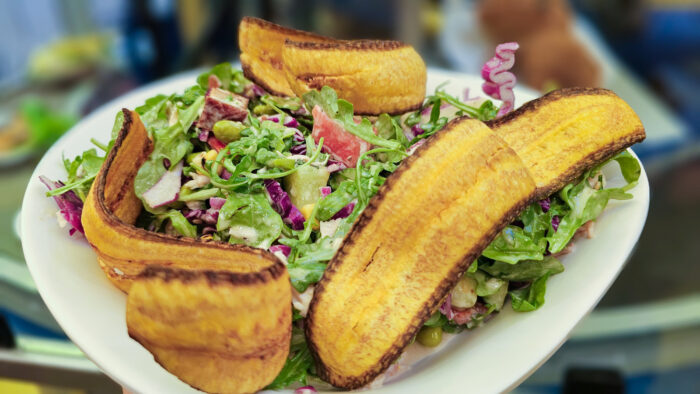 Mel's Meatball Mountain was a fantastic alternative to a calzone. Not greasy or oily. It wasn't light or delicate, and there was a lot of enjoyable crispy/chewy crust.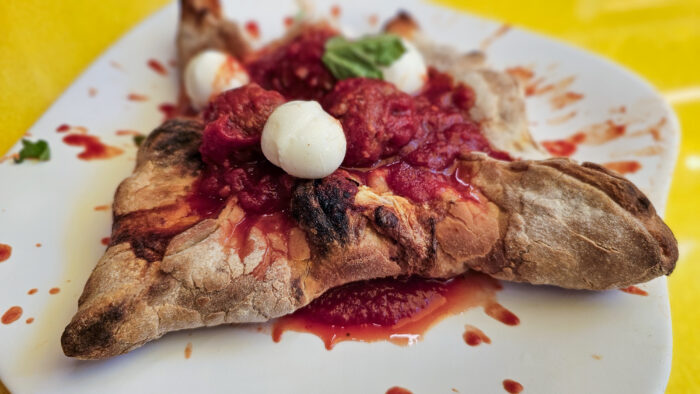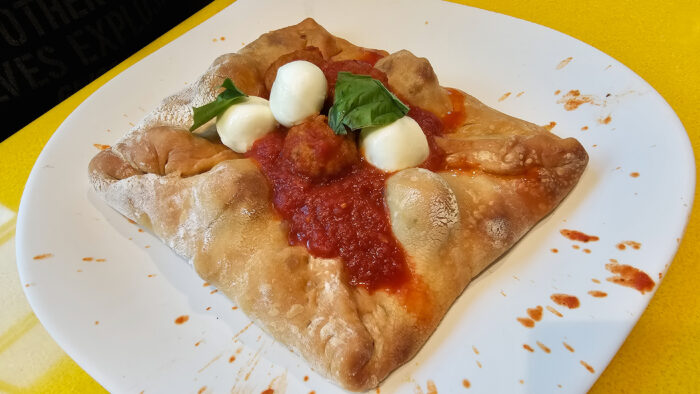 There is also kid's menu for the Mini Minions, featuring more traditional options such as mac & cheese, spaghetti & meatballs, and a grilled cheese a sandwich.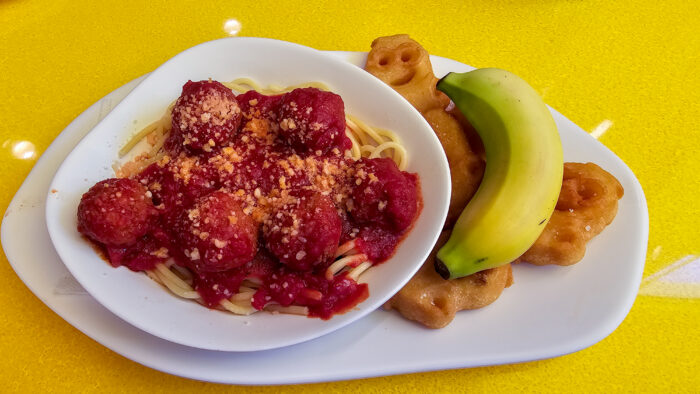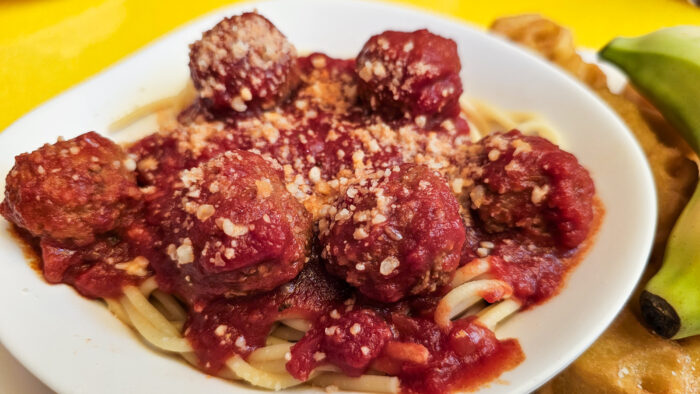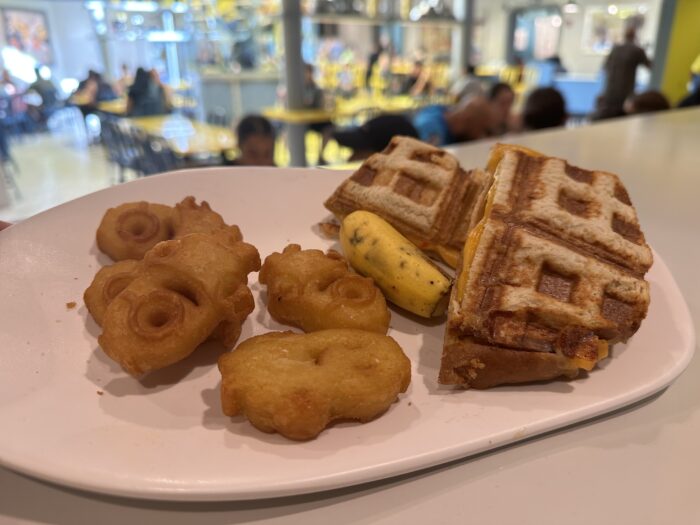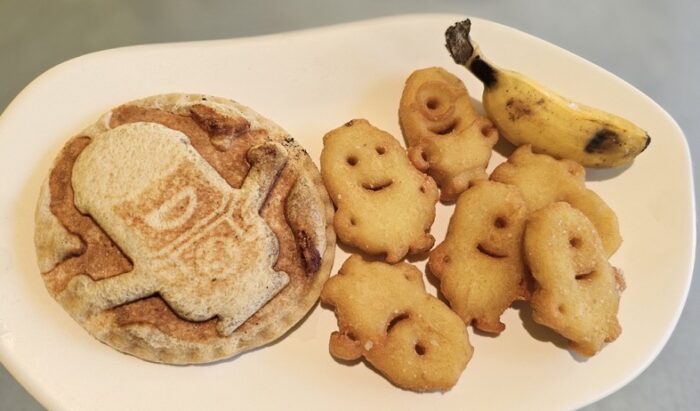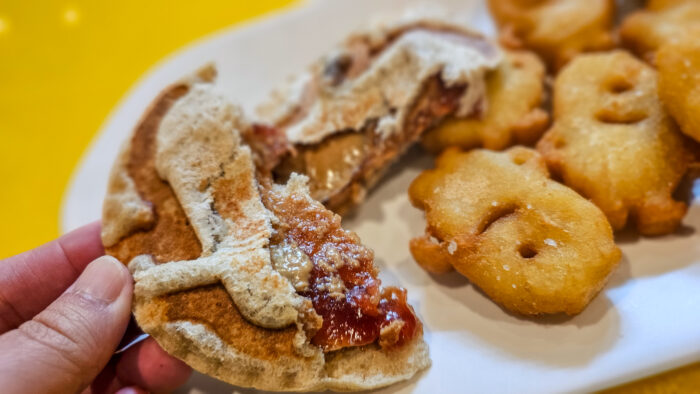 There are some items that come along that you know are going to be a smash hit. When we first saw pictures of Minion Tots earlier this year, you just knew that Universal was going to be printing money. The Minion Tots are served with several of the dishes on both the main menu along with the Mini Minions menu, and you can also buy them separately as a side order.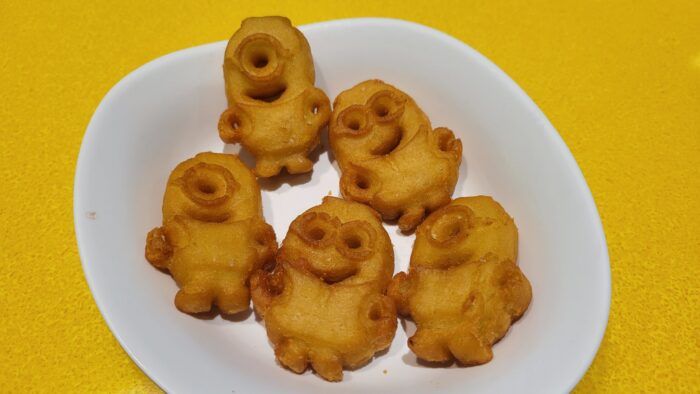 Minion Café also has some fun dessert options.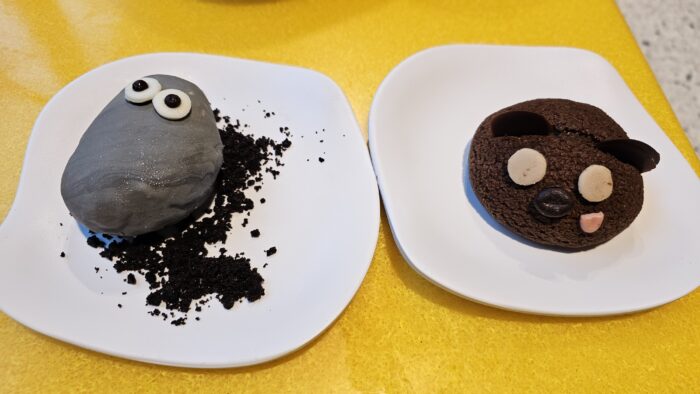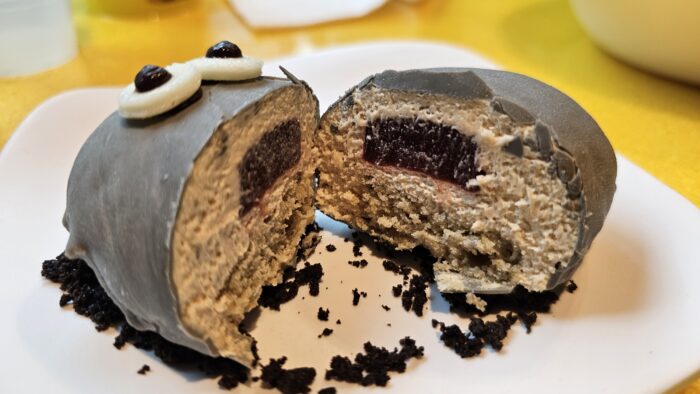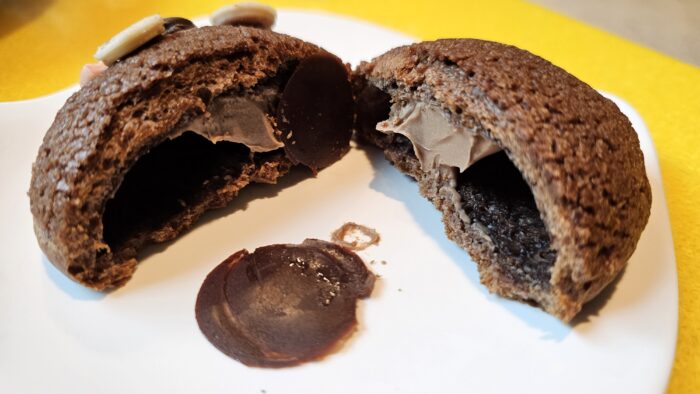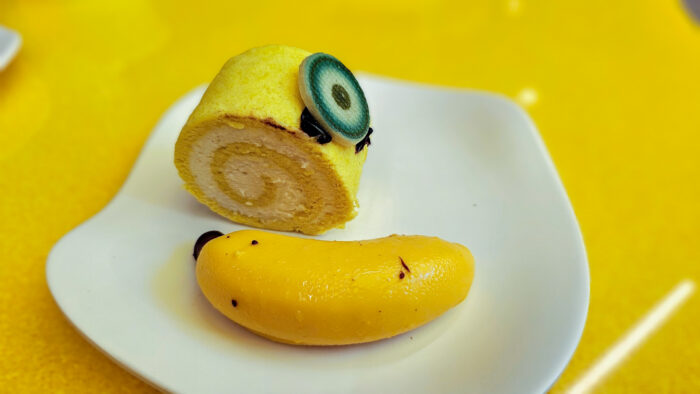 We've tried pretty much every single cupcake Universal has made over the years, and this one for Minion Café is hands-down the best they've ever done. Don't sleep on it.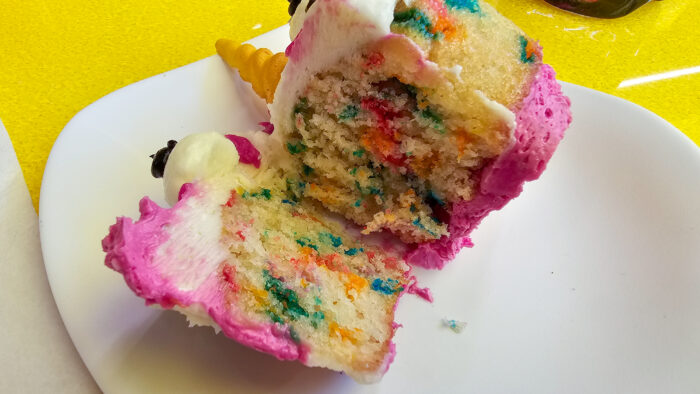 Like the Minion Tots, two items on the menu you know will be ordered all the time are The Antidote and PX-41 Punch. These are Minion Cafe's specialty drinks.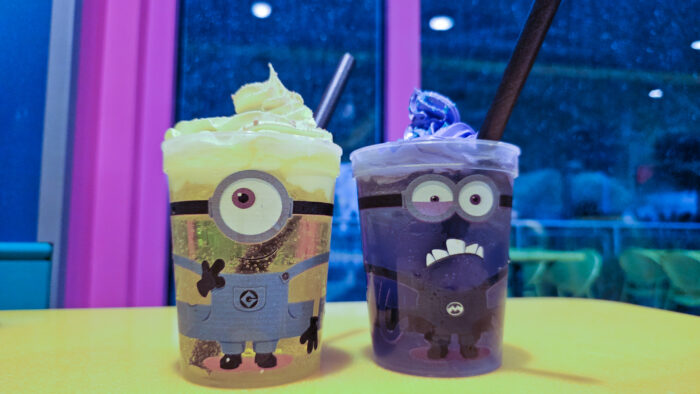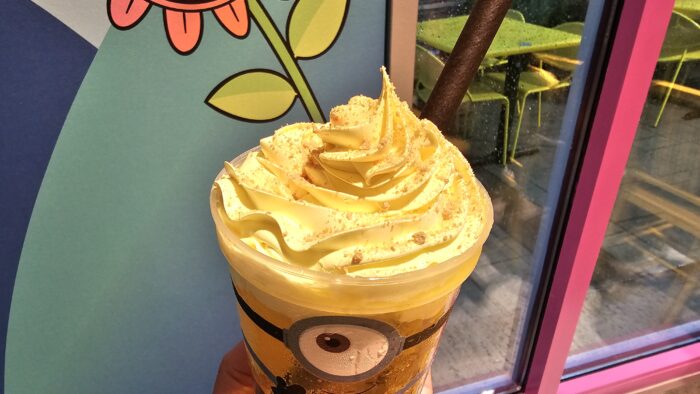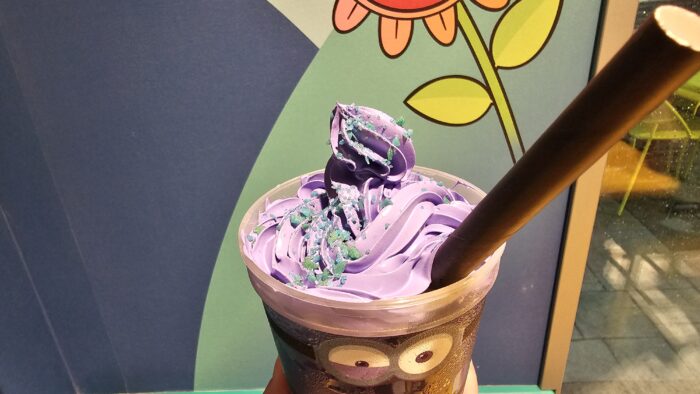 One of the best pro-tips is getting your single serve sodas at Minion Café. You actually will get a glass brought to your table which you can then bring to the Coke Freestyle machine. This is a stark contrast to the paper cups you get at pretty much every other quick service location at Universal.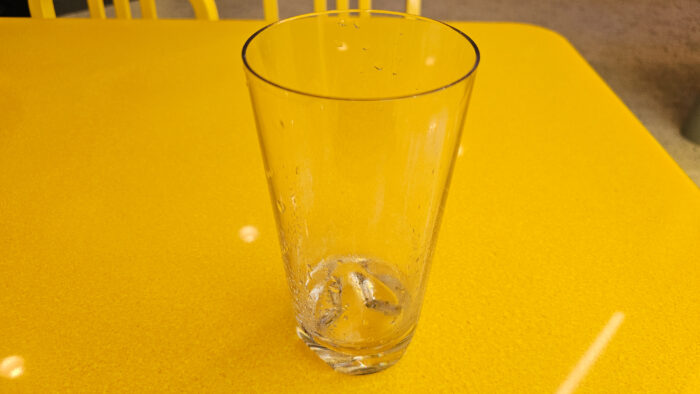 You can get multiple refills with this glass, which can come in handy on those sweltering hot days. Keep in mind this only works while enjoying your meal, you can't take the glass with you when leaving Minion Café.
Honorable Mention – Coke Freestyle SECRET MENU
Speaking of the Coke Freestyle machine, the version at Minion Café features something you won't see anywhere else in the park. Take a look at the bottom right hand part of the Freestyle screen and you will see what looks like a bank vault door.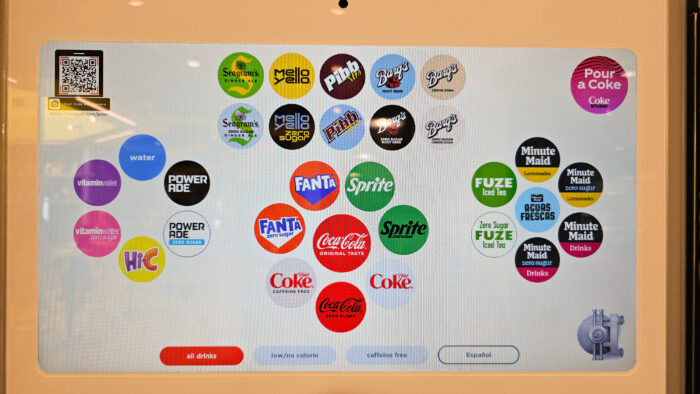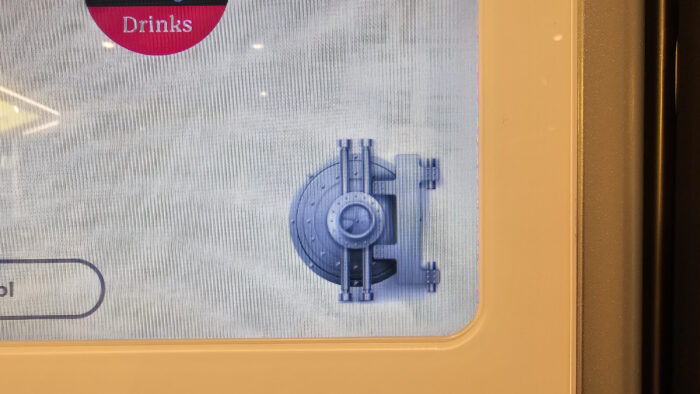 If you click on the bank vault door, a larger version comes up along with a place to put in a passcode to unlock the vault.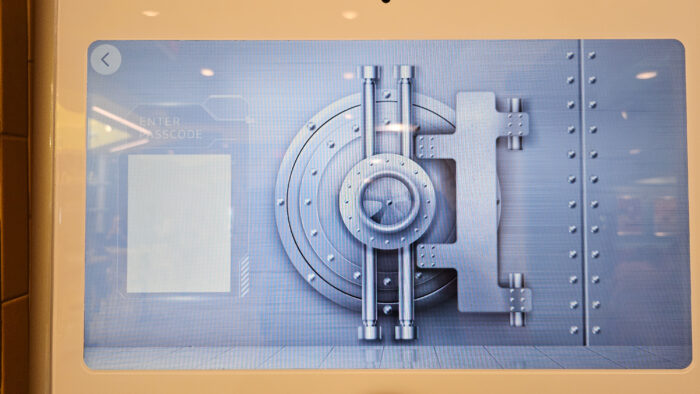 The passcode is entered via the touchscreen.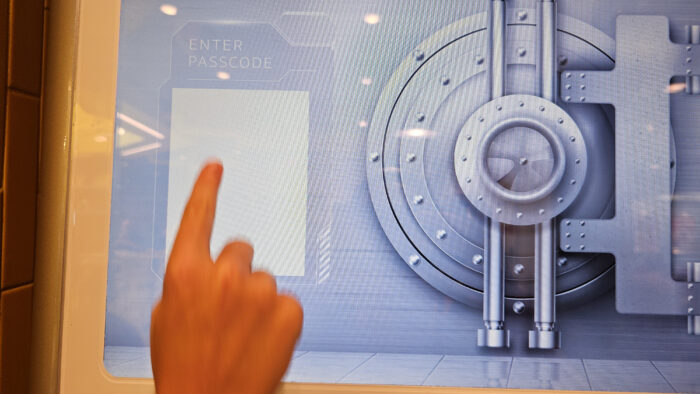 The code is a "U" which I imagine is for Universal.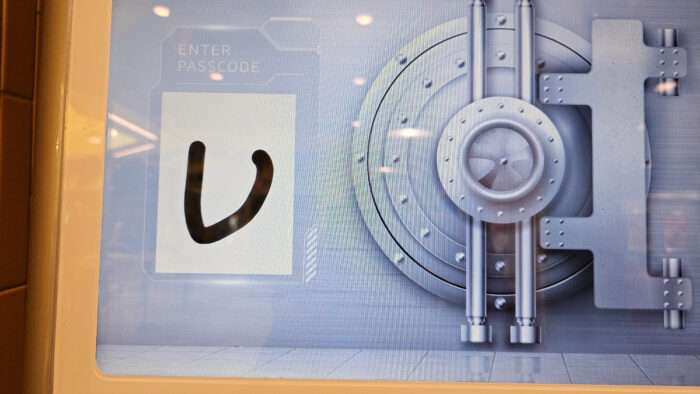 With the passcode entered, the vault door will open.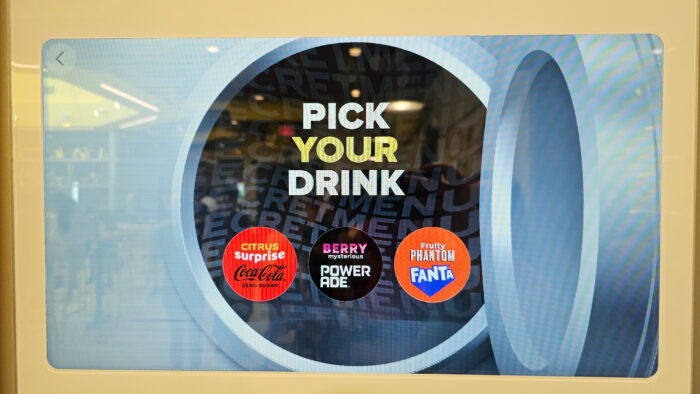 This will allow you to choose drink options that are not available on the regular Freestyle machine list of drinks.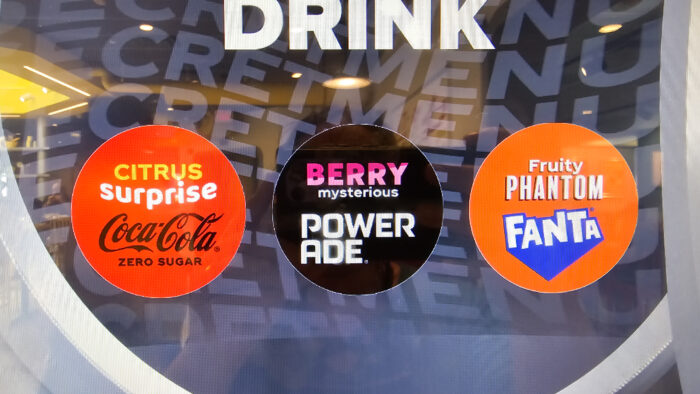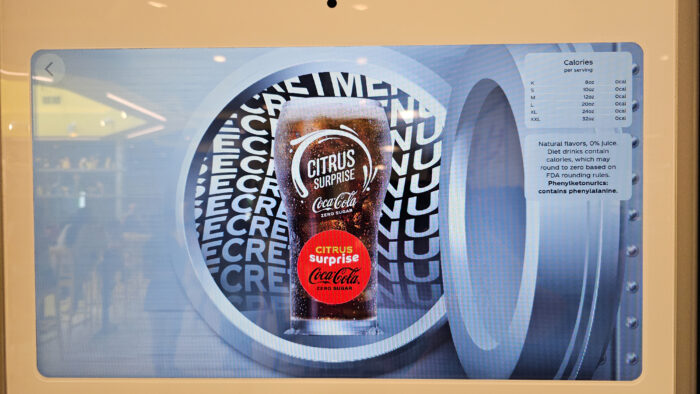 Honorable Mention – Mobile Pickup
Minion Café also offers the option of placing your mobile order and picking it up "to go." This is probably best used for people who want to try one of the specialty drinks or get a quick order of Minion Tots.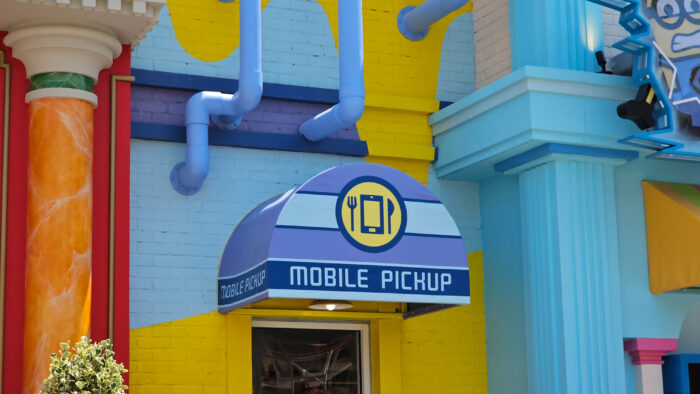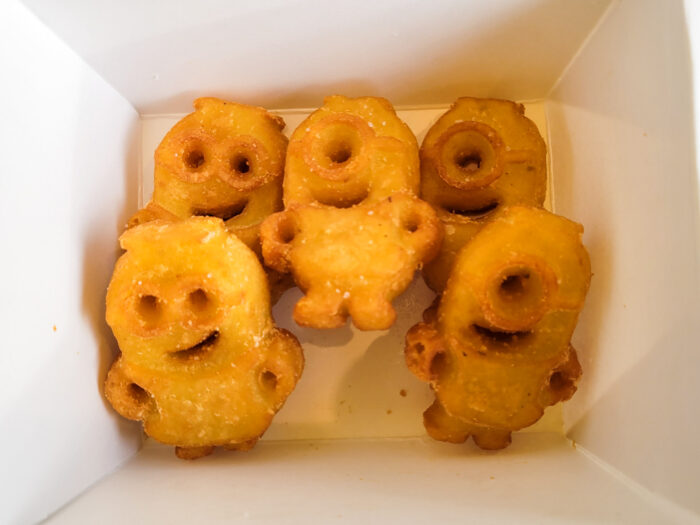 So there you have it: The SATURDAY SIX Checks Out Minion Land's MINION CAFE! See you next weekend for the latest installment of the SATURDAY SIX, where we'll look at something fun from the world of Disney and Universal. If you enjoyed yourself, be sure to check out the THEME PARK ENJOYMENT INDEX, giving a monthly recap of all the theme park news you need to know (and a lot more you don't need to know, but we're gonna tell you anyway). You can also follow Your Humble Author on Twitter (@derekburgan).
If you enjoyed this article, you will surely like the following: 
The SATURDAY SIX Celebrates Ten Years with TouringPlans
SATURDAY SIX Presents: The Disney Merchandise Hall of Shame
SATURDAY SIX Presents: The Disney Signage Hall of Shame
SATURDAY SIX Presents: The Disney Food Hall of Shame
SATURDAY SIX: Tribute to Josh easyWDW
SATURDAY SIX: Tribute to Ian Barritt
Special Thanks to The Elite Brandon Glover, Digital Maestro Scott Walker, the bio-est of all reconstructs @bioreconstruct, Captain Cruiseline Scott Sanders of the world famous Disney Cruise Line Blog, my personal protege Hunter "Elvey" Underwood, artist @SonderQuest, the mighty maven of merchandise Hedgehog's Corner, the SAT SIX Fun Squad of Parkscope Joe and "the Dadalorian" Nick, hot shot Michael Carelli, charter member of the Universal Four @Nitro230, the permit princess Alicia Stella, master cartographer Tommy Hawkins, and Hermione Granger's tutor Megan Stump for their invaluable assistance with this article. Absolutely no help was added by SeaWorld Influencer @SuperWeenieHtJr. The SAT SIX is inspired each week by goofballs Aengus Mackenzie and LitemAndHyde and you Potterheads will  enjoy Meg's other blog work over at the Central Florida Slug Club.