111 Things to Do Near Disney World Without Visiting A Theme Park
You've got time to kill on your arrival or departure day. You're taking a chill day mid-vacation. You've got a park-phobic in your party. Whatever the reason, there may be times when you're at Walt Disney World, but can't, or don't want to, venture into a theme park. Here's a handy list of 111 ways to keep busy and have fun without heading into the parks.
Before I get going, let me say that one oft-mentioned reason for avoiding the theme parks is to save money. I mean, going into the park means a big outlay of funds for admission, right? Well, yes, if you're going into the parks, you will need a ticket, but you should be aware that spending a day in the park may actually end up cheaper than looking for fun elsewhere. For example, the price difference between an 8-day park ticket and a 9-day park ticket is only about $10 per adult. Even simple activities like mini-golf ($14 per adult at Winter Summerland) or a trip to the movies ($11.75 per adult evening ticket at AMC Disney Springs) will cost more than that. The math is less clear with a shorter stay, and you still may want or need to avoid the parks for sanity purposes, but you should sit down and do the math to make sure that a non-park day makes financial sense for you.
And now on to the list of Walt Disney World Activities Outside the Theme Parks:
1 – Dine with Characters. Several character meals are located outside the theme parks. Try Chef Mickey's at the Contemporary (breakfast and dinner), 'Ohana at the Polynesian (breakfast), Cape May Cafe at the Beach Club (breakfast), or 1900 Park Fare at the Grand Floridian (breakfast and dinner).
2 – Play miniature golf. There are two courses on site, Winter Summerland and Fantasia Gardens, accessible via Disney's free transportation system.
3 – Take in a movie at AMC's 24 theater complex at Disney Springs. If you're in the mood to combine dinner and a movie, try their Fork & Screen theaters.
4 – See Cirque du Soliel La Nouba at Disney Springs.
5 – Swim at your resort's pool.
6 – Visit the horses and watch the blacksmith at Fort Wilderness.
7 – Take a culinary tour of the Animal Kingdom Lodge.
8 – Watch an outdoor movie at your resort.
9 – Attend the free Chip & Dale Campfire Singalong at Fort Wilderness.
10 – Go parasailing or waterskiing at the Contemporary.
11 – Take a day trip Kennedy Space Center, a bit over an hour away in Port Canaveral.
12 – Hang out at the Disney Springs Lego Store. Kids can play for hours in their open block area.
13 – Tour the holiday decorations at the Disney resorts, mid-November until the first week of January.
14 – Visit a spa at an area resort. The Ritz-Carlton and Grand Floridian are good choices.
15 – Explore the resorts on a surrey bike.
16 – Go for a run. Many of the Disney resorts have lovely jogging trails nearby. Inquire at your hotel's concierge desk.
17 – Go fishing. For bass tours, visit disneyworldfishing.com. Pole rentals are available at Fort Wilderness and Port Orleans.
18 – Play golf. Disney's Palm, Magnolia, and Lake Buena Vista links are standard 18-hole courses. Oak Trail is a nine-hole course perfect for beginners. Call 407-WDW-GOLF for more information.
19 – Go on a shopping spree at the Disney Springs World of Disney store. They stock all the latest Disney merchandise.
20 – Visit the Orlando area outlet malls for non-Disney brands.
21 – Visit a Disney outlet store for deals on discontinued Disney merchandise.
22 – Rent a canoe. Stop by the Fort Wilderness bike barn for hourly rentals.
23 – Hear a concert at the House of Blues.
24 – Have drink and sing along with the gang at Jellyrolls piano bar.
25 – Get your groove on at Atlantic Dance Hall.
26 – Watch the big game at the ESPN Club on the Boardwalk.
27 – Stroll around the Boardwalk and watch the free evening entertainment: magicians, musicians, jugglers, etc.
28 – See Disney World from the air on the Characters in Flight tethered balloon ride.
29 – Volunteer at Give Kids the World. This wonderful organization provides cost-free vacations for children with life-threatening illnesses and their families. It an awe-inspiring place.
30 – Take a tour of Fort Wilderness on horseback.
31 – Send the kids on a pirate adventure. Boat trips for children depart from the Yacht Club, Port Orleans Riverside, Caribbean Beach Resort, and the Grand Floridian. Call 407-WDW-PLAY for more information.
32 – Play tennis. Courts are available at Saratoga Springs, Yacht Club, Fort Wilderness, Contemporary, Animal Kingdom Lodge, Boardwalk, and Old Key West.
33 – Watch Atlanta Braves spring training at the ESPN Wide World of Sports Complex.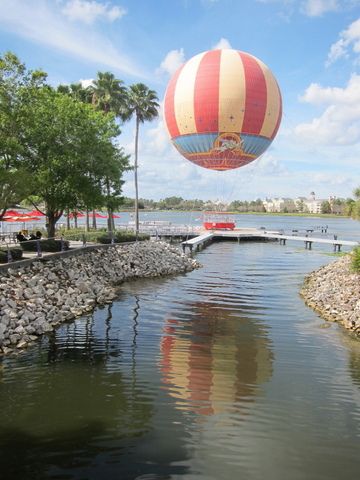 34 – Conquer the Kitchen Sink.
35 – Take a nice long nap.
36 – Have a drink or three at your resort's lounge.
37 – Rent a cabana. Available at most deluxe resorts. Have your own poolside oasis with comfy chairs, a tv, fresh towels, and the service of an attendant.
38 – Ride the monorail. All the Walt Disney World transportation is free.
39 – Check out the animals at the Animal Kingdom Lodge. Evening visitors can borrow night vision goggles to view the savannah.
40 – Karaoke, baby. Kimonos bar at the Swan features karaoke in the evenings.
41 – Go gluten free. Erin McKenna's Bakery features cookies, cakes, donuts, and other sweet treats that are gluten-free, egg-free, vegan, and yes, delicious.
42 – Take a horse-drawn carriage ride at Fort Wilderness or Port Orleans.
43 – Watch Irish Step Dancing. Music and dancing are part of the entertainment at Raglan Road.
44 – Tour a Golden Oak. Pretend you're Thurston Howell and get an agent to show you the poshy posh posh homes located right on Disney property.
45 – Hoop Dee Doo! The Hoop Dee Doo Musical Revue is a classic dinner show performed at Fort Wilderness Pioneer hall. Hootin' and hollerin' with beer, wine, and sangria included.
46 – Take tea. The Garden View Lounge at the Grand Floridian offers an oh-so-civilized afternoon tea service. For the younger set, try the Wonderland Tea Party or My Disney Girl's Perfectly Princess Tea Party. Get more information at 407-WDW-DINE.
47 – Watch Wishes. The Magic Kingdom fireworks show can be seen from many locations outside the park. Pull up some sand on the Polynesian beach or grab dinner at the California Grill and see the lights from a different vantage point.
48 – Ride a carousel. The mini carousel at Disney Springs is the perfect place for little ones to get their first play on the ponies. There's a tiny train ride too.
49 – Rent a boat. Several WDW resorts have marinas where you can rent everything from a two-person self-piloted SeaRaycer on up to a yacht with a captain for a dozen friends.
50 – Dine with an Imagineer. Get up close and personal with a real Disney Imagineer during a meal at the Boardwalk's Flying Fish restaurant.
51 – Take an archery lesson at Fort Wilderness. Merida better watch out!
52 – Watch a geyser blow. This simulated surge takes place every hour at the Wilderness Lodge.
53 – Become at knight at Medieval Times in nearby Kissimmee.
54 – Shoot some pool. There are free tables located just outside the Turf Club Bar and Grill at Saratoga Springs.
55 – Return to prehistoric times. The audioanimatronic dinosaurs at Disney Spring's T-Rex Cafe will have you thinking you're back in the Stone Age.
56 – Take a free tour of the Wilderness Lodge.
57 – Dance with Mickey at the Backyard BBQ.
58 – Learn to hula at the Spirit of Aloha dinner show.
59 – Make tee shirts for the gang. Visit the Hanes Design-A-Tee shop at Disney Springs to create custom shirts in sizes from baby to big guy.
60 – Watch the Electrical Water Pageant. This free boat parade passes by the Magic Kingdom and area resorts every evening, weather permitting.
61 – Get wet at the water parks.
62 – Borrow a DVD. Guests of the Disney Vacation Club villas get free DVD rentals during their stay.
63 – Ditch the kids. Several Disney resorts offer Children's Activity Centers (aka group babysitting) with crafts, movies, computers, and more. Fun for the kiddos while the grown-ups grab some alone time.
64 – Build a sand castle. There are sandy beach areas at the many of the Disney resorts. While you can't swim in the water, the sand is perfect for digging and sculpting.
65 – Hit the beach. Real live beach areas (you know, with the ocean) are about an hour away from the parks.
66 – Take a Segway tour of Fort Wilderness.
67 – Have the best meal of your life. Victoria & Albert's. 'nuff said.
68 – Make your own treat at Goofy's Candy Company, Downtown Disney. Choose cookies, apples, pretzels, or marshmallows. Dip them in caramel, white chocolate, or milk chocolate. Cover them with nuts, sprinkles, cookie crumbs, or more chocolate. Yes!
69 – Strike out. Splitsville luxury lanes feature bowling served up with great eats.
70 – Make a trade. Stop by your resort's gift shop or the pin trading station at Downtown Disney. You can tweak your collection by swapping pins with the cast members or other guests.
72 – Hunt for Hidden Mickeys at your resort.
73 – Crash a wedding. I'm not encouraging you to pull a Vince Vaughn, but if you station yourself near Disney's Wedding Pavillion for a while, you're bound to see some wedding parties and blushing brides heading to their nuptials. Always charming.
74 – Get a Hair Wrap.
75 – Watch some pro basketball. Check the Orlando Magic schedule for home court dates.
76 – Visit Cinderella's horses. The team of white ponies uses to pull Cindy's carriage boards at Fort Wilderness. You're welcome to watch their grooming and feeding, and maybe even give them a hug.
77 – Play volleyball. Most of the resorts with sand beaches also have a volleyball net on site. Ask the nearby lifeguard to lend you a ball.
78 – Become a princess. The Disney Springs location of the Bibbidi Bobbidi Boutique has all the same services as the one in the Magic Kingdom.
79 – Grab a Dole Whip. Captain Cook's in the Polynesian resort serves the same pineapple ambrosia that they dish out in Adventureland.
80 – Pick A Pearl. Stands are located at the Beach Club resort and at Disney Springs. Choose an oyster and see what lies within.
81 – Rent a bike. Several resorts have bicycle rental desks. They stock full size bikes as well as small ones with training wheels – and they supply helmets.
82 – Take the free Sanaa Cultural Tour.
83 – Get a makeover. The new Sephora at Disney Springs will be the place for all things beautification, and on the off chance that they don't have what you need, the nearby MAC Cosmetics surely will.
84 – Watch a brewmaster in action at the Big River Grille.
85 – Create a family heirloom. The silhouette cutting stand at Disney Springs can craft a family portrait like no other.
86 – Snack your way through dinner at the Disney Springs food trucks.
87 – Rock Out. Check the schedule at Universal's Hard Rock LIVE for upcoming performances.
88 – Listen to some jazz. A jazz and Dixie band performs nightly at the Grand Floridian, for free.
89 – Enjoy the music and comedy of Yeeha Bob! at Port Orleans Riverside River Roost lounge.
90 – Hit the gym. Need to work off the Kitchen Sink? The deluxe resorts and Coronado Spring resort feature fitness centers with cardio machines, weights, and much more.
91 – Go for a river cruise — in an automobile. The Boathouse offers an amphicar experience where you can tour the Disney Springs waterways in rare style.
92 – Go old school with board games. The Disney Vacation Club resort community halls stock a full range of family board games for guests to borrow. Show the rest of the family that you're the master of Trouble!
93 – Get some coffee. Starbucks has made its way into the Disney universe. There are now two outposts at Disney Springs. The one in the West Side area often features special blends and even offers wine and tapas-style small bites in the evening.
94 – Create your own beauty product mix. The Basin stores in the Grand Floridian and Downtown Disney both feature heaping bowls of bath salts that you can combine into your personal blend.
96 – Go to church. If services are important to you, your resort concierge can help you find a nearby congregation that meets your needs. Many local churches welcome visitors.
97 – Scout for wildlife. There's a lovely walking path between the Wilderness Lodge and Fort Wilderness. I spot live deer, birds, and several species of forest creatures every time stroll here.
98 – Read a trashy novel. We won't judge.
99 – Hunt for Disney memorabilia. The Theme Park Connection stores stock park cast-offs large and small. If you've ever wanted to display some real park signage in your home, this is the place to find it.
100 – Toss a ball or Frisbee. Most of the Disney resorts have open areas suitable for active play. Be careful not to disturb other guests, but feel free to let the kiddos burn off some steam on the grass or the beach. Many resort gift shops have balls available for purchase.
101 – Learn to surf. Typhoon Lagoon offers lessons.
102 – Get dressed for your meeting. New retail tenants at Disney Springs will include shops will be a great resource for Disney area convention goers. If you've got to be presentable and your luggage is lost, you'll now be able to get men's dress shoes at Johnston & Murphy; women's dress shoes, clothing, and accessories at Kate Spade; and upscale sportswear at Lacoste. Even more options are on the way.
103 – Get inked. The Hart and Huntington Studio at Universal City Walk can adorn you with a permanent souvenir of your vacation.
104 – Immerse yourself in the NBA Experience – in the works at Disney Springs.
105 – Make a friend. Disney guests and cast members come from every state and all over the world. Strike up a conversation at the pool, bar, or spa. You never know who you'll meet.
106 – Run a marathon. RunDisney is a major force these days, hosting race events for kids, on up to a full marathon (and more if you're Goofy or Dopey). Some of these will put you in the theme parks for just a little while. The length of your visit depends on how fast you run.
107 – Get some exercise advice. Even if you're not participating in a race, you're welcome to visit the Expo at the ESPN Wide World of Sports complex during any race weekend. Shop for shoes, get some great exercise gear, or talk with experts about creating your own plan for fitness world domination.
108 – Meet Santa. Find him greeting guests at Disney Springs in November and December.
109 – Do your laundry. No it's not exciting, but sometimes you do need to take care of chores. Every WDW resort hotel has guests laundry facilities available. And let's face it, it is more fun to wait for your whites to dry when you're sitting poolside than it is when you're in your kitchen.
110 – See the Blue Man Group show. This indescribable experience happens in the Universal area.
111 – Book your next trip. Disney typically offers discounts to repeat visitors if they book their next vacation during their current vacation. Look for an offer sheet in your room (they're often in the welcome folder on the table or desk), or if you don't see one, speak to your resort concierge about a "Bounce Back" discount.
So what have I missed? Is there something that YOU always do when you're spending a day away from the parks? Let us know in the comments below.