25 Days of Christmas – Day 15: BLUE MILK at Star Wars: Galaxy's Edge
The Christmas season is our absolute favorite time of the year. Growing up, one of the little things I loved most was getting an Advent calendar and counting down the days until Santa would be coming down the chimney. As I grew older, I had to leave Advent calendars in the rear view mirror,* but I still miss that daily countdown building anticipation to the big day. So, we're going to start a virtual Advent calendar here at TouringPlans. For 2022, we are going to countdown our favorite drinks at Walt Disney World and the Universal Orlando Resort.
Criteria: Drinks can be alcoholic or nonalcoholic. Drinks can come from any venue on the property. Bonus points are awarded for the atmosphere where the drink is served. Any drink with glow cubes is immediately disqualified. Ready? Let's go!
The Drink – Blue Milk
Location – Milk Stand in Star Wars: Galaxy's Edge
Before we talk about Blue Milk, we need to talk about what led to Blue Milk, and that was Universal opening the Wizarding World of Harry Potter – Hogsmeade Village back in 2010. Themed lands have existed inside theme parks since Walt Disney opened Disneyland back in 1955 (Adventureland, Fantasyland, etc.) Hogsmeade Village took immersion into a land to the nth degree, but it wasn't revolutionary. What Hogsmeade Village did that changed the game when it comes to theme parks is revolutionizing the merchandise and food & drink components of a land. Until Hogsmeade, for the most part these components were thought of as "necessary evils" and given minimal thought and design put into them compared to other areas of the lands.
Hogsmeade Village made the shopping and dining elements of the land part of the experience. We're all used to waiting in line for the latest E-Ticket attractions, but the Wizarding World had people waiting in lines to visit gift shops. Not because they were selling the greatest merchandise in the history of theme parks, but because the stores themselves brought guests into the story of the land. However the biggest surprise of all was the absolute home run Universal hit with the creation of Butterbeer. Being prominently mentioned in both the Harry Potter books and film series, Butterbeer was something that fans of Harry Potter always imagined what it tasted like. The Butterbeer being sold in Universal's Hogsmeade Village not only brought something to life that many had only dreamed of, but it actually tasted great. So great that people could not get enough. The "rumors and innuendo" suggest that Universal made enough money from sales of Butterbeer alone to pay for the entirety of Hogsmeade Village…IN THE FIRST SIX MONTHS.
This changed theme park design instantly. From this point on we would see the merchandise and food & drink components inextricably tied to the creation of new lands, and we're all the better for it.
So when Disney was building Star Wars: Galaxy's Edge, it was a no-brainer that we would finally see the debut of a fan favorite drink from those films in the parks: Blue Milk.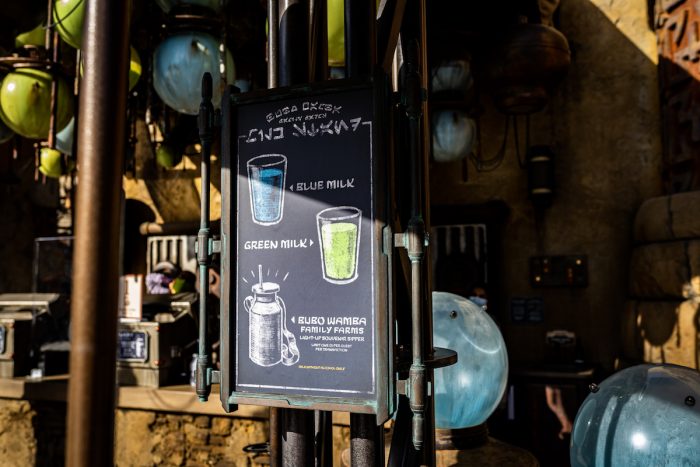 Blue Milk – Ingredients: "Plant-based blend of Coconut and Rice Milk with alluring fruity characteristics."
As a bonus to many theme park fans, Disney made Blue Milk vegan-friendly, something Butterbeer – and its marshmallow cream topping – was not. In fact you couldn't even order Butterbeer without its cream topping until earlier this year, over a decade following the drink's debut in the parks.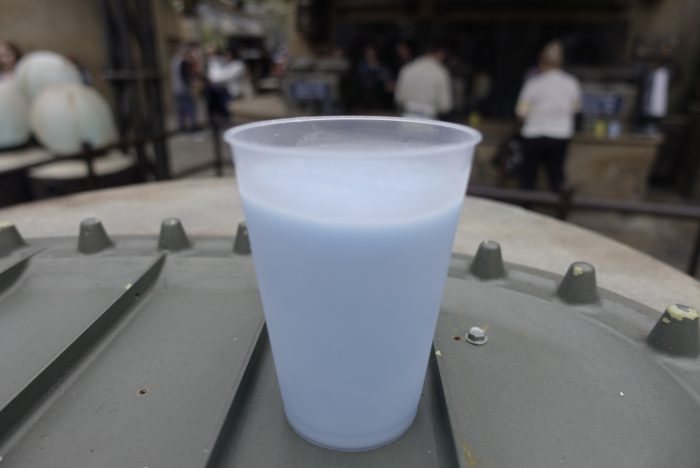 Because the land of Star Wars: Galaxy's Edge is so photogenic, thousands upon thousands of pictures have been posted on social media of people holding up their cup of Blue Milk.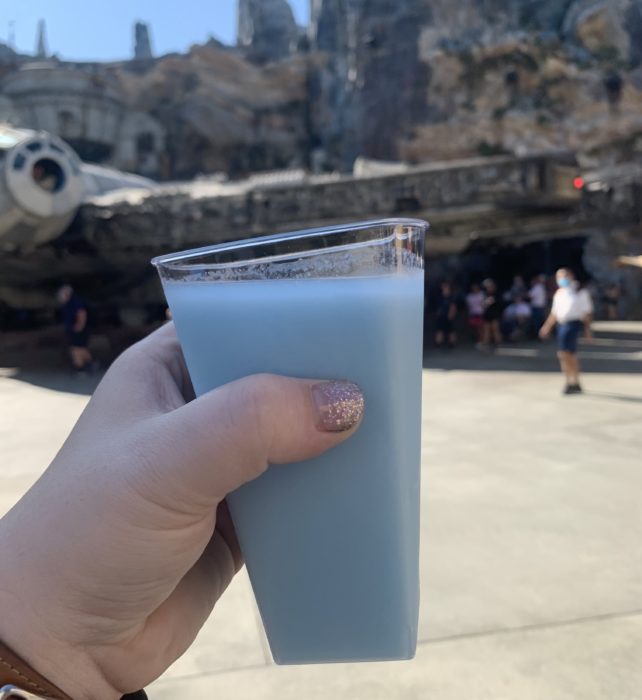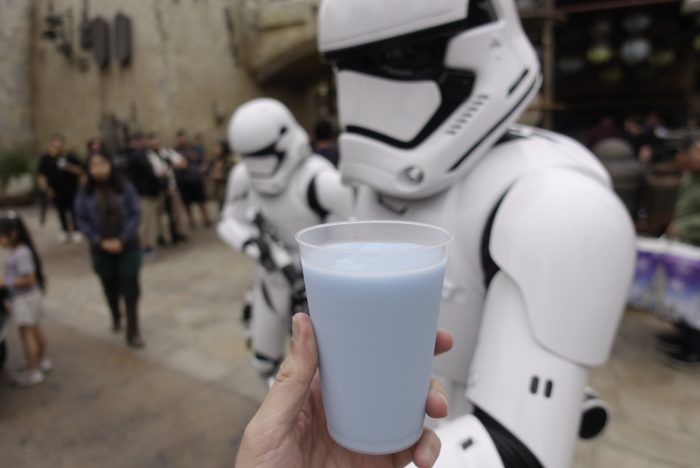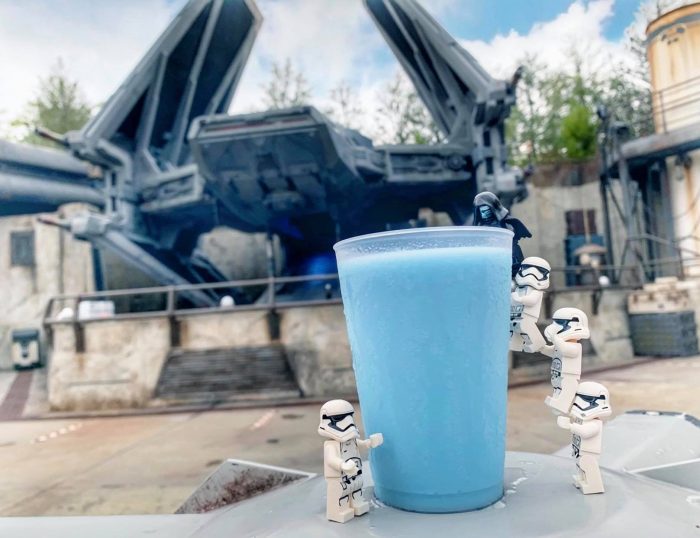 Along with Blue Milk, Disney also offers Green Milk, an item which made its infamous onscreen debut in Star Wars: The Last Jedi.
Star Wars fans definitely don't have the attachment to Green Milk that they do for Blue Milk, but its great to have more options (just as Butterbeer has several different options as well.)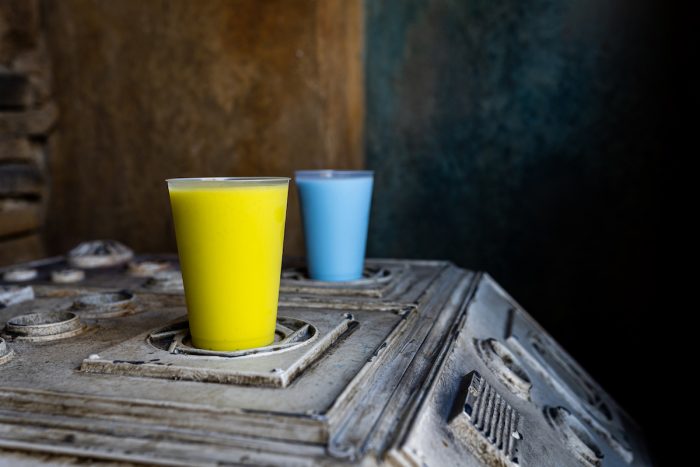 While maybe not as iconic, some make the case that the taste of Green Milk is better than Blue Milk. One thing Star Wars: Galaxy's Edge does for Blue and Green Milk that the Wizarding World won't do for Butterbeer is offer the addition of alcohol to each drink. The Blue Milk can be mixed with rum while tequila can be mixed with Green Milk.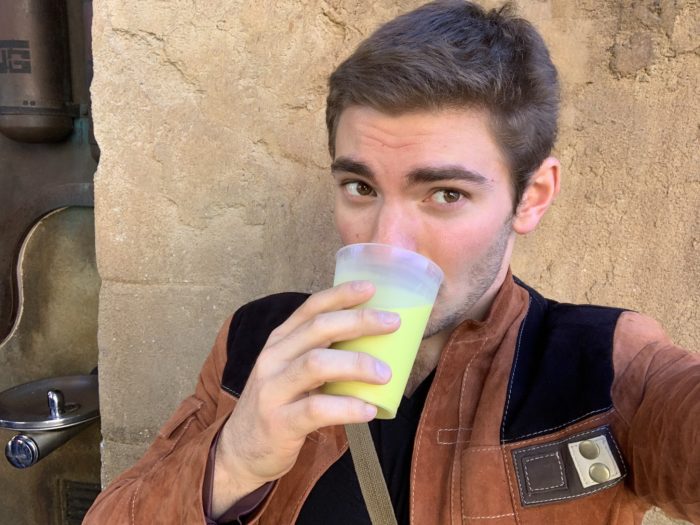 Which leads us to this: while it is undeniable that getting a Blue Milk in Star Wars: Galaxy's Edge is almost a rite of passage for Star Wars fans. It's something you have to get, just like taking a picture in front of the Millennium Falcon. However, the reaction to how Blue Milk tastes isn't exactly as euphoric as the average person's reaction to drinking Butterbeer…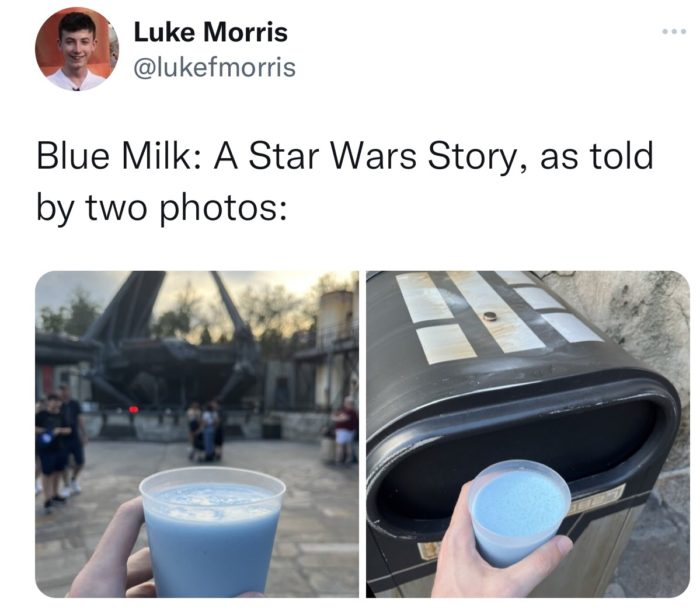 As a lifelong Star Wars fan, I unfortunately have to count myself among the group as someone who is not a big fan of the taste of Blue Milk. I do try to be fair though, which is why in my David & Derek Go To Star Wars: Galaxy's Edge article, the "babyface" character of David was enjoying a Blue Milk instead of the "heel" character of Derek gagging on it.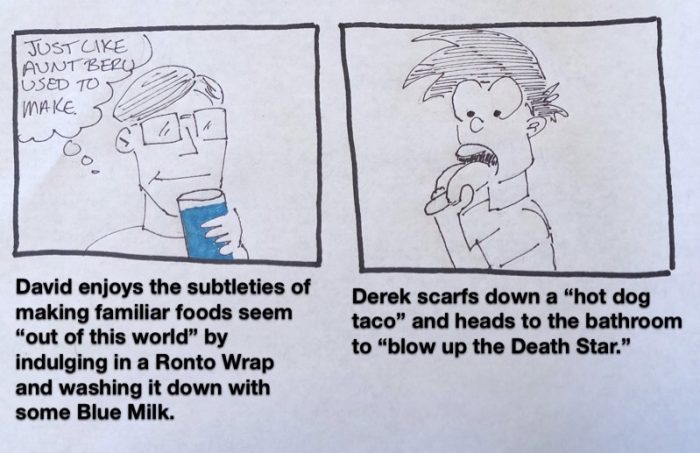 25 Drinks of Christmas TouringPlans Brought to Me…
See you tomorrow for the next entry into the 25 Drinks of Christmas Countdown, where we are going to head over to Pandora – The World of Avatar. If you had fun, be sure to check out any of our other fun series including Theme Park Hills to Die On, the adventures of David & Derek (theme park's Goofus & Gallant,) or the famous (infamous?) Theme Park Turkeys of the Year awards. for your listening pleasure, check out the Parkscope Podcast. Your humble author can also be seen producing typos at an inhuman rate on Twitter: @derekburgan
The 25 Drinks of Christmas series couldn't be done without an All Star team behind us including world class photographers Michael Carelli, Brandon Glover, Scott Sanders, and Hedghehog's Corner. The drink listing came from a double-secret blue ribbon panel comprised of SAT SIX Fun Squaders including: Megan Stump, Nitro230,The Man Formerly Known as @DrunkAtDisney, Bethany Vinton, Parkscope Joe and Parkscope Nick. As always, Digital Maestro Scott Walker was the cherry on top of the sundae.
*That is an absolute lie. I still buy an advent calendar every year with chocolates in it, and I also buy an annual box of Christmas Crunch, but we'll keep that between us.