Disneyland vs. Disney World: The Magic Kingdom and Disneyland Park Part II
As I've said before in this Disneyland vs. Disney World series, Disney never does the same thing twice! It's a common misconception that Walt Disney World's Magic Kingdom and the Disneyland Park are basically the same experience but on different coasts. That is absolutely not true! Even though Walt Disney World's Magic Kingdom was inspired after the original Disneyland Park, it was never intended to be a carbon copy. Both parks offer their own exclusive attractions, restaurants, character interactions, style, and overall experience. Of course, that gives rise to the question of which park is truly the best? That's the question I intend to answer in perhaps the most ambitious installment of Disneyland vs. Disney World: The Magic Kingdom and Disneyland Park Part II.
Due to the scope of this topic, this article has been split into two parts. Disneyland vs. Disney World: The Magic Kingdom and Disneyland Park Part I compared the two parks on categories such as characters, attractions, and dining. This second installment will compare the different themed lands represented at both parks and determine which one is best!
Main Street, U.S.A. :
Everyone loves their Main Street, U.S.A. I know it's the land I miss most when I'm not at the parks. The problem with comparing the two is that they are each unique and my favorite tends to depend on my mood. Seriously, my pick could be different by tomorrow! Anyway, let's begin with the first thing guests seen when approaching either park, the train stations.
The Magic Kingdom's Train Station is two stories high, spacious, and also symmetrical in comparison to Disneyland's. It hosts the morning Welcome Show and offers fantastic seating for the parades and fireworks. Disneyland's Train Station is more quaint and resembles a station that would have existed for an actual small town. It also serves as a stage for entertainment too.
Once guests enter the park, they find themselves at Town Square. Disneyland's doesn't seem as big as the Magic Kingdom's, but it offers a park-like atmosphere with more trees and benches and its Main Street Vehicles operate into the afternoon while the Magic Kingdom's only run a few hours in the morning. Disneyland's Town Square is also rich with history due to The Disneyland Story presenting Great Moments with Mr. Lincoln at the Opera House and the lamp burning in the window of Walt's private apartment at the fire house. But I can't fail to mention that Magic Kingdom's Harmony Barber Shop, where guests can actually get haircuts with a touch of pixie dust!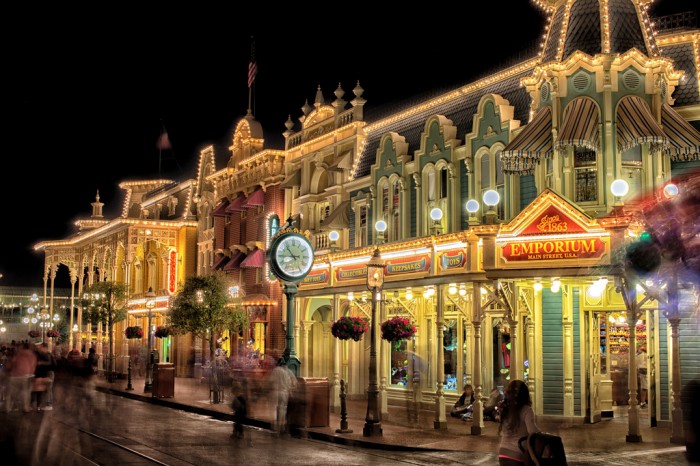 Now the Magic Kingdom offers the best view down Main Street, U.S.A. due to the size of Cinderella Castle, and the whole street has a slightly grander and more ornate look than Disneyland's. Although, I think Disneyland's storefronts boast a bit more personality, inside and out, and I appreciate their few unique, specialized shops. I also believe that Disneyland's Main Street dining options are a little better too. I love the Market House Starbucks, the menu at Carnation Café, and everything at the Jolly Holiday Bakery Café. But I do prefer the setting and character experience at the Magic Kingdom's Crystal Palace, as well as Casey's Corner menu and theme, compared to Disneyland's The Plaza Inn and Refreshment Corner respectively. Lastly, I think the Magic Kingdom's Main Street, U.S.A. does just a little better when it comes to entertainment due to the charming Main Street Trolley Show and Main Street, U.S.A. Actors.
Overall, I'm giving this category to Disneyland, but just barely! Disneyland's dining, Town Square, and history just put it over the top, even though it's difficult to beat that postcard view down the Magic Kingdom's Main Street, U.S.A.
Winner: Disneyland Park
Adventureland:
A number of adventurous and exotic locations from all over the globe are contained in the Magic Kingdom's Adventureland, ranging from Polynesia and Micronesia to an Arabian Bazaar to the Spanish Caribbean. This Adventureland is also home to a number of classic attractions, such as The Jungle Cruise, Pirates of the Caribbean, Walt Disney's Enchanted Tiki Room, and The Swiss Family Robinson Treehouse. It's one of the lands that I feel still looks like the Adventureland Walt envisioned. Now Disneyland's Adventureland is VERY small, but it packs a lot of detail and atmosphere in a small space. In addition to The Jungle Cruise and Enchanted Tiki Room, this Adventureland features the incredible Indiana Jones Adventure. Now let's talk about the most important thing at both Adventurelands: Dole Whips! Disneyland's Dole Whips can be found at the Tiki Bar at the entrance to the Enchanted Tiki Room, but be prepared for lines. I prefer the Magic Kingdom's Sunshine Tree Terrace for a Dole Whip fix. It's larger with more registers which help trim down the time spent in line.
Winner: Magic Kingdom
Frontierland
Guests enter Disneyland's Frontierland through an impressive log fort which transitions into a Wild West mining town with a number of shops, the Rancho de Zocalo restaurant, Big Thunder Mountain Railroad, and a picturesque view of the Rivers of America and Tom Sawyer's Island with Pirate's Lair. The Magic Kingdom's Frontierland doesn't have an official entrance and is sort of sandwiched between Liberty Square and Adventureland. When standing in Frontierland, guests will mostly see a row of rustic storefronts on one side and the Rivers of America, with rafts to Tom Sawyer's Island, on the other. The real draw to this Frontierland is Splash Mountain and Big Thunder Mountain Railroad, which are somewhat removed from the rest of the land.
To me, Disneyland's Frontierland is much more cohesive and a place I want to hang out while the Magic Kingdom's Frontierland is disjointed and lacks the personality of Disneyland's version.
Winner: Disneyland Park
Liberty Square vs. New Orleans Square
These two lands are unique in that they are exclusive to their respective parks! Walt Disney World's Liberty Square transports guests back to colonial America with sights such as the Liberty Tree, with thirteen glowing lanterns for the thirteen colonies, and attractions like the Hall of Presidents! Liberty Square is also home to the Haunted Mansion and is one of the best lands to grab a meal due to Columbia Harbour House, Liberty Tree Tavern, and Sleepy Hollow Refreshments.
New Orleans Square was the first land added to the Disneyland Park after its opening and is home to two iconic park attractions, the Haunted Mansion and Pirates of the Caribbean Every colorful, festive corner of New Orleans Square is filled with something to see, buy, or taste! Yes, like Liberty Square, New Orleans Square is one of the best places at the Disneyland Park for a meal courtesy of establishments like the Blue Bayou and Café Orleans. This land also has its own train station and live entertainment, my favorite being the Bootstrappers!
I believe New Orleans Square wins this category without question. I love the history represented at Liberty Square, but New Orleans Square offers some of Disneyland's bests.
Winner: Disneyland Park
Fantasyland
Next to Main Street, U.S.A., this particular land was the most difficult to compare. If it had been Disneyland's cozy, European village against the Magic Kingdom's Renaissance fair motif, Disneyland would win without question. But the Magic Kingdom now has New Fantasyland. Guests truly feel as if they walked into the worlds of Beauty and the Beast, The Little Mermaid, and Snow White and the Seven Dwarfs! The Be Our Guest Restaurant and Gaston's Tavern are perhaps the best themed restaurants I've personally experienced, and Under the Sea – Journey of The Little Mermaid's queue is gorgeous. The Magic Kingdom also has the Tangled Bathrooms, where the theming and scenery is so beautiful it's a popular photo spot!
Still, Disneyland's Fantasyland dark rides are timeless; and while there are some who don't care for the Matterhorn Bobsleds, the snowy peak looming over the land is as Disneyland as the Mad Tea Party and Dumbo the Flying Elephant. Disneyland's "it's a small world" is also superior due to its grand exterior and inclusion of Disney characters. But the Magic Kingdom's original Fantasyland doesn't completely pale in comparison. It is more spacious and has Mickey's Philharmagic and a larger space to meet Princesses at Princess Fairytale Hall, as well as fantastic queue for Peter Pan's Flight.
Even though I'm in love with New Fantasyland, I'm giving this one to Disneyland for its number and quality of attractions and that signature vintage charm.
Winner: Disneyland Park
Tomorrowland:
The Tomorrowlands have always been a challenging for Imagineers, and they are a challenge to compare as both are quite different and some may say suffering from an identity crisis. Disneyland's Tomorrowland has changed the most over the years and its current attractions stand amongst the relics of attractions past. Surprisingly, a number of those classic attractions are still functioning at the Magic Kingdom's Tomorrowland, such as the Carousel of Progress and the Tomorrowland Transit Authority PeopleMover. Although, Disneyland does have the Finding Nemo Submarine Voyage and the gorgeous Disneyland Mark VII Monorail, which were both added to the park by Walt Disney.
Another difference between the two Tomorrowlands is that the Magic Kingdom boasts a retro-future theme. It's bright, colorful, and doesn't take itself too seriously. But at Disneyland, Tomorrowland is more minimalist and mainly white and blue. Another huge difference is that Disneyland's Star Tours is located in Tomorrowland while at Disney World, it's at a completely different park, Disney's Hollywood Studios. Many Disneyland fans are curious about the future of the attraction as Disneyland's Star Wars Land continues to take shape. Finally, even though the Magic Kingdom's Space Mountain is more visible, I prefer Disneyland's Space Mountain any day due to its overall ride, sound system, and comfortable ride vehicle.
For better execution of theme, and maybe the PeopleMover, the Magic Kingdom's Tomorrowland comes out ahead in this park category.
Winner: Magic Kingdom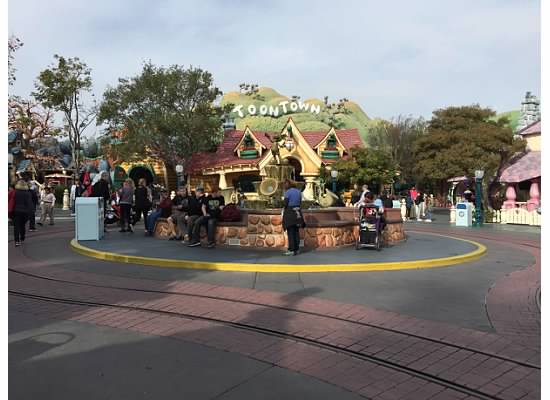 Bonus:
The Disneyland Park has two other lands that the Magic Kingdom does not, Critter Country and Mickey's Toontown. Critter Country is one of the park's cutest lands with attractions like Splash Mountain and The Many Adventures of Winnie the Pooh. I absolutely love this particular land and its theming! Mickey's Toontown, however, is not my favorite. I get that you walking into the cartoon world of Mickey Mouse; but for me, the silly, plastic look of the land doesn't communicate the charm and timelessness of Mickey and the gang and fails to measure up to the other themed lands. I do enjoy the idea of Mickey and Minnie's House, and Roger Rabbit's Cartoon Spin is popular with some, but it just isn't a land where myself or many guests prefer to spend much park time.
So which coast boasts the best park? For Disneyland vs. Disney World: The Magic Kingdom and Disneyland Park Part I, the Magic Kingdom had a slight lead with wins in four categories while Disneyland won three. In this installment, Disneyland wins four categories while the Magic Kingdom secured two. So our winner is… Disneyland! But do you agree? Let me know in a comment below!