The SATURDAY SIX Checks Out What's New at Universal's CABANA BAY BEACH RESORT
This week's SATURDAY SIX takes a look at what's NEW over at Universal's CABANA BAY BEACH RESORT! Here at SAT 6 HQ we were preparing for a full onslaught of Halloween Horror Nights coverage over the coming weeks, but a funny thing happened along the way. Here's how it happened… when going to HHN we find it easier to stay onsite at one of Universal's hotels. It just makes things so much easier, especially when every night of the event ends at 2AM like it does this year. After an entire day of walking at the theme parks, our legs often feel like blocks of concrete when leaving the parks, so it is pretty convenient to have a short walk, water taxi, or bus ride over to one of Universal's hotels and be in your bed by 2:15AM.
This past week, both myself and Captain Cruiseline Scott Sanders (of the world famous Disney Cruiseline Blog) stayed at Cabana Bay Beach Resort when going to HHN. We were both pleasantly surprised to discover there is a whole bunch of new stuff going over at Cabana Bay. Many of you reading this know by now that I find Cabana Bay to be pound for pound the best overall theme park resort (when considering the amount of amenities and price point) and somehow it got even better. How? Glad you asked…
# 6 – New clock and pen
A couple weeks ago we wrote about a recent stay at Disney's Pop Century. We had a great time, but it is clear from a guest stand point the different directions that Disney and Universal are going when it comes to delivering bang for your buck. Looking back at my photos, I'm relatively certain that my room at Pop didn't have a pen and notepad in the room. It's something small, no doubt, but it's also something that has been included in pretty much every single hotel room I have ever stayed at. There's a chance that Mousekeeping just didn't put one into my room, but more likely it is a cost that Disney figured they could save some money on and eliminated it.
Contrast that to what we found in our room at Cabana Bay.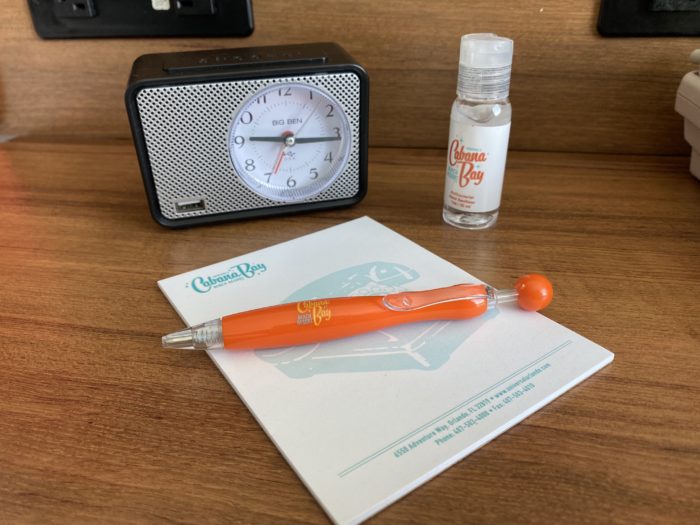 In all of my previous stays at Cabana Bay, a Cabana Bay branded pen was always in the room, but it was more of a generic looking pen. For this stay Cabana Bay had more whimsical looking pens that are much more appropriate to the overall theme and quirkiness of the resort.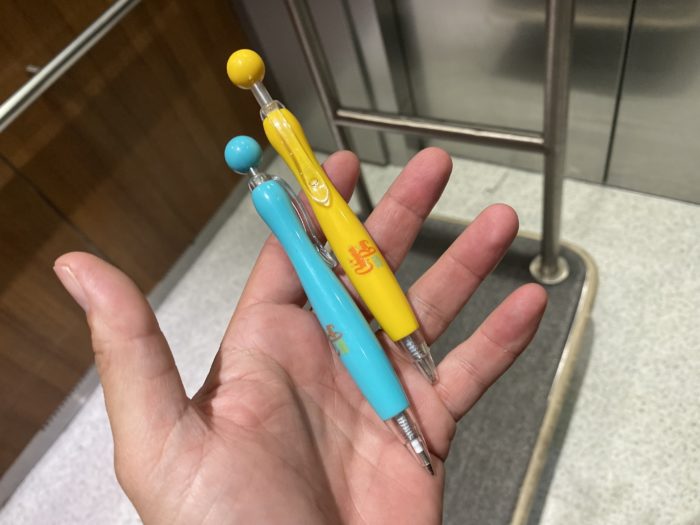 Now let's take a look back at the clock which was previously in the Cabana Bay rooms…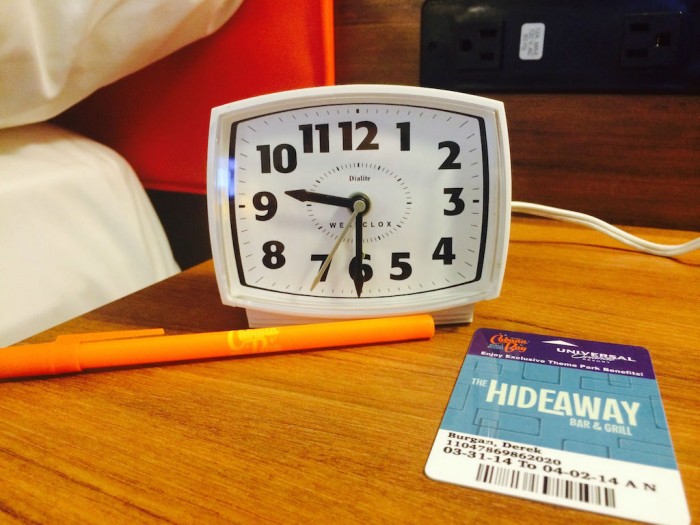 The clock used in the room now features a built in USB port.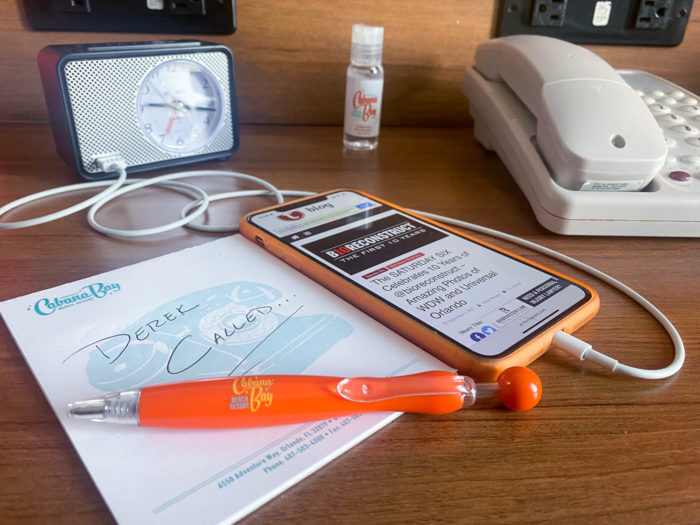 Here is a look at the new style pen along with the older style (both of which were in my room on my recent stay).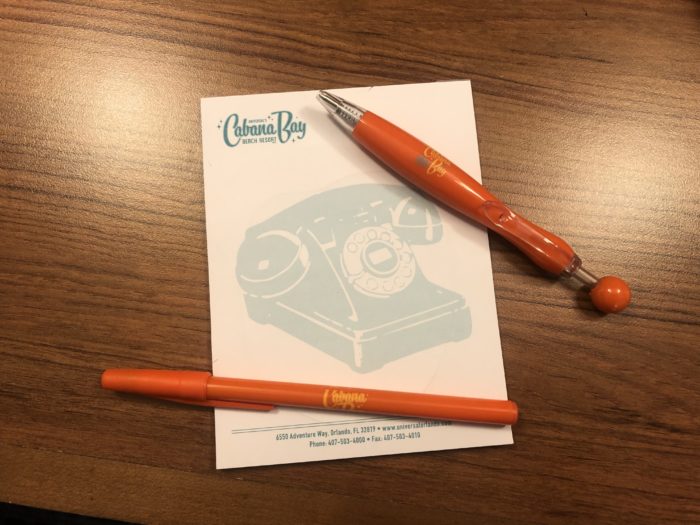 ***CONTROVERSIAL TOPIC ALERT*** The reason I'm glad that hotels include a pen and notepad in the rooms is because that is what I use to make sure housekeeping knows the money I'm leaving behind is for them. I understand many people (if not most) do not tip housekeeping. As someone who grew up in a family with people who worked in the service industry, I know that these people often work incredibly hard, for very little money, and almost zero recognition. For people that do tip housekeeping, the going rate seems to be $1 per day per person in your room. I personally tip $5 per day minimum, more if the kiddos are extra messy. The note is to be absolutely clear the money is for them and not accidentally left in the room.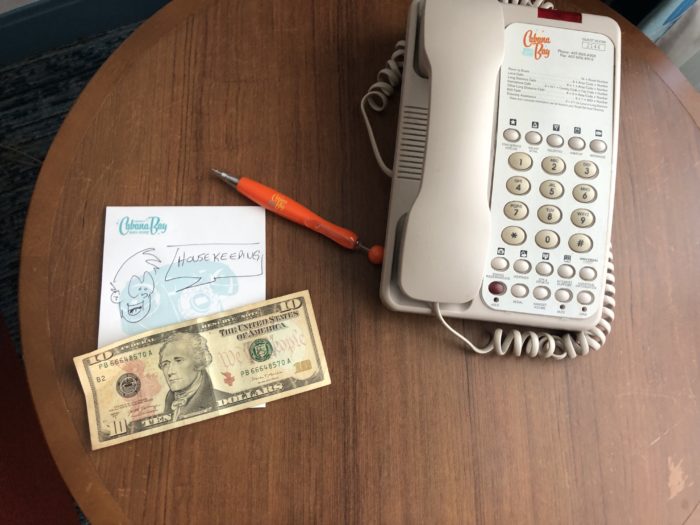 # 5 –  Gift Shop
One of the greatest perks of Cabana Bay is how close it is to Volcano Bay. However, until this year there was no Volcano Bay merchandise found at the Cabana Bay gift shop. Always seemed like Universal was leaving money on that table with that decision.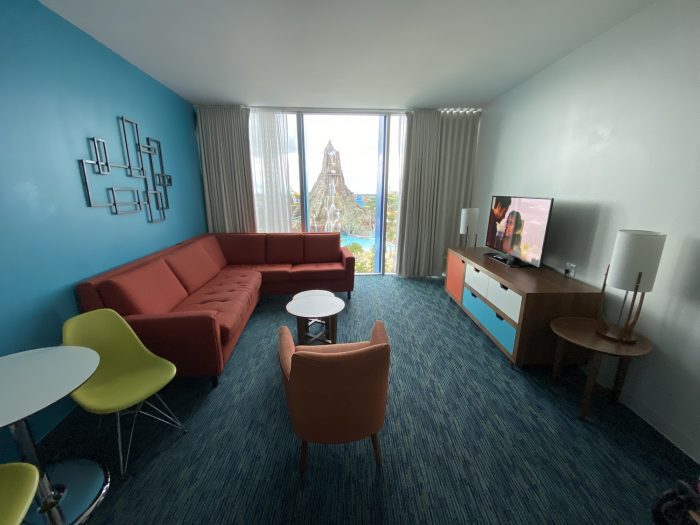 Apparently at some point over the last couple weeks/months, someone came to their senses and there was Volcano Bay merchandise at the Cabana Bay gift shop, including these towels below.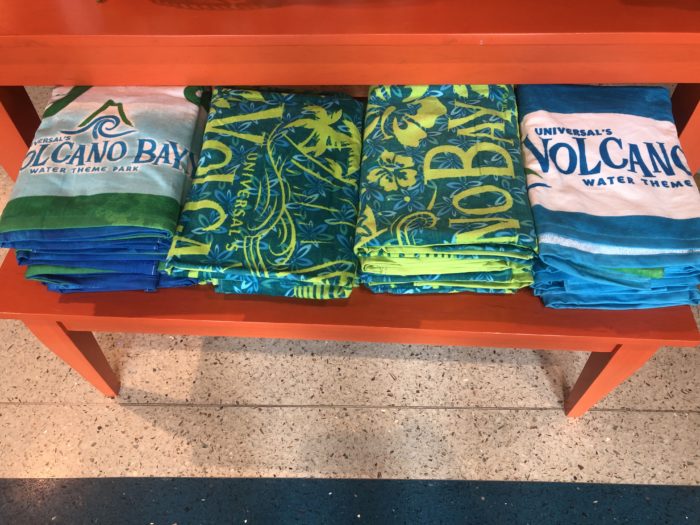 You could also find the popular Volcano Bay swim shirts…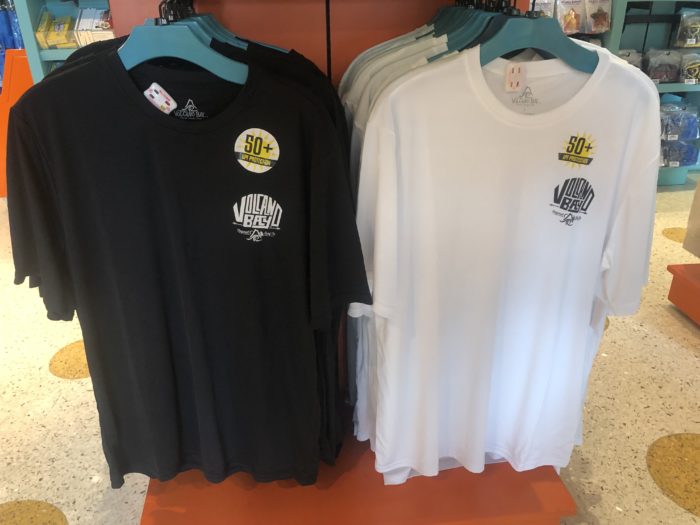 …including what surely must be one of the most popular pieces of merchandise Universal has ever created. Can't tell you how many of these Volcano Bay logo swim shirts I have seen over the years.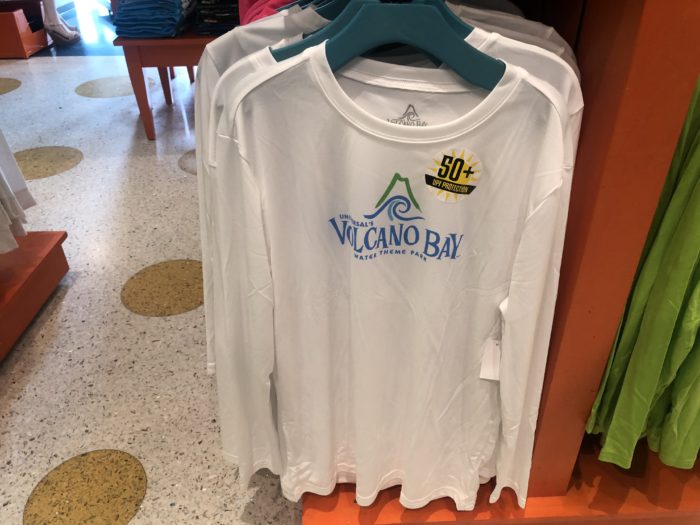 While we are in the Cabana Bay gift shop, let's look at some other items of note, including Cabana Bay swim shirts. As I said previously, Cabana Bay's gift shop is ginormous and contains stuff from the Wizarding World, Marvel Superhero Island, the Simpsons and more. During HHN they also have a whole bunch of HHN merchandise as well. Buying it at Cabana Bay makes life much easier than carrying around stuff in the park while at HHN.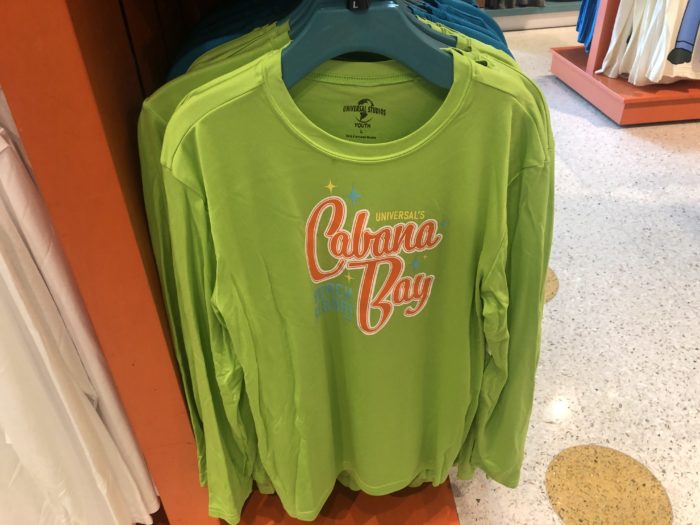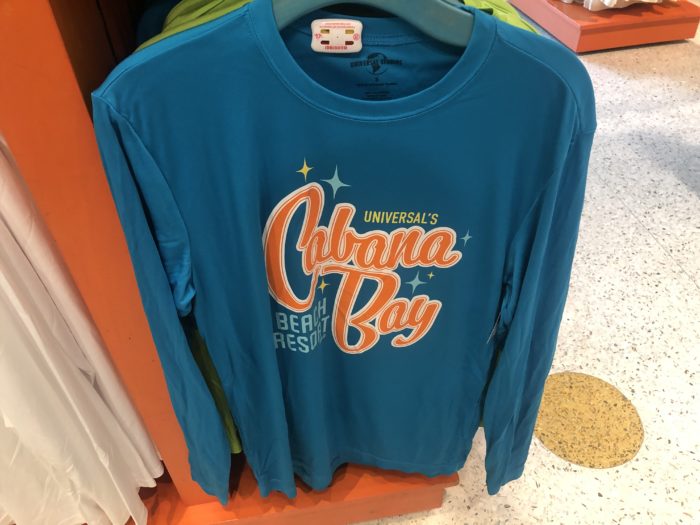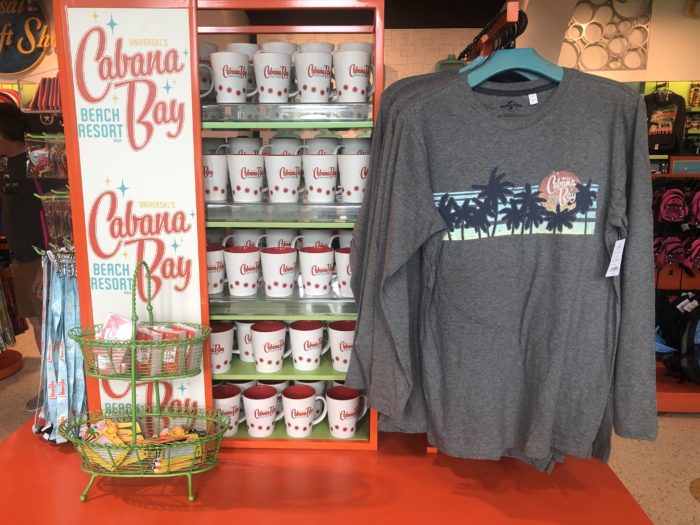 Hotel branded playing cards should be in every single gift shop at a Universal or Disney hotel, and they should probably also have them right at the registers for an easy sale.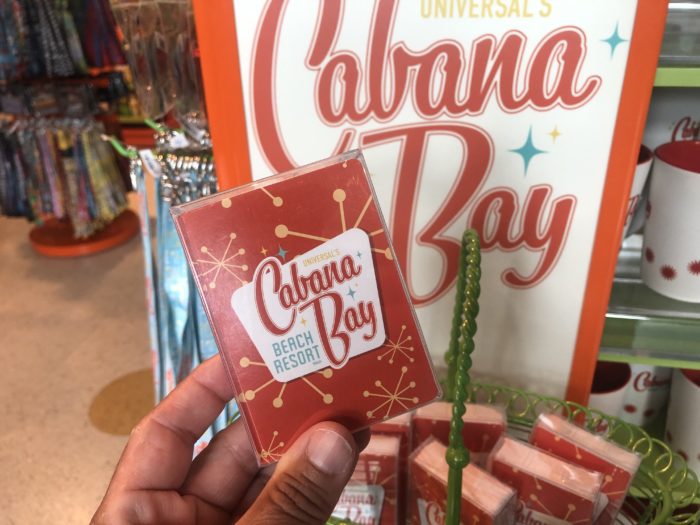 One day I hope to have "buying a bathrobe at an onsite hotel" level of disposable income.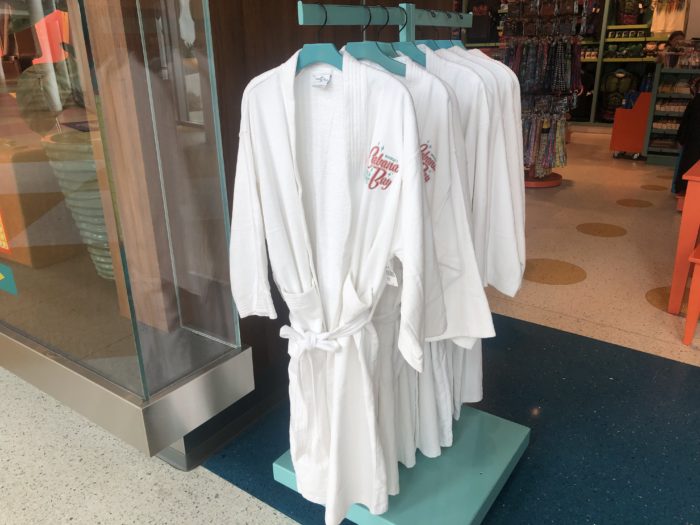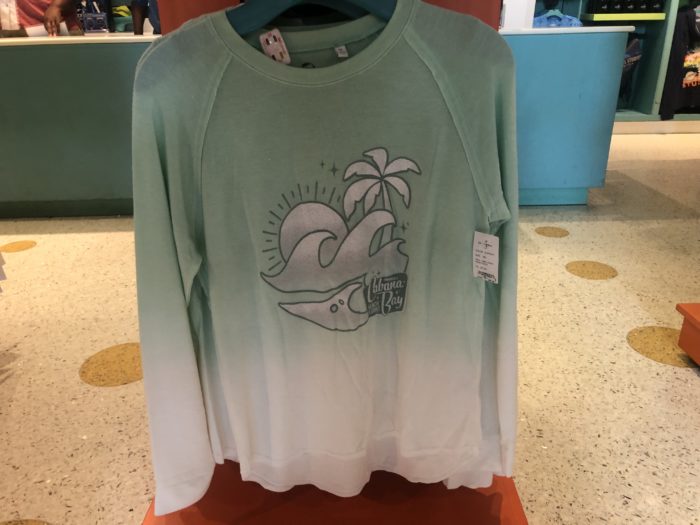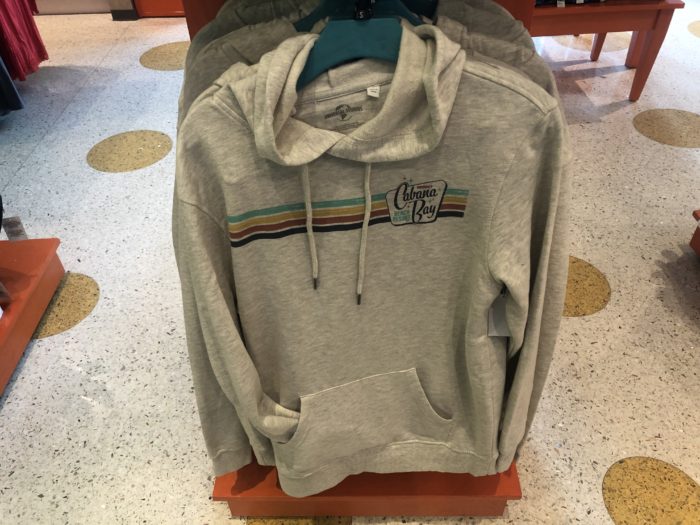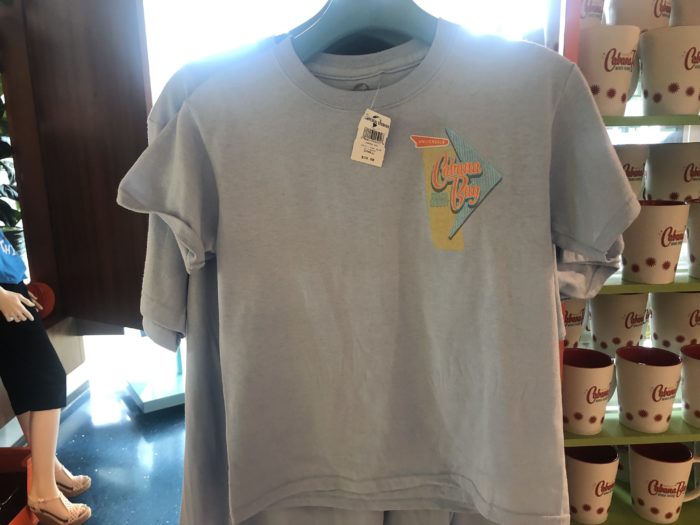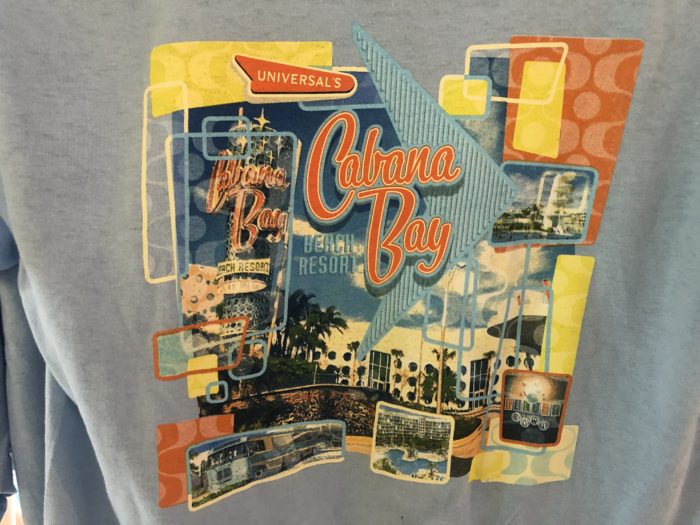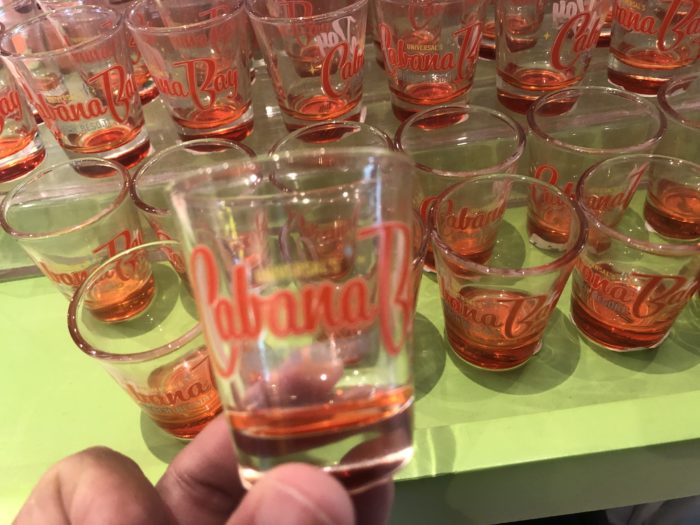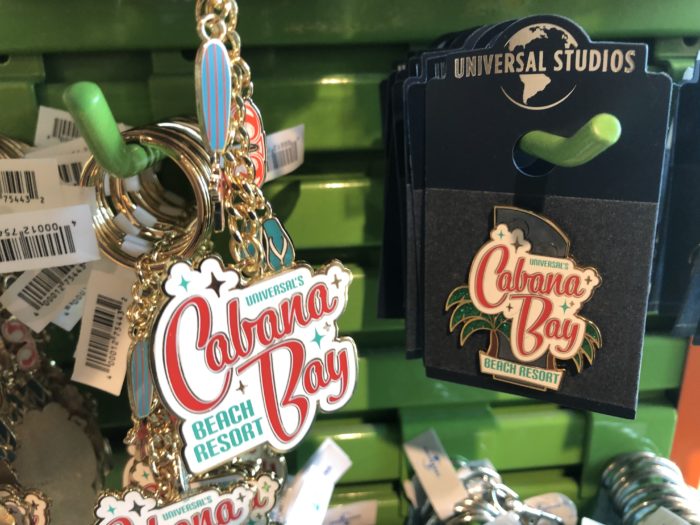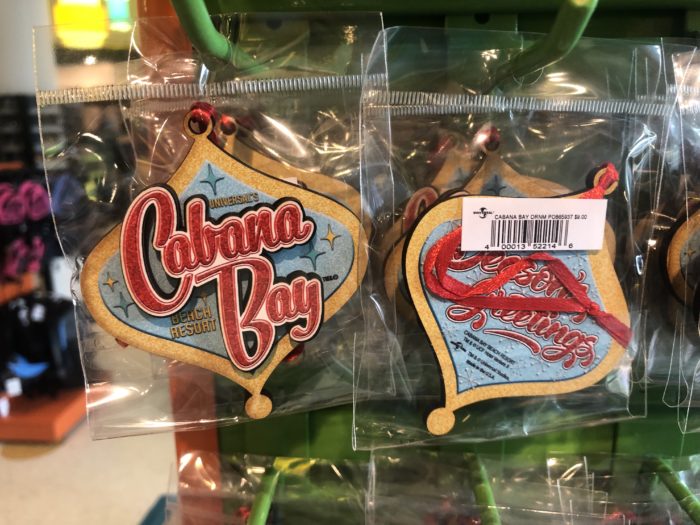 I'm not a "Loungefly Guy" by any means, but even I wouldn't mind having this Minion-themed bag. That's pretty adorable.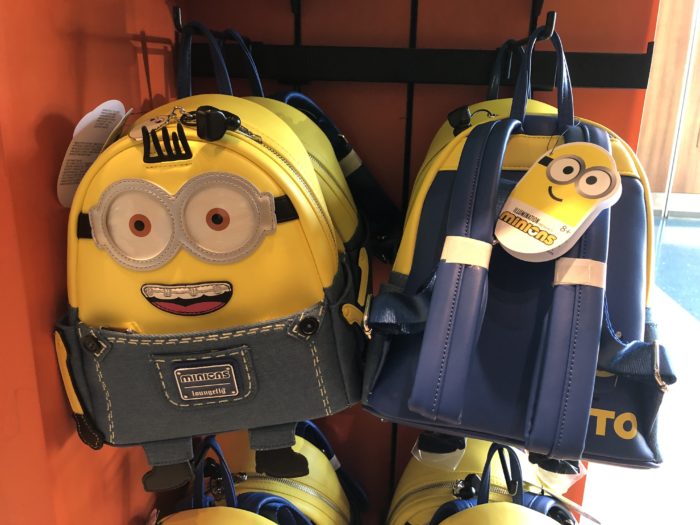 I always find it odd how many places at the Universal parks sell candy with bugs inside, but even weirder to see them located at the Cabana Bay gift shop right next to all the other lollipops.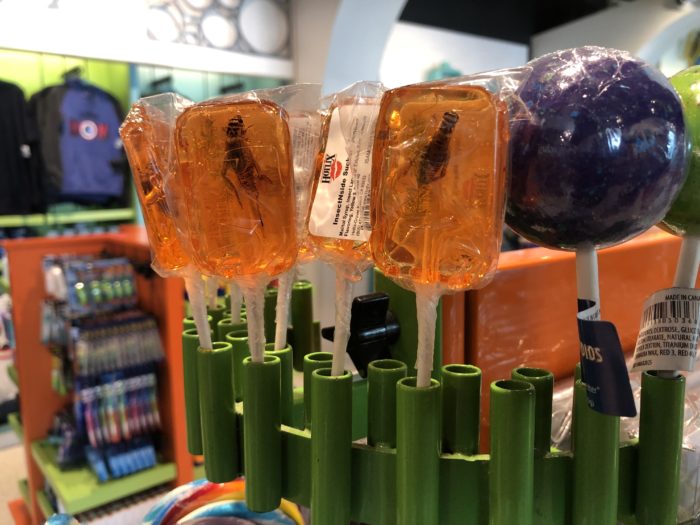 The photo below may look like an official Cabana Bay product, but it is from the Magic Candle Company, which has a bunch of candles referencing several of the Universal hotels (including Sapphire Falls and Royal Pacific).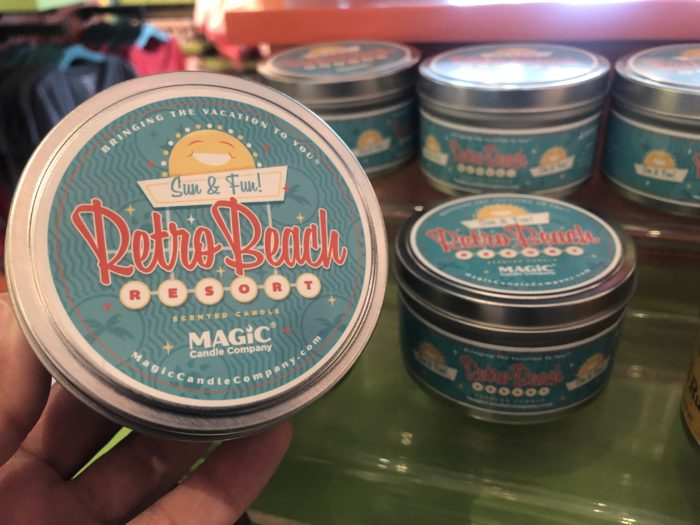 We'll close with this shirt which threw me off for a second. At first it seemed like a generic "Orlando" t-shirt, but it's Universal Studios branded. You don't see much of stuff like that.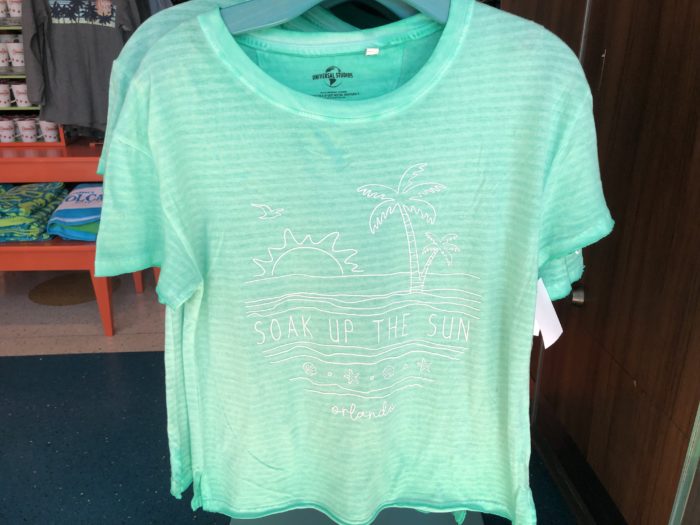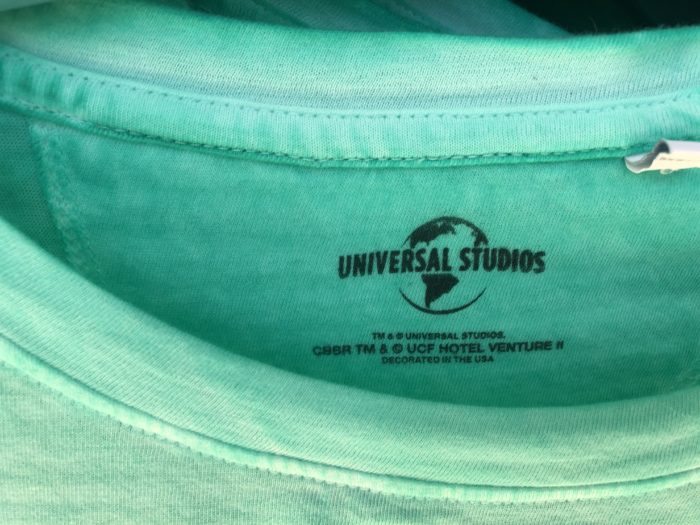 # 4 – SHAKES Malt Shoppe Coming Soon…
At the far end of the Bayliner Diner there are construction walls up and it sounded like a lot of work was going on behind the walls.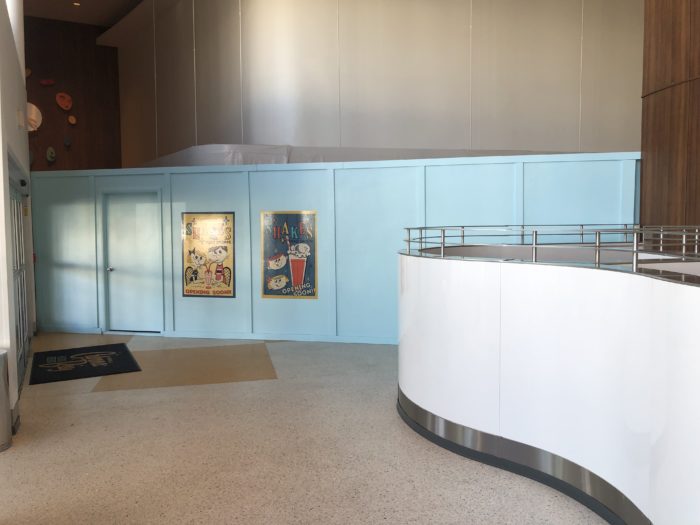 The posters on the construction walls advertised a new milkshake venue coming to the area. This is a great idea.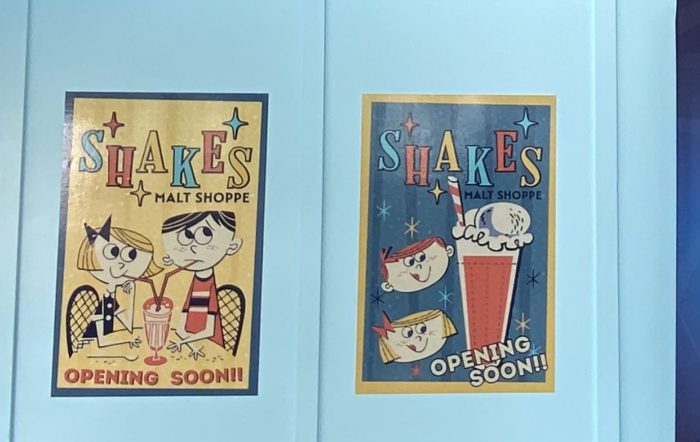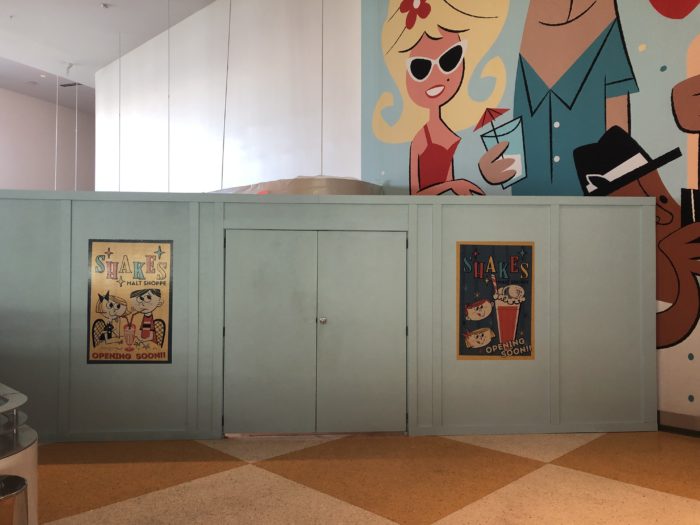 To give a better idea of where the new milkshake place is going, here is a look of the area of Bayliner Diner that is currently under construction. The far left of the photo is currently behind walls.
Here is a look of that area itself in its previous form. It was just a place for guests to relax in, and normally was as empty as the photo below shows. The new milkshake concept seems like a win-win, similar to how Universal replaced less-visited-venues with the mega popular Toothsome Chocolate Emporium and Voodoo Doughnut.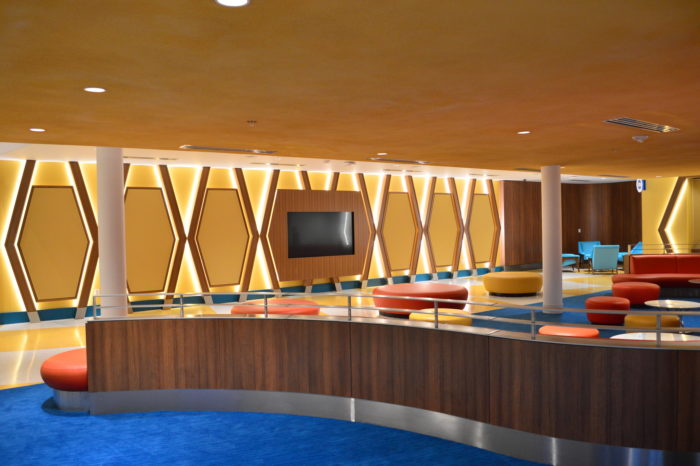 # 3- New Refillable mugs
I'm a huge fan of refillable mugs at both Universal and Disney hotels, and since it opened Cabana Bay has been the clubhouse leader in refillable mug designs. Not only has Cabana Bay had multiple design changes on their main refillable mug design, but has also offered SEASONAL REFILLABLE MUGS for Halloween and Christmas. For this Halloween season, Cabana Bay has two different designs for their refillable mugs available.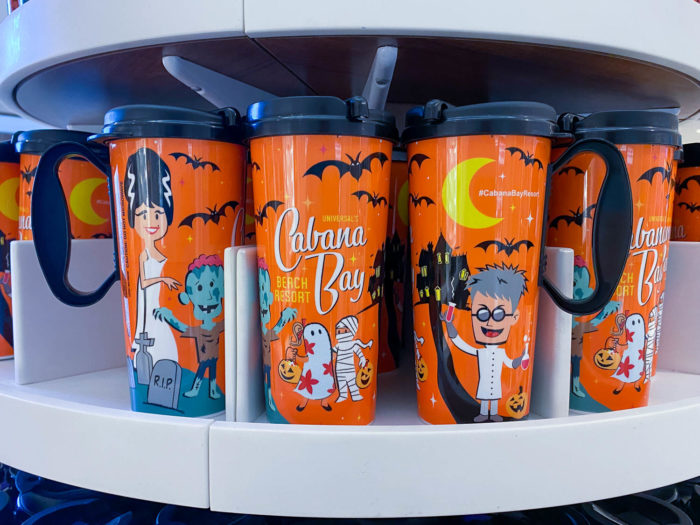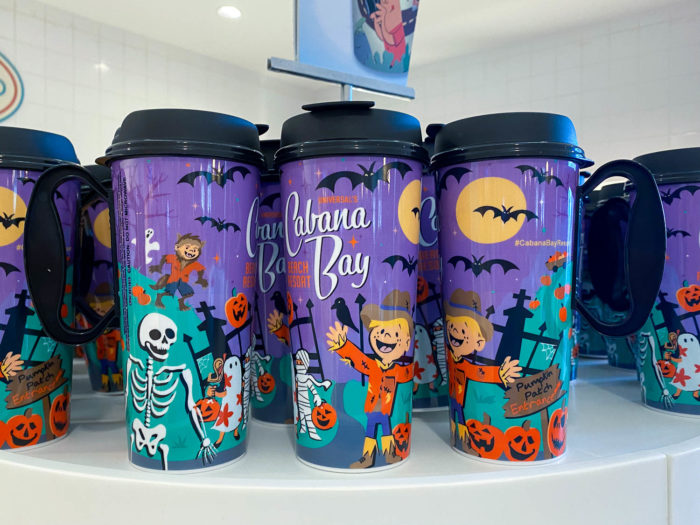 There is also a design for guests who want a refillable mug but do not want one that is Halloween themed.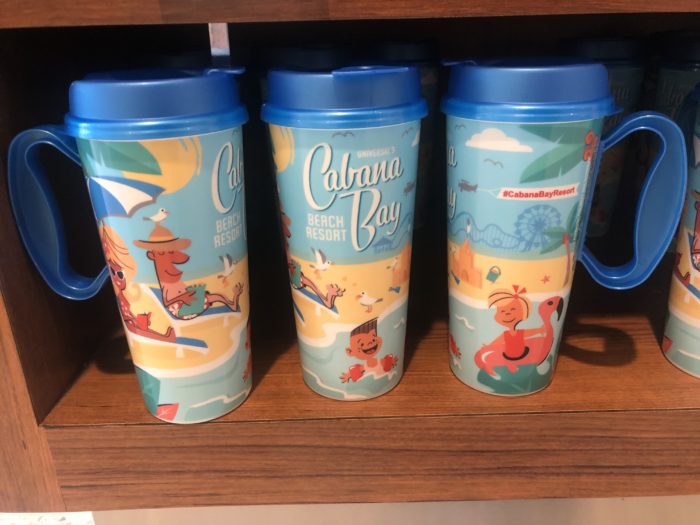 Unless I'm mistaken, this means Cabana Bay currently has more different refillable mug designs available (3) than all 26 of Disney's on-site hotels put together (2).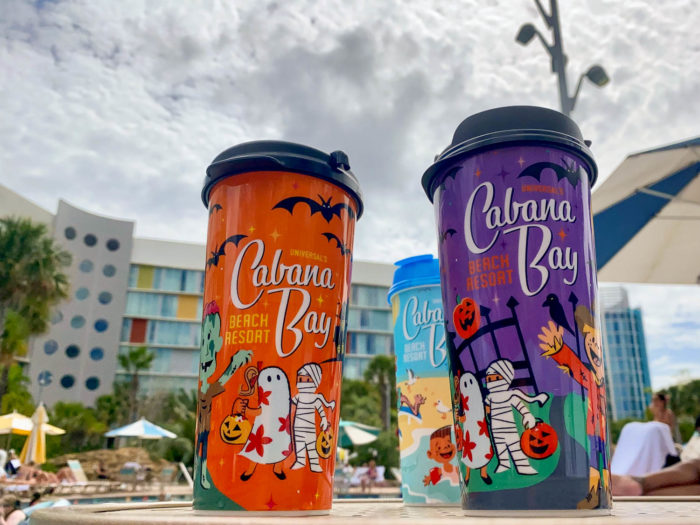 Let's stay in Bayliner Diner for a minute just to check out a couple other things, such as this Margarita Combo that is served in a pumpkin bucket.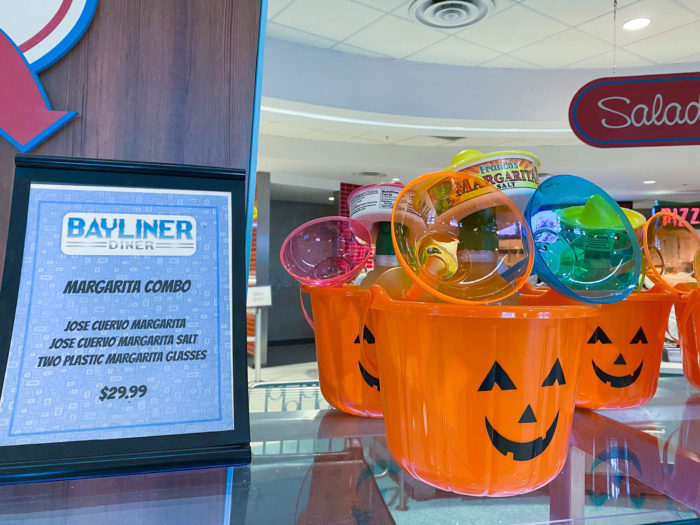 Here's an example of going the extra mile when "good enough" is the direction most other hotels are going (as a certain Mouse House down the street is proving.) Bayliner Diner offers a s'more kit that you can use at the outdoor firepits on property. Not only does the kit have it's only Cabana Bay logo design on the front, but even the label on the back has the Cabana Bay logo printed on it. Again, this is a very small detail, but it is something you see generally reserved for more prestige brands (such as Black Spire Outpost logo being on the receipts for items purchased in Star Wars: Galaxy's Edge).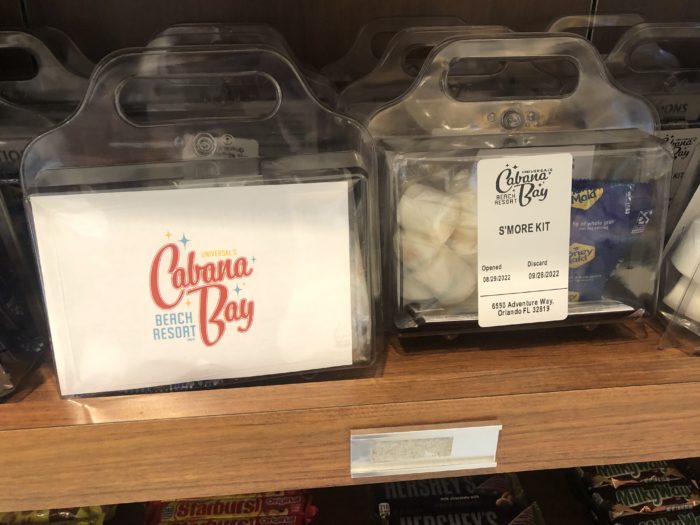 This Frozen Yogurt Bar is nothing new at Bayliner Diner, but I'm not sure how many people know about it and how absolutely crazy something like this exists in what is essentially a Value Resort. Like every other Frozen Yogurt place guests first pour the amount of frozen yogurt they want into a cup.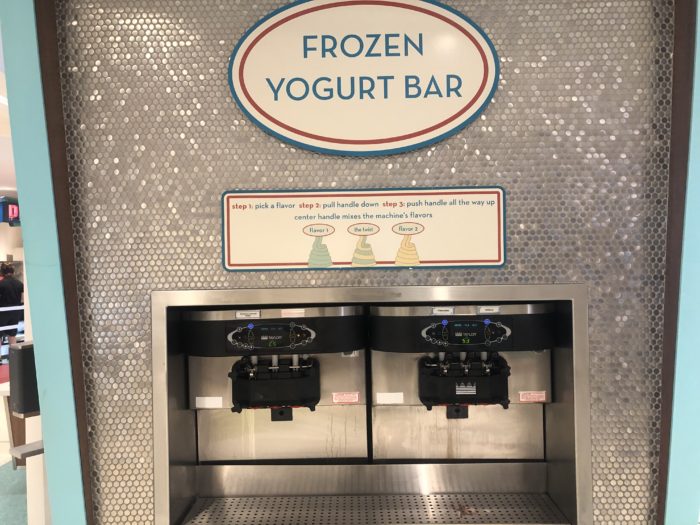 Then you get to put your own toppings on. Here are the fresh fruit options available (strawberries, blueberries, and raspberries).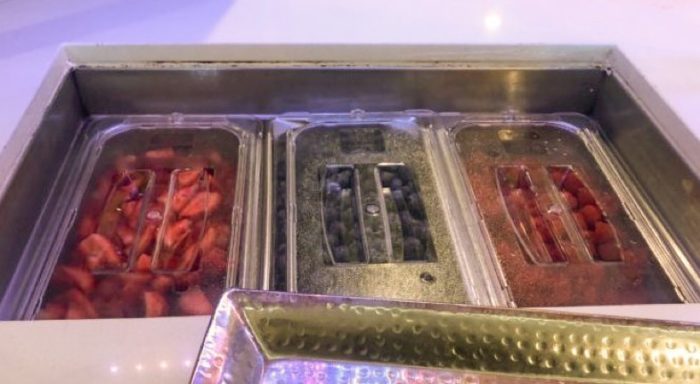 Or candy toppings if you so prefer (like I do).  Note they have candy corn available. That's right SEASONAL FROZEN YOGURT TOPPINGS. Pinch me, I'm dreaming.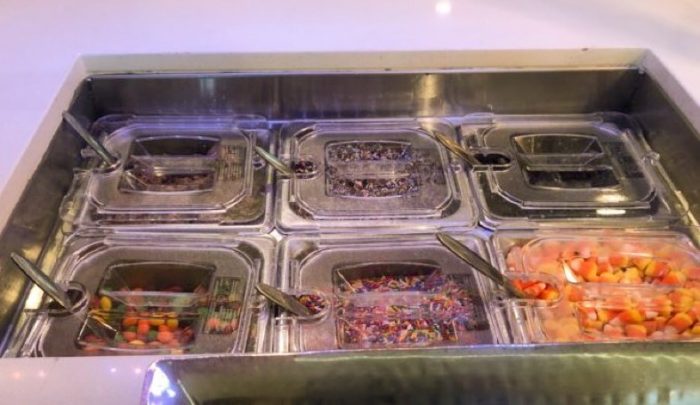 We'll close our Bayliner Diner section with the following story. First of all, I *love* Bayliner Diner and it just may be my favorite food court at any theme park hotel. It's a close battle between Bayliner and Pier 8 Market over at Dockside Inn & Suites. I should note that both Landscape of Flavors at Disney's Art of Animation and the Everything Pop food court at Pop Century used to be my top two food courts, but both are now shadows of their former greatness.
So all that said, one thing I actually like even more than the delicious options Bayliner Diner is the food at Volcano Bay. For this most recent trip, I decided to take advantage of how close Cabana Bay is to Volcano Bay and just walk over to grab a quick lunch.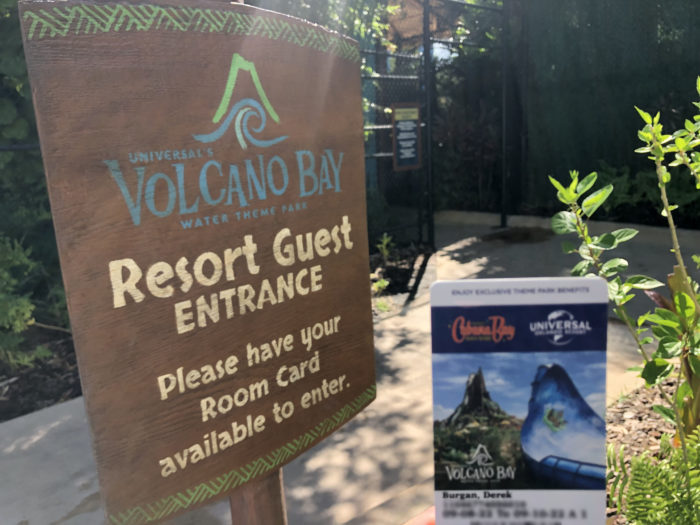 Got into Volcano Bay, got my Tapu Tapu, and immediately walked over to Kohola Reef Restaurant & Social Club to place a mobile order. Thankfully the Universal Orlando app has made it very easy to input your Annual Pass to get the AP discount. You just take a picture of the barcode and the discount automatically applies itself to the order.
Not long after, my order was ready to pick up and it was time to make my way back to Cabana Bay.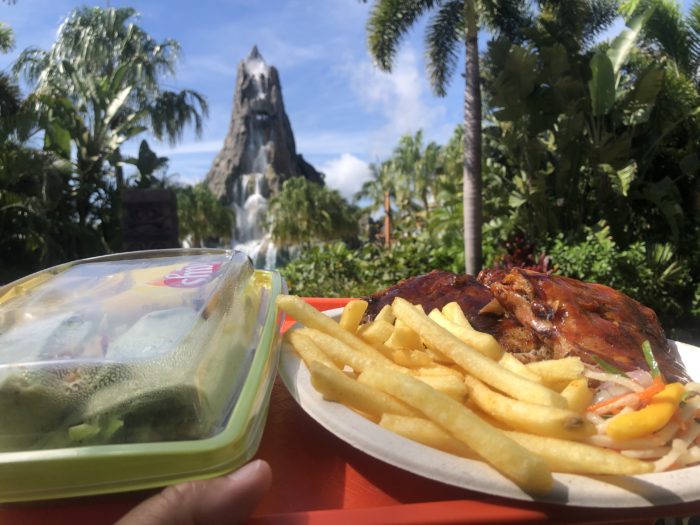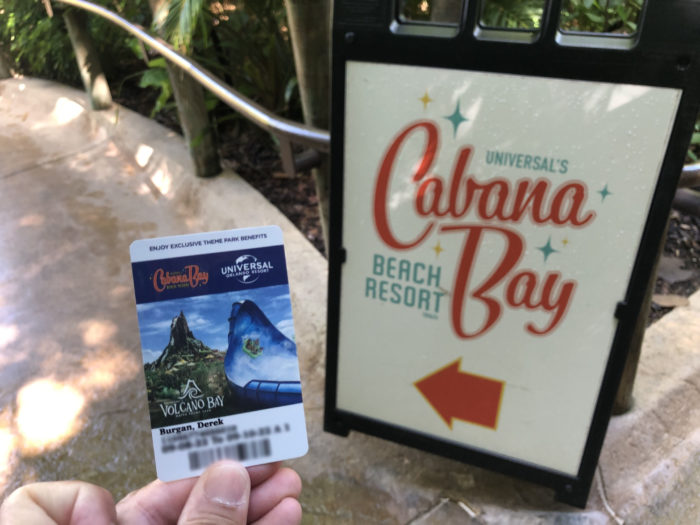 Time for lunch!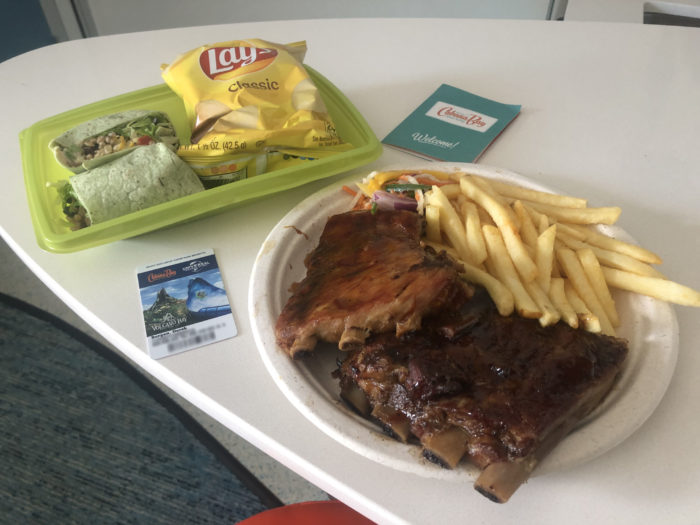 # 2 – Swizzle Lounge
Last year was the first time that Cabana Bay had incorporated Halloween theming into the amazing Swizzle Lounge lobby bar. In 2021, the theming was based around the icons of Halloween Horror Nights (including The Director, Chance, and Jack the Clown). This year the theming is as if the Swizzle Lounge has become a pumpkin patch.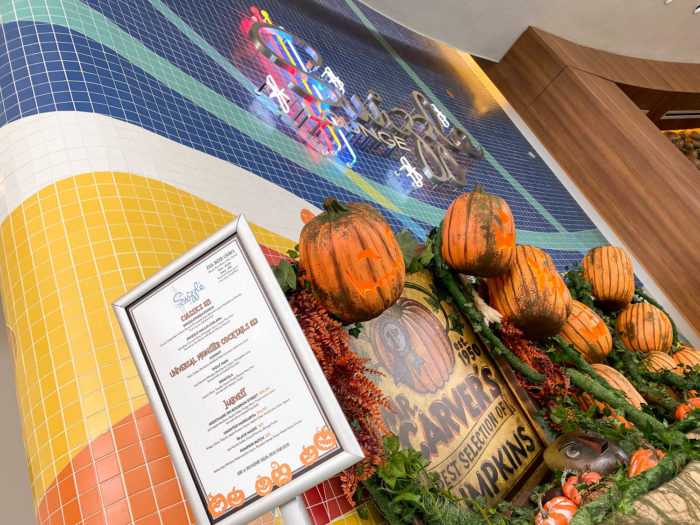 The "Mr. Carver's Pumpkins" sign was originally seen in last year's HHN 30 event. It was featured in The Wicked Growth: Reign of the Pumpkin house. The sign also has "est. 1950" on it, which fits in perfectly with Cabana Bay's overall retro theming.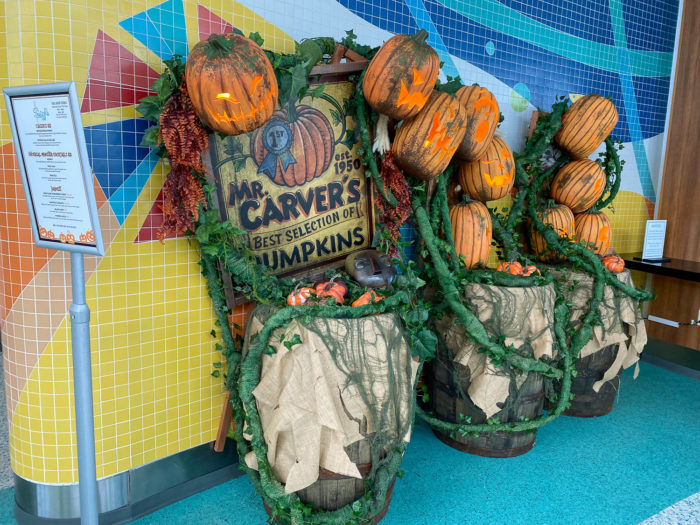 Lots of pumpkins can be found in the area…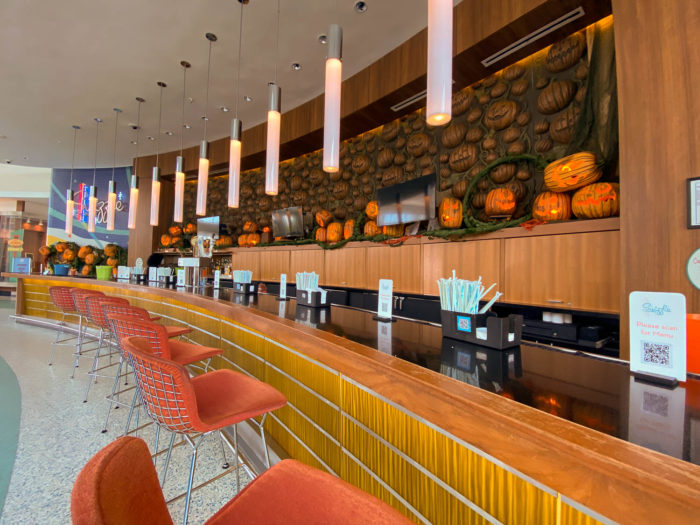 …including Li'l Boo, the breakout character of HHN 30.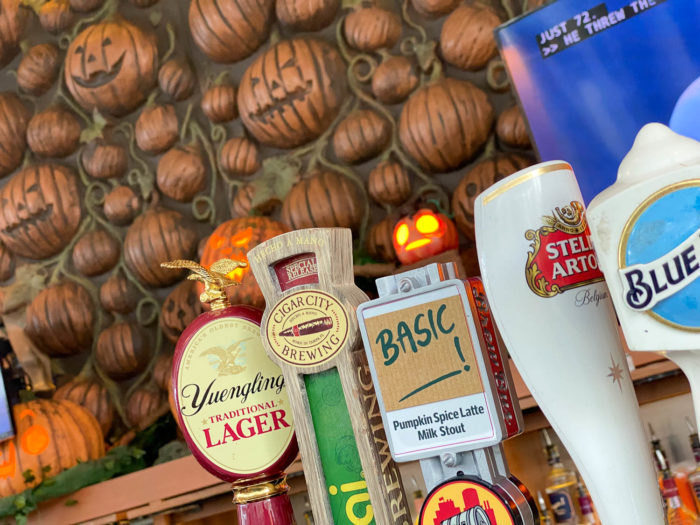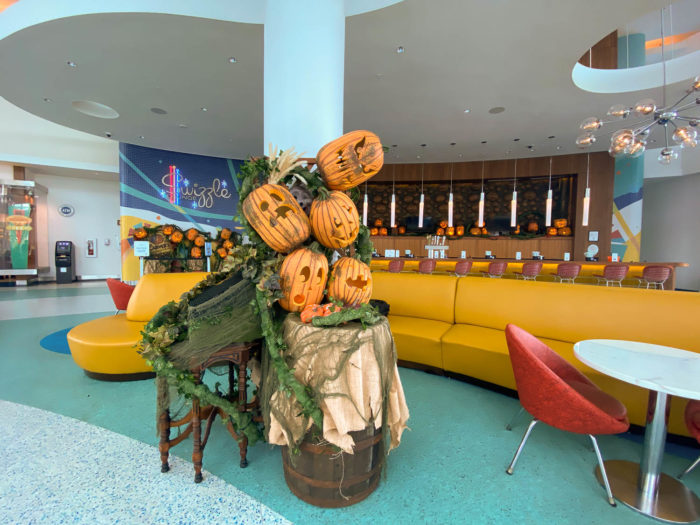 The main character of The Wicked Growth house last year was the Pumpkin Lord. Like Lil' Boo, the Pumpkin Lord has a much more prominent role in this year's HHN, and is pretty much the icon character for 2022. The pages seen below explain how to summon the Pumpkin Lord.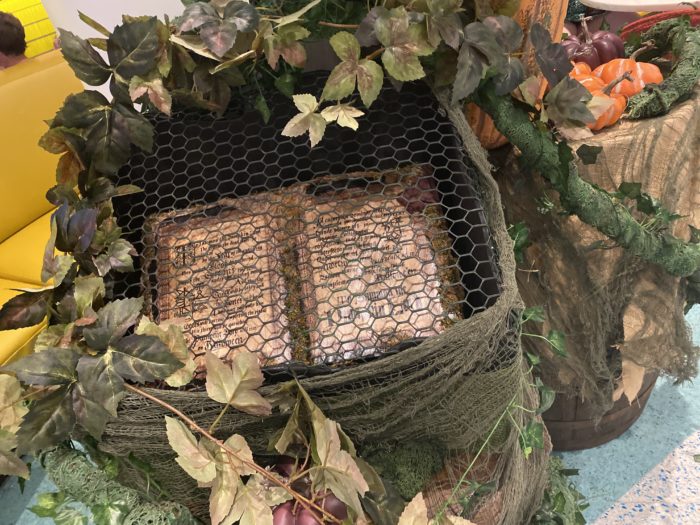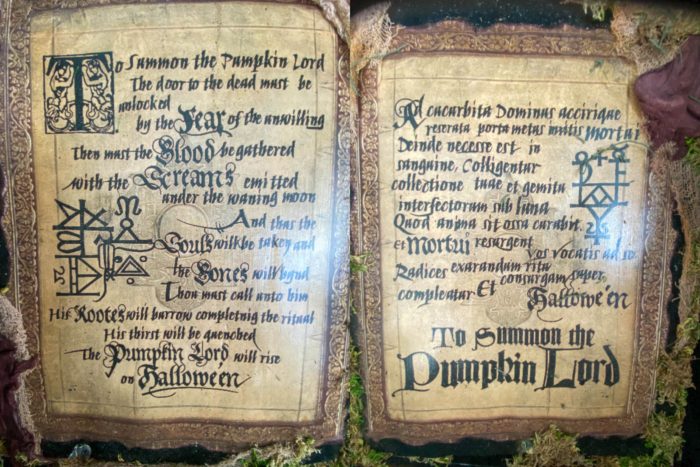 Aside from their regular bar offerings, Swizzle Lounge has some new drinks available including the Swizzleween Punch.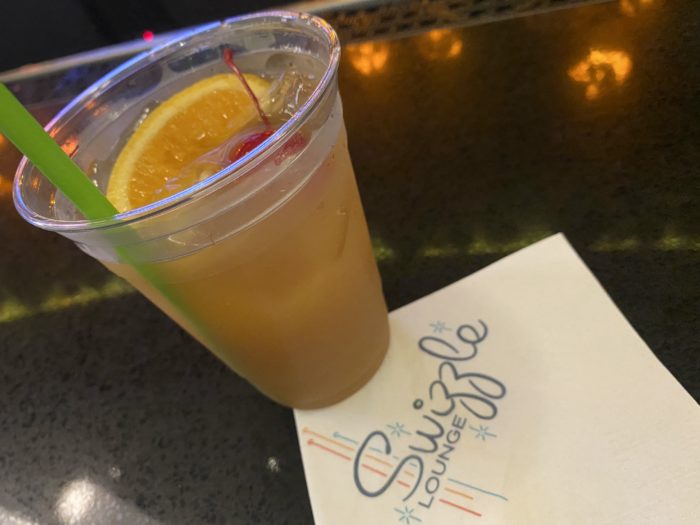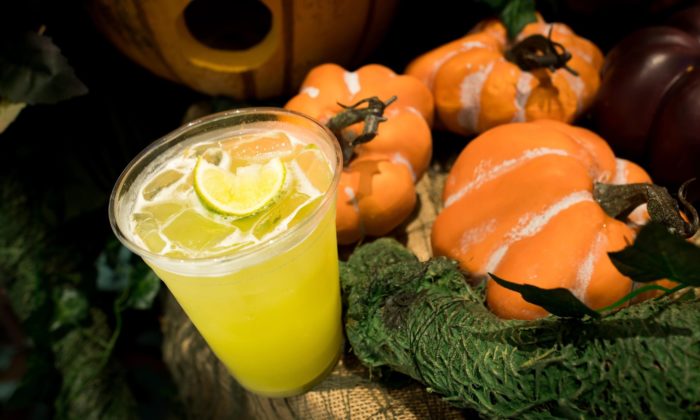 Below we have The Pumpkin Patch and The Mummy.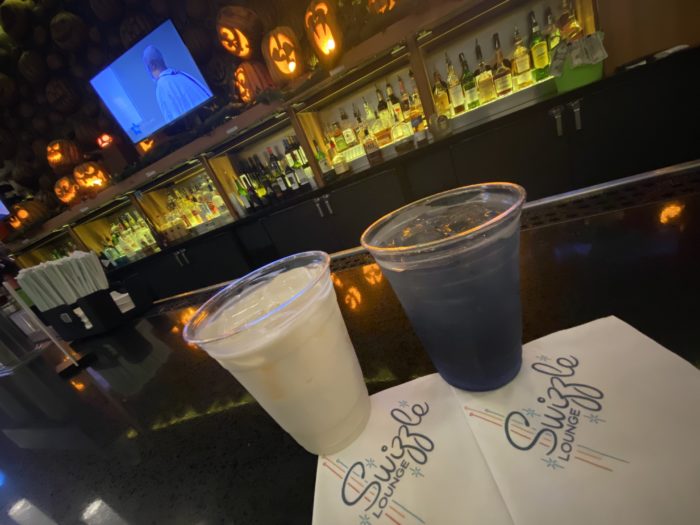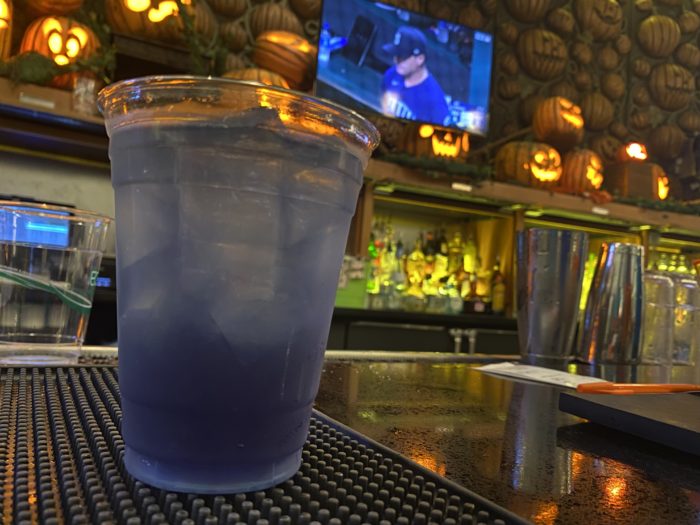 The seasonal offerings extend to bars outside of Swizzle Lounge as well. Below is a section of the menu from The Hideaway Bar & Grill. This is one of Cabana Bay's two pool bars. The menu mentions a Fall Crawl beer selection. The Fall Crawl is a promotion that allows guests to get a special drink at each of the four bars on property. If you purchase all four, you can redeem your Fall Crawl card and get a free 16 oz draft beer of your choice.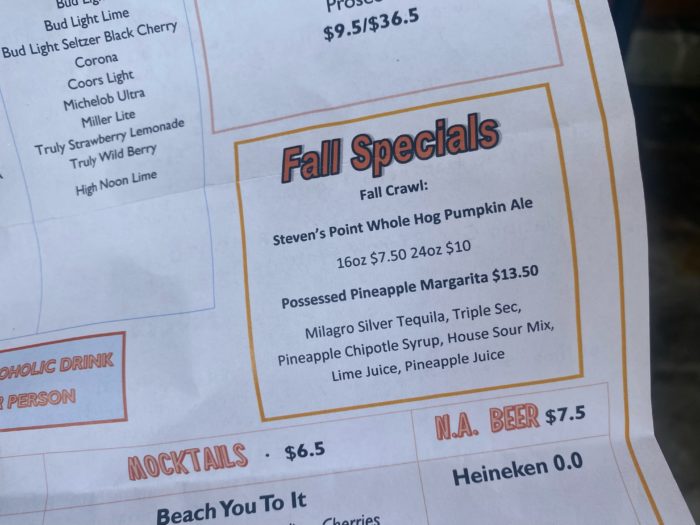 The Hideaway also has a seasonal margarita available….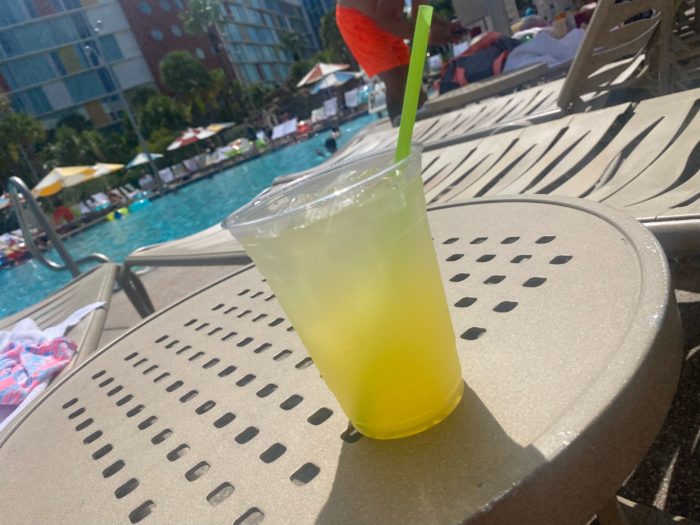 # 1 – Universal Monsters: Gallery of Legends
Back in 2019, Cabana Bay started taking advantage of a unused space they had on the second floor of the main lobby building. The second floor has a whole bunch of great stuff, including a gigantic gym, a bowling alley, and one of the best arcades at any theme park onsite hotel, but it also had a huge area which never had anything going on for guests.
In 2019, the space was used for a Stranger Things experience. Guests staying at any Universal onsite hotel could do the experience that was filled with some pretty fantastic photo-ops. Last year the space was used for a Jack'd Up experience, that had photo-ops built around the iconic HHN character Jack the Clown. This year the space is being used for Universal Monsters: Gallery of Legends. There is no charge for this experience, but they will be checking your room key (again, it is available to guests staying at ANY of the onsite resorts).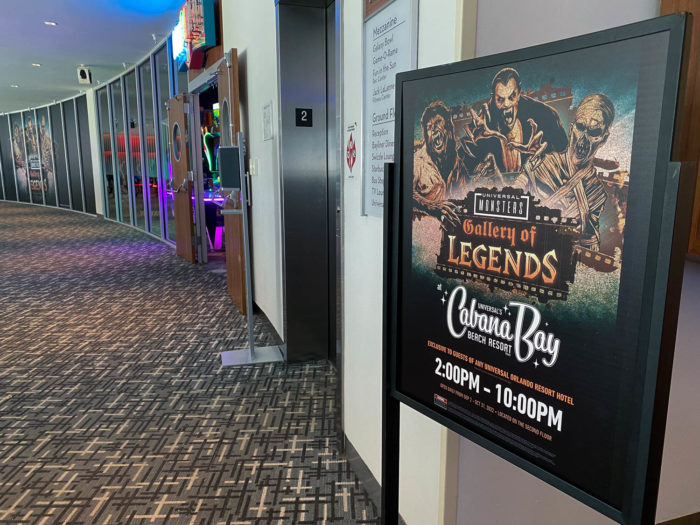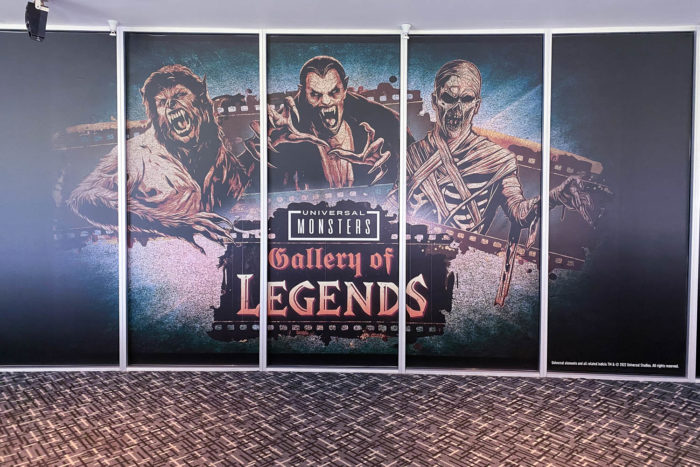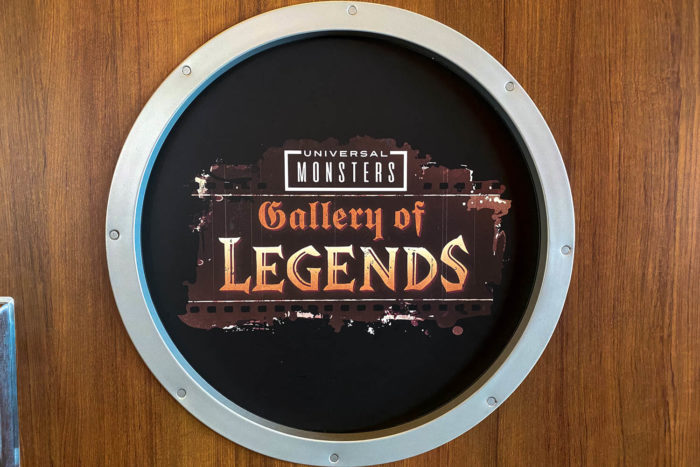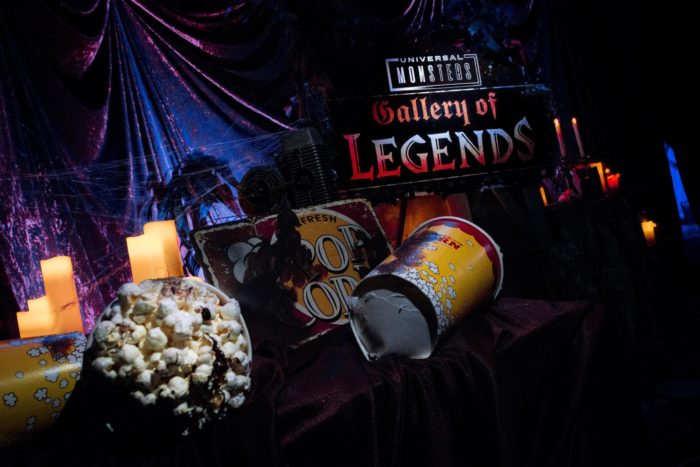 The area is a walk through experience that gives guests the opportunity to take some fun photos featuring elements related to three Universal Monsters; the Mummy, Wolfman, and Dracula. These are the same three Universal Monsters featured in the HHN 31 haunted house Universal Monsters: Legends Collide.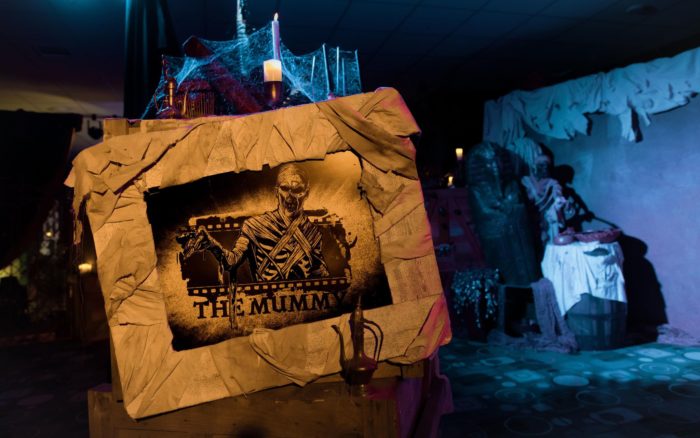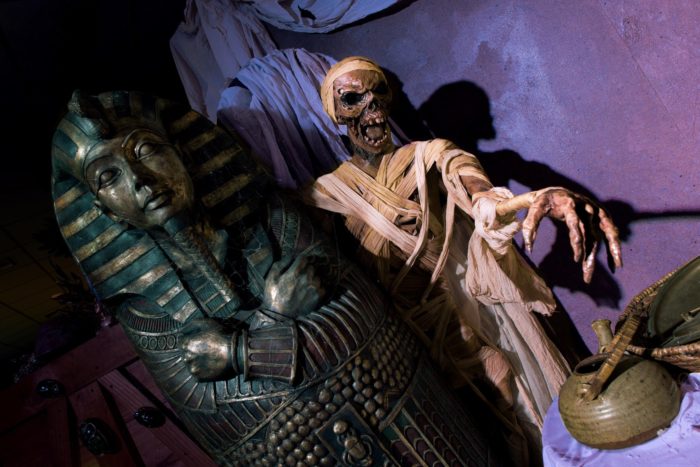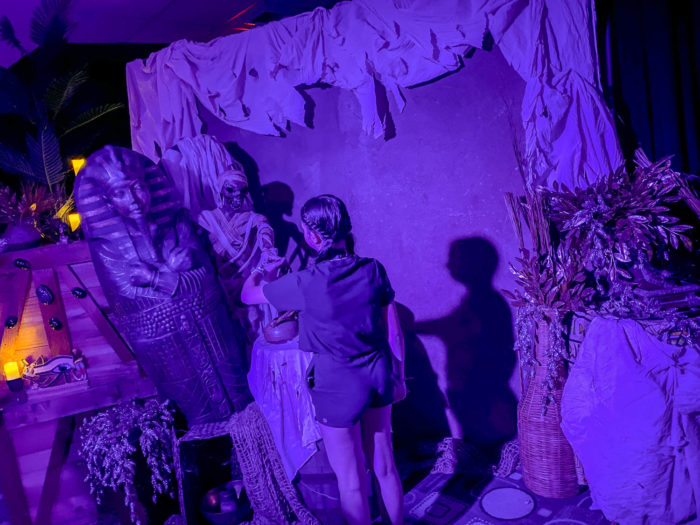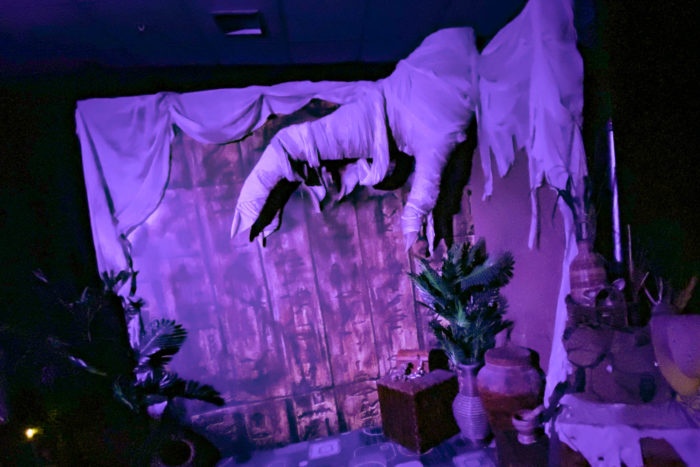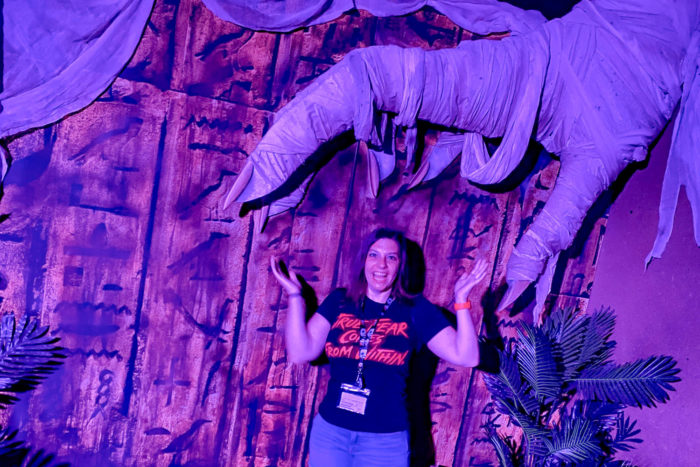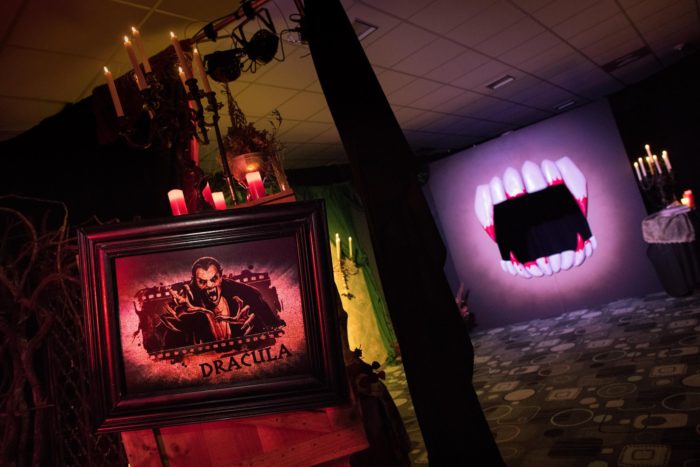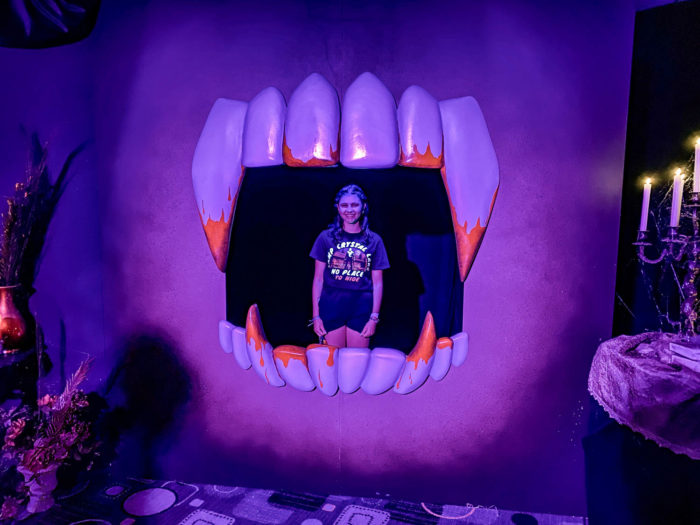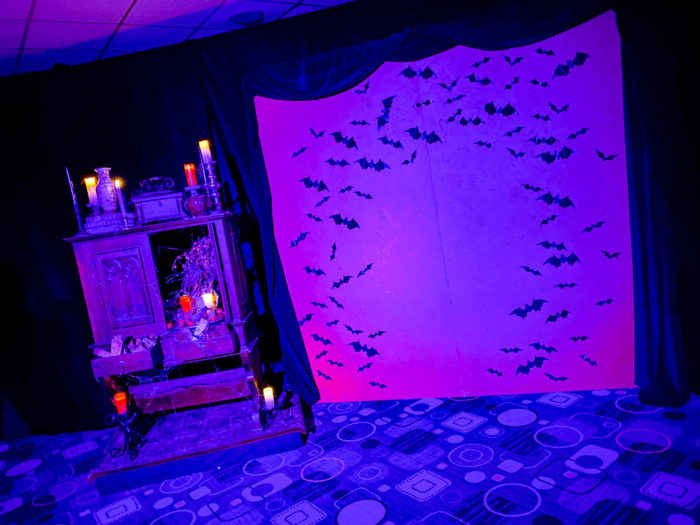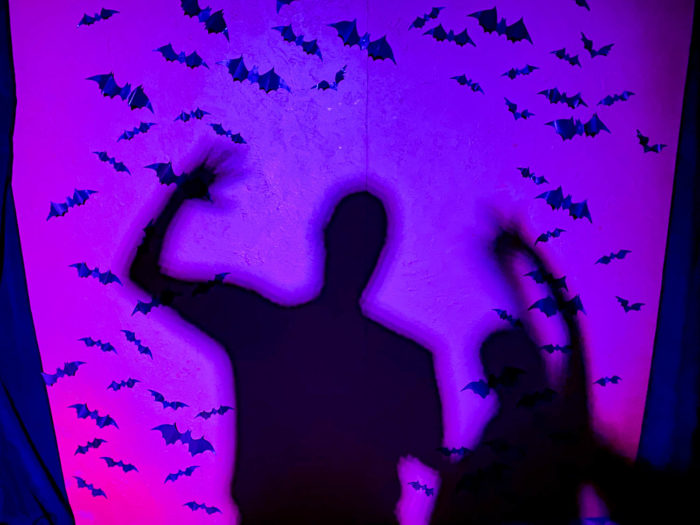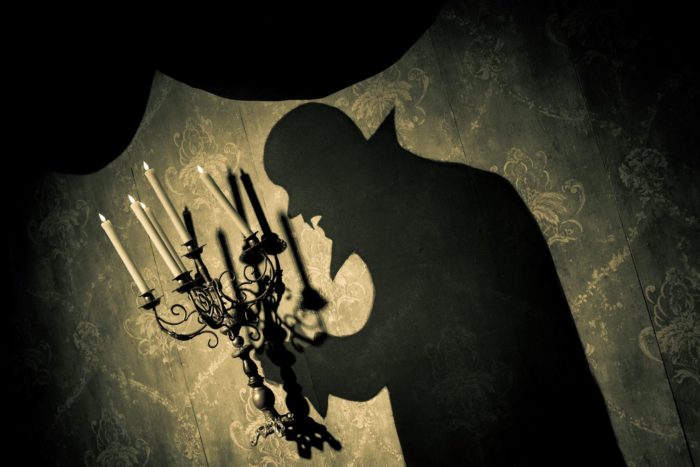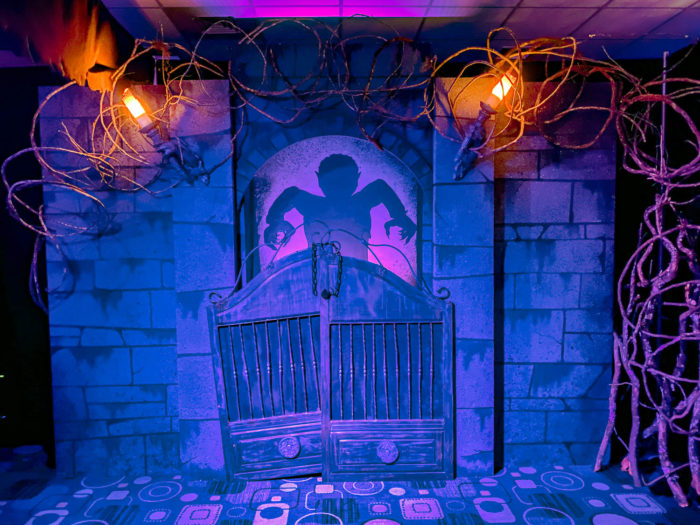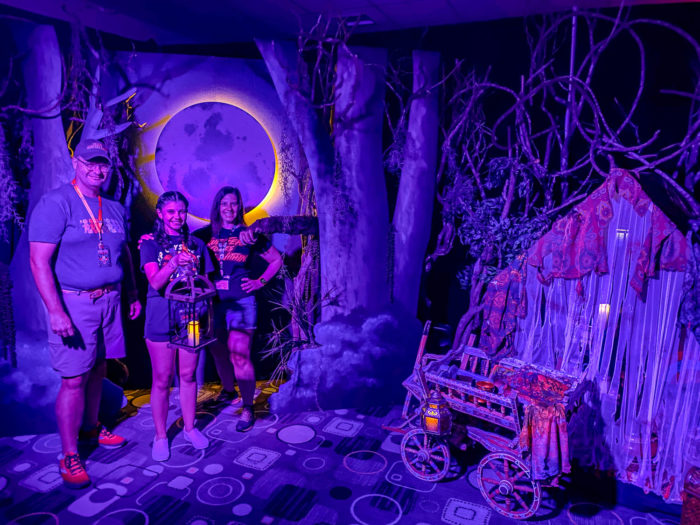 Honorable Mention: It's Halloween time at Cabana Bay!
Computer, enhance.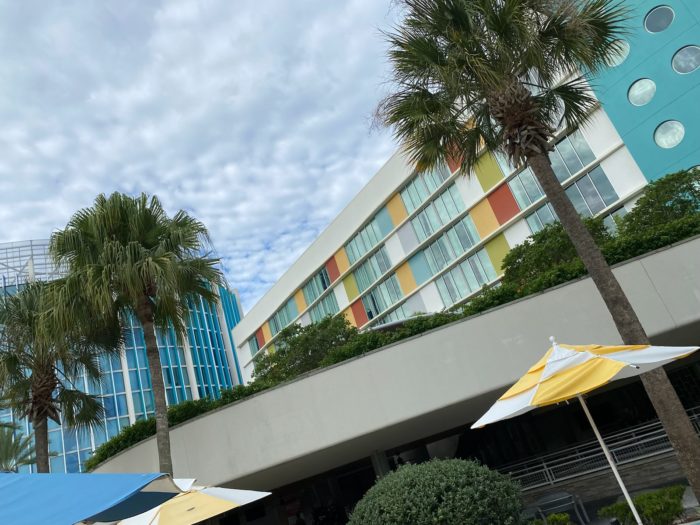 Enhance…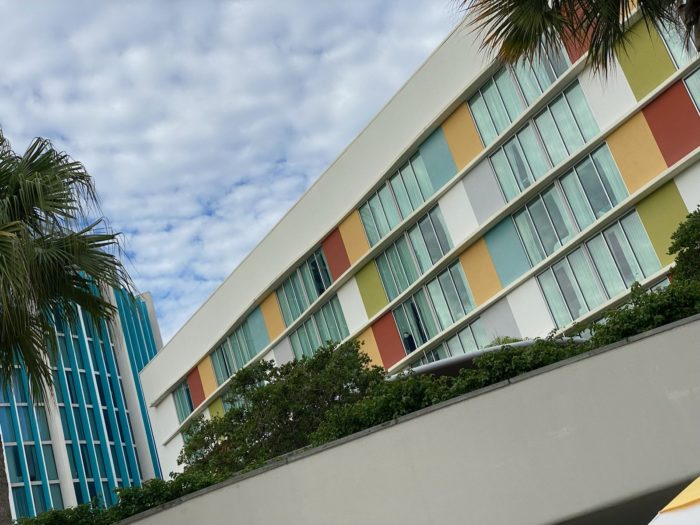 …enhance.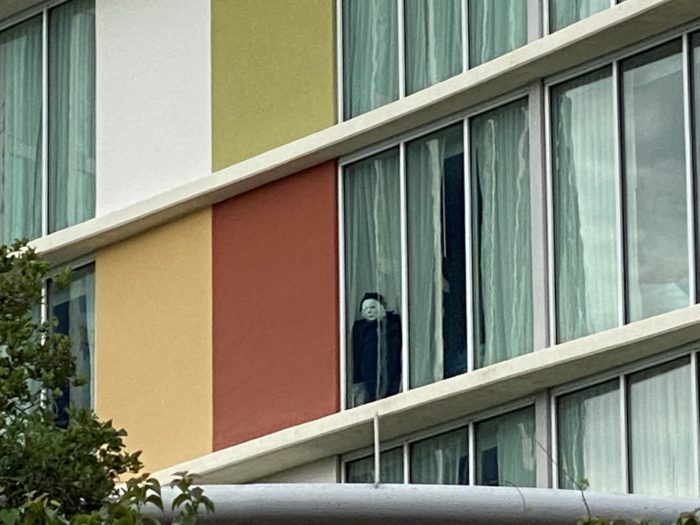 So there you have it: The SATURDAY SIX Checks Out What's New at the Cabana Bay Beach Resort! See you next weekend for the latest installment of the SATURDAY SIX, where we'll look at something fun from the world of Disney and Universal. If you enjoyed yourself, be sure to check out the THEME PARK ENJOYMENT INDEX, giving a monthly recap of all the theme park news you need to know (and a lot more you don't need to know, but we're gonna tell you anyway). You can also follow Your Humble Author on Twitter (@derekburgan).
If you enjoyed this article, you will surely like the following: 
SATURDAY SIX Presents: The Disney Merchandise Hall of Shame
SATURDAY SIX Presents: The Disney Signage Hall of Shame
SATURDAY SIX Presents: The Disney Food Hall of Shame
SATURDAY SIX: Tribute to Josh easyWDW
Special Thanks to The Elite Brandon Glover, Digital Maestro Scott Walker, the bio-est of all reconstructs @bioreconstruct, Captain Cruiseline Scott Sanders of the world famous Disney Cruise Line Blog, my personal protege Hunter "Elvey" Underwood, artist @SonderQuest, the mighty maven of merchandise Hedgehog's Corner, the SAT SIX Fun Squad of Parkscope Joe and "the Dadalorian" Nick, hot shot Michael Carelli, charter member of the Universal Four @Nitro230, the permit princess Alicia Stella, master cartographer Tommy Hawkins, and Hermione Granger's tutor Megan Stump for their invaluable assistance with this article. Absolutely no help was added by SeaWorld Influencer @SuperWeenieHtJr. The SAT SIX is inspired each week by goofballs Aengus Mackenzie and LitemAndHyde and you Potterheads will  enjoy Meg's other blog work over at the Central Florida Slug Club.
As a reminder, a SATURDAY SIX is never "done." We just run out of time and need to start working on the next one…