SATURDAY SIX Devours Some OUTRAGEOUS EATS at the Universal Orlando Resort
This week's SATURDAY SIX takes a look at OUTRAGEOUS EATS at the Universal Orlando Resort! Let's face it, when you're on vacation many of your eating "rules" go out the window.  It's time to stop counting calories and time to embrace the world of giant turkey legs, bakeries around every corner, and donuts the size of a human head. For years Universal has consistently been going above and beyond by serving guests what they want: incredible food items that at times can be decadent… may even occasionally be over the top… and sometimes should probably be sold with a defibrillator or insulin syringe, but they always taste great. You're on vacation; there will be plenty of time to eat grapes back at home.
Without further ado, let's check out some of the craziest food options at Universal, and at the end we'll look back at some of the all timers.
# 6 – The Big Pink in Springfield (Universal Studios Florida)
Donuts. Is there anything they can't do?" – Homer Simpson, The Simpsons "Marge vs. the Monorail"
When it comes to anything related to crazy food items, our first stop has to be in Springfield, home of the Krusty Burger, the Clogger, and Lard Lad Donuts. The humongous Lard Lad figure and his gigantic donut (a fun reference to the Big Boy restaurant mascot) stand out even in a land of outrageousness. What stands out even more is Lard Lad's signature item, The Big Pink donut. The size of a human head, The Big Pink is wild to see in person, and even better to eat!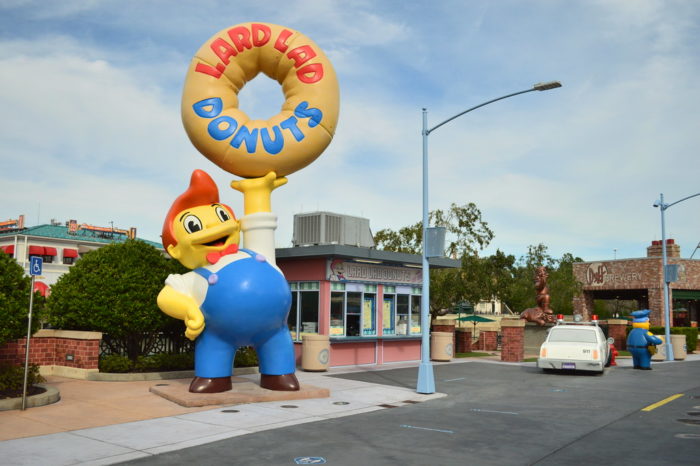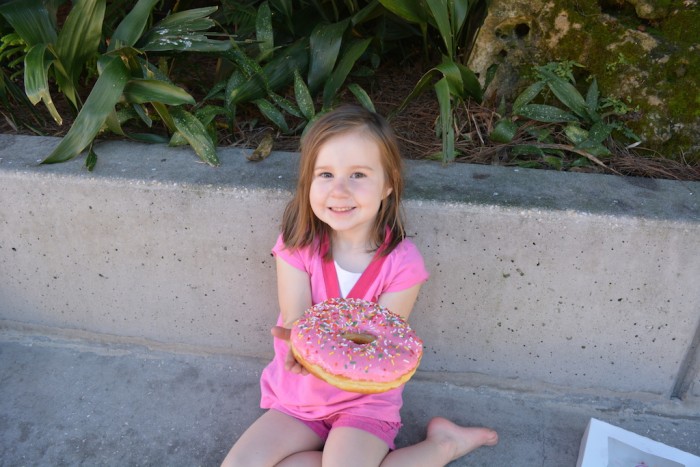 You can purchase The Big Pink in several places within Springfield as well as select retail locations throughout the Universal resort.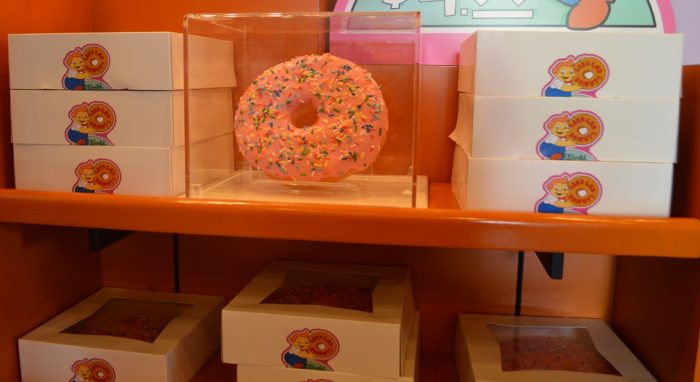 Long before Voodoo Doughnut and Everglazed were popular, Lard Lad Donuts was also the first place offering over-the-top regular sized donuts. These may seem quaint now in a theme park world filled with next level bonkers creations (we're looking in your direction Toothsome and Gideon's Bakehouse), but it's important to remember Springfield was the first place in the theme park world that asked the all important question, "just how much stuff can we put on top of a donut?" As they say, not all heroes wear capes.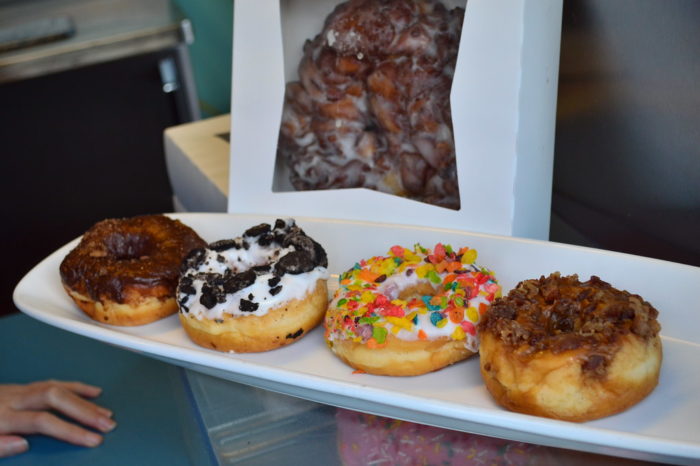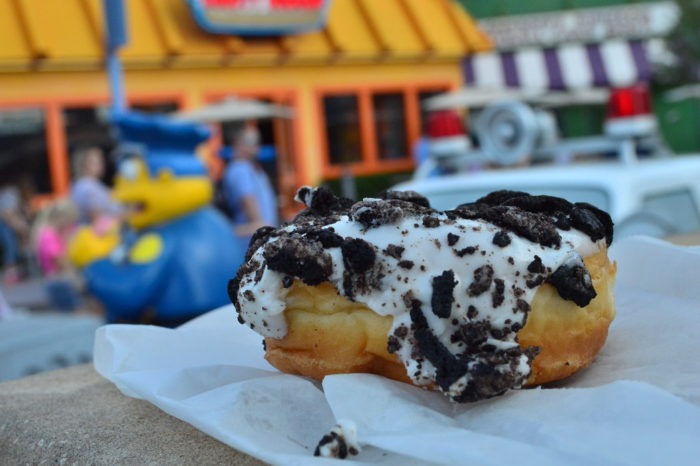 ALL THAT SAID, for our money the best tasting donut in Springfield is part of the Brain Freezin' D'oh-nut Sundae. Lard Lard offers this magical creation in which chocolate or vanilla soft serve ice cream is put between two halves of a sprinkled pink d'oh-nut. Toppings available include caramel, hot fudge, rainbow sprinkles, chocolate sprinkles, peanuts, Reese's Pieces and Oreo crumbles.
Believe it or not, the original monster sized donut at Universal wasn't The Big Pink.  The King Donut at Emack & Bolio's Marketplace (right next to The Kitchen restaurant on the ground floor of the Hard Rock Hotel) was available long before The Big Pink graced the store shelves (and our arteries).  Available in both glazed and chocolate frosted versions, the King Donut is equal parts pastry, sugar, and insanity. You think this is big? Imagine the cup of coffee you are going to need in order to dunk this in. "We're gonna need a bigger boat mug."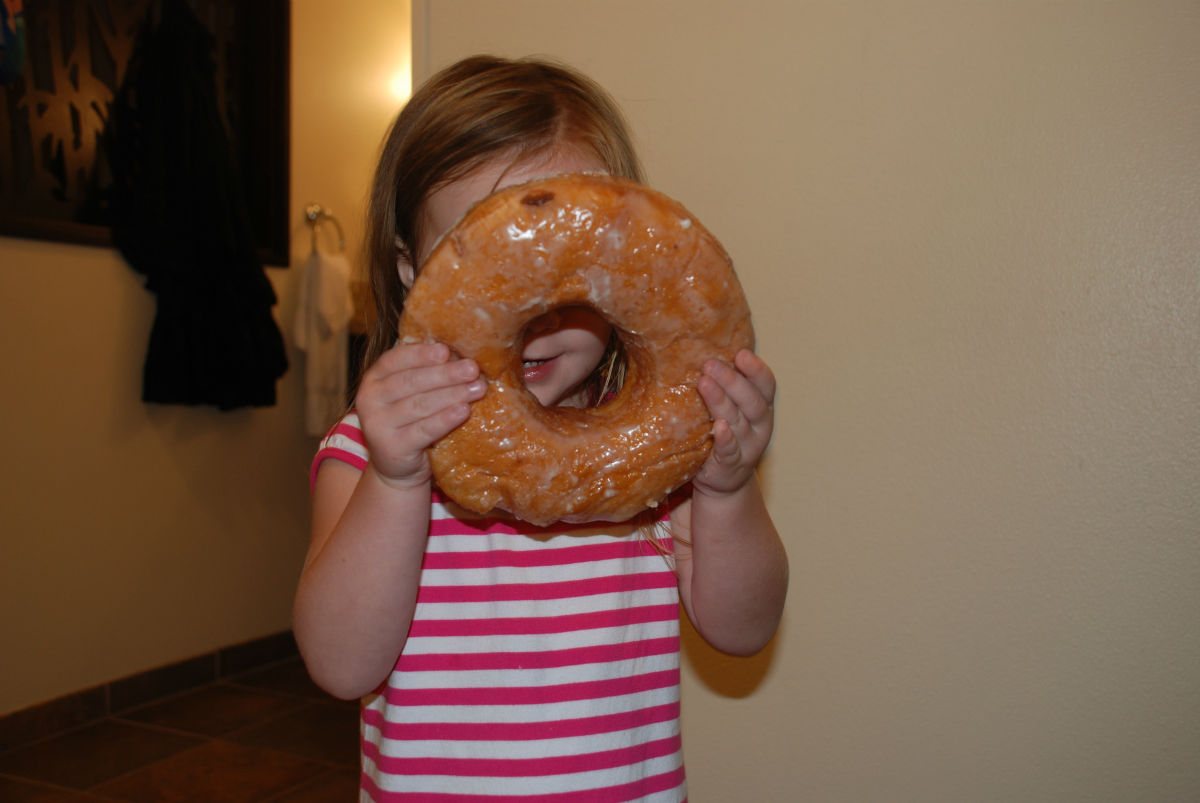 Now that we've established that Universal is the Theme Park leader in gigantic donuts, you'd think Universal would be content. Nay Nay.  As the wise Yoda once said, "No…there is another." This special donut is located at our favorite hotel, the Royal Pacific Resort. Inside the Islands Dining Room, home of the must-do Wok Experience. Pictures do not do the Jumbo Pineapple Donut justice, as this warm super sized donut has pineapple cream in the middle and is served with coconut ice cream. This is truly A TASTE EXPLOSION. Run, don't walk to try this one.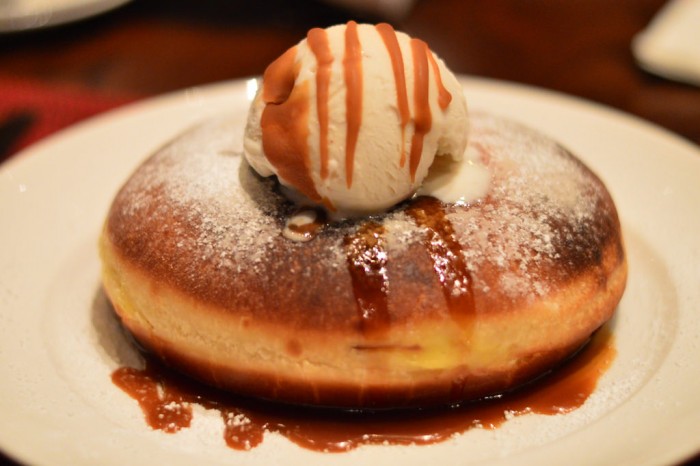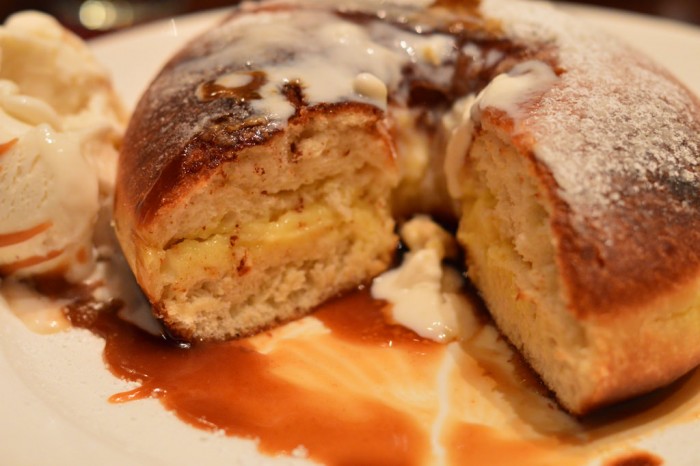 # 5 – Krusty Klump Bar
Let's stay in Springfield for our next one, because The Simpsons television show has a long history of having fun with the theme parks we know and love. Of course they also mock just about all of our other favorite things too. In the sixth season of the show, during the episode Homer Badman, there are several jokes aimed at the candy industry and we are introduced to the Krusty Klump Bar in a hilarious segment referencing Charlie and the Chocolate Factory. Using the same love and care (and quality control) that Krusty the Clown has in all his authorized products, the Klump Bar features many of our favorite snack foods just crammed together. That's right, milk chocolate, marshmallows, pretzels, and potato chips all in one candy bar. I personally love them, even if they are a little bit messy. There is also a version which features peanuts as well (in the show it was almonds.)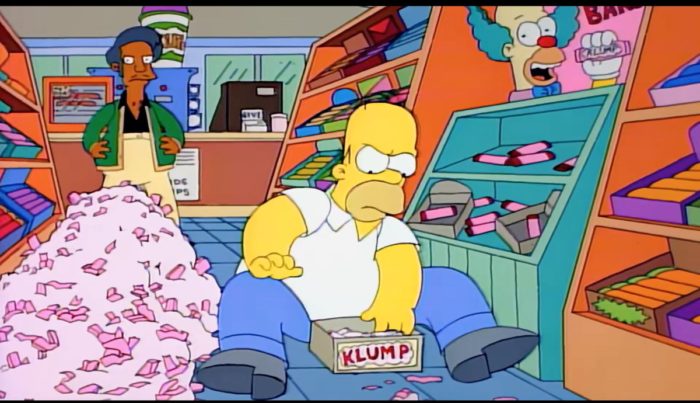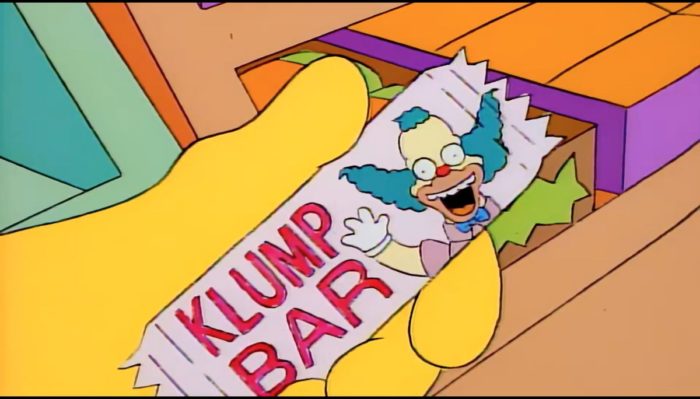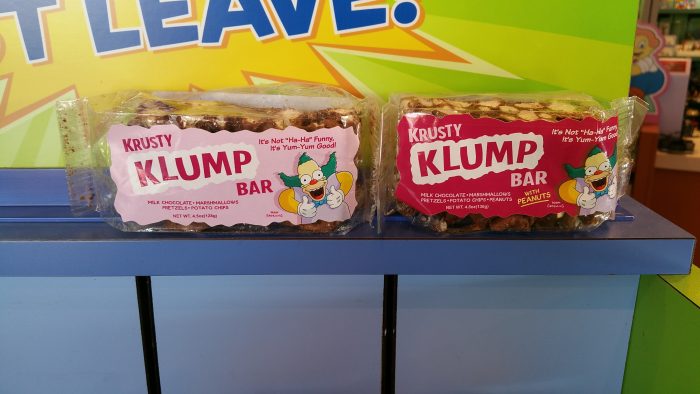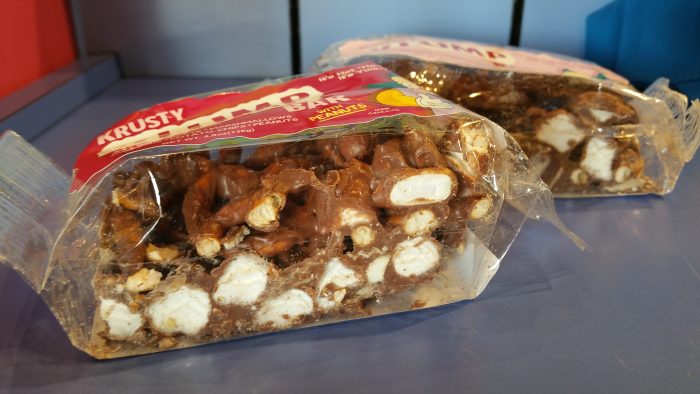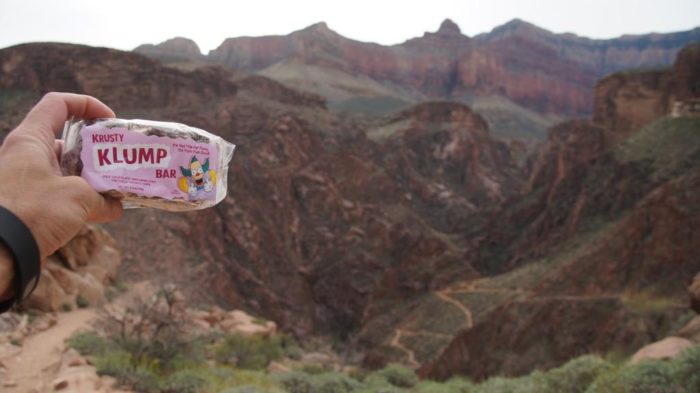 Back to The Simpsons episode where Homer was trying to find a ticket inside a Klump Bar… that ticket would enable the finder to get a tour of Farmer Billy's Bacon Factory. The Kwik-E-Mart, which is filled with incredible signage, has an advertisement for a Farmer Billy product hanging on the walls.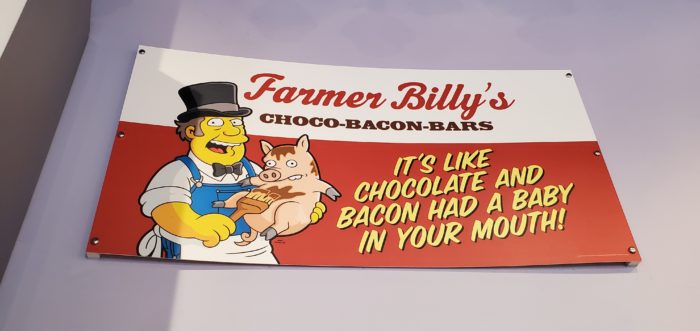 Lo and behold, Universal then created that very same Farmer Billy's Choco-Bacon-Bar that guests can actually purchase!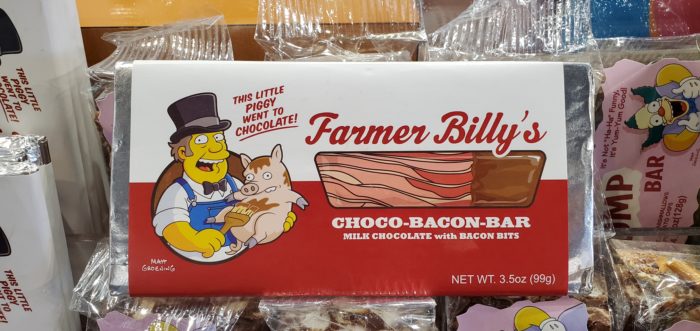 In fact, Universal's candy bar game is On Point across the board. There are branded candy bars for many of the characters featured in the parks, including E.T., Spongebob Squarepants, and the Minions from Despicable Me. Each of the candy bars has a unique flavor specific to that character.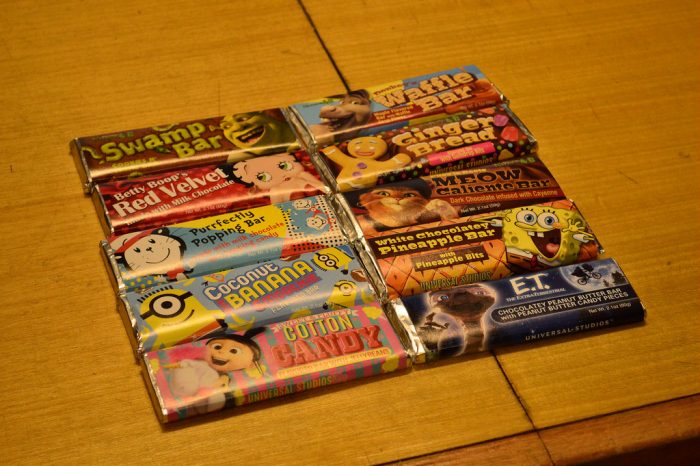 There are two candy bars available that come from the Marvel characters, Spider-Man and the Avengers. These two additions were added long after the original introduction of Universal's themed candy bars, striking another blow to the idea that Universal is going to give back the Marvel theme park rights to Disney anytime soon (much to the chagrin of many a Disney fanboy).

My favorites? The candy bars for Jaws and Back to the Future.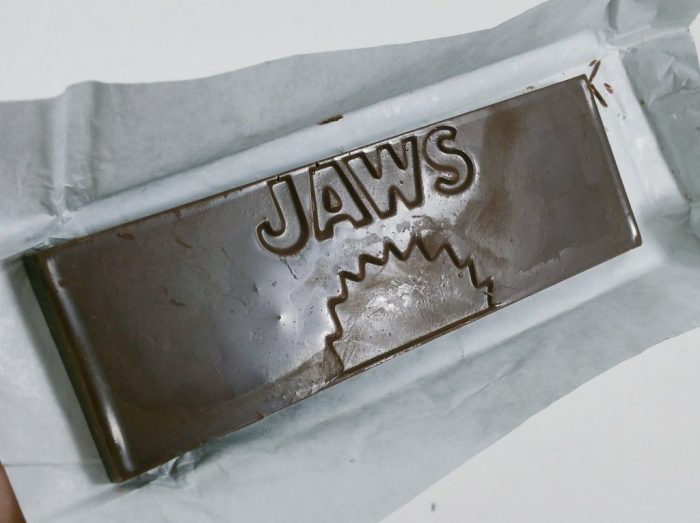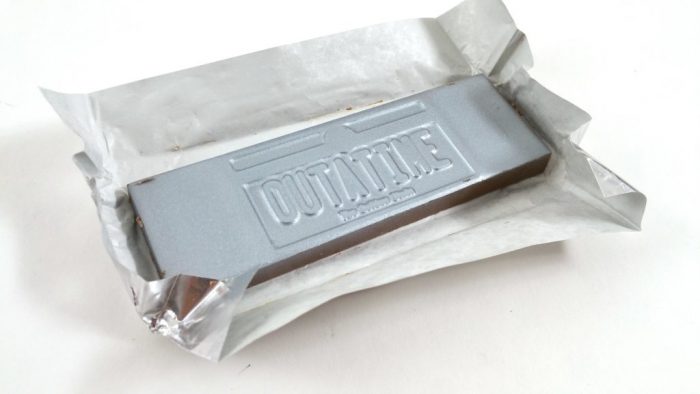 Toothsome Chocolate Emporium has its own line of dedicated candy bars, and for the last several years Halloween Horror Nights has had their own themed candy too.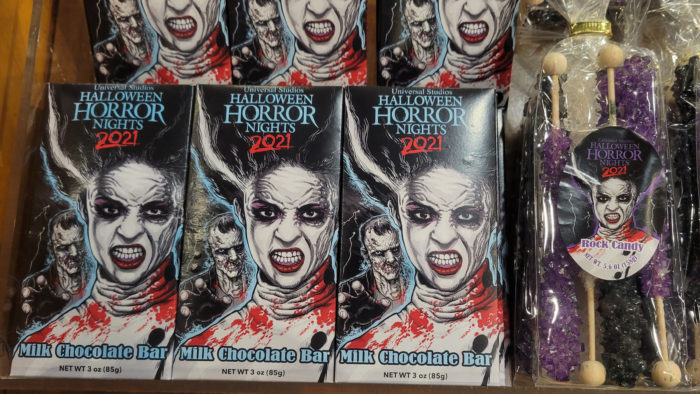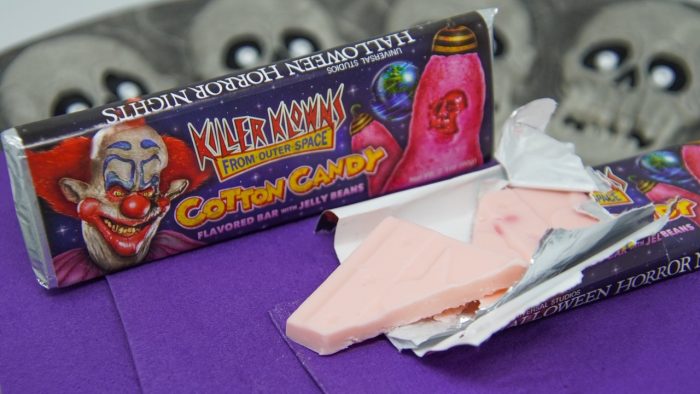 # 4 –  Cowfish Has Left The Building
With hands-down the most unique (and fun) menu at either theme park resort, The Cowfish in Universal CityWalk also features a burger which sounds next level bananas (literally) but is actually AWESOME. The Cowfish Has Officially Left the Building is a tribute to Elvis, and similar to the King Cupcake at Disney's Pop Century resort, it features a combination of peanut butter, fried bananas, and bacon. You may be thinking it is time to grab an extra large bottle of Pepto Bismol, but trust me, the combination works. As God as our witness, it actually works! For those who prefer the "skinny Elvis" phase, you can order this with just one half pound burger in its SINGLE HUNKA LOVE version.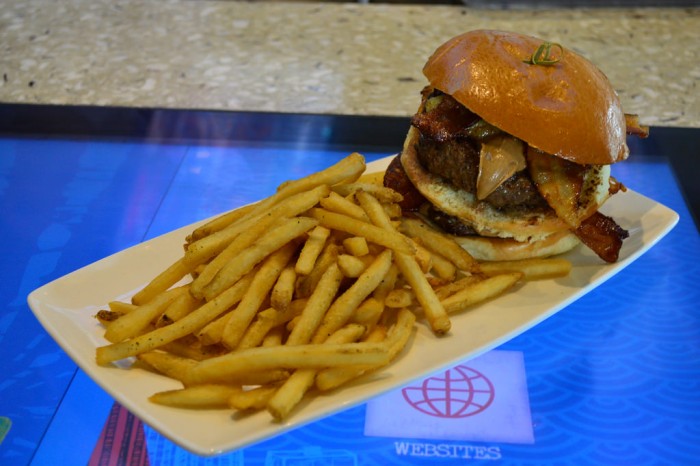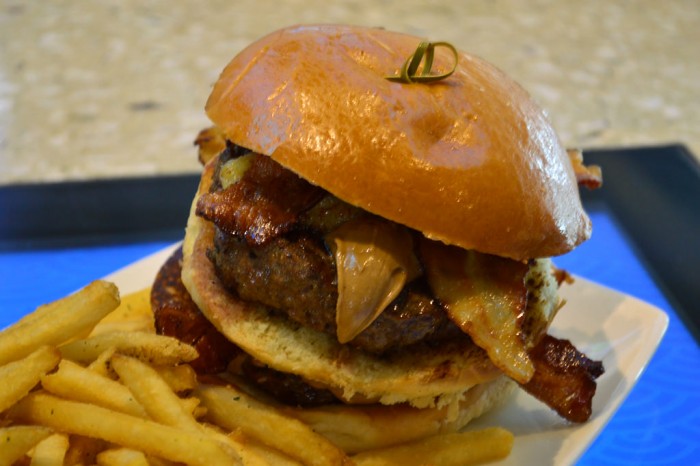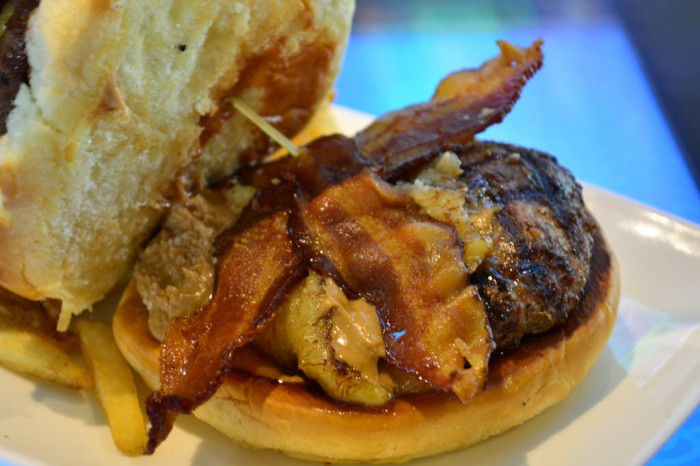 While currently not on the menu at Margaritaville, one of my all time favorite burgers at Universal was their Volcano Burger, where they essentially just poured a whole bag of Fritos on top of a burger. That's the type of passion I like to see inside a kitchen.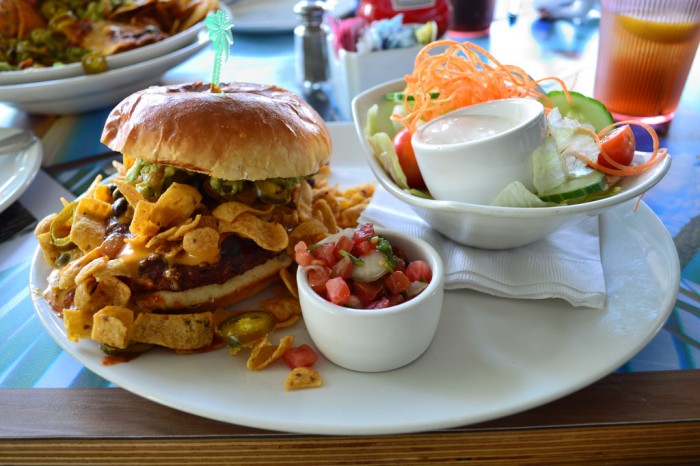 # 3 – Candy With Bugs in it
One of the oddest things I find about the Universal parks is the almost unlimited availability of being able to purchase candy that has real bugs and insects inside! I mean, that's weird, right?
You may have a hard time tracking down a Kit Kat or Snickers bar inside Islands of Adventure or Universal Studios Florida, but if you want a strawberry flavored lollipop that has a bug inside of it? Head to Jurassic Park. Need a piece of orange flavored candy with edible worms in it? Walk on over to Revenge of the Mummy's gift shop. Got a taste for crickets? Well not only does the MEN IN BLACK Alien Attack store sell toy "cricket" guns themed to the movie, but they also sell candy with actual crickets inside them.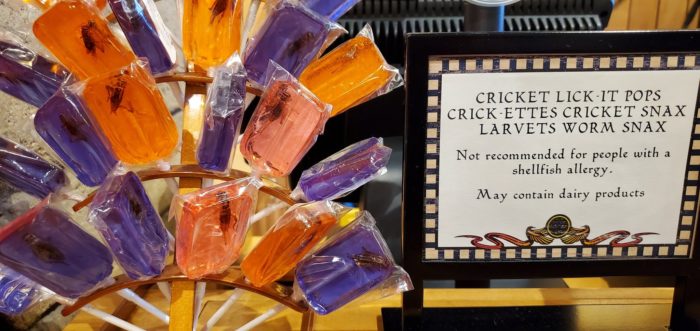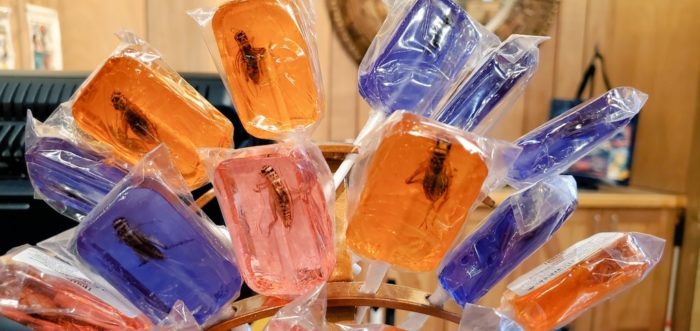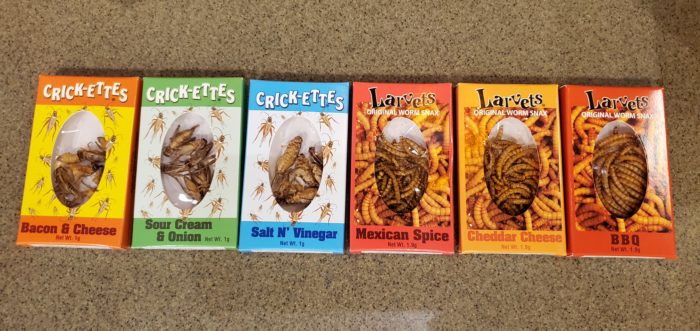 For research purposes, a while back we bought a banana flavored lollipop that had a scorpion in it. Of the six people in our party, three would not even try this, despite the scorpion being buried deep into the candy. Once the scorpion started to emerge, only two of us were brave enough to "sample" it. To be honest, because it has been encased in banana candy it tasted just like banana. To be even more honest, I have never swallowed anything so fast in my life. For whatever reason, scorpion lollipops are not available in the parks anymore. I imagine because crickets are more Keto diet friendly.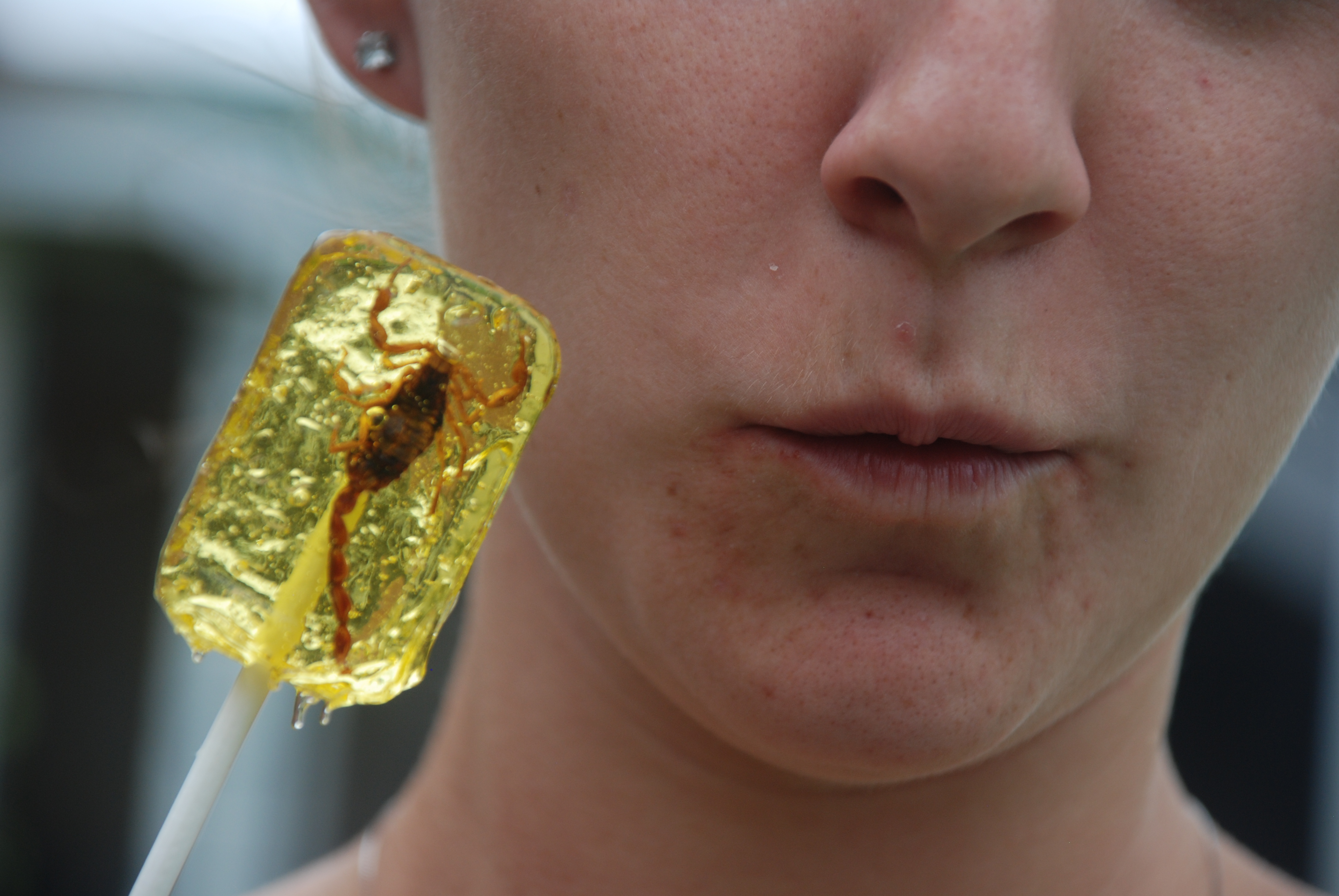 # 2 – Shipwrecked Loaded Nachos at the Bula Bar & Grille (Royal Pacific Resort)
A regular order of the Shipwrecked Loaded Nachos contains a gigantic plate of nachos with black beans, cheddar cheese sauce, sour cream, pico de gallo, guacamole, jalapeno, scallions and seasoned beef or chicken.  Definitely the best plate of nachos I have ever had. What really takes this experience over the top is half way through eating them, when all the toppings have started to become absorbed into the chips themselves. So good.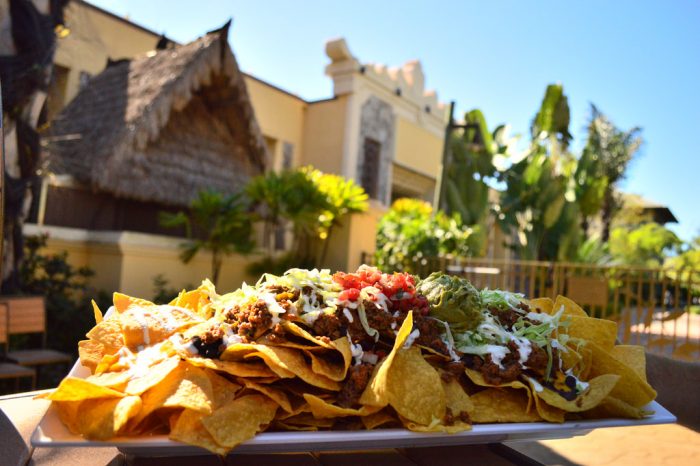 What makes the Shipwrecked Loaded Nachos an Outrageous Eat? You have to keep in mind that this is an item served at the Loews Royal Pacific Resort's pool bar. This is going so far above and beyond it should win a TEA award for theme park excellence.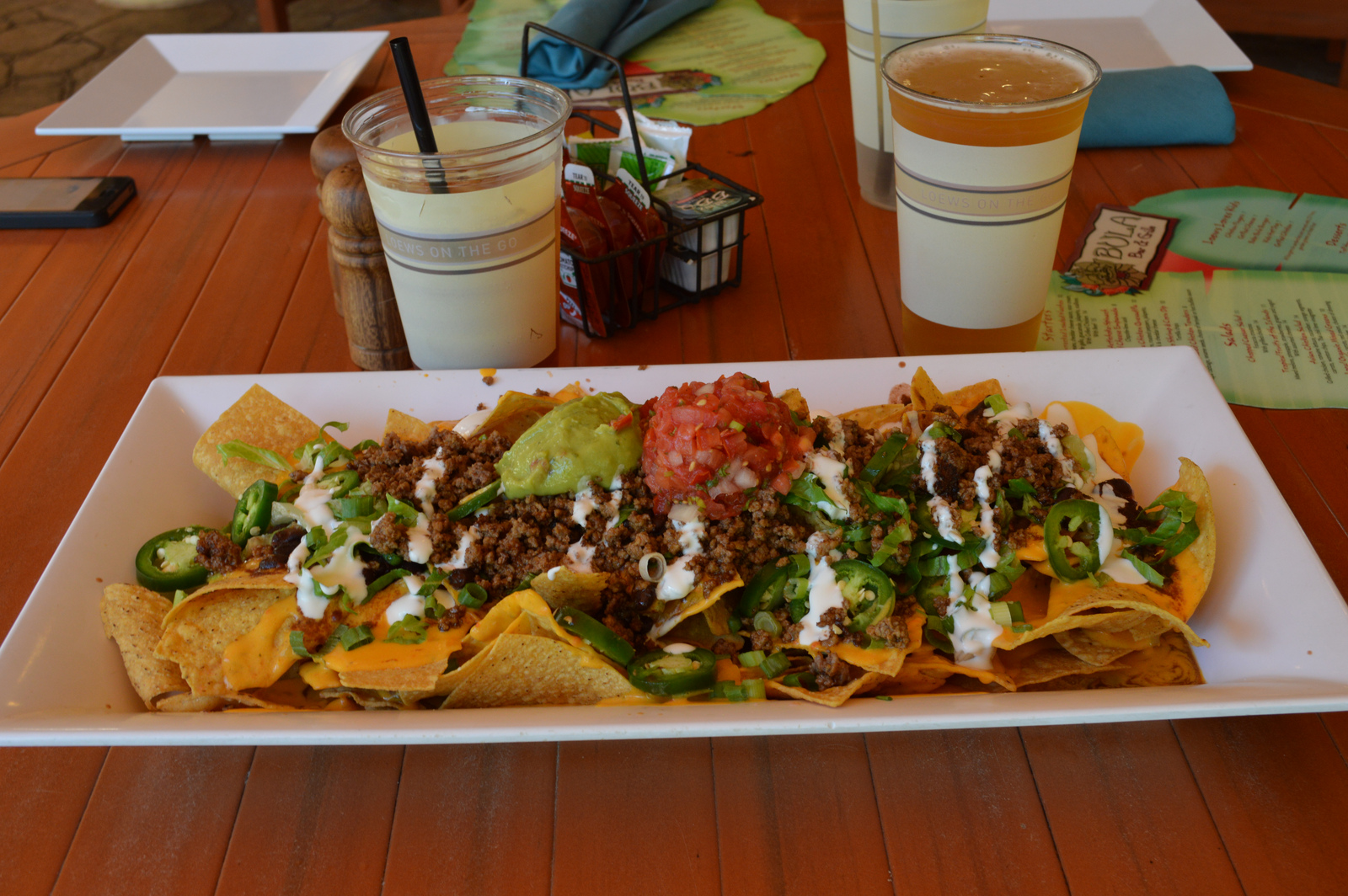 When spending a day at the Royal Pacific Resort's pool, servers will come around to take your drink or food order. The nachos are always a gigantic hit, as they can be shared by several people and come in at under $20. One of the best deals in Orlando in my book. Seeing the nachos being delivered to a guest always draws heads, and shortly thereafter you'll see another platter being delivered to someone nearby.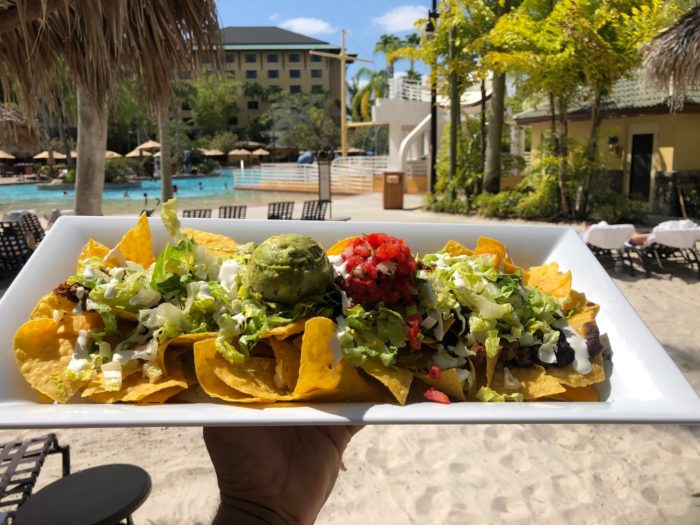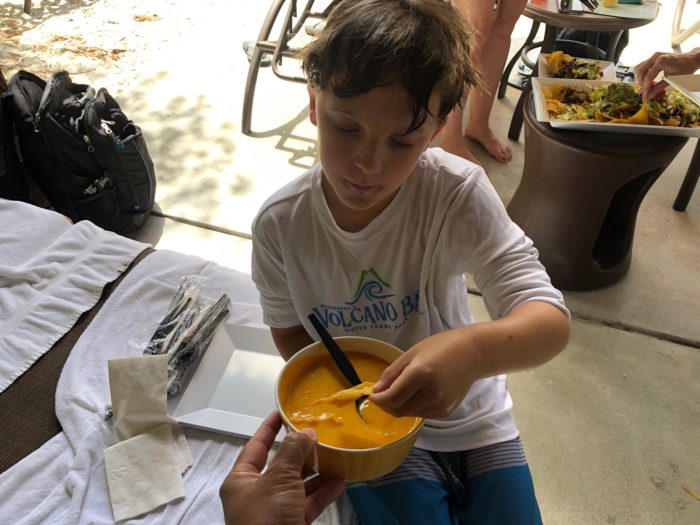 Speaking of pool bar nachos. This was the "Nachos with Cheese" I received at the pool bar at Disney's Contemporary Resort. THAT'S why the Shipwrecked Loaded Nachos made this list.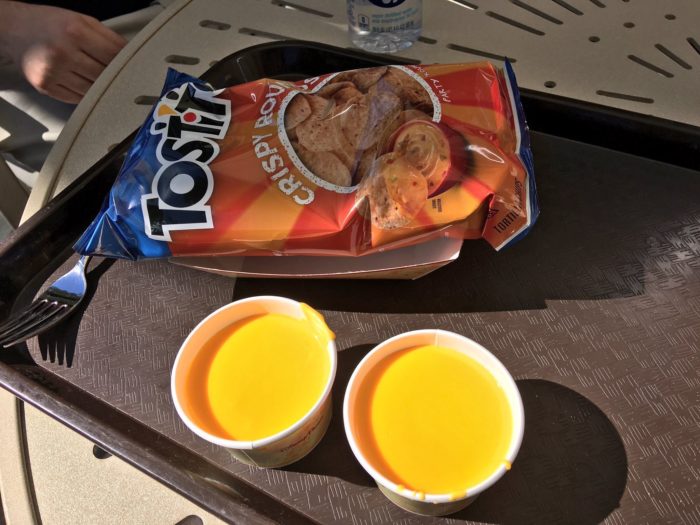 # 1 – Kitchen Sink Cake at The Kitchen (Hard Rock Hotel)
The Kitchen Sink Cake is a three pound slice of cake with seven incredible layers including: brownies, peanut butter crunch, chocolate chunk cookies, cheesecake, pecan pie, devil's food cake, vanilla chiffon cake, all covered in chocolate buttercream frosting, chocolate chips, chocolate sauce, and heath bar crunch. It is served with vanilla bean ice cream, fresh strawberries and various pieces of artistic chocolate decoration on the side. This slice of cake is truly a marvel of American ingenuity.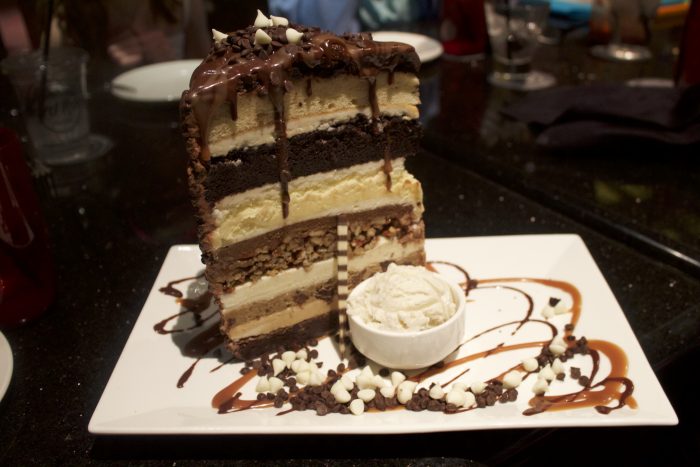 The Kitchen Sink Cake is part of the Kitchen Sink Challenge. Guests can attempt to eat the Kitchen burger, a side of fries, a fried pickle, AND an entire slice of the Kitchen Sink Cake within 30 minutes. If you accomplish this Herculean feat, the food is on the house. If you come up short, you pay for the meal. Let the record show that the Kitchen Sink Challenge is the only competitive food challenge which has defeated me (twice!) I have eaten a 28″ pizza in less than an hour (did it in less than 30 minutes). Finished an ice cream sundae which had 35 scoops of ice cream. No problem. The Kitchen Sink Challenge? Humbly defeated. I will try again though… THIS I VOW!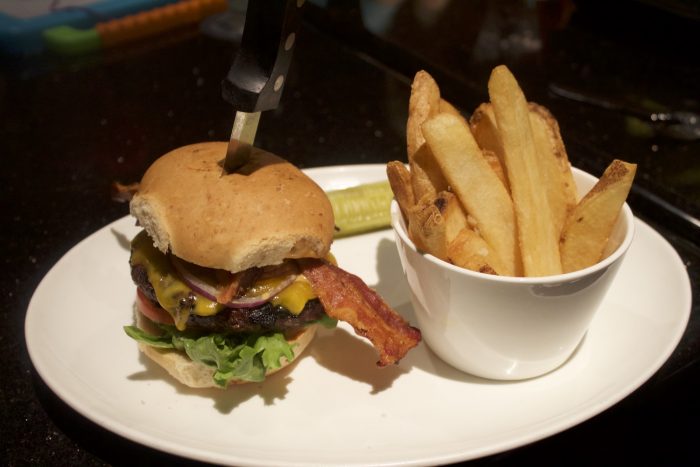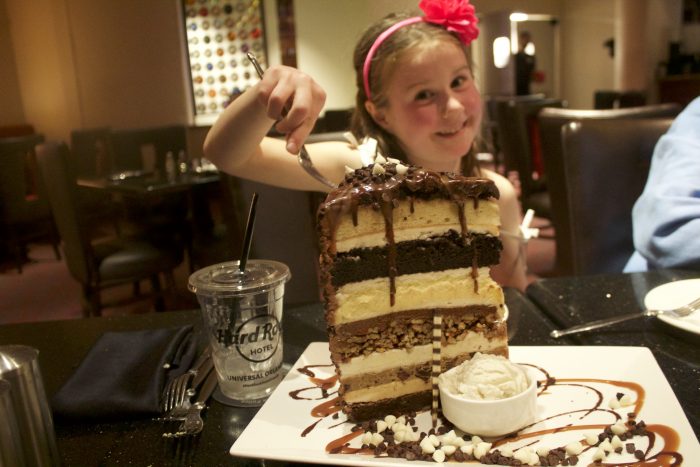 Another slice of cake that dared try to take the crown away from the Kitchen Sink was served in CityWalk at NBC Grill & Brew. The Banana Cake was definitely impressive, but possibly too healthy for its own good and tasted nowhere near as good as the Kitchen Sink. Definitely a valiant effort, but when you come at the king you best not miss, and the Banana Cake was removed from the menu.
Item That SHOULD BE Outrageous (But Really Isn't) – The Dagwood at Blondie's (Islands of Adventure)
This over the top concoction sounds better than it actually tastes. However, it is impressive to see in person. The entire theme of Blondie's restaurant is based around the Dagwood, with references to the sandwich both outside and throughout the entire of the establishment. The Dagwood consists of fresh baked Onion and Poppy Seed Bread piled high with baked ham, Turkey, Roasted Chicken, Swiss and American cheese, topped with tomatoes, Mayo, and Mustard.
As crazy as that sandwich is, as a person who grew up reading the comic strip Blondie and seeing the Dagwood sandwich referenced, I actually expected more.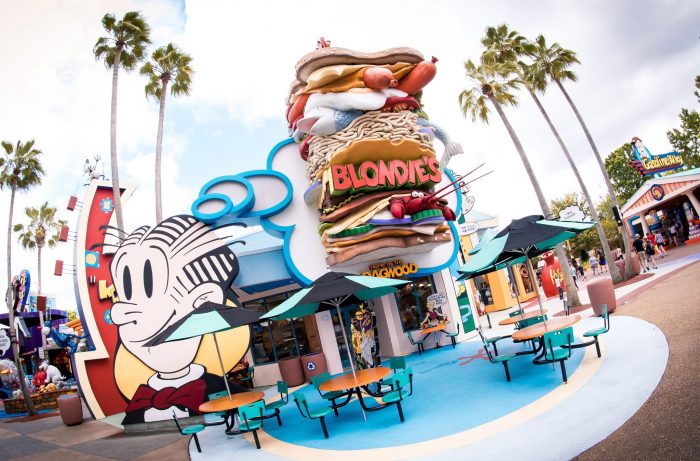 The entire theme of Blondie's is the outrageousness of a "Dagwood." It's everywhere you look.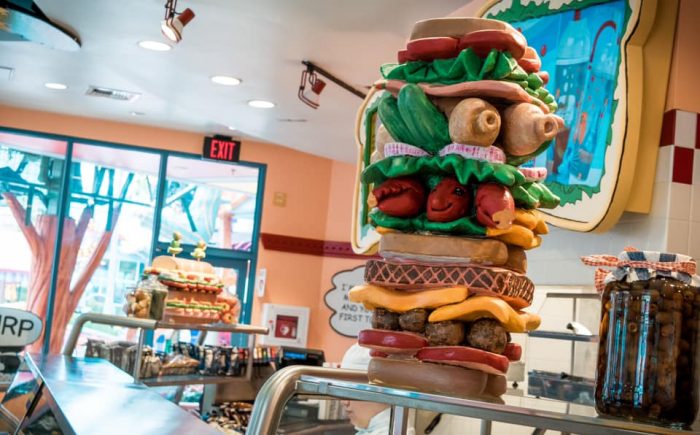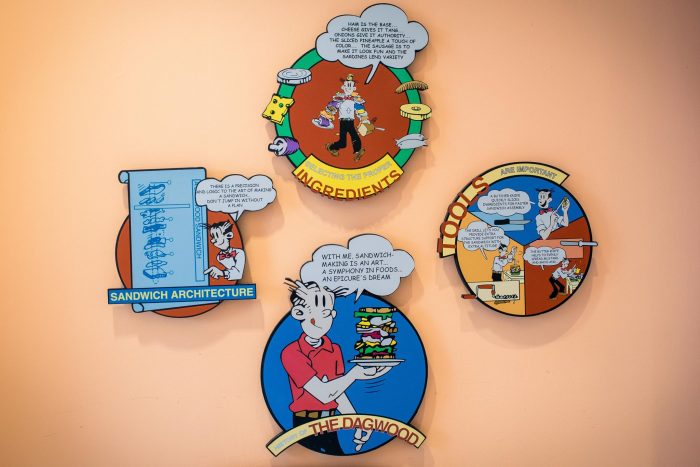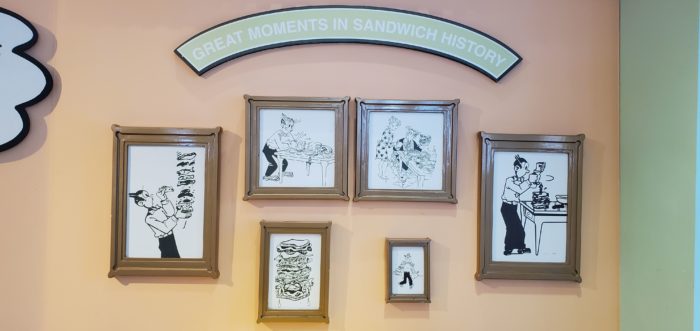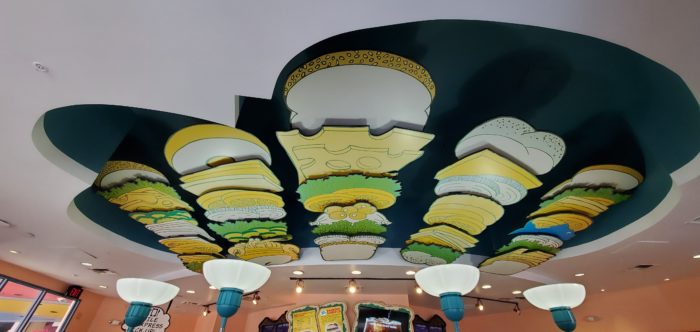 The Dagwood itself is just a really good sandwich. Very similar to what you would get at a Publix deli.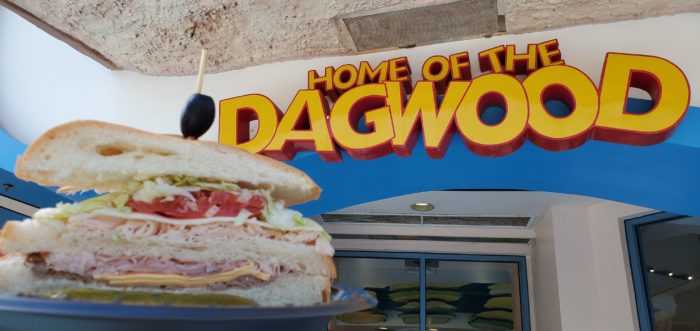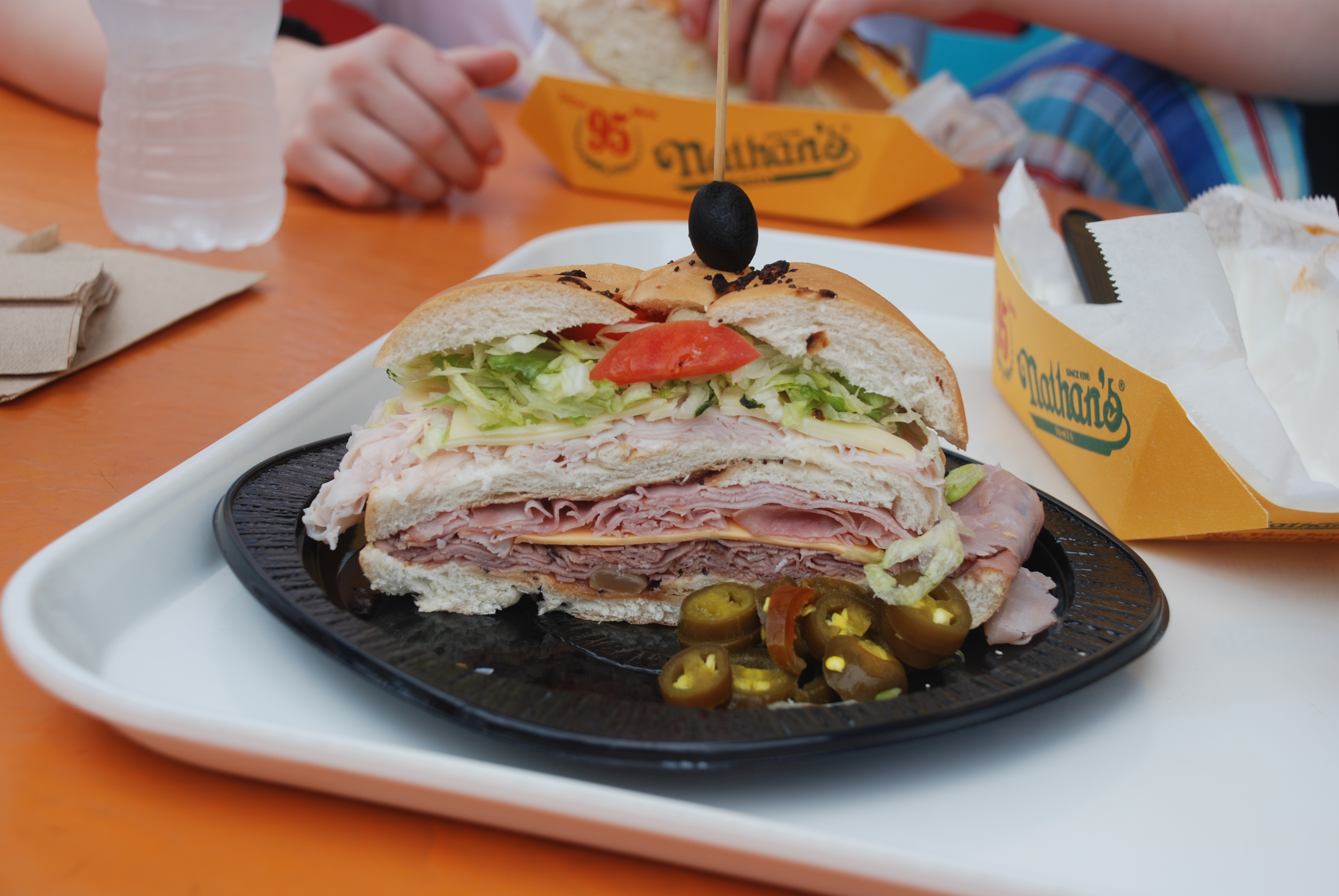 Official Universal Orlando Outrageous Eats Hall of Fame
Entrant 1) Voodoo Doughnut Burger
By now you know that Extreme Eats at the theme parks are what you would call our raison d'être. Oh, there's a hot dog served inside a baked potato at the Grand Floridian? I'm there. A Pop-Tart Sandwich at Pop Century that uses egg shaped like a hockey puck? On it. Animal Kingdom Poop Snacks? Feet don't fail me now!
So when we saw that Universal was selling a Doughnut Burger in CityWalk, my eyes bulged out of my head like Jim Carrey in The Mask.
Then came the kicker.
The doughnuts that were being used for the "buns" weren't just regular doughnuts, they were our beloved VOODOO DOUGHNUT.
It's strange enough that burgers are not made to order, and are actually pre-made. You would think that would make them taste horrible, but it was actually really good! The glazed doughnut gave almost a maple syrup like flavor to the overall burger. RIP to a "real one," as the Voodoo Doughnut Burger will live in our hearts and our minds forever, but especially our heart (at least that's what the cardiologist rudely said).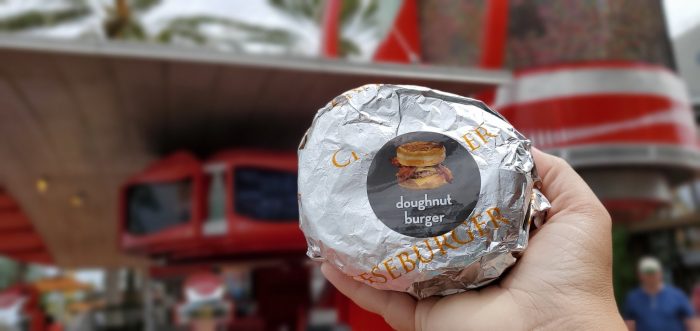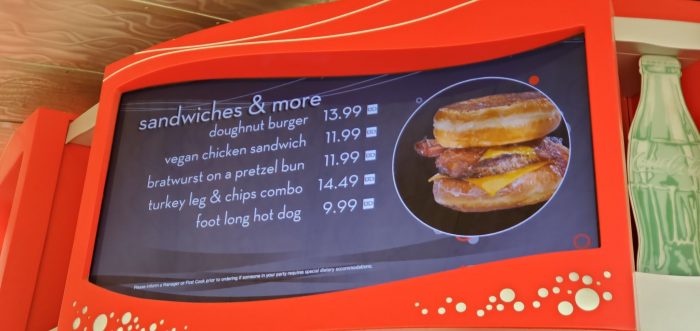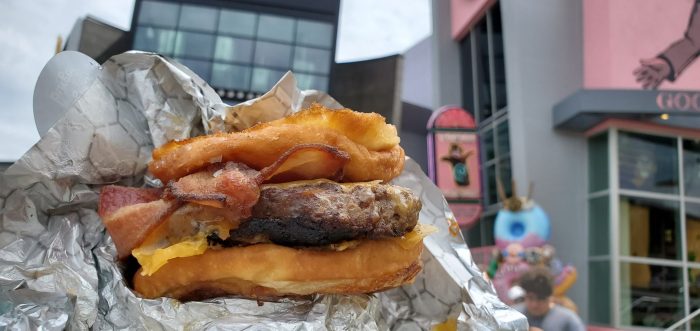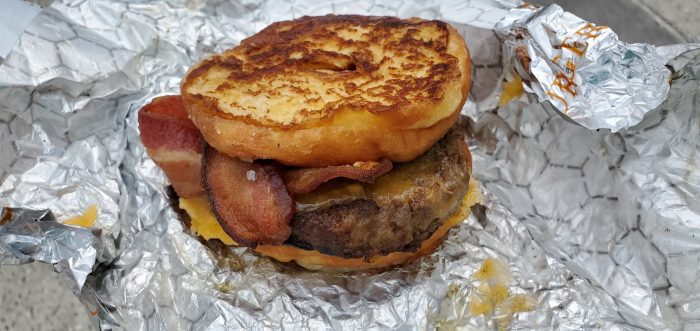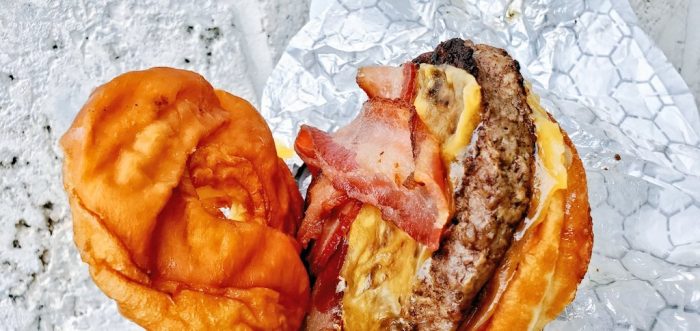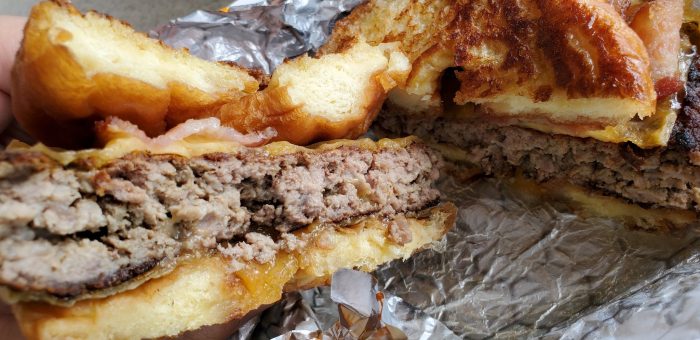 Entrant 2) Chocolate Hurricane at Margarittaville (CityWalk)
We've always said there aren't enough desserts served on Lazy Susans, and thankfully our friends at Margaritaville  fixed that problem. Here's the menu description: "Everything the name implies. Vanilla bean ice cream served with brownies, Kit Kat and Heath bars, pirouette and mini shortbread cookies, sliced banana, whipped cream and chopped macadamia nuts. Swirled tableside with chocolate and caramel sauces." The swirled tableside refers to the fact that you can spin the plate on the Lazy Susan and drizzle toppings to your heart's content. Theme parks are always trying to be more "interactive" and this is the best solution we've seen yet. And while they're at it, why not stick Kit Kats on top of more desserts!!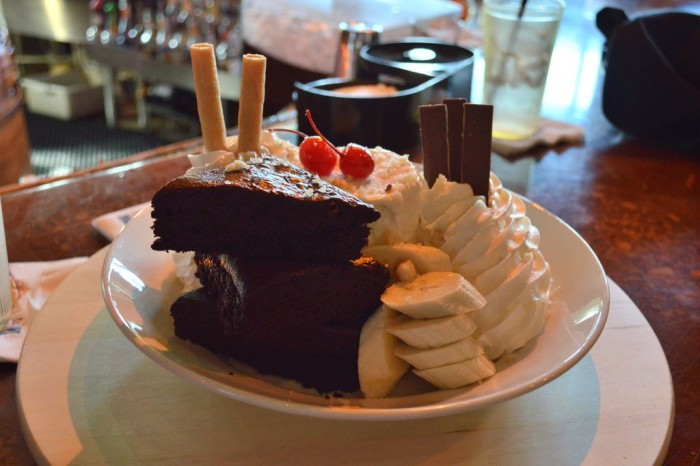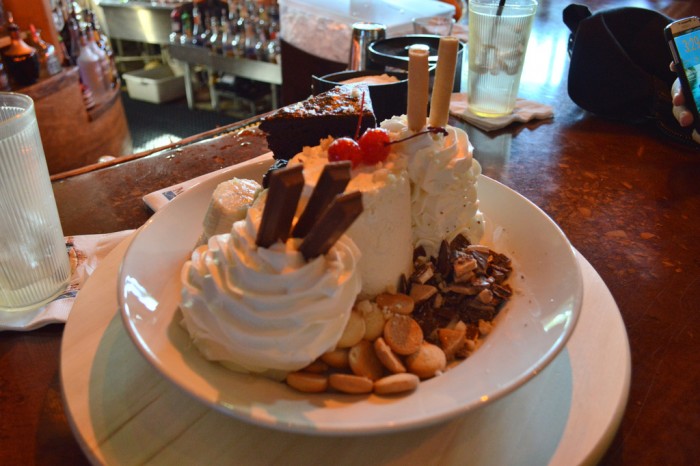 Entrant 3) Pizza Dog
For  the fabled Halloween Horror Nights 25, Universal debuted a food item scarier than any haunted house ever created with the Pizza Dog. For some backstory, that summer Pizza Hut introduced a pizza with a crust made up of mini-hotdogs. Served with French's mustard, this was the first pizza that ever made the SATURDAY SIX staff long for the culinary masterpieces served at the BoardWalk Pizza Window.
Like the movie Jurassic Park, Universal took the inevitable next step and used a whole hot dog inside the crust. This was better than Pizza Hut's version, but better in the way that the original Transformers film is easier to follow than the Transformers sequels. This is damning it with the faintest of all praise.
Final results: Hot dogs? Good. Pizza? Good. Hot dogs mixed with pizza? Not good.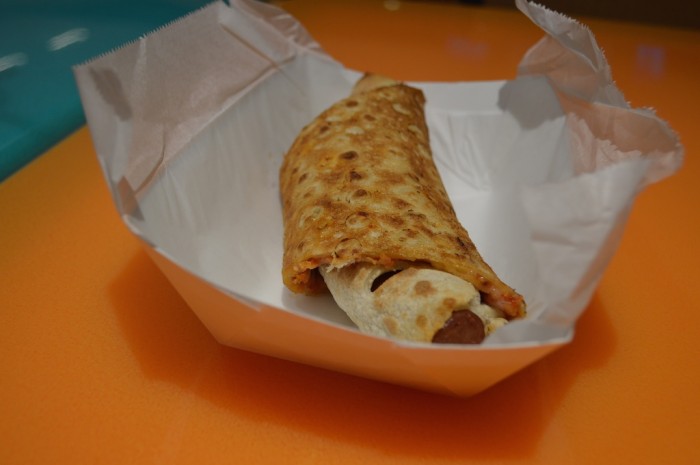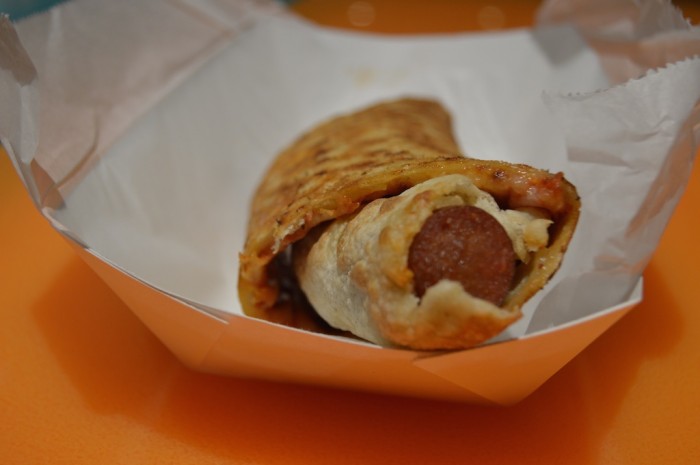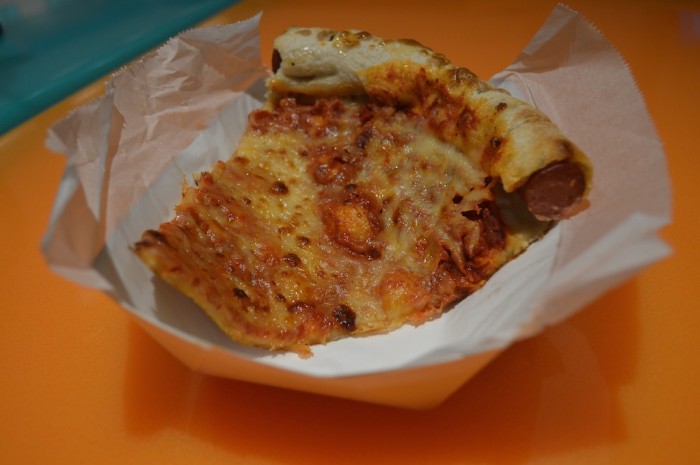 So there you have it: Six OUTRAGEOUS EATS at the Universal Orlando Resort! See you next weekend for the latest installment of the SATURDAY SIX, where we'll look at something fun from the world of Disney and Universal. You can also follow Your Humble Author on Twitter (@derekburgan).
If you enjoyed this article, you will surely like the following: 
SATURDAY SIX Presents: The Disney Food Hall of Shame
Six Times The Simpsons Totally Nailed Being a Theme Park Fan
Six MORE Times The Simpsons Referenced Disney and Universal
Special Thanks to The Elite Brandon Glover, Digital Maestro Scott Walker, the bio-est of all reconstructs @bioreconstruct, Captain Cruiseline Scott Sanders of the world famous Disney Cruise Line Blog, my personal protege Hunter "Elvey" Underwood, artist @SonderQuest, the SAT SIX Fun Squad of Parkscope Joe and "the Dadalorian" Nick, hot shot Michael Carelli, charter member of the Universal Four @Nitro230, and Hermione Granger's tutor Megan Stump for their invaluable assistance with this article. Absolutely no help was added by SeaWorld Influencer @SuperWeenieHtJr. The SAT SIX is inspired each week by goofballs Aengus Mackenzie and LitemAndHyde and you Potterheads will  enjoy Meg's other blog work over at the Central Florida Slug Club.