SATURDAY SIX Looks at BUC-EE'S: The Best Theme Park Gift Shop That's Not In a Theme Park
This week's SATURDAY SIX looks at BUC-EE'S! Each year there are millions of guest flying to Orlando for their Walt Disney World and Universal Orlando Resort vacations, but many others across the country pack up the car and make the drive down to Florida. Over the last several years, Buc-ee's gas station/convenience stores have popped up along all routes on your way to Orlando, with locations in Kentucky, Tennessee, Alabama, South Carolina, Georgia, and the Sunshine State itself.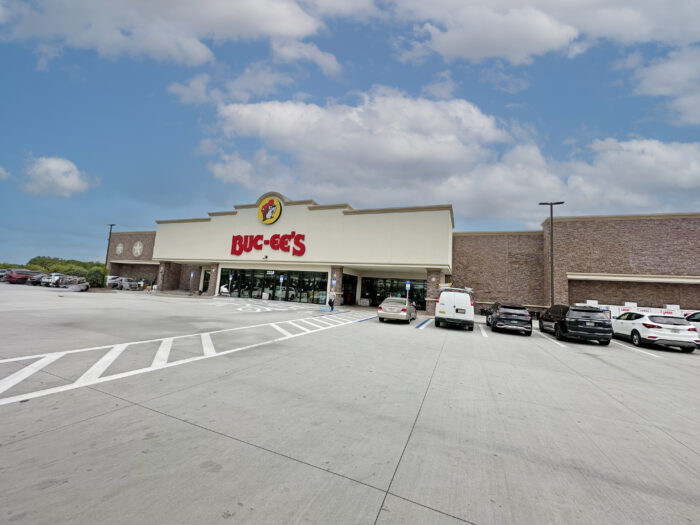 Normally this Fine Blog Series wouldn't pay much attention to a "gas station," but calling Buc-ee's a gas station is like calling Disney's Magic Kingdom an amusement park. Both are better than that and have elevated their medium. As theme park fans, a trip to Buc-ee's is closer to what we experience at the parks rather than gas station competition like Wawa or RaceTrac. Why? Because of things like…
# 6 – Photo-ops
At each Buc-ee's location you will find larger-than-life photo-ops to take pictures with, including a giant bronze beaver outside.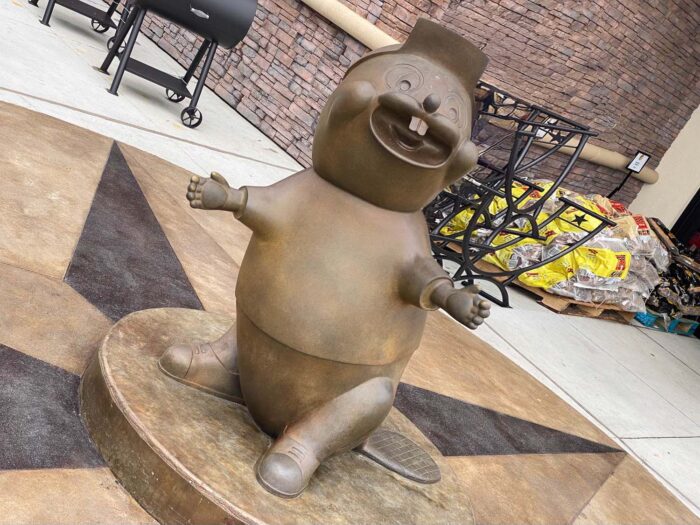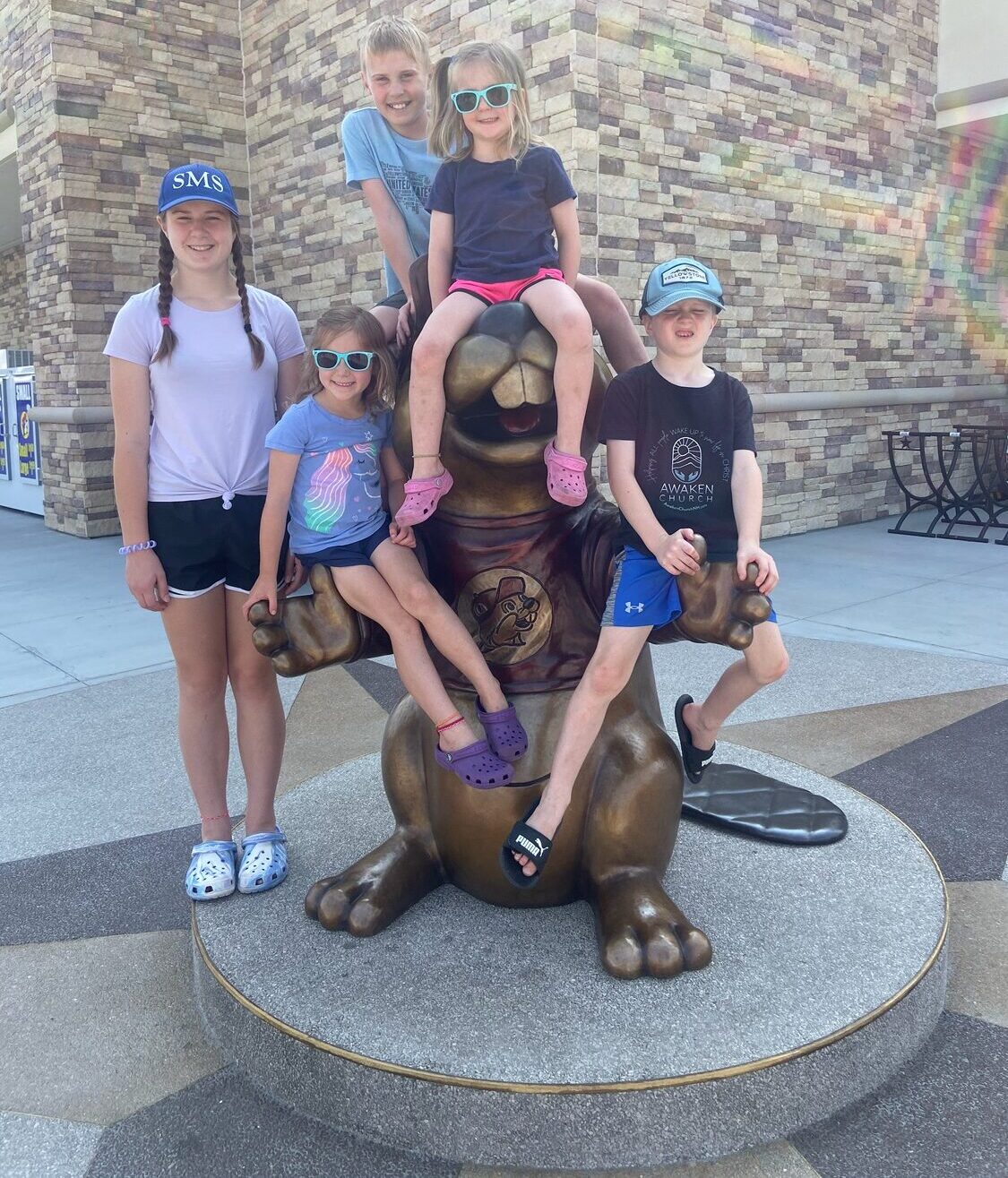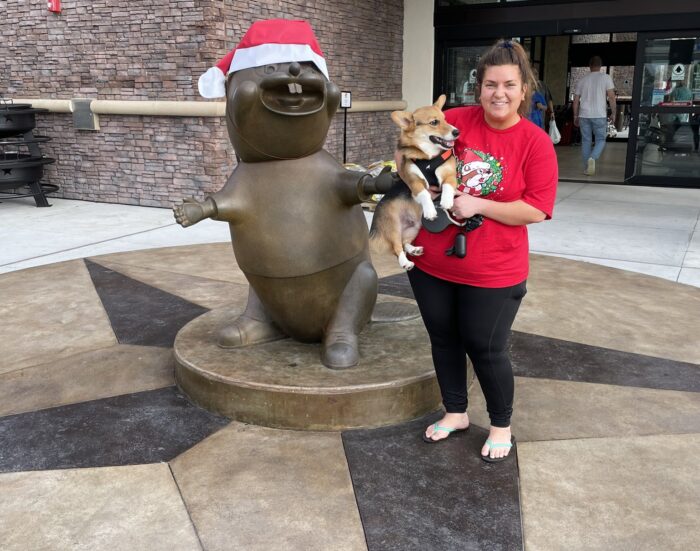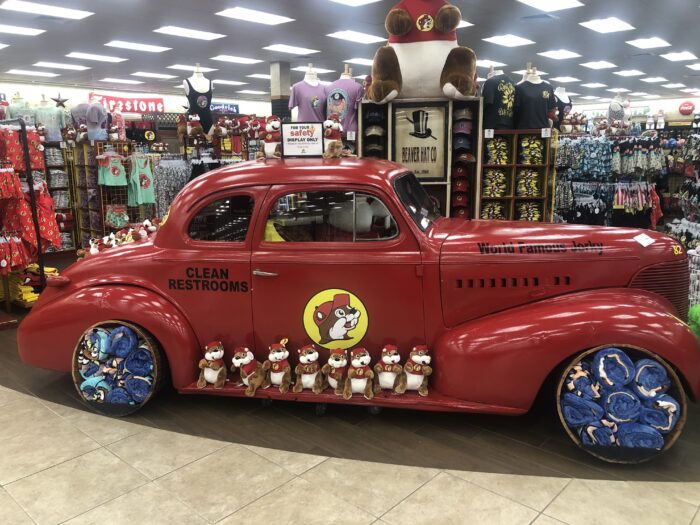 Even better? Buc-ee's has its own walk-around character!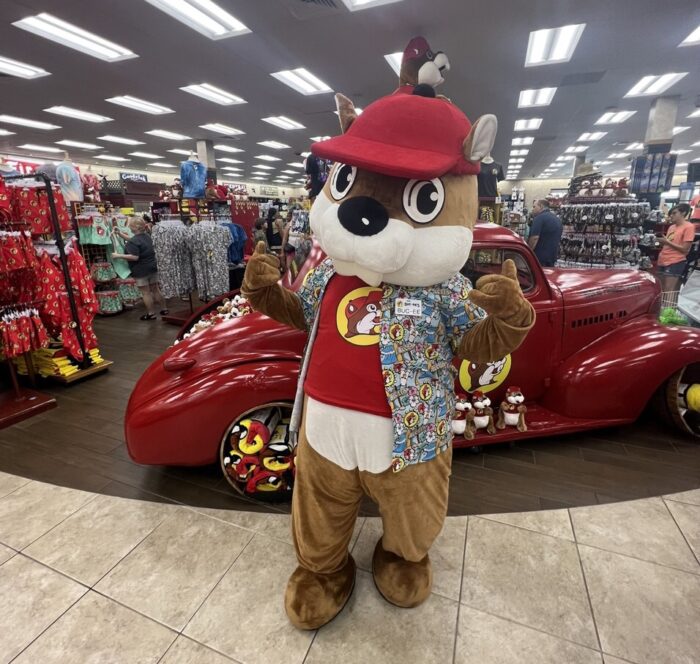 Buc-ee having his own name tag is ::chef's kiss::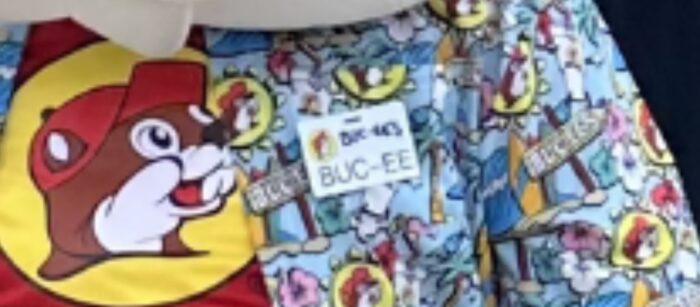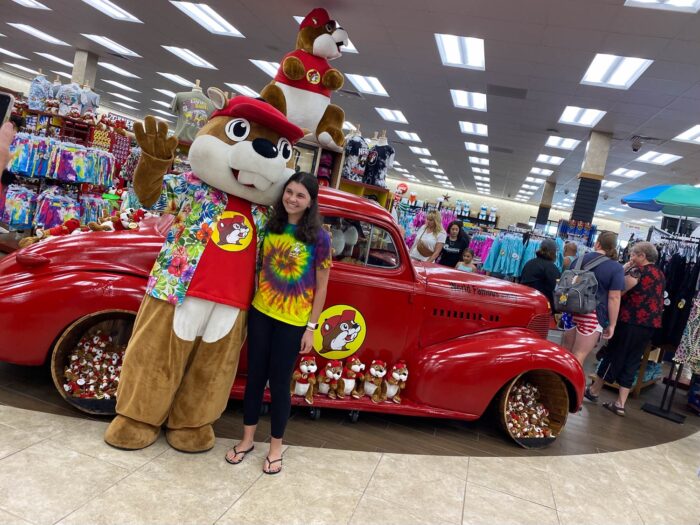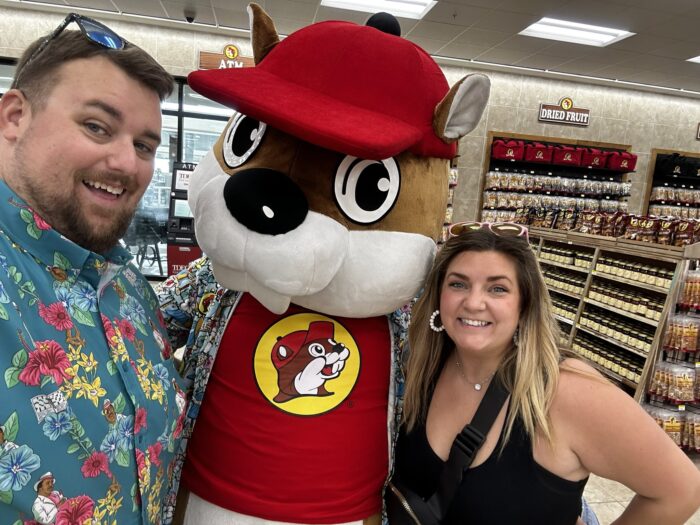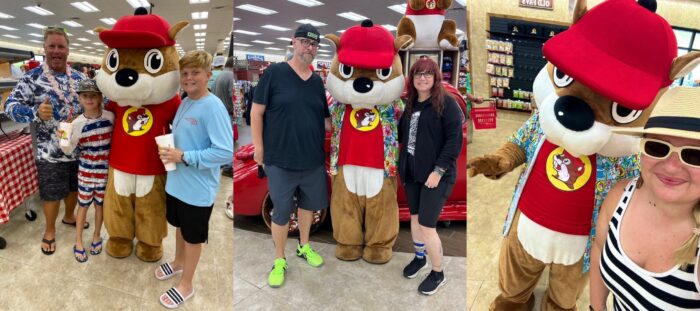 Buc-ee also has a seasonal Christmas outfit…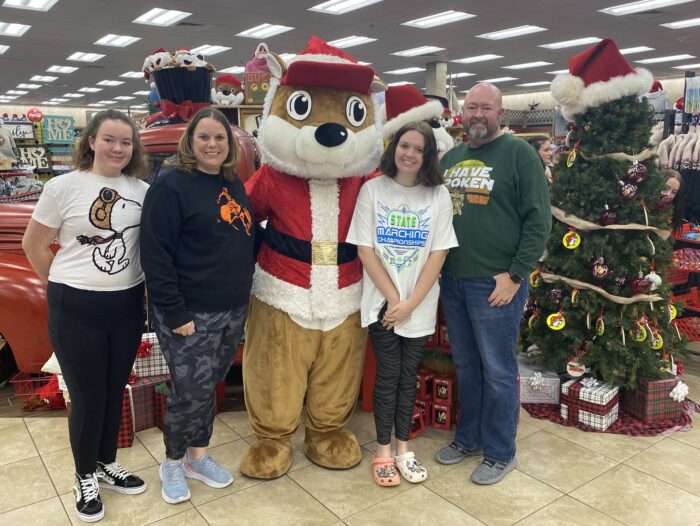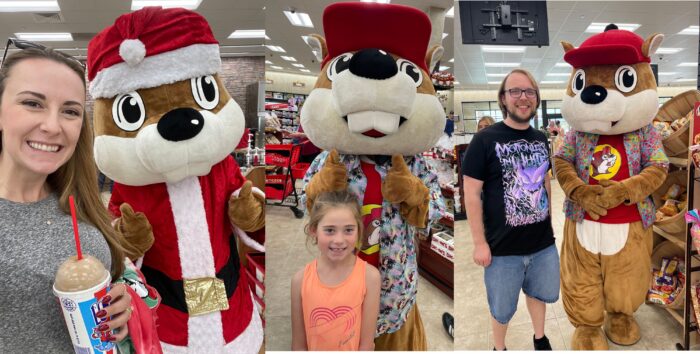 # 5 – Dog Friendly
With Best Friends Pet Hotel at Walt Disney World and many pet-friendly on-site resorts including Universal's Sapphire Falls Resort, Hard Rock Hotel, and Disney's Fort Wilderness Campground, taking "man's best friend' on your theme park vacation has never been easier. Traveling to Disney/Universal with a dog? Well, that's another story. Thankfully Buc-ee's is a fantastic spot not just for humans, but also for dogs as there is plenty of room to walk around, explore, and do their business.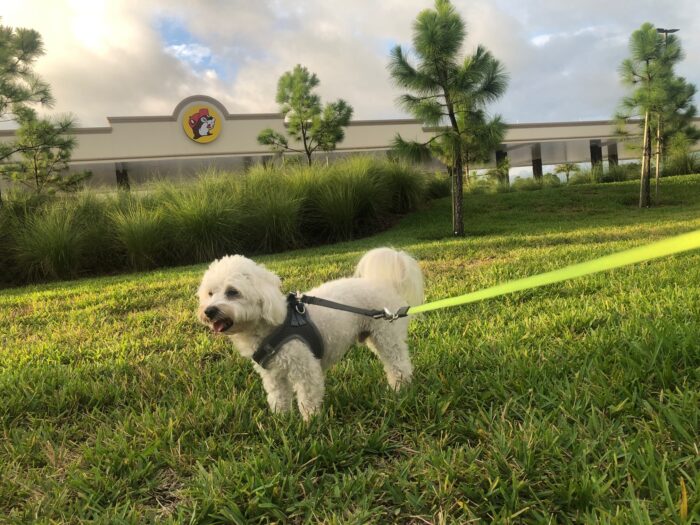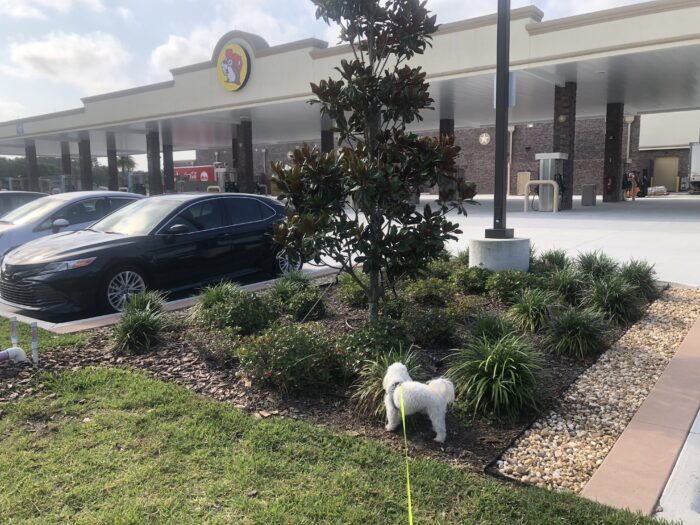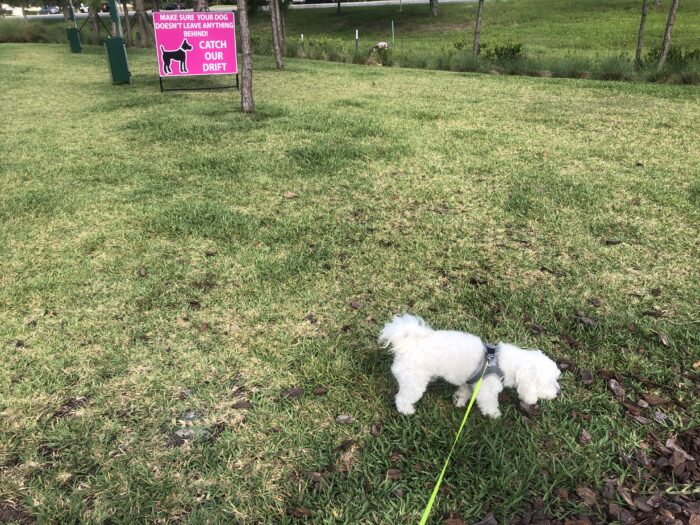 There are PLENTY of pet waste stations at each Buc-ee's…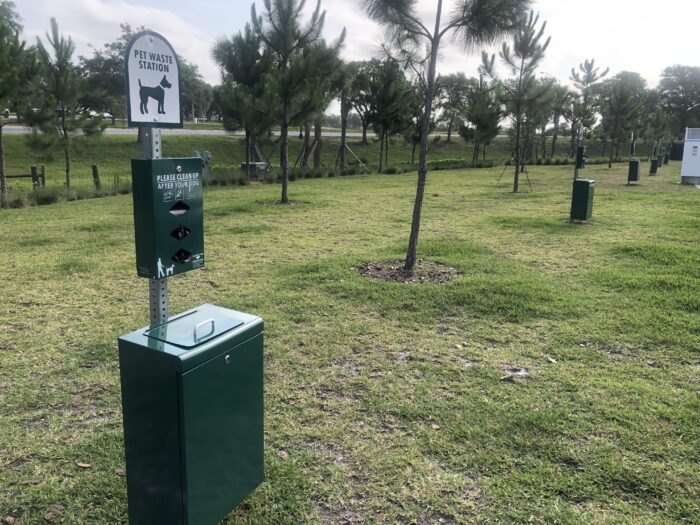 …along with humorous reminders for pet owners to keep the area clean.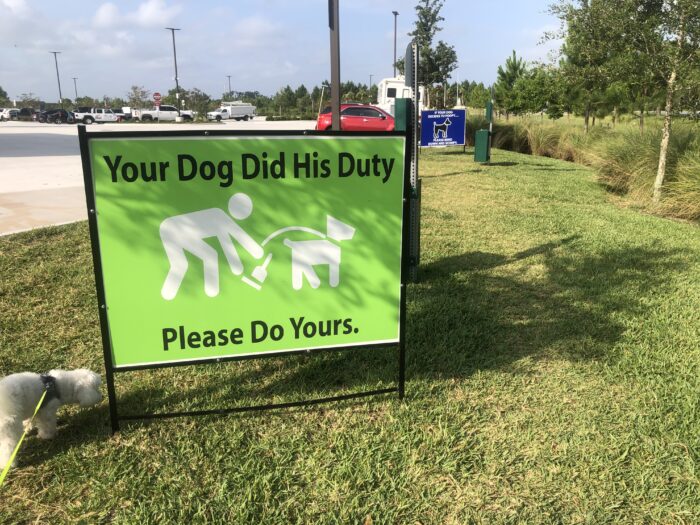 Inside Buc-ee's you will find a wide assortment of toys and products for your favorite pooch, including some great sets of travel dishes.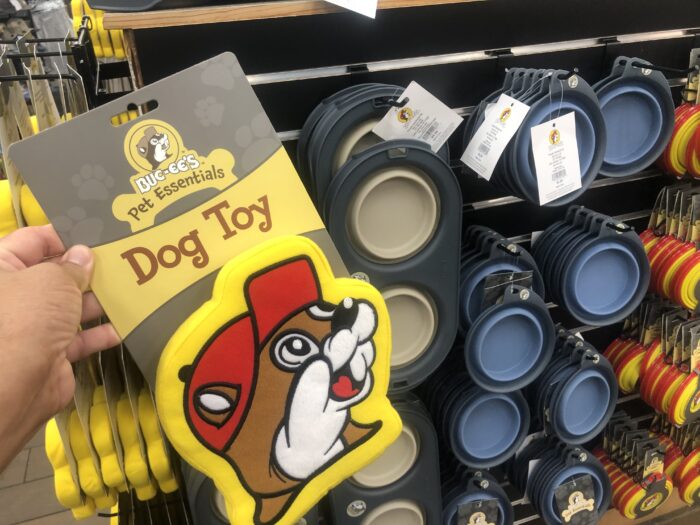 On our next trip to Buc-ee's I'll definitely be picking up one of these retractable dog leashes.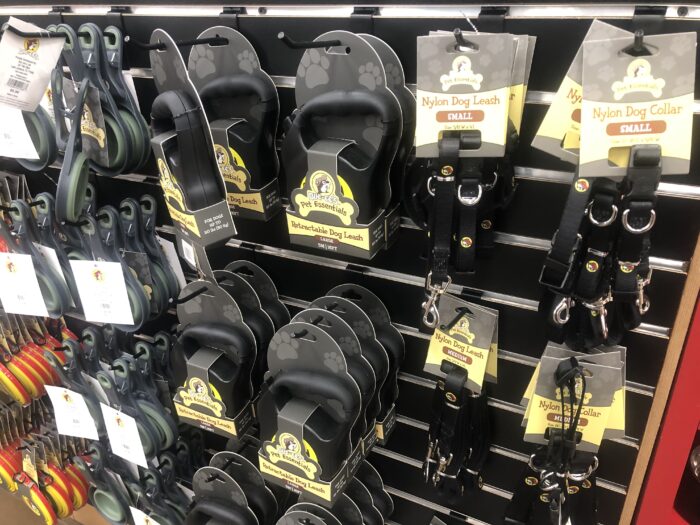 Might be picking up a Buc-ee's shirt for Bacini as well.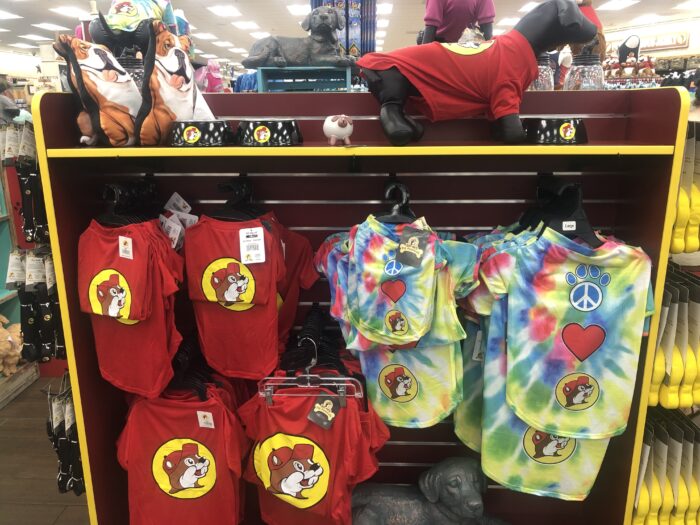 The pictures above are just a sampling of the official Buc-ee's products for pooches, there are also a ton more third party items for dogs available to purchase including these great snacks.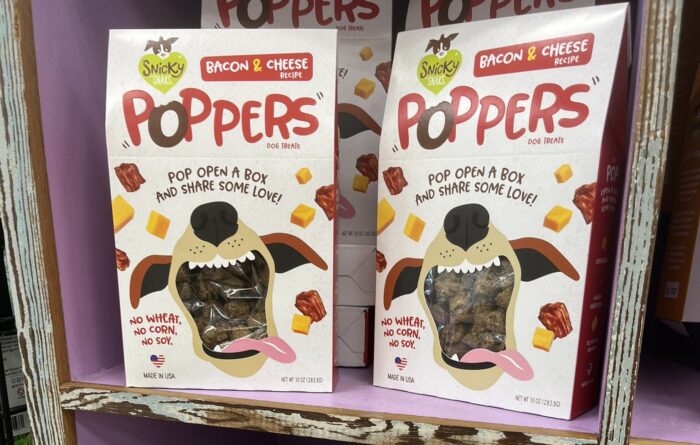 # 4 – Pressed Pennies
I love pressed pennies. Longtime readers know I love pressed pennies. Several Buc-ee's locations – including the two on Florida's East coast (Daytona Beach and St. Augustine) – have a pressed penny machine. What's great is that these machines are the "old school" pressed penny machines that still take two quarters and one penny, but even better is the fact that guests can still hand crank their design onto the penny. That's right, none of this "one dollar for a pressed penny and push a button for your design" nonsense. NAY NAY. Buc-ee's keeps it real.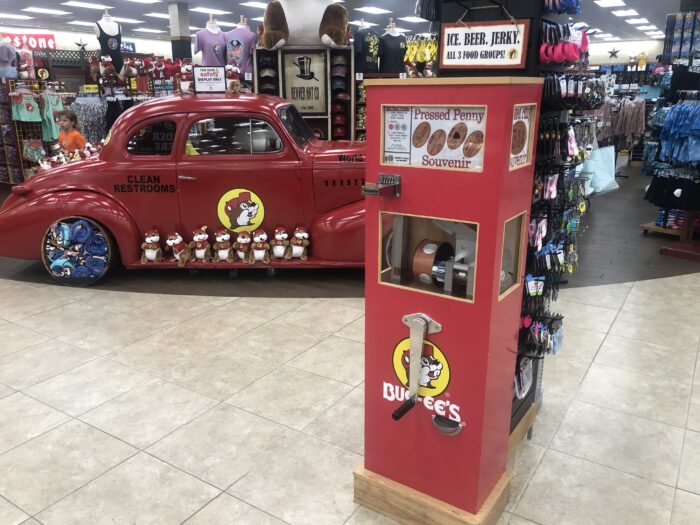 The designs at each Buc-ee's machine are pretty much the same, however the pennies are unique in that they have the individual city also stamped on them. Below are the selections at the Daytona Beach location.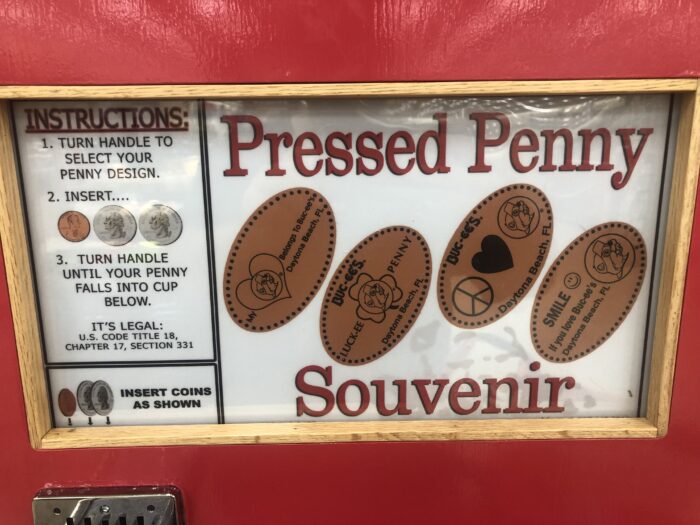 The choices are 1) My Heart Belongs to Buc-ee's 2) a Luck-ee Penny 3) Peace Heart Buc-ee's and 4) Smile if you love Buc-ee's.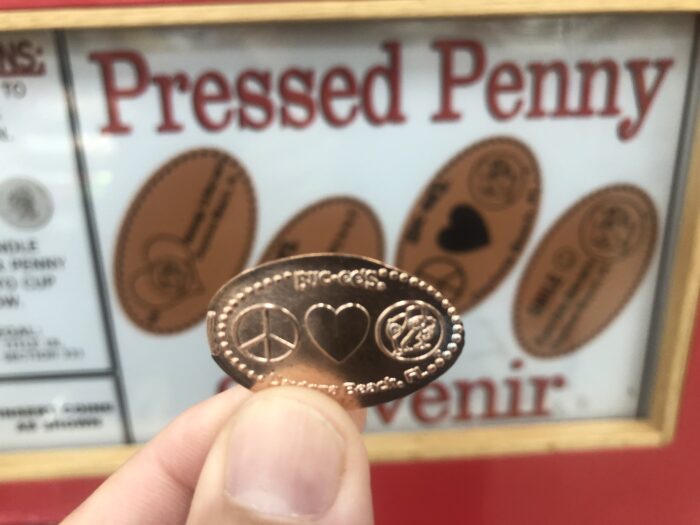 Here is a better look at the detail on the pennies. With almost all the theme parks transitioning to the "new and improved" style of pressed penny machines, it felt so good to use a hand crank style again.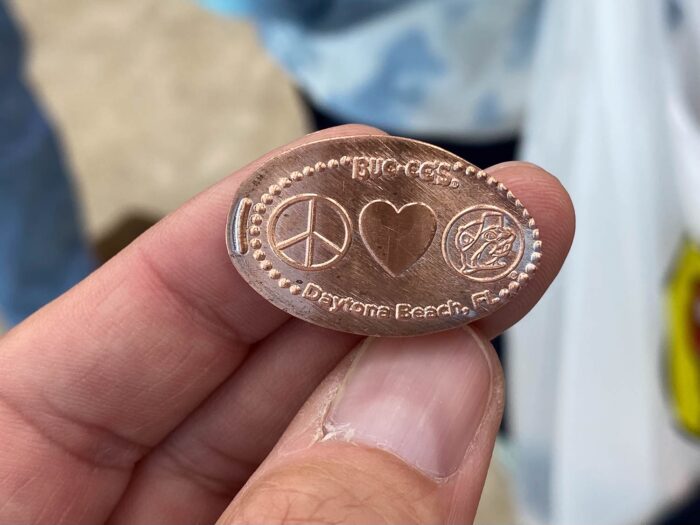 The pressed penny machine in St. Augustine, Florida has the same design choices as Daytona Beach, but each penny also has "St. Augustine, FL" printed on them as well.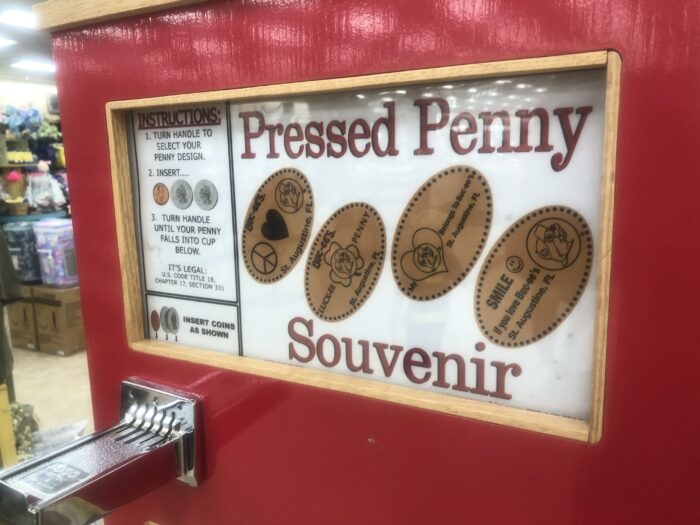 # 3 – The Merchandise
Each Buc-ee's store is massive, and it is pretty evenly split with 1/2 being merchandise and 1/2 being food and drink, but the merchandise options start before you even enter the store. Need to pick up a Buc-ee's branded fire pit? Well, I got good news for you, not only do they have those but pretty much any other item you could want.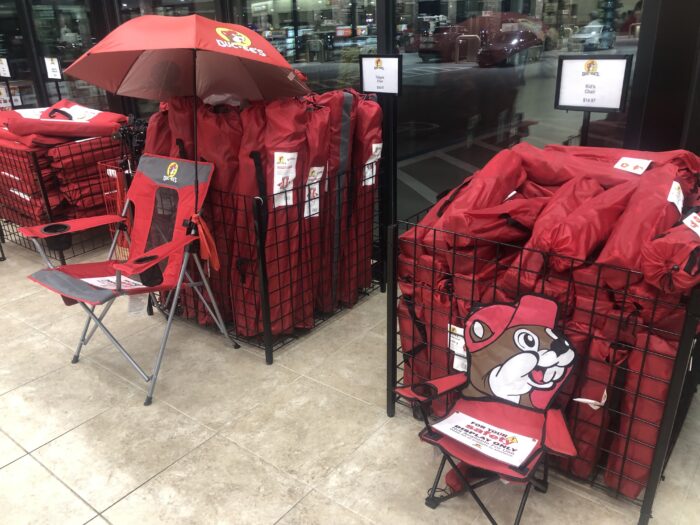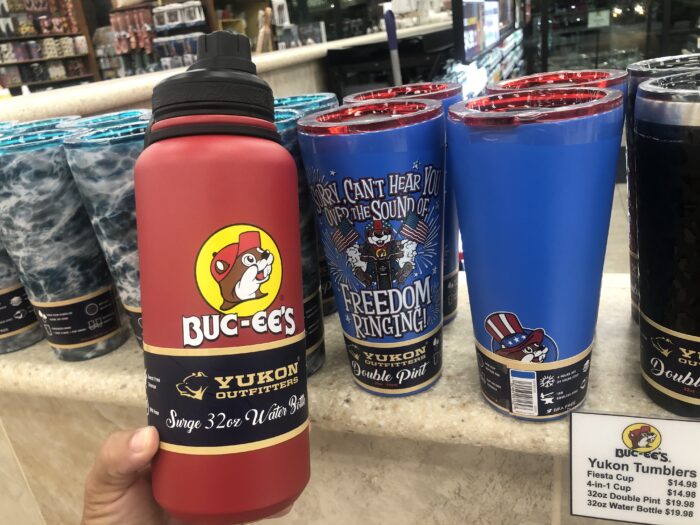 The quality of all Buc-ee's items is top-notch. They may look and feel like items you'd get at Disney and Universal, but they cost half as much.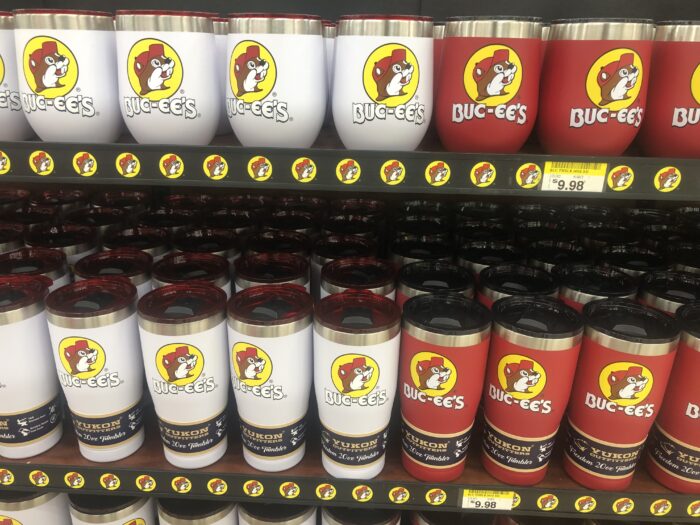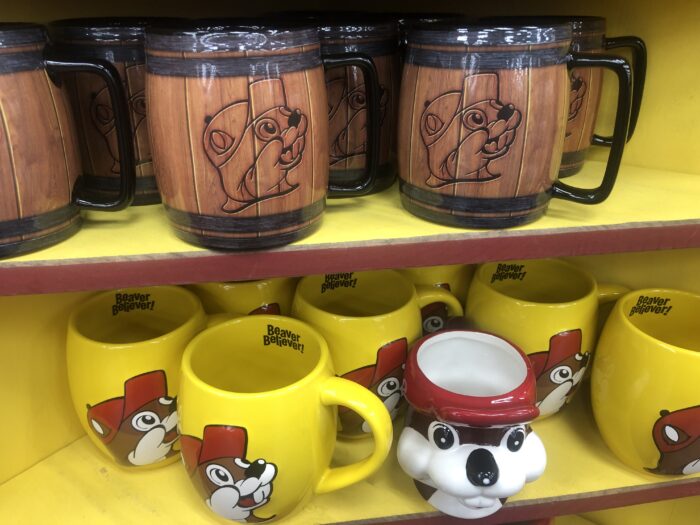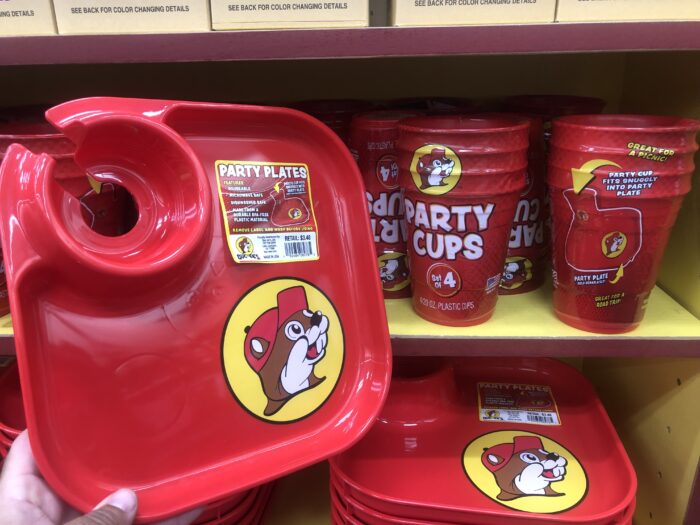 There is Buc-ee's clothing for every situation.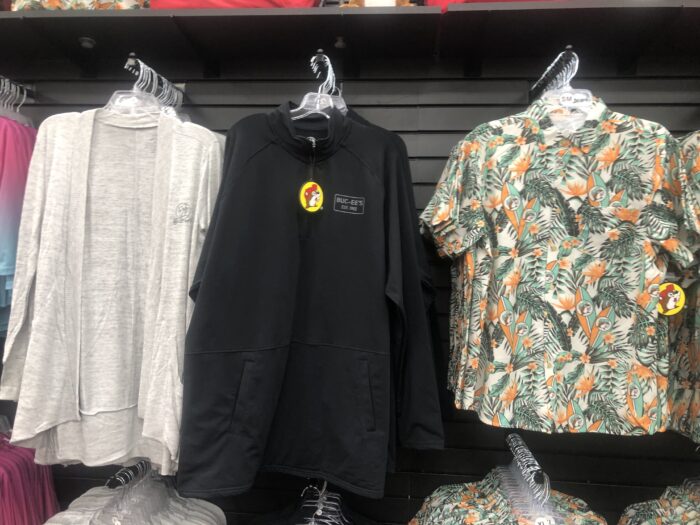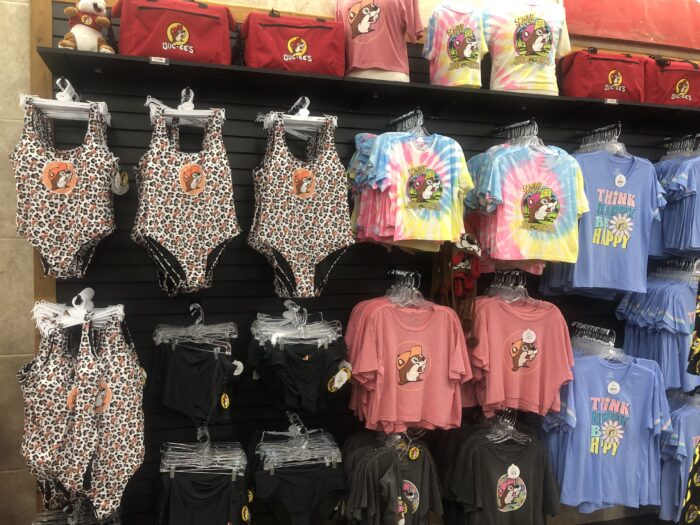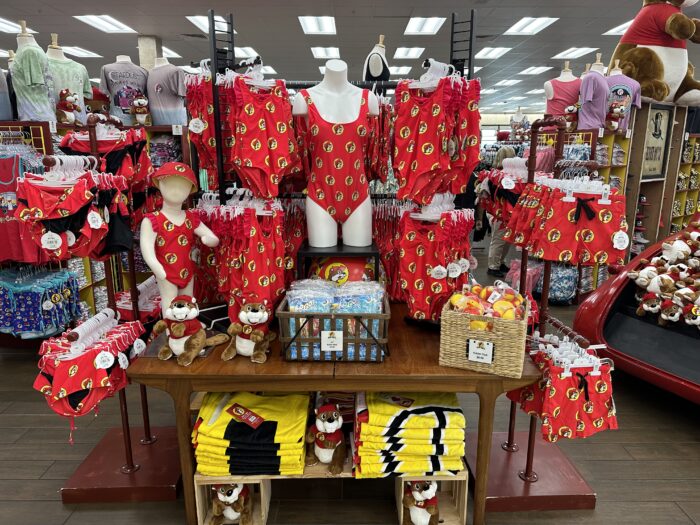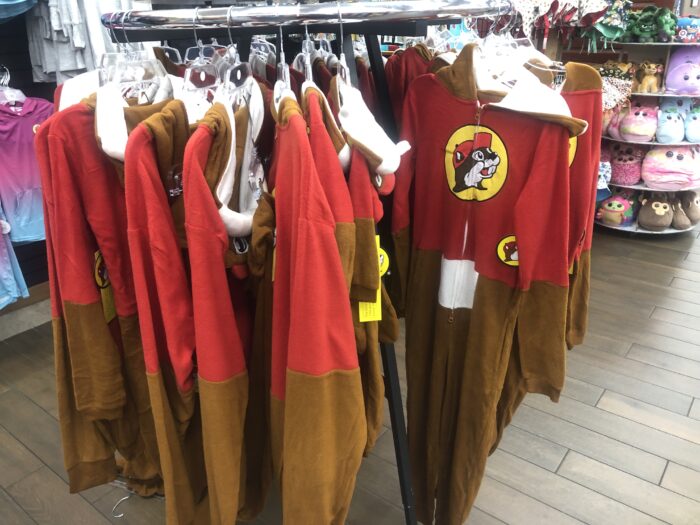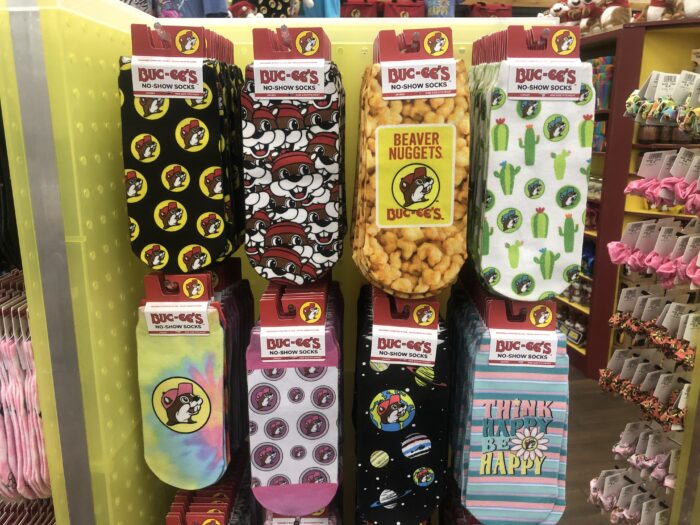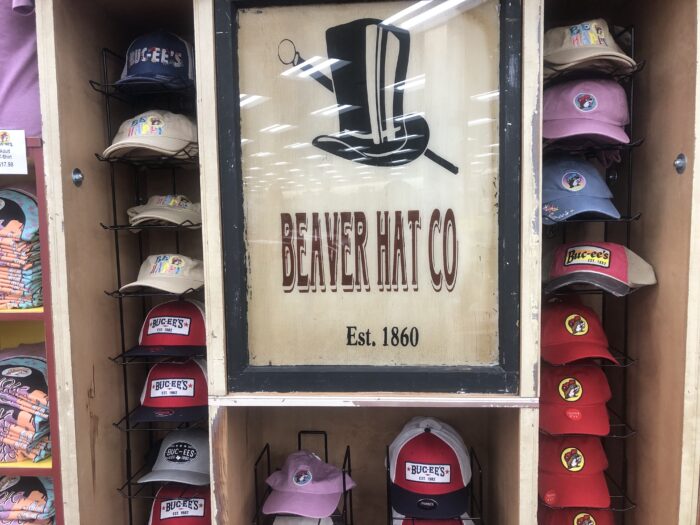 You didn't know you need a Beaver-themed phone holder, did you?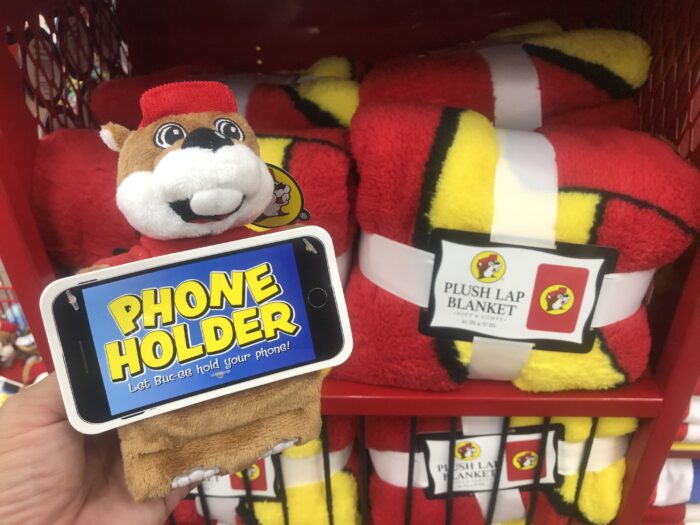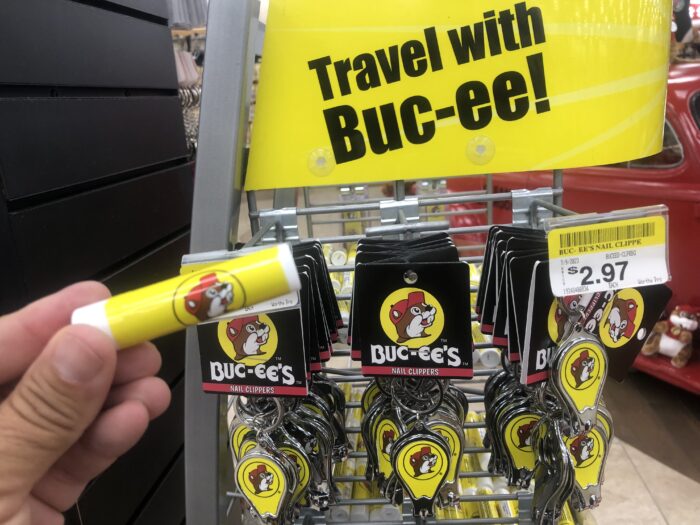 On a recent visit I picked up one of these Buc-ee's silicone "jar opener" gimmicks, and you can also just store it pretty much anywhere like a magnet.
This Color-A-Buc-ee plush included the markers to color it with.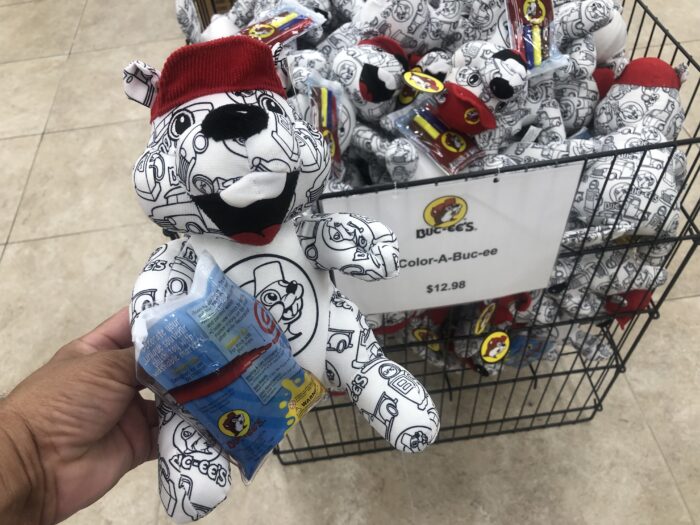 Buc-ee's party supplies. Adding that Buc-ee's wrapping paper to my mental list for our next trip, will be great to wrap Christmas gifts in for the kiddos.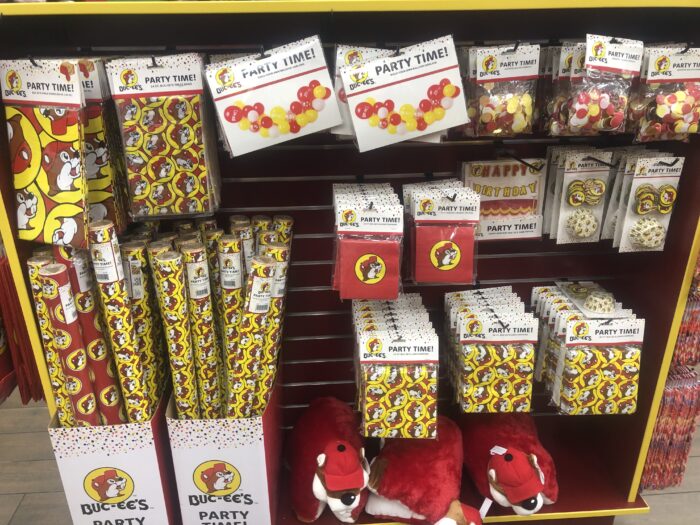 Buc-ee's coloring book, crayons, and plush.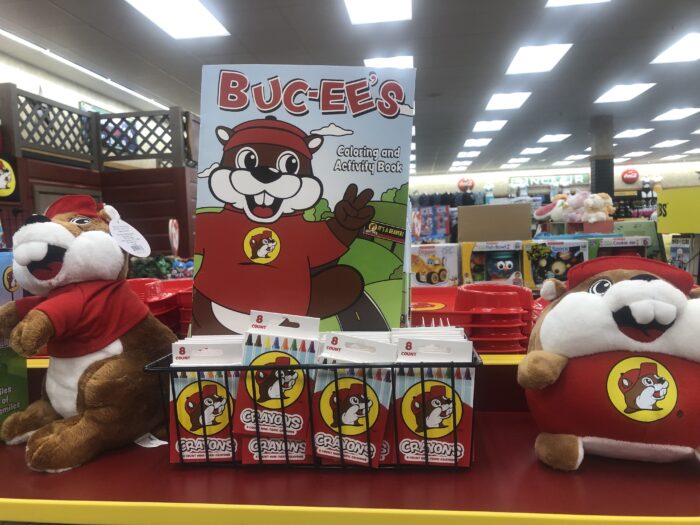 BUC-EES ALSO HAS SEASONAL MERCHANDISE!!!
Check out some of the exclusive items Buc-ee's brings out during the spooky season…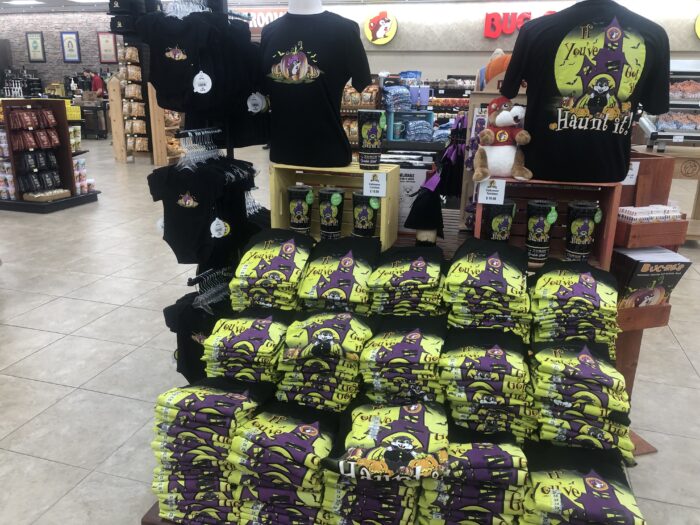 …including a giant inflatable Buc-ee the Beaver Vampire!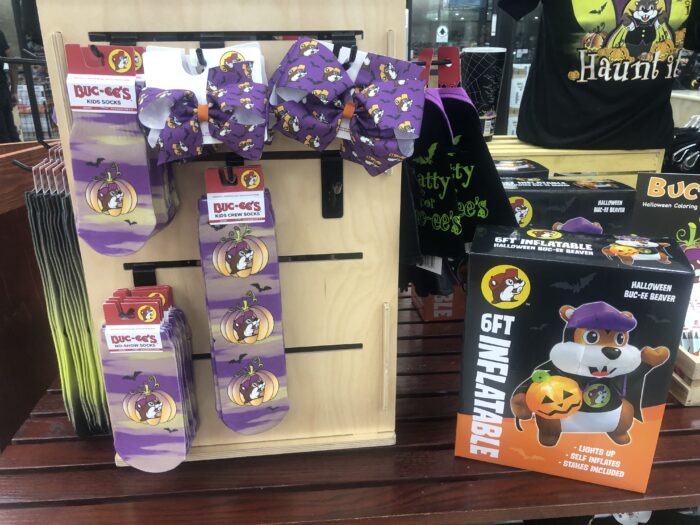 A seasonal coloring book? Are you kidding me?!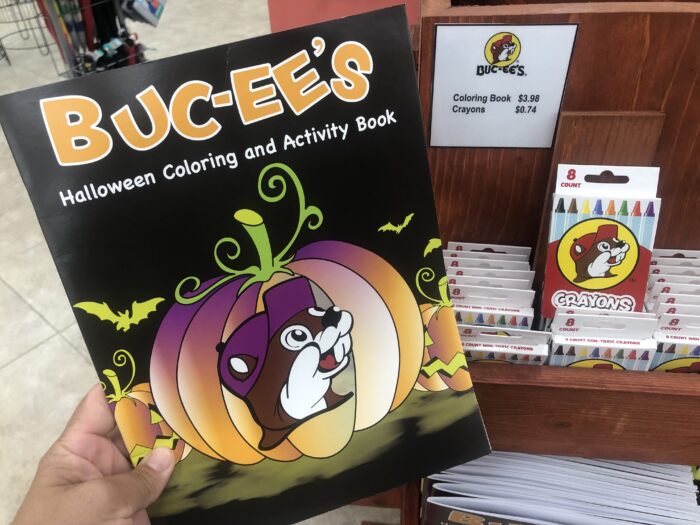 At Christmas Buc-ees goes ALL OUT with a ton of branded items!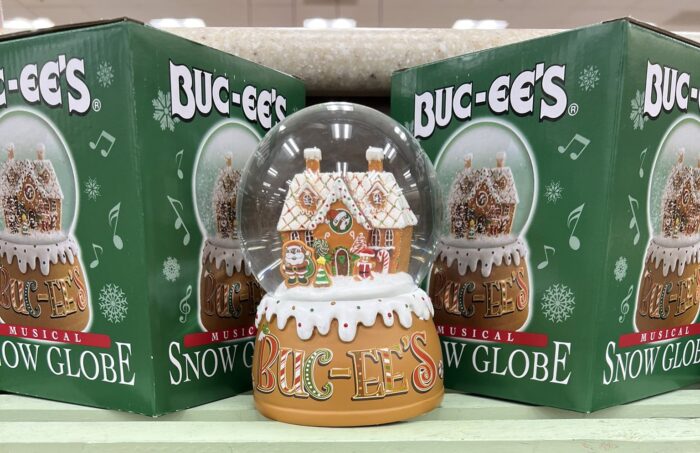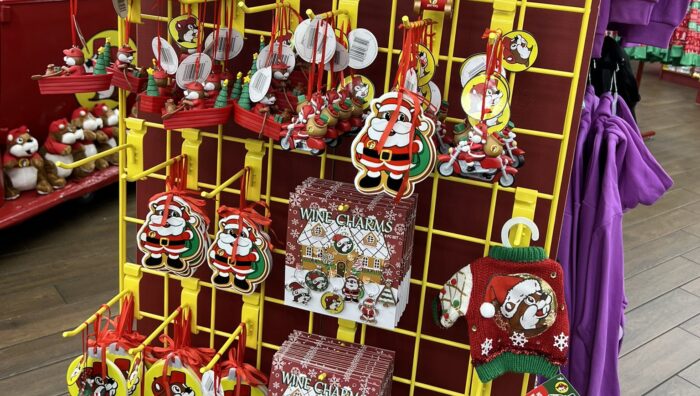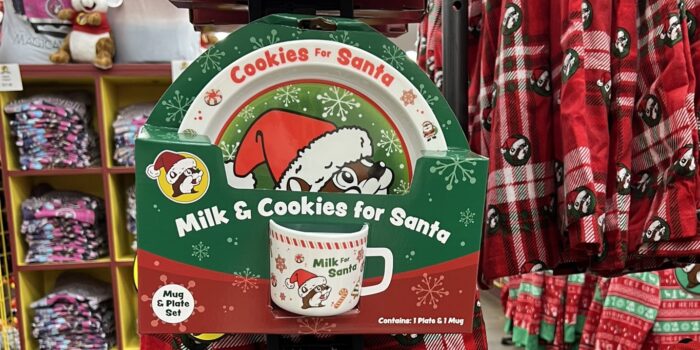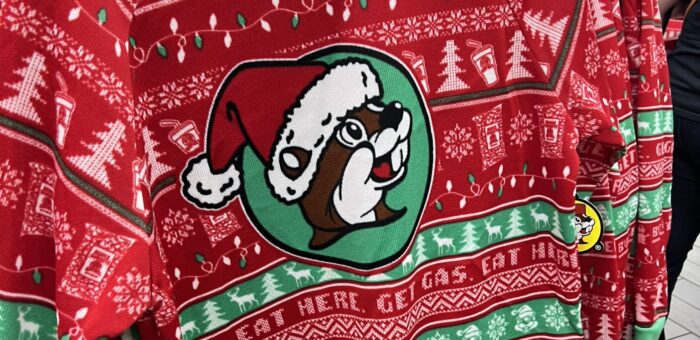 St. Patrick's Day related merchandise…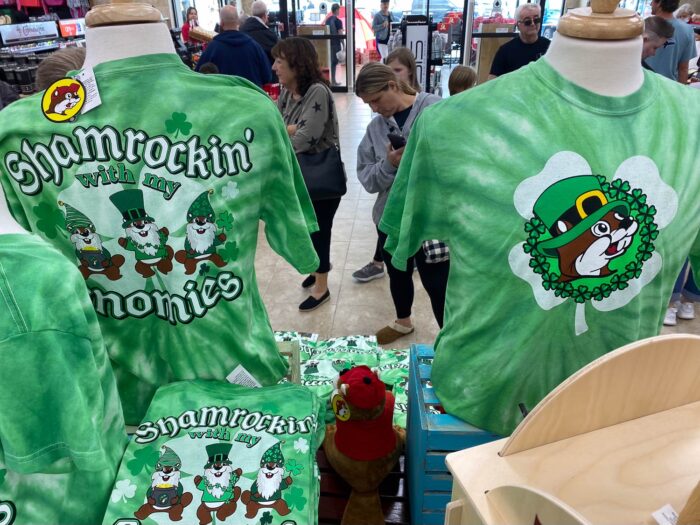 Easter items.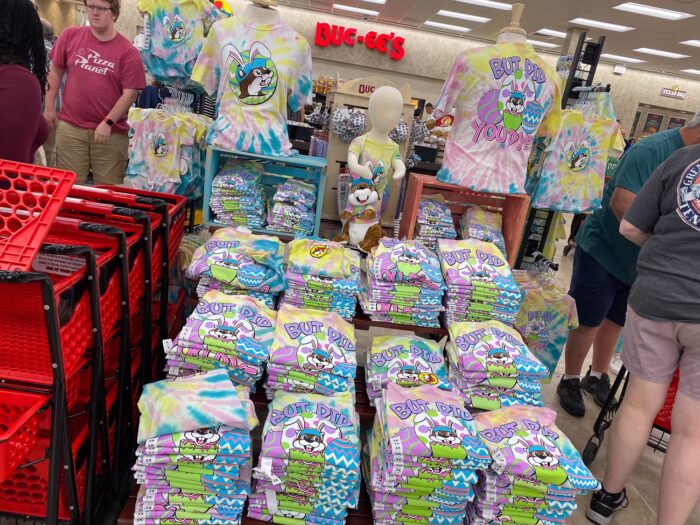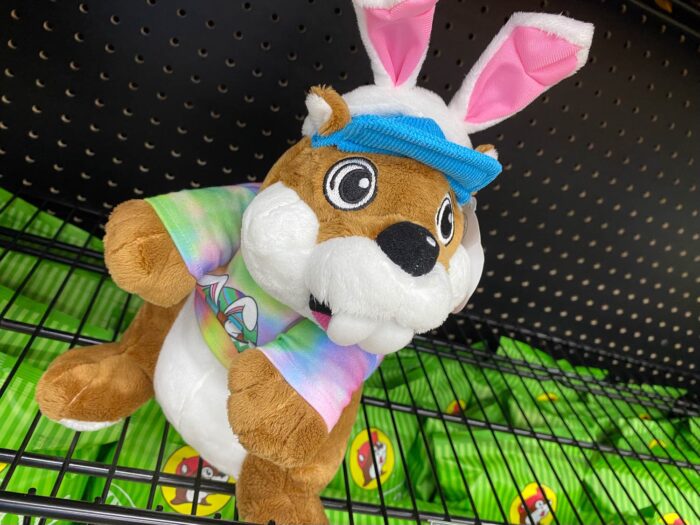 Love the Independence Day offerings.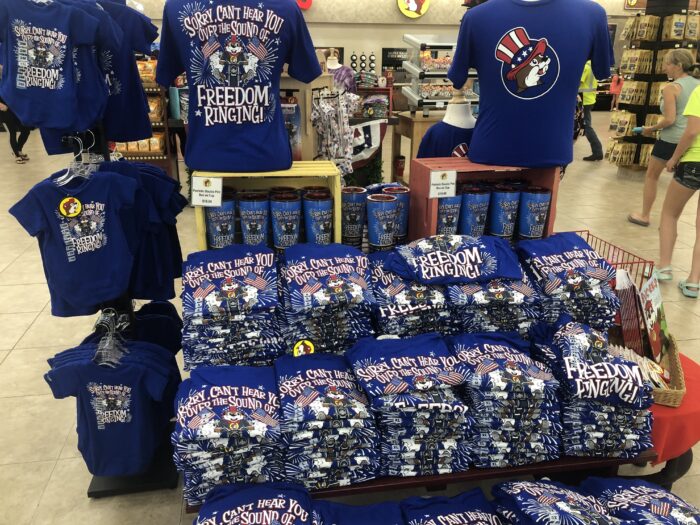 Okay, back to some regular items. We bought one of the larger Buc-ee's branded cutting boards for the house.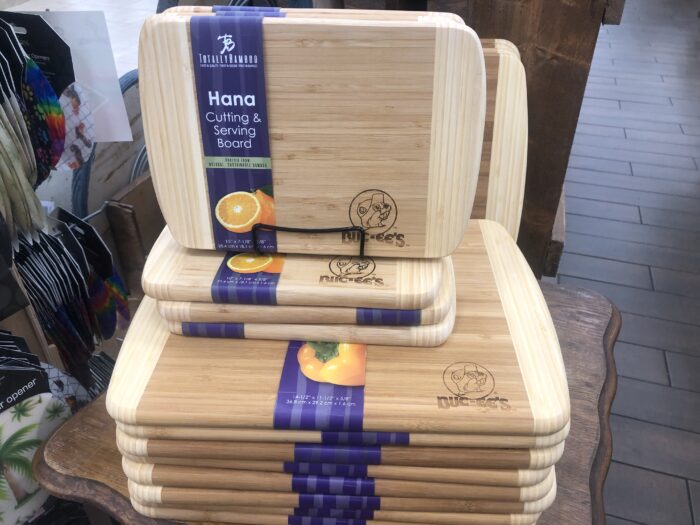 The above is a sampling of maybe 1/50th of the amount of Buc-ee's branded items in the store. It is almost incomprehensible how many items there are, and then there are a whole bunch of other items as well, including these unique cutting boards below.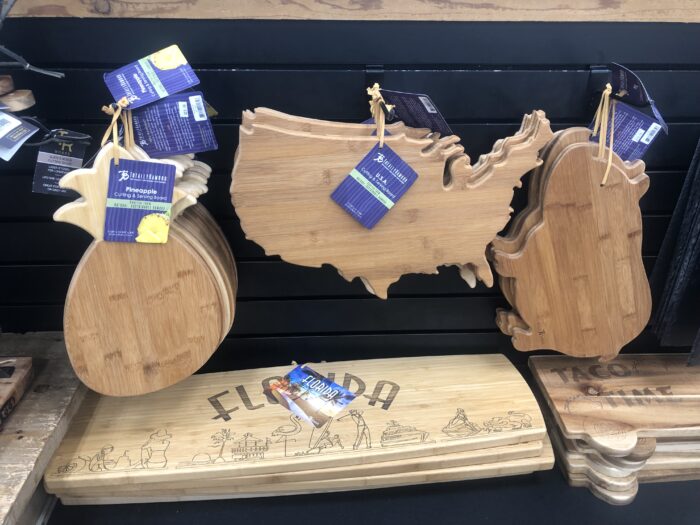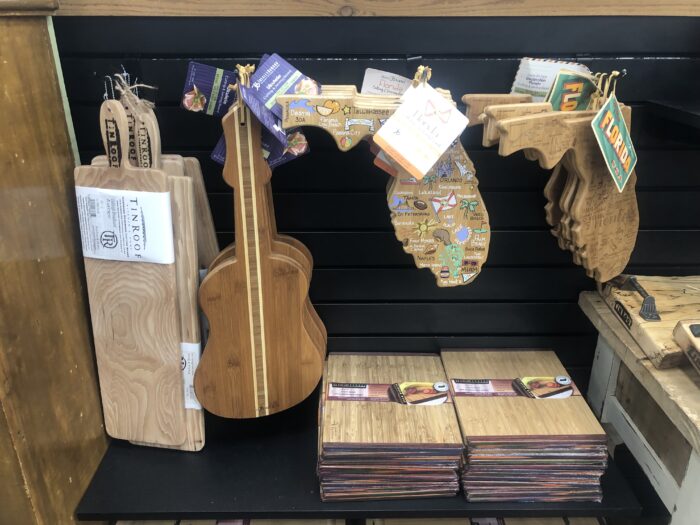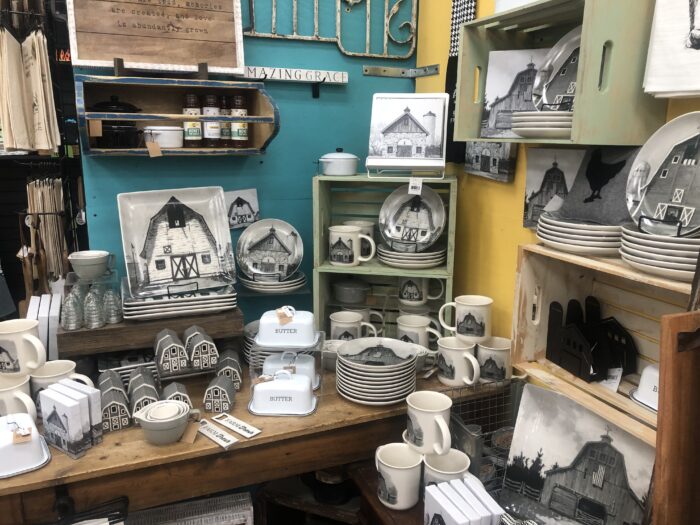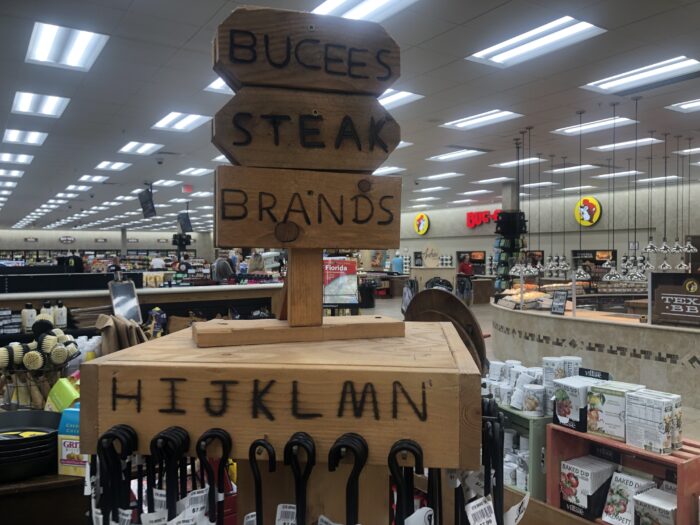 Offered to get TouringPlans' head honcho Len Testa these "TP" branding irons to initiate new writers to the blog, but he passed.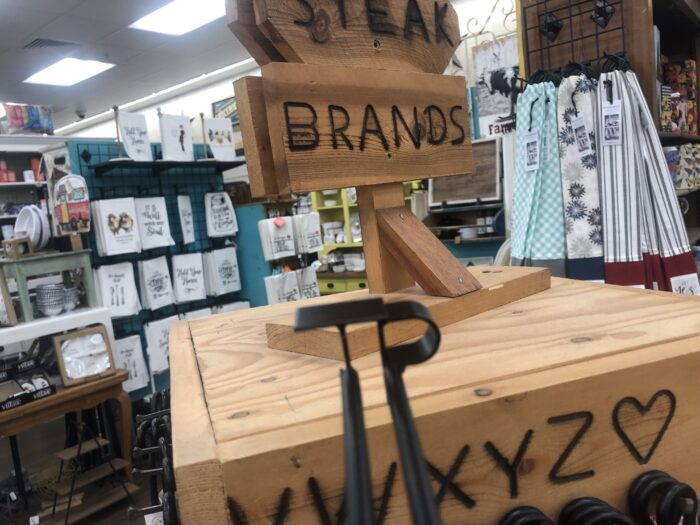 # 2 – The Snacks
We've covered the merchandise section of Buc-ee's, and now we're going to head to the other side of the massive store which offers an amount of food and drink options that will blow your mind. Let's cover some of my family's personal favorites, which include the chocolate OverBites. These are available in several flavors, but my favorite is the milk chocolate peanut butter version. A must-get every trip.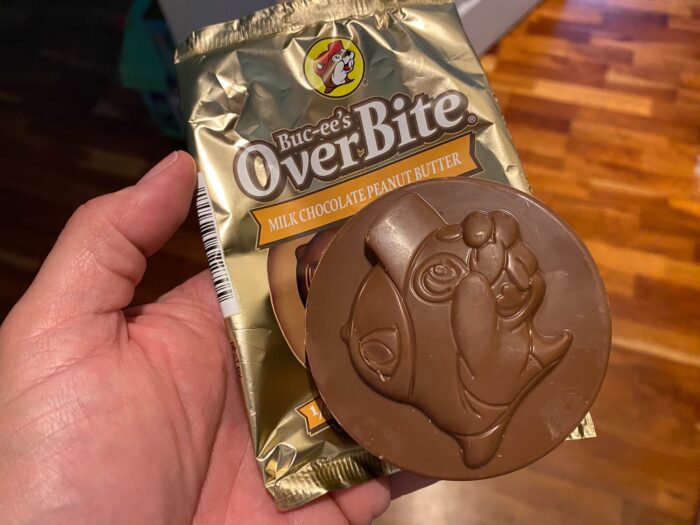 The two most popular items in the entire store just may very well be the Beaver Nuggets and beef jerky. Beaver Nuggets are puffed corn that is covered in a brown sugar topping made from butter, brown sugar, corn syrup, and vanilla. That's right, all four food groups are represented.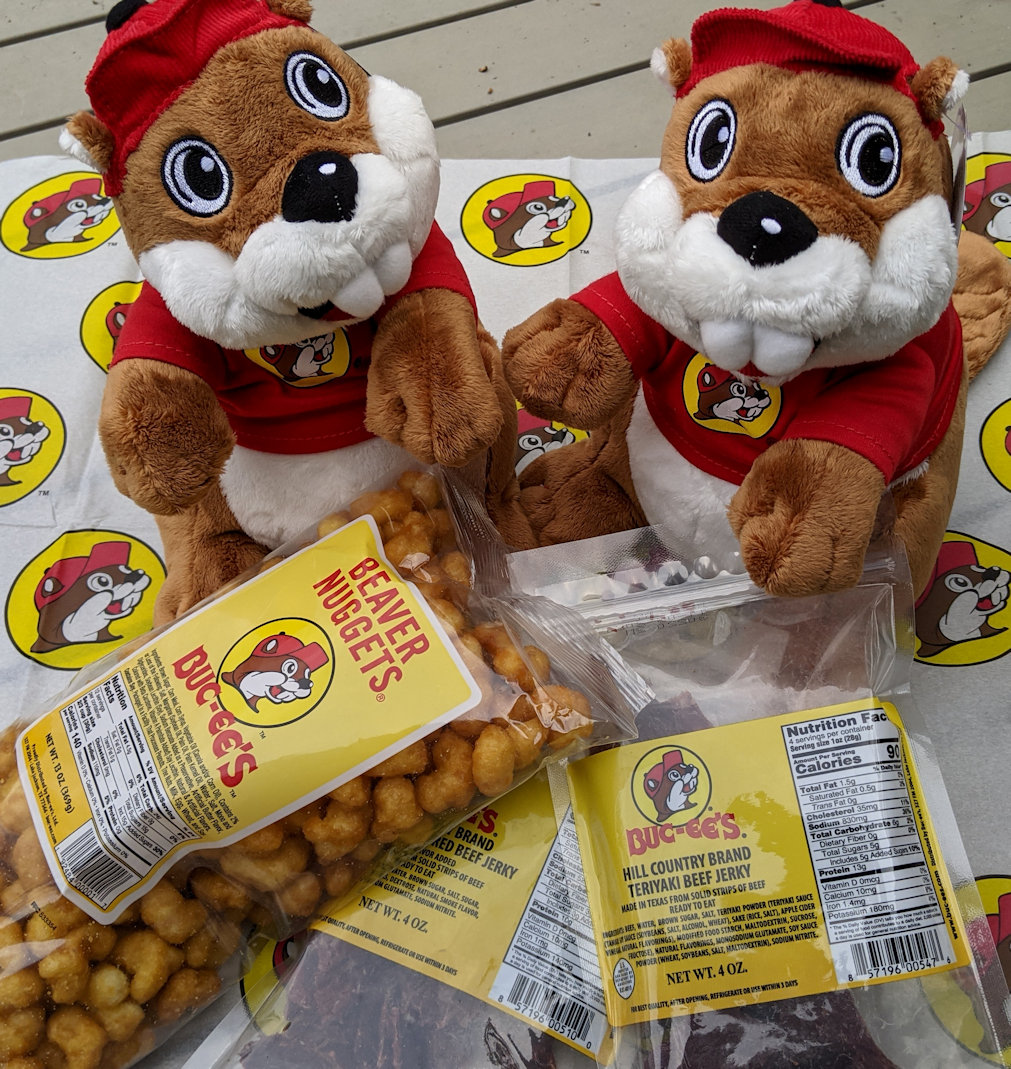 If you like beef jerky, you came to the right place, because at Buc-ee's you can get many varieties that have been pre-bagged…
…or order by the pound at the "jerky deli."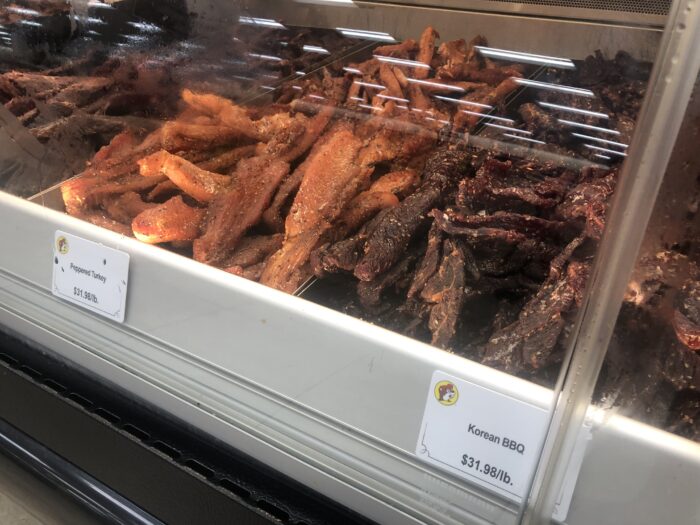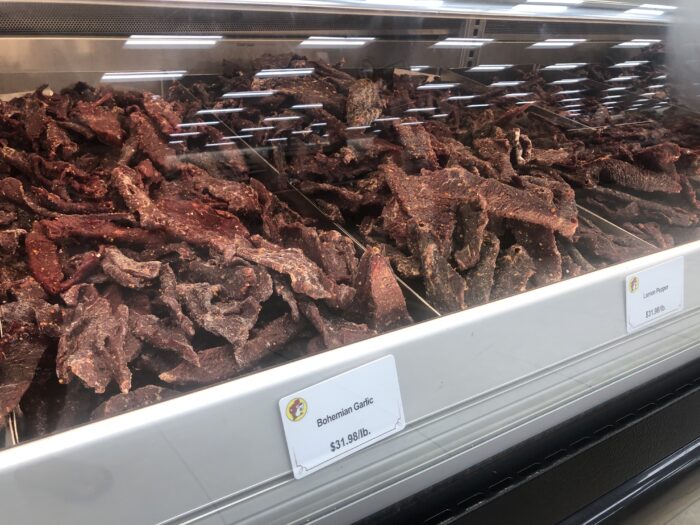 The bakery case is worth going out of your way to check out, with the iconic Buc-ee's cinnamon roll making the one at Gaston's Tavern look downright minuscule in comparison.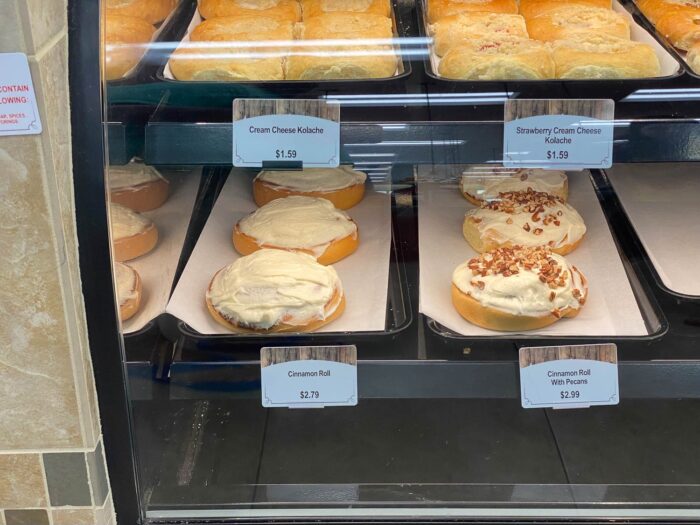 These bold n spicy Buc-ee's Nug-ees have some kick. I buy a bag every trip.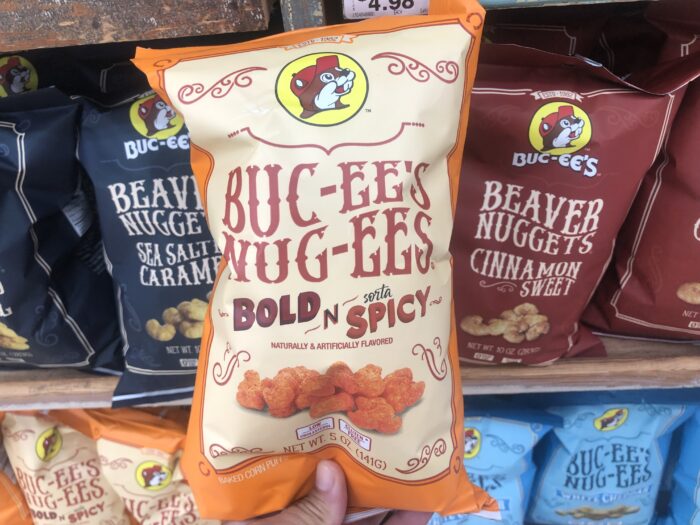 The barbecue Baked Chees-ee Curls are another one of my staples.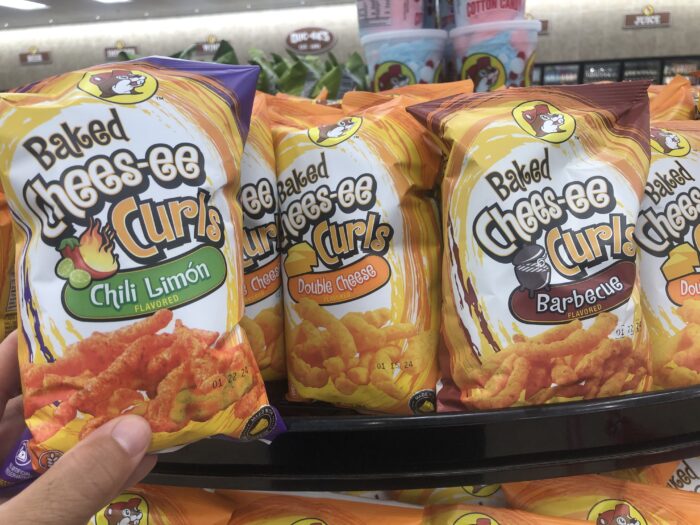 If you have a favorite snack, there is a Buc-ee's version of it.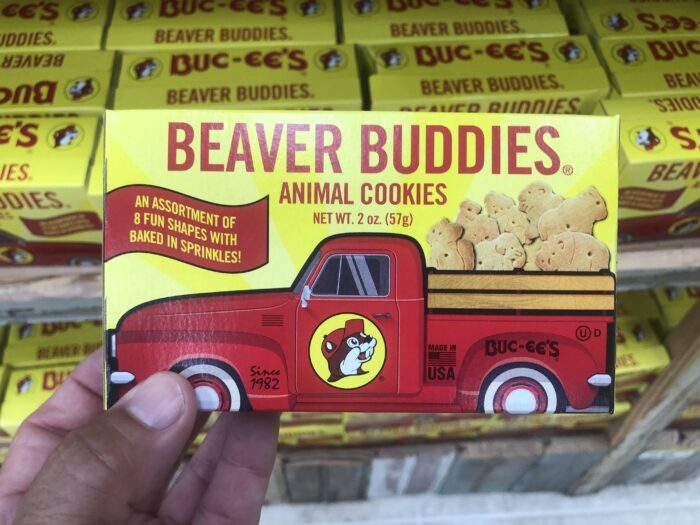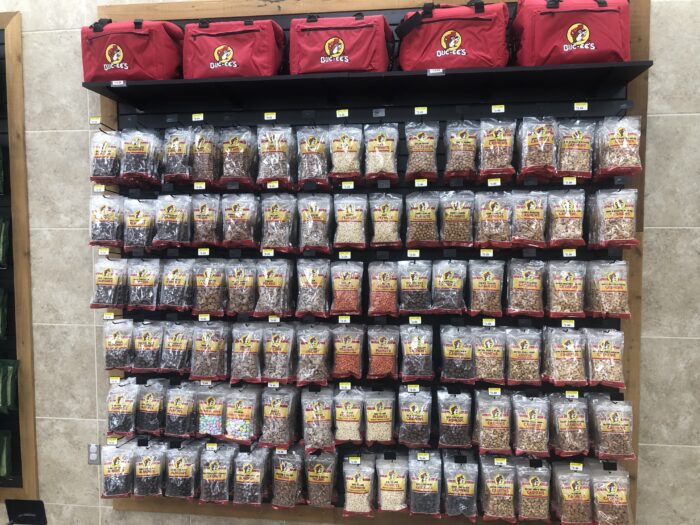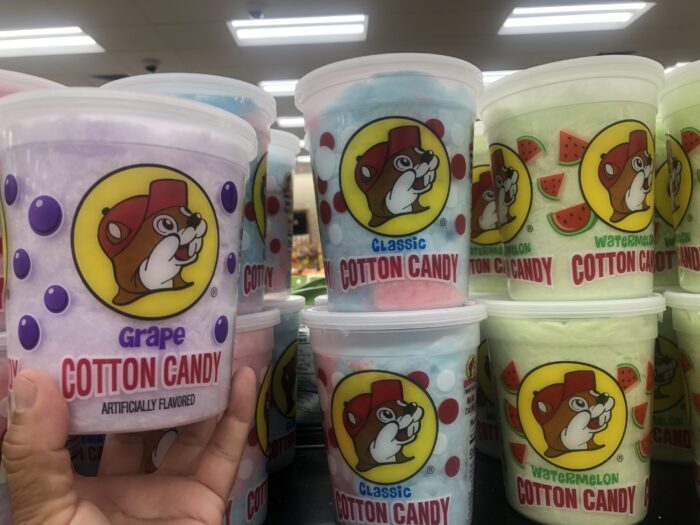 While there are a lot of "grab and go" type snacks you can immediately start eating in the car, Buc-ee's also has a selection of items for you to take home and enjoy, such as several flavors of salsa.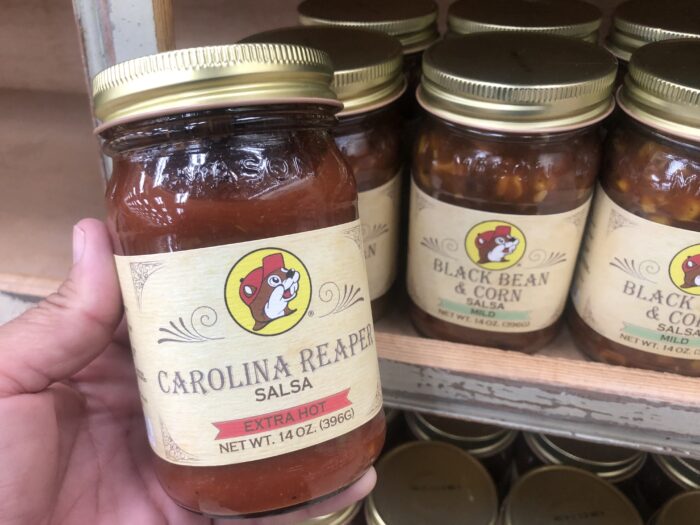 Jelly and Jam.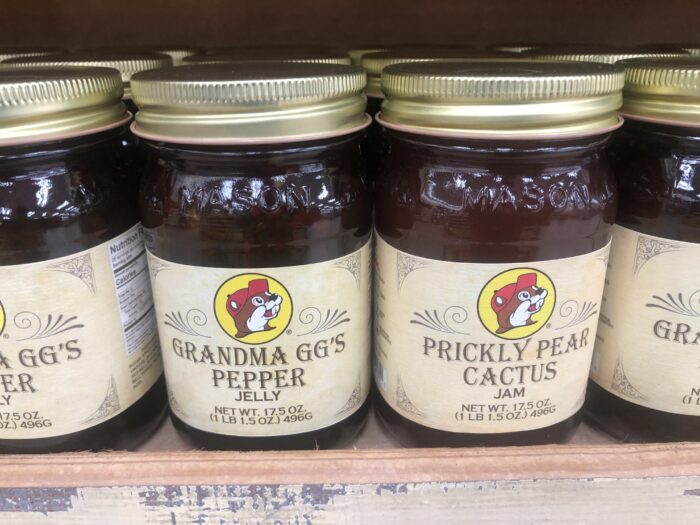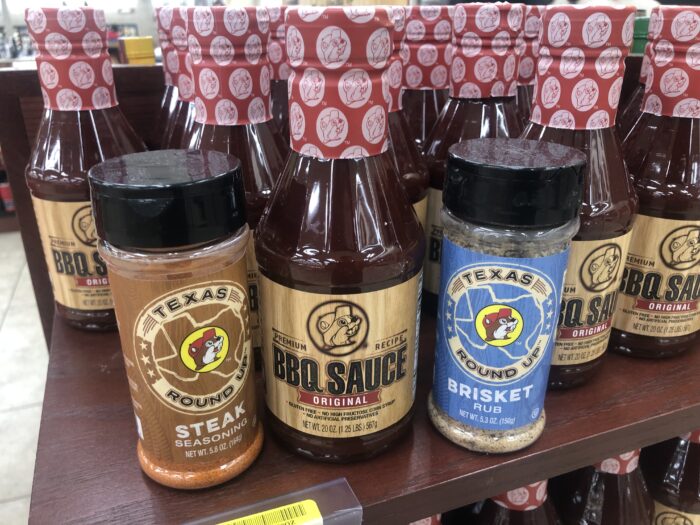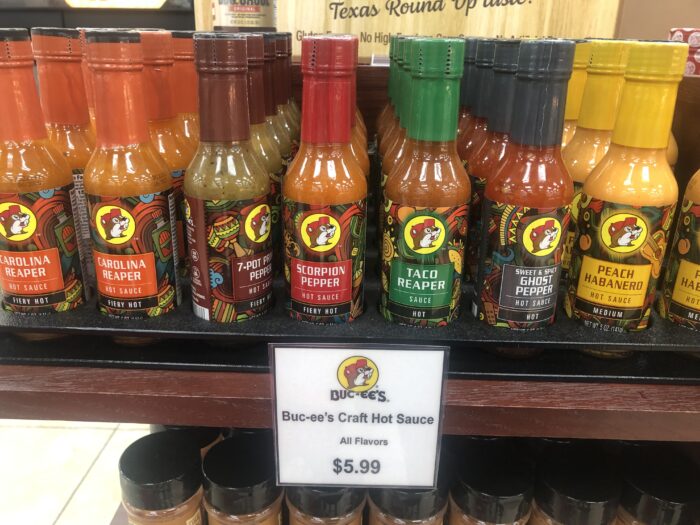 Buc-ee's mints are over like rover in this household.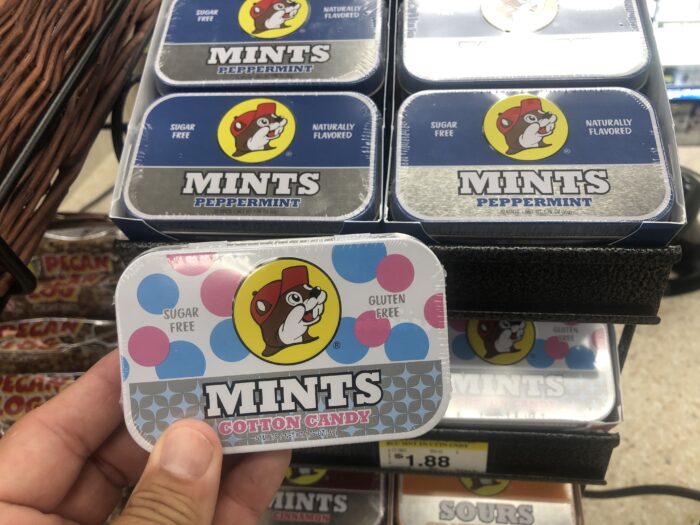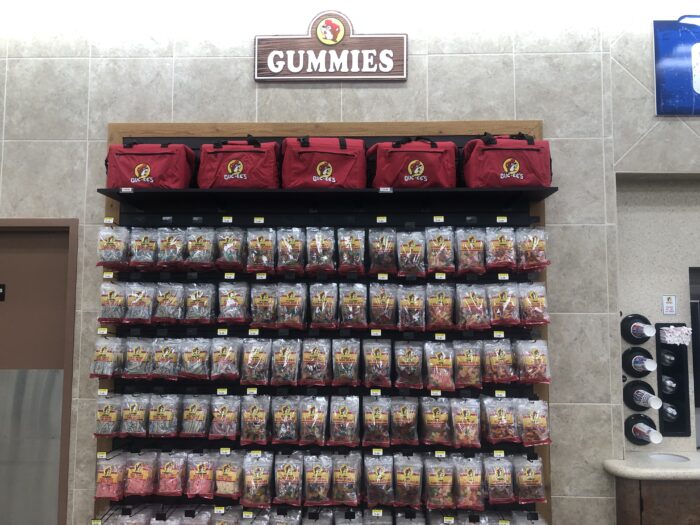 Trying to convince my significant other I need a "cookie dough station" mini fridge at our house. I generally get one of these cups of cookie dough on each trip and the person ringing me up at the registers just tosses away the empty cup.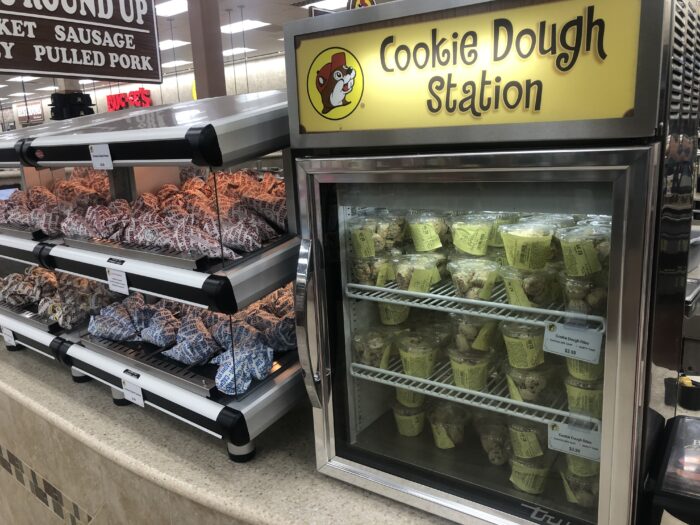 If you enjoy fudge or nuts, Buc-ee's will be your nirvana, as they are LOADED with options. All made in-house.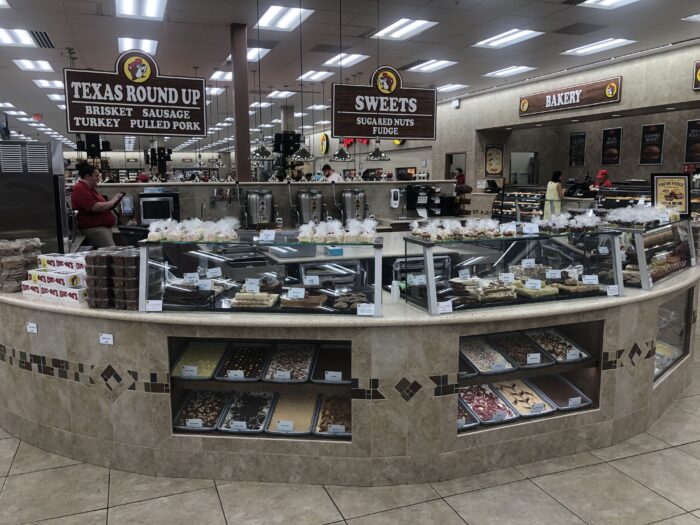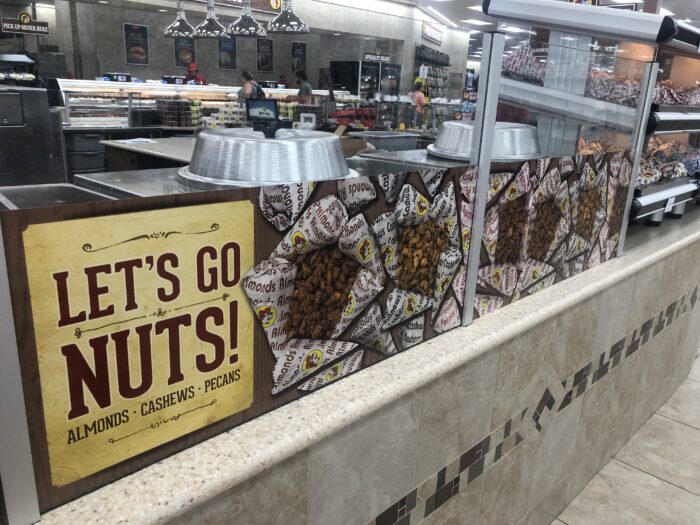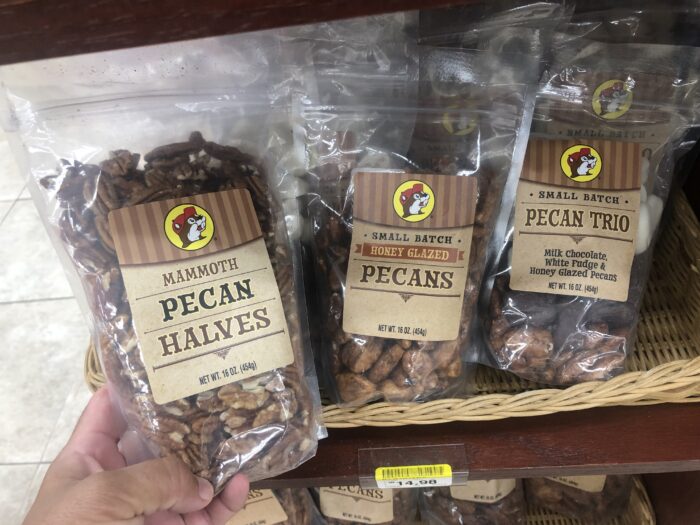 Some Buc-ee's items – including the roasted pecans – have developed such a fan following that Buc-ee's offers a scented candle for them.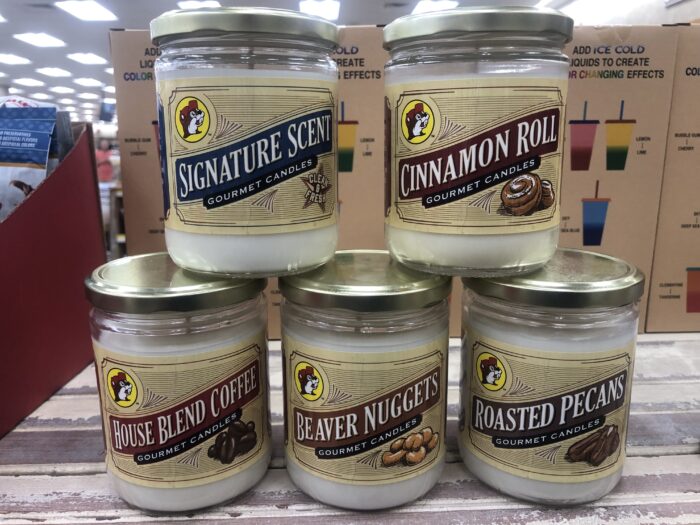 # 1 – The Hot Food
The star of the show at any Buc-ee's is the Texas Round Up hot food area, where brisket, pulled pork, turkey, and sausage sandwiches are being freshly made at a pace which would make Chik-Fil-A and McDonald's jealous.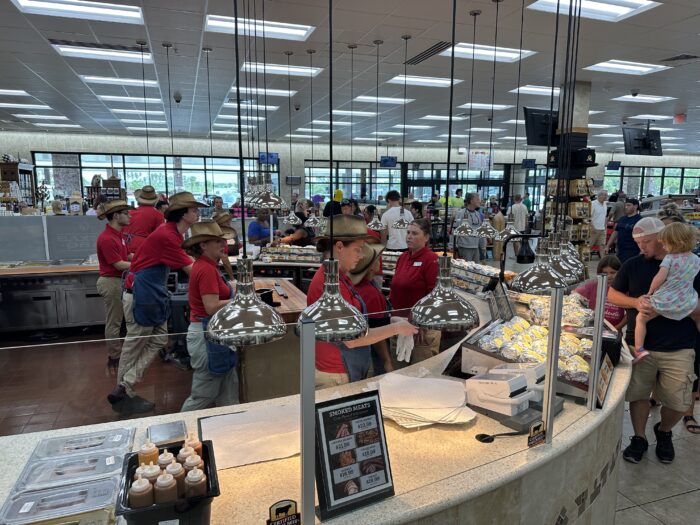 Watching a Buc-ee's sandwich maker in the store is like seeing a trust artist at work.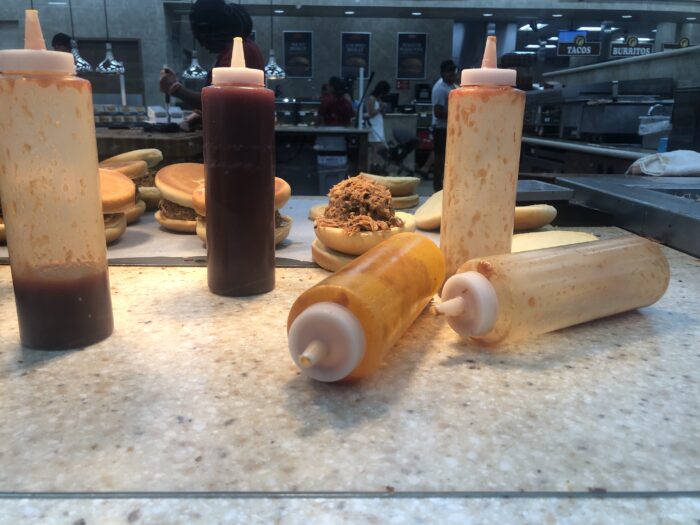 The Chopped Brisket Sandwich is the star of the show.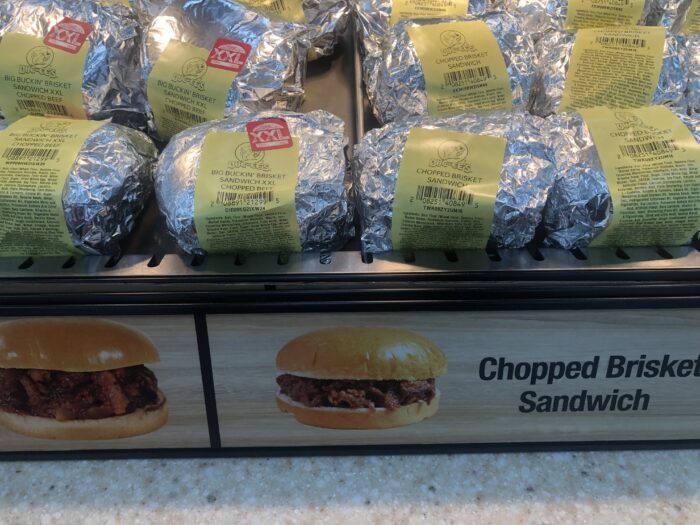 Don't sleep on the Buc-ee's apple pie, it's one of the best I've had at any restaurant.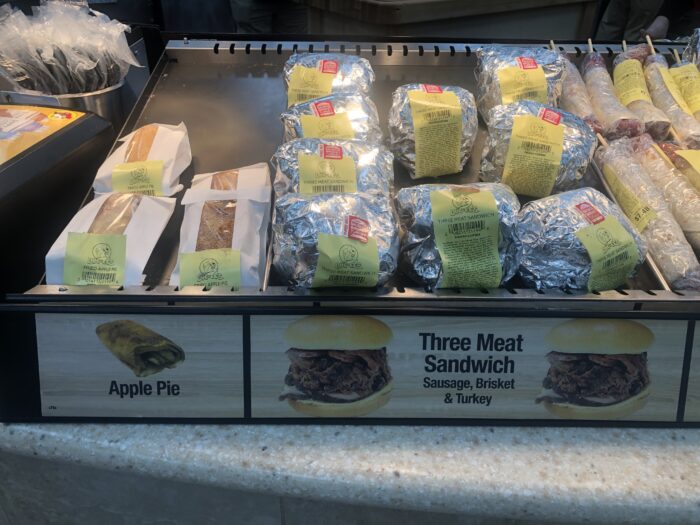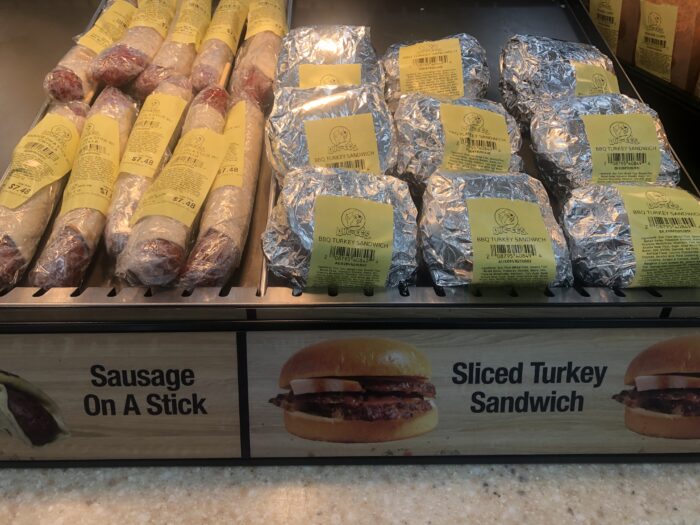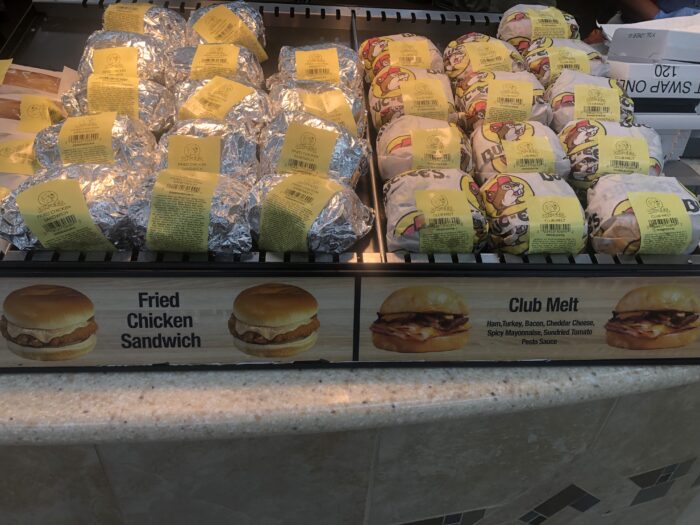 You also have the option to bulk purchase the smoked meat separately.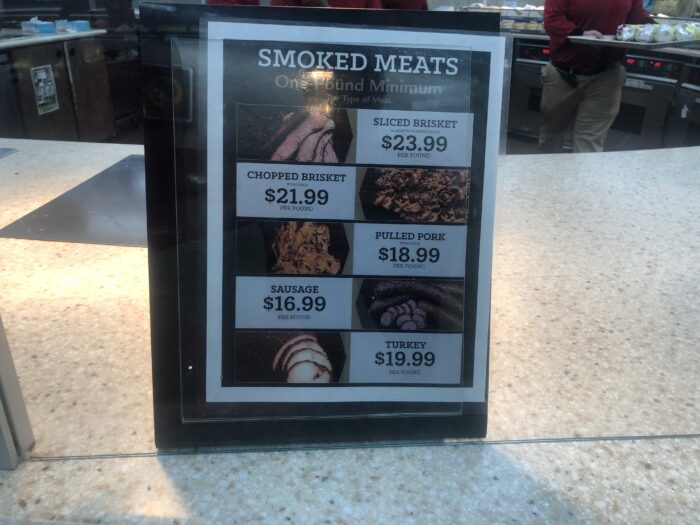 Buc-ee's offers house-made Beaver Chips, but I'm much more of a French fry guy with my sandwiches.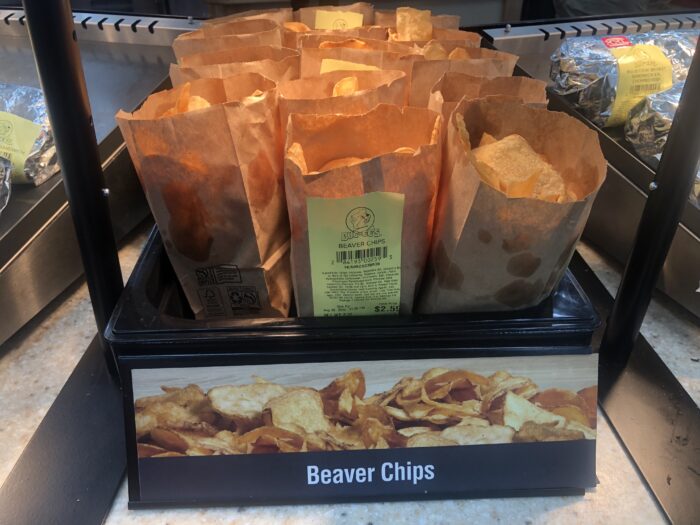 French fries, along with other hot food items not made at the Texas Round Up station, can be ordered via a touch screen. While Buc-ee's is open 24 hours a day, the "lunch and dinner menu" you can order on these touch screens starts at 11 a.m. I was once at a Buc-ee's in the morning and wondering why so many people were just standing around these touch screens. Turns out it was because they were all waiting for 11 a.m. so they could place their order. This is the Buc-ee's version of a theme park "rope drop" crowd.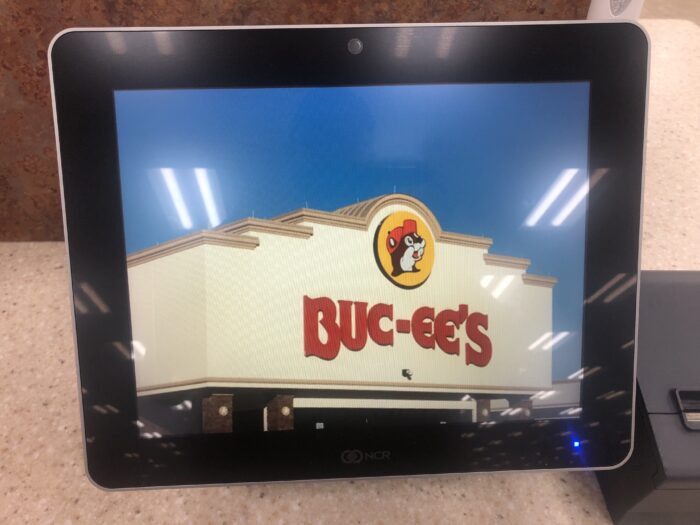 On the touch screen device you can order items such as a Texas BLT, Turkey Melt, Grilled Cheese, Chicken Strips, and Hot Dogs. You'll see on the screen it says "Small Fries" but trust me when I say Buc-ee's over-delivers in the amount of fries you get.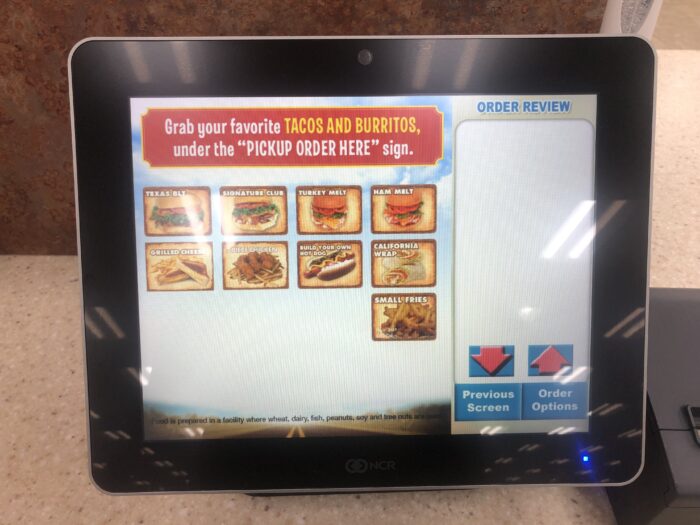 Add and extra fried chicken strip? Don't mind if I do!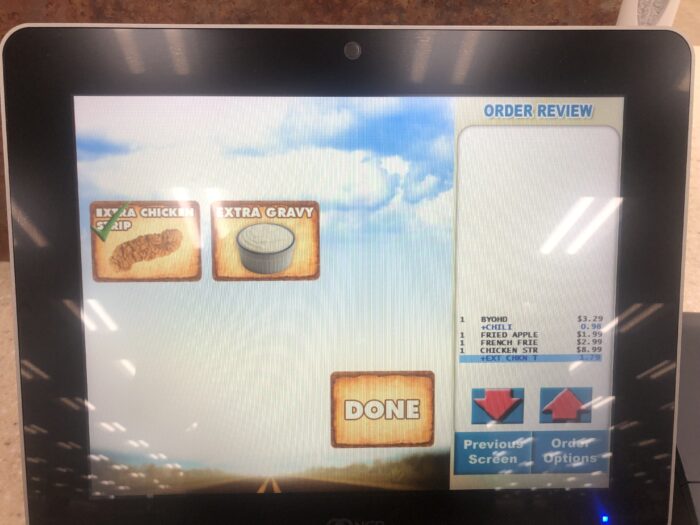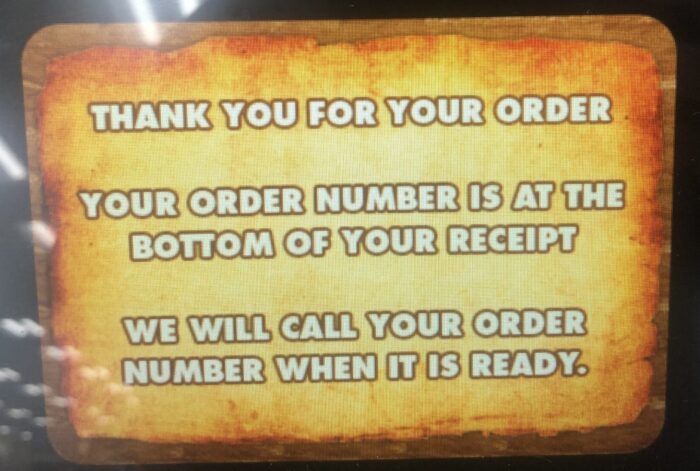 You'll see in the picture below that on the far right is the area where you pick up the orders placed via the touch screen.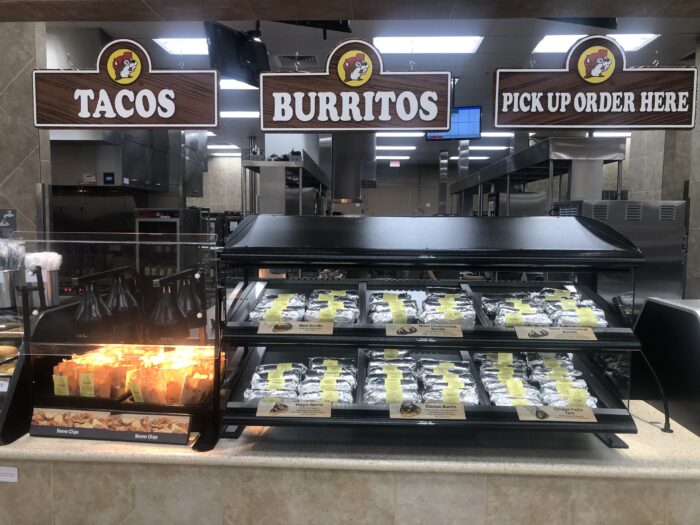 For early morning hours (4 a.m. t0 11 a.m.) the Texas Round Up station has breakfast sandwich options. Don't be shy if you want any changes, Buc-ee's will make a sandwich to your liking (i.e. "no cheese" or "no sausage" etc.)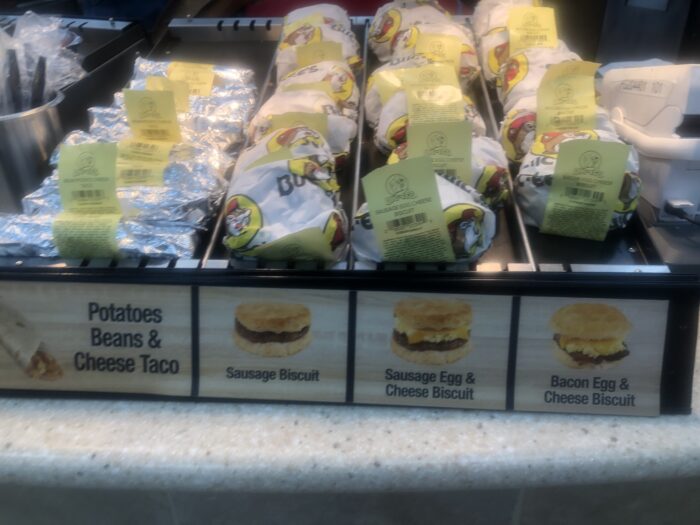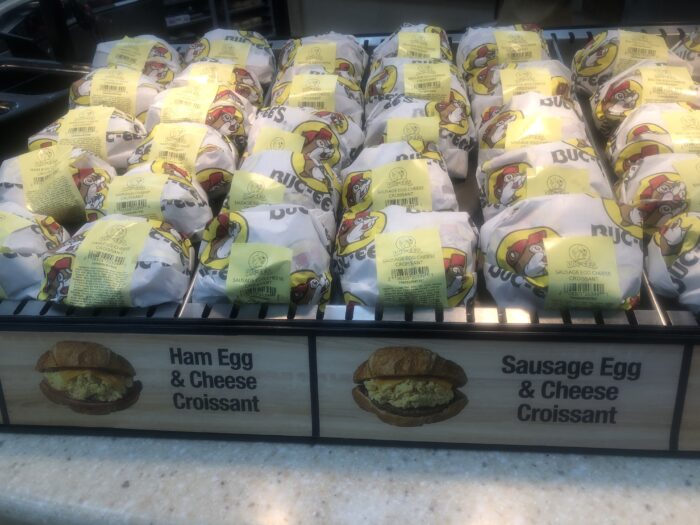 Instead of Beaver Chips, mornings bring Beaver Tots. These are cooked perfectly and are awesome.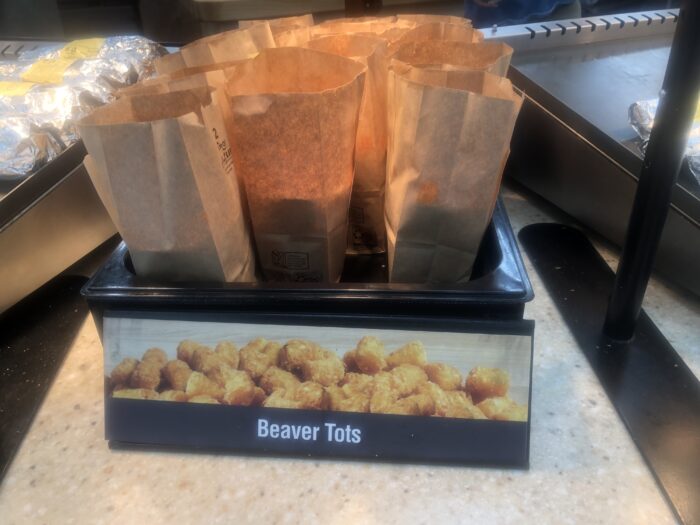 Buc-ee's has a gigantic selection of drinks available, including coffees and sodas with a selection that puts Coke Freestyle machines to shame.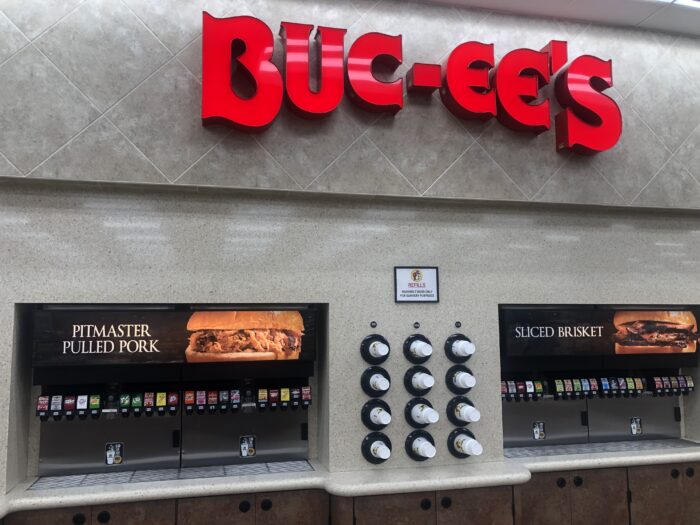 Along with the most amount of Icee flavor options I've ever seen in one place.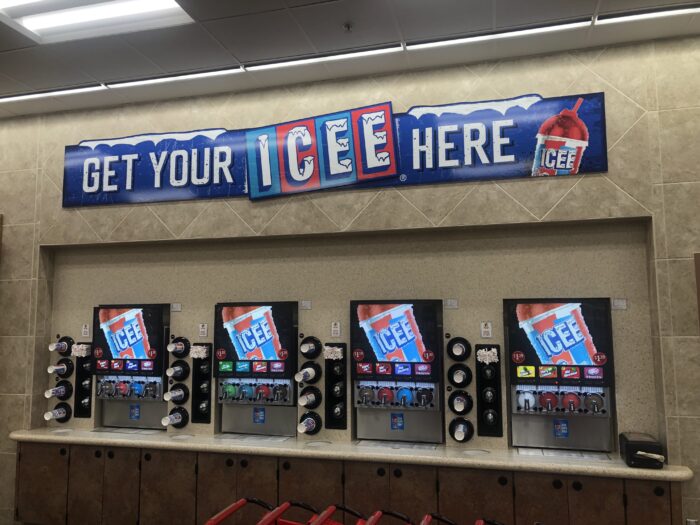 An underrated aspect of Buc-ee's is that they overstaff. Throughout the day, even in the wee hours of the morning, there are employees everywhere. Buc-ee's can get busy – like Disney's Magic Kingdom busy – but it is always all hands on deck with people working the registers, helping customers, and cleaning the store. As theme park fans we are used to staffing being cut to the bone in order to save costs, so it's refreshing to see a company go the other way and over-deliver. When you walk into the front door you'll hear the iconic "Welcome to Buc-ee's!" greeting, and unlike many places, it feels like they actually mean it.
Honorable Mention – THE WORLD FAMOUS BATHROOMS
On many billboards in Florida you will see Buc-ee's touting their "world famous restrooms" and – when you've never been to Buc-ee's – it seems a bit ridiculous. Then you enter the bathroom area at any Buc-ee's and you realize quickly they are telling no lies.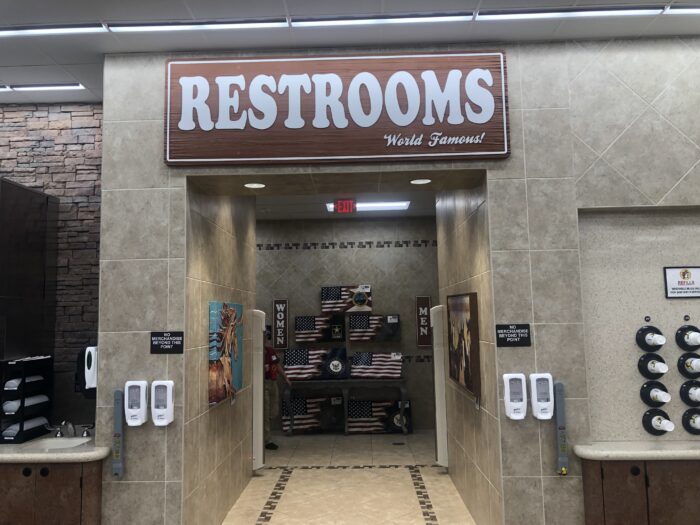 The bathrooms at Buc-ee's are HUGE and are always being cleaned. Whatever you have in mind when you picture a "gas station bathroom," this is the complete opposite of that.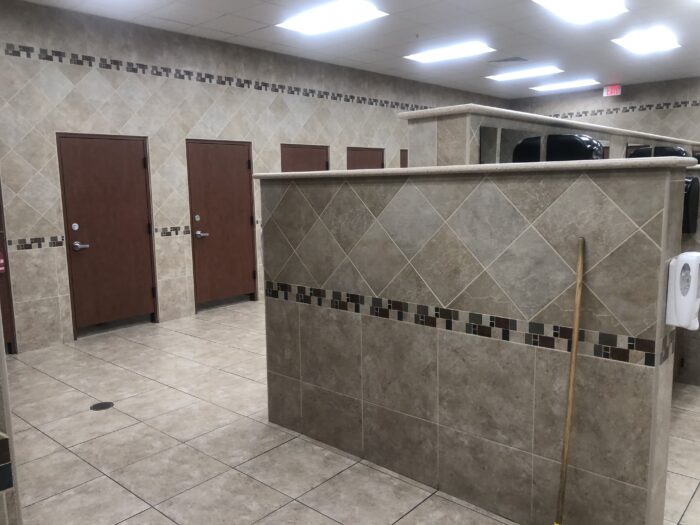 Not only are Buc-ee's employees constantly cleaning the area, but the nearby hand sanitizer stations are plentiful and always filled… unlike the empty ones we often find at the theme parks.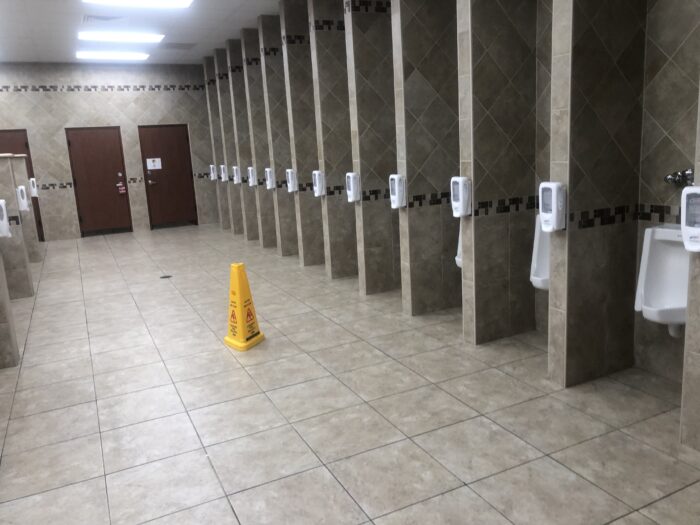 Double Secret Honorable Mention – Oh Yeah, Buc-ee's Also Sells Gas
One of the biggest reasons most people come to Buc-ee's is because they are the largest gas station you will probably ever go to. The Daytona Beach location in Florida has 104 pumps! It's staggering.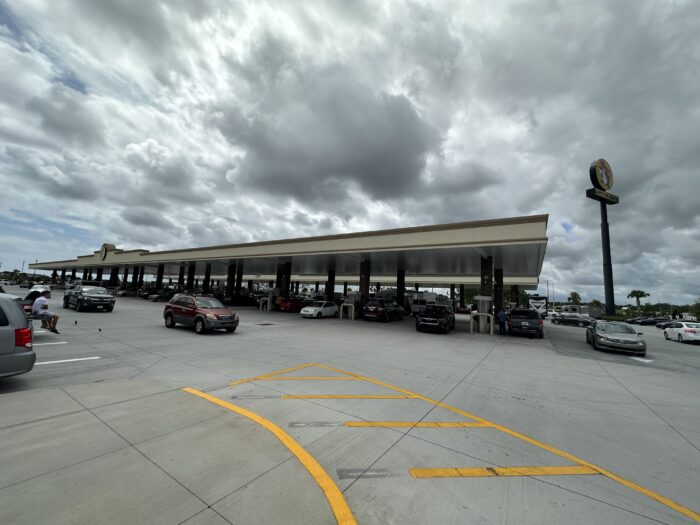 What's also surprising is that you'll find Buc-ee's to be charging the least amount of money per gallon of gas compared to anyplace nearby. This originally blew my mind and was similar to when I was filling up at the (former) Hess station outside the Disney Boardwalk at Walt Disney World. These places could be getting by selling gas for 10 cents MORE than anyone else because of their location, but instead they are the cheapest? It gives you a whole new appreciation for the company and its customer-focused approach to long-term business.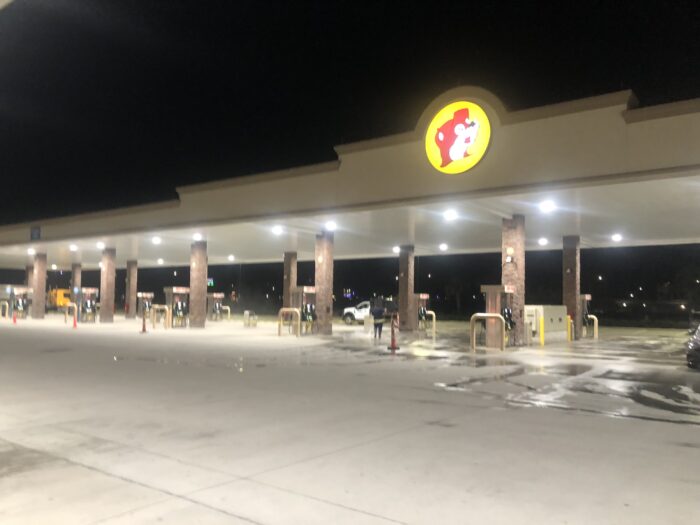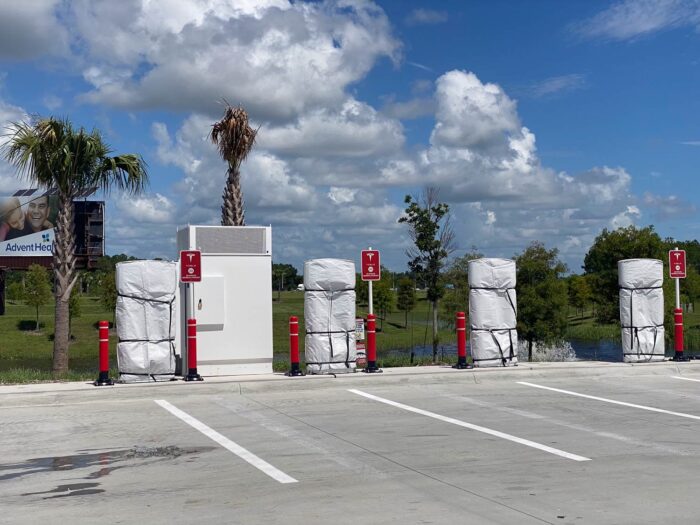 So there you have it: The SATURDAY SIX Writes a Love Letter to BUC-EE'S! See you next weekend for the latest installment of the SATURDAY SIX, where we'll look at something fun from the world of Disney and Universal. If you enjoyed yourself, be sure to check out the THEME PARK ENJOYMENT INDEX, giving a monthly recap of all the theme park news you need to know (and a lot more you don't need to know, but we're gonna tell you anyway). You can also follow Your Humble Author on Twitter (@derekburgan).
If you enjoyed this article, you will surely like the following: 
The SATURDAY SIX Celebrates Ten Years with TouringPlans
SATURDAY SIX Presents: The Disney Merchandise Hall of Shame
SATURDAY SIX Presents: The Disney Signage Hall of Shame
SATURDAY SIX Presents: The Disney Food Hall of Shame
SATURDAY SIX: Tribute to Josh easyWDW
SATURDAY SIX: Tribute to Ian Barritt
Special Thanks to The Elite Brandon Glover, Digital Maestro Scott Walker, the bio-est of all reconstructs @bioreconstruct, Captain Cruiseline Scott Sanders of the world famous Disney Cruise Line Blog, my personal protege Hunter "Elvey" Underwood, artist @SonderQuest, the mighty maven of merchandise Hedgehog's Corner, the SAT SIX Fun Squad of Parkscope Joe and "the Dadalorian" Nick, hot shot Michael Carelli, charter member of the Universal Four @Nitro230, the permit princess Alicia Stella, master cartographer Tommy Hawkins, and Hermione Granger's tutor Megan Stump for their invaluable assistance with this article. Absolutely no help was added by SeaWorld Influencer @SuperWeenieHtJr. The SAT SIX is inspired each week by goofballs Aengus Mackenzie and LitemAndHyde and you Potterheads will  enjoy Meg's other blog work over at the Central Florida Slug Club.