Top Five Tips for Sailing on Disney Cruise Line Right Now
TouringPlans is pleased to welcome guest authors Brian and Samantha, The DCLDuo.
The Disney Dream and Fantasy have both returned to sailing out of Port Canaveral, with the Wonder set to start revenue sailings from San Diego on October 1, and the Magic returning to Miami in mid-October. We recently experienced a 3-night sailing on the Disney Dream and a 4-night Halloween on the High Seas sailing on the Disney Fantasy. We also plan to be on the Wonder in mid-October for a 3-night Halloween on the High Seas Mexican Riviera cruise out of San Diego. We have in-depth trip-reports for these cruises over at the DCL Duo Podcast but wanted to share 5 tips we've found helpful if you're interested in sailing right now.
#1 – Only You Can Decide if Sailing Right Now is the Right Choice for Your Family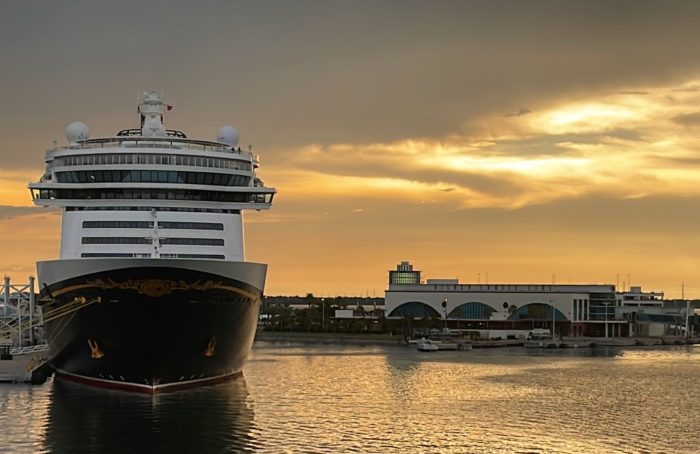 In full disclosure, both Sam and I are fully vaccinated and have been since early April. Our son is not yet eligible for vaccination but has been in school and wearing masks since September 2020. Brian traveled for the first time since the pandemic started in June of this year to Walt Disney World, and our entire family traveled to Disneyland a few weeks later. We also took a trip to Aulani in August and were comforted by the testing protocols Hawaii had put in place for passengers traveling to the islands. While it took us some time to adjust back to travel, we felt comfortable traveling over the summer, especially as case counts were declining.
As case counts have risen due to the Delta variant, we thought twice about taking our son on a 3-night cruise in August. Ultimately, we felt comfortable with his ability to wear masks for plane travel and thought Disney Cruise Line's requirements (at the time) of requiring proof of vaccination or pre-trip testing for all guests, and testing at the port for any unvaccinated passengers, gave us the piece-of-mind we needed. Since then, Disney Cruise Line has moved to fully vaccinated cruising for all but those under the age of 12 (who must still be tested prior to sailing) and testing of all passengers at the port prior to embarkation. These additional requirements, along with reduced capacity sailings and strict onboard protocols around mask wearing and social distancing, made a Disney cruise feel like and ideal and safe vacation for our family. But that decision may not be the same for everyone.
In the end, only you can decide if traveling right now is right for you and your family. We've seen several posts in cruise groups from people feeling shamed by family or friends about their decision. In general, we don't agree with "travel shaming" given how long everyone has been at home, although we strongly support vaccination and masking. There are certainly risks and you should weigh those risks carefully as nothing is guaranteed. We also don't recommend travel right now to friends or family who are unvaccinated, immunocompromised, or otherwise at high risk for serious illness from COVID. But if you decide to travel and understand the potential risks, we think you can find a very fun and magical vacation onboard Disney Cruise Line right now.
#2 – If You Decide to Travel, Read EVERYTHING Coming from Disney Cruise Line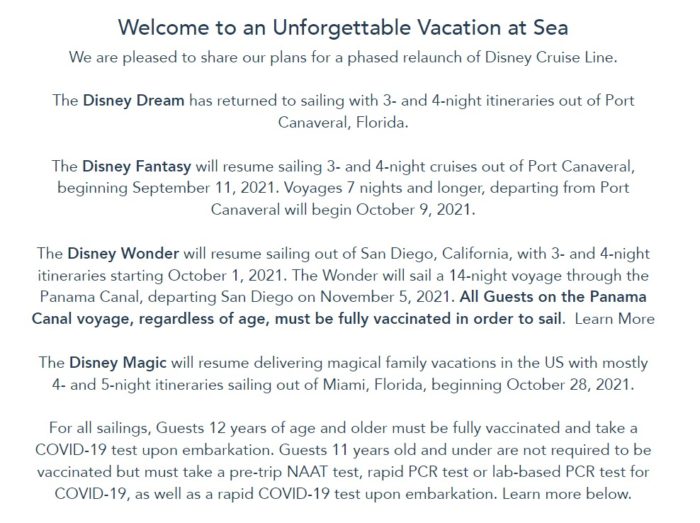 Protocols and Requirements for travel are changing quickly and frequently right now, especially on cruise lines. Notably, on our first sailing in August aboard the Dream, Disney Cruise Line was permitting unvaccinated adults to sail. With new requirements coming from the Bahamas and Mexico, Disney Cruise Line implemented a requirement that all eligible passengers be vaccinated to sail. In August, Disney Cruise Line also allowed pre-trip testing for those under 12 within 5 days of sailing. As of September, testing must now be done within 3 days of sailing. Disney Cruise Line just updated its requirements last week to allow pre-trip NAAT testing in addition to rapid PCR and lab-based PCR tests.
Put simply, now is not the time to ignore those "Know Before You Go" emails you and your travel agent are getting from Disney Cruise Line. Some families did just that ahead of the first revenue sailings for the Dream and came to the port without required pre-sail testing for their children under 12. They were denied boarding. When it comes to onboard protocols, testing and other experiences onboard, read everything Disney has on their website, make sure you understand the requirements, and talk to your travel agent or Disney Cruise Line if you have any questions. Disney Cruise Line is strictly enforcing its protocols and requirements, so make sure you know them and understand them before you sail. Thankfully our TouringPlans travel specialist monitors these changes for our family and makes sure we don't miss any changes from Disney Cruise Line as they happen.
Also be aware that Disney Cruise Line has updated its check-in processes. You'll be able to book activities in your regular booking window, but you will not be able to check-in online until 30 days prior to your sailing. When you do your online check-in, you'll now also be required to upload photos of yourself to be used as your onboard security photo, as well as photos of your passport or other proof of identity. These will then be checked by Disney Cruise Line prior to sailing. In addition, 15 days prior to sailing you'll have to provide proof of vaccination via a separate third-part website (SafePassage – managed by Inspire). You should check and re-check both the Disney Cruise Line site and SafePassage frequently to make sure your pre-cruise documentation is accepted, and that you understand any changing requirements as they are updated. We'd also recommend using a mobile device for online check-in right now, as it makes it easier to grab and upload the quick photos you'll need.
#3 – Set Your Expectations Appropriately for the Onboard Experience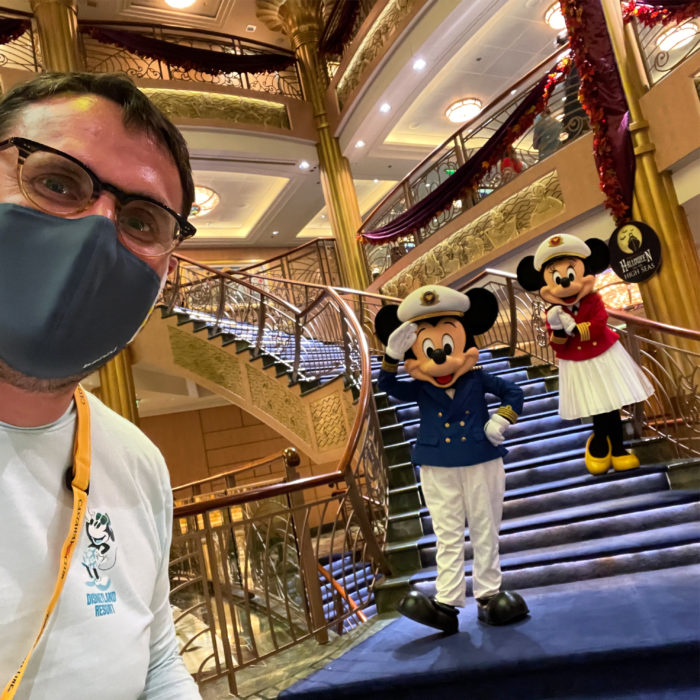 As we said earlier, cruising is different right now. That means some activities are reduced or unavailable. Shore excursions on Castaway Cay are reduced. Buffet experiences are more limited. Dining is different. Shows are different. Character experiences have changed. In short, you should expect a very different experience right now than you may remember. In some cases, like overall reduced capacity onboard, that can be a plus. In other cases, like your favorite venue being closed or reduced capacity, it can mean you're not getting that experience you'd hoped for onboard.
We strongly recommend reviewing the Disney Cruise Line website, talking to your TouringPlans travel specialist, or even taking a listen to some of our recent trip reports, so you really understand what the onboard experience is like right now. If you've sailed Disney Cruise Line in the past, trust us, the magic is still there. In some cases, it's even been enhanced. Character interactions onboard right now are some of the best we've seen. But, if this is a once-in-a-lifetime vacation for your family, you might want to hold-off so you can experience all that Disney Cruise Line has to offer as onboard activities and offerings continue to return.
#4 – The Kids Club Experiences are Some of the Most Impacted Right Now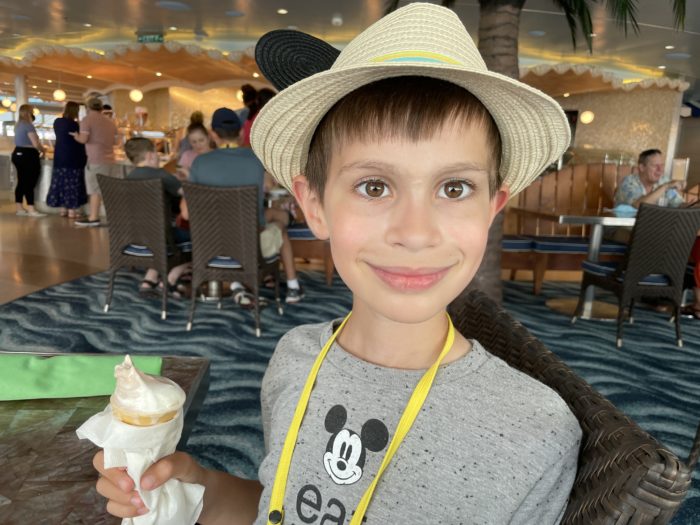 If your kids love Disney Cruise Line because they want to spend their day in the Oceaneer's Club and Lab, running from room to room, or, like our son, playing Mario Kart for hours on end – then now may not be a great time to sail. With reduced capacity and reduced availability, you may not find a lot of uninterrupted adult time onboard if you have your kids with you. While Edge and Vibe are not as impacted right now, the Oceaneer's Club and Lab are significantly reduced offerings now.
Specifically, you have to pre-register for 2.5-hour blocks in the kids clubs and can only reserve one per day. While Disney Cruise Line is advertising 2.5 hours of time, the reality is about 90 minutes per slot. Kids check-in at designated times and are then grouped together and moved from room to room in about 15-20 minute blocks centered around structured activities. As they are moved from room to room, staff are cleaning the rooms to make them ready for the next group. We have heard on some sailings they are allowing kids to spend more time in the clubs, depending on capacity. But that time is not pre-booked, and we've heard different reports from different sailings on what has been allowed. If your sailing stops at Castaway Cay, Scuttle's Cove is open, does not require a reservation and on our Dream sailing did allow kids to stay for up to 2.5 hours, since it's mostly outdoors. Masks are required for the onboard kids clubs.
If you are planning a Disney cruise right now with your kids, our advice is to approach much more like a family vacation. Plan on spending lots of quality time with your kiddos onboard, doing family activities or having fun on the pool deck. Pack games and entertainment for the family as well. We had a blast with our son, and still managed to squeeze in a Palo Brunch. But hanging out in the adult bars or catching adult entertainment after dinner while he was in the club was much more limited on our sailing than what we've experienced in the past.
#5 – Pack Your Patience and Give Grace to the Crew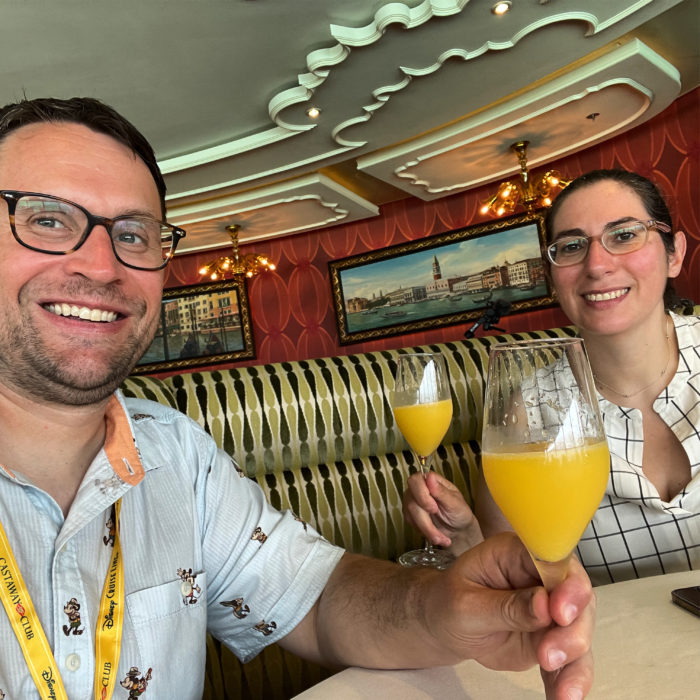 Stress and anxiety are a new reality for travel right now. Nail-biting COVID tests, long waits and compromised (or at least different) experiences are the norm. Changing requirements, new rules, enforced protocols, and experiences that are changed or canceled last minute are a reality. Under these circumstances, it's easy to lose patience. Don't. Instead, be prepared. Know that something will go wrong and try to roll with it. Bring along books, music, videos, or games to distract you and your kids and make waiting easier. Also know that the crew onboard are doing their very best under extremely difficult circumstances to give you as magical a vacation as they can. They may have left trying situations at home, along with friends and family who may be in unsafe conditions, to bring you the best cruise experience they can. Give grace and patience, and you'll get Disney magic in return – we guarantee it. If patience and flexibility are not your strong suit, it may be best to wait a bit longer to sail again.
The DCLDuo are Brian and Samantha from Seattle, Washington.  They are avid Disney Cruise Line fans, as well as Disney addicts and Disney Vacation Club members.  They co-host a highly-rated semi-weekly Disney Cruise Line focused podcast available at Apple Podcasts, Stitcher, Spotify and most major podcast platforms.  You can also find them on YouTube or via their website.