Theme Park Enjoyment Index for OCTOBER 2021 (KiteTails, Lightning Lane, 50th Anniversary Merch Free-For-All at MK)
The Theme Park Enjoyment Index (TPEI) is a monthly look at the events that have made an impact, both positive and negative, in this wild world of theme parks we all love so much. We'll assign each piece of news a positive or negative number, tally it all up at the end and chart it. The range goes from 0-100 with 0 being 
Stitch's Supersonic Celebration
 while a perfect score of 100 would be 
Pandora: The World of Avatar
.
Remember, all links in TPEI open up in a new browser window. So feel free to check stuff out, we'll be here when you get back!
PROGRAMMING NOTE: While normally TPEI would be scheduled on the last day of every month, it was moved to today for two reasons. The first reason: I spent much of this  past week being the +1 of Bacini – the official Dog of DisTwitter – as he experienced the pet-friendly Unleashed program at the Hard Rock Hotel. We'll be doing a full write-up on our stay for the SATURDAY SIX which will cover the benefits included with Unleashed along with some other fun stuff over at the Hard Rock (yes, we really did order him a $50+ steak at The Palm restaurant).  The second reason? Well tomorrow there just may be a very special surprise on the TouringPlans blog that is more treat than trick…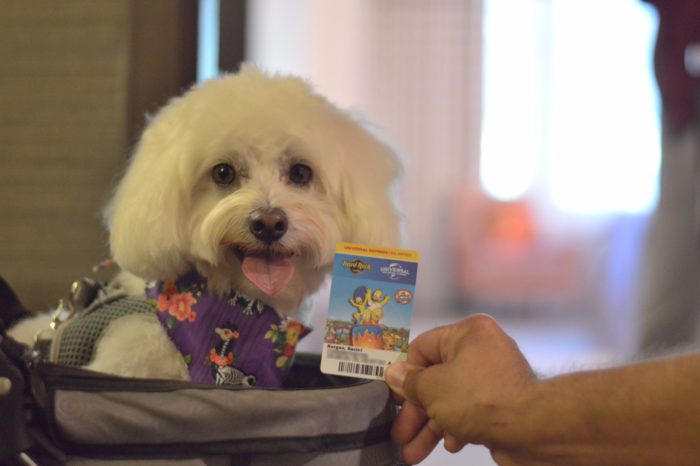 Okay, enough with the jibber jabber and on with the news!
*KiteTails Is Something We'll Never Forget (No Matter How Hard We Try)
What goes up, must come down.  – Sir Isaac Newton, inventor of the Fig Newton
If you recall, as we went to press last month, the Animal Kingdom show daytime activation KiteTails had just started at Animal Kingdom (you can read Erin Foster's review of KiteTails by CLICKING HERE). Now there is a lot of things to enjoy about KiteTails. To start, Animal Kingdom continues its excellent use of design work in a "pre-show" of sorts featuring Finding Nemo characters. Similar to the cuteness of the Merry Menagerie polar bears and penguins, the Nemo-themed kite work is solid entertainment.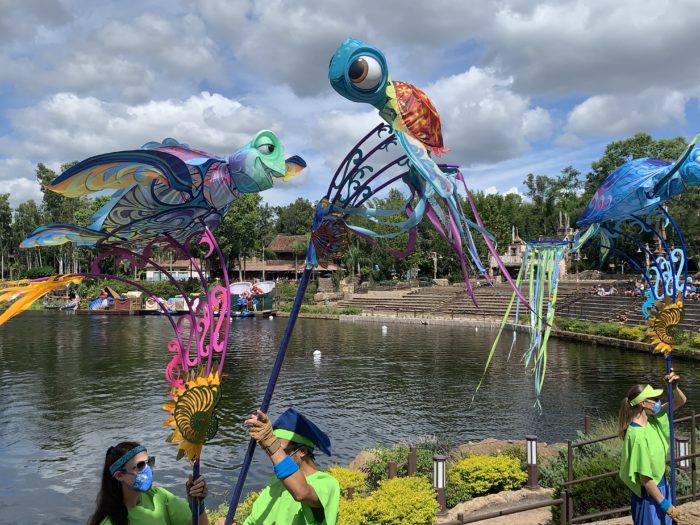 Of course the real star of the show is jet skis hauling you-know-what around the water with gigantic kites themed to Lion King and The Jungle Book. Super neat idea in theory that failed to take into account two major things. The first one is that the amphitheater that the show takes place in was designed for the nighttime Rivers of Light show. This means it was designed with no shade, which is slightly problematic considering the Florida heat – especially inside Animal Kingdom – is the closest one can be to standing on the surface of the sun. A second issue is one that probably should have been foreseen by anyone who knows how often the Aerophile can't be flown at Disney Springs because of "wind." Florida has next level bonkers weather in general (hello end-of-times level lightning storm that is over within five minutes), but wind plays havoc on anything up in the air. It is cruelly ironic because you can be sweating to death on the ground and not feel a single bit of relief from this alleged "wind."  So already a whole bunch of KiteTails performances have had to be cancelled because of "wind."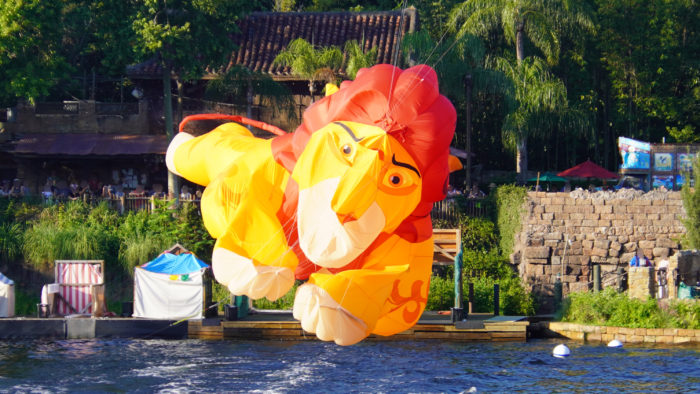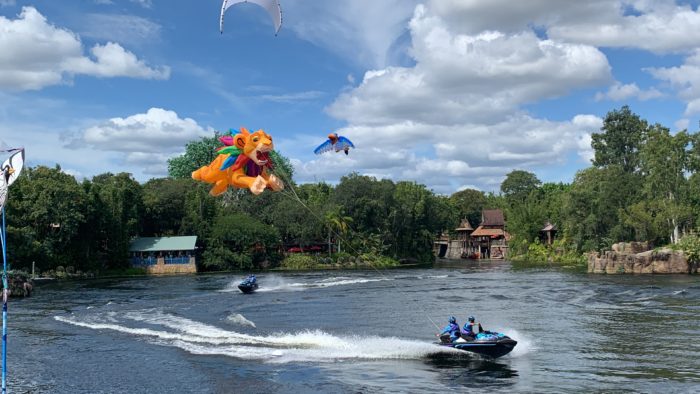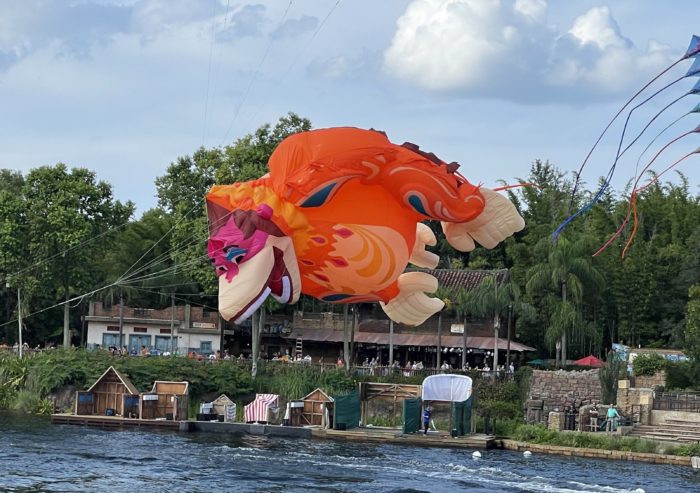 However, by far and away the biggest takeaway from KiteTails is the way the actual kites "land" when they are done their performance in the show. I imagine Disney would say this was planned and these controlled landings are how it is supposed to work. However, to the common layman watching the show, it is hysterical. The kites crash everywhere. Into the water…into the theater seats…and even into the bushes. It's amazing!!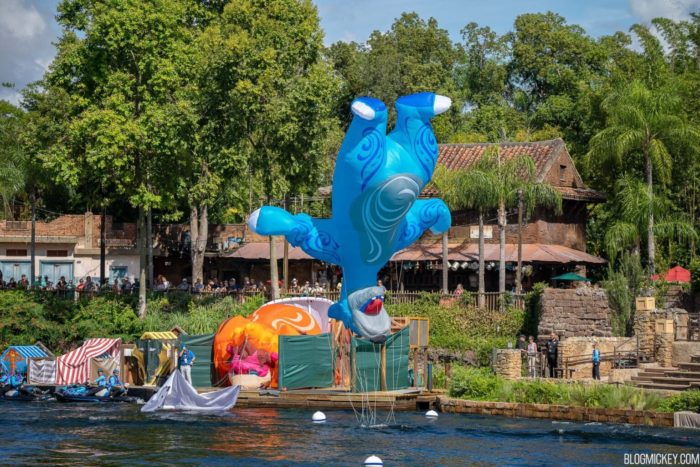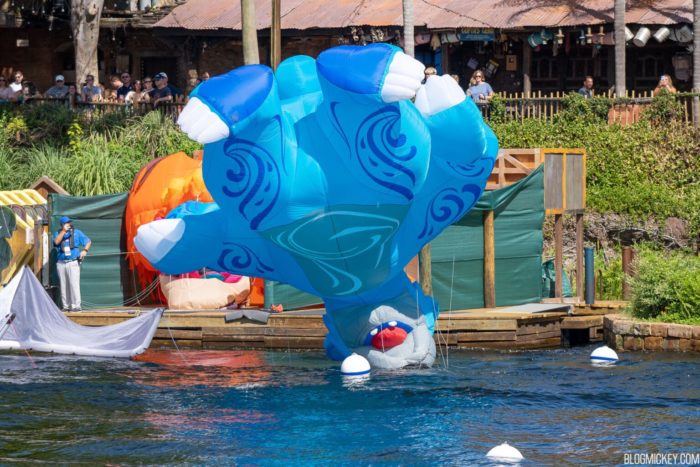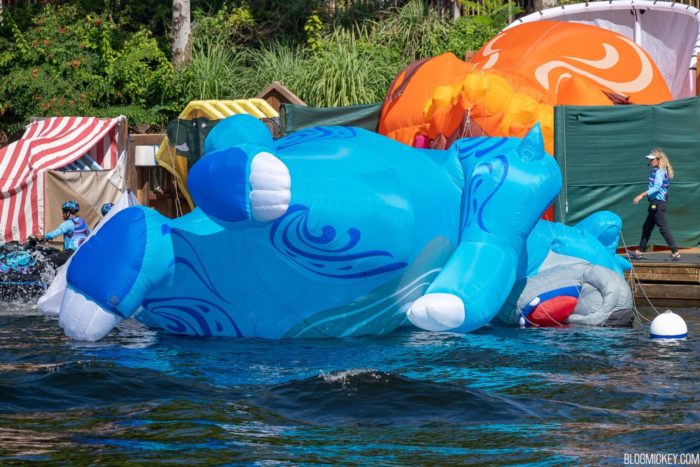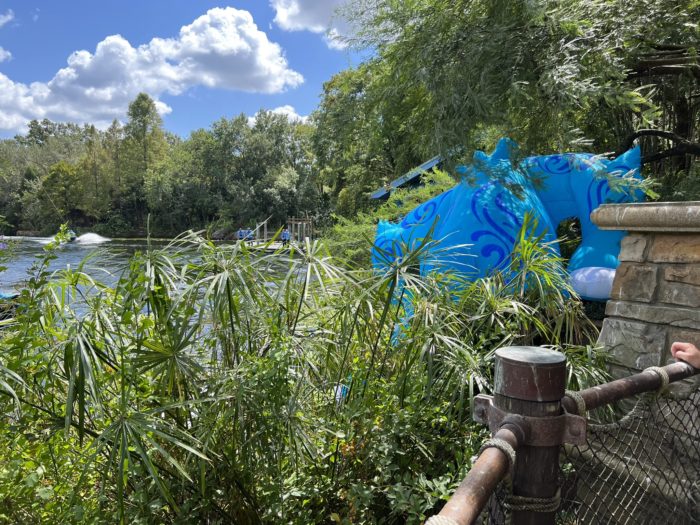 Here is a fun montage of kite landings from the video vanguard himself, Jeff Lange of Mousesteps….
The reaction to the kite landings on social media has been incredible, with sound effects being added to videos (with THIS ONE being my absolute favorite) along with many memes created.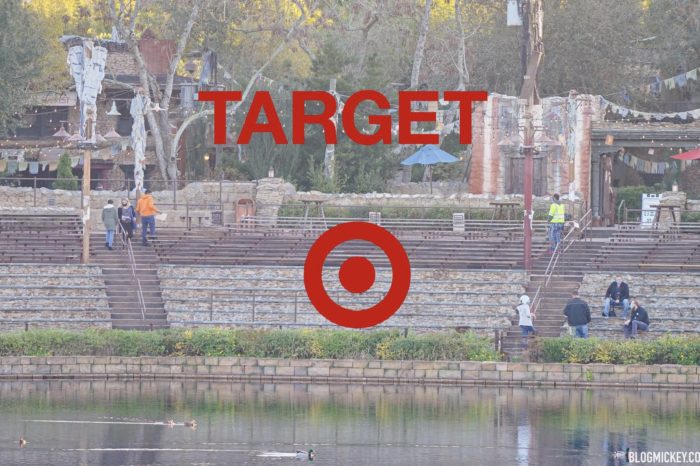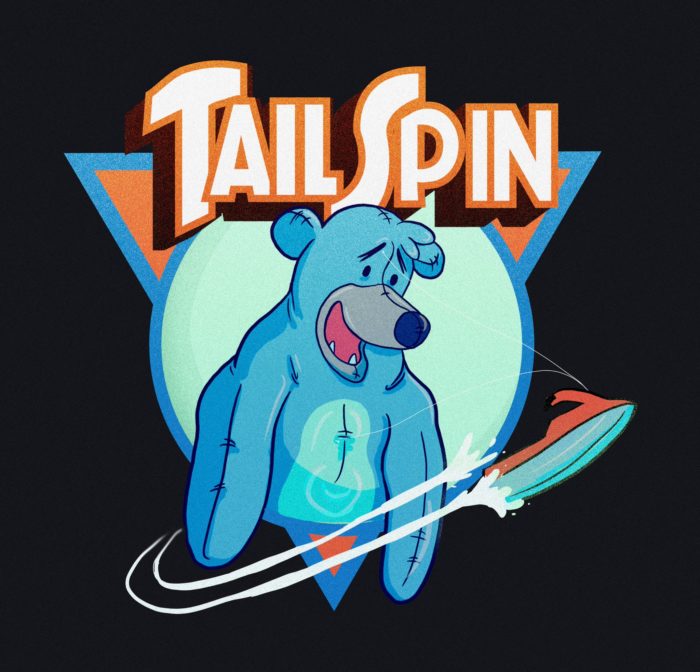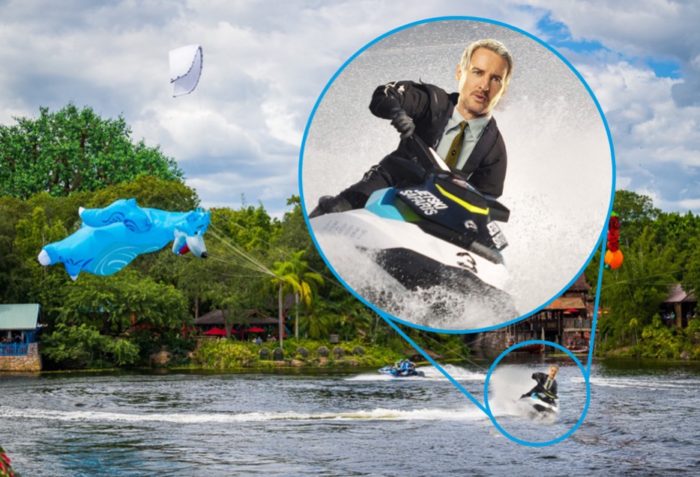 TPEI SCORE: – 5 The kites are really cool, the original music is solid, and Animal Kingdom needs all the help it can get… but it just seems like this is a disaster waiting to happen with either a jet ski mishap or a kite comes crashing down on guests.
WAIT A MINUTE! What's this? A KiteTails popcorn bucket?!!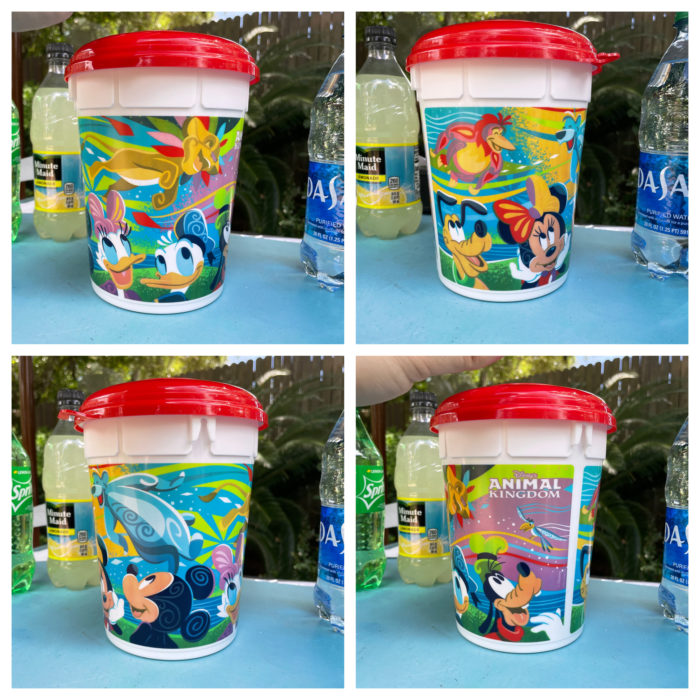 Updated TPEI Score: + 10 Like the lotus flower popcorn bucket created for Rivers of Light, this alone makes KiteTails one of the best shows at Walt Disney World.
*Tell Me Bob Chapek Is In Charge Without Telling Me Bob Chapek Is In Charge
Back on October 1st, Walt Disney World celebrated its 50th Anniversary and of course the biggest part of that celebration was not any shiny new rides or new shows at the Magic Kingdom. NAY NAY, it was the release of limited edition merchandise designed and released solely to make eBay pirates and resellers act like animals.
Believe it or not, the craziest part of the story wasn't even the fact that guests were coming to near fist fights in the Emporium on Main Street, it was Disney reaching a new low when it comes to price gouging its guests.
Guests lining up to buy the limited edition merchandise on October 1st were given a card which showed the available items and what the prices were. Now some of these prices are absolutely crazy to me, but Disney can charge whatever it wants. I have no problem with that.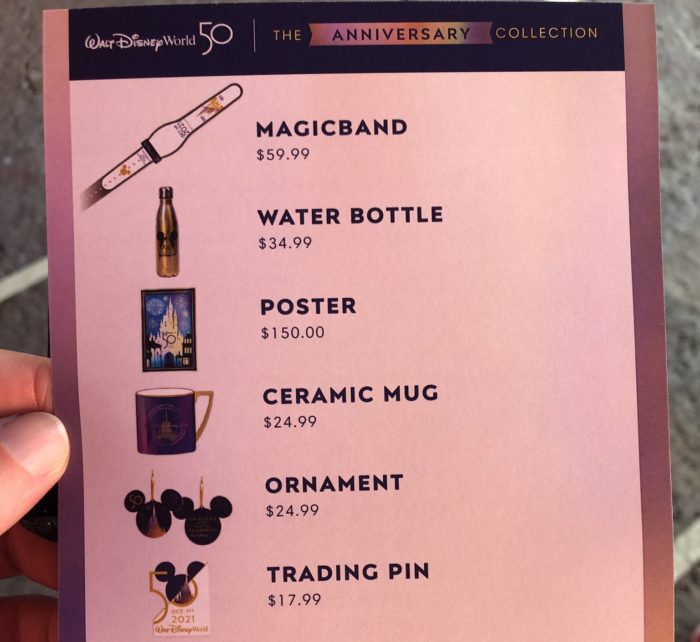 Here's the problem. Guests buying the merchandise were peeling off the price tags to show a previous underneath with a much lower price. The following are a series of photographs showing the $150 price tag of a Disney 50th Anniversary print being peeled back to reveal it was covering up the original $110 price.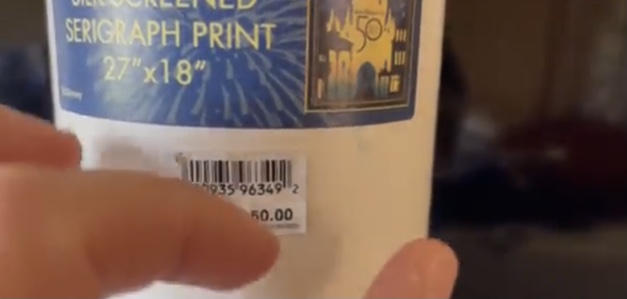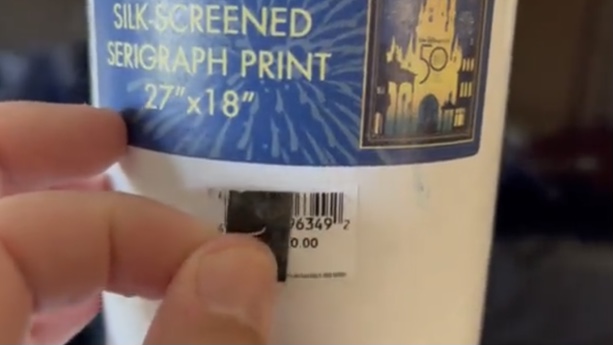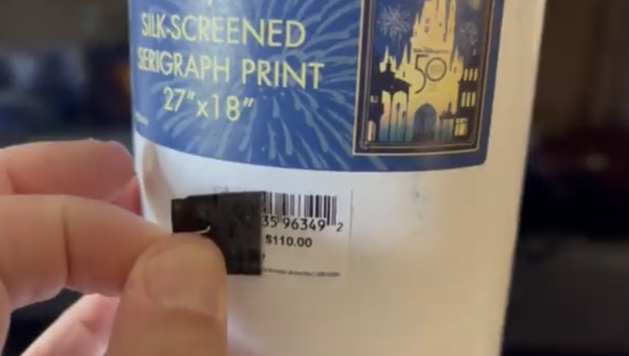 Can you imagine?! Here is another photo showing the price tag of $34.99 for a water bottle that was simply put over the old price of $27.99.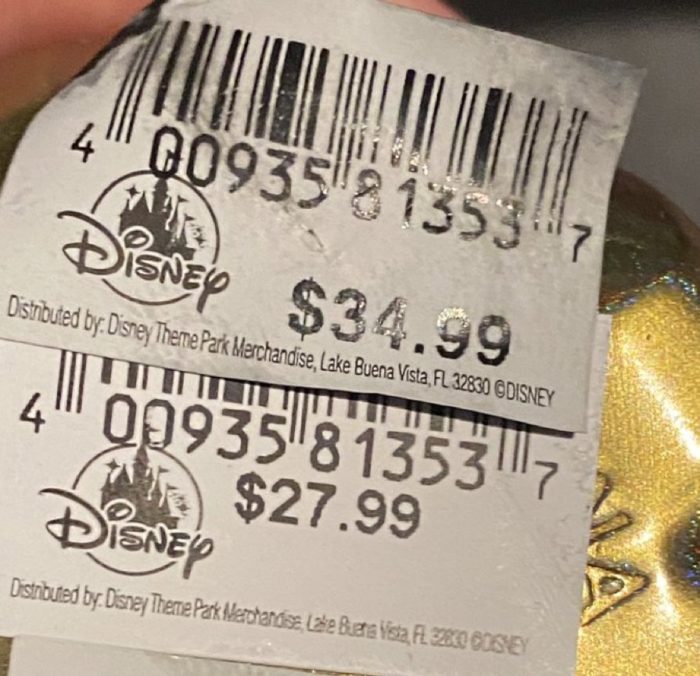 TPEI Score: – 35 We all know we are being ripped off inside of a theme park. I mean c'mon, the price of 20 ounce bottle of Coke is now $5! But this is just a slap in the face and a level of disrespect rarely seen.
*Spaceship Earth Gets A Glow Up
One thing that also happened on October 1st which was actually great was the debut of the Beacons of Light on Spaceship Earth. Pictures seriously do not do it justice as one of the best park icons around just got even better with the addition of LED lights. When the "golf ball" sparkles it will bring a smile to the face of even the most jaded theme park fan.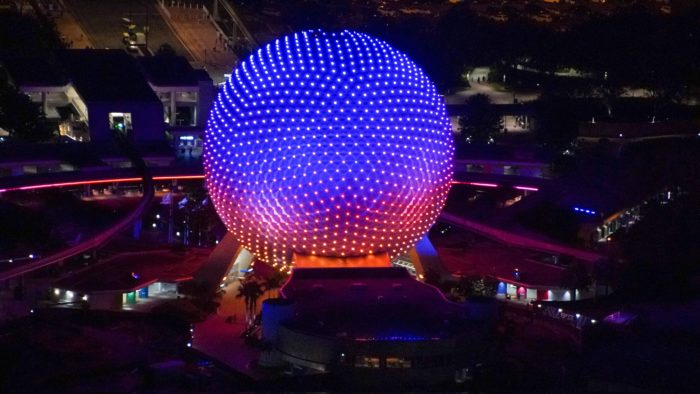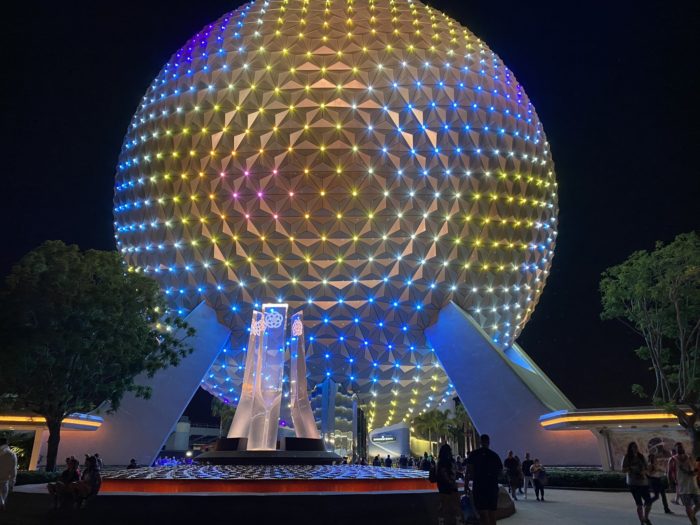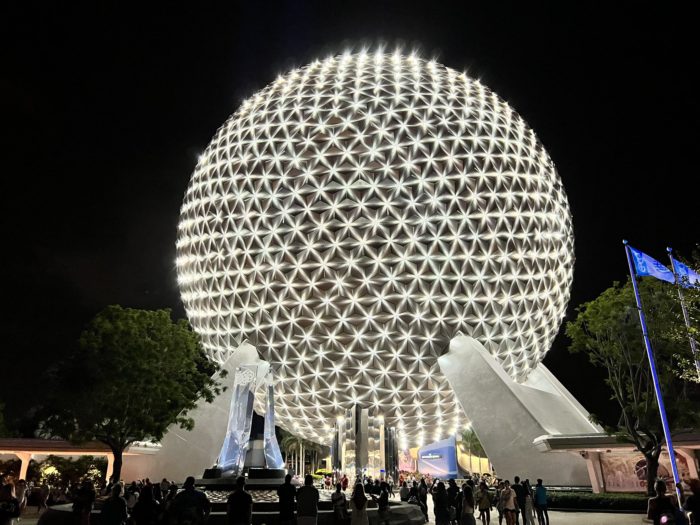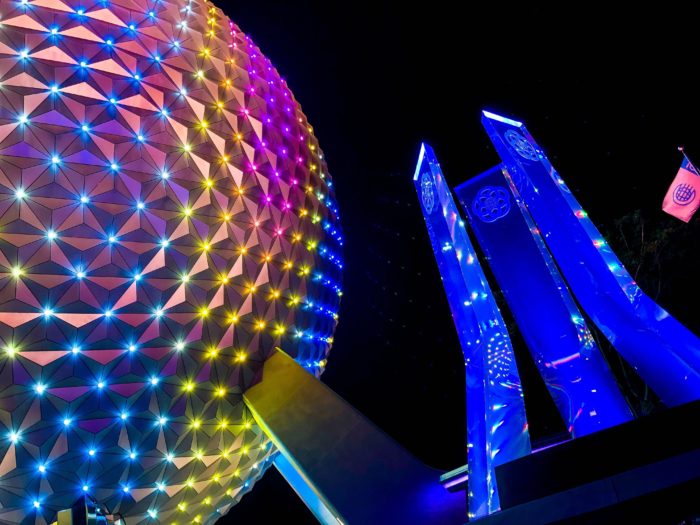 TPEI Score: + 10 "Indescribably beautiful."
*Genie+ and Lightning Lane Debut
You have to hand it to Disney, they somehow made the most complicated system theme park planning system known to man even more complicated. Out of respect to "conflict of interest," I will keep most of my thoughts of Genie+ to myself but will point you towards this article which has Genie and TouringPlans going head to head. There have been many other articles, all basically with the same results that have proven what many predicted when Genie+ was first announced: Disney does not have YOUR best interests in mind when planning your day on Genie+, it has their best interests in mind. Period.
For me personally, trying to understand everything about Genie, Genie+, and Lightning Lane is hard enough. Like many of you reading this, I'm the "theme park guy" of my friends and family, which means they are often coming to me for advice and/or questions. Trying to explain all of this to them makes me want to jump off a bridge. It already takes me forever just to explain Disney Park Reservations to people living in the Real World.
Again, personally speaking, I also find the name change of "FastPass" to "Lightning Lane" to be one of the most baffling marketing decisions since the New Coke debacle in the 1980s and Universal Studios Escape in the 1990s. The phrase FastPass is already known and used fondly by everyone. How many people have joked about "needing a FastPass" upon seeing a long line at a supermarket or the DMV. It's the ultimate "dad joke." Heck even half the guests at Universal call their Express Pass, "FastPass." You can't buy that type of brand attachment. Now there is Lightning Lane, which makes absolutely no sense when introduced with something called Genie. It's just confusing. THAT SAID, maybe it was deliberately made to be confusing because that's the only thing that makes sense about Disney's park ticket options. I have to think that confused guests accidentally spend more money by making mistakes than guests who know what they are doing. It may sound cynical but how can you not be cynical in a world in which Disney literally just did the price tag stuff we mentioned earlier?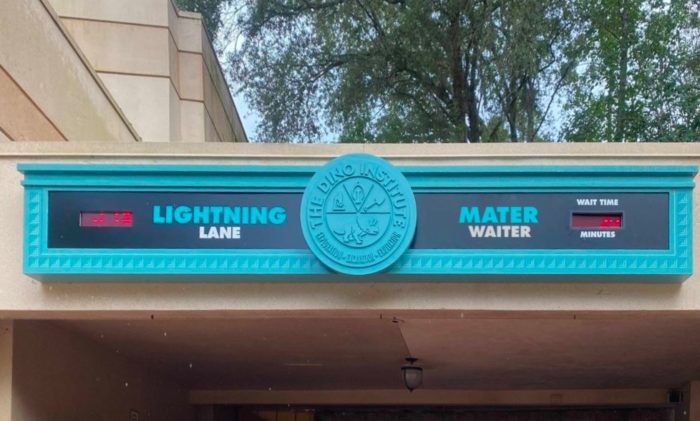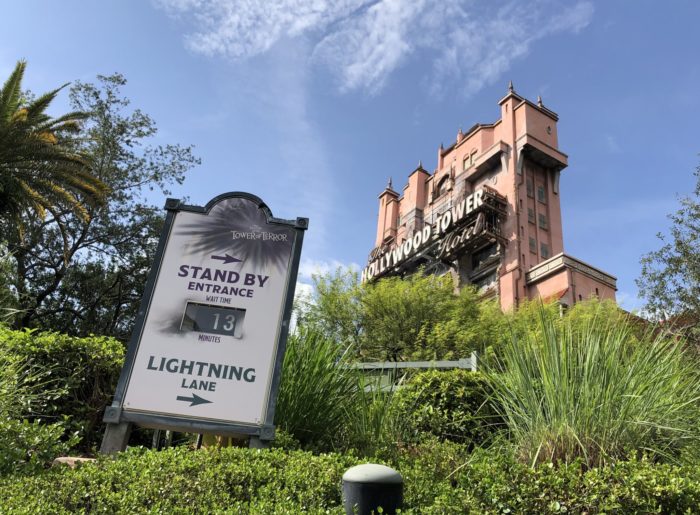 TPEI Score: Invoking my Fifth Amendment Rights I will leave it up to you, Dear Reader, to decide for yourselves if Genie+ and Lightning Lane purchases are something that works for you and your family.
*RIP Shrek 4-D and Fear Factor
Many Universal fans rejoiced this month as the theme park announced that Shrek 4-D will be closing permanently in early January of 2022, and that Fear Factor Live (which is currently closed) will not be coming back into operation. While both attractions had more than their fair share of critics, having both gone in 2022 could make for an operational challenge as Revenge of the Mummy is also going down for a looooooooong refurbishment starting January 7th. That means Universal Studios Florida will be down three attractions for most of the year.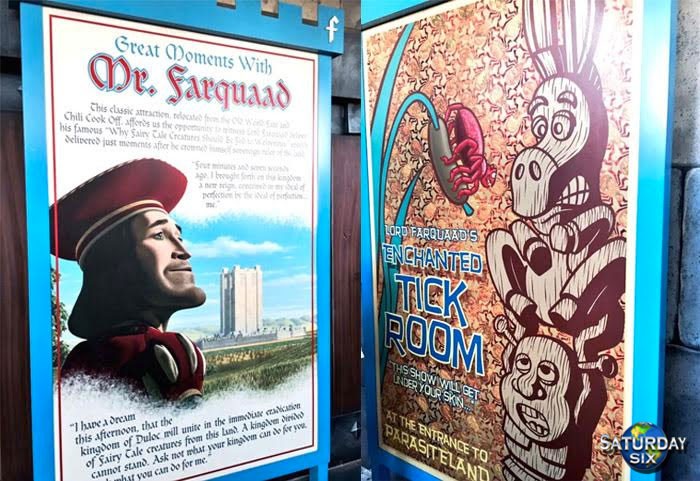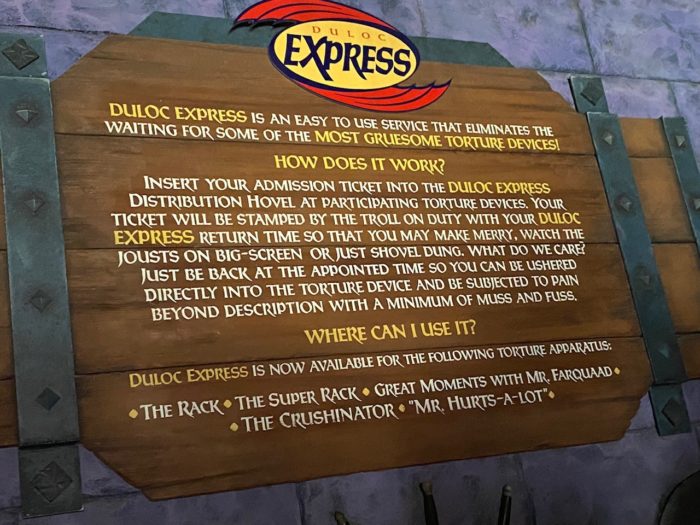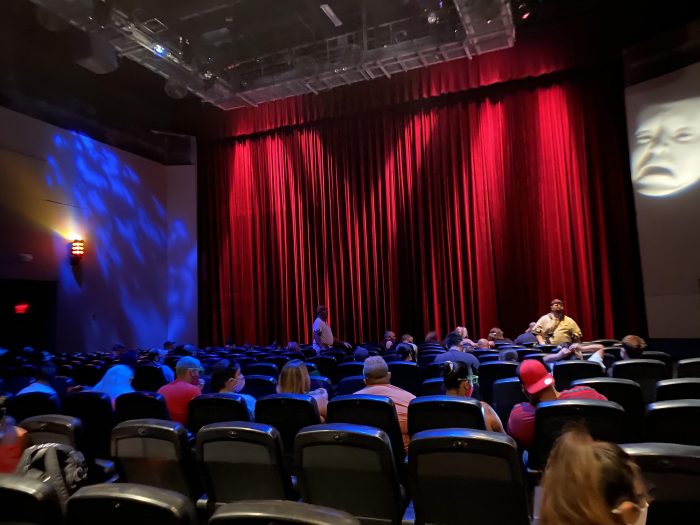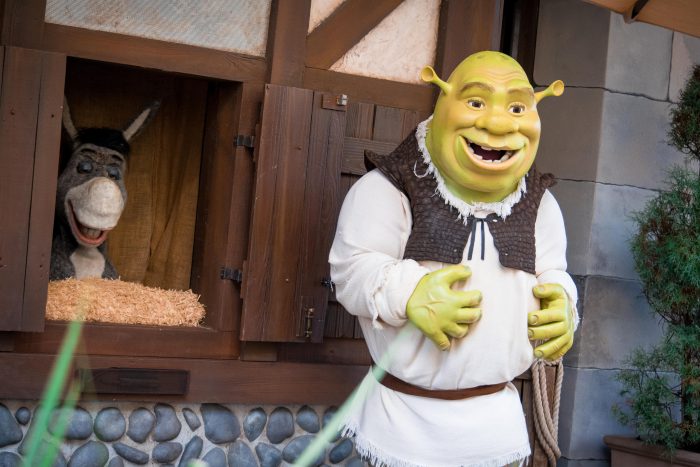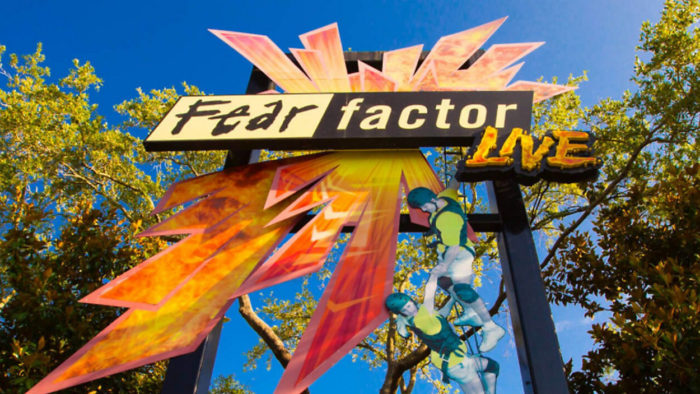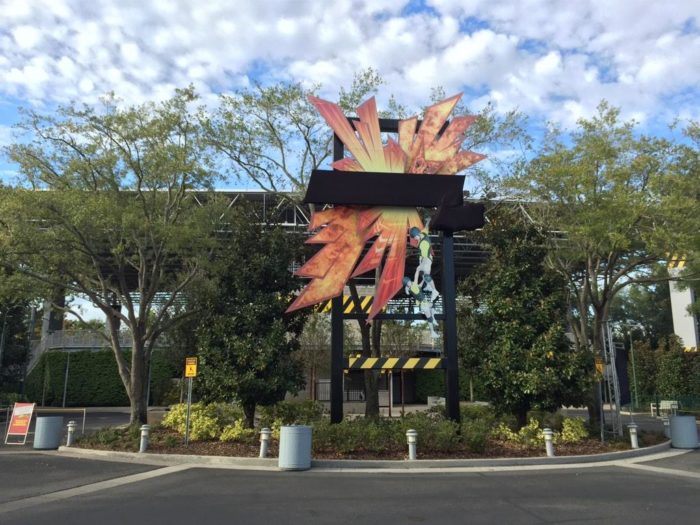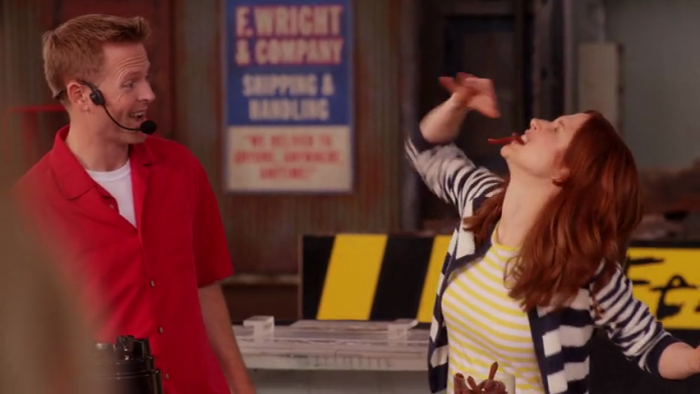 TPEI Score: – 4 First of all, I like Shrek 4-D. That's right. I SAID IT. I like Shrek 4-D. I think there are some really clever jokes on the outdoor facade and gift shop, a really neat pre-show, one of the best meet and greets in ANY theme park,  and a fun movie that ties directly into the events of the original Shrek movie. Could the theaters have used some (a lot) of TLC? Certainly. I don't buy the "Shrek 4-D is old" argument because Mickey's Philharmagic opened the same year as Shrek 4-D and it should go for another 20 years in my book. Good attractions are good attractions. Now, all that said, I will concede I am possibly alone on the Shrek 4-D island and pretty much every sane person I know is saying "good riddance."
Now Fear Factor Live? That sucked. Looking forward to whatever replaces that, especially if involves something from the Wizarding World.
*Just What We All Wanted, A New Buzz Lightyear Movie To Add Convoluted Backstory
Okay this next story is bonkers. This past week Pixar unveiled a new teaser trailer for the upcoming film Lightyear. Let's take a look…
Like pretty much all Pixar films, Lightyear looks stunning. The gorgeous animation mixed with David Bowie's Starman song makes for a powerful combination. The reveal at the end would make any normal human being think we are getting the backstory for the Buzz Lightyear character from the Toy Story universe. Well we are, but we are also not.
Lightyear is apparently going to be a sci-fi movie in the Toy Story universe in which the character of Buzz Lightyear was made into a toy from. Essentially, this would be a movie that the character Andy from Toy Story would go see at the theater. Andy would then go get the Buzz Lightyear toy based on the movie he just saw. For many years I never understood the term "too cute by half," but this is exactly what I think that particular expression is referring to.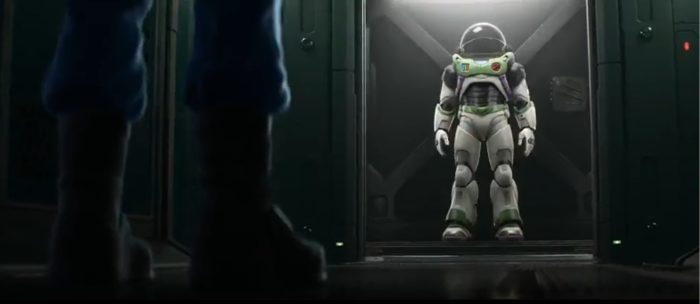 Chris Evans, who played Captain America in the Marvel Cinematic Universe, will be the voice of Buzz Lightyear in Lightyear.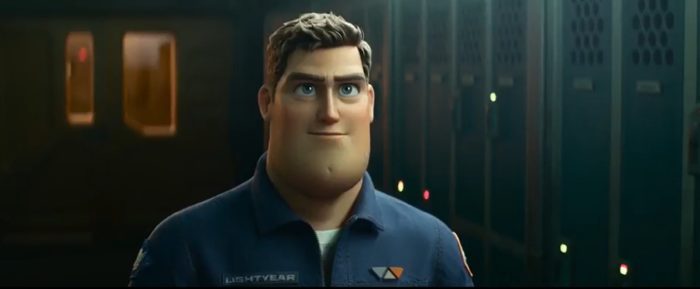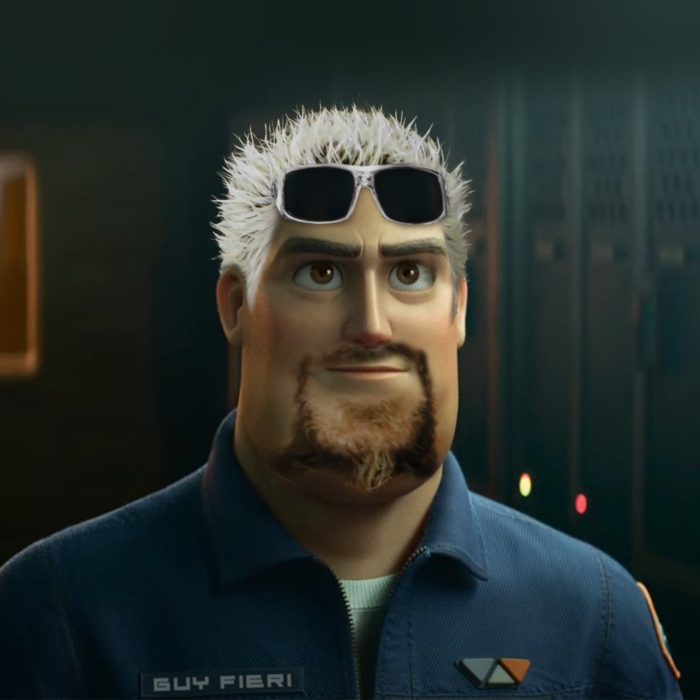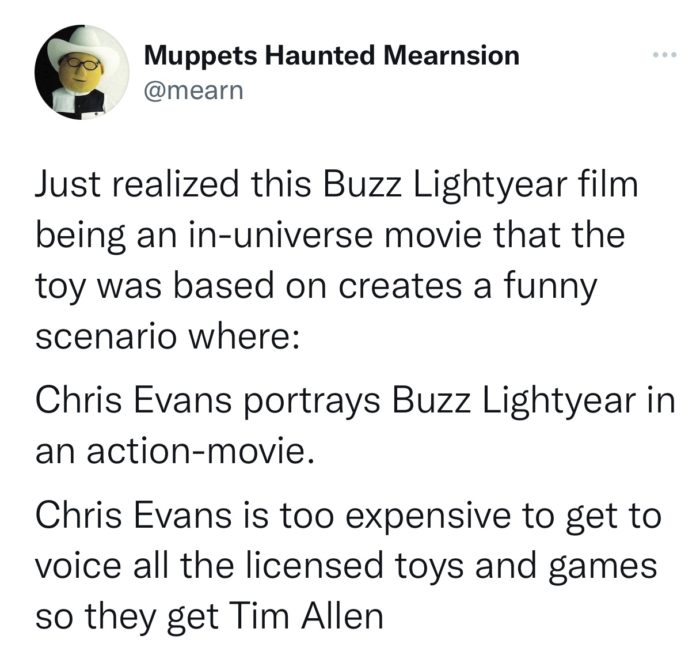 TPEI Score: + 2 Like the MCU, you always have to give Pixar the benefit of the doubt for any movie they are making. Their batting average is Hall of Fame worthy. First ballot. The concept of this movie is bananas, but the trailer itself was better than anything which has been put out for The Eternals so far, so there is that.
Presenting Our Monthly Quick Hits….
*Phrasing Disney, PHRASING
The month of October saw Disney change the marketing tagline of Harmonious in EPCOT.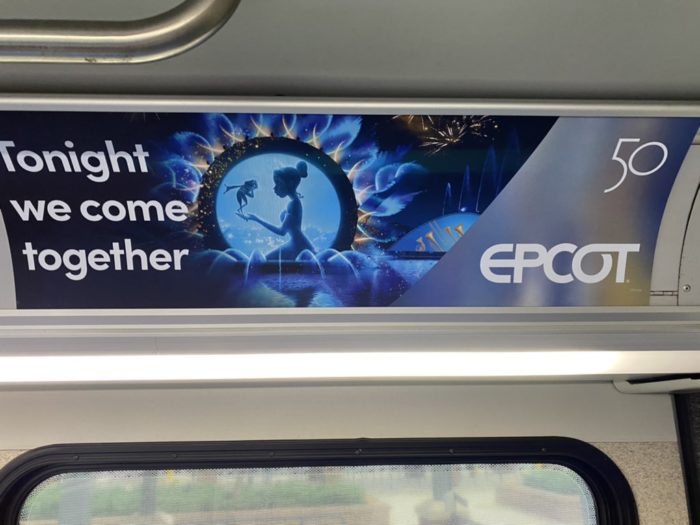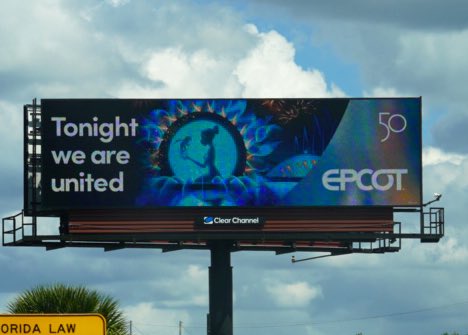 *How Can This Possibly STILL BE CLOSED?!!!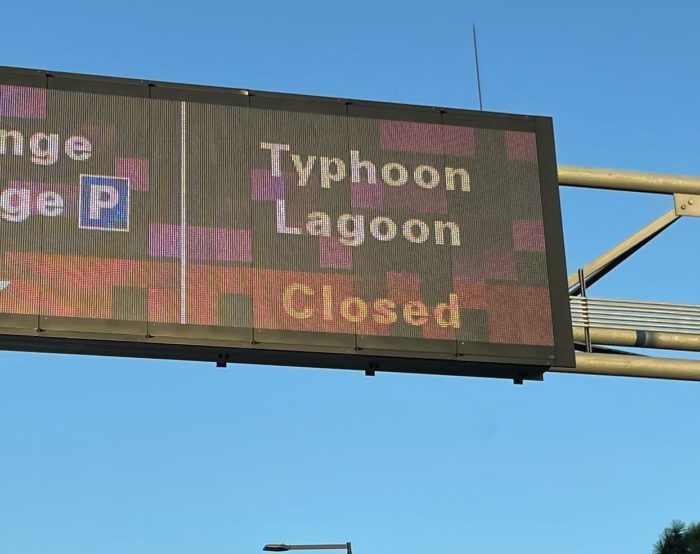 *October's BE FAIR TO FLORIDA Moment
Imagine me scrolling my social media feed,  minding my own business, and then coming across the following picture taken in Universal Studios Hollywood which made me want to flip a table.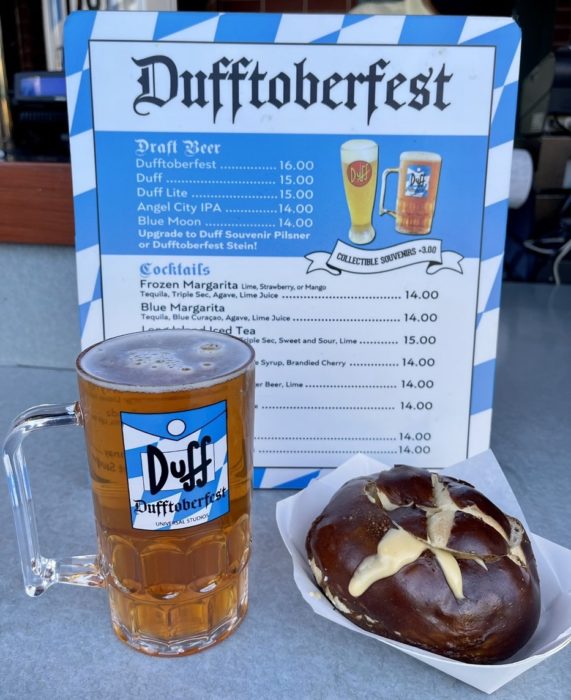 Here in Florida, our Springfield USA does have Dufftoberfest…but we don't have that cool Dufftoberfest beer stein. The pretzel bun is also covered with DUFF BEER CHEESE. My reaction upon seeing the above picture?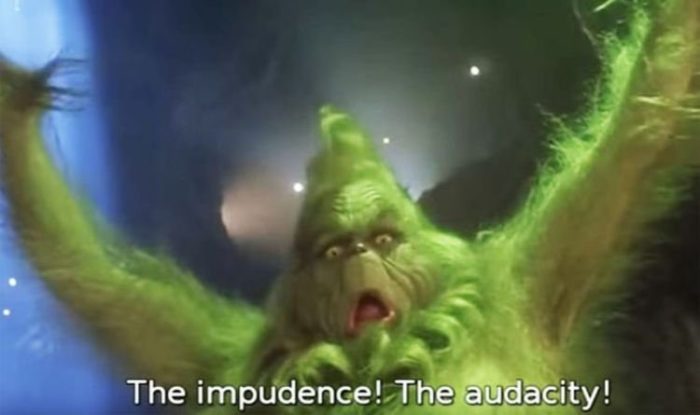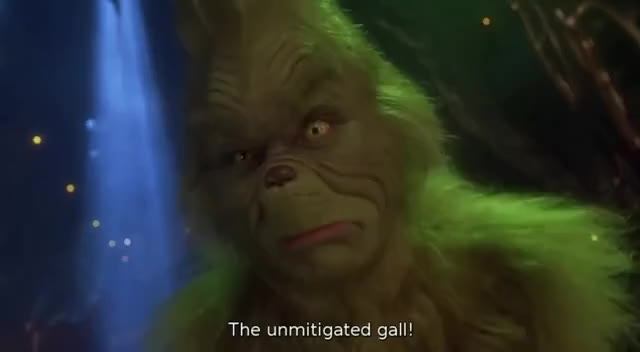 Thankfully, Universal did come through for us here in the Sunshine State, as they should considering we are The Straw That Stirs The Drink. We finally got the Jurassic World branded beer cups for Jurassic Park. I love these so much it doesn't even bother me that I'm pretty sure they've had these out in Universal Studios Hollywood for years.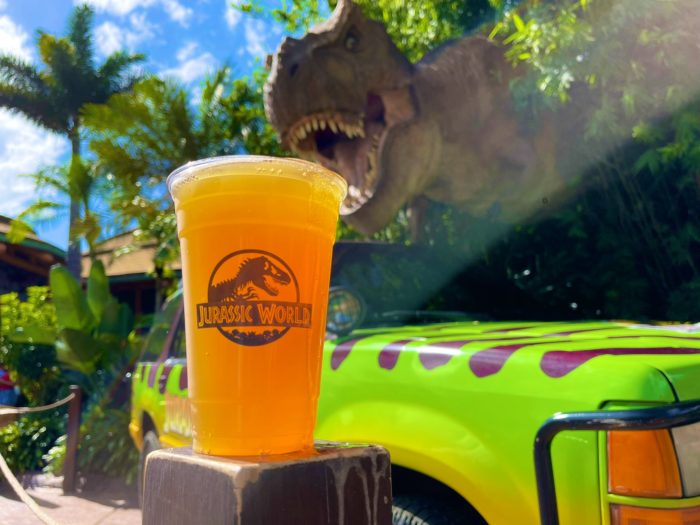 Universal also added two new plastic molds in the HHN Tribute Store out of nowhere. Now this is insane, even to me. During the last two weeks of the event you debut two different designs? One based on the fan favorite HHN Bear and another on the Tribute Store facade itself? Scroll back up to the top of this article to see the "blah" merchandise Disney put out for it's 50TH ANNIVERSARY and compare it to the fan service done with just these two plastic molds.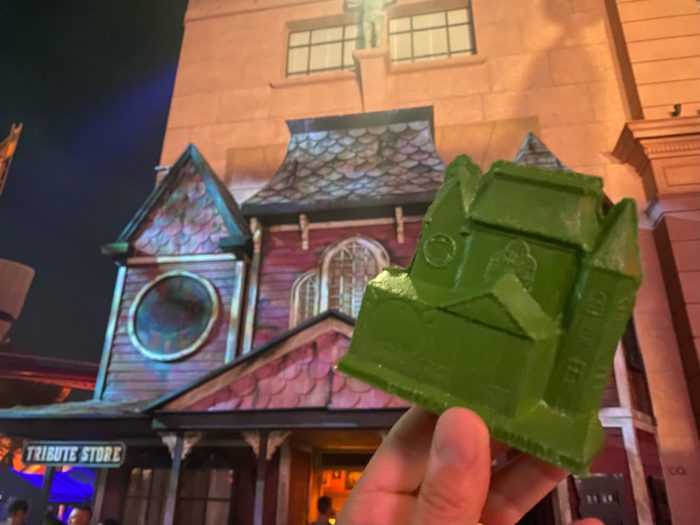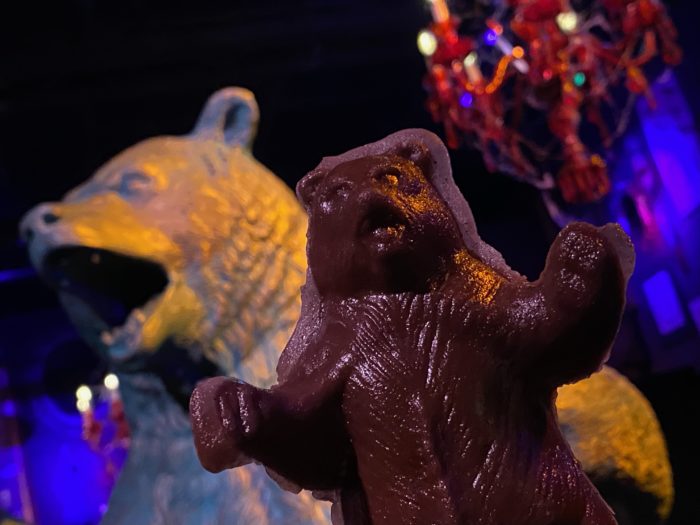 Our pal @bioreconstruct even updated his group photo of Every Plastic Mold Universal Has Made To Date.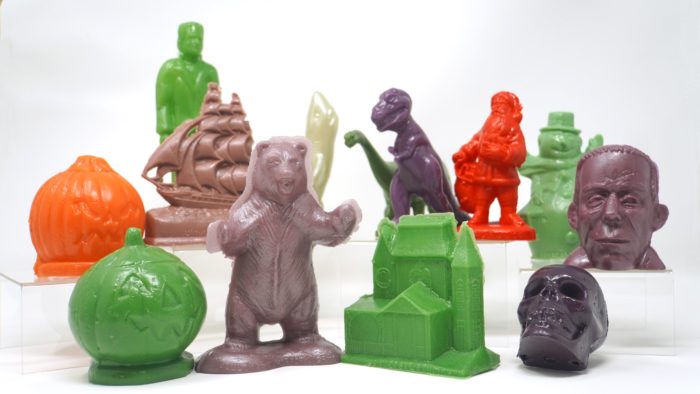 Just as my blood pressure was returning to normal, the Be Fair To Florida movement got another jolt when DCA revealed that Zombie Cap (from Marvel's awesome WHAT IF…? series on Disney+) would be a character to take photos with at the Boogie Bash. Definitely have to hand it to Disney for going way above and beyond in quickly adding Marvel characters into DCA. Just the past few months alone they had various versions of Loki based on that character's Disney+ show, and now they have added Zombie Cap along with Agatha Harkness from WandaVision. Just fantastic work.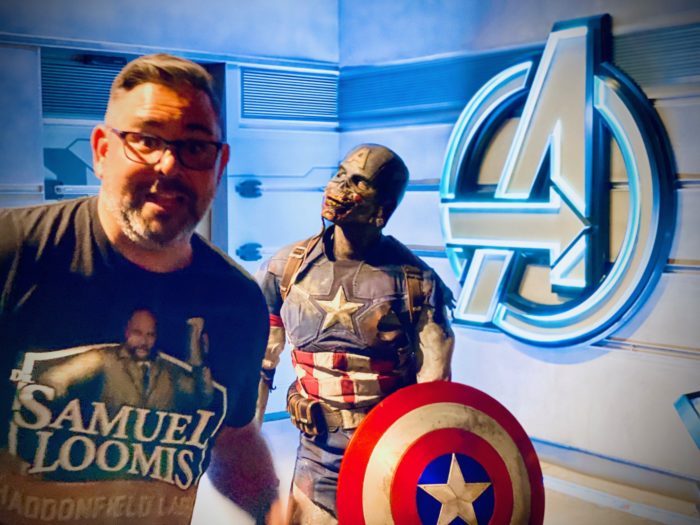 Even better? Disneyland is once again bringing the Main Street Electrical Parade out of of mothballs to try and drive up attendance. Over here in Florida we are DYING for a nighttime parade and we get absolutely zilch while Disneyland seems to always have one in rotation. It's preposterous…outrageous…SCANDALOUS!!! Say it loud and say it proud: BE FAIR TO FLORIDA!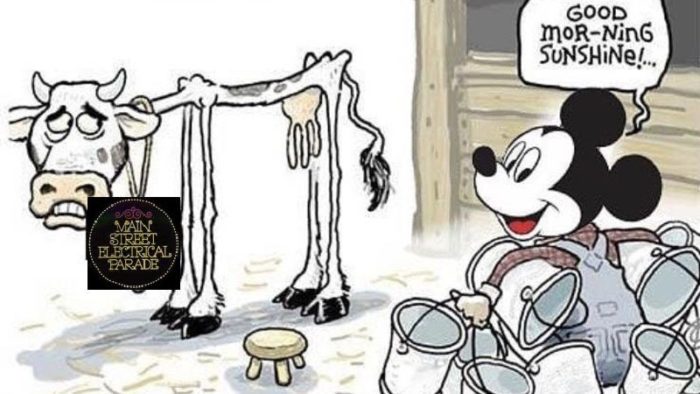 *Disneyland Pop  Up
Speaking of Disneyland, one of the neatest theme park related pieces of merchandise came out related to that park with this amazing mini 3-D model that costs less than $14!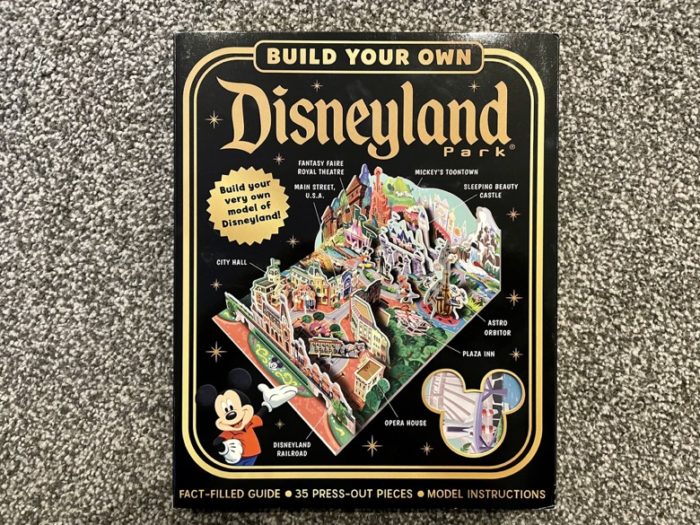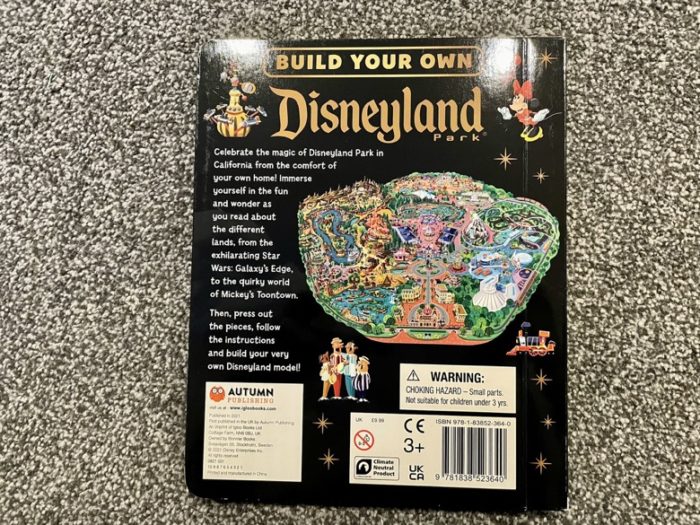 The package also comes with these cute little maps of Disneyland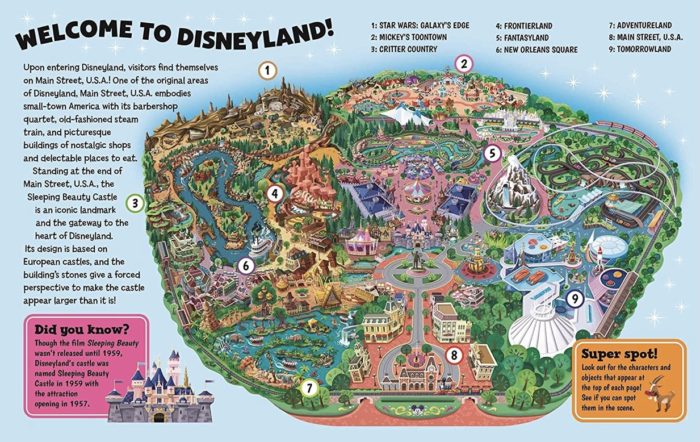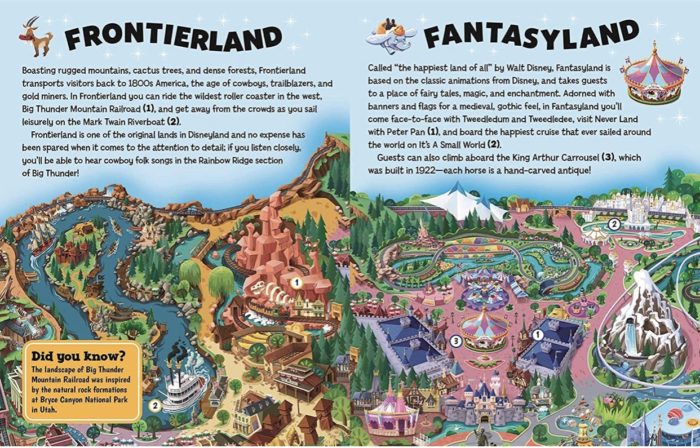 While the Build Your Own Disneyland isn't going to be released in America until December (but you can PRE-ORDER IT NOW) it is already available overseas. I love everything about it, and when put together it looks so wonderful and charming that it makes me want something similar for all of our theme parks. I want a Build Your Own Magic Kingdom, EPCOT, Animal Kingdom, DHS, Islands of Adventure, Universal Studios Florida, and – most importantly – Volcano Bay!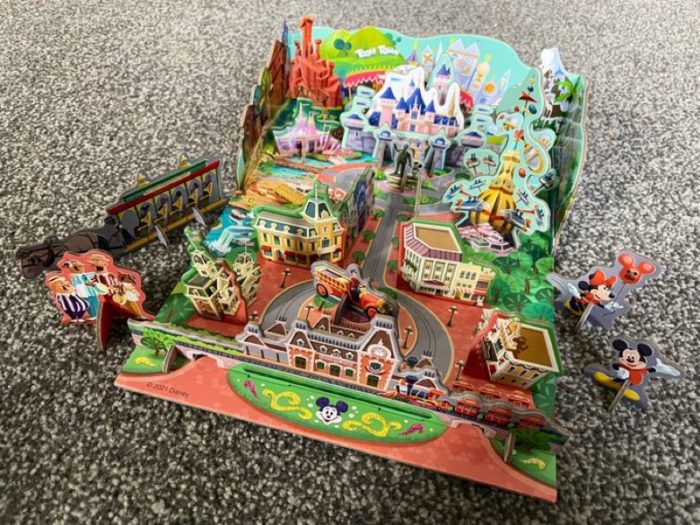 *Pinch Me, I'm Dreaming… Disney Putting Out ANOTHER Parks Related Little Golden Book?!!
This is incredible. We are now in the third straight month where Disney has released a Little Golden Book based on something theme park related. This one could be the most interesting though. The title is "Mickey's Walt Disney World Adventure". If that sounds familiar it is because Disney did this exact same Little Golden Book back in 1997 to celebrate the 25th anniversary of WDW. In fact, the covers for both books are exactly the same except for the 50th anniversary logo in the middle of Mickey's drum. The description of the book says that it will be updated with current versions of attractions in the park. This book will be released in January 2022, and once it is released we will do a full on comparison between it and the original.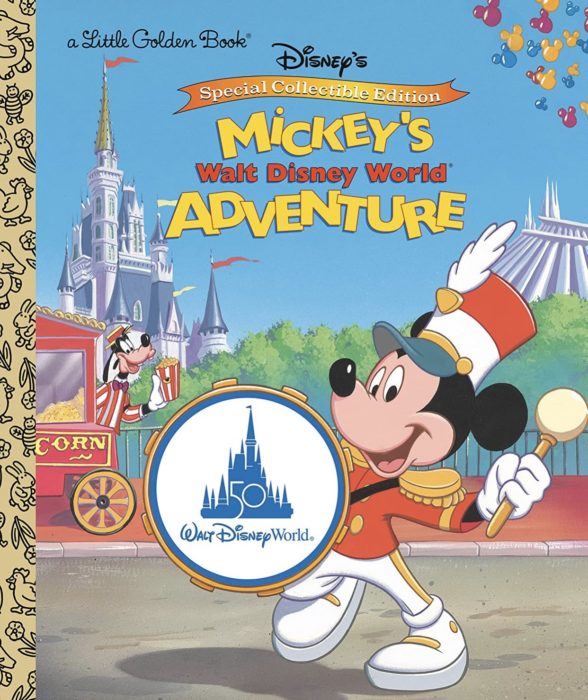 *Your Monthly Taste of the Disney Outlet Store
Remember we talked earlier about FastPass being so recognizable that people will use it in every day life? Well, even though FastPass has now been eliminated at Walt Disney World, you can still buy this FastPass themed coffee cup at DHS (and most likely you'll find it even cheaper at the Disney Outlet Stores in a short while).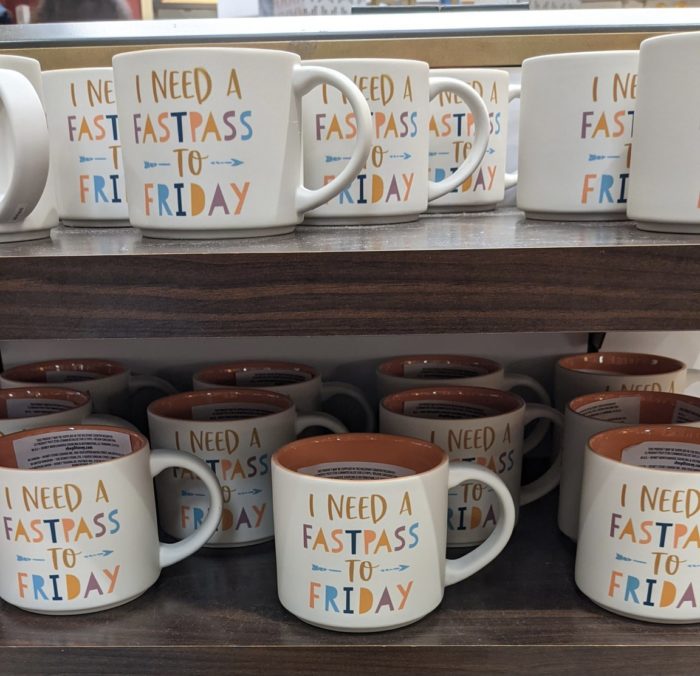 @SonderQuest Spotlight
This month we celebrated the 50th Anniversary of Walt Disney World, and what a better way to pay tribute than this drawing of the time when Cinderella Castle was turned into a giant pink birthday cake. Yes, this actually happened.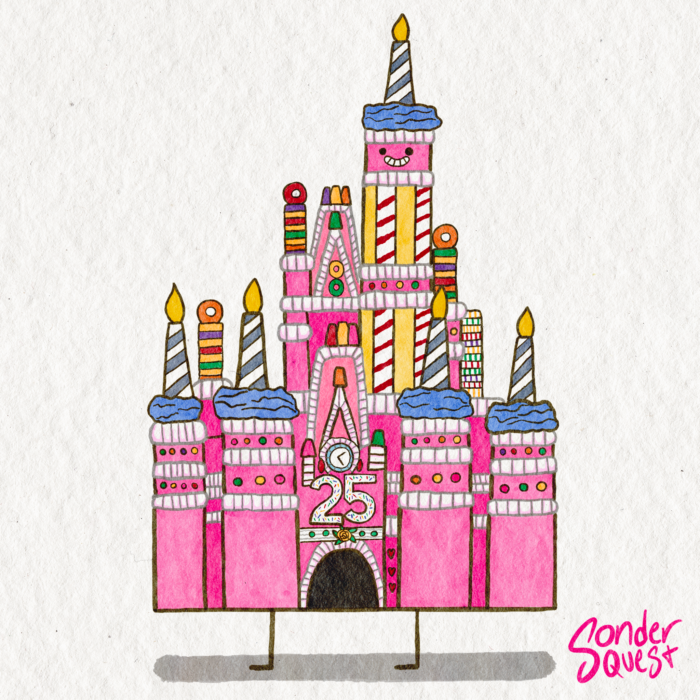 For the month of October, SonderQuest has been creating individual drawings of various icons of Universal's Halloween Horror Nights (which you can see IN THIS THREAD). We're proud to present this motley crew in one group photo along with all the wonderful details for each character (such as Fear's icon stakes and Eddie's smiling chainsaw.)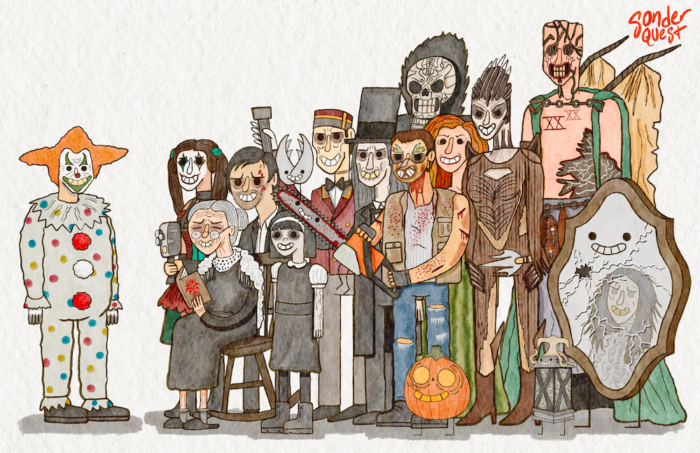 Last month's Theme Park Enjoyment Index: 74
This month's net change: – 22
Current enjoyment level: 52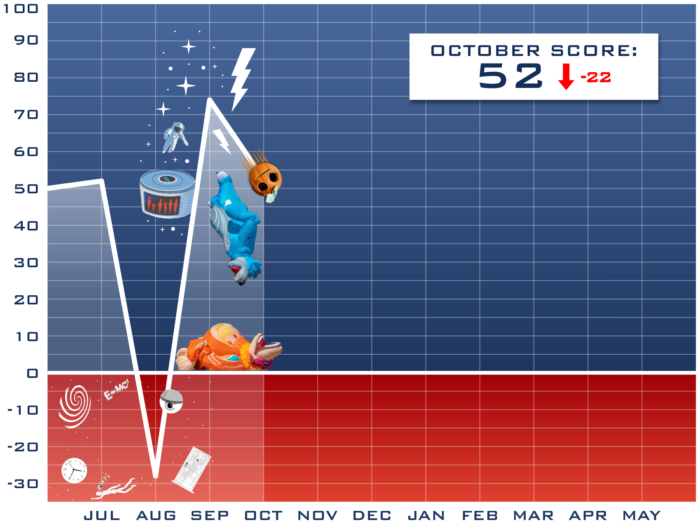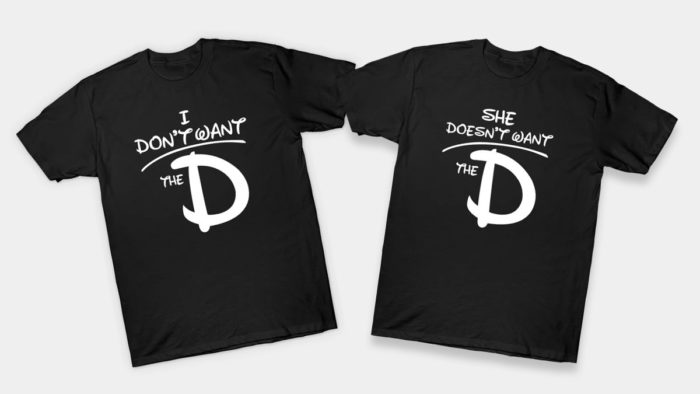 Writer Derek Burgan, when not cleaning Len Testa's pool, can be found reading comic books, watching professional wrestling, and taking his dog Bacini to Universal and Disney. organizing his various Tsum Tsums in alphabetical order. He will not, we repeat not, be found at a Disney Outlet Store. An official DisTwitter Influencer, you can interact with him @derekburgan
Digital Artist Scott Walker hails from Scotland and is the fourth most famous person from this country following Alexander Graham Bell, Gerard Butler, and Scrooge McDuck. We have also been contacted by the legal representation from Ewan McGregor and have been presented strong evidence that Scott may unfortunately fall to being the 5th most popular Scotsman in the near future.
Remember: NEXT SATURDAY….