SATURDAY SIX UNLEASHED: How to Treat Your Dog Like Rock Royalty at the HARD ROCK HOTEL
This week's SATURDAY SIX takes a look at the UNLEASHED program at Universal's HARD ROCK HOTEL! Regular readers of this fine blog series know two things. One, we love staying on site at both Universal and Disney. From Cabana Bay Beach Resort and Pop Century to Loews Portofino Bay and Wilderness Lodge, staying on site is our preferred way to vacation. Second, we love traveling with our pets. The best trips are when we can combine those two things, and we've been fortunate to take our beloved pup Bacini – the official dog of DisTwitter – to resorts such as Disney's Fort Wilderness Campground, Loews Royal Pacific Resort, and Sapphire Falls.
Recently, we found out that the Hard Rock Hotel chain is offering a new pet-friendly program called UNLEASHED, so of course it was time to grab our four-legged friend and head to the Universal Orlando Resort!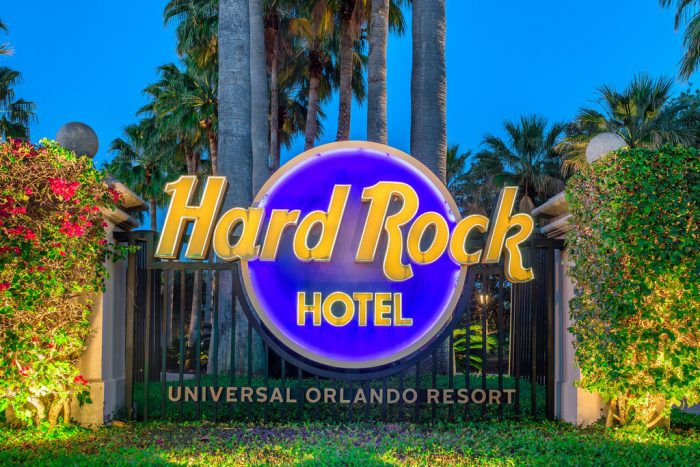 Bacini (pronounced bah-chee-knee) galloped his way into the lobby. This is one dog who loves hotels!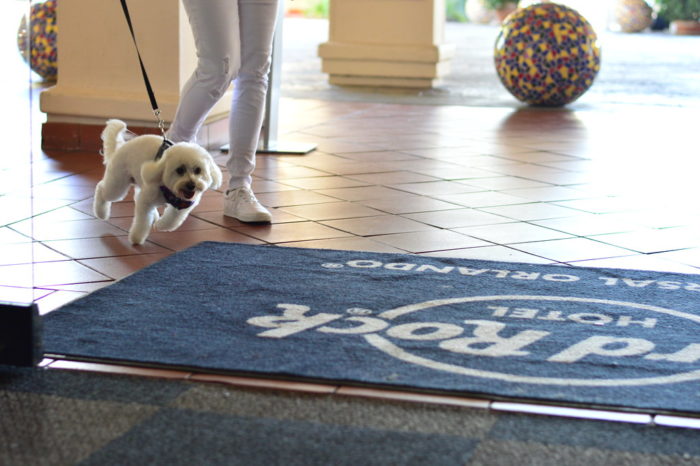 The pet-friendly rooms at Hard Rock Hotel have the following rule: 2 pets equaling up to 50 pounds are allowed per room. Reminder that means "pets" not just dogs. Disney's hotels are dog-friendly, but you can't bring say, cats. Good news for cat lovers out there (note I didn't say cat "owners," because anyone who has lived with a cat knows that no one owns a cat). For the Unleashed program, there is a one-time fee of $150 per pet. For those staying longer than 7 days, there is a $150 charge per week. At Disney, there is a $50-$75 charge per night.
The pet-friendly rooms are located on the first floor of the resort. This was PRIME LOCATION, because we were right next to the hotel gym, the incredible pool area, The Kitchen restaurant, and the Emack & Bolio's quick service. We were also very close to the walkway to Universal Studios and the boat launch for the water taxis to CityWalk. Talk about location, location, location. This was a stark contrast to the location of dog-friendly rooms at Disney's Yacht Club, which are about as far away from the action as you possibly could be.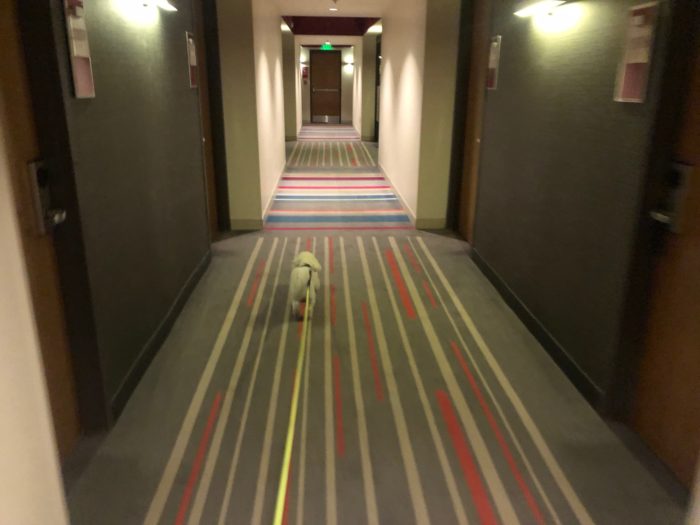 # 6 – The Room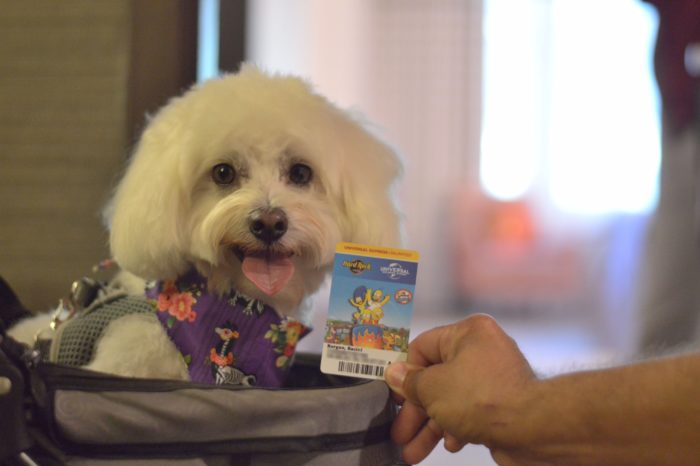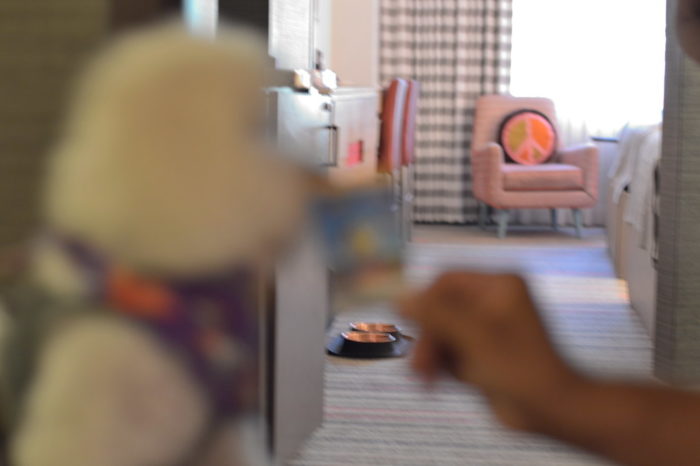 We had a Garden View. The room included two queen beds.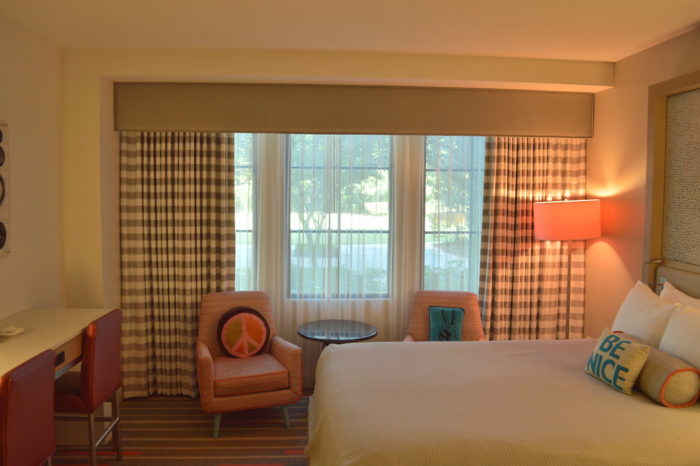 Here is a photo of the room taken from the opposite side.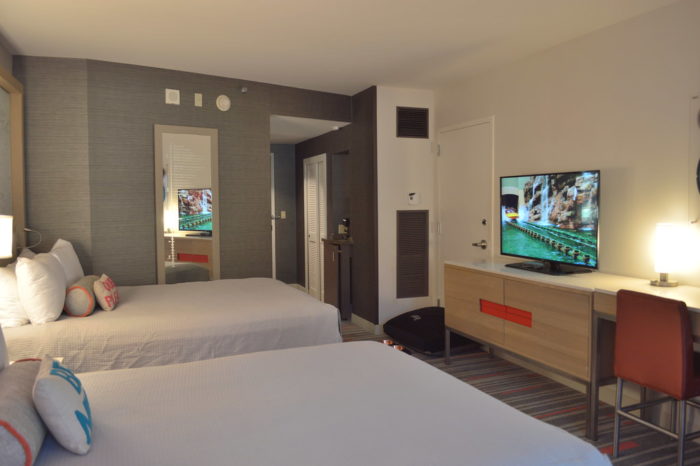 Here's one thing I found interesting. When scrolling through the channels on the TV, one station is labeled "music videos." This channel is what MTV used to be like before it turned into, well, whatever it is today. The channel plays one music video after another, with no commercials. What blew my mind was discovering that the music channel on the TV was the exact same one playing throughout the resort, including on the giant multi-screen TV in the Hard Rock Lobby.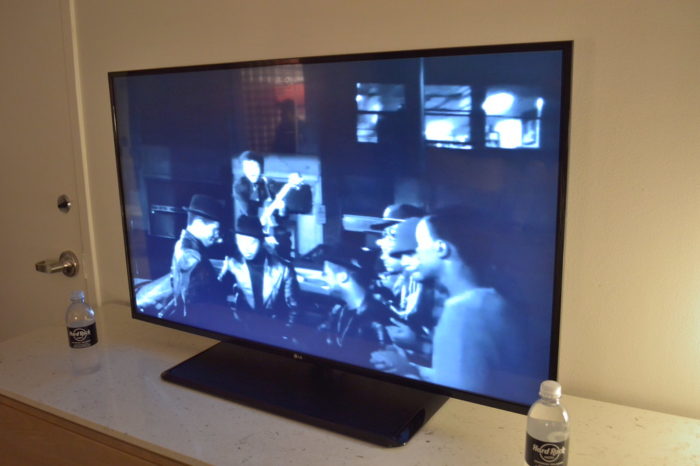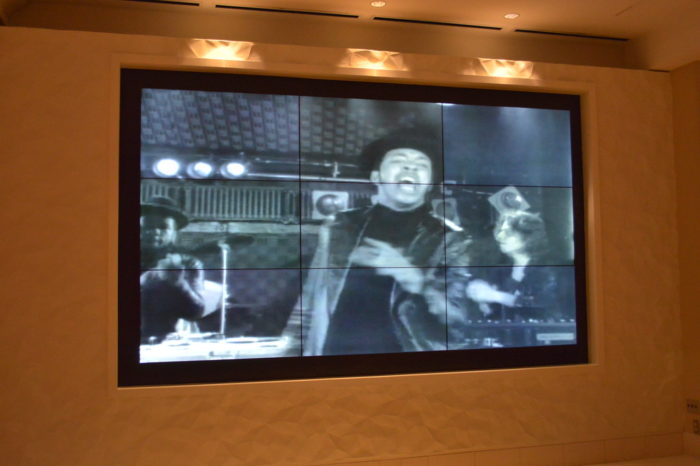 Each guest room has a telephone, bluetooth speaker/alarm, and plenty of outlets and USB ports. Love me some branded hand sanitizer. The sound quality on the speaker/alarm was shockingly good.
Lots of musical details throughout the room.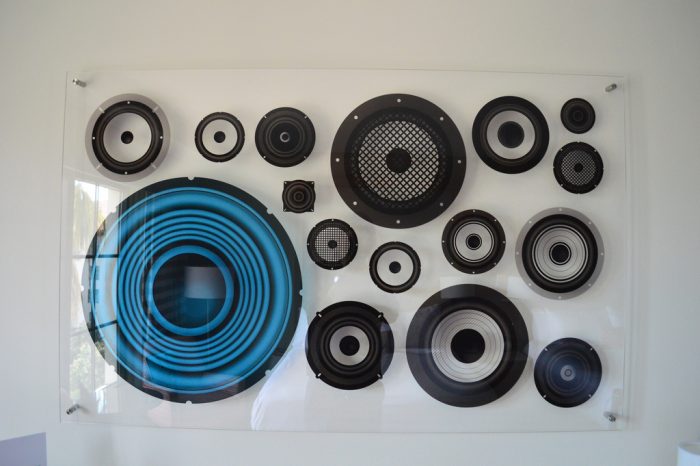 One feature we loved was that one of the mirrors in the room had a height chart built into it that displayed the heights of various musical artists. From Kristin Chenowith to Snoop Dogg, each member of the family could see which artist they were as tall as. (For me it was Elvis Presley.)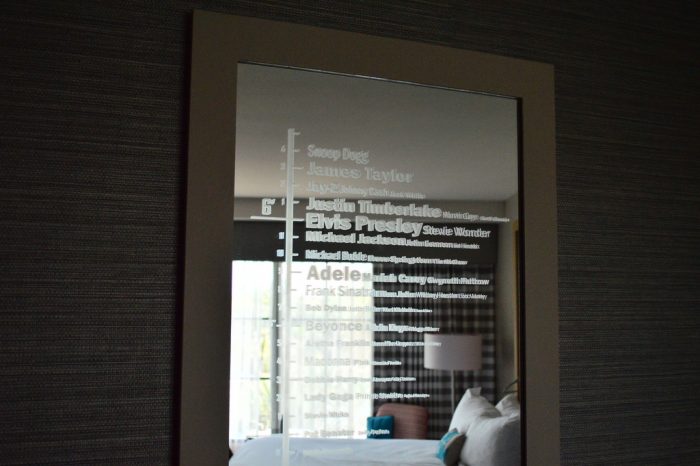 A Keurig machine was in the room, along with a small refrigerator.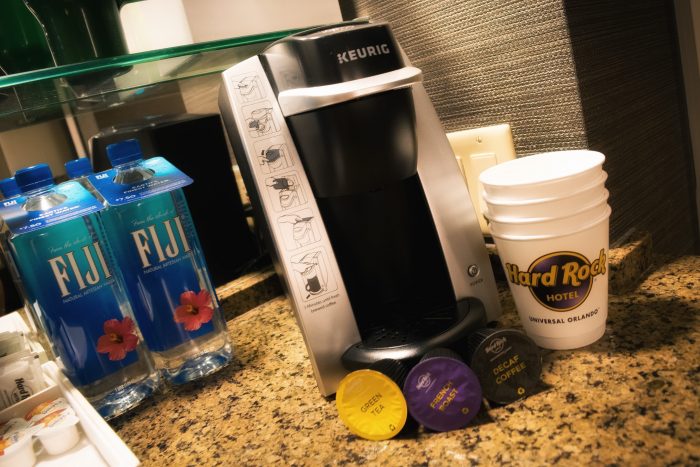 I like the bathroom set up at the Hard Rock Hotel, because having two sinks essentially allows two people to get ready at the same time rather than having to wait for each person to finish.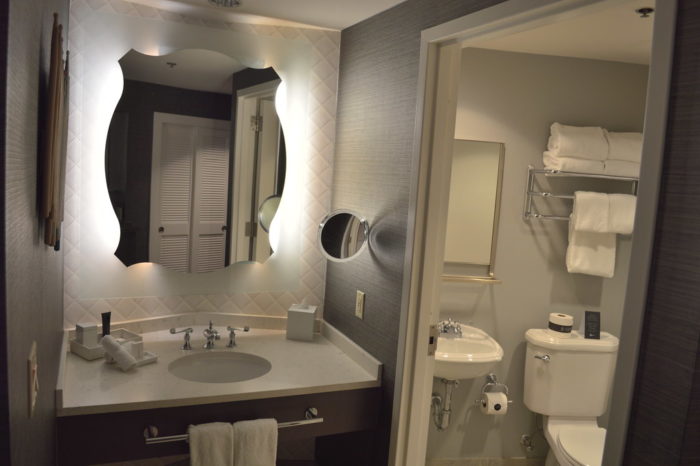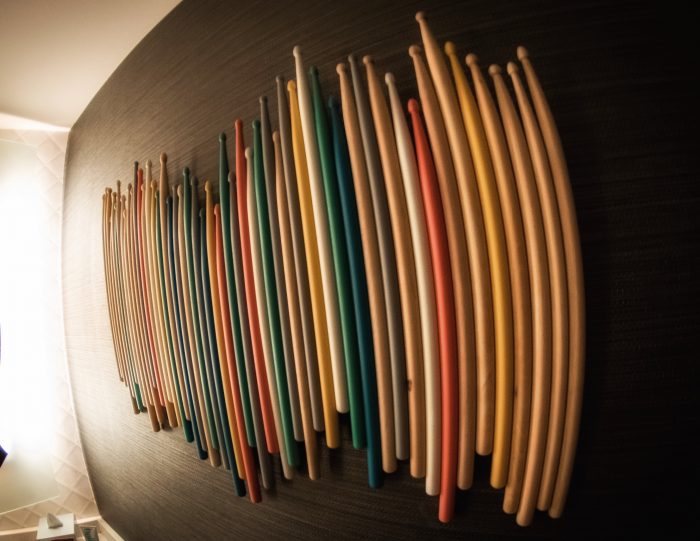 There is a bit of whimsy throughout the Hard Rock Hotel.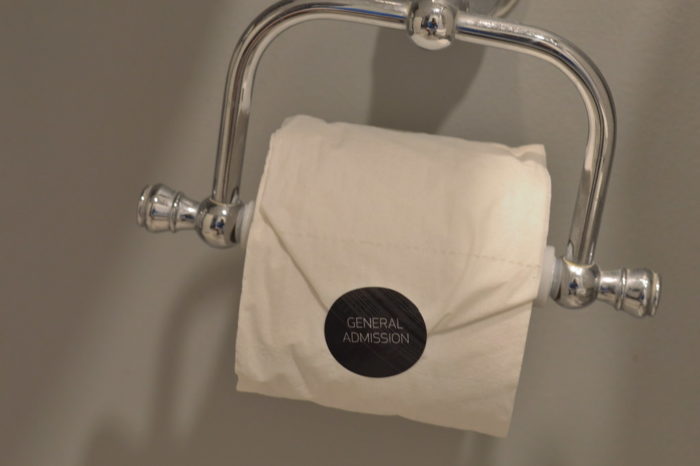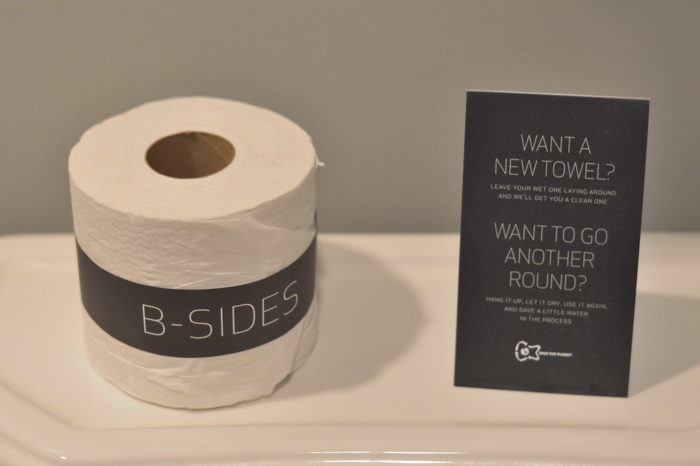 I thought the faucet handles being themed to musical notes were a great touch. These can be seen on the sinks in the lobby restrooms as well.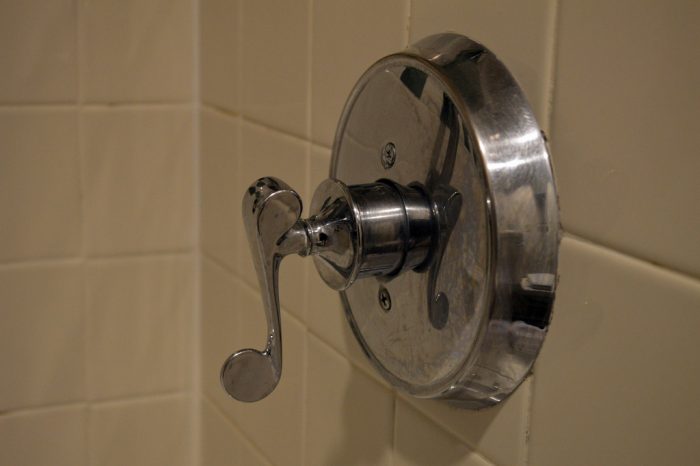 I'm all about branded toiletries!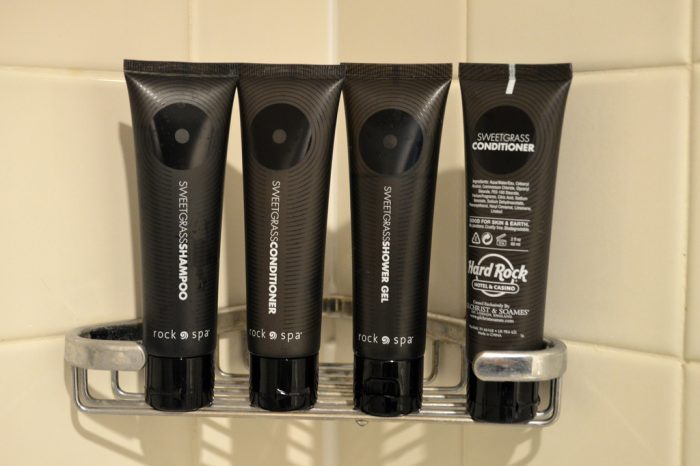 # 5 – Unleashed benefits
Each Unleashed guest receives a gift bag upon check-in.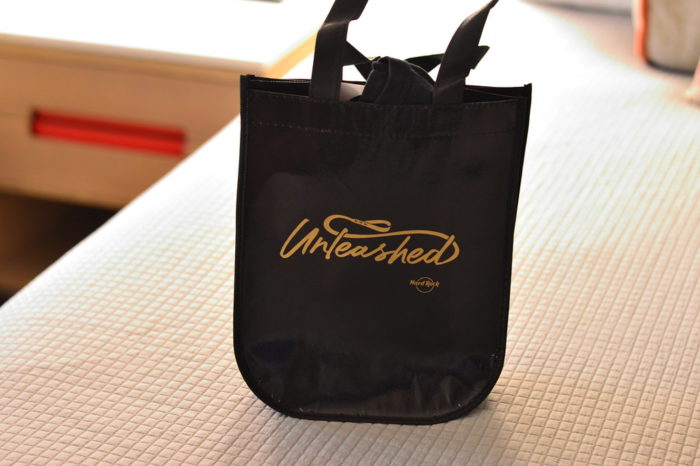 The bag includes a door sign, a box of dog waste bags, and an Unleashed shirt for your pet.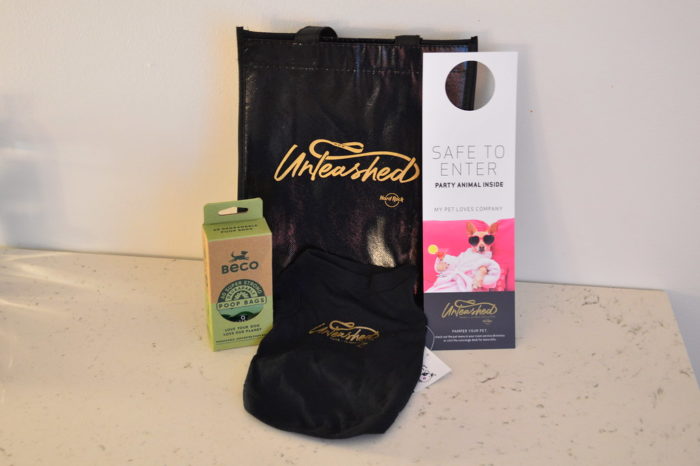 Here is Bacini modeling the shirt. It reads "Unleashed. Paws & Claws Welcome" along with the Hard Rock logo.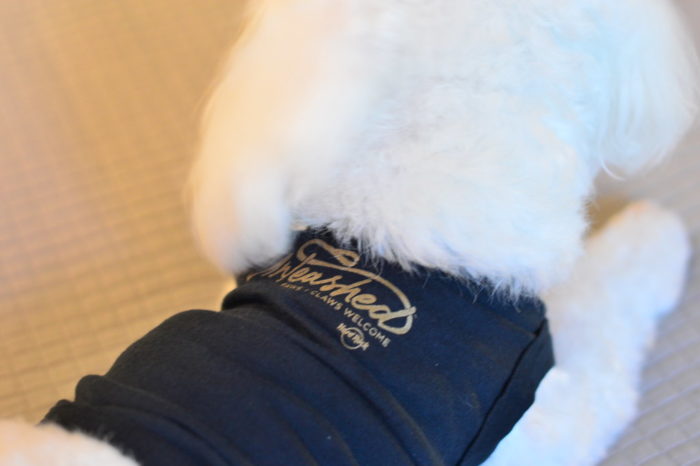 When you look this good, you gotta strut!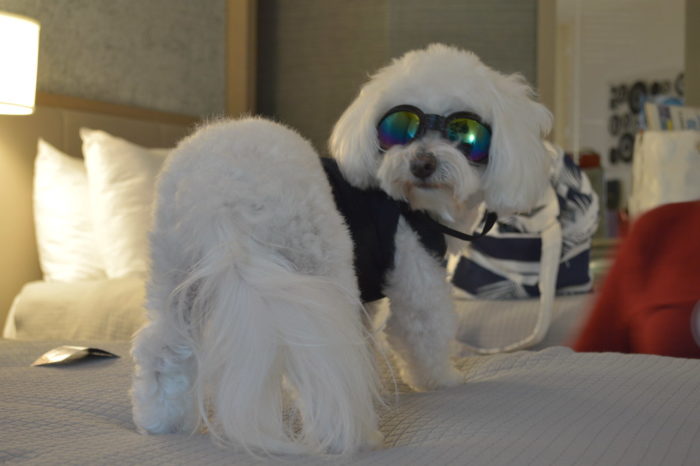 At check-in, they ask what your pet weighs to get an appropriate sized shirt. Here is Bacini's pal Brody rocking his shirt like a boss.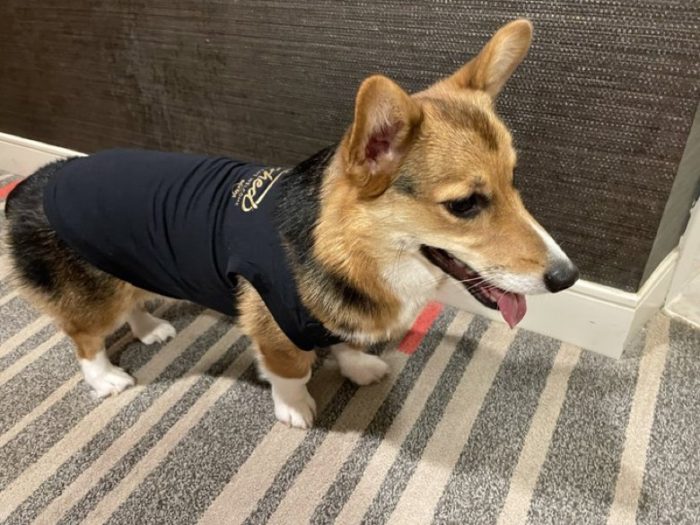 The door hanger is used if you want to make absolutely sure no one enters the room (such as housekeeping).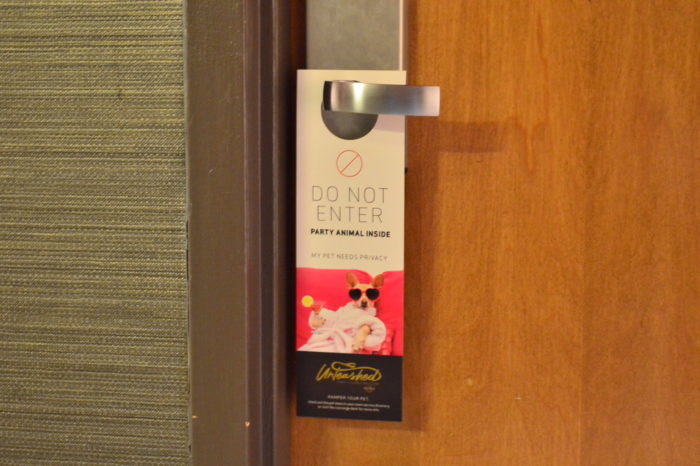 Our room also had this Unleashed pet bed along with a couple bowls and a placemat.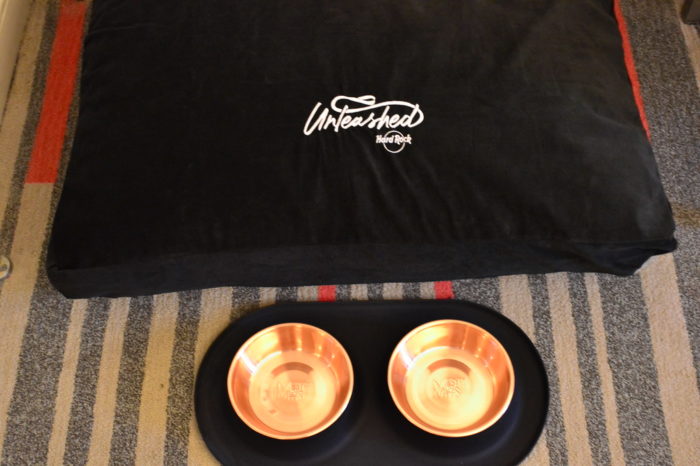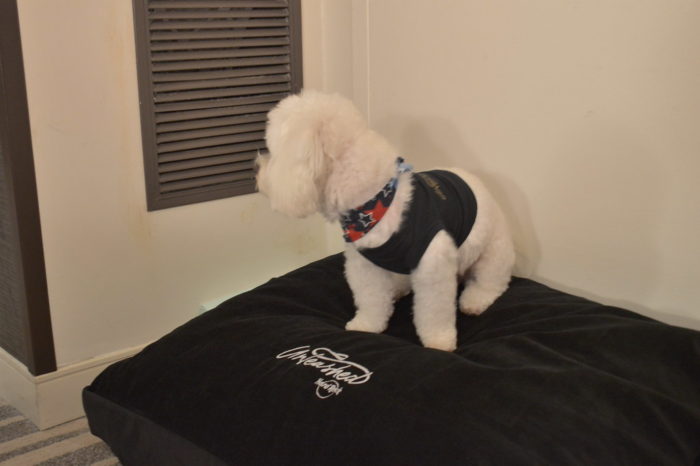 Bacini enjoyed the dog bed, but like Brody he is a spoiled little pup and preferred being up with us on the queen beds.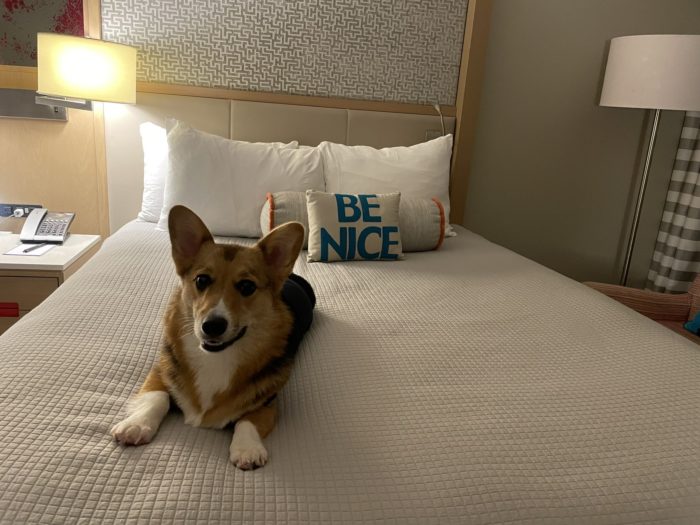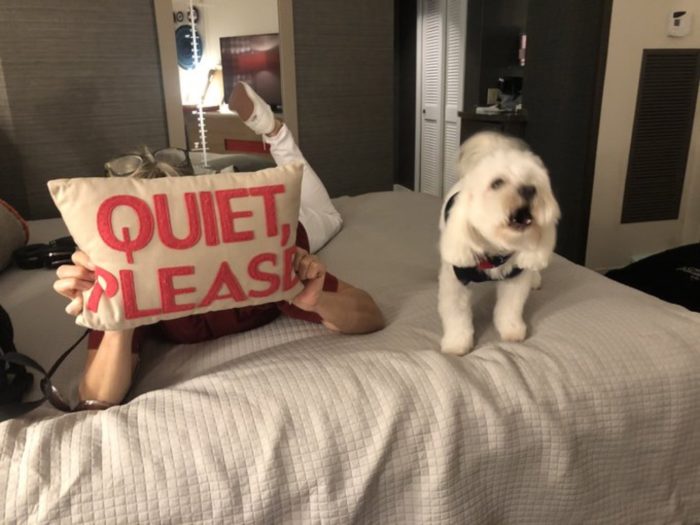 A customized "pet tracks" playlist on Spotify is available for pets looking to "Pawty Hard!" You just know Bacini is going to like any playlist that includes Who Let the Dogs Out, Hound Dog by Elvis, and I Love My Dog. The playlist is well over 3 hours long.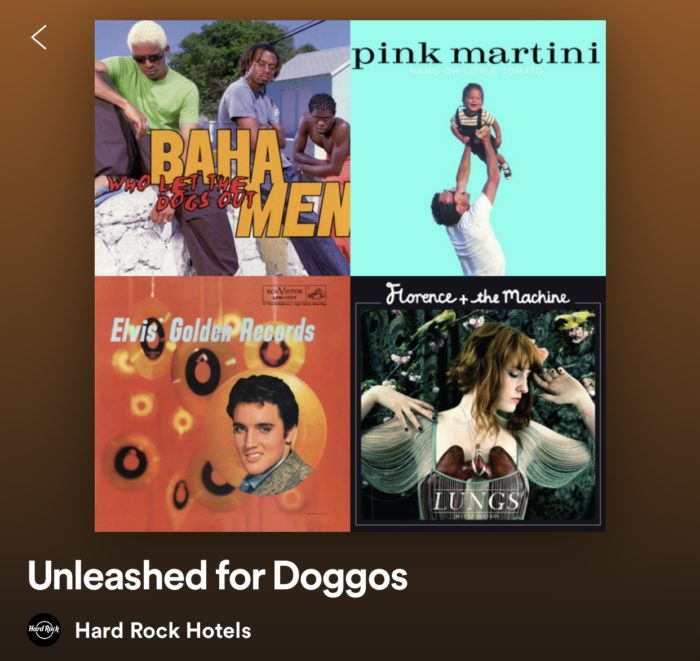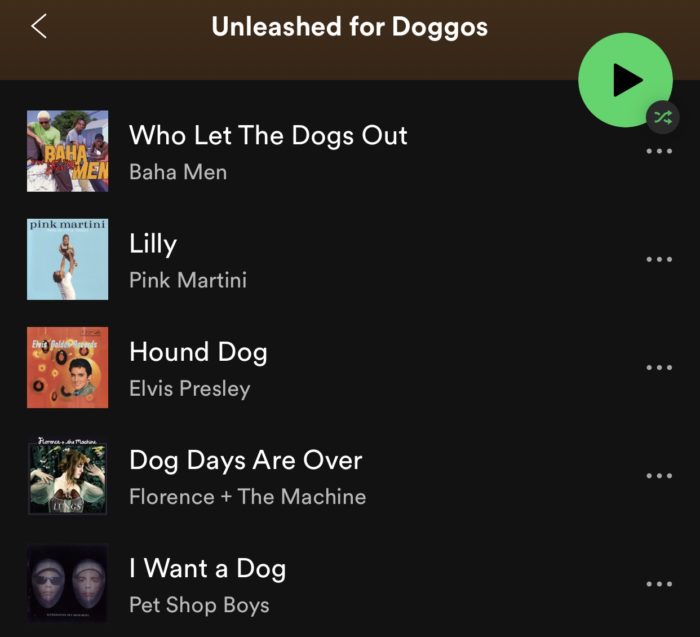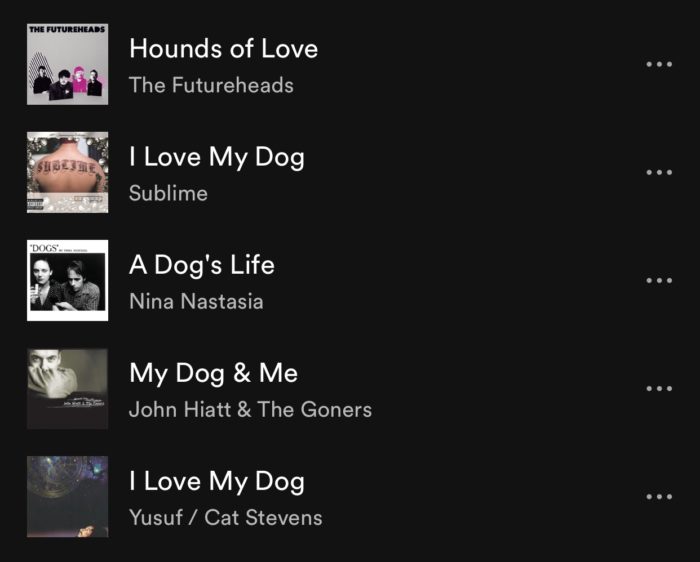 # 4 – The Grounds
One thing that is nice about a place like Sapphire Falls is that it has a dedicated area just to bring your dog for a walk. While Hard Rock Hotel doesn't have a place set aside just for pets outside, it makes up for that by having a GIGANTIC amount of space to walk your pet.
The closest area to the pet-friendly rooms is the large Woodstock Lawn.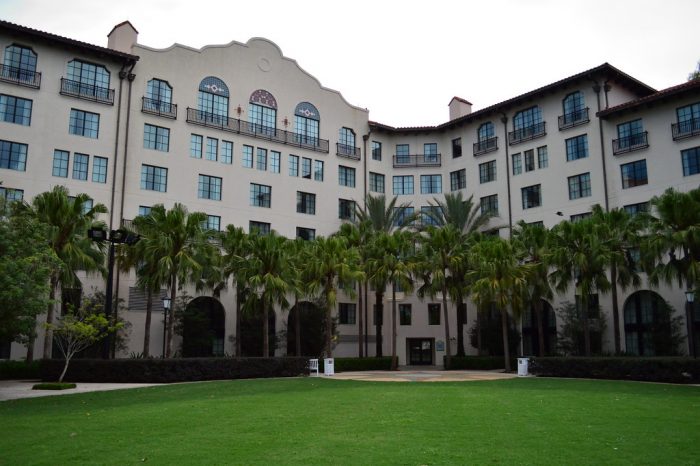 Bacini enjoyed walking all around this area and checking out all the smells.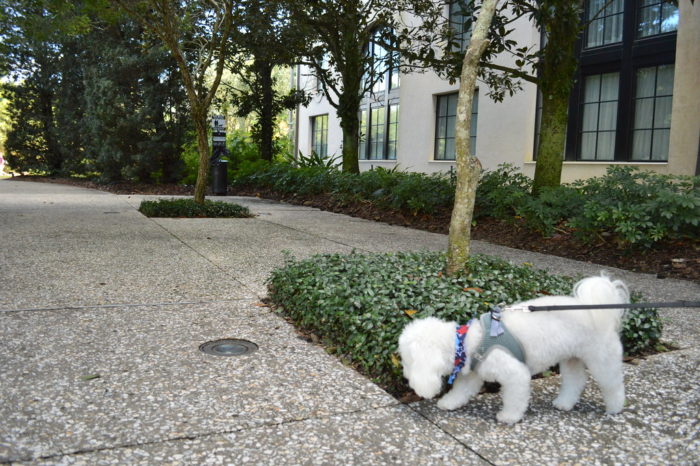 There are several dog waste stations located in the Woodstock Lawn area.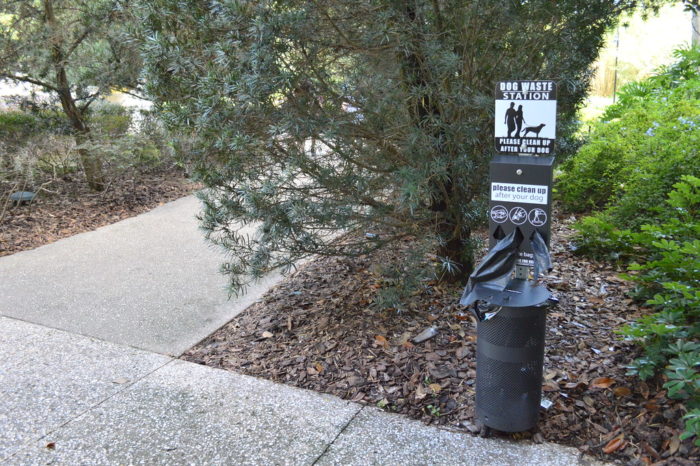 But you also have the box of 60 poop bags that came in your Unleashed welcome gift bag.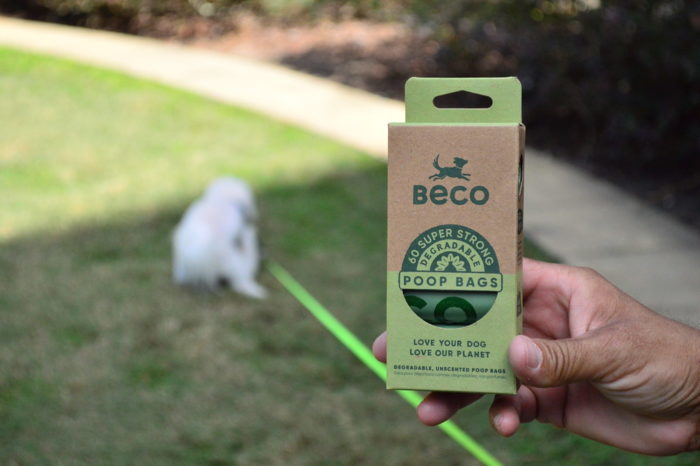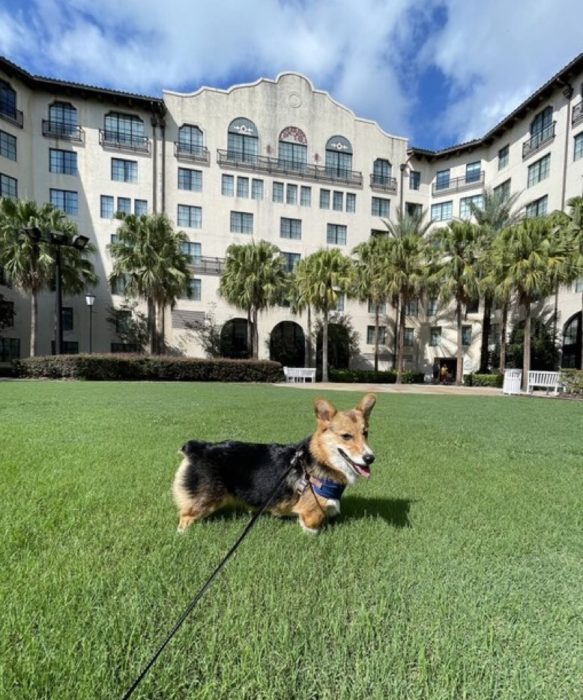 Not far from the Woodstock Lawn is one of my absolute favorite parts of the Hard Rock Hotel, it's wonderful Butterfly Garden.  This is a peaceful area along the hotel's garden walk that is beautifully landscaped.  Walking through the wooden gates will lead you to an area filled with exotic flowers.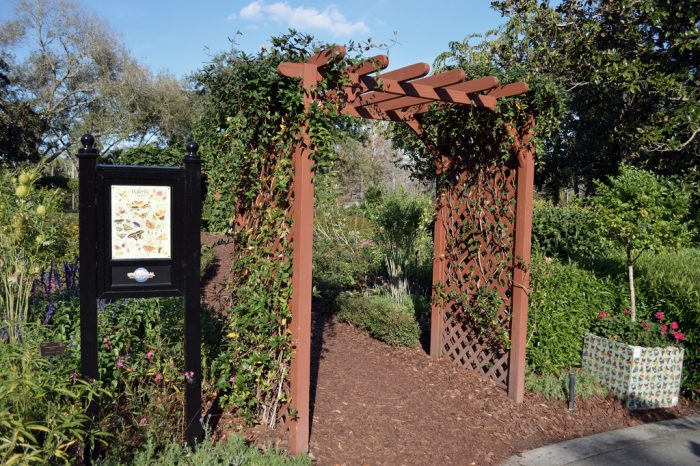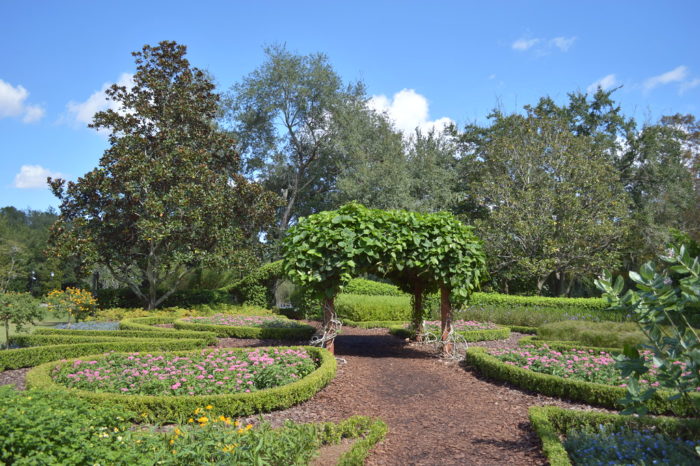 This photo below shows you the scale of how close the Butterfly Garden is to the actual Hard Rock Hotel.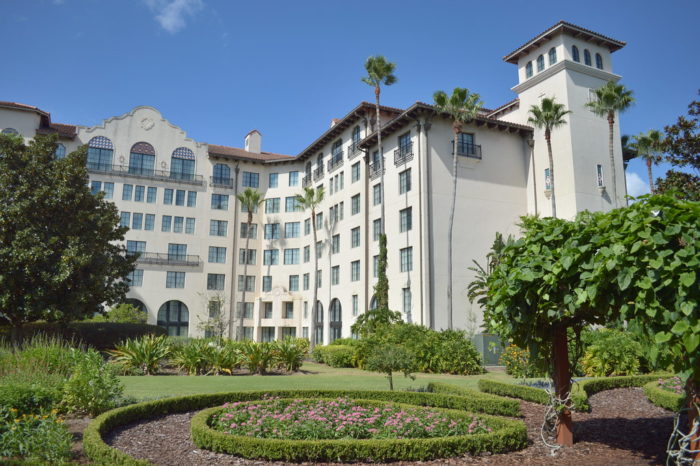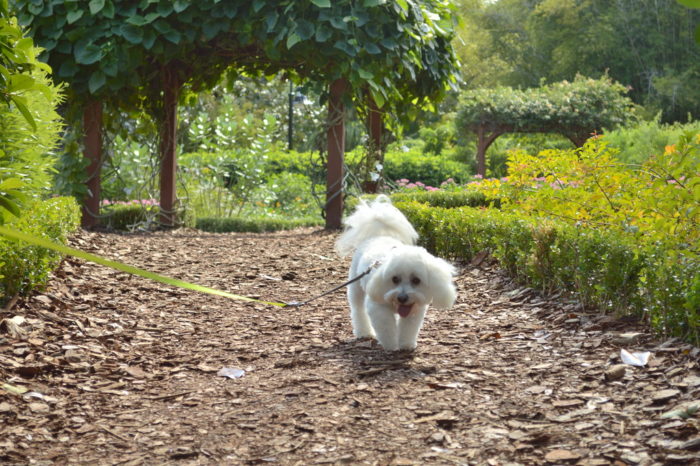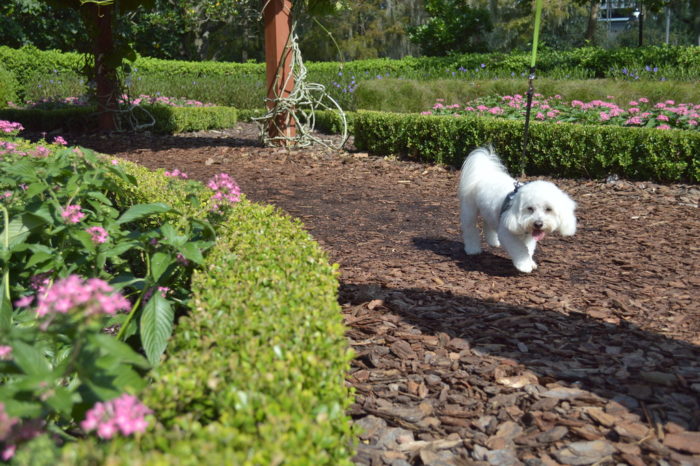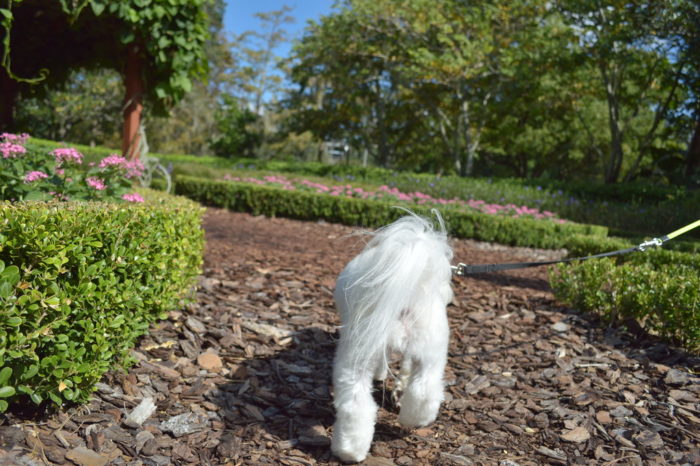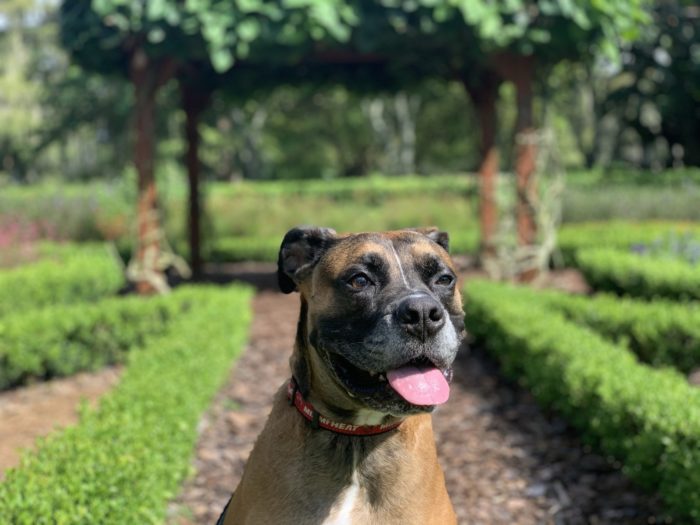 Here is Bacini in front of the gorgeous fountain in front of the Hard Rock Hotel.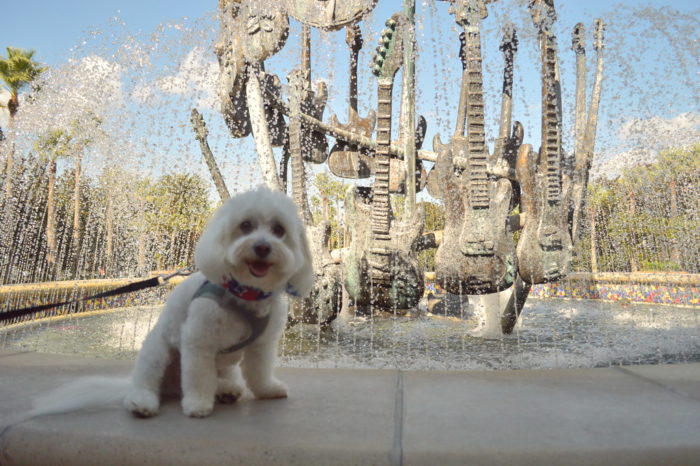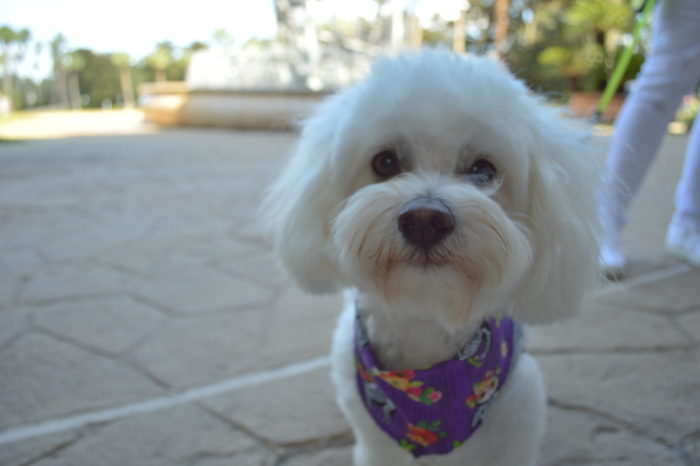 # 3 – Room Service
Here is a peek into the spoiled life Bacini regularly lives at home. He wouldn't eat just dry food, so we began making his meals by cooking beef or chicken, and adding in some dry food and sour cream. Lately we've added in some sprinkled cheese on top and I feel like that Salt Bae chef when presenting the dish to Bacini for his approval. This is every single day. When we travel to Universal, we get a break from being Bacini's personal chefs and get to order Room Service.
Room Service has many options available for us humans (including the Hard Rock's signature Legendary Burger, chicken wings, and a build-your-own pizza with multiple toppings to choose from compared to the normal "cheese or pepperoni" options most hotels have), but they also have items available for our pets. For dogs like Bacini there was a chicken dish, dry food, or what we went with, BOW WOW BEEF. Keep in mind there is also food available at Room Service designed for cats, lizards, and birds. Each Room Service for pets also includes a free bottle of water. Not just any bottle of water though. NAY NAY. The Hard Rock Hotel branded water bottle. This hotel gets me.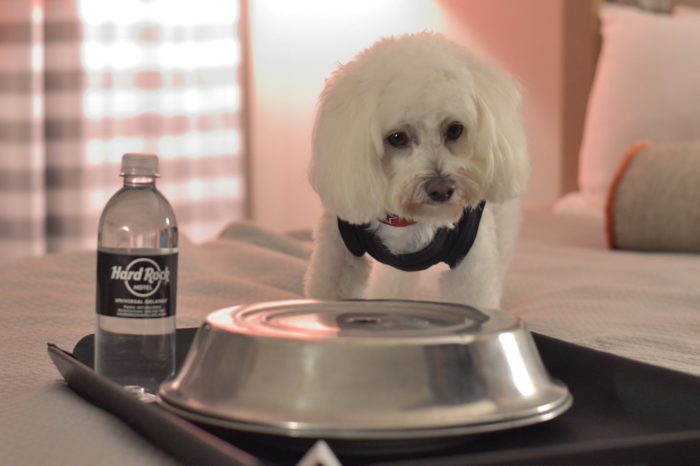 When placing the order for Room Service over the phone, I was given an estimated time of arrival. The meal came exactly when they said it would. In a moment I wish we had caught on video, when I went to answer the door, Bacini jumped off the bed and zoomed past me and the Team Member into the hallway like a blur of white light. This was of note because Bacini has never jumped off something as high as Hard Rock's bed in his life. At home he has just started feeling confident jumping off our couch, but to date has never had the courage to jump off our bed.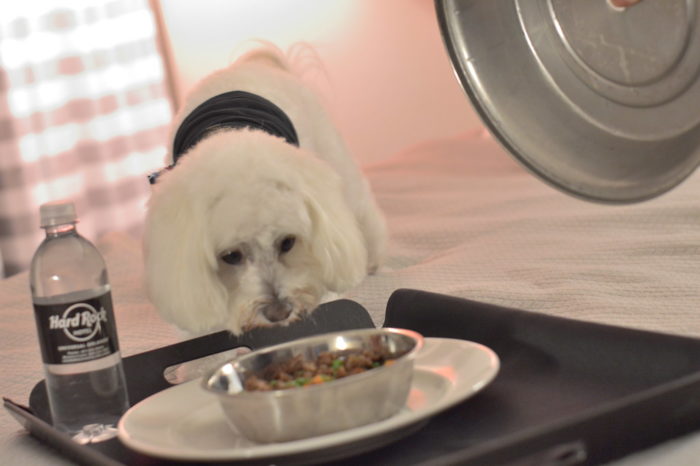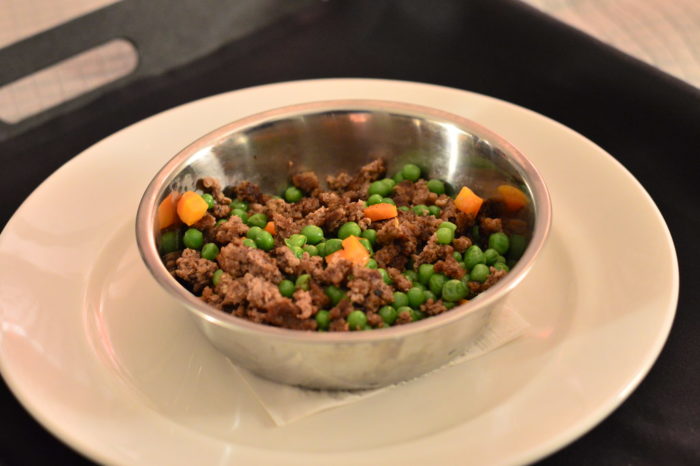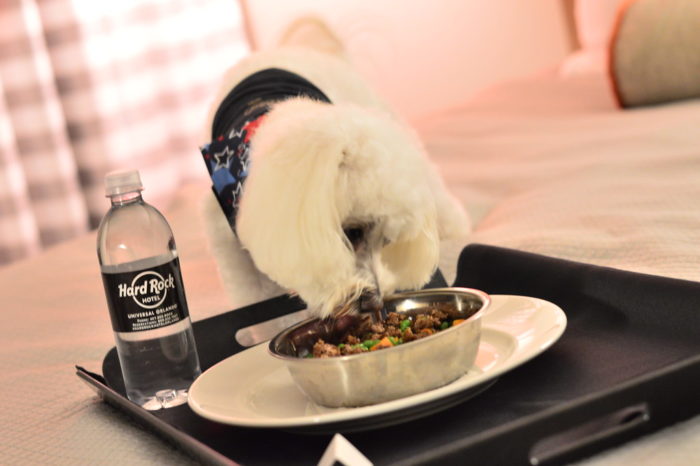 # 2 – Palm Restaurant
Now we've stayed at the Hard Rock Hotel many times in my lifetime. I have Hard Rock hotel room keys from the year 2000, and I remember absolutely nothing about those stays whatsoever. I felt like I had done pretty much everything at the hotel over the course of the last 20 years, but one thing we had never done was eat at the Palm Restaurant.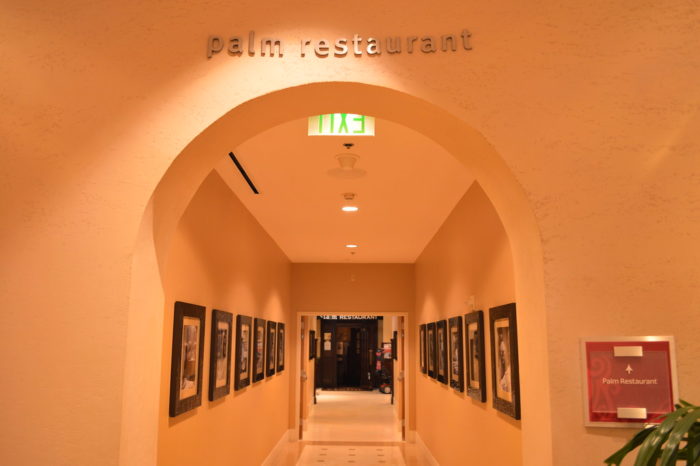 Despite the cartoons and caricatures on the wall, the atmosphere of the Palm is elegant and the entire restaurant exudes sophistication. I imagine this is why I've never had a meal here and instead find myself on the ground floor of the Hard Rock Hotel at The Kitchen eating a slice of cake the size of a human head. The Palm is a chain of restaurants with its flagship restaurant located in New York City, but also has venues in Beverly Hills, Chicago, Washington DC and other cities both domestic and world wide.
As we mentioned, one of the most iconic features of any Palm Restaurant is its wall of caricatures. These caricatures all vary from location to location and will include people influential or notable to that particular area or restaurant.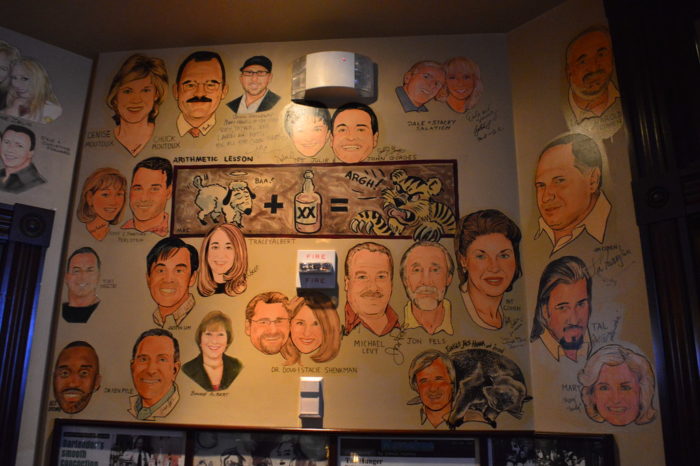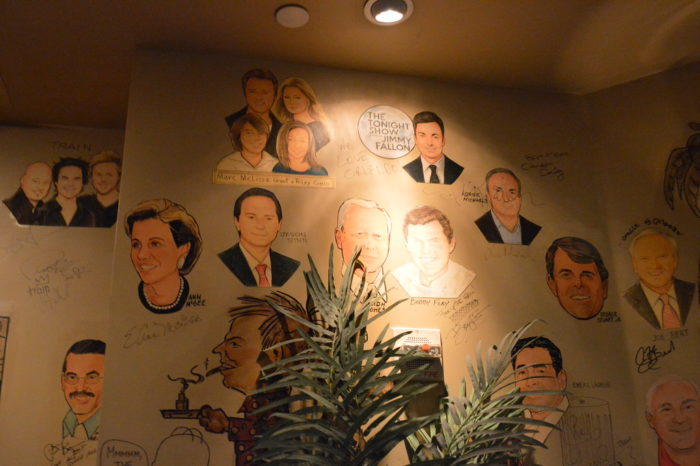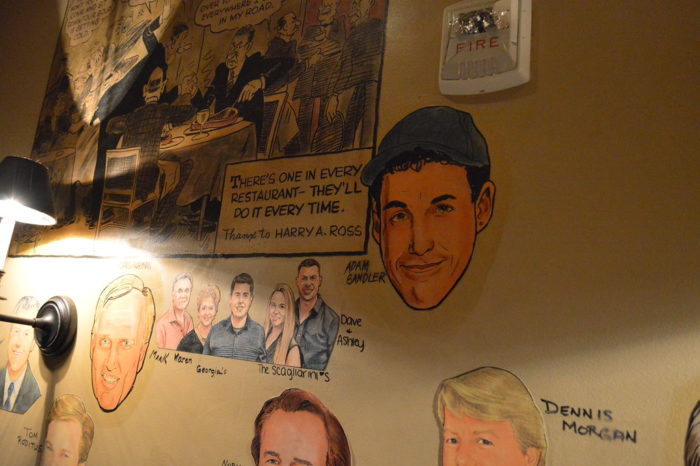 The table settings at the Palm are classy, and the service is always impeccable.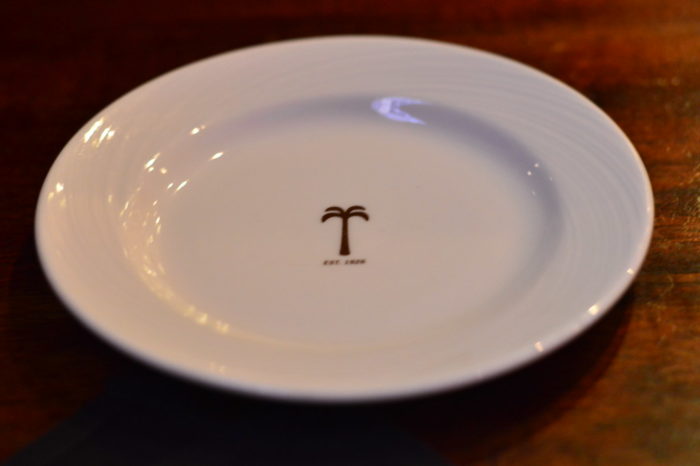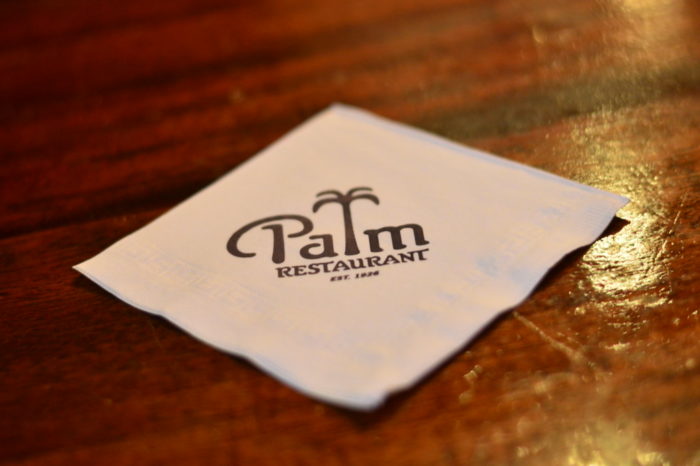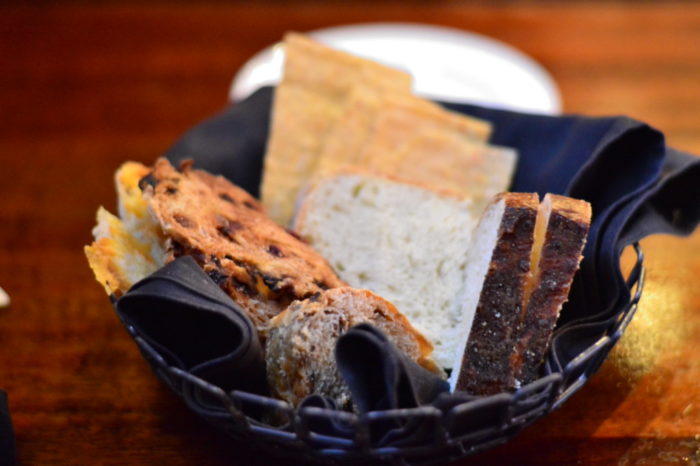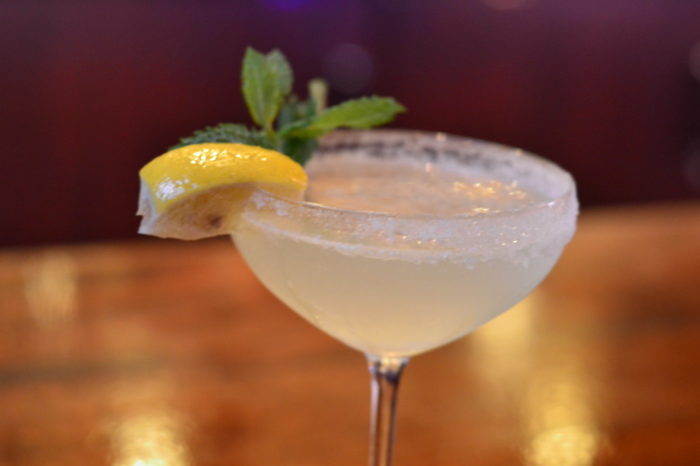 For meals, we reached out to a friend who is a mainstay at the Palm and asked for a recommendation. They highly recommended the "bone-in veal parm." They added that this used to be a secret item on the Palm's menu, but it is now thankfully available to us regular folk.
The Bone-In Colorado Veal Rib Chop Malfata ($59) was every bit as good as hyped. Just delicious.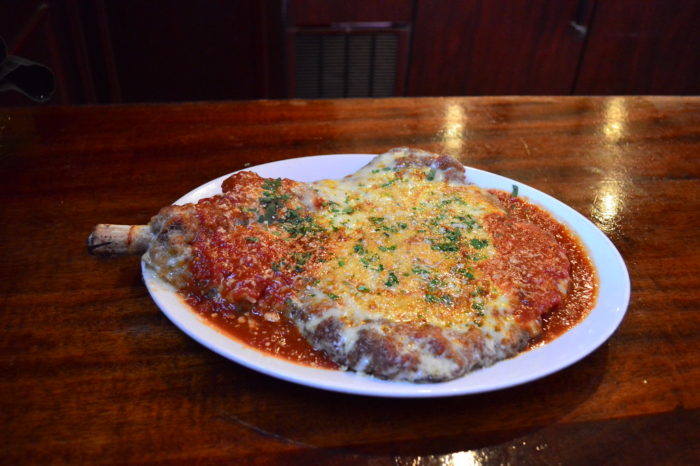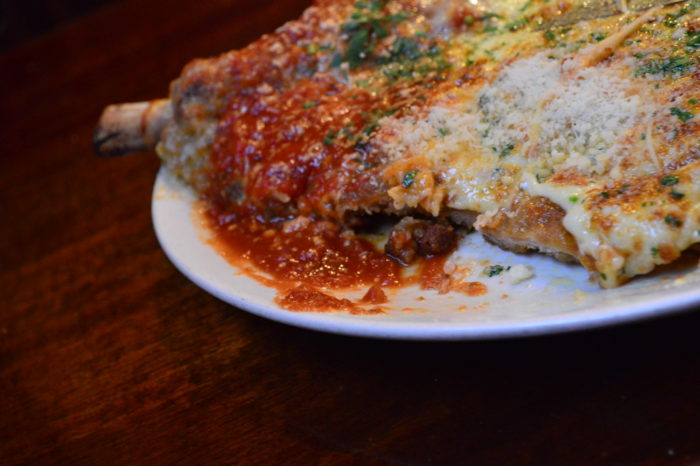 Thick-Cut Nueske's Bacon ($17) – brushed with our bourbon glaze, served with Giardiniera, 1926 steak sauce, and micro basil.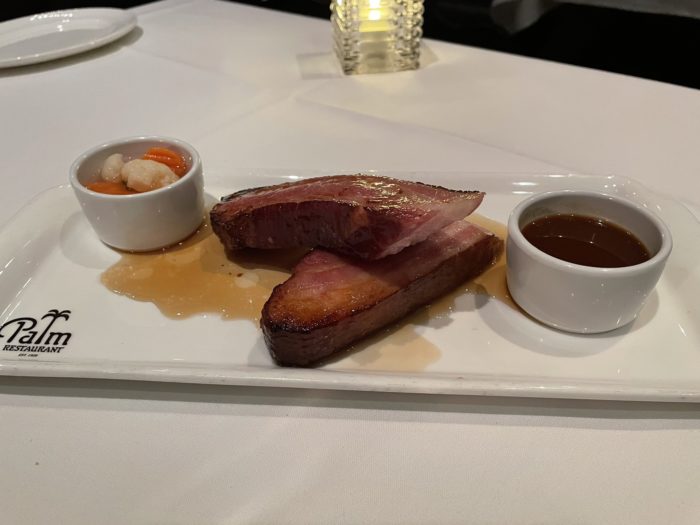 For Bacini we got the Center Cut Filet 8oz ($56). Explaining to the server that we were ordering this cut of steak for a 10 pound maltipoo back in the hotel room was one for the all time books. Thankfully they didn't kick us out of the restaurant right then and there, and instead made sure that Bacini's steak was being made as we were ready to finish our meal. To give him the freshest meal as possible. They also cut up the steak into small size bites for him.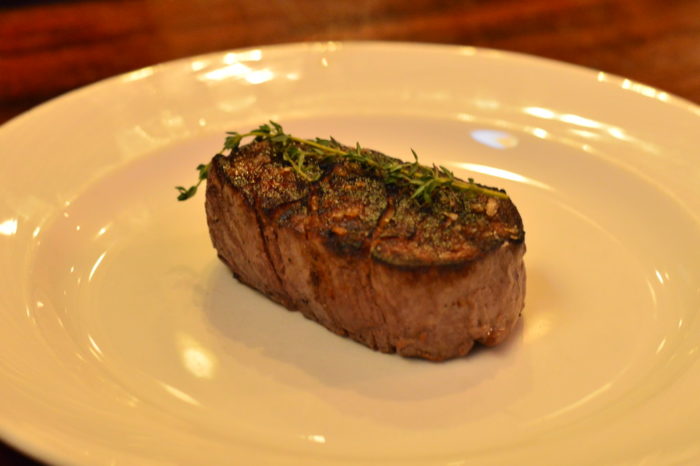 For the first time in possibly the history of the Palm Restaurant, they actually had a "doggie bag."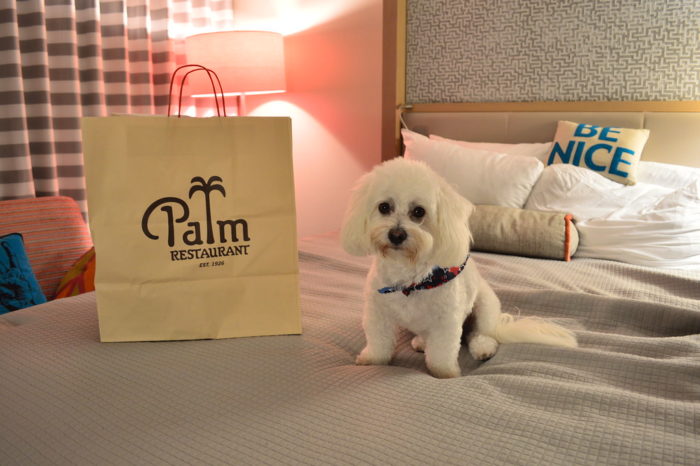 Bacini knew something good was in this bag.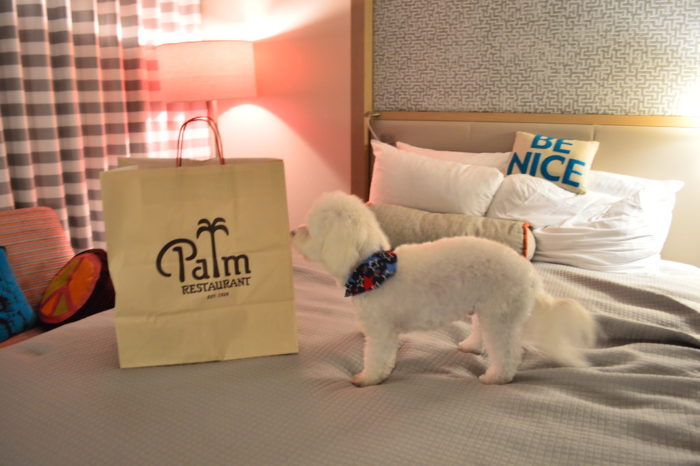 Bacini carefully sniffs this $56 steak, making sure it lives up to his standards.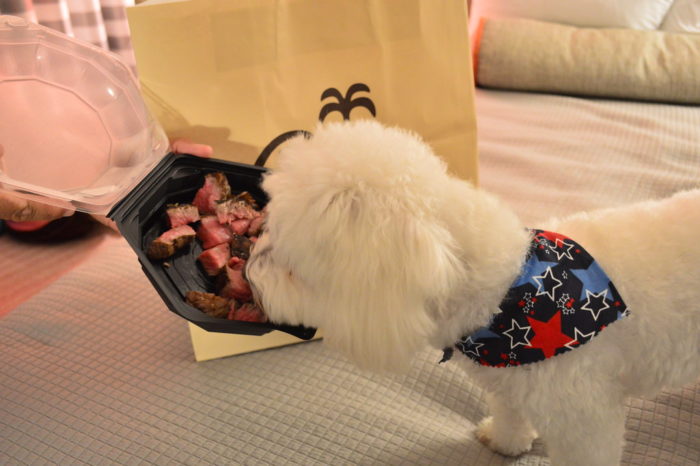 Our compliments to the chef!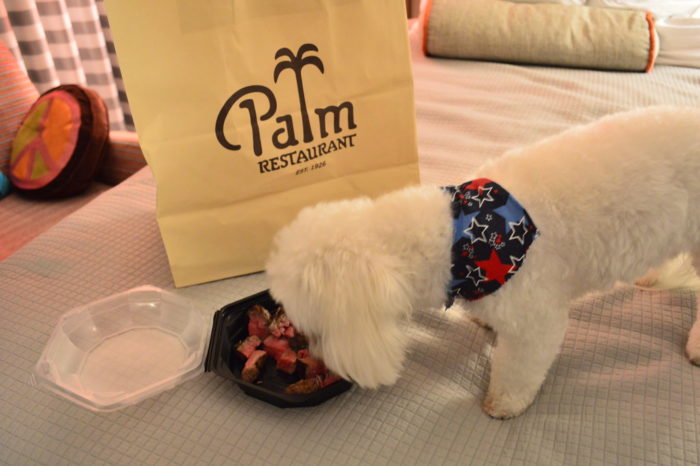 # 1 – ROCK ON with the Perks of Staying at Hard Rock Hotel
Every single one of Universal's onsite hotels has some pretty cool perks, and Hard Rock Hotel is loaded with them. One of the absolute coolest things about the Hard Rock Hotel is the ability to have an actual guitar or turntable delivered to your room. The wax program allows guests to have a Crosley turntable delivered to their room with a collection of 10 albums. We have done this program on previous Hard Rock Hotel stays. When we took the first album out of its jacket and our 9 year old asked "is that a CD?," we had never felt older in our lives. Thankfully the smooth sounds of the record made everything better. We knew we would have to try it with Bacini as well.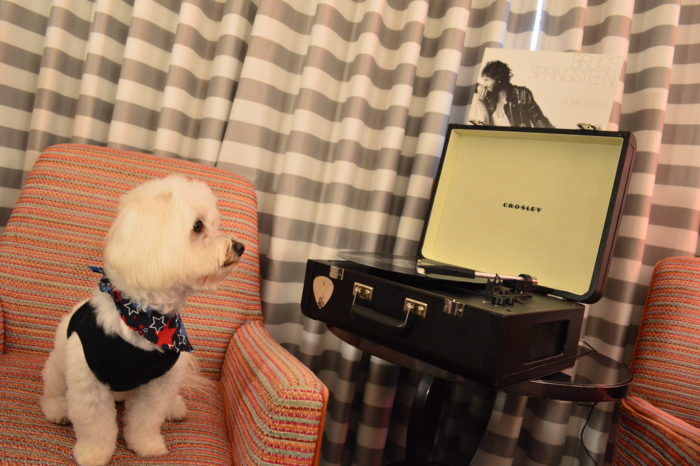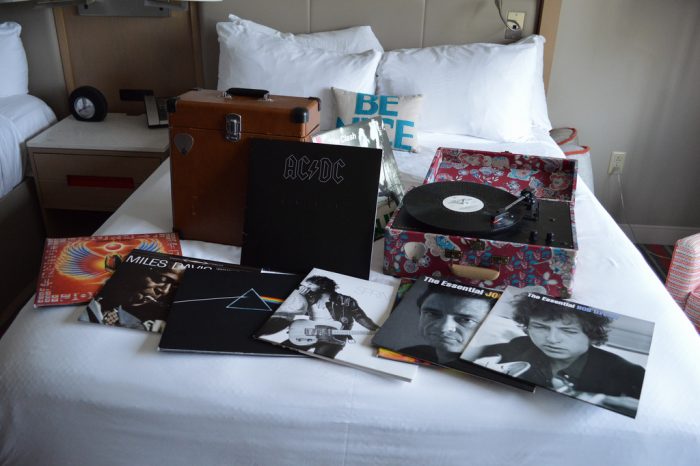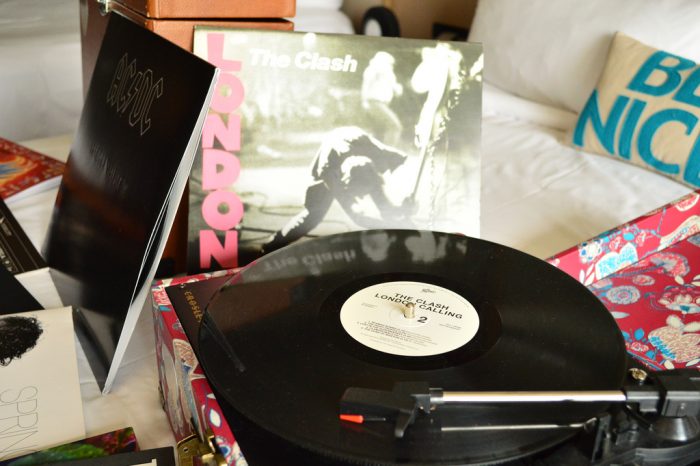 With the picks program, guests have the opportunity to borrow a Fender guitar for their stay. Guests have a choice of 20 different guitars, and they are delivered to the room with an amp and a pair of professional headphones. The kiddos completely lit up seeing this guitar and hearing the music.
Both of these programs are completely free. They require a credit card hold upon sign up ($1000 for the guitar and $200 for the turntable and albums) but the hold is released once the items are returned.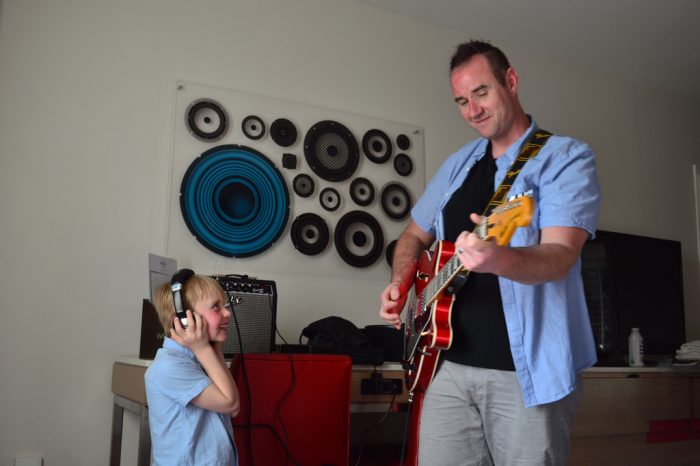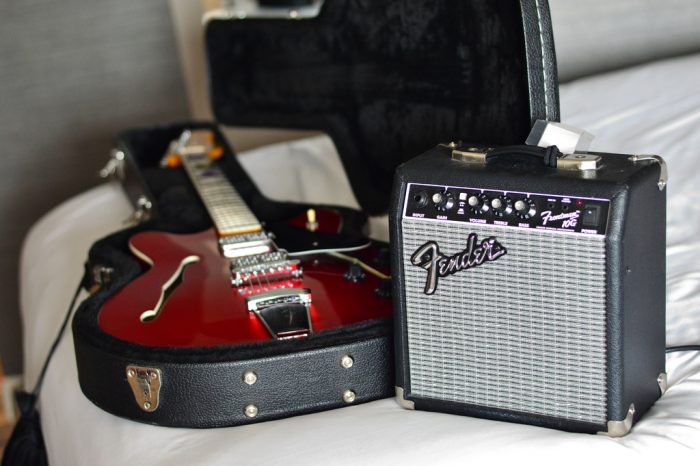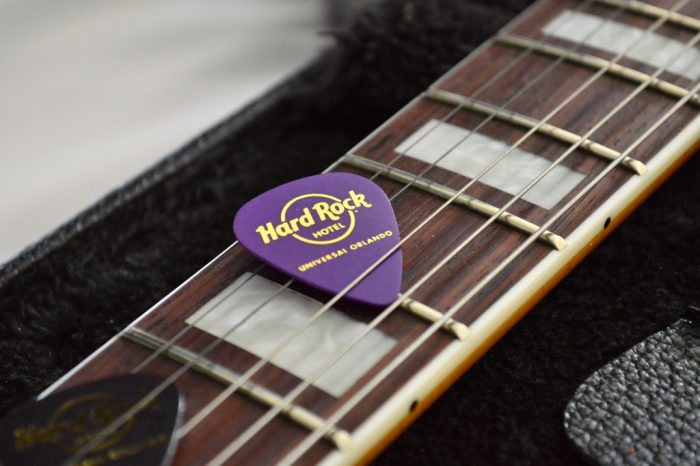 The actual location of Hard Rock Hotel in relation to the rest of the Universal Orlando Resort can't be beat. Disney has several resort areas where location is king. Who doesn't want to stay at one of the monorail resorts and enjoy a quick ride over to the Magic Kingdom? A stay at Disney's Yacht or Beach Club is a hop, skip, and a jump away from both EPCOT and Disney's Hollywood Studios. Because of the compactness of Universal, a room at the Hard Rock is within walking distance to everything at Universal. You're less than 10 minutes door to door from your room to Universal Studios Florida, Islands of Adventure,  Toothsome or Voodoo Doughnut. Unlike the Contemporary, where your walk to the Magic Kingdom includes a stoplight and waiting for traffic, your walk from the Hard Rock is along a lush garden walkway filled with palm trees and bamboo.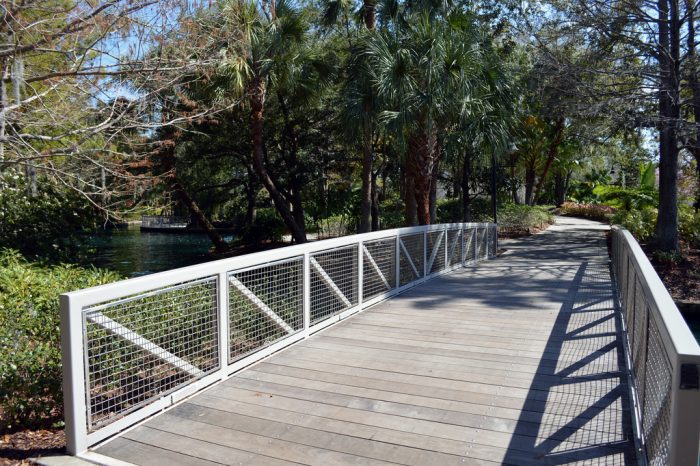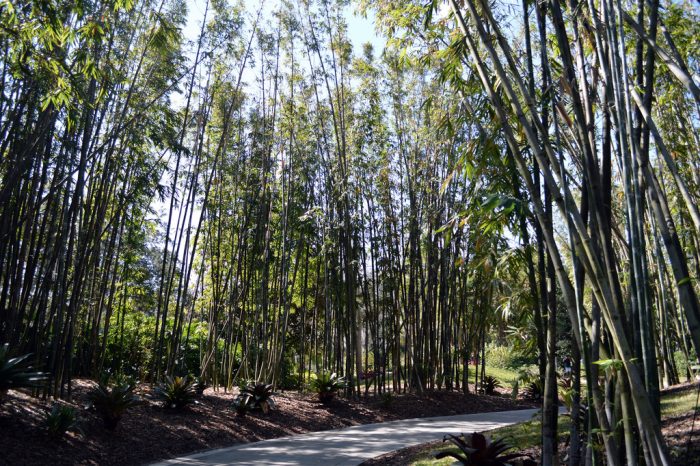 You don't have to walk if you don't want to, as Universal provides complimentary water taxis to CityWalk and a complimentary shuttle service that goes direct to Volcano Bay.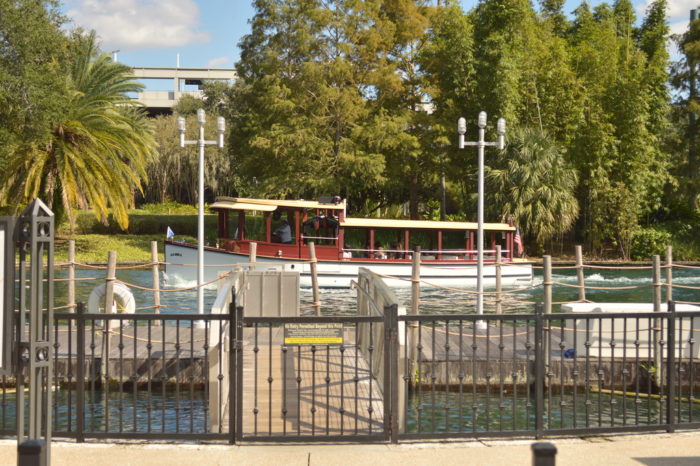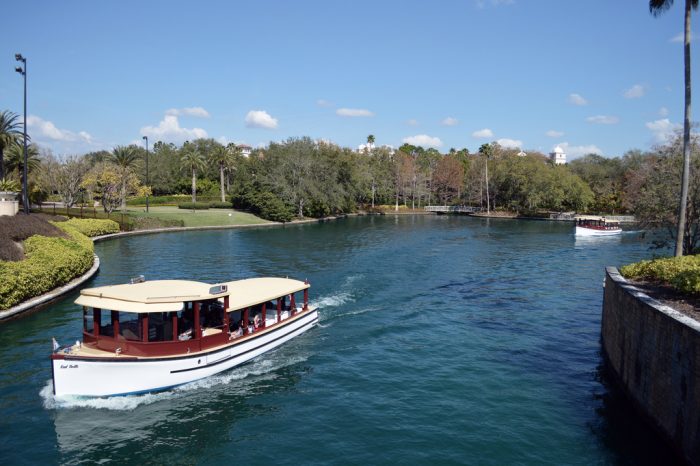 Each Hard Rock Hotel Room Key is an Unlimited Express Pass
For many theme park fans, one of the biggest advantages in staying at the Hard Rock, Portofino, or Royal Pacific is the fact that every person staying in the room gets Unlimited Express Pass in the parks. This is an incredible deal and allows you to "skip the lines" at all your favorite Universal attractions, including those in the Wizarding World. With it being an "Unlimited" pass, you can literally do the same attraction over, and over, and over, and over again (at least if your kids love Spider-Man as much as ours do).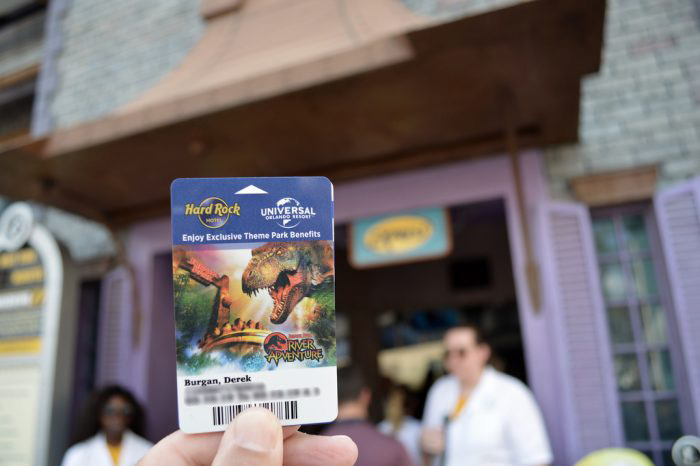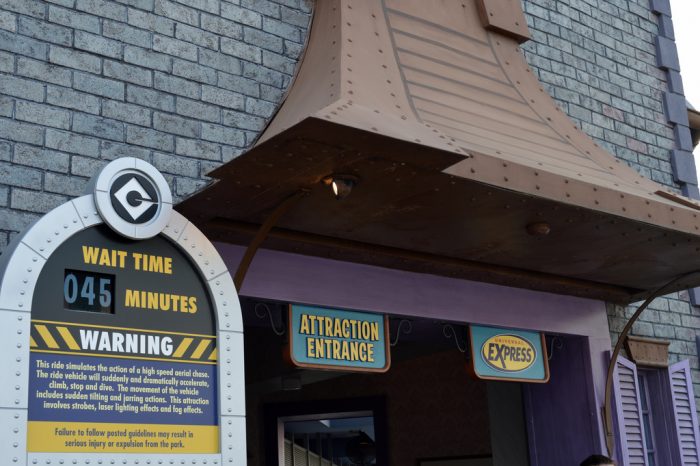 Now it is time to reveal quite possibly my favorite little detail about staying at the Hard Rock Hotel. When you are completely done with your vacation; checked out of your rooms and are finished with the theme parks…there's still something really cool for you. Take your room key to the front desk and they can convert it into a guitar pick!!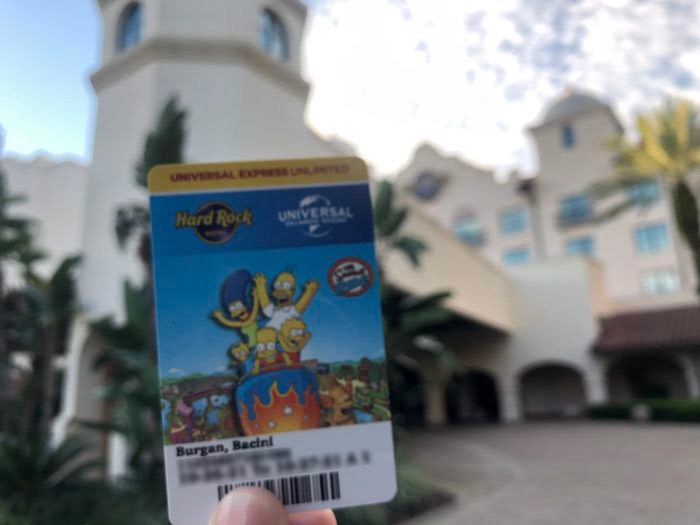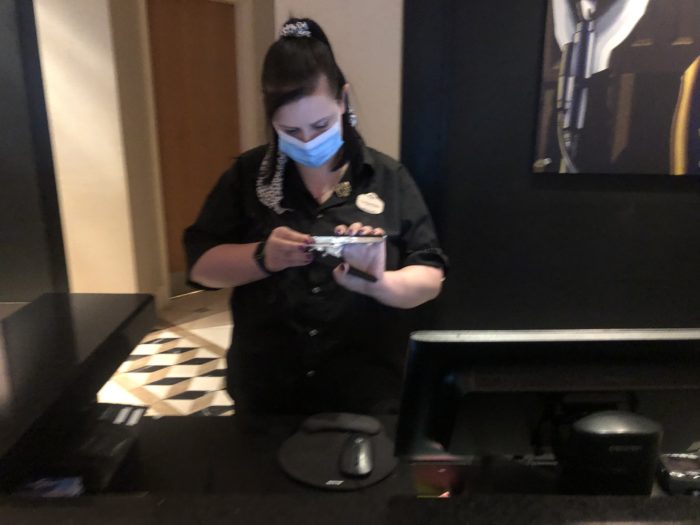 Talk about a fantastic souvenir that also becomes a talking point for friends and family back home when telling them about your stay.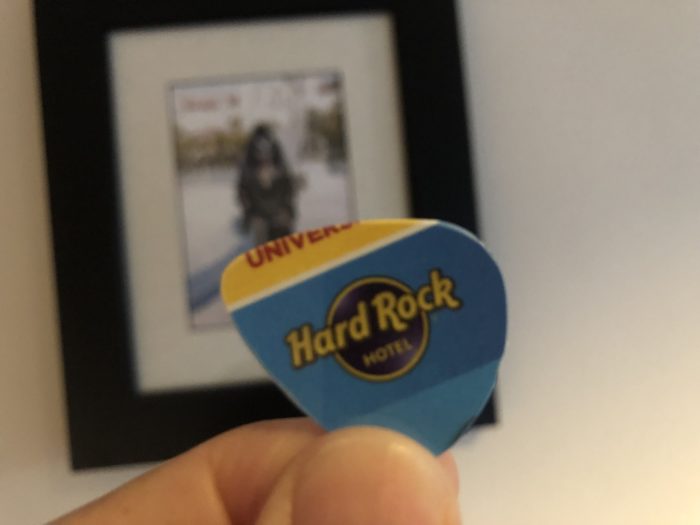 So there you have it: Experiencing the UNLEASHED program at Universal's Hard Rock Hotel! See you next weekend for the latest installment of the SATURDAY SIX, where we'll look at something fun from the world of Disney and Universal. You can also follow Your Humble Author on Twitter (@derekburgan).
If you enjoyed this article, you will surely like the following: 
The SATURDAY SIX Looks at Taking Your Pet on a Disney or Universal Vacation
The SATURDAY SIX Spends a Night in a Fort Wilderness Cabin (with Bacini)
Special Thanks to The Elite Brandon Glover, Digital Maestro Scott Walker, the bio-est of all reconstructs @bioreconstruct, Captain Cruiseline Scott Sanders of the world famous Disney Cruise Line Blog, my personal protege Hunter "Elvey" Underwood, artist @SonderQuest, the SAT SIX Fun Squad of Parkscope Joe and "the Dadalorian" Nick, hot shot Michael Carelli, charter member of the Universal Four @Nitro230, and Hermione Granger's tutor Megan Stump for their invaluable assistance with this article. Absolutely no help was added by SeaWorld Influencer @SuperWeenieHtJr. The SAT SIX is inspired each week by goofballs Aengus Mackenzie and LitemAndHyde and you Potterheads will  enjoy Meg's other blog work over at the Central Florida Slug Club.