SATURDAY SIX: In Memoriam – Looking at What We Lost From the Theme Park World in 2022 (KiteTails, Shrek 4D, Josh easyWDW)
This week's SATURDAY SIX is our annual look at What We Lost From the Theme Park World this past year. We all took a lot of hits over the course of 2022 and the Disney and Universal theme park resorts were no exception. While those of us in the Real World were dealing with the loss of the iconic food items such as McDonald's McRib and the Choco Taco, the theme parks had a series of losses as well. For almost 25 years – starting with the famous Save Mr. Toad Protests that was attended by almost a dozen fans –  the theme park community has grieved in a way that is slightly different than how "normal people" do it. Most people make their way through the five stages of grief: Denial, Anger, Bargaining, Depression, and Acceptance. That's all fine and dandy if you believe in esoteric terms such as "mental health," but that's not how we do it in the theme park world. NAY NAY. We start at Anger and we stay there.
Before we begin our list looking at what we lost over the last 12 months, let's go over a quick handy-dandy guide covering the specific guidelines that govern the criteria of what makes our countdown. An all-star blue ribbon panel made up of 150 theme park experts from around the globe were mailed a ballot containing 100 items that we "lost" from Walt Disney World or the Universal Orlando Resort. Each expert was given explicit directions to rank each loss – in order of importance from 1 to 100 – with the results being then tabulated and the top six being presented to you, Dear Reader.
Unfortunately none of them wrote me back, so instead you're getting MY list. An example?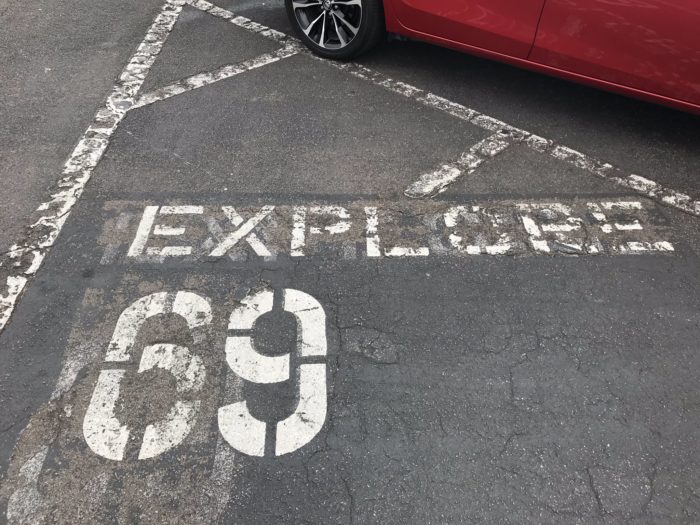 To add insult to injury, not only did Disney remove EXPLORE 69 from the list of rows in the EPCOT parking lot, instead of making a new sign for it THEY JUST PUT UP A PIECE OF MASKING TAPE OVER IT AND USED A SHARPIE. People wonder why we have a Disney Signage Hall of Shame? Well wonder no longer, because stuff like this is "why."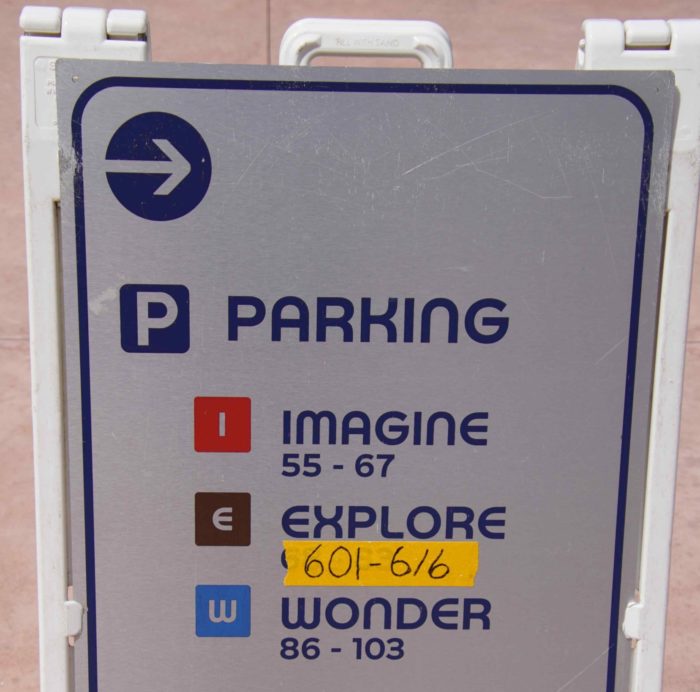 Now I'm tough, but fair. Most people reading this know how much I love elaborately themed skill games inside the theme parks. In fact, it is a Theme Park Hill I Will Die On. That said, the October 21st loss of the SledgeHomer in Springfield USA would not qualify to make this list. Ready to see what else would though? Let's go…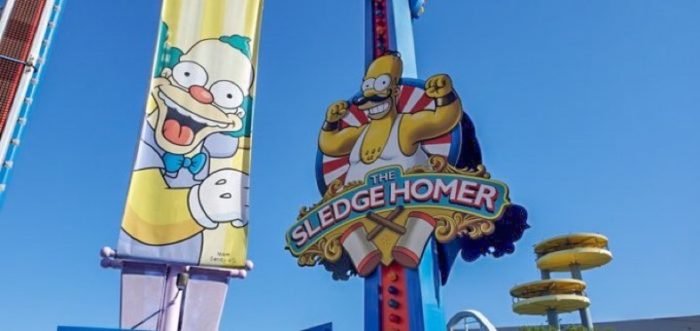 # 6 – Shrek 4D
'Alas, poor Shrek! I knew him, Donkey – a fellow of infinite jest…
I should have known 2022 was going to be "one of those years" when on January 10th we lost Shrek 4D. Many people in the theme park community were happy when this happened. In fact, MOST were probably happy…if not exuberant. Not me though. I always loved Shrek 4D, and against the wishes of TouringPlans' own Joseph Matt, I even wrote an article praising the attraction once it closed.
The Shrek 4D experience could be described as The Good, The Bad, and The Ugly, with the ugly being represented by the overall facade of the attraction. Shrek 4D came at a weird time in the history of Universal Studios Florida, as the park was transitioning from being heavily based on the behind-the-scenes workings of a movie studio to one that was more in line with a traditional theme park.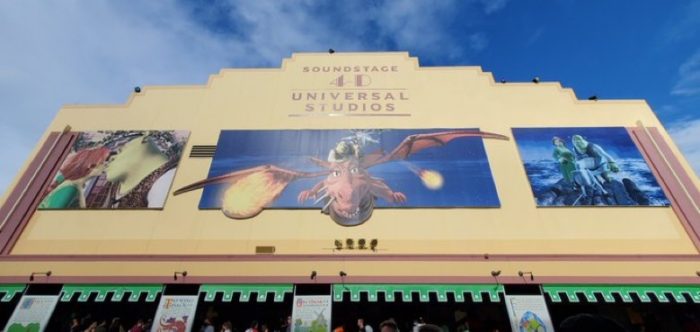 However, it DID have themed garbage cans…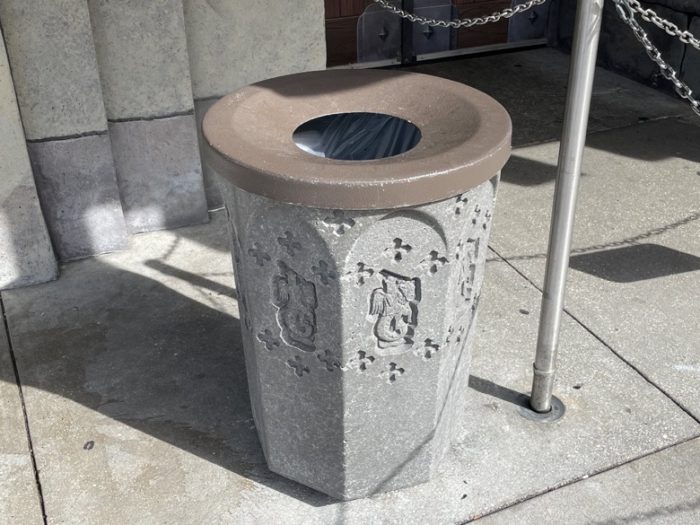 …AND themed stroller parking signage. Will Tron: Lightcycle Power Run be able to say the same? I THINK NOT!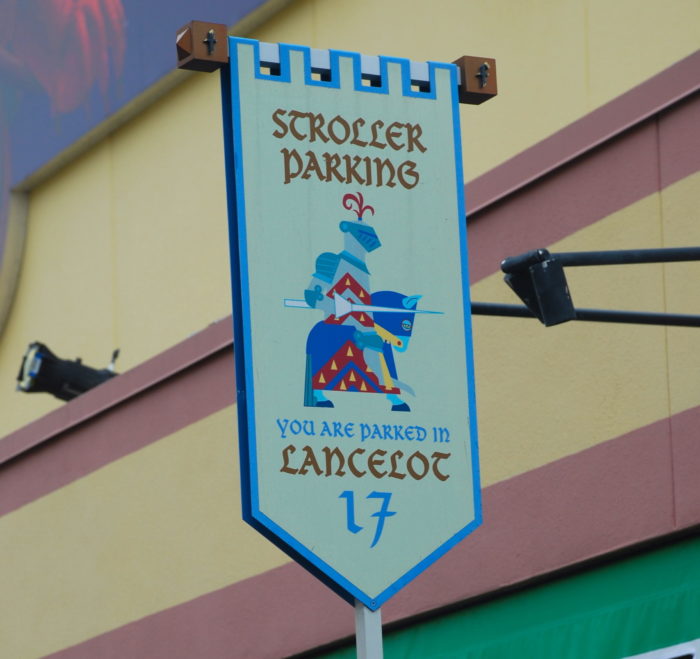 There was also a lot of fun stuff within the actual queue, including several attraction posters which poked fun at Disney attractions. This is something that just wouldn't happen today.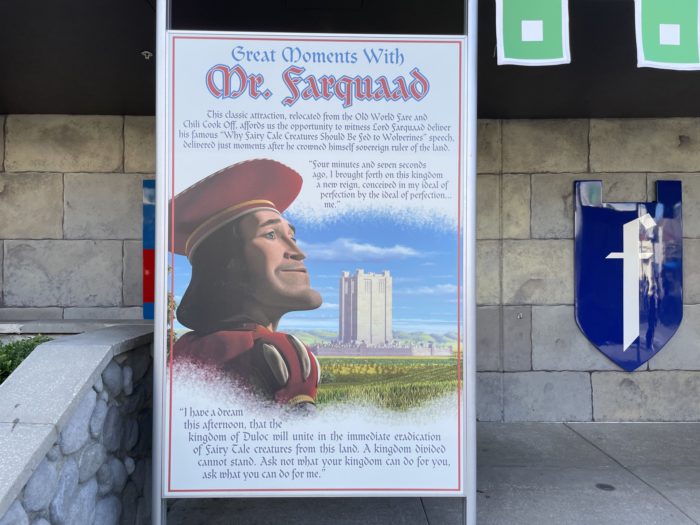 Lots of sly references in these personal ads.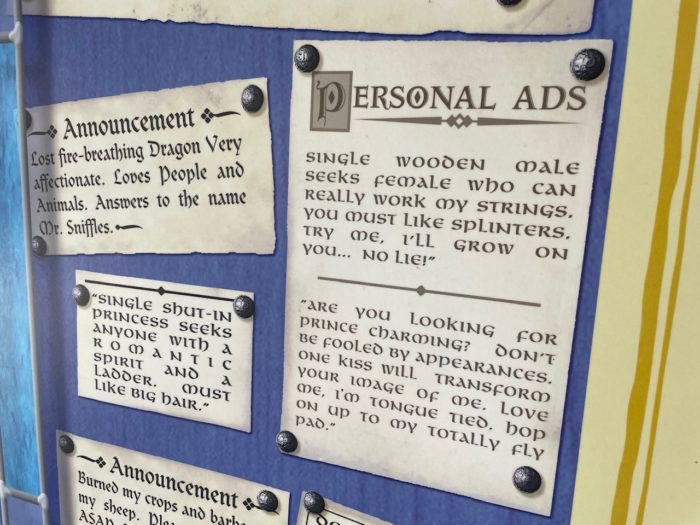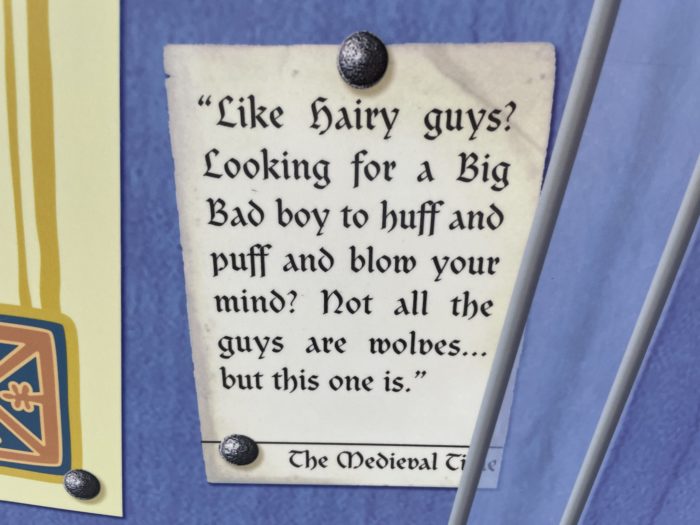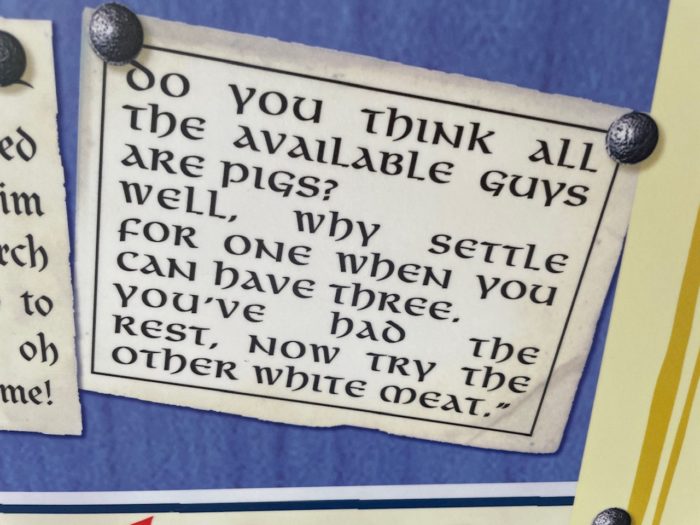 The pre-show of Shrek 4D took place in a torture dungeon, and even there the playful jabs at Disney didn't stop.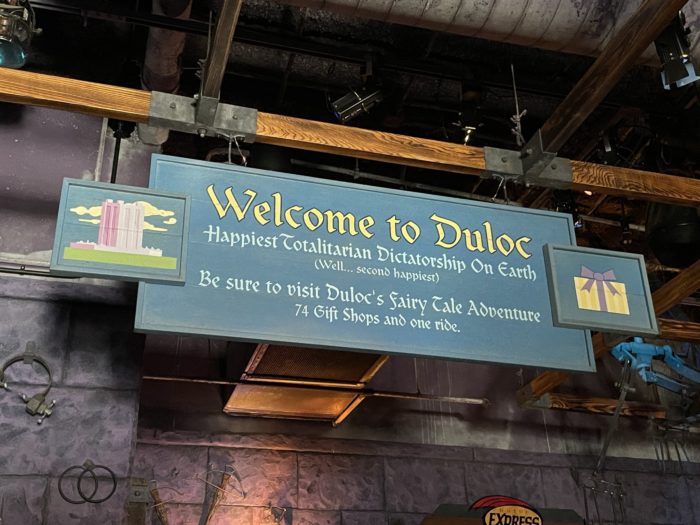 Like the queue for The Simpsons Ride, Shrek 4D even had a little fun at Universal's expense with this joke aimed at the Universal Express.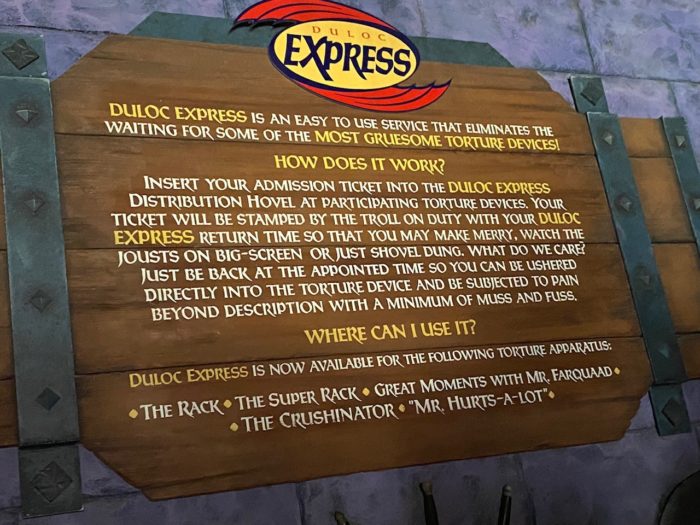 We've seen some Good and we saw The Ugly, now time for the straight up Bad part of Shrek 4D…the theater. Because so little TLC was put into the upkeep of the Shrek 4D theaters (there were two in total, but for a good part of the year one was unavailable as its space was used for a Halloween Horror Nights haunted house) the experience for guests could be rough.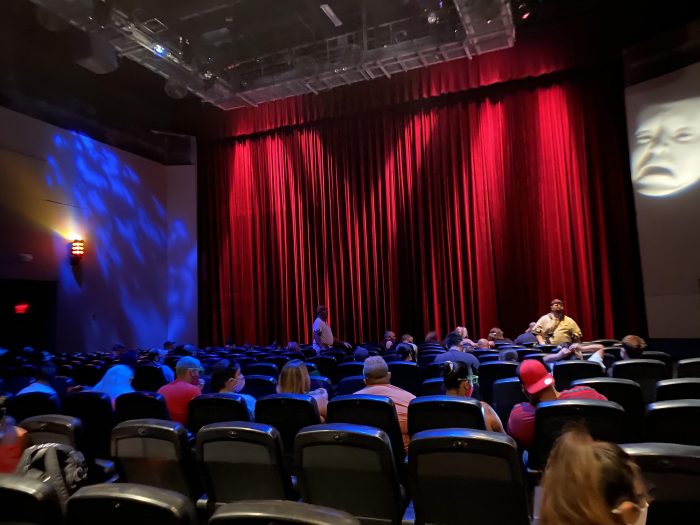 I'm a huge fan of sequels that begin immediately after the previous film ended, and Shrek 4D takes place following the events of the first Shrek movie and references several plot points from that film. Shrek 4D had great animation, some fun gags, and used wonderful Ogre Vision glasses.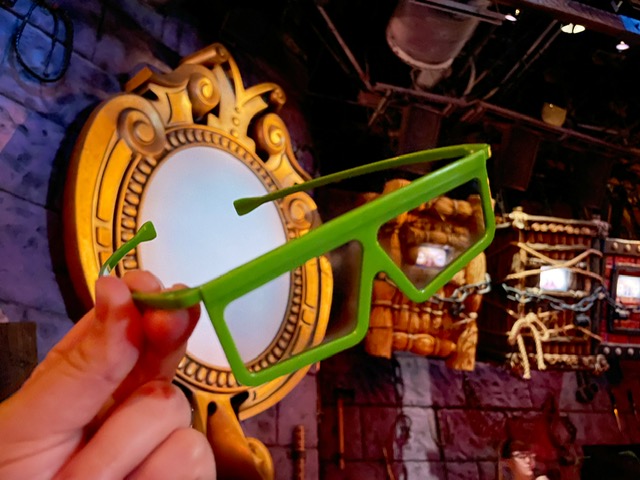 One of the most underrated aspects of Shrek 4D was the gift shop that the attraction emptied out into. At the time, most gift shops were seen as a "necessary evil" by the theme parks with almost zero effort put into making them an experience. Shrek's Souvenir Shop was filled with great details!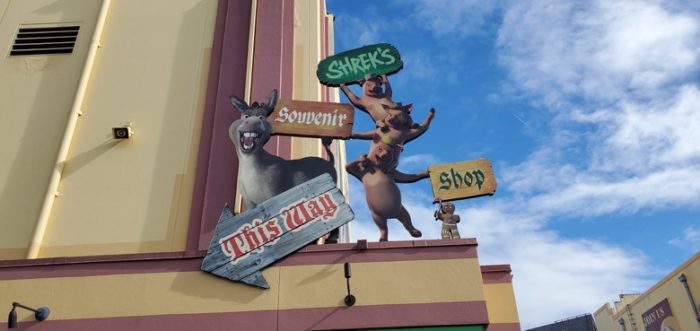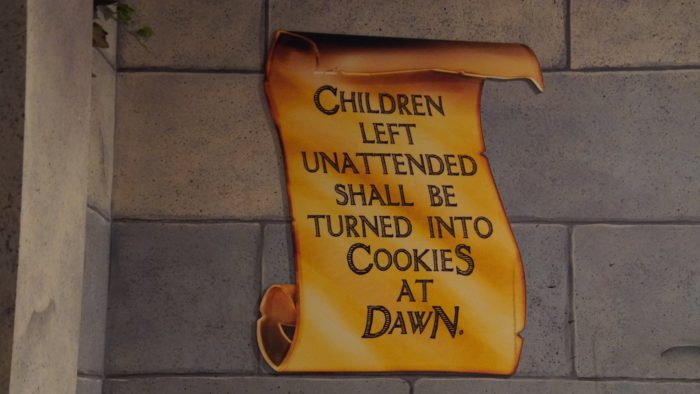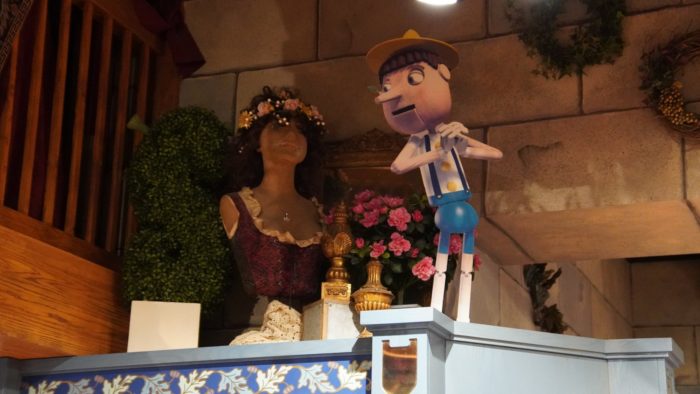 One area Disney has been much better than Universal at is placing tributes to former attractions in the attractions which replaced them. These include a reference to 20,000 Leagues Under the Sea in the queue for Under the Sea ~ Journey of the Little Mermaid, Mr. Toad handing over the deed to his attraction to Owl in The Many Adventures of Winnie the Pooh, and even a wonderful "Great Moving Ride" reference in the Mickey & Minnie's Runaway Railway. While Universal has been getting better at paying proper tribute to its history, there are very little references to the early days of Universal Studios Florida in 2022. One thing from Ye Olde Universal that you could see was located in Shrek 4Ds gift shop. A look up would reveal remnants of a former attraction in that spot, Alfred Hitchcock: Art of Making Movies.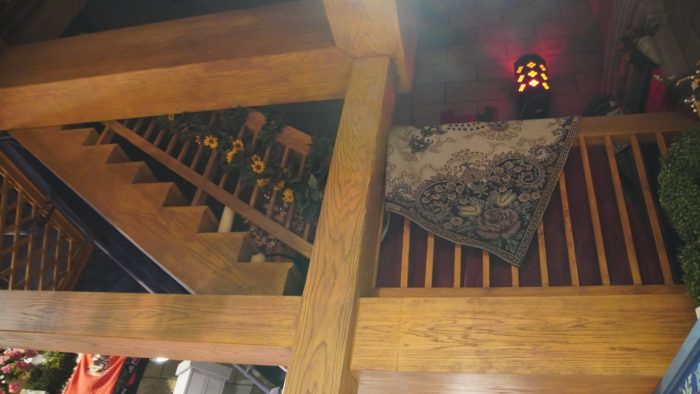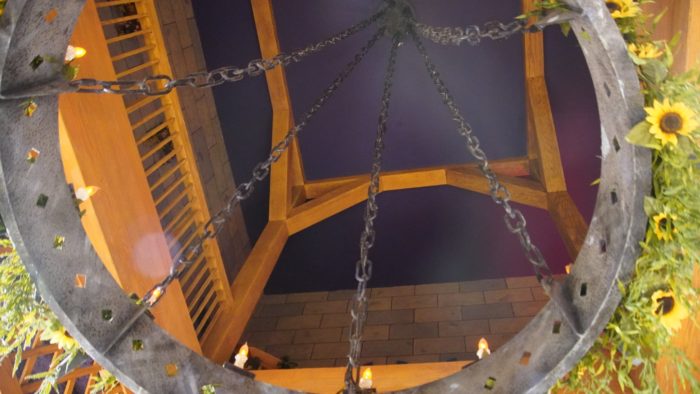 I'm a simple man of simple pleasures, and while I don't ask much of the theme parks, one thing I appreciate is when they give fans of an attraction that is going away forever one more piece of merchandise. Shrek 4D was blessed with a Farewell Tee.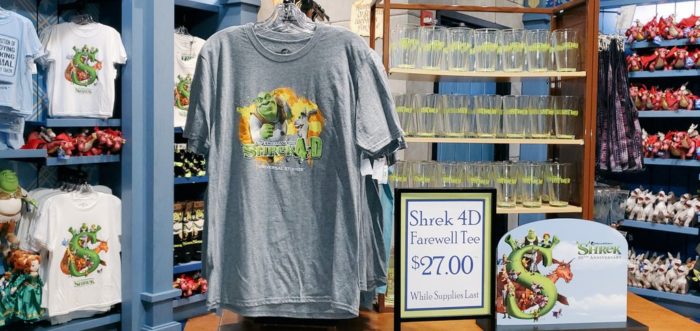 While the front of the shirt was fine…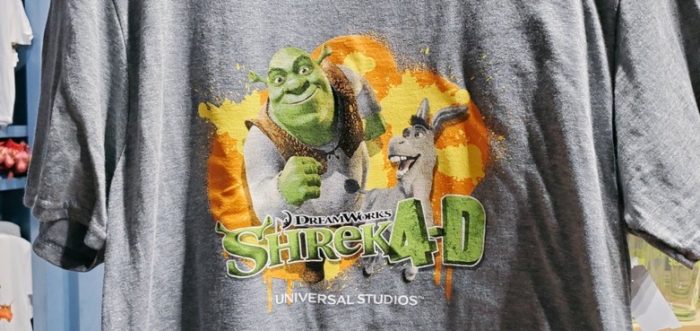 …the back of the tee was straight up E-Ticket.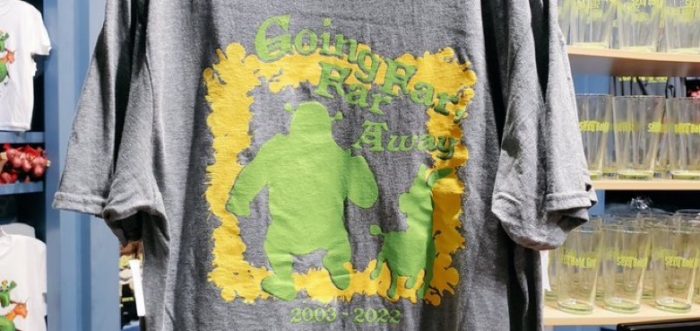 Some visual elements and props from Shrek 4D made their way over to the Universal Legacy Store in CityWalk.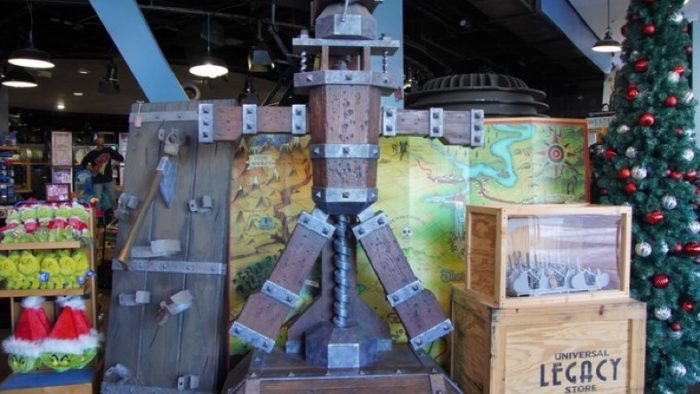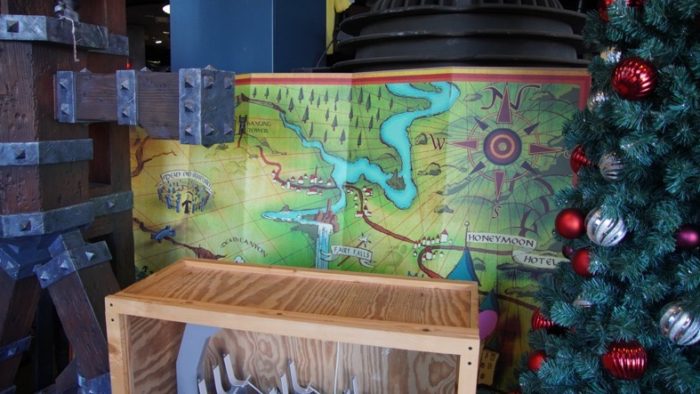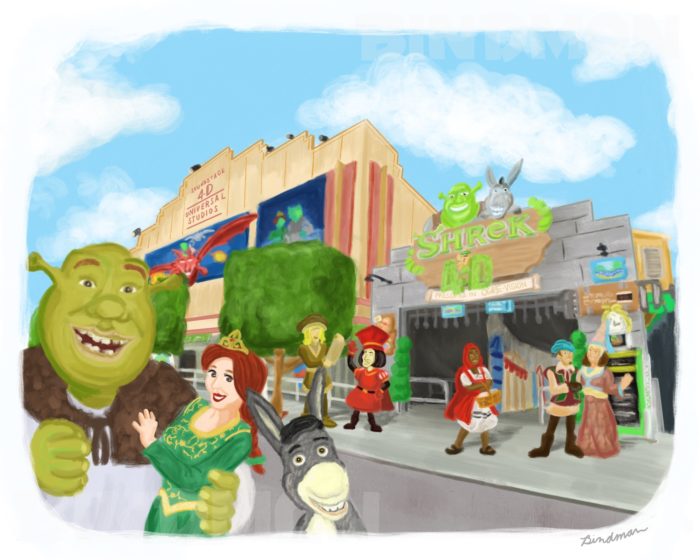 Shrek 4D will be replaced by the upcoming Villain Con – Minion Blast (be sure to watch Alicia Stella's great video on this attraction to get all the details!)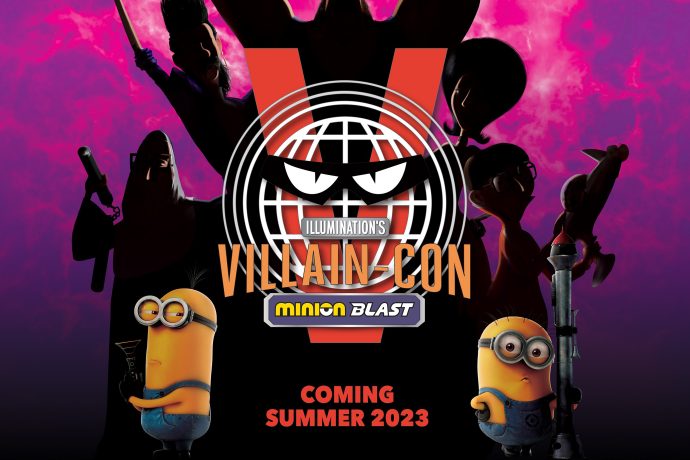 # 5 – Williams of Hollywood Prop Shop
Heaven needed a box of OgreVision glasses…
The last guests on Shrek 4D were allowed to keep their Ogre Vision glasses, but where did the other thousands upon thousands of those green 3D glasses go? Well, glad you asked, because they ended up at the Williams of Hollywood Prop Shop, another venue which closed its doors on June 27th.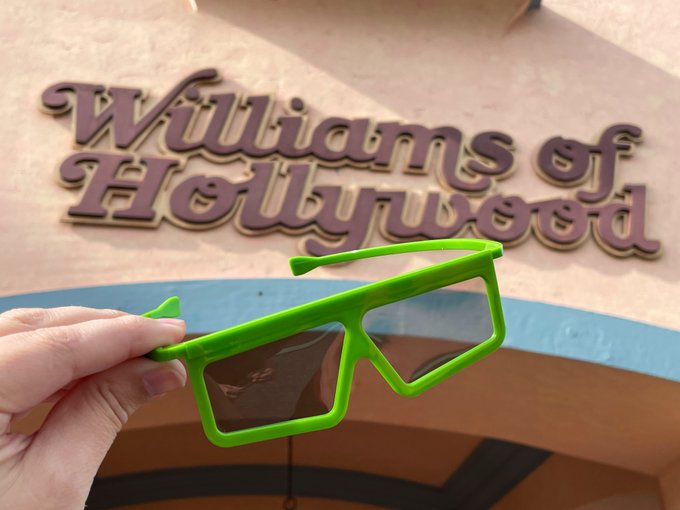 Many were available….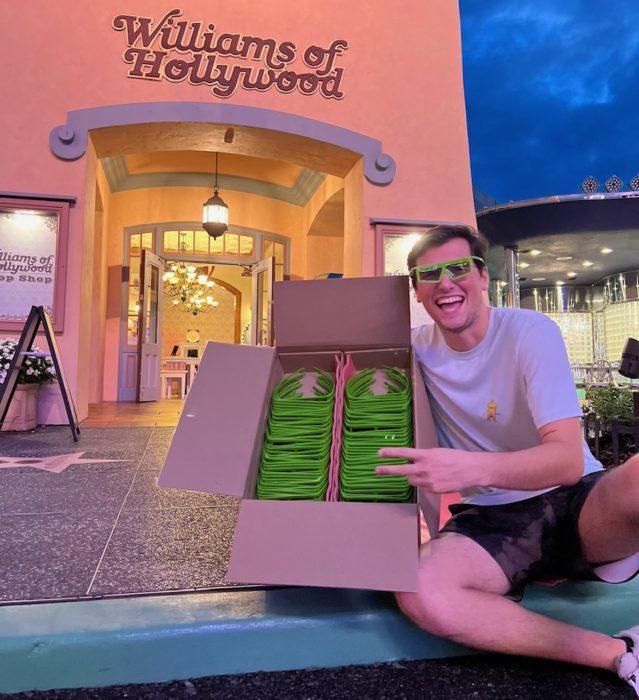 My first experience with Williams of Hollywood in Universal Studios Florida was years ago when it was actually a "magic shop." Guests would get a short 5-10 minute magic show that was solely designed to get you to purchase the actual tricks used in the show. That's right, to quote Ralphie Parker in A Christmas Story, the entire attraction was a crummy commercial. THAT SAID, the commercial worked for me at least because I purchased a wallet that released fire and it worked great! I can imagine many guests were turned off by something that was not that far removed from a time share presentation inside a theme park though.
Several years ago, the magic shop was transformed into a "prop shop," and Williams of Hollywood became a go-to place to find unique souvenirs and actual items that were used *in the theme parks.*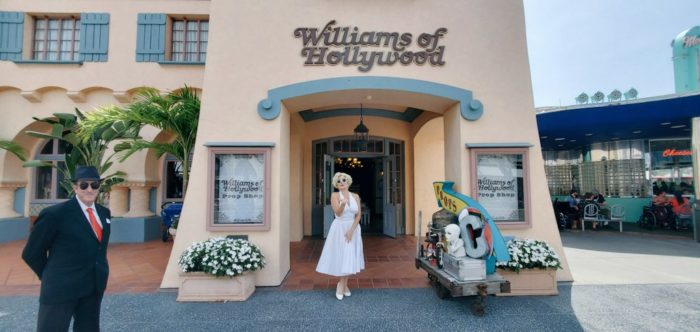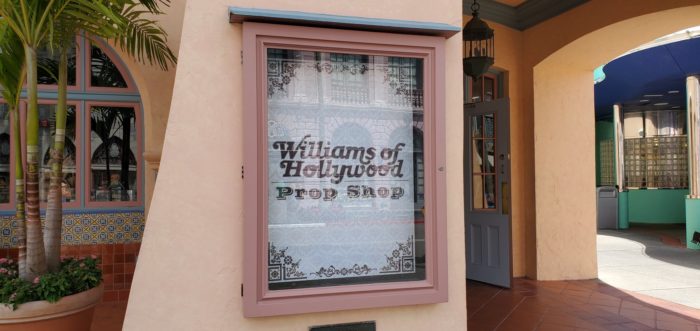 There have been some REALLY COOL items which have been available at Williams of Hollywood over the years. One of my favorites was a series of "travel" stickers based on locations in Islands of Adventure.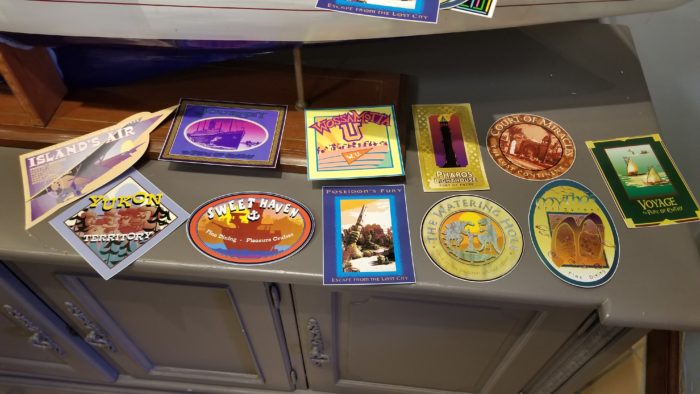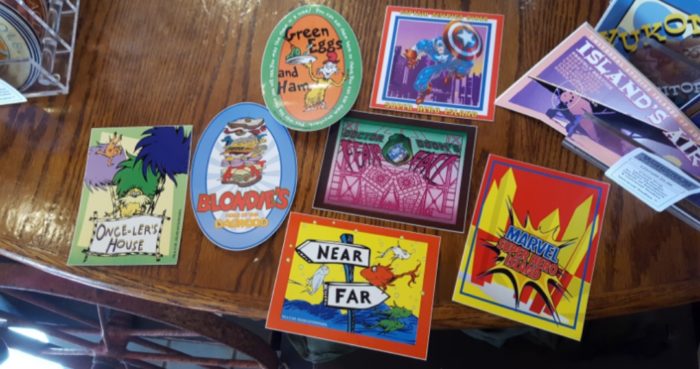 Universal Classic Monsters POGS? Myself and TouringPlans' own Guy Selga would fight to the death over these.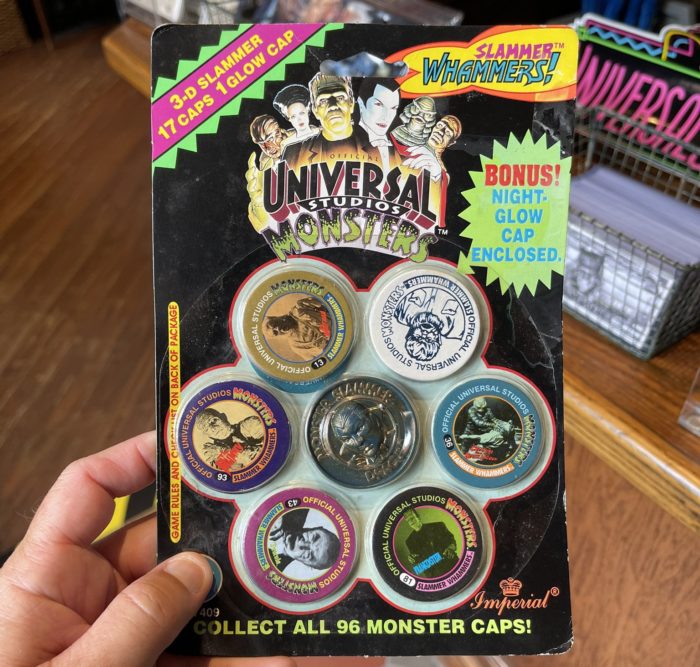 Buy pogs by the set or individually, yes, it's true, the prop shop was the Greatest Store in Theme Park HISTORY.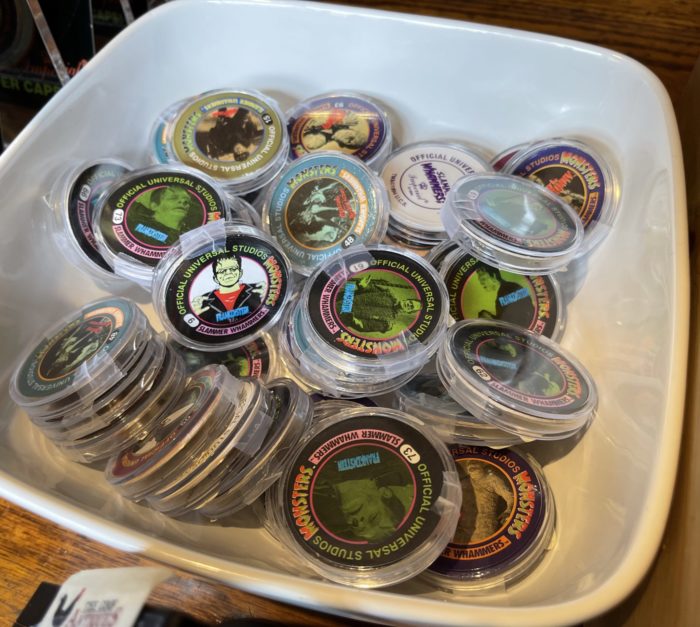 This is the only map of Florida I would hang in my house.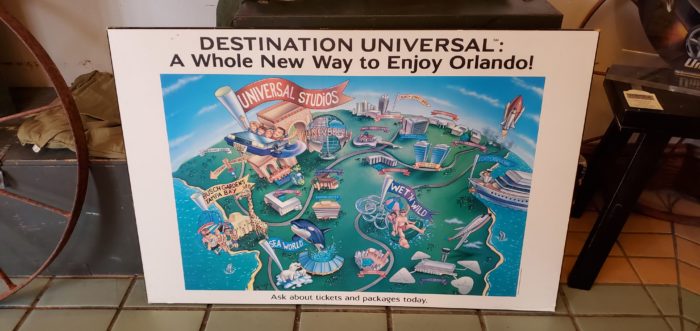 For hardcore theme park fans, Williams of Hollywood was where you could get items that were used inside the theme park. For example, the street sign below was used in the queue for Twister…Ride It Out (itself a member of the In Memoriam Class of 2015.)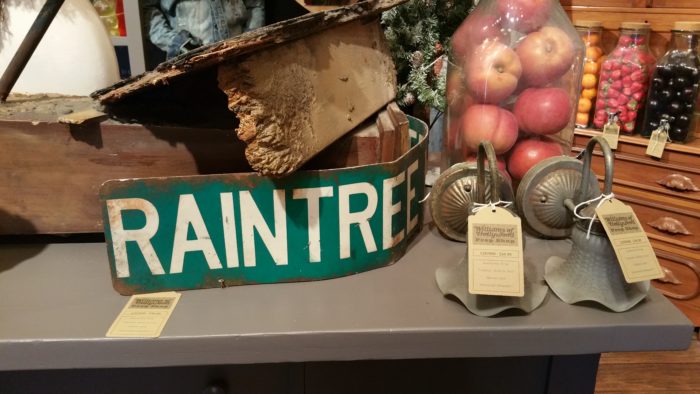 The price tag on each item in Williams of Hollywood would explain where the item came from. Now you'd often find stuff like "Visual Prop. As Seen In Multiple Park Retail Locations." but you sometimes come across items from your very favorite theme park attractions. Can you IMAGINE if Disney had something like this in one of their theme parks? The store would draw the biggest line in the park!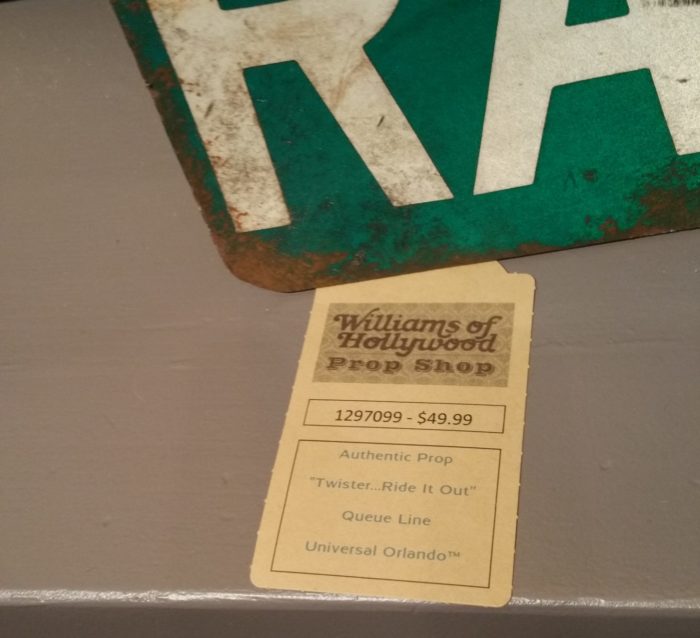 Signed from Terminator 2 – 3D (a member of the In Memoriam Class of 2017.)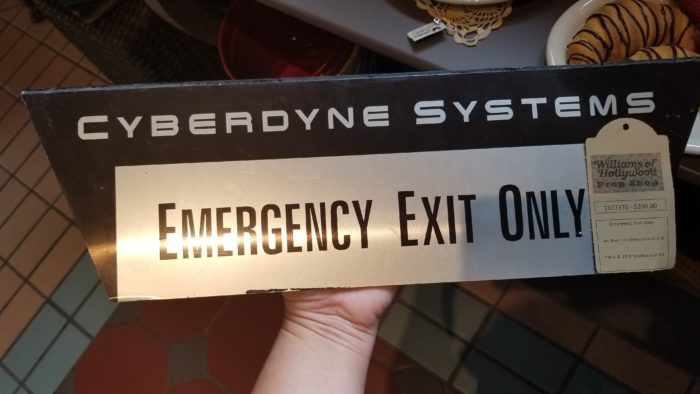 HHN signage.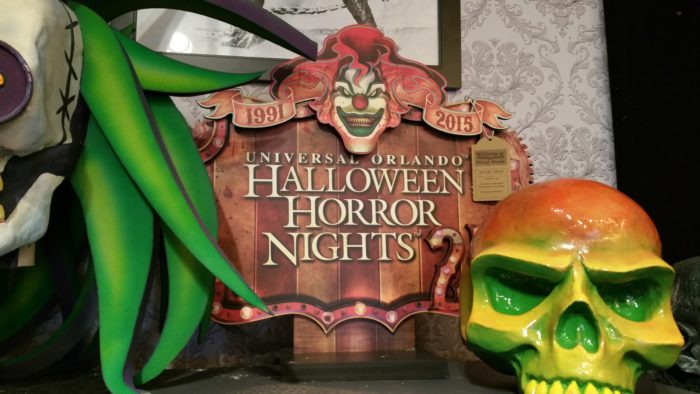 Speaking of HHN, how about one of the custom made faux arcade game cabinets from the Anarch-Cade scarezone in  Halloween Horror Nights 29? Talk about an item on my Wish List!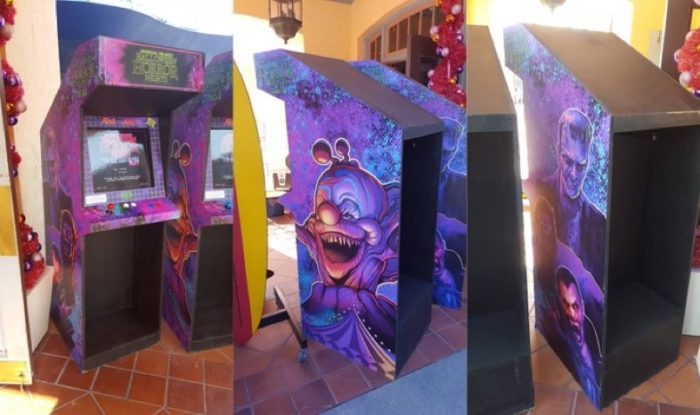 Signage from Beetlejuice's Graveyard Revue (a member of the In Memoriam Class of 2016.)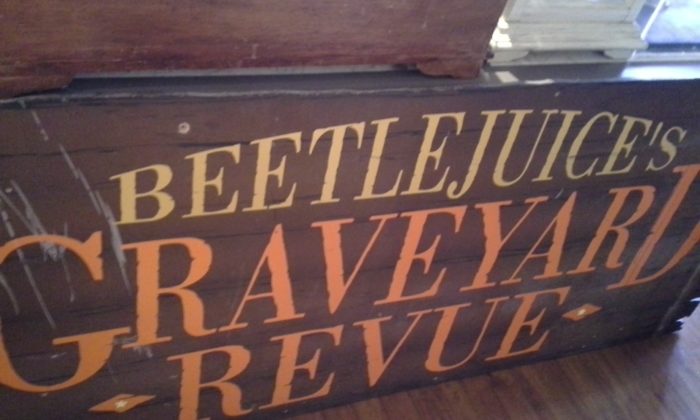 Imagine walking into the Prop Shop one day and seeing items from the Triceratops Encounter in Jurassic Park. Well, when Universal started building The VelociCoaster that stuff had to go somewhere, and instead of storage or to the dump it went into the homes of fans and collectors, as it rightly should.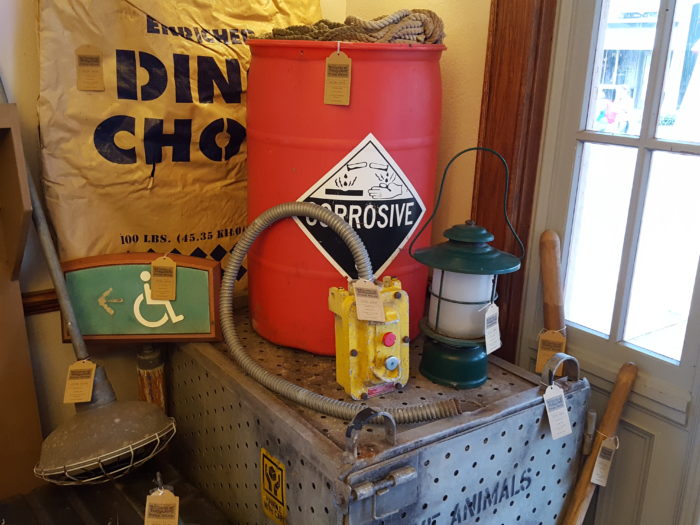 Anyone want a fabled MAGIC MIRROR from a little attraction called… SHREK 4D?!
We mentioned the OgreVision glasses earlier, but almost everything from Shrek 4D made it to the Prop Shop including the aforementioned Magic Mirror and a ton of torture devices. LIKE WE WEREN'T GOING TO BUY SOMETHING THAT WAS INTENDED TO GIVE GINGERBREAD MAN THE BUSINESS!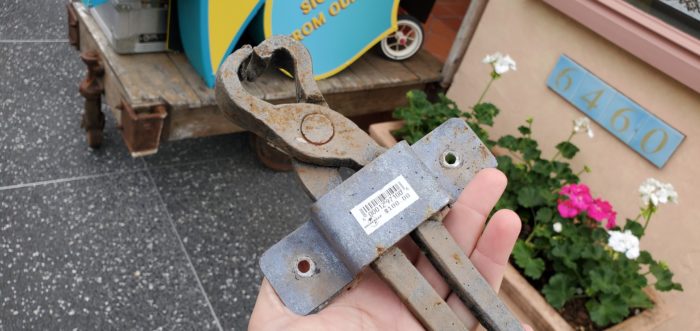 The holy grail of all items ever sold at the Williams of Hollywood Prop Shop was the ICONIC Mythos banner. For many years, Mythos Restaurant – located inside Islands of Adventure –  displayed a banner at its front doors proudly proclaiming itself as the "#1 Theme Park Restaurant in the World." The banner itself was semi-ridiculous, but that became part of the charm of this E-Ticket Restaurant.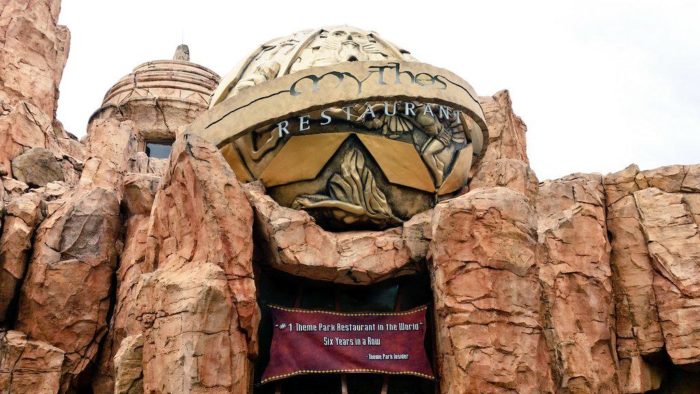 The banner stayed for years…
…so you can imagine our surprise when in July of 2019, the banner suddenly changed.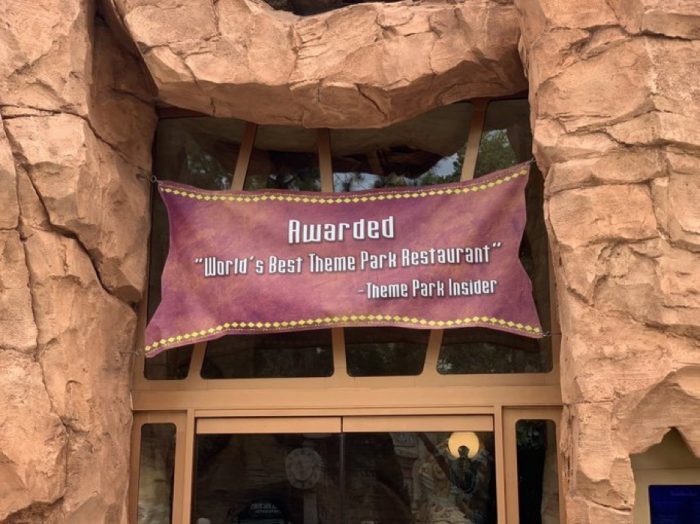 The banner, which had become a lightning rod in the theme park community, went to the Williams of Hollywood Prop Shop and was quickly scooped up by one of its own on July 5th, 2019.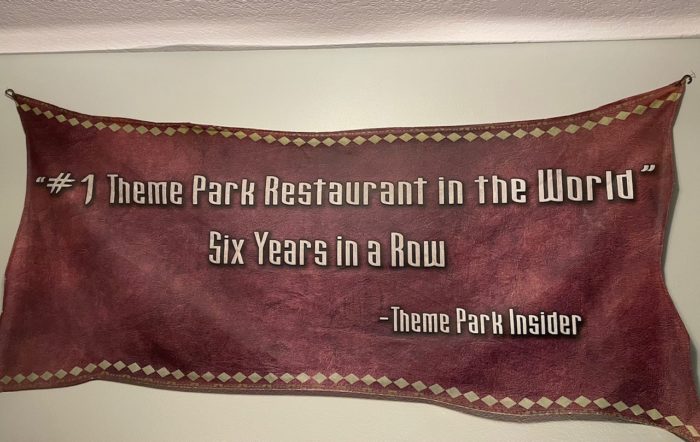 While Universal hasn't said officially what is happening to the Williams of Hollywood Prop Shop building, we probably got a pretty good clue earlier this month when the following piece of artwork was added to the Holiday Tribute Store in the New York section of Universal Studios Florida…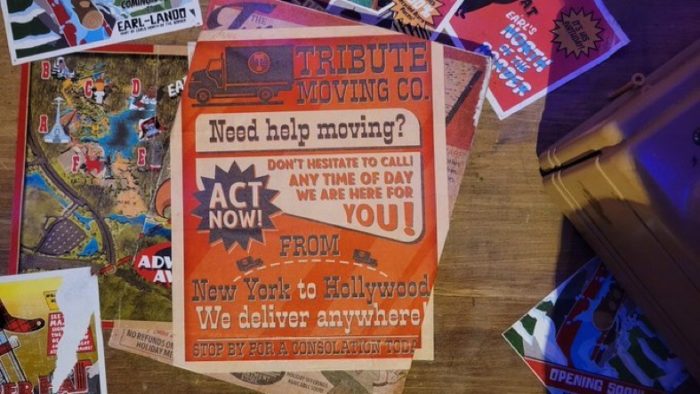 Soon after, another clue was placed inside the Tribute Store…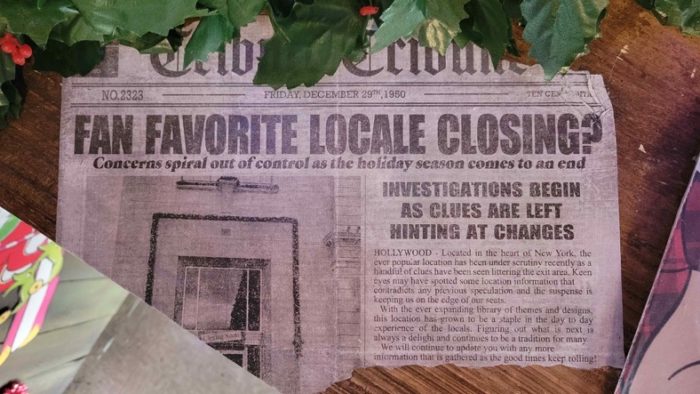 As for The Prop Shop itself, it has a temporary location set up down the street from its former residence at the Brown Derby.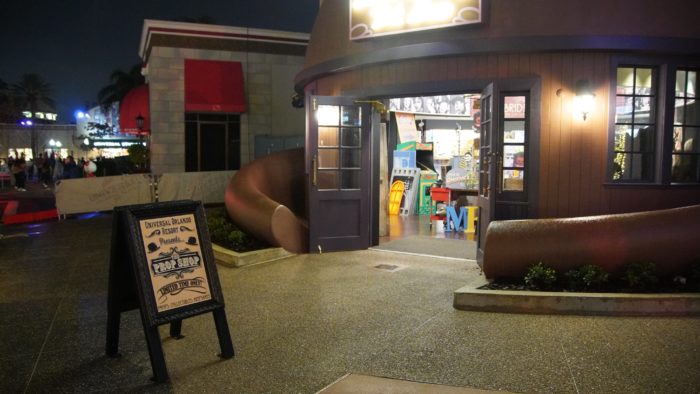 # 4 – Monsters Cafe
With a metric ton of indoor seating, Universal Studios' Classic Monsters Cafe was a great place for a meal and to get out of the hot sun. The restaurant was filled with movie props from various monster films, including The Creature from the Black Lagoon and The Mummy, but also has references from The Munsters TV show. For years my personal go-to meal in the park was a "monster" sized slice of pizza, Nathan's crinkle cut fries, and a large Coke (no ice) from Monsters Cafe. Admittedly, I was alone on that island with most people thinking the overall menu was lacking, and the biggest draw to the venue being the all important air conditioning.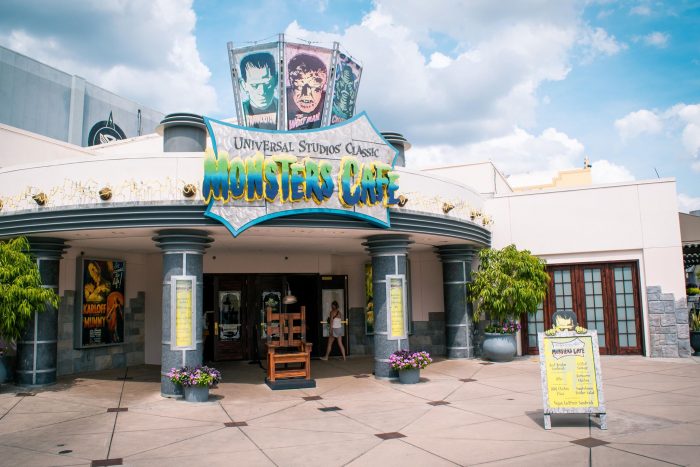 Along with Bruce the Shark in San Francisco, this chair outside Monsters Cafe was probably one of the most photographed items in Universal Studios Florida until Diagon Alley opened.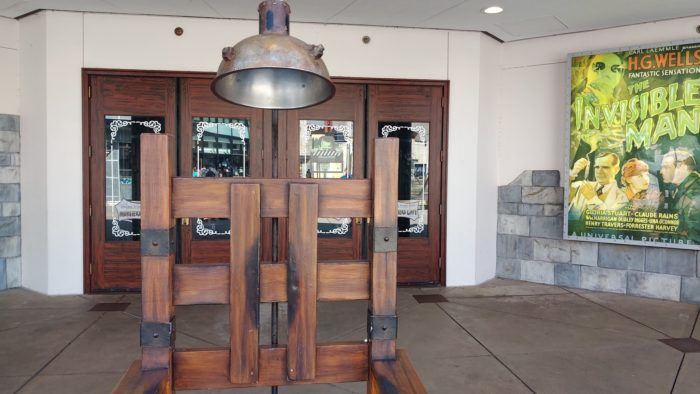 On May 14th, with no notice to fandom, the doors to Monsters Cafe were closed forever.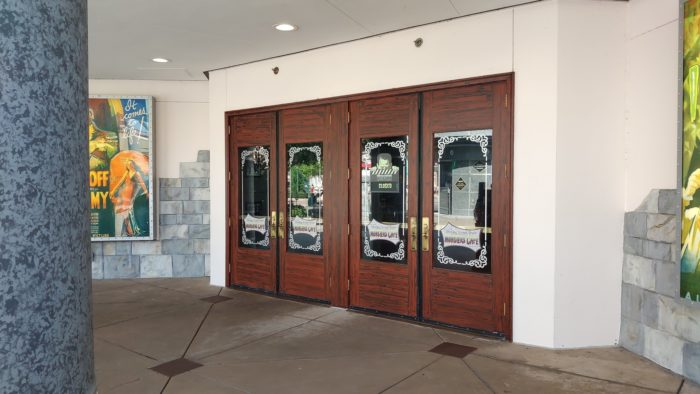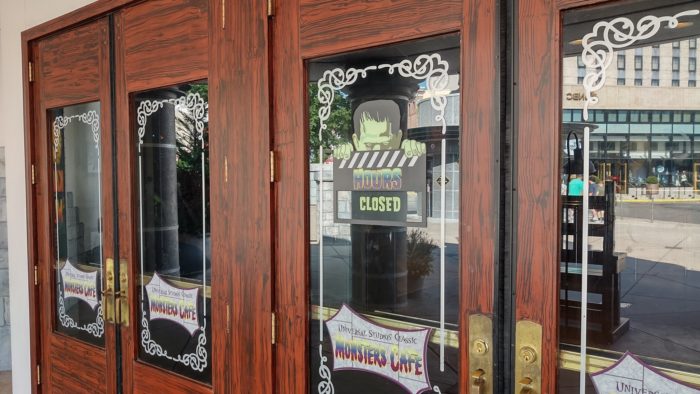 The loss of Monsters Cafe would be soul crushing if it wasn't for the upcoming Universal Classic Monsters Land in EPIC Universe. Be sure to follow blogger-in-the-sky @bioreconstruct and the Permit Princess @AliciaStella for more exciting details on what's to come in that collection of awesomeness. Meanwhile we'll look at some of the great details inside Monsters Cafe…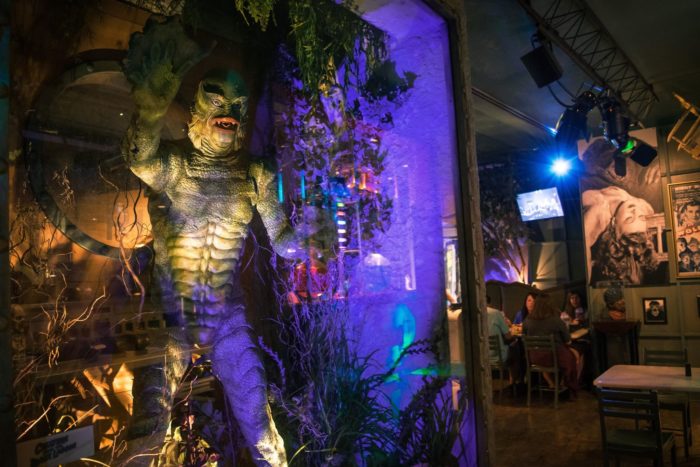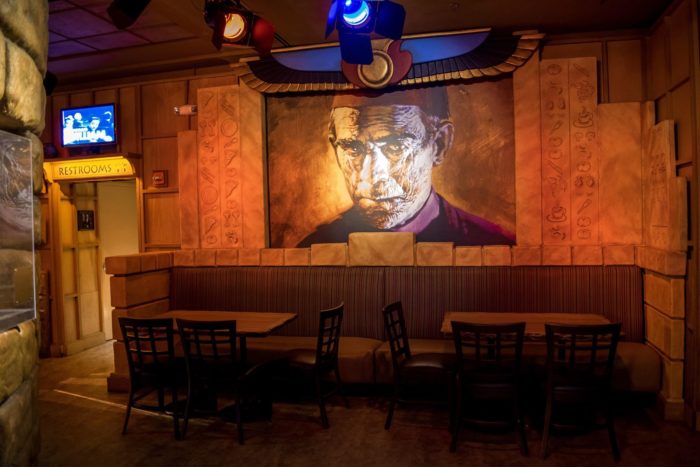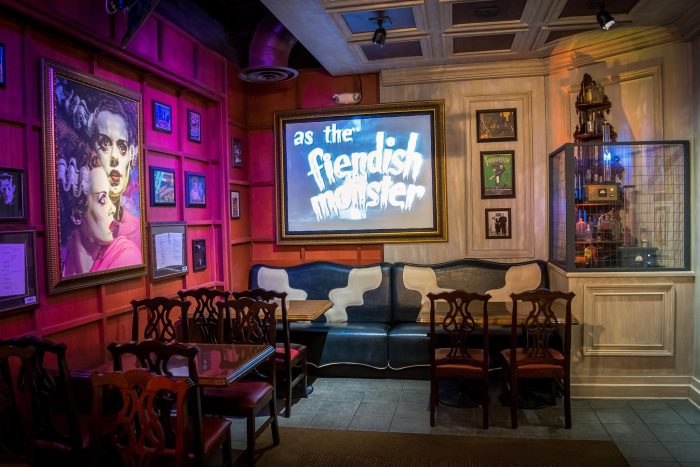 We mentioned earlier that the Prop Shop is currently located at the Brown Derby in USF. Well one item in the store is this piece of seating from Universal Studios' Classic Monsters Cafe…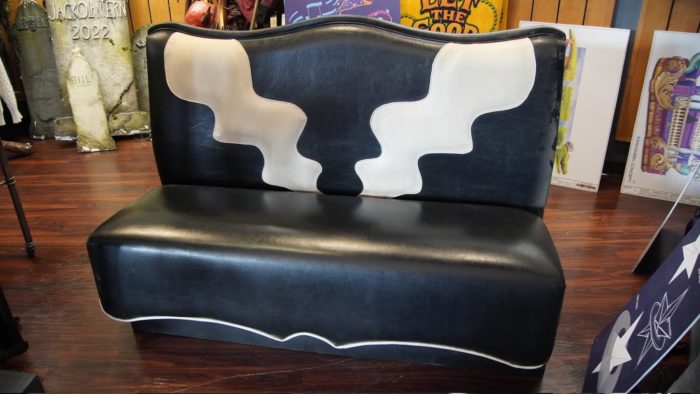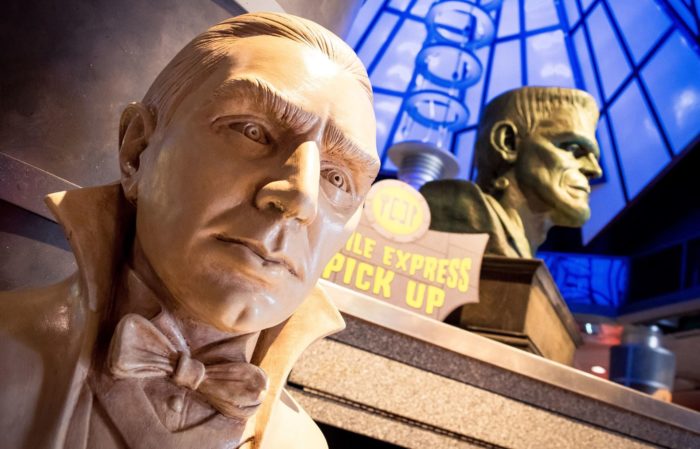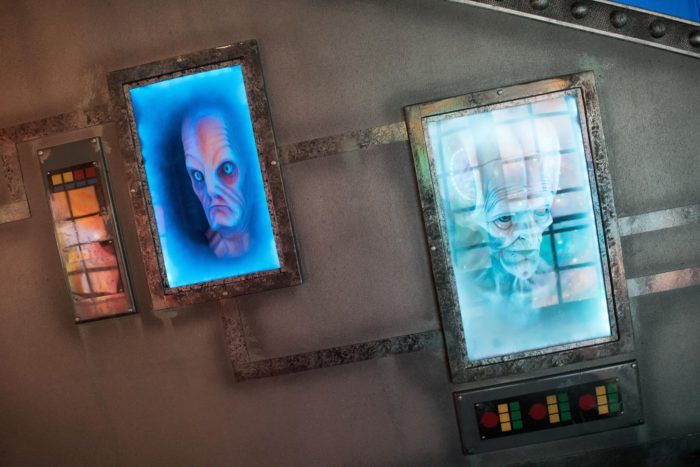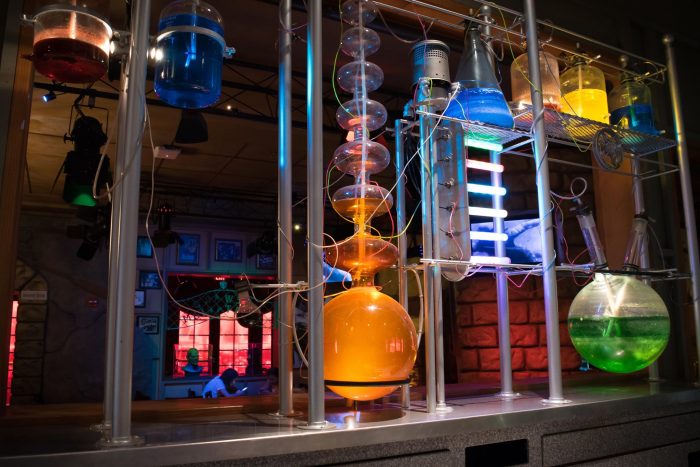 Much to my personal chagrin, Universal remade the Monsters' menu in 2019 with barbecue meat combos and home-style side dishes, making it into one of the park's best non-Potter bets for the average guest. The chicken and ribs were comparable to those at theThree Broomsticks, and you could also get brisket and sausage. Vegetarians could get a tasty combo of only side dishes, or be adventurous and try the jackfruit sandwich (a mild, fleshy cousin of the fig and breadfruit), served hot with crispy onions on a kaiser roll. The signature nonalcoholic beverage served was Sprite with blueberry popping boba, called the Lavender Elixir; and it tasted much better than the Fishy Green Ale in Diagon Alley.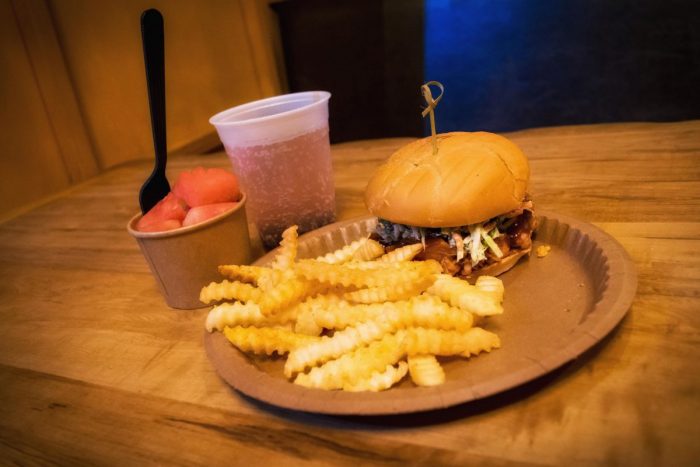 Am I happy that there was a little bit of false advertising in how the Lavender Elixir was served? No. Like my beloved Doofenslurper from EPCOT, anything served in a beaker tastes better.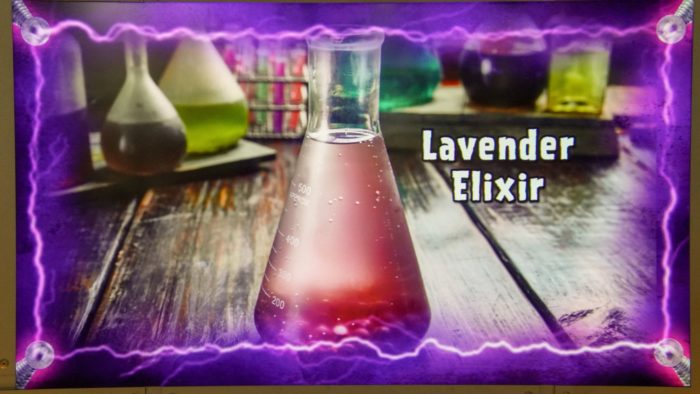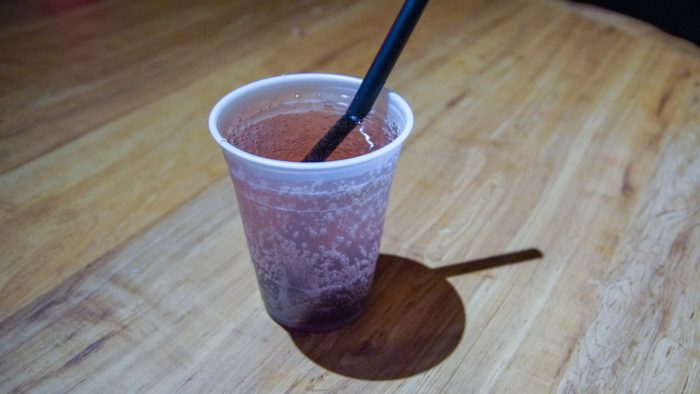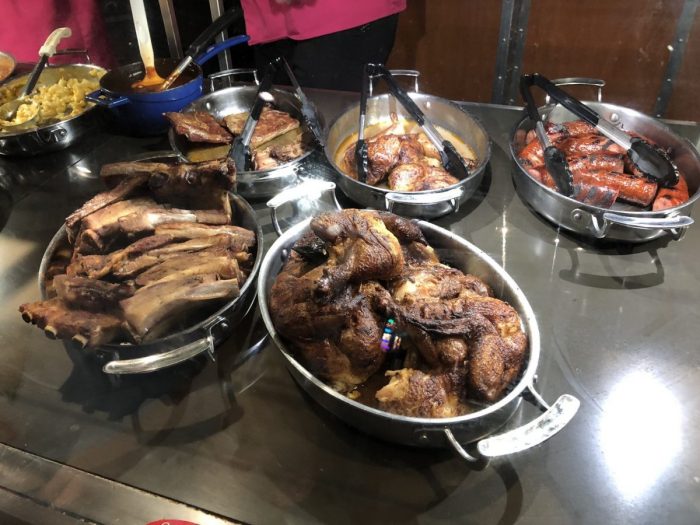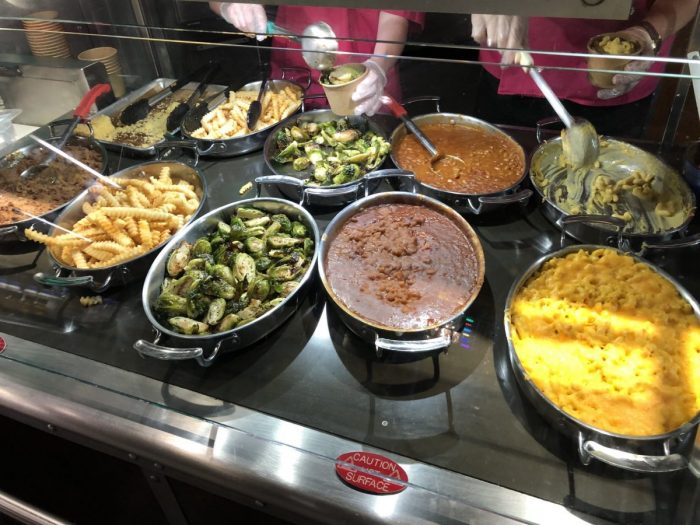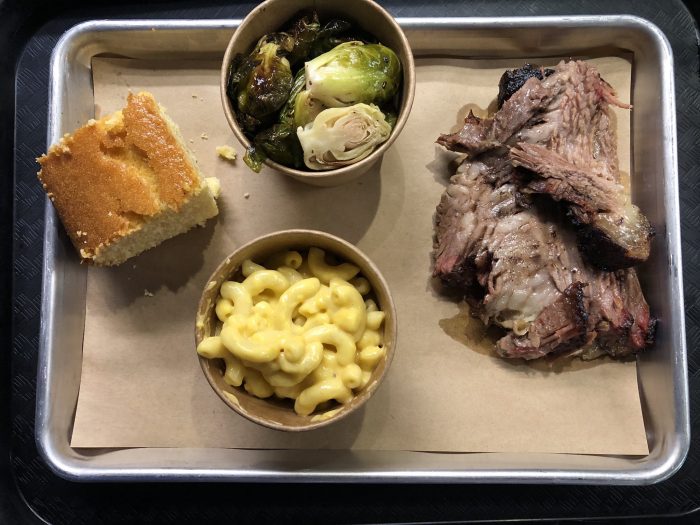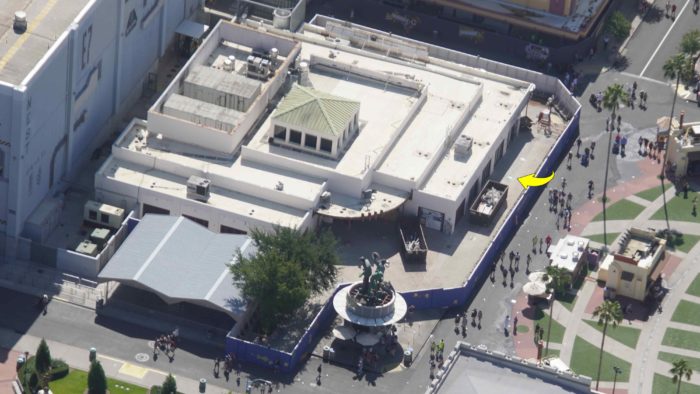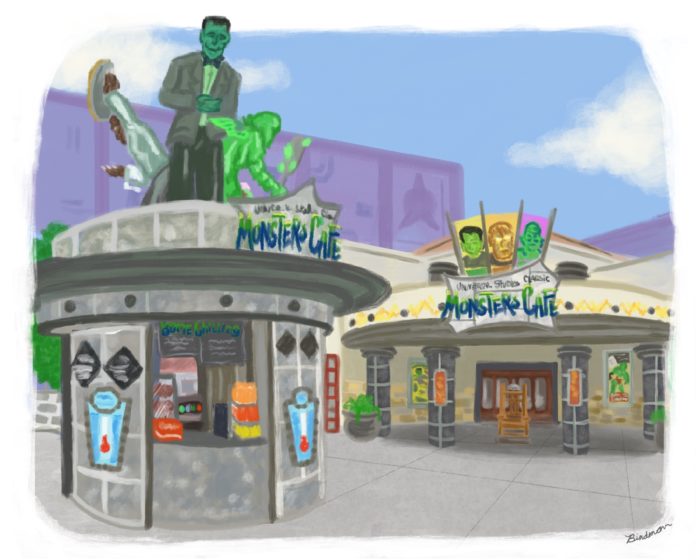 Monsters Cafe will be turned into a Minion-themed restaurant. Monsters Cafe was located directly across from Shrek 4D, which as we mentioned earlier will be converted over to a Minion based attraction. This entire area – with the the nearby Despicable Me: Minion Mayhem attraction – will be MINION CENTRAL at the Universal Orlando Resort.
# 3 – Superstar Parade
Back in 2012, Universal Studios Florida introduced the Disney-like Universal's Superstar Parade, featuring dancers and performers, four large and elaborate floats inspired by mega popular cartoons, and an eclectic mix of street-prowling Universal characters. The parade stopped twice for a highly choreographed ensemble number. Though impressive in its scope and coordination, the overall performance was pretty much impossible to take in from any given viewing spot given the layout of USF. Each individual parade was pretty dang impressive though, and generally at other times during the day the characters and floats would be out in specific spots for mini-shows as well as meet and greets.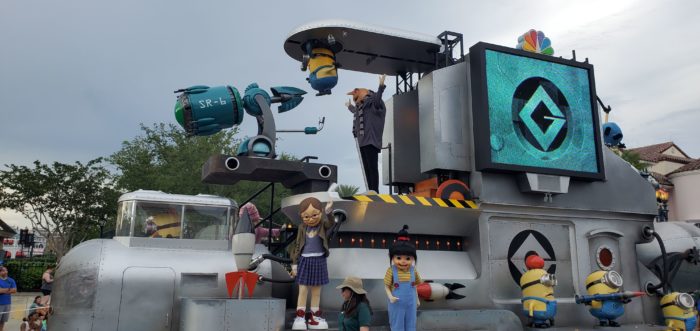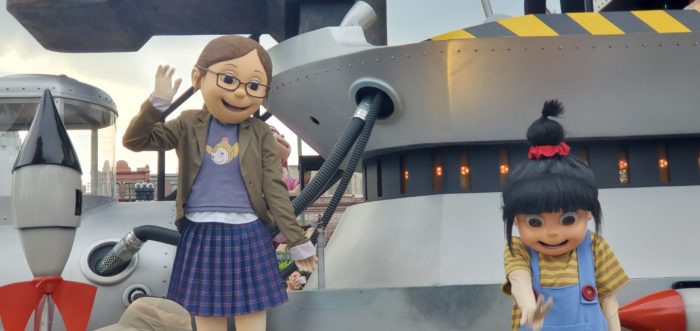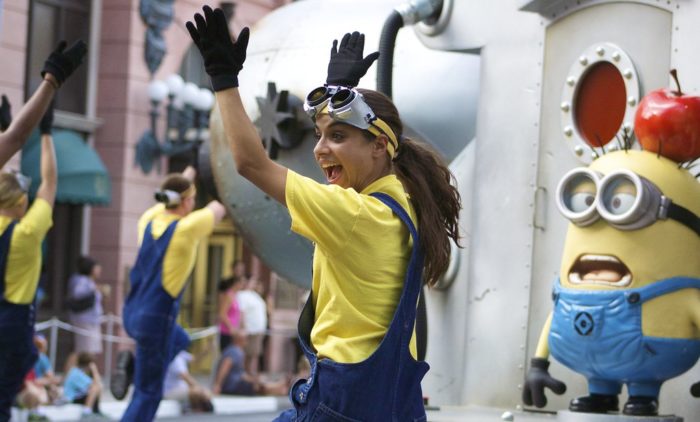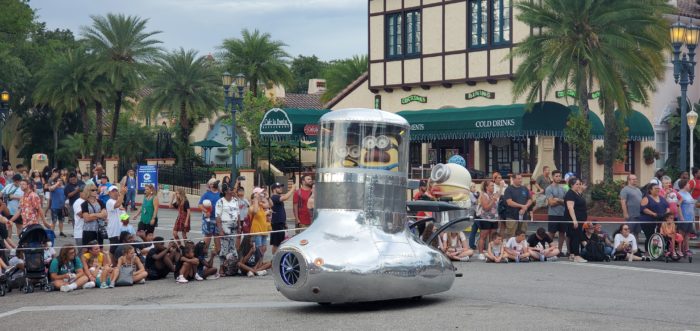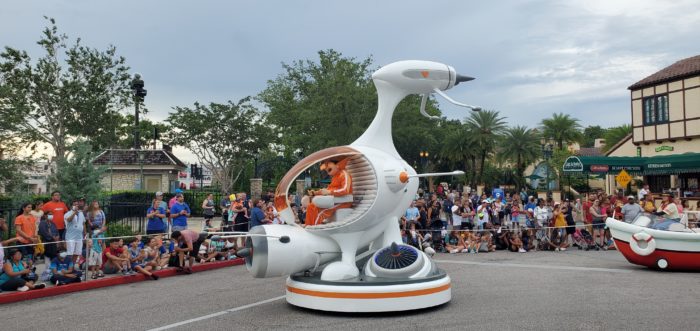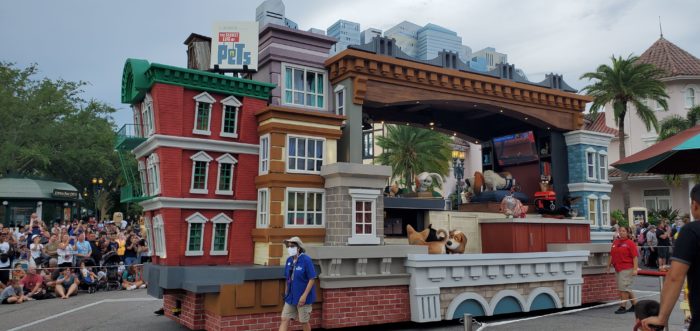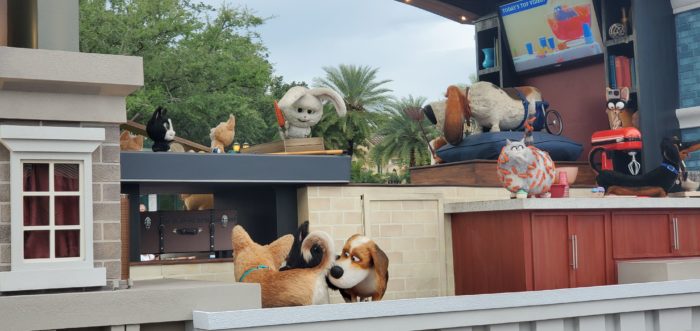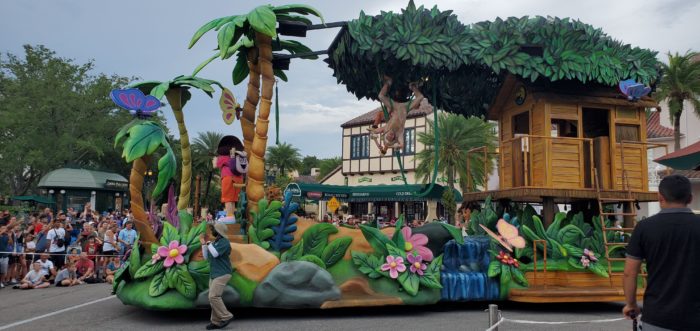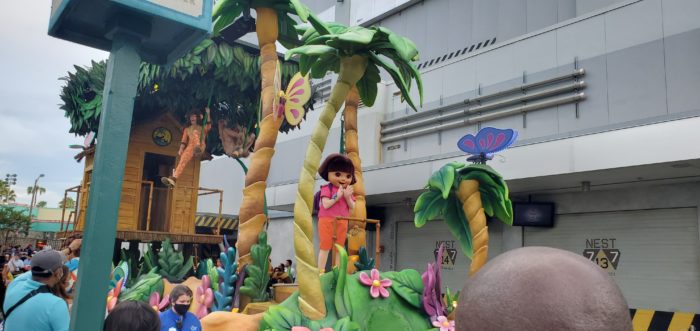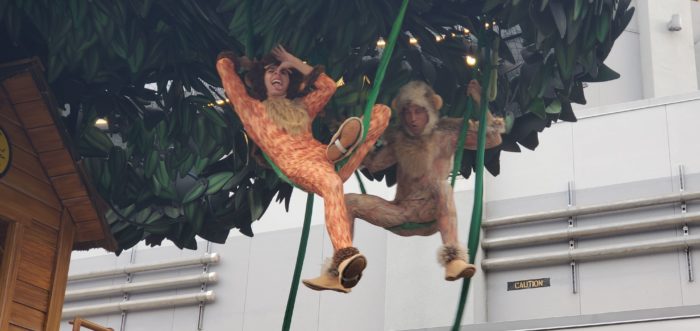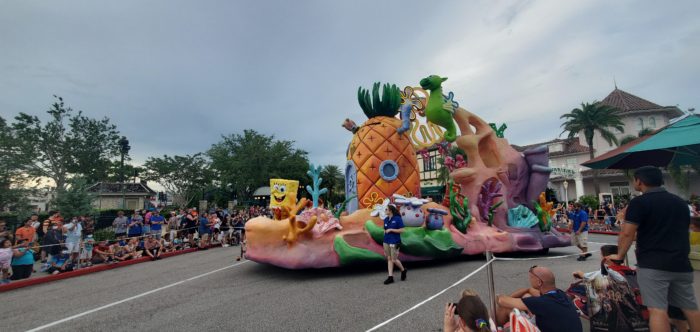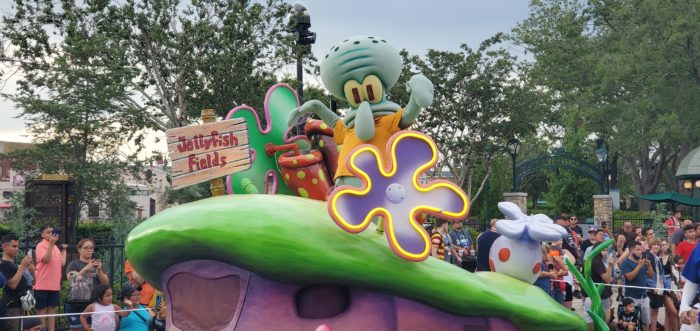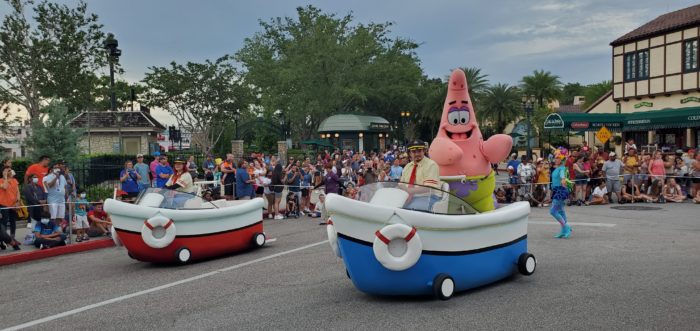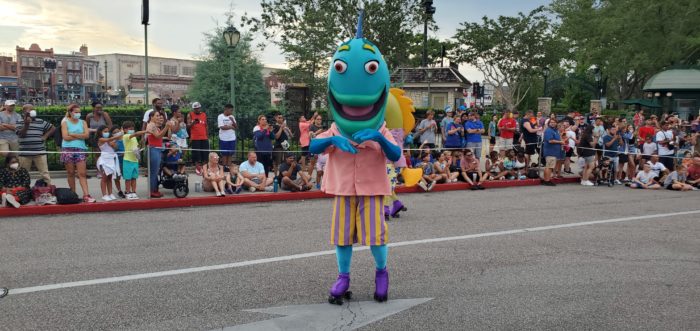 Over the years new animated movies would have their own spotlight during the start of the parade.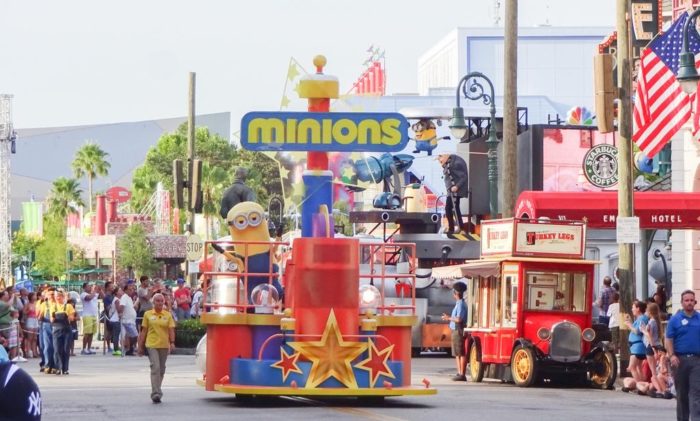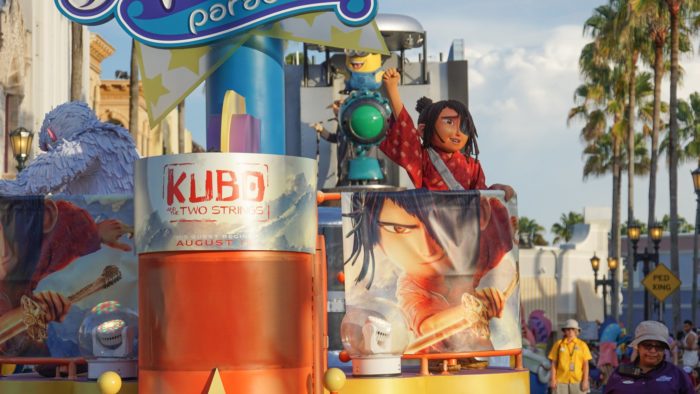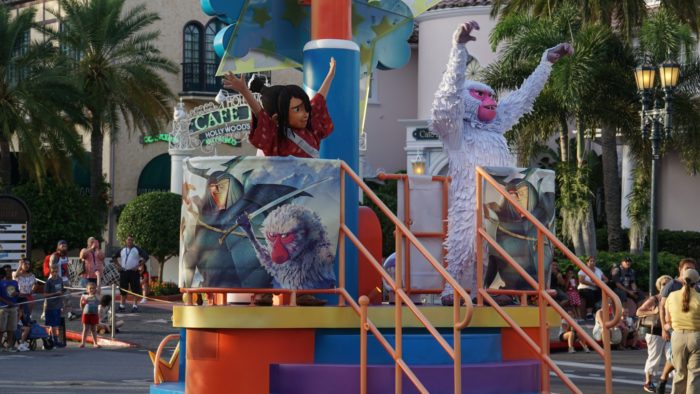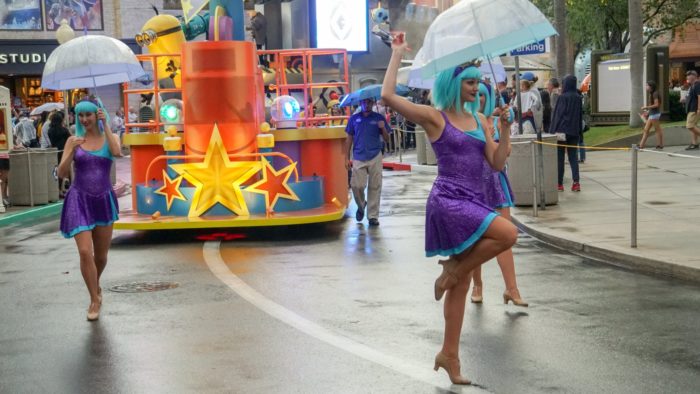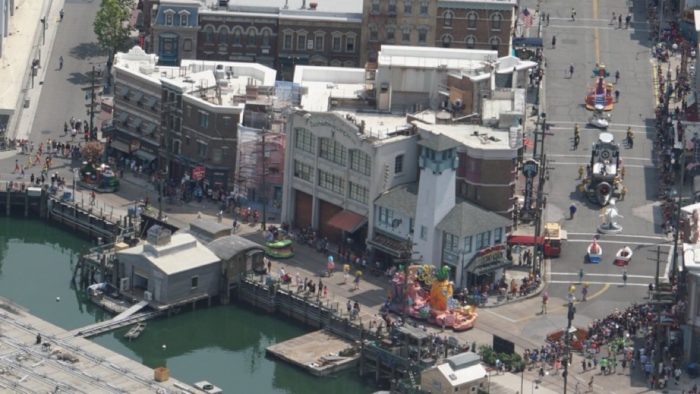 On June 4th, the Superstar Parade made its last winding tour through Universal Studios Florida. No replacement has been announced.
# 2 – KiteTails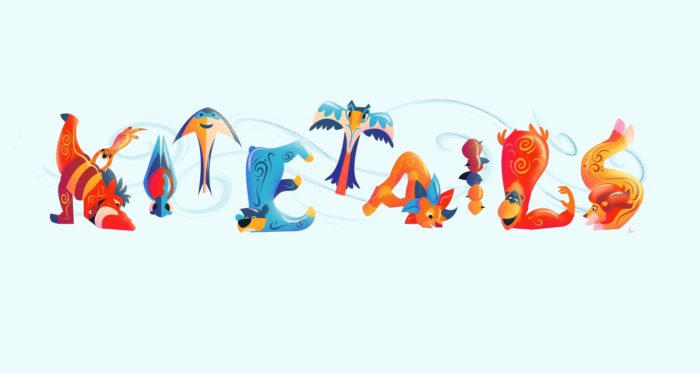 While we are a very fickle bunch, I think it is fair to say that all theme park fans can agree on at least one thing: Animal Kingdom needs more stuff. Possibly the greatest theme park ever created has a challenging time keeping guests inside the park past 3PM because there is nothing to do. Expedition Everest is possibly Disney's best roller coaster. Pandora – The World of Avatar is possibly Disney's best land. Kilimanjaro Safaris may be Disney's best overall attraction. After that? Well things get dicey.
Several times over the past several years Disney has tried to "fix" Animal Kingdom to keep people in the park longer, but unfortunately most of their ideas did not exactly land as intended. Case in point, Disney built a lagoon-side theater outside of Expedition Everest for the heavily hyped Rivers of Light nighttime show. Beset with problems from literally Day One, Rivers of Light had its media preview in 2016 and less than four years later was completely removed from the park. Animal Kingdom still had an outdoor theater outside Expedition Everest though and had plenty of guests looking for things to do during the day, so in 2021 they introduced the daytime "activation" KiteTails.
When it originally started, KiteTails had plenty of signage around its seating and even a "pre-show" of sorts with Cast Members holding up artistic versions of characters from movies such as Finding Nemo and The Little Mermaid.  Similar to the cuteness of the Merry Menagerie polar bears, reindeer, and penguins, the Nemo/Mermaid-themed kite work was crowd pleasing entertainment. Well before the end of this show in 2022 the signage and the pre-show performances were removed from KiteTails.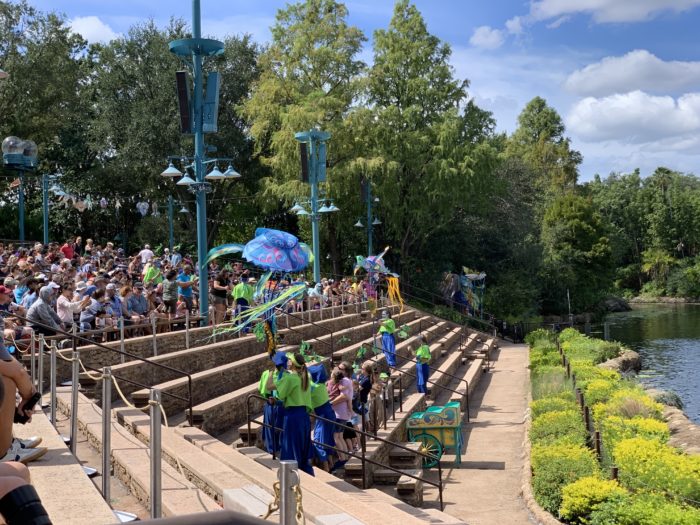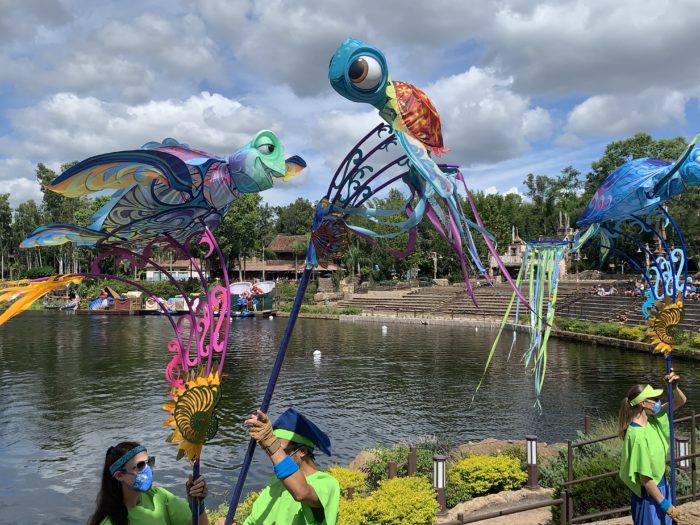 Of course the real star of KiteTails is jet skis hauling you-know-what around the water with gigantic kites themed to Lion King and The Jungle Book. Super neat idea in theory that failed to take into account two major things. The first one is that the amphitheater that the daytime activation show takes place in was designed for the nighttime Rivers of Light show. This means it was built with no shade, which is slightly problematic considering the Florida heat – especially inside Animal Kingdom – is the closest one can be to standing on the surface of the sun. A second issue is one that probably should have been foreseen by anyone who knows how often the Aerophile can't be flown at Disney Springs because of "wind." Florida has next level bonkers weather in general (hello end-of-times level lightning storm that is over within five minutes), but wind plays havoc on anything up in the air. It is cruelly ironic because you can be sweating to death on the ground and not feel a single bit of relief from this alleged "wind" above you. So right after their debut at Animal Kingdom, a whole bunch of KiteTails performances had to be canceled because of "wind."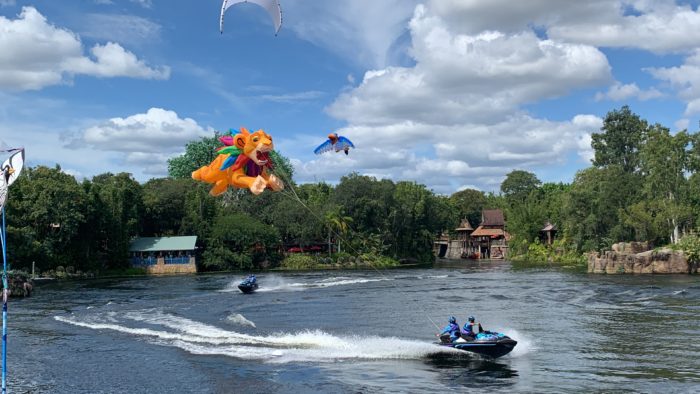 Here is a time-lapse photo sequence of the young Simba balloon "flying" across the lagoon. People like Disney characters. People like jet skis. People like colorful balloons. Despite all the obstacles in front of it, it's fair to say most people enjoyed the KiteTails shows as a pleasant distraction during their day at Animal Kingdom.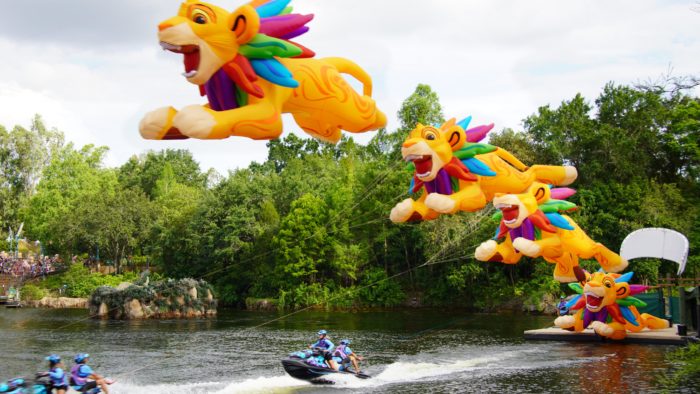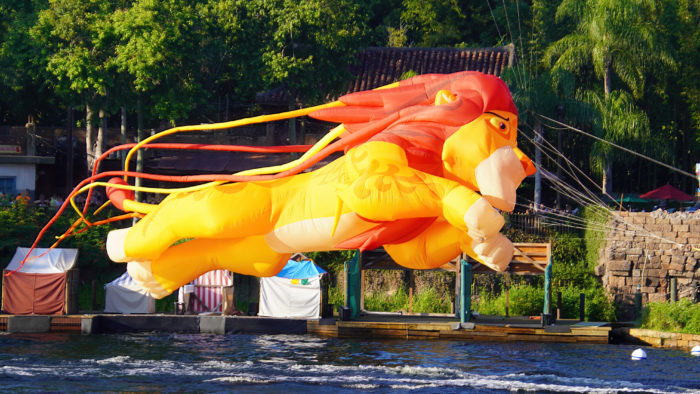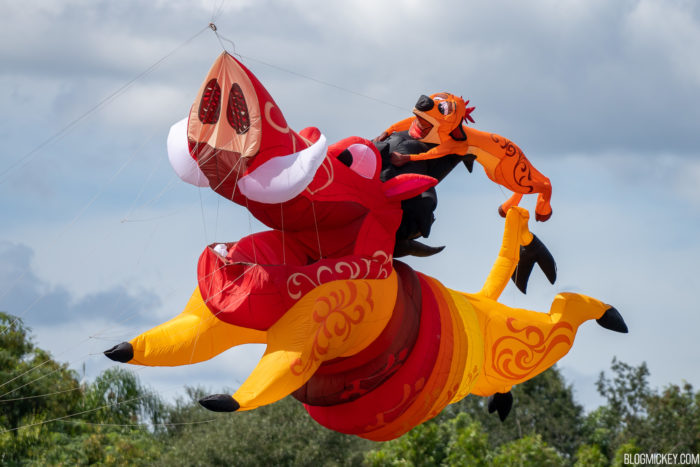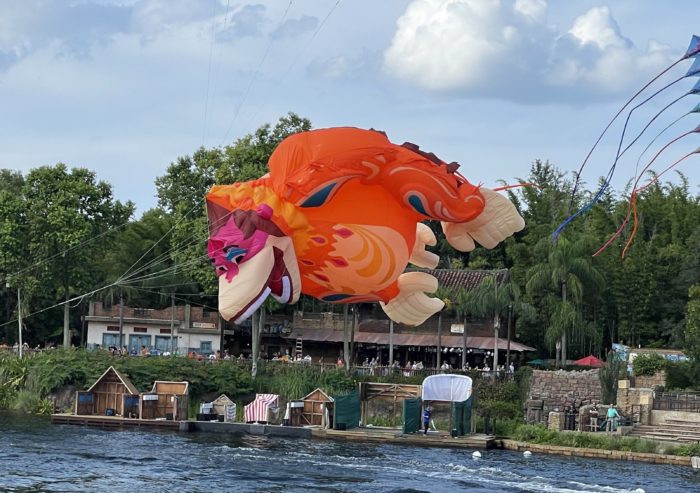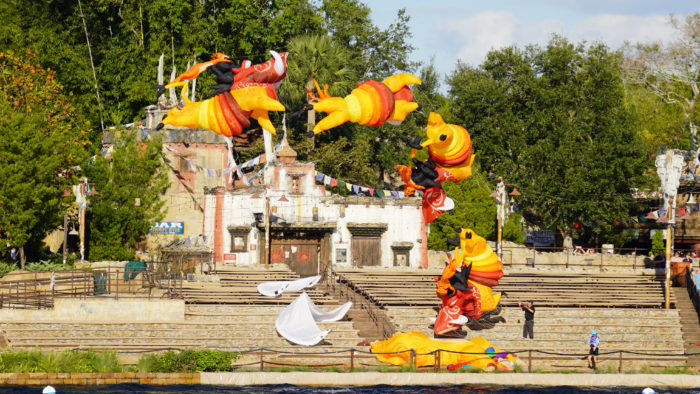 However, by far and away the biggest takeaway from KiteTails is the way the actual kites "land" when they were done with their performance in the show. These "crash landings" were planned (well, at least the ones "landing" in the bleachers. When the balloons landed in the water the show had to take a break from them to be removed.) However, to the common layman watching the show, it is hysterical. The kites crashed everywhere. Into the theater seats…into the water…and even into the bushes. It was amazing!!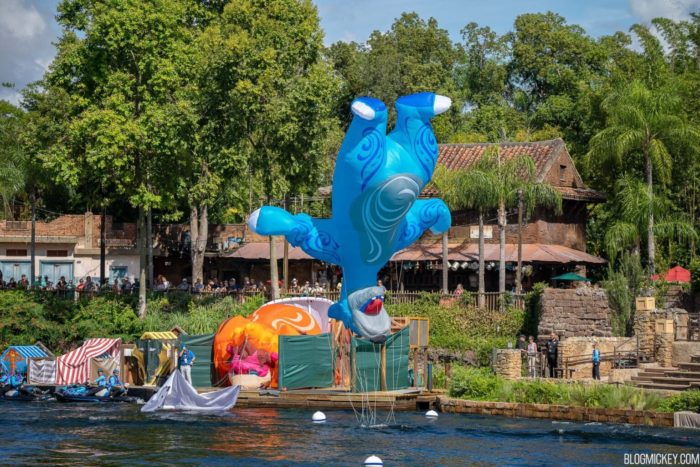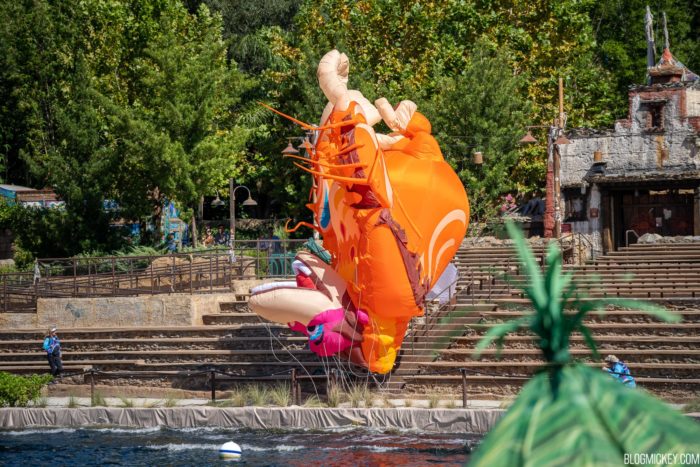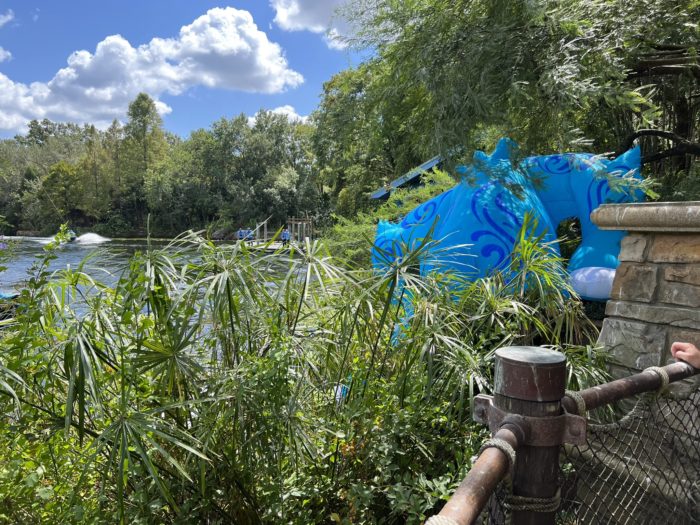 A whole bunch of memes and videos set to sound effects were posted with people having fun with the "landings."

KiteTails was scheduled to end on September 30th, but Hurricane Ian had other plans for Central Florida, and the last official show was held on September 27th. By the summer though Disney had clearly given up on the show. Aside from the aforementioned cuts we mentioned earlier, KiteTails wasn't even given showtimes and you were lucky if you happened to be in the area when the balloons were flying around.
Like Rivers of Light, KiteTails did have a fantastic souvenir popcorn bucket that was associated with the show.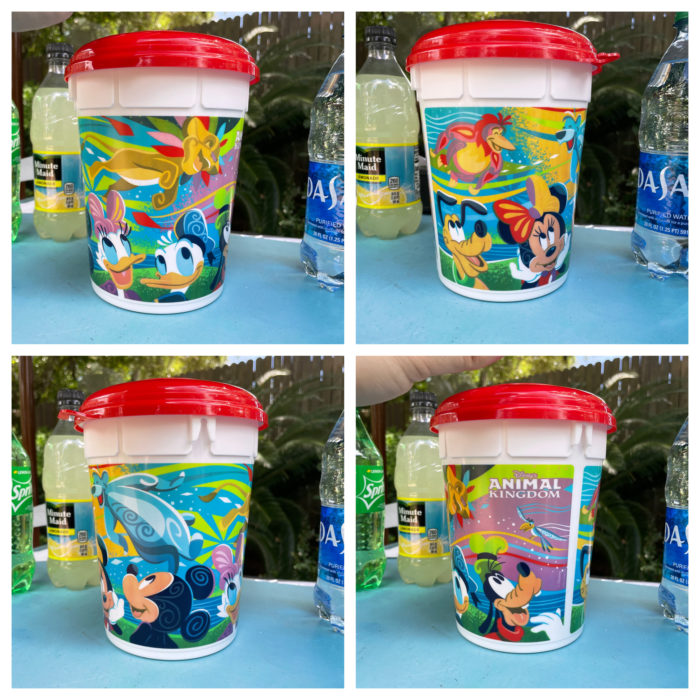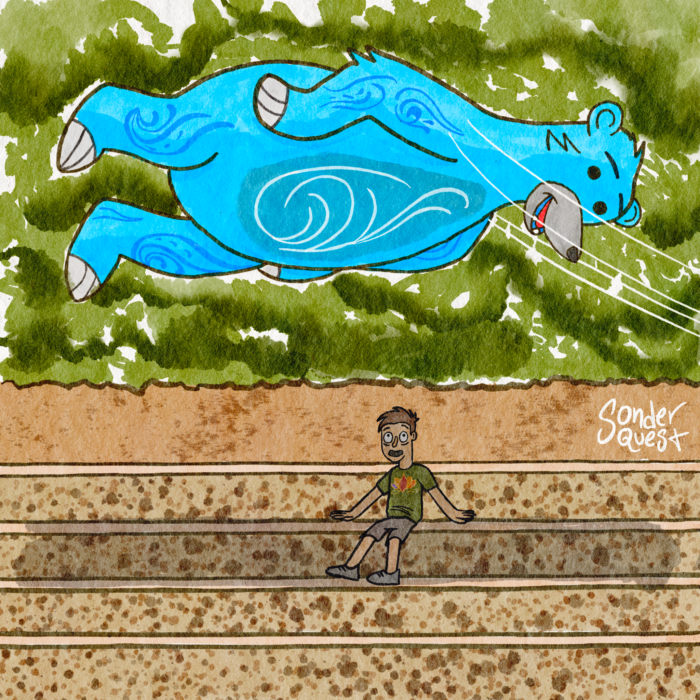 # 1 – Josh easyWDW
Every day's a blessing." – Josh easyWDW
On March 10th, the theme park world lost one of its most talented individuals with the passing of my friend Josh Humphrey (AKA Josh easyWDW.) You can read more about Josh's life, and the impact he made on those around him, in our Tribute to Josh easyWDW. Unfortunately, no amount of words can accurately get across how much Josh meant to those around him, readers of his site, and theme park fandom. When the theme park Mt. Rushmore is finally chiseled, I'm not exactly sure who will be the four faces immortalized on that rockwork, but I do know that Josh is one of them.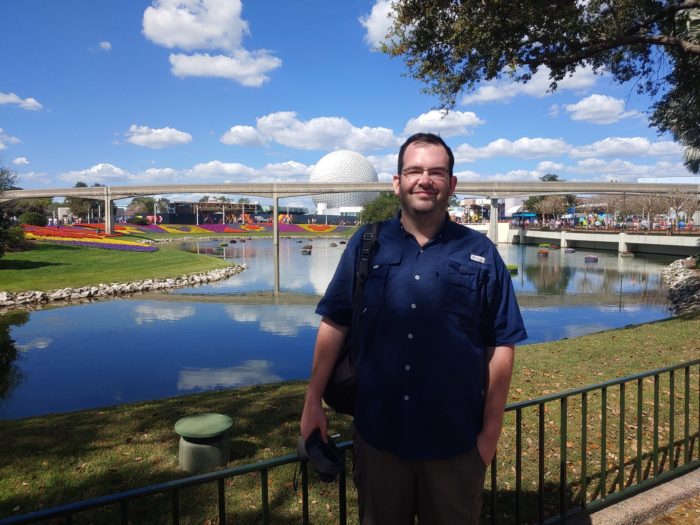 Count the smiles." – Josh easyWDW
Josh had a way of effortlessly connecting with his audience and consistently coming up with phrases which would be fondly remembered by all his loyal readers. Josh would write "count the smiles" when covering a packed Walt Disney World because you can see on the faces of so many people in his photos weren't having fun. Why? Because they weren't reading Josh and his meticulously researched articles that helped people maximize their time inside the parks. With Josh you were able to smile, both inside the parks and at home reading his hilarious posts. Another one of my favorite lines he would like to drop when posting a photo of heavy crowds? "Sharpen your elbows." IYKYK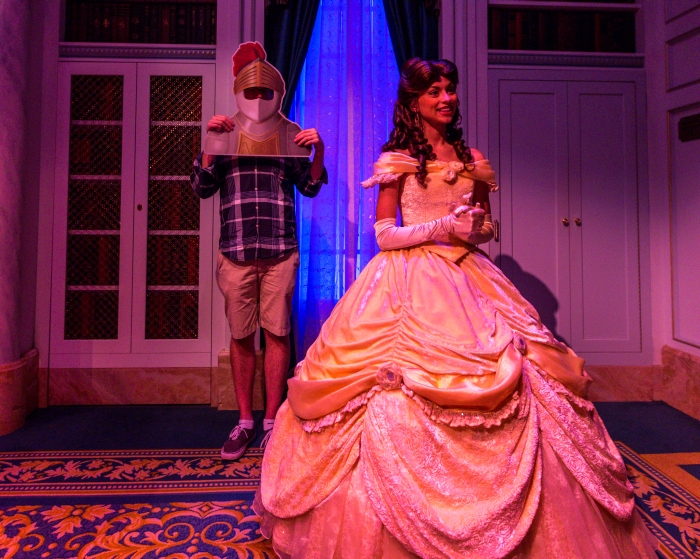 Feels crowded." – Josh easyWDW
When a theme park is miserable because of crowds, Josh was in his element like an air traffic controller giving his readers the best ways to navigate the insanity. However, when theme parks were empty Josh could be just as entertaining, coming up with a catch phrase which would be repeated back to him over and over and over and over again. As a writer, this is some of the highest praise you can get from readers, because it shows they are completely invested in your work.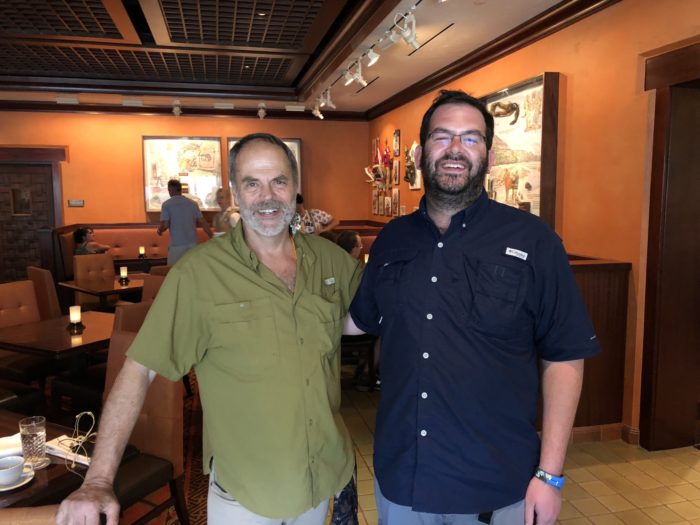 People ask why I don't smile more and I'm like 'I *am* smiling in that photo.' That's what it looks like." – Josh easyWDW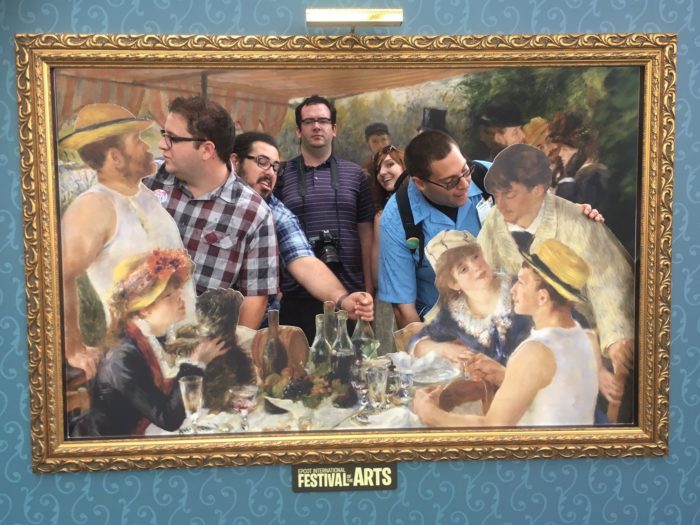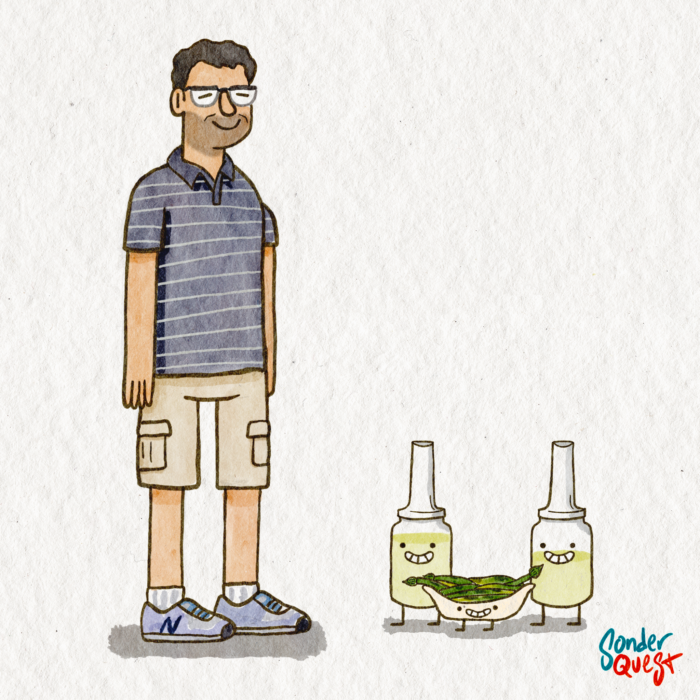 @BrerTaylor – In 2016 I sent a DM to Josh, the fella that ran the easywdw site, asking if he'd like to grab something to eat the next time I was down at Walt Disney World. I had no way of knowing that would be the beginning of a friendship I would treasure the rest of my life.
We chose  bluezoo at the Walt Disney World Dolphin because Josh hadn't yet written a post on that particular restaurant. I learned a few things that night; 1 – the camera eats first, 2 – he's just as funny in person, and 3 – a red cocktail spilled on a white tablecloth can become a running joke for years. Ok, that last bit of knowledge needs a little explaining. Bluezoo had a special cocktail they were serving that night and Josh decided he needed to get it for research purposes, of course. After setting it up and taking the picture, Josh managed to knock the drink over with his camera. For the next few years every time we met during my Walt Disney World trips Josh would reference the spilled drink. I finally told him he just spilled it to put me at ease. "Yep, Taylor, that's exactly right. What a life," he replied.
For the last few years Josh and I texted multiple times a week. It was rarely about Disney World. We discussed baseball, family, relationships, and anything that was going on in our lives. One night, after I had told him my mom, who has Alzheimer's, had gotten Covid, I got a knock at my door. It was delivery from Outback Steakhouse. Josh had ordered that meal for me from his apartment in Florida. He knew I was struggling and it was his way of making things a little easier. He was the most empathetic person I've known. Josh was a kind soul, a funny, intelligent, and steadfast friend. During the short time he was here he made the world a better place.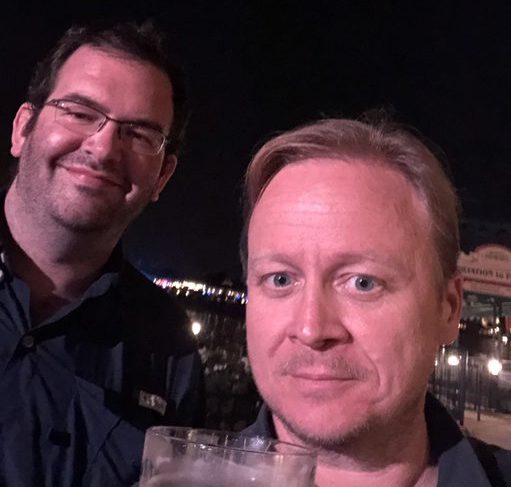 Running the 10K and decided to run in tribute to @easywdw His site got me into the parks and created and will create wonderful memories w/ my family. I am very thankful for that and my thoughts are with his family. Easywdw a great site!" – @JollyCaucusRace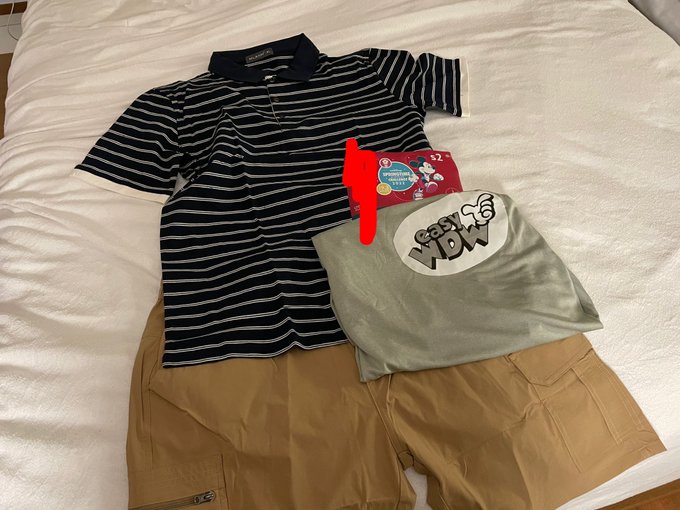 Life can be overwhelming at times. For all of us. Losing someone like Josh is heartbreaking. He was a world class photographer. He was one of the smartest people I ever met. He was hands-down the funniest person I ever knew. He was talented, he was creative, and he was caring. But most of all, he was my friend. I've learned the hard way in life that this heartbreak never goes away. Not completely. However, I also learned over the years that's actually a good thing. The memory of Josh will always live inside me and every other person he came in contact with in his life (both physically and through his website.) I personally am able to help continue his legacy by reminding people of the work he did, but – more importantly – the man he was. But even if I wasn't a theme park blogger…even if I was stuck on a deserted island alone (or worse, on Fast & Furious – Supercharged) I would still be able to think about Josh and all the great moments we shared. He made a positive impact on me, and as a human being that's the most we can ever hope to accomplish. Wherever you are Josh, I hope it feels crowded.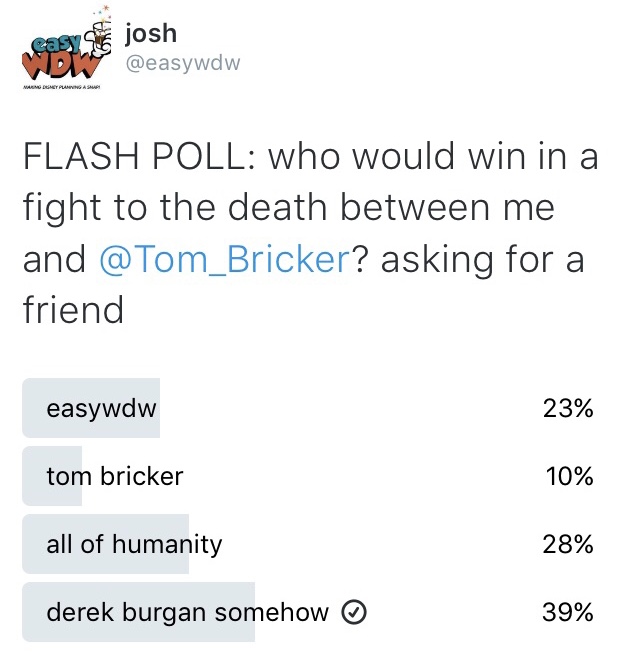 HONORABLE MENTION – Spirit of Aloha
A staple of Walt Disney World for decades, the Spirit of Aloha show at Disney's Polynesian Village Resort never came back from when the parks had their Covid shutdown in 2020. This is a shame because quality dinner shows in Orlando are few and far between, and even more so at Walt Disney World.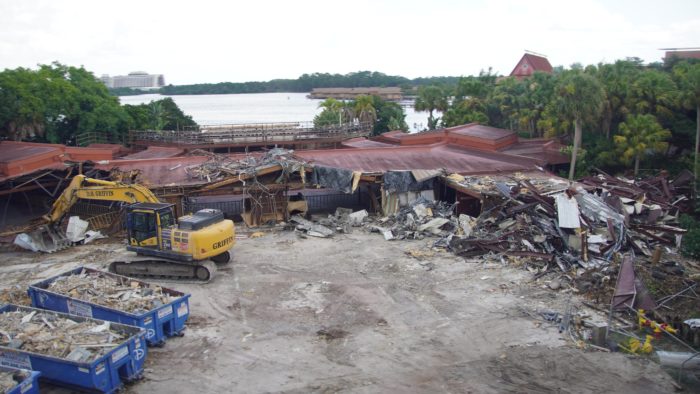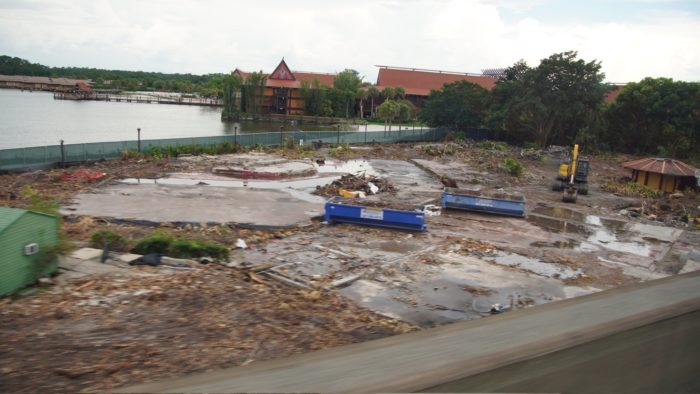 Double Secret Honorable Mention – Tower of Terror Billboard
Last year we did an article on things in Florida that are part of the Quintessential Orlando experience. One of those items were the iconic billboards that have been made by Disney and Universal over the years. We all pass billboards every day of our lives and 99.94% of them make almost no impact, but the cool ones we remember, and Disney's Tower of Terror billboard was one of the most memorable ever made.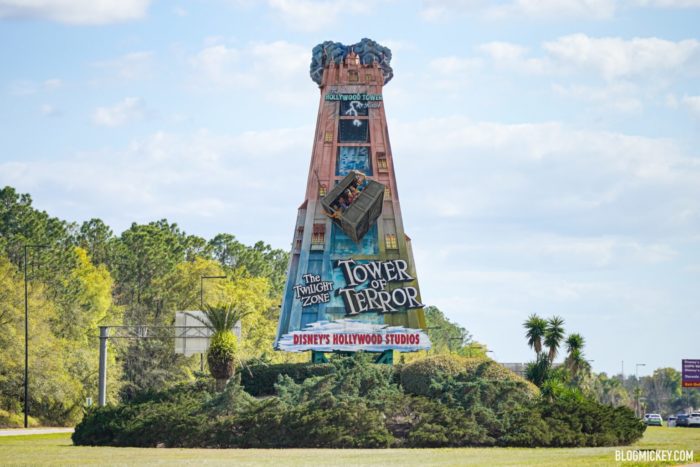 Officially, the Tower of Terror billboard went up on Disney property back in the 1990s, but unofficially it may have been around even longer than that…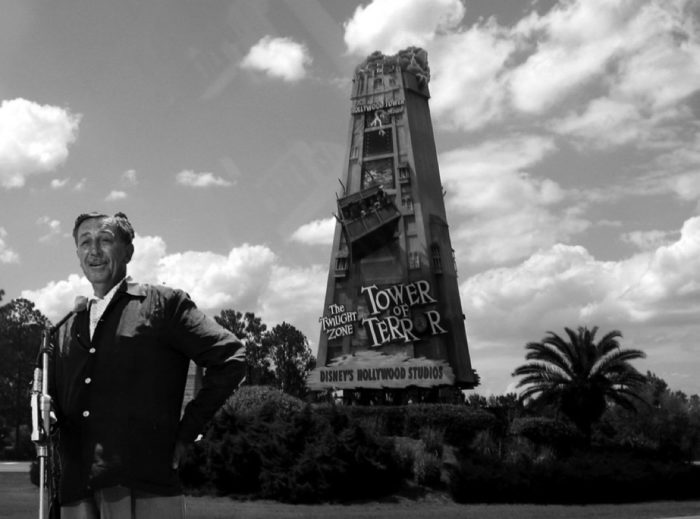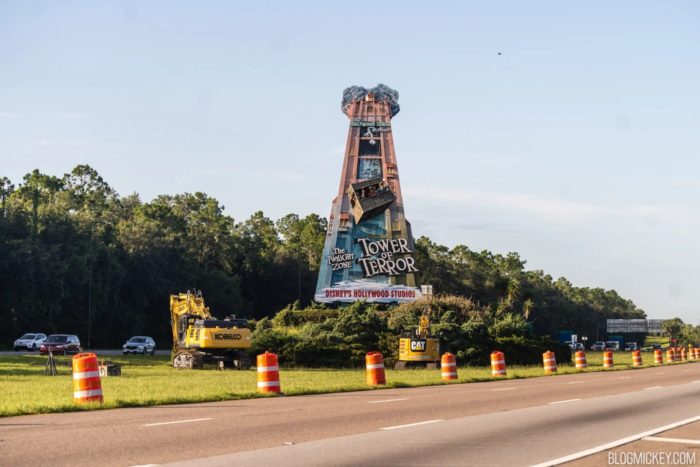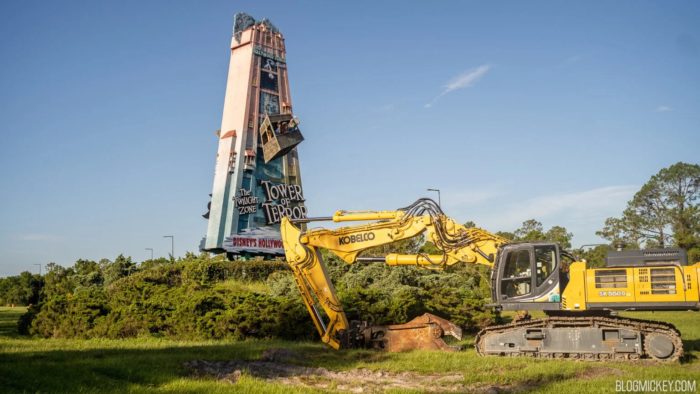 Building things? For that, Disney takes their sweet @$$ time on, but removing things? That they do in record time.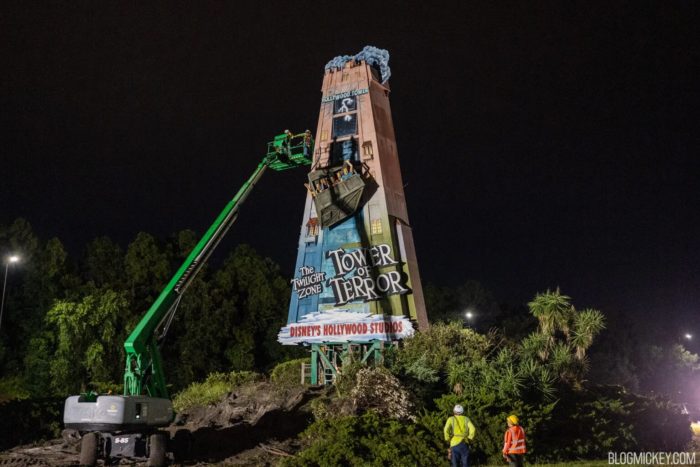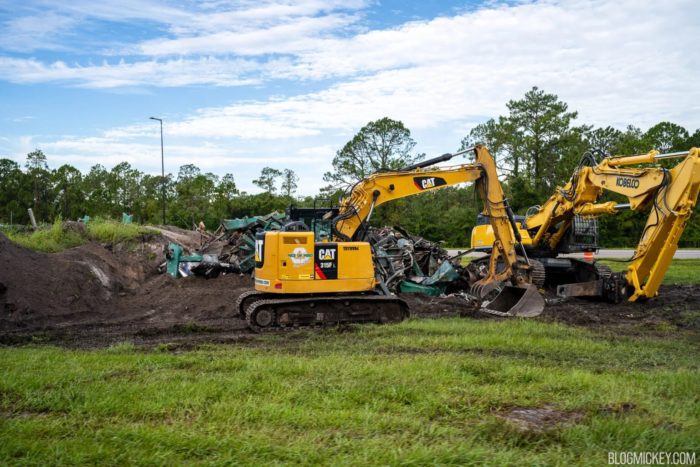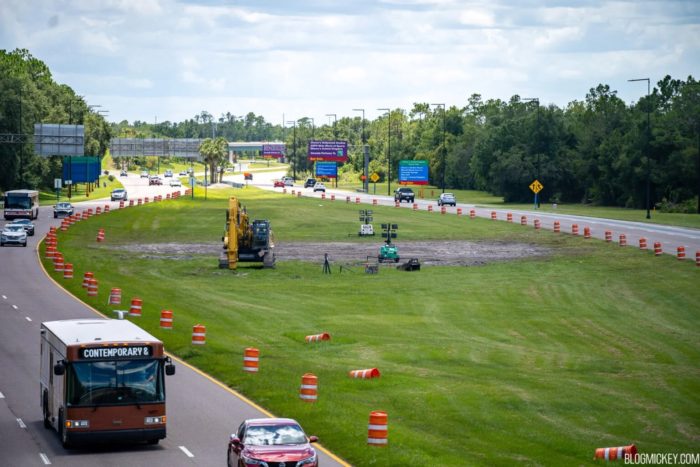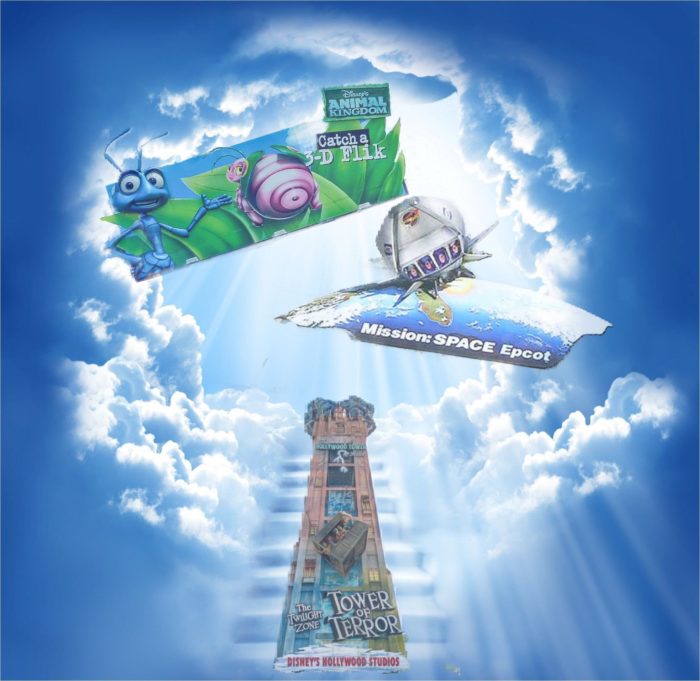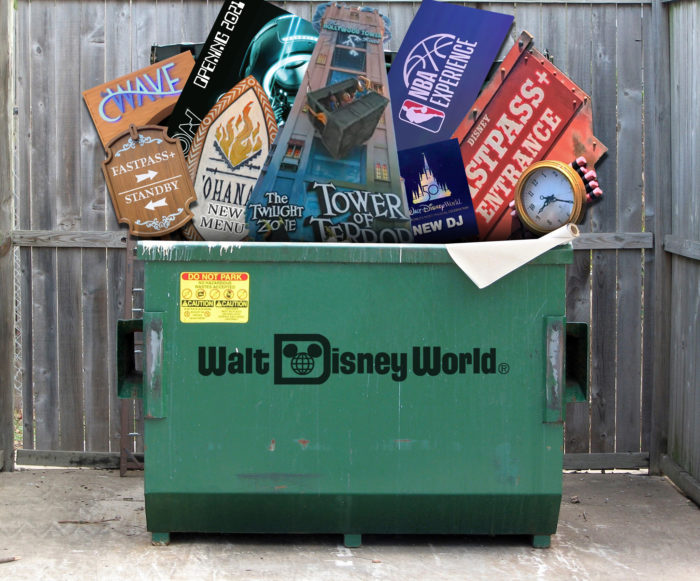 Triple Threat Honorable Mention: CrossRoads Plaza
Directly across from one of the entrances to Walt Disney World property was CrossRoads Plaza. Home to a Goodings supermarket (which as God as my witness had carpet on its flooring), a 24 hour McDonalds with cheaper prices than the McDonalds next to the All-Star Resorts, Fuddruckers, Pizzeria Uno, Pirate's Cove mini-golf and more, CrossRoads was a must visit location for many people staying onsite or around Disney property.
CrossRoads Plaza closed because the state of Florida has plans to build ramps through the area to improve the SR 535 interchange with I-4. Now, the only construction crews that work slower than Disney are the Florida Department of Transportation (FDOT) construction crews. So if you have any small children in your family, they will be taking their grandkids to Walt Disney World on these ramps when they are finished.
Let's take a look back at a December 4th, 2016 aerial photo of CrossRoads.  1) An overpass will go here, separating left turns from through traffic as well as a ramp for NB 535 to Hotel Plaza Blvd. 2) A pond for handling rain, dirt for overpasses and I-4 widening.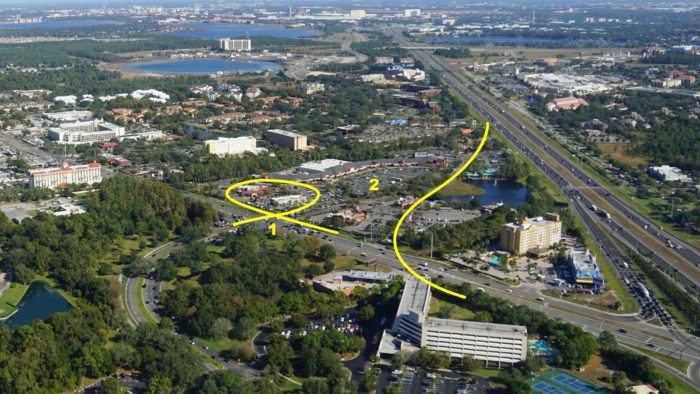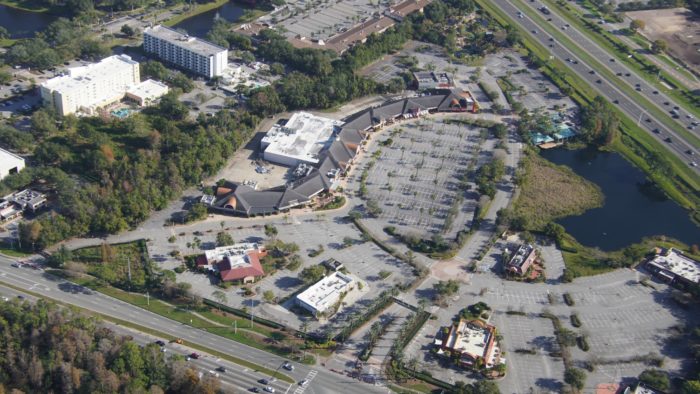 Years ago, Goodings was the first store I had ever been to in my life that offered COLD 2 liter bottles of Coke products, so it will always hold a special place in my heart. Would grab a couple of those along with some other snacks and make my way over to Disney property to stay onsite.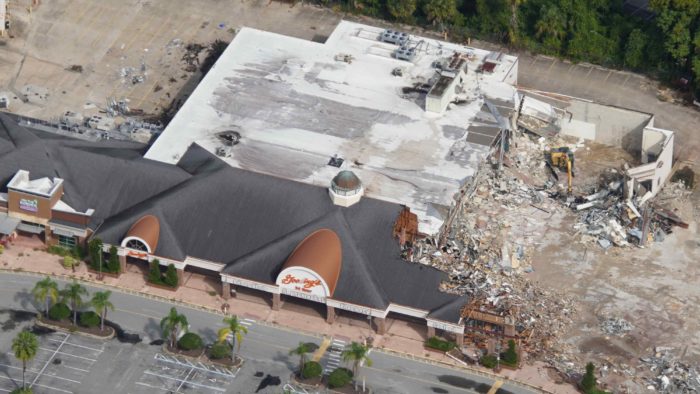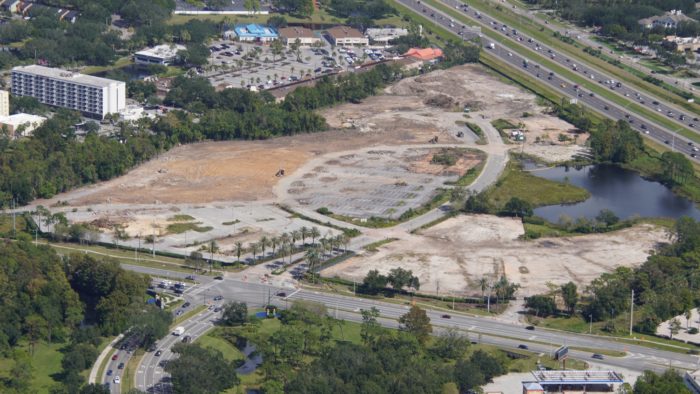 GRAND SLAM HONORABLE MENTION – Like we could go without mentioning this…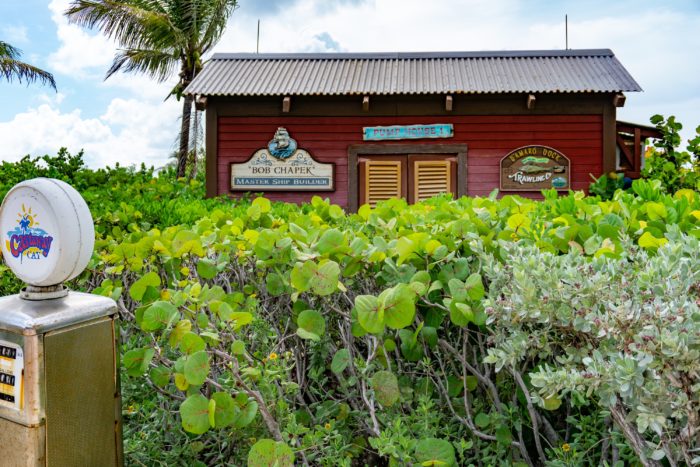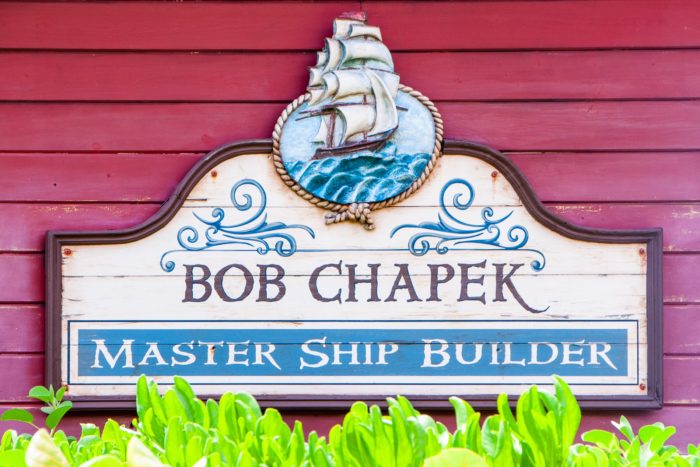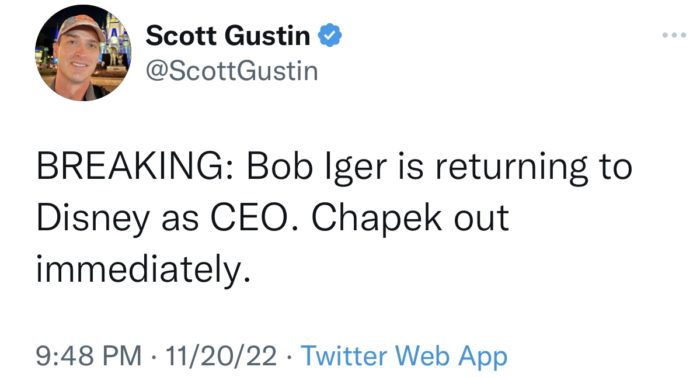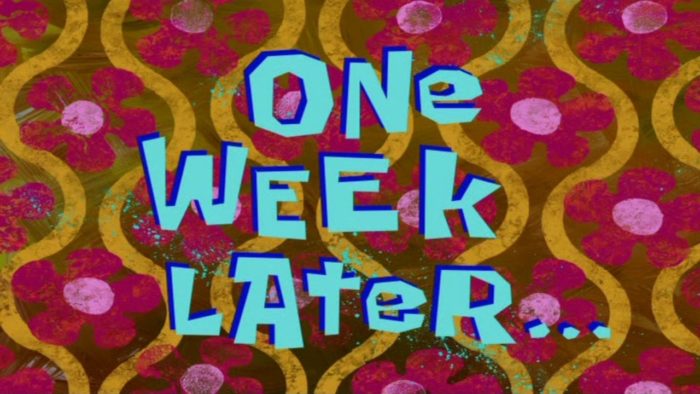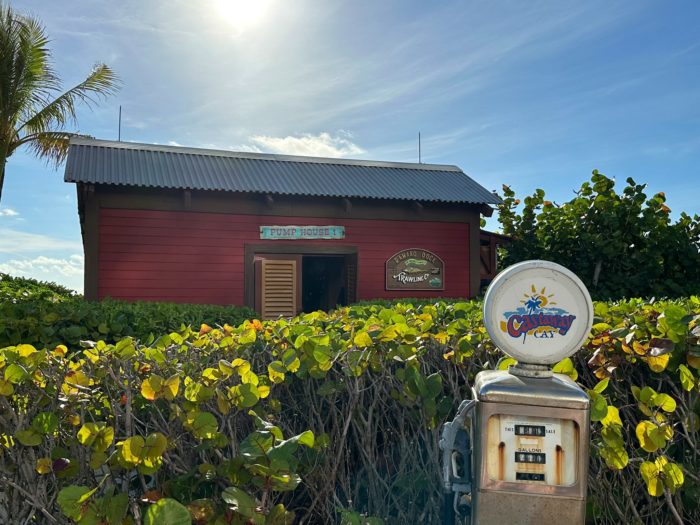 So there you have it: IN MEMORIAM – What We Lost From Disney and Universal in 2022! See you next weekend for the latest installment of the SATURDAY SIX, where we'll look at something fun from the world of Disney and Universal. If you enjoyed yourself, be sure to check out The Theme Park Enjoyment Index each month, recapping everything that you need to know (and even more that you don't!) You can also follow Your Humble Author on Twitter (@derekburgan).
INSIDE THE HEADLINE DRAWING
When the talented artist SonderQuest agreed to do the headline drawing for this year's In Memoriam article, I was over the moon. Then came the hard part… deciding on what the drawing should be. Several ideas were batted back and forth when Sondy had a "lightbulb" moment. The characters of Derek and Bacini (from the TouringPlans' David & Derek series) would be looking at items in the current home of Universal's Prop Shop.  Sondy presented a sketch and I knew right away this was the perfect idea because it allowed us the ability to fit a whole bunch of stuff in.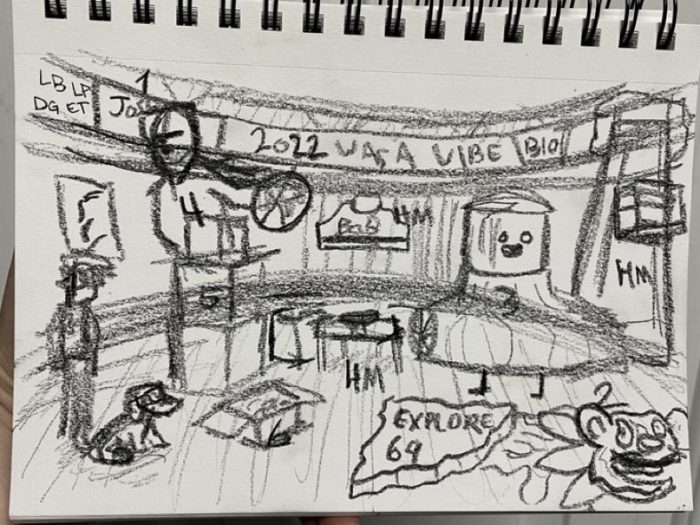 Here is a look at a more detailed sketch of the drawing.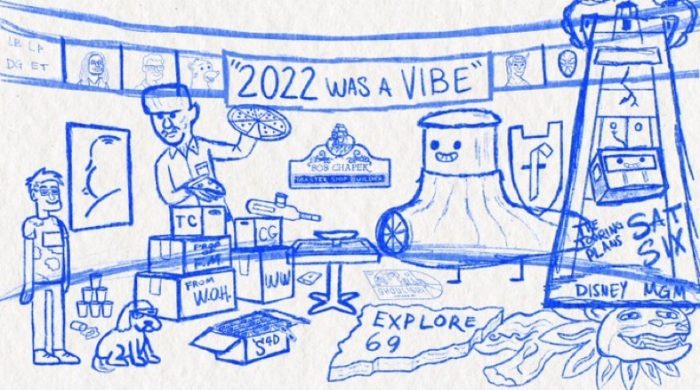 The center banner reading "2022 WAS A VIBE" is referencing something that happened right after we released the 2022 Theme Park Turkeys of the Year article in late November. Disney put out an advertising campaign on social media with the following tweet…

After being roasted online with people pointing out that maybe the year World War II started was not the best possible choice, Disney deleted everything. Somehow the tweet stayed up for almost a full week, but at least someone finally came to their senses.

On that day in early December both Sondy and I knew we would have to use "2022 was a vibe" somewhere, and the In Memoriam article was a perfect fit. Here is a look at the final artwork. Just brilliant work by SonderQuest.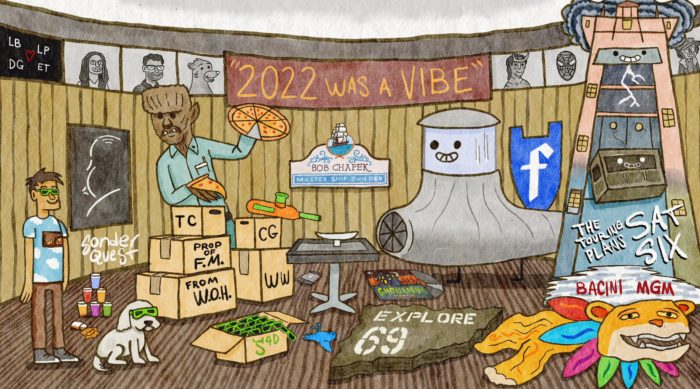 Here is a list of every reference contained in the drawing.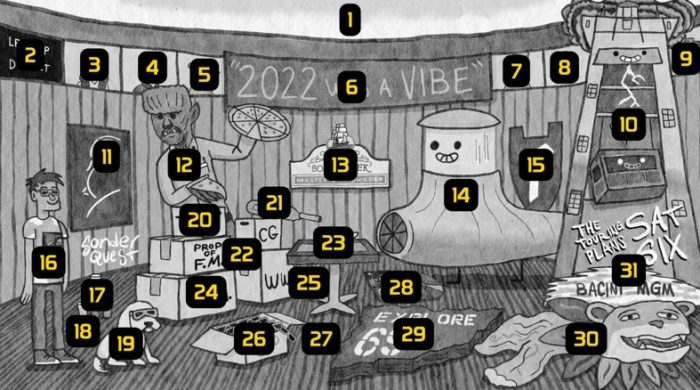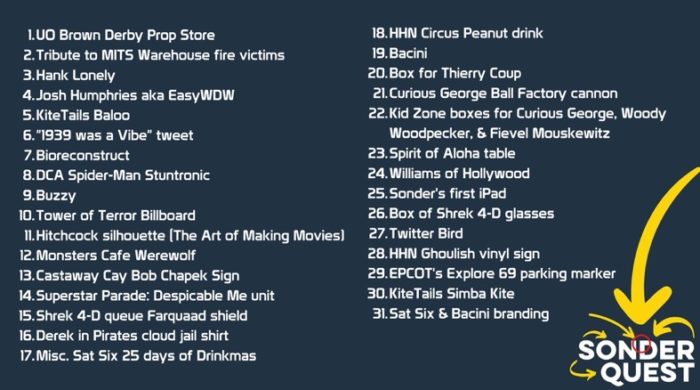 Theme Park In Memoriam Plot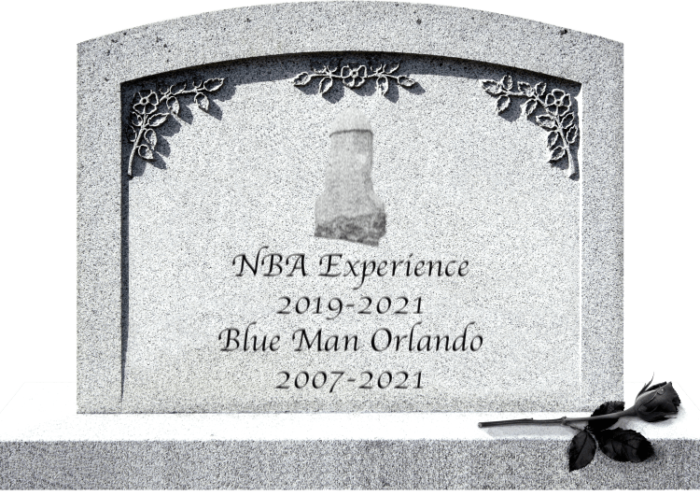 Special Thanks to The Elite Brandon Glover, Digital Maestro Scott Walker, the bio-est of all reconstructs @bioreconstruct, Captain Cruiseline Scott Sanders of the world famous Disney Cruise Line Blog, my personal protege Hunter "Elvey" Underwood, artist @SonderQuest, the mighty maven of merchandise Hedgehog's Corner, the SAT SIX Fun Squad of Parkscope Joe and "the Dadalorian" Nick, hot shot Michael Carelli, charter member of the Universal Four @Nitro230, and Hermione Granger's tutor Megan Stump for their invaluable assistance with this article. Absolutely no help was added by SeaWorld Influencer @SuperWeenieHtJr. The SAT SIX is inspired each week by goofballs Aengus Mackenzie and LitemAndHyde and you Potterheads will  enjoy Meg's other blog work over at the Central Florida Slug Club.