Theme Park Enjoyment Index for JULY 2023 (Villain-Con Minion Blast soft opens, DVC Moonlight Magic Characters, deep dive on Mr. Toad's pants, and more!)
The Theme Park Enjoyment Index (TPEI) is a monthly look at the events that have made an impact, both positive and negative, in this wild world of theme parks we all love so much. Each TPEI comes out on the last Saturday every month, and we assign each piece of news a positive or negative number, tally it all up at the end and chart it. The range goes from 0-100 with 0 being
Stitch's Supersonic Celebration
 while a perfect score of 100 would be 
Pandora: The World of Avatar
.
Remember, all links in TPEI open up in a new browser window. So feel free to check stuff out, we'll be here when you get back!
*Disney and Universal Celebrate the Fourth of July
We started off the month in full patriotic regalia, including the return of some character outfits in EPCOT that I personally love.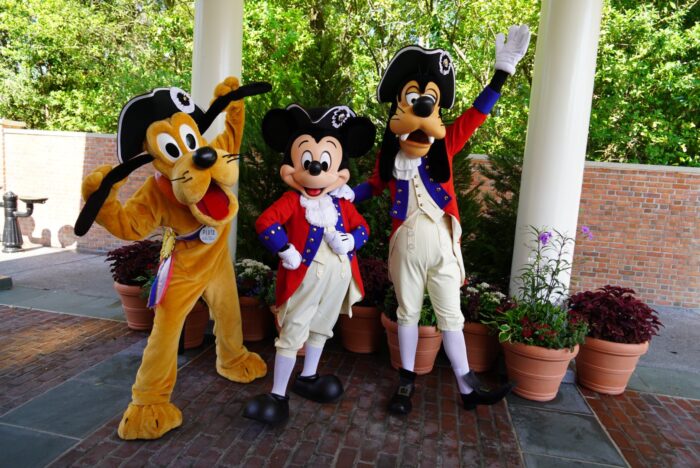 Spaceship Earth's lighting package once again produced some amazing visuals. I'm a big fan of Guardians of the Galaxy: Cosmic Rewind, but this lighting package may be the best addition to EPCOT over the last decade (and sadly, looks like it will be the best for the next decade as well.) It is truly stunning to see in person.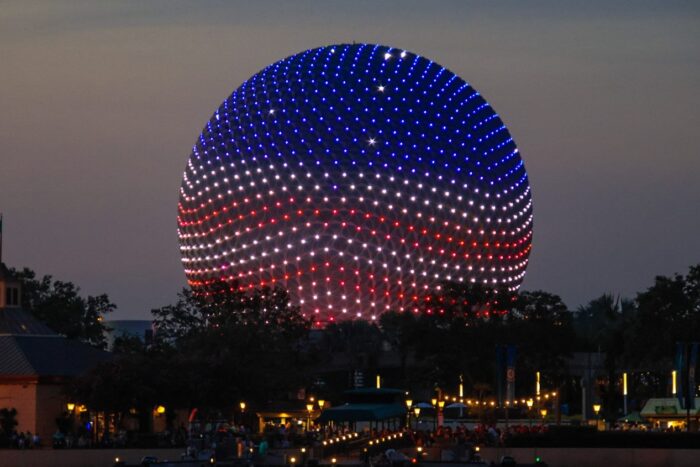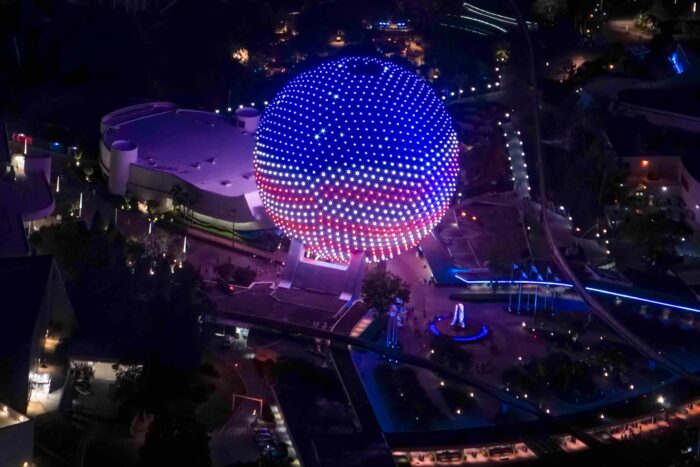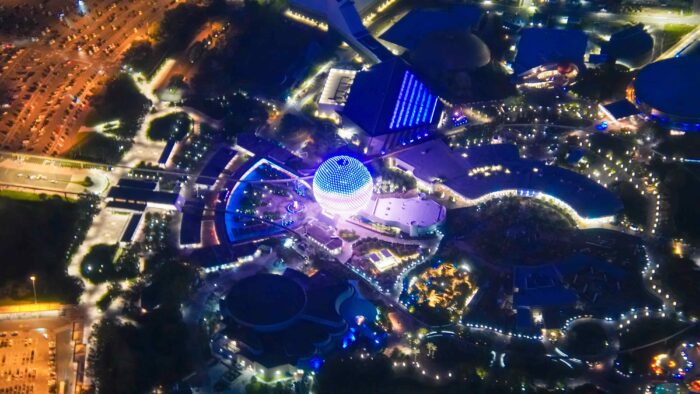 The timeframe around July 4th also brings forth an annual tradition in Disney Springs… the return of signage to let guests know there are no fireworks. Not sure if they did it this year, but in previous years they blocked off the top levels of the parking garages because you actually could see the various WDW fireworks from there.
One of the most underrated resorts in all of Walt Disney World is the Fort Wilderness Campgrounds. Not only is Fort Wilderness pet-friendly (in fact, we saw more dogs in two days there than at all the other Disney dog-friendly hotels over the years combined) but it also has the most amount of activities for guests (including fishing, archery, and horseback riding.) During the various holidays, guests at the campground go all out, often times elaborately decorating their areas for Halloween and Christmas. There are also some amazing golf cart parades at the resort, one of which celebrates July 4th. You can read more abut this year's golf cart parade – as well as watch an amazing video of the event – over at Mousesteps by CLICKING HERE. To me, stuff like this is the true Disney Difference.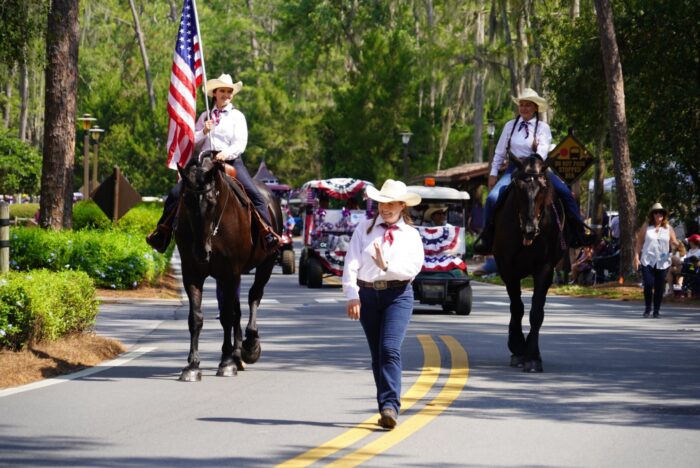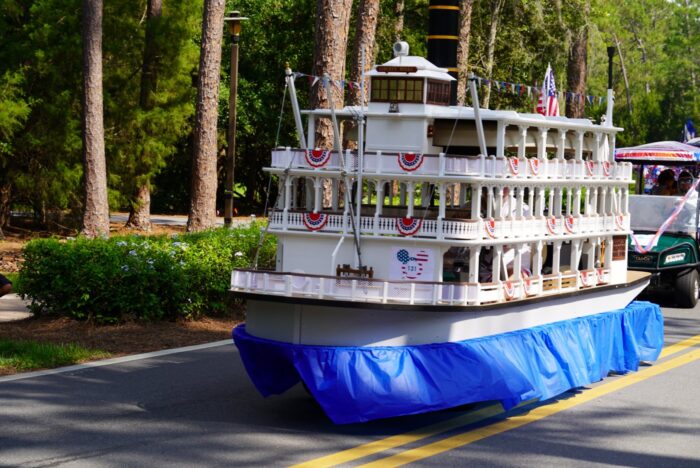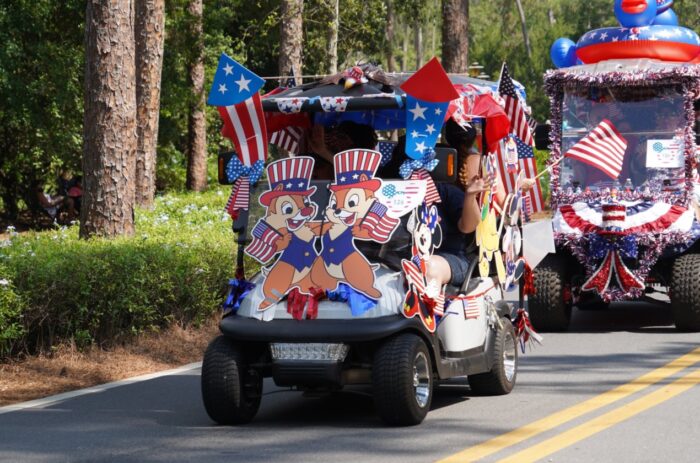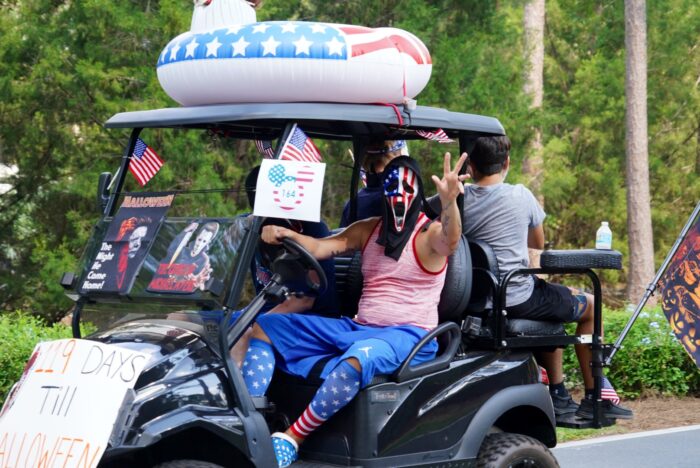 Meanwhile, over at Disney's Magic Kingdom we got to see a pair of characters that are as rare as anything you'll see, Goofy and Minnie Mouse in their old timey aviator outfits. The pair were at the park to celebrate a special flyover by the US Air Force and to take pictures with the soldiers. You can read more about the occasion – and see some more amazing pics – by heading over to BLOG MICKEY.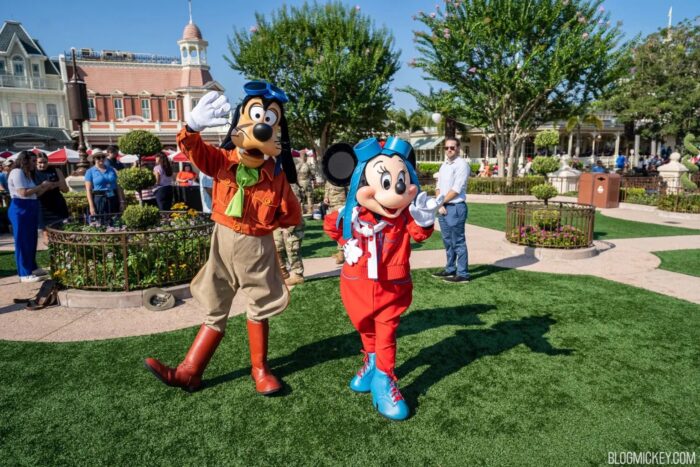 Believe it or not, this is the first of two appearances this month by Aviator Goofy in this fine blog series. You'll see where he also turned up in an upcoming story…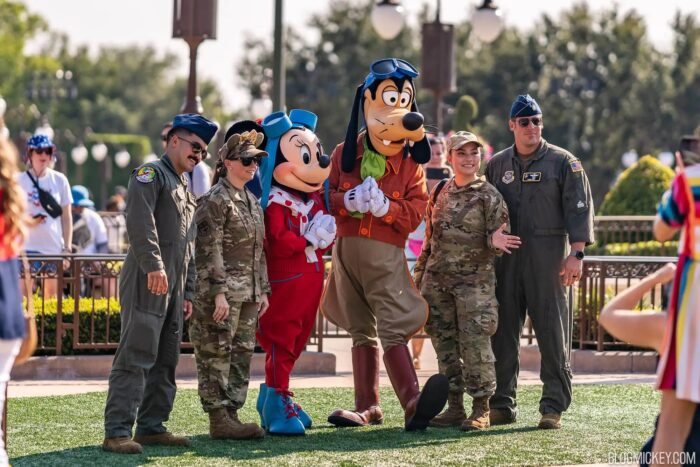 The 4th of July inspired artist SonderQuest to create this drawing of Benjamin Franklin and Mark Twain during a moment from The American Adventure in EPCOT.
Universal Orlando got into the patriotic spirit as well, with red, white, and blue decorations throughout both parks and CityWalk.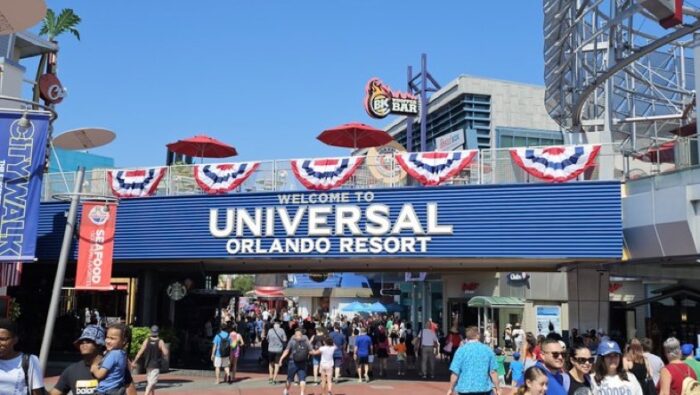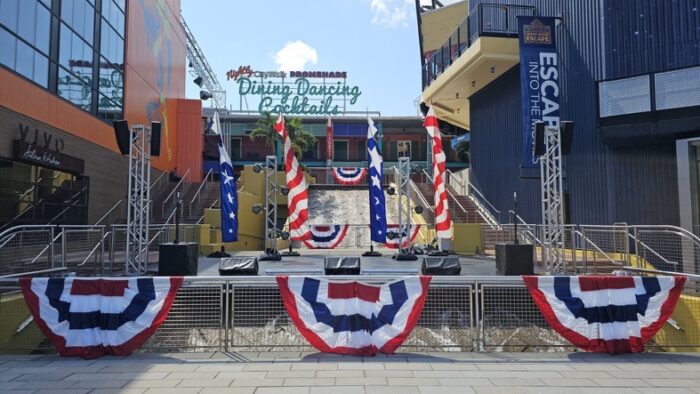 There was a Lady Liberty walk around character in Universal Studios Florida.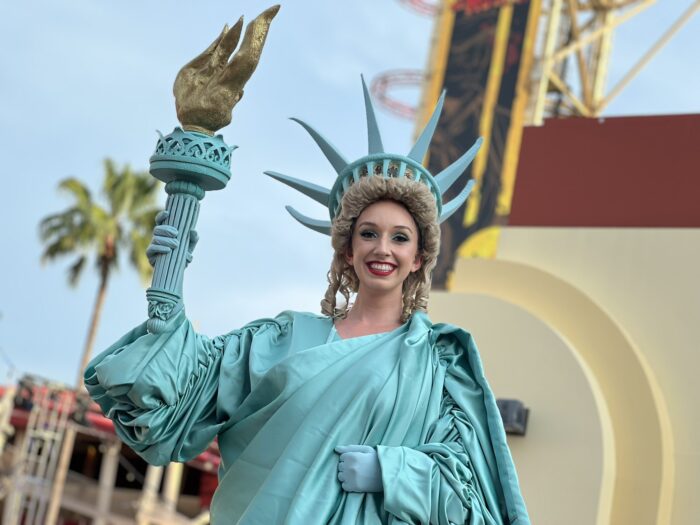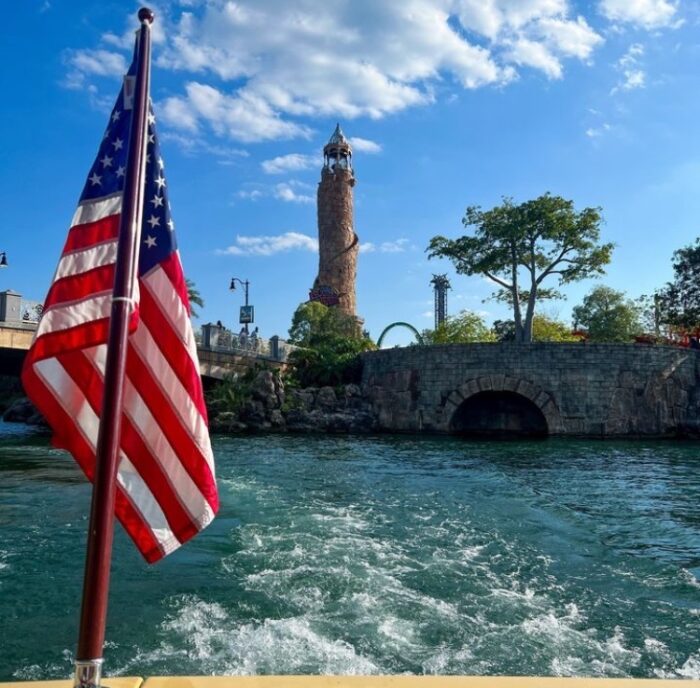 TPEI Score: +4 Other holidays get a lot more attention, but July 4th (and the days leading up to it) are low-key a super fun time to be at the theme parks.
*The @bioreconstruct Maintenance Report
We've talked ad nauseum about the work blogger-in-the-sky @bioreconstruct does both in the air (and on the ground) keeping us all up to date with what's going on at Disney and Universal, but one thing he also does is keep track of maintenance issues that the parks need to work on. For example, back in January Bio pointed out the sad state of affairs that the Imagination Pavilion was in when you looked at the various posters featuring Figment. The posters, which were already ridiculously old to begin with, had become heavily faded and – quite frankly – embarrassing to look at. For all intents and purposes, Figment is the Mickey Mouse of EPCOT. He is synonymous with the park and is constantly brought back to goose sales for the various festivals. If you want to let posters in Mission: SPACE wither away, whatever, but Figment? C'mon man!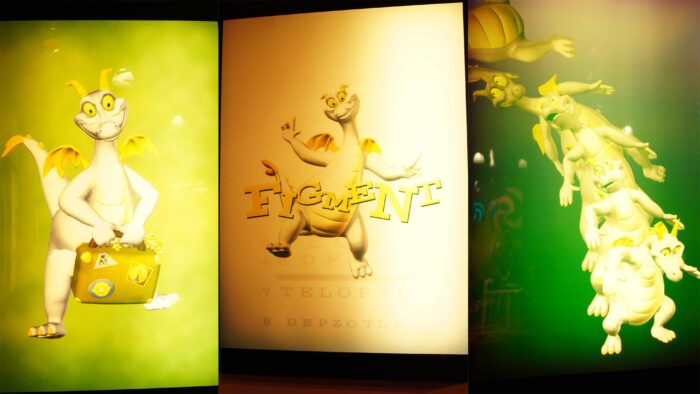 Thankfully, July saw the posters being replaced with much more vibrant editions.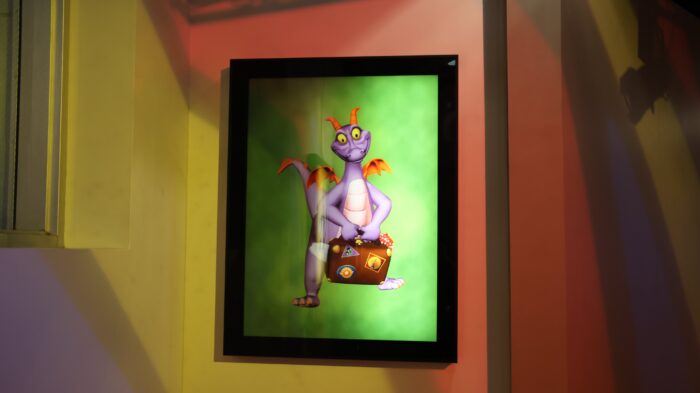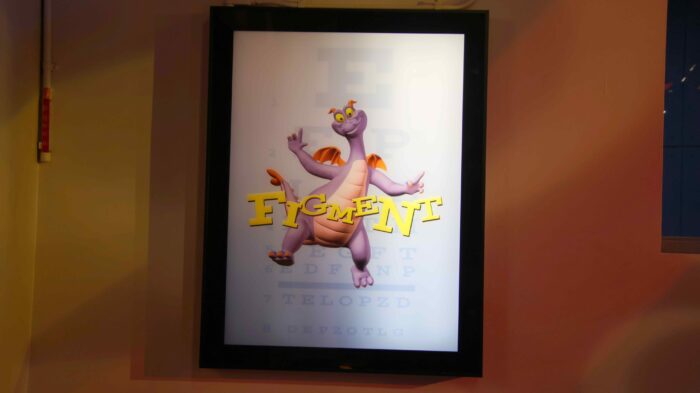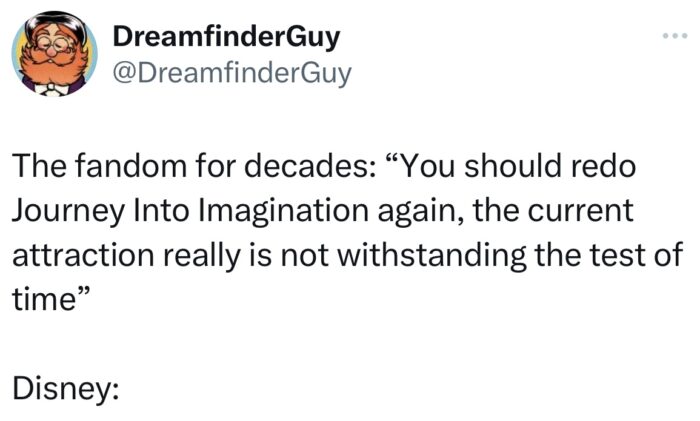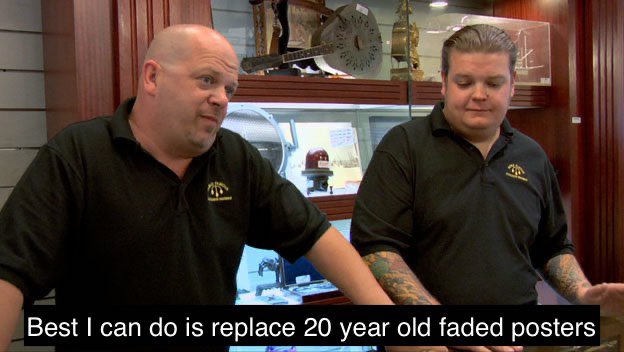 Speaking of Figment, world's collided for me this month when an artist friend of mine – Cody Schibi – posted a drawing of Figment. This was unusual to see because Schibi's artwork usually focuses on horror characters and the macabre. Turns out, he was commissioned by a theme park fan to create this image of Figment which is both disturbing and yet, fascinating.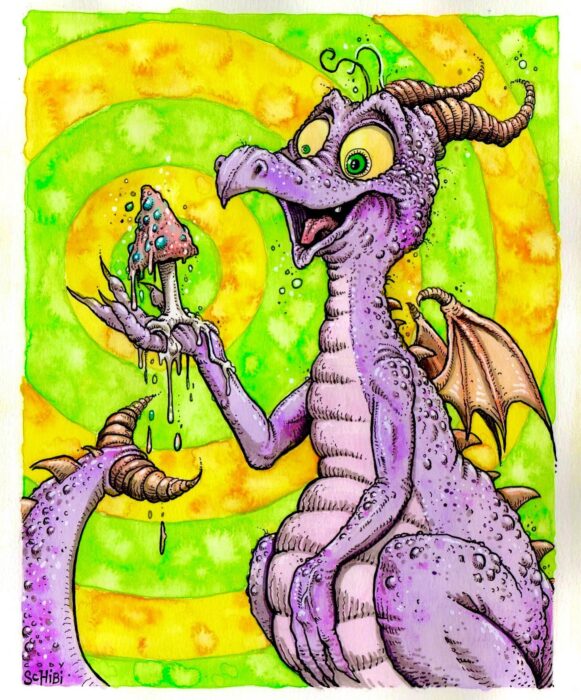 July also saw Universal give some TLC to a neglected window which Bio first pointed out over two years ago. Here is the window in its dilapidated state…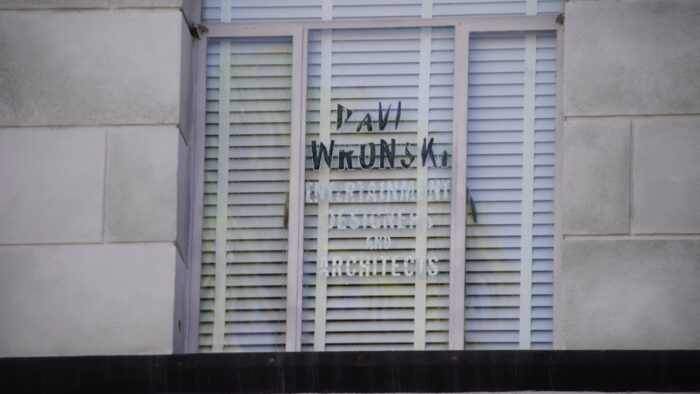 …and here it is all fixed up and looking good. You may remember we recently wrote an article on the Window References at Universal Studios Florida, and many of the job titles listed on the windows are more to stay in theme with the area rather than what the person actually did for Universal, but the best I can tell this window is the area Mr. Wronski worked in with the company.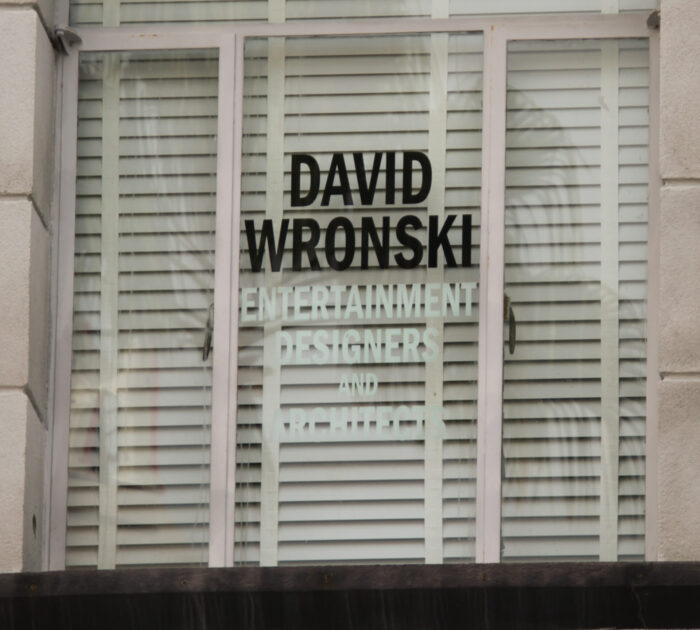 What's next for the Bioreconstruct Maintenance Report? Well, Universal Studios Florida has a Walk-of-Fame in the Hollywood section of the park. These stars on the ground replicate what you will see out in California for various celebrities. Some of the stars at USF are tributes to famous personalities such as Marilyn Monroe, Ray Charles, and Lucille Ball. Others are there for cartoon characters such as Woody Woodpecker. For theme park fans, there's also several stars dedicated to people who have helped create the Universal Orlando Resort over the years. In 2022, stars were dedicated to Bill Davis and Mark Woodbury.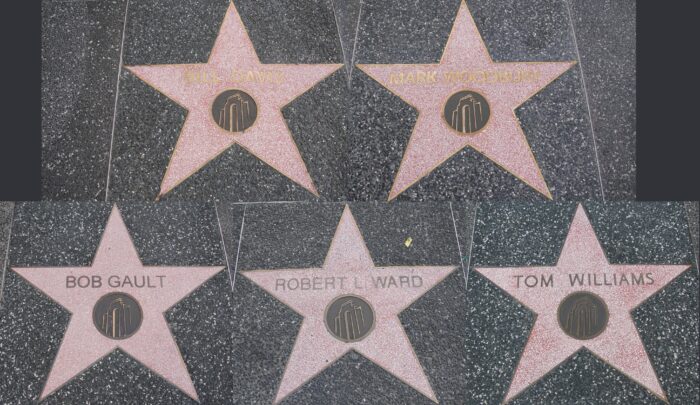 Well, today some of these stars are looking a bit sus, as the kids would say…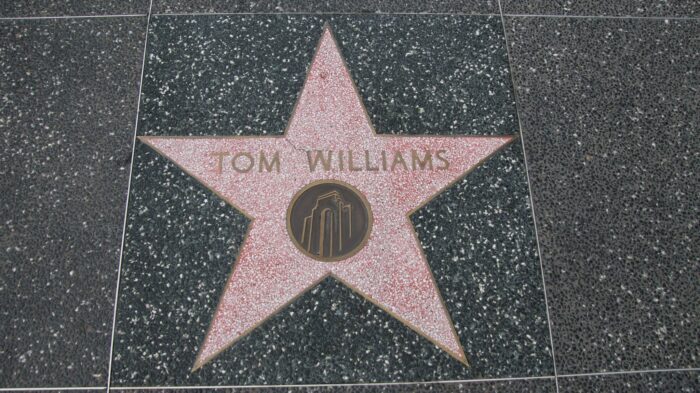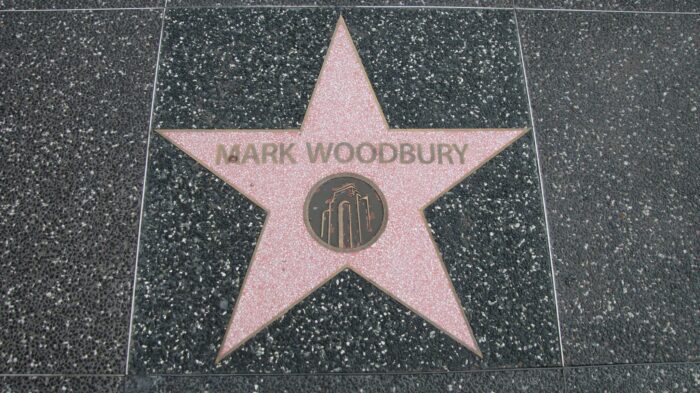 I think it's time for a little TLC. We'll let you know when these stars are back in their spiffy condition.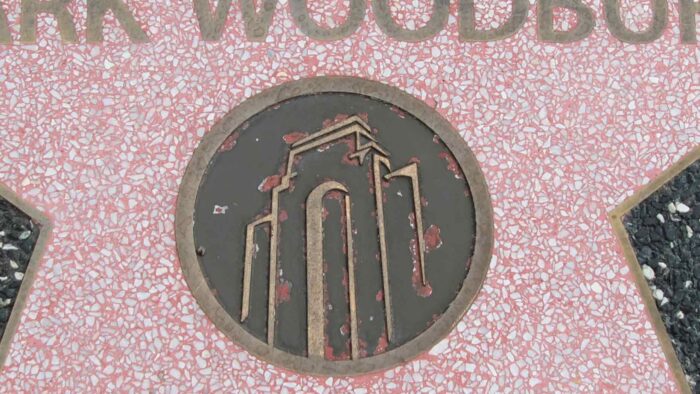 TPEI Score: +3  for Bio's work. We've said it before and we'll say it again, Bio isn't the hero we deserve, but he's the one we need. However, we have to score a -8 for both Disney and Universal letting things get so bad.
*Illumination's Villain-Con Minion Blast Soft Opens
Last month we had the the surprise "outta nowhere" opening of Minion Café and other venues in Minion Land, while July brought us the soft opening of the new land's main attraction – Villain-Con Minion Blast.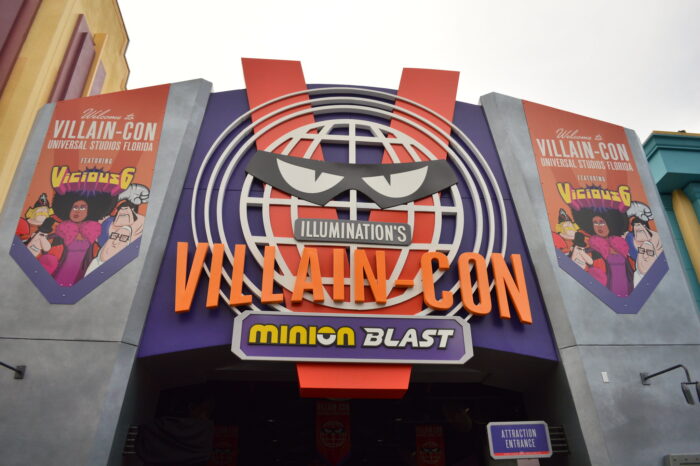 The story of Villain-Con Minion Blast is that you are literally walking through a Villain Convention held in Orlando, Florida.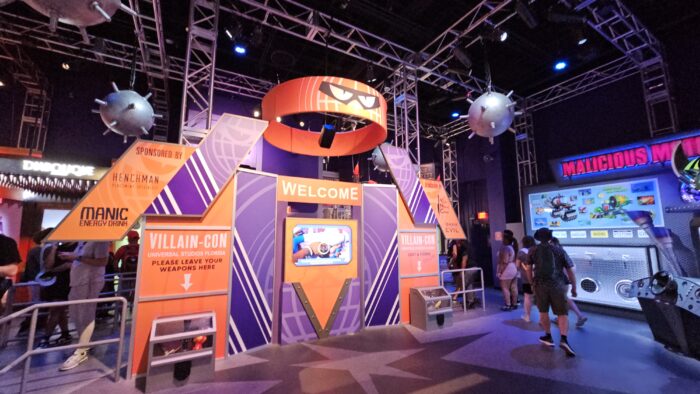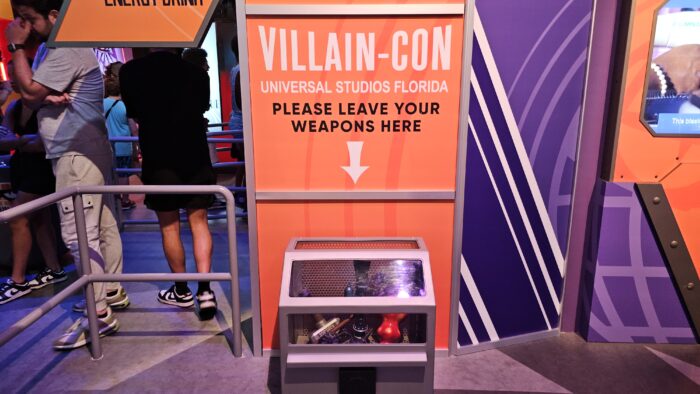 There are so many incredible details in the queue. We'll do a full article on this attraction once it has its official opening in August, but as a person who has been to many comic book conventions there are things in the Villain-Con queue that are just superb. The map below is just like one you would see for something like the San Diego Comic Con, and one area is labeled "Con-Artist's Alley." That is next level genius.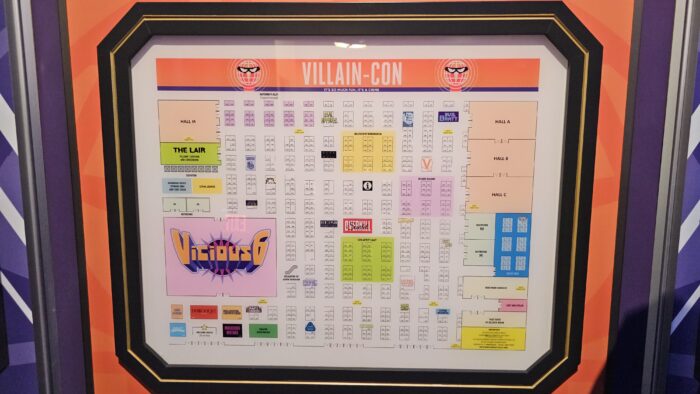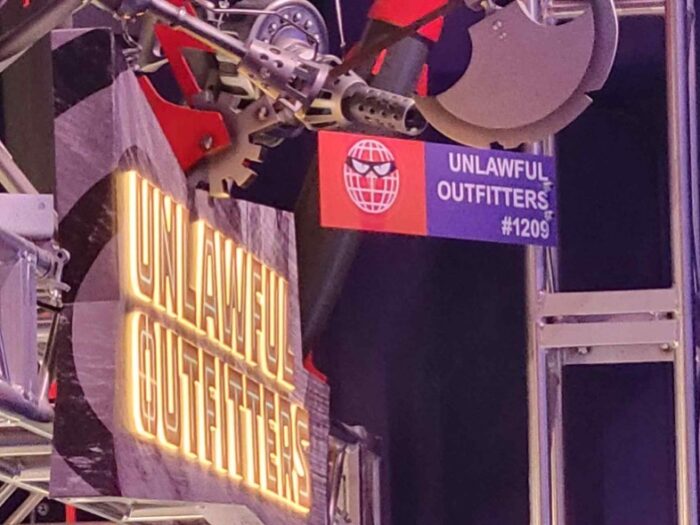 The Villain-Con booths are filled with displays from various companies showing their newest products, including this line of items for evil pets. Just wonderful stuff.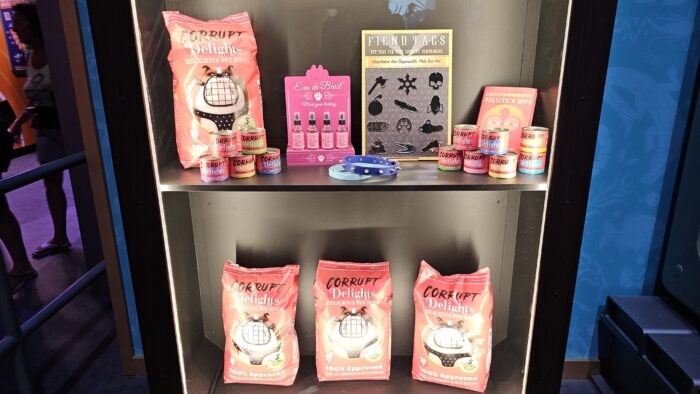 The various vendors also have a video component as well. For the Corrupt Companions booth you can see an crocodile-like creature in a "water tank."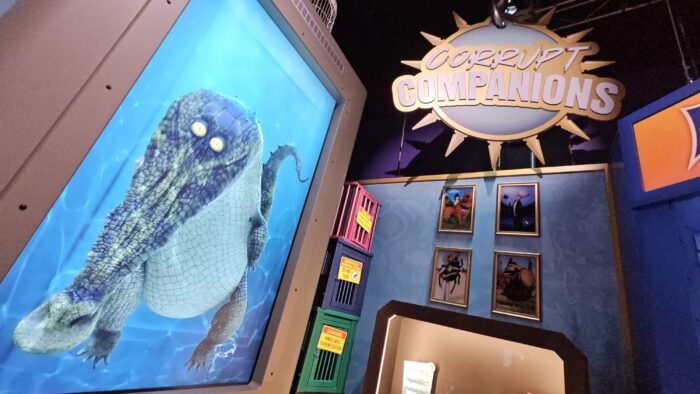 Now you can watch the following video to see how great the effect looks in person…
You know how much we love references to extinct attractions, and Villain-Con comes through in a major way in this department. Now, Villain-Con takes place in the building which used to be the home of Shrek 4D, but before Shrek it was home to Alfred Hitchock: The Art of Making Movies. The Alfred Hitchcock attraction opened with Universal Studios Florida back in 1990 and basically gave guests a behind-the-scenes look at how some of Hitchcock's most famous movies were filmed. One of Hitchcock's most famous movies was Psycho, which introduced to the world the psychotic character known as Norman Bates. Look for a reference to Bates as one of the Villain-Con presenters in the queue.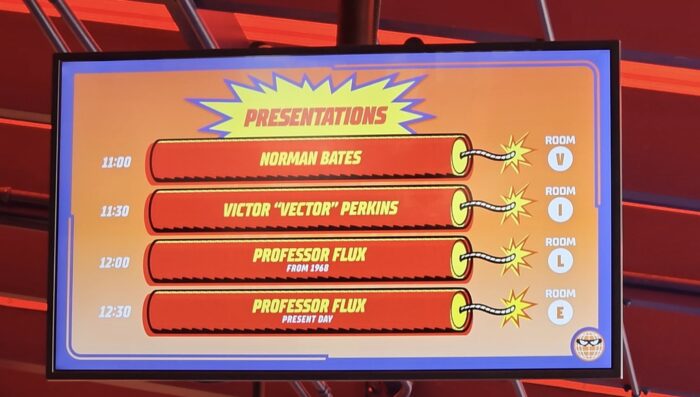 You'll also see an ad for a Cosplay Contest in which a kid (in a stroller to boot!) is dressed up Norman Bates (as Norman Bates' mother, complete with a knife referencing one of the most iconic horror scenes in movie history.) Right under that is a kid cosplaying as Jaws, another former USF opening day attraction. You could also make a case that the Minions dressed as Wolfman, the Invisible Man, Dracula, Creature from the Black Lagoon, and Bride of Frankenstein are referencing the recently closed Universal Monster's Café (which was converted into the rest of Minion Land including Minion Cafe, Bake My Day, and Freeze Ray Pops.)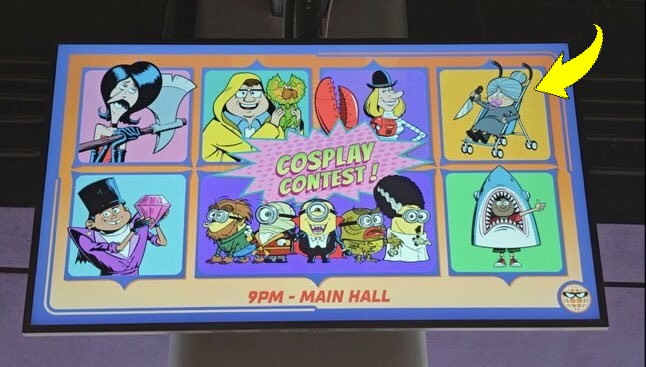 The queue has a display of the E-LIMINATOR X gun which guests use during the attraction. During the soft opening, photos and video of the attraction itself weren't allowed, but essentially guests grab one of these E-LIMINATOR X guns and step onto a moving walkway. There you stand as the moving walkway takes twists and turns through the building as you use the gun to shoot at larger-than-life screens and other objects around you to get points. Without giving any spoilers, the finale of the attraction features two of my favorite places on Earth, so I'm wondering if Universal Creative somehow got a hold of my Dream Journal.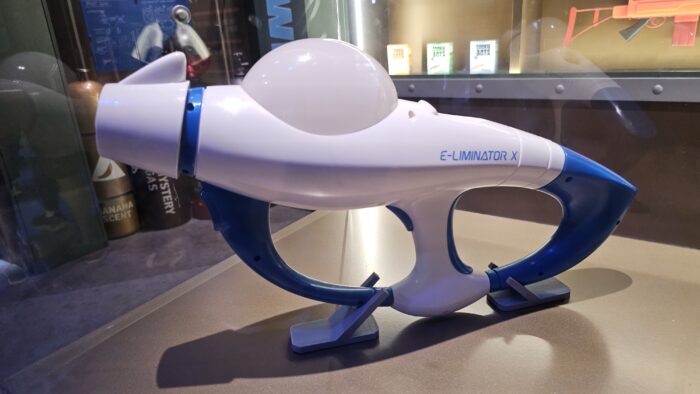 Again, until the attraction is officially open to the public, no photos or video of the actual game portion of Minion Blast are allowed. However, here is a video from the queue which shows the process of what guests should be prepared for. This video gives a demonstration of the E-LIMATOR X gun and how to operate it, the "moving walkway" experience, and an example of the screens you will be blasting away at. The video also gives handy tips such as being ahead of the game by syncing up your Universal Orlando Resort app to unlock features in the attraction.
Always happy to see attraction-specific merchandise and Villain-Con has a whole bunch, including t-shirts…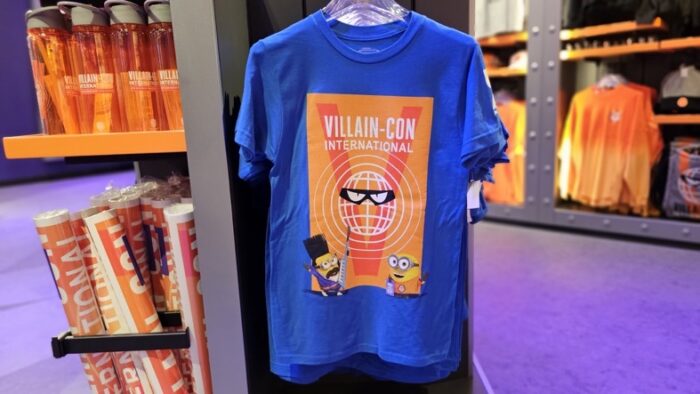 …ID badges (how fun is that?!)…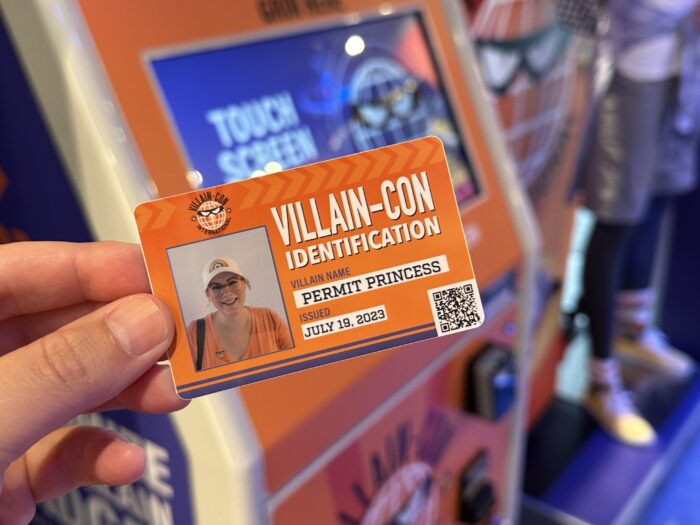 …pins..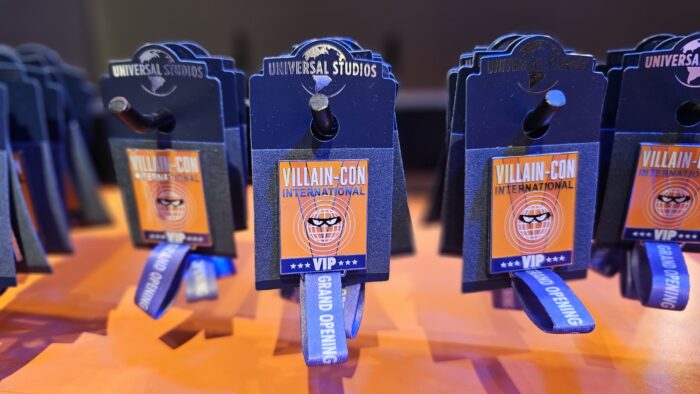 …and what will surely be a HUGE hit, toy versions of the E-LIMINATOR X gun.
TPEI SCORE: +33 I'm the biggest fan of Shrek 4D and Universal Classic Monsters Café there is, but there is no denying the changeover to Minion Land is something the park desperately needed. Villain-Con Minion Blast appeals directly to kids and – more importantly – is accessible and something the entire family can do together.
*Looks like I picked the wrong week to stop sniffing glue
So I'm putting the final touches on this month's TPEI when all of a sudden Disney drops the following news…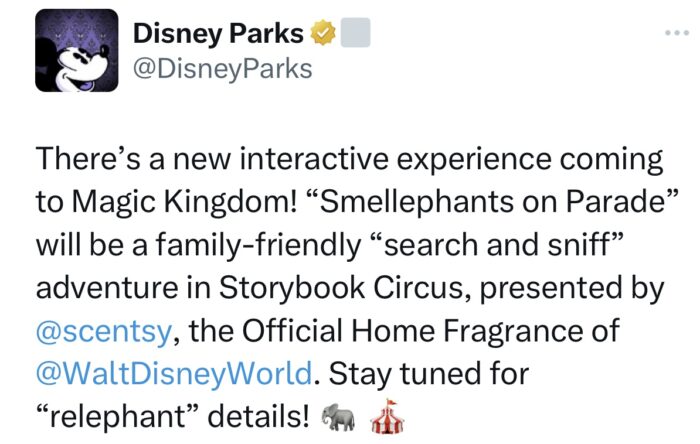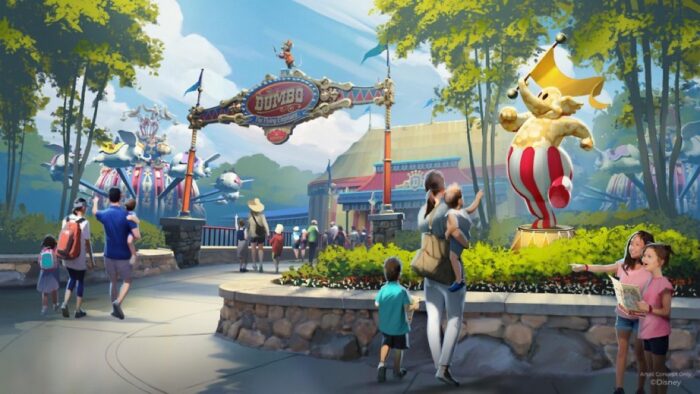 My reaction? Well, I channeled Aunt Linda from SNL…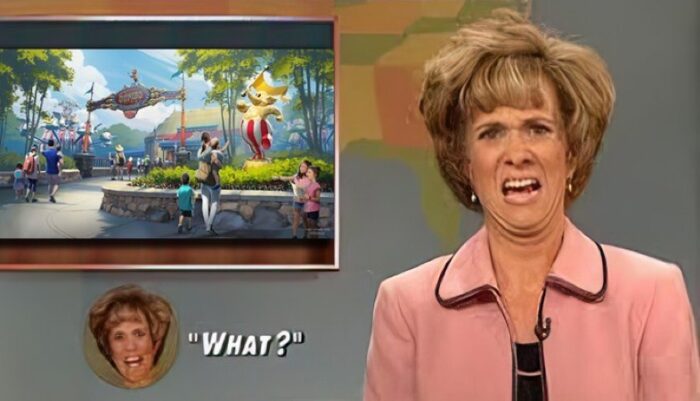 TPEI Score: -50 I have ridden Universal hard over their use of NFTs and subsequently inviting guests into a world that is filled with snake-oil salesman trying to scam them out of every dollar they have, but Disney is no better working with glorified Multi Level Marketing schemes like Scentsy. Forget the fact that – by itself – this "search and sniff" seems like a pretty dumb idea, this synergy between Disney and a MLM scheme is absolutely embarrassing. Disney isn't elevating Scentsy, NAY NAY, Scentsy is dragging the Disney brand down. Maybe Disney should watch a documentary like Betting on Zero, which covers the MLM Herbalife or spend some time watching videos taking down other MLMs such as Primerica. Like other MLMs, Scentsy is built on the back of getting its "Independent Consultants" into recruiting friends, family, and anyone else into the MLM scheme and onto their downline. It is a business model which takes advantage of the hopes and dreams people have knowing full well it is almost mathematically impossible for these entrepreneurs to succeed. It is an industry that preys on financially vulnerable groups looking for a way out, and one of those groups would be front line Disney Cast Members. Here you are, overworked and underpaid, looking at Disney itself legitimizing a company whose sales pitch seems too good to be true. What you don't know is these MLMs are predatory and looking to take advantage of their workforce. Countless people (many of them women, who already have the decked stacked against them in the workforce in a myriad of ways) waste their time, their money, and burn bridges with their loved ones to achieve a goal that was never realistic in the first place. From what it seems, Scentsy may not be as bad as the worst MLMs, but this is a business model that doesn't need to exist in 2023, and definitely don't need to be associated with theme parks.
For those of you thinking, "Derek, will you stop with all the anti-MLM, anti-NFT, and anti-crypto talk?! Disney and Universal are getting easy money and aren't doing anything that isn't perfectly legal under the letter of the law. It's time for you to get with the program." My official response: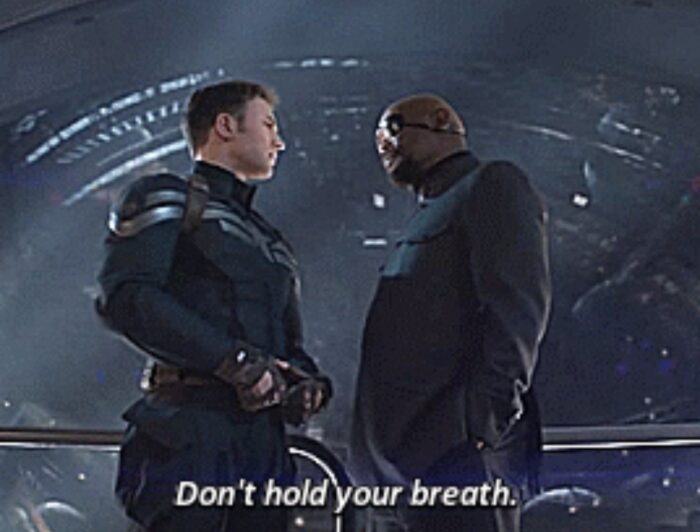 *The Rise & Fall of the Hat Box Ghost…
This weekend will be an interesting one in that Disney released the major motion film The Haunted Mansion late during the week and it looks like it could turn out to be a pretty big bomb. I don't understand putting out a Haunted Mansion movie in the Summer, but what do I know. As of this writing, The Haunted Mansion is currently scored 41% fresh on Rotten Tomatoes, which is nothing short of a disaster. To put that number in perspective, the recent Transformers film got a 52% score. TRANSFORMERS. Other movies that Haunted Mansion is competing with at the theater include the phenomenon Barbie (89%) and Oppenheimer (94%). Those are the critics scores. The 83% audience score also gives an indication that word of mouth for this movie won't be good. Compare that number to recent films which also weren't critical darlings such as The Super Mario Bros Movie (95% audience score) and The Little Mermaid (94%). There's no way to spin this one, and the chances of other films being based on theme park attractions aren't looking good in the near future.
Then the news got worse…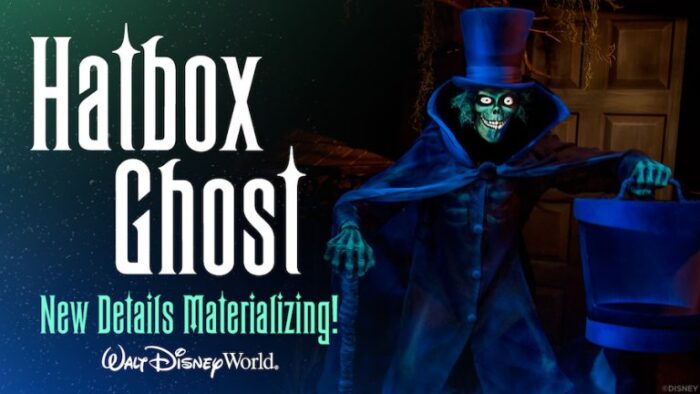 After teasing at last year's D23 Expo that the Hat Box Ghost would finally be added to the Walt Disney World version of the ride, this week we found out where the character would be located. Now, why Disney wouldn't time the Hat Box Ghost being added into the park on the same weekend that a major motion picture was released is a question for the ages, but this week they reminded us that the spirit would be coming to the attraction at some point. Disney also announced where the Hat Box Ghost would be, "The Hatbox Ghost will appear to guests as they pass the Endless Hallway, welcoming himself inside from the swinging wake in the cemetery and grinning at the Doom Buggies as they set off deeper into the mansion."
The overall reaction to this news from Haunted Mansion fans made the reaction to the movie look great in comparison. Many pointed out that it made absolutely no sense for the character to be in this part of the ride, when it is not until later in the attraction when Madame Leota summons the spirits and they begin to materialize before our eyes. Others tried to play Devil's Advocate, and remind people that "this is just a theme park ride, what's the big deal?" The big deal is that stuff like this is supposed to matter.
I remember a couple years ago when Disney created their up-charge bus service that would bring guests from one park to another and have them enter via nondescript backstage areas. Now I get that it's nice to be able to skip the boondoggle that is Disney security at the front of every park, but the reality is a lot of time and effort was put into creating the emotional feeling each and every guests gets when walking into a theme park. This isn't just random stuff thrown around willy nilly so Imagineers could get home early for dinner. Everything is there for a reason, and it's all telling a story. The Haunted Mansion has one of the most iconic stories of any theme park attraction and is beloved by its fanbase. To just throw a character like the Hat Box Ghost into the mix, while completely disregarding the storyline of the ride, is a slap in the face to anyone that cares about these parks. Throwing all that out, even on a surface level placing a character in that spot completely disrupts the tone of the ride.
DisTwitter leged Howard Bowers did have a solid suggestion that would at least distract angry Haunted Mansion fans for a little while…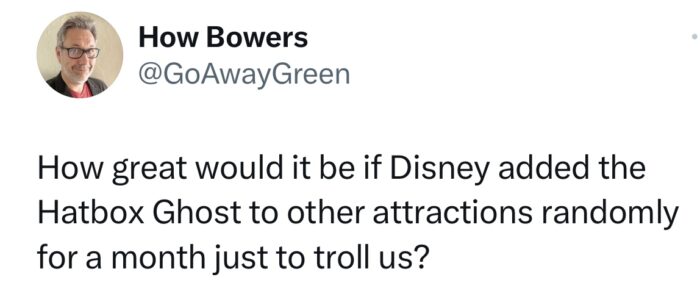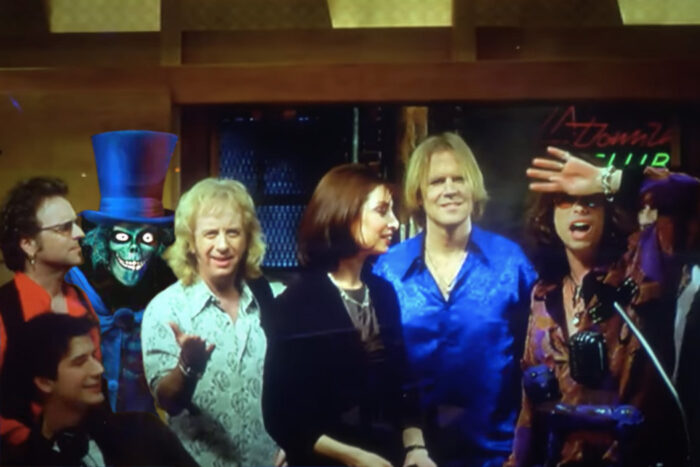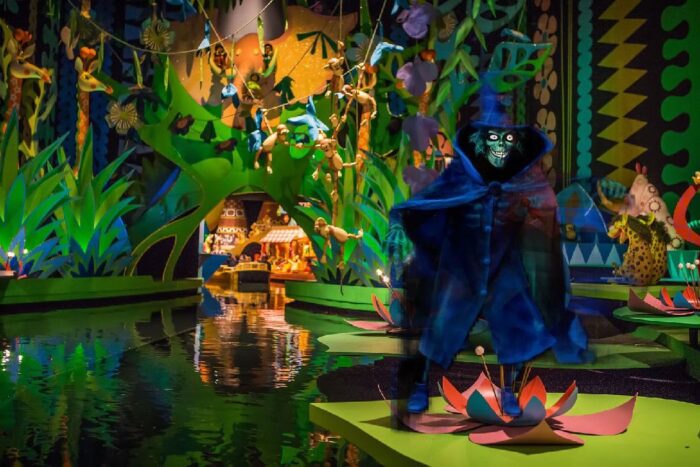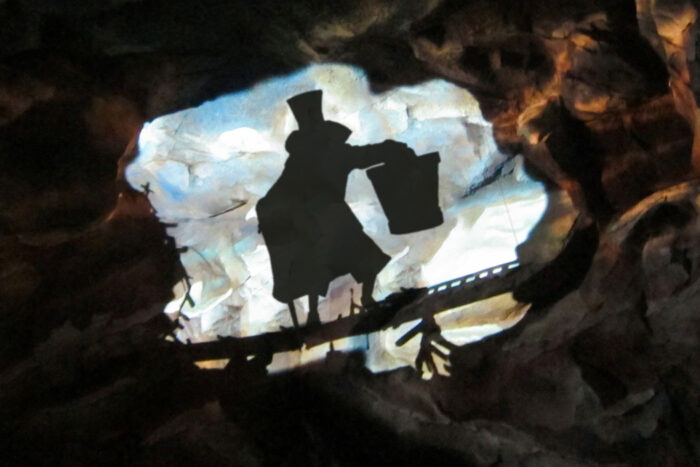 There was SOME good news related to the Hat Box Ghost though… a pretty amazing sipper was released out in Disneyland. This sipper is straight up E-Ticket.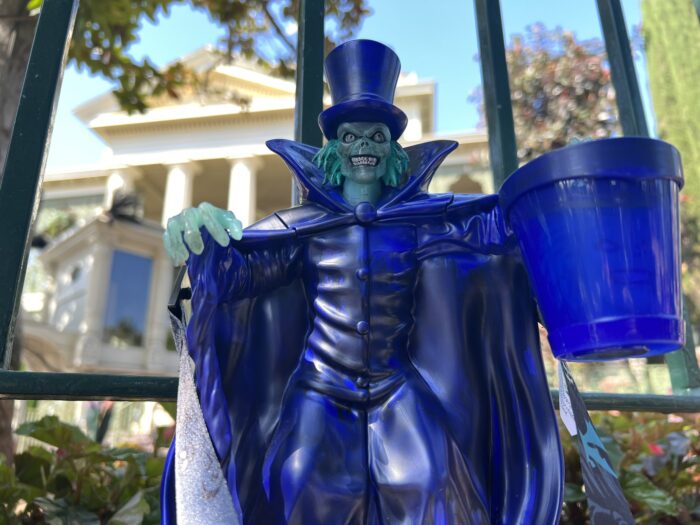 TPEI Score: -2 BE FAIR TO FLORIDA!!
Disney also got a break via its competition down the street, as Universal decided to drop a ton of Halloween Horror Nights news two hours after Disney released the Hat Box Ghost details. It didn't take long before the lion's share of discussion shifted towards Orlando's premier Halloween event…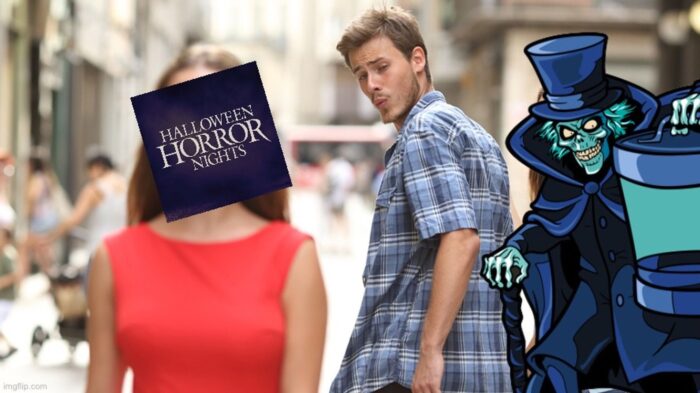 *HHN 32 is coming!!
Earlier during the week we got a small taste of HHN 32 as a new addition was added to the Jurassic Park Tribute Store. For the last several Tribute Stores, near the end of the particular store's "run" a tease is put in that relates to the theming of the next Tribute Store, and this week we saw a Tribute To Terror comic book placed into the Jurassic Park Tribute Store.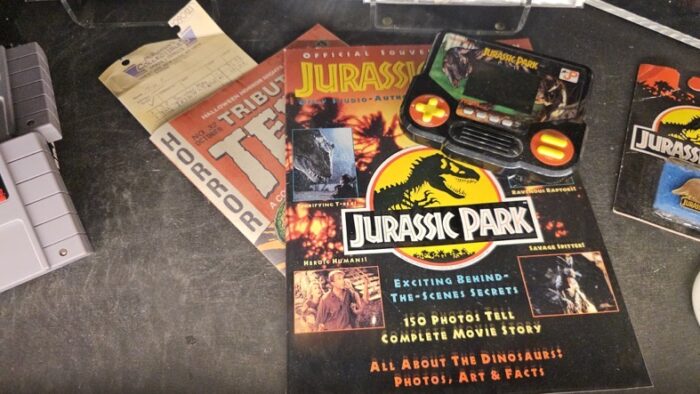 The issue number for the comic book is "No. 32," which is referencing the upcoming Halloween Horror Nights 32.  There's a good chance that the receipt number of 090123 will also tie directly into when the new Tribute Store will open, but time will tell on that one. What we didn't know at the time is that this tease was more than we even knew at the time as the upcoming HHN 32 Tribute Store will be themed to a "mysterious New York City comic shop" and step into the pages of a horror comic book. As a GIANT COMIC BOOK FAN, this sounds right up my alley.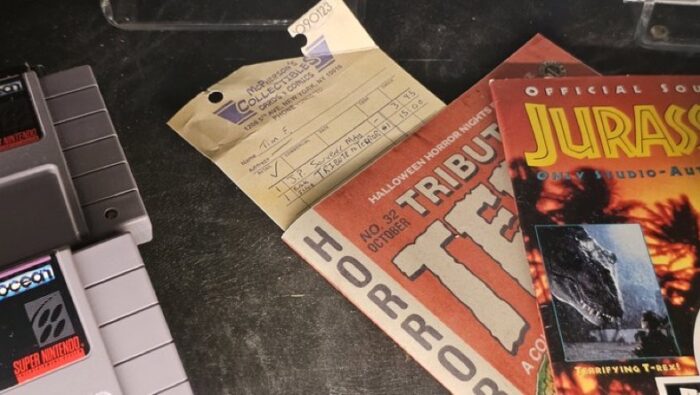 Universal released the names of all the upcoming houses, including a new Universal Monsters Unmasked house featuring The Invisible Man, The Phantom of the Opera, and Dr. Jeckyl & Mr. Hyde. You may remember last year's Universal Monsters Legends Collide house featured Dracula, the Mummy, and the Wolfman.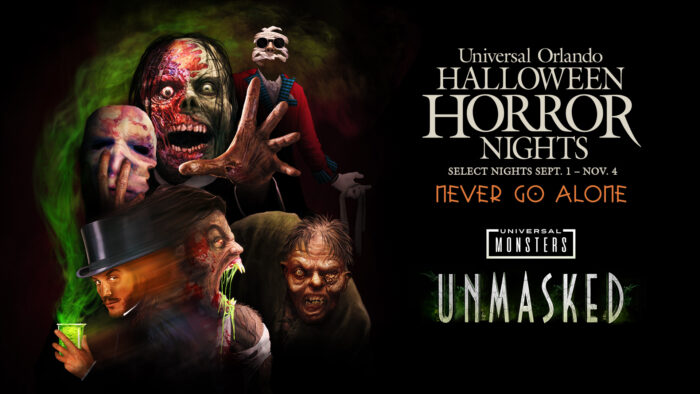 In what has all the shaping to be one of my favorite houses of all time, Dueling Dragons: Choose Thy Fate references one of the all time best coasters Florida has ever had.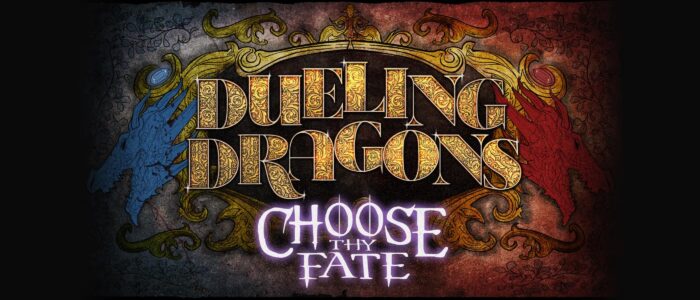 Another one ranking high on my list of "most likely this will be one of my favorites" is Yeti: Campground Kills.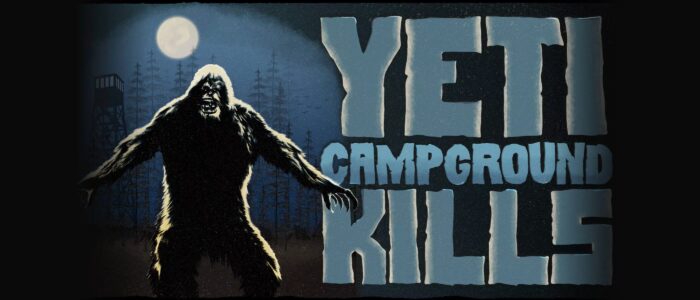 Now, one thing that always kept me away from Halloween Horror Nights over the years was assuming it was simply a "horror" event. AMC's The Walking Dead got me into the tent over a decade ago and I realized immediately that the event was much more than I thought it was. I imagine many of the "horror" fans will be looking forward to The Exorcist: Believer house (based on a movie coming out on October 13th) but that type of stuff never interested me. Thankfully HHN has something for just about everyone and I'm really looking forward to this year's lineup.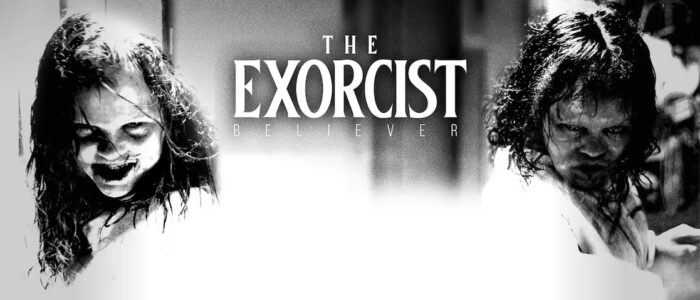 The scarezones were all announced too, including Vamp '69: Summer of Blood. This follows in the footsteps of the popular Vamp '55 and Vamp '85 scarezones from previous HHNs.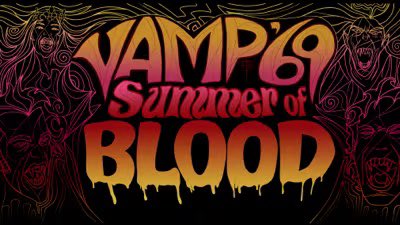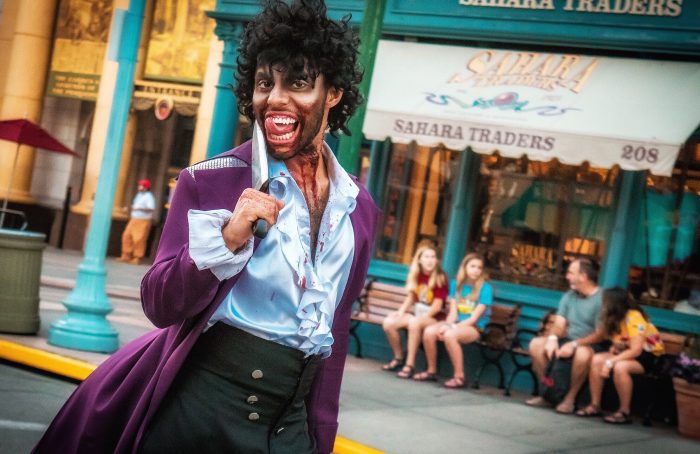 Here's a look at the entire HHN 23 map.
We've done an article on how the Halloween Horror Nights event inspires artists like few things in the theme parks do. The character of Dr. Oddfellow was first introduced back at HHN X (2000) and is back in a major way at HHN 32 with both a house and scarezone, so look for many drawings based this dastardly villain. Here's one from one of our favorite artists, Savannah Hamilton…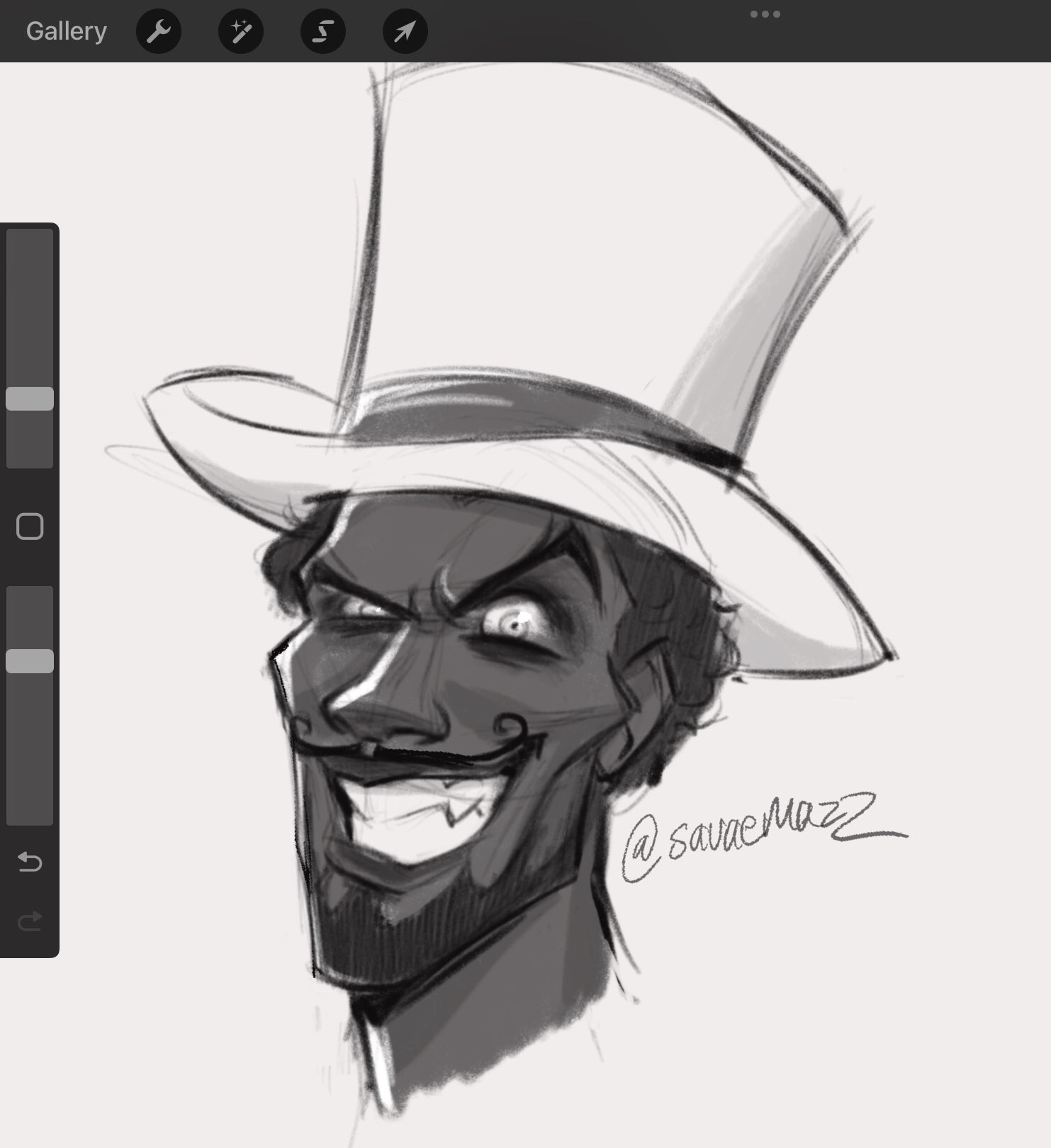 There have been merchandise drops throughout the summer, including one earlier in July after the Stranger Things house was announced. Really looking forward to the Dueling Dragons merch.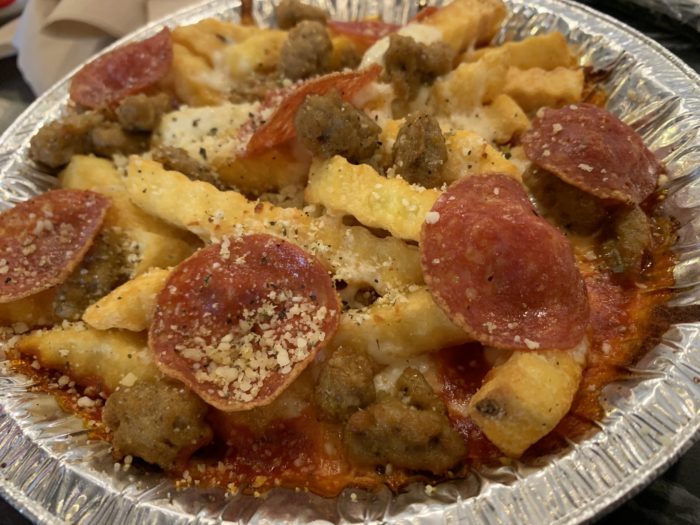 TPEI Score: + 22 This HHN could be the best yet, and that's without Bill & Ted's Excellent Halloween Adventure, which was hands-down my favorite show in any park. You have 10 houses, several of which look off the charts. You have five scarezones, including one featuring Dr. Oddfellow who will most likely be the icon for the event. You have a tribute store themed to a COMIC BOOK STORE, and we will surely be getting some bonkers food items.
My overall reaction to the HHN 32 announcements?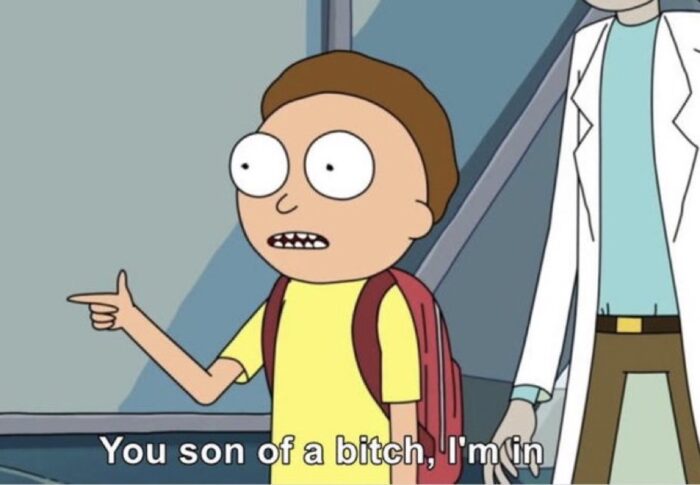 *"New and Improved" Trails End Opens
This past week Trail's End "Restaurant" re-opened its doors and has transitioned from a sit down restaurant into a grab-and-go establishment. TPEI Cub Reporter @SonderQuest was Johnny on the spot to let us know how the new place shapes up.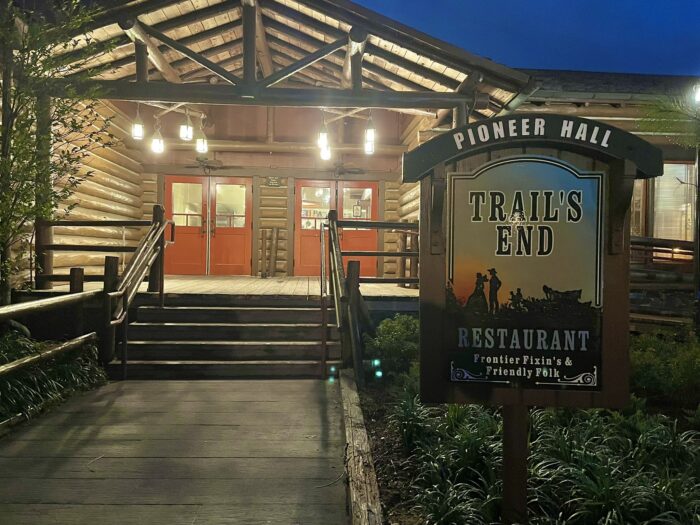 First, let's break my heart a bit by taking a look back at my favorite buffet on property, Ye Olde Trail's End.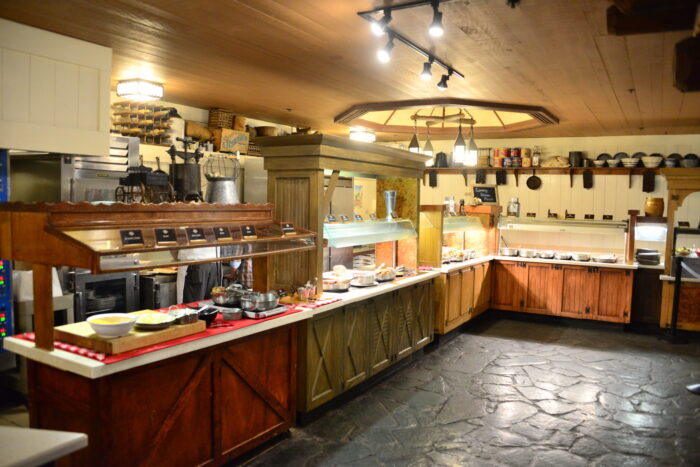 Basically you could get unlimited servings of everything on the Hoop Dee Doo menu, plus a whole bunch of other stuff. I'm not sure what Heaven is exactly like, but it can't be far away from this.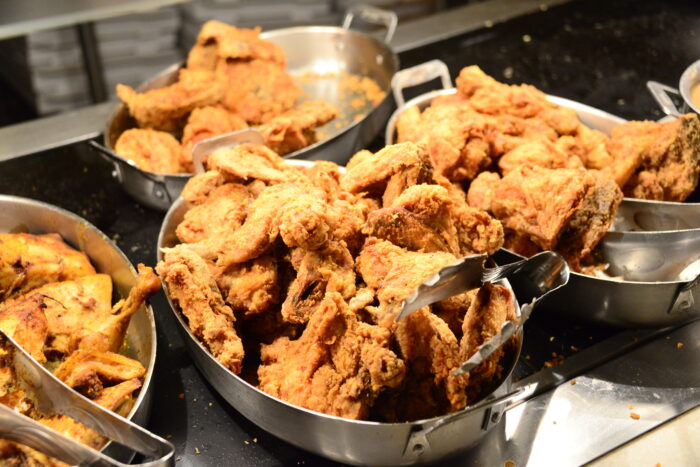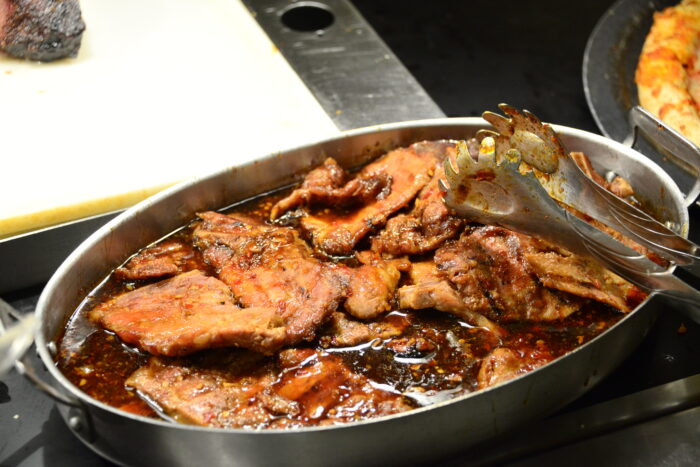 Despite the amount of meat offered in the buffet, Trail's End was also a great place for vegetarians and vegans.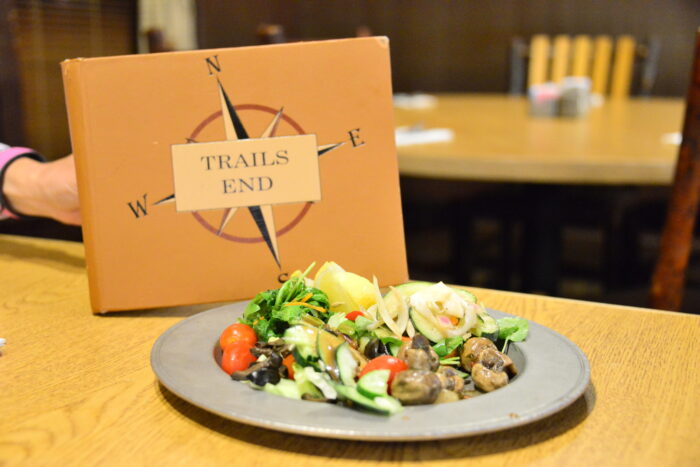 This was a special vegan dish they made for us.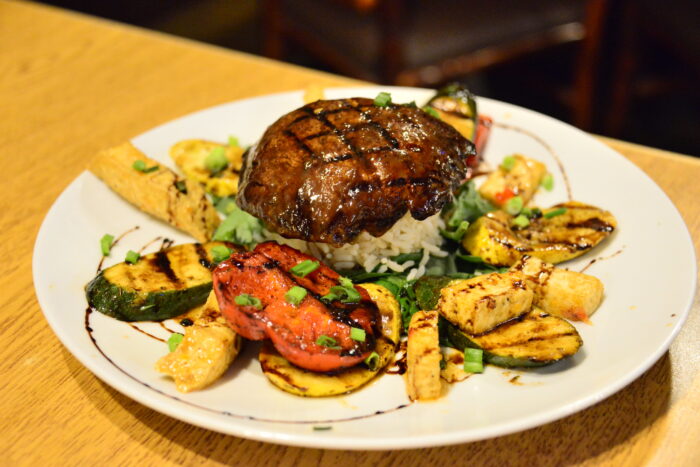 Now let's go to the "new and improved" Trail's End.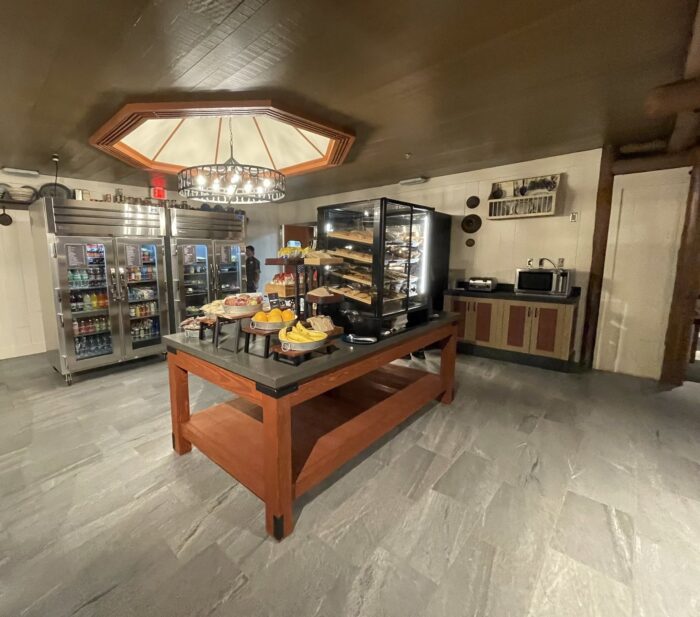 This may or may not be considered the "vegetarian station."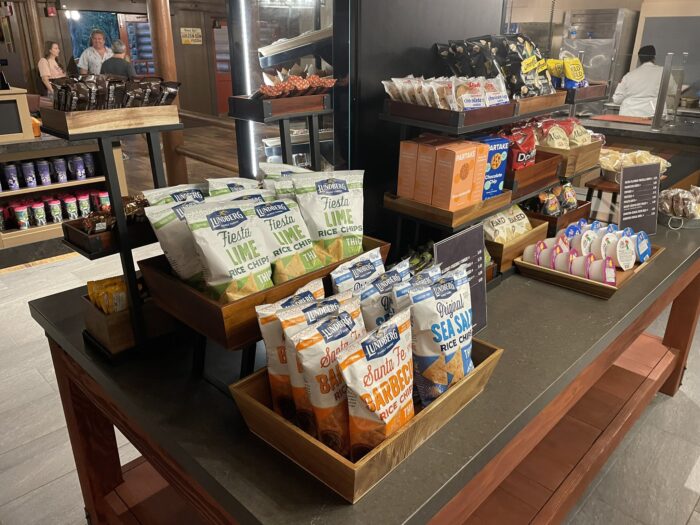 There is a new set-up for all the hot food items that looks a lot like how they do it in our Publix Supermarkets down here in Florida. You just walk up and grab whatever you want.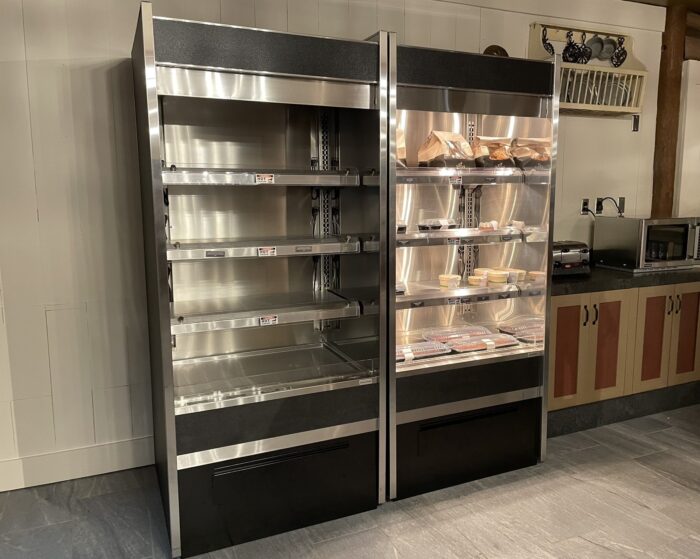 This is how an 8 piece serving of chicken is sold.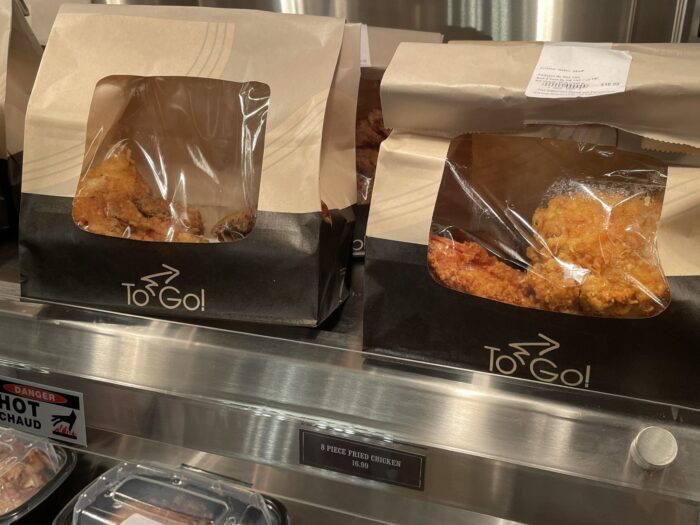 The fixin's are available as well.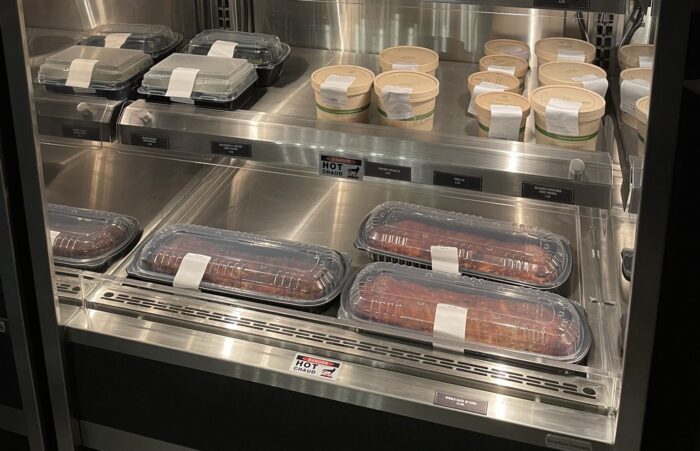 Pizza is available by the "Super Slice" or by the entire pie. The slices cost $8.79 – $9.79, so you better have good credit if you plan on ordering a whole pizza.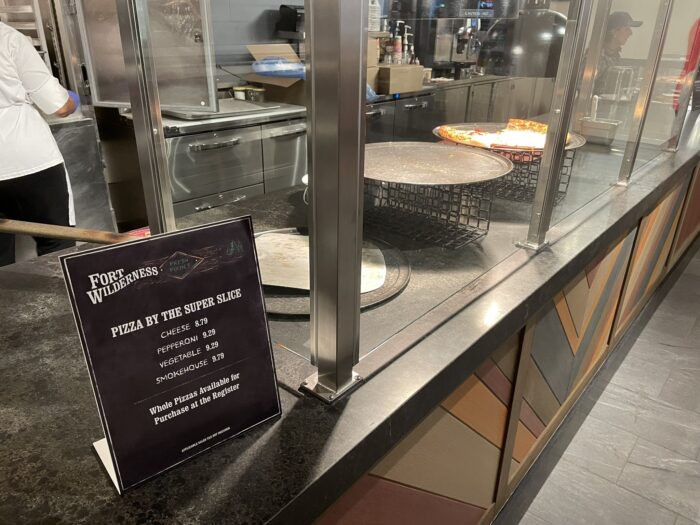 There are several coolers featuring drinks, sandwiches, salads, and even cold versions of former Trail's End staples like the fried chicken and ribs.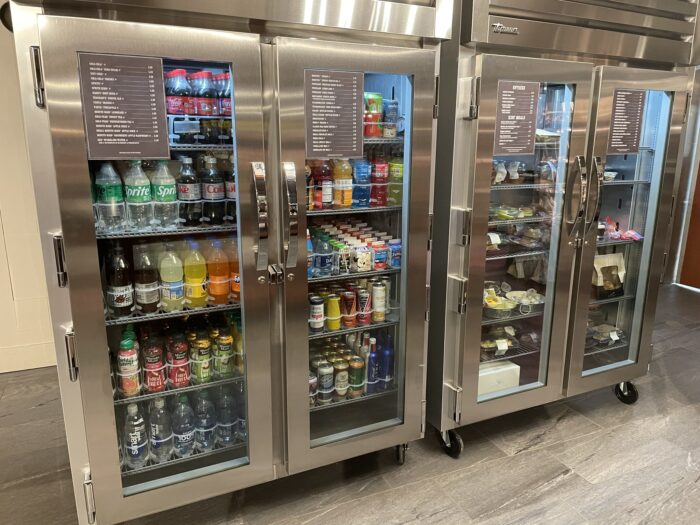 Always love seeing S'mores kits in the wild.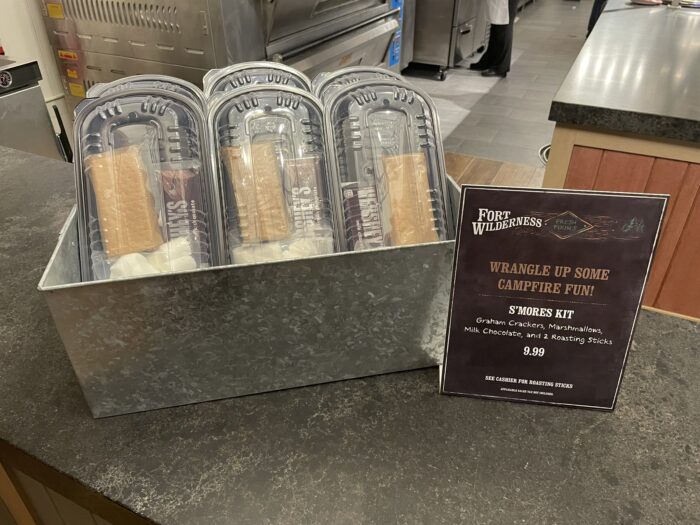 You can also get ice cream, which is great news during a summer in which we are all melting thanks to the heat.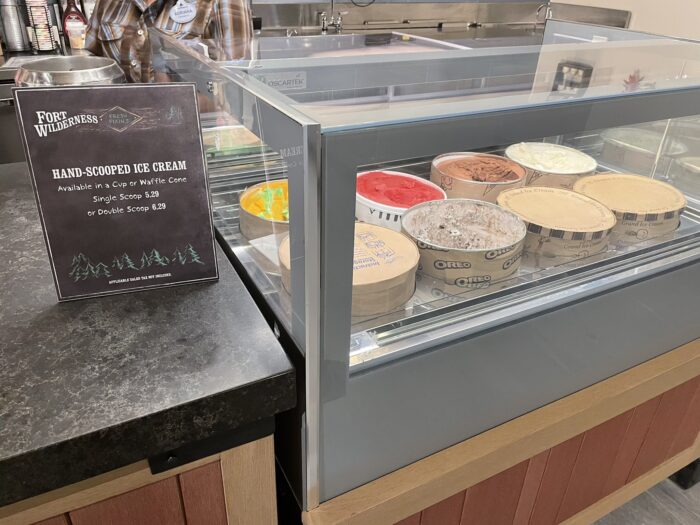 Sondy got the pulled pork sandwich with french fries. Have to admit, both the sandwich and fries look really good.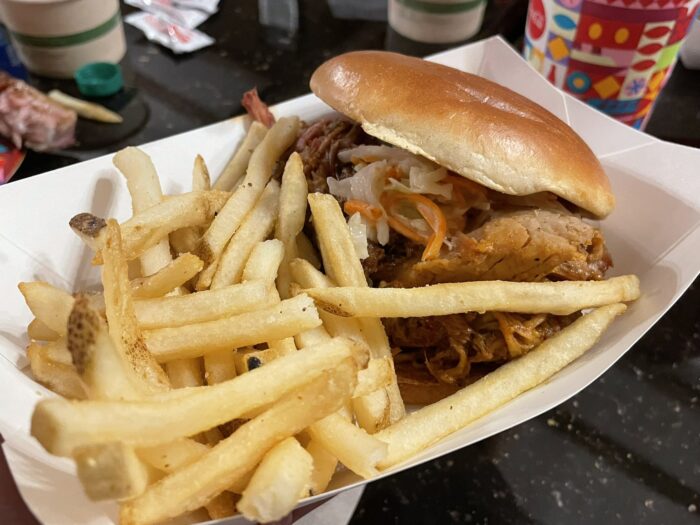 TPEI Score: – 2 I guess it could have been worse. On a related note, thanks to this coverage, SonderQuest has been elevated from TPEI Cub Reporter to TPEI Senior Reporter. Adjust your contacts accordingly.
**QUICK HITS**
*Universal Skill Game Prizes TAKE IT UP A NOTCH
So imagine you are walking up to the poorly themed skill games in-between Toon Lagoon and Marvel Superhero Island and you see the following prizes…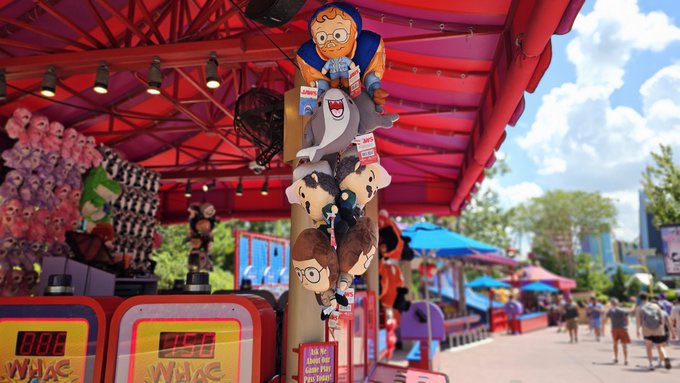 That's right, cute plush versions of the main characters from Jaws, including Bruce the shark!!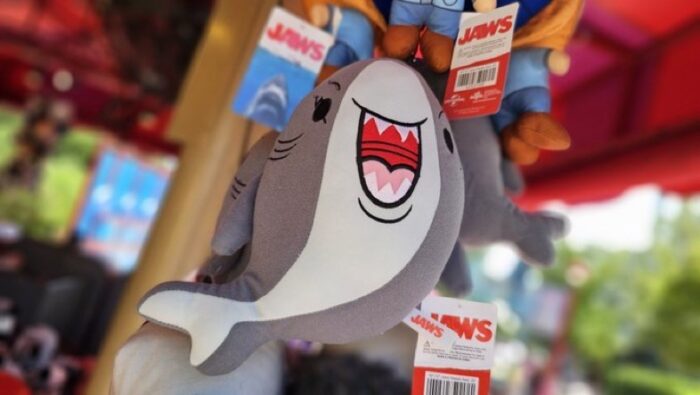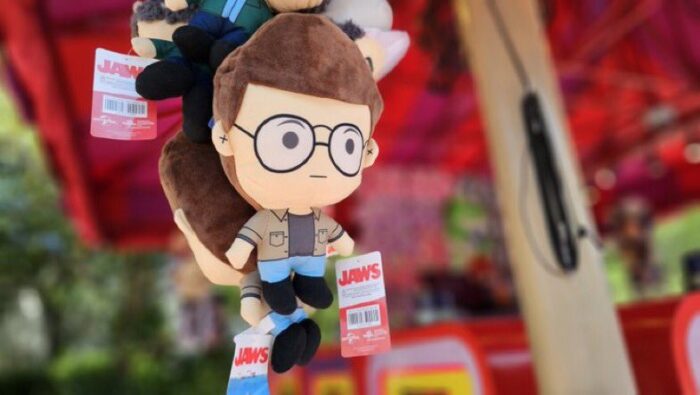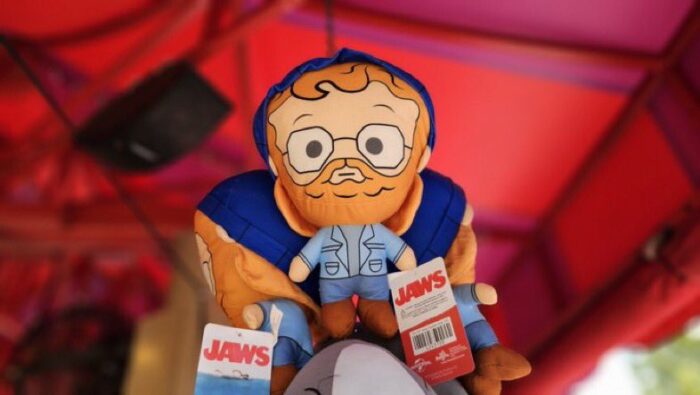 ARE YOU KIDDING ME? Matt Hooper and Quint plush?!!! 10/10 no notes. Perfection.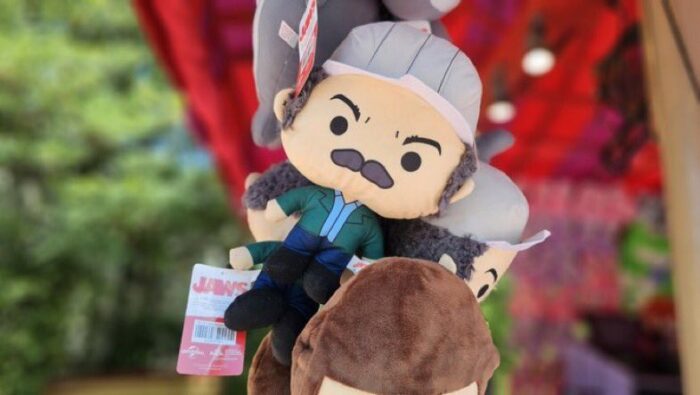 BUT THAT'S NOT ALL. NAY NAY.
There were also plush prizes themed to Back to the Future!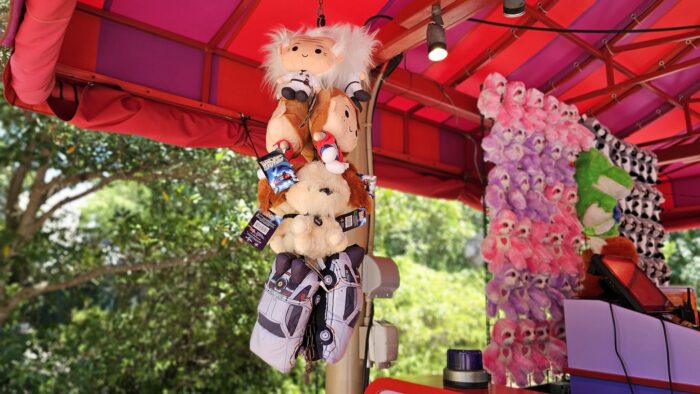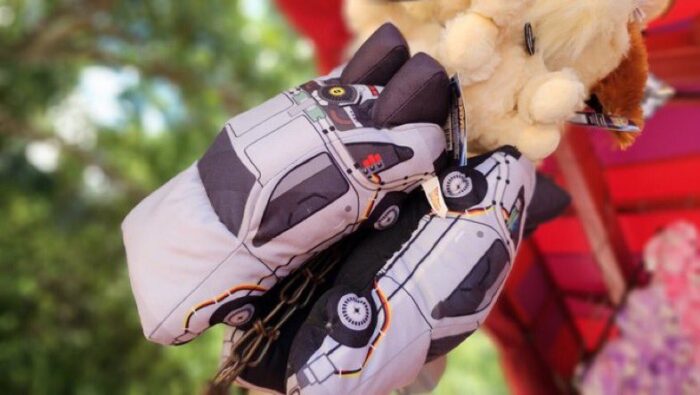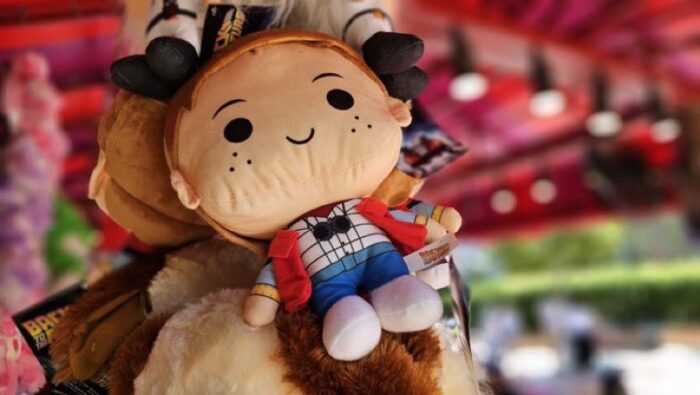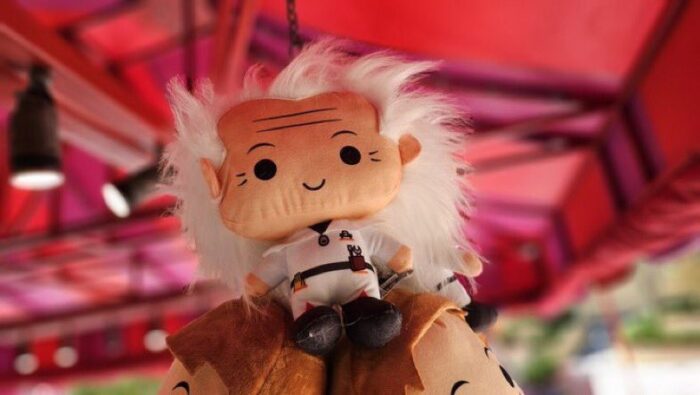 INCLUDING EINSTEIN THE DOG!!
11/10. One note: keep these around forever.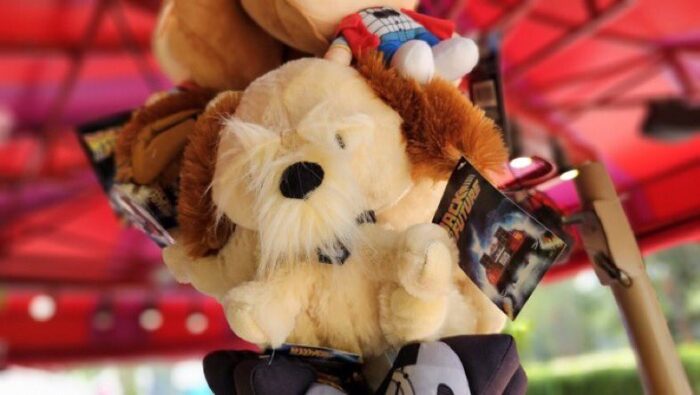 Speaking of next level amazing Universal merchandise you didn't see coming… a couple years ago we did an article on the Chocolate Frogs you can get in the Wizarding World. In my mind, there are about as close as you can get to the perfect theme park souvenir to bring home to family and friends (let alone get for yourself.) Something that Universal has been doing over the past decade is releasing special wizard cards that take a deep dive into the Harry Potter Universe. Actually deep dive isn't even the correct term as these cards are like going into the Mariana Trench. The wizard card released early in July was for Beatrice Bloxam. These was a character only mentioned in the Harry Potter video games along with The Tales of Beedle the Bard. I'm not even sure there is something else in the theme park world you can compare this too. Imagine if Disney put out a series of cards featuring every single A.A. in the Pirates of the Caribbean, that's sort of what this is like. Just insanity, but in the best way possible.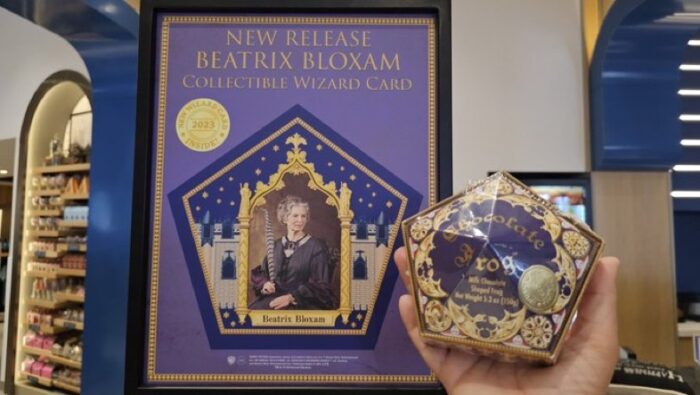 *Love myself some MCO…
The social media team for the Orlando International Airport is second to none, and this month they delivered a great tweet out of nowhere referencing Soarin' Around the World.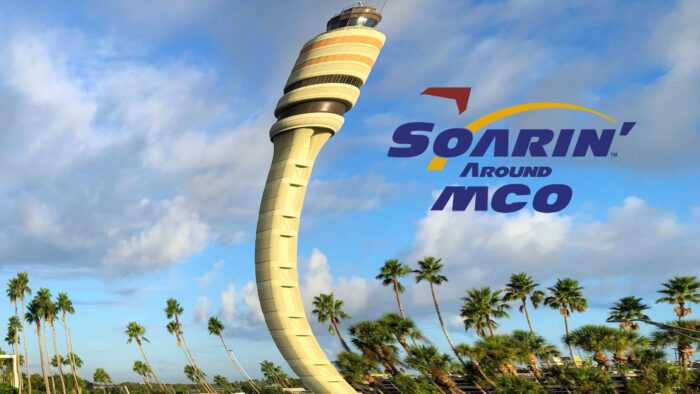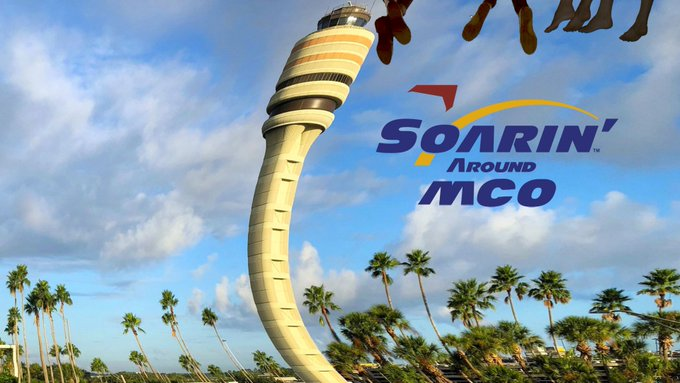 Of course our blogger-in-the-sky appeared to give us a stunning aerial pic of this tower.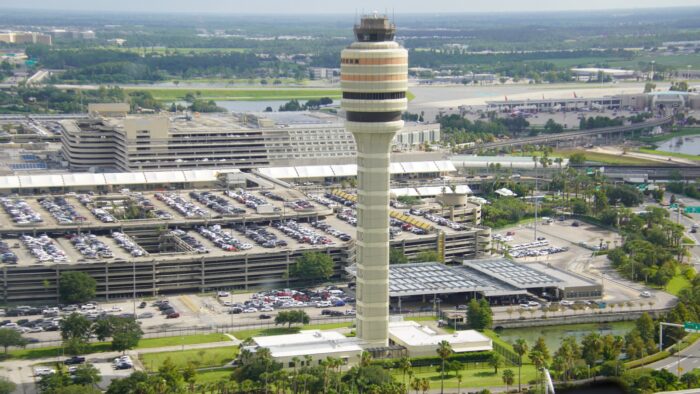 *@Bioreconstruct Pics!
Time for our favorite part of the month, looking back at some of the many AMAZING photos that Bio took both in the air and on the ground. First we are going to head on over to Universal's upcoming EPIC Universe theme park. First up, a neat look that gives us some behind-the-scenes info of what Universal Creative does to make the parks look as fantastic as they do..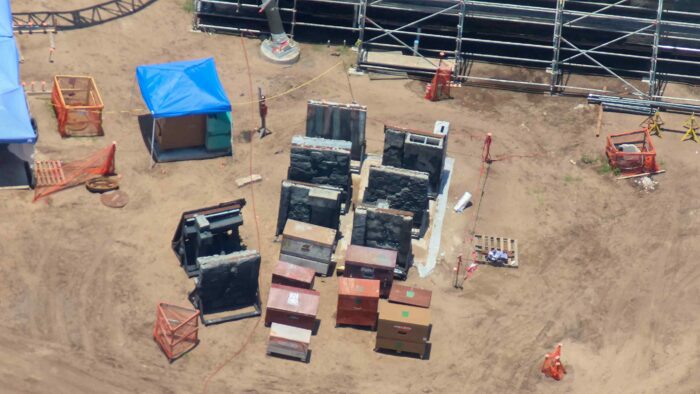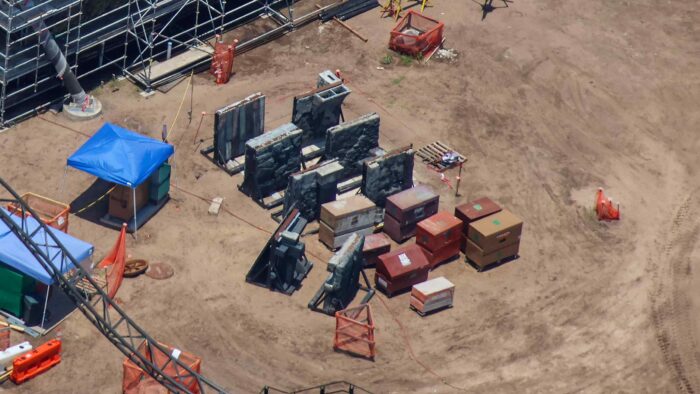 There is so much work going on at EPIC Universe with things changing by the day. It's especially striking to compare to a construction site at EPCOT where time seems to be standing still getting the Moana walkthrough attraction built.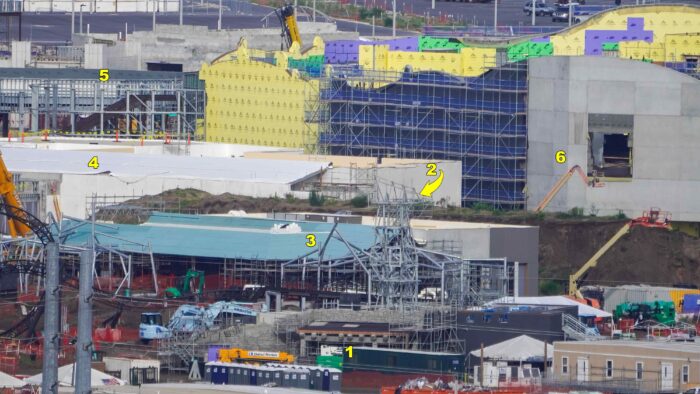 Look at this coaster below…WOW!!!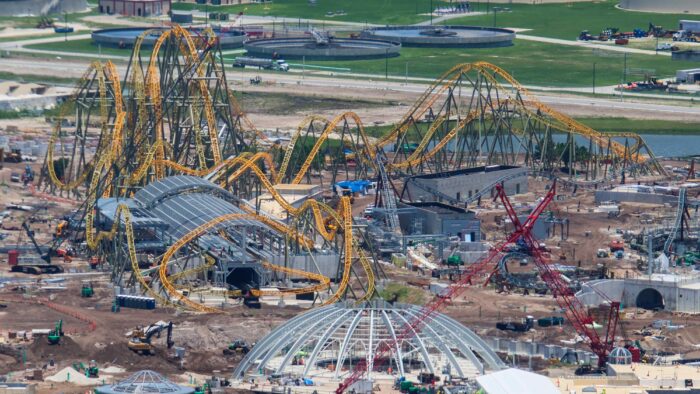 Love this shot of the coaster taken from ground at sunset.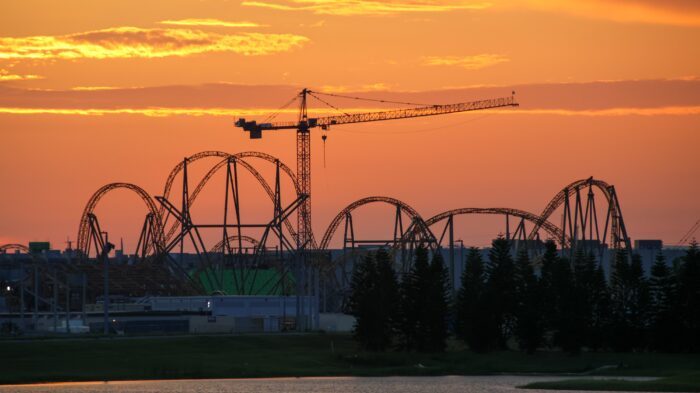 Bio's aerials are a dream come true for those of us who are fascinated seeing how a theme park comes together from the ground up.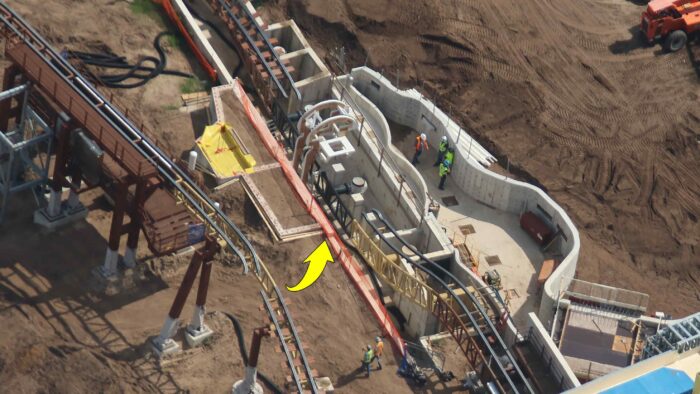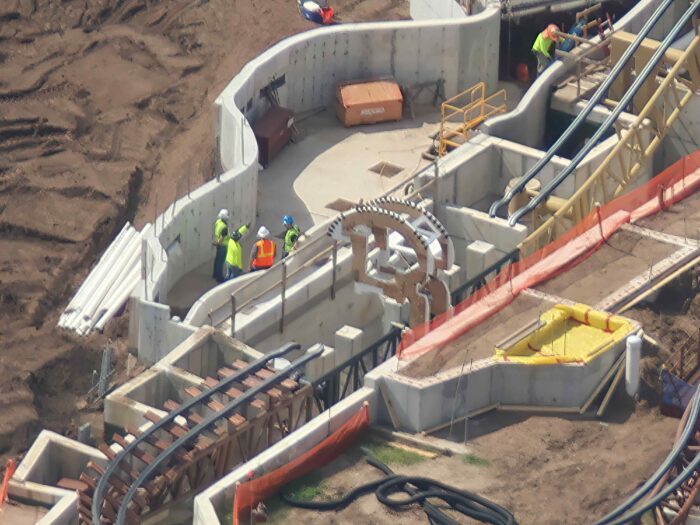 My mind is being blown!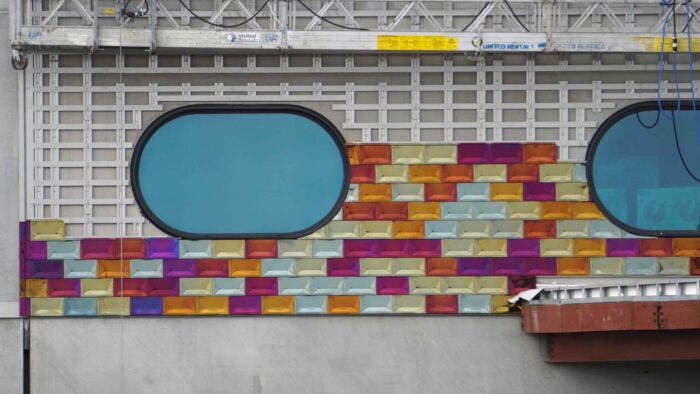 For a great recap of everything going on at EPIC Universe that combines the power of Bio and the Permit Princess Alicia Stella, make sure to watch this video. Trust me, it's worth your time.
Bio's always there to let us know when different planets are able to be viewed from the theme parks, and this past month we saw Venus make an appearance.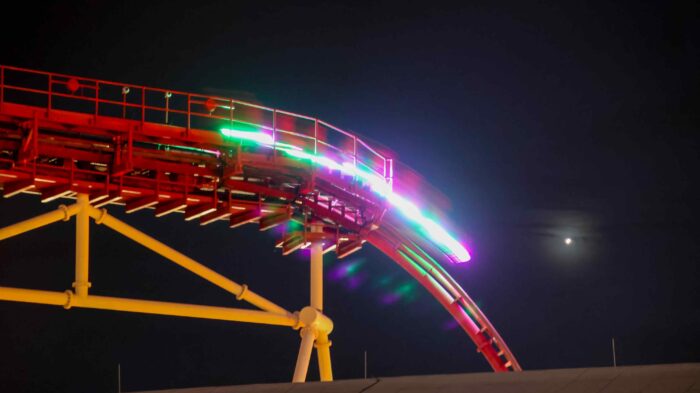 Turns out that was mere child's play though, as take a look at what Bio got in this shot below…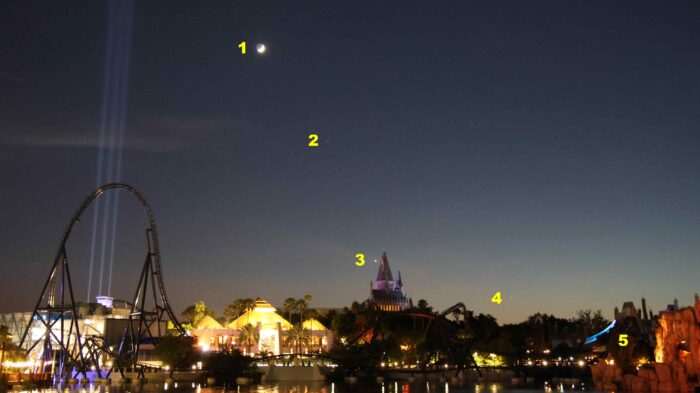 Earlier in July, Universal gave us minimal details on the upcoming DreamWorks Land that is coming to Universal Studios Florida. This is basically a complete re-do of the former Kid Zone area of the park. It appears to be utilizing many of the former attractions, rebranded to DreamWorks characters, along with adding a bunch of new stuff as well. I have a feeling this area will be a HUGE HIT because the characters of Shrek, Kung Fu Panda, and Trolls are a lot of fun. Be sure to watch Alicia Stella's awesome video going over this new land.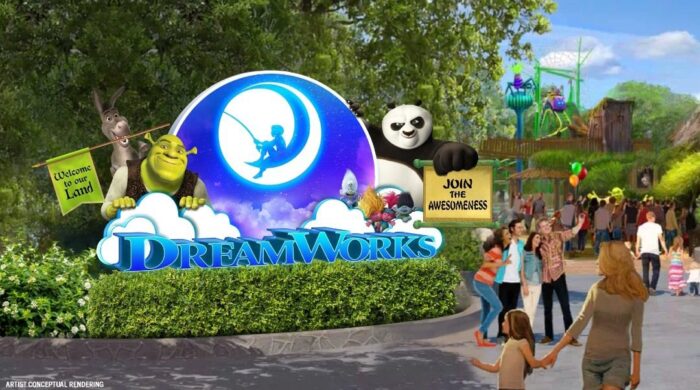 So of course Bio was there giving us updates of this area. The shot below is a rising structure that Rumors and Innuendo suggest will be for Shrek's house.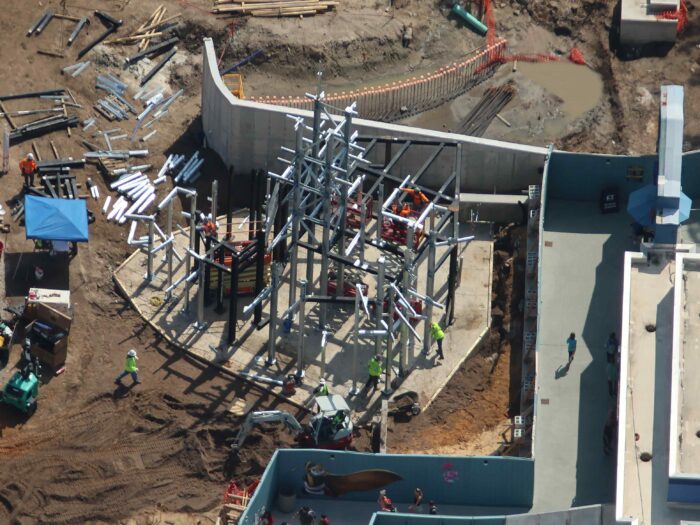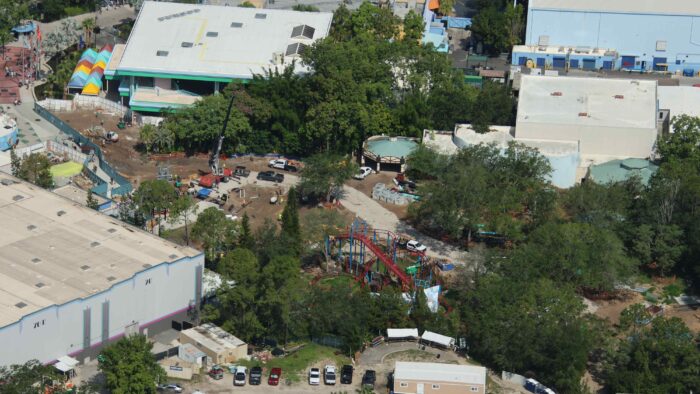 We'll close this section with an awesome shot featuring an Osprey giving Bio the evil eye.  It was Bio himself who fully documented the next level bonkers "war" between the Universal Orlando Resort and an Osprey when building the VelociCoaster. You can read the details of this hilarious battle in the 2020 Theme Park Turkeys of the Year Awards. Turns out, like an elephant, an osprey never forgets…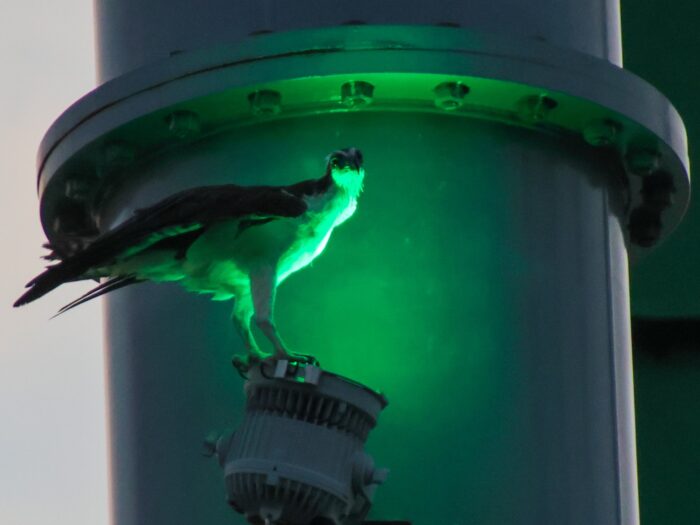 *I'd watch this film…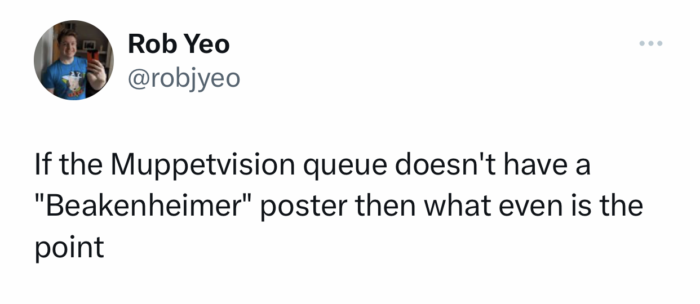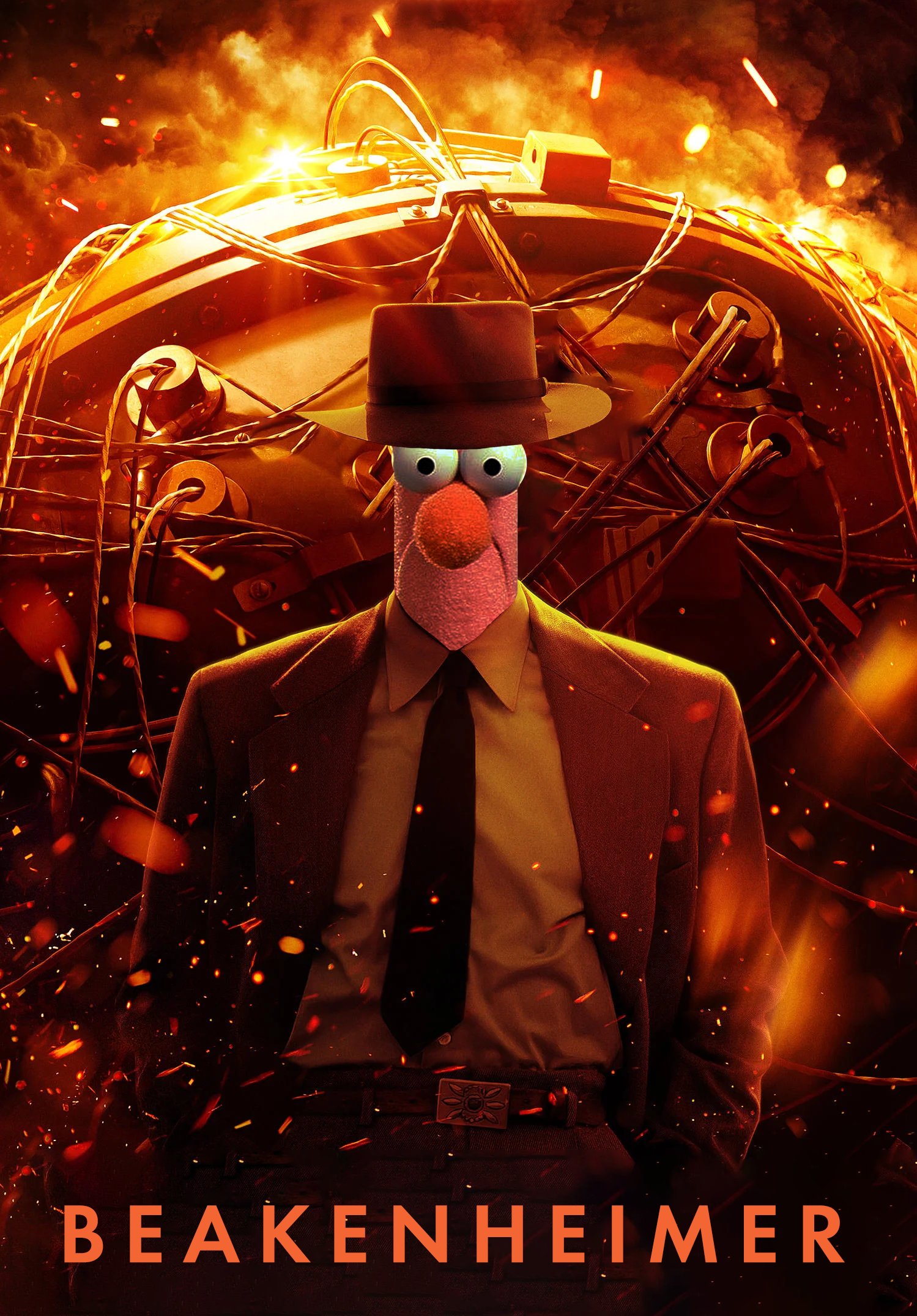 Love this piece of art featuring the "map" of the former Jaws attraction at Universal Studios Florida by artist @BBindman.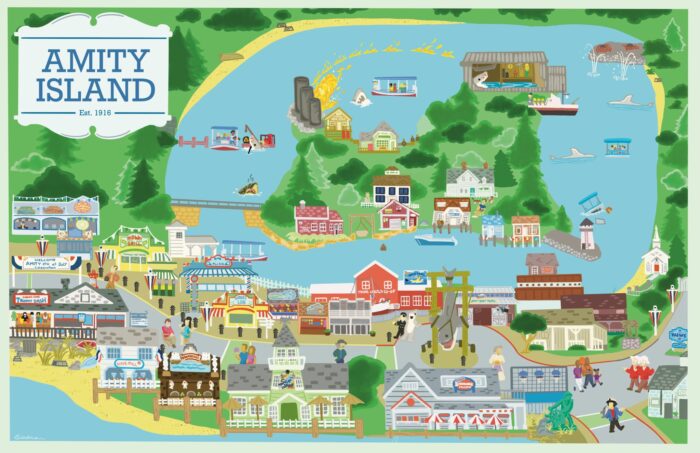 Let's check in with our favorite Tiny Artist, Jaime S.
This month we got a drawing of the Disney Wish…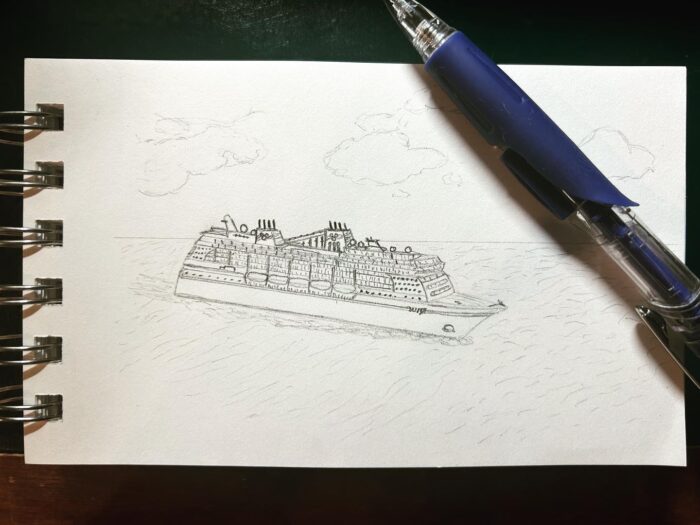 Along with amazing scene-by-scene breakdown of Carousel of Progress!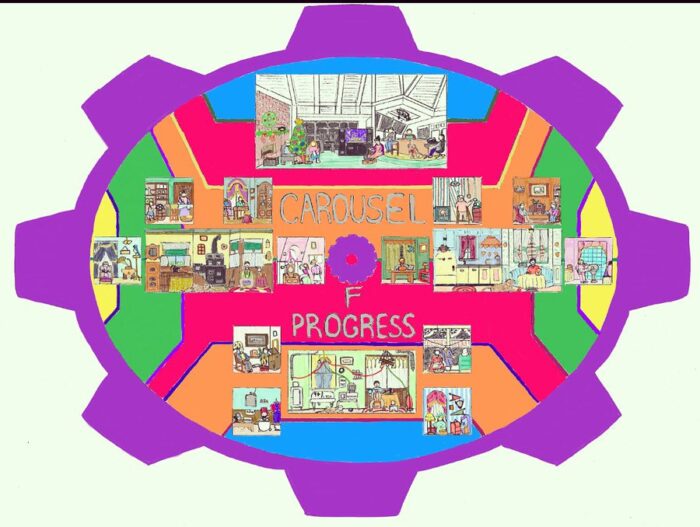 However the pièce de résistance in my mind is this next level amazing drawing of Toy Story Land. If Disney sold this as a print at DHS I would buy it a second. Even better? YOU can buy this fantastic piece of art at Jamie's etsy shop for under $5!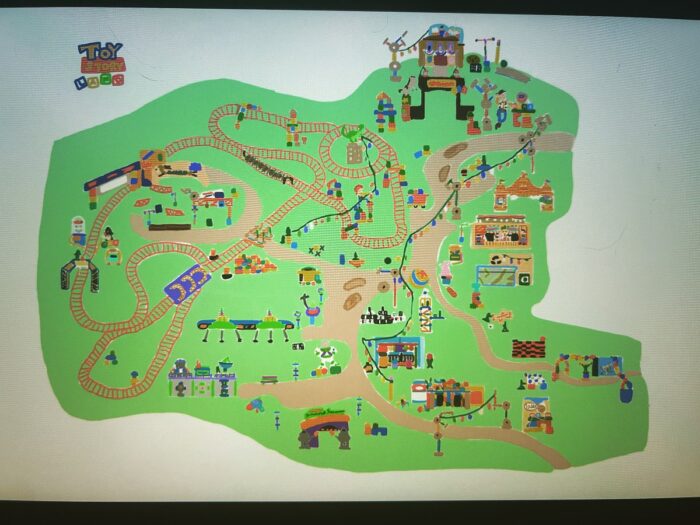 *The Strange Saga of Mr. Toad's Pants
While I would definitely argue you need an Escape Plan, there are still several reasons to stay on Twitter, including next level bonkers threads like the following…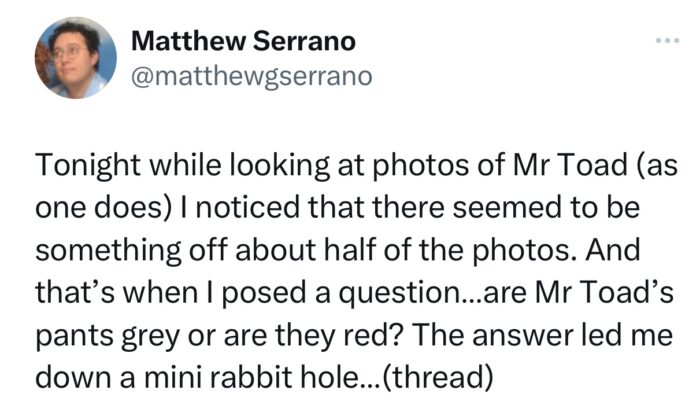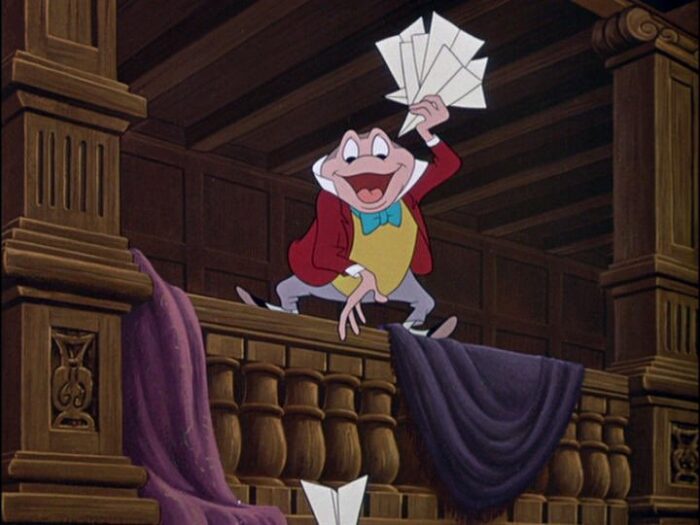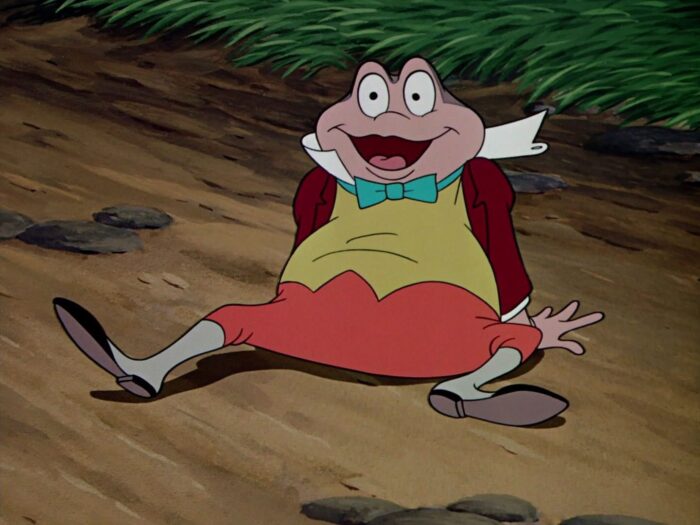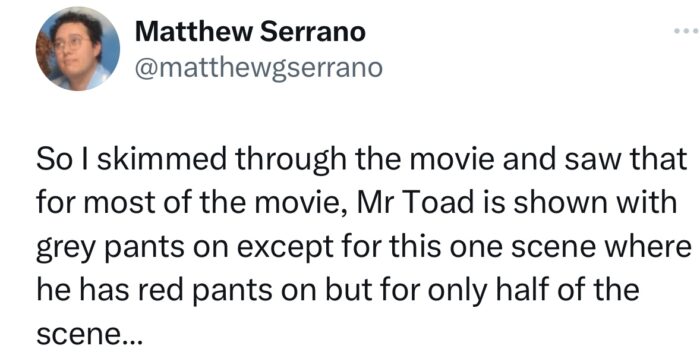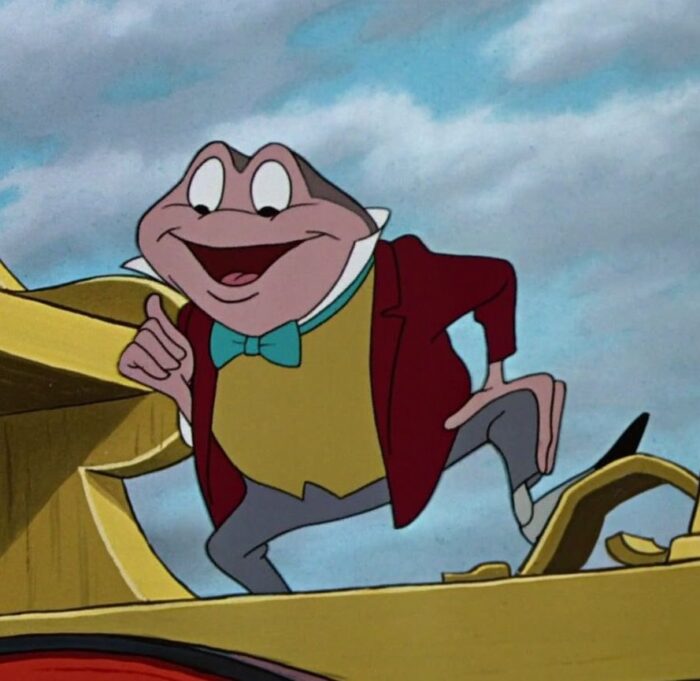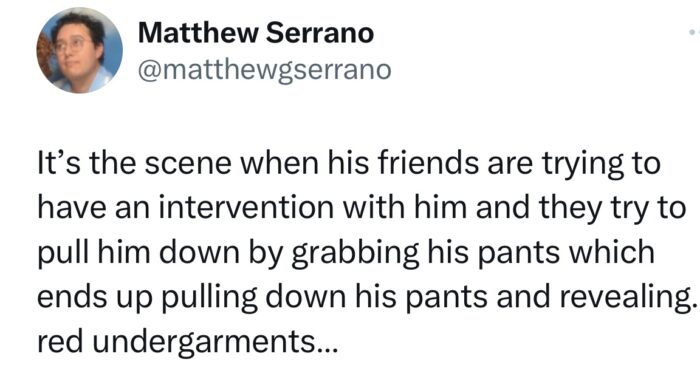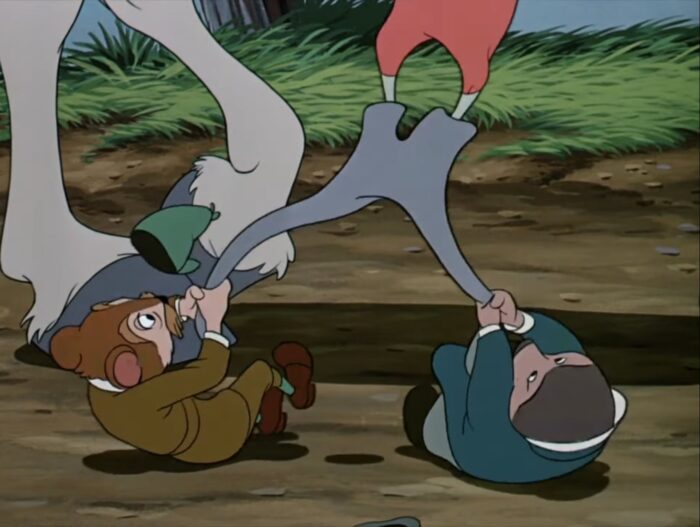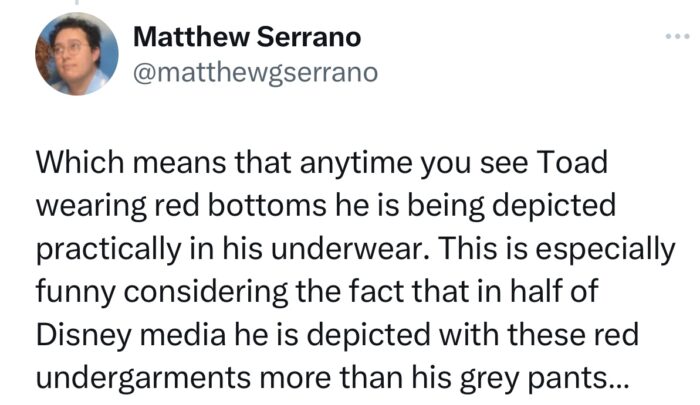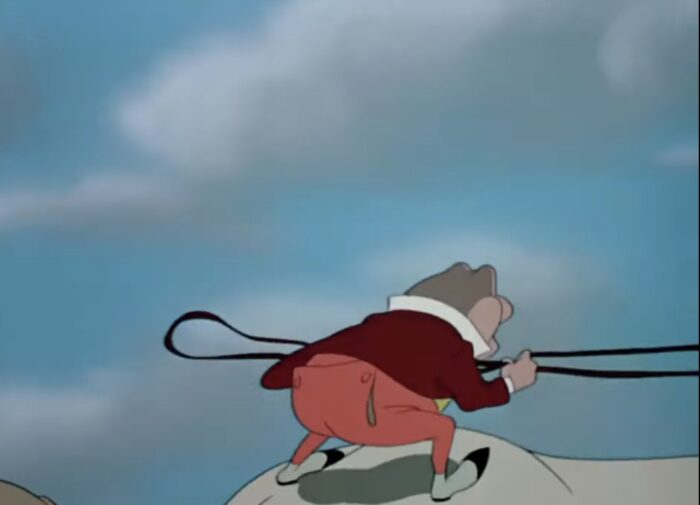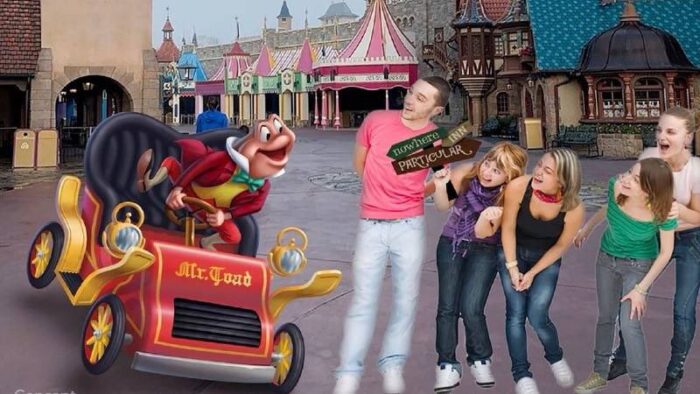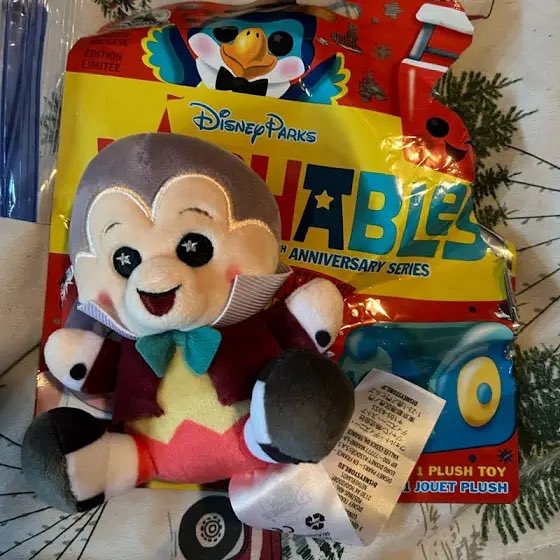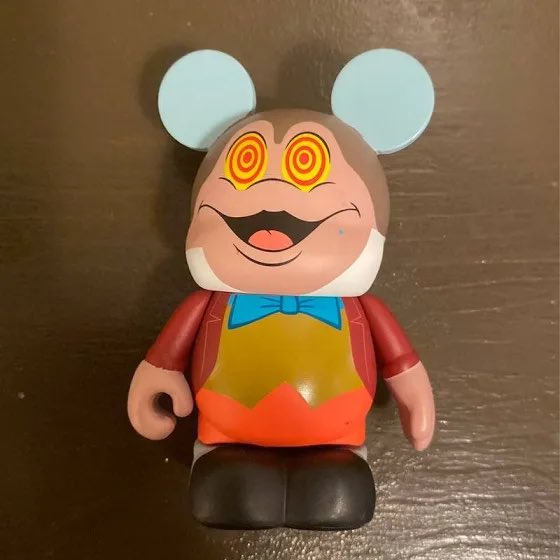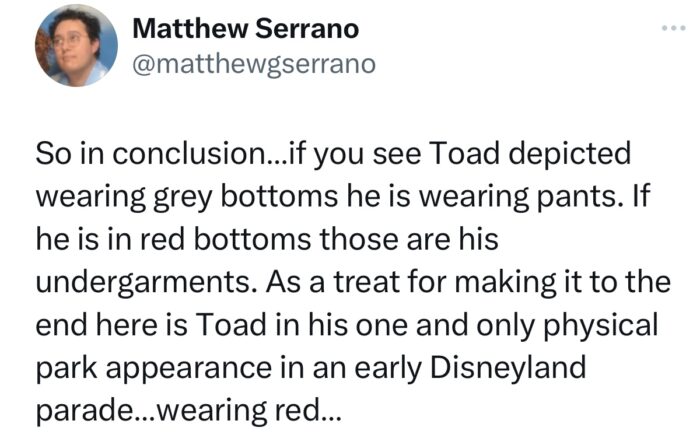 *Another reason to stay on DisTwitter…
While I admit there are many reasons to stay far away from Twitter, it's still the only place where you can see people regularly interact with former Disney Imagineering and Universal Creative. This gives us a fascinating look into the history of the parks we know and love. One of my favorite things from this past month involved Imagineer Joe Rohde replying to @Parkeology about a former effect on Expedition Everest that looks fantastic!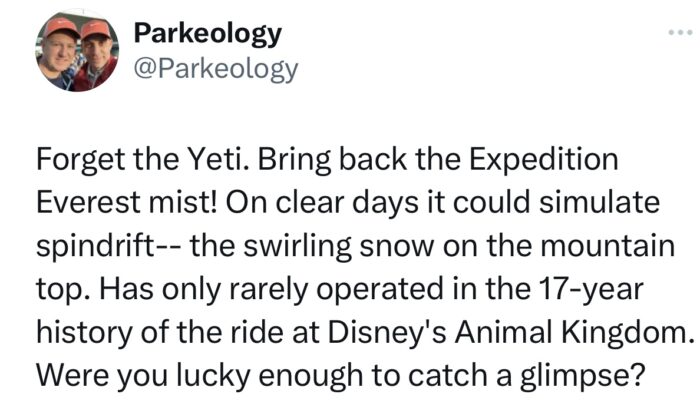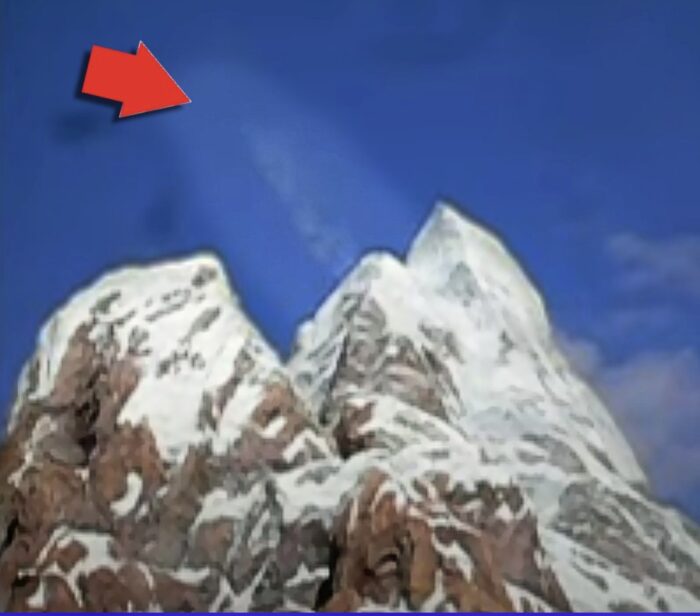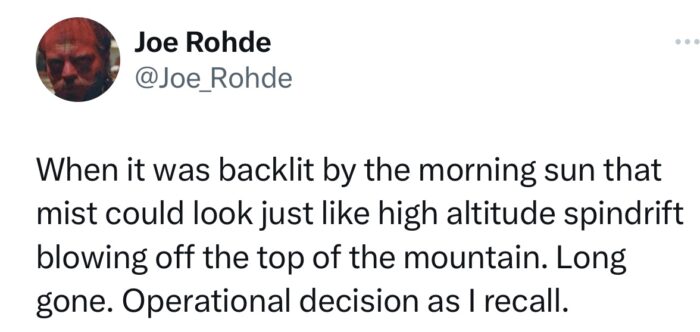 *DVC Moonlight Magic at Disney's Animal Kingdom
Throughout the year Disney Vacation Club will host special after-hours events for members at Disney parks. Generally these include free snacks (like popcorn and Premium Mickey Bars) along with exclusive meet-and-greets. I happened to be able to go to one as a DVC member's +1. It was during the brief time Animal Kingdom was having nighttime safaris, which ending up being a complete disaster. I felt like channeling Dr. Ian Malcolm from Jurassic Park and asking, "now eventually there are some animals on your animal safari, right?" The event overall was fun though, as Animal Kingdom just hits different at night.
This month's Moonlight Magic event had some really neat meet-and-greet characters out including Darkwing Duck…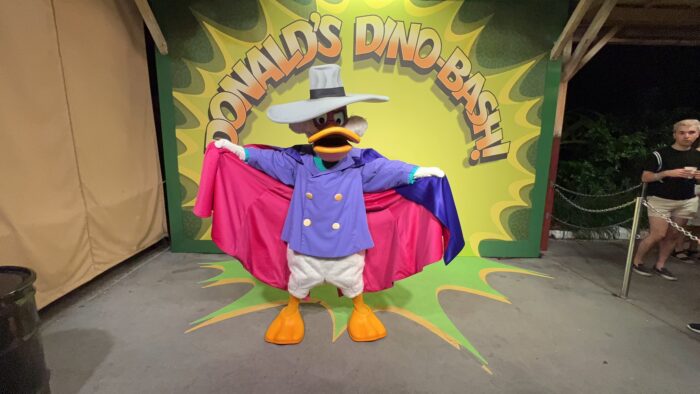 …Kerchak and Kala from Tarzan…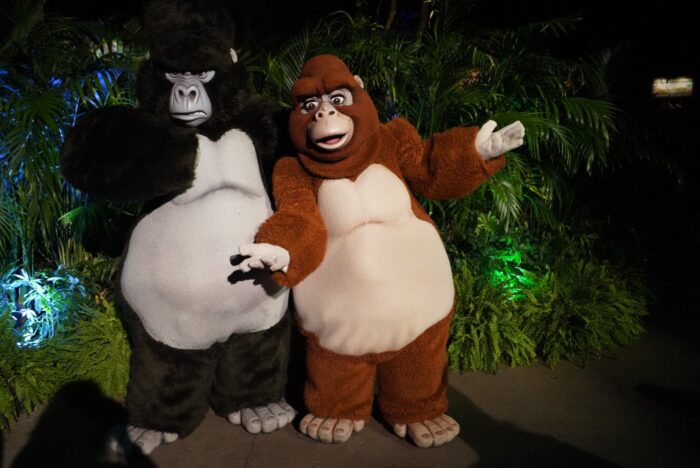 …Slim and Miss Moth from A Bug's Life..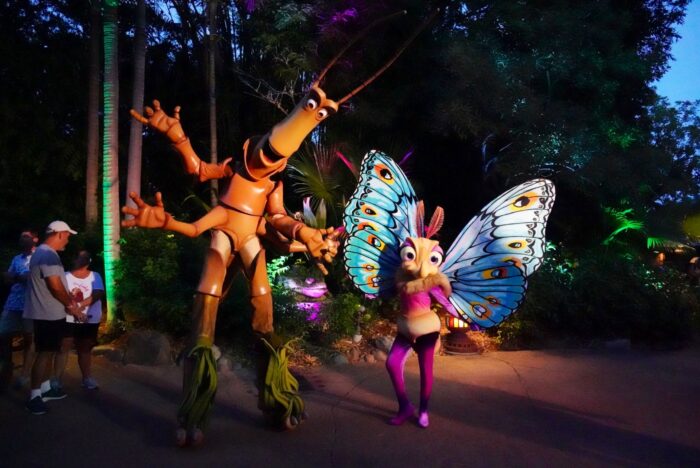 …and one of the most rare characters you'll ever see, Manny from A Bug's Life. Considering how few attractions Disney has been building and WILL BE BUILDING over the next five years, it blows my mind that each park doesn't have a rotating ensemble of ultra rare characters to meet guests.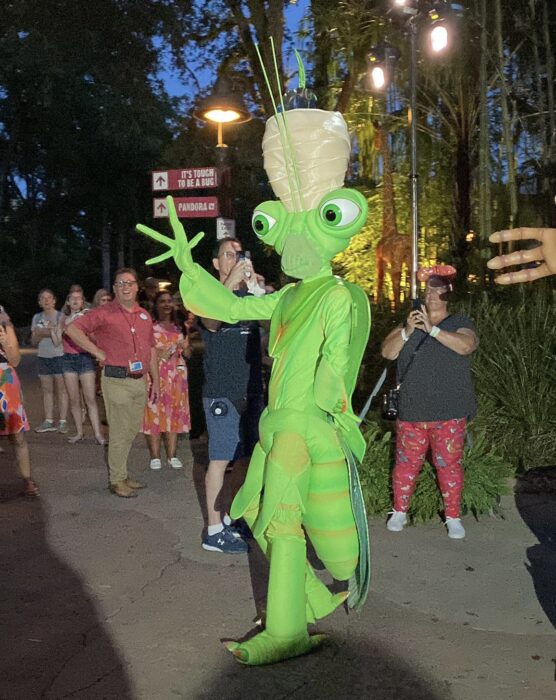 *Important Pressed Penny Update
Bacini and I were at our favorite airport earlier this month and got to do some shopping at the Universal Orlando and Walt Disney World stores.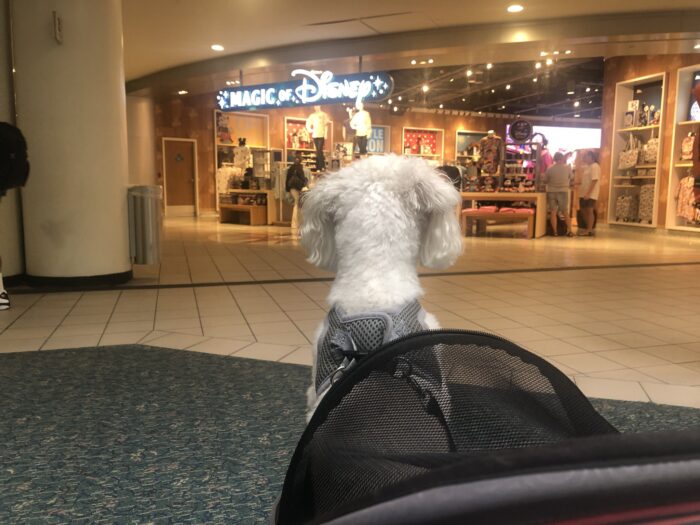 While at Magic of Disney, we noticed the pressed penny machine had changed. In the past, the machine had four designs available to choose from. Two of those choices were a Pilot Mickey Mouse and a Pilot Stitch.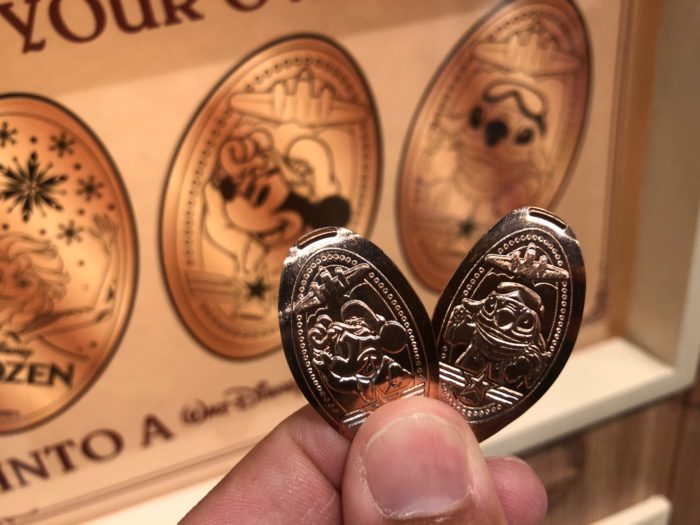 The new machine has 8 designs available. Now there are pilot versions of Mickey, Stitch, Donald Duck and Goofy (wearing his old timey aviator outfit.) The other four designs are from the movie Planes. Huge improvement over the old machine.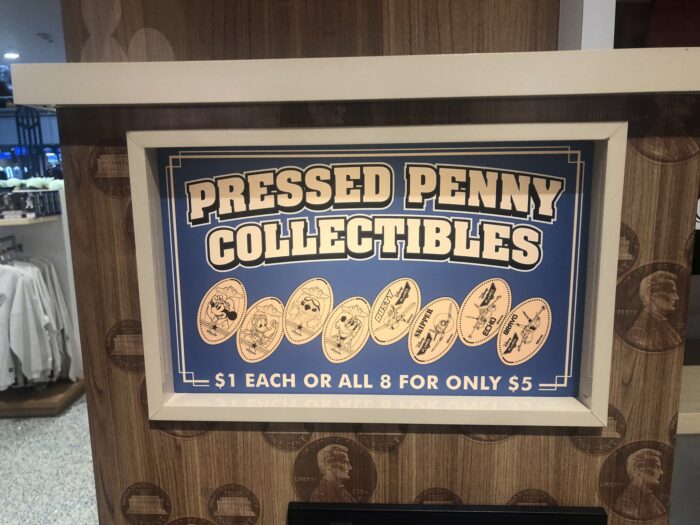 You can purchase each design separately for a $1, or buy all 8 designs for $5.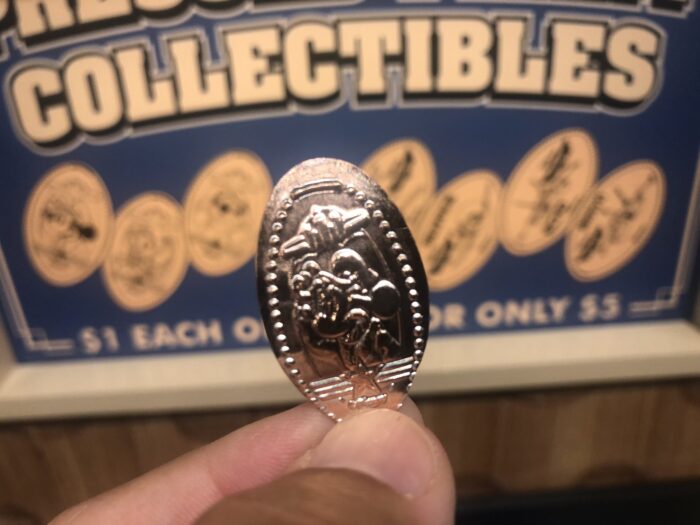 Speaking of pressed pennies, a member of DisTwitter possible the following Holy Grail item. That's right a pressed penny book from the short lived Universal Studios Escape. This was the disastrous marking plan that Universal went with when it opened Islands of Adventure and went from one park (Universal Studios Florida) to a resort featuring two theme parks, onsite hotels, and a shopping district with CityWalk.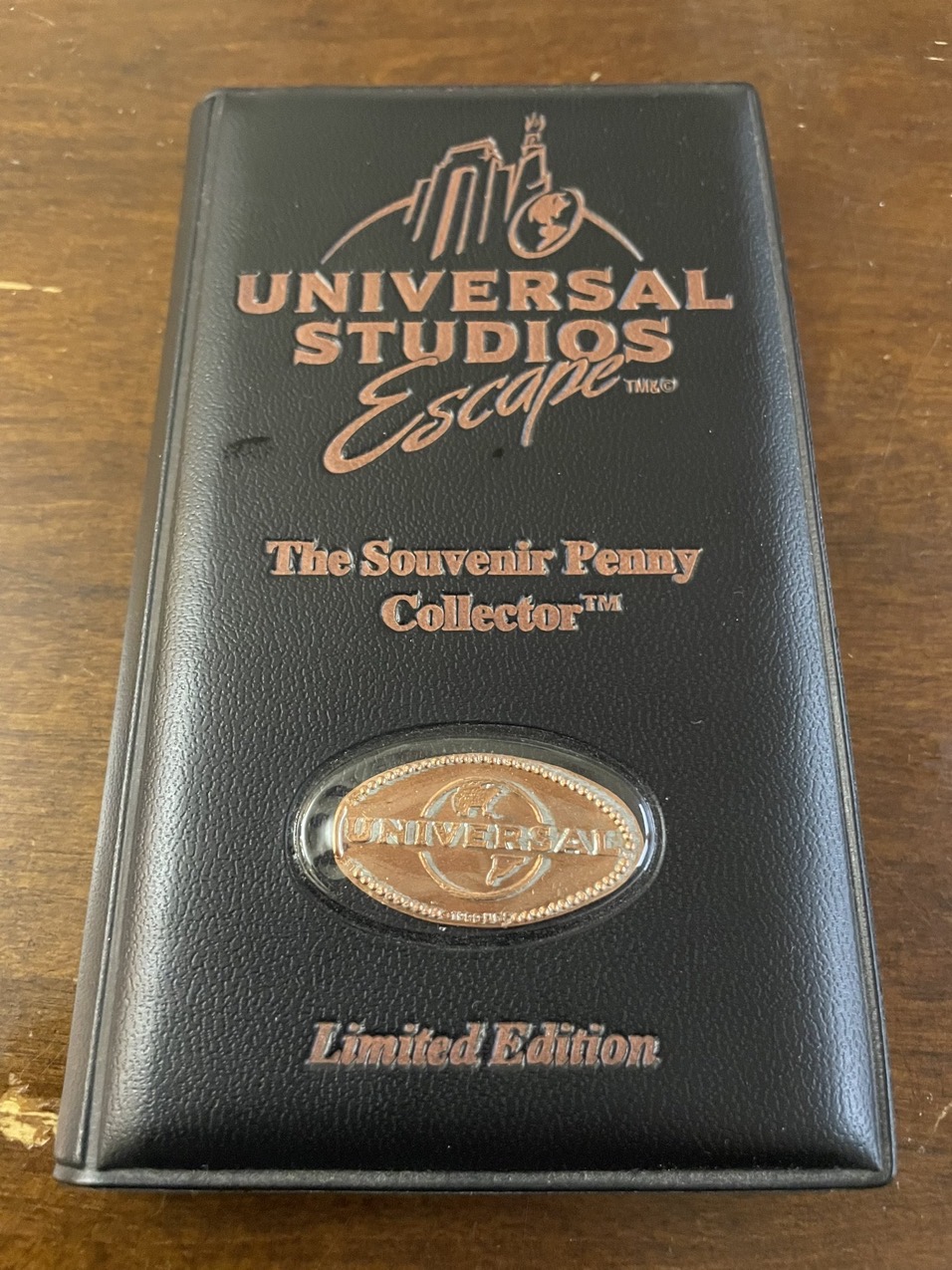 *New Way to Take Selfies?
Superstar artist Sterling Denham traveled to California earlier this month to visit the Disneyland Resort and while they were there, this creative cat figured out an interesting way to take selfies with the various characters they met at the parks. I've seen literally a million pictures taken in the theme parks, but this was something fresh and original. Enjoyed seeing each one as they popped up on their timeline. Here's looking forward to an HHN set this fall…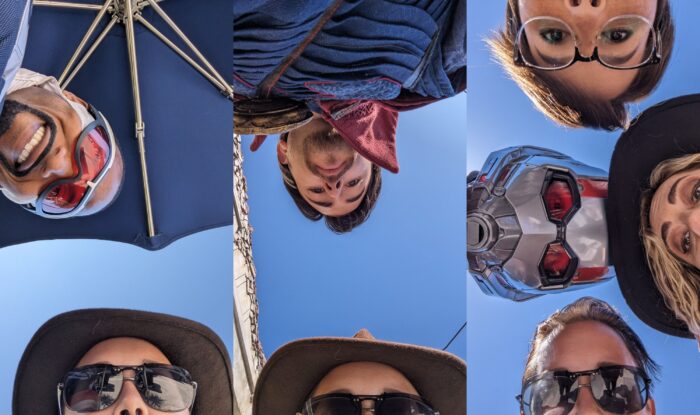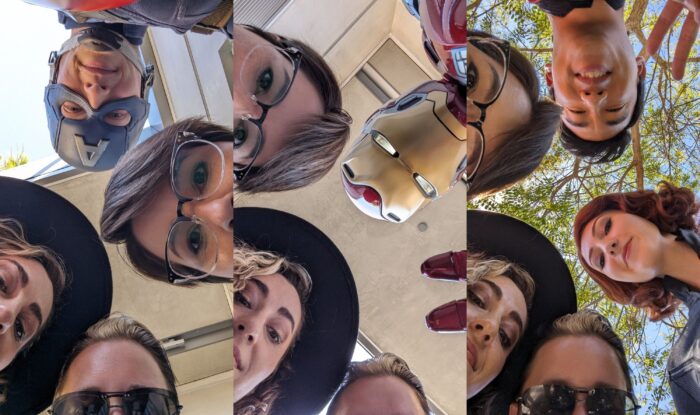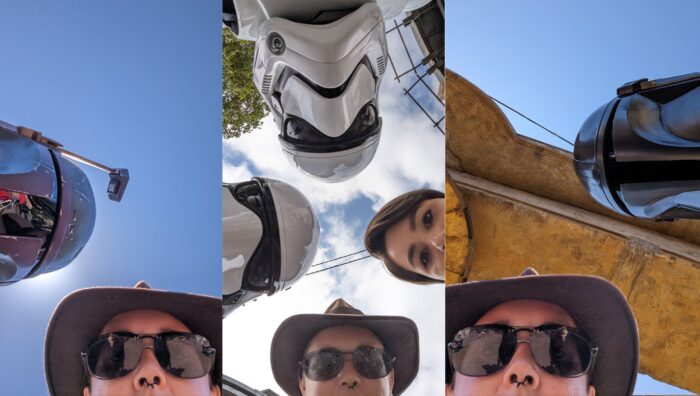 *'Memba this?
For many years this recognizable structure existed in the Morocco Pavilion in EPCOT's World Showcase and was the background for many pictures.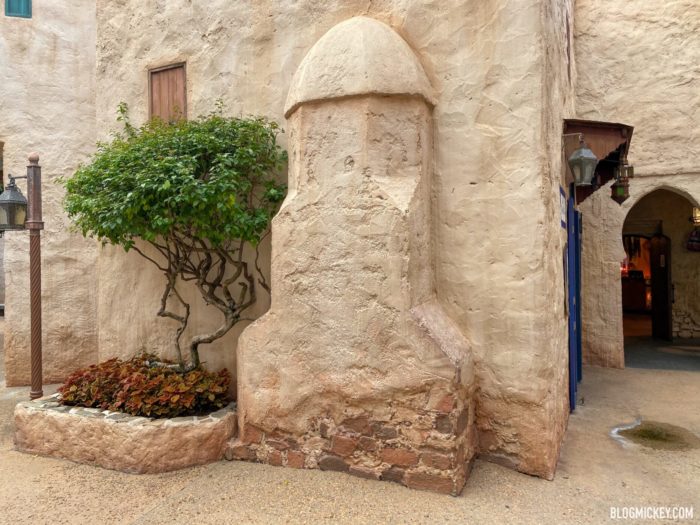 …and then it was turned into this door to nowhere during the Covid times (and after Disney took over running the Pavilion from Morocco.)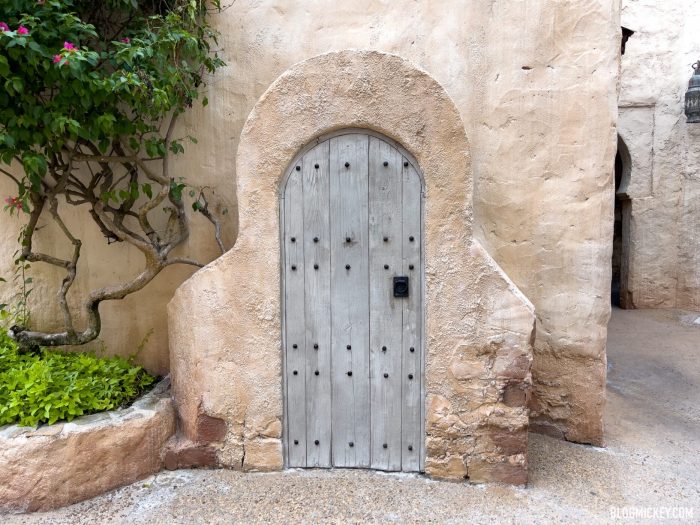 Both of which were immortalized by artist SonderQuest.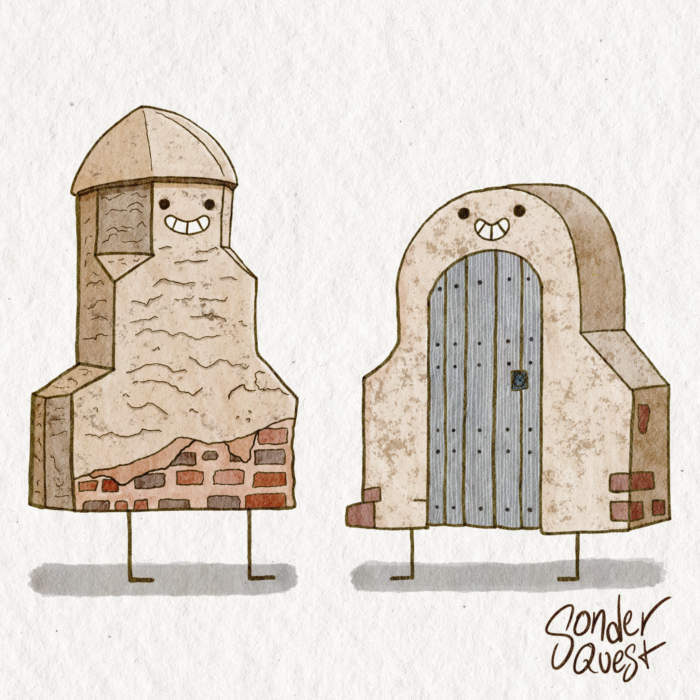 Well, another one of the most creative talents in the community made my heart sing this month when he dropped the following..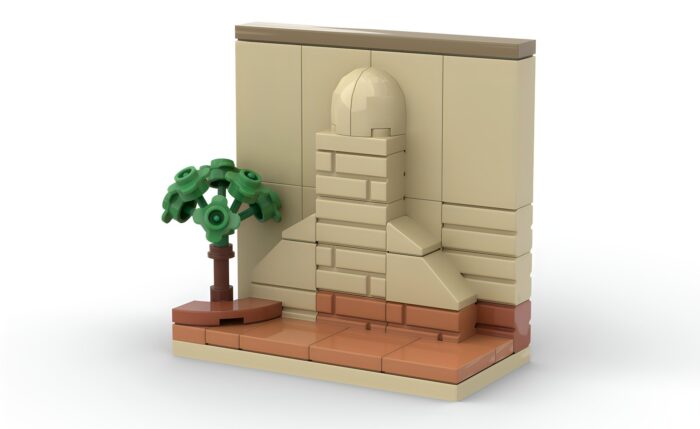 It was a busy month for awesome LEGO sets by @TheHorizoneer, including this one below for PizzeRizzo.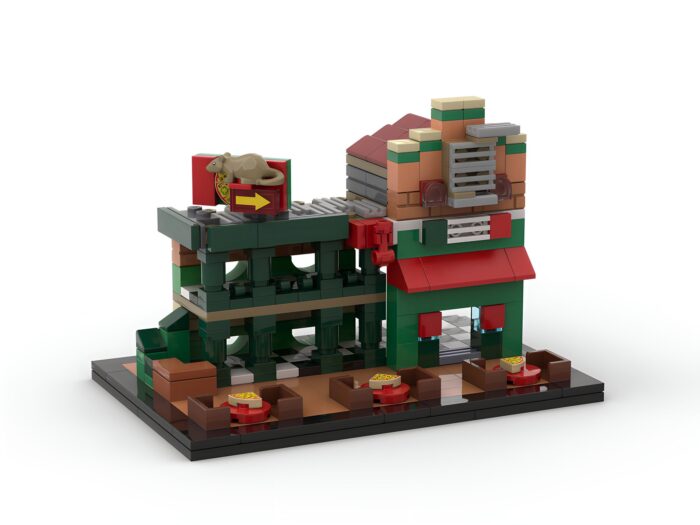 I'm particularly fond of this one below that spotlights The Land Pavilion in EPCOT. That's always been one of my all-time favorite Pavilions, even after they ruined Soarin' (IMO.) Want one of your own? Well CLICK HERE!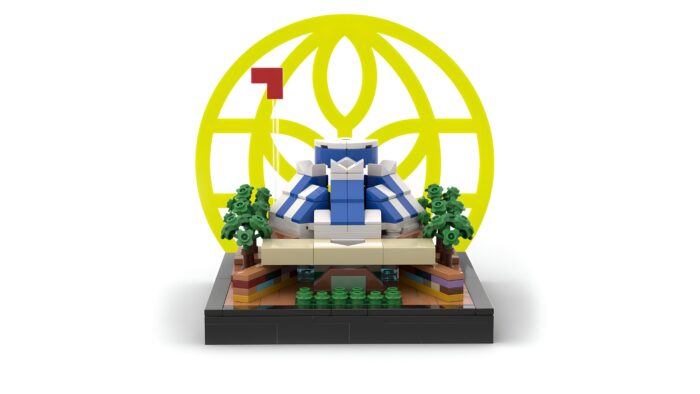 *Caveat Emptor
Most reading this know about Mel's Drive-In, a popular quick service restaurant in Universal Studios Florida. It's themed to an old-timey diner, straight out of American Graffiti.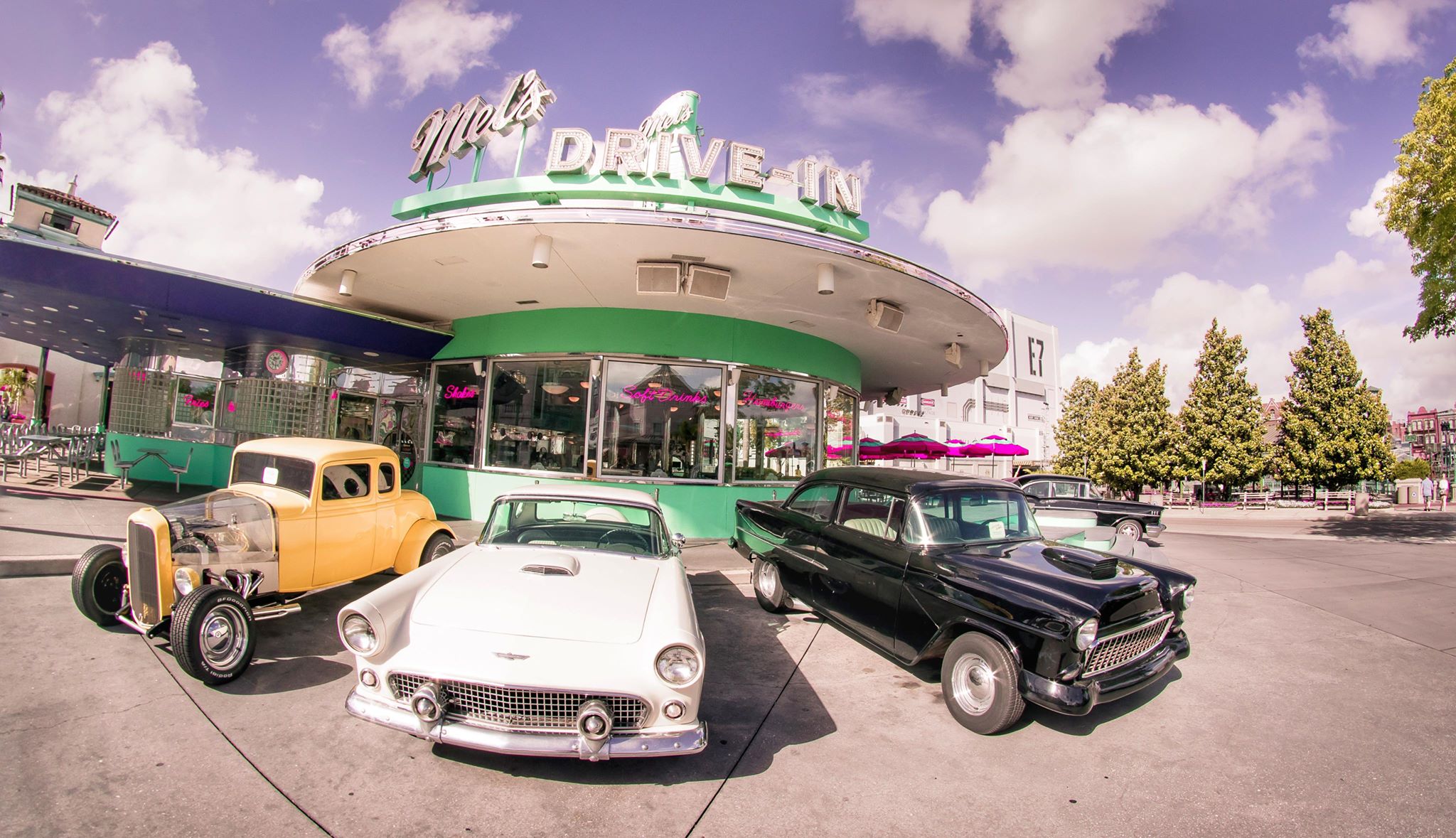 However, during Halloween Horror Nights, Universal adjusts the lighting package to the restaurant so that it reads MEL'S DIE-IN. It's a cute effect that people look forward to every year.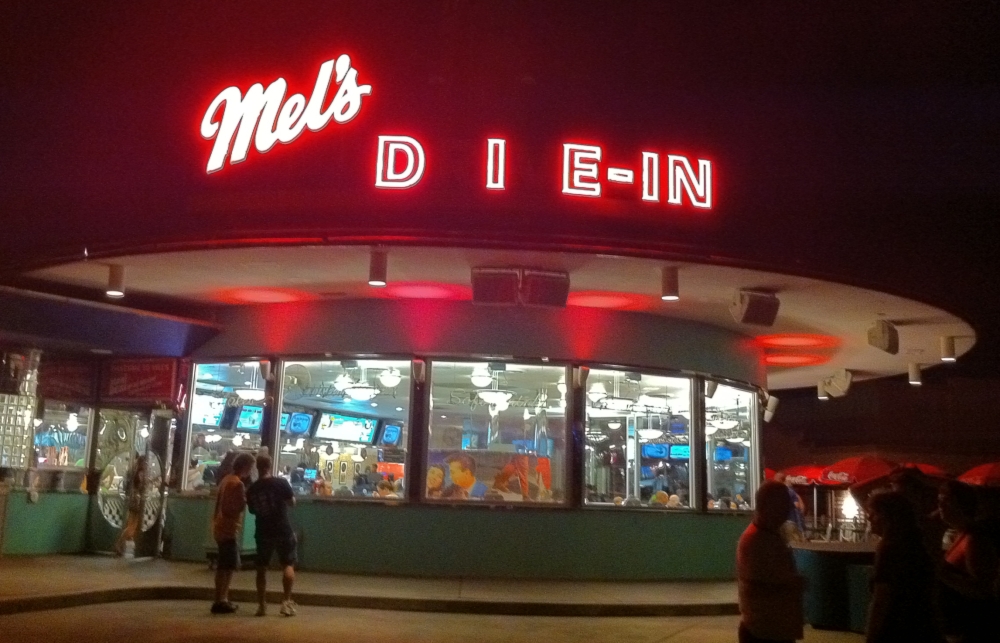 So imagine what it is like to create a MEL'S DIE-IN pin and the customer and the customer just misses the point completely…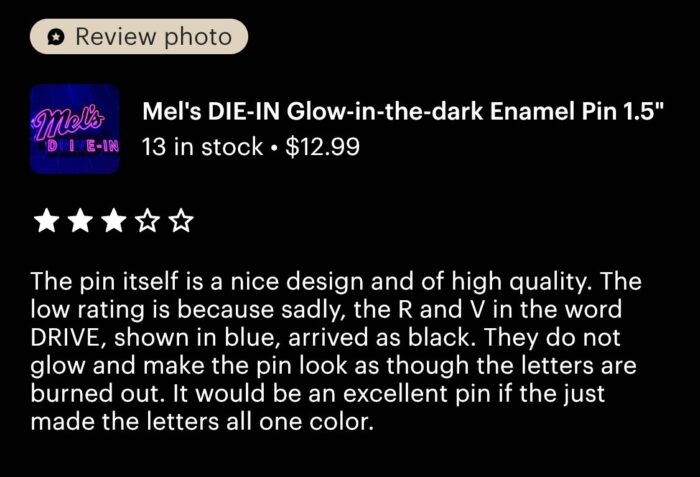 *Preview of the Outlets…
Let's take a look at some of the bonkers merchandise that appeared this month, starting off with this shirt seen in Disneyland Paris.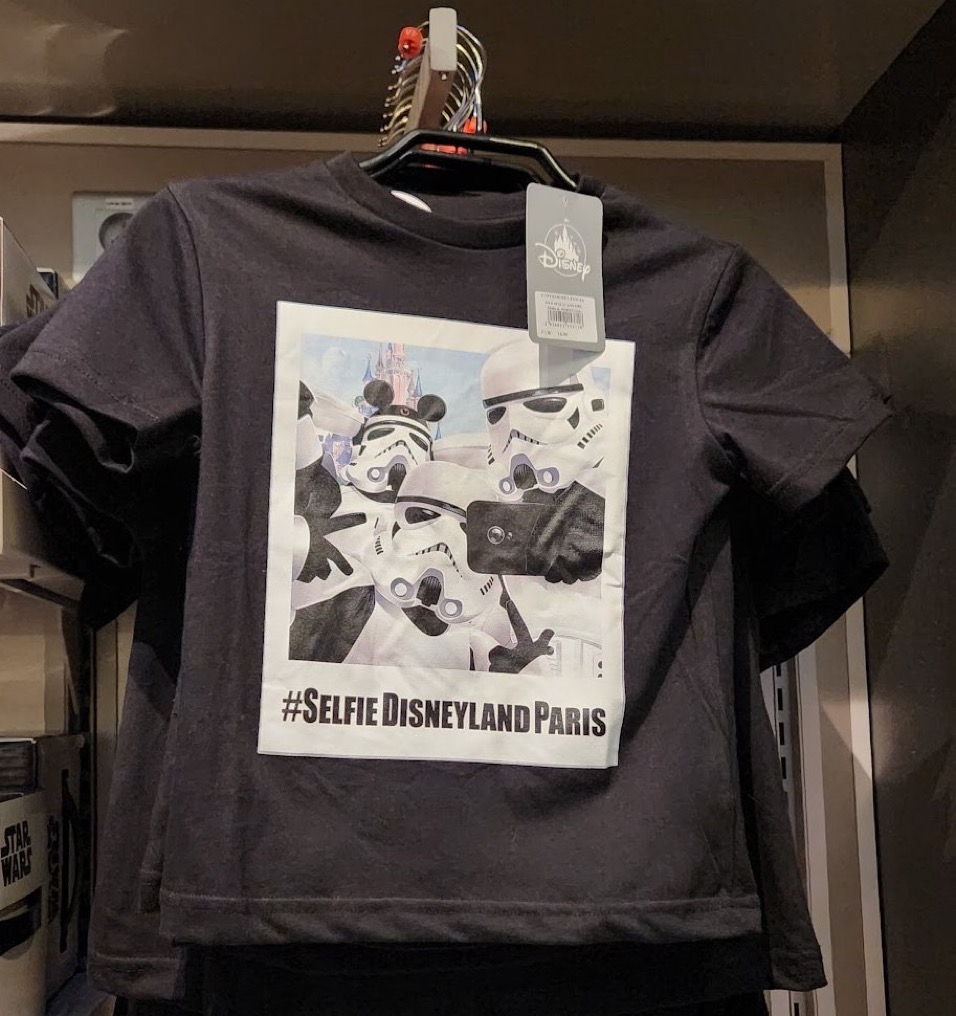 Why would anyone, including Star Wars superfan Guy Selga, purchase this Star Wars shirt below? When they were pitching this shirt in a meeting, what was that like? "No, most shirts only have one logo on the shirt pocket. We're going to have three logos. Each one of them will be the same and we'll include a trademark identifier as well. The people will eat this up!"
I feel like this shirt below is deliberately confusing, and I don't understand why…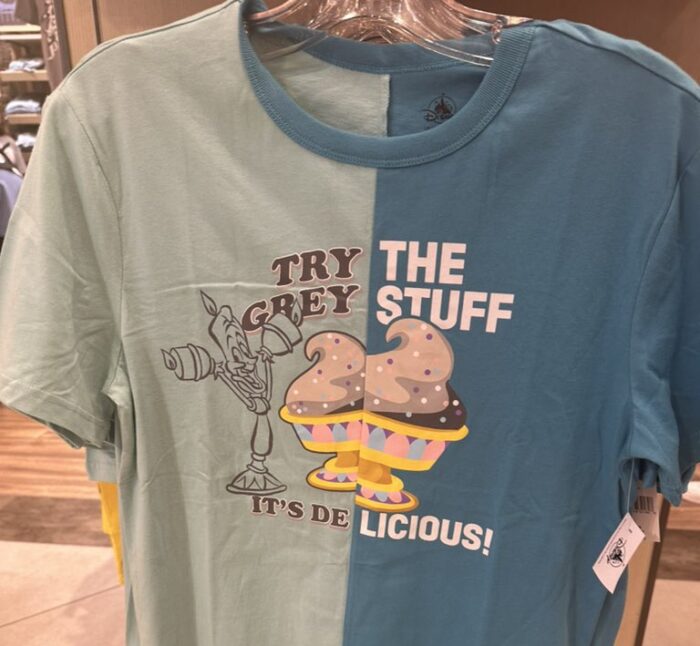 Meanwhile at Universal, Captain Cruiseline Scott Sanders reminded us of a valuable lesson…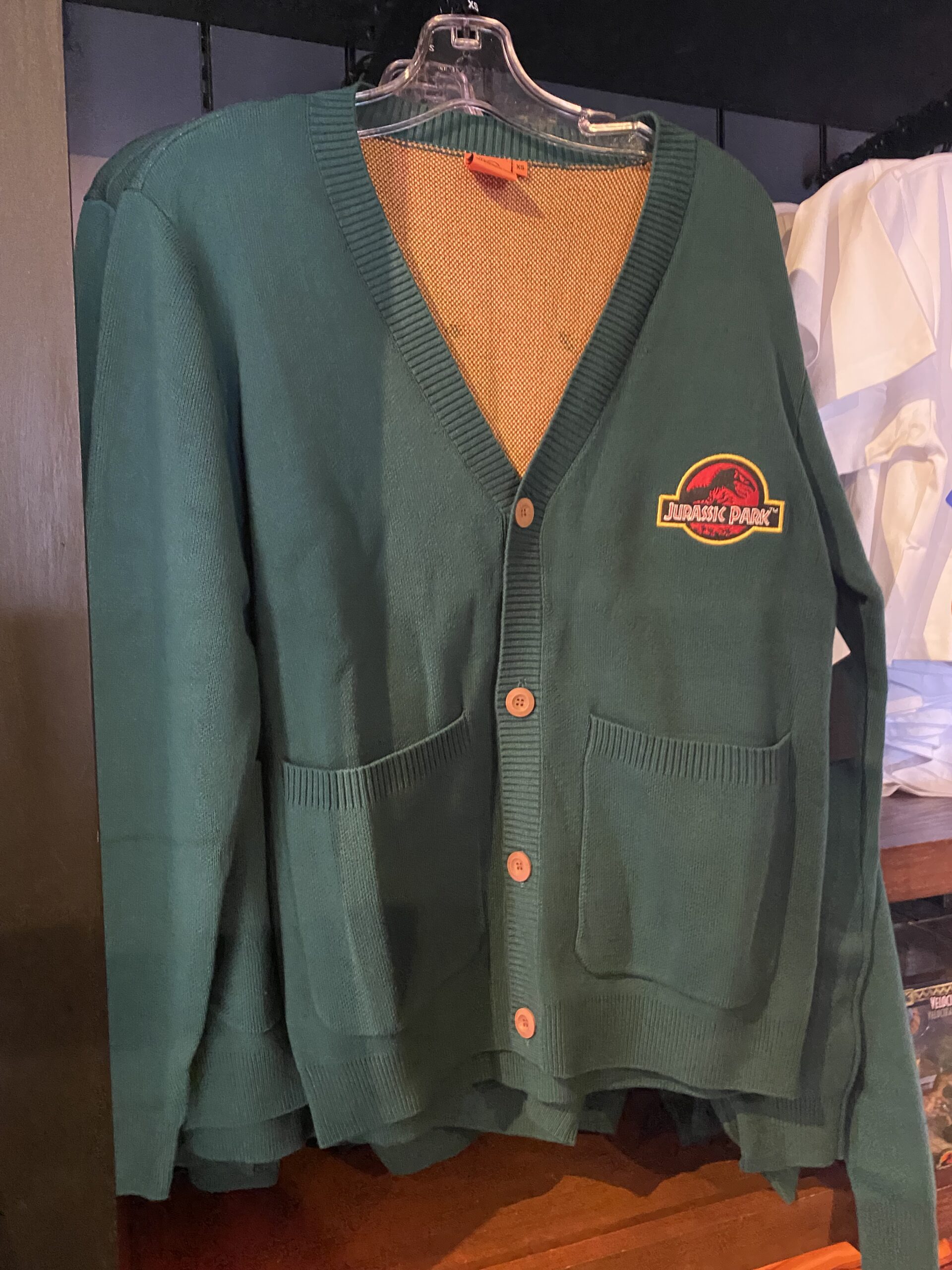 No matter how good a piece of clothing looks from the front (and this Jurassic park sweater looks GREAT)…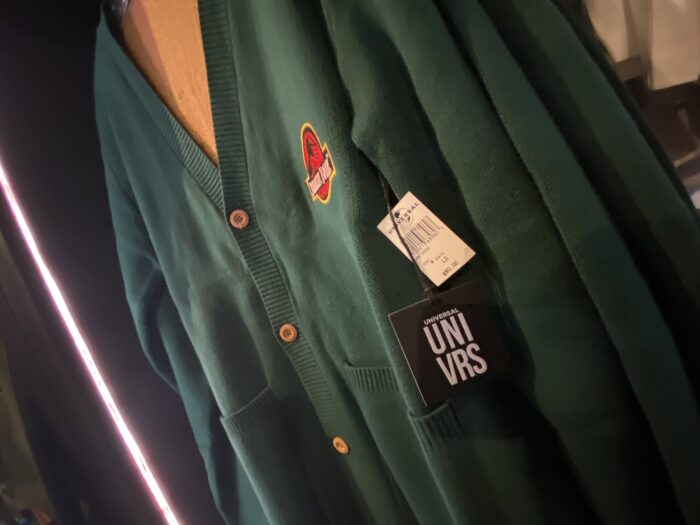 …ALWAYS MAKE SURE TO SEE THE BACK BEFORE PURCHASING.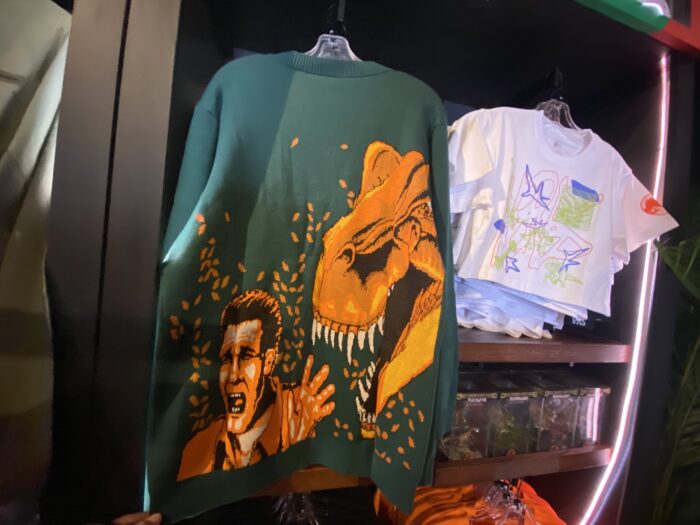 Finally, let's check out this non-sensical hat found by DisTwitter member Henry Taylor.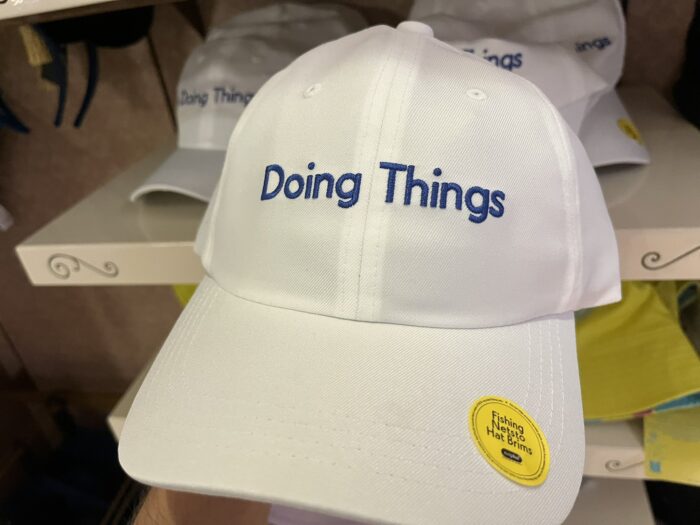 The back of the hat features Goofy, a Disney logo, and the phrase "outdoor voices." I guess I'm missing what all of this is referring to, but what sticks out to me most of all is the fact that there is a security gimmick attached to this hat to prevent theft.
WHAT?!!!!!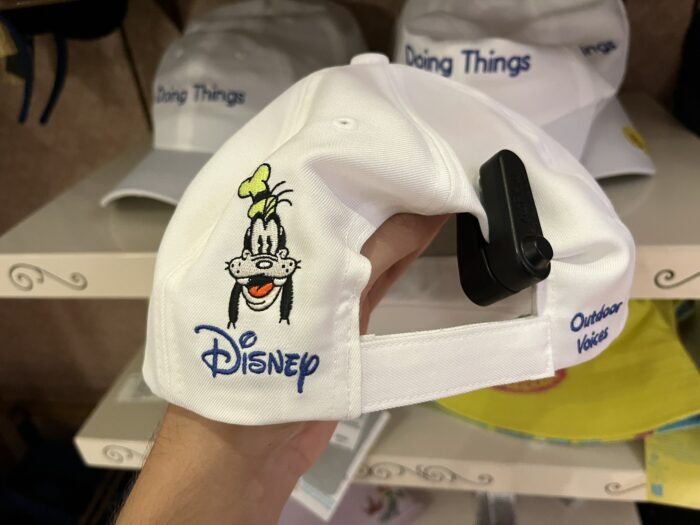 Last month's Theme Park Enjoyment Index: 57
This month's net change: –
Current enjoyment level: 57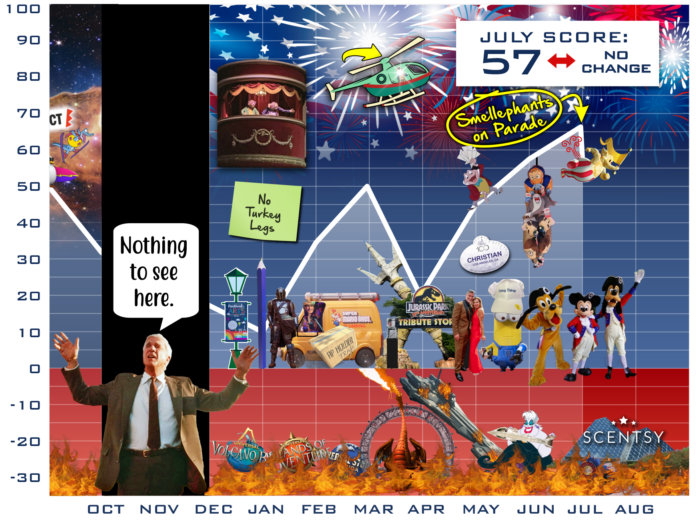 Writer Derek Burgan, when not cleaning Len Testa's pool, can be found reading comic books, watching professional wrestling, organizing his various Tsum Tsums in alphabetical order, and taking his dog Bacini to Universal and Disney.. He will not, we repeat not, be found at a Disney Outlet Store. An official DisTwitter Influencer, you can interact with him @derekburgan
Digital Artist Scott Walker hails from Scotland and is the fifth most famous person from this country following Alexander Graham Bell, Ewan McGregor, Gerard Butler, and Groundskeeper Willie.