Theme Park Enjoyment Index for JUNE 2023 (Jurassic Park turns 30, Cosmic Rewind Escape, Disney+ Edits Movies and more!)
The Theme Park Enjoyment Index (TPEI) is a monthly look at the events that have made an impact, both positive and negative, in this wild world of theme parks we all love so much. Each TPEI comes out on the last Saturday every month, and we assign each piece of news a positive or negative number, tally it all up at the end and chart it. The range goes from 0-100 with 0 being Fast & Furious – Supercharged while a perfect score of 100 would be Star Wars: Rise of the Resistance.
Remember, all links in TPEI open up in a new browser window. So feel free to check stuff out, we'll be here when you get back!
*Disney+ Edits Classic Film
The world transitioning to streaming is going to be a bumpy one for us consumers. Let me tell you a quick story. Last week I was on my Peacock streaming service and clicked on the "My Stuff" tab. This is where Peacock subscribers essentially can mark their favorite shows/movies to make them easier to find. Here is where I put TV shows I like to go back to (including Poker Face, Little House on the Prairie, On Patrol Live, and Columbo) along with reminders of movies I want to watch. I'm on the My Stuff page pretty much every day, so I knew right away last week something was missing, but it took me a while to figure out what. Eventually I realized that Fast 9 had been taken off the platform (I had planned to re-watch Fast 9 before going to the theaters to see Fast X.) The movie, which I did want to watch, was just gone. That's one reason why I personally love physical media. My DVDs, my comic books, and my regular books aren't going anywhere and I can go back to them whenever I want.
Another pitfall of streaming is that media which you like can be changed at any time, such as what happened this month when Disney (allegedly) got its hand caught in the cookie jar making a change to the classic film The French Connection. This was brought to the film world's attention by a blog from Jeffrey Wells. Now, many people reading this would probably agree with the censorship. Disney (or someone) removed a small clip featuring an offensive slur. That in and of itself isn't bad…what's bad is they didn't tell anyone. This isn't Cinderella III: A Twist In Time or another live action remake of a cartoon, this was the multiple Academy Award winning The French Connection.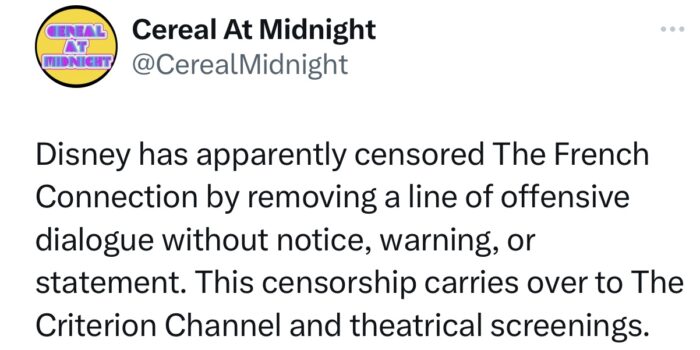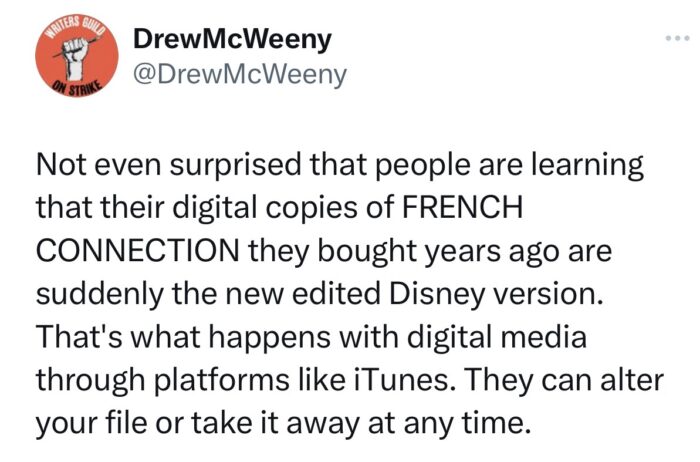 Here at TPEI we thought Disney+ may take the next step…not just removing offensive content, but *adding in* synergy content…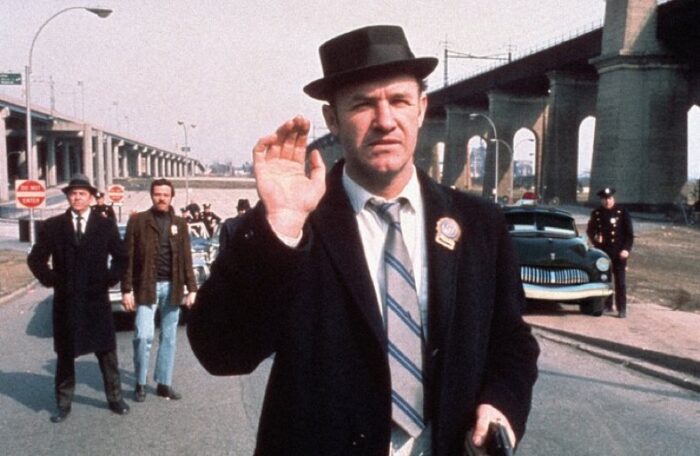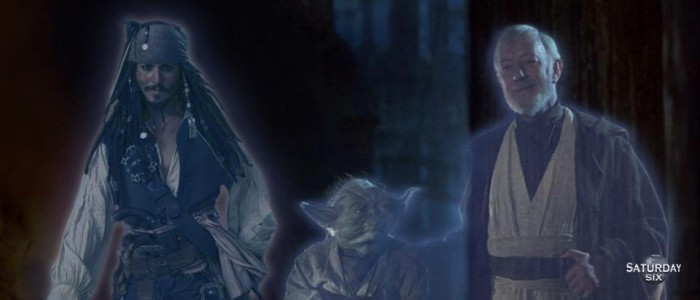 TPEI Score: – 4 This is exactly why I refuse to buy digital comic books and am still buying DVDs (much to the chagrin of my significant other.) Between companies like Disney (allegedly) making changes without notice, streaming companies pulling movies/tv shows, and states like Florida looking to ban books, people are going to have to rip my favorite pieces of physical media out of my cold dead hands.
*Marvel uses Artificial Intelligence (AI) for Secret Invasion opening credits
Unfortunately we're not done with Disney+ news, as this past week we had the long awaited debut of the Marvel Secret Invasion show. The basis of the show is alien shape-shifting Skrulls trying to start trouble on Earth and it is up to Nick Fury to stop them. I've only seen the first episode, and my interest is definitely piqued. That said, I was really excited by the first episodes of Moon Knight and Ms. Marvel and when both those shows were over my review would have "what was the point of this?!" Gonna take a wait and see approach on Secret Invasion and hope it goes the way of the Marvel shows I really enjoyed such as WandaVision, Loki, and Hawkeye.
However, the bigger news of the week relating to Secret Invasion had to do with its opening credits, when the art world discovered Marvel used AI to create the graphics rather than paying human artists. Marvel's defense is that using AI ties into the thematic elements of the show, that it blends what is real with what isn't, like Skrulls themselves. I'm leaning towards the side of calling "B.S." on that one, and using AI is a slap in the face to the artists who have not just helped shape the Marvel Cinematic Universe over the years, but the pencil-and-ink artists who were the foundation of all these stories with Marvel Comics incredible history of characters and storylines.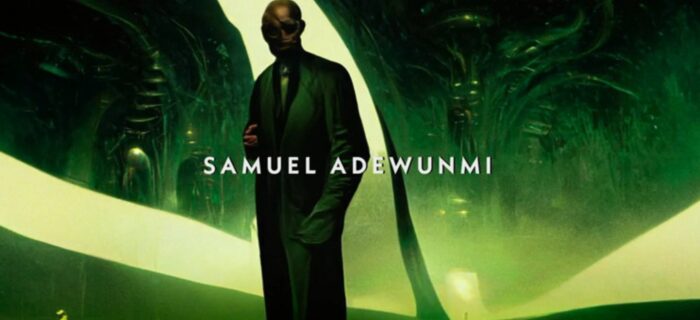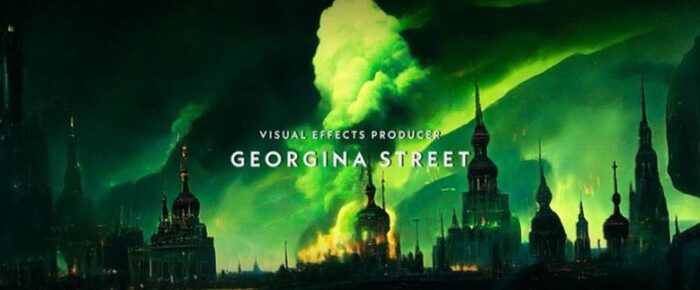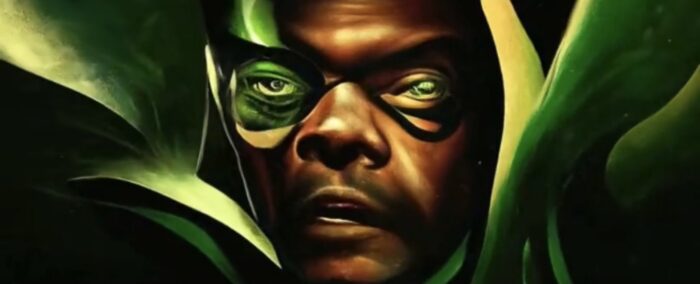 TPEI Score: – 2 There is a segment of the tech bro community (who previously were trying to hype us all on crypto and NFTs) who have pivoted to the world of AI seeing the opportunity to make money there. These clowns seem to think that AI will overtake humans when it comes to writing and producing content, such as the opening graphics for Secret Invasion, and no one will be able to tell the difference. However, it seems everyone who has actually used AI to do any work that isn't something banal, it backfires spectacularly. AI doesn't "think," it just takes what it has seen and recreates a new version of it. The human mind, and all its genius – and flaws – can't be matched by a computer. A computer can have a history of all the jokes ever told in the world, but it doesn't know how to make you laugh like a comedian does. A computer will never know timing, will never know empathy or compassion and will never be able to "read the room." To paraphrase Jurassic Park, AI just took what others had done and took the next step. It didn't have to learn the knowledge, and for that reason it doesn't understand it. And never will.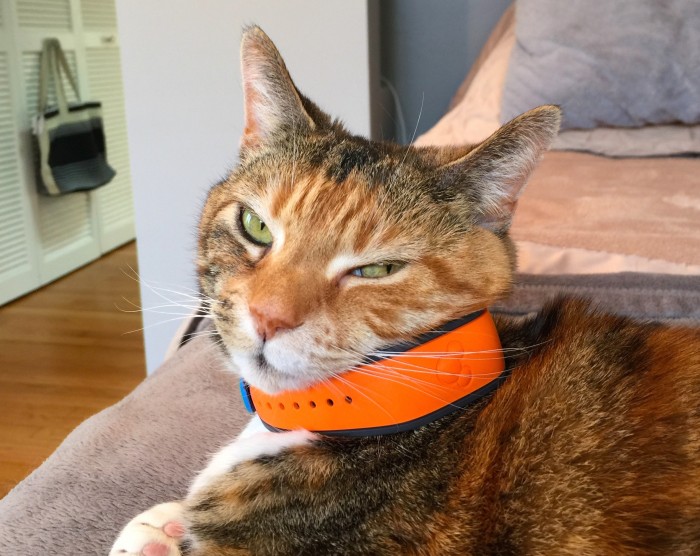 *Oh FFS, Universal STILL Trying to Make NFTs Happen
You may remember last year when we covered Universal Orlando using NFTs as part of Halloween Horror Nights 30. If not, maybe you should take a second and re-read the 2022 Theme Park Turkeys of the Year where we discuss both Disney and Universal elevating scam artists.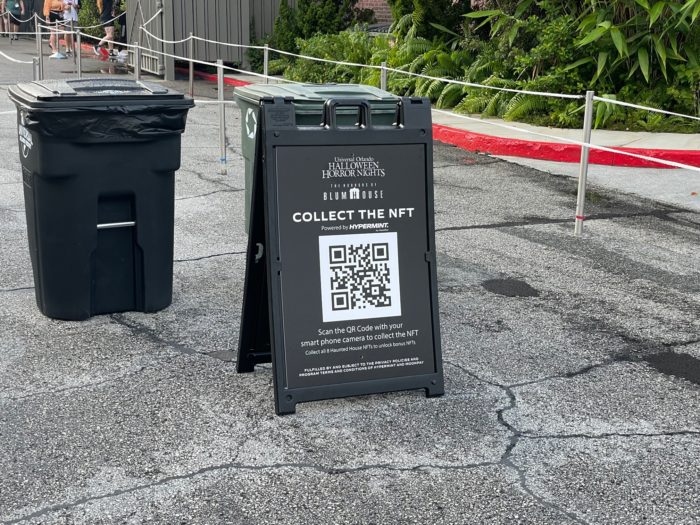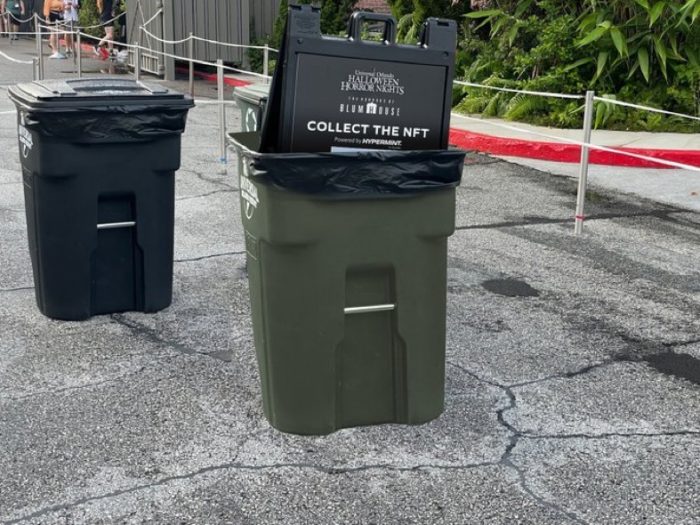 Imagine my surprise when earlier this month Universal erected a display in CityWalk with barricades that read Salute to Summer. This was some sort of co-sponsorship with NBC Universal and the US Army.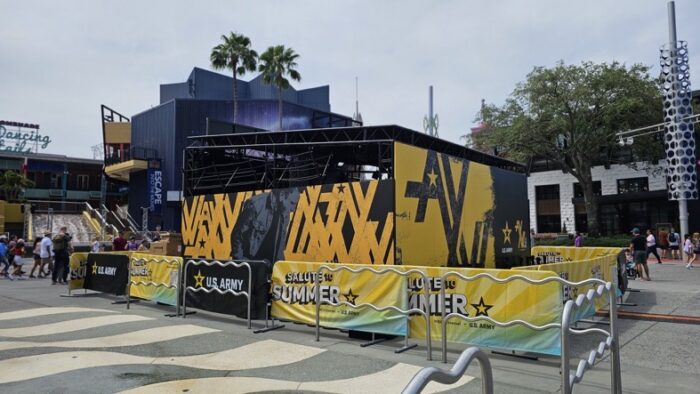 Always up for more things in CityWalk, then I notice the QR code for the Salute to Summer NFT.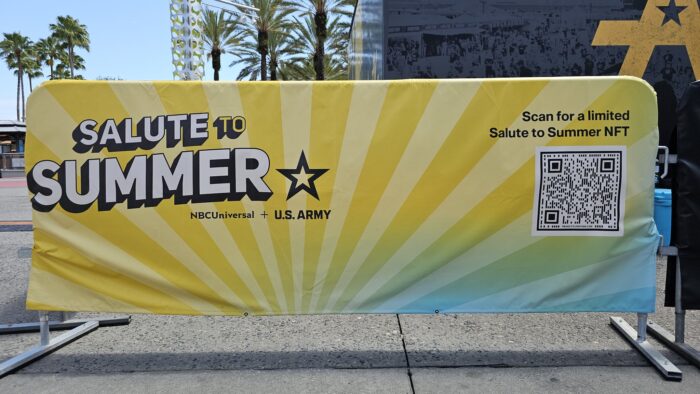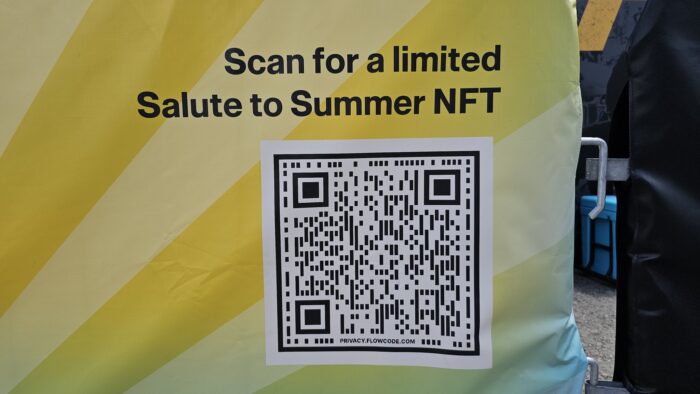 The QR code leads to a link giving the user 3 free months of Peacock.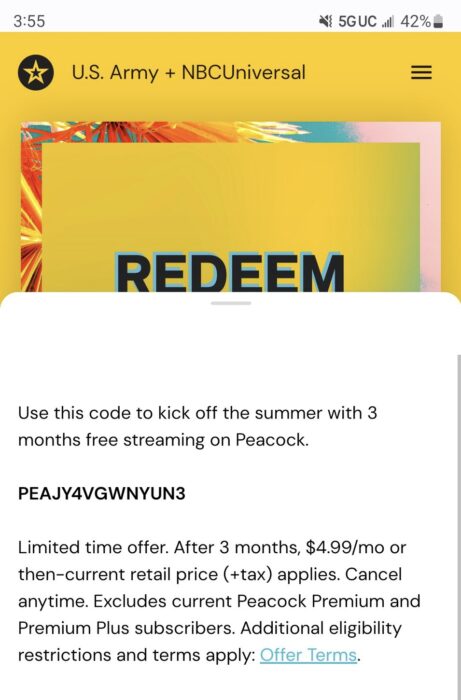 TPEI Score:  – 2 Longtime readers of the SATURDAY SIX know how much I love using movie references, and Universal using NFTs reminds me of the ending of one of my personal favorite films, A Few Good Men. To summarize the ending of that film: two marines who were put on trial for murder get acquitted for the crime, but they are still dishonorably discharged for conduct unbecoming a marine. One of the two marines was upset with that ruling because they were acquitted of any actual crime, saying "I don't understand… We did nothing wrong!" The other marine corrected him, "Yeah we did. We were supposed to fight for people who couldn't fight for themselves." THAT is how I feel about Universal using NFTs. Everything they are doing I am pretty confident is 100% on the up-and-up and being done as a bonus for guests. Heck, I myself subscribe to Peacock and it is probably the streaming channel I find myself going to the most for content. However, the NFT world itself is one overflowing with bad actors, nefarious characters, and thieves that are salivating at the opportunity to prey on unsuspecting people entering their environment. Universal is opening the door to that world to a fanbase who trust them, and that trust should be protected at all costs. Universal (and Disney) should not be anywhere near NFTs, crypto, multi-level marketing, or any other industry which is built on the backs of taking advantage of people.
*Wait…MORE @bioreconstruct?!!!
You may be asking yourself, "Self, didn't I just see a whole article with @bioreconstruct photos just last week?!" Yes, you would be correct, and you can read our latest Flights with @bioreconstruct article by CLICKING HERE. Here's the thing though, like a Terminator, Bio doesn't stop…ever. In fact, if you read last week's article when it was originally posted in the morning, a whole bunch of photos were added to it over the course of the weekend.
Not to mention the fact there were a whole bunch of other photos Bio took this month which didn't fit into the sections we put a spotlight on in the article, such as this incredible above-the-clouds photo of Disney's Coronado Springs Resort!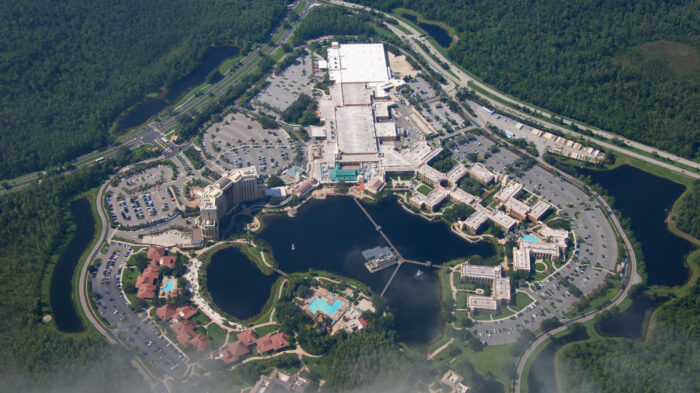 How fantastic is this aerial of Animal Kingdom Lodge and Kidani Village?!!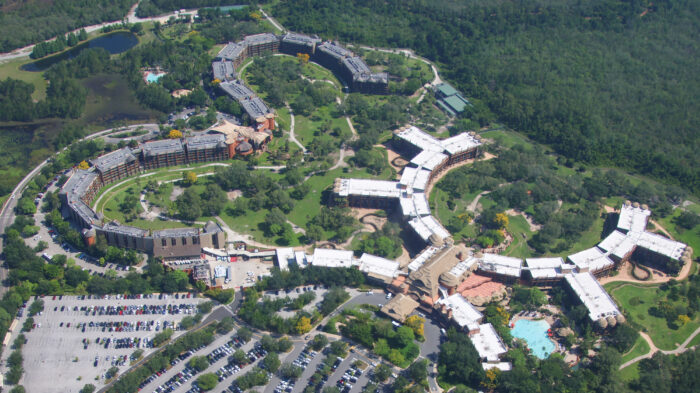 Another "wow!" shot featuring Animal Kingdom Lodge and exactly where it sits near Animal Kingdom. How many of us who love AKL have been begging Disney for some sort of walkway or something…anything between AKL and Animal Kingdom. This picture shows the answer isn't as easy as many of us wish it was and why we'll be stuck with those interminable bus waits for the foreseeable future.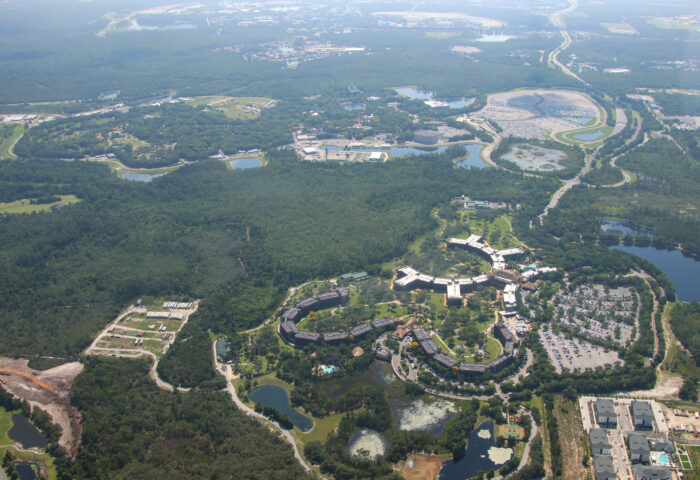 Here's a different angle of the photo above, this time with Animal Kingdom in the foreground and Animal Kingdom Lodge at the top right.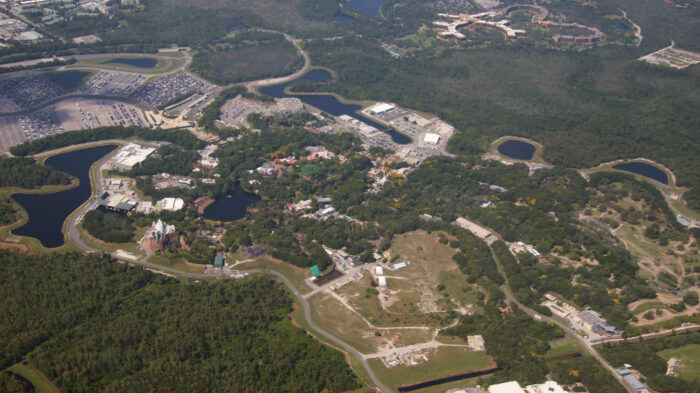 Staying at Animal Kingdom, let's get some unique views of fan favorite attractions, starting with Expedition Everest…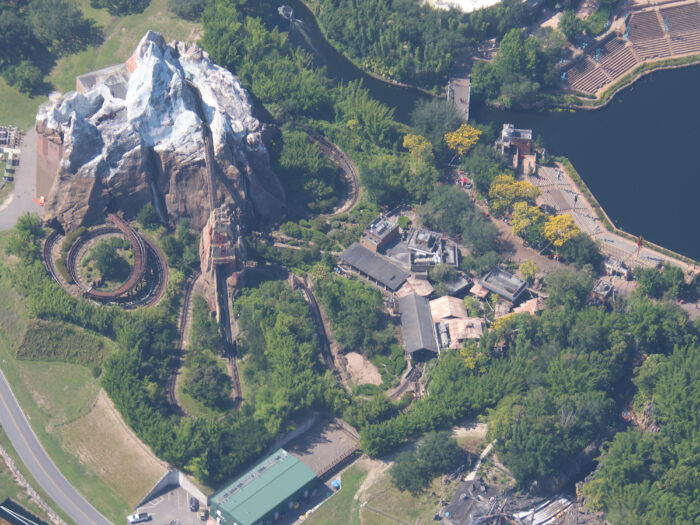 …and Pandora: The World of Avatar (which, if you haven't seen it yet, be sure to check out my DEFINITIVE GUIDE to the land.)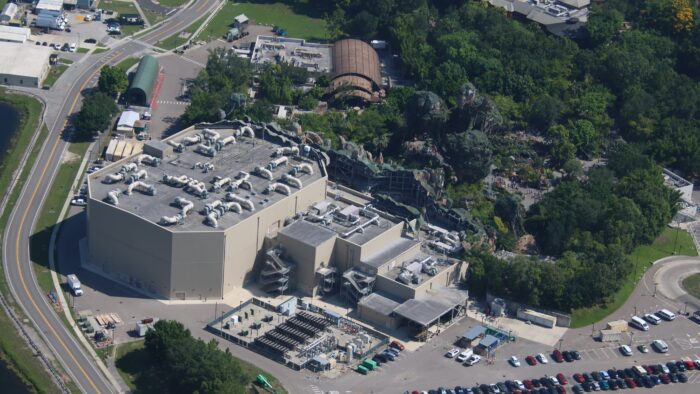 Let's head on over to check out some amazing aerials of DHS, including this look at Toy Story Land. Had a tweet this past month which directly referenced the original Toy Story Land concept art which included all the things that were cut, and boy did that bring out the weirdos. Listen, I understand liking theme park companies as much as the next person, but knighting up over budget cuts is some next level version of fandom I have a hard time wrapping my head around.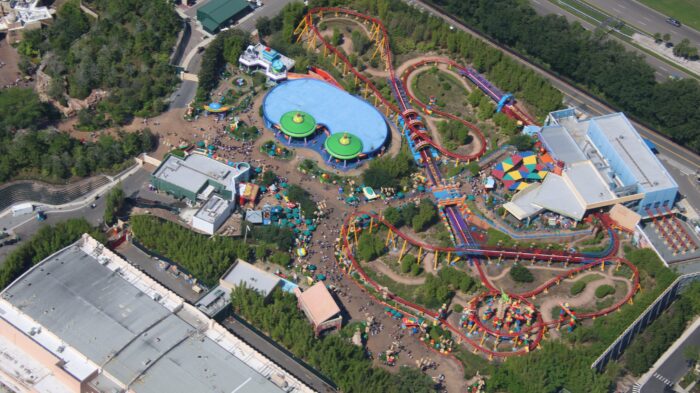 Directly next to Toy Story Land is Star Wars: Galaxy's Edge.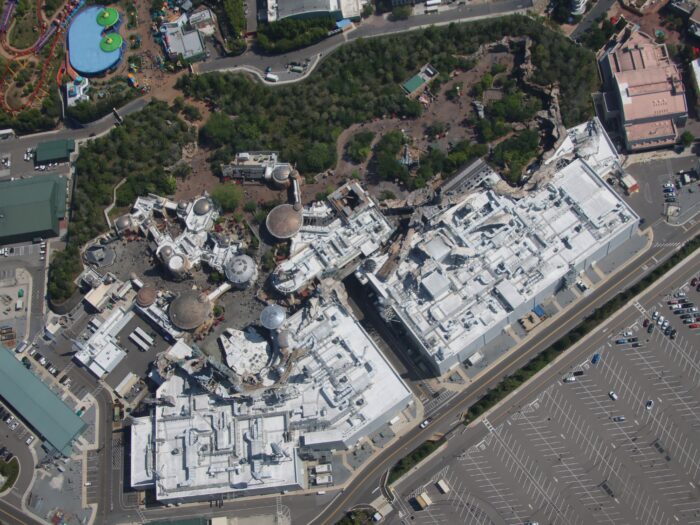 A look at Disney's gorgeous Typhoon Lagoon water park. People often ask what's the difference between a water park and water theme park, which is what Universal's Volcano Bay is billed as. That one's easy. A water theme park doesn't need to shut down 3-6 months every year for "seasonal maintenance."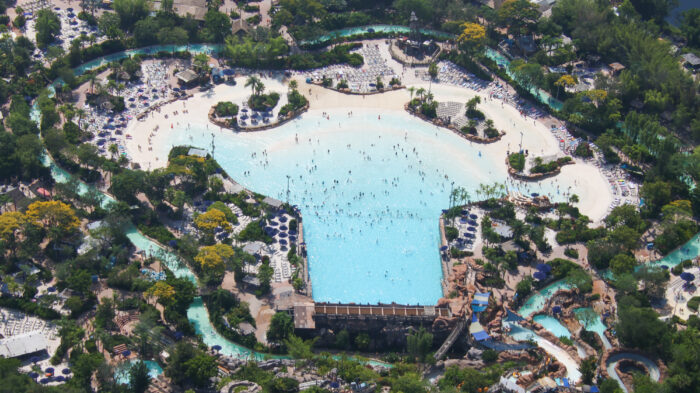 Here's a neat one. In last weekend's Flights with Bio we had several NEVER HAVE I EVER shots, and these were photos of areas I've never seen in my decade of working on the SATURDAY SIX. One of those was the Shades of Green Resort at WDW for active and retired members of the military. Well here's another new one for me, the Legion of Doom headquarters for the Central Florida Tourism Oversight District. This was the REDACTED group formerly known as the Reedy Creek Improvement District until Disney went "REDACTED" and drew the ire of REDACTED.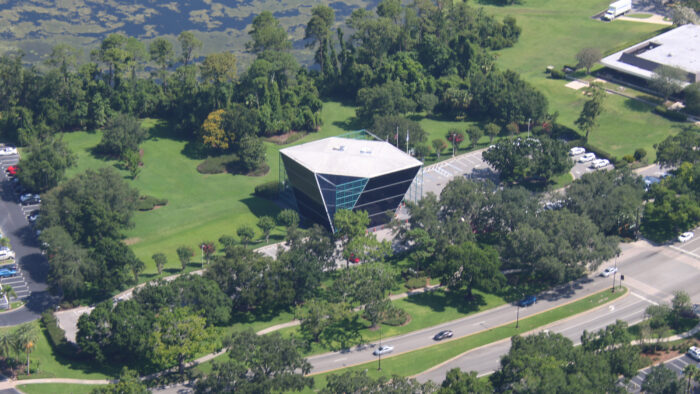 Here's an interesting one that is located much closer to Animal Kingdom area than most people would think. It's the Margaritaville Resort along with the Island H2O Water park.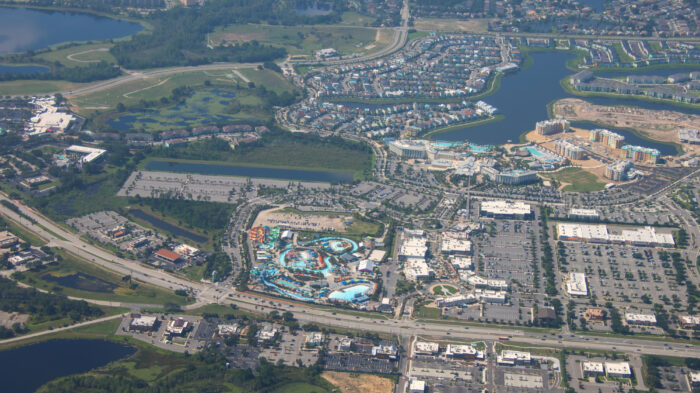 The Island H2O Water Park is in a heated battle with the giant Ferris Wheel on I-Drive to see who can rebrand themselves the most amount of times within one decade. Right now they are both winning.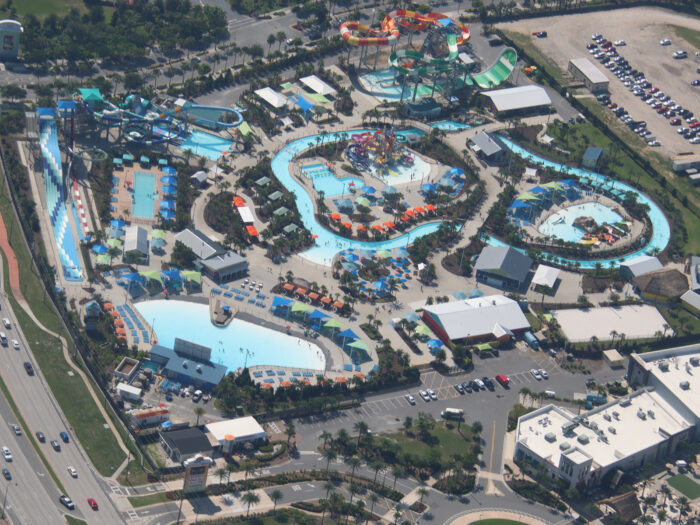 Let's head across town and check out what's going on at the Universal Orlando Resort, including this straight up E-Ticket shot of the Universal Globe outside USF.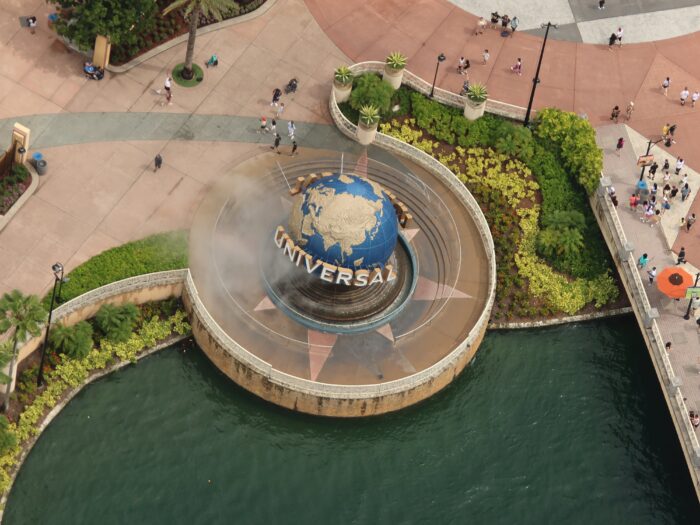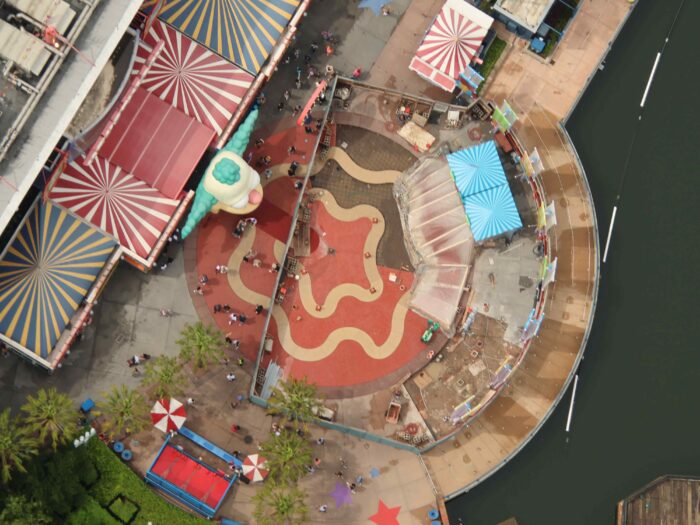 I sometimes think Bio only keeps taking these breathtaking shots of Hollywood Rip Ride Rockit for me, so I can add them into my THEME PARK HILLS TO DIE ON article defending this coaster.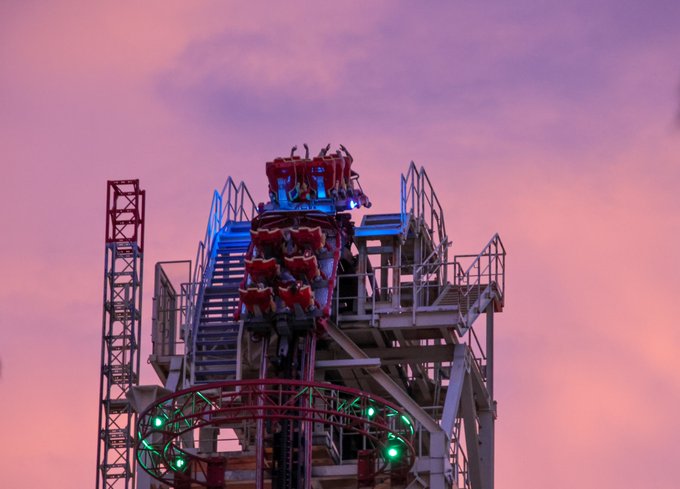 Let's see the VelociCoaster get a photo this good with the windows of the Jurassic Park Discovery Center. Can't be done. Point: HOLLYWOOD RIP RIDE ROCKIT.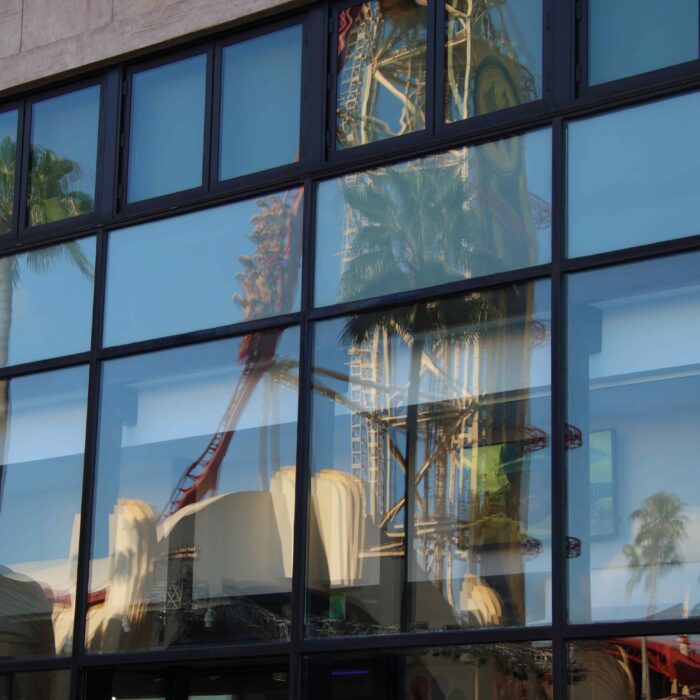 Okay, now we're at the section of the article where I'm going to explain my Conspiracy Theory that both Universal Orlando and @bioreconstruct are working together to drive me insane. So I'm working on this article, showing people the various construction updates as seen by Bio in the park, including the installation of all the logos to venues in the upcoming Minion Land.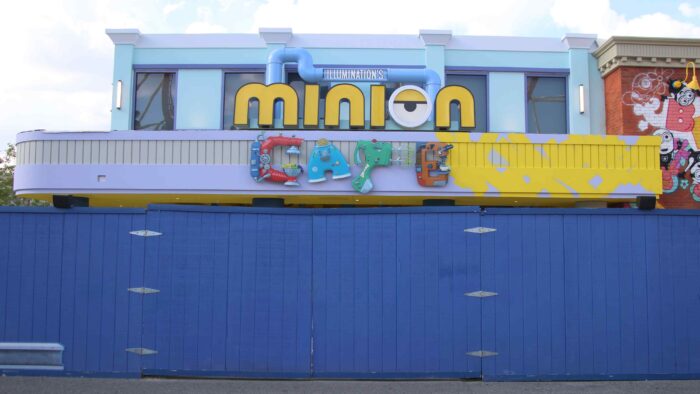 Look at the details in the Minion Cafe sign. Just INCREDIBLE!!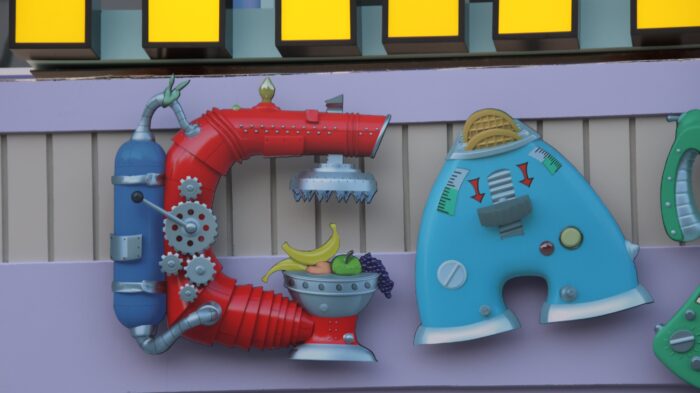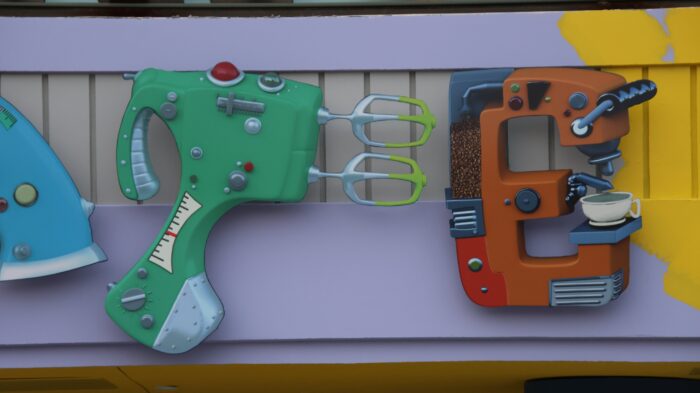 This Freeze Pops signage is also off the charts. LOVE IT.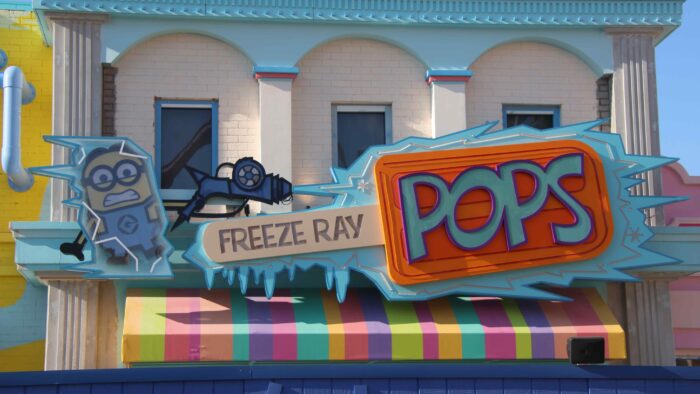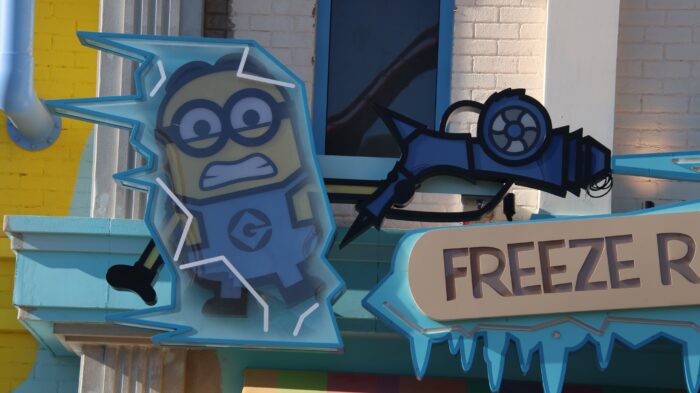 Bio has been keeping track of all the incremental changes to this graffiti mural in Minion Land. Here's the outline of the mural in late May.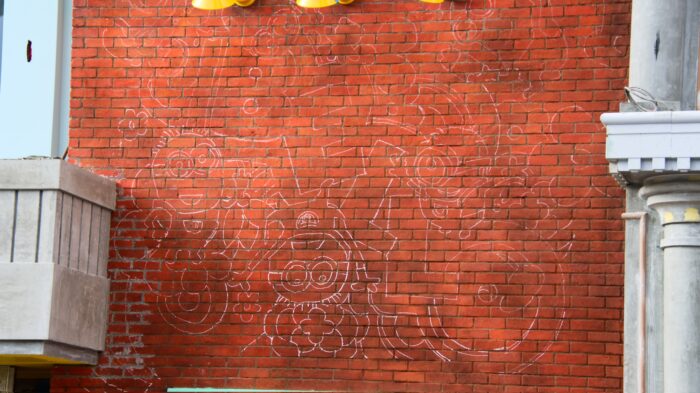 Here we are in mid-June. Not pictured here are the other photos taken every single day showing the changes to this one mural.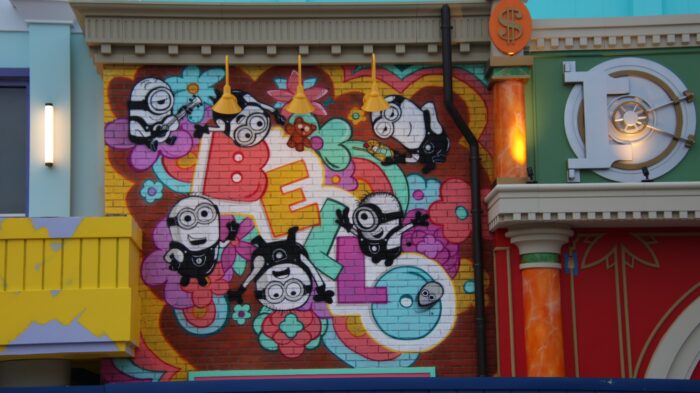 Bio got a great shot of the various lighting elements in the area.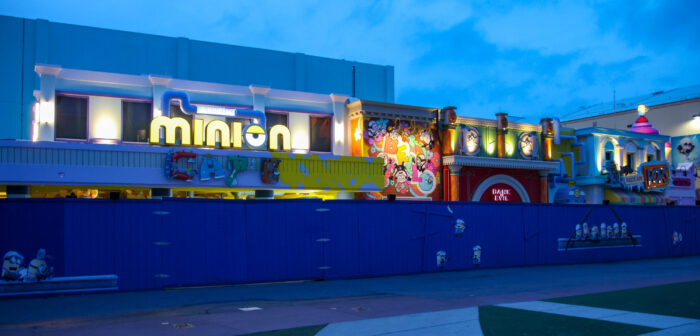 And that was going to be it. Minion Land was going to open in "Summer 2023." Well, I'm used to the Disney timeline where something like "Summer" means "3 days before Summer ends and it's much closer to Fall." NAY NAY…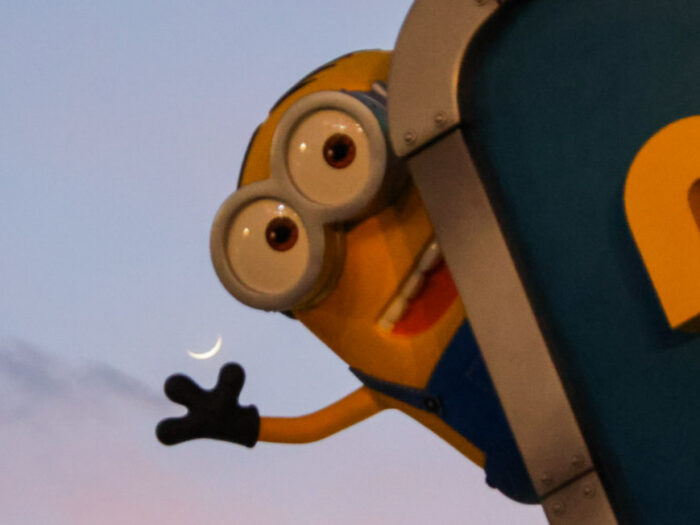 *…UNIVERSAL OPENED UP MINION LAND OUT OF NOWHERE!!
Are you kidding me?!!!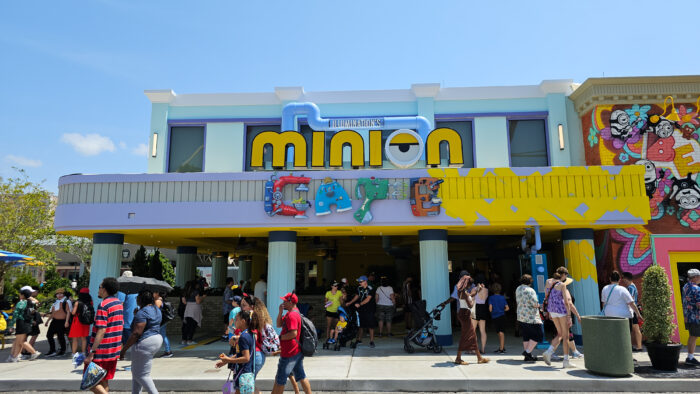 We'll be doing a full article just on Minion Cafe and it's out-of-this-world details in a future edition of the SATURDAY SIX, but we'll check out some of my favorites today, including one of the hilarious Motivational Posters.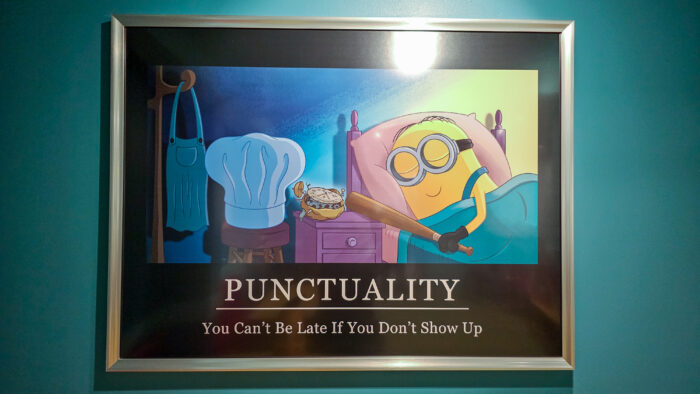 One of the rooms in the Minion Cafe is designed like a Minion break room, and in that room is a vending machine full of items. Some of the items in this vending machine are the Girl Scout-like cookies that Gru's daughters sold in the first Despicable Me movie. You used to be able to buy these boxes of cookies in USF back in the day and they tasted great.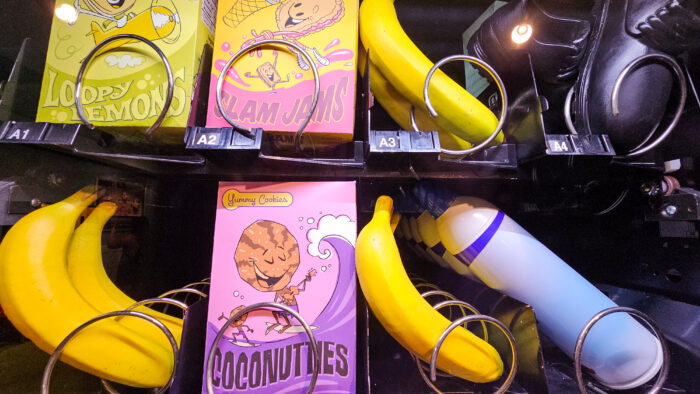 Here's a wonderful detail, in Minion Cafe you'll see this section with a Minion Chef surrounded by plates of food…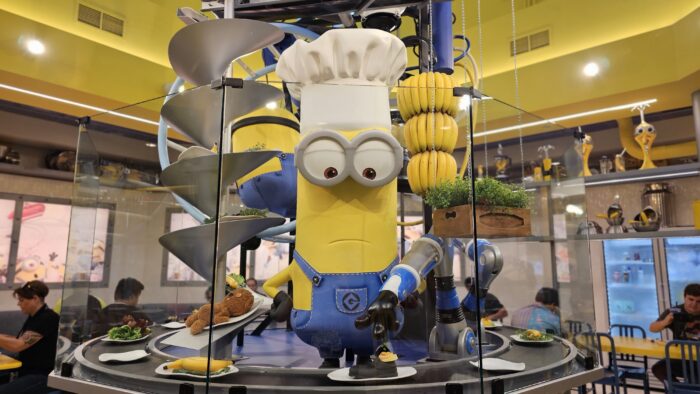 …one of the plates features pasta coming out of a shoe.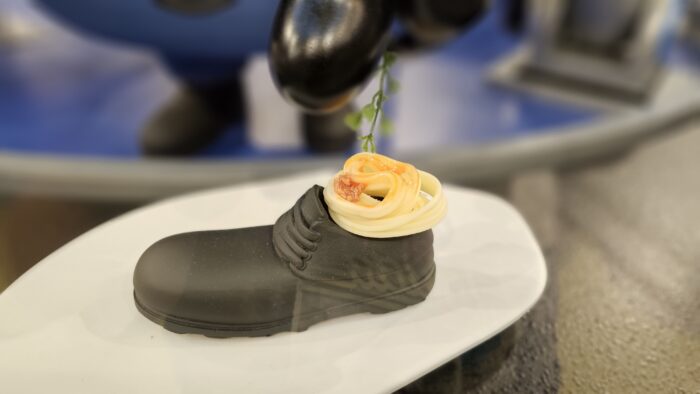 If you look up, you'll see a Minion has become stuck in one of the pipes that is part of the "cooking process."
This stuck Minion is missing a shoe, and you can see his exposed Minion foot. How great is this detail?!!!!!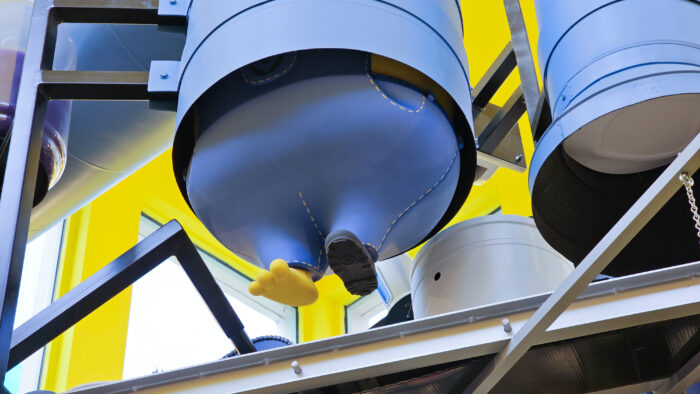 Interestingly enough, Minion Cafe is taking a whole new approach to ordering and serving food compared to the restaurant it replaced, Universal Classic Monster's Cafe. The old restaurant was a normal quick service. You go into the restaurant, order, pay, and find a place to sit with your food. Everything in Minion Cafe is Mobile Order. One thing you can do is use Mobile Order and just pick up your food at a Mobile Pickup window.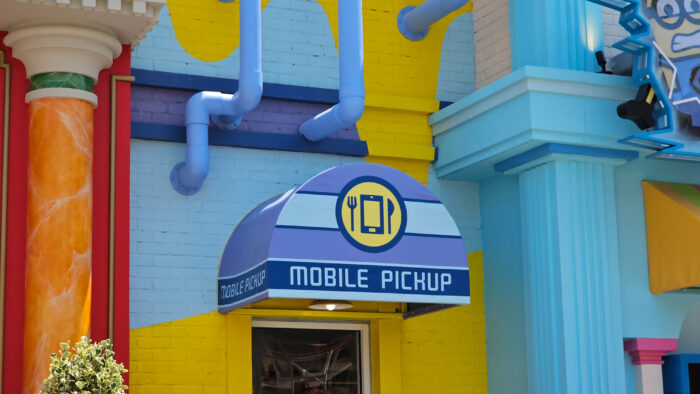 If you want to eat inside the Minion Cafe, you first find a table, and then order and pay for your food on the Universal App. The food will then be brought directly to your table. I'm hoping this experiment works out, because there is nothing more frustrating at a theme park then having a tray full of food and no tables around to sit at. This concept was tested at various restaurants during the early months of Covid (I remember getting pizza delivered to my table at Louie's) but it will be interesting to see how it plays out with much bigger crowds. Time will tell.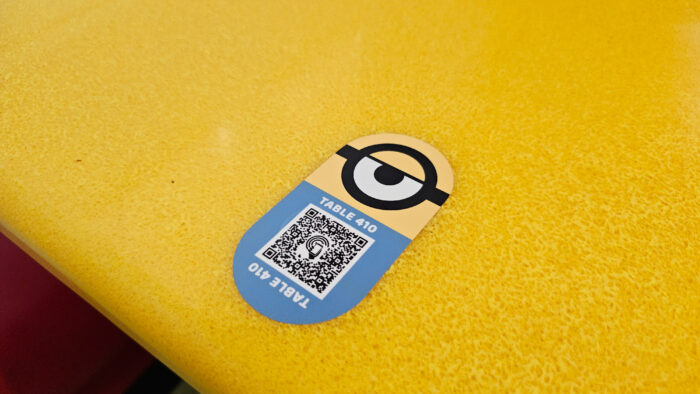 Let's check out some of the seating areas at Minion Cafe, including this incredible foosball table. Very reminiscent of a similar foosball table in CityWalk at NBC Sports Grill & Brew. Except this foosball table has Minions as the soccer players…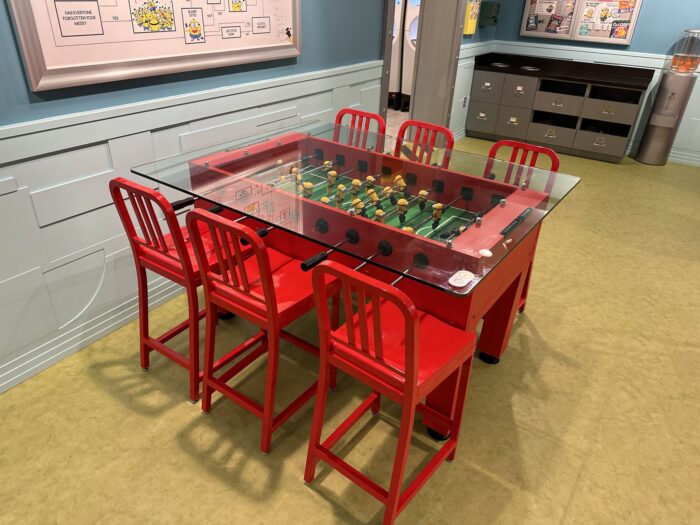 …AND GRU AS THE GOALIE!!!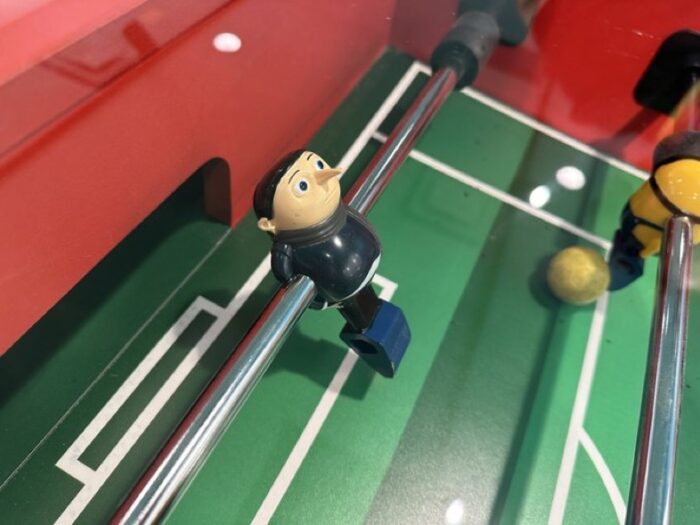 This table is located next to a themed freezer case. I think I see something stuck in the freezer…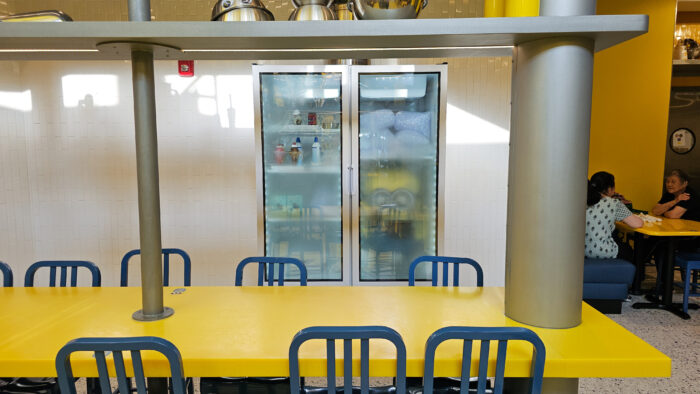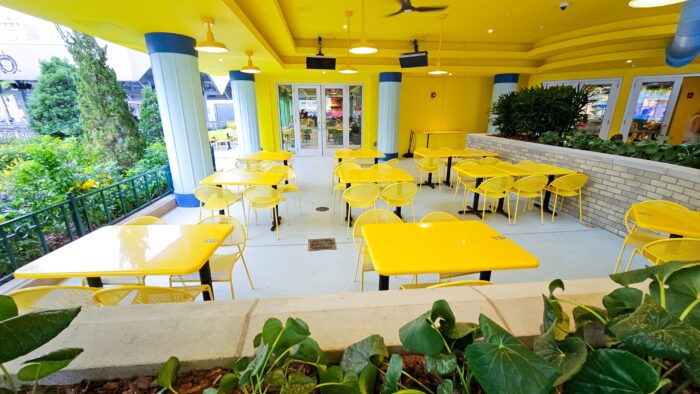 Okay, the next part is the most mind-blowing of all. Minion Cafe could have easily gotten away with just serving chicken nuggies and hotdogs. That's not where Universal went though. Like the nearby Today Show Cafe they said we're going to BRING IT.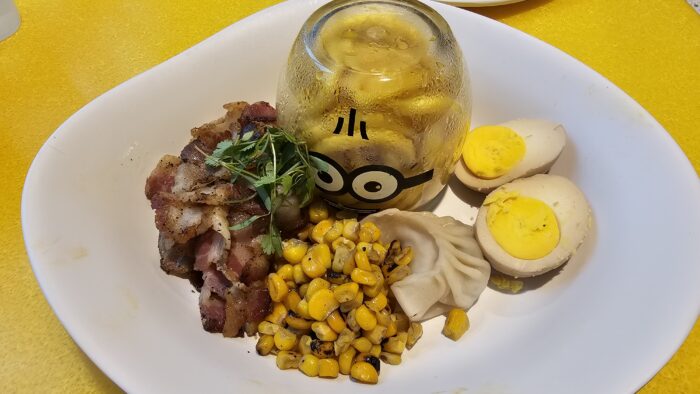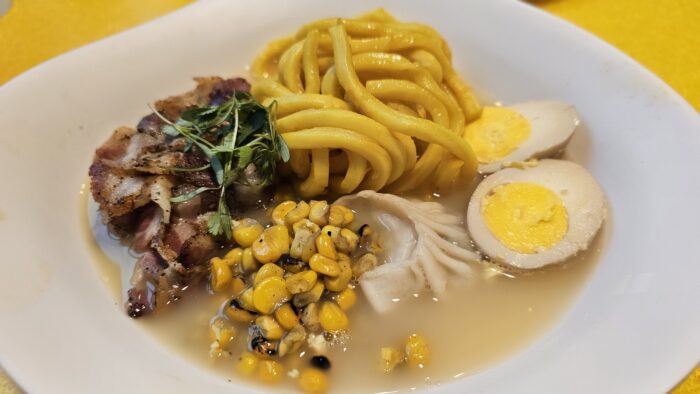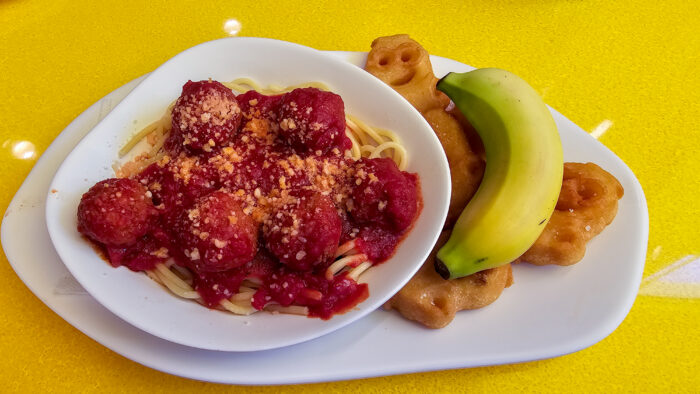 However the star of this show is going to be the Minion-themed tater tots. One of the all time greatest theme park foods ever made.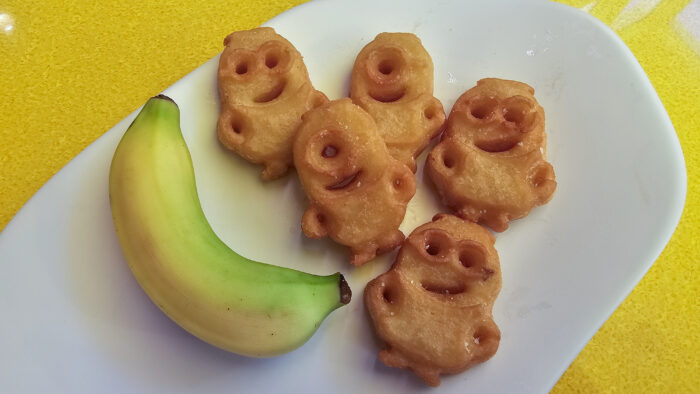 There are also desserts, such as the Minion Swiss Roll.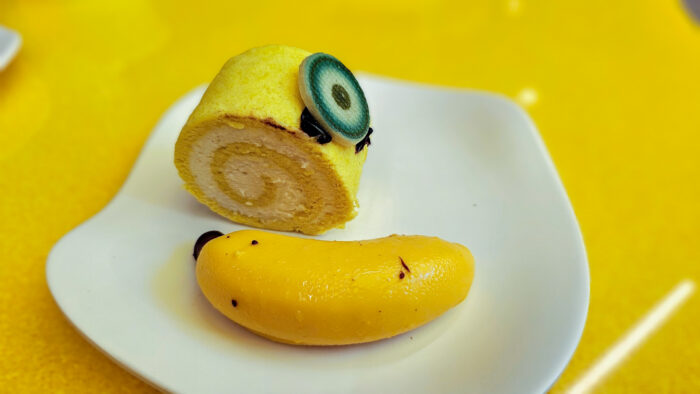 The Fluffy Unicorn Cupcake, which just might be the best cupcake Universal has ever created.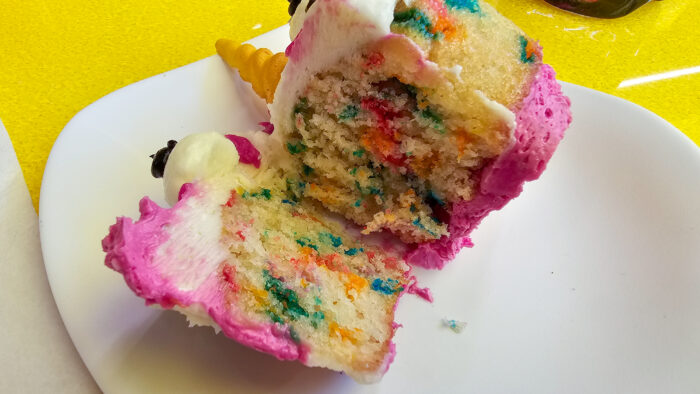 The biggest sellers in the entire land will probably end up being these drinks: the Px-41 Punch and the Minion-themed Antidote.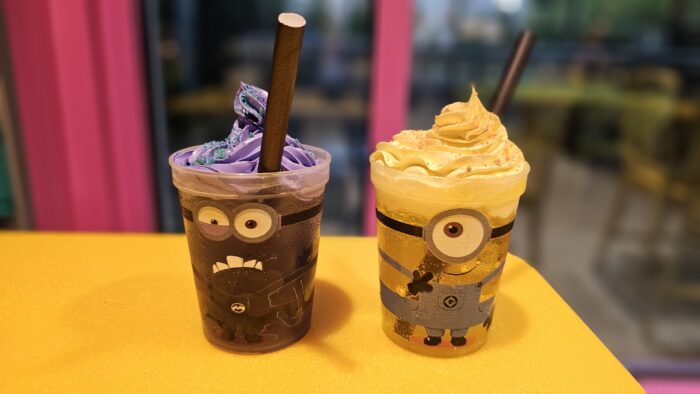 Now, after Minion Land opened, there was a mad crush for everyone to be "FIRST!!" For restaurants in the theme park universe, this means a newly created subgenre of vloggers who buy every single item on the menu for their video.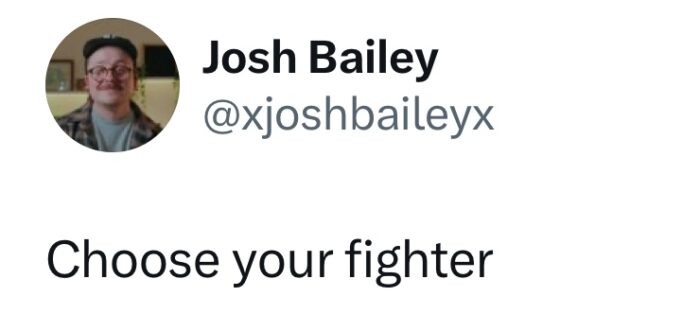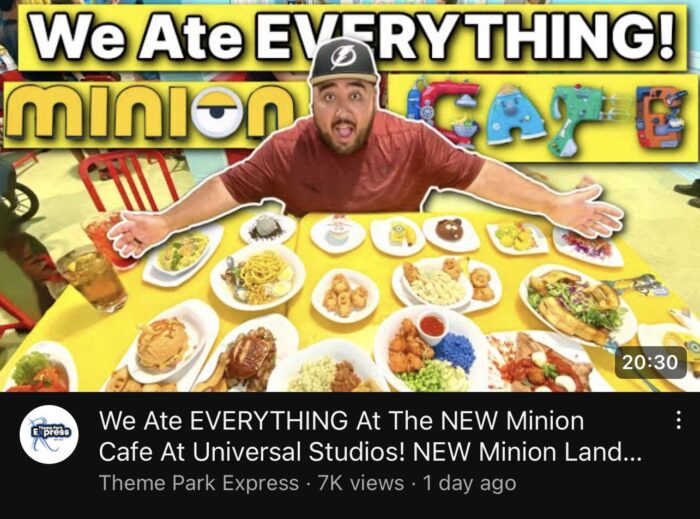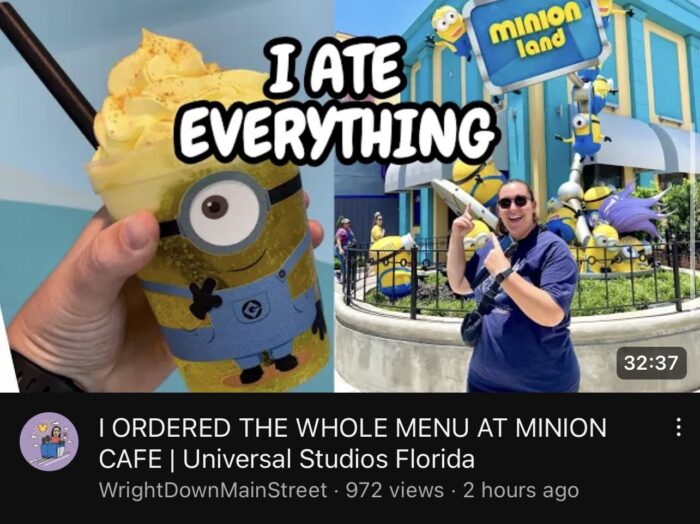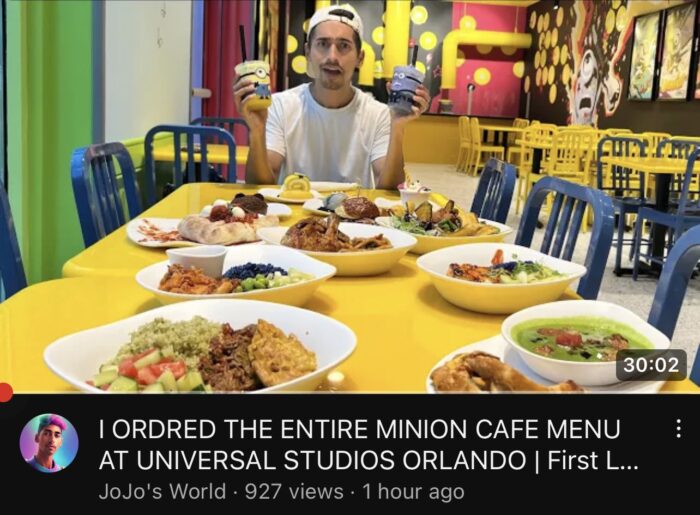 My favorite social media post on Minion Cafe came from one of our favorite follows, @servoisnaked, who instead went the other way and created a reverse mukbang…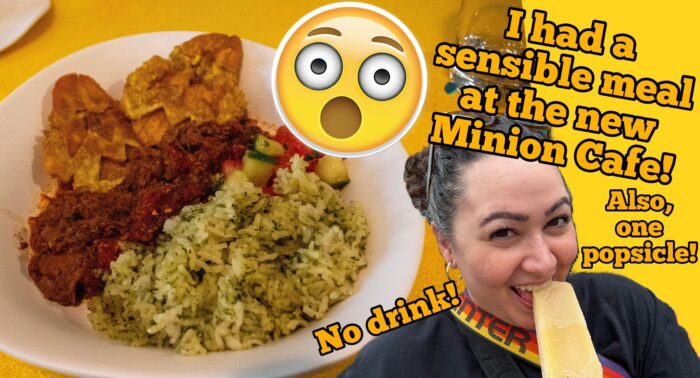 TPEI SCORE: +22 We'll be back later in July with a full rundown of everything in Minion Land including an in-depth breakdowns of our favorite details in Minion Cafe. This area is already a total home run though and a HUGE improvement over what it replaced.
***QUICK HITS***
*Goodbye Harmonious, we hardly knew ya…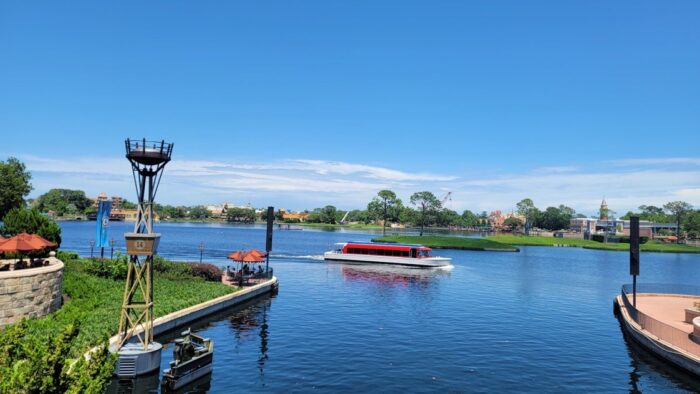 *MuppetVision 3D has "technical difficulties"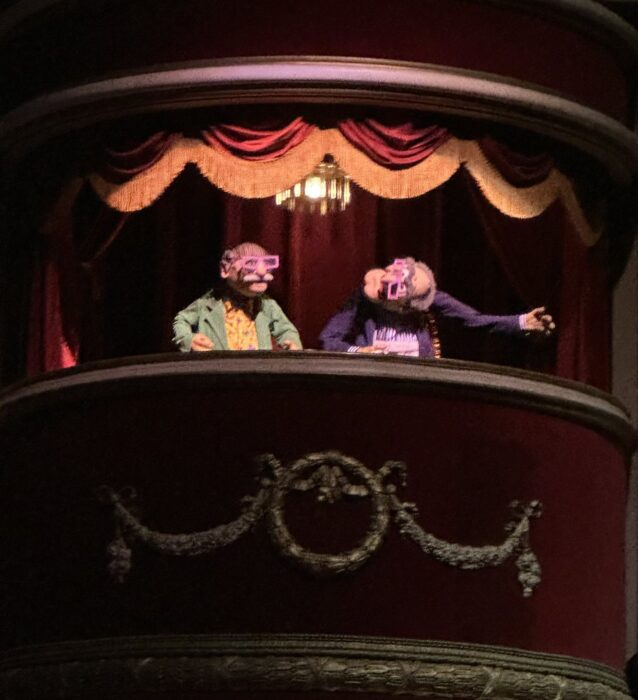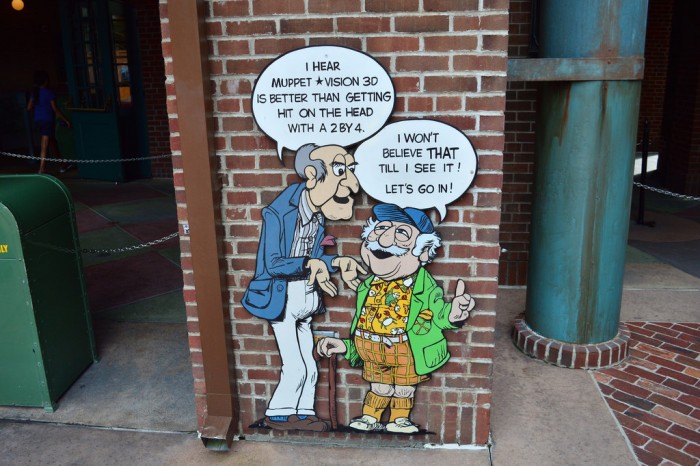 *Jurassic Park Celebrates 30th Anniversary
Universal spared no expense in celebrating Jurassic Park's 30th Anniversary, including adding a John Hammond character in CityWalk for photos. The original Jurassic Park played in the Universal CityWalk movie theater for its anniversary weekend.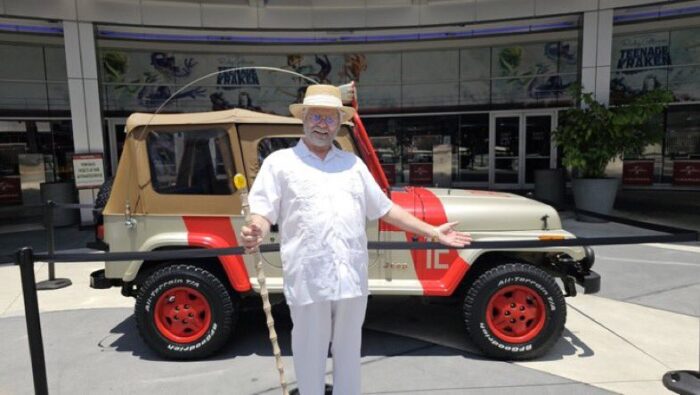 In Islands of Adventure, where this is a Jurassic Park land, new food items were released including these "prehistoric wings" (which were amazing and should stay on the Thunder Falls Terrace menu forever.)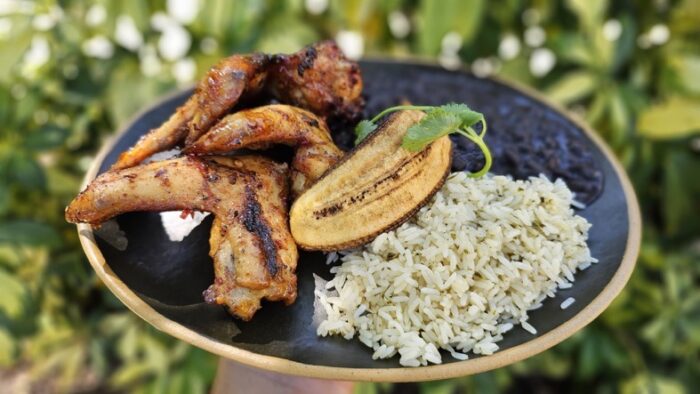 The Watering Hole bar had a limited edition Tiki souvenir cup.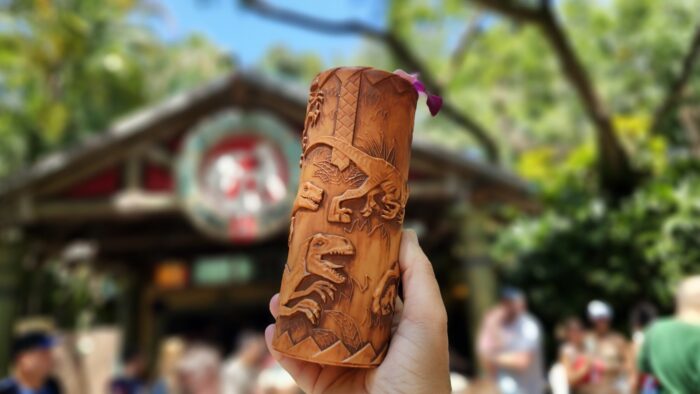 The Watering Hole is a fantastic bar, and Universal should strongly consider just going all in on this area and expanding it to a fully themed Isla NuBar.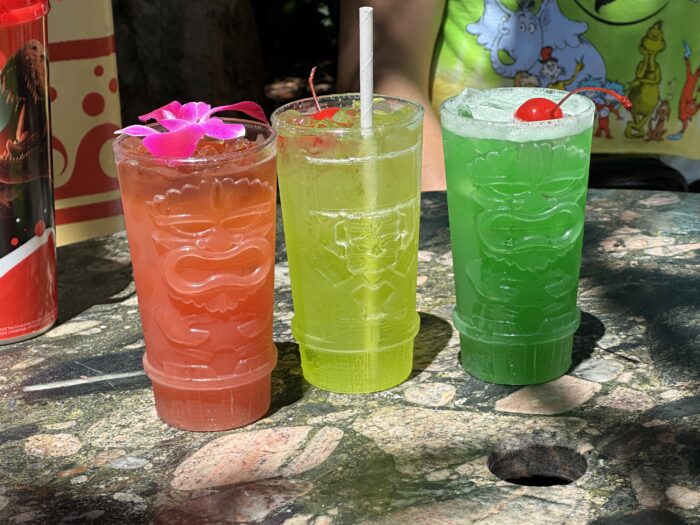 Universal even put a Mold-A-Matic machine inside the Jurassic Park Discovery Center with a raptor-coming-out-of-an-egg mold!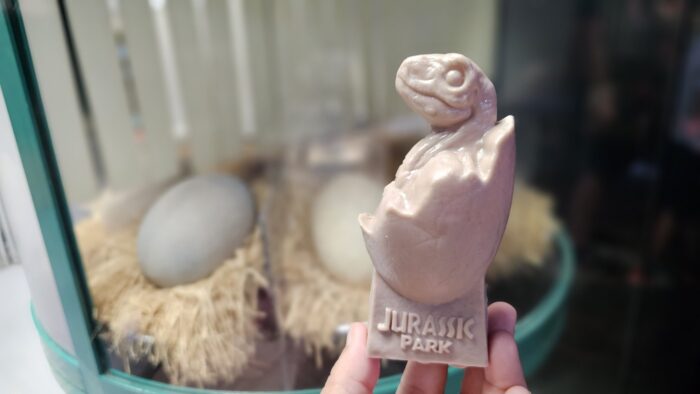 Meanwhile, another Jurassic Park themed Mold-A-Matic design available at USF could be brought over to Islands of Adventure for a five star photo op.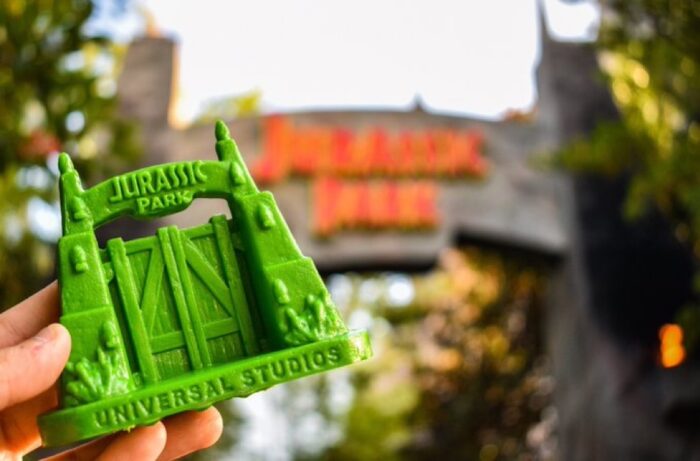 Reminder at USF there is a fully themed Making of Jurassic Park Tribute Store. We did an ENTIRE ARTICLE DEDICATED TO THIS STORE earlier this month. Be sure to check it out for a look at the next level details you'll find throughout.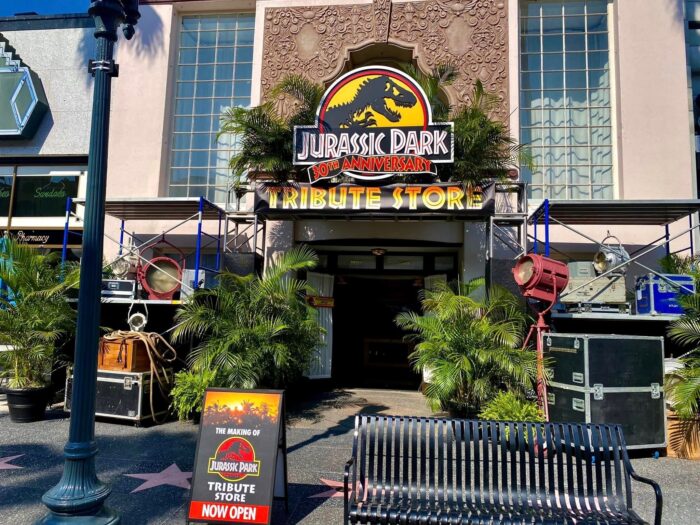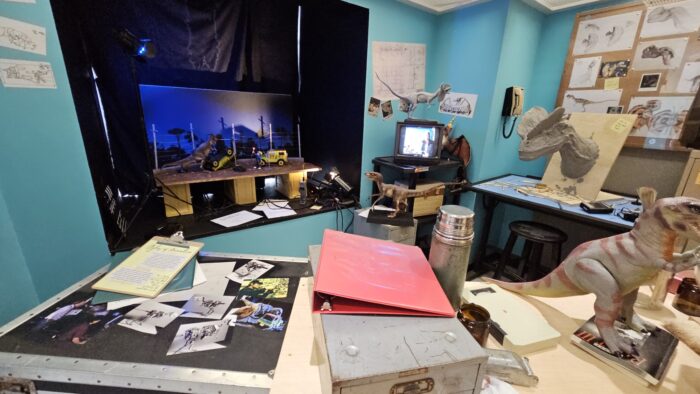 This unbuttoned Ian Malcolm brownie scores an 11/10. What a design and execution. Flawless.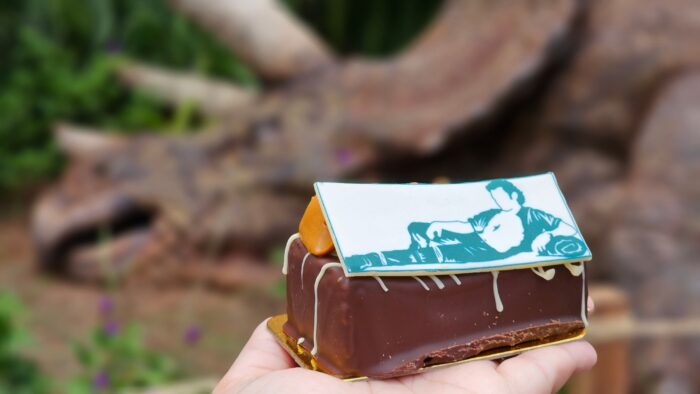 The Jurassic Park 30th Anniversary had SAT SIX favorite SonderQuest put paint to paper with this great artistic representation of one of my favorite water rides in any theme park, the Jurassic Park River Adventure.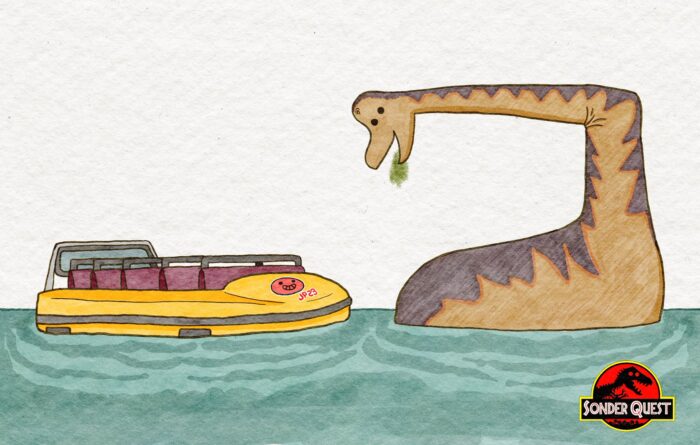 *Guests Escape Disney Ride Vehicles (Again)
Speaking of Sondy, he also did this great drawing for Guardians of the Galaxy: Cosmic Rewind…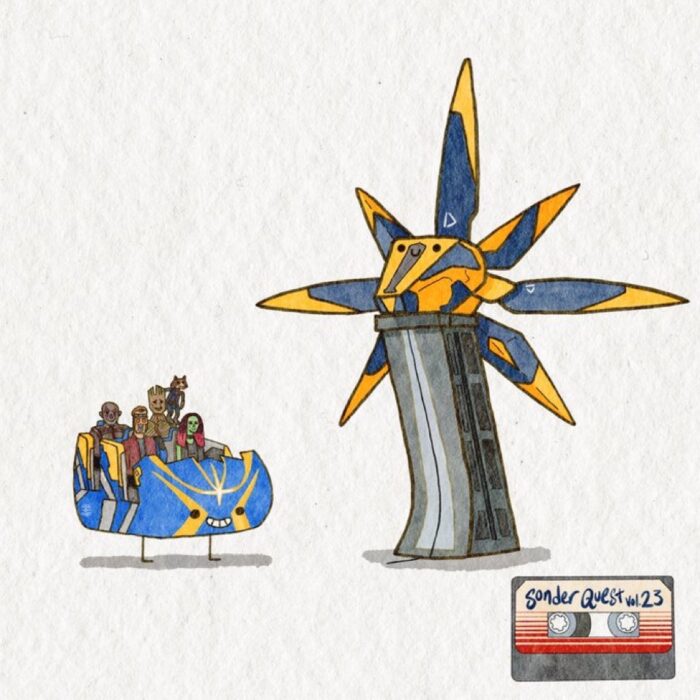 After SonderQuest released his Cosmic Rewind drawing, a story went viral on social media that featured a video of a Disney guest getting out of a ride vehicle while being  REPEATEDLY told by Disney to get back into the vehicle.

So SonderQuest updated his artwork…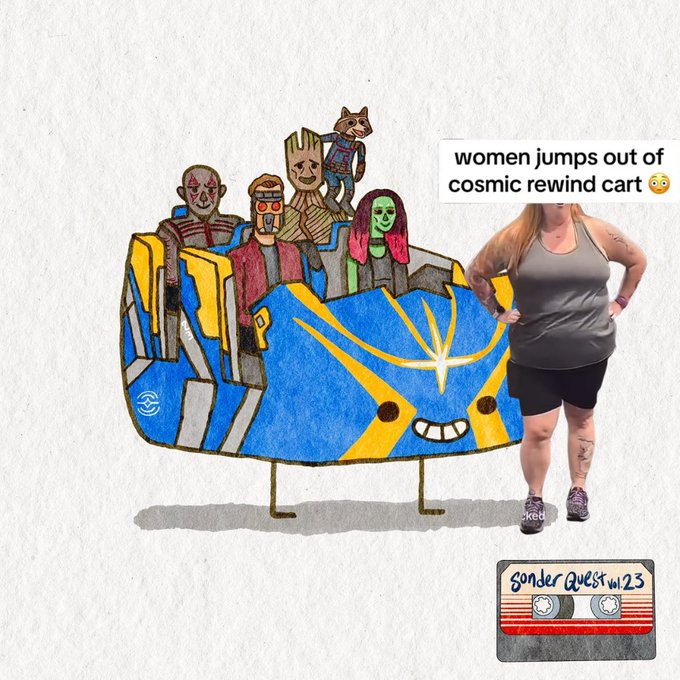 This wasn't the only guests leaving a Disney ride vehicle story that went viral this past month. Another notable example happened in EPCOT, when a clearly inebriated guest got out of a Gran Fiesta Tour boat early. Interesting enough, this guest got out near a section where stanchions were put in to discourage guests from getting out of the boats early because of other times it has happened. Both of these events led to a discourse on DisTwitter which led to some angry debates on why parks should – or should not – have guests more secured into vehicles.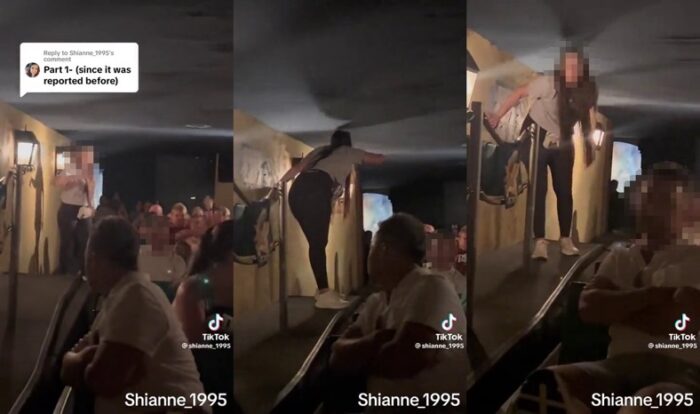 *Monster Gram Studios Store opens in Islands of Adventure
If you are keeping track, Universal opened ANOTHER awesome store in the parks this month which is loaded with great details that we will hopefully be covering in a dedicated article in July. It is almost exhausting to try and keep up with everything going on at the Universal Orlando Resort, meanwhile over at WDW we seem to be in year five of building a walk through Moana attraction at EPCOT and the only thing Disney moves fast on is raising prices. Tale of Two Cities right now.
Let's take a quick peek into this newly re-themed store, which is located in the All Hallows Eve Boutique outside of the Wizarding World of Harry Potter – Hogsmeade Village.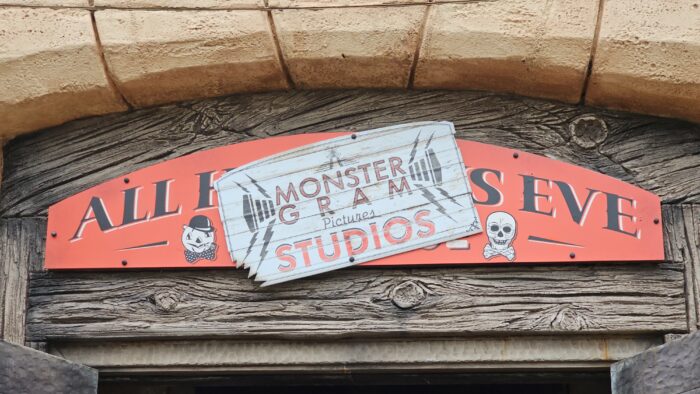 Overall theme is the Universal Classic Monsters running a movie set. How great is that? Here is the Creature from the Black Lagoon operating the camera.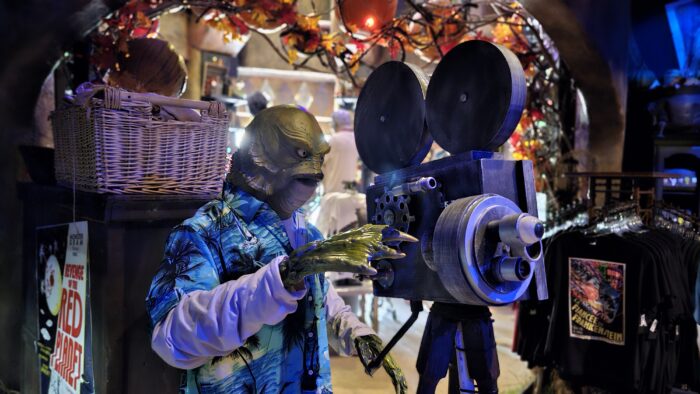 Wolfman in the editing room.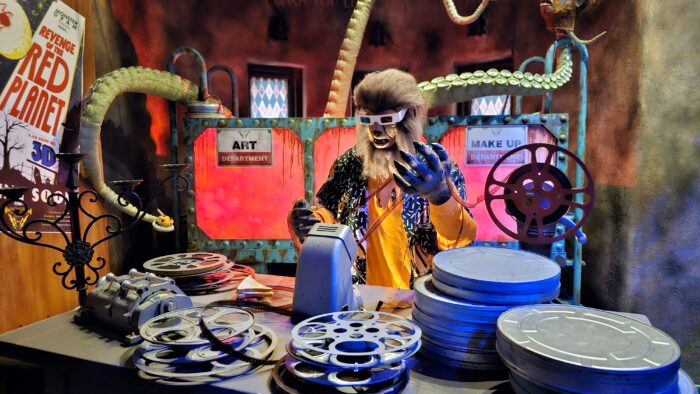 Frankenstein's Monster as the Director of the shoot with the Bride as an Assistant Director. Note the Mummy bringing coffee as a production assistant…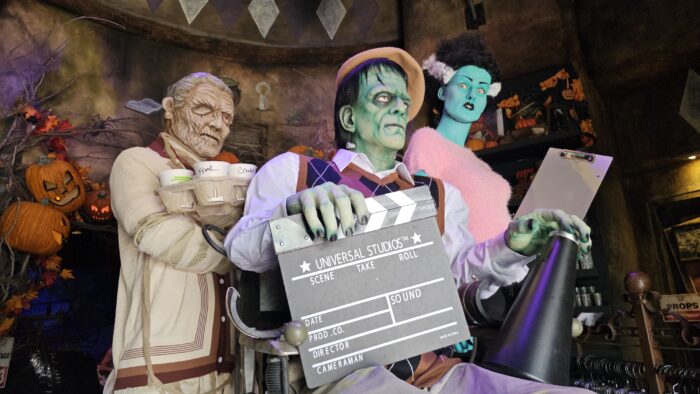 The Mummy has a coffee cup labeled for "B. Fraser" referencing the Revenge of the Mummy attraction in USF.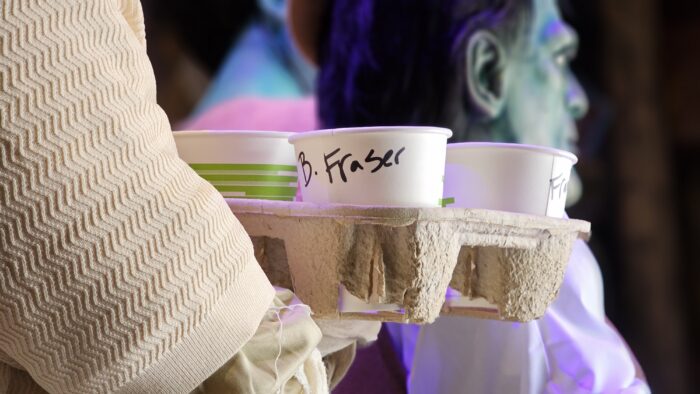 My reaction to this detail?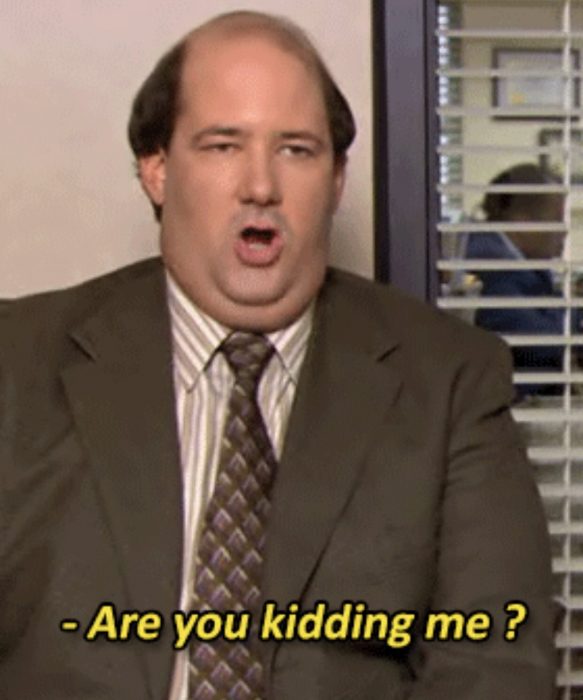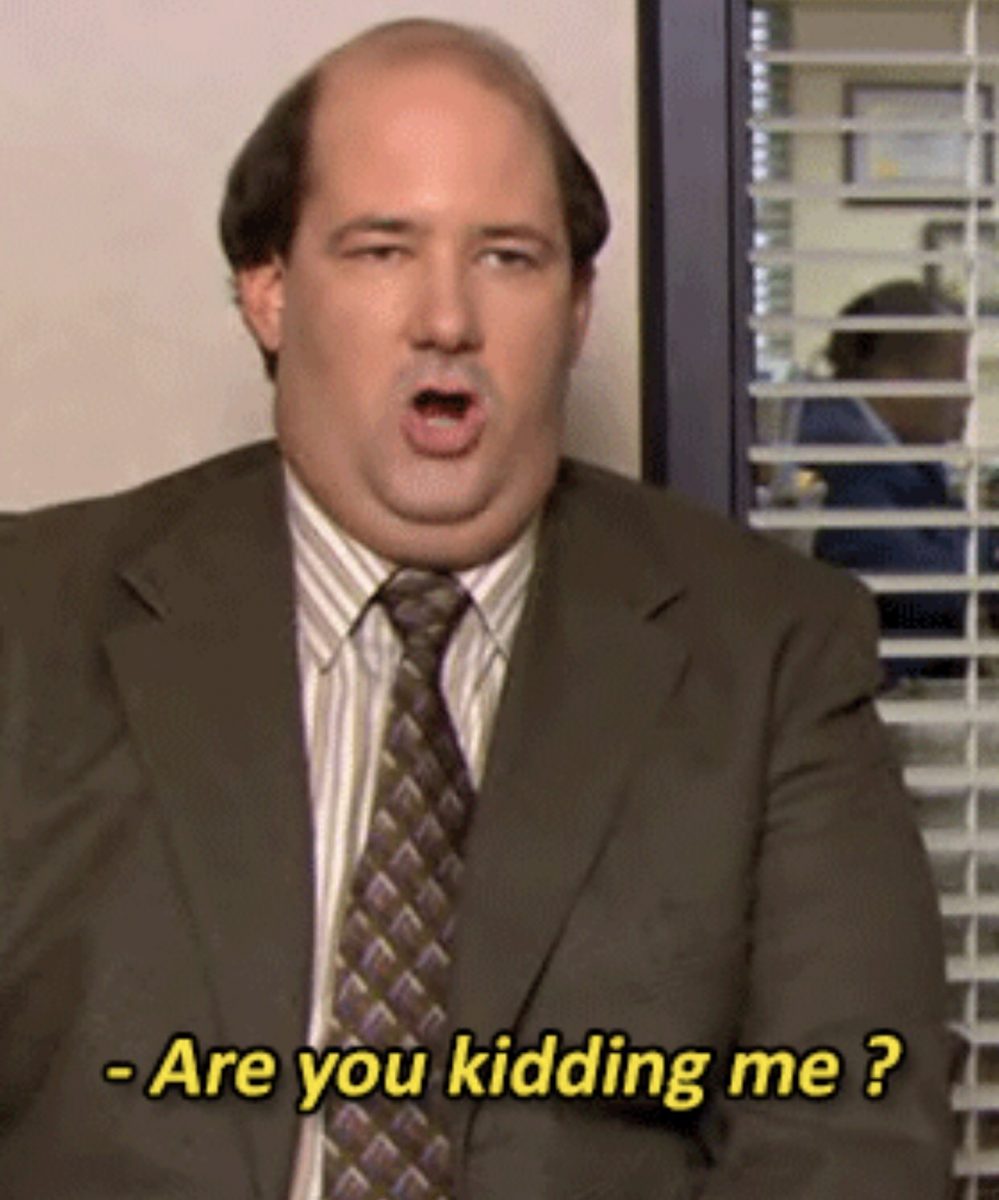 Dracula holding the boom mic.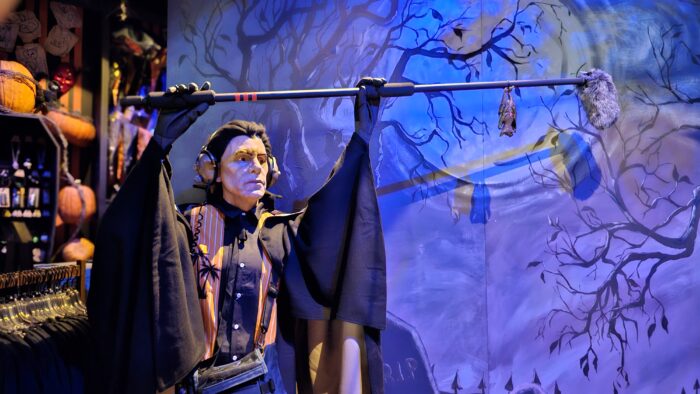 Some really great photo ops in this small store. What an incredible job by the creative team.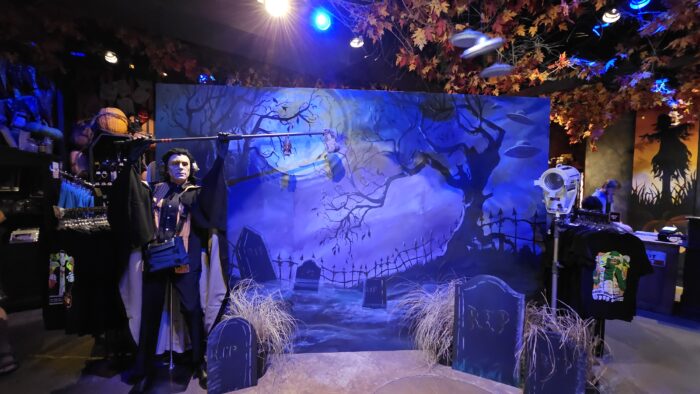 How wonderful is this sign? A million stars.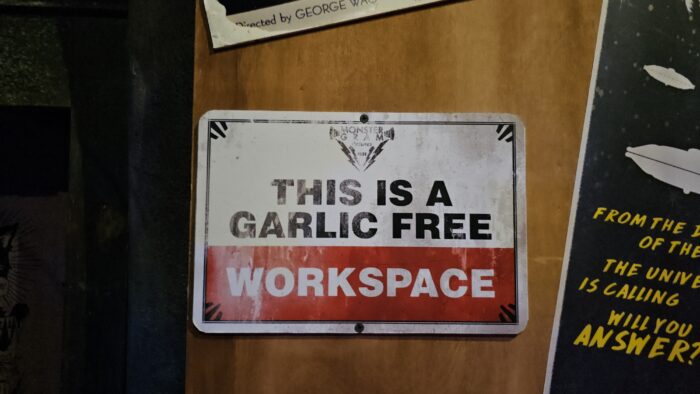 Mold-A-Matic machine features a Frankenstein's Monster mold.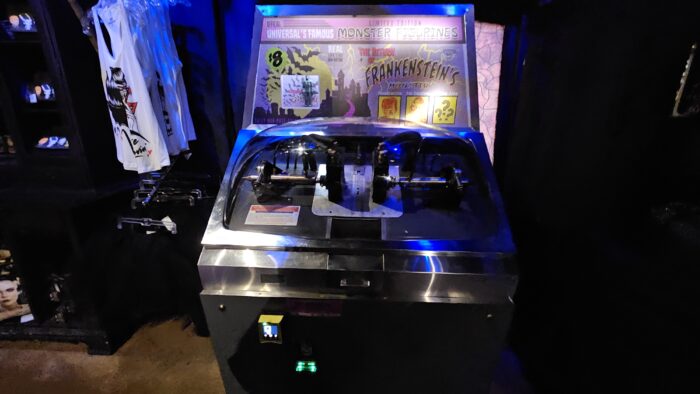 The dark grey mold is a first for the Frankenstein's Monster releases we have seen over the years.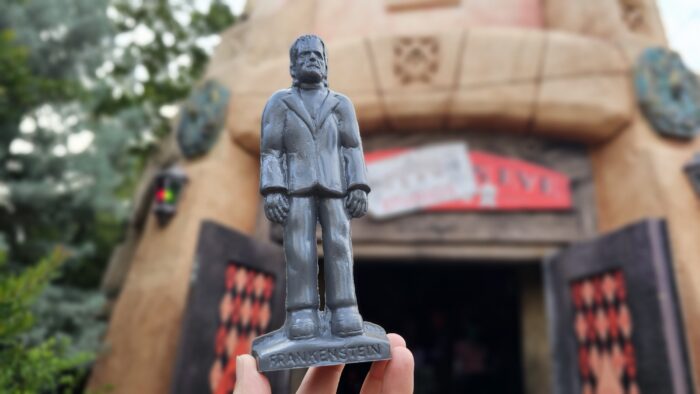 Don't believe? Well who else but @bioreconstruct would instantly have available a photo of every color option Universal has had of the Frankenstein's Monster mold to date.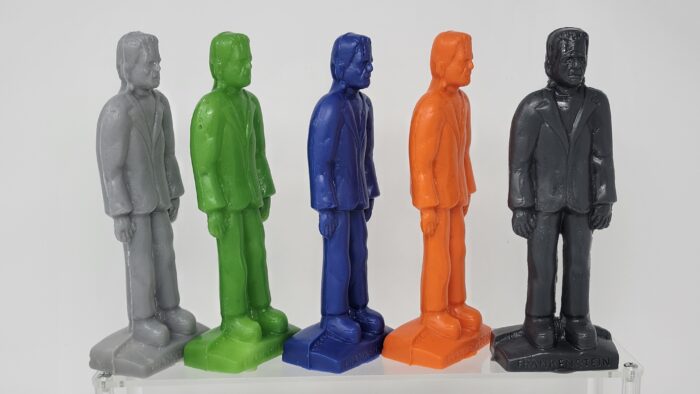 Not to showboat, but Bio also instantly has a photo available for every single mold option that is currently available at the Universal Orlando Resort.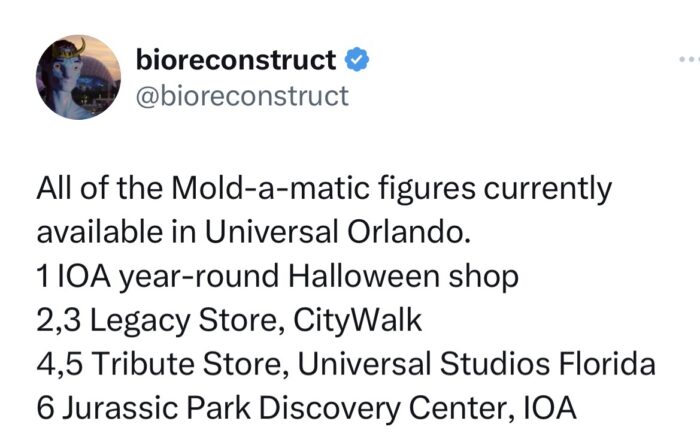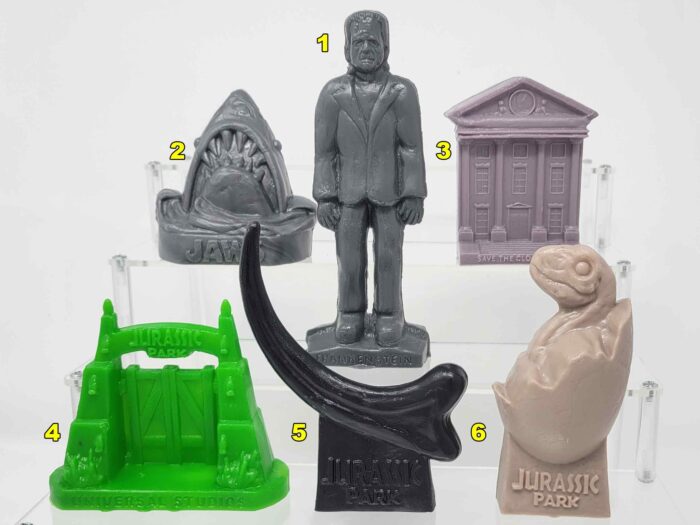 Not enough for you? Well Bio also has a photo of every single mold design released at Universal to date… as one does.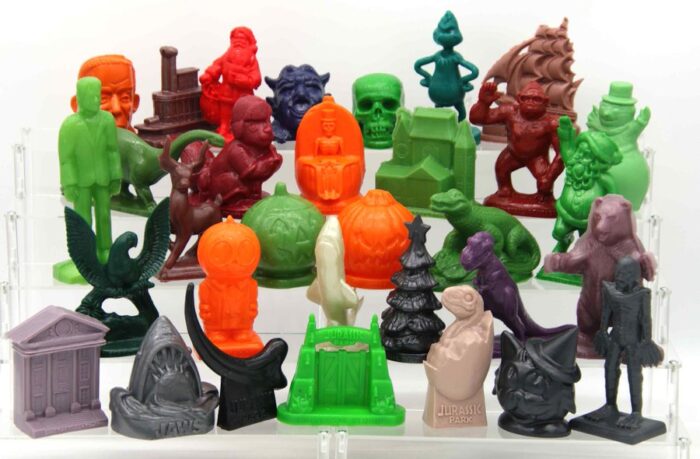 *The Power of DisTwitter
Despite the app turning into a Hellscape (by design, which is next level bonkers) you've seen me defend Twitter in this Fine Blog Series many times because of the amazing interactions you can have with not only other theme park fans, but with creative people within Disney and Universal. Take for example this past week, when one member asked former Disney Imagineer Joe Rohde a question about the broken down Yeti audio-animatronic at Expedition Everest. The person brought up the Rumors and Innuendo we've all heard about why the Yeti is still "practicing stillness" for well over a decade…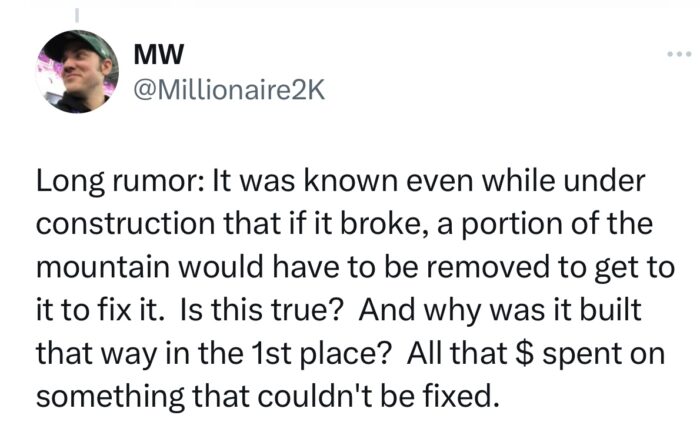 Joe Rohde providing an answer…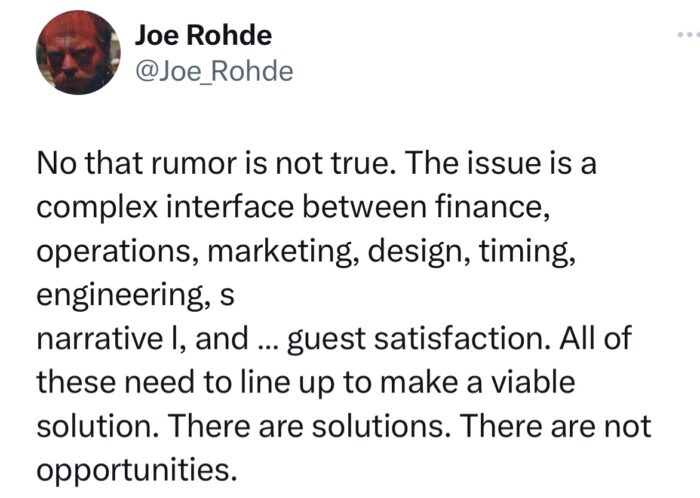 I find this answer intriguing, because another Rumor and Innuendo I've heard over the years is that Disney put Pandora: The World of Avatar into Animal Kingdom with the hopes that it would take pressure of Expedition Everest and allow them the opportunity to fix the Yeti. From all accounts, Pandora has been a smashing success, but we've heard absolutely nothing from Disney about putting Everest under an extensive refurb to fix one of Disney's most thrilling and impressive audio-animatronics.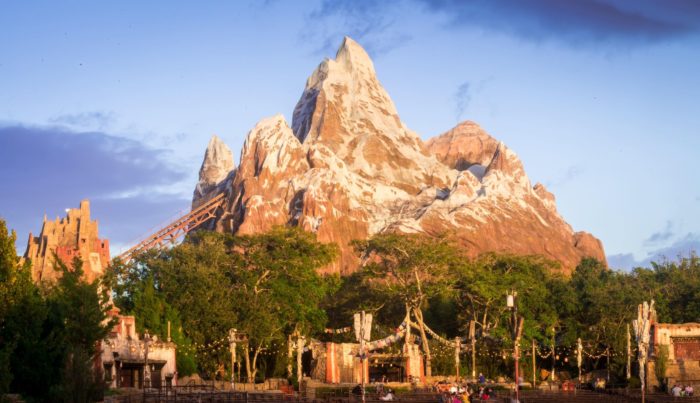 Another post from Joe Rohde gave a good explanation of why Everest may appear to be scary from the outside, but the actually ride experience was designed so that almost anyone can ride (and they can also bring onto the coaster giant bags of Disney merchandise, which would be a huge no-no for other thrilling coasters such Tron Lightcyle Power Run, the VelociCoaster, or the Hollywood Rip Ride Rockit.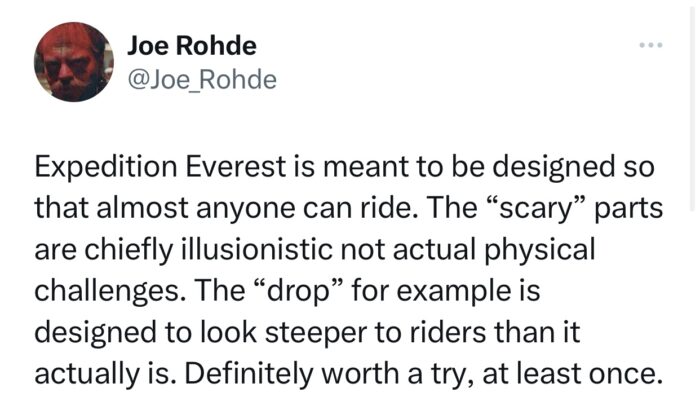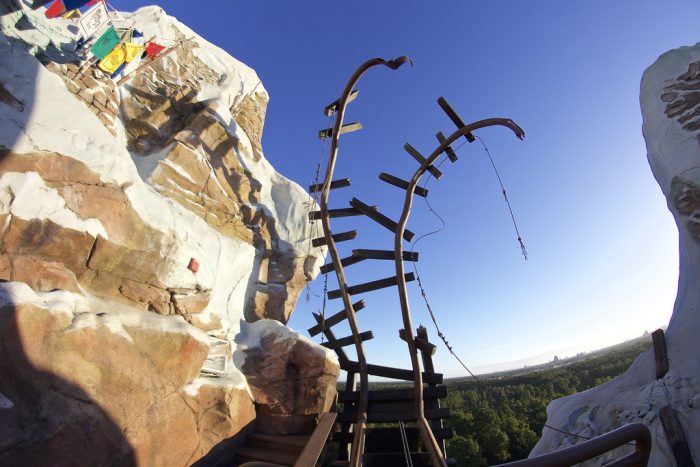 *TPEI Fist Bump to "Christian from Los Angeles"
An interesting story popped up on DisTwitter this week in which a person on Facebook posted a complaint over their interaction with a Disney Cast Member. Now, one part of social media I will never understand is the sheer amount of people who will post a story that makes themselves look like the a**hole. Unfortunately I can't link to the post because the person who screenshot it got suspended from Twitter, but here is a link to me using a classic moment from Spider-Man 2 to help explain what happened. Long story short, an Annual Passholder who claims to be a "regular" tried to get around the Park Hopping rules at WDW by starting their day at EPCOT, but making a lunch reservation at DHS for 1 p.m. As most TPEI "regular" readers know, as of right now guests can't park hop at WDW until 2 p.m.  This Annual Passholder knew this fact about Park Hopping, but scheduled the lunch ADR anyway. When the Annual Passholder got to DHS and found out they couldn't get into the park, they blamed the Cast Member being a jerk for not allowing them to bypass the rules. This was some next level brain stuff going on within the long Facebook post. Many people on DisTwitter gave their full support to this Cast Member, in the form of Mobile Cast Compliments.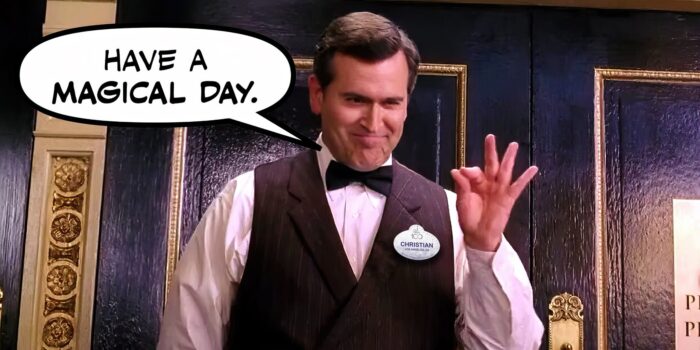 I have been at WDW Guest Service and other areas at Disney and personally witnessed Cast Members having to deal with the dumbest and most rude guests imaginable. They have the patience of Saints. I was once in the lobby at Disney's Old Key West waiting my turn to check into our room, and the clown in front of me was ripping the Cast Member he was talking to a new one because Disney used a "Table Service Credit" on his Disney Dining Plan for a meal they had at Rainforest Café. Wait till you hear this next part of the story. The guy feels that it shouldn't count as a Table Service Credit because they ate their appetizer, entrees , and dessert at the bar. I think I had to suffer through 5-10 minutes of this bonkers complaint, and had to hear about how his family has spent $10,000 over the years on their Disney trips and deserve some consideration. The Cast Member never rolled their eyes like I was, never showed a look of "this can't be serious" (like I was), and did everything they could to deescalate the situation without caving into a non-sensical complaint. Anyway, the whole point of that story was to remind you, once again, that the Front Line employees for both Disney and Universal are the True Heroes.
*How Did I Miss This?!
The Permit Princess Alicia Stella was at Disney's Magic Kingdom this month and took of photo of this great detail in the area outside Tony's Town Square Restaurant.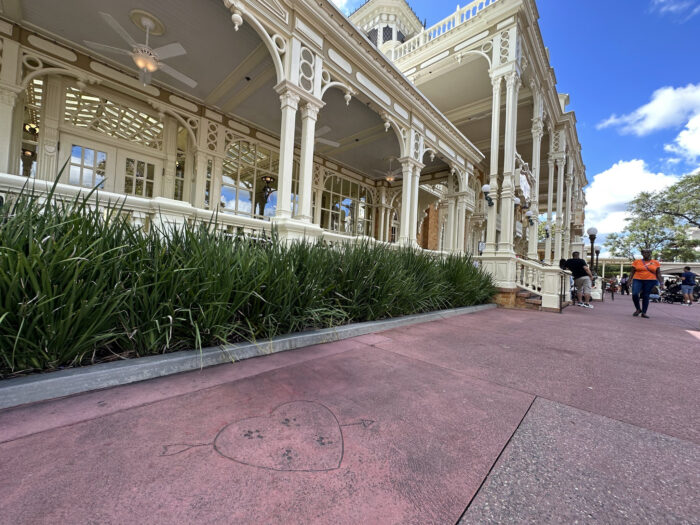 A charming reference to Lady & the Tramp.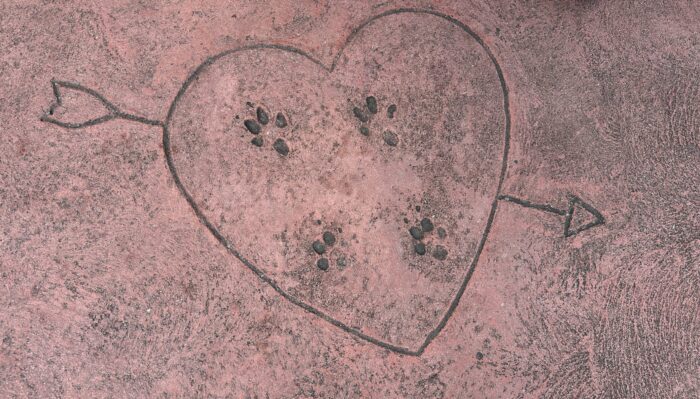 *Entrant into the Signage Hall of Shame
Great sign this week taken at Six Flags Over Texas. It was seen at the Justice League: Battle of Metropolis attraction.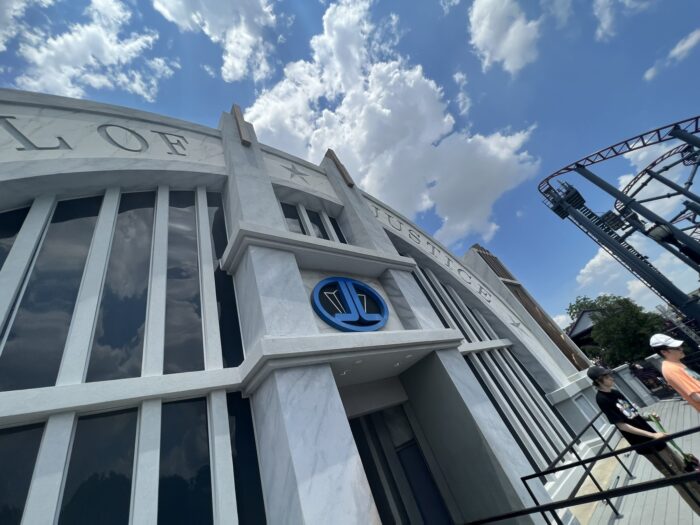 This is just great.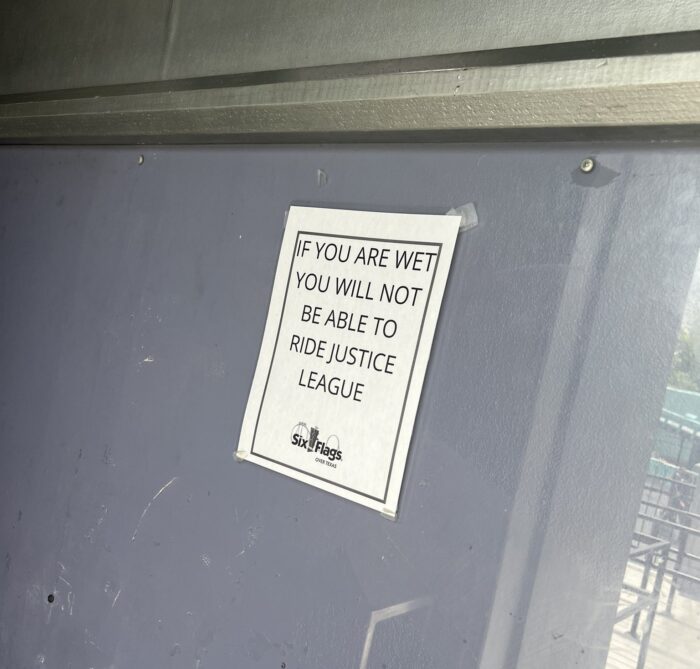 *What's Going on in Disneyland Paris?
No one was asking this question, but we're going to answer it anyway. World Traveler @guyselga recently posted photos of getting a straight razor shave at the Main Street Barber Shop in Disneyland Paris.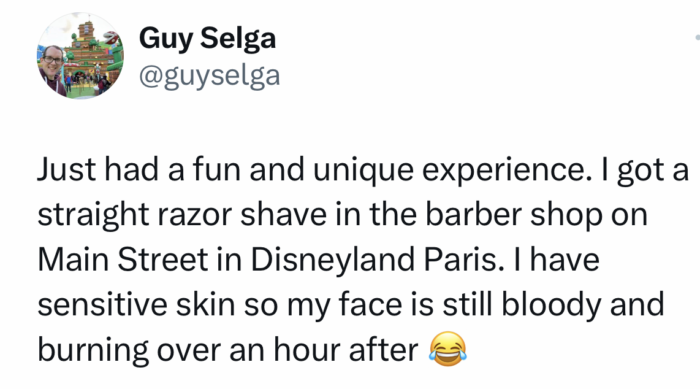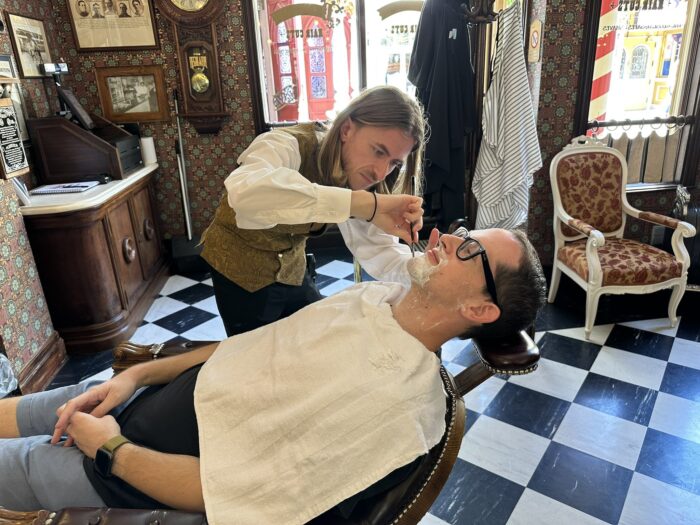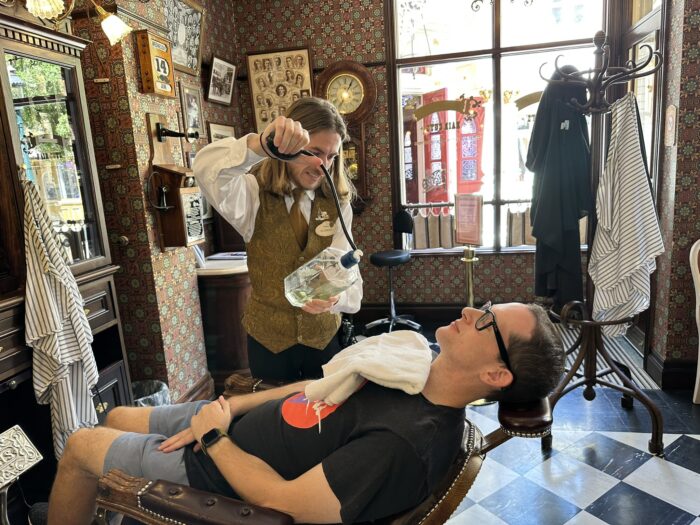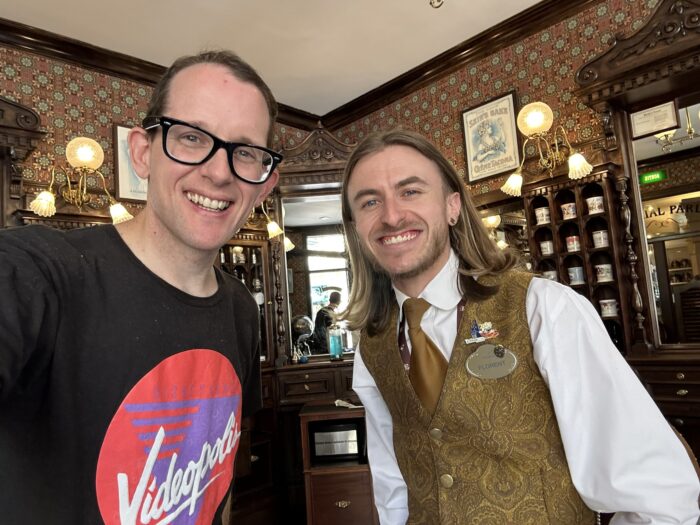 Disneyland Paris quick service is laughably bad sometimes. This lasagna looks and tastes like the old value brand microwave ones I would eat as a kid." – Guy Selga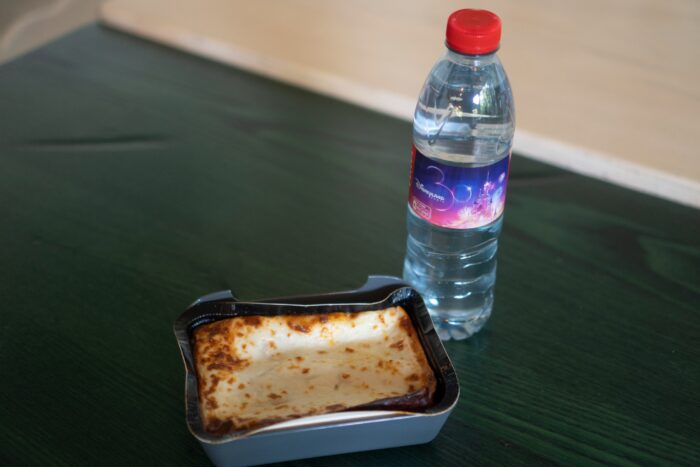 Guy's traveling companion @JLap64 got a stunning photo of the Disneyland Paris castle.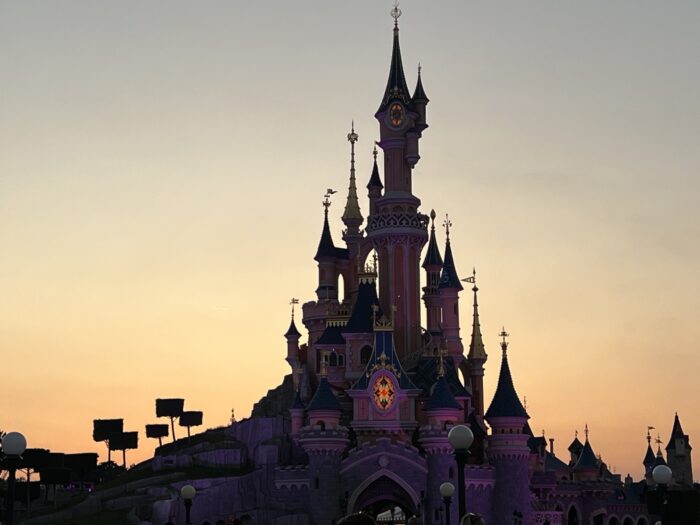 We also got this E-Ticket photo of a mini-poncho that Disneyland Paris uses to show people what a full size poncho would look like. LOVE IT!!!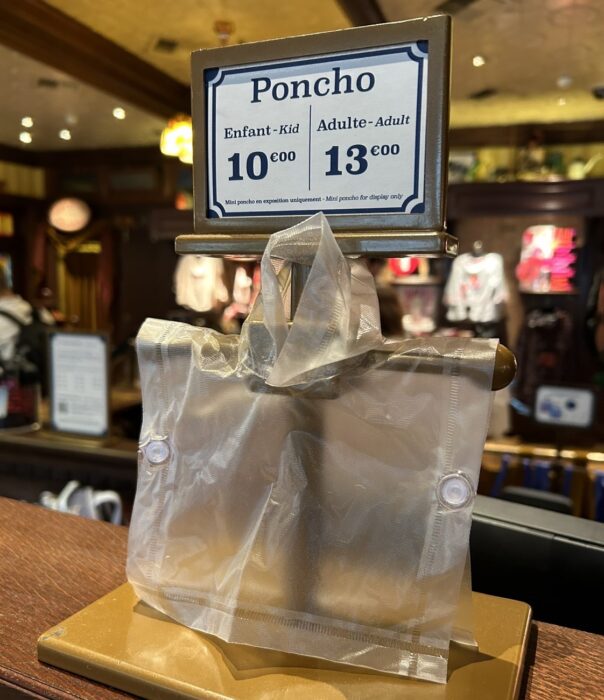 *Indiana Jones and the Dial of Destiny
This was a great little story from earlier this month as we get ready for the new Indiana Jones movie coming out later this week.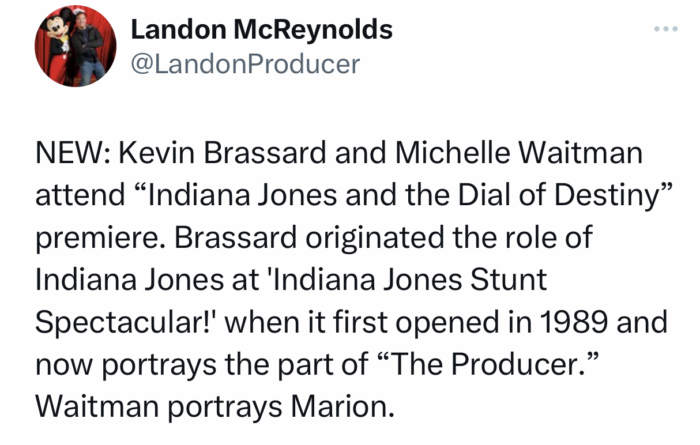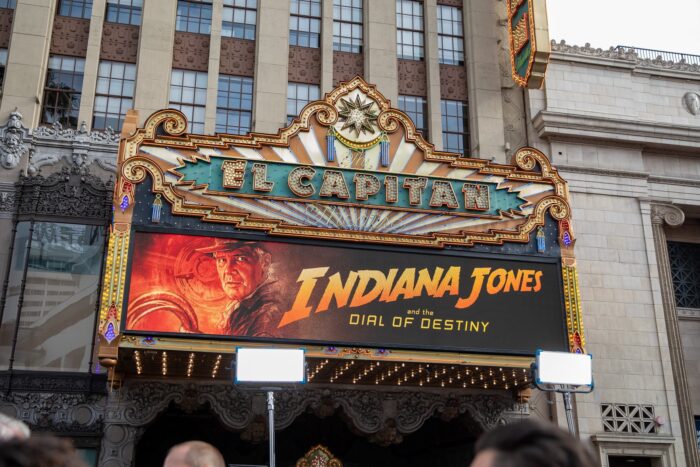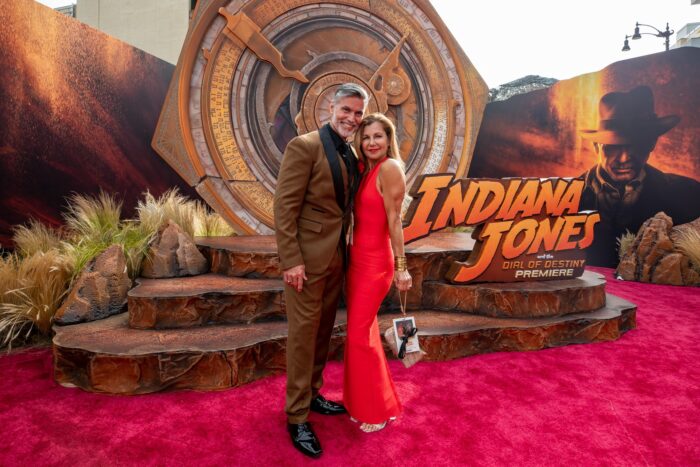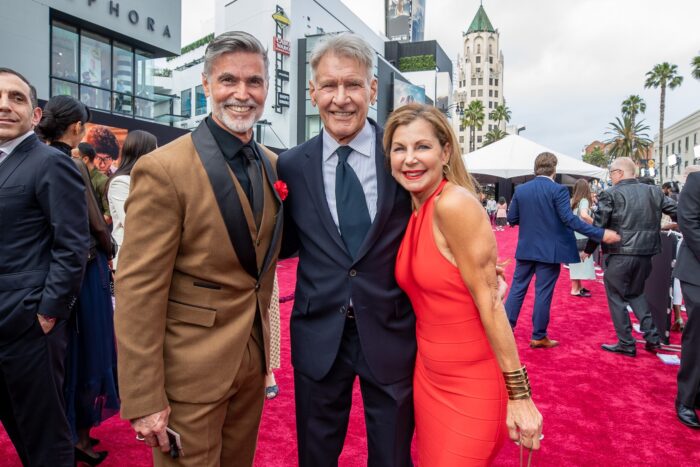 The Indiana Jones Epic Stunt Spectacular at DHS is low-key one of my all-time favorite shows. Love everything about it and it doesn't get anywhere near the love and attention it should.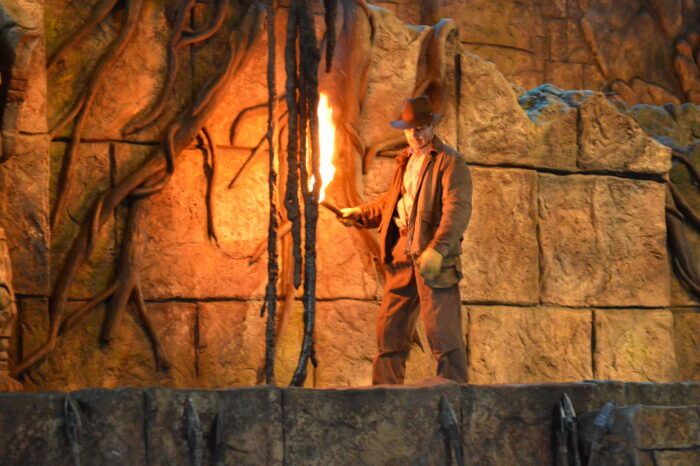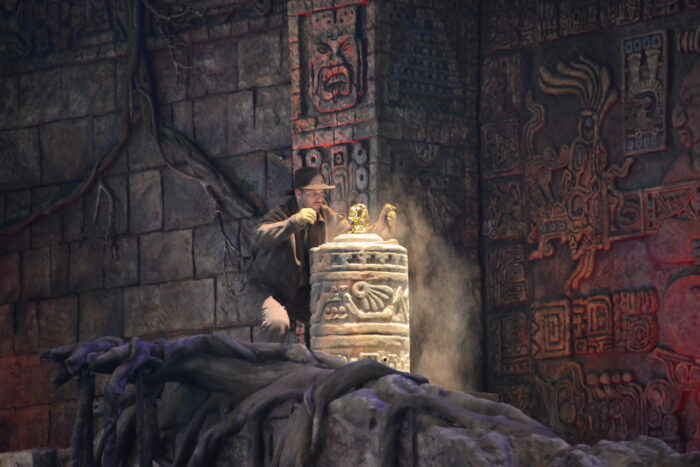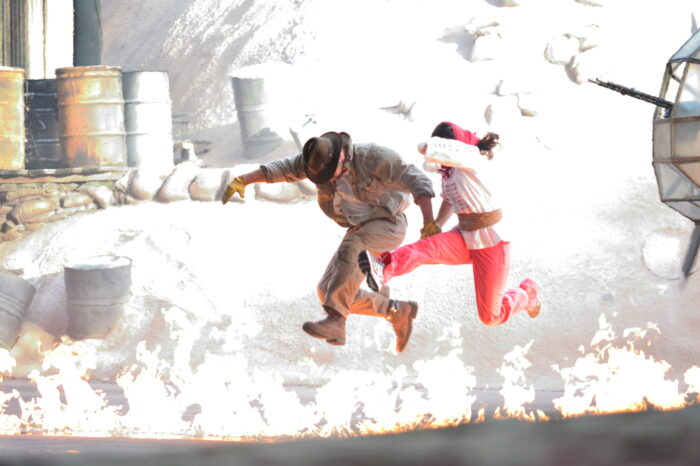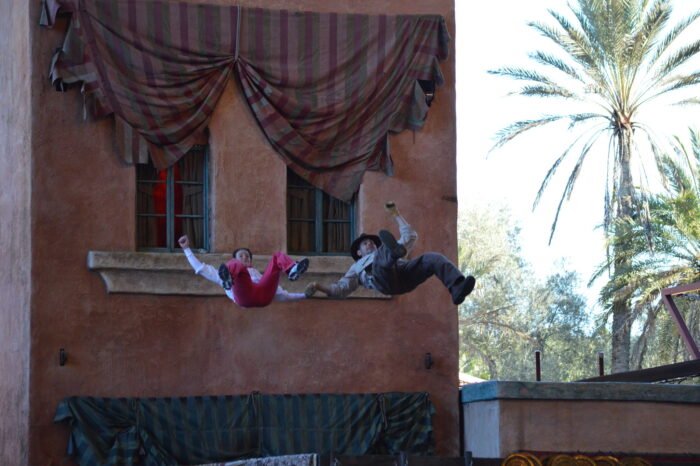 *Look what you can see at Disney's Fort Wilderness…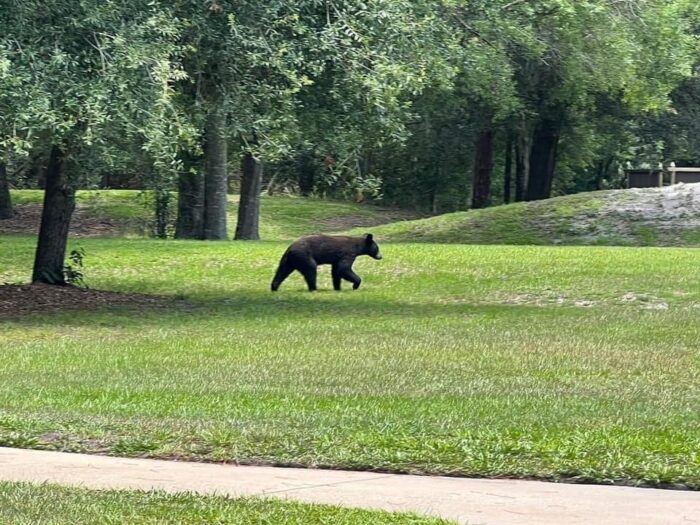 When Bacini and I stayed at Fort Wilderness Cabin, I was blown away by the amount of animals we saw. These included deer…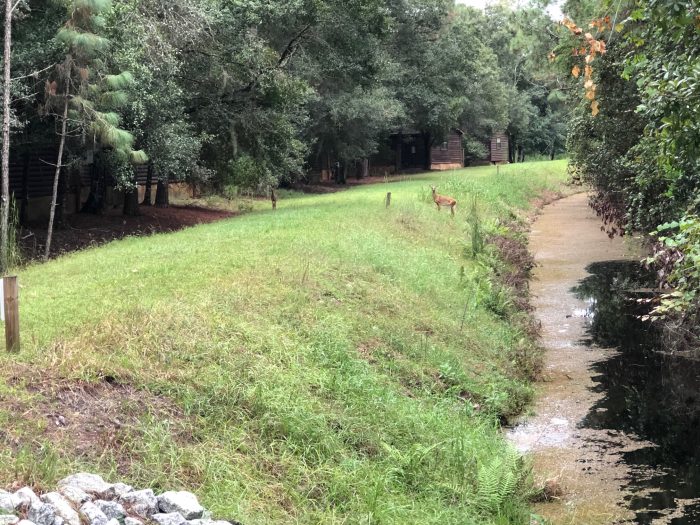 …wild turkeys…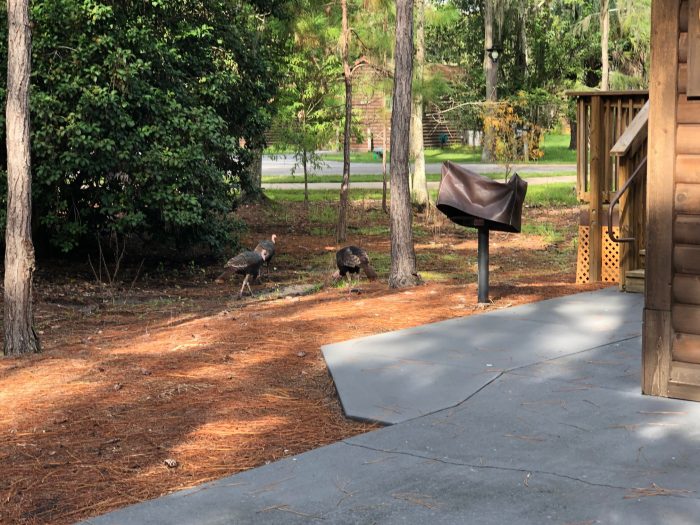 …horses and more.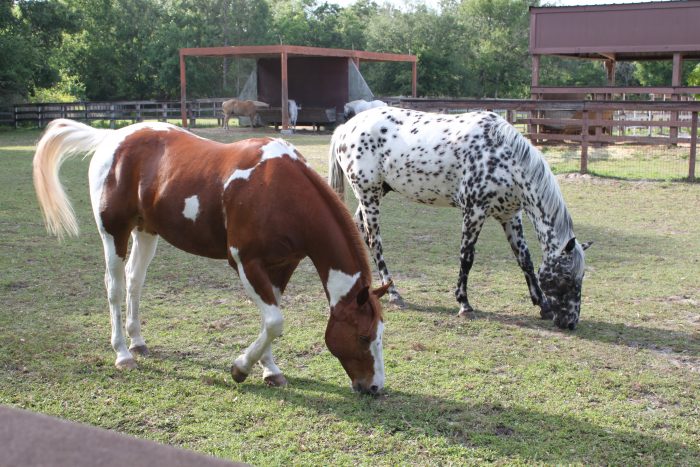 We also saw more dogs at Fort Wilderness than we have ever seen on property at Disney before. Disney has several dog-friendly resorts (you can read about our experience at Disney's Yacht Club with a dog by CLICKING HERE) but I don't think I've ever seen a non-service dog at any of the Disney hotels. This is only notable because if you stay at Universal's Pet Friendly hotels like Sapphire Falls or Hard Rock Hotel, you see dogs all the time. I started to think Disney guests just didn't bring dogs to their vacations, but I found out they all go to Fort Wilderness.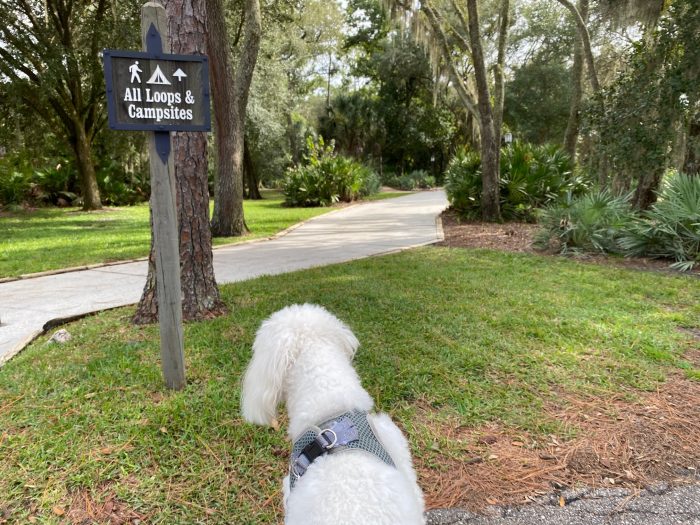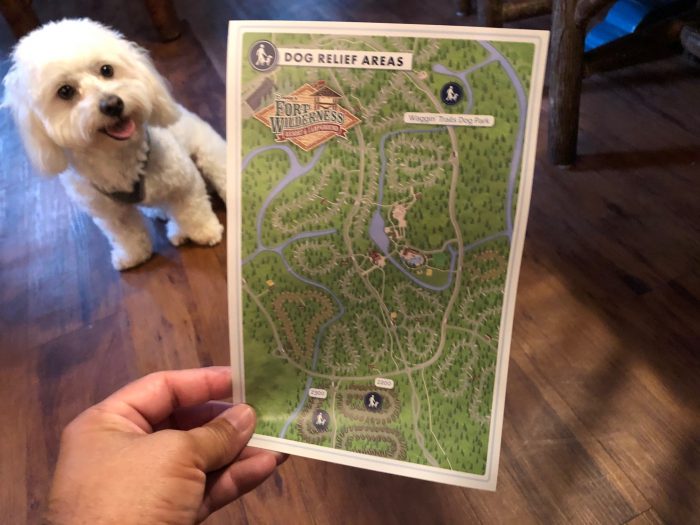 *June is LGBTQ+ Pride Month
The theme park community is filled with LGBTQ+ members and their allies. Not just guests, but Disney Cast Members, Universal Orlando Team Members, and many content creators. This year, community icon Alicia Stella created a STOP HATE Fundraiser with the proceeds of the fundraiser would go to the Trevor Project (a suicide prevention and crisis intervention organization for at risk youth.) Alicia set a lofty goal of $20,000, and this was remarkably achieved in just 15 days thanks to a store featuring work from artists around the community, auctions, and a Dungeons & DRAG-ons campaign (how great is that name?!)
Here's just a sampling of some of the amazing artwork featured, including this "HOLY $#IT IS THAT AWESOME!" piece by Marie Catano…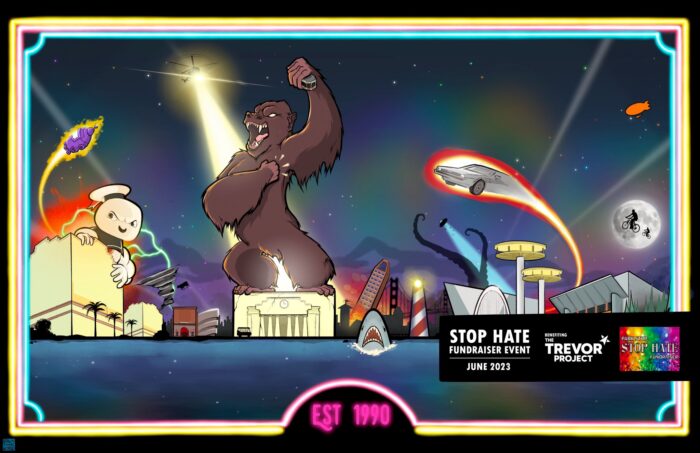 Only the brilliant mind of SonderQuest would think of painting the classic Beverly soda while using actual Beverly soda in the paint!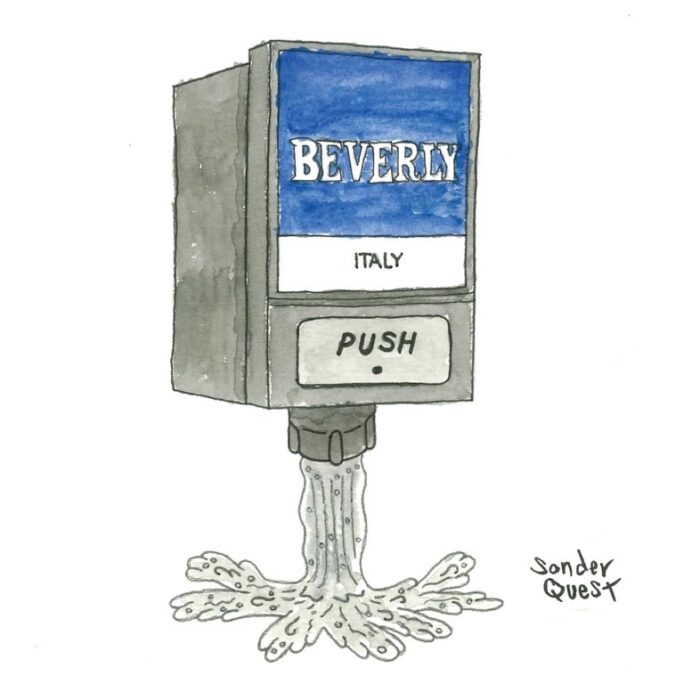 How great is this 8-bit Big Thunder Mountain? LOVE IT. Lo-Fi Thunder Mountain is by /arcade_q.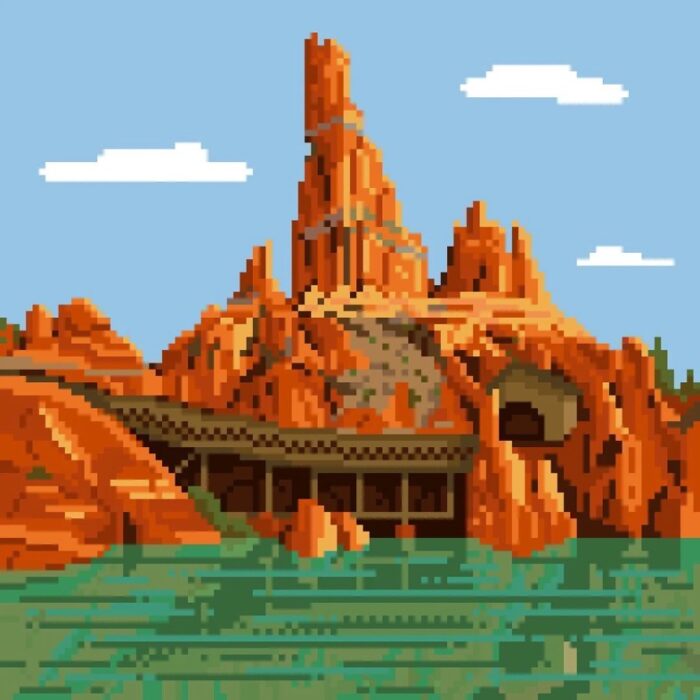 There are just so many amazing pieces of art by some of THE MOST talented artists in the community including Brian Cooper, Maria Mondloch and Clara Kay! Stop reading this and head on over to the Fundraiser Page RIGHT NOW before they are sold out!!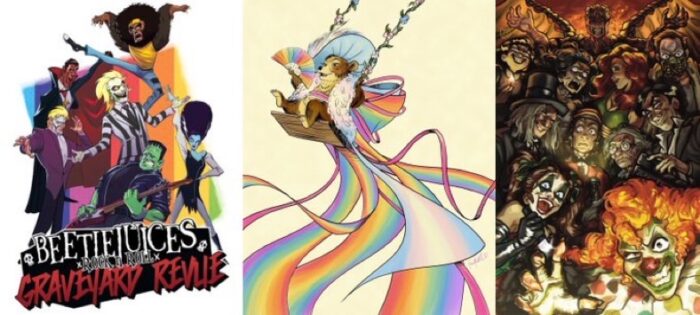 You can also purchase the amazing Mickey & Minnie's Runaway Railway Coloring Book featuring art by @jdimaria124. This digital download is just $6 and you receive it instantly when purchasing (I should know, I bought two, one for me and one for Bacini.) You can get your coloring book by CLICKING HERE!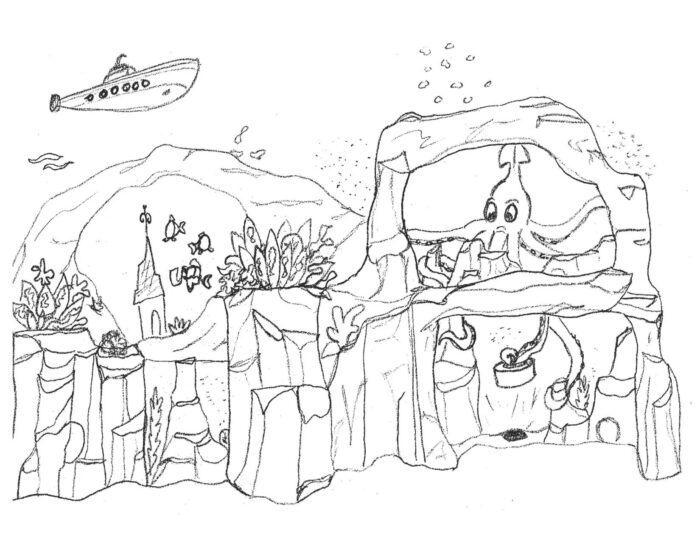 It's important to remember this artwork was based on the Disneyland version of the attraction, so you get tons of drawings featuring the details in their amazing queue that just don't exist in the Walt Disney World version.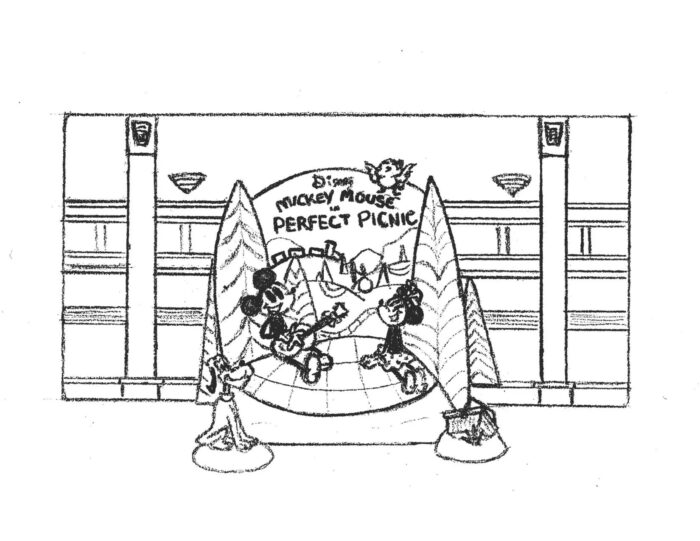 Others were doing what they could to help as well, including this shirt by Henry Taylor in which proceeds from sales of the shirt went to Alicia's fundraiser. The shirt references Alicia and her fondness for PizzeRizzo. You may remember that Alicia wrote a passionate defense of PizzeRizzo for this fine blog series in this THEME PARK HILLS TO DIE ON article. You can purchase this shirt by CLICKING HERE.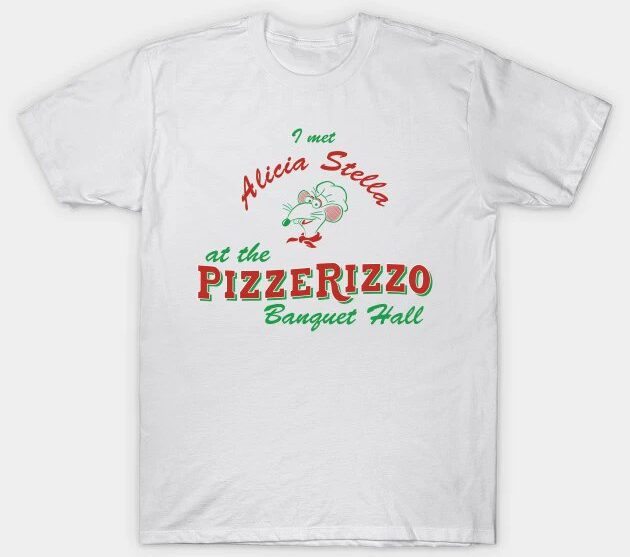 The people behind @BatuuPride also had a celebration this month, raising money for @ItGetsBetter, and they featured a new piece by @SonderQuest featuring Star Wars: Galaxy's Edge. Just terrific work and a great cause. You can purchase this piece of art, along with some amazing other creations by CLICKING HERE.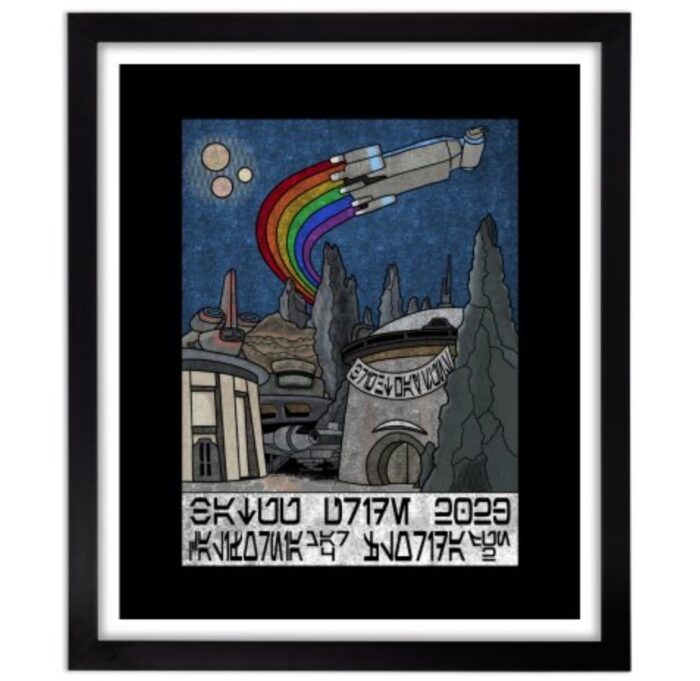 How great is this artwork by Sam Carter (who we featured in a SATURDAY SIX Artist Spotlight years ago) for a popcorn bucket in Disneyland?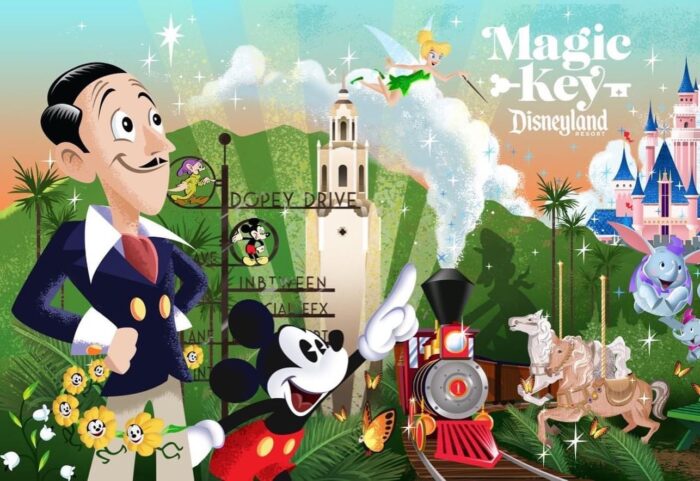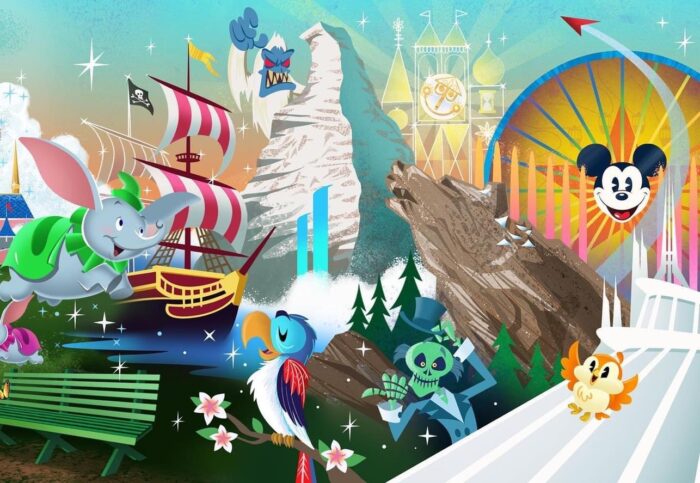 We've seen Sam's art on popcorn buckets and refillable mugs here in WDW over the past few years and every piece he's done is something so good I wish I could buy a print to hang in my house. Take for example this piece he did for refillable mugs at the Disney water parks in Florida.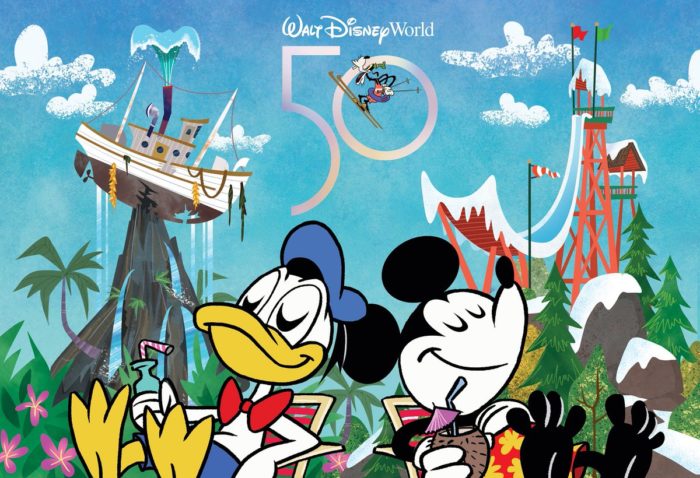 Speaking of artists who got their own Artist Spotlight feature, here we have SonderQuest back with another drawing of the "Ugly Baby" statue in New Orleans Square in Disneyland. This statue was featured in a video by @TymeReview which you can watch by CLICKING HERE.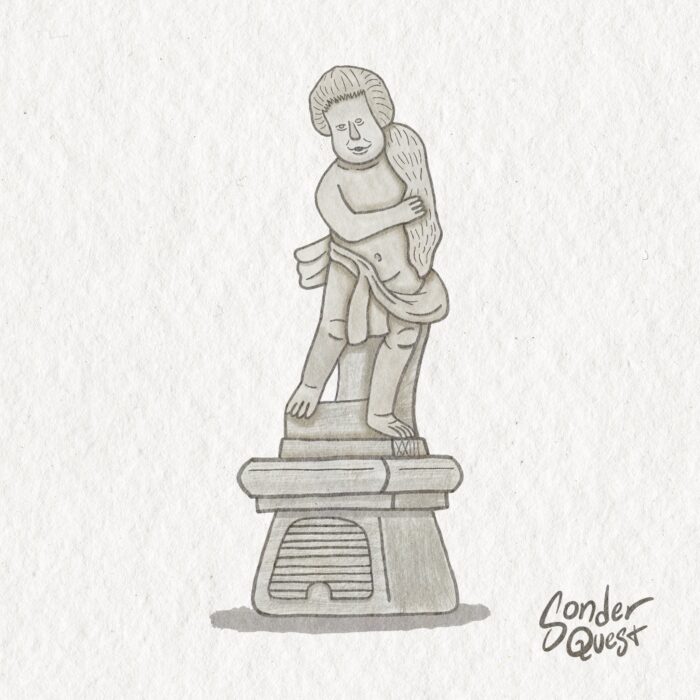 Another great LEGO piece was featured by TheHorizoneer this month.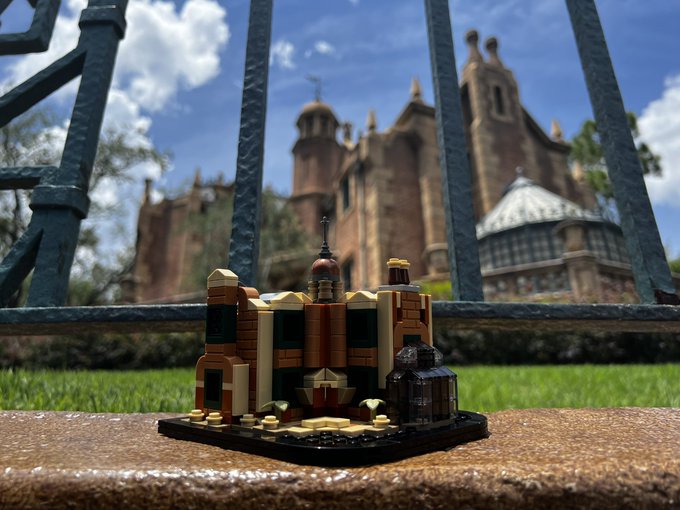 Last month's Theme Park Enjoyment Index: 45
This month's net change: +12
Current enjoyment level: 57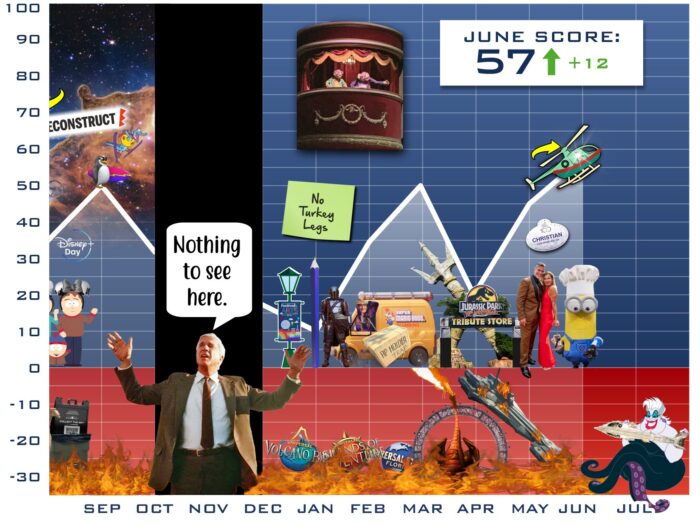 Writer Derek Burgan, when not cleaning Len Testa's pool, can be found reading comic books, watching professional wrestling, organizing his various Tsum Tsums in alphabetical order, and taking his dog Bacini to Universal and Disney.. He will not, we repeat not, be found at a Disney Outlet Store. An official DisTwitter Influencer, you can interact with him @derekburgan
Digital Artist Scott Walker hails from Scotland and is the fifth most famous person from this country following Alexander Graham Bell, Ewan McGregor, Gerard Butler, and Groundskeeper Willie.
NEXT WEEK…
CELEBRATING 10 YEARS WITH TOURINGPLANS!