SATURDAY SIX Presents: The Definitive Guide to PRESSED PENNIES at the Universal Orlando Resort
This week's SATURDAY SIX is the definitive guide to pressed pennies at the Universal Orlando Resort! Everyone has their favorite souvenirs from Universal; fans The Simpsons love their "Bort" keychains, there's an exclusive Transformer action figure  you can only get at the parks, and chocolate frogs in the Wizarding World are a true phenomenon. We here at the SATURDAY SIX have our favorite piece of merchandise too: pressed pennies. We love collecting pressed pennies over at Walt Disney World, and the ones in Disneyland are even better, but today we're going to turn our attention to the Universal Orlando Resort. I've gathered up my Coin Crew of Brandon Glover, @HedgehogsCorner, Michael Carelli, and Captain Cruiseline Scott Sanders to present the most definitive… most comprehensive… most exhaustive (at least to us) guide to pressed pennies at Universal Orlando.
Before we start there's a couple things that fellow coin collectors should know:
*Unlike Disney, none of the onsite hotels at Universal Orlando offer pressed pennies. That's a shame, because we can imagine how cool the offerings would be at places like the Cabana Bay Beach Resort.
*While you can find pressed penny machines at Disney's water parks like Blizzard Beach, there are no pressed penny machines at Universal's Volcano Bay.
*Lastly, the current state of pressed penny machines at Universal changes much more often than over at WDW. We will try our best to keep up with these changes going forward. At the end of every article there will be a note of when it was last updated.
All set? Alright let's head on over to Universal…
# 6 – Universal Parking Garages/Security Hub
Your pressed penny journey begins after you park your car at the Universal Orlando parking garage and make your way to the security hub. There are two machines in this area and for whatever reason they are labeled as collectable medallions. Generally speaking, when you see the term collectable medallions at theme parks it is referring to an item that is similar to a pressed penny but is larger, a perfect circle, and usually gold or silver in color. These two machines are pressed penny machines and – in fact – for years the Woody Woodpecker themed machine on the left used to say Woody Woodpecker Souvenir Pennies.
Also note that these are pressed penny machines that use a hand crank. For these type of machines, guests first turn the crank to the style of penny they want to choose. After paying (some machines used the old style of accepting coins but most now accept credit cards instead) the guest crank the handle until the penny is pressed and is spit out of the machine. For us, this is the preferred style of pressed penny machines. We will cover the two other styles of pressed penny machines later in the article.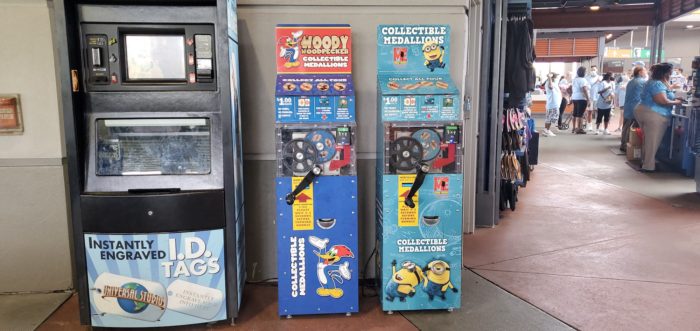 GARAGE 1: Woody Woodpecker, Spongebob, Shaggy, Scooby Doo.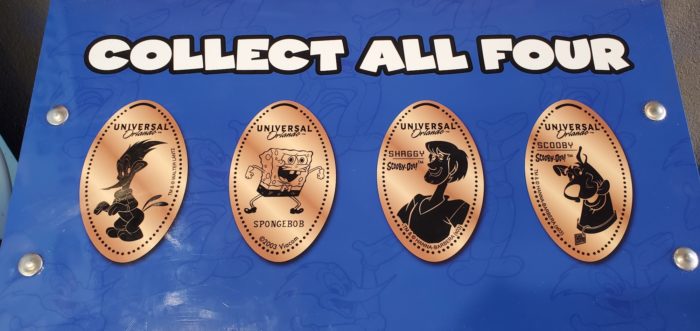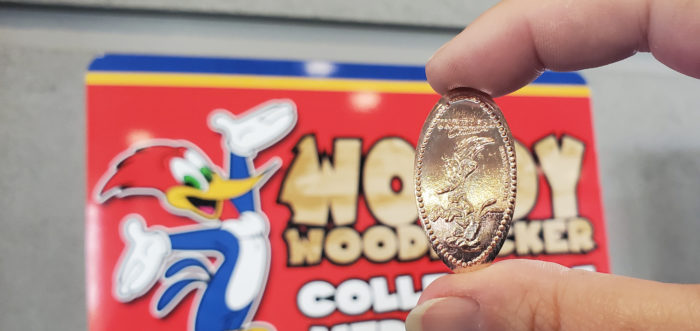 GARAGE 2: Despicable Me: Minion Mayhem, Gru, Agnes & Kyle, Minions.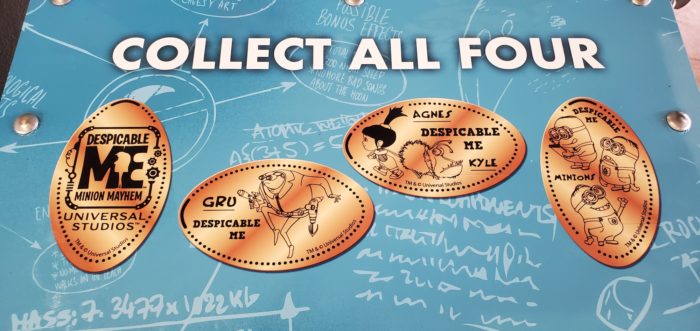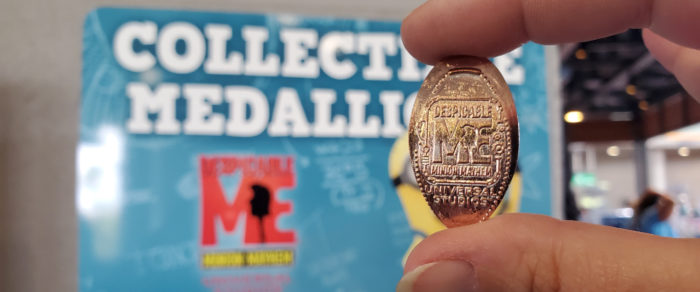 Alright, we're through security and time to head to Universal CityWalk!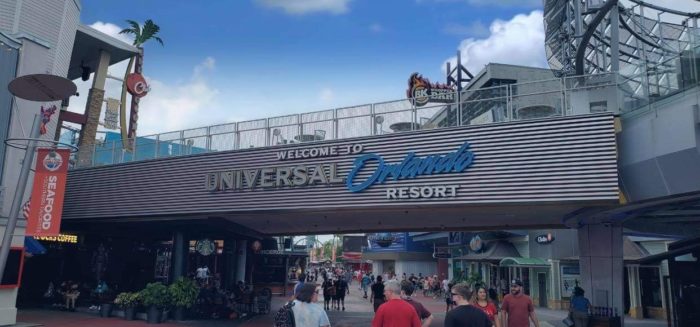 # 5 – CityWalk
Outside the Cinemark movie theaters is a machine which would seem to fit much better inside Islands of Adventure because it has some pretty great designs themed specifically to attractions in that park.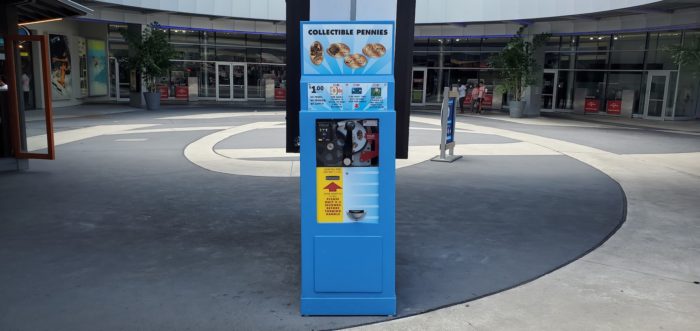 CINEMARK: I Survived Jurassic Park River Ride, The Amazing Adventures of Spider-Man, Captain America, I Survived the Hulk Coaster.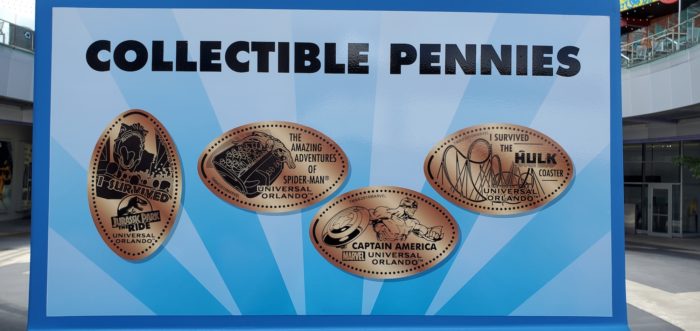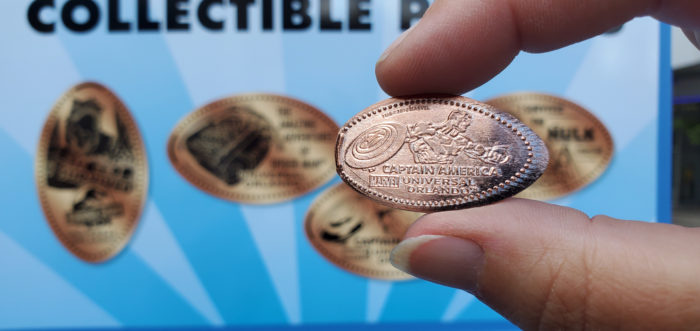 Several restaurants at Universal CityWalk have their own pressed penny machines, including Bubba Gump Shrimp Co.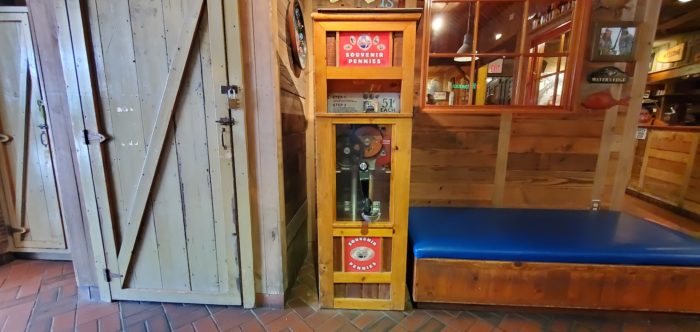 BUBBA GUMP: Forrest on bench, Run Forrest Run, Shrimp tanning, Bubba Gump logo.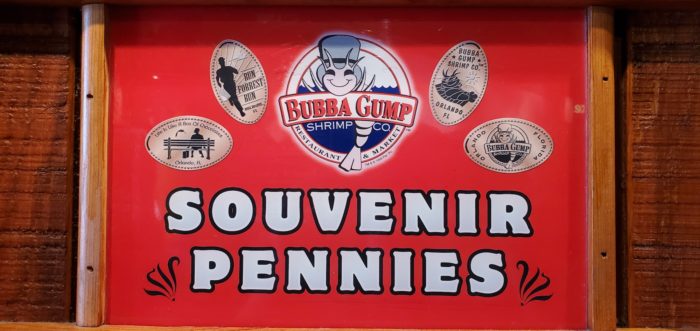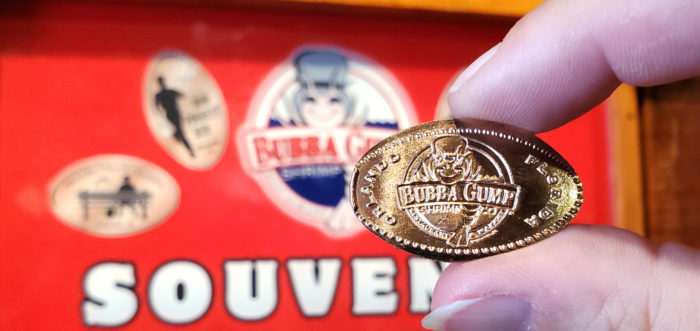 Outside our beloved Voodoo Doughnut and near some CityWalk restrooms are these two machines.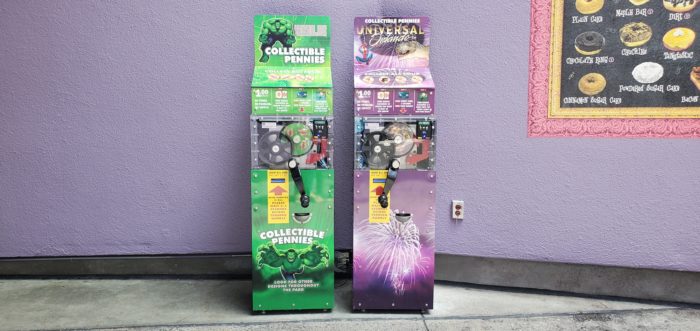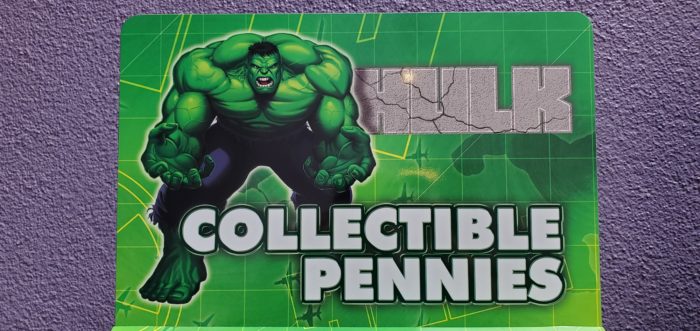 CITYWALK HULK: Hulk 1, Hulk 2, Hulk 3, Hulk 4.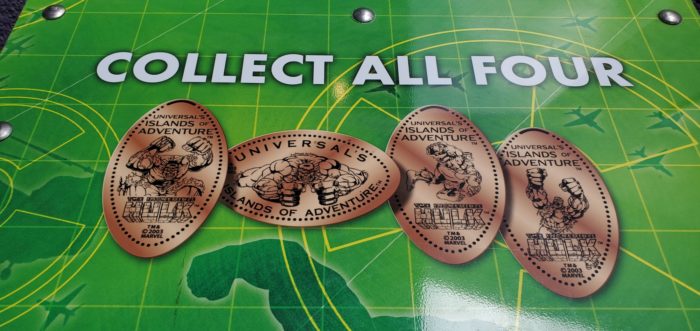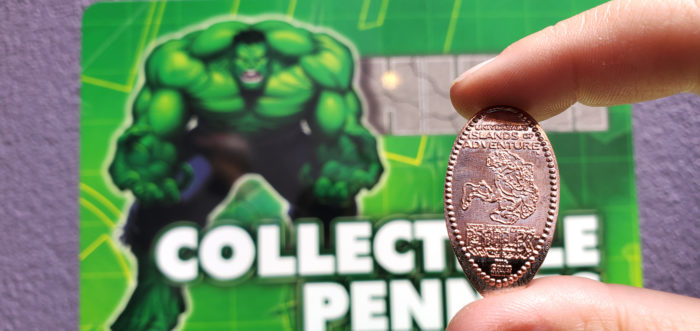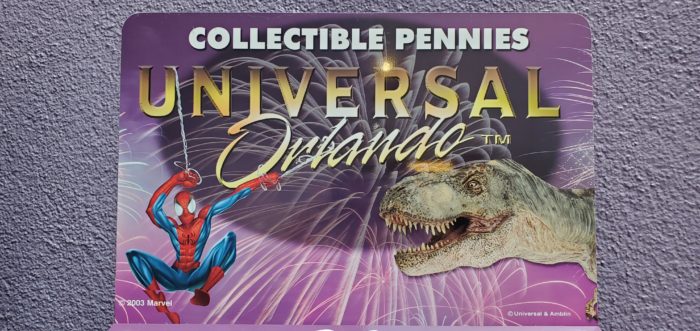 CITYWALK IP: Spider-Man, T-Rex, Hulk, Spongebob.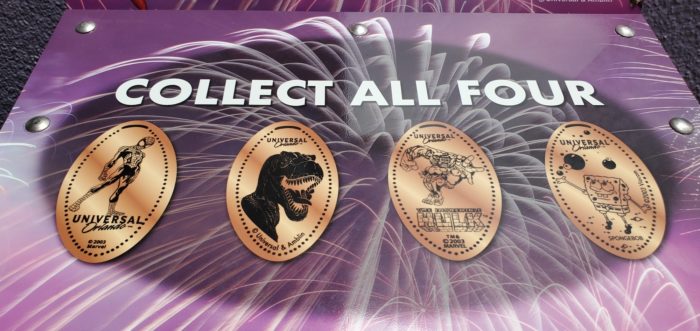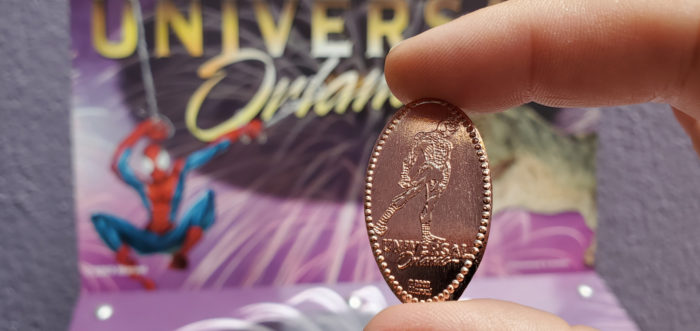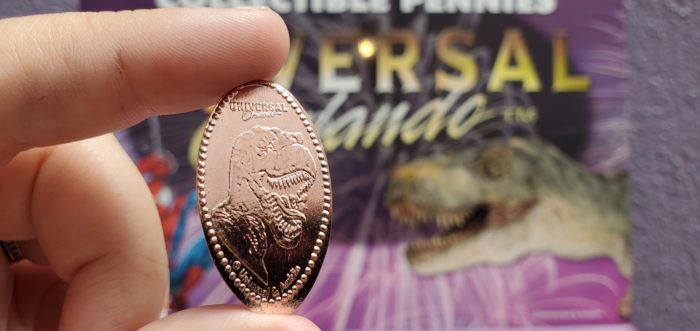 Okay so far we have already seen machines labeled collectable medallions, collectable pennies, and souvenir pennies, but over at the Hard Rock Cafe they have a machine labeled as a penny pincher.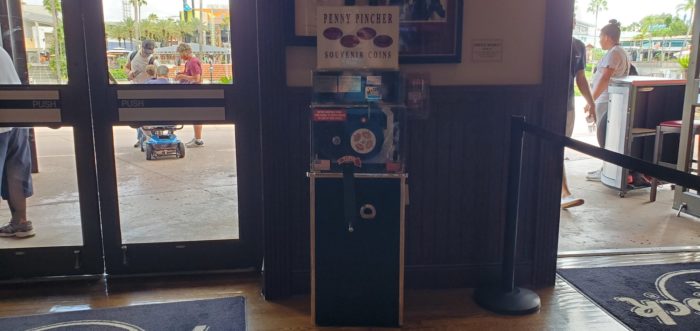 HARD ROCK CAFE: Hard Rock Cafe logo, t-shirt, Guitar, Building.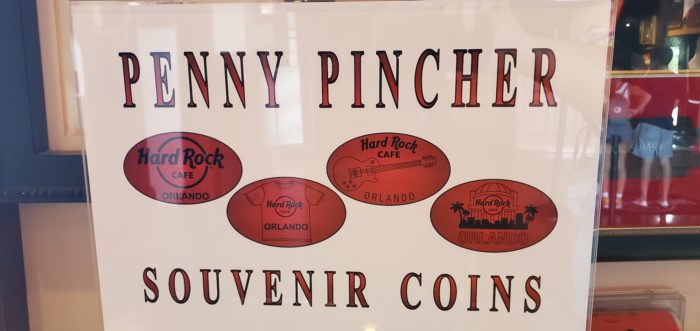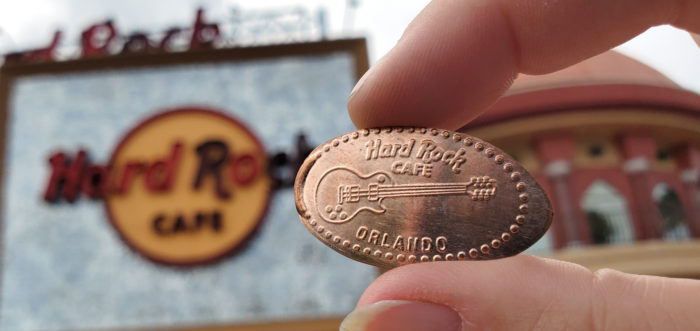 The machine for Jimmy Buffett's Margaritaville is one of the newer type of pressed penny machines that offer a wide variety of coin choices, and you make your selection using a touch screen. For many years pressed penny machines only offered 3 or 4 different choices, but these newer machines usually offer 8 different choices and also give you the opportunity to buy all 8 at a reduced price compared to buying them individually.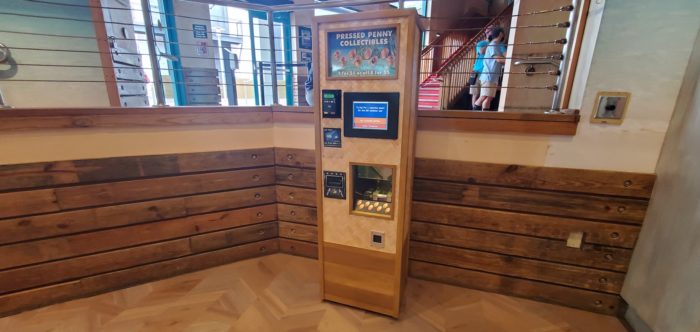 MARGARITAVILLE: It's 5 O'Clock Somewhere, No Shirts No Shoes No Problem, Living For the Weekend, Margaritaville, Beach Patrol, Parrot, Shark, Cheeseburger in Paradise.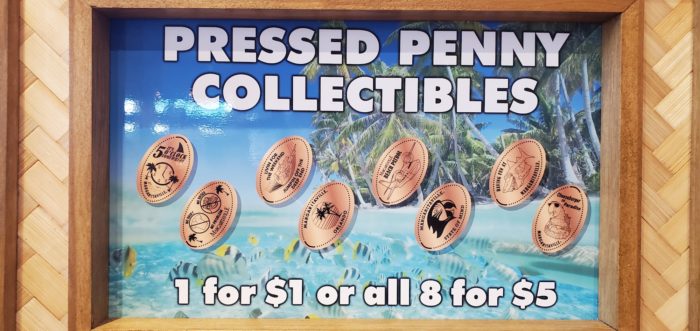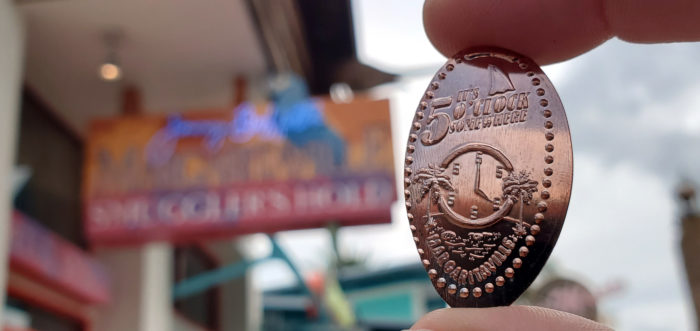 The Universal Studios Legacy Store has an awesome machine that has a murderer's row lineup including Back to the Future, E.T., Jaws, and King Kong.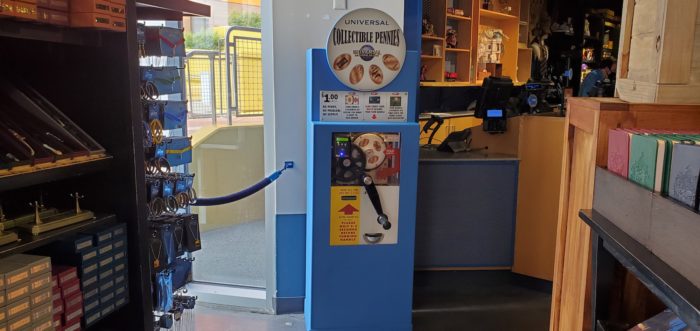 LEGACY STORE: BTTF License Plate, E.T., Jaws, King Kong.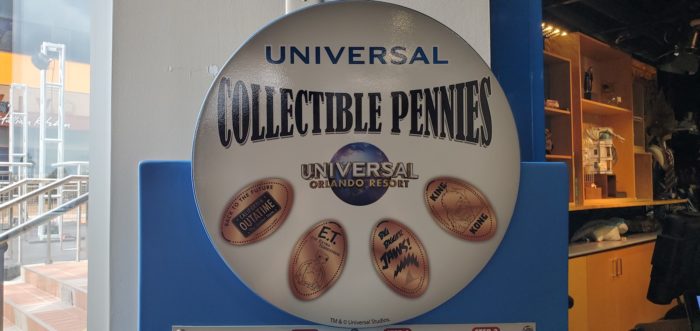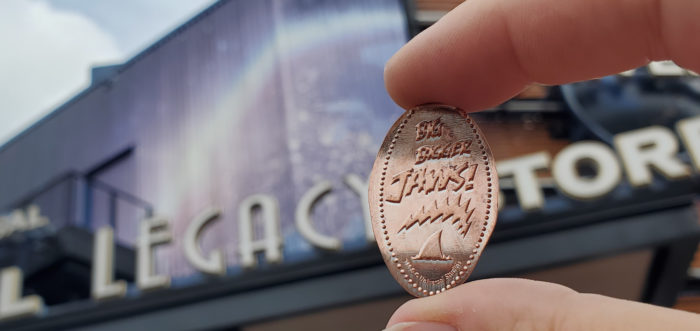 # 4 – Universal Studios Florida
Like Disney, the parks at Universal are loaded with pressed penny machines. Pretty much everywhere you go there will be a machine near you. This includes the main bathrooms/locker area at the front of the park.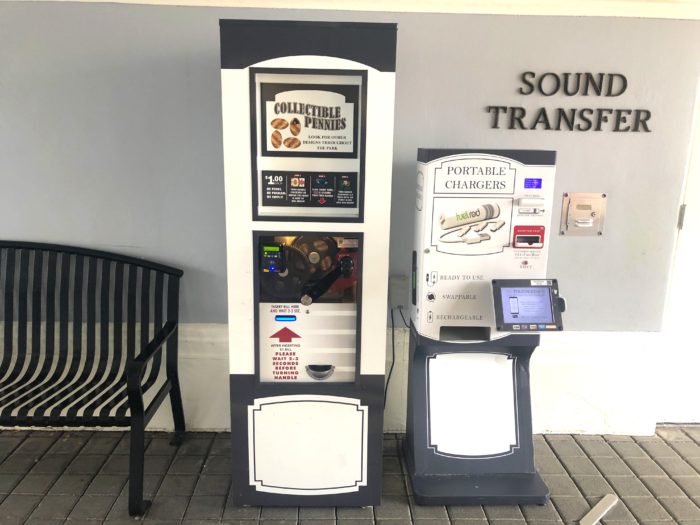 USF BATHROOM: Spongebob & Patrick, Spider-Woman, Dancin' Homer, Iron Man. (Definitely a random mix of designs in this machine. Spongebob Squarepants and Dancin' Homer make sense, as those characters are represented in USF. Marvel's Spider-Woman and Iron Man are an odd choice as everything superhero related is over at Marvel Superhero Island in Islands of Adventure.)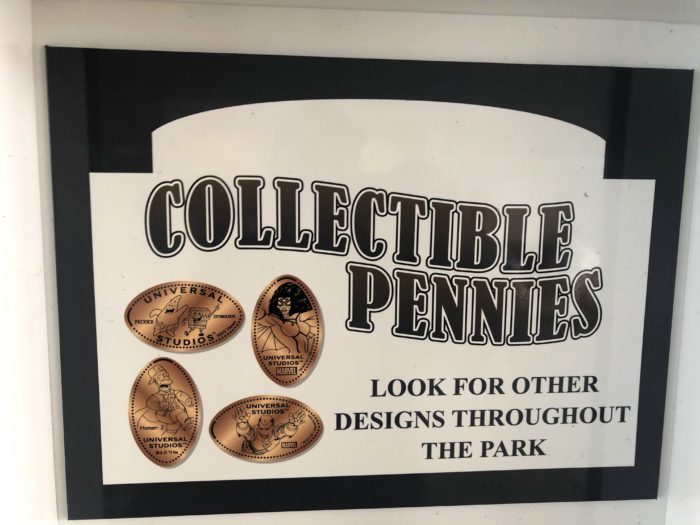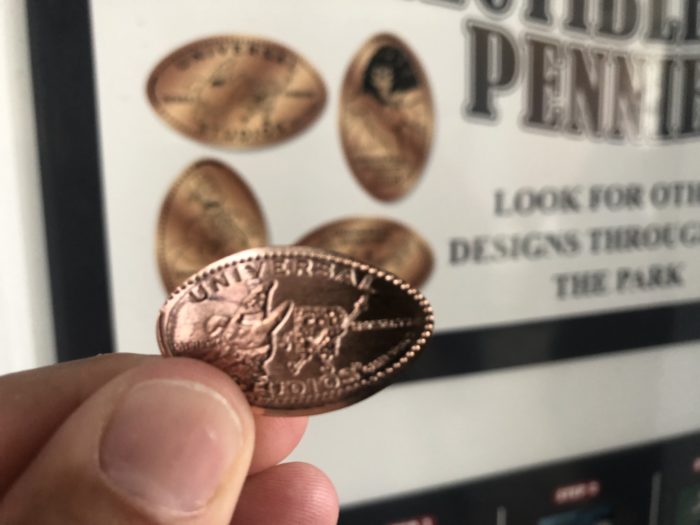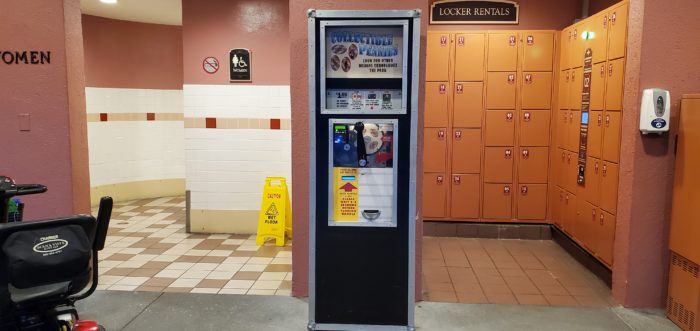 UNIVERSAL LOCKERS: Universal Orlando, Spider-Man, Hulk, Woody Woodpecker.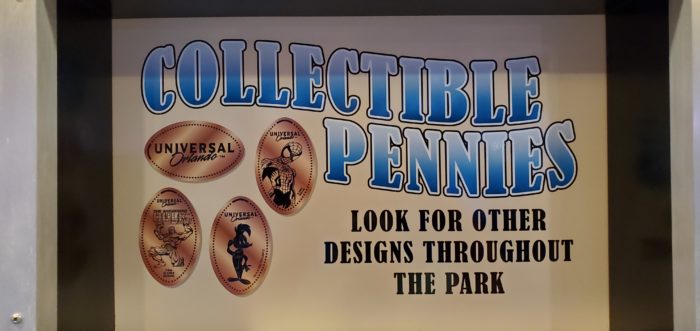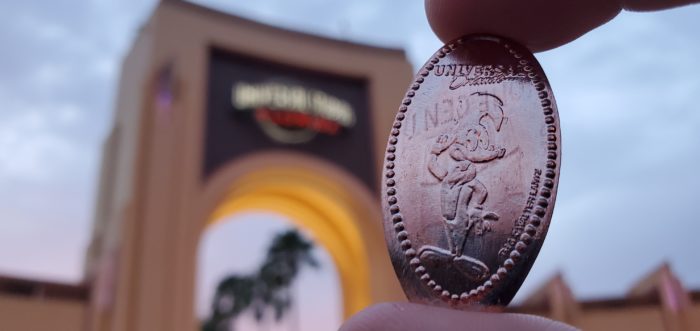 Of course the first big shop you run into at USF is the Universal Studios Store. Here you will find some awesome machines, including this one featuring an incredible Jaws design and a reference to an attraction no longer in the park with T2: 3D. This is also the third variation of the pressed penny machine. For these, after you pay your money you hit one of three buttons to choose your selection.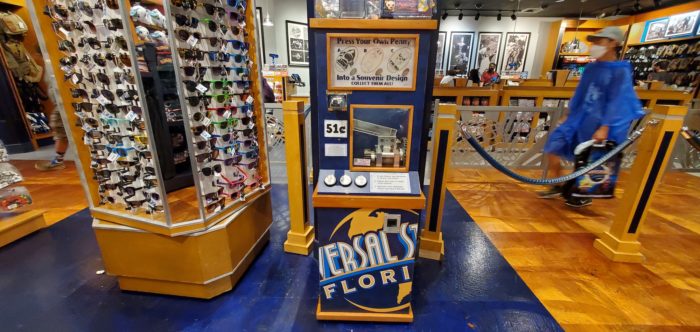 USF STUDIOS STORE 1: Jaws, E.T., T2-3D.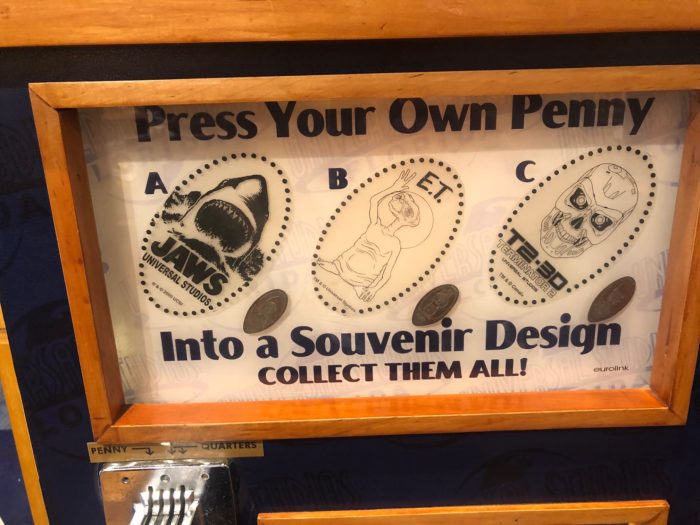 USF STUDIOS STORE 2: King Kong, Secret Life of Pets, Astrid from How To Train Your Dragon.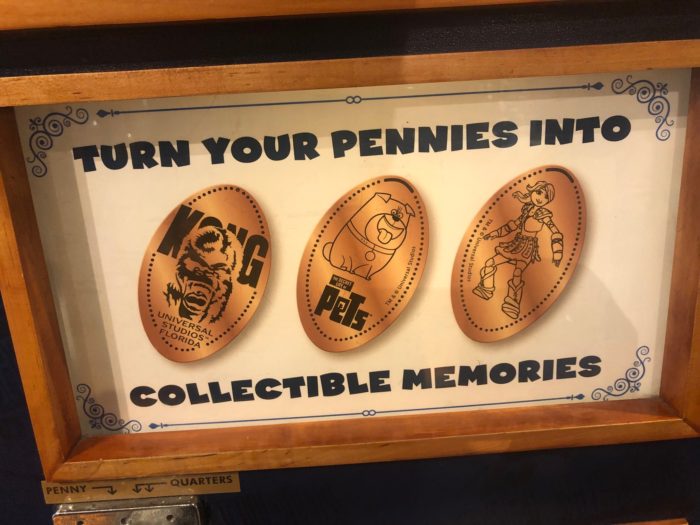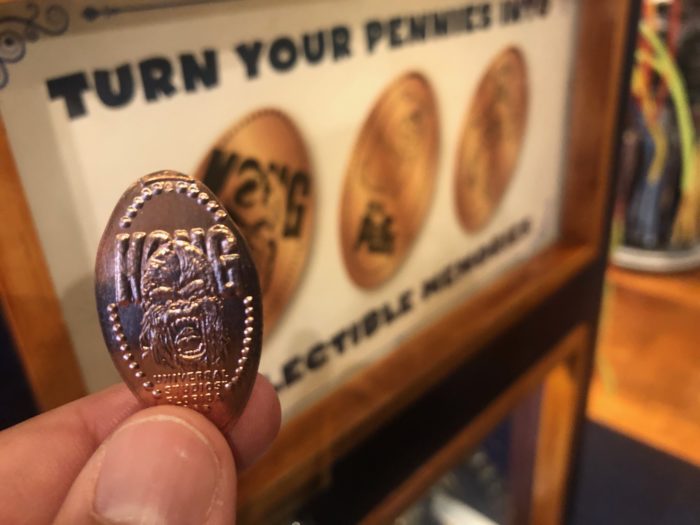 The term "limited edition" on this Despicable Me themed machine is a big vague. "Limited to the amount we can sell" seems to be what it is referring to.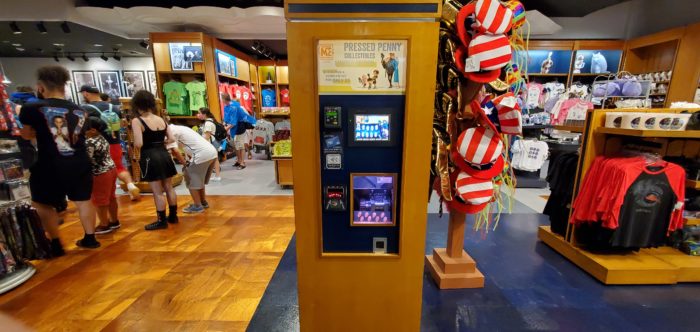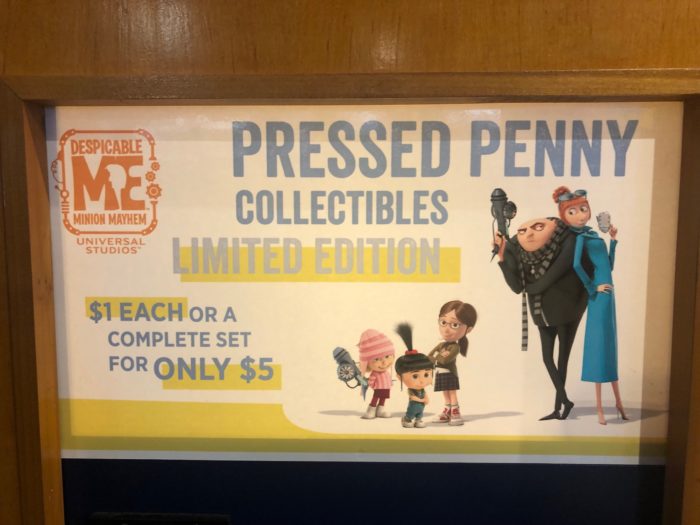 STUDIOS STORE 3: Gru & Lucy, Minion, Gru & Minions, Minions, the girls, Minion in dress, Minions, knight Minion.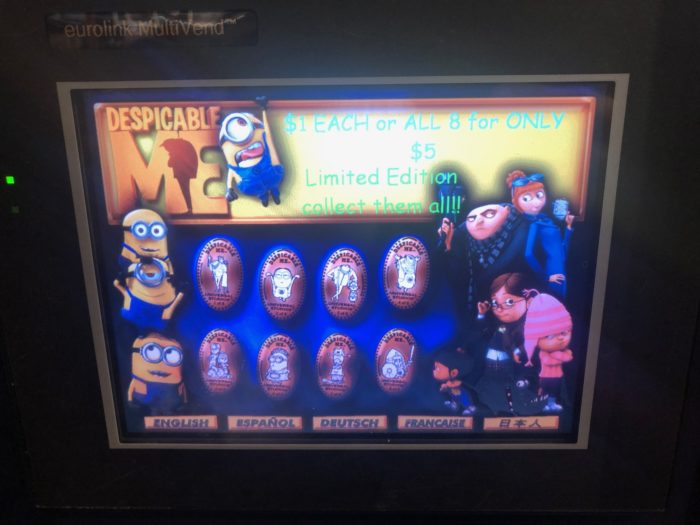 USF STUDIOS STORE 4: All minion designs.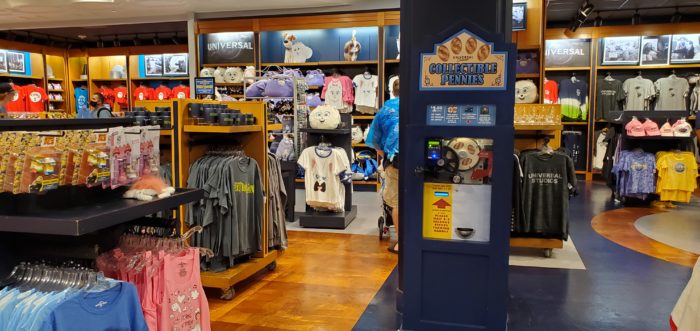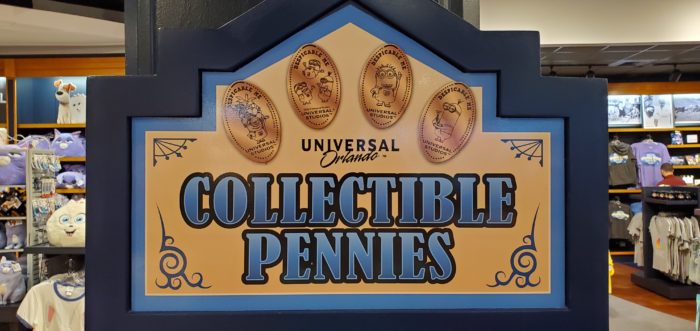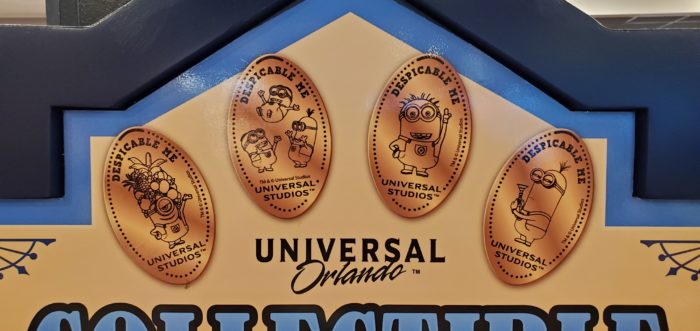 After the main gift shop we'll make our way around Universal Studios Florida in as close to a clockwise manner as possible. For the Despicable Me: Minion Mayhem attraction there is a machine outside the Super Silly Stuff gift shop.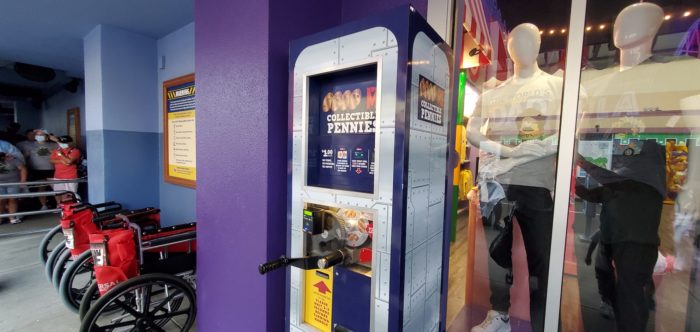 MINION MAYHEM 1: Gru, the girls, Minion on missile, Vector.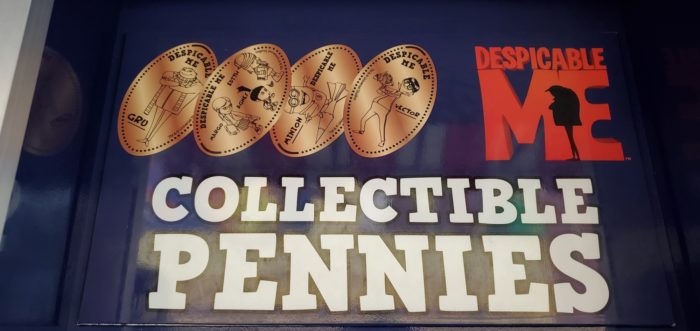 As well as another machine on the inside the store.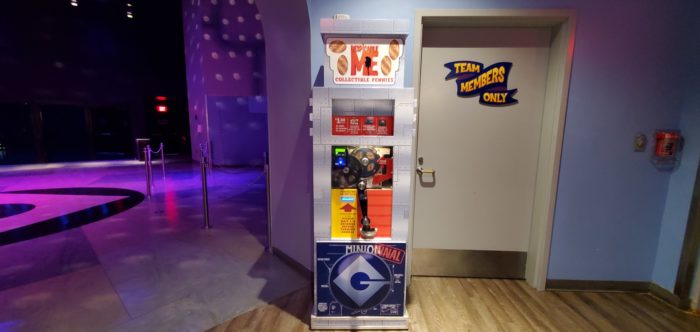 MINION MAYHEM 2: Minion Stuart, Minion Tim, Minion Jerry, Gru.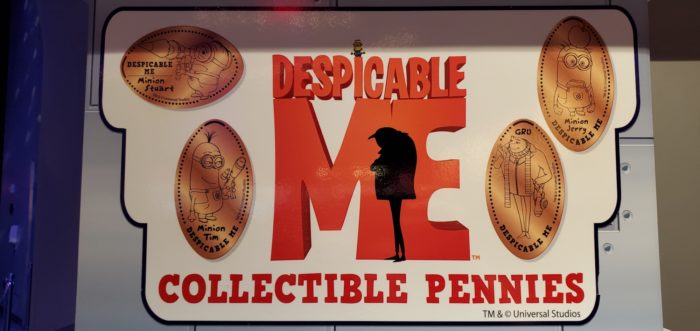 Across the street at Shrek 4-D you'll find this machine in the gift shop.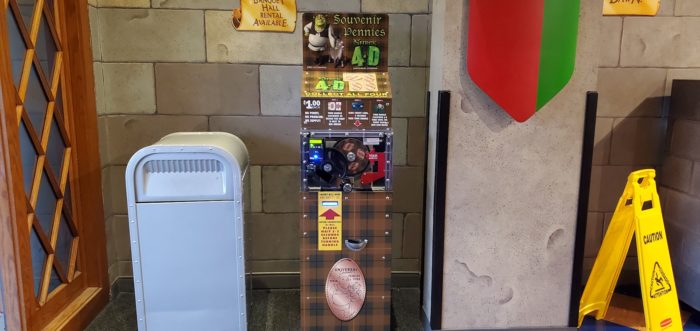 SHREK 4-D: Donkey, Shrek & Donkey, Fiona, Shrek & Fiona.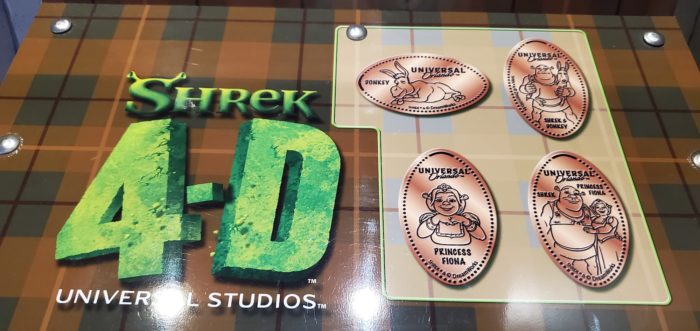 Next up is Hollywood Rip Ride Rockit.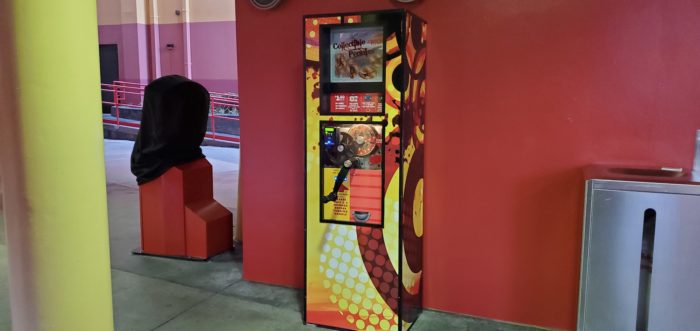 RIP RIDE ROCKIT: Guitar playing, Microphone, Guitar, Rockit Logo.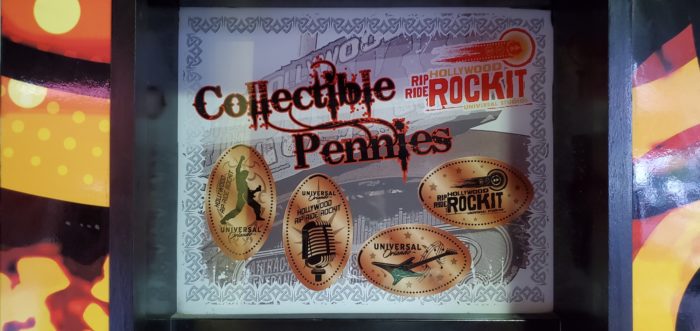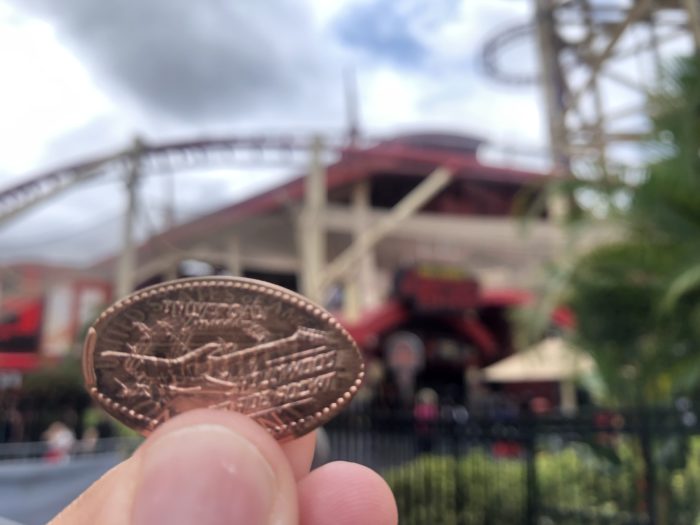 Heading into the New York area of the park we'll stop by Sahara Traders, the gift shop for Revenge of the Mummy.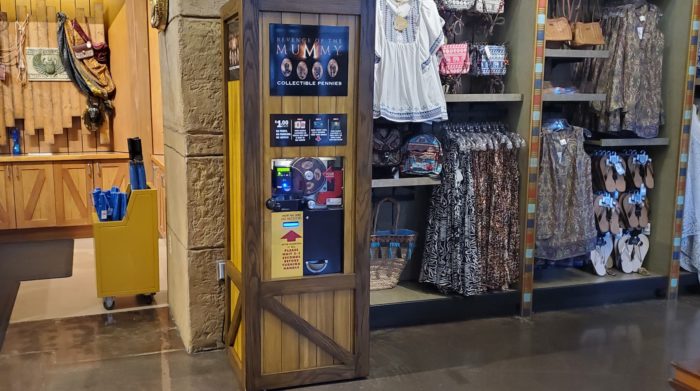 REVENGE OF THE MUMMY: Mummy screaming, Mummy hieroglyphics, Mummy in contemplation, Mummy with arms crossed.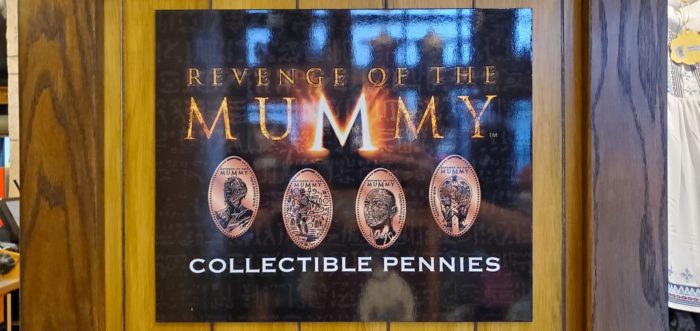 The designs for this machine are rather intricate for pressed pennies.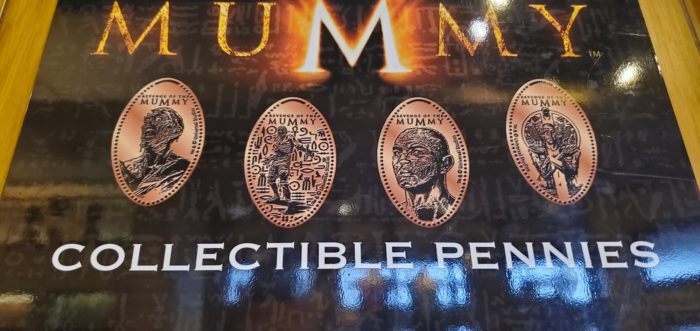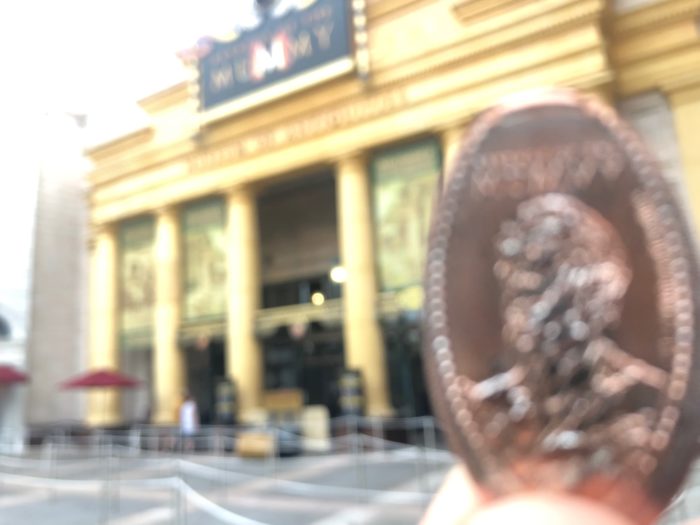 At this point we are not far away from the Transformers: The Ride 3-D so we'll hit up the Supply Vault gift shop. This machine used to be located inside the store and would always be a pinch point as people tried to get by you. Currently it is located outside and is much more easily accessible.
TRANSFORMERS THE RIDE 3-D: Megatron, Optimus Prime, Bumblebee, EVAC.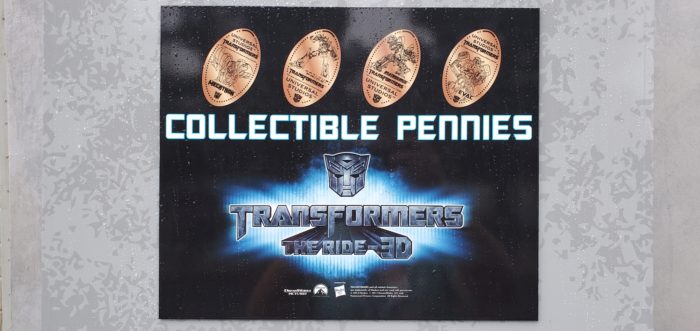 EVAC is the Transformer which is your ride vehicle for Transformers: The Ride 3-D.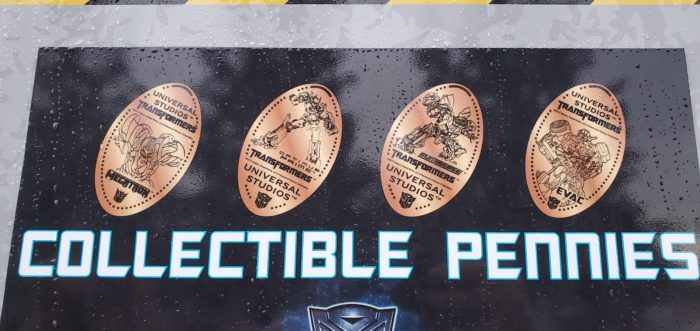 Alright, back up to the San Francisco area of the park for a machine which was previously removed but is now back in working order. It also features a Must Get design.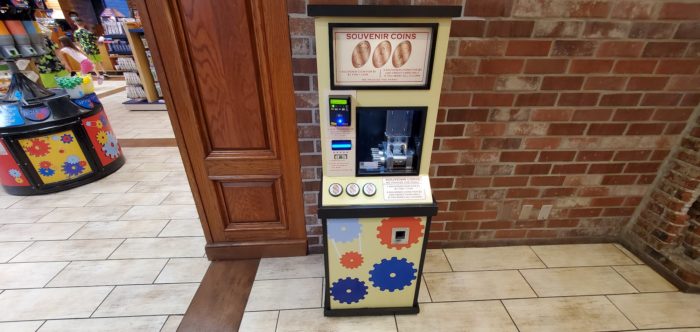 It is located in the San Francisco Candy Co. building which is connected to Richter's Burger Co. How awesome is the Marty/Doc Brown Back to the Future design?!
SAN FRANCISCO CANDY CO: BTTF, Secret Life of Pets, Trolls.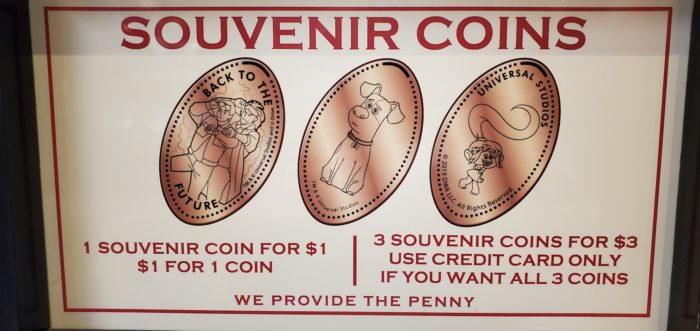 Located outside the San Francisco Candy Co. is my favorite machine in all of Universal Orlando. The JAWS machine.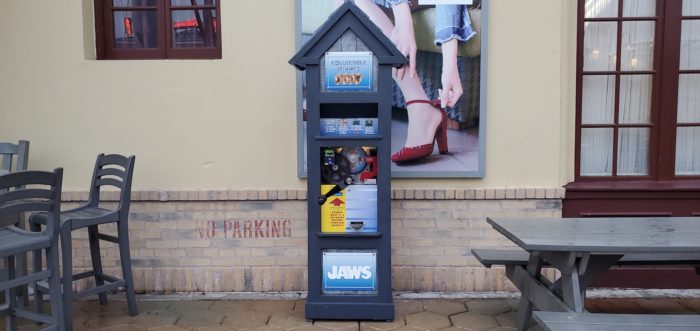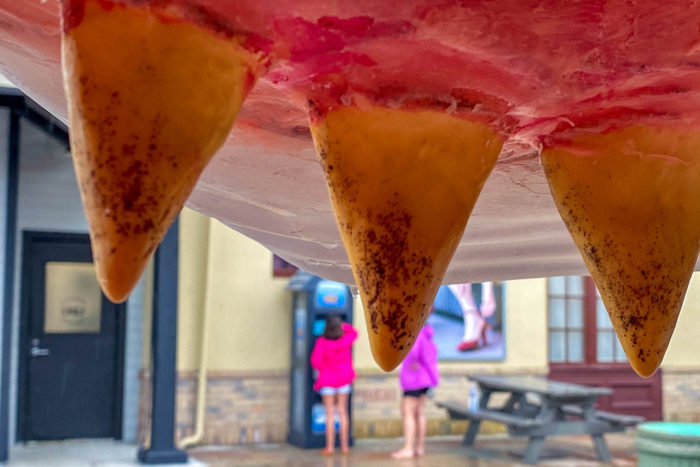 LOOK AT THESE DESIGNS!!!!!
JAWS: Jaws, Hello Kitty with Jaws, Amity Billboard, Amity Island Jaws.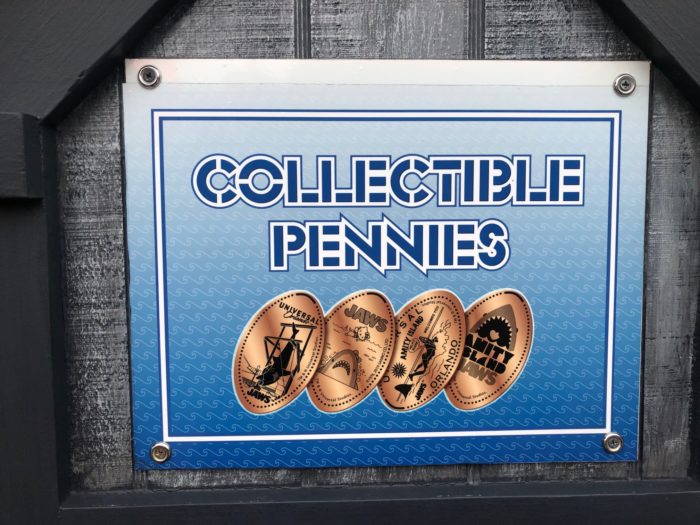 I'm in love with all the Universal attraction/Hello Kitty mashups. The JAWS mashup is my favorite one and the fact it is available as a pressed penny design is incredible.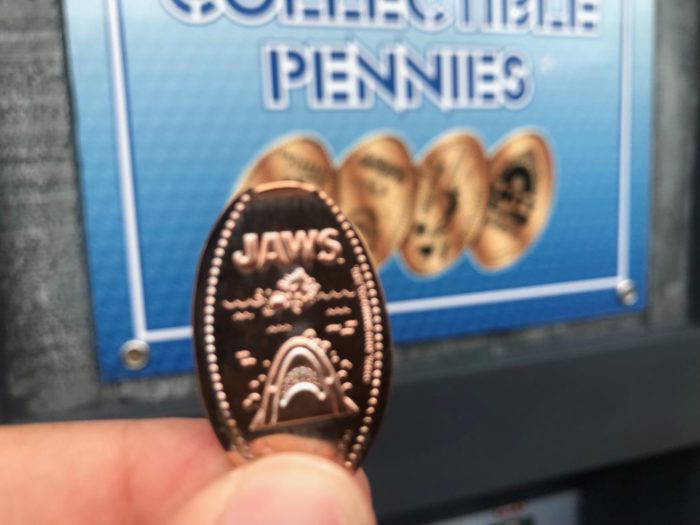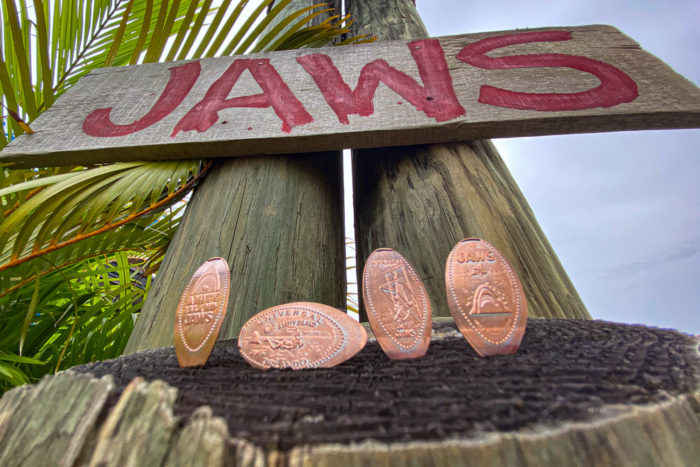 The newest machine in the park is located nearby at Fast & Furious Supercharged.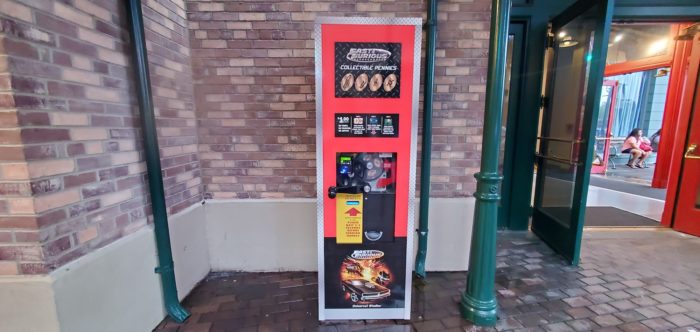 FAST & FURIOUS SUPERCHARGED: Logo, Car, Family Forever, Wrench & Lightning shield.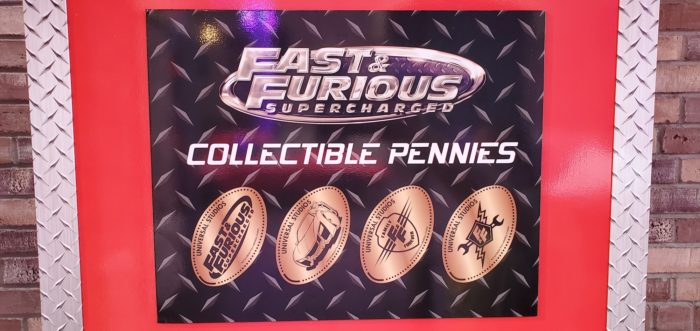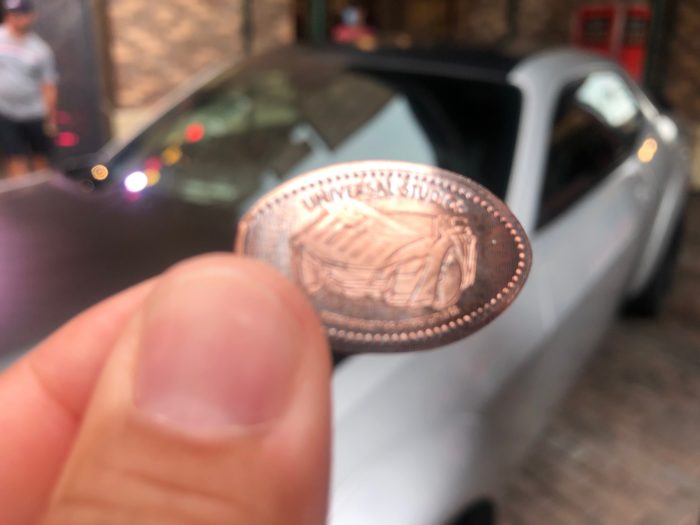 Heading on over to World Expo we'll run into this machine at Men In Black: Alien Attack.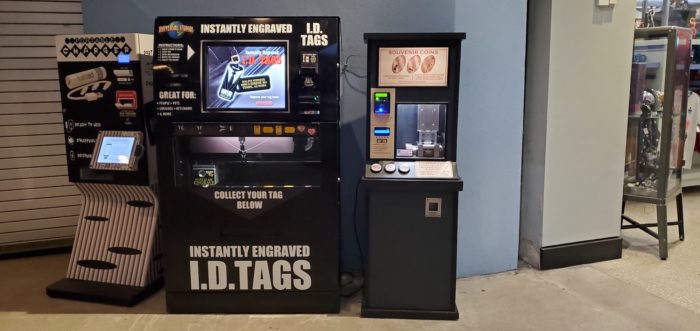 MEN IN BLACK ALIEN ATTACK: Alien 1, Alien 2, Universal Studios Florida logo.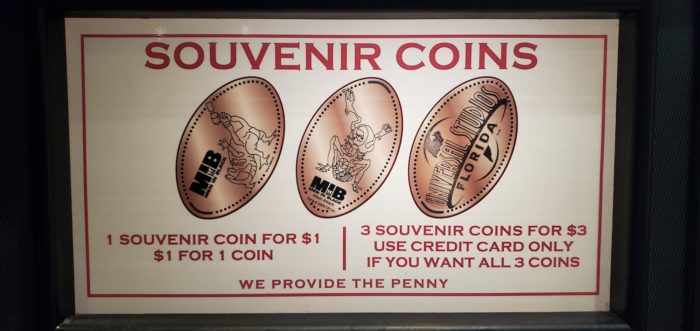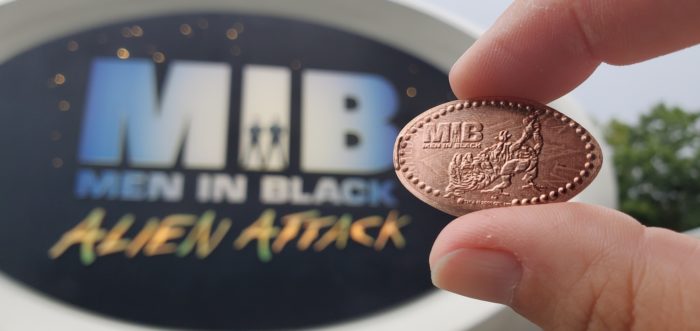 The nearby Springfield USA has penny designs for anyone who loves The Simpsons (which should be Every Theme Park Fan). This machine is located outside the Kwik-E-Mart.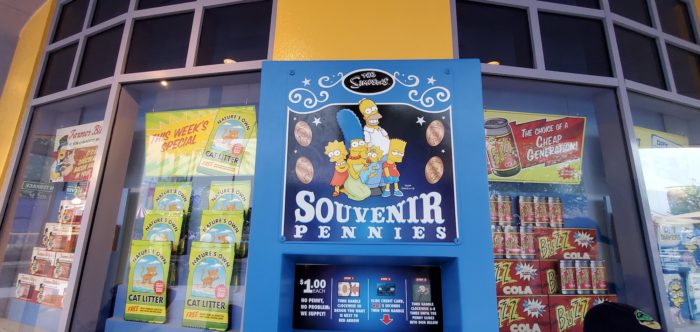 SIMPSONS: Homer, Marge, Bart, Lisa & Maggie.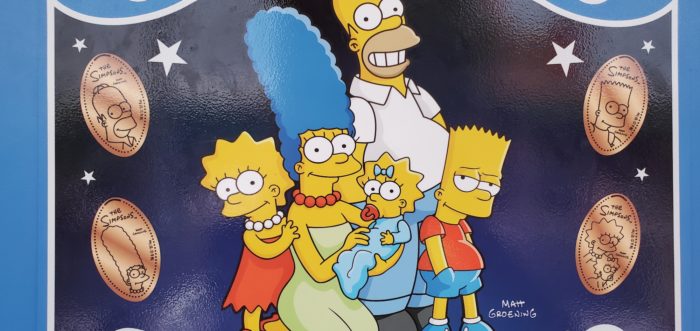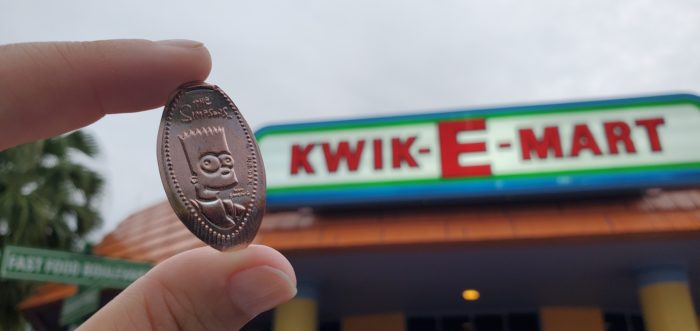 Time for Woody Woodpecker KidZone. Outside the Spongebob Storepants gift shop you'll find this machine which is appropriately stocked with designs featuring Spongebob and his friends.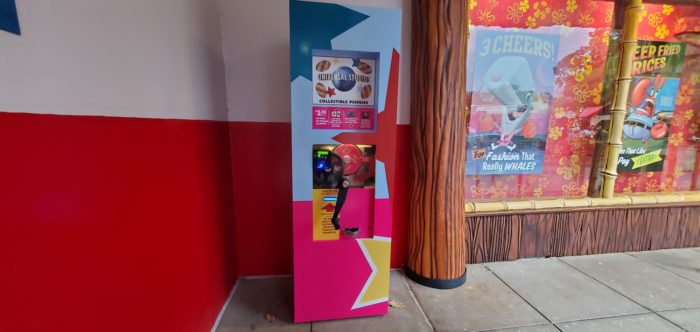 SPONGEBOB STOREPANTS: Spongebob, Patrick & Spongebob, Mr. Krabs, Squidward.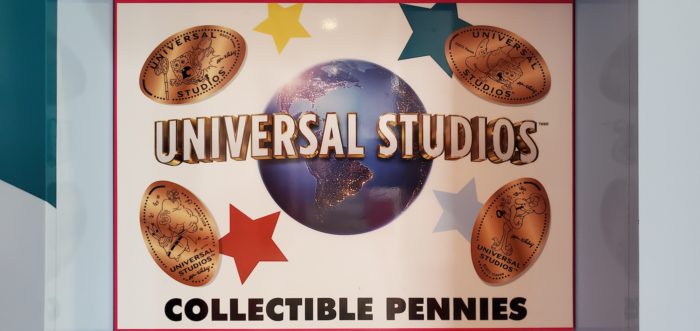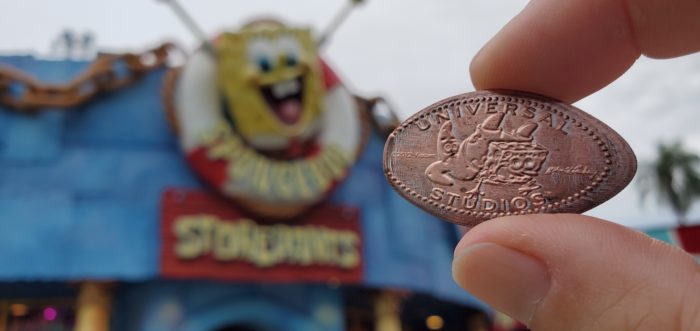 Nearby is the machine located outside the E.T. Toy Closet. There are two great E.T. designs available.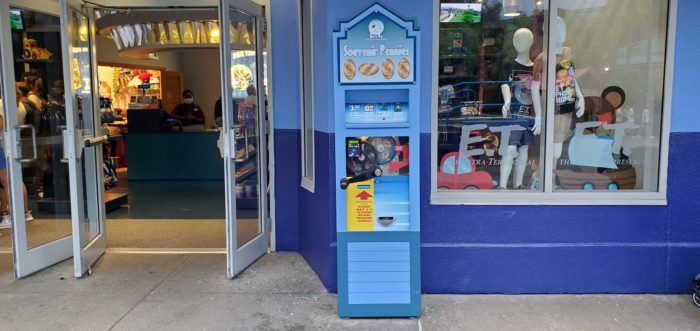 E.T. TOY CLOSET: E.T. holding toys, Winnie & Woody Woodpecker, E.T., Spongebob & Gary.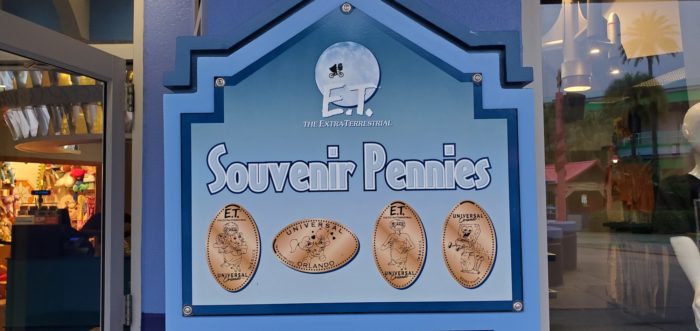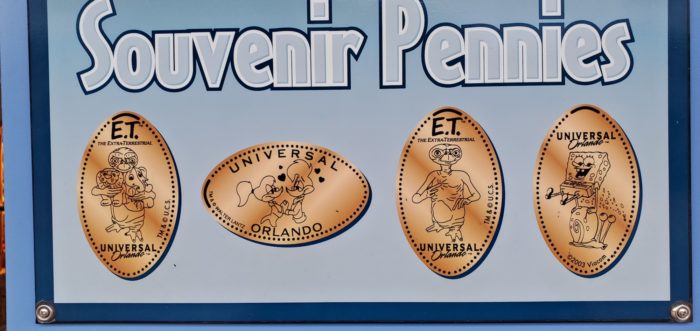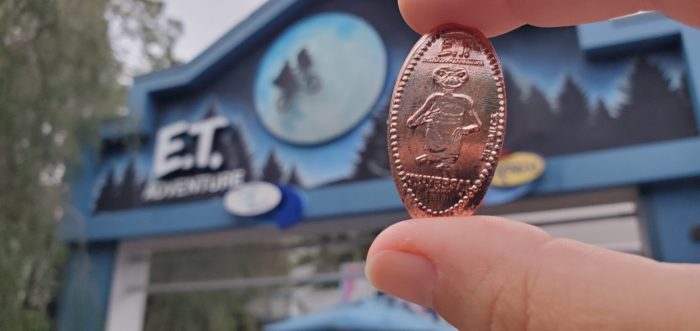 In the Hollywood section of the park we'll find this machine in the gift shop for the Bourne Stuntacular.
UNIVERSAL CLASSIC MONSTERS: Frankenstein's Monster (body), Frankenstein's Monster (head), Bride of Frankenstein, Invisible Man, the Mummy, Wolf Man, Creature From the Black Lagoon, Dracula.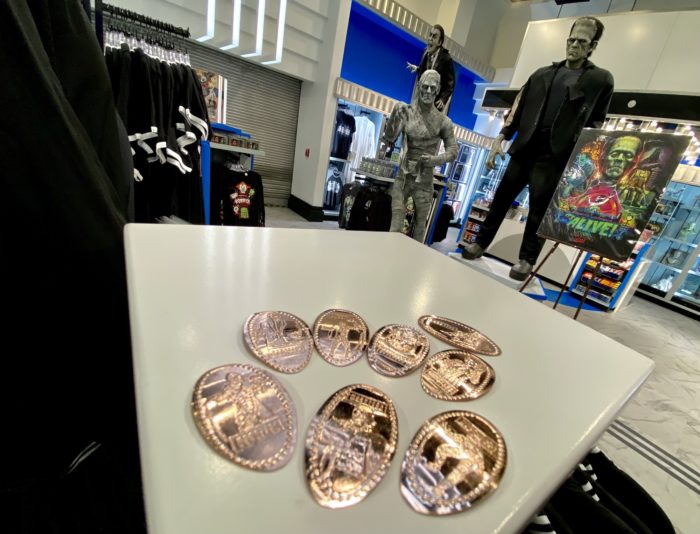 Nearby in the Hello Kitty Gift Shop…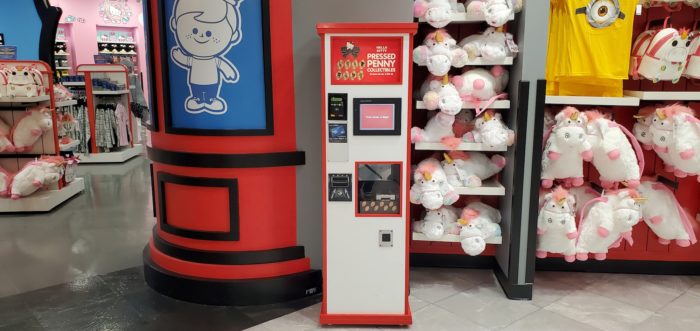 HELLO KITTY: Hello Kitty,  My Melody, Pompompurin, Chococat', Badz Maru, Keroppi, Hello Kitty, Hello Kitty with movie clapper.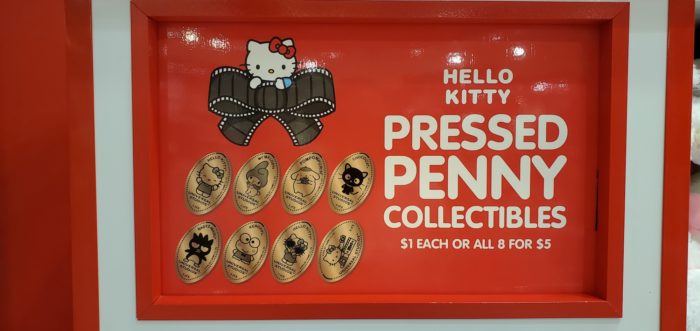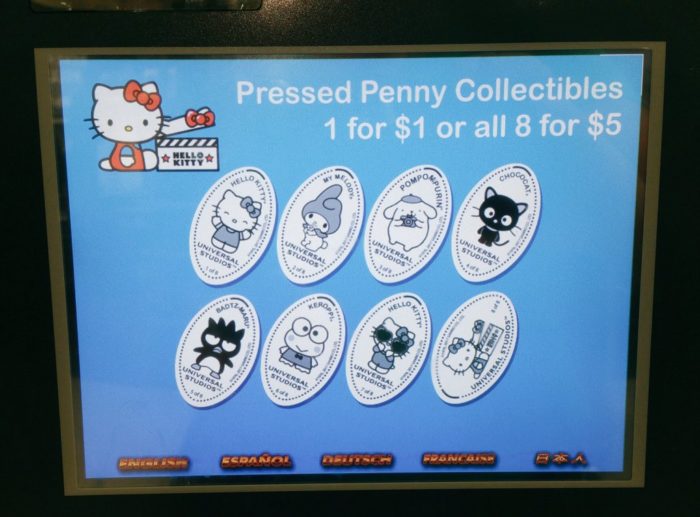 Nearby you'll also find this Betty Boop machine.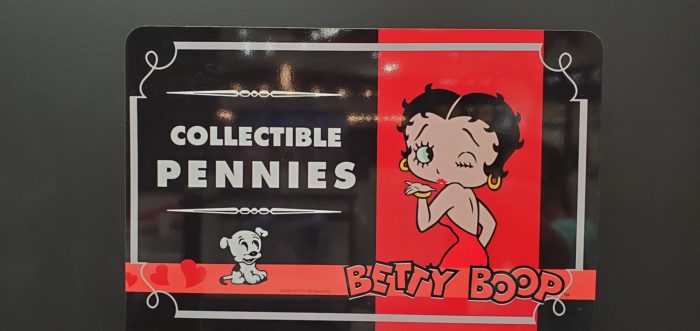 You'll notice two designs here are themed to the show I Love Lucy. Before the Hello Kitty Store opened this area was a tribute to the I Love Lucy television show.
BETTY BOOP: Vita-Meata Vegamin, Betty Boop sitting, I Love Lucy logo, Betty Boop standing.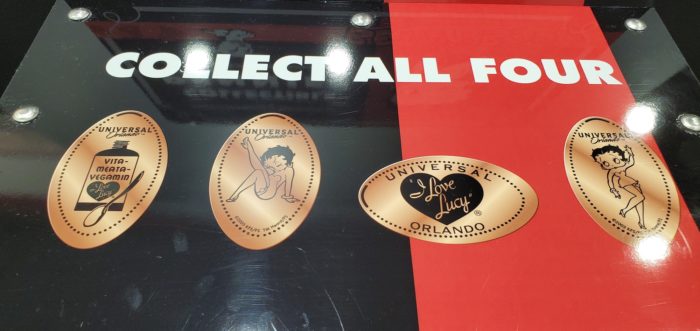 # 3 – Islands of Adventure
We've said many times that Port of Entry in Islands of Adventure is our favorite "Main Street" of any theme park. It also has a bunch of pressed penny machines!
The main gift shop at IOA is the Islands Trading Company, where you'll find several machines.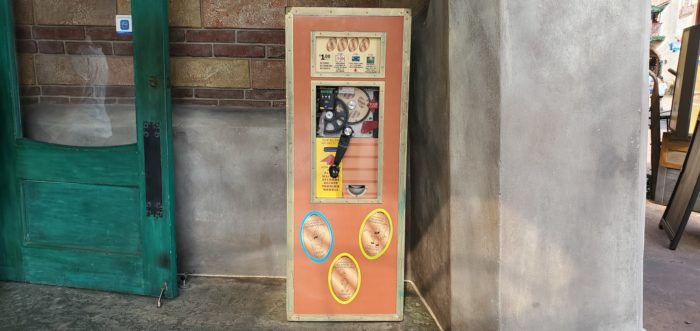 ISLANDS TRADING CO 1: Spongebob, Patrick, Squidward, Mr. Krabs.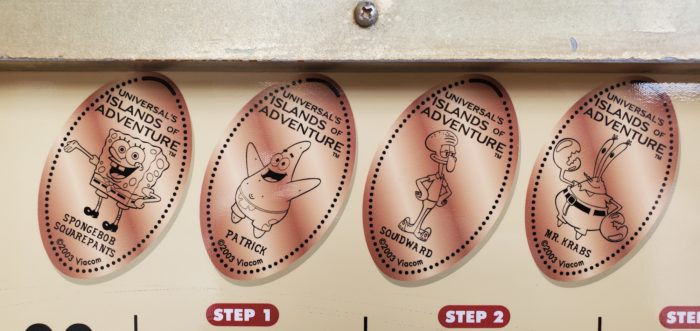 Spongebob characters is an interesting choice since Spongebob himself is represented in USF – not IOA – but kids love Spongebob so it's no biggie.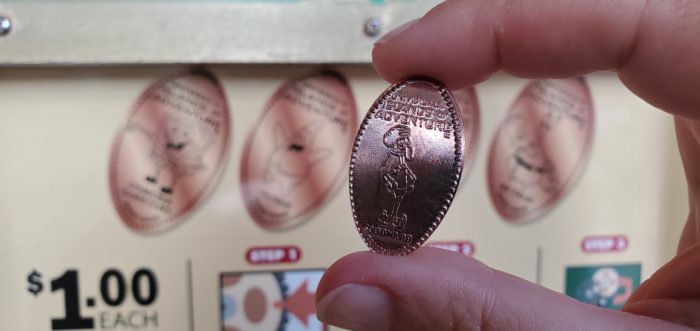 This machine below features one of my favorite designs. Homer, Moe, and Barney in Moe's Tavern.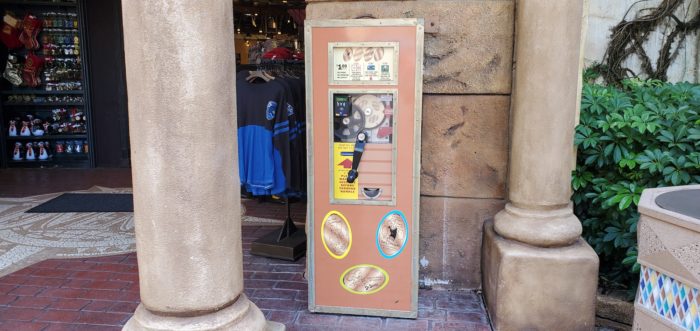 ISLANDS TRADING CO 2: Popeye, Moe's Tavern, Thing 1 & Thing 2, The Simpsons.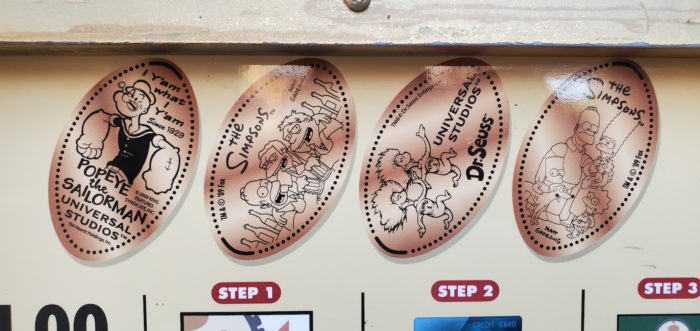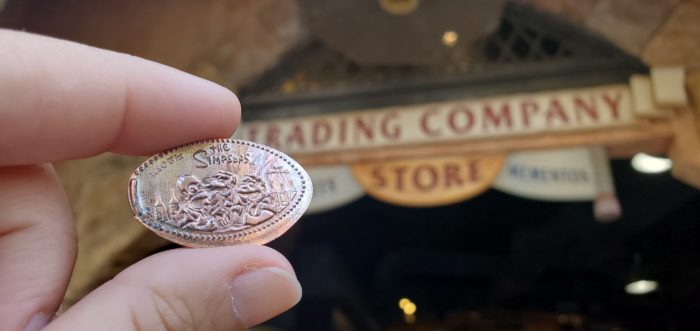 This machine is loaded up with Marvel Superheroes.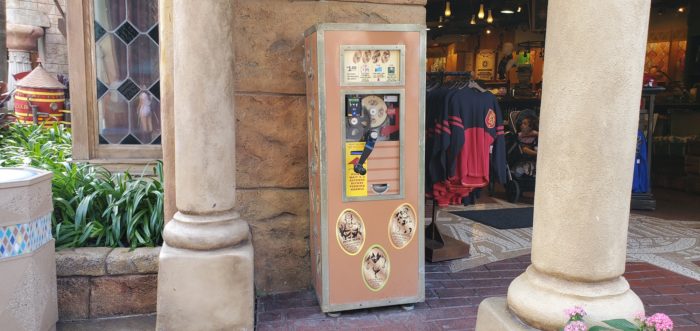 ISLANDS TRADING CO 3: Iron Man, Captain America, The Punisher, Wolverine.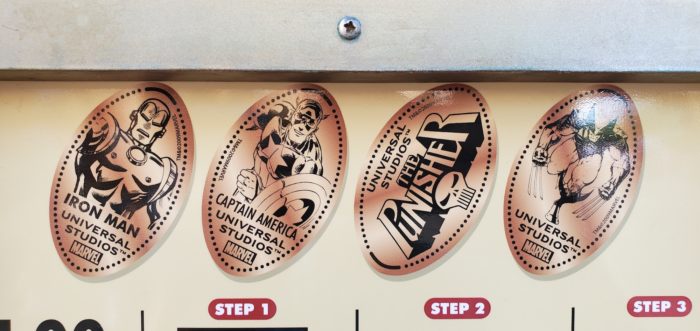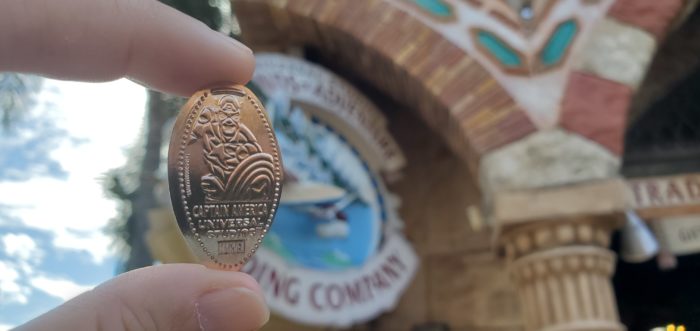 Across the street from Islands Trading Company is the Photography store, in which you'll find one of Universal's best penny machines.
IOA Photography: BTTF DeLorean, Bumblebee, Kong, E.T., Woody Woodpecker, Jaws, Universal Studios Florida, VelociCoaster.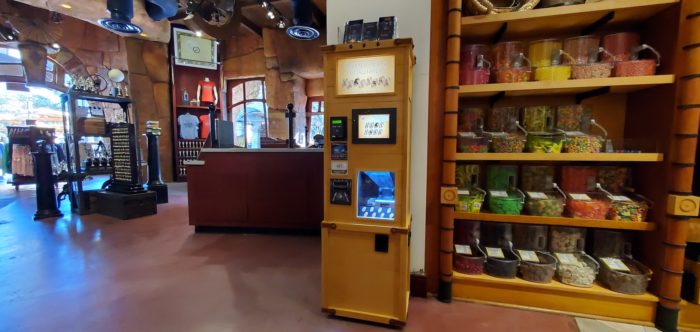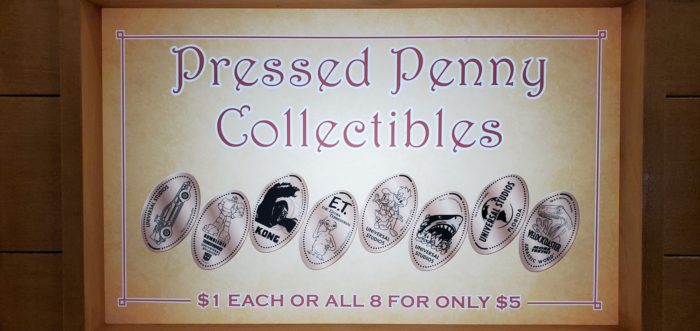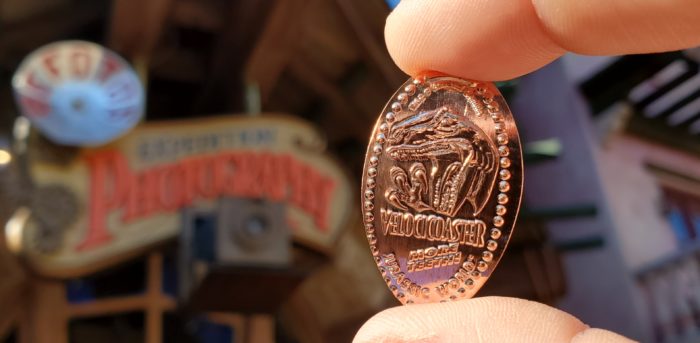 The photography area connects to Island Market & Export, here you'll also  find a couple machines.
ISLAND MARKET 1: Betty Booop, Spider-Man, Spongbob Squarepants.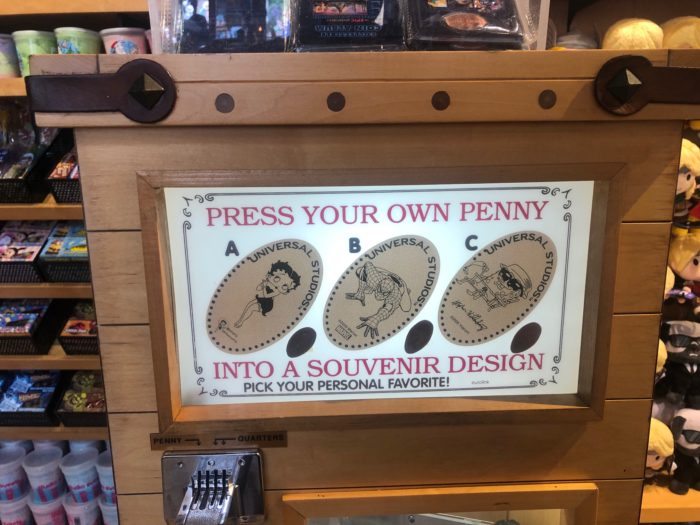 ISLAND MARKET 2: King Kong, E.T. with hoodie, Hello Kitty.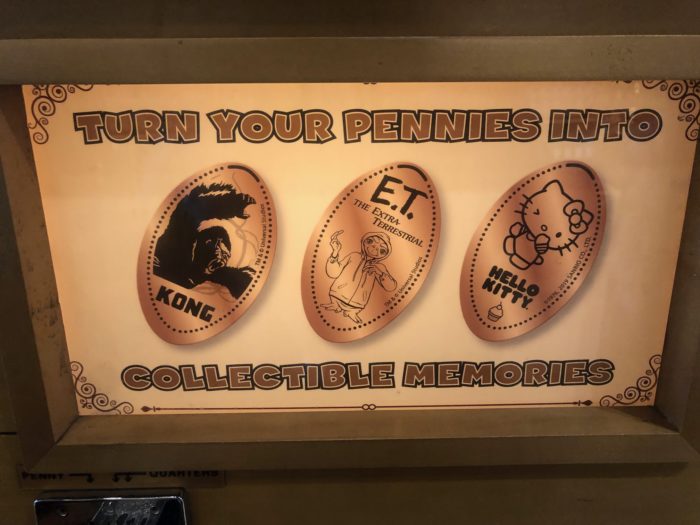 Like USF, we'll take on IOA by going around the park clockwise. Our first stop is Marvel Superhero Island. At the Incredible Hulk Coaster you'll find this machine.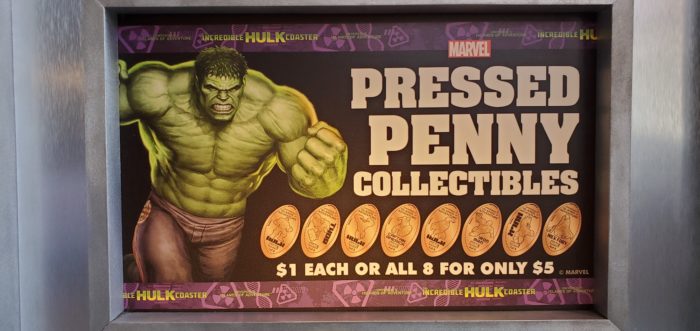 HULK COASTER: 5 Hulk designs, Captain America, Iron Man, Nick Fury.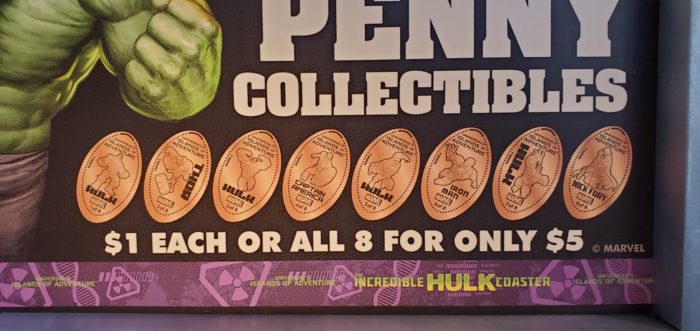 Outside the Kingpin Arcade.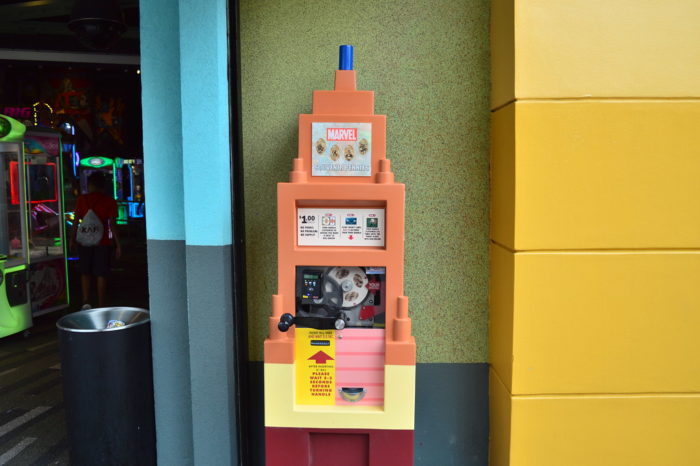 KINGPIN ARCADE: Storm, Dr. Doom, Captain America, Spider-Man.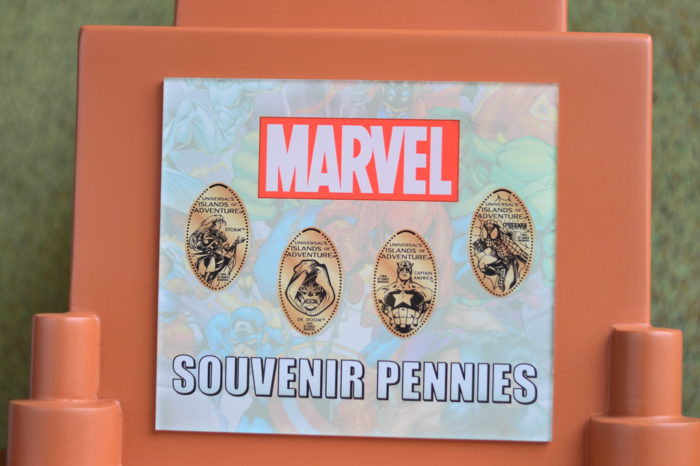 Love that design for ol' web head.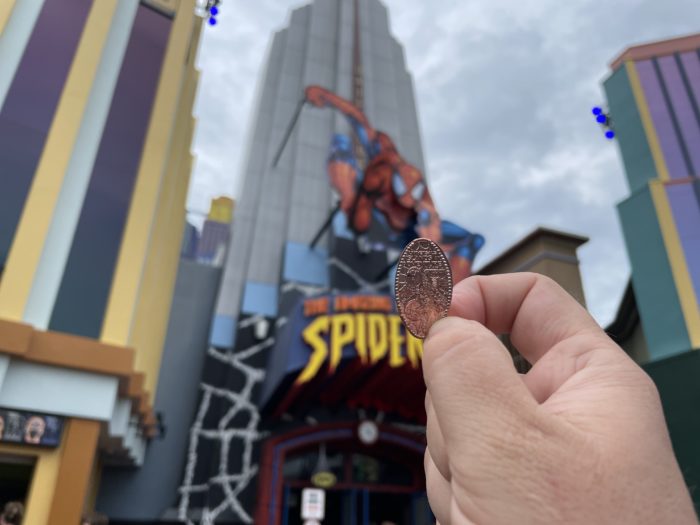 Speaking of the Amazing Adventures of Spider-Man, this is the only attraction at Universal with a pressed penny machine inside the standby queue.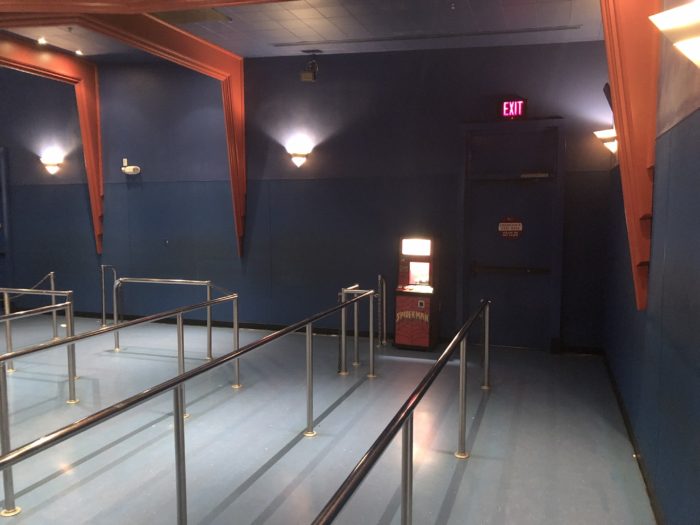 SPIDER-MAN QUEUE: Dr. Doom, Spider-Man, Spidey Logo.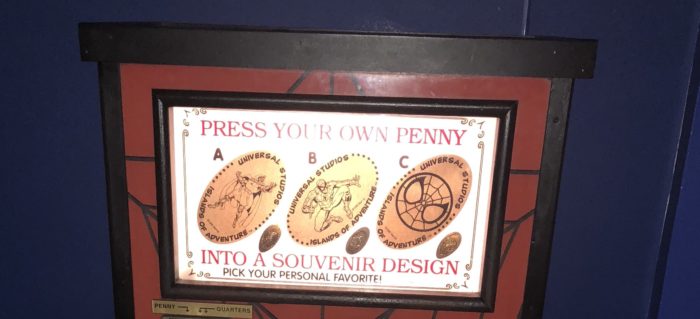 Meanwhile in the Spider-Man attraction gift shop you'll find a couple machines.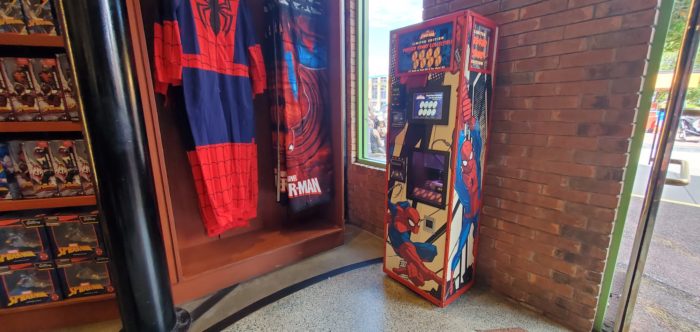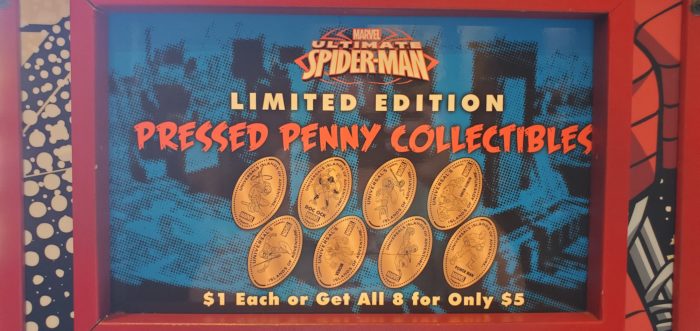 SPIDER-MAN GIFT SHOP 1: 4 Spidey options, Doc Ock, Green Goblin, Venom, Powerman.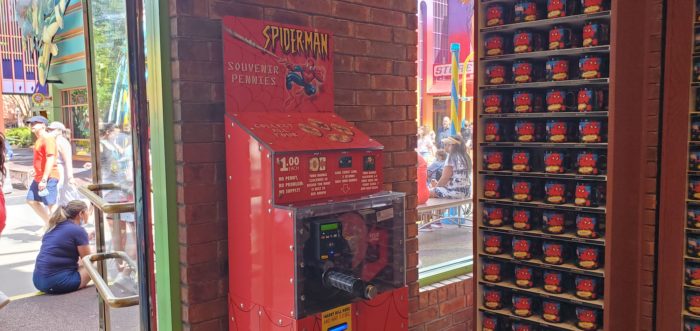 SPIDER-MAN GIFT SHOP 2: Spidey crouching, Green Goblin, Carnage, Spider-Man.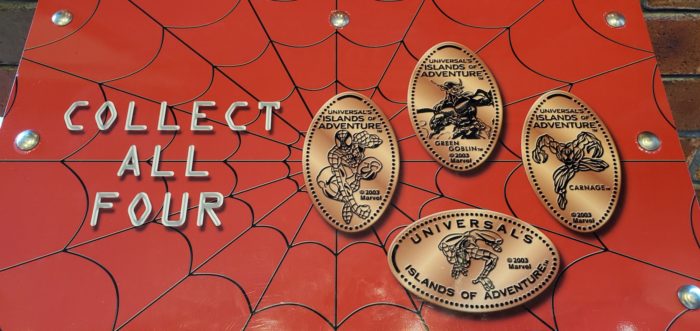 The Marvel Alterniverse store has a machine that has some pretty cool characters for Marvel fans including Black Panther, Vision, and Black Widow.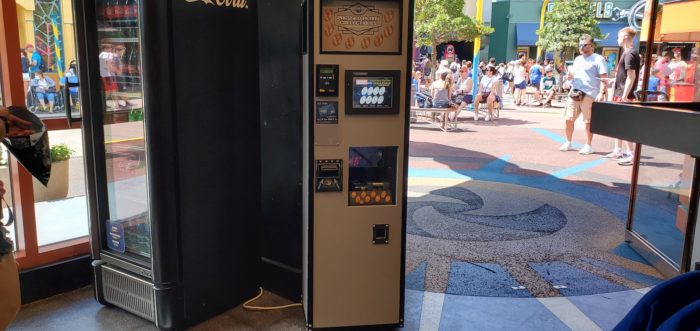 MARVEL ALTERNAVERSE: Spider-Man, Iron Man, Hulk, Captain America, Thor, Black Panther, Vision, Black Widow.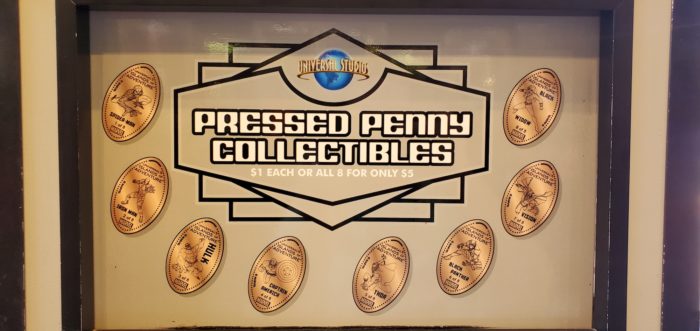 There's an actual comic book shop located in Marvel Superhero Island. Here you'll find this Spider-Man themed machine.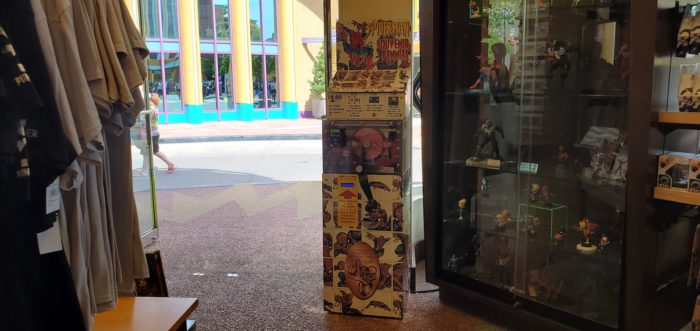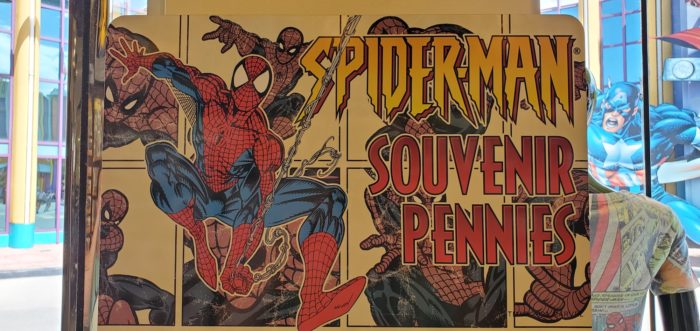 MARVEL COMIC SHOP: Venom, Spidey, Hobgoblin, Iron Man.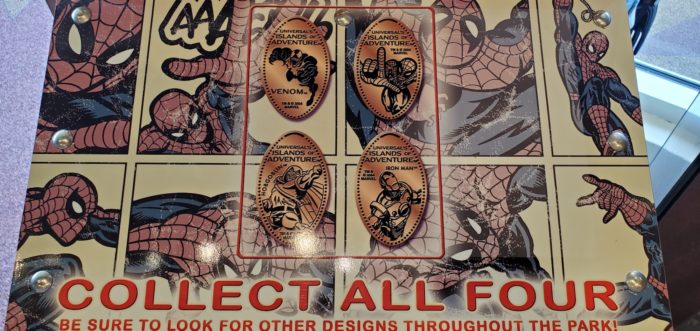 Okay, let's head on over to Toon Lagoon.  First stop, the Betty Boop Shop.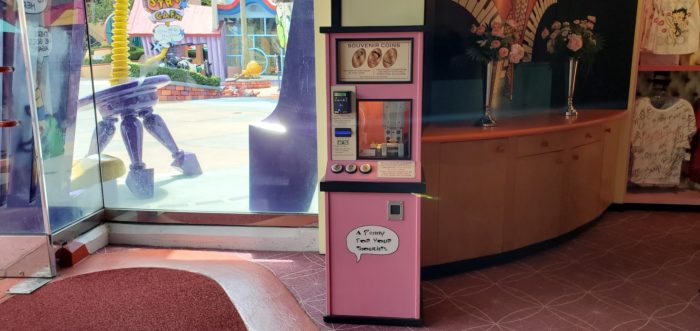 BETTY BOOP  SHOP: Beety Boop, Betty winking, Pudgy.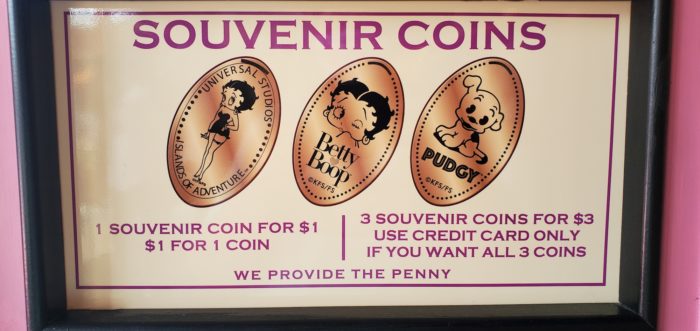 The Toon Extra store features some nice headshots featuring characters from Popeye. This is a relatively new machine that just made its debut a couple years ago.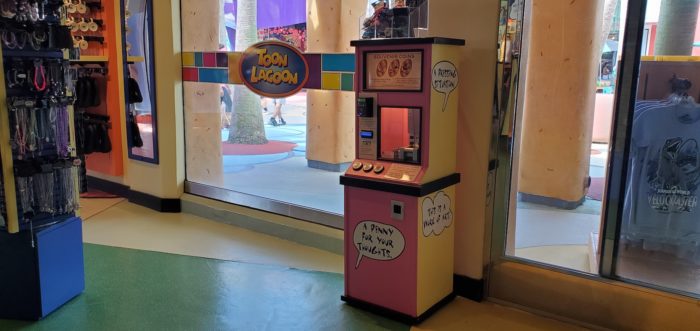 TOON EXTRA: Popeye, Olive Oyl, Brutus.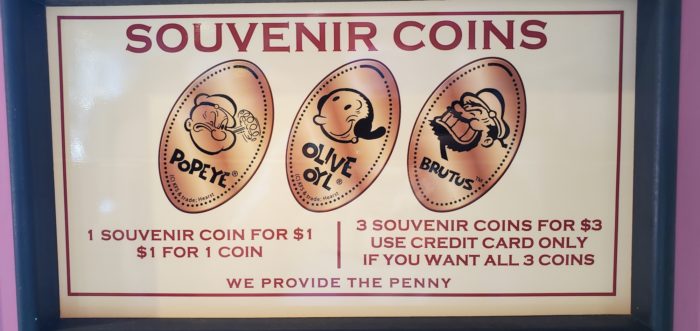 Outside Gasoline Alley you'll find this machine.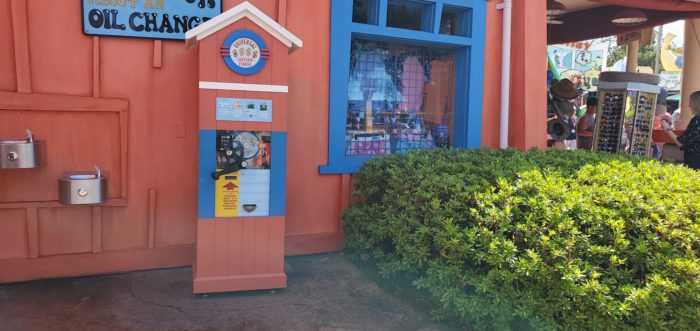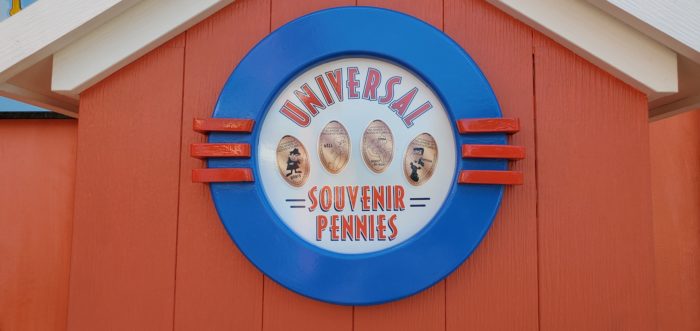 GASOLINE ALLEY: Boris Badanov, Sweet Nell, Dudley Do-Right, Natashia.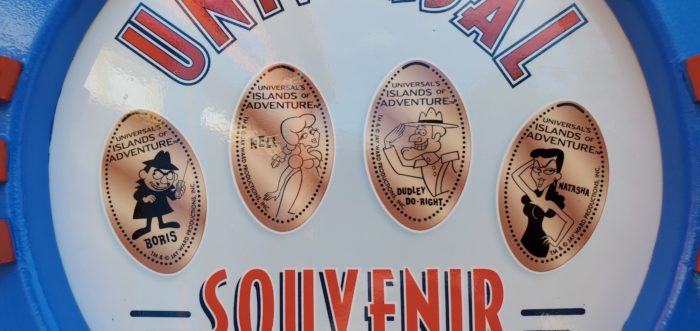 While we have seen King Kong represented in several machines at both USF and IOA, there are no actual machines at Skull Island: Reign of Kong, so we'll make our way over to Jurassic Park. The Discovery Center has several machines available, including this one "upstairs" at the Dino Store.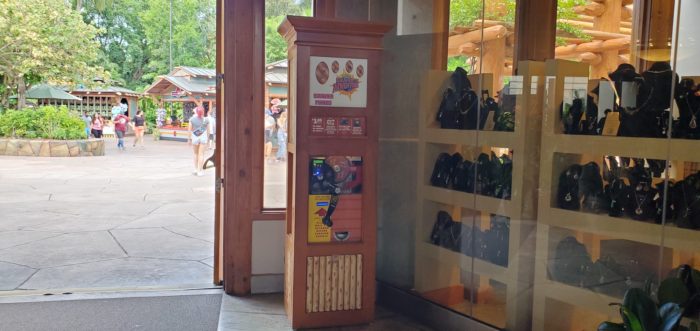 Some pretty cool designs here for dinosaur fans.
DISOVERY CENTER 1: Raptor, Pteranodon, Spinosaurus, Dilophosaurus.

You'll also find this machine with an oddly placed VelociCoaster Grand Opening design.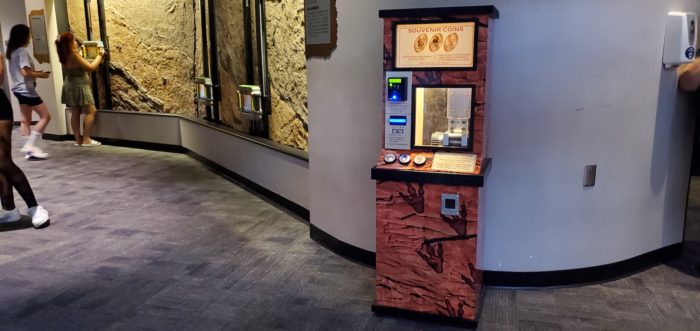 DISCOVERY CENTER 2: Jurassic World logo, VelociCoaster Grand Opening, Raptor "Blue".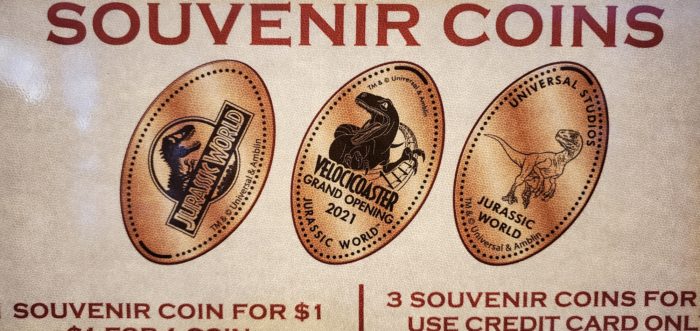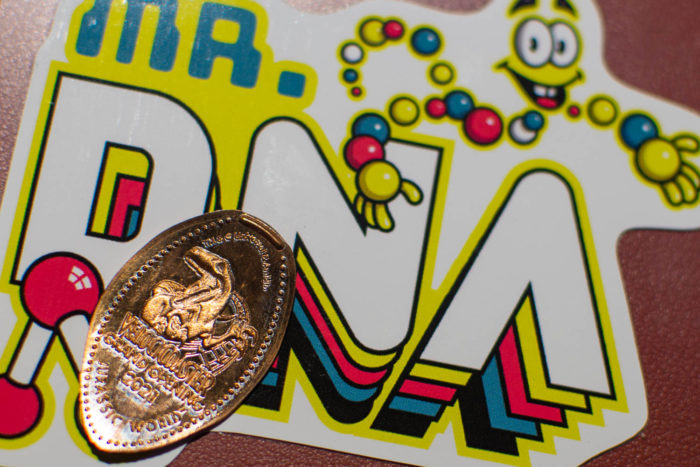 Jurassic Outfitters, the main gift shop in Jurassic Park has several great machines.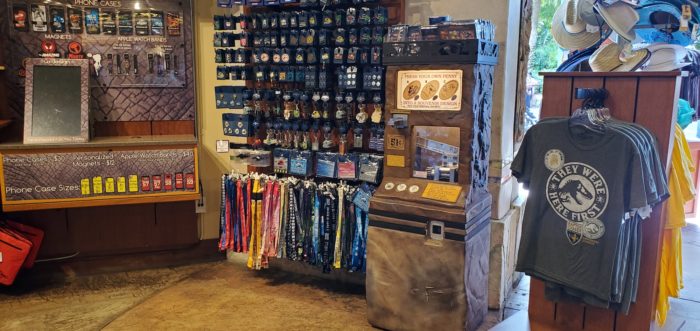 JURASSIC OUTFITTERS 1: Jurassic World logo, Raptor "Blue", Indominus Rex.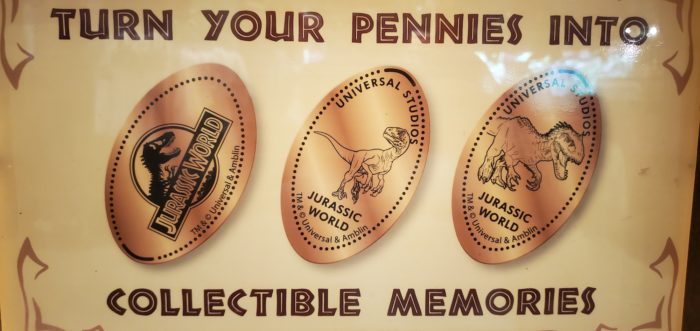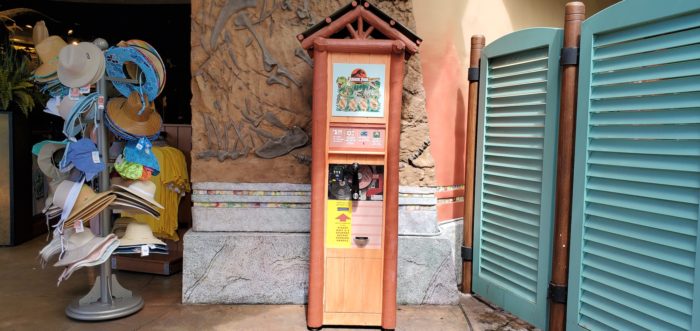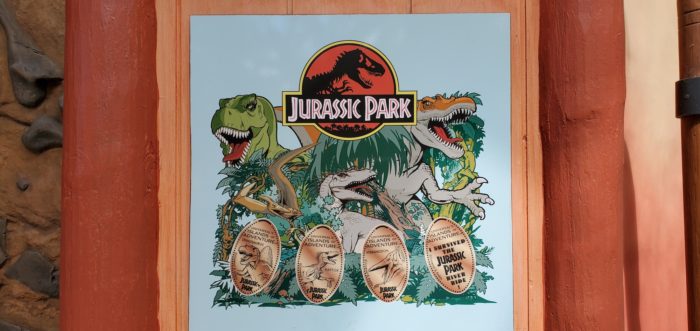 JURASSIC OUTFITTERS 2: Spinosaurus, Raptor, Pteranodon, I Survived Jurassic Park River Ride.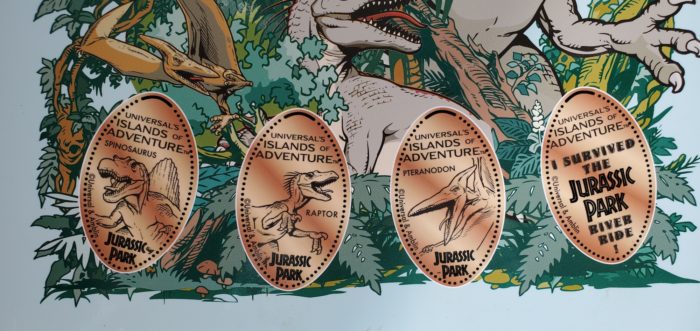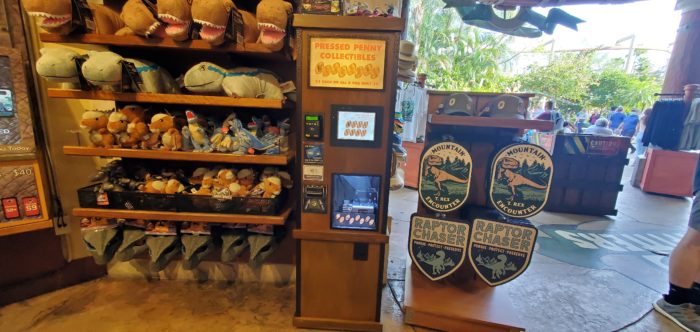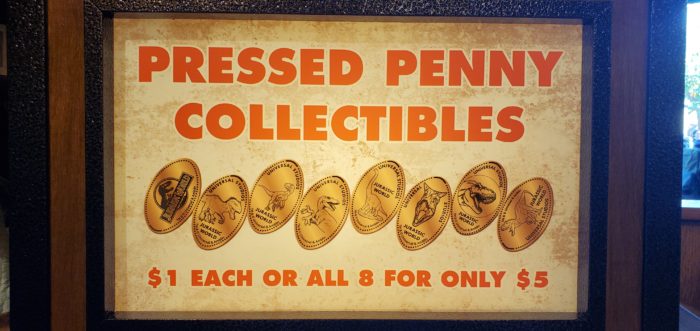 Jurassic Outfitters 3: Jurassic World logo, Indominus Rex, Velociraptor Blue, Velociraptor, Brachiosaurus, Carnotaurus, Tryrannosaurus Rex, and Indominus Rex.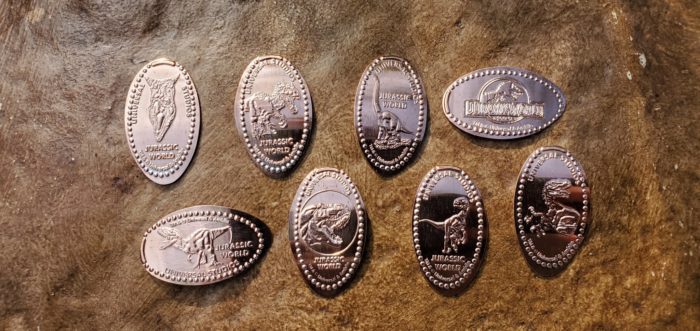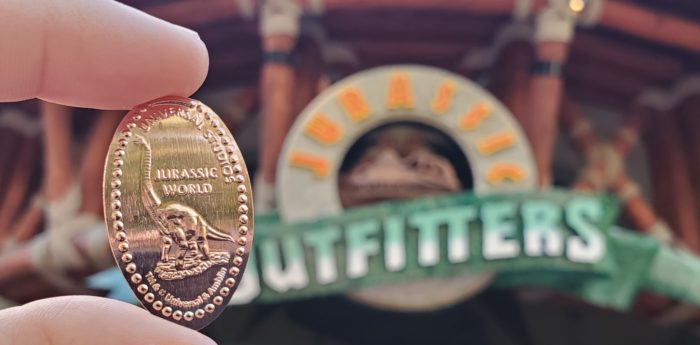 A second machine featuring the VelociCoaster Grand Opening 2021 coin design is located near the restrooms. You rarely see Universal pressed penny designs with a year marked on them. Will be interesting to see what happens with this design in 2022.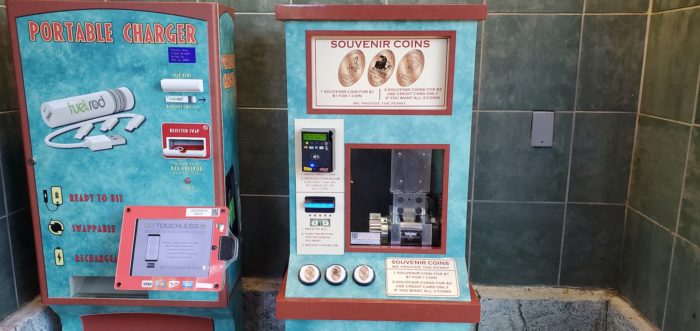 JURASSIC PARK: Indoraptor, VelociCoaster Grand Opening, Sinoceratops.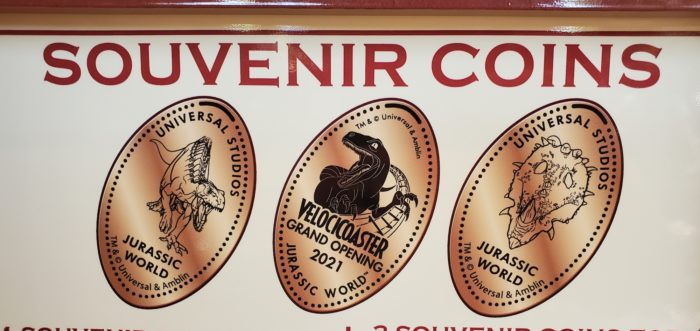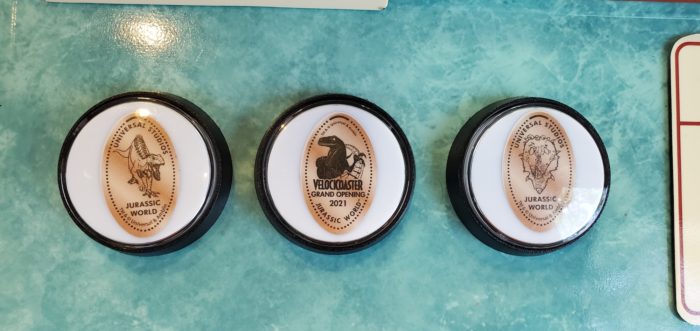 Interesting enough, this machine has a small mistake as the Sinoceratops button actually delivers you a Carnotaurus penny.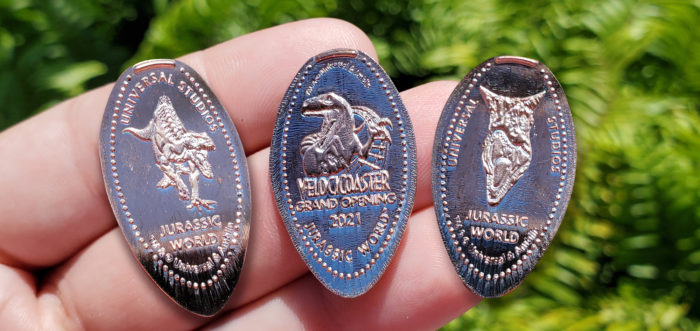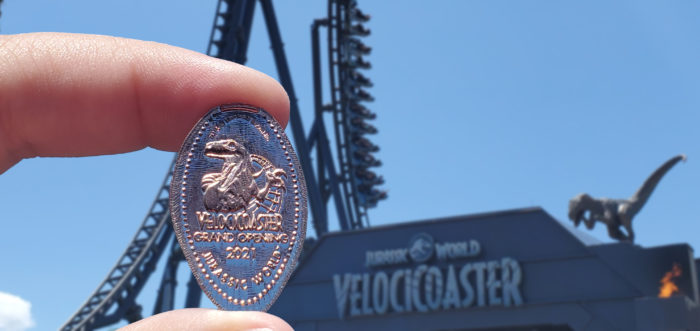 Kids love pressed pennies, so it's fitting that Seuss Landing has a bunch of them. You'll find a couple at the Mulberry Street Store, the main gift shop of the land.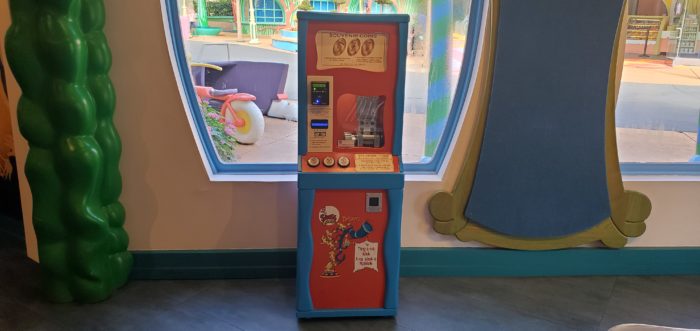 MULBERRY STREET 1: The Lorax, Cat in the Hat, Grinch.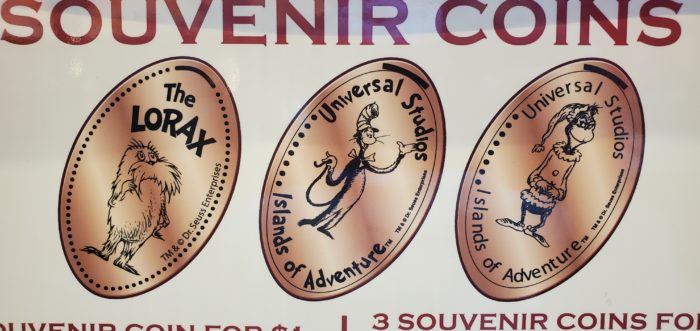 Have to love the door which is designed especially for young kids to travel through.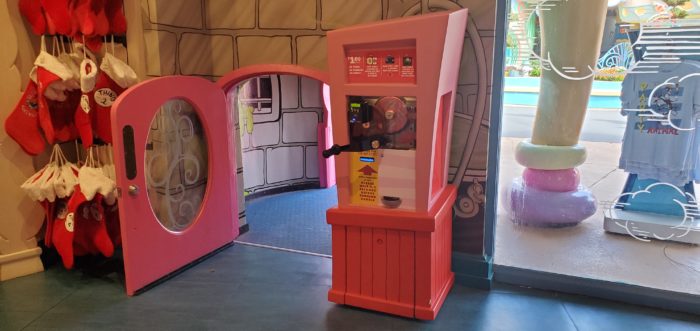 MULBERRY STREET 2: Cat in the Hat, Thing 1 & Thing 2, Horton, Grinch.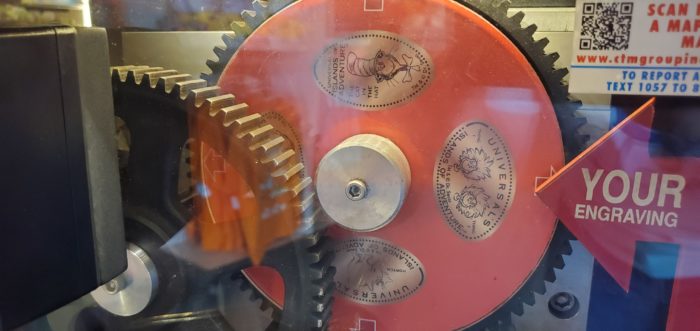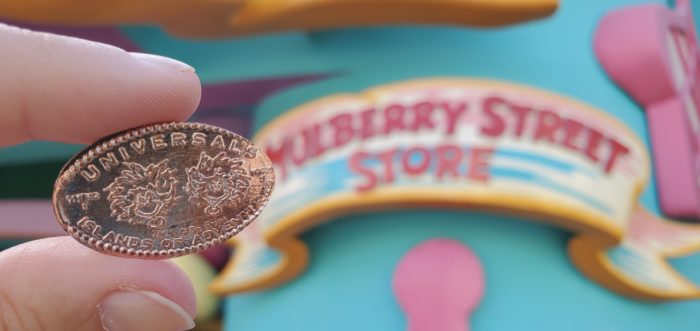 Outside Circus McGurkus Cafe Stoo-Pendous you'll find a couple machines.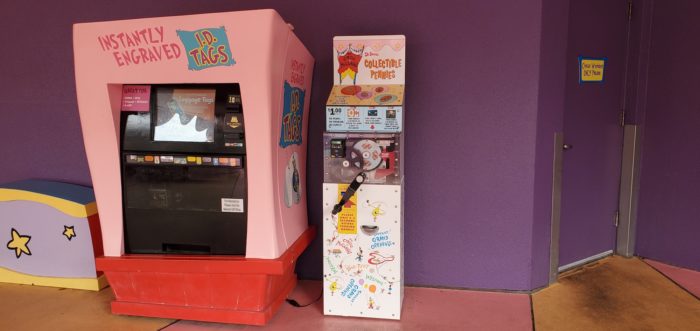 CIRCUS MCGURKUS 1: Horton, Fish, Grinch, Cat in the Hat's Hat.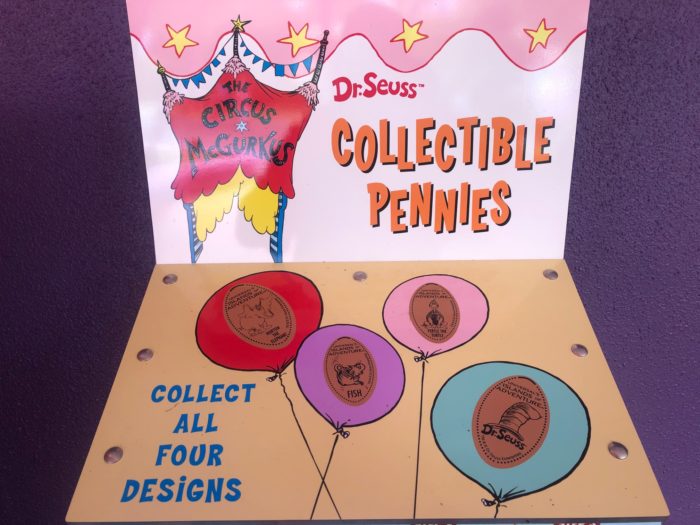 I took this Horton penny over to the almost hidden Horton Hears a Who photo op area.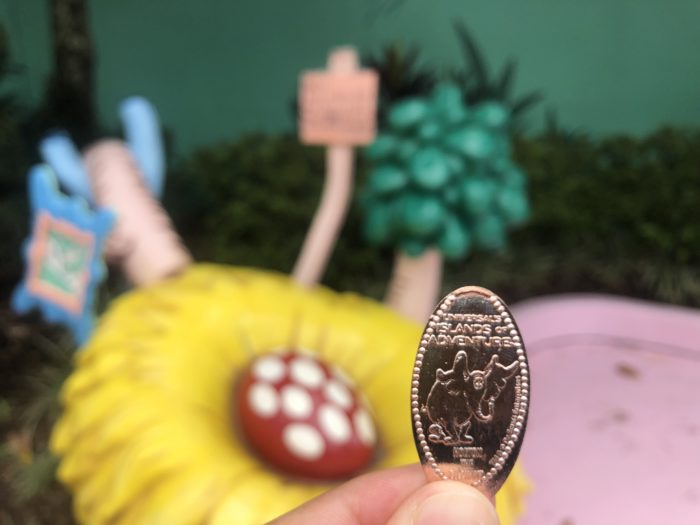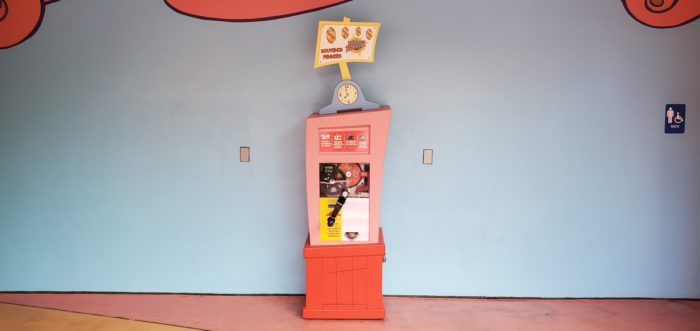 CIRCUS MCGURKUS 2: Max, Grinch, The Lorax, Cindy Loo Who.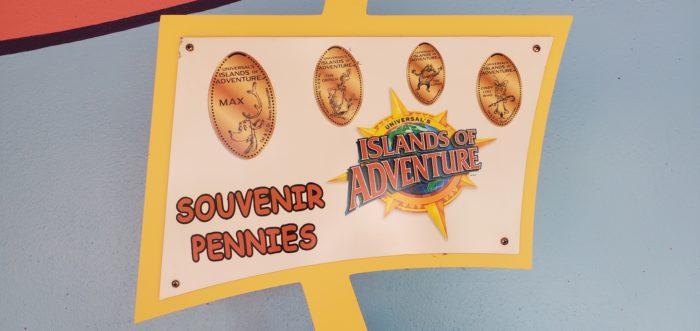 Cats Hats & Things, the store for the Cat in the Hat ride has a machine.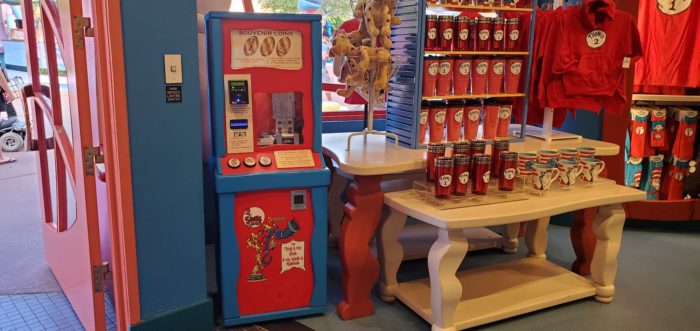 CAT IN THE HAT: Cat in the Hat, Thing 1 & Thing 2, Fish.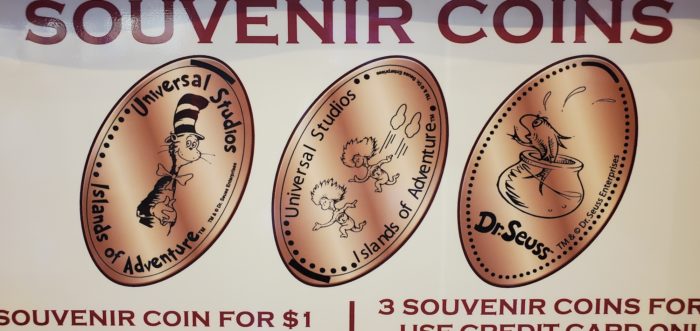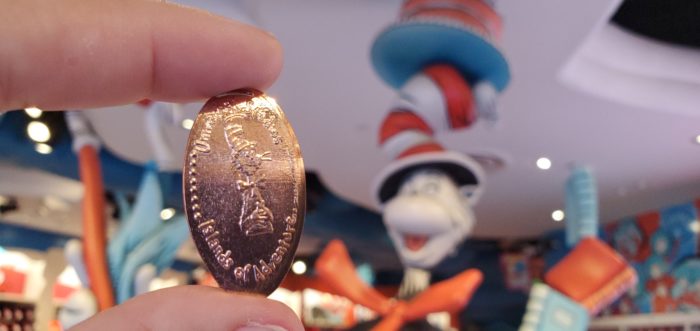 All The Books You Can Read store has this machine.
ALL THE BOOKS YOU CAN READ: Thing 1 logo, Thing 2 logo, Cat in the Hat logo, Grinch.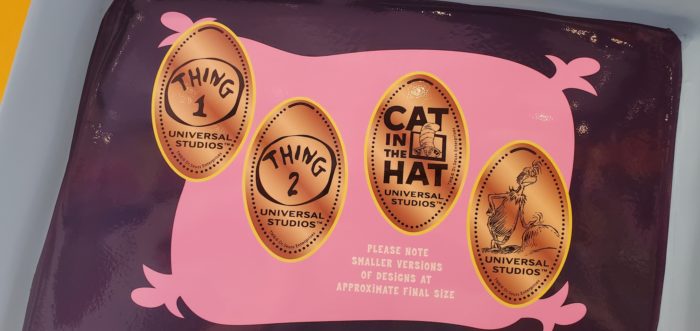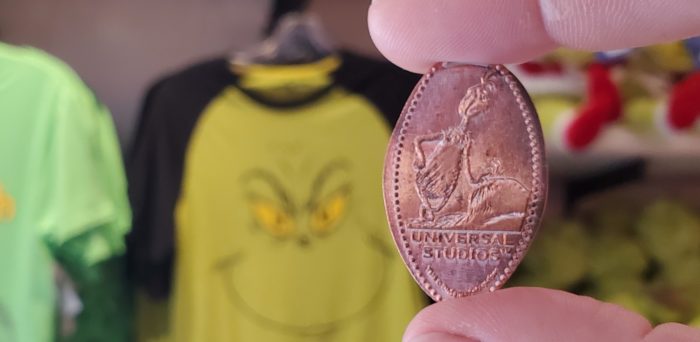 As we make our way to the park exit we get one last machine by the restrooms.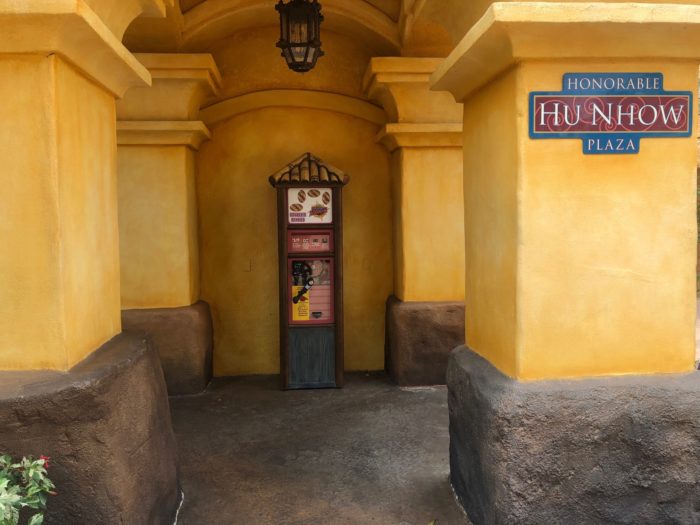 PARK EXIT: Spider-Man, Hulk, Hulk holding up rock, Daredevil.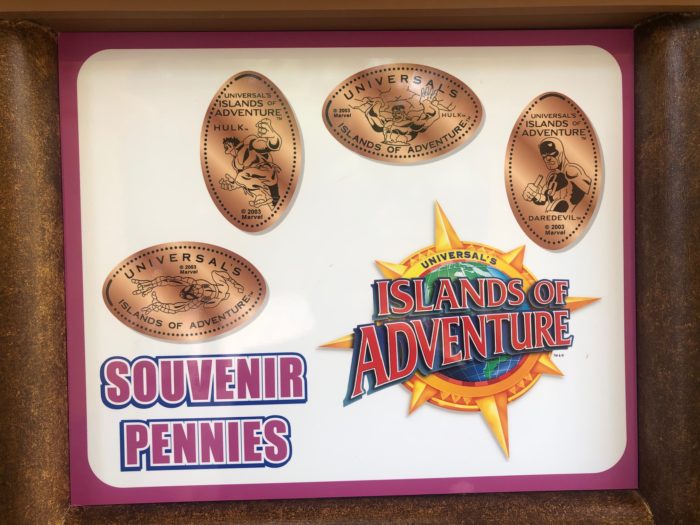 # 2 – Wizarding World of Harry Potter
Like Coca Cola products, you won't find any pressed penny machines inside Hogsmeade Village or Diagon Alley, however there are a whole bunch of Wizarding World pressed pennies located at Universal. The main gift shops at IOA, USF, and CityWalk each have a machine featuring 8 designs.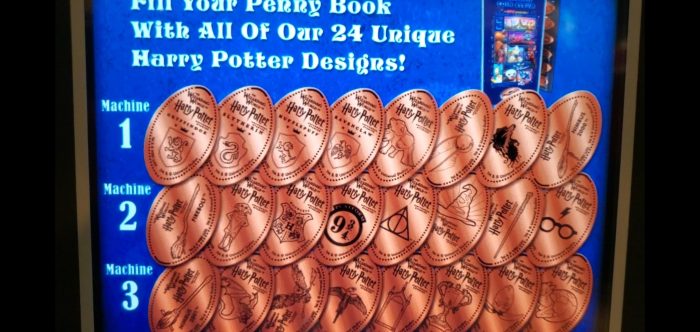 First up we'll check out the Islands of Adventure machine.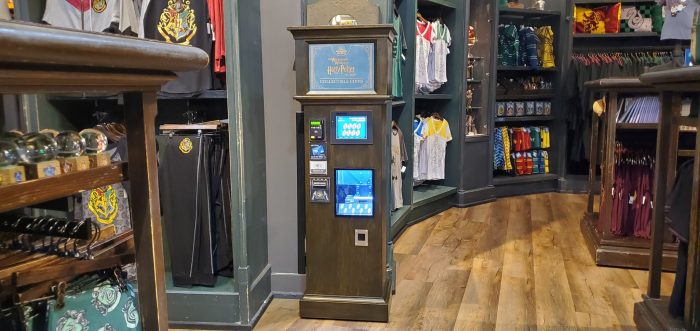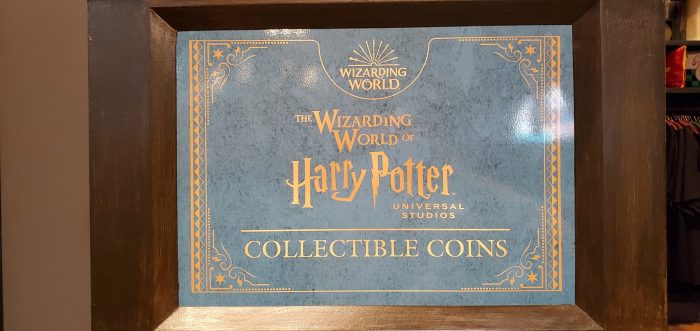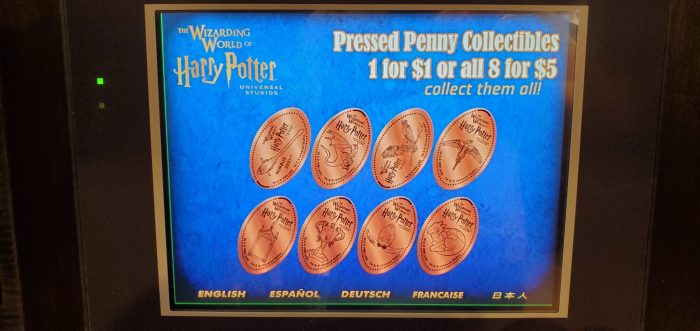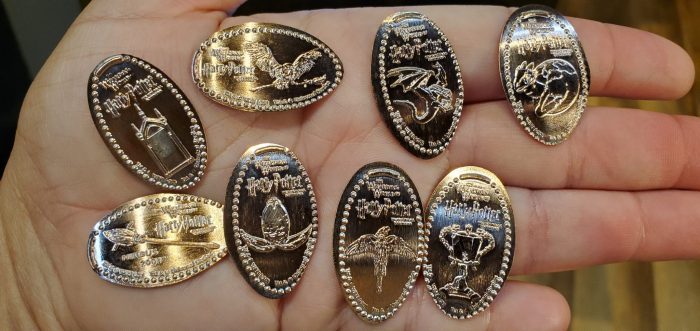 Now we'll check out the machine in USF.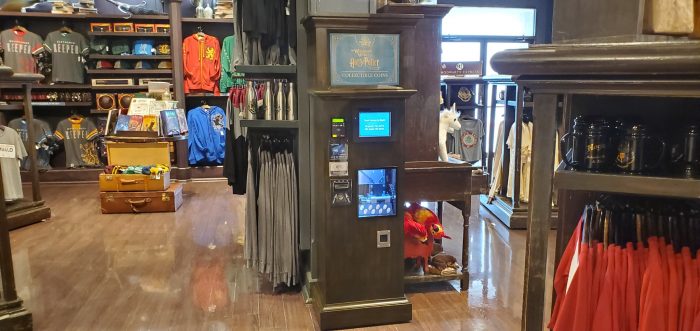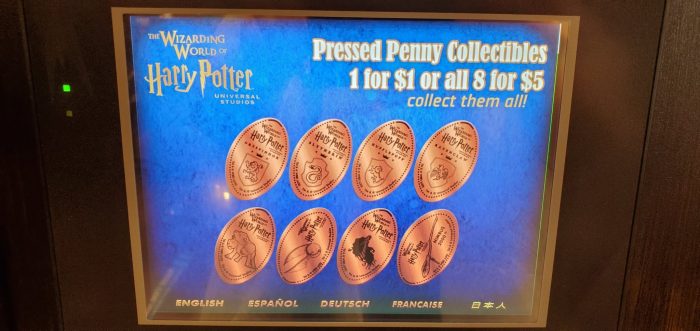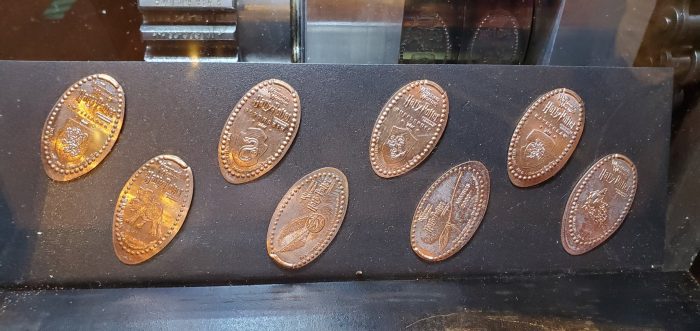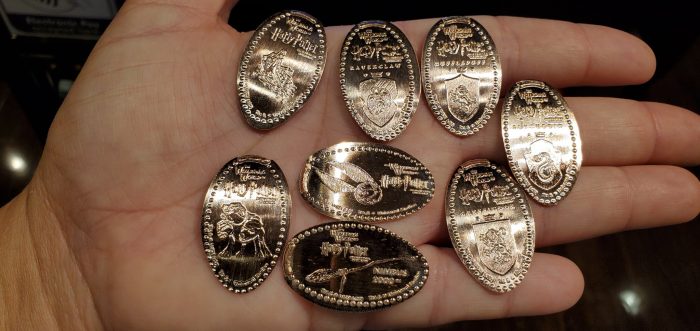 Lastly, the machine in CityWalk.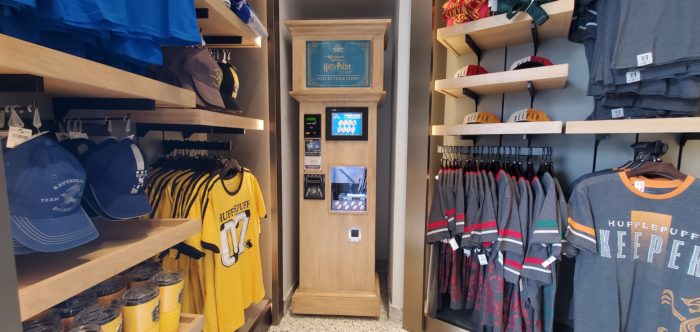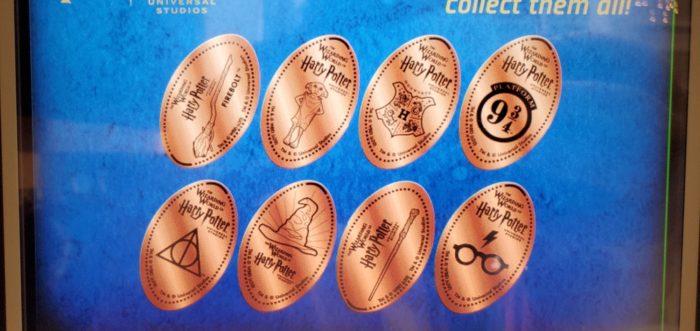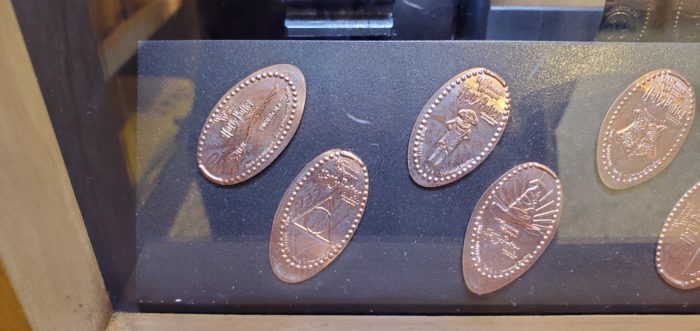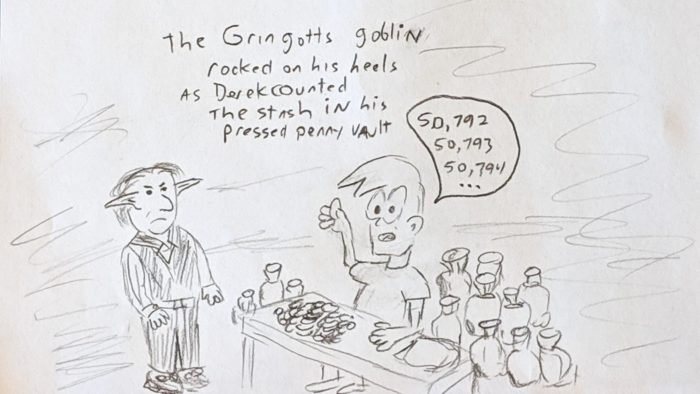 # 1 – The Penny Book
You have your pennies, now where are you going to store them? Good news, Universal offers a Collectible Coin Album which comes with its own pressed penny! The cost is $8 and annual passholder discounts do apply. You will find these at many of the gift shops which have pressed penny machines.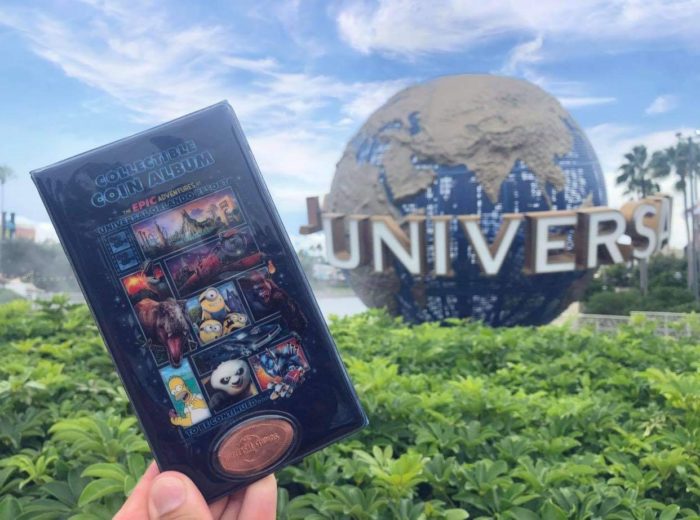 You have to love a theme park souvenir that is: A) relatively inexpensive B) small and easy to travel with, and C) has a wide enough variety that you can collect in many different ways. Some may just want mementos of rides they have done. Others may collect their favorite characters, such as Marvel Superheroes and Spongebob for the kiddos, The Simpsons for the theme park blogger, or Betty Boop for your great-great-great grandparents.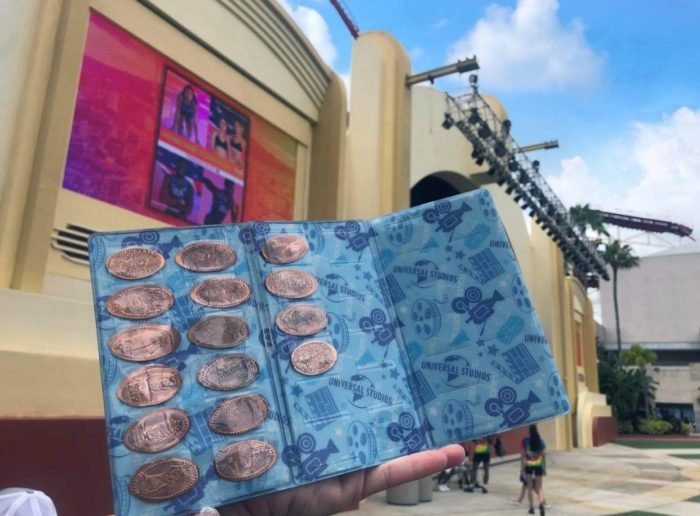 In July of 2022, Universal released a Pressed Penny book themed to the Wizarding World!  On the front is a Mina Lima-style drawing of Hogwarts Caste.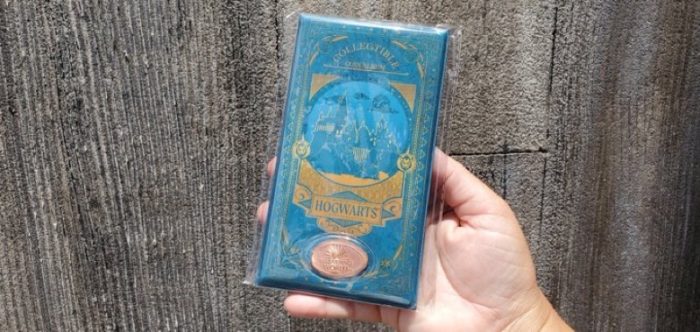 The book contains an exclusive Wizarding World penny design you can only get by buying the book.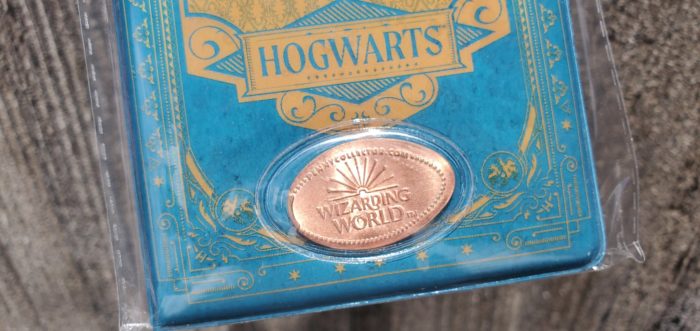 Honorable Mention: The Universal Orlando Pressed Penny Graveyard
Some machines are gone but certainly not forgotten. Here are some of our favorites from over the years.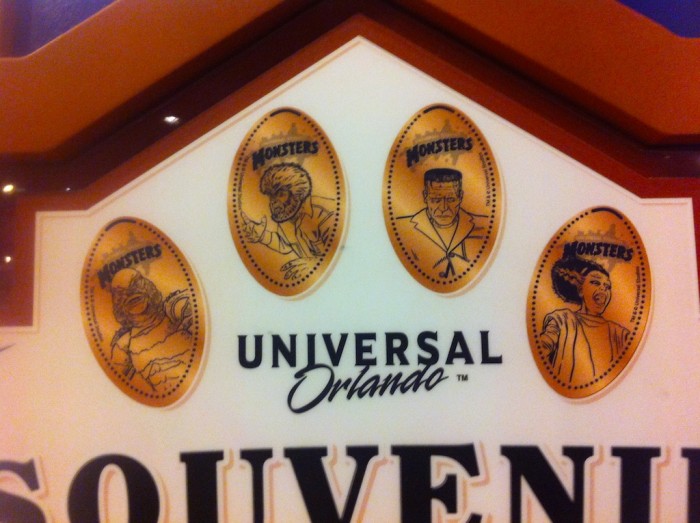 The attraction for Twister was replaced by Race Through New York with Jimmy Fallon (which surprising doesn't have a pressed penny machine), but check out some of the next level bonkers designs which were available for the Twister machine.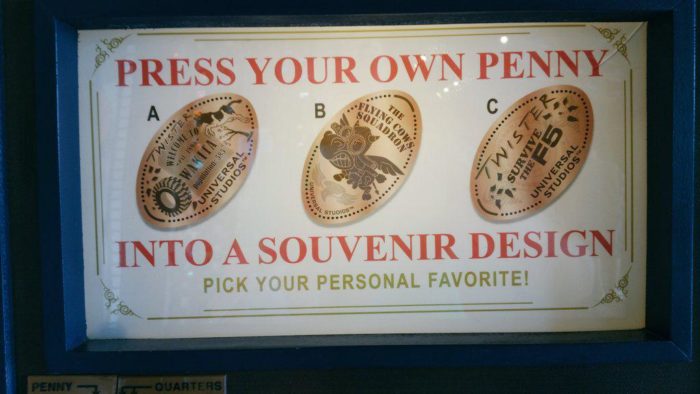 As a huge fan of the Generation 1 Transformers, seeing this machine made my heart grown three sizes that day (although looking back that might have actually been caused by the cholesterol from the pizza dog from Halloween Horror Nights).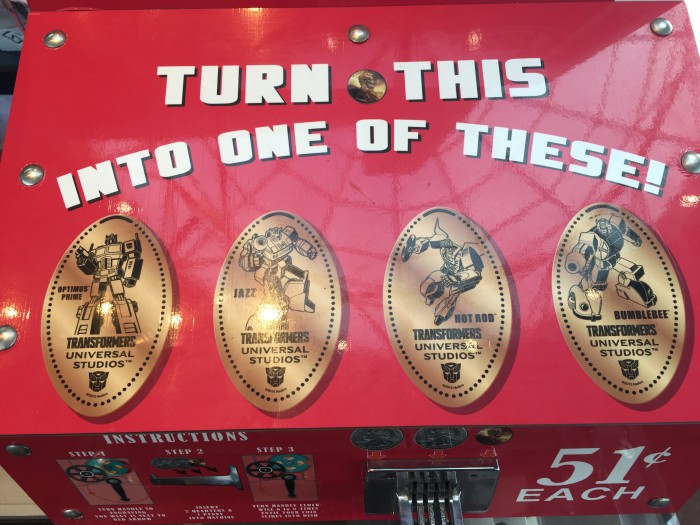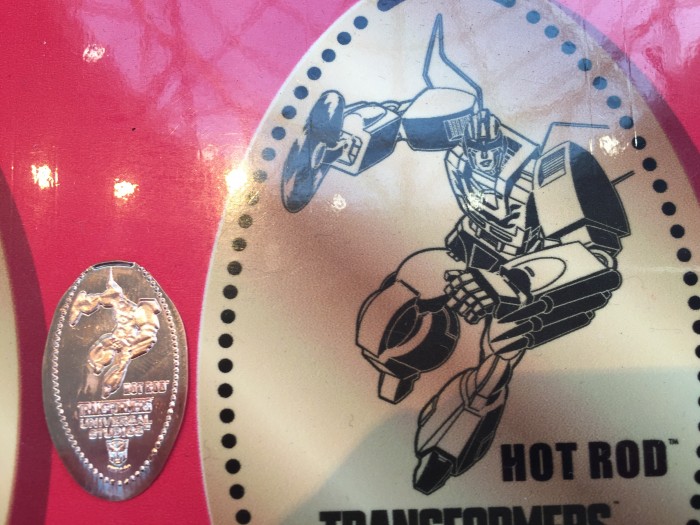 Not a day will go by where I don't think about the Nascar Sports Grille in CityWalk. Where else can you buy a drink served in a souvenir gas can? You will be missed old friend.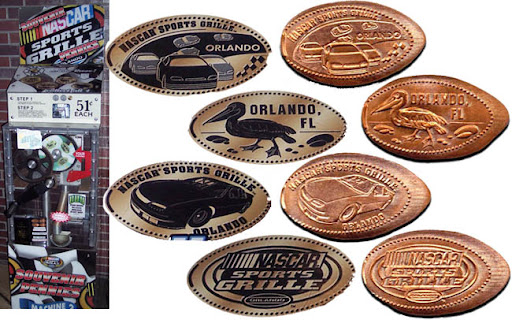 Have any old Universal Orlando pressed pennies you love? Send us a pic to derek@touringplans.com
So there you have it: The Definitive Guide to PRESSED PENNIES at the Universal Orlando Resort! See you next weekend for the latest installment of the SATURDAY SIX, where we'll look at something fun from the world of Disney and Universal. You can also follow Your Humble Author on Twitter (@derekburgan).
If you enjoyed this article, you will surely like the following: 
A SATURDAY SIX Look at Walt Disney World Pressed Pennies
A Look at Disneyland Pressed Pennies (and Why They Are So Much Better Than WDW)
Special Thanks to The Elite Brandon Glover, the bio-est of all reconstructs @bioreconstruct, Captain Cruiseline Scott Sanders of the world famous Disney Cruise Line Blog, my personal protege Hunter "Elvey" Underwood, artist @SonderQuest, the SAT SIX Fun Squad of Parkscope Joe and "the Dadalorian" Nick, hot shot Michael Carelli, charter member of the Universal Four @Nitro230, and Hermione Granger's tutor Megan Stump for their invaluable assistance with this article. The SAT SIX is inspired each week by goofballs Aengus Mackenzie and LitemAndHyde and you Potterheads will  enjoy Meg's other blog work over at the Central Florida Slug Club.