Theme Park Enjoyment Index for APRIL 2023 (RIP Harmonious, WDW 50th Ends, Animal Kingdom turns 25 and MORE!)
The Theme Park Enjoyment Index (TPEI) is a monthly look at the events that have made an impact, both positive and negative, in this wild world of theme parks we all love so much. Each TPEI comes out on the last Saturday every month, and we assign each piece of news a positive or negative number, tally it all up at the end and chart it. The range goes from 0-100 with 0 being
Mickey's Personal Digital Assistant
 while a perfect score of 100 would be 
the VelociCoaster in Jurassic Park.
.
Remember, all links in TPEI open up in a new browser window. So feel free to check stuff out, we'll be here when you get back!
BUT FIRST, you may have noticed that last week we didn't have the normal end-of-month TPEI. Why? Well because on April 23rd I boarded the world's largest cruise ship – Royal Caribbean's Wonder of the Seas –  for a trip that was originally planned for April of 2020. Something happened that year which caused that trip to be canceled. I can't remember what it was now, but it must have been something pretty big. As time was approaching for the trip, there was just too much going on in the theme park world to just pretend it never happened. NAY NAY. The mandate for TPEI from Day One is to deliver all the important news of the month to you, Dear Reader, no matter what it takes. So a simple solution came to mind… we'll just extend the month of April.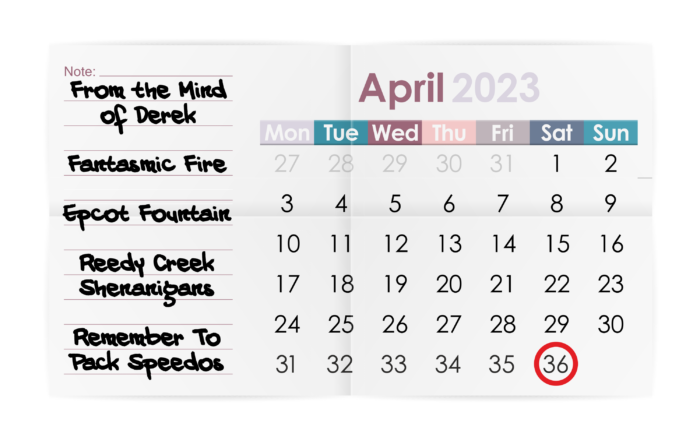 So here we are, back on land after an awesome trip on a truly incredible boat. At the beginning of the year I had mapped out several months of SATURDAY SIX articles and allotted two spaces for cruise content. Turns out I was not prepared for how incredible Royal Caribbean's Wonder of the Seas sailing is, and the reality is looking more like 4-6 weeks worth of content. It was truly fantastic and you'll all see why over the coming weeks (starting next Saturday.)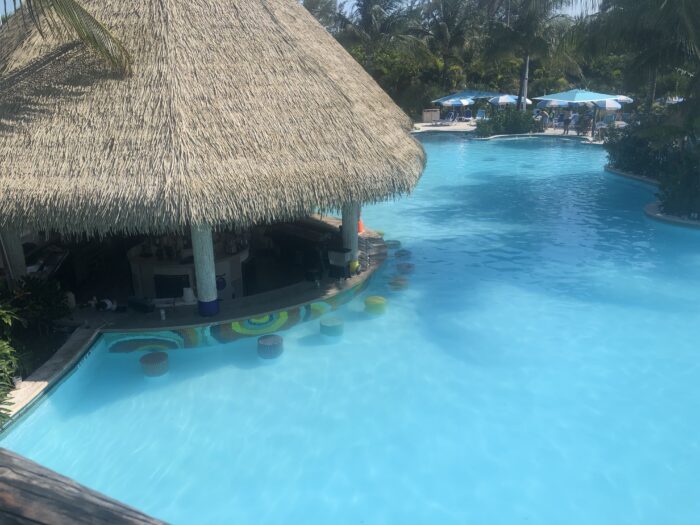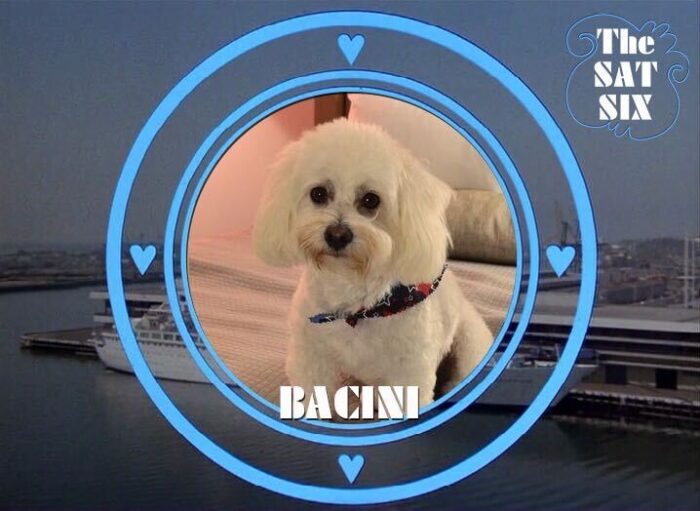 But enough sneak previews of coming attractions, let's get on to TPEI!
*Our Long National Nightmare is Over, Harmonious removed from EPCOT
Heaven needed an eyesore.
The nighttime spectacular Harmonious, which had its official debut on October 1st, 2021, had it's last showing on April 2nd, 2023. Now, there were some positives about this show, including the fact that photographers could get some really good shots of the colorful show at night.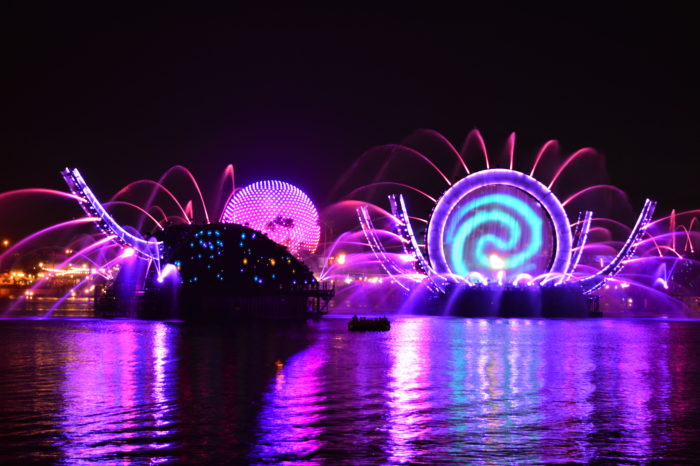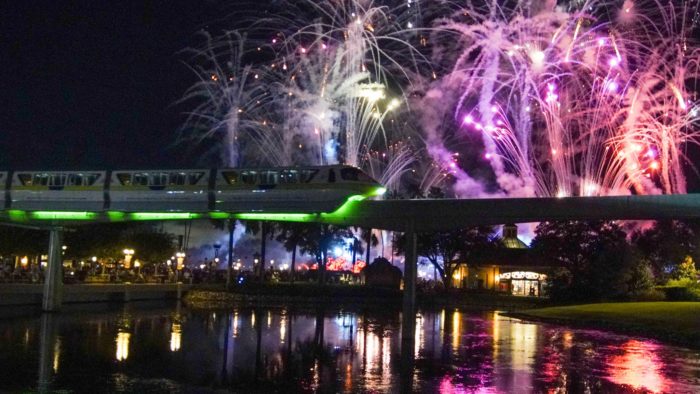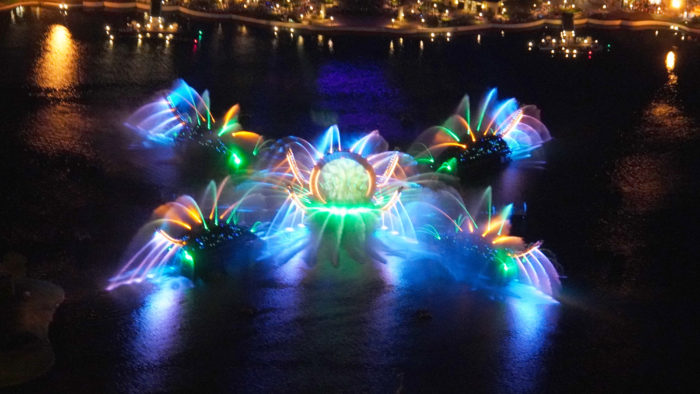 Other than that though, the show was plagued with issues. To begin with, Harmonious was based around five extremely large barges that were located in the World Showcase lagoon that became an instant eyesore. As you can see in the photo below, the main "Stargate" barge was installed a bit off center compared to the American Adventure Pavilion you see in the background. That's because it wasn't built with us day guests in mind. Nay Nay…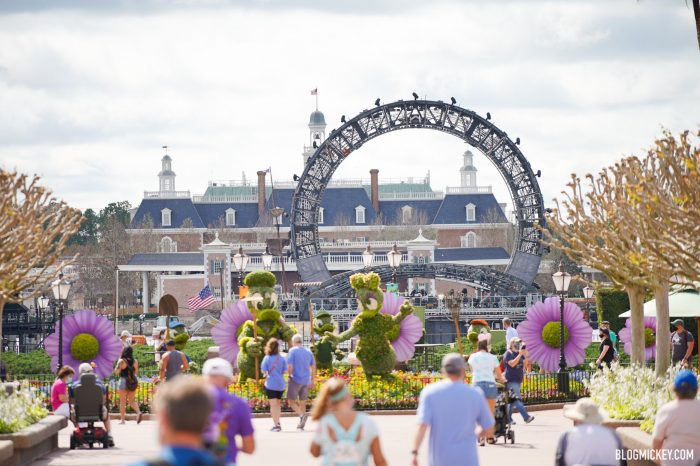 Harmonious best views were seemingly designed for the guests at a two story Pavilion which was going to be located nearby. However, this Pavilion was never actually built by Disney and the project instead was canceled.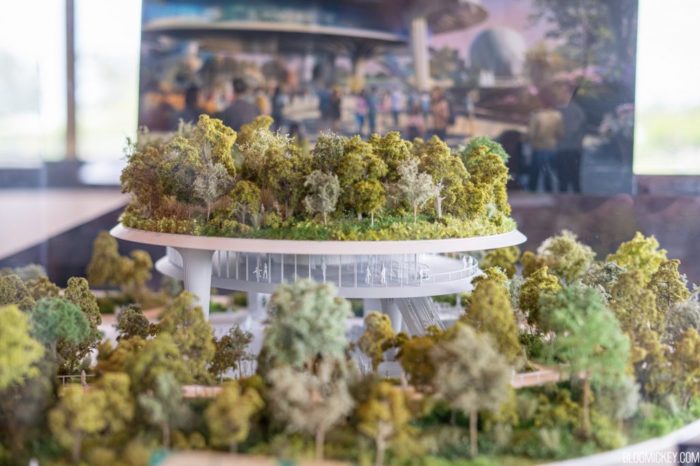 There were plenty of "Rumors and Innuendo" that suggested there were a lot of operational issues once Harmonious was installed in the lagoon as well. That, combined with guest vitriol online and the awful aesthetic of having these barges in guest view during the day eventually led to Disney pulling the plug on Harmonious. I personally would find it hard to believe that the show was intended for such a short lifespan. The money invested on developing, building, installing, and running Harmonious must have been through the roof. Many popular nighttime spectaculars at Disney run a decade or more before being replaced, but the shelf life of Harmonious was actually less than the unmitigated disaster which was Rivers of Light over at Animal Kingdom. That's right, Harmonious ran a total of 546 days while – believe it or not – Rivers of Light lasted 1,122.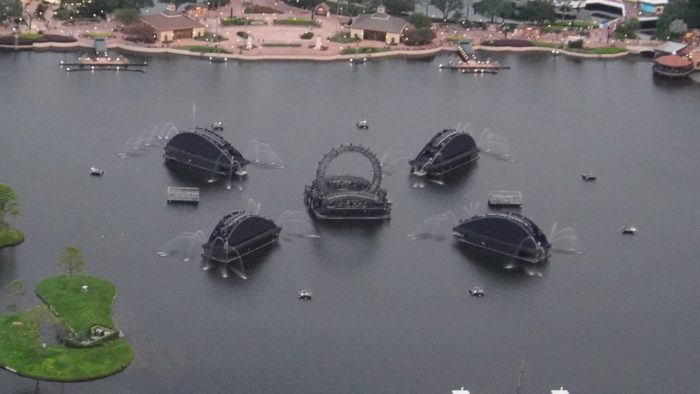 Disney spent a good part of April removing the Harmonious barges one by one and taking them apart backstage.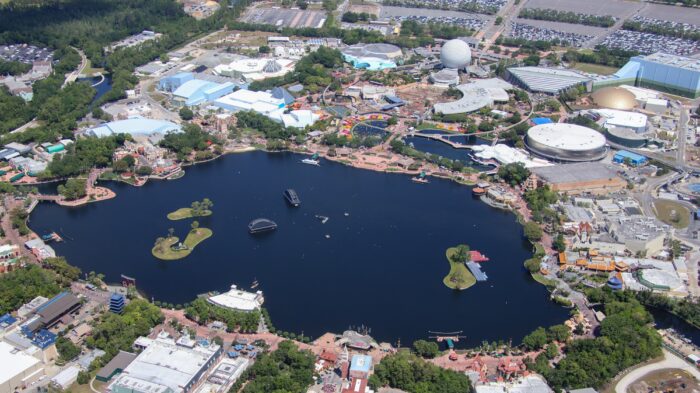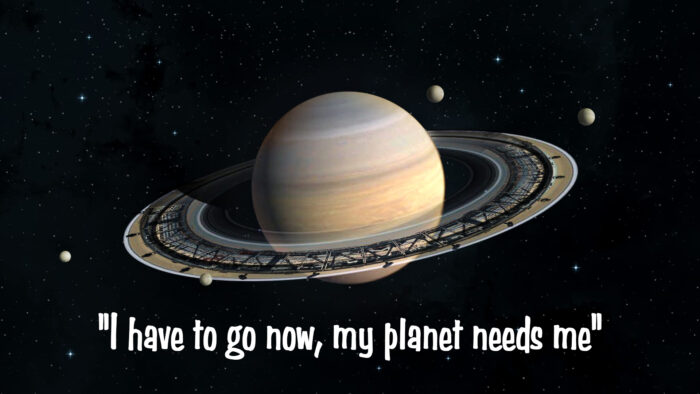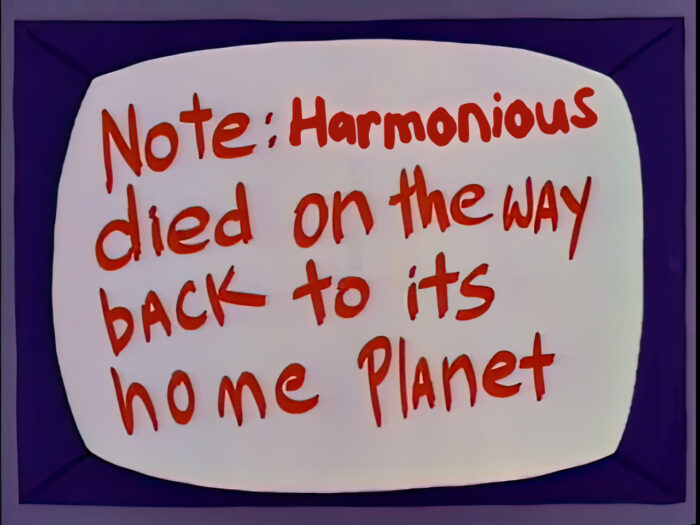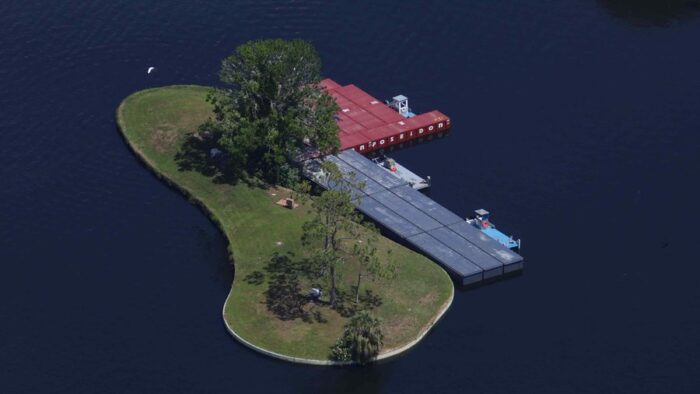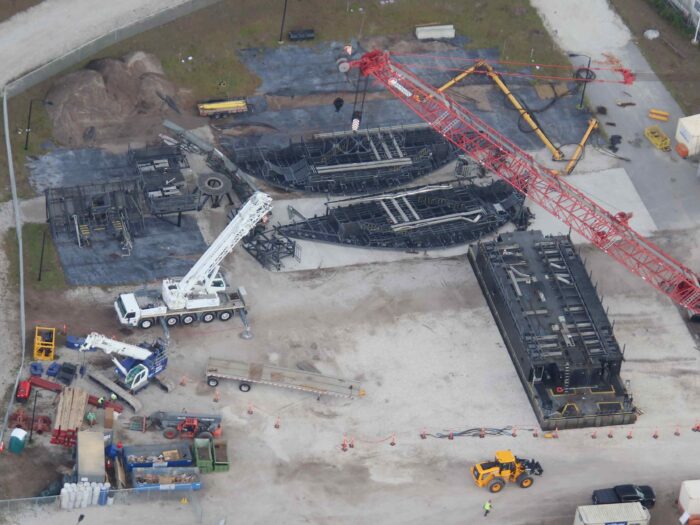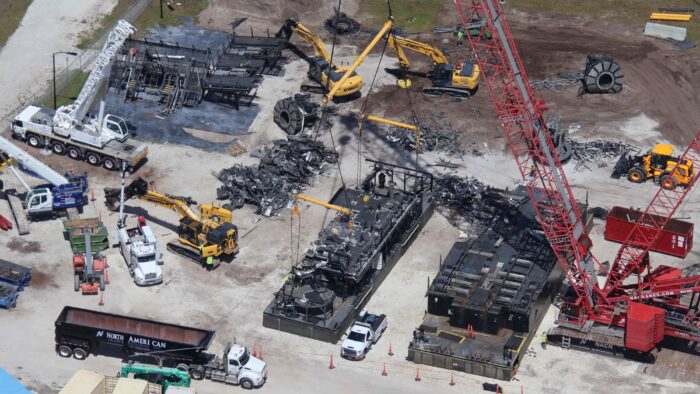 No matter what you think of the show, you have to love this drawing of Harmonious by one of DisTwitter's most charming artists: @SonderQuest.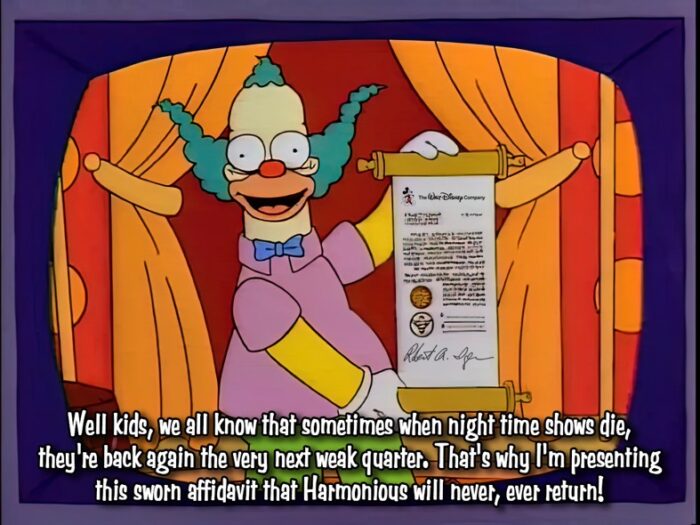 TPEI Score: + 3 Good riddance.
*Our Even Longer National Nightmare is Also Over, Disney Ends the WDW 50th Anniversary "Celebration"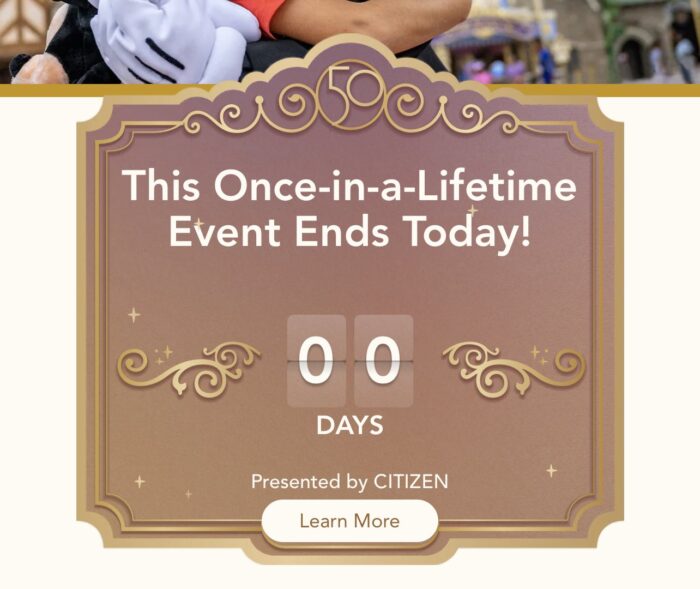 The 50th anniversary of Walt Disney World, which took place on October 1, 2021, finally ended its multi-year celebration this month. The history books may not be kind to the WDW 50th. Why? Well, let's check out some of the things we saw over the course of these 18 months….
At EPCOT we got Harmonious and the opening of Guardians of the Galaxy: Cosmic Rewind. At some point you just have to admit to yourself that the EPCOT ideals of years past are gone and the park is transforming into Universal Studios Lake Buena Vista. With the understanding of that in mind, Cosmic Rewind is awesome. A truly terrific coaster experience. It's fun, it's thrilling, and has some great merchandise in the gift shop, checking off almost all my boxes on the Perfect Ride Checklist.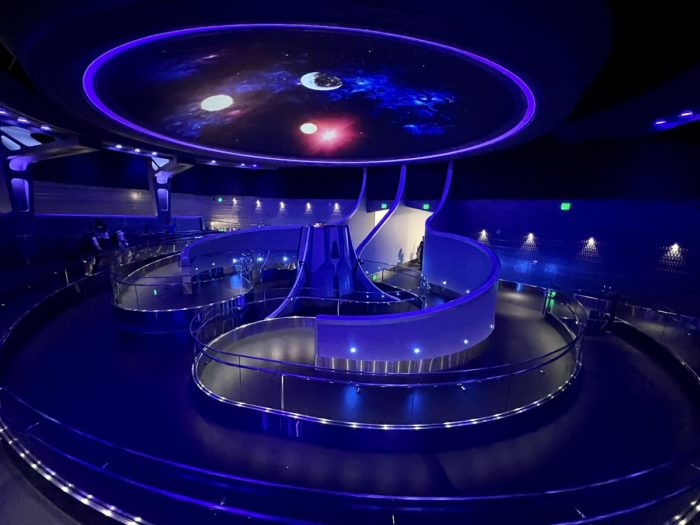 Over at Disney's Magic Kingdom we saw Happily Ever After, one of the all time great Disney nighttime spectaculars, being replaced with Enchantment. I understand that entertainment value is subjective, but in my opinion Enchantment was a HUGE step backwards for Disney rather than an improvement on what came before it.
My review?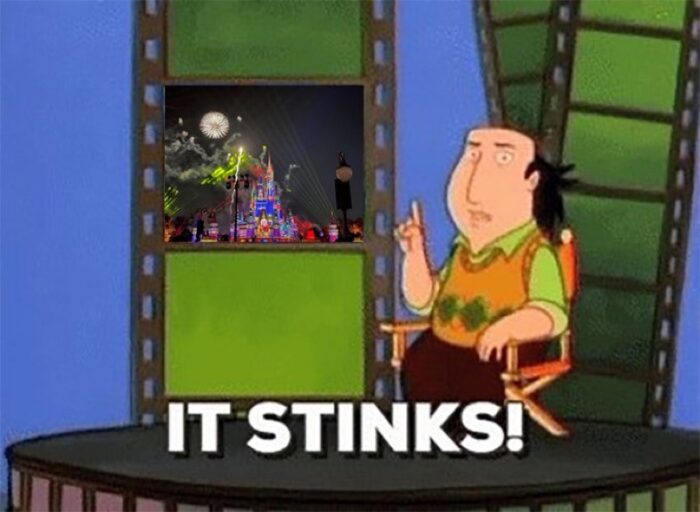 There was also Mickey's Celebration Cavalcade that ran several times a day featuring characters in their "EARidescent" costumes.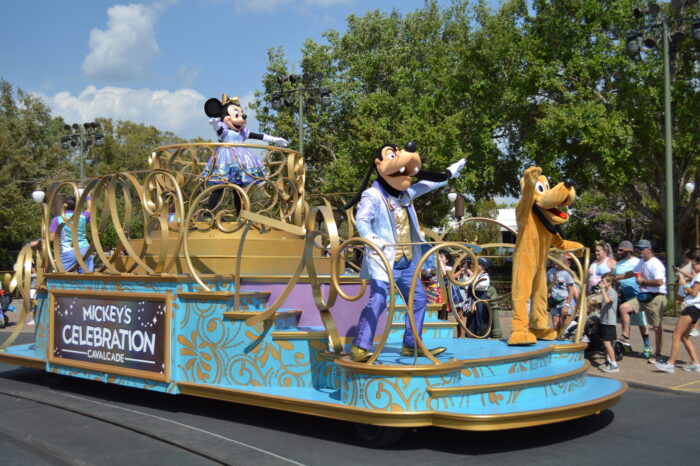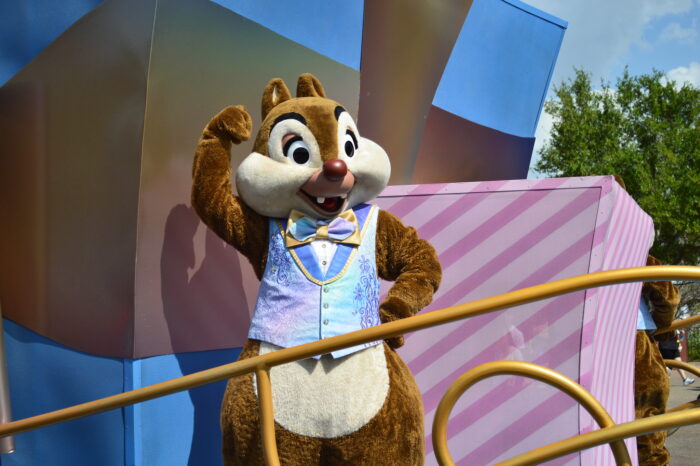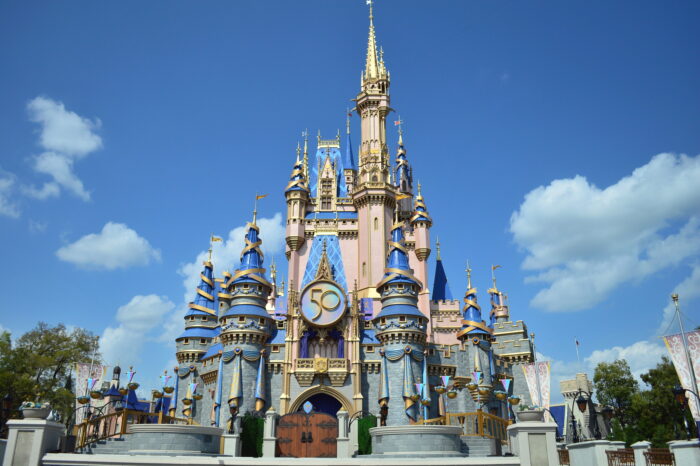 We also got TRON. Like Cosmic Rewind, Tron Lightcycle Power Run is just plain fun.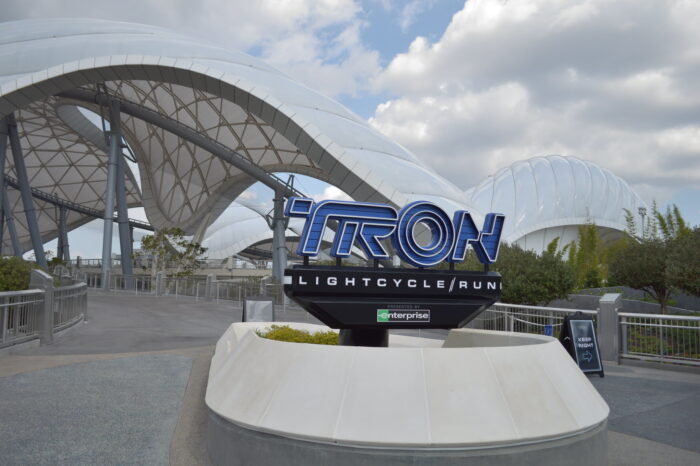 Tron also arrived with some great merchandise items in its gift shop, including a customizable action figure that is something I would have killed for growing up. Everything about the figure is fantastic – including the arcade cabinet it is presented in – and overall is a monumental leap compared to the custom action figure that debuted with Pandora: The World of Avatar.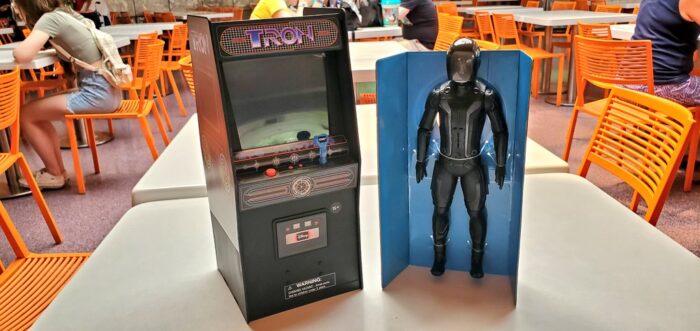 Animal Kingdom saw the debut of KiteTails… along with the removal of KiteTails (after a series of cuts to the show) about a year later.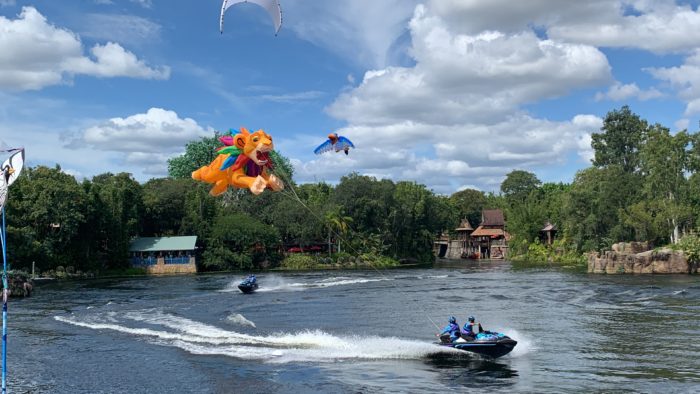 Hollywood Studios got…well, DHS got several of the 50 golden statues that were spread out among the four Disney parks including such unforgettable characters from Walt Disney World history including Edna Mode from The Incredibles, BB-8 from Star Wars, and even Joe Gardner from Soul. For me, this is pretty indicative of the overall theme of the WDW 50th Anniversary: This Doesn't Mean Anything. All three of these characters are certainly important in various aspects of Disney film history, but how do they have anything relating to the history of Walt Disney World in Florida? To quote Edna Mode herself, "I never look back, darling. It distracts from the now."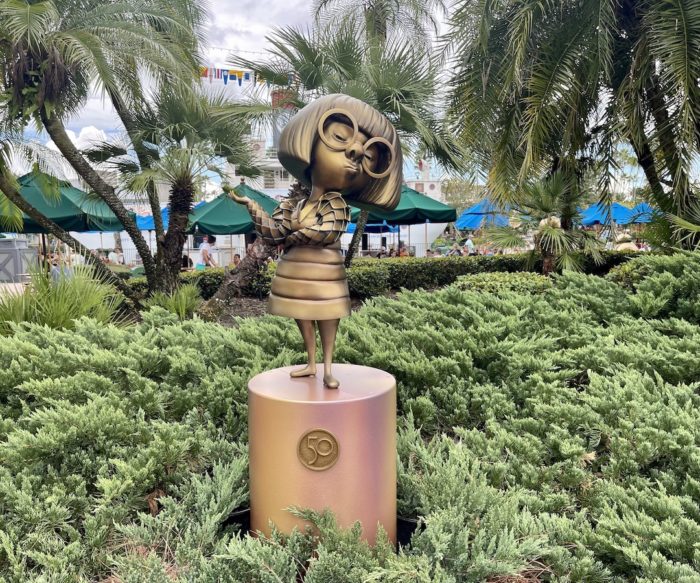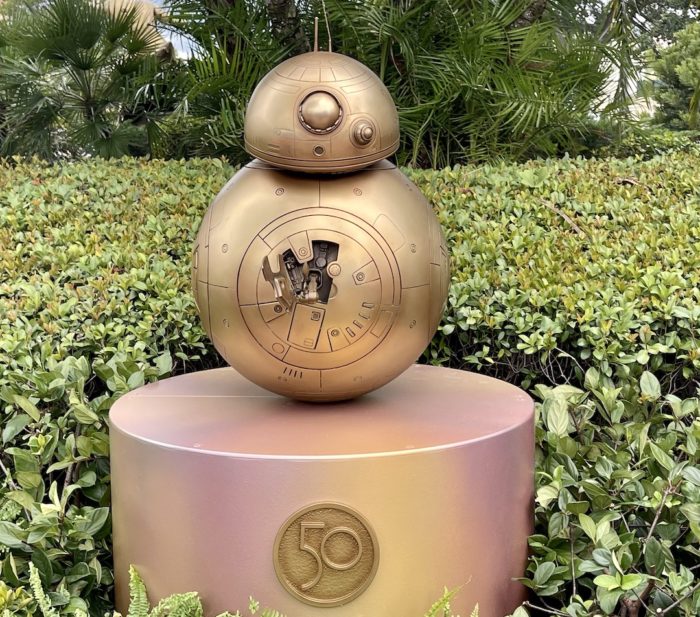 My personal highlight of the 50th celebration? The new lighting package on Spaceship Earth. This is absolutely perfect, no notes.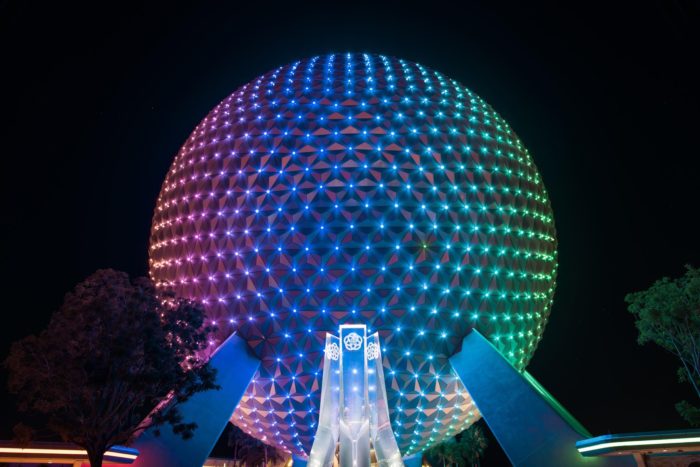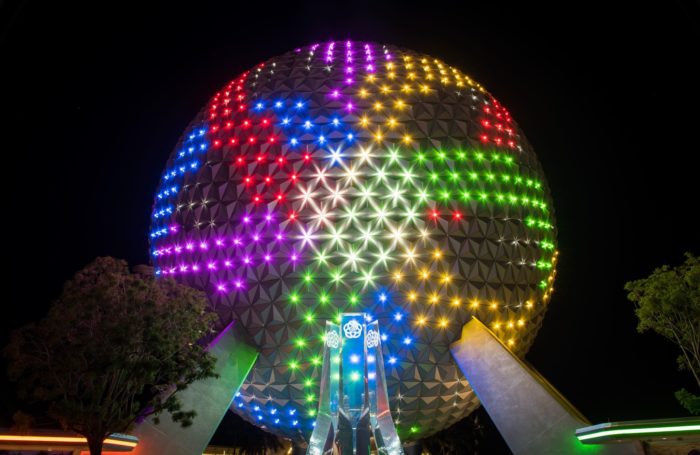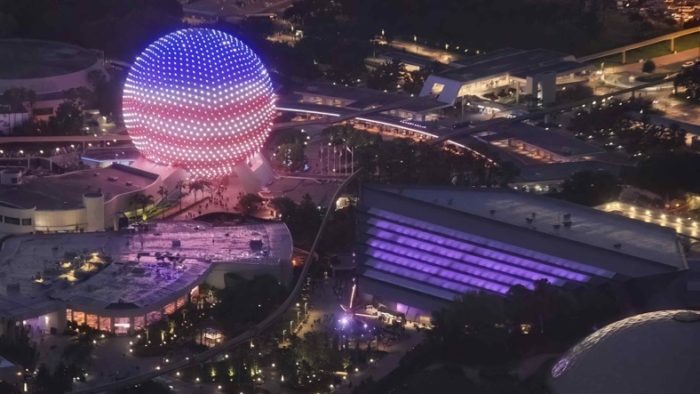 With the WDW 50th celebration over, Disney jumped immediately into the Disney100 Celebration. This is celebrating the 100th anniversary of the Disney Company.  I don't know, but it seems like we are getting too cute by half with these celebrations, but at least the merchandise for Disney100 is a million times more creative than what we got for WDW's 50th.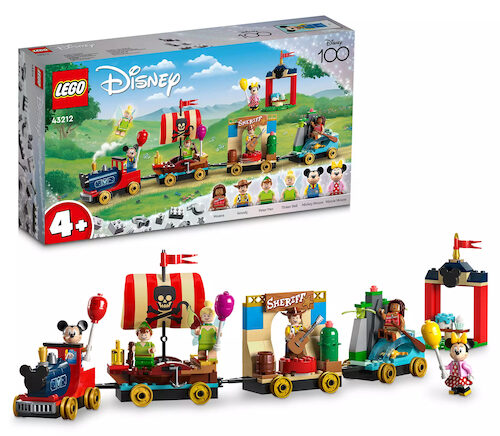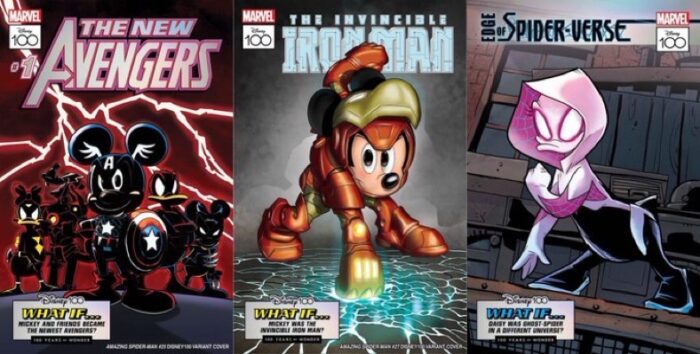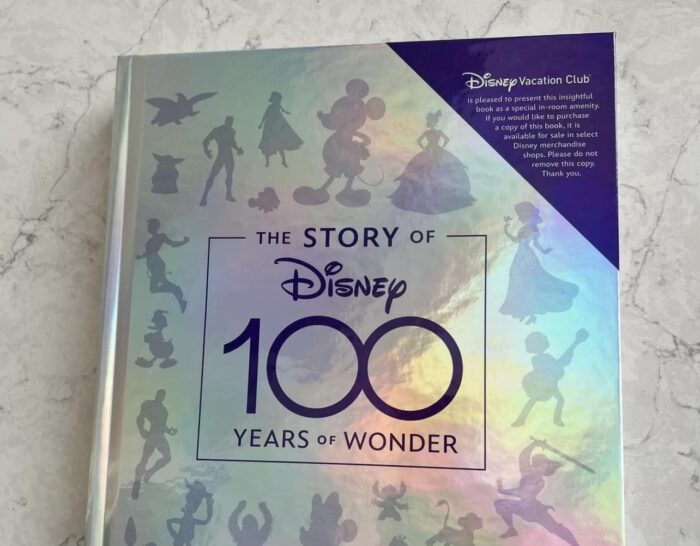 We also already got some Disney Signage Hall of Shame worthy gems, including the Disney100 banners in Disneyland which had stuff like "Walt Disneyworld" along with the wrong years posted on several other banners.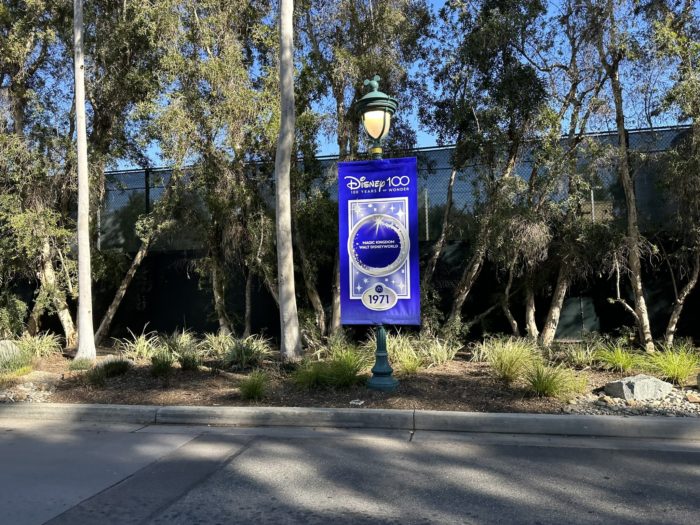 And a statue with Mickey Mouse in Disneyland which misquotes Walt Disney himself. So already the Disney100 celebration is off to a memorable start.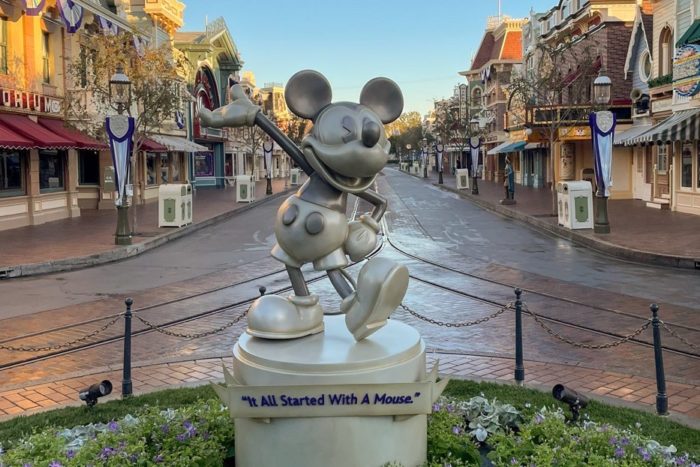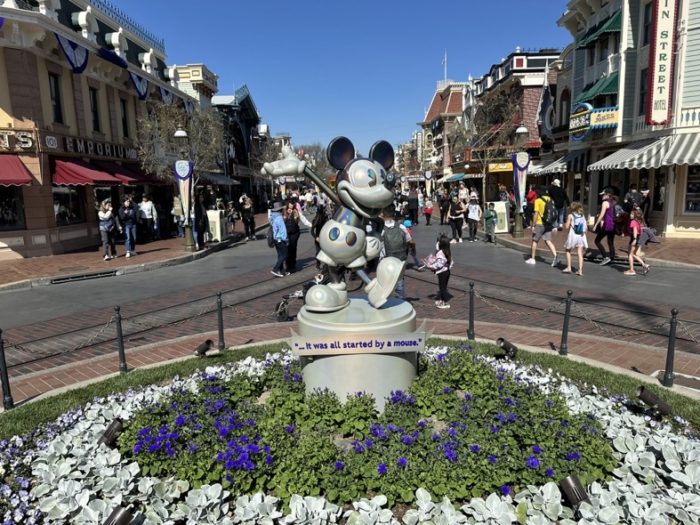 TPEI Score:  +2 I would say both Disney and Universal seem to be going out of their way to make anniversaries as uninspiring as possible. For me that's just a bonkers attitude to have when all the rest of entertainment is embracing nostalgia like never before. Popular TV shows are getting rebooted…go down any toy aisle in a Target or WalMart and see what you find for GI Joe, He-Man, and Star Wars to start… Top Gun Maverick blowing up. In a crazy world, people want to feel the warmth of the things they loved in years past and in the theme park world we've had recent anniversaries including EPCOT's 40th, Islands of Adventures 25th, WDW's 50th and none of it really meant anything. Like the theme parks themselves were thinking "let's just get over this and move on."
*Super Mario Movie debuts, is gigantic hit
Have to admit that when I first heard that a Super Mario Bros. movie was coming out this year, I was a bit nervous. One, I remember the last Super Mario Bros. movie and it made The Eternals look like Avengers: Endgame in comparison. Put a stink of the Super Mario Bros. franchise in the movie world that lasted for decades. However, the animated movie Super Mario Bros. movie was going to be made by Illumination, the people behind Despicable Me, The Secret Life of Pets, and Sing. That alone gave me some hope. Then we saw the first trailer months ago and the movie actually looked good! We've definitely been fooled before though by good trailers for bad movies, so I still wasn't 100% sure.
April arrived and critics were allowed to post reviews based on their early screenings. Super Mario Bros. was pretty much trashed by them, getting a Rotten Tomatoes score of under 60%. Then a funny thing happened, the movie came out in the theater and everyone loved it. The audience score was 96% Fresh, which generally means people loved a movie and will go home to tell friends, family, and coworkers they need to see this movie. That's what happened at my work. Two coworkers took their kids on opening weekend and everyone loved it.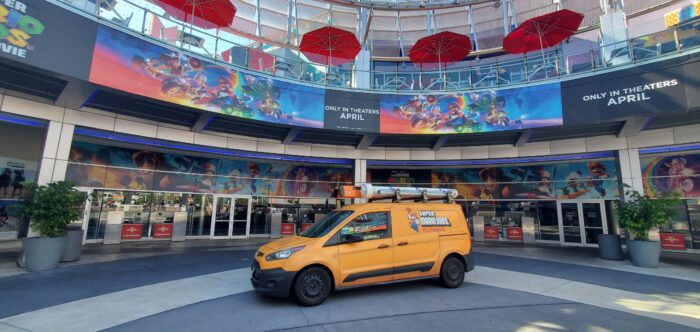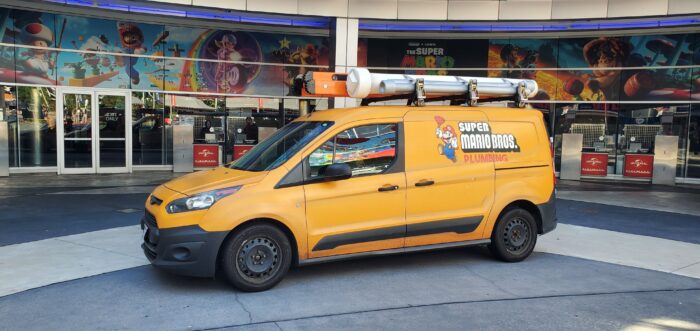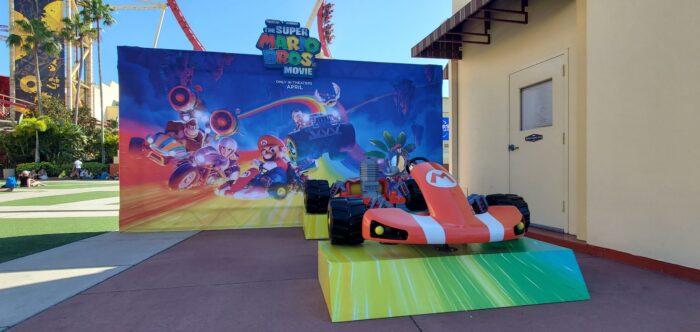 With a near $150M opening weekend, Super Mario Bros. was a smash hit right out of the gate. Then another funny thing happened, just as predicted with that high audience score, the movie had legs. In fact, this past weekend the movie made over $40M. A full month into its run! As of this writing the movie is over $1 Billion worldwide and is currently #7 on the All-Time Animated Movies list. It will almost surely pass both Toy Story 3 and Toy Story 4 this very weekend. It is certainly not out of the question that it may even become the biggest Animated Movie of all time passing Frozen's $1.256B and Frozen II's monstrous $1.437B. Who'da thunk it?
UPDATE: Box office estimate are in, and as of this writing Super Mario Bros. has indeed passed Toy Story 3 and Toy Story 4…AND Minions to become the #4 grossing animated film of all-time. Wow!
TPEI Score: +5 You have to imagine Universal is seeing these box office numbers and wondering just how fast they can get more Nintendo content into their theme parks ASAP!
*Disney Reminds Governor of Florida YOU GOTTA READ THE FINE PRINT
What a month in the state of Florida.
Anyway, the battle between Disney and Florida's Governor Ron DeSantis heated up to supernova levels in April when the Governor's hand-picked cronies discovered they were even dumber than we all thought (which is a feat that is actually impressive when you think about it.) A little backstory, after Disney had the most minor pushback on just one of the many aggressively awful and insanely stupid  bills passed in Florida, the state's Governor wanted revenge. The Governor attacked Disney's Reedy Creek Improvement District by taking it over and installing his own group of people. These people aren't exactly the best and the brightest, and even included one member who suggested people can become gay by drinking tap water (the very same member denies this claim, despite video proof.)
The new board found out that shortly before this current Goon Squad took over, Disney had made an agreement with the old board which effectively cut the legs out of the new board.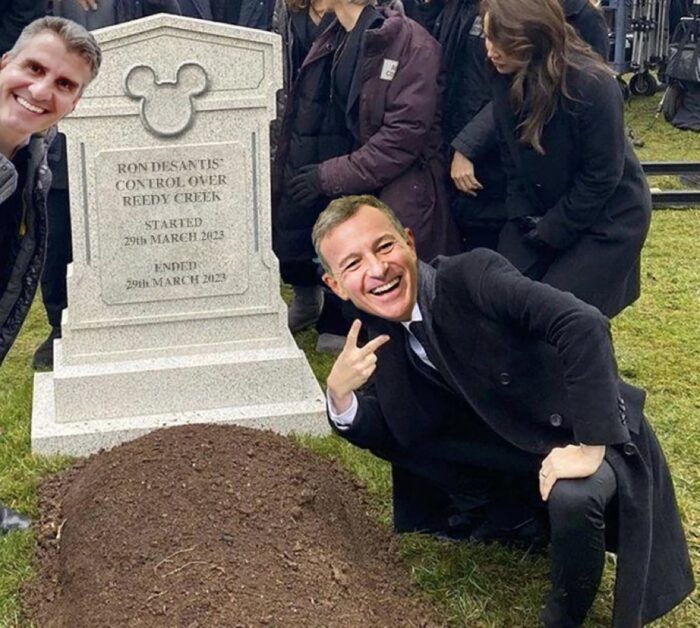 The new board cried foul, but it turns out Disney did everything by the book and in full public view.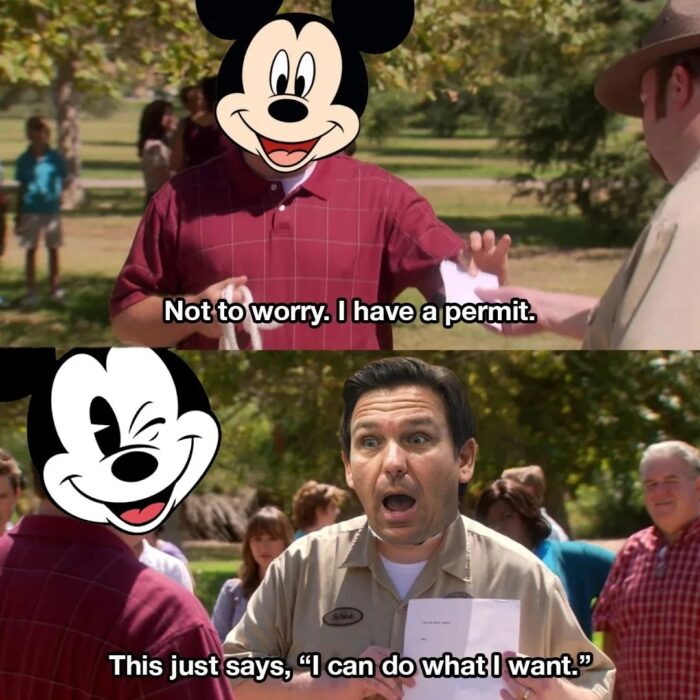 There's a lot of legalese to get through, but the fun part of this story is that Disney made a contract with the old board concerning what can and can't happen on their land which would run "Until 21 years after the death of the last survivor of the descendants of King Charles III, King of England living as the date of this Declaration." This is important because some of those descendants currently living right now are very young (including one who is under two years old.) This particular bit of news blew up in the theme park world, with everyone having a laugh at the expense of Florida's Governor, including one of our favorite theme park graphic artists Howard Bowers…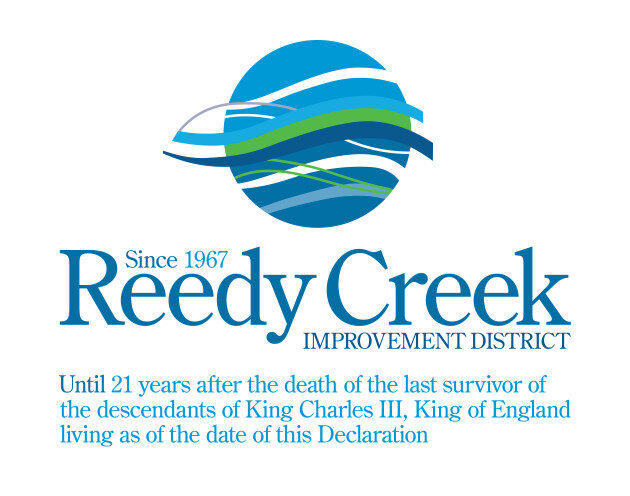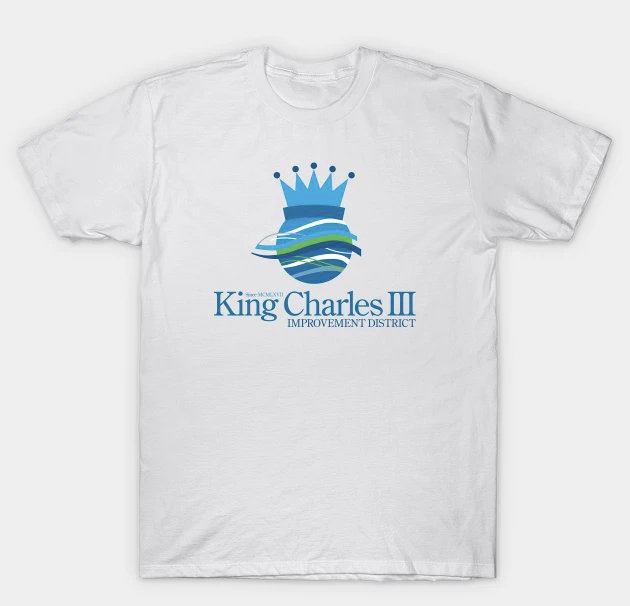 You can't even imagine the amount of jokes made during the time this news came out, including this bit by superstar artist Jess Siswick…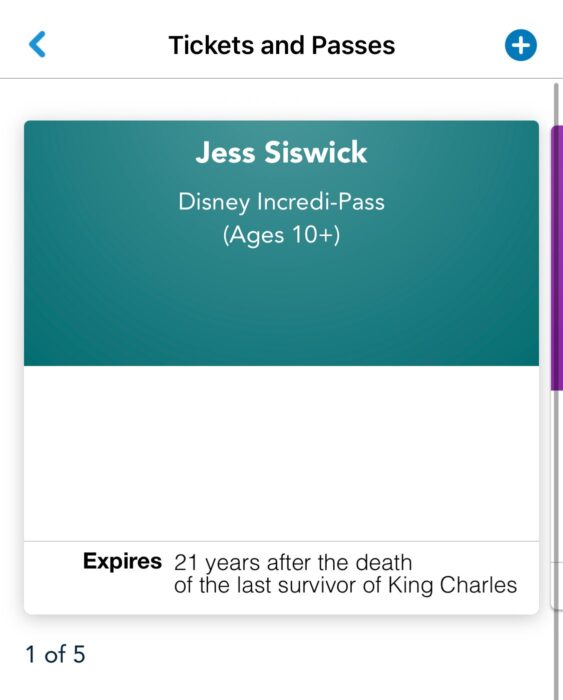 Speaking of artists, love this piece featuring the new King of England getting his "crown."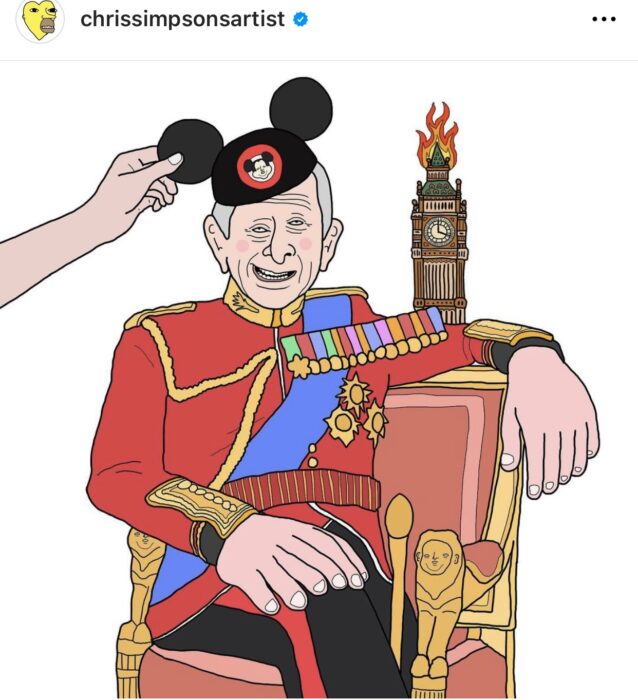 As a theme park blogger, I could have warned the Governor's Goon Squad about the fine print in Disney's contracts. I mean there is a reason you don't see me invited to any theme park media events.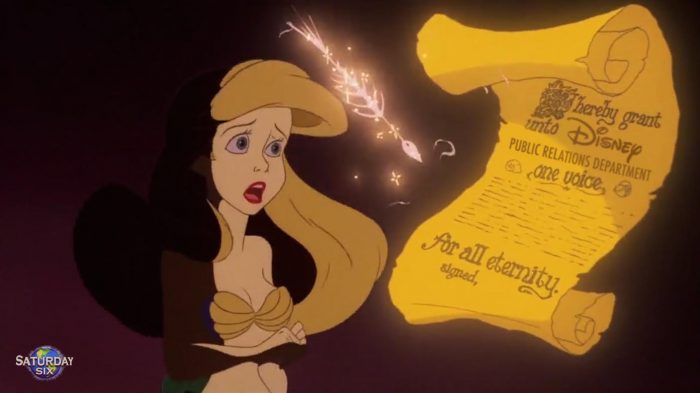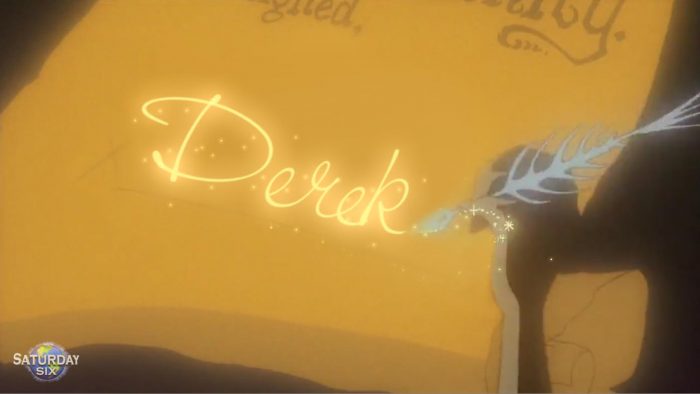 After being publicly embarrassed, the Florida Governor went even harder after Disney. DeSantis suggested he would get back by doing things like having new tolls put on Disney property. If that seems like it would negatively affect them park fans and residents of Florida more than Disney, well you'd be right.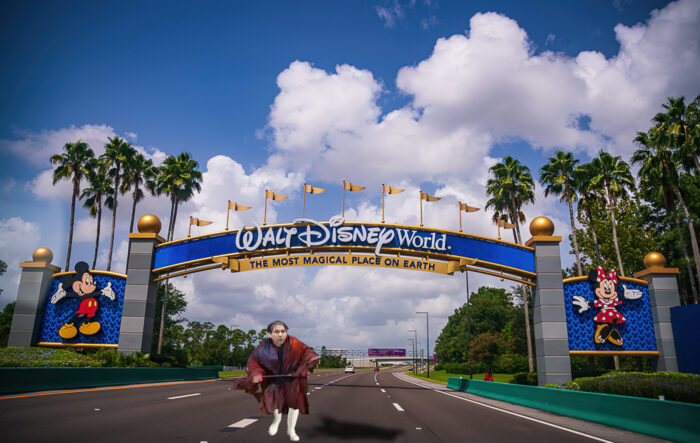 DeSantis even suggested the state could take a larger part overseeing the operations at the Disney parks along with its transportation systems like the monorail. Keep in mind he was not saying this about "theme parks" and saying that Florida would also be tighter on places like the Universal Orlando Resort or SeaWorld. Nay Nay. He made it clear the state of Florida was targeting Disney.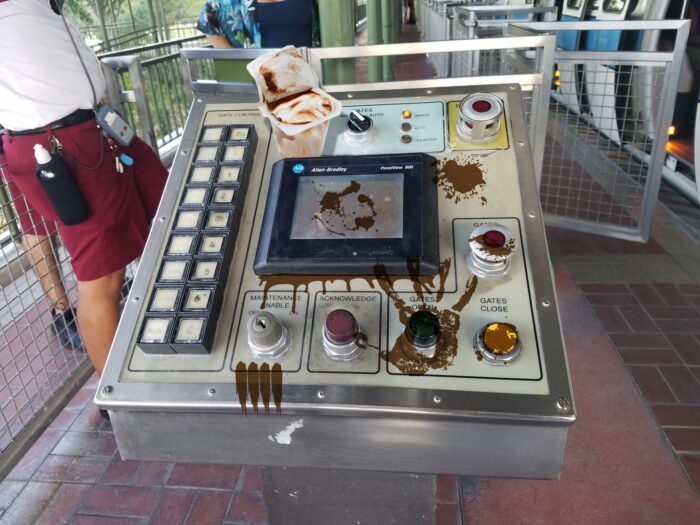 In one of the most next-level-bonkers statements ever made, one of the ideas DeSantis suggested the state could do to punish Disney was building a PRISON near Walt Disney World. If you put something like that in a movie it wouldn't even make it past the script page as the audience wouldn't find it believable. "No human being would be that dumb to say something like that," would be the note.
TPEI Score: -33 I get it, there's probably several (many?) people reading this that don't want to mix politics with their "happy place." The problem is that the state of Florida is directly attacking Disney for reasons that are – to use a legal term – complete BS. We've seen that just ignoring stuff like this only makes it worse. You have to shine a light on the subject to make these cockroaches scatter. All that said, the worst part of all this is the dumb war with Disney is distracting many people from the other horrible bills that the Governor is making sure get passed which target the LGBTQ community. Disney can fight back. Members of disenfranchised and marginalized communities often can not.
QUICK HITS
*Another Maleficent Catches Fire
Who could forget back in 2018 when the Maleficent dragon in Walt Disney World's Festival of Fantasy parade caught fire in the Magic Kingdom? It was the Golden Turkey in that year's Theme Park Turkeys of the Year awards.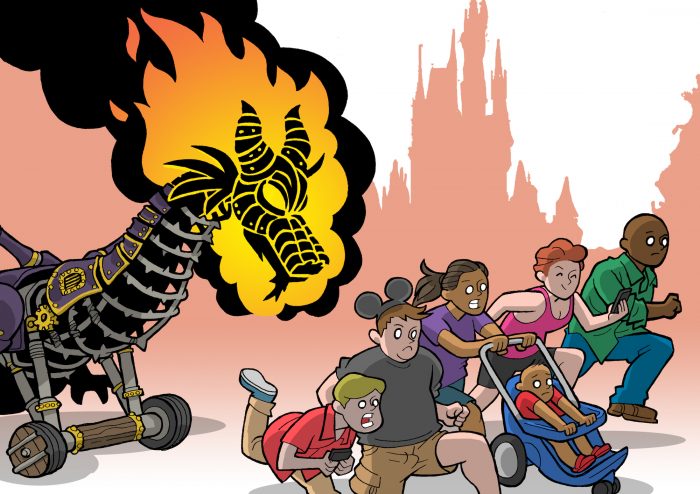 Unbelievably, the Maleficent dragon in the Fantasmic! show at Disneyland also caught fire in April.
WHAT?!!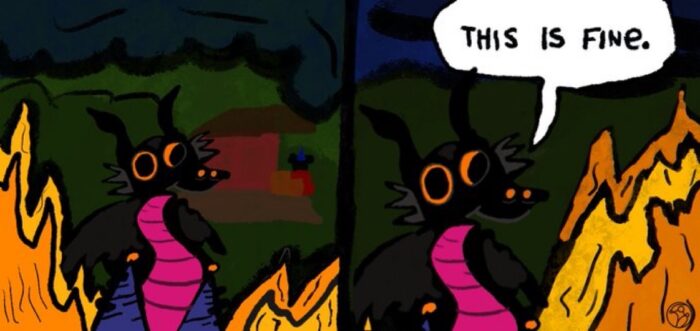 *Disney Announces new Avatar experience coming to Disneyland…
No one loves Pandora: The World of Avatar in Disney's Animal Kingdom more than me, but even I was surprised when Disney announced a Pandora "experience" would be coming to Disneyland in California. How would they fit anything as majestic as Pandora into an already packed Disneyland though? Especially with how cheap the current management of Disney seems to be (as much as we love Tron, they stripped away a lot of extra details that the ride has in the Shanghai version.) Well, turns out one member of DisTwitter found a way to get both a Pandora Experience and allow Disney to save money by doing a light re-theme on an already paid for project, similar to the Hollywood Tower of Terror being converted to Guardians of the Galaxy: Mission Breakout…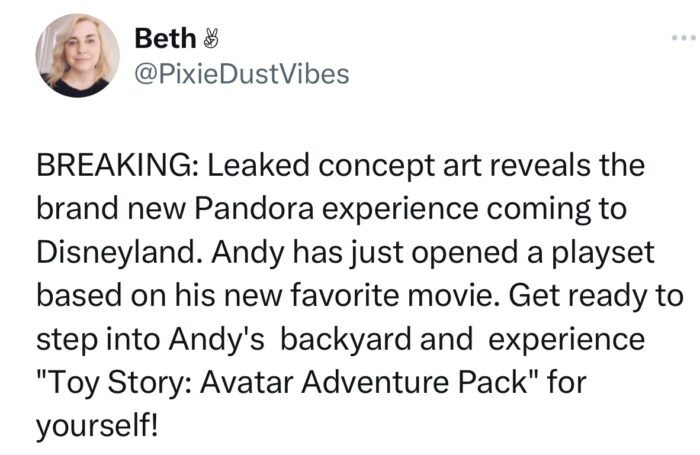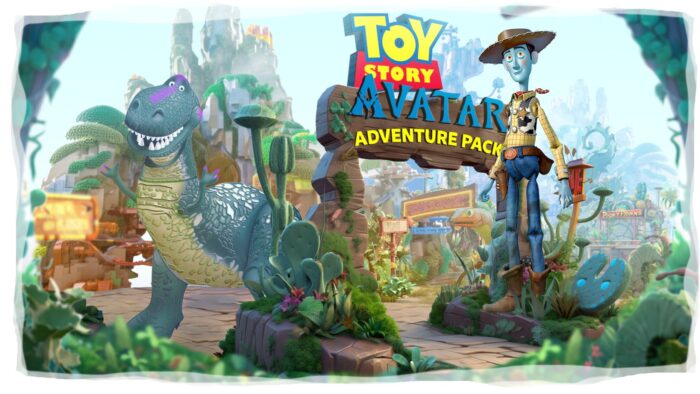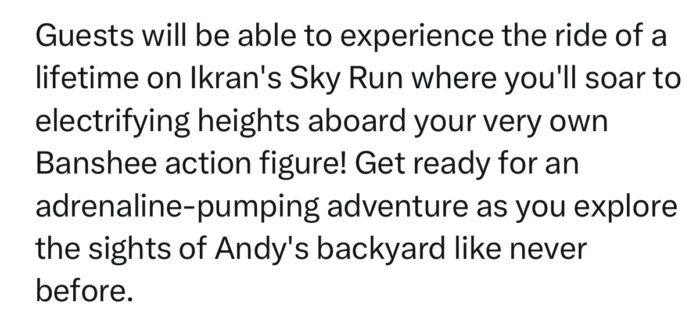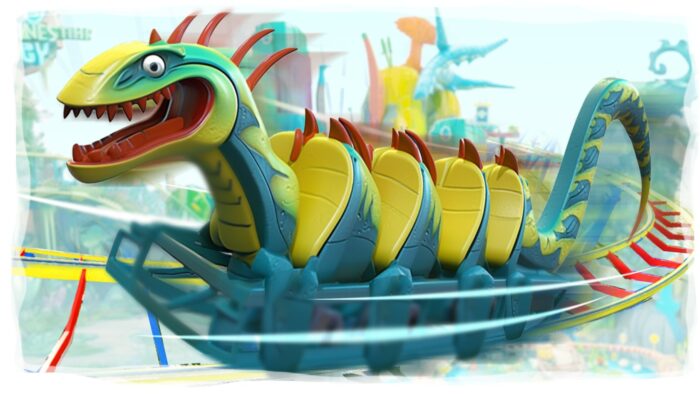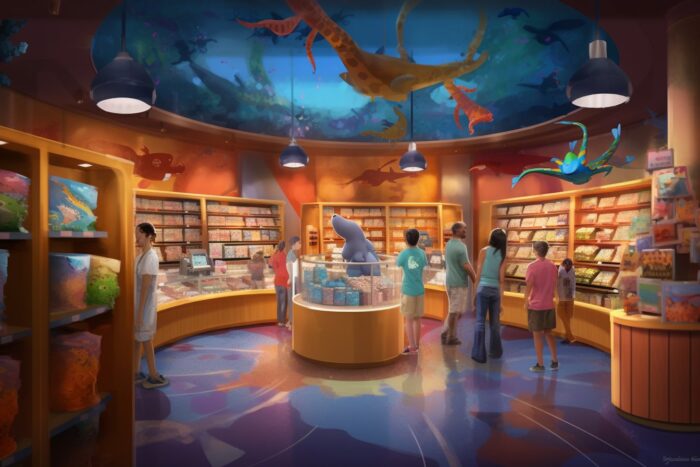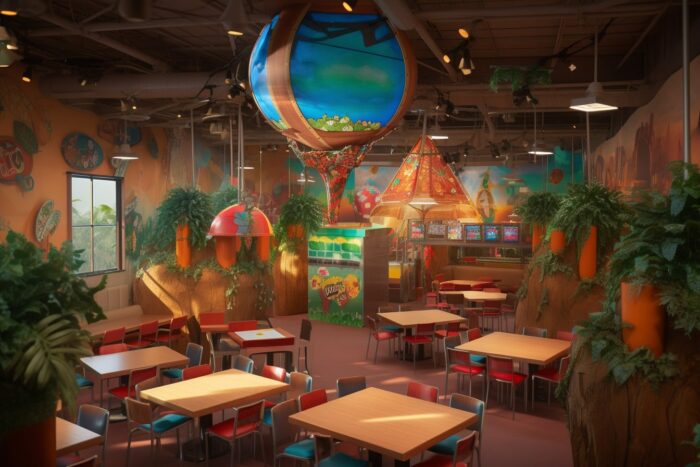 Another member of DisTwitter saw the genius in this idea and added, "Fortunately for us, we sort of discovered that in the first film, young Andy was right about the age that he could have gone to Disney's Animal Kingdom."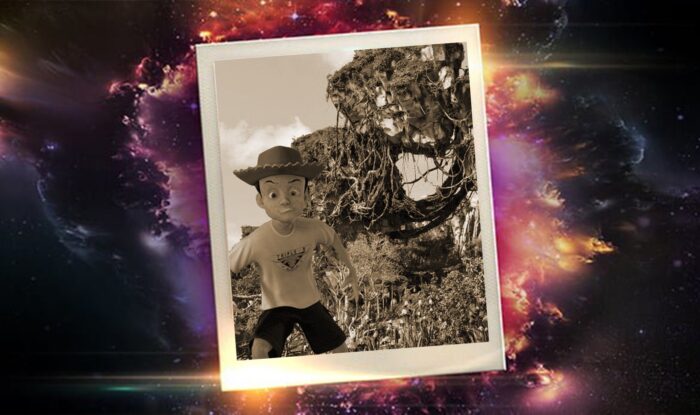 *Animal Kingdom turns 25!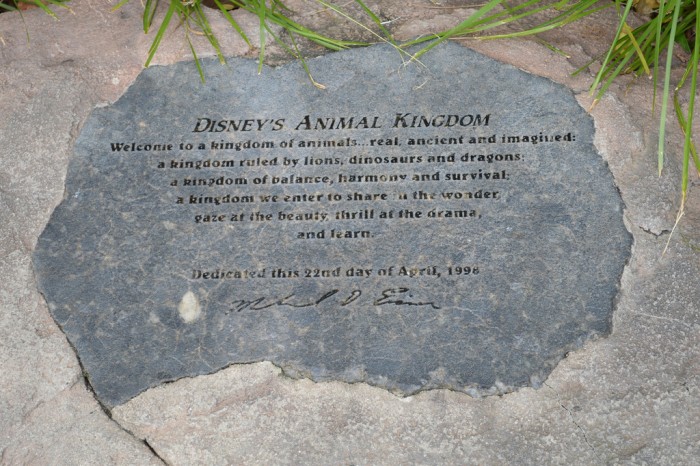 TPEI's own Scott Walker marked this anniversary with a fun reference to the long-remembered 25th Anniversary of Disney's Magic Kingdom, when Cinderella Castle was turned into a birthday cake…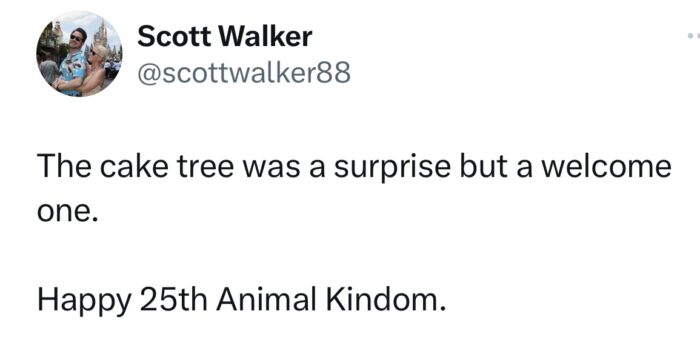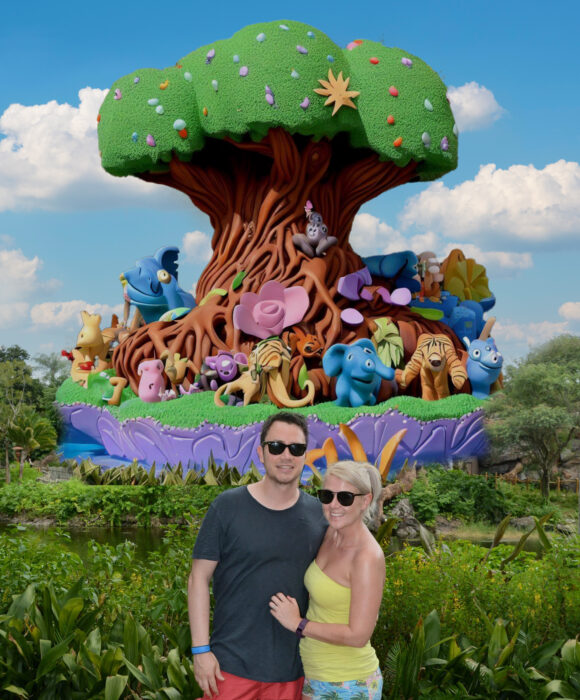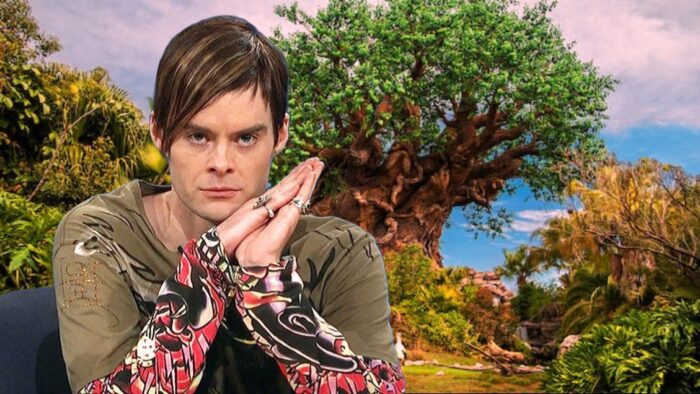 It has everything, including
Snacks shaped like animal poop…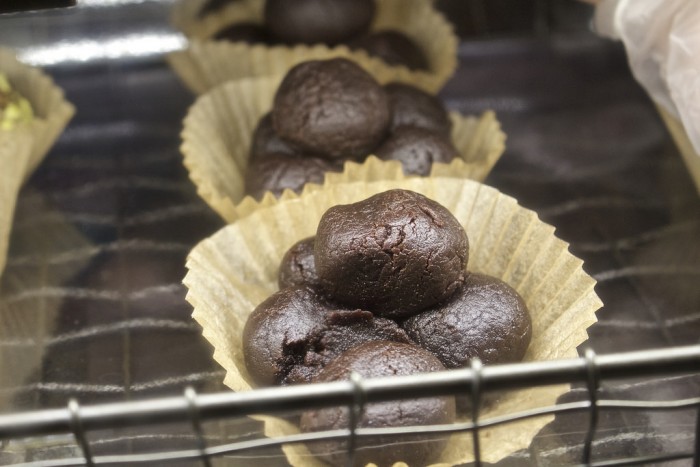 A dinosaur wearing sneakers…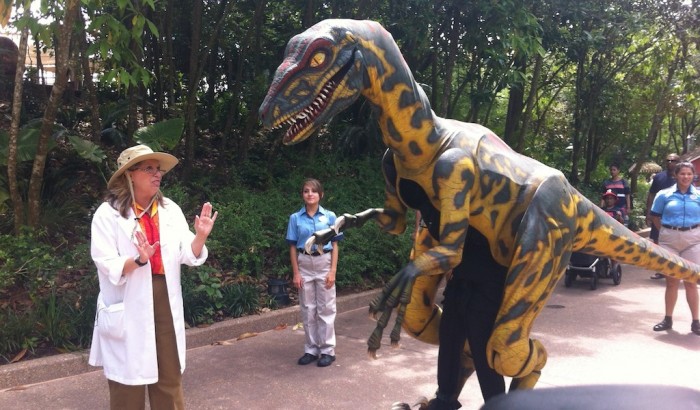 A next level amazing walk-around audio-animatronic dinosaur who stayed in the park for almost three months…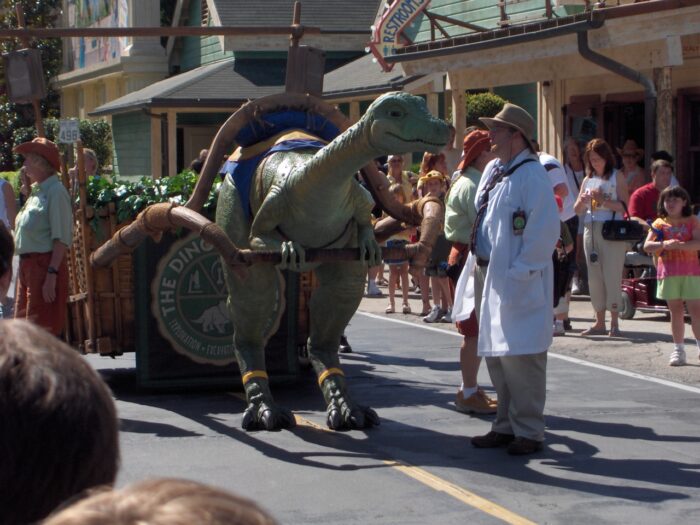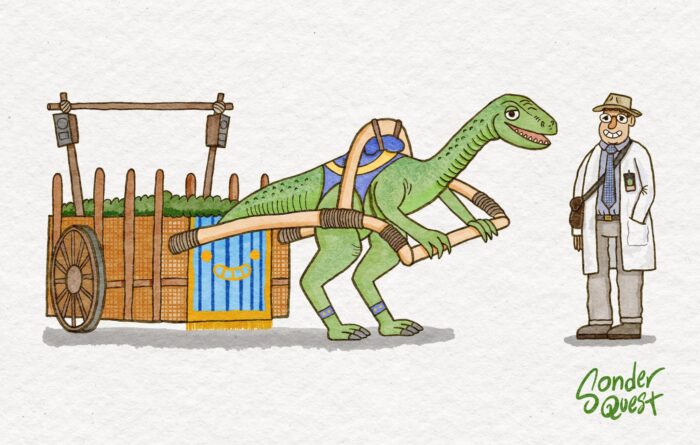 A nighttime "spectacular" plagued by problems…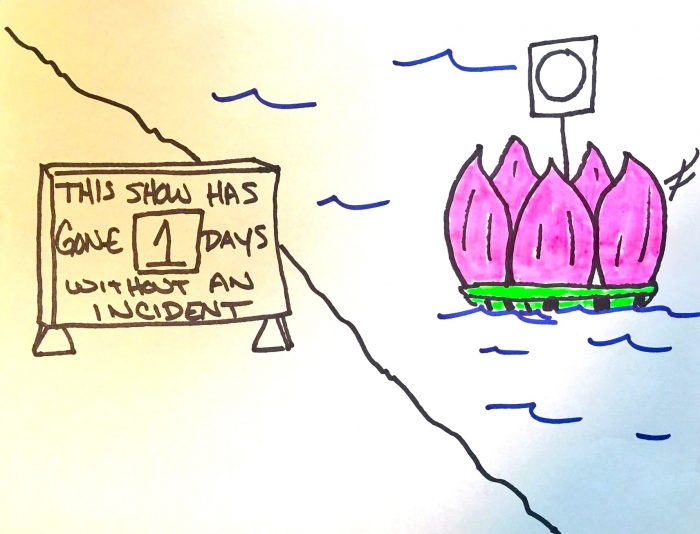 One of the all-time most painful rides in a land that takes 30 minutes of explaining the backstory to tell people why "it's supposed to look cheap"…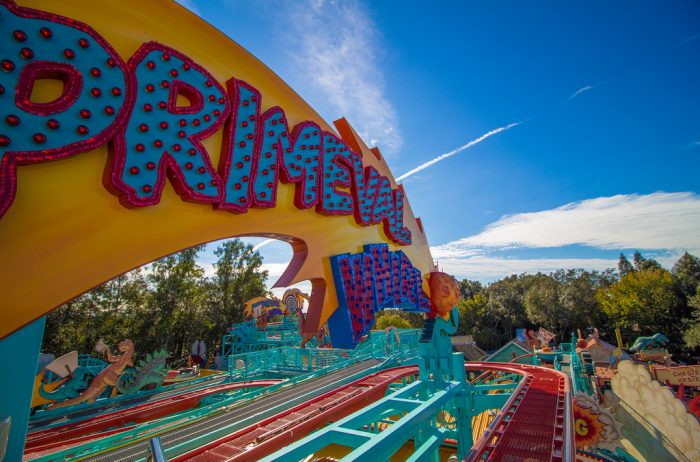 A meet-and-greet area turned into a literal "BAR"…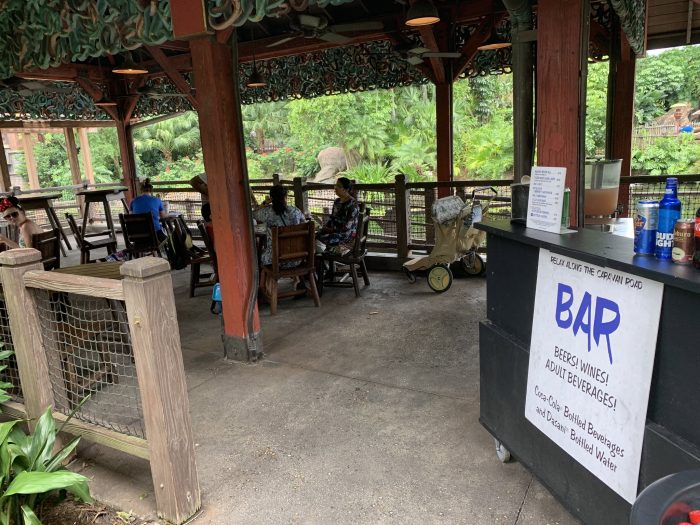 This guy…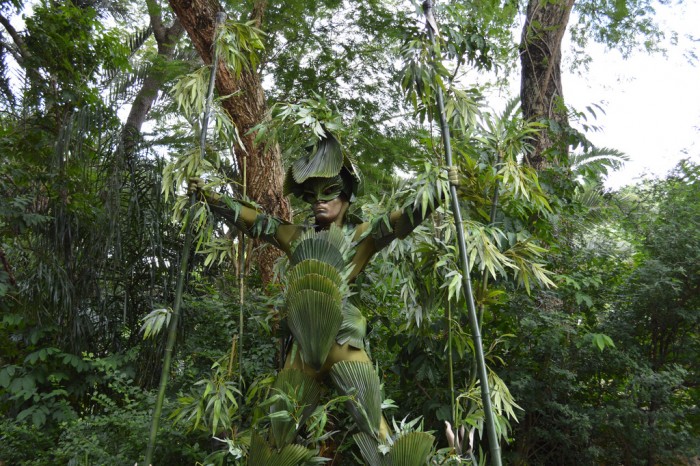 And this guy…
All that said, Animal Kingdom has some of the best attractions Disney has ever built and has inspired a generation of fans.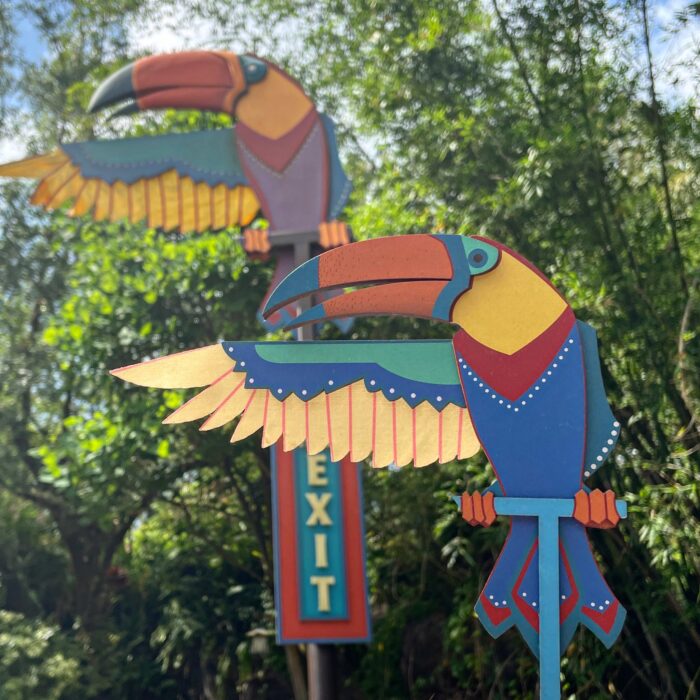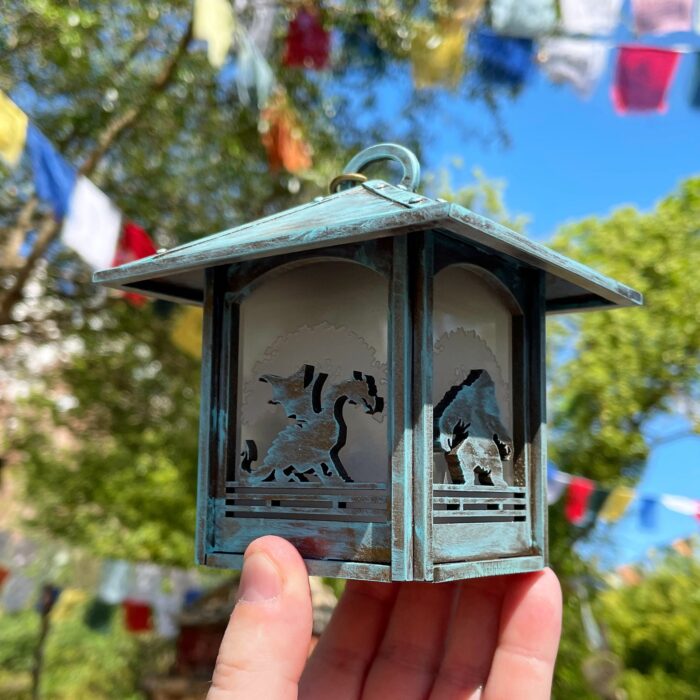 Of course we can't forget the single greatest thing about Animal Kingdom and it was…
That Time Someone Photoshopped Themselves into a TouringPlans Blog to Prove to The Court That They Were at Walt Disney World.
This story did not just win the Golden Turkey award for 2016, it became the first ever inductee into the Theme Park Turkey Hall of Fame.
Let's take a trip back in time when Seth Kubersky (my co-author of The Unofficial Guide to Universal Orlando) was contacted by a concerned reader. This man was going through a legal battle with his ex-wife, and during the case she had submitted a photo of herself at Walt Disney World to prove that she was there.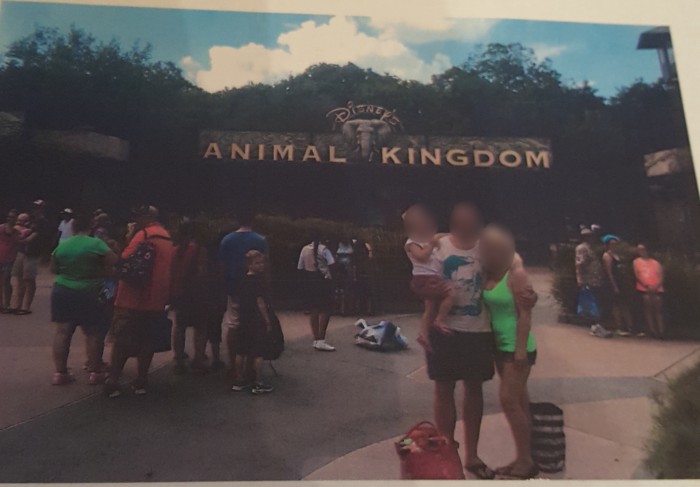 However, in a shocking turn of events that even Perry Mason wouldn't see coming, it turns out that she had just photoshopped herself into a picture from one of Seth Kubersky's blogs.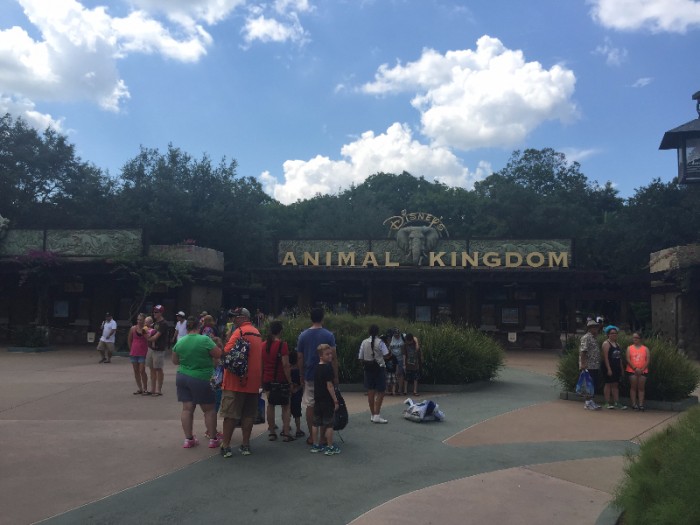 Now THAT takes chutzpah. Even more ballsy is the complete utter lack of even trying to get the photoshop to look good.  Heck, we here at the SATURDAY SIX are personally insulted that we weren't asked to participate in these shenanigans. Clearly, if TPEI had existed back then she may have ended up on the winning side. In a related note, I also volunteer to be a professional expert in any court case if only so I can finally give the big "YOU'RE OUT OF ORDER!" speech.
Congratulations Animal Kingdom. Now that EPCOT is becoming "just another theme park," you stand alone on the hill of They'll Never Be Another One Like You Again.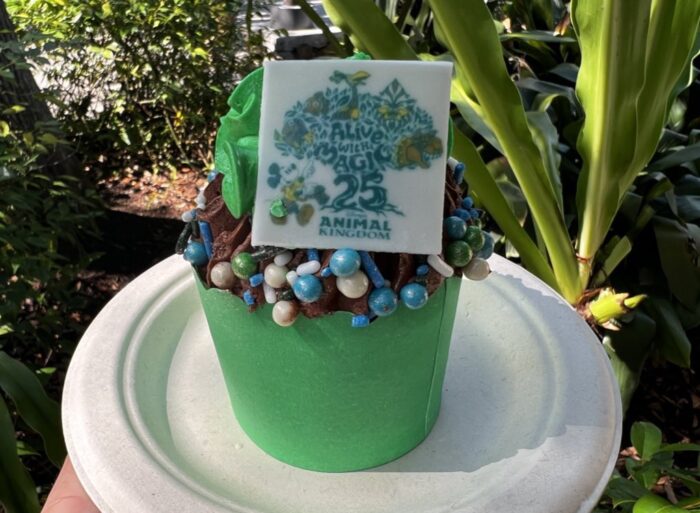 *Welcome to Jurassic Park
Little things like this in the theme parks make my day.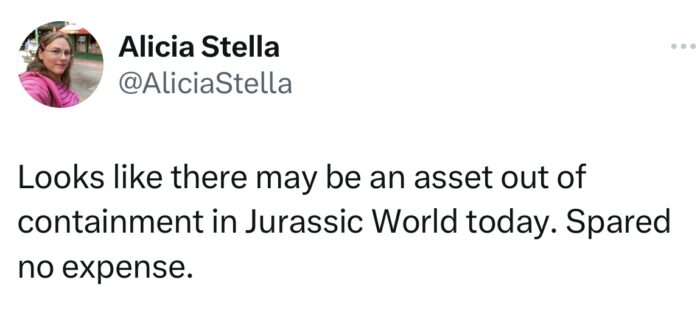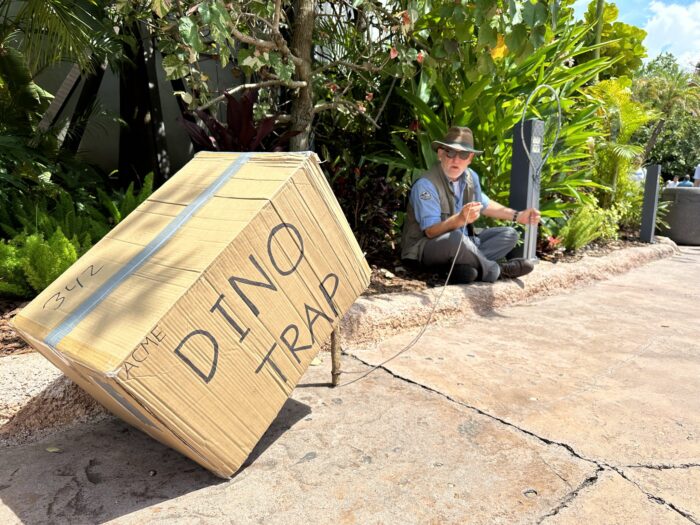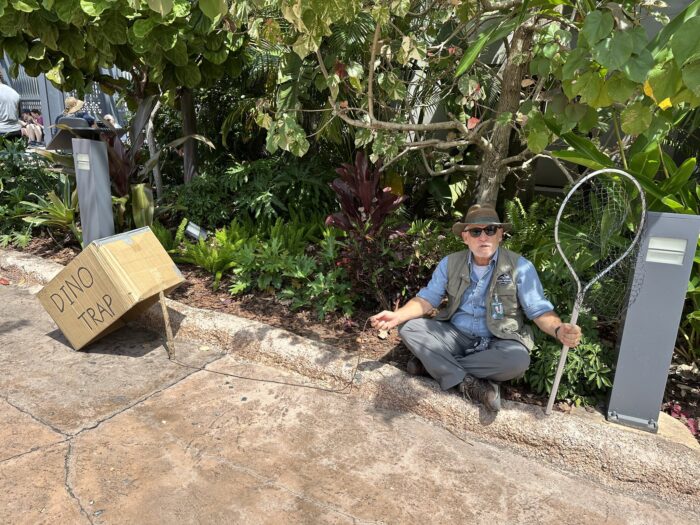 Speaking of Jurassic Park, this year the movie will celebrate its 30th Anniversary. Rumors and Innuendo suggest we'll be getting a dinosaur themed Tribute Store over the coming months and the new Universal Orlando Annual Passholder magnet was also Jurassic Park themed.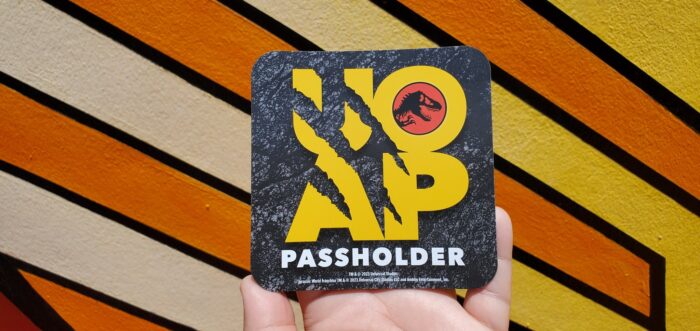 Out in California they got a super nifty magnet featuring everyone's favorite plumber.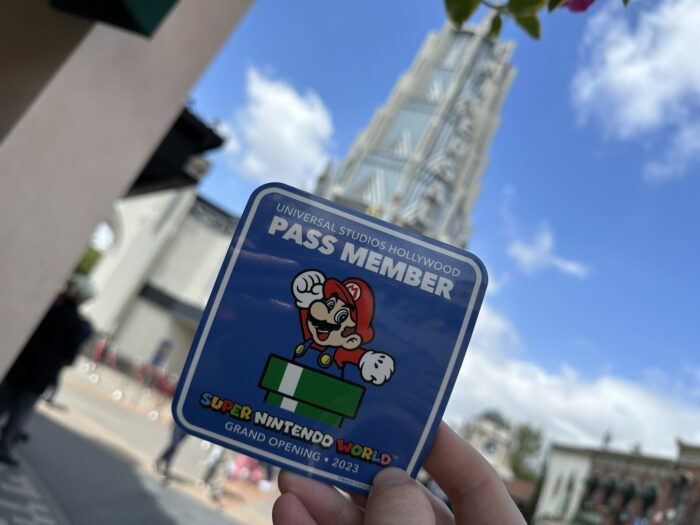 *Disney Transportation Cards
One of the true "Best Kept Secrets" at Walt Disney World are the free (that's right, FREE) Transportation Cards you can collect across property. All you need to do is ask a Cast Member working the attraction if they have any cards available. Pack your patience because many times they don't have one, but when they do you have a really fun collectible. One of my favorite follows on DisTwitter is Ivonne Ramos. Not only does she take incredible photos of the parks, but also keeps us up-to-date anytime she gets a Transportation Card.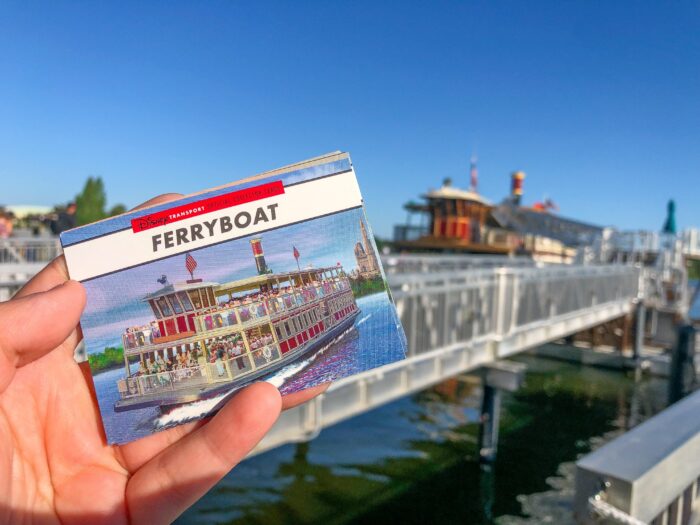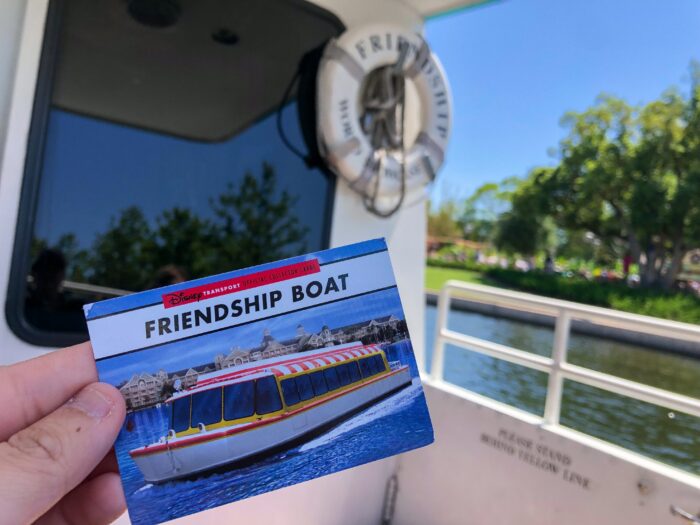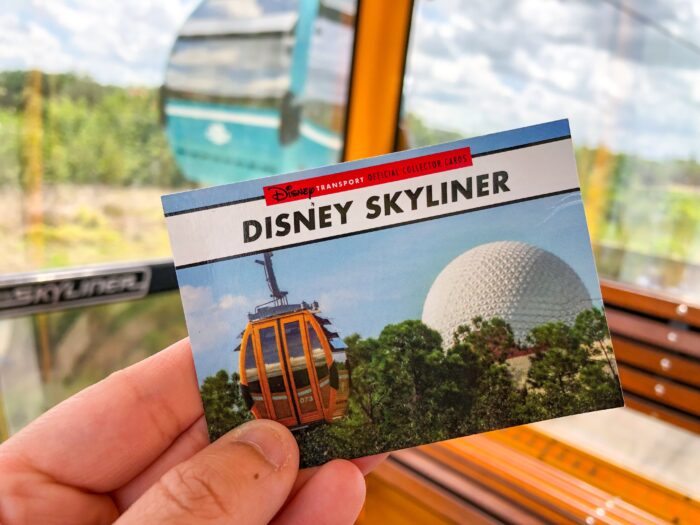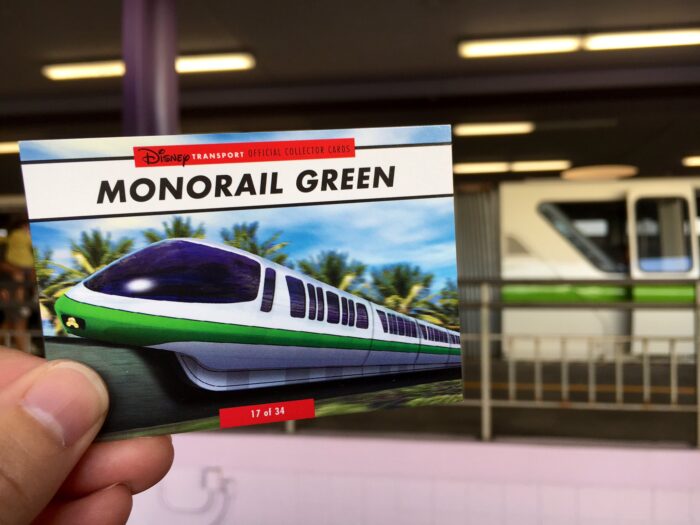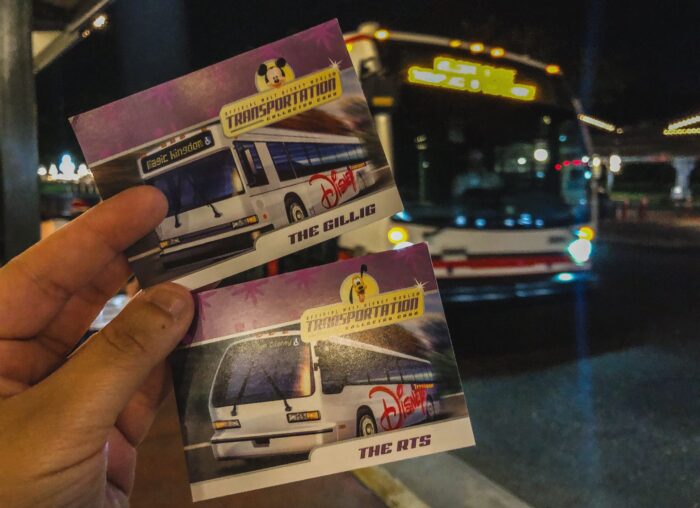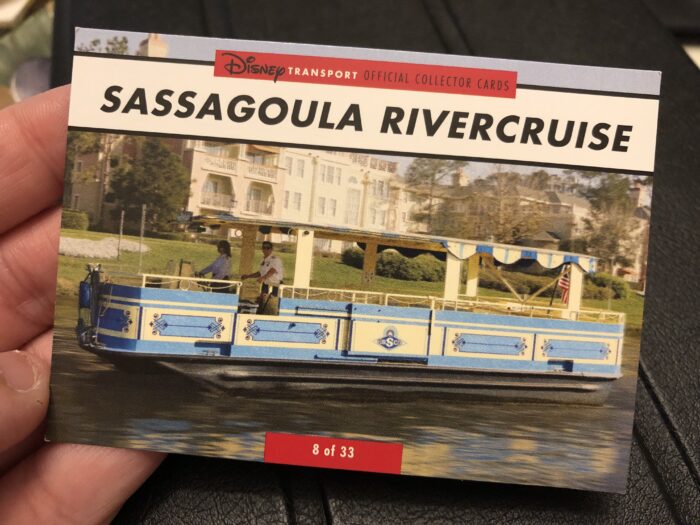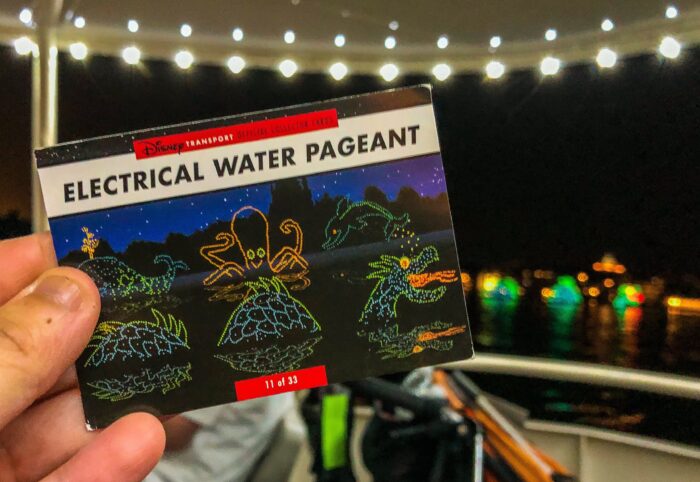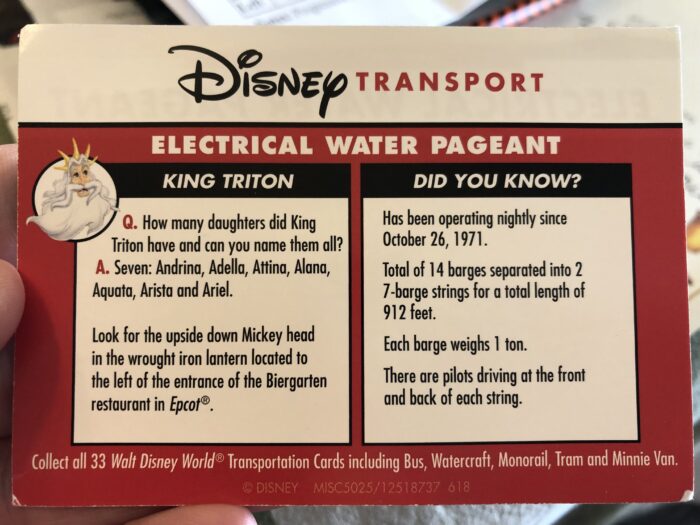 *Runaway Railway drawings
You might remember me losing my mind recently as Mickey & Minnie's Runaway Railway opened in Disneyland with a queue that BLOWS AWAY what we got in Walt Disney World. Well, to rub salt in the wound, artist Jamie S. did an INCREDIBLE series of drawings based on the queue and the attraction itself. These are so great and Jamie has an open invite for next year's ARTIST SPOTLIGHT series.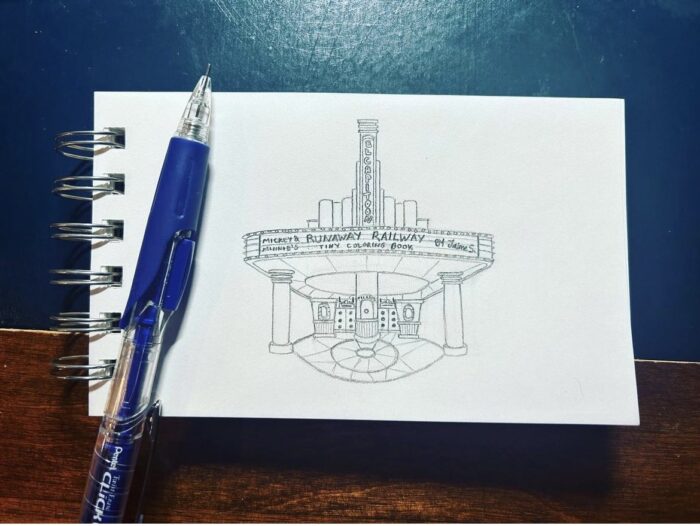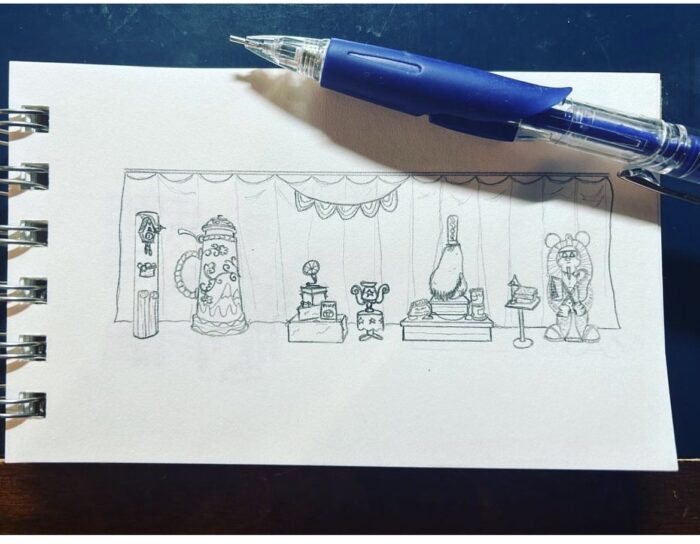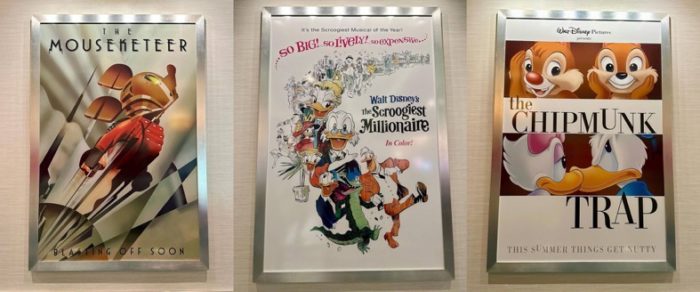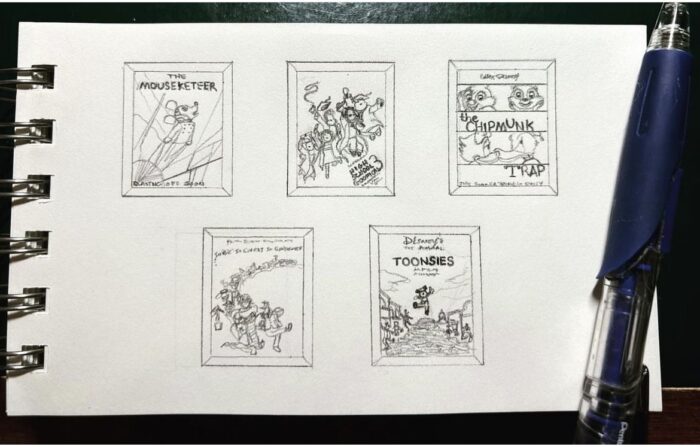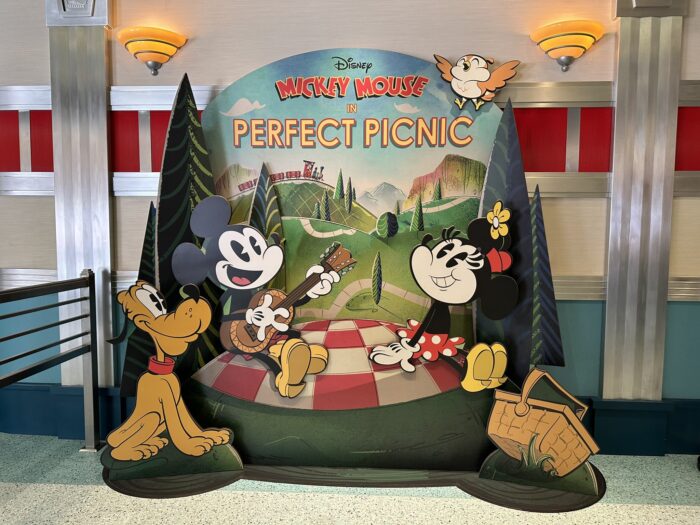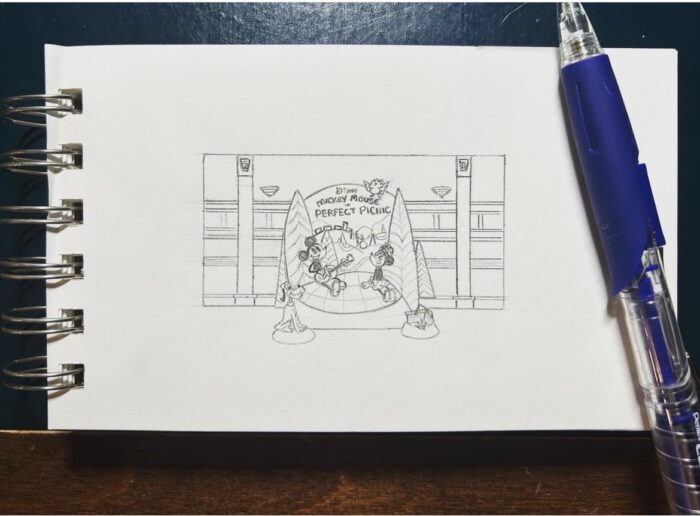 When Jamie S. was posting this series, I mentioned how upsetting it was to see because it was a reminder that our "queue" in Walt Disney World is a bunch of umbrellas outside the attraction…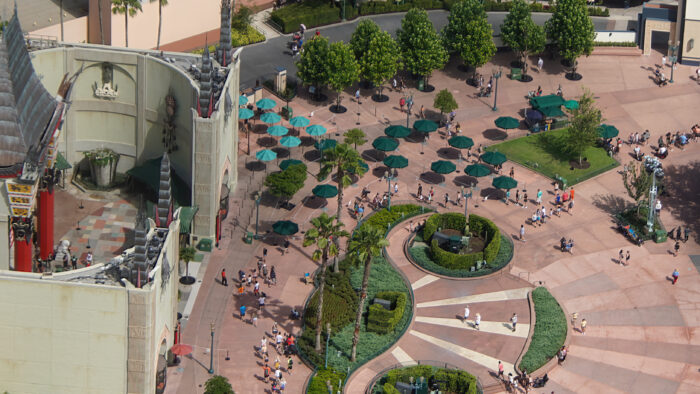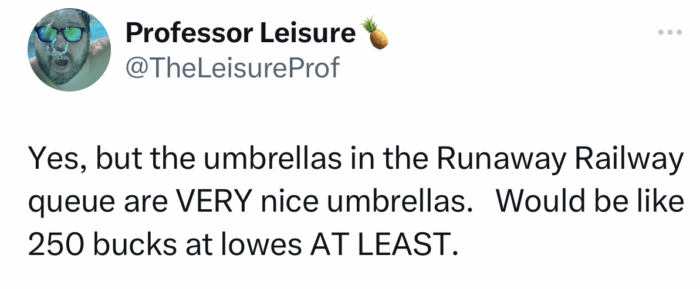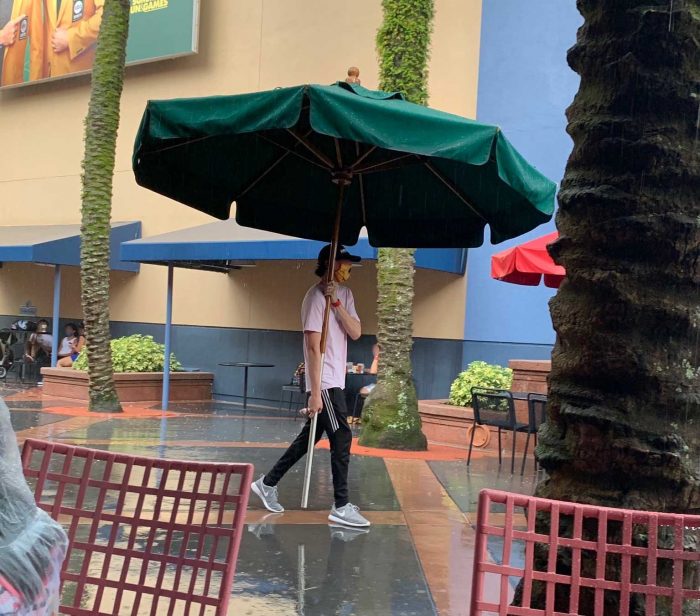 In fact, I even got out a pen to draw the Walt Disney World Runaway Railway queue theming.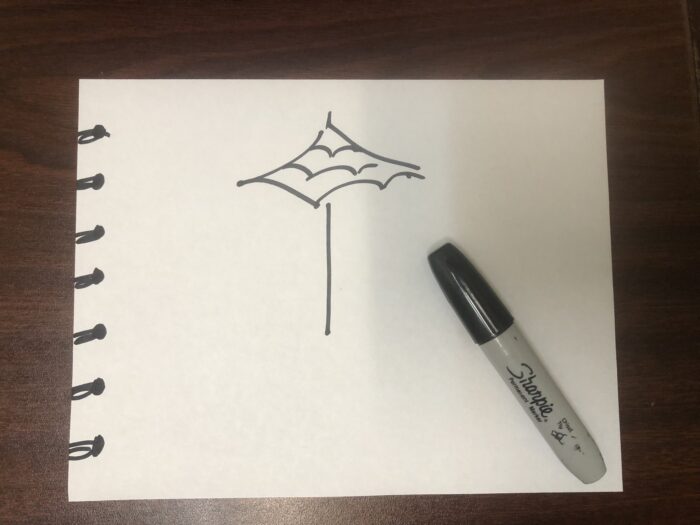 I needed to remind people that both Jamie S. and I were drawing Runaway Railway queues, and both were excellent in their own way (while referencing one of the all time funniest moments in TV history)…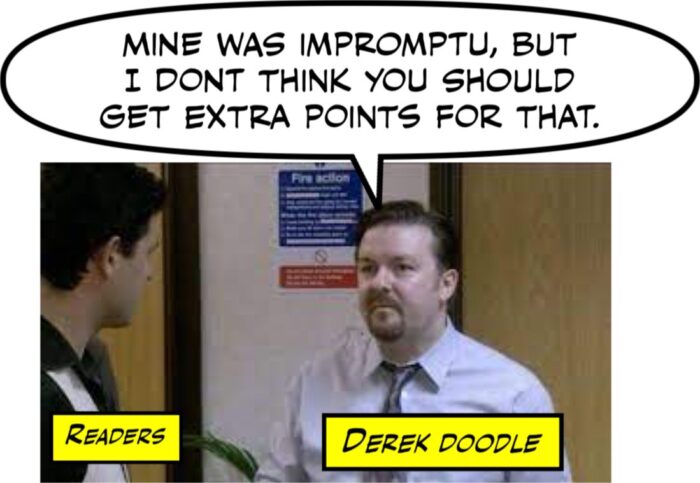 Now let's look at some of Jamie's incredible drawings of the attraction itself. Keep in mind how tiny these drawings are when seeing all those amazing details she was able to pack in. I'm in pure awe.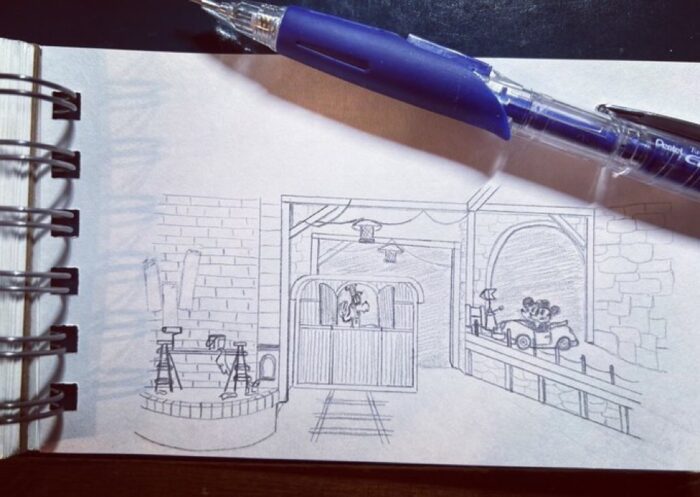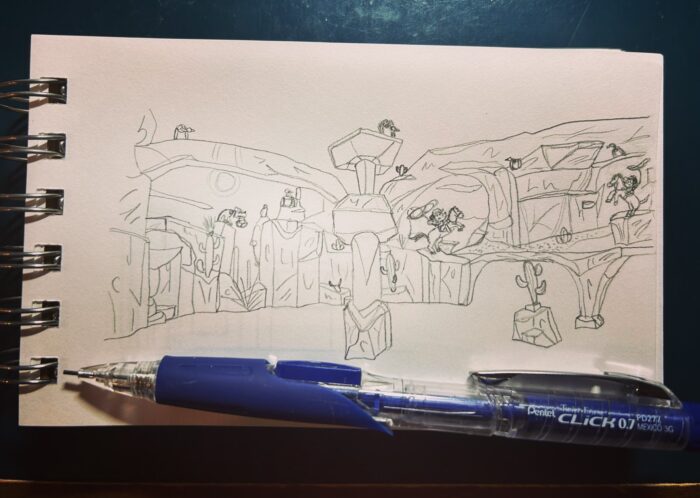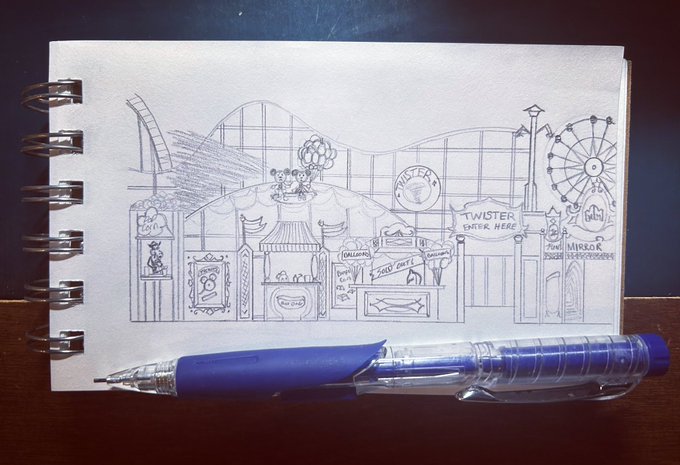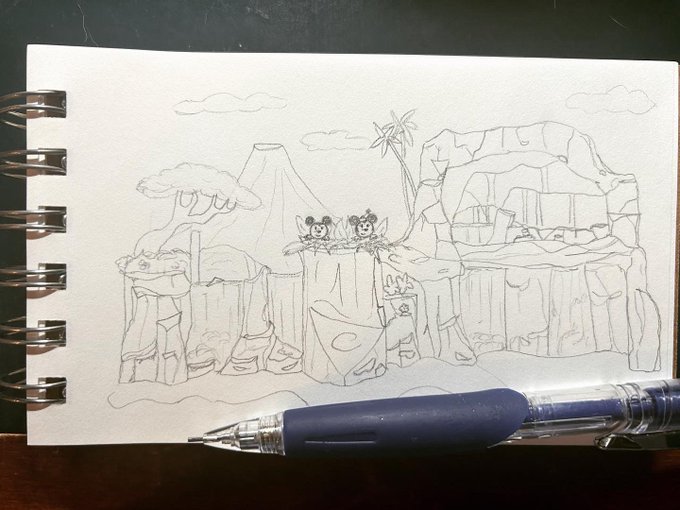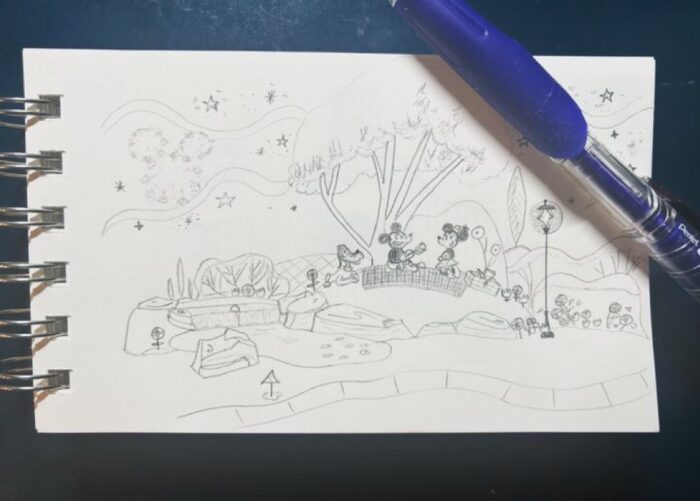 How about THE ENTIRE LAYOUT OF THE ATTRACTION that includes the façade, the queue, and all the ride's show scenes?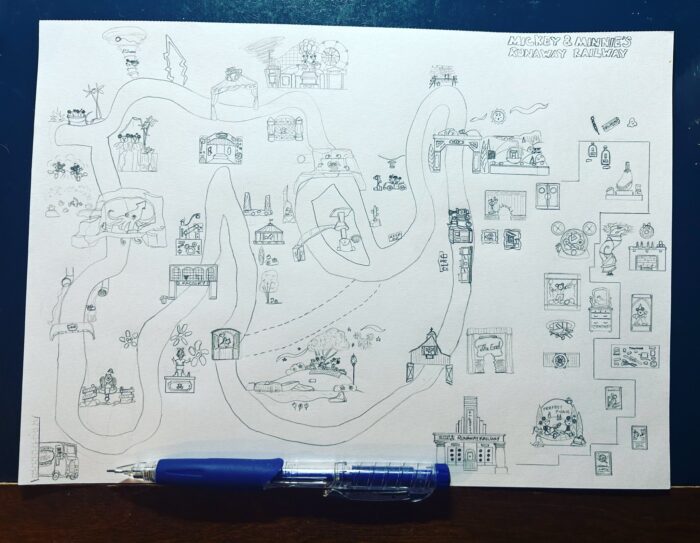 My reaction to seeing that type of masterpiece?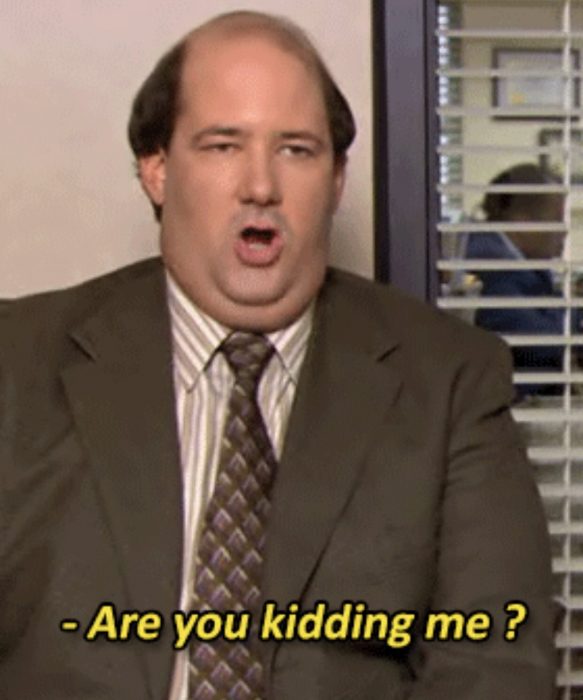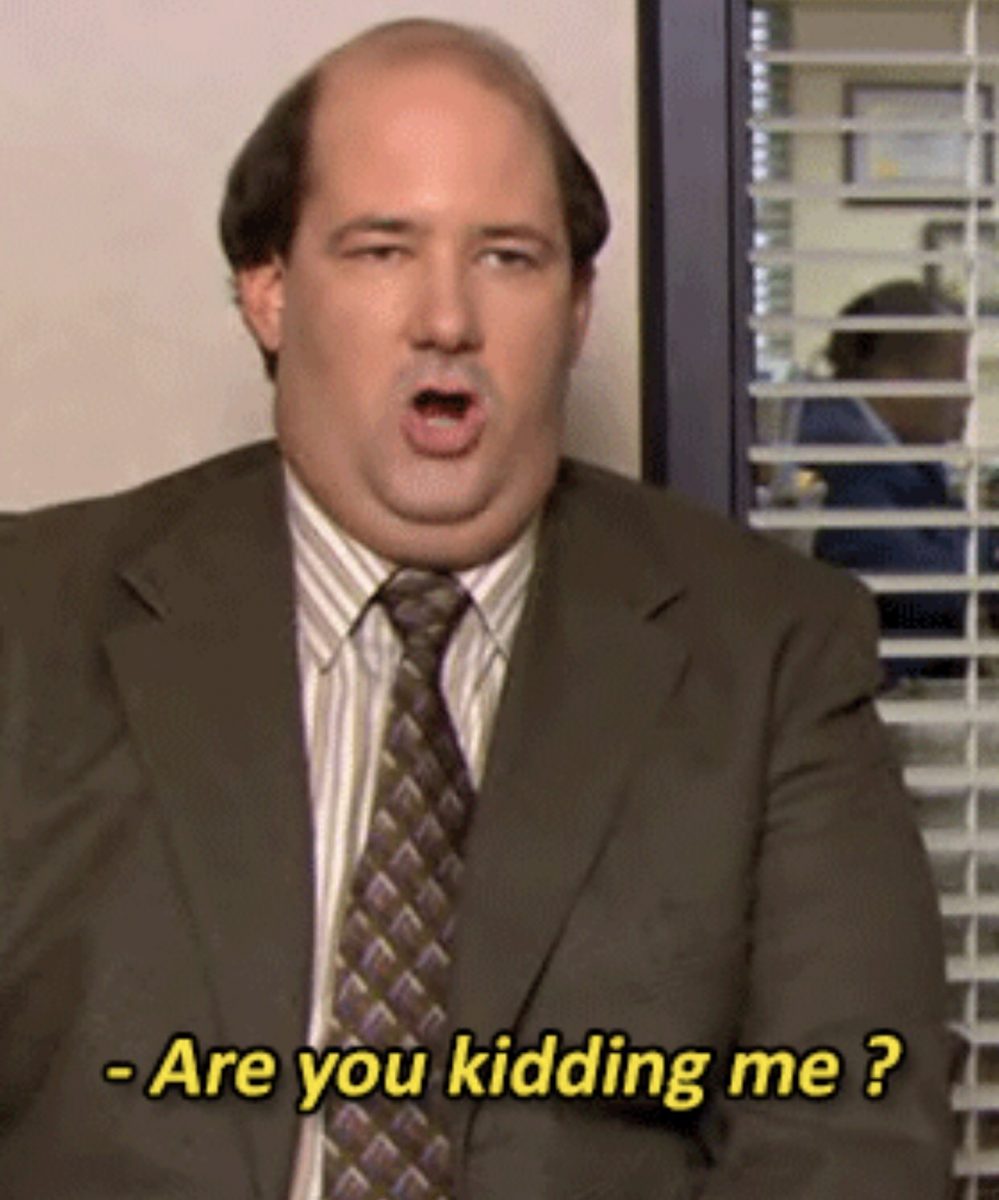 *JUST IN: Did You Know is Expensive?
There was BREAKING NEWS this month as another person went viral on social media after posting a video showing that Yes, Virginia, Disney Is Expensive. The video quickly goes through tickets, characters meals, Genie+, Lightning Lane, snacks, merchandise, and more. Throughout the video the poster is also making some comments which don't exactly paint their experience in the best of light.

This one minute video was covering "Day 2 of 5" of the family vacation. It took place at Disney's Hollywood Studios and started off with a buffet breakfast at Hollywood & Vine, the family then went to Toy Story Land, and Star Wars: Galaxy's Edge (where they did the Lightsaber Experience at Savi's Workshop for 3 people and paid to ship the lightsabers back home.) In Toy Story Land they said, "even with Lightning Lane, we only got to do one ride." The one ride they posted video from? Alien Swirling Saucers.
Interestingly enough, in the Galaxy's Edge section they mentioned "every ride had a wait of 120 minutes, so we only did one ride in this section." Well, there's only two rides in Galaxy's Edge…but, in this section of the video the poster used some on-ride video of being in Star Tours: The Adventure Continues and Smuggler's Run. In a nutshell, this summed up the video for me and why it's frustrating for me being the "theme park guy" for my friends, family, and co-workers when they have questions. They are getting – at best – misinformation from someone and for people not plugged into the theme park community, this is what they are taking away from an average person's experience. The poster gave no other examples of rides they went on the entire day. Were they deliberately trying trying to be misleading for "clicks?" Possibly.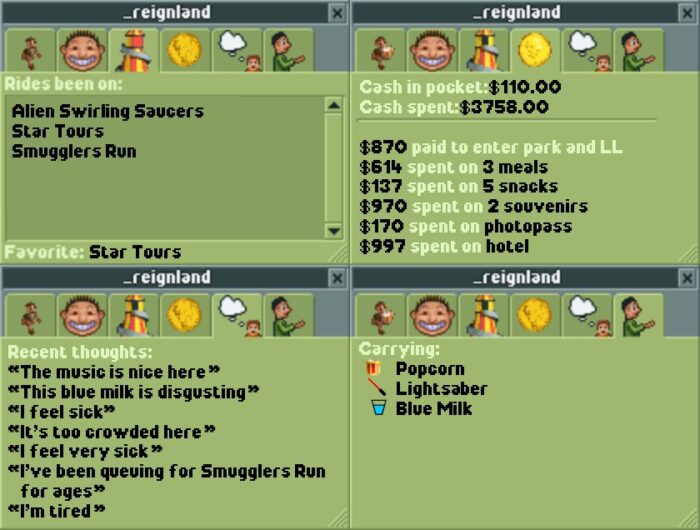 * Disney contributes to "Halfway to Halloween" nonsense
It's April, so you know what that means… fans of Halloween Horror Nights complaining we haven't had announcements yet and Disney doing a whole bunch of "Halfway to Halloween" junk. Hopefully we are in a timeline where "Halfway to Christmas" or "Halfway to Thanksgiving" never come to fruition (although I wouldn't mind a "Halfway to Groundhog's Day" celebration…)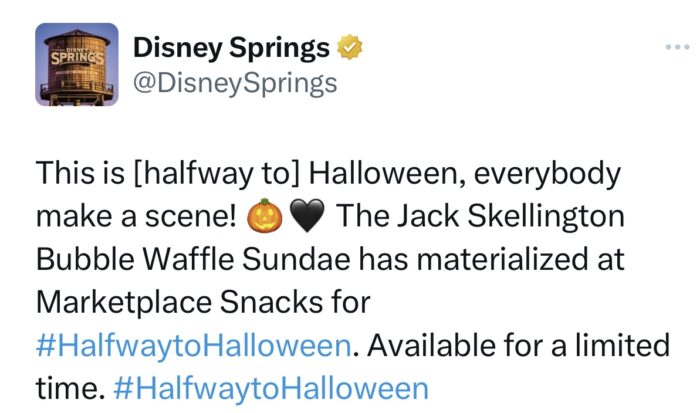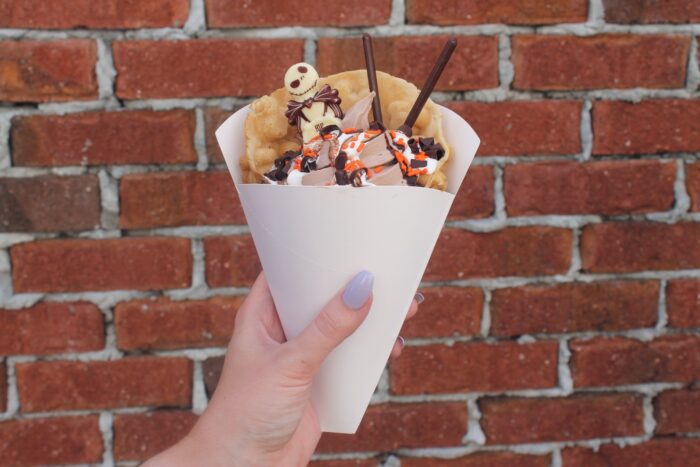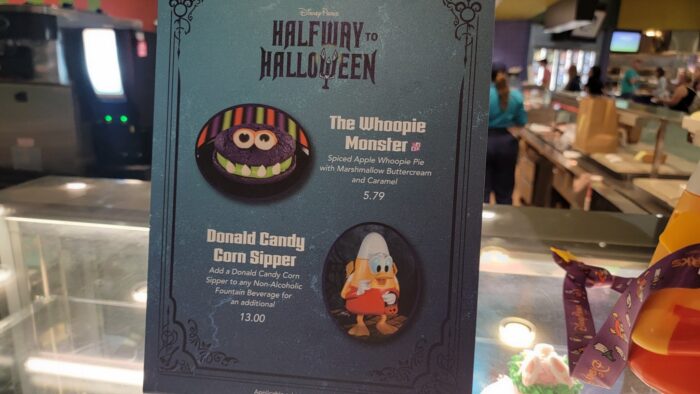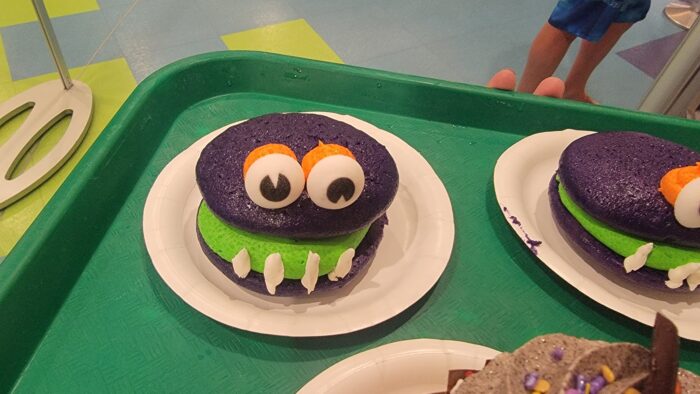 Over at Disney's Polynesian Village Resort, there was a new Gargoyle Tiki Mug, that of course was immediately sold out.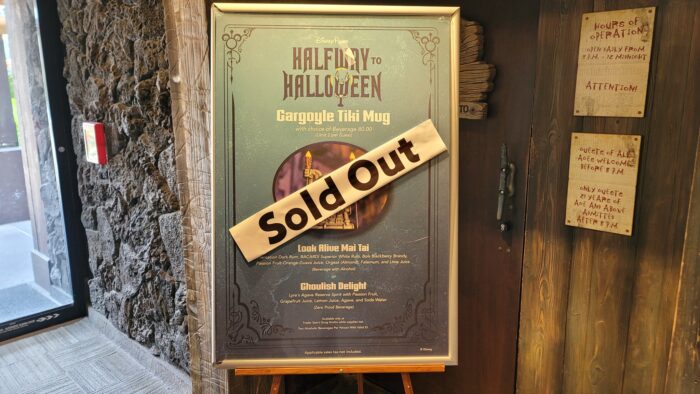 *What a shot!
As bad as the overall Twitter experience is coming, I would still make the argument that DisTwitter – the theme park community still on Twitter – is worth sticking around for. Not only do we get to interact with current and former Disney Imagineers and Universal Creative, but we have theme park fans and photographers posting straight up E-Ticket creations and next level photographs. I get why some people wouldn't want to support the app, I truly do, but tweets like the ones below are why I'll stick around until they turn the lights off.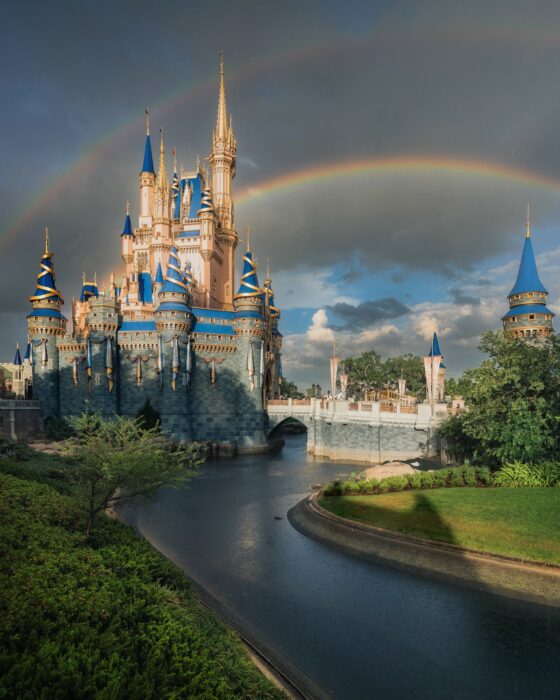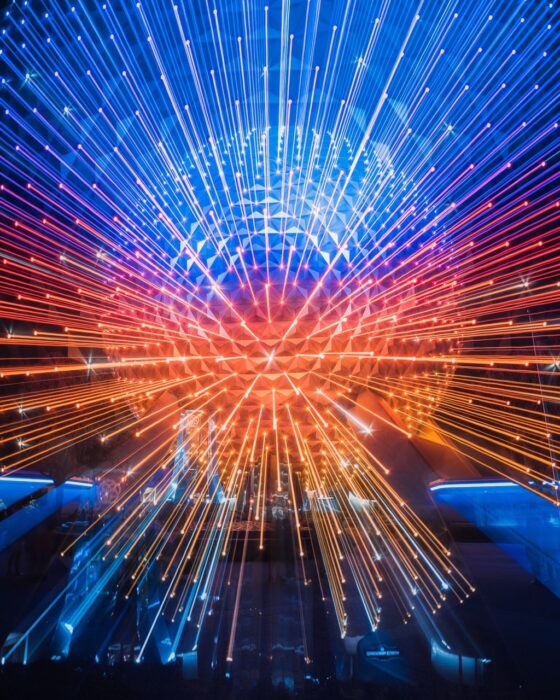 Speaking of Spaceship Earth, let's check back in with our "tiny artist" friend Jamie S. as she did a scene breakdown of one of the most iconic attractions in Disney history…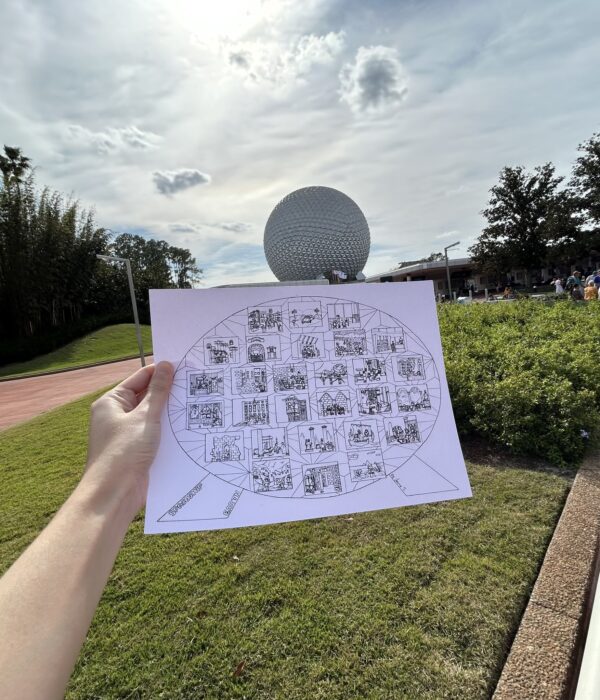 Here's a version IN COLOR (is there anything she can't do?!)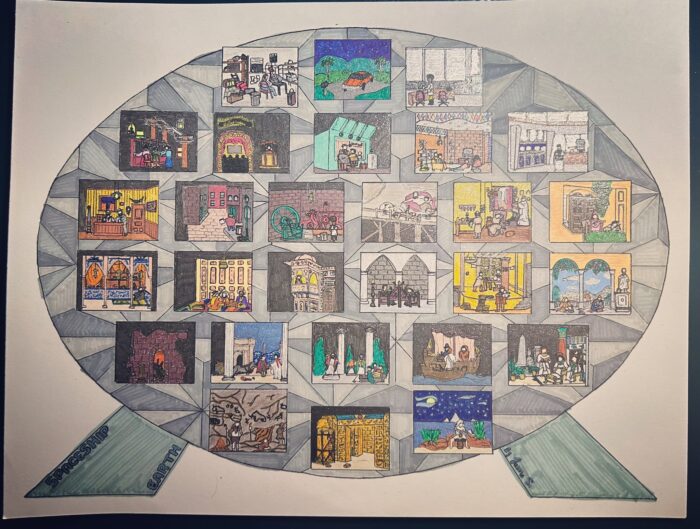 Speaking of really fun artwork and reasons you should stick around on DisTwitter, Rob Bloom posted this gorgeous Universal Studios Florida park map poster that is filled with wonderful details and so many attractions we miss…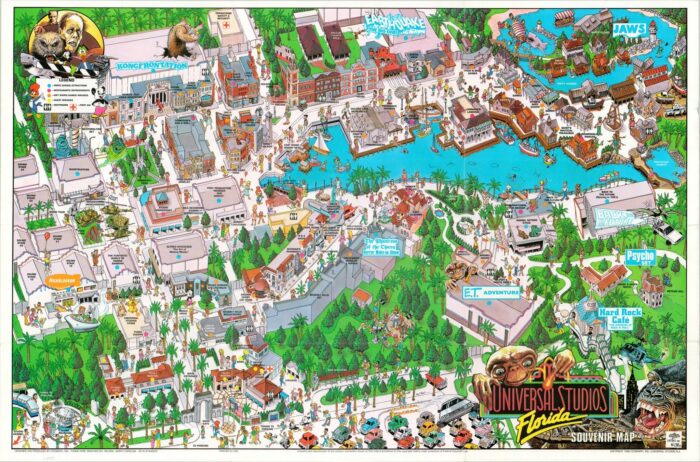 Love the King Kong breaking out of the show building, but what sticks out the most to me in the picture below is the mention of the "Screen Test Video Adventure." My parents did this attraction and filmed a faux scene for Star Trek. It was amazing. They dressed up in Star Trek uniforms and what Universal did was next next level bananas. The script was peppered with personal references and you got a VHS tape with the actual scene afterwards. Here is an example of one video of the Screen Test Video Adventure. You have to watch that video to see all the incredible details Universal put in, including William Shatner and Leonard Nimoy. We laughed so hard for YEARS after seeing this tape. It was cheesy but in the best way possible and I would do anything for Disney or Universal to have a similar experience for families today.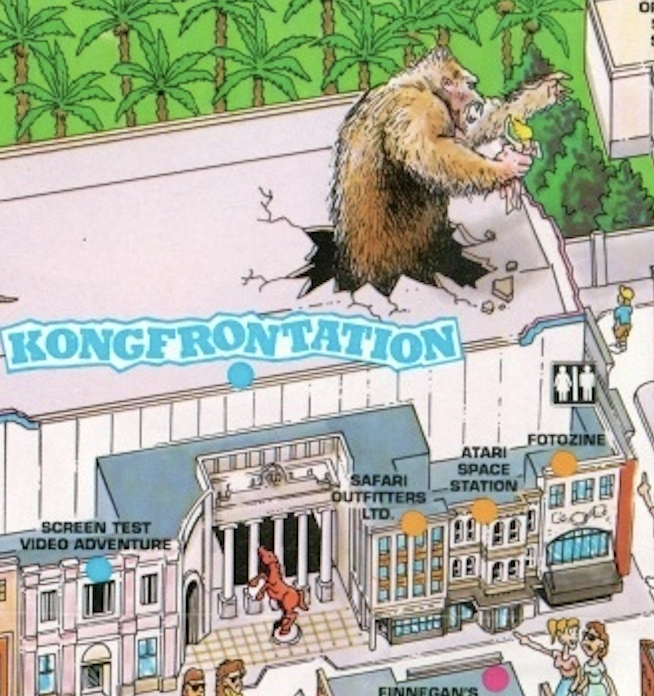 As much as Disney fans – including myself – complain about losing Horizons at EPCOT, Universal fans complain about losing Jaws. Let me tell you something as one of the biggest fans of the movie Jaws in the world. The attraction itself was great and I loved that Universal had it's own version of The Jungle Cruise. That's the end of the good stuff. Outside of the ride constantly having issues, the queue for the attraction and the Amity "land" the ride was located in aren't going to make any Hall of Fame lists. When you realize a Nathan's Hot Dog stand was replaced by Diagon Alley, you can understand why this ride needed to go. Horizons was replaced by something that paled in comparison. Jaws was replaced by one of the All-Time best lands in theme park history. That's the difference between the two.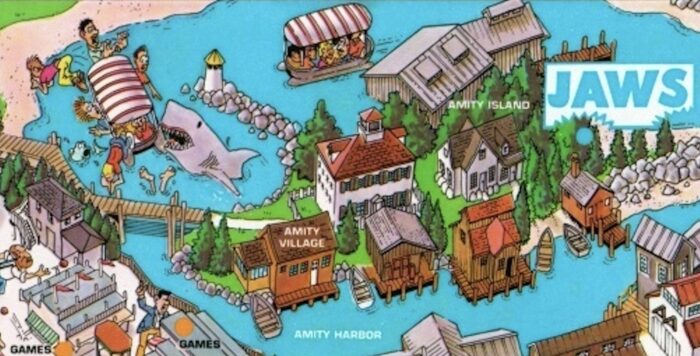 I wish Universal would sell this souvenir map today. I'd buy one in a second. Make it exclusive to Universal Orlando Annual Passholders.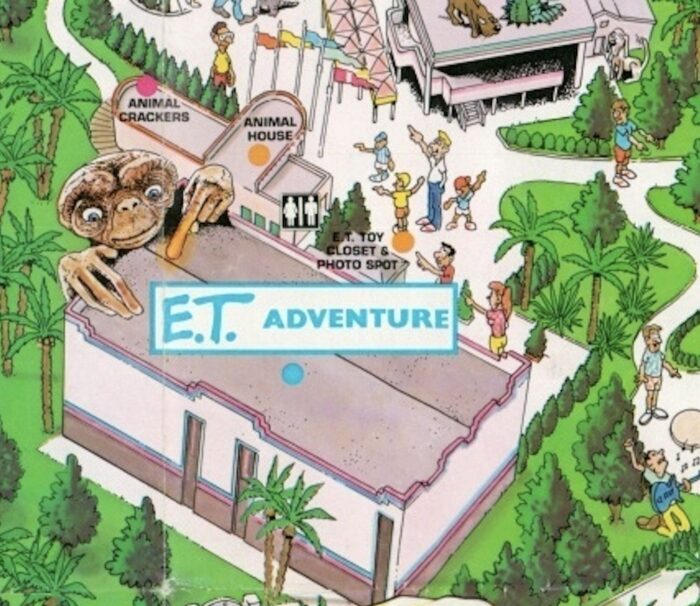 *When it absolutely, positively has to be there overnight four days late….
In April, ShopDisney had pre-orders for the Star Wars Day MagicBand.  Star Wars Day is "May the 4th." The MagicBand will ship on "May the 8th." You can't make stuff like this up.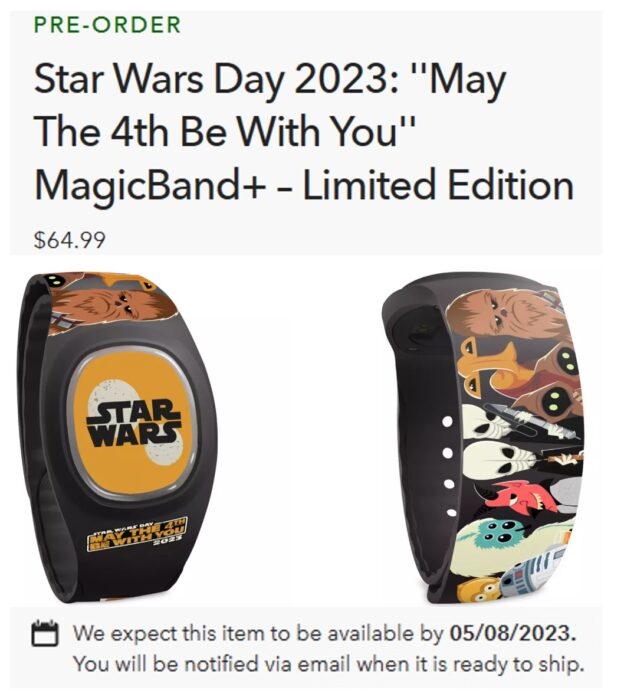 Speaking of things you can't make up, Disney also brought back this insane sundae for a Disneyland event. This concoction was invented last year and was using elements from The Mandalorian (that's why you have the blue Macaron and the green frog gummy candy.) Listen, no one – and I mean no one – in the theme park community likes crazier food than me, but when I tell you something is a bit too out there, you can take those words to the bank.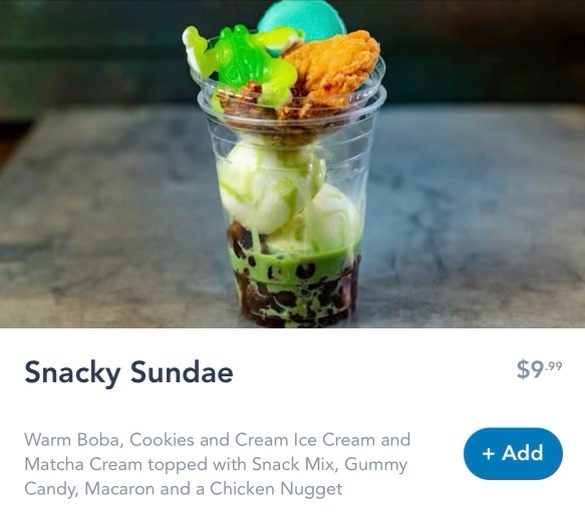 On the other side of the coolness coin, Disney also released a new mix of music from Star Wars: Galaxy's Edge on Spotify. Stuff like this is fantastic, would love Disney to have as much music from the parks and hotels as possible available to fans.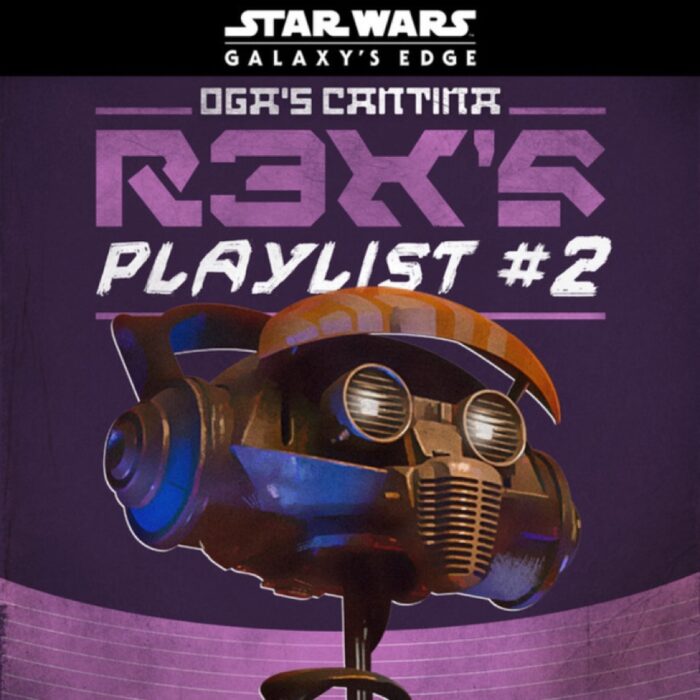 *The Perfect Theme Park Piece of Merchandise Doesn't Exis…
Man With An Elaborate Earring on Etsy.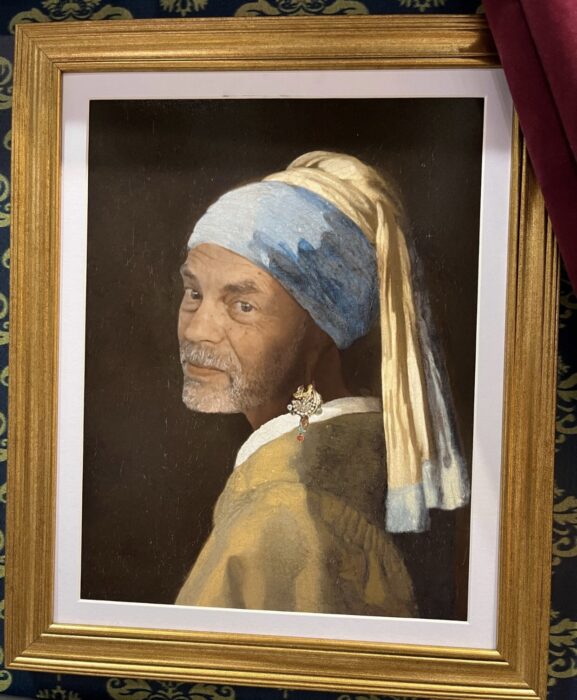 The painting of Joe Rohde above is based on the classic Girl with a Pearl Earring painted in 1665 by Johannes Vermeer. That's right, this painting was done in the same year Disney started construction on Journey of Water: Inspired by Moana. Beleive it or not, it's not even the first time I've seen this painting featuring someone associated with Disney. If we get into the Time Machine and go all the way back to August of 2013, you'll  see I saw the "Duck with a Pearl Earring" art at the Disney Outlet Store. For theme park blog historians, this was in the second edition of the Magic, the Memories, & Merch!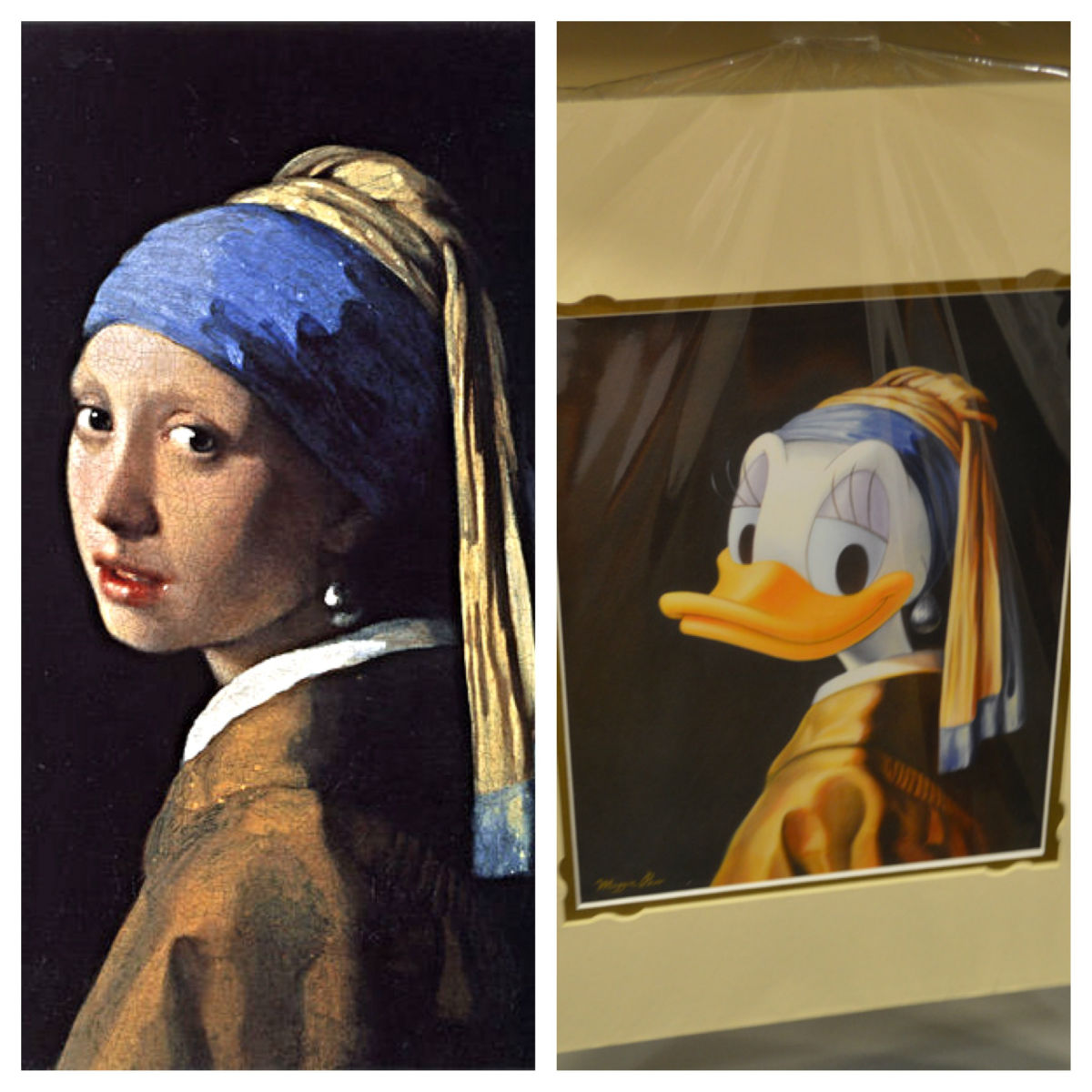 Meanwhile, let's take a look at what they are doing over in Japan. Again, one more reason why it's worth sticking around on DisTwitter…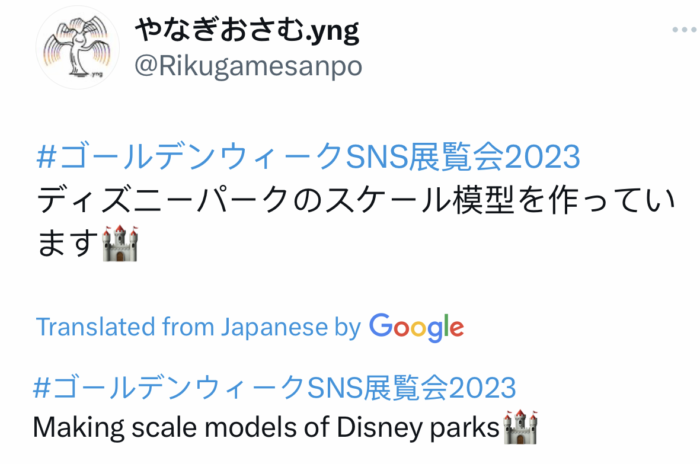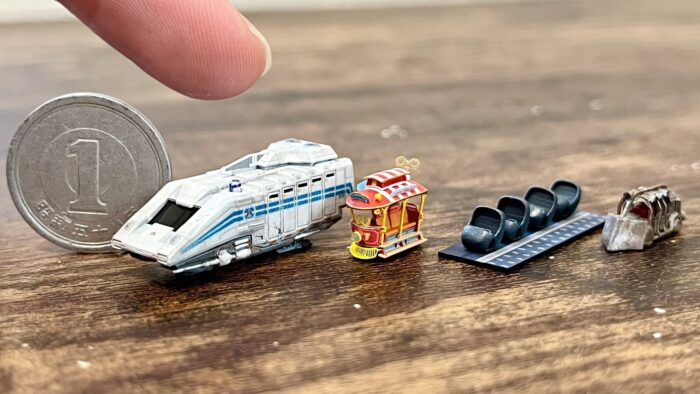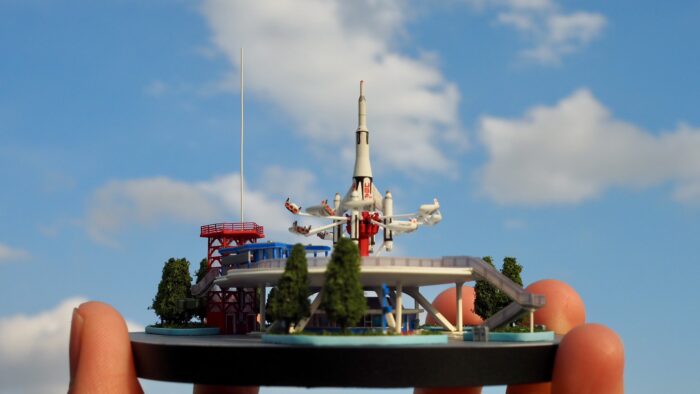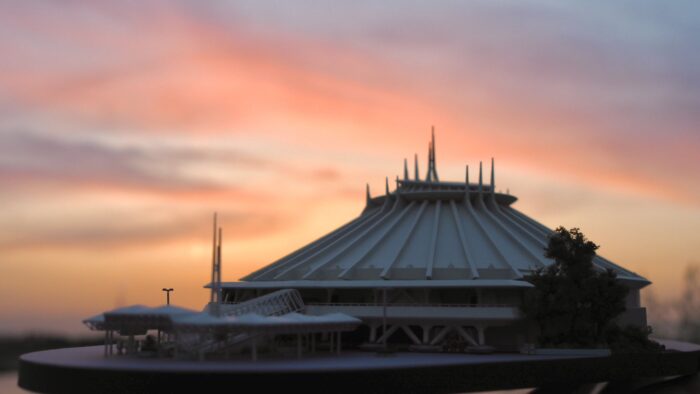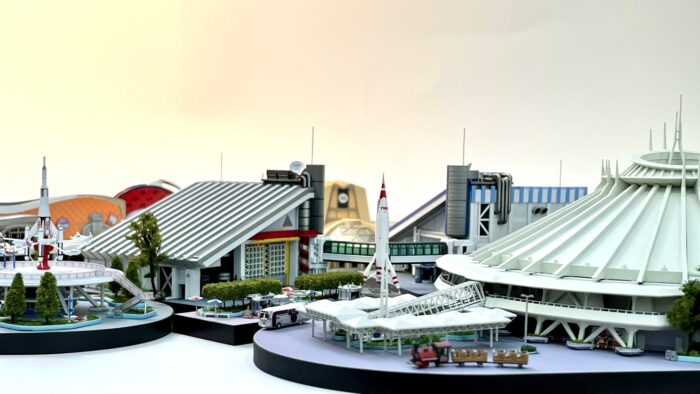 Last month's Theme Park Enjoyment Index: 50
This month's net change: -30
Current enjoyment level: 20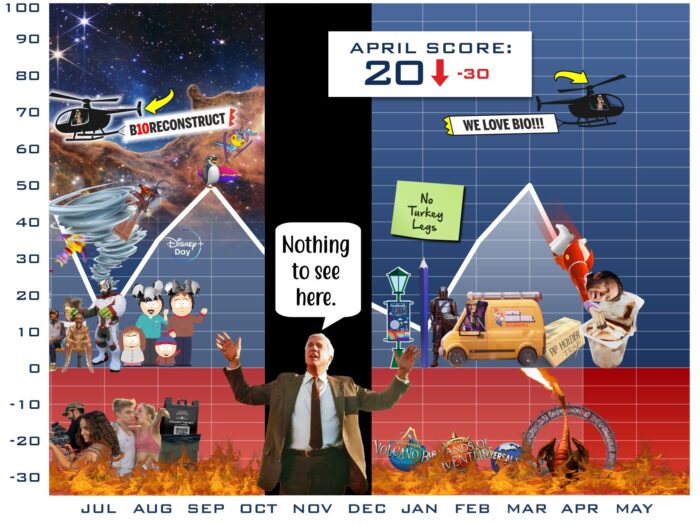 Writer Derek Burgan, when not cleaning Len Testa's pool, can be found reading comic books, watching professional wrestling, and taking his dog Bacini to Universal and Disney. organizing his various Tsum Tsums in alphabetical order. He will not, we repeat not, be found at a Disney Outlet Store. An official DisTwitter Influencer, you can interact with him @derekburgan
Digital Artist Scott Walker hails from Scotland and is the fifth most famous person from this country following Alexander Graham Bell, Ewan McGregor, Gerard Butler, and Groundskeeper Willie.