Which Walt Disney World Restaurants Are Worth Your Money?
Food at Walt Disney World is expensive–especially the food at table service restaurants.  I've researched plenty of meal hacks and hidden values on menus across property in the months leading up to my family's vacations. But sometimes I just want to simply know where I can expect to get good (or great) food at a price that isn't going to make me cry when I get the bill. Or if I do pay a lot, I want to know it'll be worth it. How can I know which restaurants are worth the money I'll be spending there? We've got data on restaurant satisfaction, and I can pull data on restaurant cost too. All that's left to do is mash them together and see what we can find out.
Explain the Math!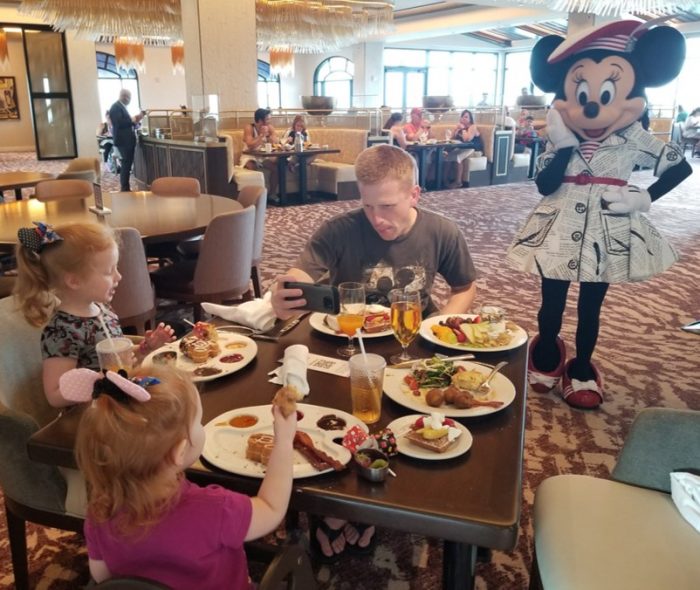 To compare satisfaction and cost across all restaurants, I need two pieces of comparable, representative
data. Satisfaction is easy. In post-visit surveys, we ask for a thumbs up or thumbs down for every dining location experienced during your trip. If I take the percentage of responses that got a thumbs up for each restaurant, that gives me a measure of satisfaction I can compare. For this analysis, I'm pulling all dining results from the past three years. That gives me about 93,000 reviews to work with.
For cost, things aren't as straight-forward. All humans have different eating and spending habits. And I don't know what they are. You could go to one of the most expensive on-property restaurants and just order an appetizer and leave. Or you could spend all night there with multiple courses and drinks. Or you could go to the same restaurant for multiple different meals and even with the same spending habits spend very different amounts for breakfast, lunch, and dinner. So I made some decisions. I'm going to pull average dinner entrée cost for each location. This means I'll lose some information. I'll be a little off on cost for restaurants that, for example, are less expensive at breakfast than dinner or vice versa. But it's a start, and based on the results, I'm comfortable with this calculation. For now.
Visualizing Restaurant Satisfaction vs Cost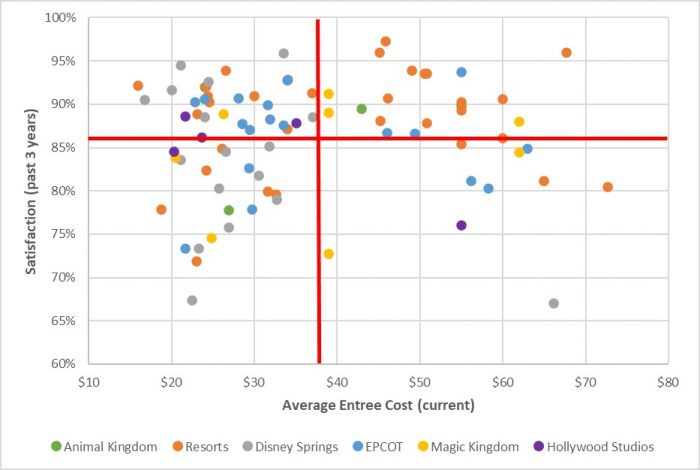 If you read my comparison of dining satisfaction vs accessibility last week, you're familiar with this type of lovely confetti chart. It's data and a party all in one. You're welcome.
Victoria & Albert's is excluded from this chart and all of my analyses. It's just wildly expensive compared to even the next-most-expensive options and it throws all visualizations off. It's in a league of it's own.
The vertical red line represents the overall average entrée cost across all of WDW, which is just over $37.
The horizontal red line represents the overall average satisfaction across all of WDW, which is just about 86%.
If I drew a trendline for all results, it would be a parabola that opens downward. Or, you know, a frowny face. That means the cheapest restaurants have relatively lower satisfaction … but so do the most expensive ones! The sweet spot happens in the middle.
In all of the graphs today, the top left quadrant is the happy one. Low average entree cost and high satisfaction scores. Top right means your meal will probably be expensive, but still highly satisfying. Worth it. Bottom left is less expensive meals that might not be as satisfying. More of a you get what you pay for type of situation. Bottom right are the confounding ones. Expensive and generally not as satisfying. Boo. Hiss.
Resort Dining Satisfaction vs Cost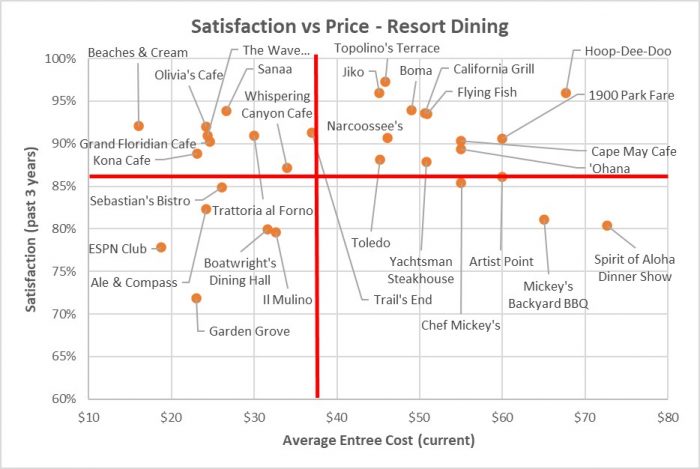 I'm starting out with the busiest chart. There are lots of table service options at resorts across WDW property, and they fall into all four of our quadrants.
Resort restaurants make up the majority of restaurants that fall in the "expensive but still probably worth it" segment at the top right. Some of my family's favorites show up there, including Boma and Topolino's Terrace.
"Experience" meals (Spirit of Aloha, Hoop-Dee-Doo) show up as most expensive here, but they have pretty different satisfaction scores. Looks like Hoop-Dee-Doo is the big winner in that category.
Some of the top spots in the inexpensive and satisfying segment include Sanaa, Olivia's Café, and Beaches & Cream.
Hmm, look at that, Sanaa, Jiko, and Boma all rising to the top of the resort dining group in satisfaction. Makes a strong case for staying at Animal Kingdom Lodge to take regular advantage of those options, says the totally unbiased author who loves food and animals and well-themed resorts.
Disney Springs Dining Satisfaction vs Cost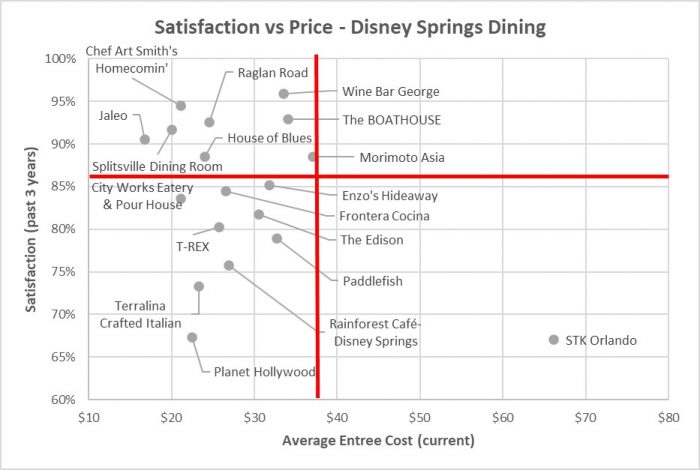 I was honestly a little surprised at just how many Disney Springs restaurant fell below the average. Definitely the place to go for good meals at lower price points.
The only exception to that rule is STK. It's generally wildly expensive, and its satisfaction score is one of the lowest of any restaurant on property. Ouch. It is doing significantly better post-reopening than it did pre-closure, though. So that's … something.
Lots of good choices in the happy quadrant of inexpensive and highly satisfying at Disney Springs. Old favorites like Raglan Road, along with newer options like Homecomin', BOATHOUSE (pretend I screamed it at you), Wine Bar George, Morimoto Asia, and Jaleo.
EPCOT Dining Satisfaction vs Cost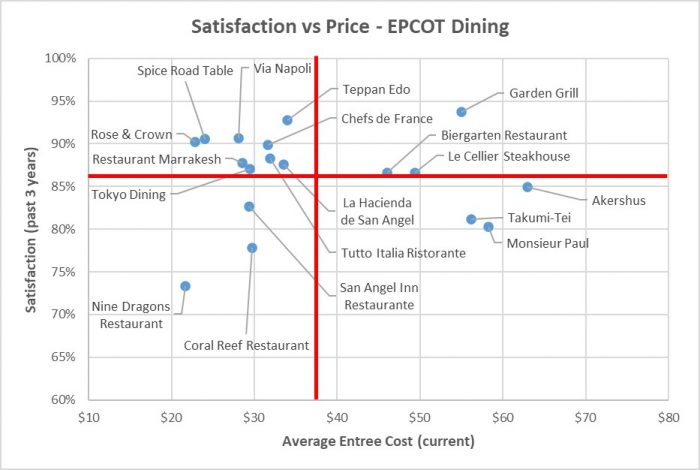 The good news here is that most EPCOT table service restaurants fall in the happy, inexpensive and satisfying quadrant. You can eat in almost any country around the World Showcase and find a table service spot that is relatively budget-friendly.
On the more expensive side, we've got Biergarten and Le Cellier, as well as the character meal at Garden Grill. Breakfast at Garden Grill is typically one of my family's must-do's. Crossing my fingers for a return of characters there, and for earlier hours at EPCOT.
A few locations also fall into "Boo Hiss" territory here – Akershus (just barely), as well as Takumi-Tei and Monsieur Paul.
Magic Kingdom Dining Satisfaction vs Cost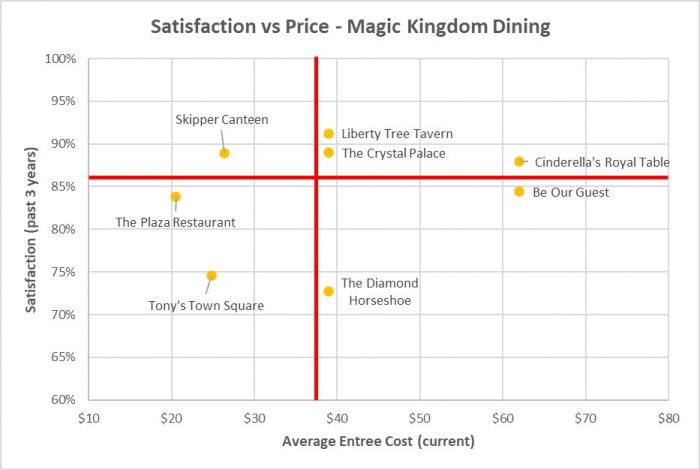 There are fewer table service restaurants in the Magic Kingdom, and just one of them appears in the top left quadrant. If you haven't yet given Skipper Canteen a visit, it looks like it could be worth your time and money. I visited in September with my husband, my parents and my two toddlers, and all of us really enjoyed our meal there.
Interestingly, the ever-popular Be Our Guest appears as a "Boo Hiss" here, along with The Diamond Horseshoe. Never thought I'd be lumping Be Our Guest and Diamond Horseshoe in the same category, but here we are. Weirder things have happened in the last year.
Liberty Tree Tavern, Crystal Palace, and Cinderella's Royal Table are all more expensive, but have pretty high satisfaction scores. Beware though – the post-reopening scores at Crystal Palace are … awful. Really awful. So that average in particular is sinking.
Animal Kingdom + Hollywood Studios Dining Satisfaction vs Cost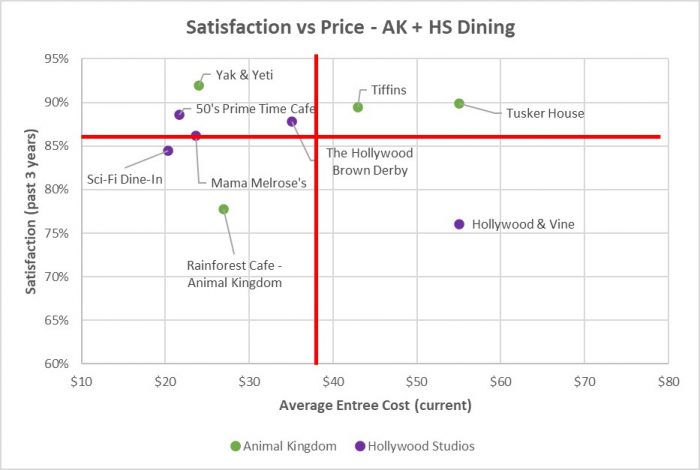 Sorry for the painfully long header for this section. But there just aren't many table service locations at either of these parks, so presenting them together makes the most sense.
Almost all of the table service restaurants at Animal Kingdom have above-average satisfaction. But they have pretty different prices. Yak and Yeti is the most reasonable, followed by Tiffins and Tusker House. Only Rainforest Café falls below – well below – average satisfaction.
Most locations at Hollywood Studios are on the less expensive side, other than Hollywood & Vine. That character meal doesn't seem to be very highly rated.
The main winners at Hollywood Studios are 50s Prime Time Cafe and The Hollywood Brown Derby.
What Does This Mean For You?
Overall, for the highest concentration of reasonably-priced restaurants, head over to Disney Springs. Lots of options with high satisfaction and below-average cost.
Animal Kingdom Lodge has many of the highest-satisfaction restaurants at a variety of price points.
There are lots of good options around the World Showcase that are high-satisfaction and have reasonable prices.
The overall trend is a frowny face. Paying more doesn't necessarily mean that you're going to have higher satisfaction.
Don't go to STK.
Do you have a favorite table-service spot that doesn't break the bank? Are you surprised by where a particular restaurant showed up in the charts? Let us know in the comments!