Theme Park Enjoyment Index for FEBRUARY 2023 (Festival of the Arts, Universal's Mardi Gras, More CRAZY Disney Signage)
The Theme Park Enjoyment Index (TPEI) is a monthly look at the events that have made an impact, both positive and negative, in this wild world of theme parks we all love so much. Each TPEI comes out on the last Saturday every month, and we assign each piece of news a positive or negative number, tally it all up at the end and chart it. The range goes from 0-100 with 0 being
Stitch's Supersonic Celebration
 while a perfect score of 100 would be 
Pandora: The World of Avatar
.
Remember, all links in TPEI open up in a new browser window. So feel free to check stuff out, we'll be here when you get back!
*EPCOT's Festival of the Arts
Of all the months on the theme park calendar, February just may be my overall favorite. One reason is that it includes what I consider to be hands-down the best EPCOT festival of the year, with the Festival of the Arts.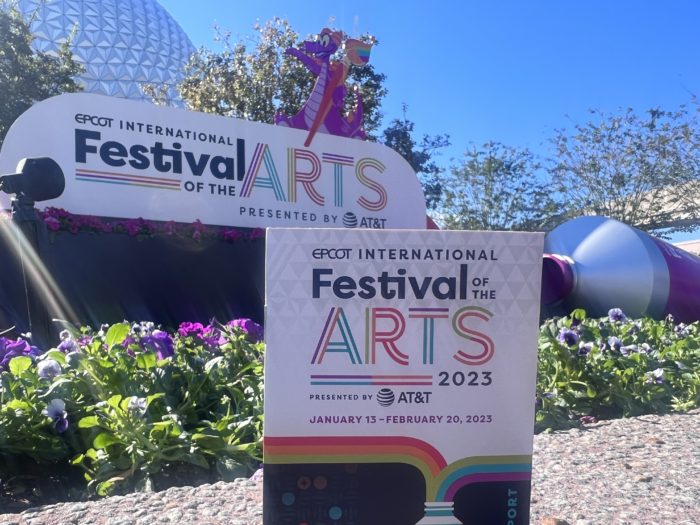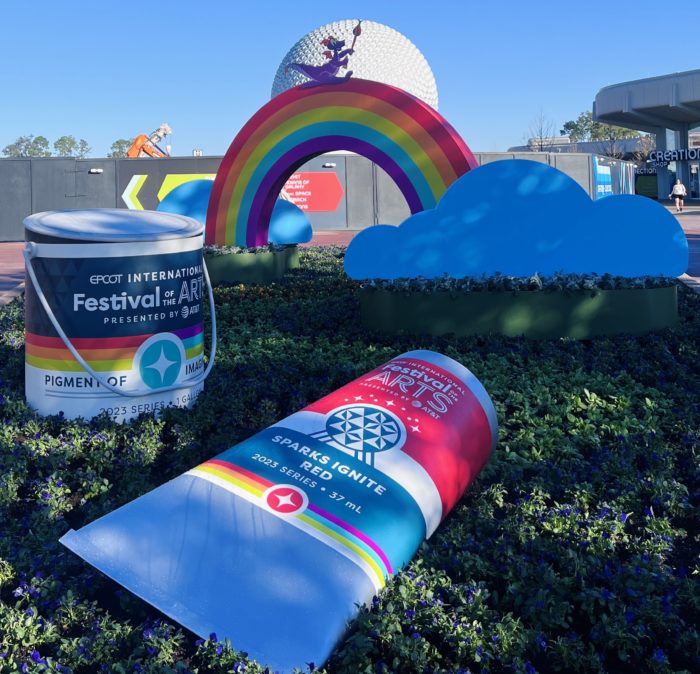 The Festival of the Arts is one of the rare times at any theme park where you can actually see artists doing what they do best…creating.  Not only can guests see artists at work, but you can also have one-on-one interactions with them at various booths and be able to have them sign pieces of their artwork and pick their brains. I know Disney offers (at least used to offer) a "dining with an Imagineer" opportunity, and I imagine many theme park fans wish there was some sort of event where they could interact with various members of Walt Disney Imagineering or Universal Creative. I think for almost all forms of fandom, after a certain point the end product is something you always like, but you learn to love "the process" and want to know as much about it as possible. At least I do.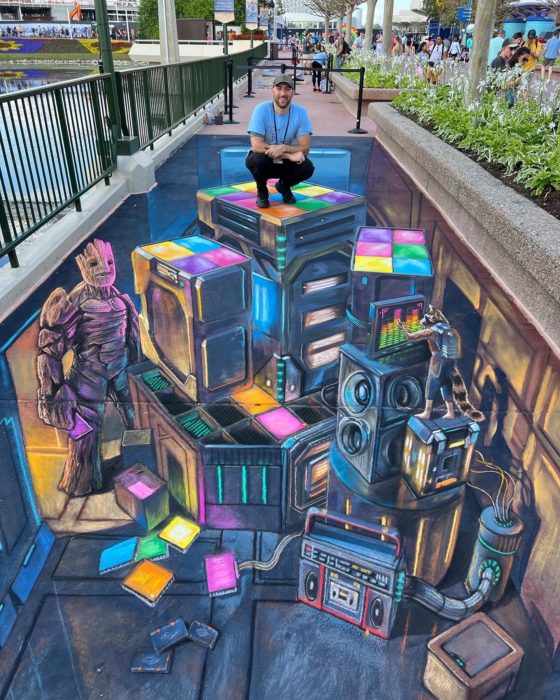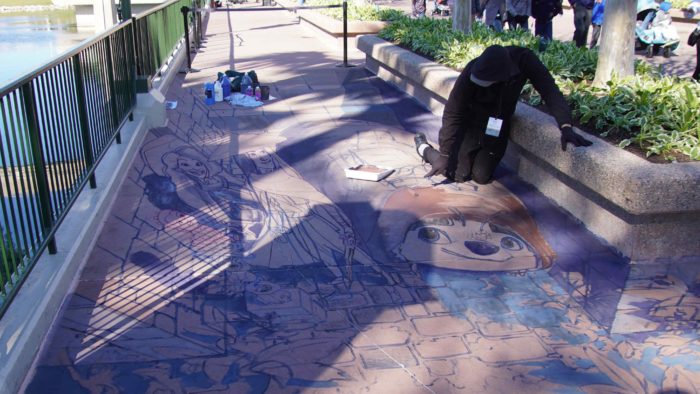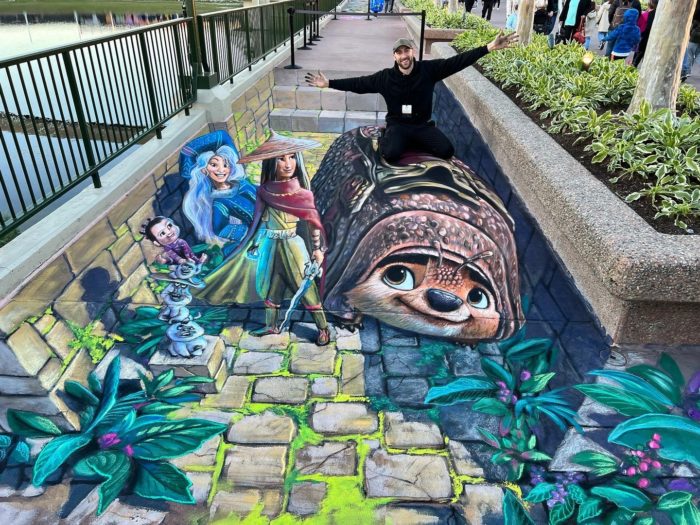 There are so many fun and interactive photo-ops throughout the festival that you can enjoy by yourself or with friends and family, placing yourselves into famous works of art.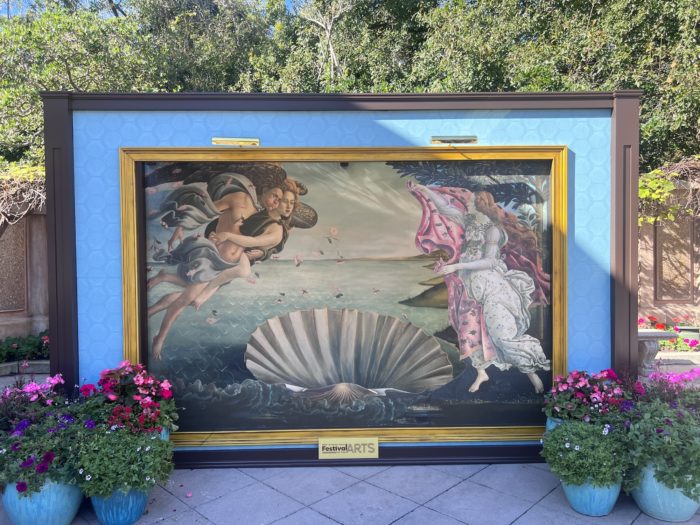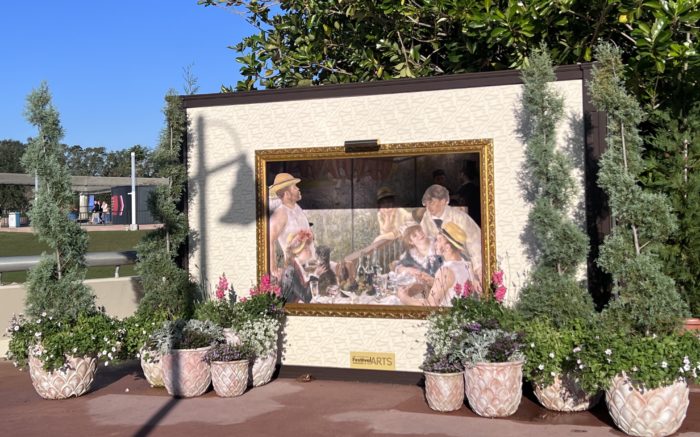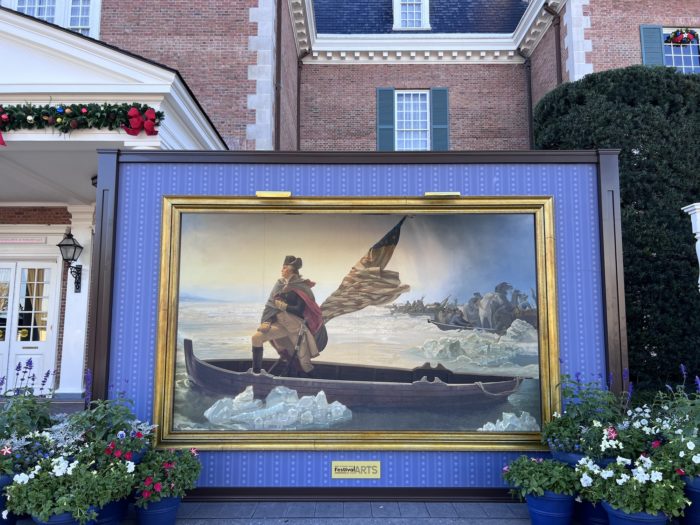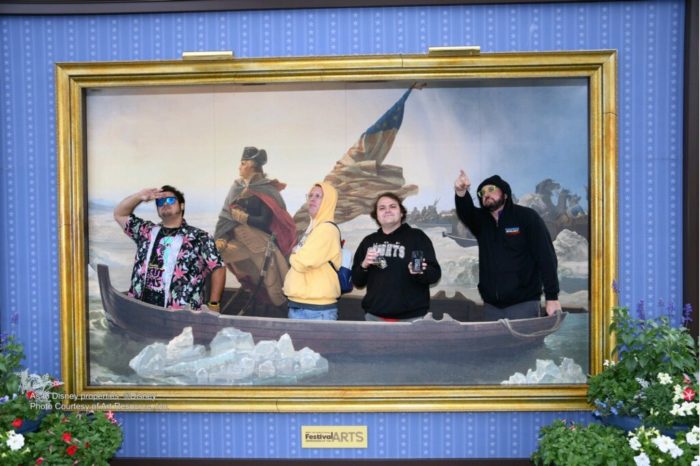 One nice touch is the paintings of Disney characters you will find throughout World Showcase. These are details that you can stumble into and appreciate.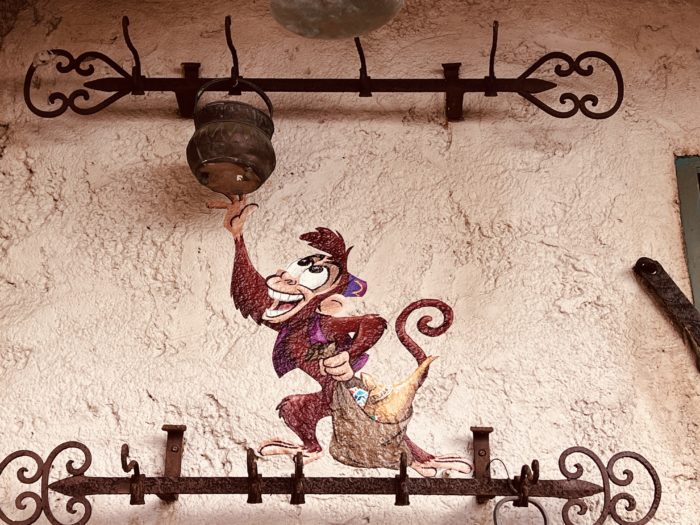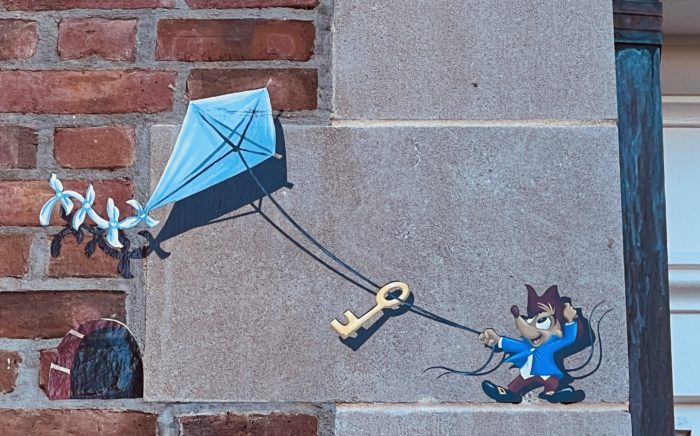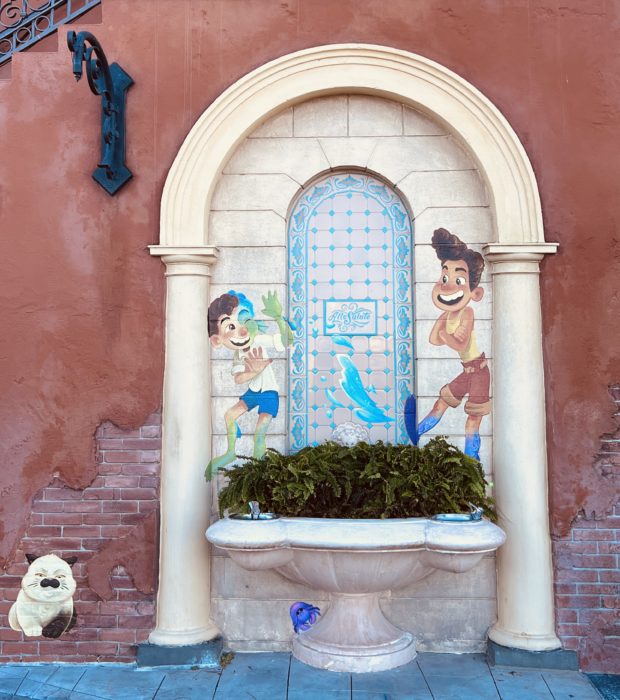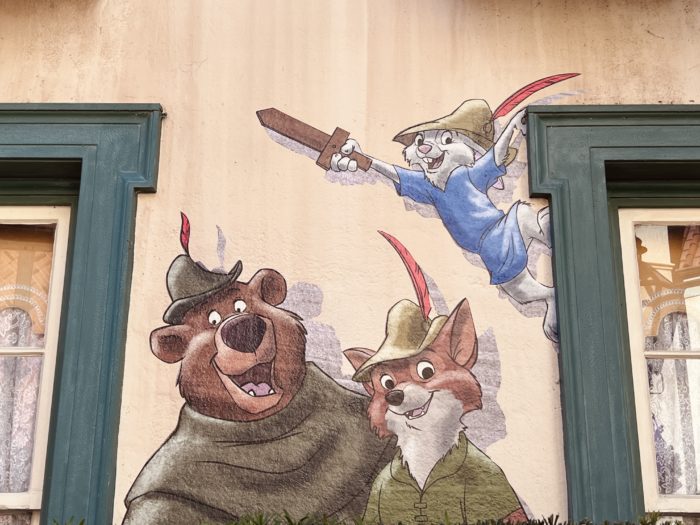 There are so many unbelievable cool items for sale at Festival of the Arts. Unfortunately most are WAY out of my price range, including this awesome Beauty and the Beast-themed glass table. The details in the base are STUNNING.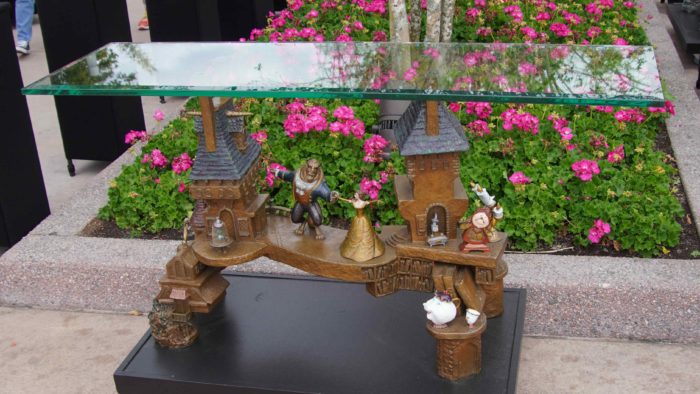 Like pretty much every event at both Disney and Universal now, the big appeal for many is the special food and drink offered throughout the park. Festival of the Arts goes above and beyond when it comes to unique items.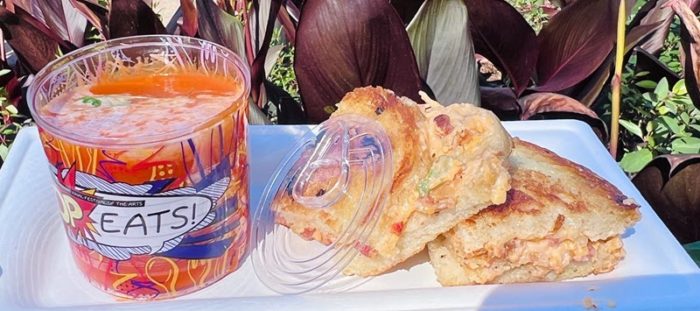 Presentation is a major factor when it comes to the dishes.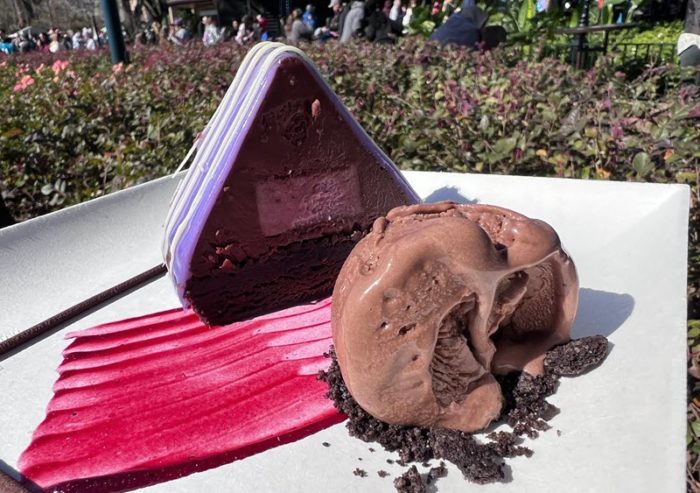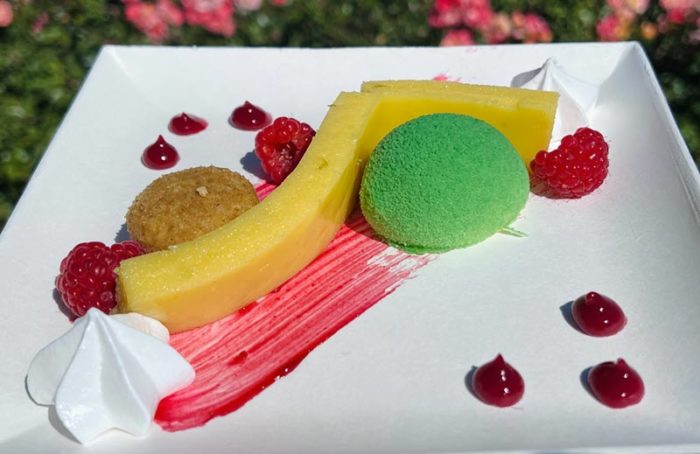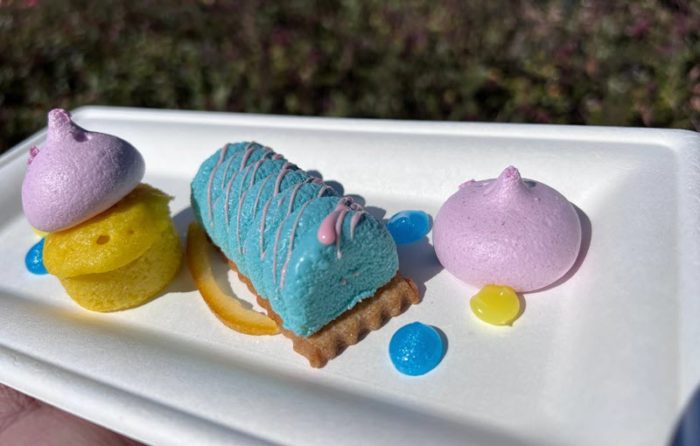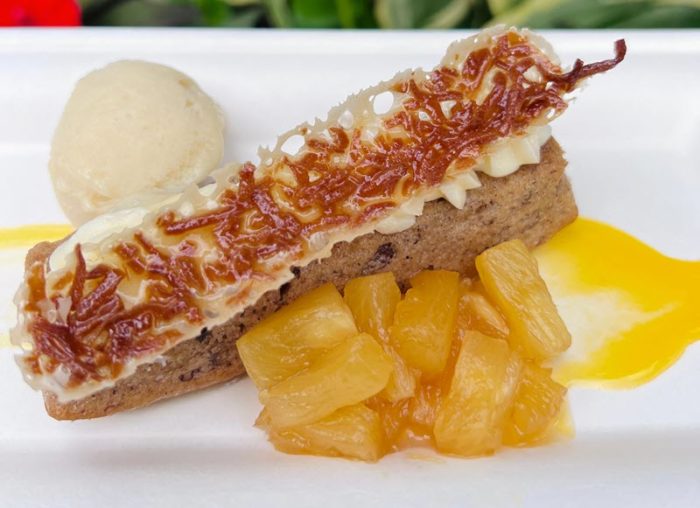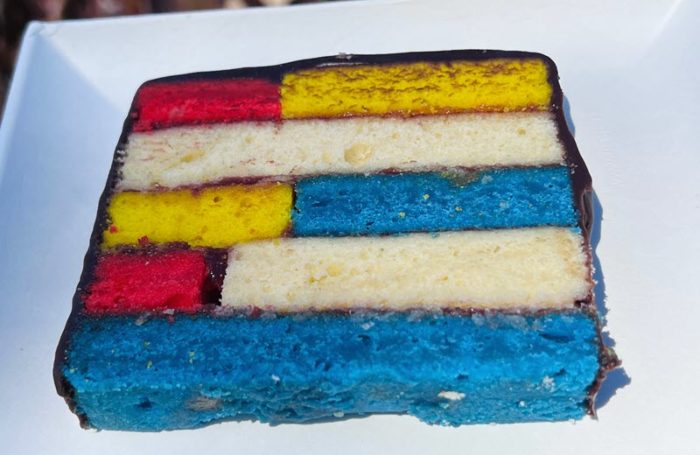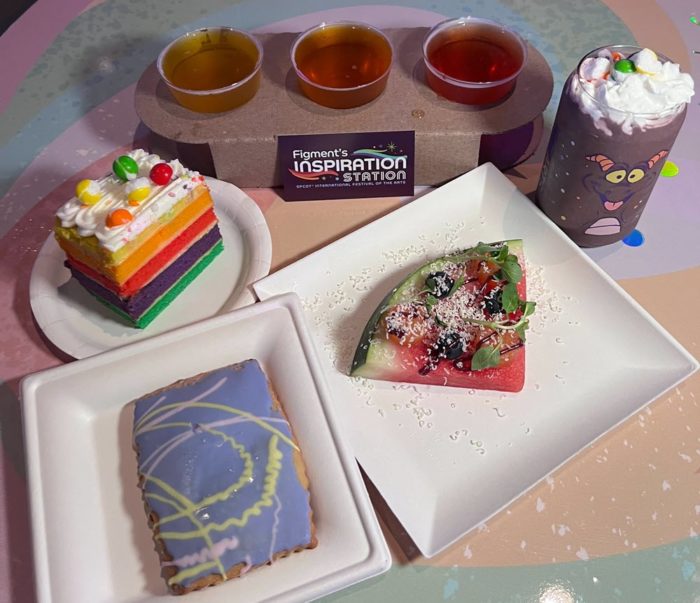 TPEI Score: +8 Festival of the Arts continues its run as being pound for pound the best Festival that Disney offers.
With Festival of the arts over, we are in one of the rare times of the year when there are NO FESTIVALS taking place at EPCOT. Enjoy "Diet EPCOT" while you can, because on March 1st the Flower and Garden Festival begins its 4 month run. While I personally enjoy Festival of the Arts more, I love taking visiting friends and family to Flower and Garden because that's when EPCOT really looks the absolute best.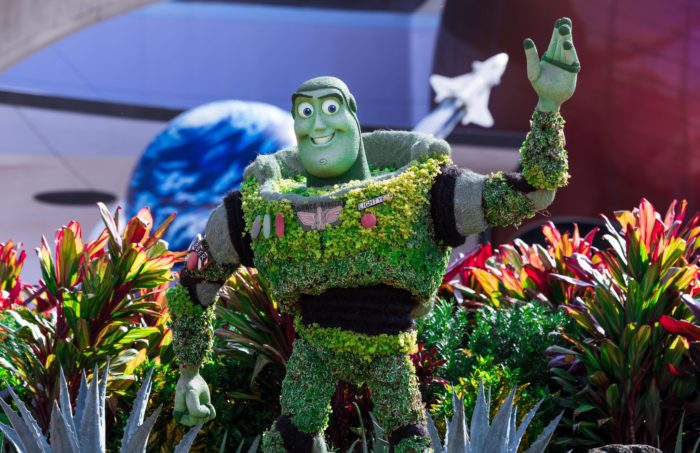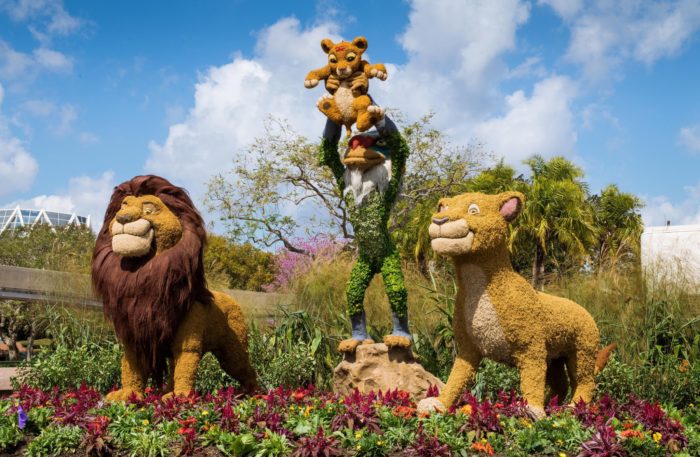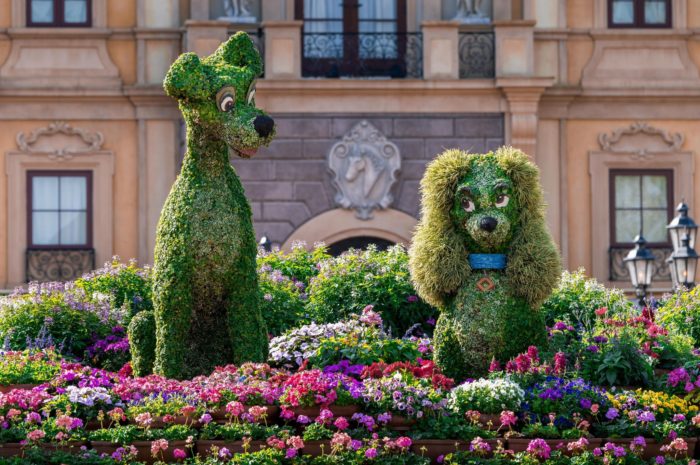 *Universal's Mardi Gras
Speaking of absolutely AWESOME events at a theme park, Universal debuted it's Mardi Gras Celebration at the beginning of the month. This event runs through April 16th and we'll be doing a dedicated SATURDAY SIX to it in March because it's become my favorite event at Universal Orlando (for me, even better than Halloween Horror Nights and their Christmas season.)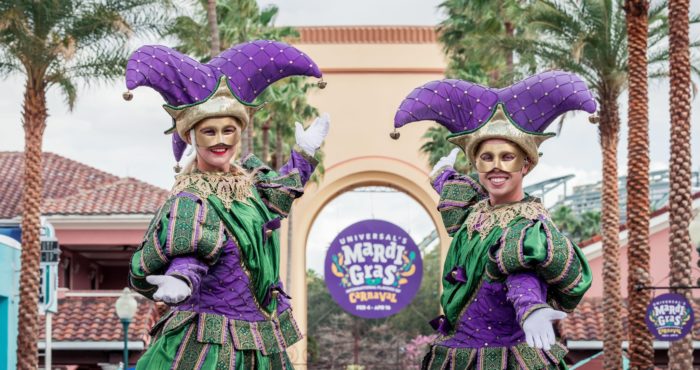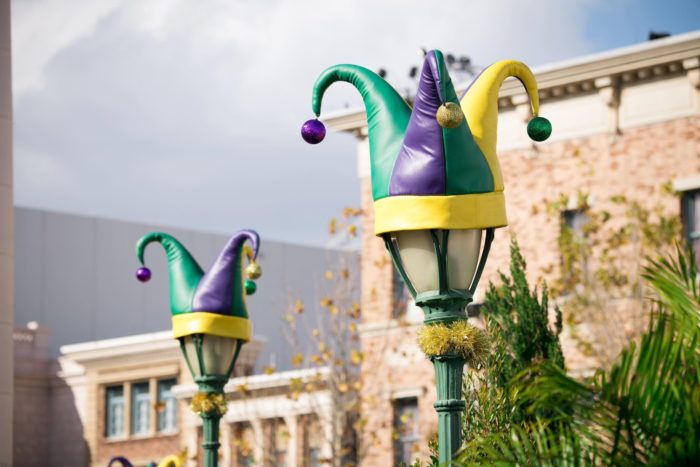 For the last couple years, the food booths for Mardi Gras have taken an exponential leap in diverse offerings. For years at the event we had traditional Mardi Gras staples like beignets, gumbo, and jambalaya, but with the transition to Mardi Gras Carnaval, food from around the world is served (much like EPCOT's International Food & Wine Festival.)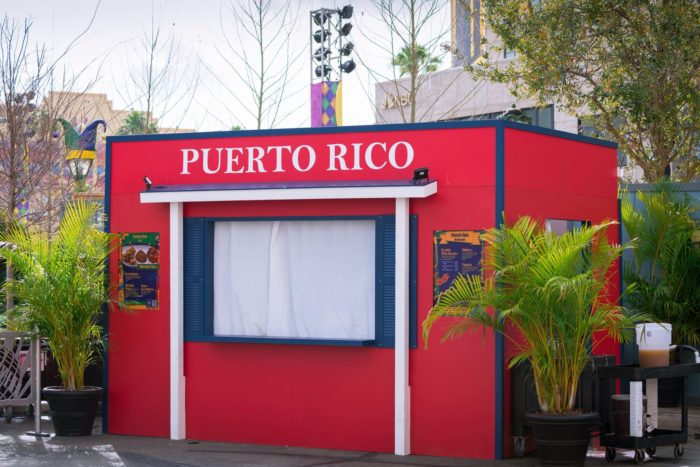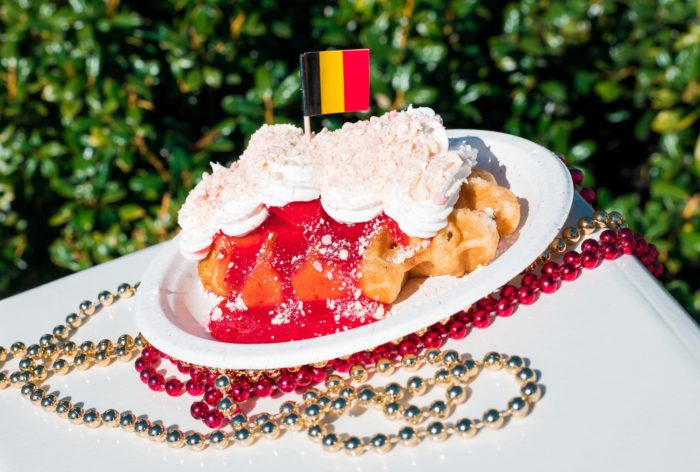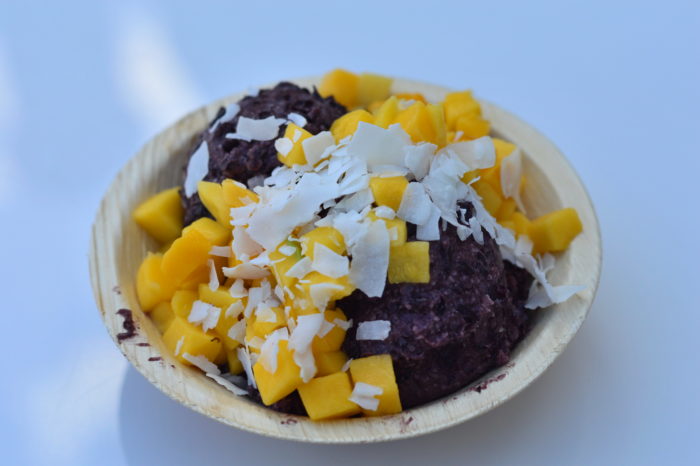 The Mardi Gras parade is one of my favorite parades at either Universal or Disney. Tons of great floats and characters. Unlike many other parades, characters are out ahead of time interacting with guests and they are wonderful!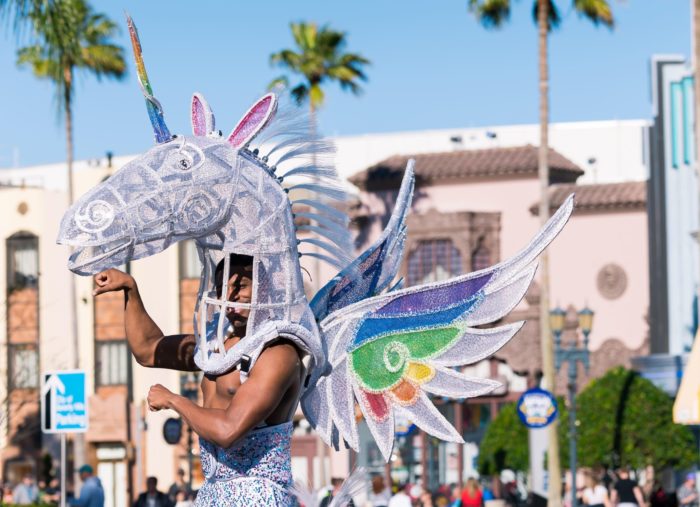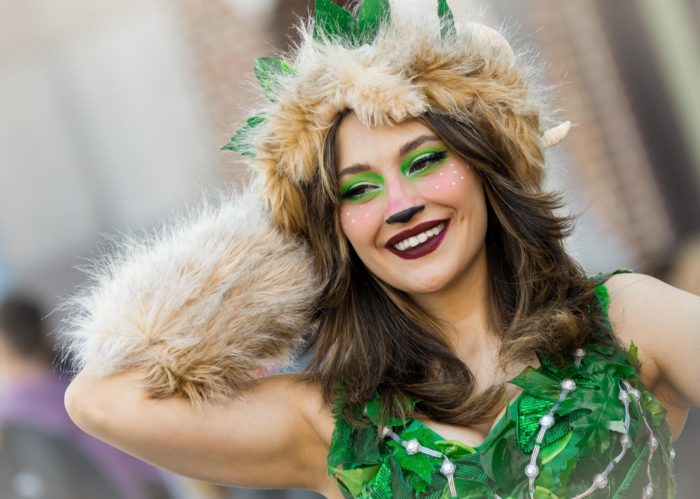 Each year the parade floats include a mix of beloved returnees like King Gator, and new entries. The theme for the new floats this year was "Mythical Realms of Mardi Gras" that are inspired by fantastical creatures such as unicorns and sea serpents.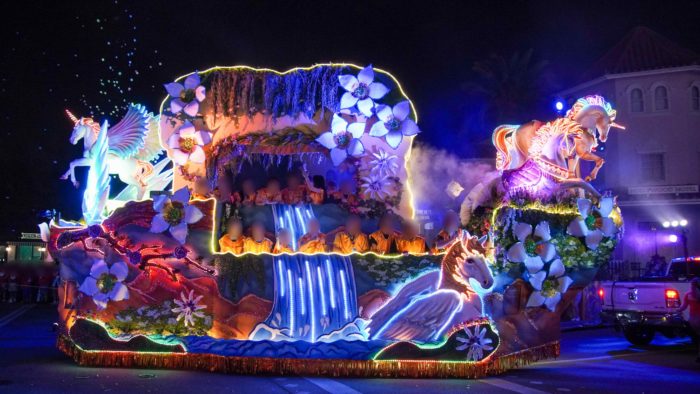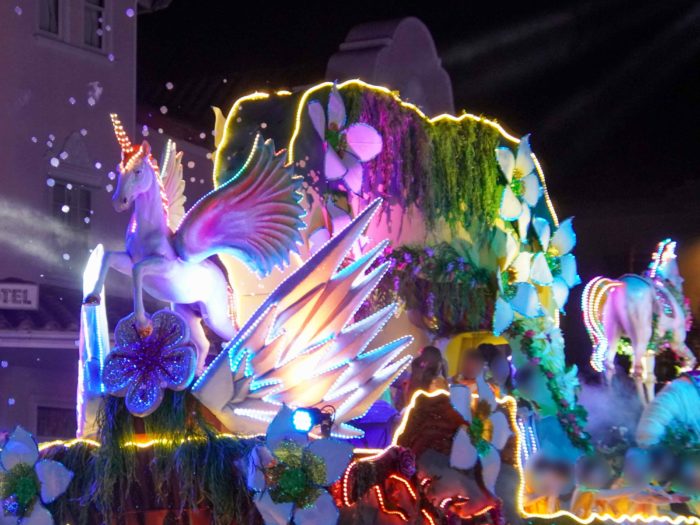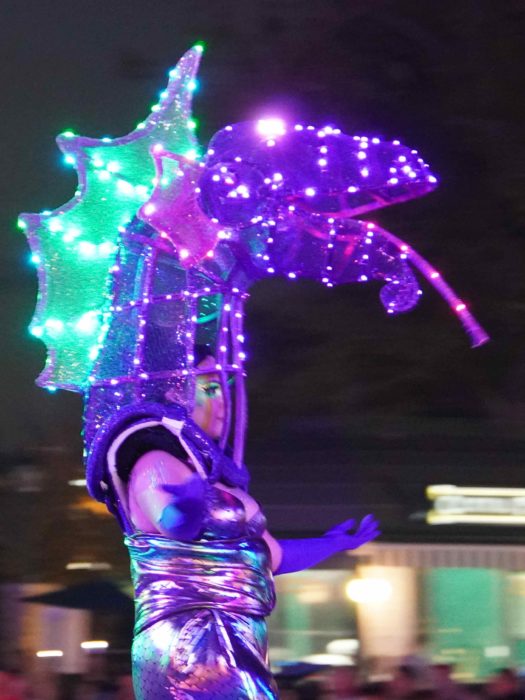 One of the absolute coolest things you can do at ANY theme park is the opportunity to be on one of the Mardi Gras parade floats and throw beads to the crowd.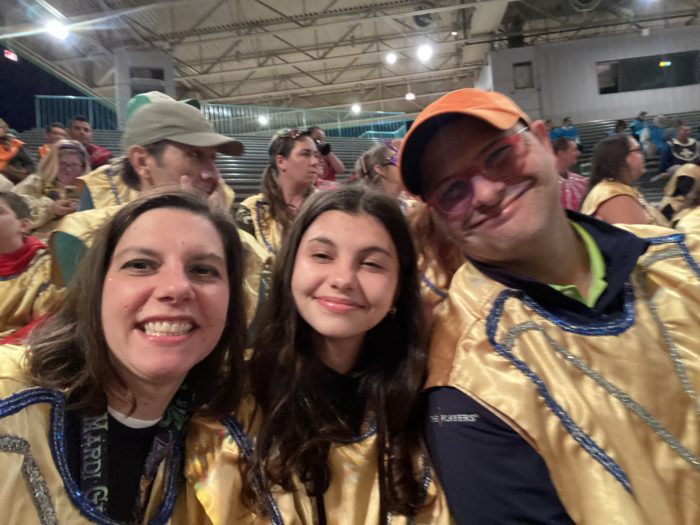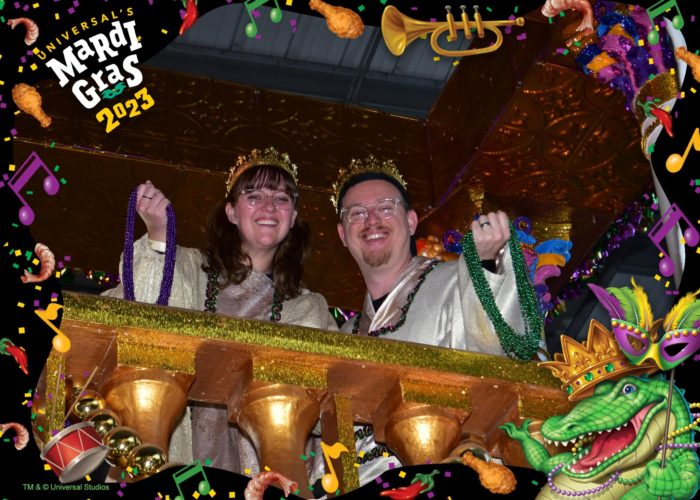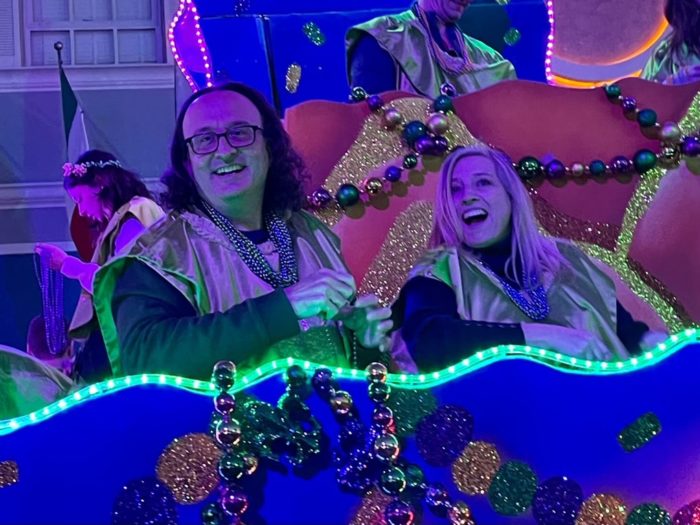 TPEI Score: + 8 Unbelievable that both Disney and Universal have their best events going on at the same time. Occasionally we do live in the best possible timeline.
*The Mardi Gras Bead Tree Police
One of the oldest and most sacred of Universal Mardi Gras traditions involves guest throwing beads they have received from the Mardi Gras parade onto trees they pass by on they way to the CityWalk parking garage. Let's take a look at the "bead tree" over the past few years…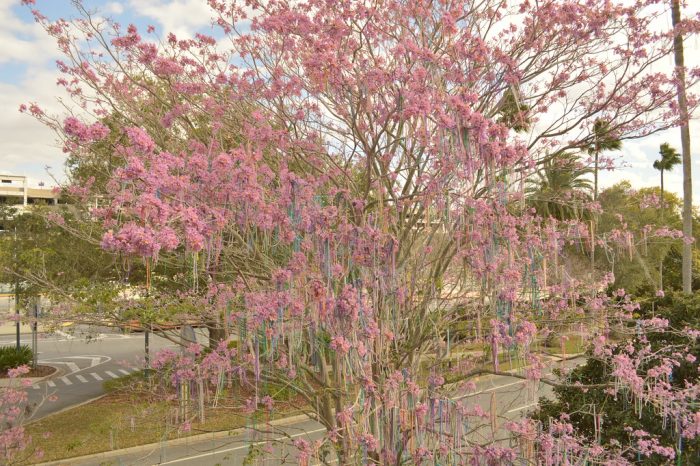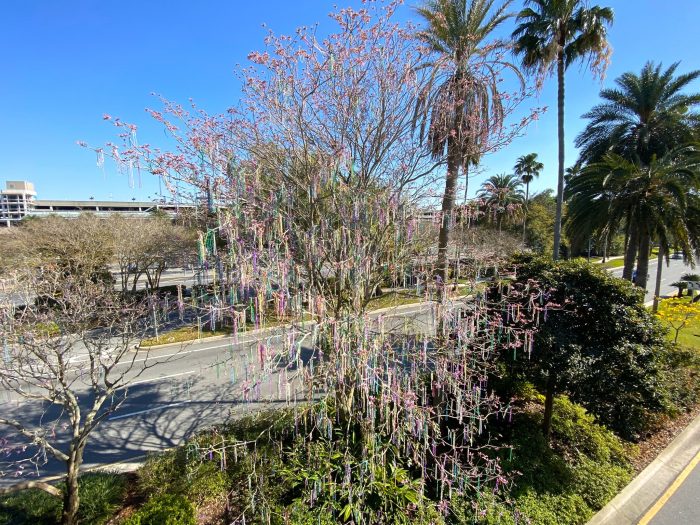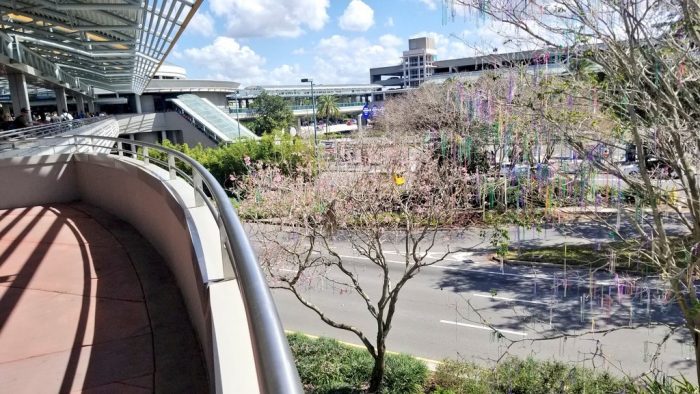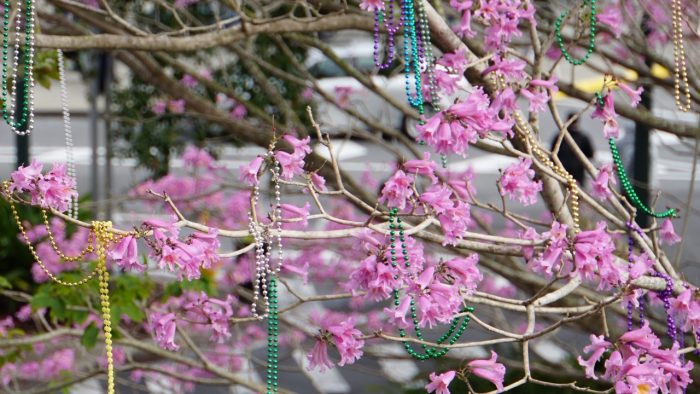 On some nights of Universal Mardi Gras this year, Universal has stationed security by the bead tree, making sure guests do NOT throw beads.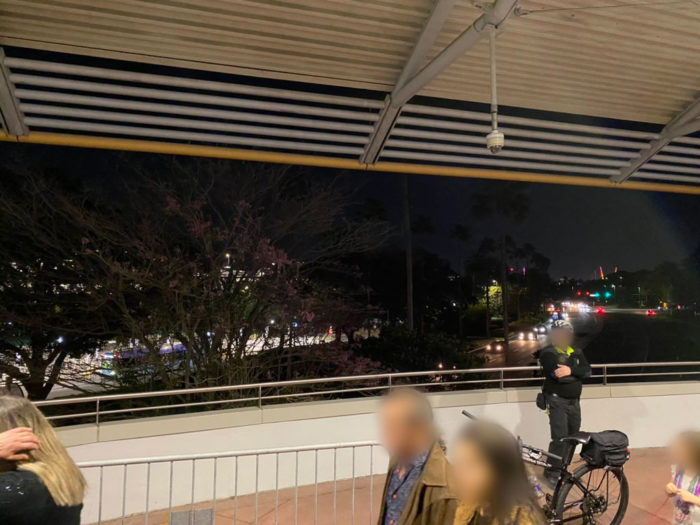 Now, I get it. I truly do. Guests probably SHOULDN'T be throwing beads from an elevated walkway into the environment, especially considering moving vehicles are nearby. I hate to say this, but if Universal wanted to stop this issue they should probably remove/relocate the trees. Not sure you should put security in front of something that you are actively marketing inside the theme parks though. Another article we will be doing in March is based on the recently opened Tribute Store. One item in that store is an elaborately themed "bead tree" paying homage to you-know-what.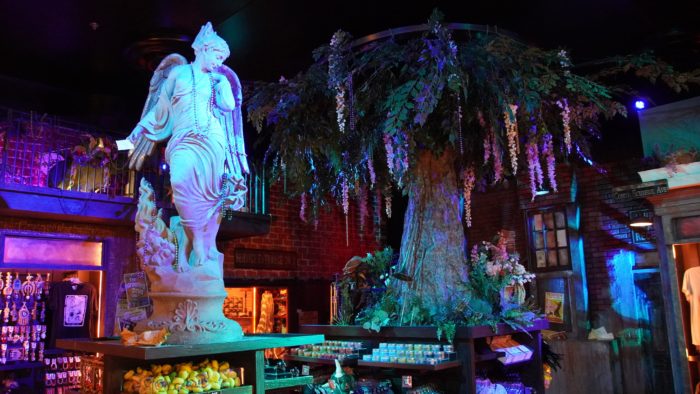 The official Mardi Gras 2023 shirt has a reference to the "bead tree."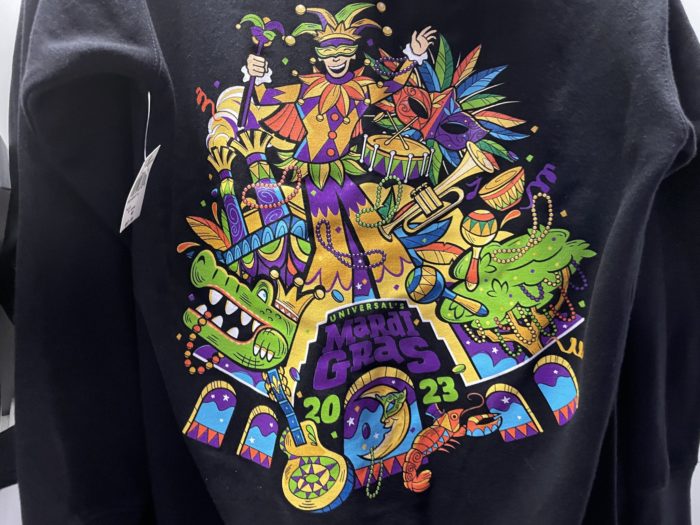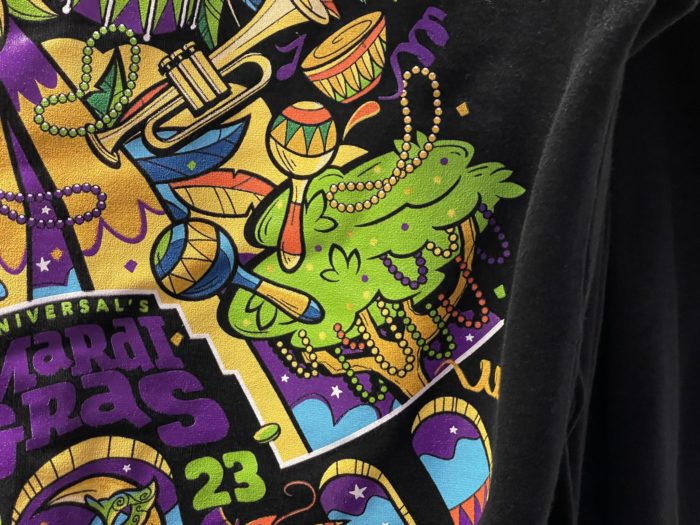 The story does have a happy ending though…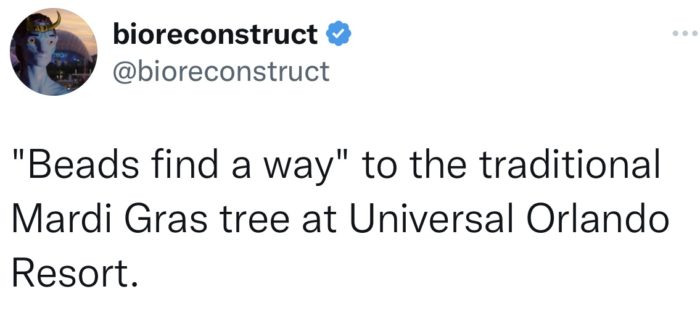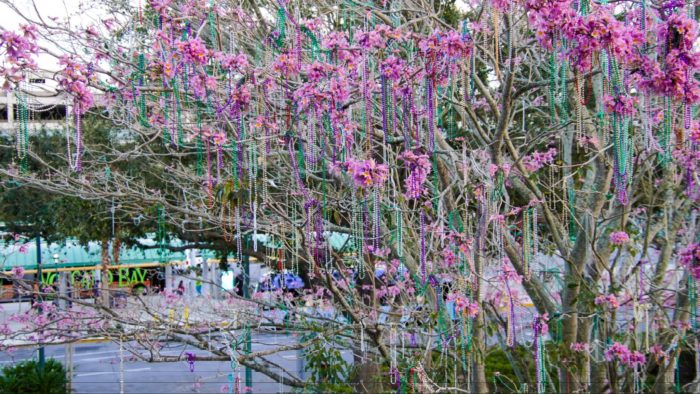 TPEI SCORE: – 10 C'mon Universal, seriously?
*Mardi Gras Parade at Port Orleans
One of the true "best kept secrets" at Walt Disney World are some of the annual events that take place at the Port Orleans and Fort Wilderness resorts.  For Mardi Gras, Port Orleans has an annual parade featuring decorated golf carts and it is truly a blast! The crew over at Mousesteps have been covering this event for the last 12 years and you can see their awesome write up of this year's event by CLICKING HERE. The gimmick is that Cast Members from various WDW on-site resorts decorate their carts and guests get to vote on the winner. How cool is that?!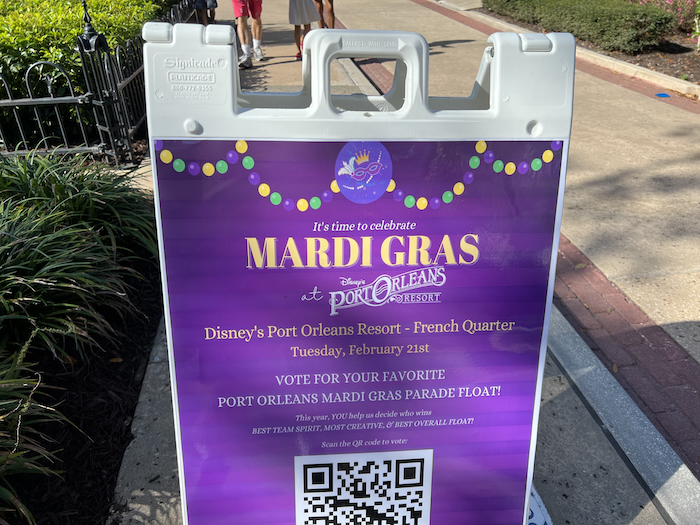 We'll look at some of the awesome photos that Mousesteps took, but again for the full story (including video) check out THEIR REVIEW.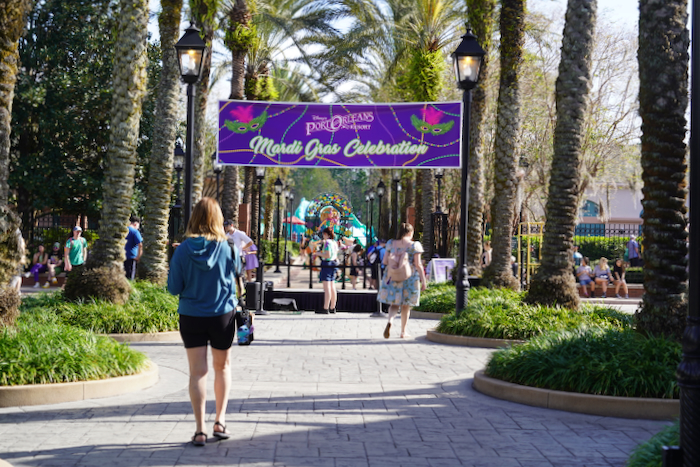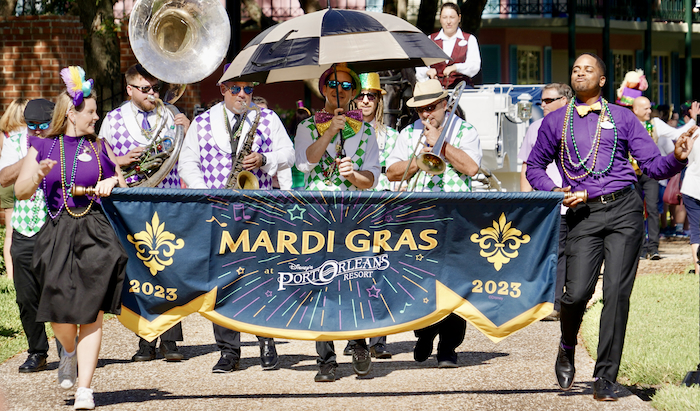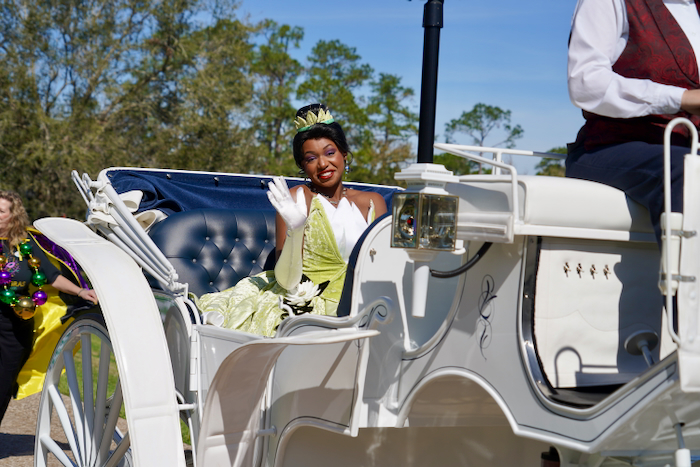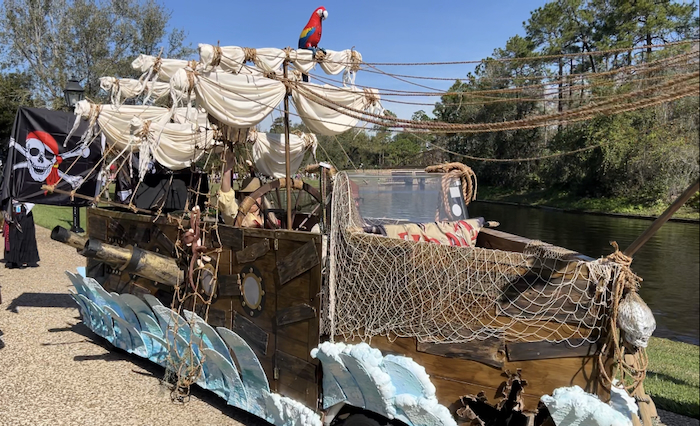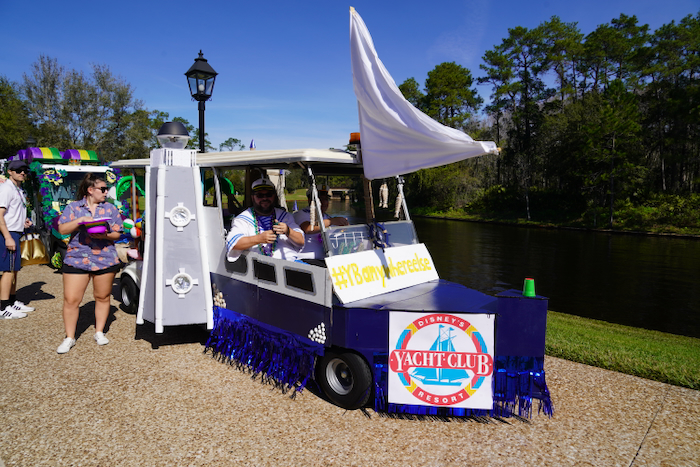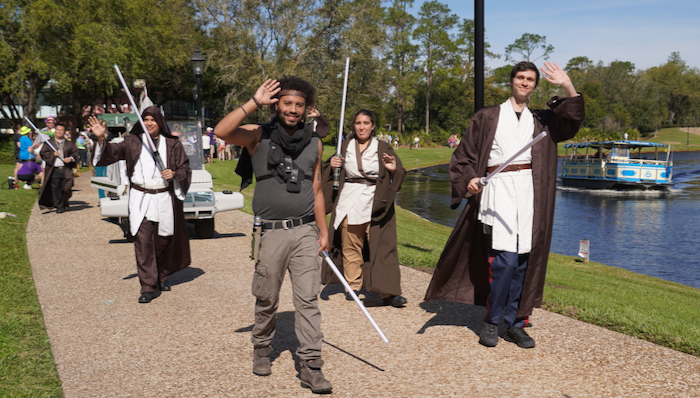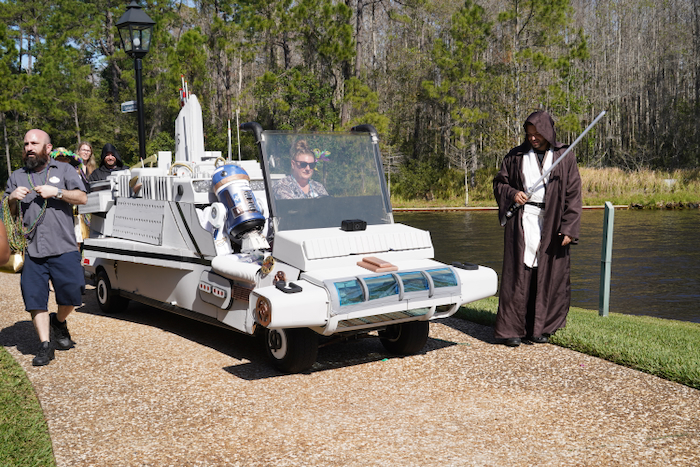 TPEI Score: + 2 How fun is this? Talk about the "Disney Difference." Just amazing. Its worth going out of your way to see the entries by other resorts such as Pop Century, the Boardwalk, and Animal Kingdom Lodge so be sure to check out MOUSESTEPS AWESOME WRITE-UP.
*Seven Seas Food Festival
We generally don't cover much SeaWorld in this Fine Blog Series (or on TouringPlans in general) but it definitely is a place to consider on your next Orlando theme park vacation. Like Busch Gardens Florida and others, SeaWorld still has to work hard for your money, so you get some great guest-friendly experiences. Like Universal, over the years they have clearly seen the success that EPCOT has had with food festivals and started to incorporate that into their schedule. The annual Seven Seas Food Festival started several years ago and gets better every single year. It takes place on the weekends (Fri-Sun) and features a whole bunch of food booths and live concerts.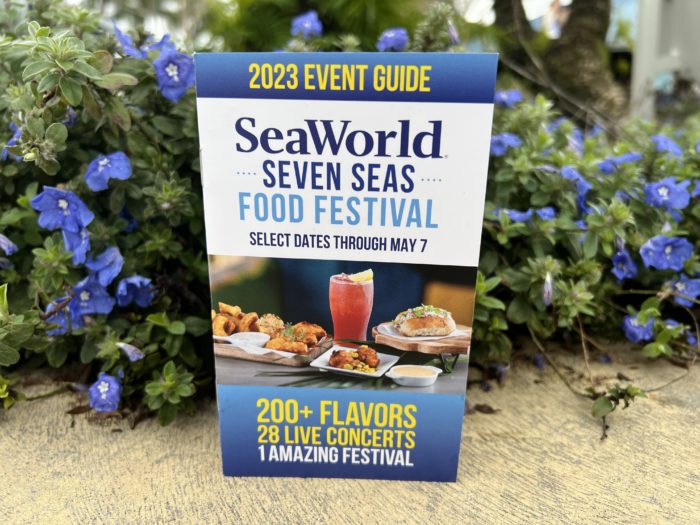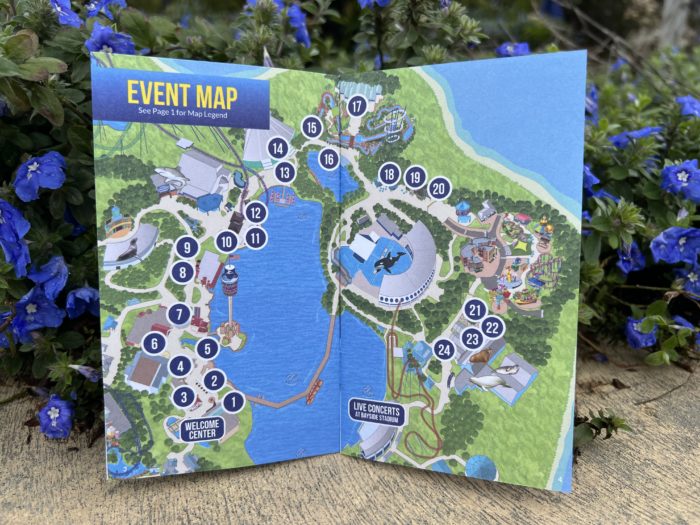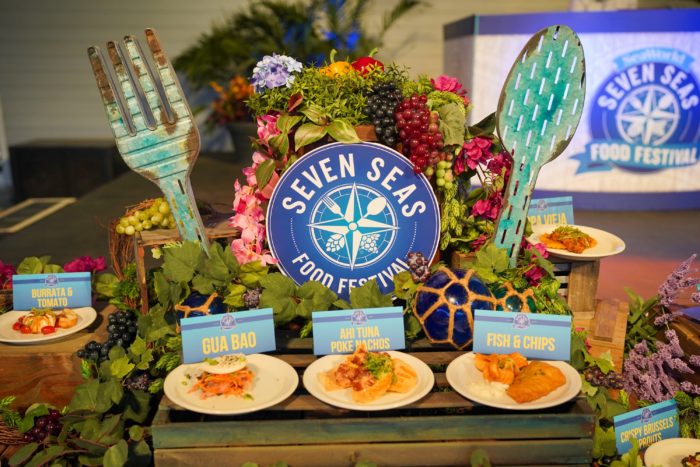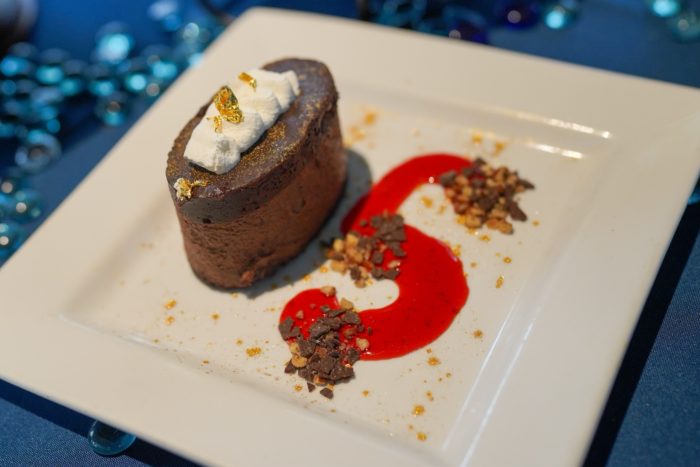 One of the neatest things SeaWorld offers at the Seven Seas Food Festival are these "adult Capri Suns" called Coaster Cocktails. This is a straight up E-Ticket idea and Universal should be ripping this off immediately. Give me a Coaster Cocktail featuring the VelociCoaster or Rip Ride Rockit and I'm buying one to enjoy and one for the collectible fridge!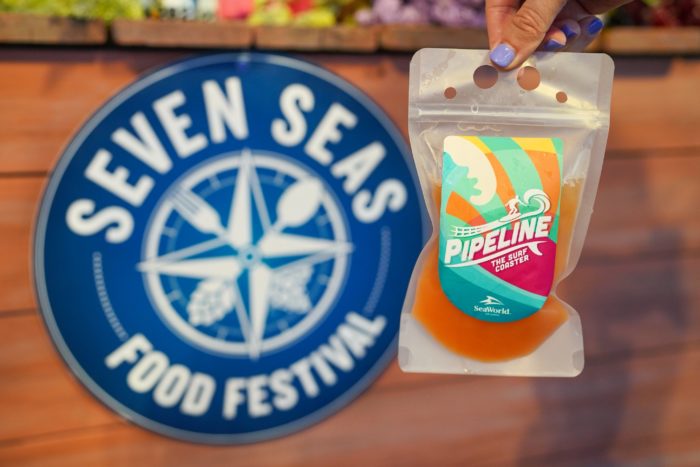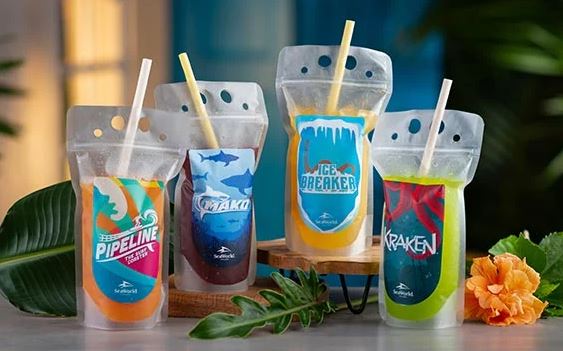 How about this great detail behind the creation of one of the food items…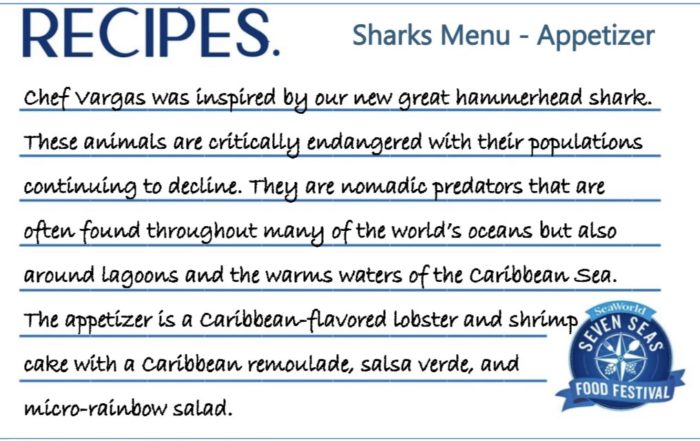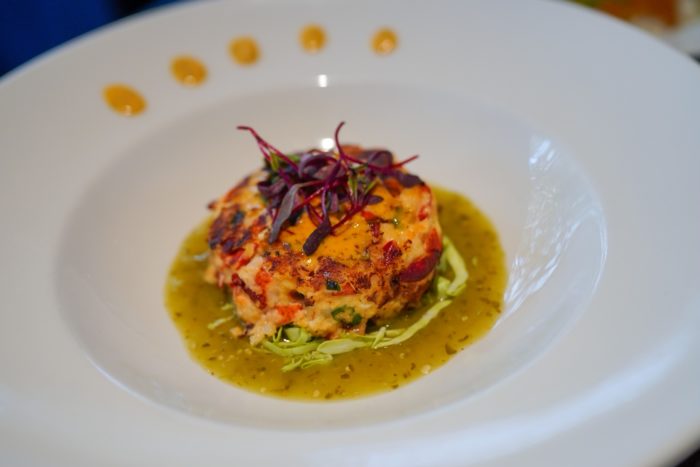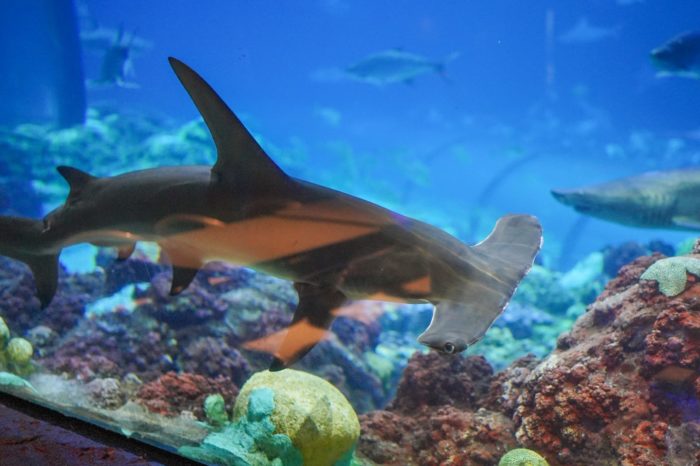 Unrelated to the Seven Seas Food Festival, but I really like this merchandise concept by SeaWorld featuring a "plush of the month." There's a great idea in here that both Disney and Universal could also be taking advantage of.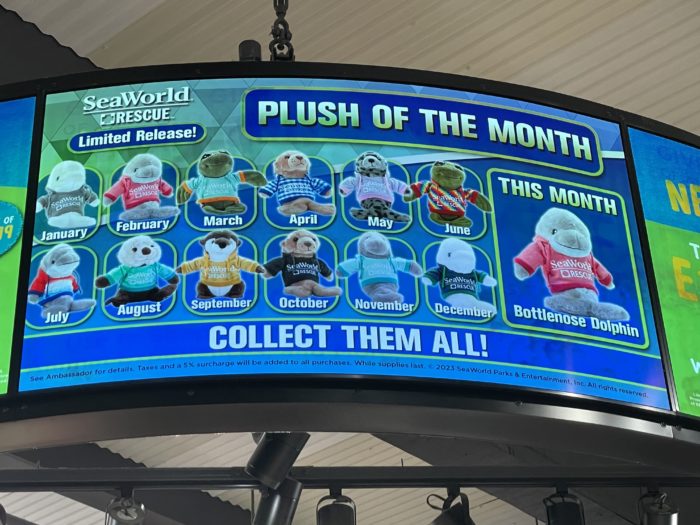 TPEI Score: + 2 The Seven Seas Food Festival experience is good enough that it can make you forget SeaWorld has the sheer brass balls to sell preferred parking for $60.
QUICK HITS
*Marvel Day at Sea
For those who don't know, I have a sailing on the Royal Caribbean Wonder of the Seas coming up later this year in April. This was a trip that we started planning in 2019 and had fully booked for April of 2020 but You All Know What Happened Then. So for THREE YEARS I have been waiting for this cruise and now that we are getting close it's all I think about.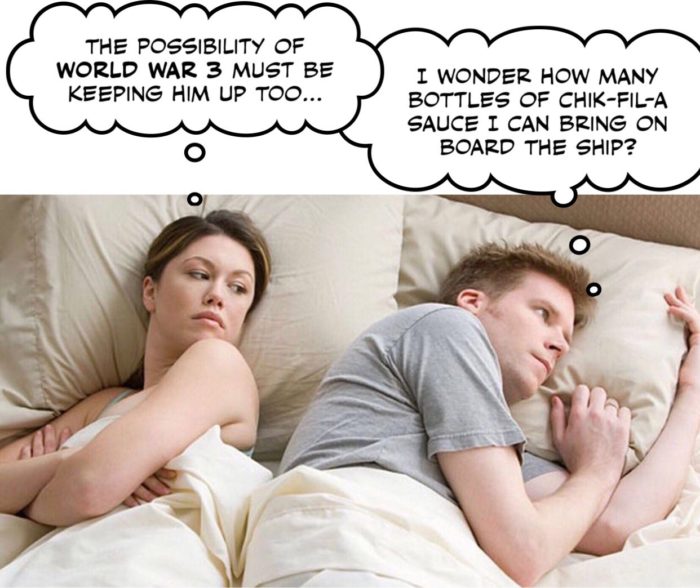 With cruising on my mind, I'm being drawn to articles and YouTube videos based on cruising. The Disney Cruise Line offers special Marvel Day At Sea sailings during the early part of the year (selected sailings in January, February, and March.) As a longtime comic book fan, I can't get over that the menu for the Marvel Day At Sea is presented like a comic book. That's fantastic.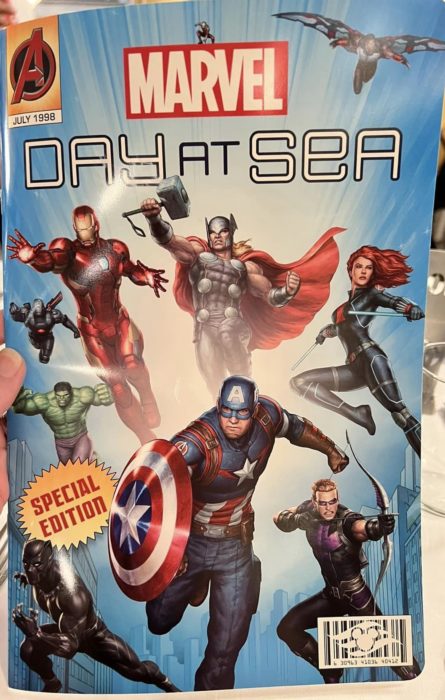 This makes me want a sit down table service Marvel Restaurant at Disney Springs. In true comic book fashion, Disney literally putting in almost zero effort into making the food and drinks have anything to do with the characters/movie they are referencing in the menu. I know when I think of Wakanda Forever I think of Coke Zero and Himalayan Salt (reminder that the Himalayas are located on a different continent than Wakanda.)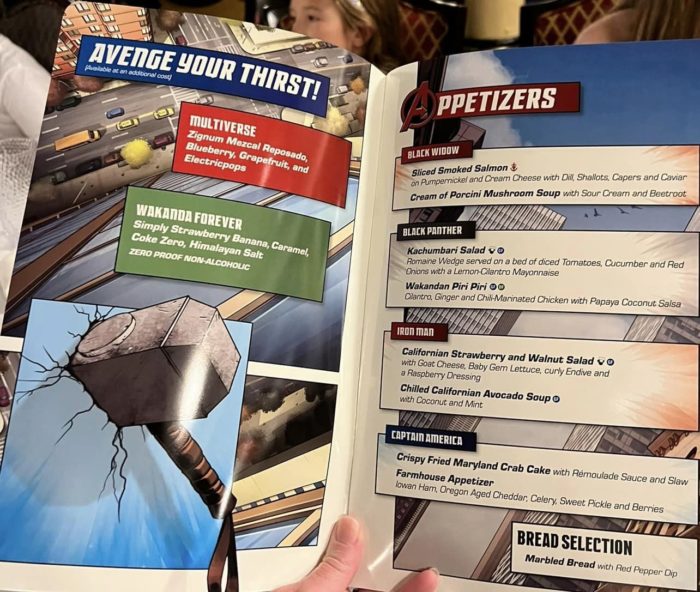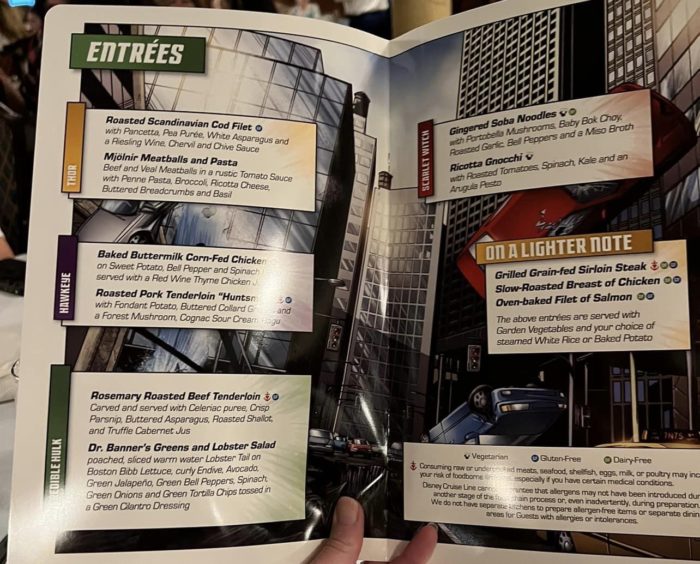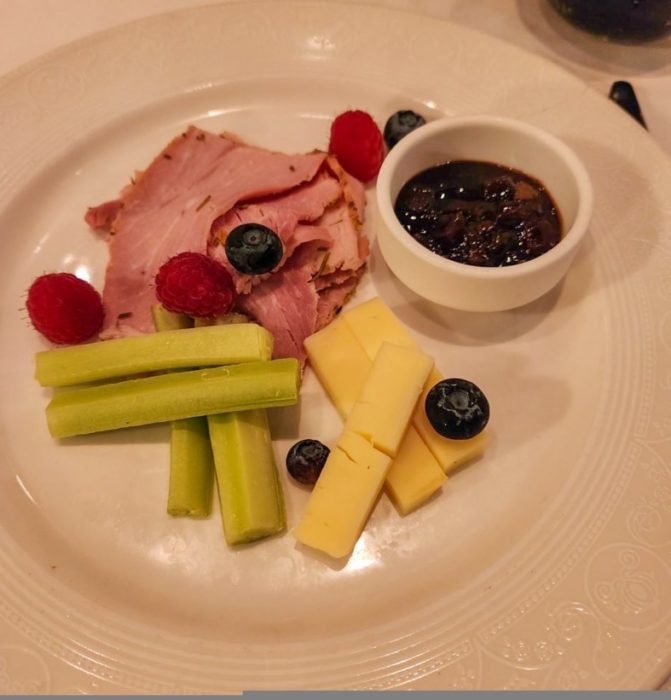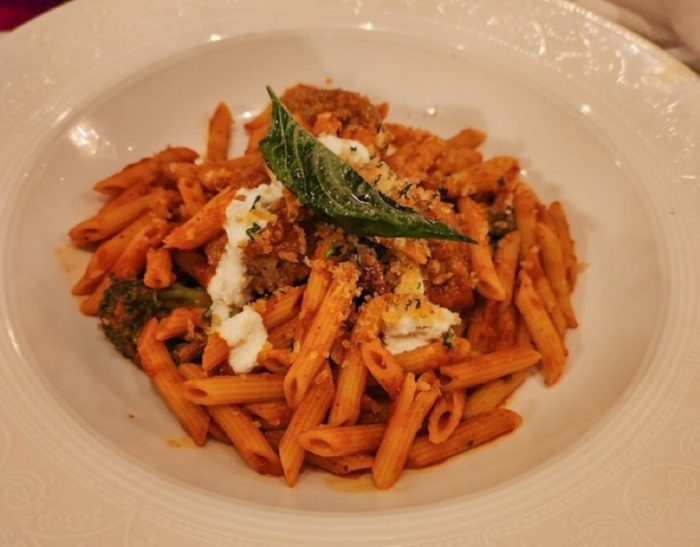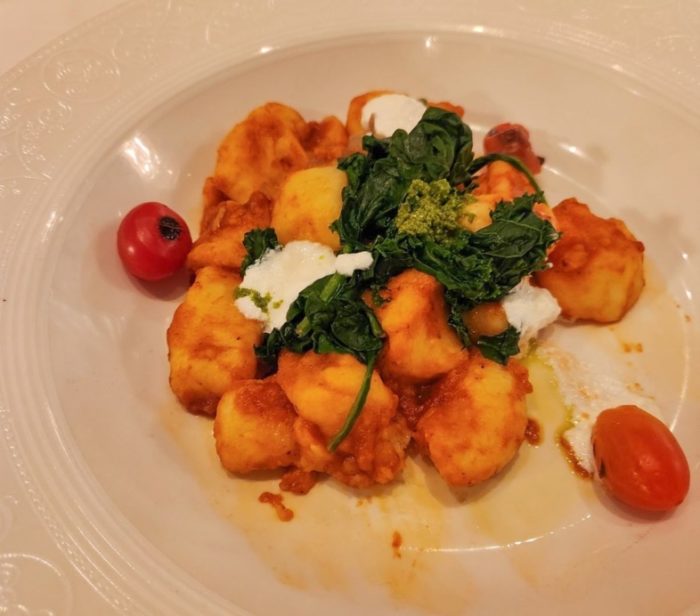 *PizzeRizzo Pizza Cookie
While I certainly have less than favorable things to say about the pizza served at PizzeRizzo in DHS, I have to give them major props for delivering some of the most unique dessert options at any WDW quick service. Thankfully we know about these desserts thanks to the one and only Alicia Stella, a true defender of PizzeRizzo's honor and a person who's tweets Inside the Magic has based approximately 22,000 articles on (this year.) PizzeRizzo's newest dessert is a large cookie themed to a pizza!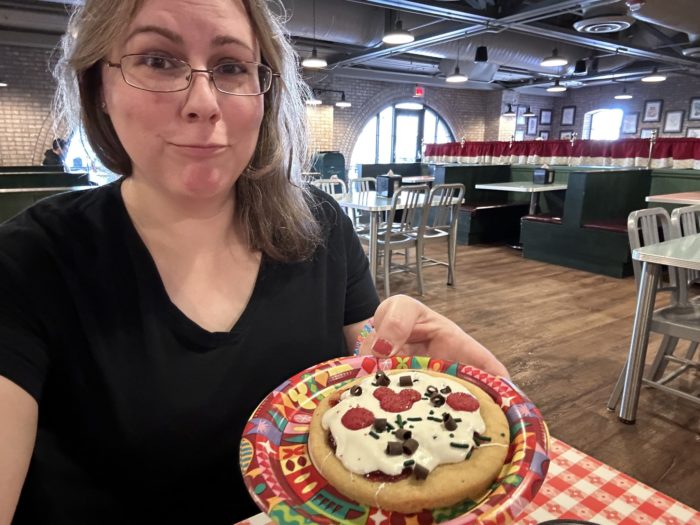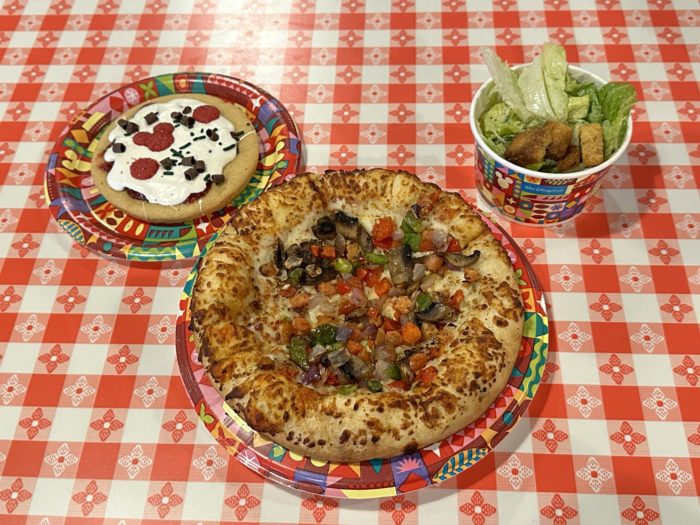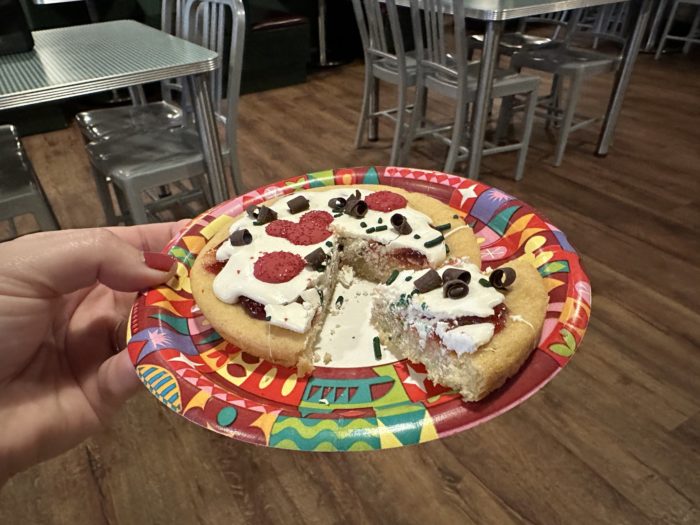 Remember those awesome Haunted Mansion/Muppet eclairs from 2021? Straight up E-Ticket.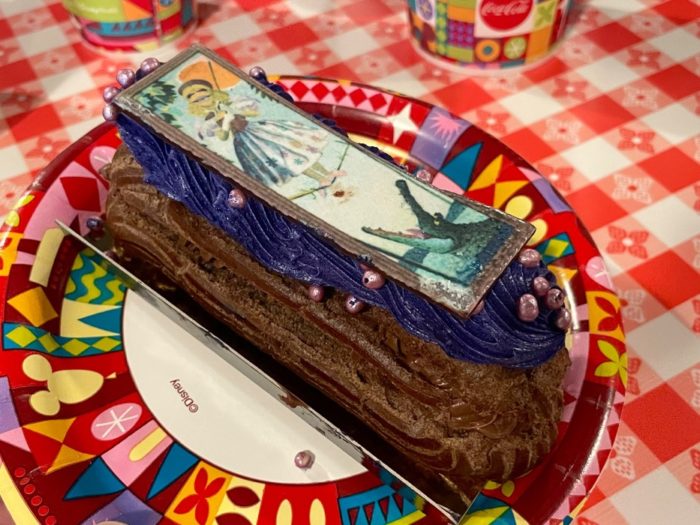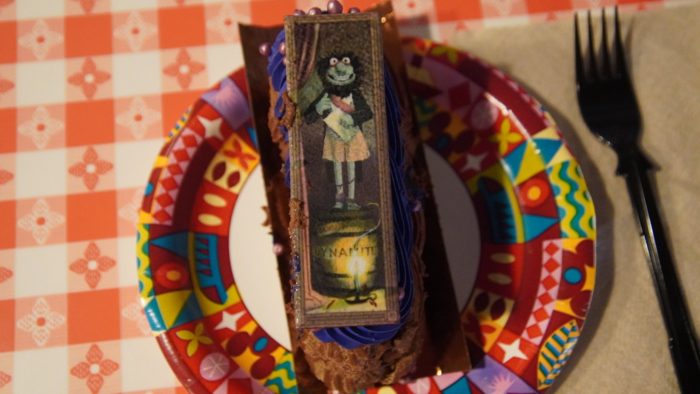 *Muppets Visit Imagination Pavillion
Well this came out of nowhere and hopefully is a taste of good things to come in the near future. The Muppets twitter account posted a short video of Gonzo and Walter checking out The Imagination Pavillon at EPCOT (which  you can watch by CLICKING HERE.) Give me a whole series on Disney+ of various Muppets visiting EPCOT (Pigs in Space go to Cosmic Rewind, Sam Eagle at The American Adventure, Electric Mayhem revisiting the history of Food Rocks, etc).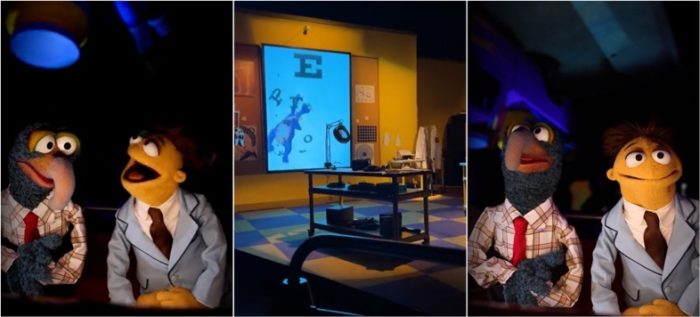 *Cursed Coconut Club
CityWalk has once again transformed the Red Coconut Club into a highly themed venue. We'll be covering this in-depth in a future edition of the SATURDAY SIX.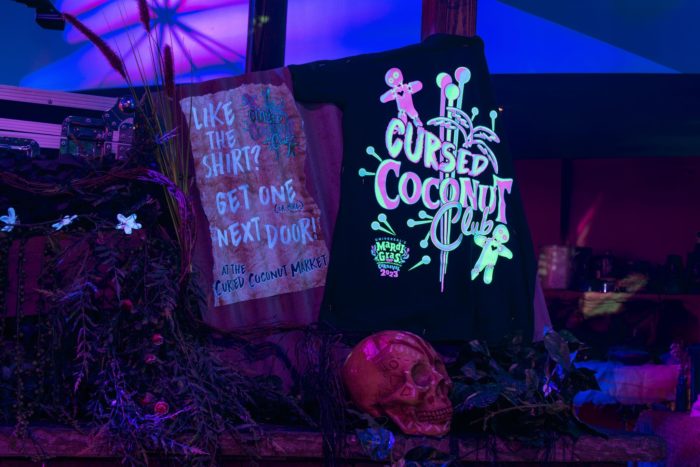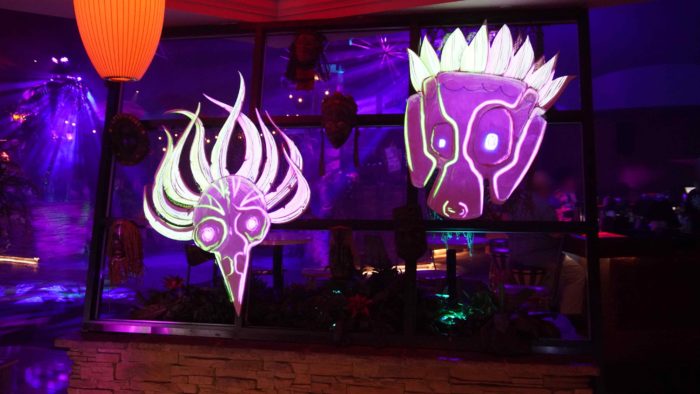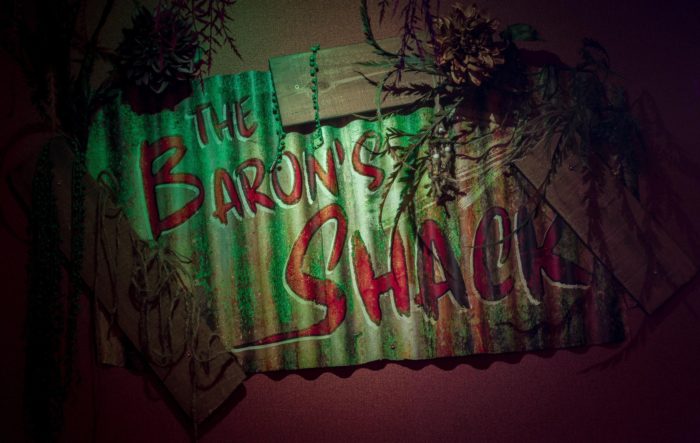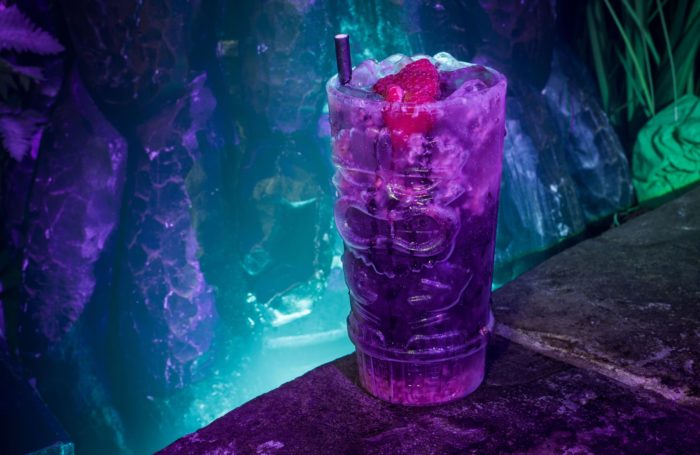 Superstar artist Sterling Denham has a brand new print paying homage to the Dead Coconut Club (the Red Coconut Club's transformation during Halloween Horror Nights.) Always check out their store for awesome stuff like this and more.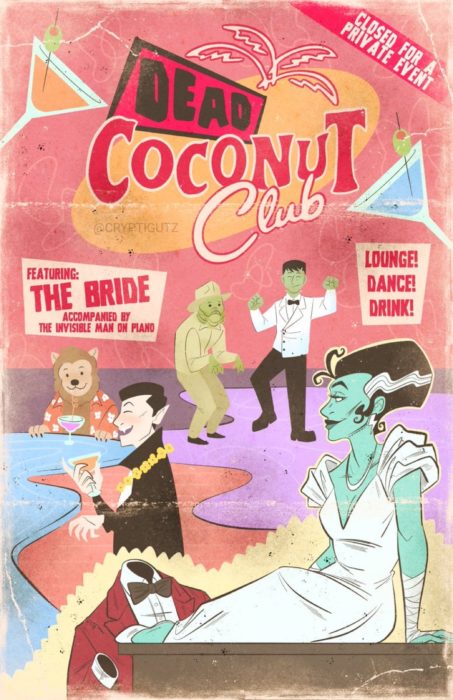 *New DHS Meet-and-Greets
For a brief moment, we get a brief taste of what Disneyland gets each and every month with the debut of two new meet-and-greet characters at DHS. First we have Max, in his Powerline outfit, and his dad Goof in his "vacation" outfit.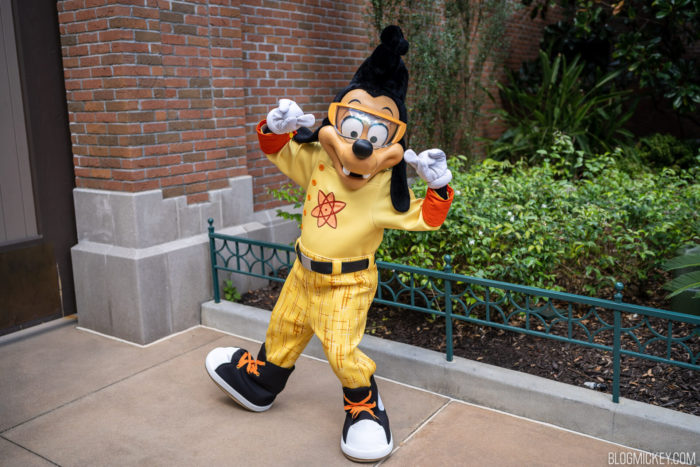 To see more amazing pictures of these too, be sure to check out BLOG MICKEY'S ARTICLE.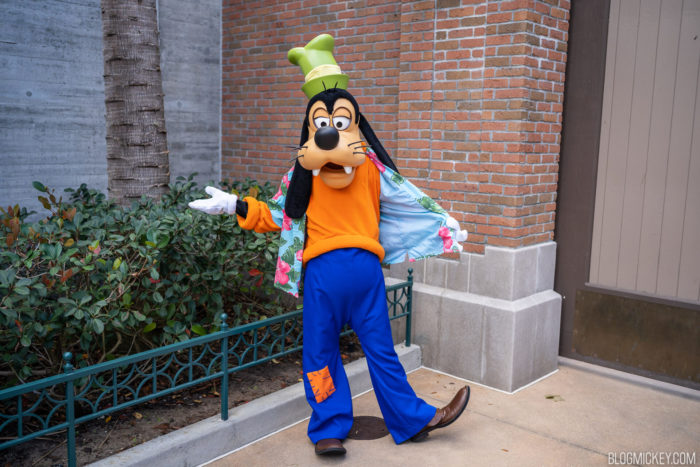 We also got Chip & Dale in their E-Ticket Rescue Rangers outfits!!!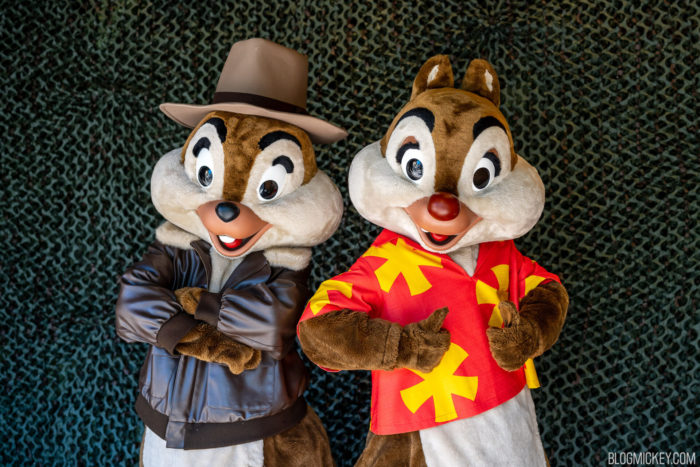 *Barbie Bachelorette Party
Several years ago we did an article titled Six Things We STILL Can't Believe Actually Happened at Walt Disney World. These included things like the Teenage Mutant Ninja Turtles at DHS, the Cinderella Castle being turned into a birthday cake, and an actual circus performing at EPCOT. One of the items on that list was Barbie's Birthday Party taking place at EPCOT '94. That's right, at the time EPCOT was literally called "EPCOT '94" back then. Add that to the list of things we can't believe actually happened.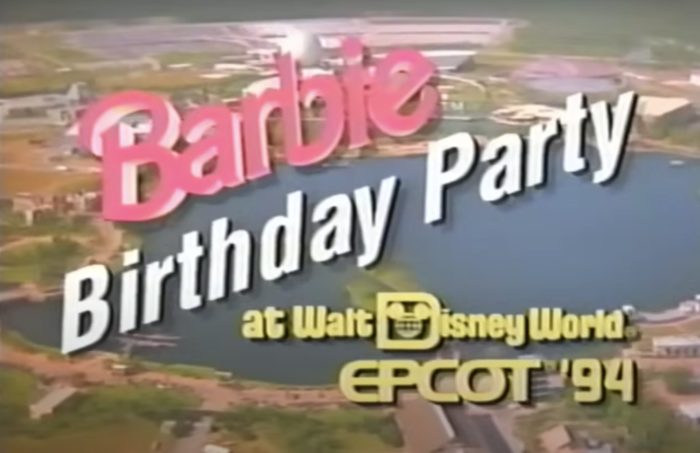 The Barbie Birthday Party video itself was only available with the purchase of certain Barbie dolls, and speaking as a kid who sent away for the GI Joe versions of Sgt. Slaughter and William "the Refrigerator" Perry, this is certainly an interesting add on. In a surprise twist worthy of M Night Shyamalan, the birthday party video is less an actual movie and more of ad for the Barbie cellular phone and the Magical World of Barbie show that would be making its debut at the American Adventure pavilion in World Showcase later that year. So you get a lot of behind-the-scenes information on the making of a stage show which not many people remember fondly. However, while the live show did not last that long, the VHS tape can still be yours relatively cheaply at eBay and Amazon. Many guests still fondly remember the Birthday Party tape and Barbie's short-lived attraction at EPCOT '94. One of those guests is DisTwitter's own Courtney Guth, who recently themed her bachelorlette party around the video.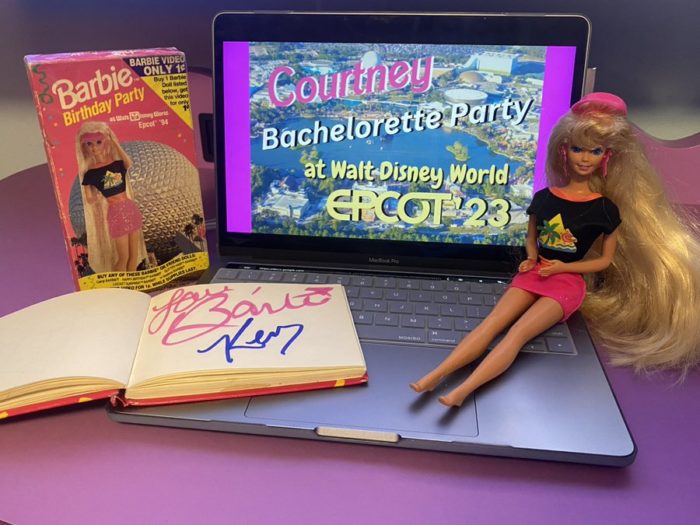 Here is the bride to be in front of Spaceship Earth.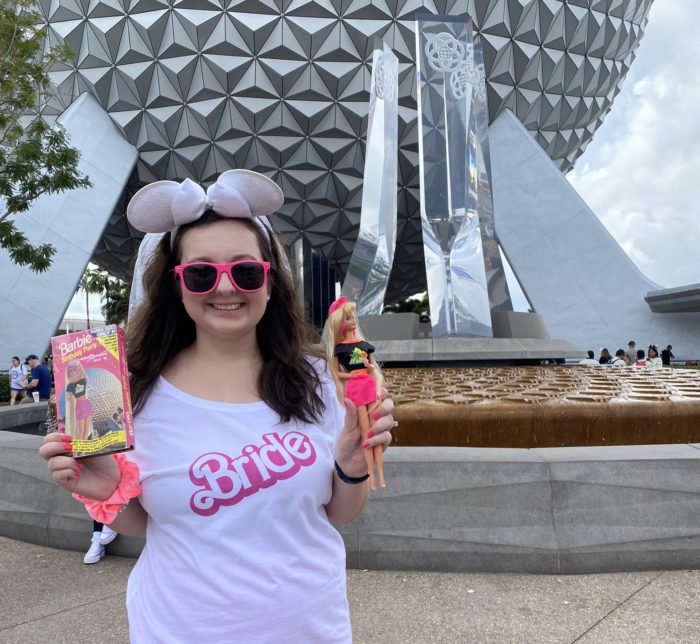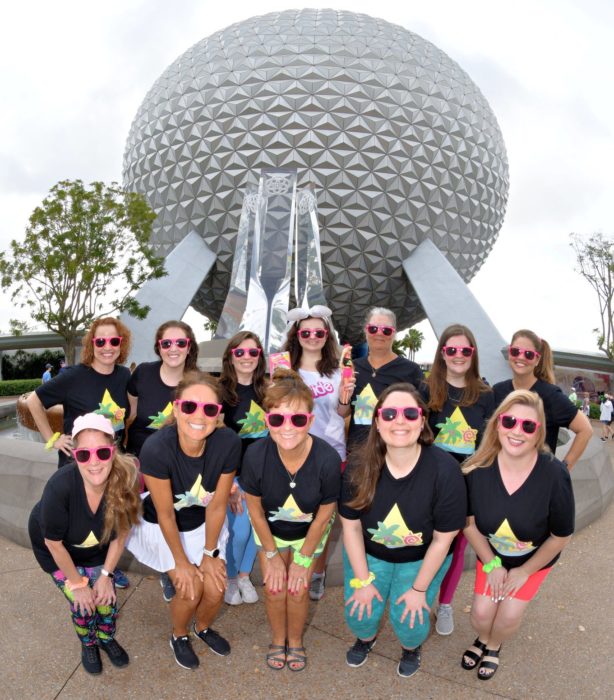 As a surprise, CourTney was greeted by the actual "Ken" from Barbie's EPCOT '94 attraction! How great is that.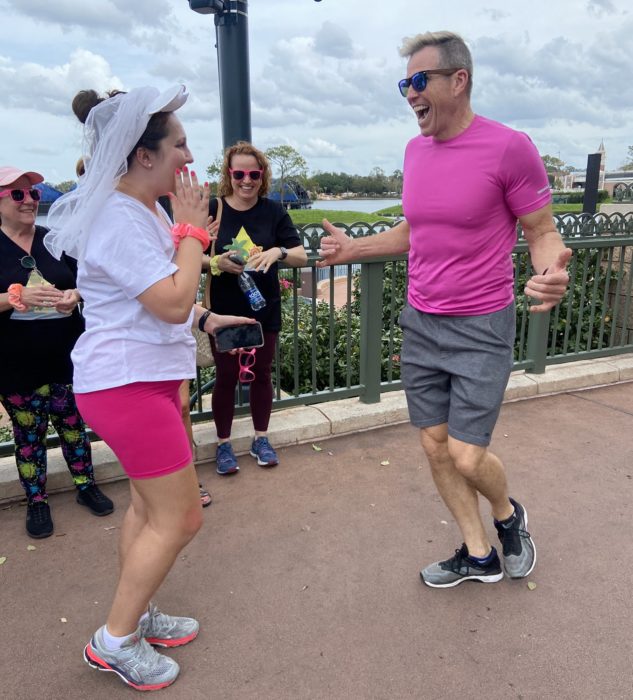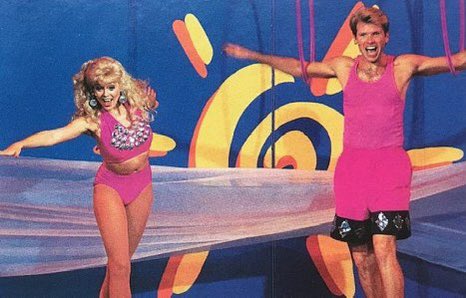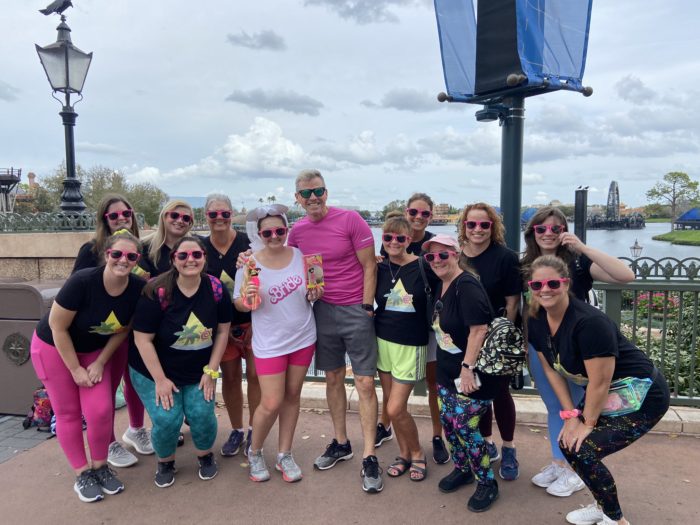 *Bio Back in Business
Our blogger-in-the-sky @bioreconstruct is out of the hospital (see more details in last month's TPEI) and back to taking amazing photos.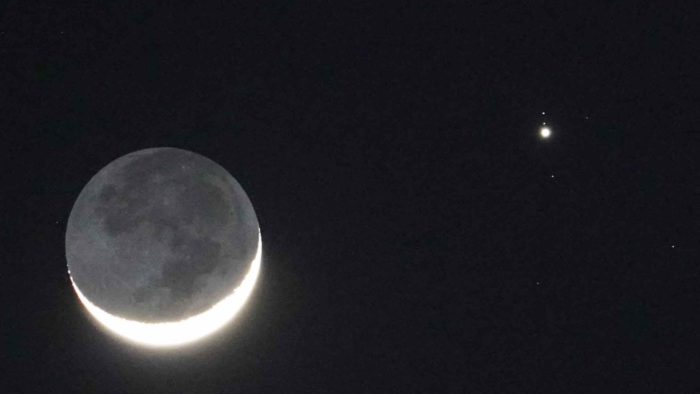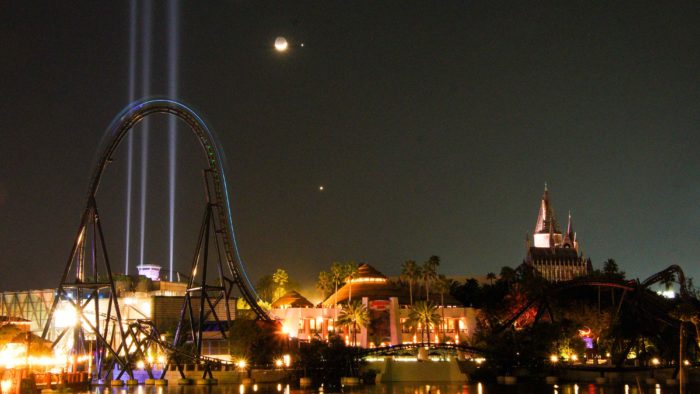 We can also breath a sigh of relief as the world-class level photos of Universal's EPIC Universe construction are back in our lives. BIO DON'T EVER SCARE US LIKE THAT AGAIN!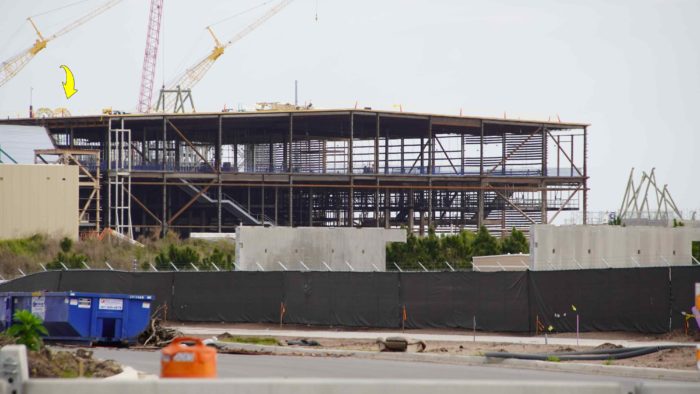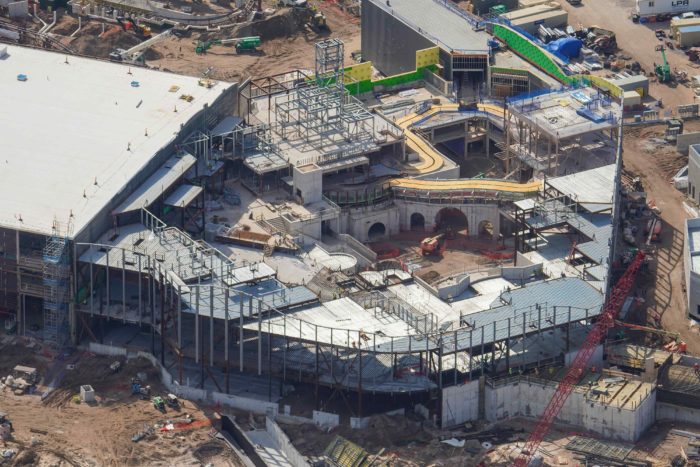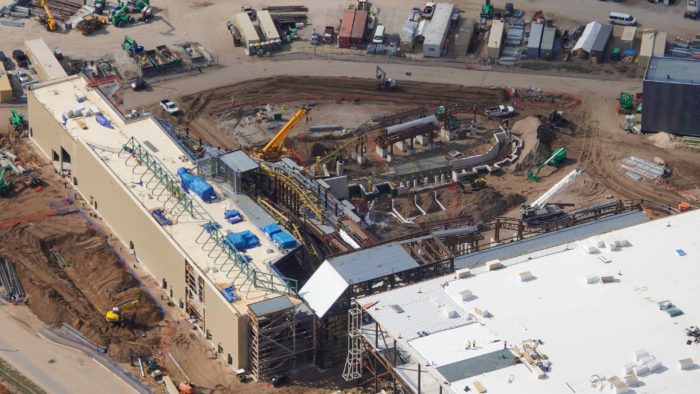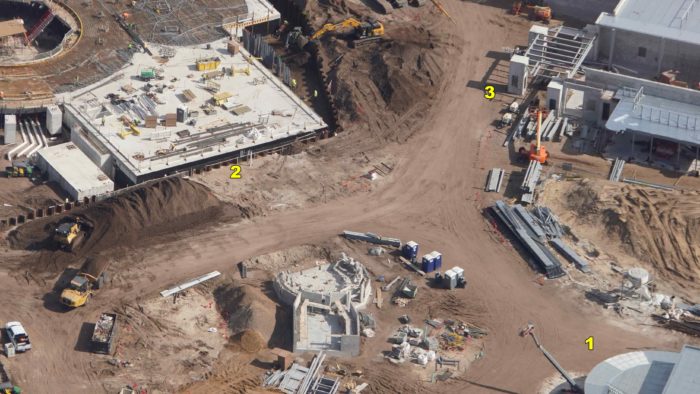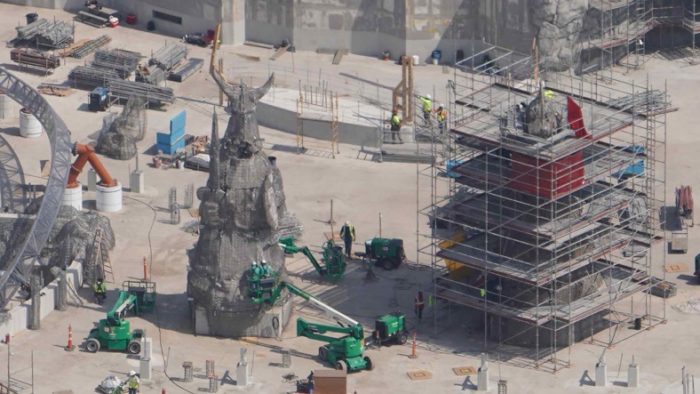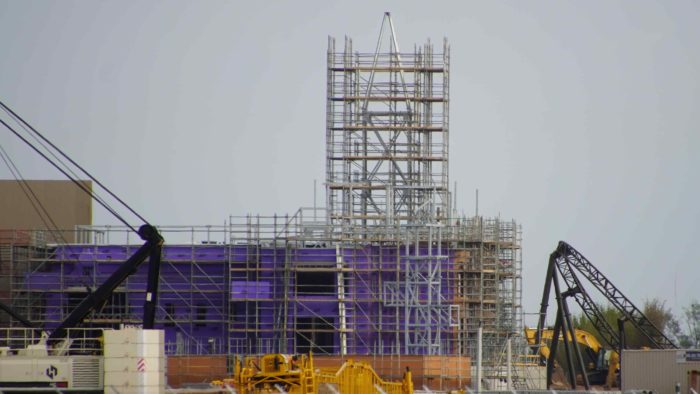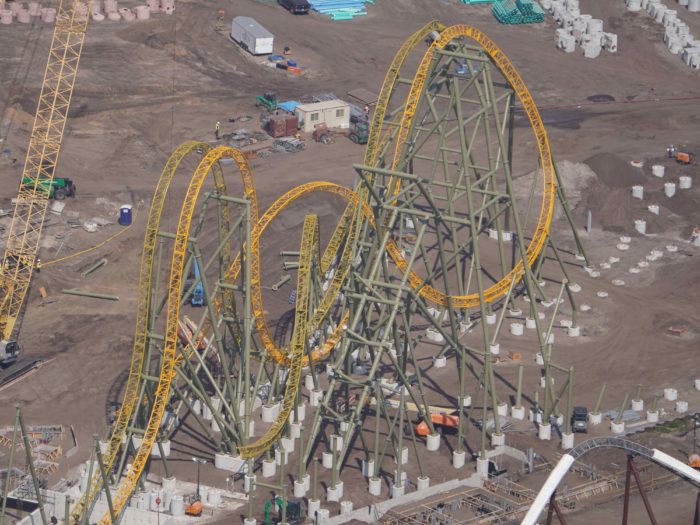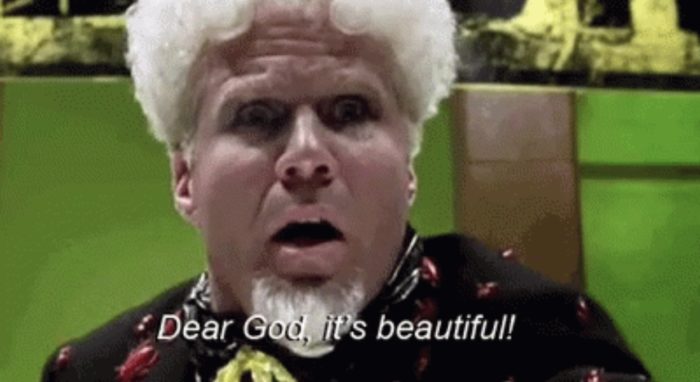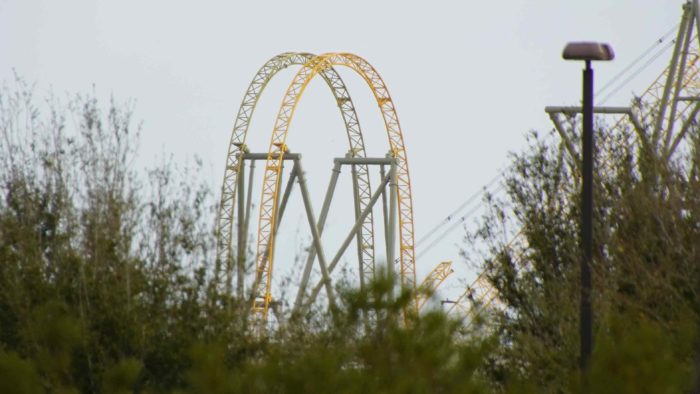 *OUR LONG NATIONAL NIGHTMARE IS FINALLY OVER. The VelociCoaster Gets Express Pass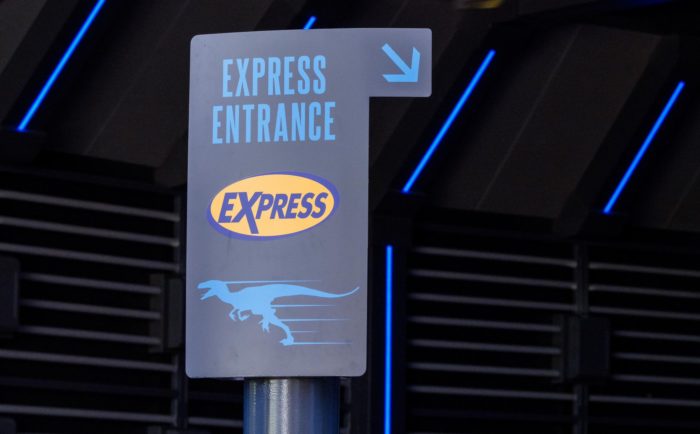 Want to bypass that Stand-By line and get into the Express Entrance with all other cool kids, just stay at one of Universal's Premier Hotels (Lowes Royal Pacific Resort, Hard Rock Hotel, and Lowes Portofino Bay Hotel.)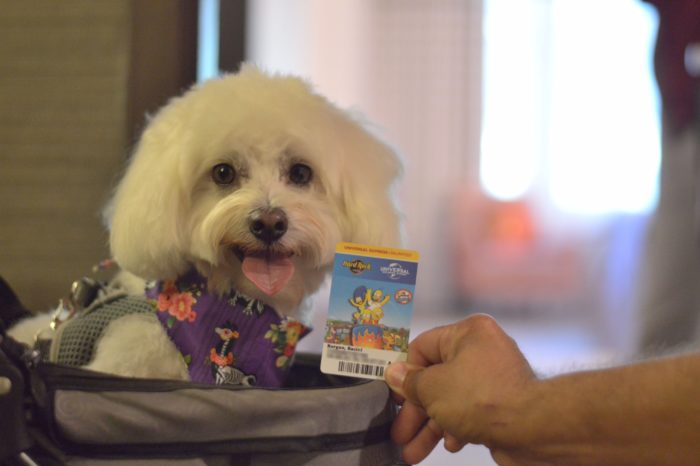 *New Entrants into the Disney Signage Hall of Shame
How many mistakes can you find in this sign below posted outside the Indiana Jones attraction in Disneyland?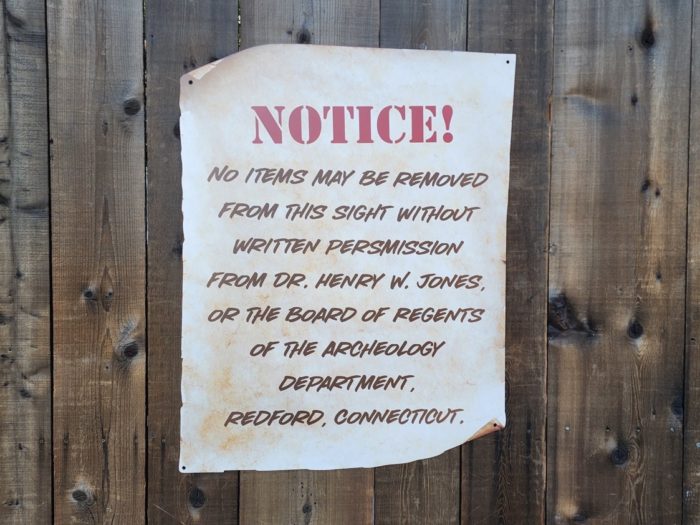 Below is the corrected version.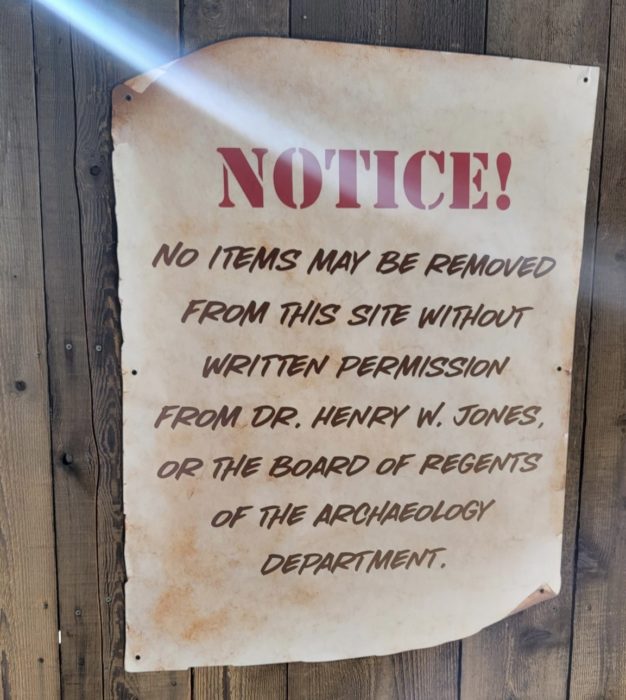 Another incredible piece of signage from Disneyland featuring Main STRET U.S.A.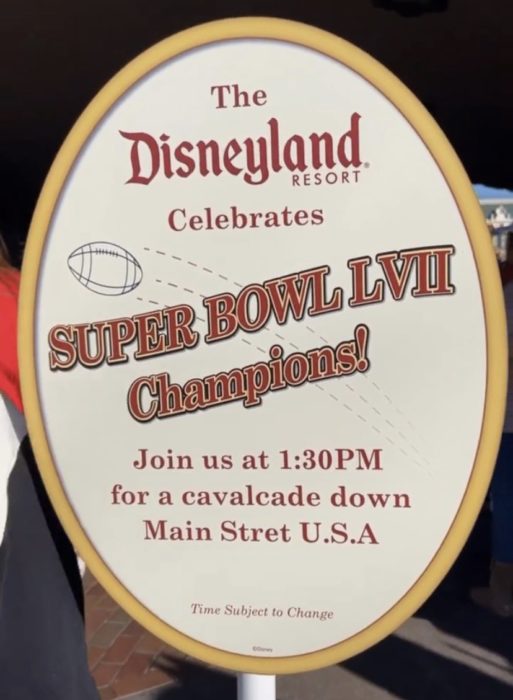 Last month we covered the  Disney100 Mickey Mouse Statue which featured the wrong Walt Disney quote.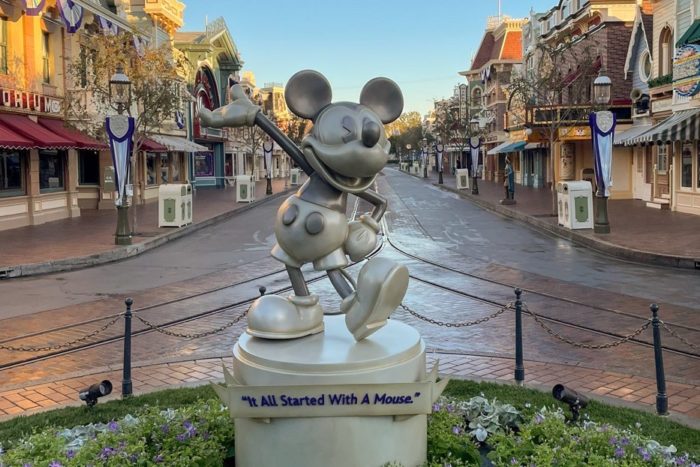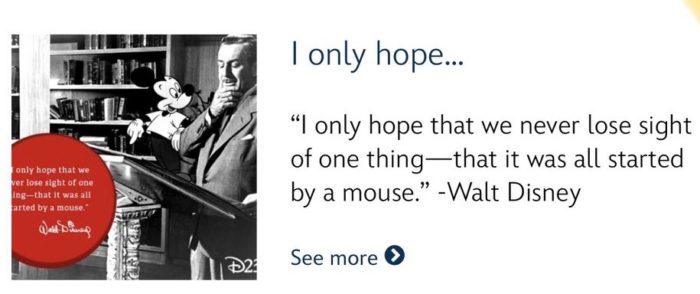 Well, first Disney removed the statue..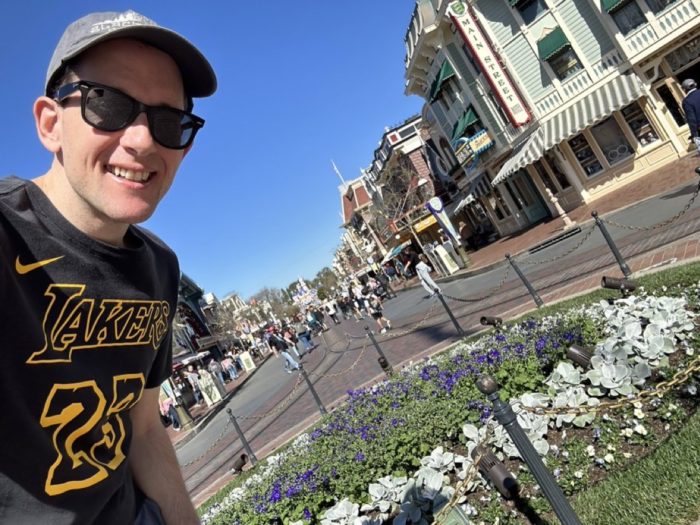 When it returned, it had the correct you. Congratulations Disney, YOU DID IT! Great job everybody.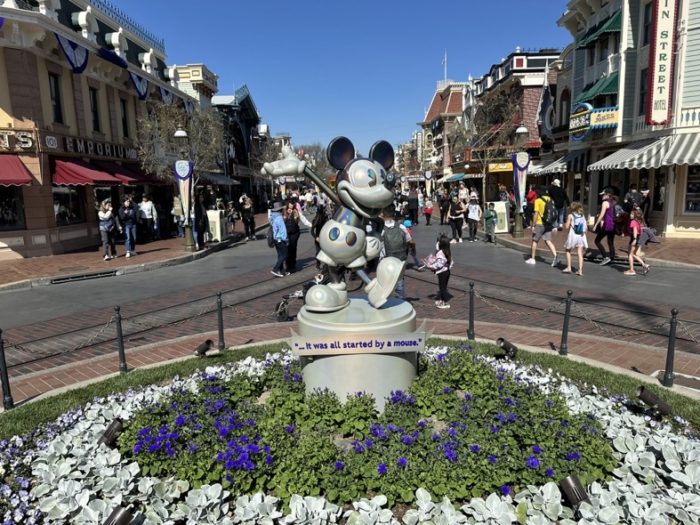 Meanwhile things in Florida aren't much better as this signage incorrectly identifies the Transportation and Ticket Center. Maybe Bob Chapek was doing all the signs at Disneyland and Walt Disney World and letting him go was a big mistake? You never know…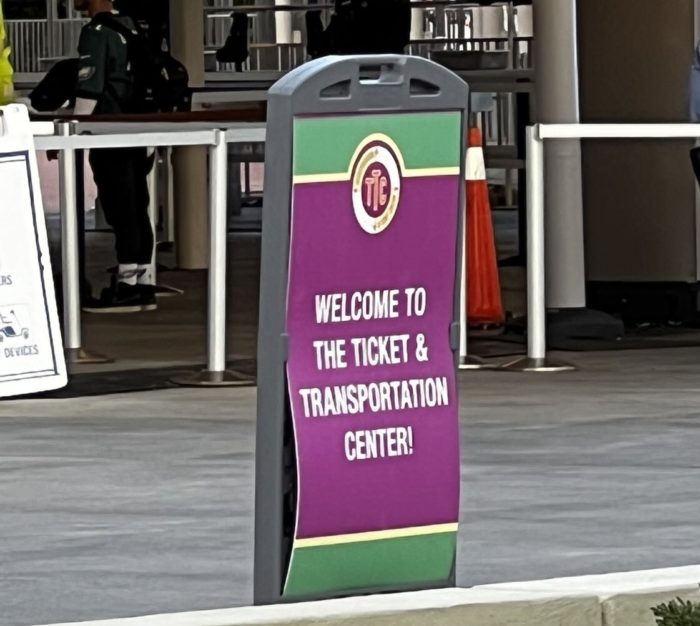 While not a mistake, I love this signage at Yak & Yeti showing that it was voted in "Top 2 Best Theme Park Restaurants by USA Today." As a reminder the readers of USA Today don't even consider any of the Walt Disney World, Disneyland, or Universal Orlando theme parks to be in their list of Top Ten Theme Parks.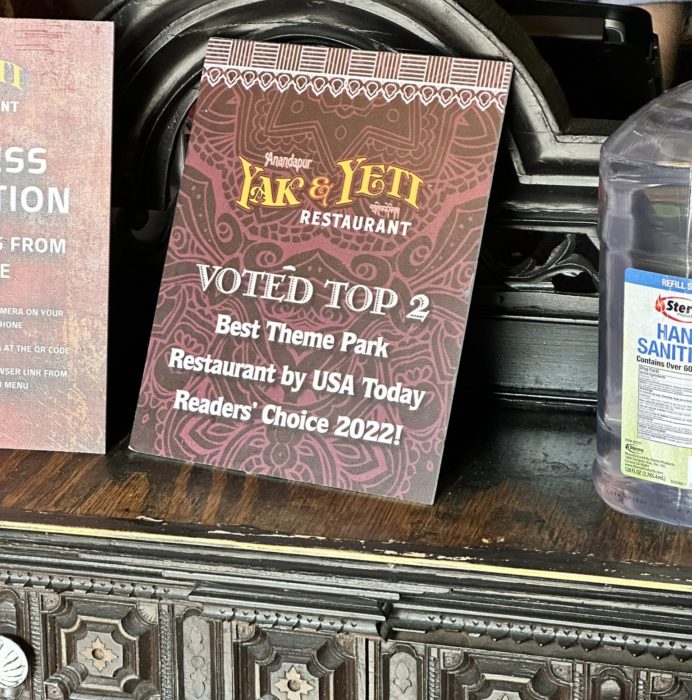 Tell me you aren't getting Mythos banner vibes off that Yak & Yeti sign too.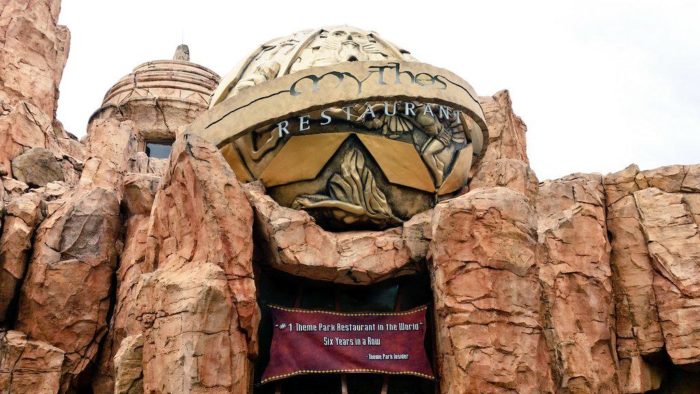 *What Happens When You Replace Humans With Robots
…a human being would have known that." – I, Robot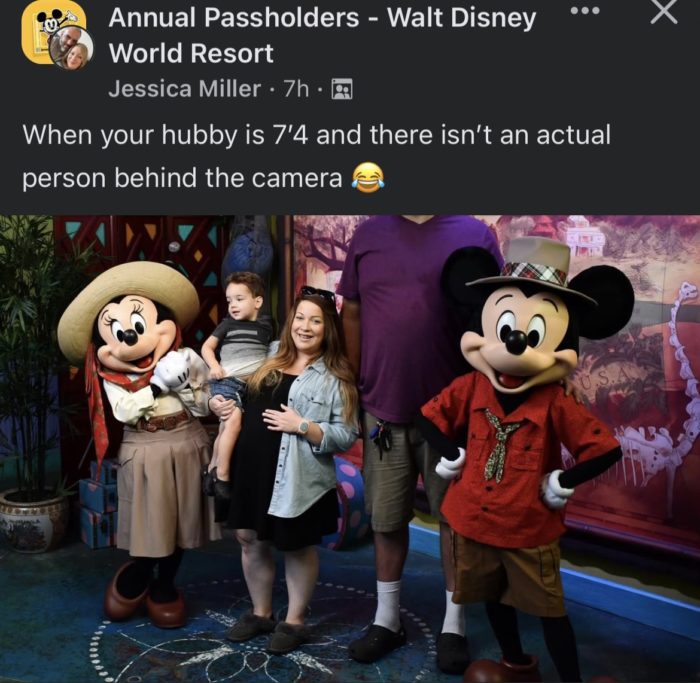 *What Would YOU Do?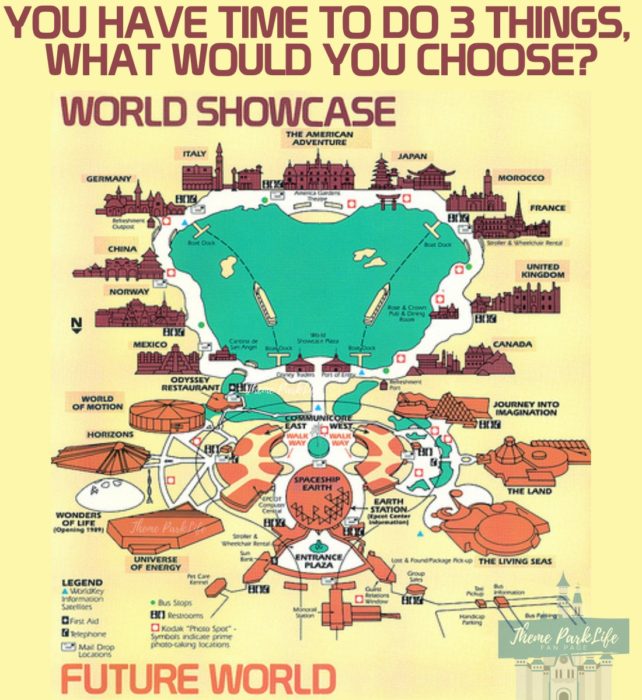 For me there was only one acceptable answer…

*How is this real life?
Let's check out an item sold at the Creations gift shop in EPCOT, as a reminder this is THE ONLY WALT DISNEY THEME PARK WHICH DOES NOT OFFER A TRAM SERVICE.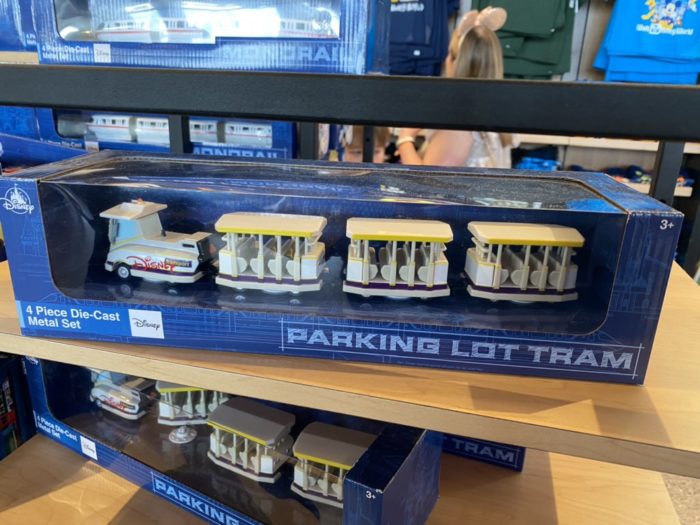 It's probably okay to wear this Mickey Mouse shirt to formal night on the Disney Cruise Line.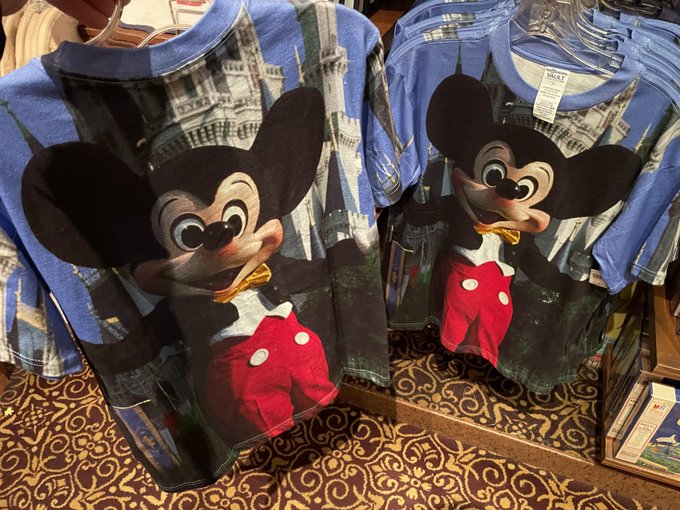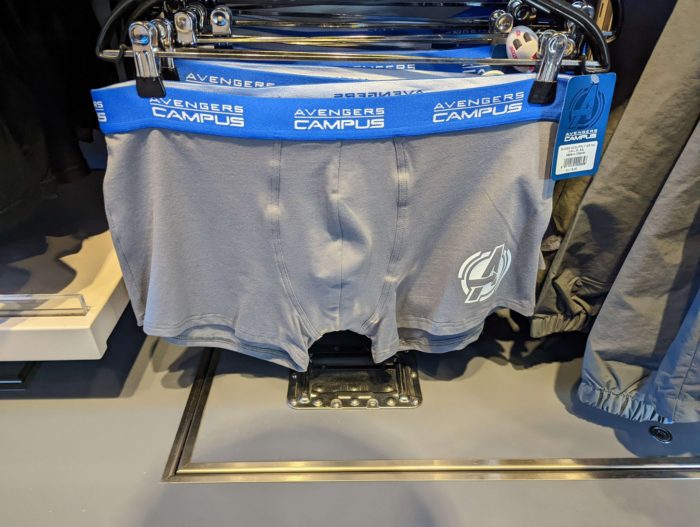 This Butterbeer mug is FINALLY back in stock in the Wizarding World and it looks great. Most likely as of press time it is already sold out again.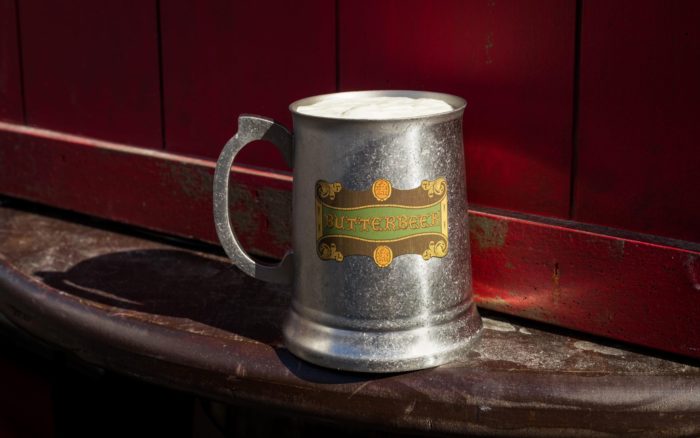 Dress-A-Minion plush seems like a million dollar idea but I have been wrong before (see MagicBands.)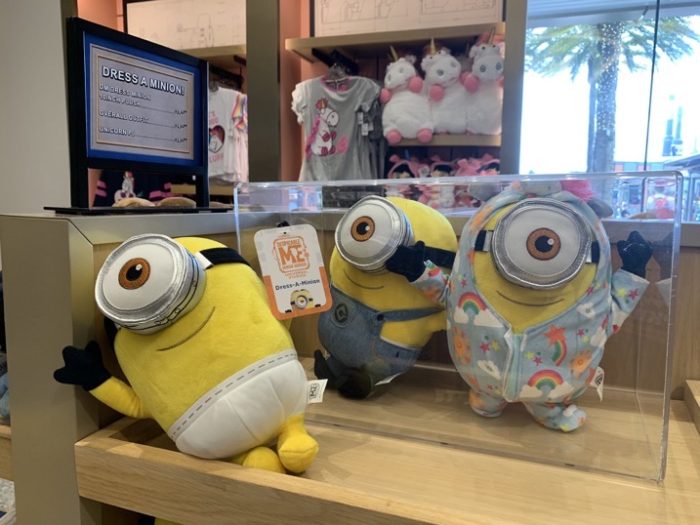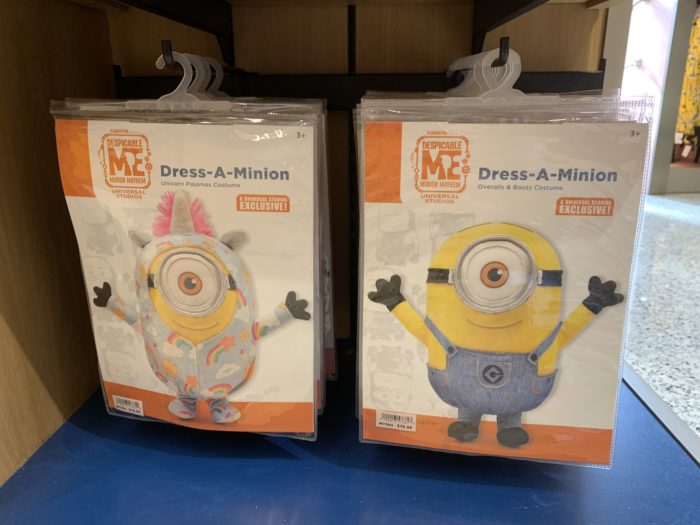 *NEW Disney Happy Meal Toys
Regular readers of TPEI will remember the story last year when I detailed what happened to me last year when I went to McDonald's to get the Mickey Mouse Runaway Railway themed Happy Meals. Spoiler Alert: IT DIDN'T GO WELL.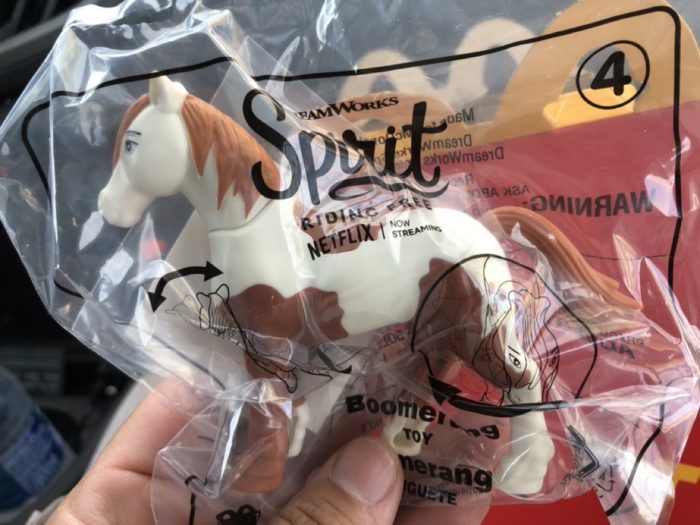 Well there was a new Disney Happy Meal promotion and I risked my sanity once again. This time all went well…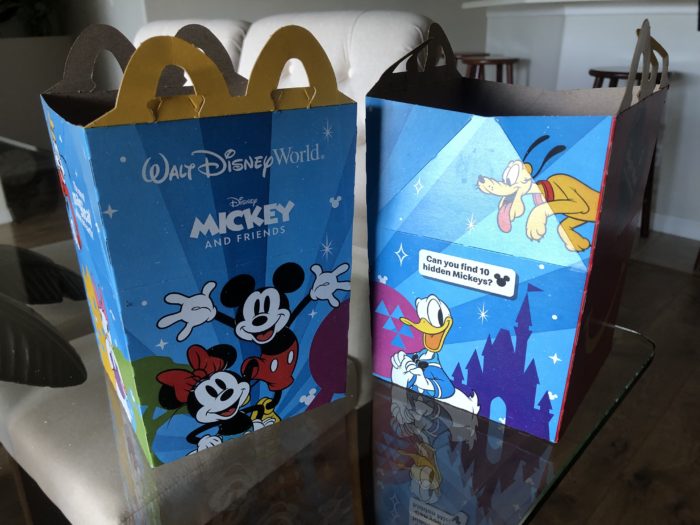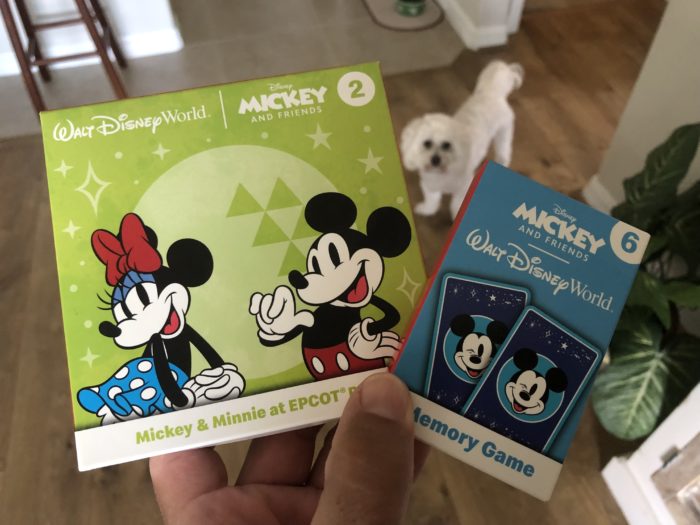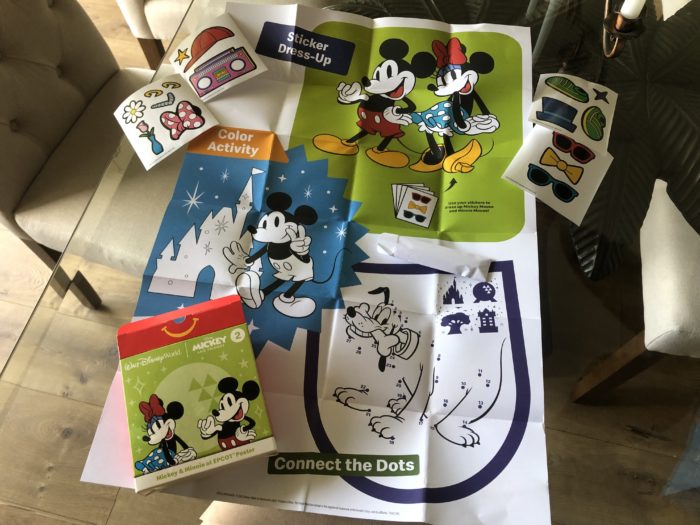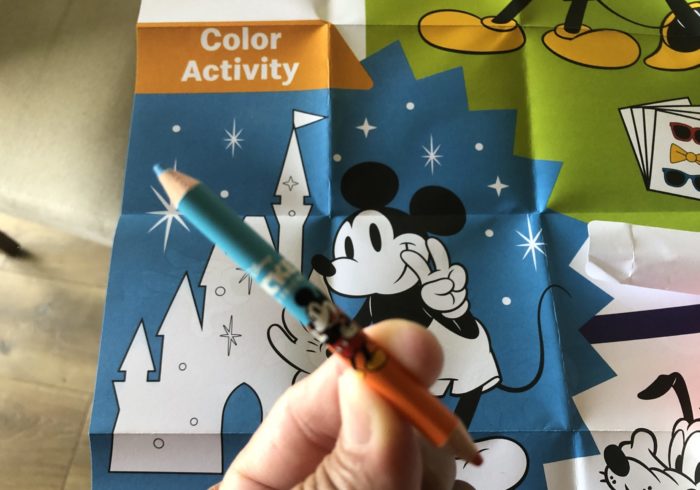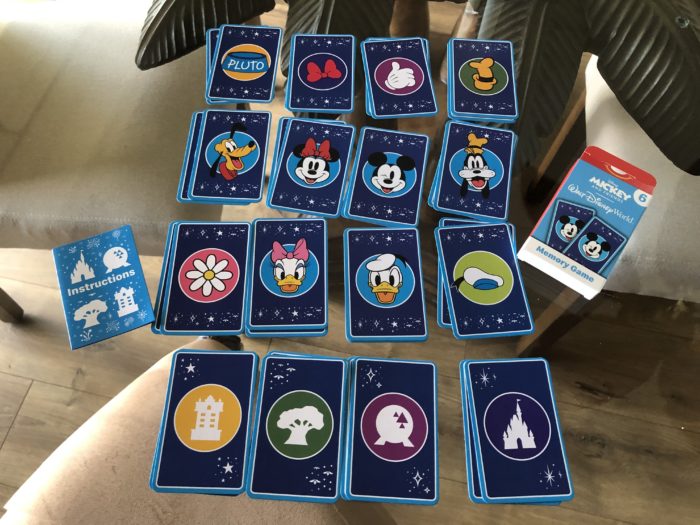 Did you see this bonkers Figment as a Fig Newton plush from the Disney Munchlings line?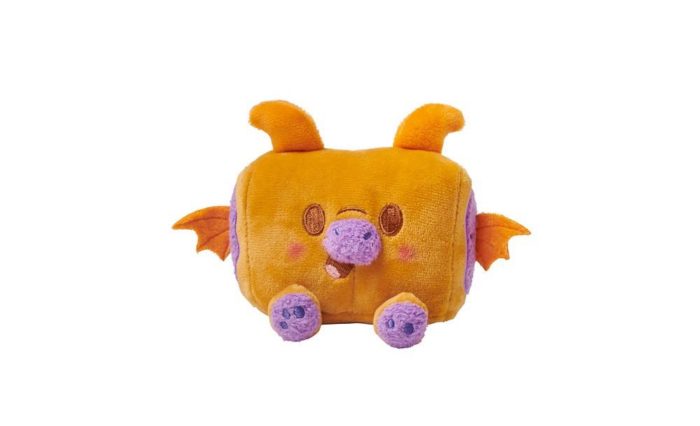 Well, artists SonderQuest did, and he immortalized it.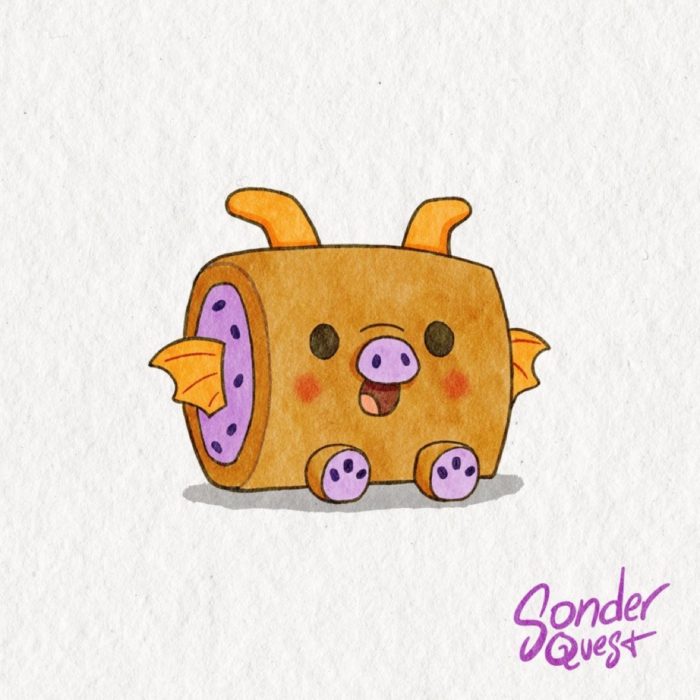 Speaking of awesome art, February brings the Artist Spotlight series to the SATURDAY SIX and we got to put a focus on three tremendously talented ladies for our Class of 2023. First up was Marie Catano…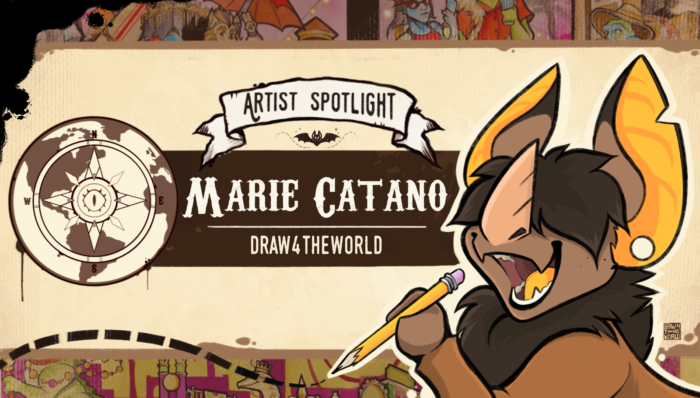 …followed by Savannah Hamilton…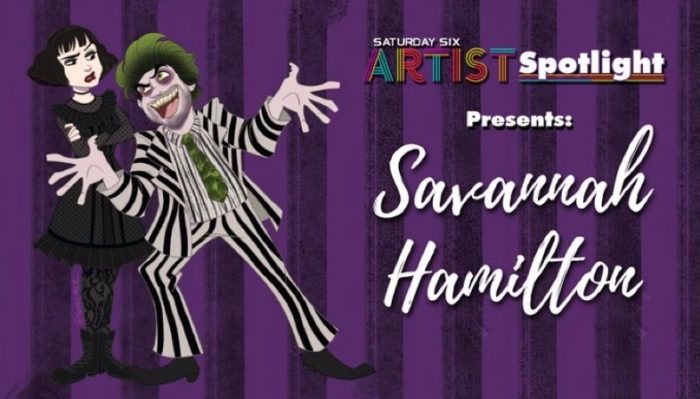 …and we finished up with Bunny Wars. Such a wonderful array of talent this year and I'm looking forward to next year's Spotlight features already.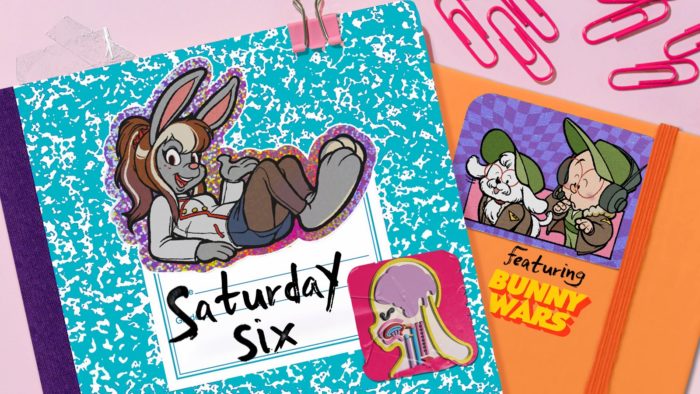 Former Artist Spotlight inductee Brian Cooper posted this fantastic commission featuring some pets enjoying the PeopleMover.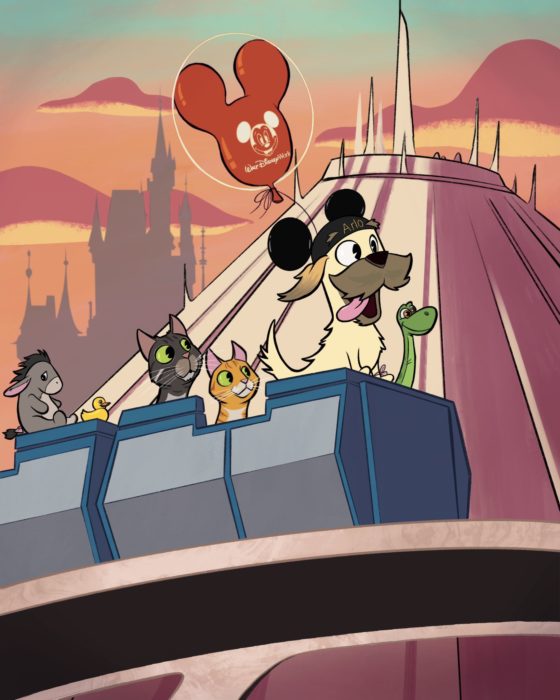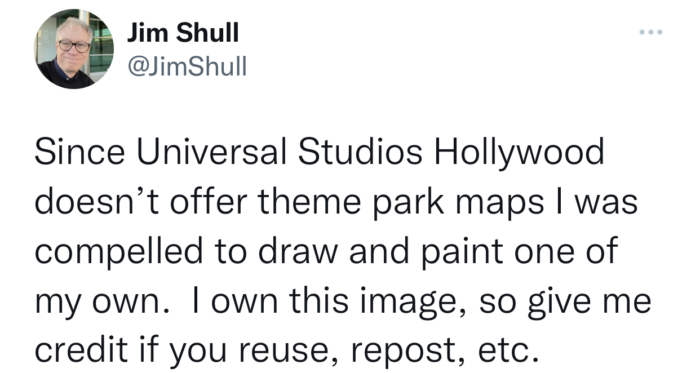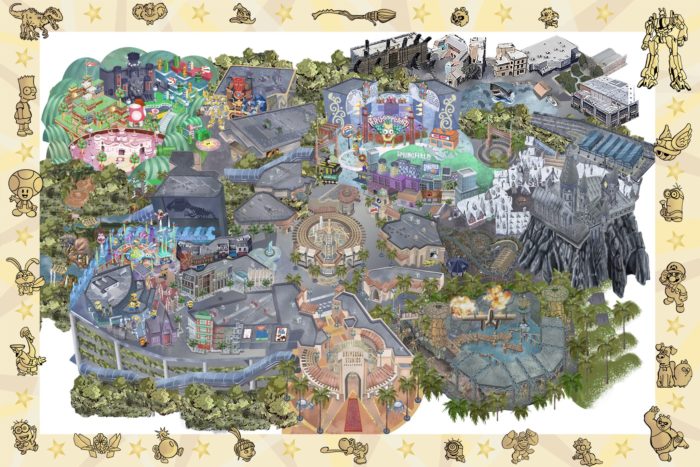 LOVE this drawing of the food available at Super Nintendo World's Toadstool Cafe by Jess Feldman.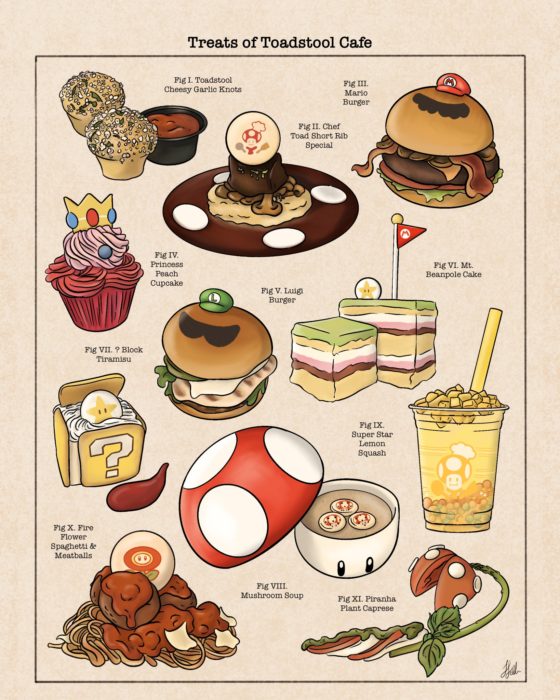 We'll finish with an amazing Broadway-style poster for The Little Mermaid by Artist Spotlight alumni Jess Siswick. This is so great.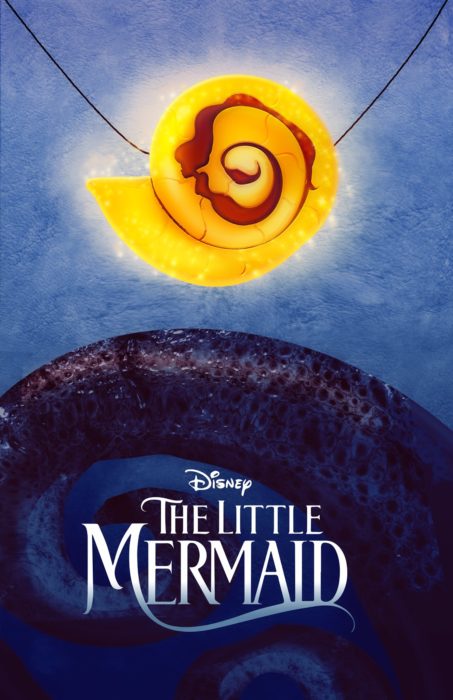 Speaking of Jess Siswick's stunning art, let's see if DCA chooses to use her concept for the upcoming Rogers: The Musical in DCA.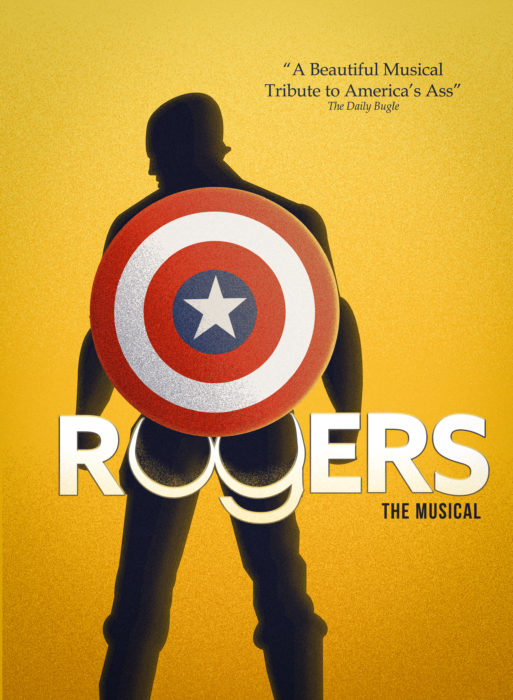 Last month's Theme Park Enjoyment Index: 10
This month's net change: +25
Current enjoyment level: 35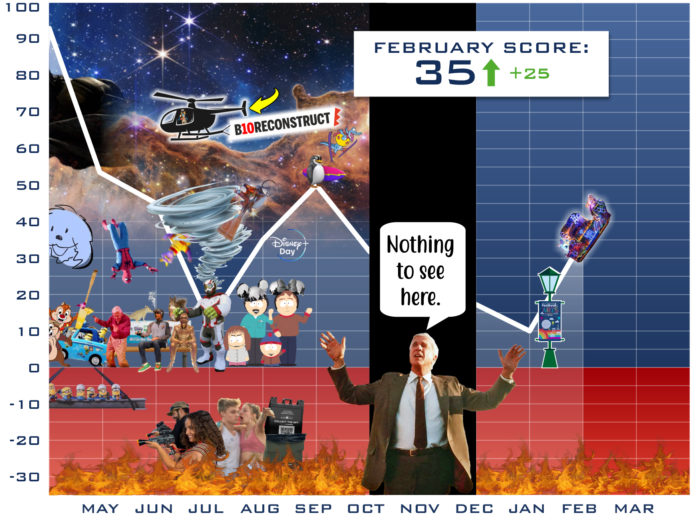 Writer Derek Burgan, when not cleaning Len Testa's pool, can be found reading comic books, watching professional wrestling, and taking his dog Bacini to Universal and Disney. organizing his various Tsum Tsums in alphabetical order. He will not, we repeat not, be found at a Disney Outlet Store. An official DisTwitter Influencer, you can interact with him @derekburgan
Digital Artist Scott Walker hails from Scotland and is the fifth most famous person from this country following Alexander Graham Bell, Ewan McGregor, Gerard Butler, and Groundskeeper Willie.