How to Use Disney Genie+ and Lightning Lane at Disneyland
Disney Genie is now available at Disneyland Resort. The itinerary-building service is free for all Disneyland and Disney California Adventure visitors, but available along side it is a selection of optional services with similar and confusing names; Disney Genie+, Lightning Lane, and Individual Lightning Lane. In this post we'll show you how to use Disney Genie+ and Lightning Lane at Disneyland, but first a quick primer.
Updated: 10/25/23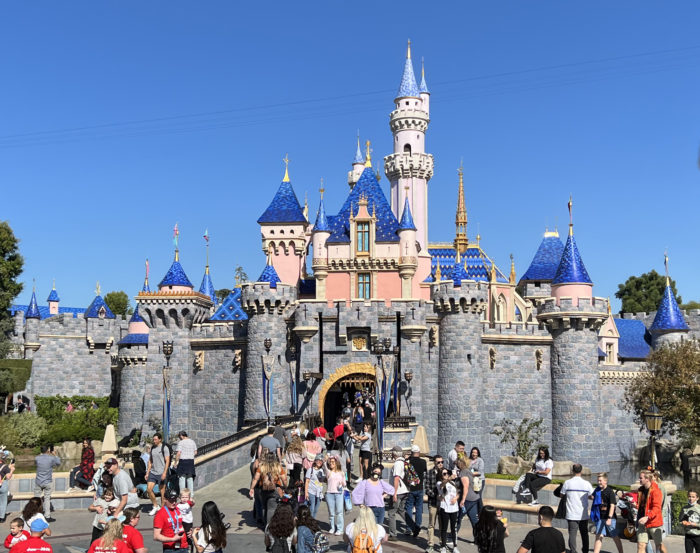 What's the difference between Genie, Genie+, Lightning Lane, and Individual Lightning Lane purchases?
Disney Genie is Disney's itinerary-building app.
Genie+ is a paid ride-reservation system that allows you to avoid the regular standby line on certain popular rides. Think of it as the modern FASTPASS. Also, Genie+ does not include access to the most popular attractions in each park.
Individual Lightning Lane is a separate, paid ride-reservation system that covers just the most popular attractions in each park (Star Wars: Rise of the Resistance in Disneyland, WEB SLINGERS: A Spider-Man Adventure, and Radiator Springs Racers in Disney California Adventure).
How much does Disney Genie and Disney Genie+ cost?
Disney Genie is free. Disney Genie+ starts at $30 per-a-person, per-a-day. But prices vary by date.
What is Lightning Lane?
Lightning Lane is the term Disney uses for a faster, priority queue available at select attractions as of December 8, 2021. (For those familiar with the past, think of Lightning Lane as a new name for the "FASTPASS" queue.) It is an alternative to the "stand-by queue," which is what people enter when the simply walk up to the attraction, get in line, and wait for their turn to ride.
How much does Lightning Lane cost?
The $30+ per-a-person-per-a-day Genie+ add-on grants the user the ability to make FASTPASS-style reservations on their phone, as well as access to PhotoPass downloads taken by Disney photographers or on select rides.
How much does Individual Lightning Lane cost?
Disneyland:
Disney California Adventure:
*Prices may vary by date.
Which rides offer Lightning Lane?
Disneyland:
Disney California Adventure:
How to set up and buy Disney Genie+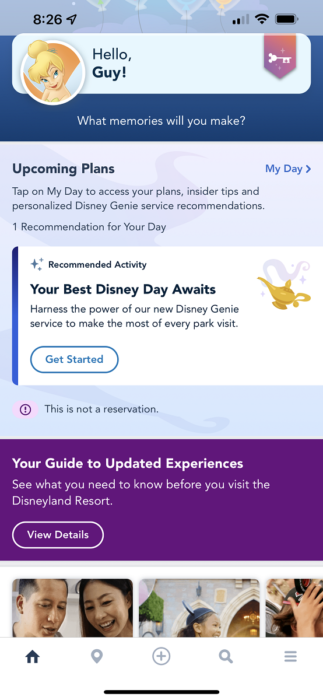 When you open up Disneyland's official app you will see an option labeled "Get Started" in the Upcoming Plans section of the app's main page. If you do not see this option then there's a chance your app is out of date. It's a good idea to update the app before you leave home, just in case cellphone coverage isn't great when you get to the parks. Also remember to have your Disney account created and your ticket or Magic Key linked in the app. Also make sure you have the tickets scanned in to the Disneyland app for everyone else in your party.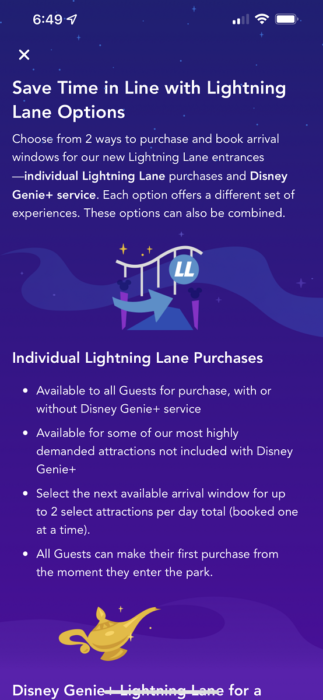 Several screens to scroll through and read about that various Disney Genie offerings will now appear.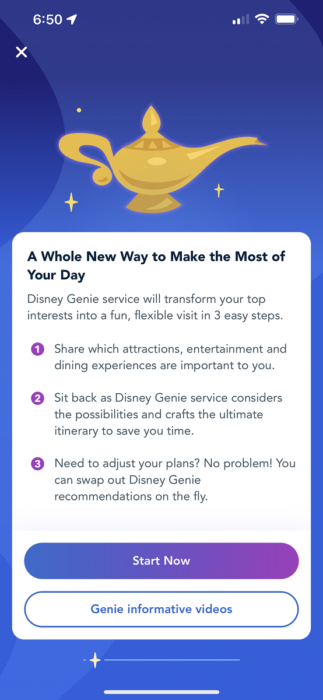 Progress through the pages until you see this screen prompting you to start the process of setting up Genie. Press "Start Now." You'll then select the date and and all the members of your party.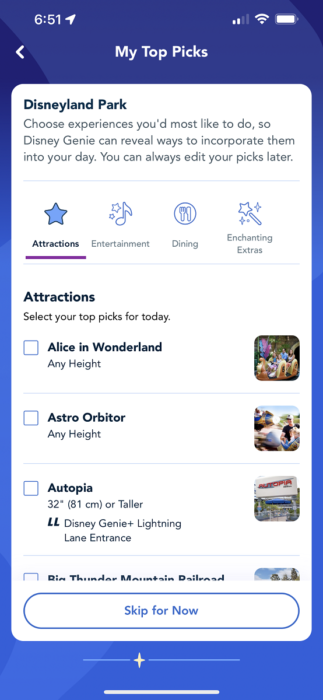 Next you'll be presented with a list of attractions, entertainment and dining. You'll want to make your top selections of what you want to see during your day in the park.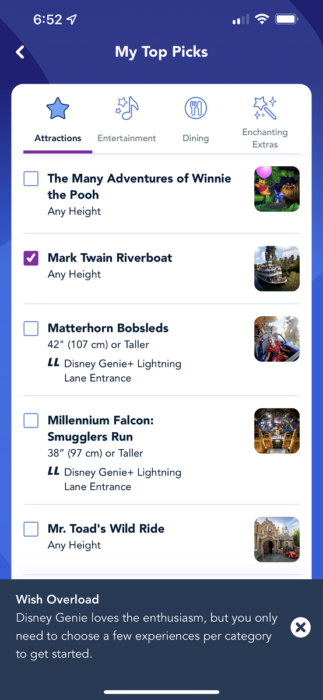 Select more than 9 and you'll be given a "Wish Overload" message.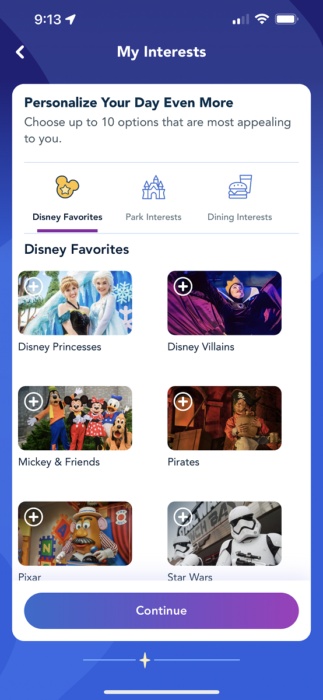 Next you're given the option to select your interests. Categories include Star Wars, Park Classics, Experiences for Little Ones, and many more.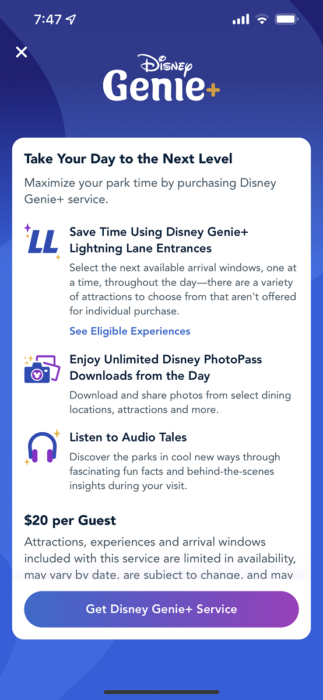 Now comes the upsell. You're given the option to purchase the $20 per-a-person Genie+ add-on which gives you the ability to make Lightning Lane reservations.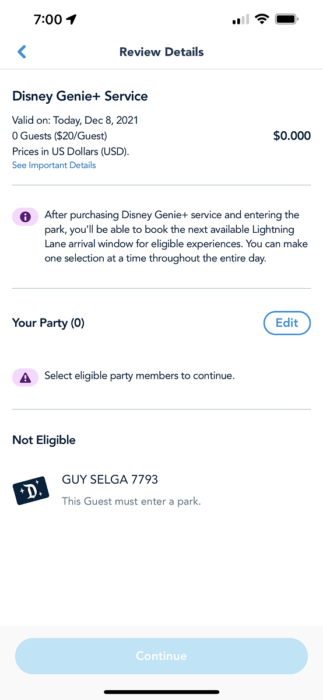 Genie+ can only be purchased after your ticket has been scanned and you are inside Disneyland or DCA. The continue button will be greyed out if you try to do it before you've entered the park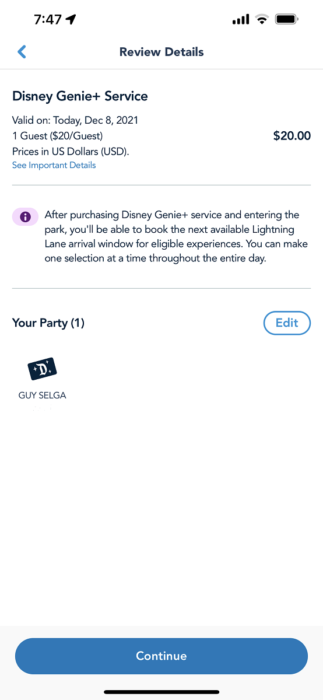 If you're in the park the price will be displayed and you can press continue.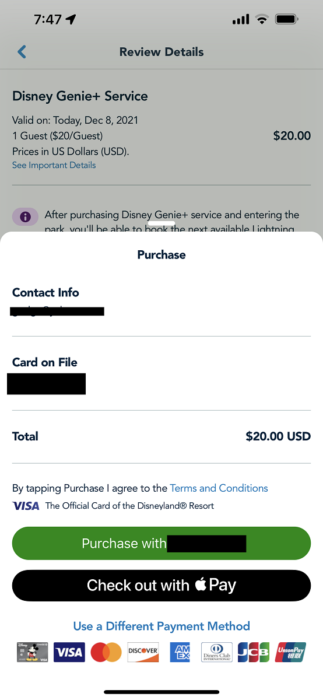 You're now given the option to pay with credit card or Apple Pay.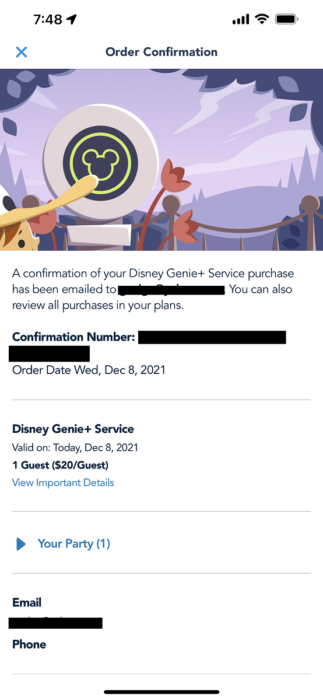 A confirmation screen will be displayed and a receipt will be emailed to you. You may want to screen capture this confirmation, just in case.
How to use your Disney Genie Itinerary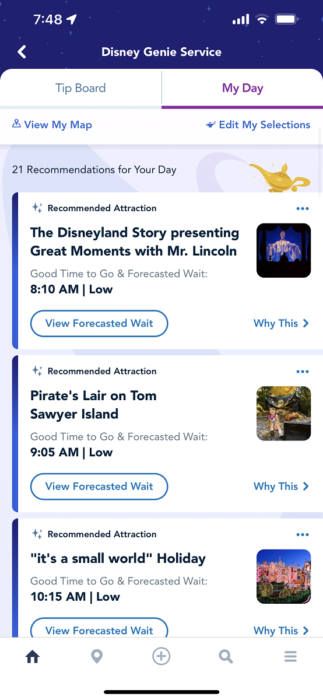 Your Disney Genie itinerary will now appear with and show you where to go. We found this feature to be beyond worthless. As you can see in the image above, Genie wanted us to go to Great Moments with Mr. Lincoln and Pirate's Lair as our first two attractions. These are undoubtedly  great attractions, but they're not things that should be done in the first hour the park is open when most headliners have the shortest wait times they'll have all day.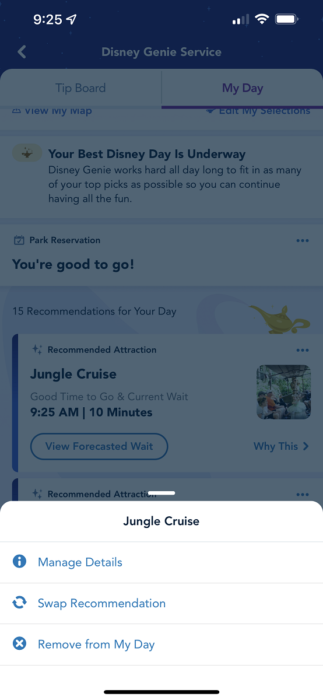 If you're not interested in a ride, or you've already experienced it, you can press the three dots in the corner of the attraction and swap or remove it from the list.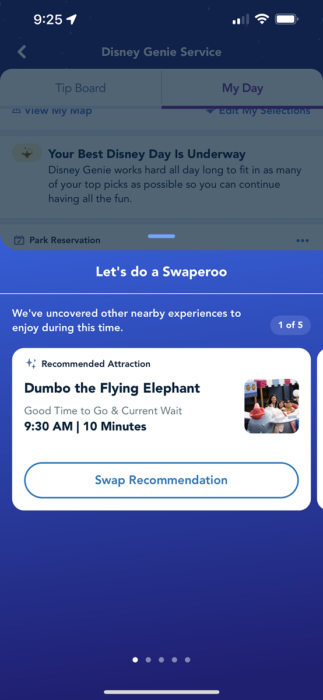 Here you can see Genie offering several different attractions to swap.
How to make a Lightning Lane reservation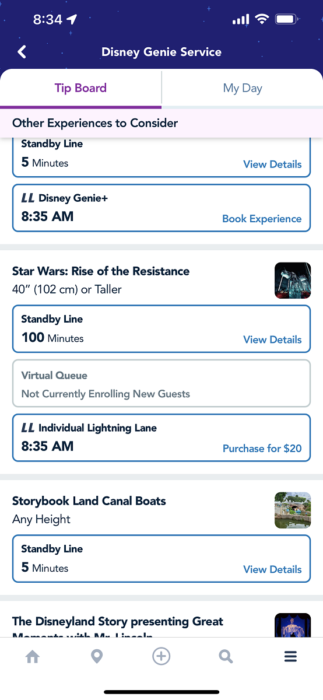 Now we will make a Lightning Lane reservation. Press the "Tip Board" tab near the top of the screen and you'll be shown wait times and Lightning Lane return times for every ride in the park.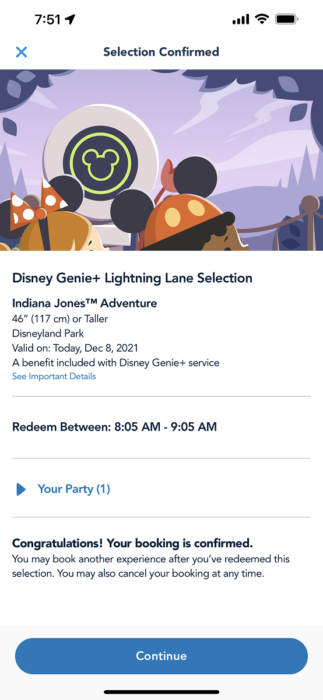 Press the Lightning Lane button for your selected attraction and then press continue to confirm your selection.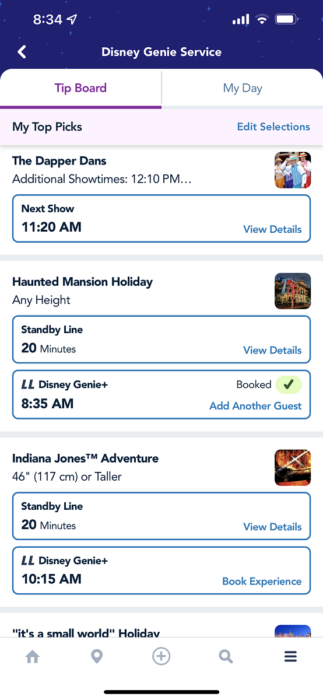 Your Tip Board will show your Lightning Lane reservations as "Booked" with a green checkmark, as well as your return time. It's important to note that Lightning Lane reservations can only be made for attractions a single time each day. Meaning if you ride Space Mountain with a Lightning Lane reservation in the morning when the park is empty, you can't make another for it when the park is busier later in the day.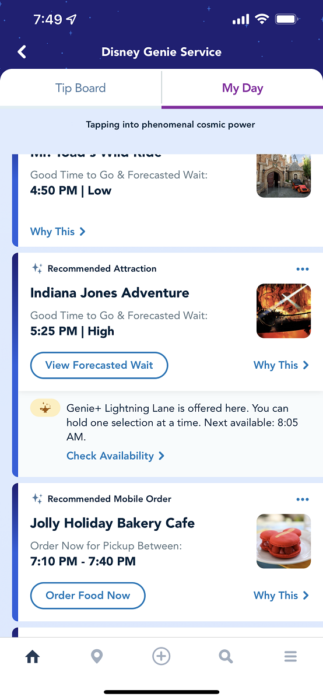 You can book one Lightning Lane reservation at a time, and can either make another selection after one hour, or once you use your previous Lightning Lane selection, whichever comes first. For example, If I have a Haunted Mansion reservation for 8:05 AM, I can make another reservation at 9:05 AM. But if I arrive at Haunted Mansion at 8:30 AM, I can immediately make another Lightning Lane reservation after I scan my ticket at the entrance of the ride. When it's time to ride simply scan your park ticket (or barcode inside the Disneyland app) at the ride's Lightning Lane entrance. If your Lightning Lane reservation is further than 2 hours away you must wait 2 hours until you can make another reservation.
Lightning Lane entrances are clearly marked at rides that offer them.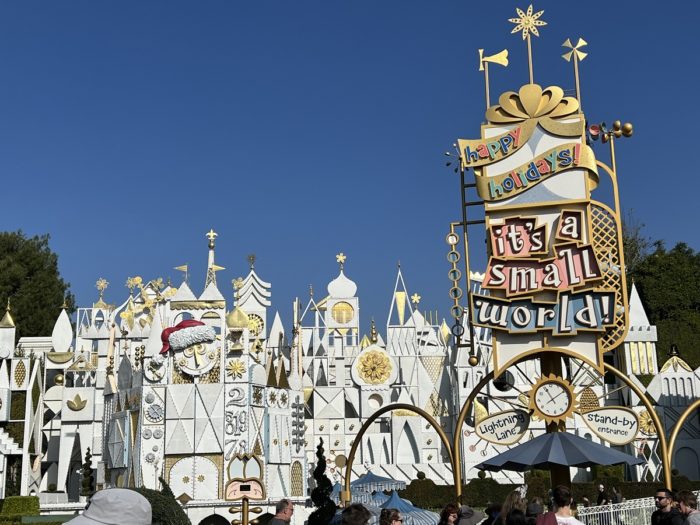 One line will be dedicated to the stand-by queue, and another will be for the Lightning Lane. This is the same way the old FASTPASS system worked.
Don't look down at your phone the whole time!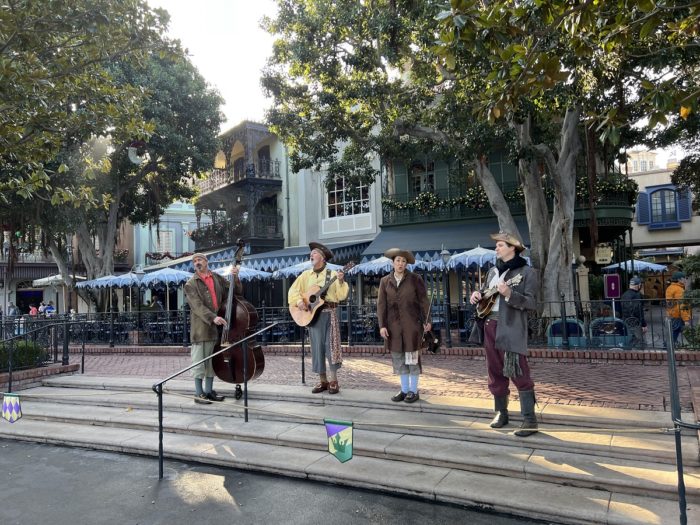 It's easy to keep your eyes glued to your screen and not realize that you are doing so. When I was fiddling with Genie during my visit I didn't even realize I walked by some charming live entertainment happening a few feet away from me. Don't let this happen to you. It's still important to stop and enjoy the smaller forms of entertainment in Disneyland.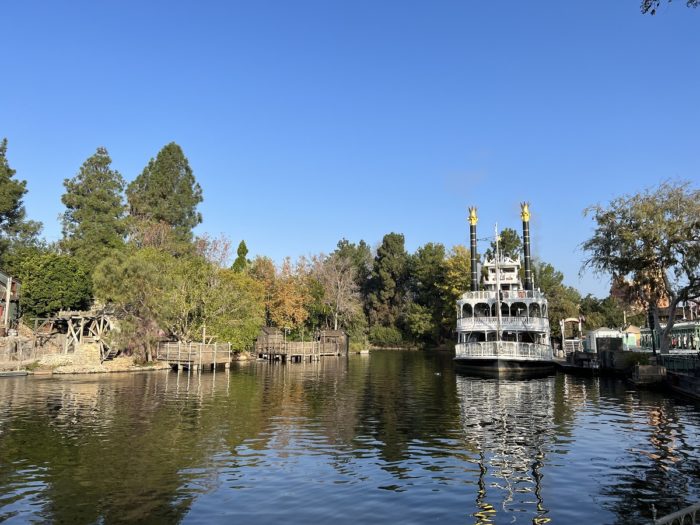 You're in one of the most beautiful tourist destinations in the world. Be sure to stop and soak it all in every once in a while.
Tips and advice for using Genie+
The number of Lightning Lane reservations available is limited, so Lightning Lane doesn't eliminate the need to arrive early. In the old and free FASTPASS system, Disney would normally allocate 75%–80% of a ride's hourly capacity to FASTPASS riders. In practice, that meant Disney put three or four people from the FASTPASS line on the ride for every one person it took from the stand-by line. But even with a separate line for FASTPASS riders, people often waited 30 minutes or more in the FASTPASS line once they returned to ride.
Disney hasn't said how much of each ride's capacity is now for sale. But because using a Lightning Lane costs real money, we believe Disney will want to set an upper limit on how long people will wait in the Lightning Lane—for example, something like 25%–35% of the posted wait for the Standby Line.
You are allowed to cancel a Genie+ Lightning Lane assignment and book a different one (something that cannot be done for Individual Lightning Lane), so keep checking for a better attraction or sooner time window.
Don't use Lightning Lane unless it can save you 30 minutes or more at an attraction or if the ride is distributing immediate return times.
If you arrive after a park opens, obtain a return time for your preferred Lightning Lane attraction first thing.
Always check the Lightning Lane return period before obtaining your reservation. Keep an eye out for attractions whose Lightning Lane return time is immediate, or at least sooner than the standby wait.
Don't depend on Lightning Lane being available after noon during busier times of the year.
Make sure each ticketed person in your party has a Lightning Lane return time. Reservations are tied to each individual admission pass and may not be transferred.
With Genie+, maximize efficiency by always obtaining a new Lightning Lane return time for the next attraction while waiting to board the previous one.
Attractions may not dispense Lightning Lane reservations while they are closed for technical difficulties or special events.
Which are the most popular Lightning Lane rides?
The most in-demand in terms of Lightning Lane reservations:
Big Thunder Mountain Railroad
Haunted Mansion
Indiana Jones Adventure
Space Mountain
Guardians of the Galaxy Mission: BREAKOUT!
Toy Story Mania
You should prioritize Lightning Lane reservations for these attractions to avoid long wait times until your reservation time arrives. Also, these attractions are the most likely to "sell out" on busy days, but so far we've only seen this on days with the highest crowd levels.
Any questions?
We'll be monitoring the comments of this post and try to answer any questions you may have. Also, we'll update the post as necessary in the coming months.
Genie doesn't have all the answers! Be sure to check out our Disneyland Crowd Calendar, which rates every day of the year on a scale of 1 to 10 so you can see how busy Disneyland and DCA will be during your visit. Also check out our Disneyland Touring Plans. These itineraries can show you how to beat the crowds and spend less time in line at your favorite rides. Our Touring Plans can also be personalized! All of our tools are used by hundreds of thousands of visitors each year and are constantly being updated by our in-park team of researchers and data scientists.
Have you used Disney Genie yet? Are you planning on using it during your next visit? Do you have any questions? Let us know in the comments.