Where You'll Find Last-Minute Disney Dining Reservations: Late Summer 2021
Every Disney World blog can tell you that in order to get that precise restaurant you want, at the precise time, you need to be on top of making dining reservations.  But what if you didn't?  There are many good reasons to book dining on the spur of the moment, knowing that you'll need to be more flexible about where and when you eat.  I've been tracking reservations that can be made on less than a week's notice, and today we'll take a look at trends over the last couple of months, as well as some great places that you'd be likely to find a table in September.  The good news is: there are a ton of options right now.
General Trends
Last-minute dining availability has definitely been trending upwards over the last few months. The chart below shows the average number of restaurants with open reservations for dinner when searching 6 days out.  In May, if you were searching at just under a week out, you'd usually find about 20 restaurants with some availability. The number of returns began steadily increasing shortly after the Fourth of July, and today it wouldn't be uncommon to find 40 or 50 different options.

There are a few reasons for this.  First, and perhaps most obvious, Disney has reopened 12 restaurants since early May; it's logical that increases in capacity lead to more availability.  But the last time I did arithmetic, 20+12 was not 40 or 50, so all that extra seating isn't coming just from re-openings.  There are two other factors that are driving these trends: increased capacity at all restaurants as social distancing measures were removed and new Cast Members were hired to bring restaurants nearer to their normal staffing quotas, and decreased demand as attendance has dropped off beginning in early August.
The average number of spots per restaurant has also increased, rising from about 1.5 in May to just under 2.5 in late August.  That's helpful because it increases the likelihood that you'll find a time that works well with your schedule.
How We Do the Math
Time for a quick recap of where this data comes from.  Every day, I search for dining reservations for that day and the following 6 days.  Availability is calculated as the percentage of times that a restaurant appears in searches for a given meal period.

For this post, availability was calculated using searches for dates from 8/14 to 8/28, and each date was searched seven times.  That means that to score 100% dinner availability, a restaurant would have to appear in each of 98 searches made across those dates.
Top Picks
A little over half of all open restaurants are appearing in more than 75% of searches right now.  We've seen in the past that accessibility and quality don't correlate at all, but with that many options you're sure to find something tasty.  Availability scores shown below are for dinner only, but for those restaurants serving lunch, the availability is usually similar.
At the Parks

In the Magic Kingdom, the Skipper Canteen offers a great option for plant-eaters and carnivores alike with dishes ranging from Curried Vegetable Stew to "Tastes like Chicken" Because it is! (I had the chicken last week and it was excellent, can recommend.)  Our review gives some tips on the secret menu items as well.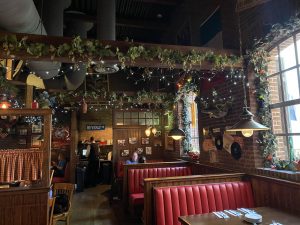 Moving over to Hollywood Studios, Mama Melrose's offers Italian fare and a neighborhood restaurant vibe.  Or, if you'd prefer to be reminded about keeping your elbows off the table, 50's Prime Time Cafe offers a great interactive experience and comfort food favorites such as fried chicken and pot roast.
At EPCOT, Garden Grill is an all-you-care-to-eat meal with a character experience that is currently modified.  Our reviewers still found it a great meal.  Besides, who doesn't love a rotating restaurant?
Closing with the Animal Kingdom, Tiffins is routinely rated one of the best restaurants at Disney World for more adventurous diners. If you're looking for something a little less adventurous and a little easier on the wallet, Tusker House is currently serving a modified character meal with a family-style menu that was well-reviewed when the restaurant reopened in June.
What's hard to get?  Sci-Fine Dine-In at Hollywood Studios and Yak & Yeti at Animal Kingdom both came up in less than 10% of searches.
At the Resorts

The Grand Floridian Cafe pops to the top of this list, coming up in every single search — it's the only restaurant in this time period to make that 100% mark.  It isn't because of quality though; this restaurant has an excellent menu including a Buttermilk Fried Chicken so good that Len ordered it twice.
In May a dinner reservation at Chef Mickey's was a rare find, with almost no last-minute availability, and when our team reviewed this family-style character meal last year they felt it was a good value.  It's easier to score that seat today as it's appearing in 3/4 of all searches for dinner reservations. This change is most likely a result of other character meals reopening to meet some of the demand for Mickey & Minnie experiences.
What's hard to get?  Beaches & Cream, Sebastian's Bistro, and 'Ohana all clock in with less than 10% availability.
At Disney Springs

Some of the best restaurants with last minute availability are at Disney Springs.  Wine Bar George is the #3 rated spot by Touring Plans users, and our review team loved it too. This eatery, serving mostly small plates, is available in 84% of searches. The BOATHOUSE is another well reviewed and highly available location, ranked at #12 overall by our readers.
What's hard to get?  Apparently, it's themed environments with animated animals and sound effects.  Rainforest Cafe turns up in only 16% of searches, and T-REX was the only restaurant that I didn't find a single reservation for in this 14-day window.
What to Take Away
Availability for last minute dining is very high right now.  Typically, close to 60% of the restaurants serving a particular meal period will turn up in a search for times in that window.
If you're looking for something that's really hard to get, your best bet is still to plan and reserve in advance.
Since availability is so high, you may have success with the Touring Plans Reservation Finder, even if it's only a day or two until the reservation time you're looking for.
With the slowdown in August heading into typically slow September, there's no reason to believe that last-minute reservations will become significantly harder to get until October draws near.
What's your favorite place to look for a last-minute reservation? Let us know in the comments!