Chill While Others Thrill: Skipping Disney World Thrill Rides, Part I
Walt Disney World's more thrilling attractions may not be part of your plans for multiple reasons. Maybe you simply don't enjoy abrupt dips and drops, are prone to motion sickness, have a bad back, have a child who doesn't meet height requirements, or are visiting Walt Disney World while pregnant. Whatever your reason for preferring more relaxing attractions and experiences, you can have as much fun taking a chill as the more adventurous people in your party do seeking a thrill.
Part I of this article looks at some Magic Kingdom attractions where either all or some of your companions may break away for some thrills. While they have their fun, you may be surprised by the number of ways a non-thrill rider can see a whole other side of Magic Kingdom. Part II will focus on Epcot, Disney's Hollywood Studios, and Disney's Animal Kingdom.
Magic Kingdom
With its three Mountains, the new Seven Dwarfs Mine Train, and several spinning attractions, there are many opportunities for those who avoid thrill rides to relax in Magic Kingdom. Instead of experiencing thrills, you can experience the details and attractions that the thrill seekers in your party may not have much time to see.
Splash Mountain and Big Thunder Mountain Railroad are both in an area of Frontierland that is often bustling with activity. In this corner of the park, there's not a lot to do besides experiencing these two rides. One option is to take a stroll and enjoy the views from the out-of-the-way boardwalk running along the Rivers of America between Frontierland and Liberty Square. Another option, which also offers shade and quick access to a restroom, is to find a seat near Splash Mountain in the underpass for the Walt Disney World Railroad.
Meet back up in Frontierland: The Splash Mountain underpass is a good place to meet. Bonus: You can meet Toy Story Friends in this same area, either before or after you meet up with your party.
Seven Dwarfs Mine Train is less intense than Magic Kingdom's Mountains but still may be a bit too thrilling for some. This attraction has an absolutely gorgeous and interactive queue that warrants going through the line with the rest of your party. You can escape before the boarding area by asking a Cast Member to show you the exit. While you wait for everyone else, wander back toward Beast's Castle to savor a cinnamon roll or try the frozen signature drink LeFou's Brew at Gaston's Tavern. Or head straight for the back of the castle and follow the right-hand path along the water to reach Liberty Square's Sleepy Hollow Refreshments, where there is some quiet outdoor seating. 
The Barnstormer is a short but lively coaster in the Storybook Circus section of Fantasyland. While others ride, you can immerse yourself in the carnival atmosphere, especially at night when the circus lights up. Or see a performance by one of the Streetmosphere troupes that entertains in this area, including Royal Majesty Makers and Storybook Circus Giggle Gang. Browsing at Big Top Souvenirs is another option.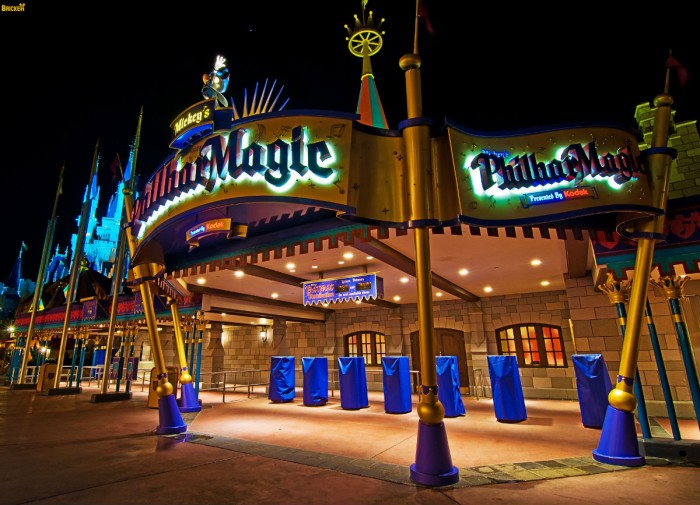 Other good options in Fantasyland include using a DisneyFastpass+ for Under the Sea – Journey of The Little Mermaid, which works especially well if others in your party have a Fastpass+ for either Dumbo or the Barnstormer. Or enjoy the 3-D movie attraction Mickey's PhilharMagic and its cool theater.
Meet back up in Fantasyland: In the Storybook Circus section or if experiencing Journey of The Little Mermaid, meet at Big Top Souvenirs for a yummy circus treat. Otherwise, a central meeting place for Fantansyland's other attractions is the Friar's Nook counter-service restaurant (seating is outdoors).
Space Mountain's location in Tomorrowland and its generally longer line even with DisneyFastPass+ provide an excellent opportunity to experience a couple of the most relaxing attractions in Walt Disney World. Take a trip on the Tomorrowland Transit Authority People Mover or see Walt Disney's Carousel of Progress. In fact, depending on the current wait time for Space Mountain, you may be able to make two go-arounds on the restful People Mover. Another option in the evening is to enjoy the #INCREDIBLESSuperDanceParty.
Meet back up in Tomorrowland: Meet at the dance party or tell your party that you will be sitting on one of benches surrounding the base of the People Mover. Tip: This is a perfect place to "people watch" while you wait.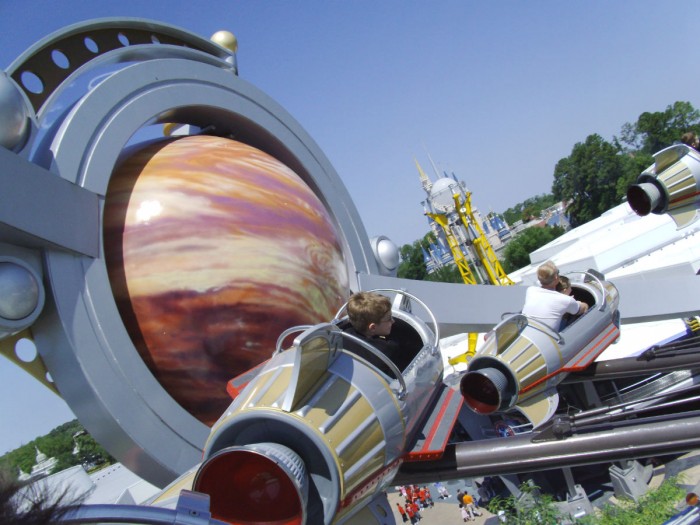 In addition to its coasters, Magic Kingdom has several spinning attractions. Astro Orbiter (in Tomorrowland) and Dumbo (in Fantasyland) provide another chance to enjoy the options mentioned earlier for Space Mountain and the Barnstormer. When waiting for your party at the Mad Tea Party (in Fantasyland), head toward Tomorrowland to find a path leading to Cinderella Castle's peaceful wishing well. The tea-cup-energized members of your party can meet you there. For Magic Carpets of Aladdin (in Adventureland) absorb the incredibly detailed Old West atmosphere, grab a seat or snack at Sunshine Tree Terrace, or browse through nearby shops. The area is small enough that your party should be able to meet you at any of these locations.
What other tips or ideas do you have for non-thrill riders at Magic Kingdom? Stay tuned to read about your options when you skip the thrills at the other parks.