Theme Park Enjoyment Index for JUNE 2022 (Spider-Man crashes, Nemo Show at AK, Universal Orlando turns 32 and more!)
The Theme Park Enjoyment Index (TPEI) is a monthly look at the events that have made an impact, both positive and negative, in this wild world of theme parks we all love so much. We'll assign each piece of news a positive or negative number, tally it all up at the end and chart it. The range goes from 0-100 with 0 being 
Stitch's Supersonic Celebration
 while a perfect score of 100 would be 
Pandora: The World of Avatar
.
Remember, all links in TPEI open up in a new browser window. So feel free to check stuff out, we'll be here when you get back!
*Universal Studios Florida Turns 32
Now I totally understand big milestones in the theme park Universe, such as when a theme park hits a 20th, 25th, or 50th anniversary, but I do find it odd how many "birthdays" of theme parks – even characters inside the parks (Mickey Mouse turns 94 this year…) – we celebrate every single year. This month happened to be the 32nd anniversary of the grand opening of Disney's first true competition in the theme park world: Universal Studios Florida. The story behind how USF was created is a fascinating one, including the next level bonkers detail of Universal first reaching out to other movie studios to partner with on the endeavor including Paramount Pictures, who at the time was led by none other than Michael Eisner. Universal pitched their idea of a theme park/working movie studio to the Paramount execs, only to see their idea get fast tracked and opened first by Disney with the creation of Disney-MGM Studios by the Mouse's new CEO…Michael Eisner. Everyone at Universal's pitch meeting to Paramount says that Eisner was there. Everyone except Eisner himself, who says he wasn't there.
Regardless of the shenanigans involved, USF opened up in the Summer of 1990 (a full year after Disney-MGM Studios opened at WDW) and over the course of the next three decades became the foundation of what is now the Universal Orlando Resort. One of the people to wish a Happy Birthday to USF was artist Drew Stuzan. While many reading this may not know his name, I promise every single one of you have seen Struzan's work. An icon of movie poster design, Struzan was the artist behind many of the most well known movie posters in modern history including Back to the Future, Hook, The Goonies, The Muppet Movie, Star Wars and Harry Potter, just to name a few.  As it turns out, Struzan has also done his fair share of work for the Disney and Universal theme parks…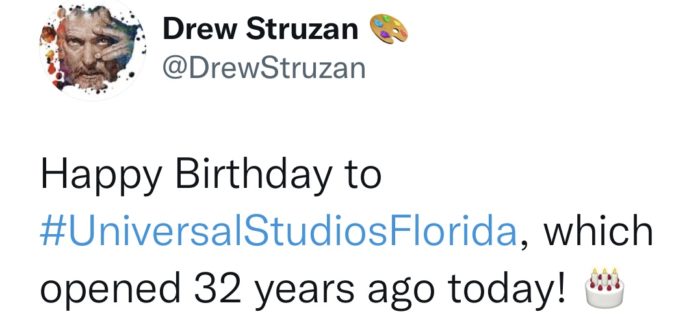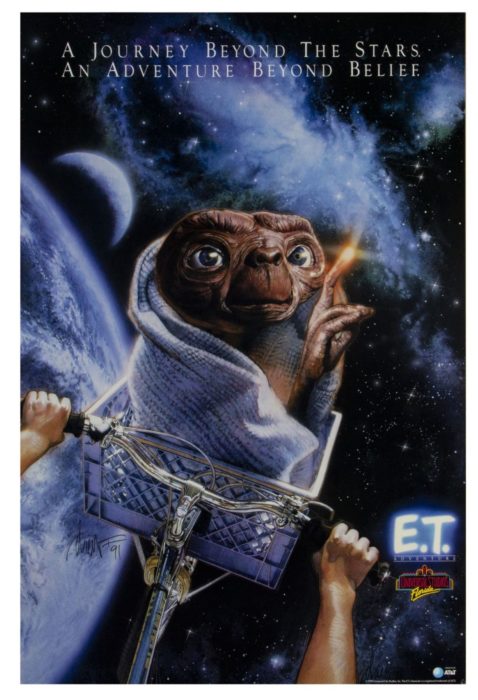 The picture below was originally created for a charity, but Universal loved it so much they began to use it for marketing the theme park. Struzan's own son was the character model for the kid riding the bicycle with E.T.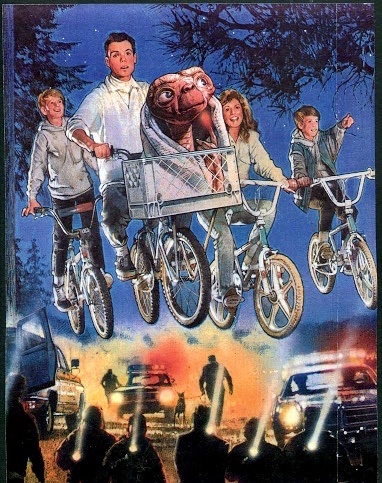 Orlando has had a good amount of classic billboards over the years, but very few are as memorable as this USF one featuring E.T.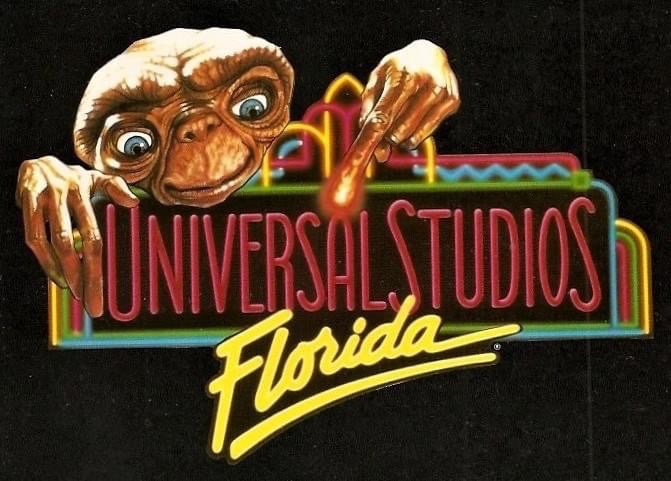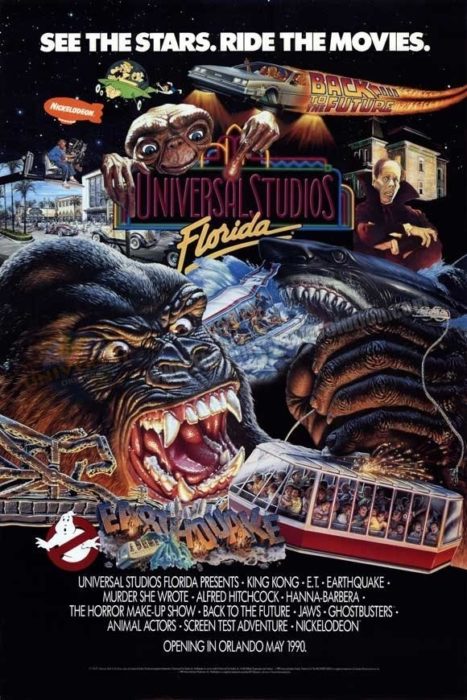 TPEI Score: + 2 Save room for a lot of cake this year aswe have many anniversaries and birthdays to celebrate including: EPCOT turns 40, Epoct turns 5,  Guy Selga celebrataes 10 Years with TouringPlans (Your Humble Author's 9 year anniversary is in July), Penelope Toothsome turns 6, the "Kiester Coaster" turns 2, and in August we will celebrate the one year anniversary of Disney putting a DJ on Main Street USA.
*Universal Orlando Announces Escape Room for CityWalk
The overhaul at the Universal Orlando Resort over the last decade has been absolutely incredible. They added Volcano Bay, which immediately became pound-for-pound my favorite park in all of Florida. They built several new hotels, including Cabana Bay, Sapphire Falls, and Endless Summer. Then they completely overhauled the front half of CityWalk, replacing many of third party stores and restaurants with Universal created-and-run venues such as Antojitos, Red Oven Pizza Bakery, and Bigfire.  Sprinkle a little Voodoo Doughnut and The Cowfish dust on top, add in one of the most fun mini-golf places in all of Orlando, and you can pretty much call it a night, right? NAY NAY.
Now it's time for Universal to turn its gaze towards the back half of CityWalk, and a newly announced addition with the first-of-its-kind attraction at Disney or Universal: an escape room. As always, these announcements come out of nowhere. One day in CityWalk, Universal installed a structure that was clearly designed to hold a sign, however at the time Universal hadn't said a peep about what was going in the venue.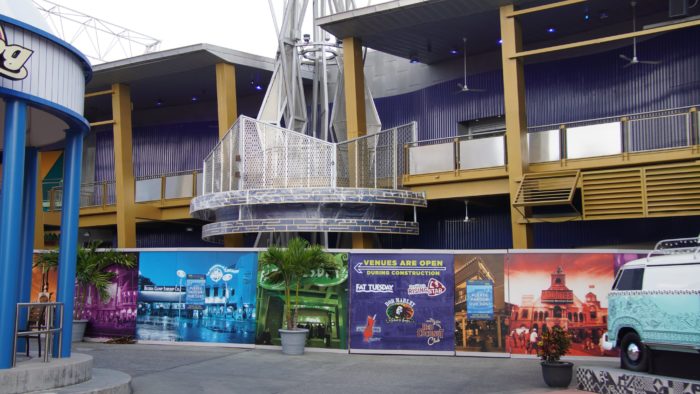 The very next day Universal announced it would not only be opening up an escape room concept, but that it would include the Back to the Future and Jurassic World franchises! Wow!!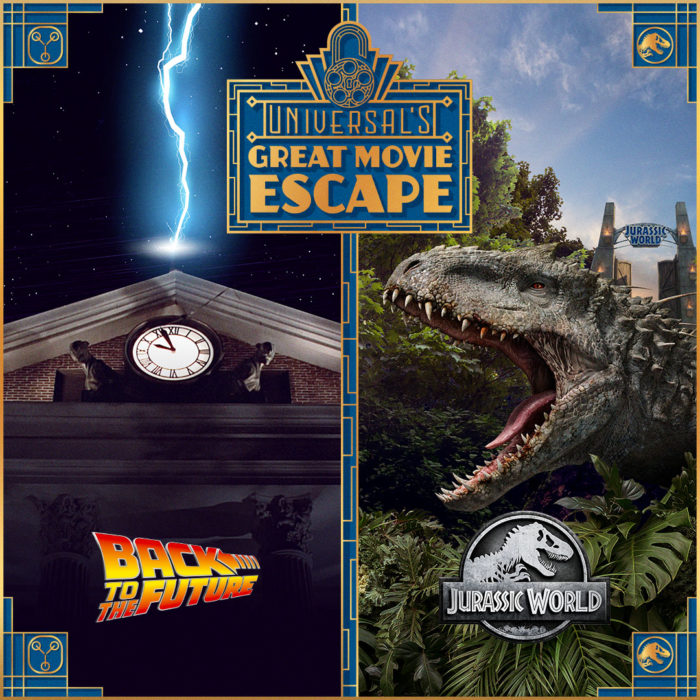 The next day in CityWalk, lo and behold we have official signage for Universal's Great Movie Escape.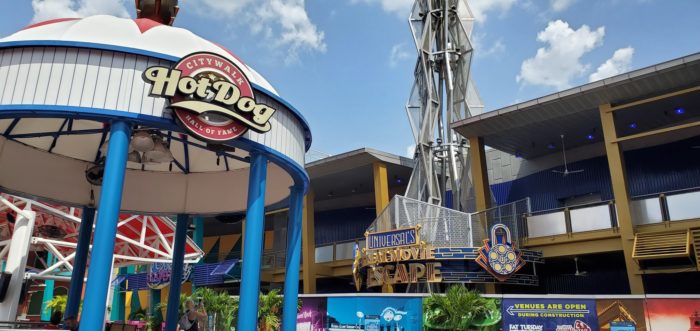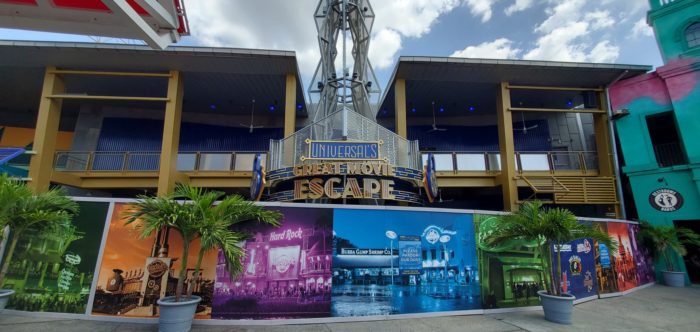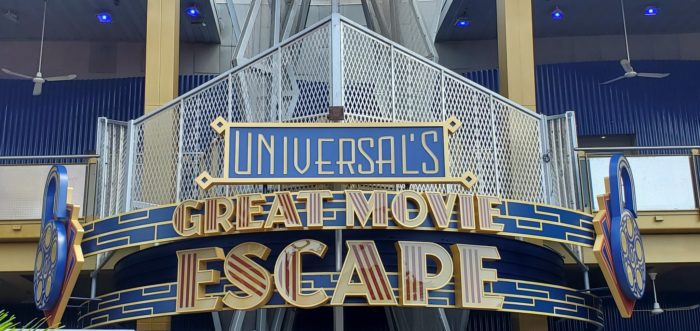 TPEI Score: +8 As always, the theme park Universe is years behind the rest of the world on a hot trend, but they also have the resources to do this right. Many forget Disney was the first to test out the "escape room" concept with the Legend of Jack Sparrow at DHS, and guests couldn't escape fast enough. Here's hoping that fully immersive Jurassic Park and BTTF escape rooms give us the entertainment we crave.
*Our Long National Nightmare is Over
Three Universal Orlando stories in a row? That is a new TPEI record (something we should acknowledge seeing as how we are celebrating our 1 Year Anniversary next month.) This news came as a shocker, as the annoying rotating rubber-covered turnstiles were removed from the exits of the parks, allowing guests to just exit like you do at any Disney theme park. Now I just assumed there was a Team Member with a clicker keeping track of everyone leaving, but our blogger-in-the-sky @bioreconstruct tells us that if you look above in this area you will see automatic people counters have been installed.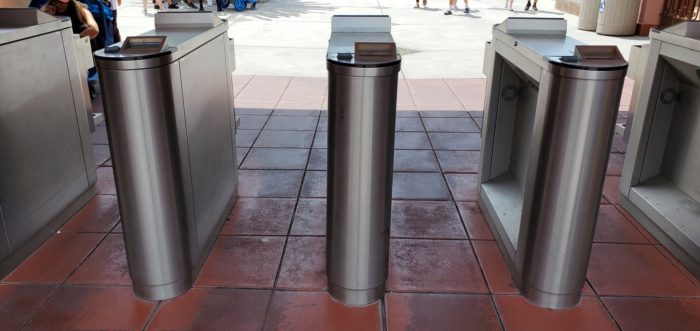 TPEI Score: +1 Anything that gets us in and out of theme parks is a welcome change. We love the new security walk through scanners at the Disney parks (good bye Officer chats-a-lot going through your stuff on a table with a stick) and we love just being able to walk out of a park without trying to squeeze through those turnstiles with our 4 foot tall Bart Simpson plush won at the Springfield skill games (oh that's just us?)
*Finding Nemo: The Big Blue…and Beyond! debuts at Animal Kingdom
One of my favorite shows in any theme park was Finding Nemo: The Musical at Disney's Animal Kingdom. I love the movie Finding Nemo, I love stage shows inside a theater, and I love puppets. A classic Michael Scott win-win-win scenario. Unfortunately when all the Orlando theme parks shut down in March of 2020, some things never came back, and one of those was Finding Nemo: The Musical.
There were "rumors and innuendo" suggesting the show was not coming back, but Disney finally announced the show would return…but with some changes. This month we saw what those changes were as the newly reimagined Finding Nemo: The Big Blue…and Beyond! made its debut at Animal Kingdom.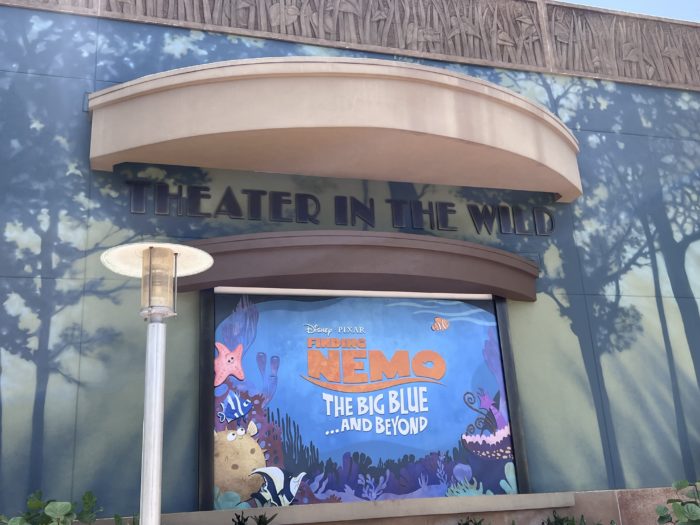 One of the biggest changes is that the show has taken a huge reduction in overall length. While the musical clocked in at 40 minutes, The Big Blue…and Beyond! has been trimmed down to just 25. Those of us in the theme park world are used to cuts though, as we have seen cuts to shows like Country Bears Jamboree and Enchanted Tiki Room, and we've also seen Disney all but remove attractions with a very long running time (Ellen's Energy Adventure's 45 minute attraction was replaced by the 4 minute Cosmic Rewind coaster (plus pre-shows) while the 22 minute Great Movie Ride at DHS was replaced with the 5 minute Mickey & Minnie's Runaway Railway.) The good news is that the show is still awesome as it tells the story of Finding Nemo via the characters from the fish tank of the very same movie.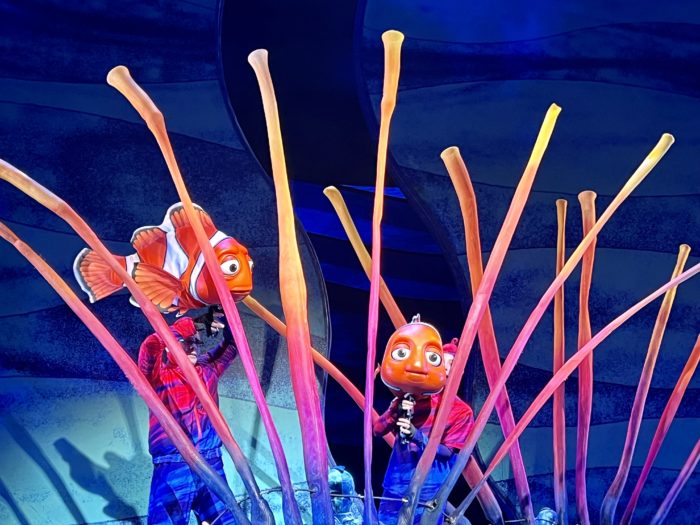 Another change implemented in the 1,500 seat theater is the addition of a gigantic LED screen. This is definitely the future of not just theme parks, but much of entertainment itself. We've seen Universal Studios Florida's brilliant use of a similar screen at the Must See Bourne Stuntacular show in USF, and shows such as The Mandalorian on Disney+ do a lot of filming with screens doing heavy lifting in the backgound.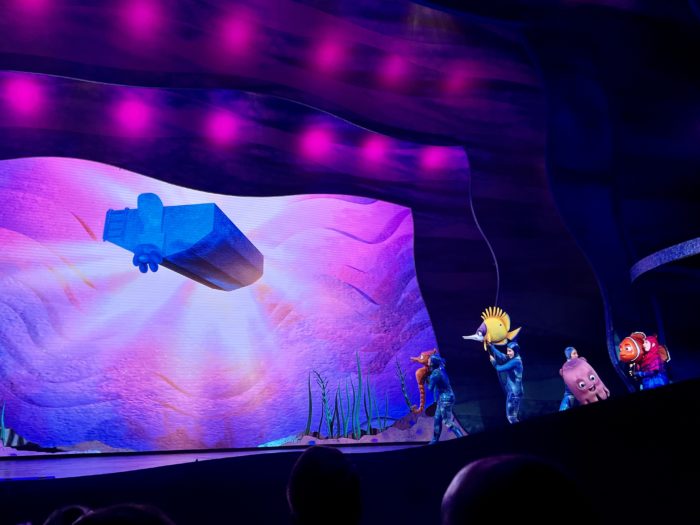 The Big Blue… and Beyond! includes several of the fan favorite songs from the original musical, including In The Big Blue World and Go With The Flow. We mentioned the puppets earlier, those were designed by Michael Curry, whose theme park work includes EPCOT's legendary Tapestry of Nations parade along with the Tales of Beedle the Bard in Universal's Wizarding World. Well the songs are written by Robert Lopez and Kristen Anderson-Lopez, the song writers behind the mega hits in Frozen, Coco, and even "It was Agatha All Along" from WandaVision.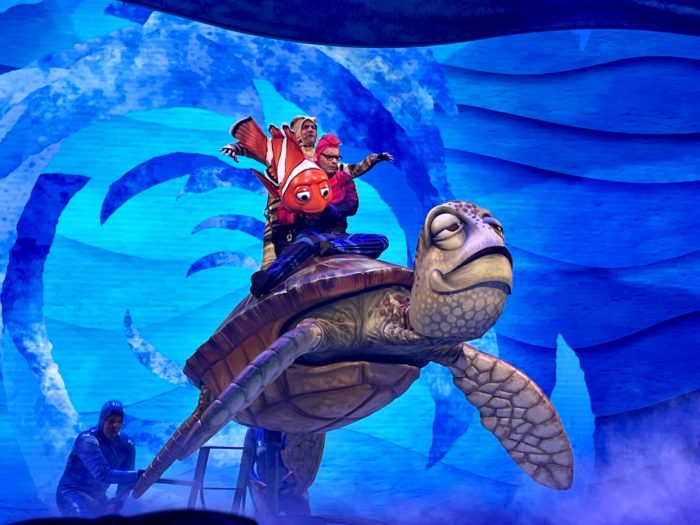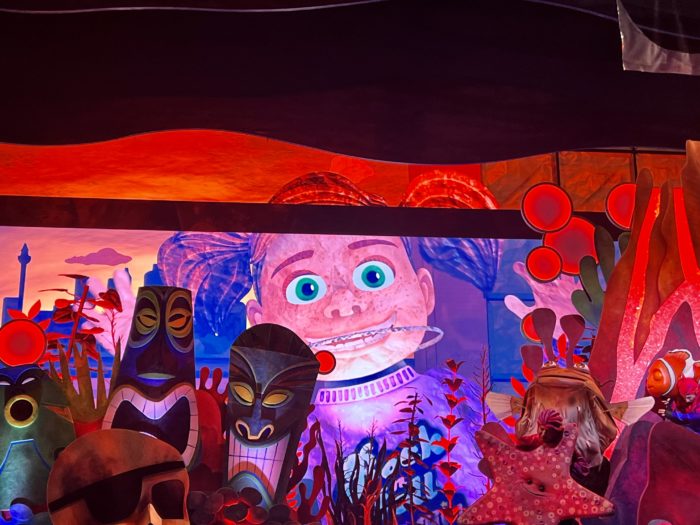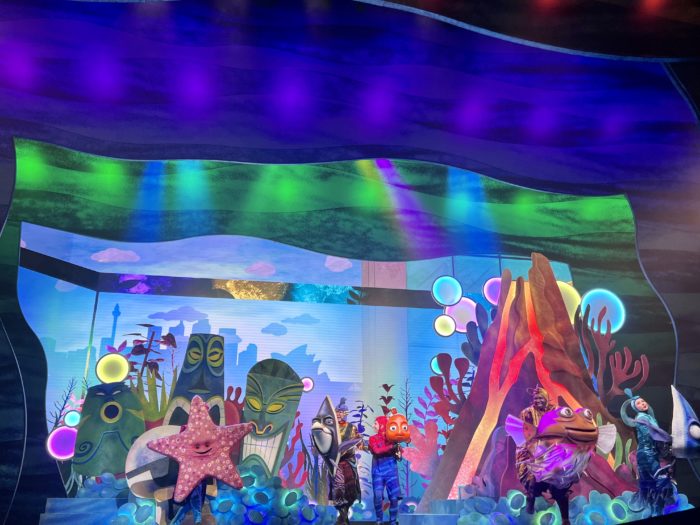 TPEI Score: + 12 With Finding Nemo back in Animal Kingdom and Hoop-Dee-Doo open for business in Fort Wilderness, it's officially time to say NATURE IS HEALING.
*Spider-Man Discovers the Hard Way DCA Not Equipped with Air Bags
While people are still waiting for the Avengers E-Ticket attraction to be announced for Avengers Campus out in California, one thing Disney did put into the area was a fun moment with Spider-Man "web slinging" in the sky. This Spidey just so happens to be a robot, and does a remarkable looking jump in between buildings. Here are some gorgeous photos of this Spidey in action.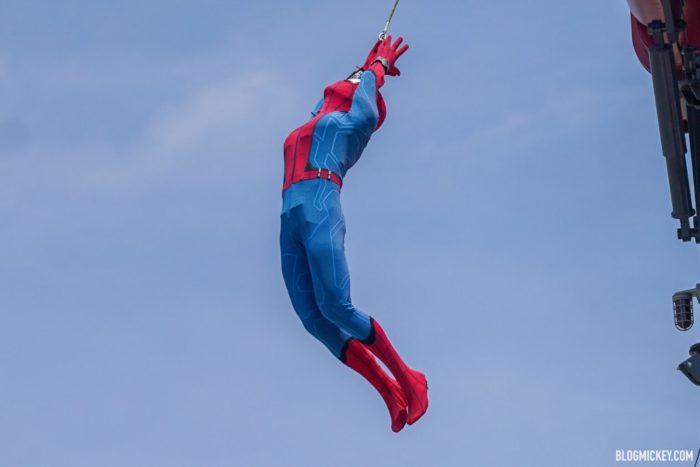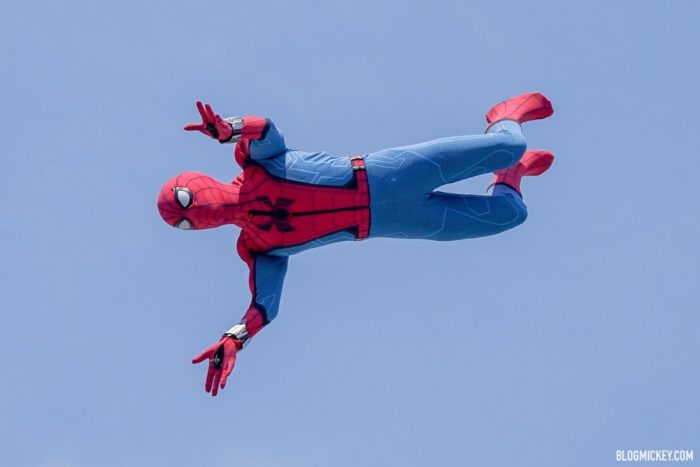 The law of gravity tells us that what goes up must come down, and Spidey came down the hard way this month when a guest videoed ol' web-head crashing and burning into a building (you can watch the video by CLICKING HERE.)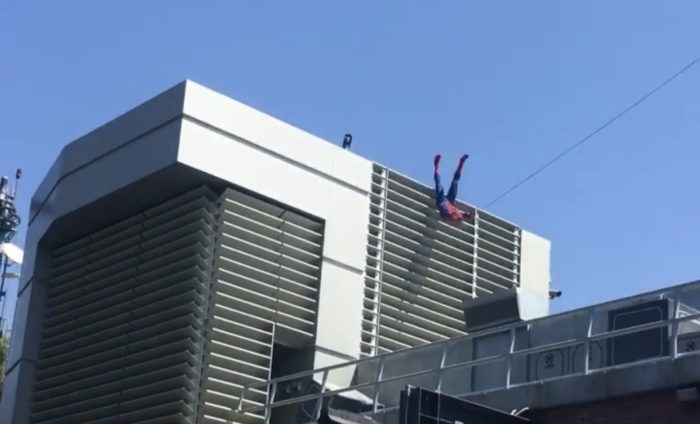 Clearly the Imagineers foresaw that Spidey not sticking the landing could happen one day, so a break-apart wall was installed in the area where he is supposed to "land" in case he (it?) hits the wall.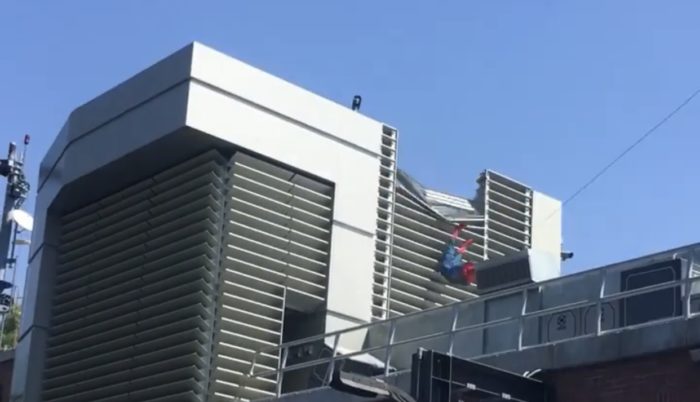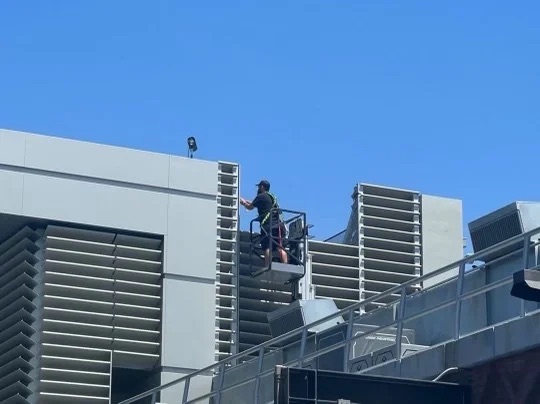 TPEI Score: – 8 While it's never good for something so high profile in a theme park to have such a huge mistake, I'm glad this one happened because it sparked the creative juices of DisTitter as they IMMEDIATELY had videos up using the Spidey crash to comedic effect. Some of my favorites include one by @LeavesOnTheLawn who set the video to a call from Good Ol' JR from the WWE. Twitter user @AllCentralFla brilliantly combined the footage with a memorable moment with Spider-Man 2 with Tobey Maguire. Love the video from @ThemeParkUmpire which used the "sad trombone" sound effect. Several people also saw a natural tie-in with the Jackass movie, and you can see those videos by CLICKING THIS LINK and THIS ONE TOO.
*Universal Declares June FAIR TO FLORIDA Month
As a collector of theme park popcorn buckets, I'll come right out and say it, until recently Universal's popcorn buckets sucked. Disney has had some great ones over the years, including one of my favorites being the Rivers of Light Lotus Flower popcorn bucket. FINALLY Universal has entered the themed popcorn bucket game in a major way with the release of this AMAZING Minions-themed bucket.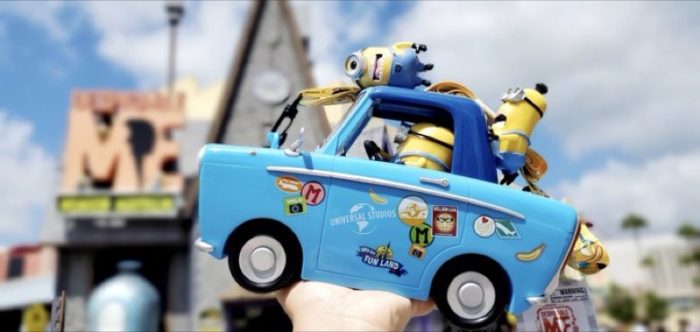 The details are next level. Check out the stickers on this car. You have the Super Silly Fun Land logo (which we recently discussed when looking at the SAT SIX on Universal Studios Hollywood), the Universal Studios logo, and even a Villain Con logo (which "rumors and innuendo" suggest is the replacement attraction for Shrek 4-D in USF.)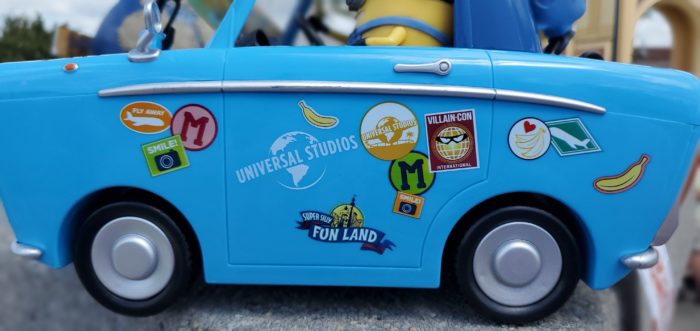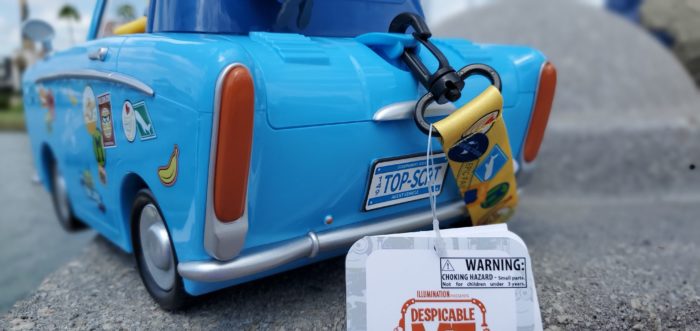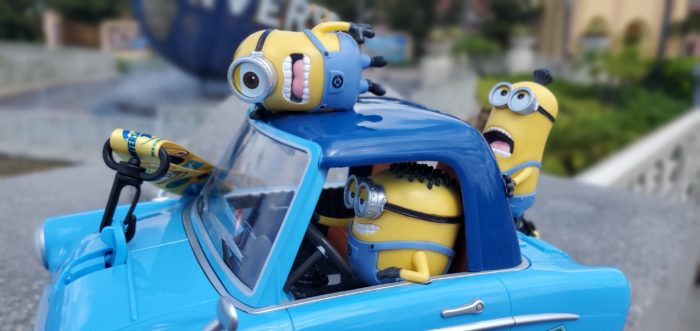 I truly appreciate the "little things" when it comes to Disney and Universal. When they go above and beyond in areas they definitely don't have to. This includes things like Springfield USA branded napkins in USF, Black Spire Outpost having it's logo on receipts for items bought in Star Wars: Galaxy's Edge, and the Despicable Me: Minion Mayhem attraction logo imprinted on the bottom of this popcorn bucket.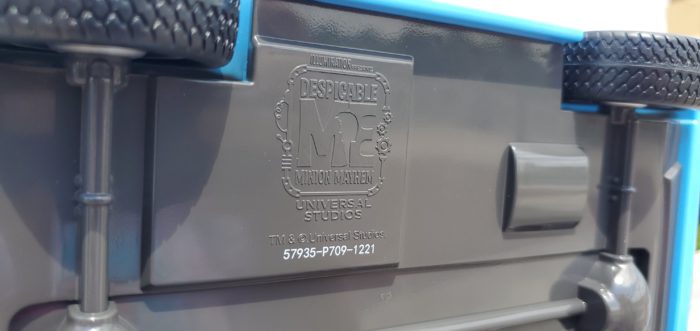 One of the defining characteristics of nouveau designed popcorn buckets at Disney and Universal is that they be completely impractical to actually hold any popcorn. The Minion car bucket checks this box. You do however get your popcorn in an art deco-like cup.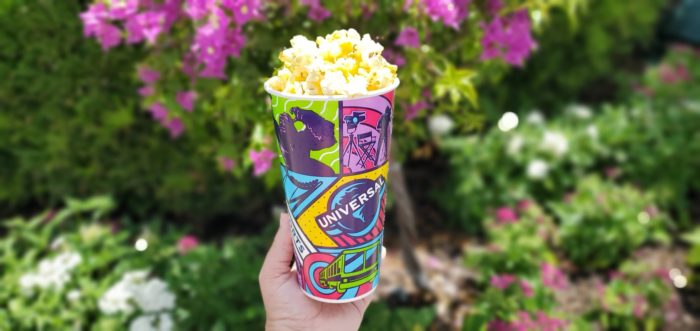 In my experience over the last several years at Disney, many guests are just buying the collectible buckets and don't even want the popcorn. I've been behind several people in line and was asked if I wanted their popcorn because they weren't going to eat it. Considering Disney popcorn is some of the best popcorn in the world, you know I'm not turning that down!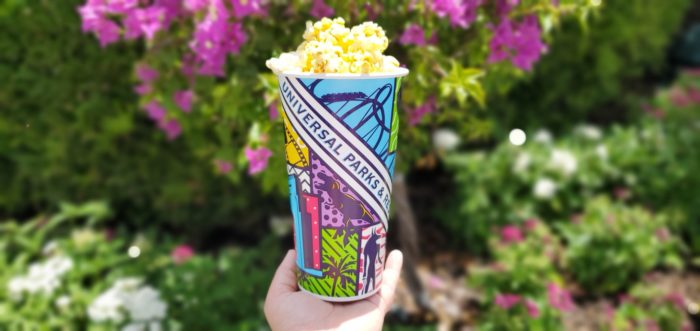 One last new snack note at Universal. Longtime readers know how much we love Chocolate Frogs in the Wizarding World. Heck we've done an entire SATURDAY SIX on them. They said it wouldn't be done…they said it couldn't be done…and today Len Testa wonders WHY it was done. I'll tell you why, because we love them! As far as I'm concerned they are the perfect theme park souvenir. Until now, they were only available in milk chocolate. This past month Universal released a dark chocolate version. Now why would any human on earth prefer a dark chocolate anything over milk chocolate? That I can't answer, but it's always good to have a choice.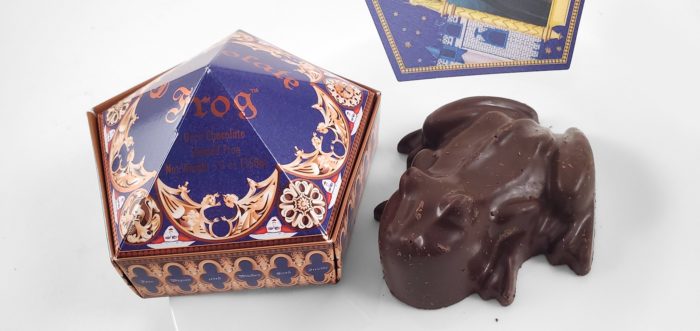 TPEI Score: + 4 Universal fixes one of the only flaws in its game with the Minions popcorn bucket, and it makes me hope that similar cool buckets will be released in the future. I have a lot of ideas for UOR popcorn buckets, including an ornate Mummy Sarcophagus popcorn bucket for when Revenge of the Mummy reopens from its refurb later this year. That one you get for free Universal, the rest you'll need to contact my agent Joseph Matt to negotiate for.
*Speaking of Minions…
This month Universal Studios Florida announced out of nowhere that Monsters Cafe was closed permanently.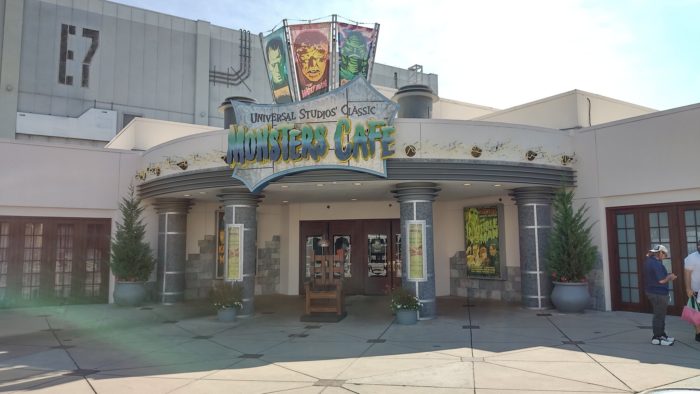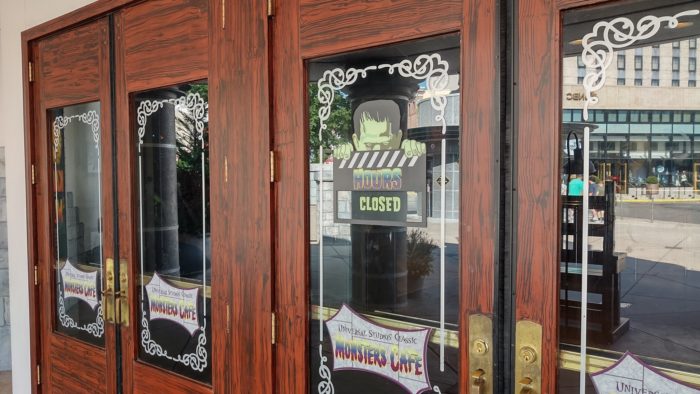 I highly doubt many guests considered Monsters Cafe their favorite restaurant at Universal, but it was unique. I was a huge fan of a previous menu that included giant pizza slices and crinkle cut fries, but found myself mostly skipping the place when it overhauled its menu a couple years ago. Over the years I would often use Monsters Cafe as my go-to example for something ridiculous inside a theme park. For example, back in 2016 for the three year anniversary special of the world famous Disney Outlet Report, I had special congratulatory messages from various people in the theme park world including Jim Hill and Bob Chapek (this was BEFORE he took over for Bob Iger.) Here's what I wrote for Len Testa's testimonial: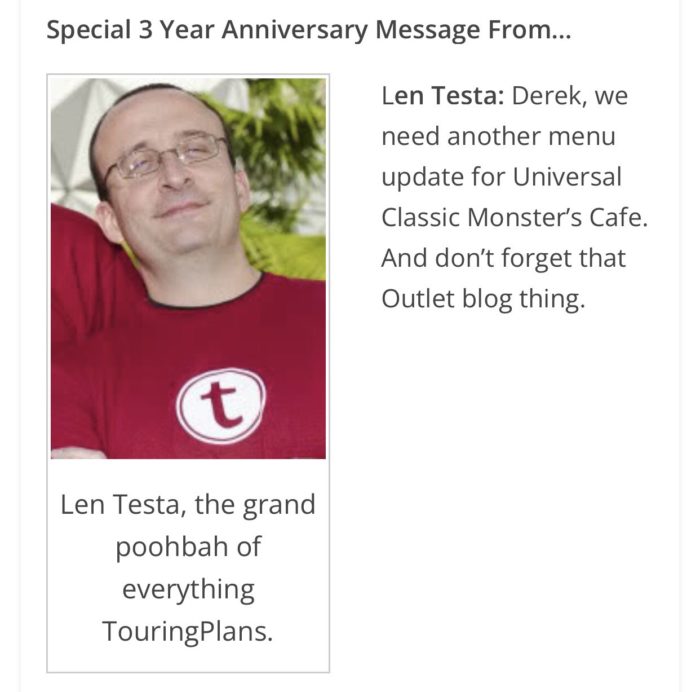 Universal made no announcement about what would be replacing Monster's Cafe, but some interesting graphics showed up on the construction walls surrounded Monsters Cafe.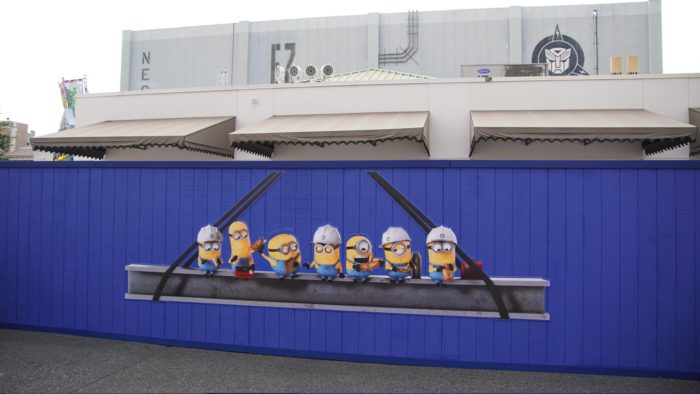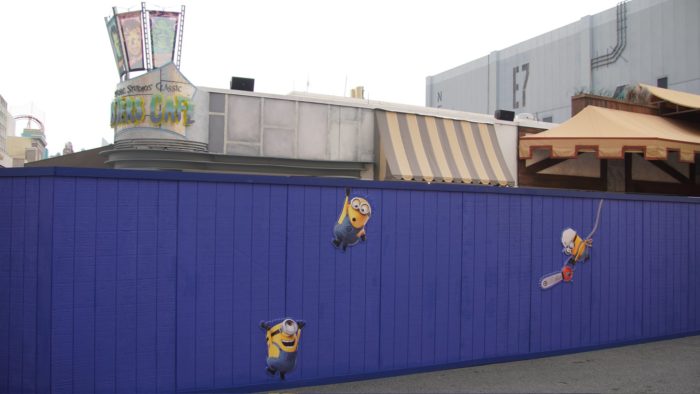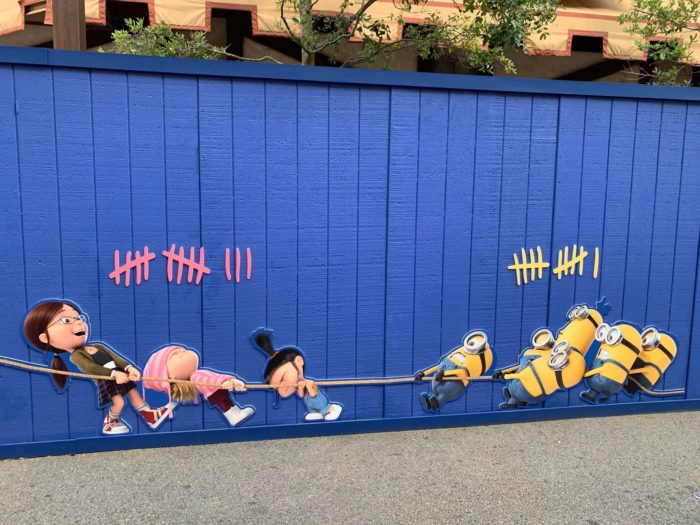 One would think we have a very good chance of a Minions-themed restaurant replacing Monsters Cafe. It would make sense too, because the restaurant is next to where the replacement to Shrek 4D will go, which as we said is rumored to be an attraction based in the Despicable Me Universe. Now, Universal dropped this news out of the blue and I'd like to say no one say it coming, but turns out someone did earlier this year…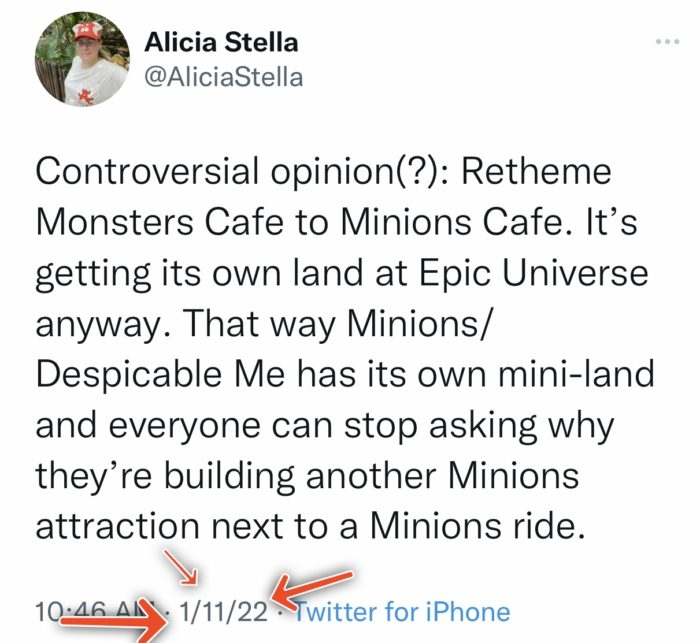 Meanwhile we are preparing for a new Minions movie to be released in theaters next week. In fact, next weekend's SATURDAY SIX is going to be focused on Minions at the Universal Orlando Resort. I understand that statement is a "promise" to some and a "threat" to others. However,  I absolutely adore the Despicable Me brand and are part of the group that can't get enough. The marketing for Minions has been terrific including this ad out in California…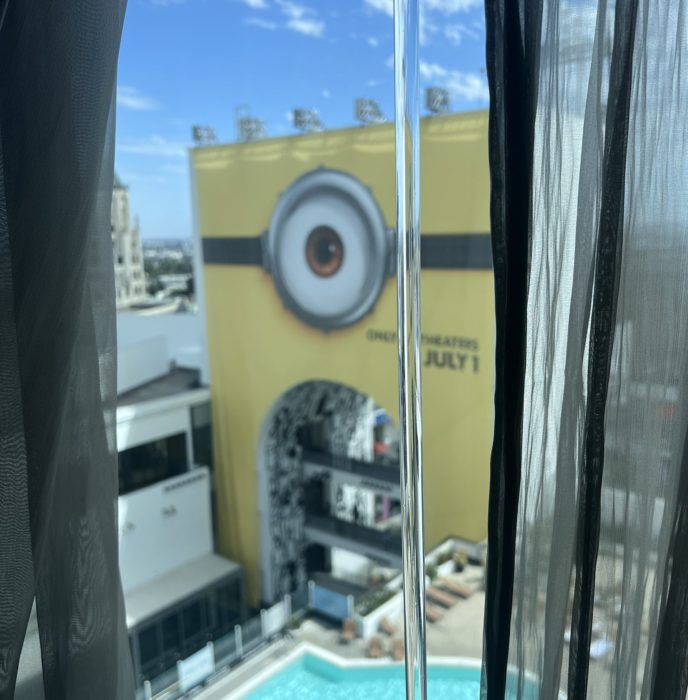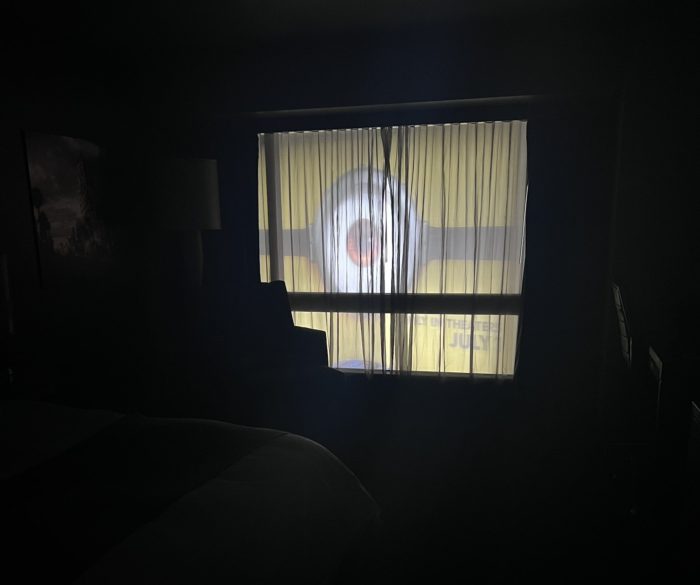 This past week Illumination – the people behind Despicable Me and the Minions – released a video that mashed up the world of Despicable Me and The Office. This was two of my favorite things being smashed together and I loved it! You can watch the video by CLICKING HERE.
Essentially the video is a shot-for-shot remake of the intro of The Office, except using Despicable Me characters (including plenty of Minions.)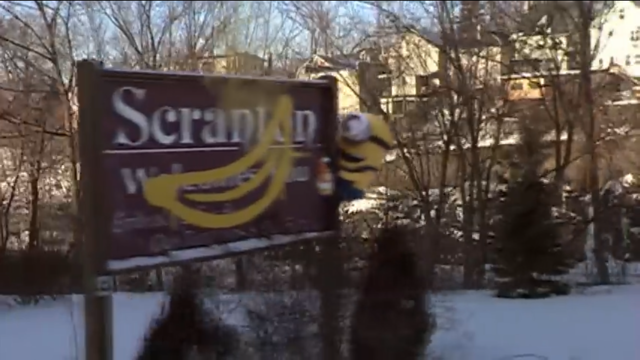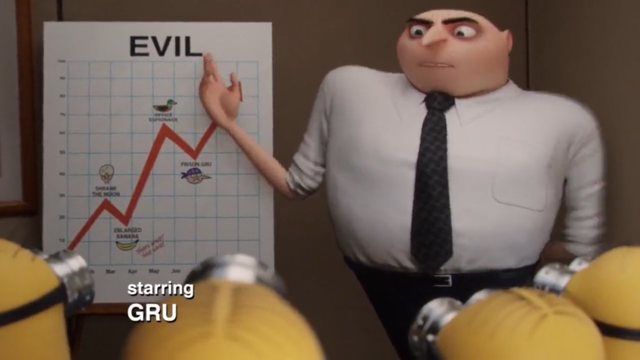 However they also throw in some quick nods to some all-time hilarious moments from The Office, including the time Kevin Malone spilled a pot of his famous homemade chili.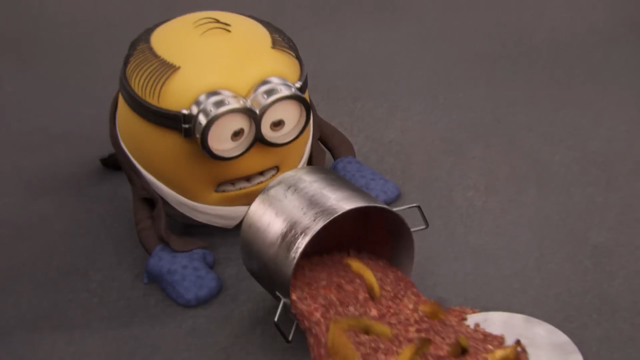 Dwight using the face of a CPR dummy like Hannibal Lecter from Silence of the Lambs.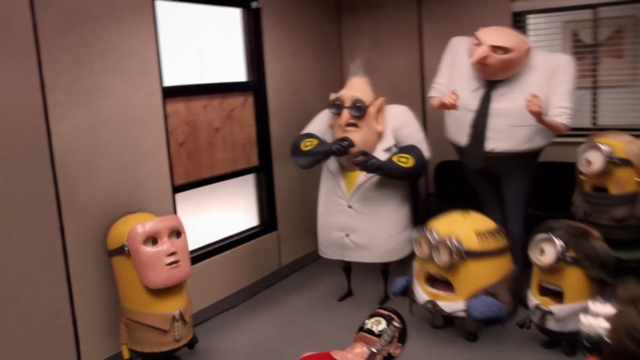 There's other moments too, including the throwing of a cat through the ceiling (and out the other side) from an iconic episode that aired shortly after a Super Bowl. It's one of the most fun things you'll watch all year.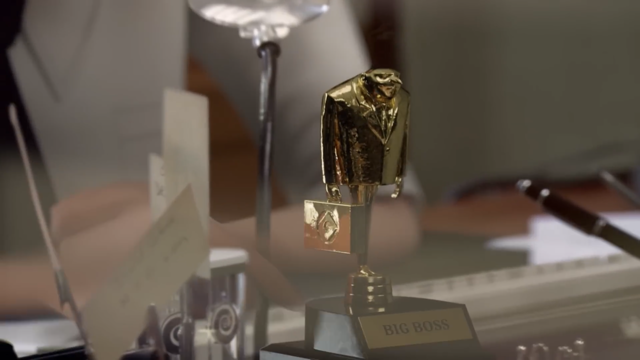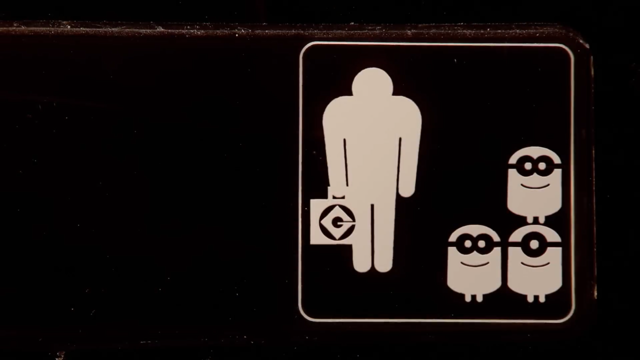 TPEI: + 3 MORE MINIONS PLEASE!!!!
*Louder For Those In The Back
A discussion on DisTwitter this month was started by the following tweet…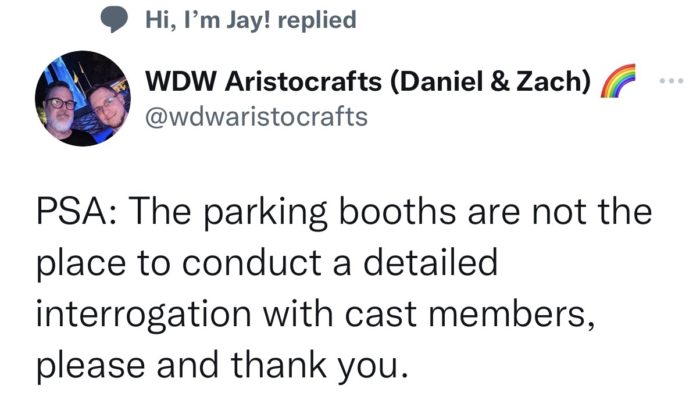 TPEI Score: – 14 I couldn't agree more. There is almost NOTHING more aggravating than starting your day at the theme parks sitting in your car waiting for someone in front of you to finish their discussion about WHO KNOWS WHAT. This is not the time or place for chit chat, questions on the locations of Hidden Mickeys inside the park, or who knows what else you want to ask these Cast Members. You pay for parking and you leave, that's it. That's the A-to-Z of this interaction, period.
*Universal Studios Hollywood's Super Nintendo World Closer Than Ever
Theme park fans in the states are getting excited as our first taste of Universal's Super Nintendo World is getting really close, and it was announced this month that the opening "date" would be EARLY 2023. That one is a first for us. We're used to Disney giving us seasons for an attraction to open in, but this is the first time an even more vague sense of time was given. Regardless, every time we blink it seems another week has passed by so 2023 is going to be here before we know and I can't WAIT to see this new land at Universal Studios Hollywood.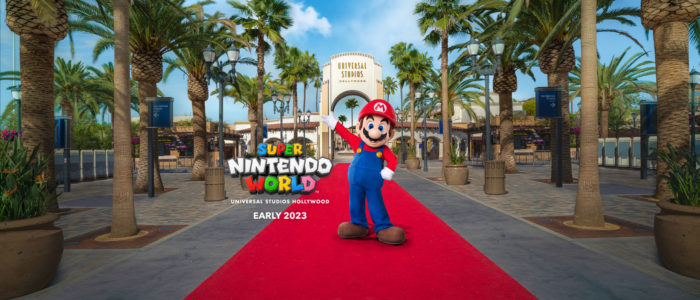 Meanwhile things are chugging along at a rapid pace down here in Florida, as our Super Nintendo World will be part of EPIC Universe opening in 2025. Let's take a look at some of @bioreconstruct's recent aerials of EPIC Universe construction (and don't forget we did an entire article dedicated to EPIC Universe last week.)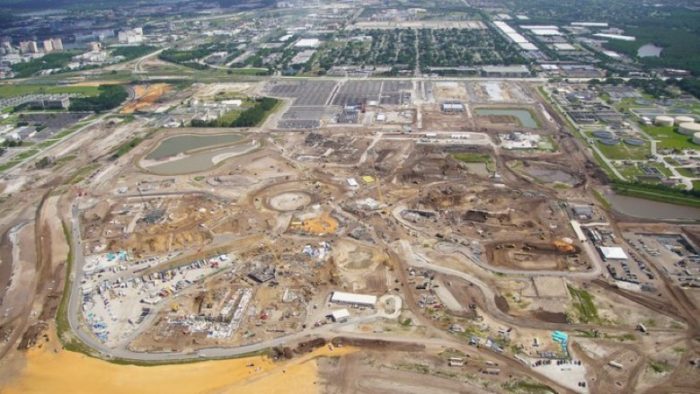 Super Nintendo World.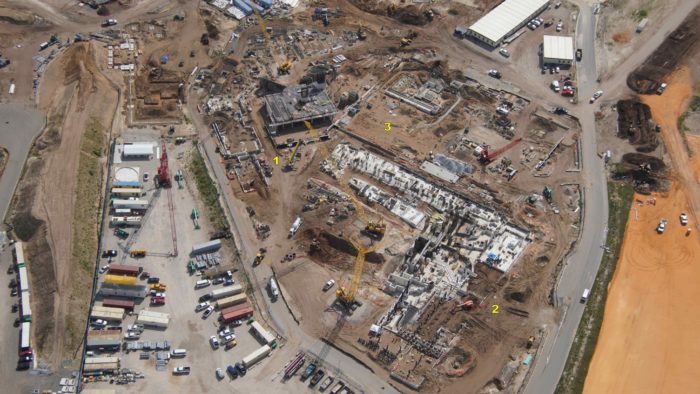 To show the scale of EPIC Universe, here is a Brachiosaurus next to an attraction in progress…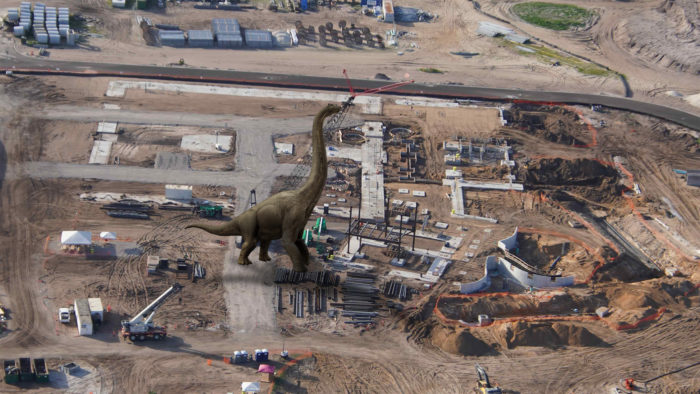 Coaster track has arrived on site.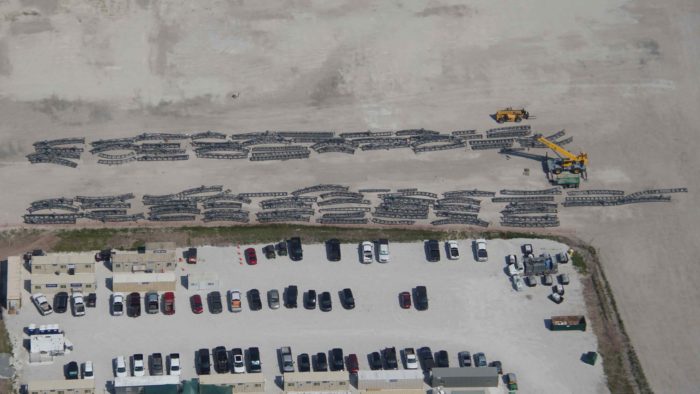 May not seem exciting to many, but seeing the progress on the EPIC Universe parking lot for day guests lights up the eyes of this theme park blogger.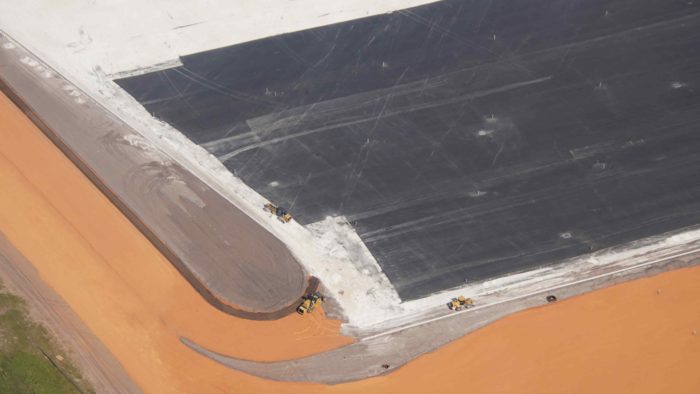 Again, for more EPIC Universe aerial photos, be sure to CLICK HERE and read last week's SAT SIX. We went into each rumored land of the park, including a new addition to the Wizarding World, How to Train Your Dragon, and Universal Classic Monsters.
Bio has taken a lot of great photos this month outside of EPIC Universe as well. Here are some of our favorites…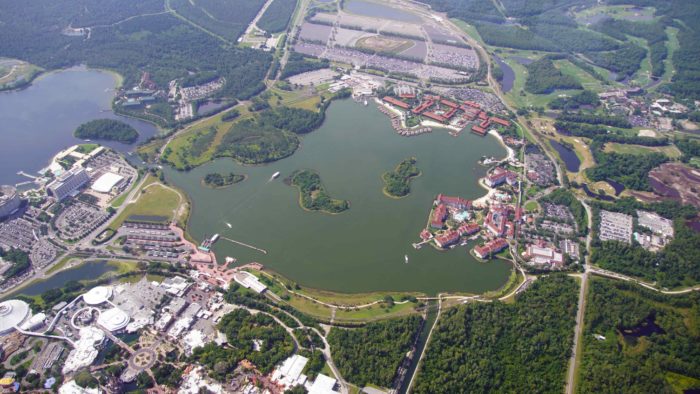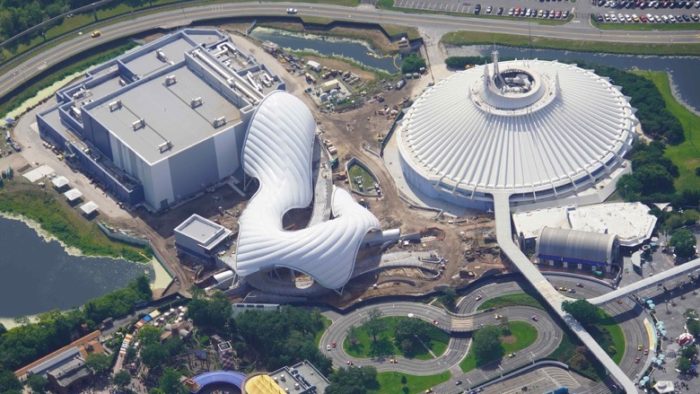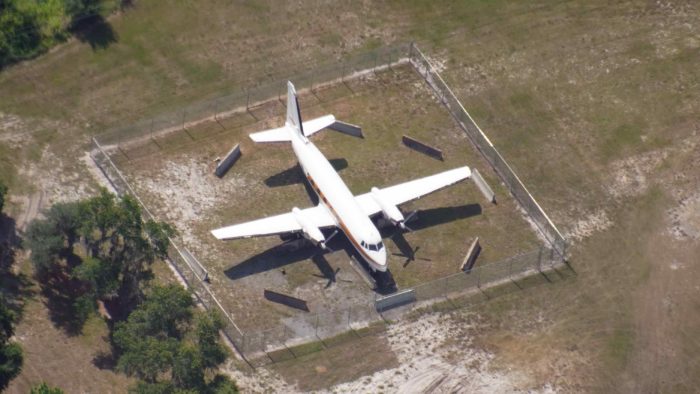 Also a reminder that Bio is not only our resident blogger-in-the-sky, but when he is not 3,000 feet up in the air snapping photos he is spending his free time on the ground getting great shots of the theme parks as well.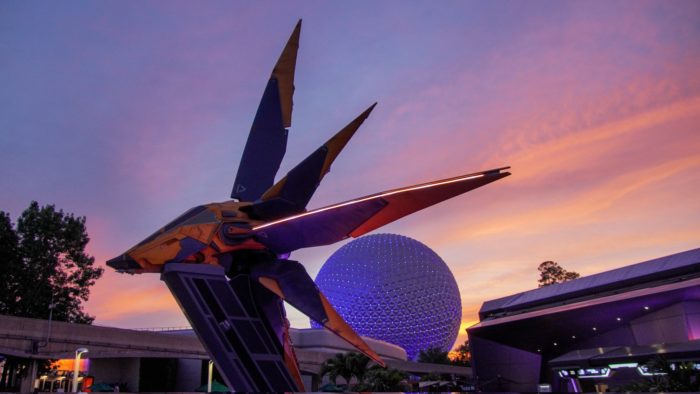 *Time To Create The DISNEY GUEST HALL OF FAME
Imagine being at the theme parks and seeing this…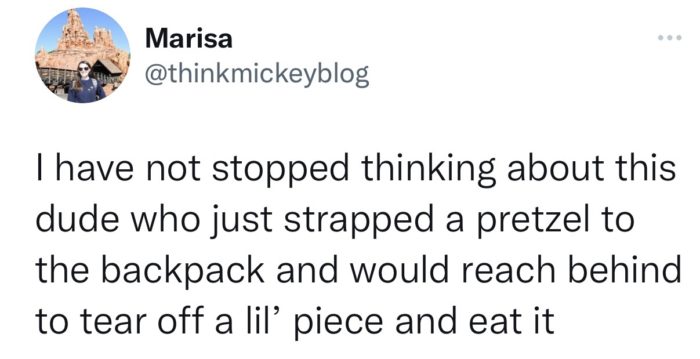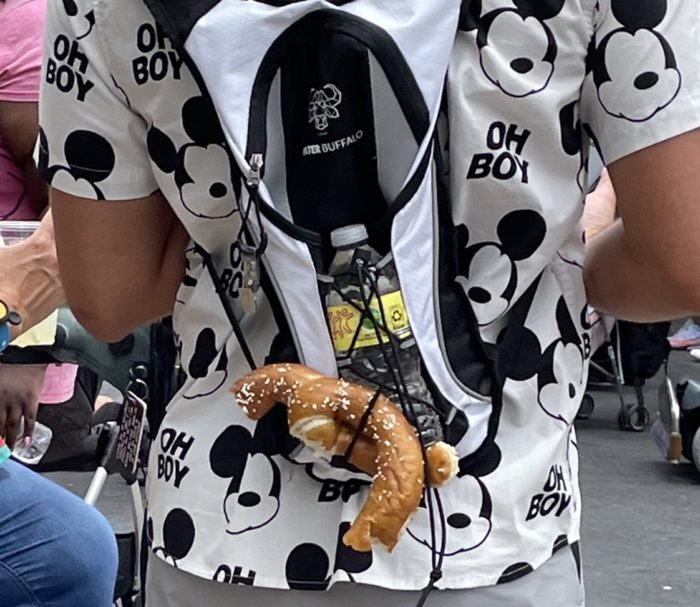 It got us thinking – which is always a dangerous thing – that maybe it is time to create the first-of-its-kind Theme Park Guest Hall of Fame. We have some of our favorites below, but if you remember some outside-the-box thinking guests from over the years at Disney or Universal, nominate them in the comment section.
We're definitely going to have to include The Guy who climbed the Mexico Pavilion in EPCOT's World Showcase.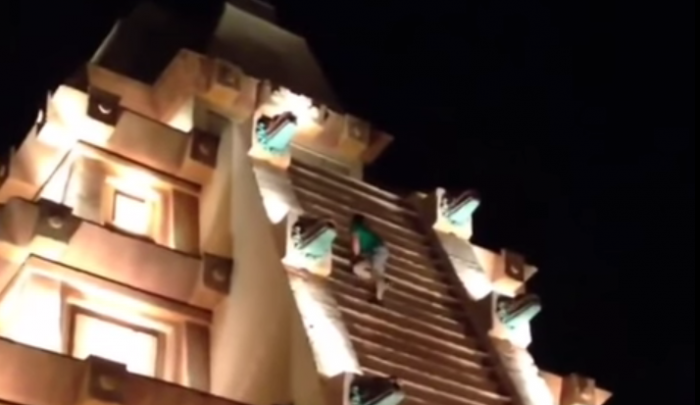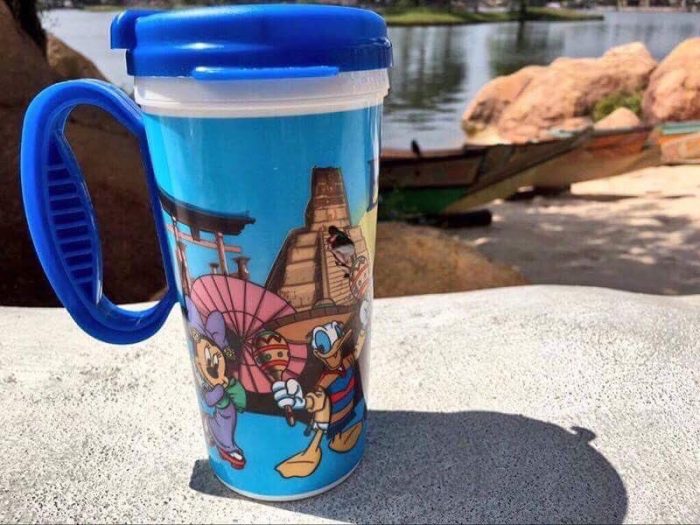 We had The Guy who ranted about facemasks in DHS and misquoted A Bug's Life.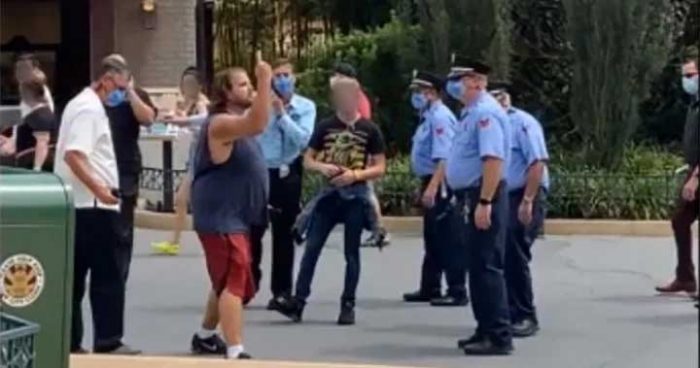 We had The Guy who drank from Disney water fountains for clout.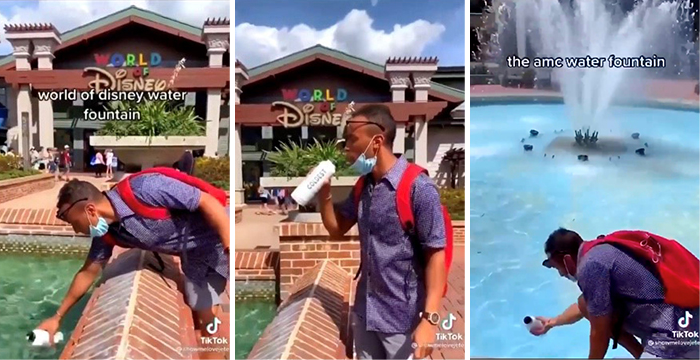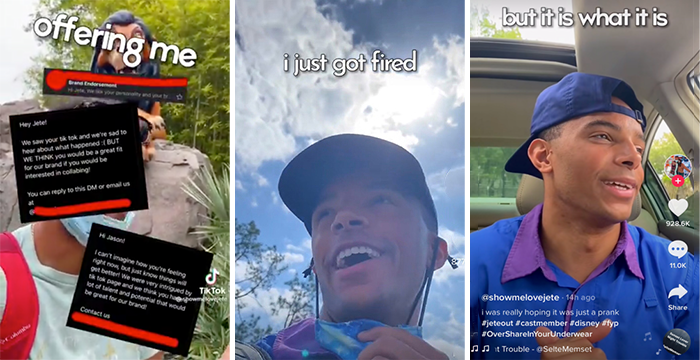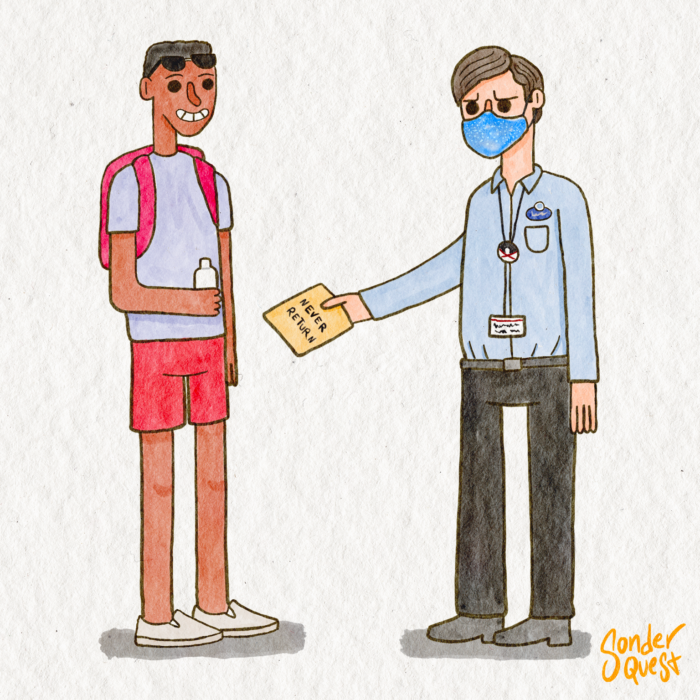 Who can forget The Guy who grabbed one of DHS's umbrellas when it starting raining…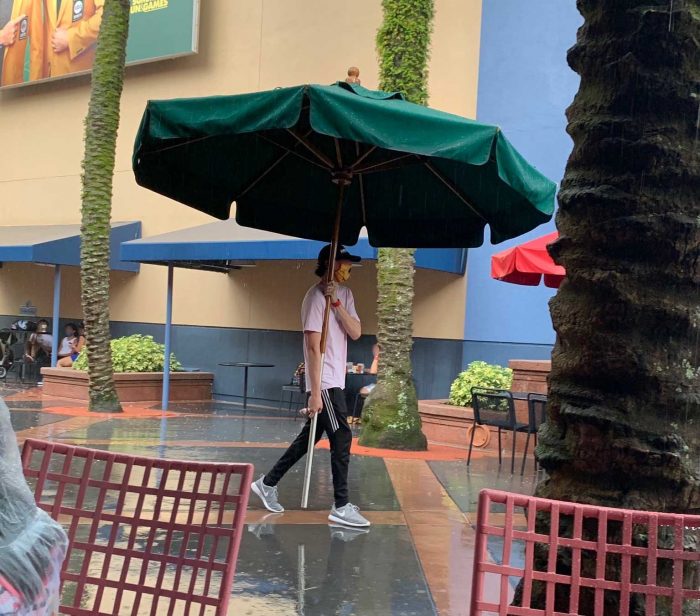 …or the alleged Theme Park Expert who refused to leave a tip at Via Napoli because she didn't realize how expensive the pizzas were.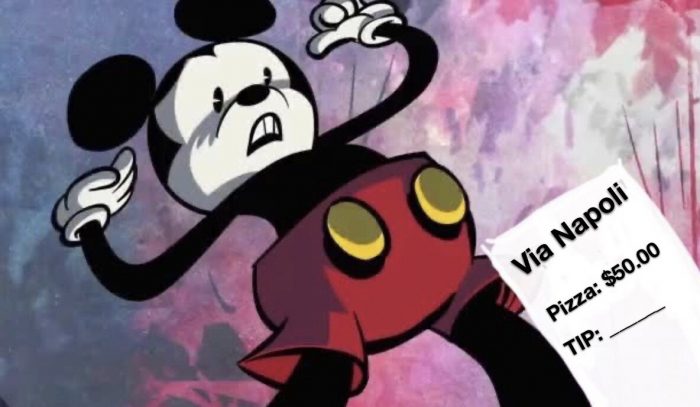 Again, if you have any nominations, send us an email (derek AT TouringPlans.com), reach out to us on social media (@derekburgan), or respond in the comments below. If we get enough, we will officially break ground on the Theme Park Guest Hall of Fame. When? Well, I'll take a page out of Universal Studios Hollywood's playbook and announced a date of "later this year." That's concrete enough.
TPEI Score: It's A Wash. Guests do the darndest things…
*If You Can't Trust An Autograph at the Brown Derby, What CAN You Trust?!
One of the best places for a meal at Walt Disney World is over at the Brown Derby in Disney's Hollywood Studios. Aside from their famous Cobb Salad and other menu items, another reason to go is to check out the caricatures that line the walls and see the celebrities who sign the guest book. Unfortunately, we got some bad news this week as it turns out the guest book may be what we from the world of professional wrestling call "a work."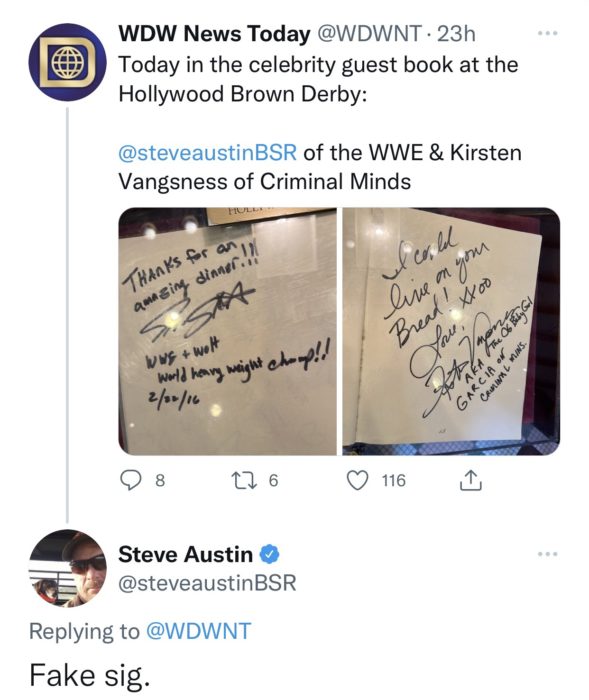 TPEI Score: – 22 This one is a heartbreaker because the illusion of Brown Derby's Guest Book being a "shoot" (another wrestling term) is now gone. If Stone Cold Steve Austin is saying his signature in the book is fake, who knows how many others in the book are as well. Maybe all of them. I guess I was living in Fantasyland assuming the Guest Book at the Brown Derby had any type of vetting whatsover, but it turns out each of us can just do whatever we want. Please fire up your Spotify playlist and listen to "The Day The Music Died" in memory of our theme park innocence being lost forever.
QUICK HITS
Before we get to the goofy stuff, any theme park aficionados reading this will want to take the time to read THIS THREAD on the history of "Walt's Lamp" out in Disneyland. It truly is fascinating and something we pretty much get "on the reg" over in DisTwitter. I totally understand all the bad parts of social media, and some people are truly awful, but for the most part it is filled with really good people and we get some unbelievable access and behind-the-scenes info we never could before, or at least presented in such an easy to digest format. Again, check out THE THREAD, it's a quick read and then you can come back smarter than you were before.
Need another example why DisTwitter is great? We get interactions like this…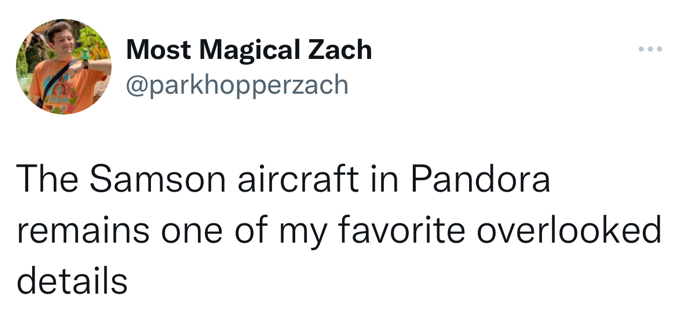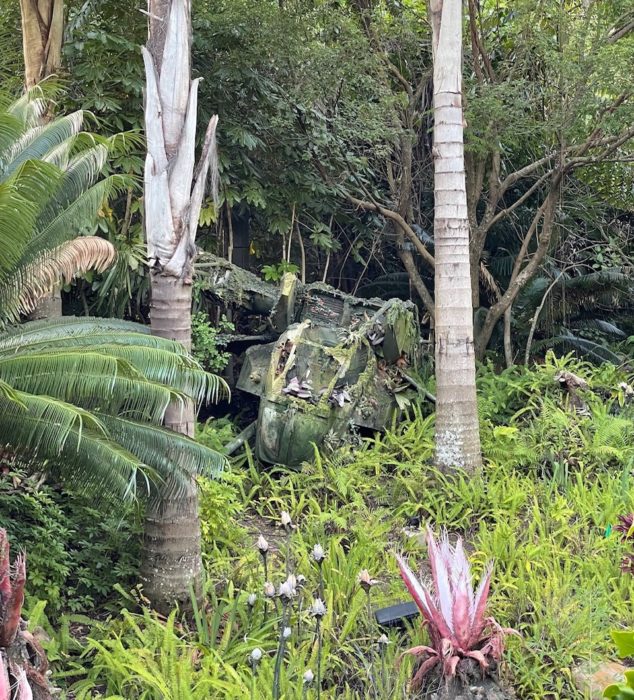 It's one thing reading a book on the creation of Pandora: The World of Avatar, but it's something else entirely when you can post a picture like the one above and get a response from someone who was actually involved with the project.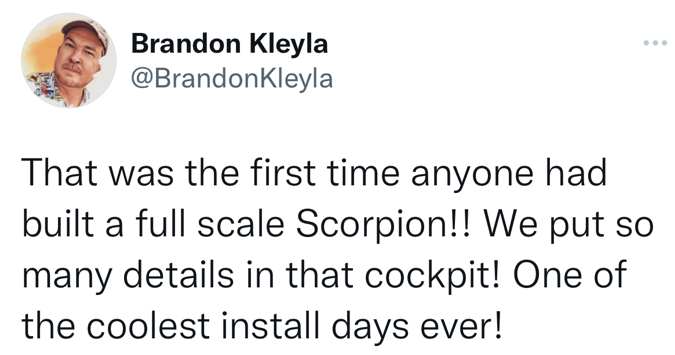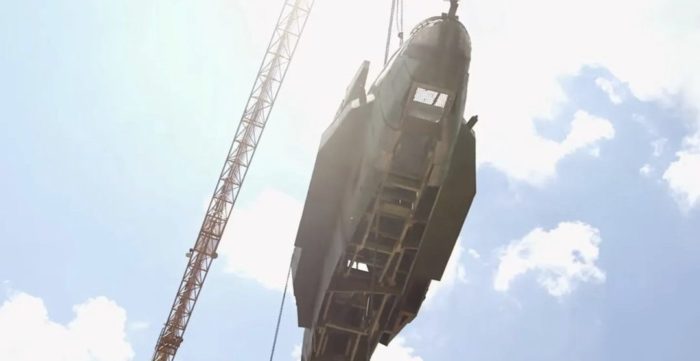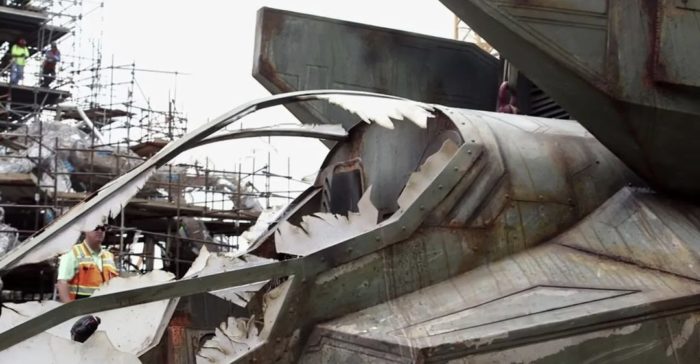 Okay, one last reason showing why I love DisTwitter. Without it, I would never see things like This Moment featuring Julie Andrews surprised by the (now grown) kids from A Sound of Music singing "Do-Re-Mi." Stuff like this is magical and a reminder that not everything in life is awful.
*Would definitely eat here before PizzeRizzo….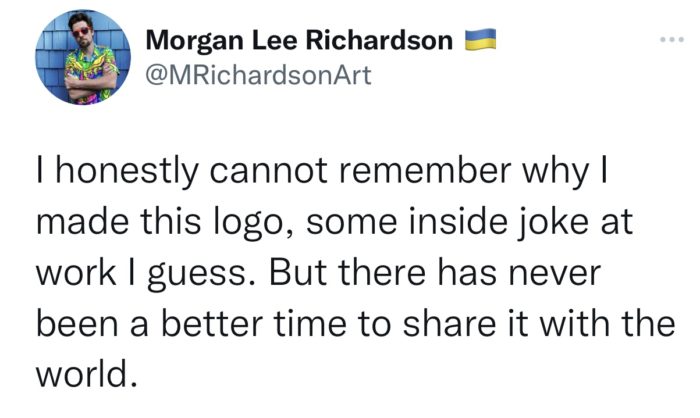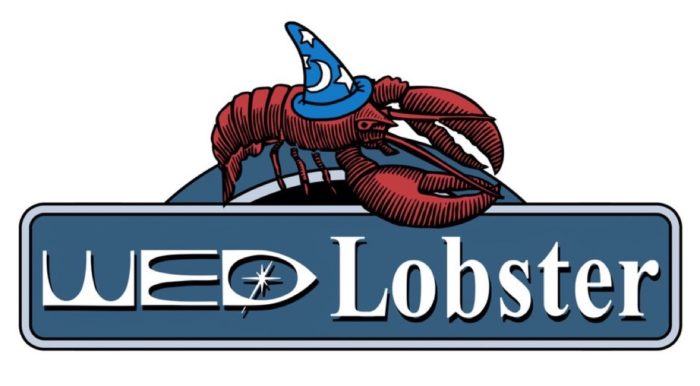 *Kenobi on Disney+ was awesome, but this poster for it is even better!
Kenobi ended its 6 episode run on Disney+ this past week and you can read my quick thoughts on the series by CLICKING HERE. We'll keep this spoiler free, but I thought the series was excellent. This poster for the series though is straight up E-Ticket!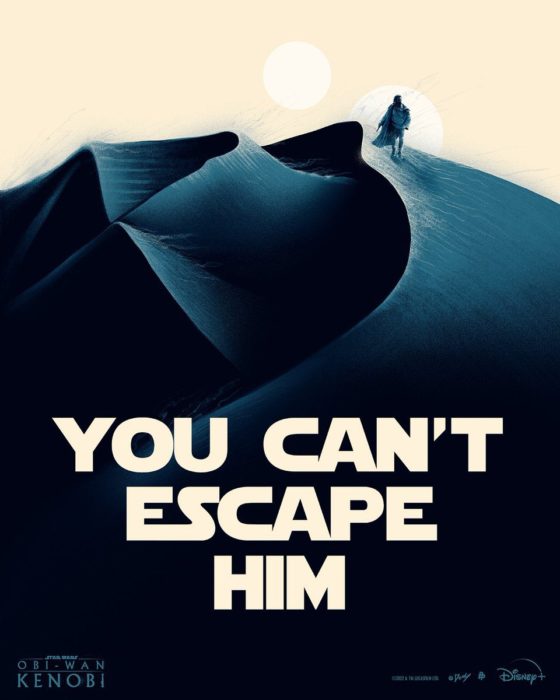 *If they offered this in the E.T. Adventure gift shop, I'd be buying on IMMEDIATELY…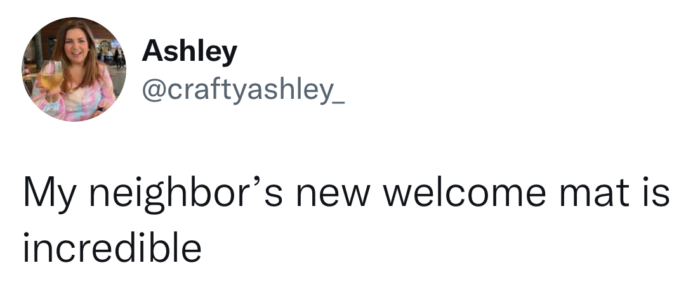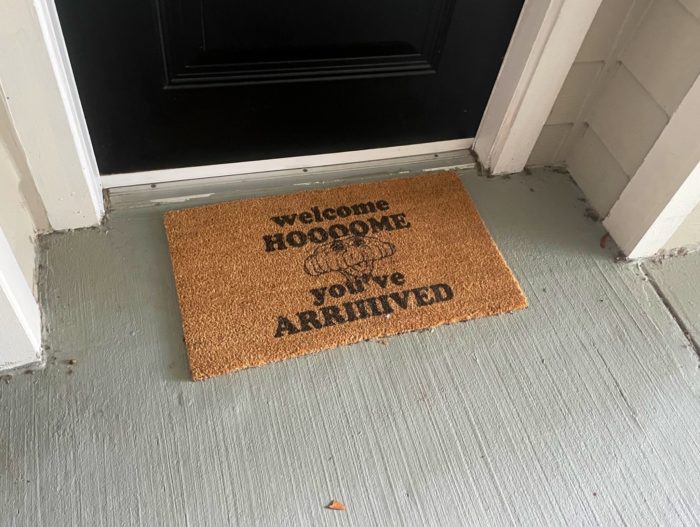 *The Perfect Salt & Pepper Shaker Doesn't exi..
You know what? Seeing this theme park merchandise reminds us of something… a special place filled with merchandise… a place we used to go to every single month for what seemed like almost a decade…
…you guessed it, today we're stepping back into
THE DISNEY OUTLET STORE!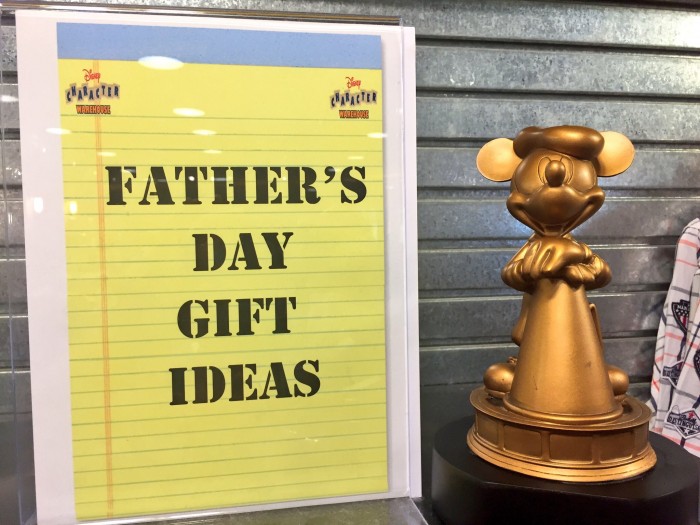 Digital Maestro Scott Walker flew across the globe for a family vacation to Walt Disney World and for whatever reason wanted to ruin his trip by taking in what I call "the outlet experience."  Let's take a look at some of the things he saw, starting with this display of items from the 2021 International Food & Wine Festival. One Item that I would pick up from Ye Olde Outlet Shoppe over the years were those plastic plates. At the full price of $7.99 I think they are a complete rip-off at the parks, but when they get to the Outlets I pick some up to use at home for the kiddos and picnics. Many times if you wait Disney out they will drop to 99 cents, but the ones seen below were reduced to $2.99.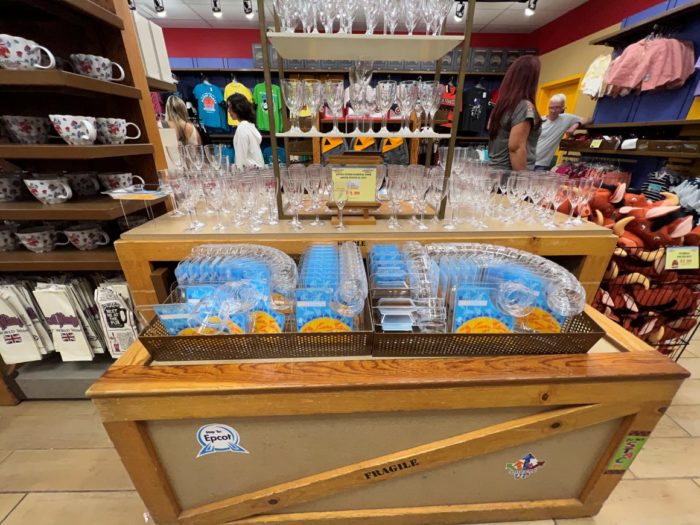 If you feel like you've seen these ABC mugs before, it's because you have back when I was regularly going to the Outlets.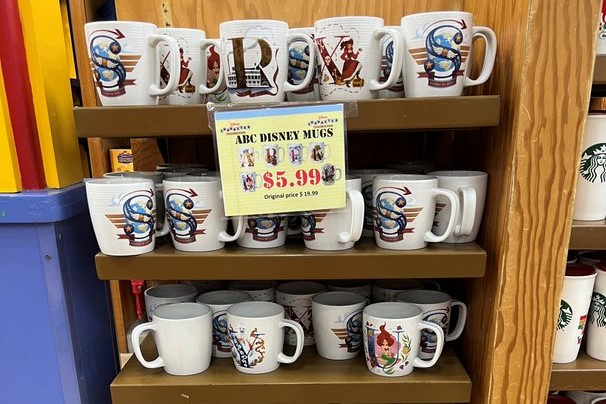 Each mug has a letter and something Disney related to that letter, such as Soarin' Around the World for "S." Keep in mind these were originally priced at $19.99. Who buys this mug for $20?! If you want to just throw your money away invest in crypto coins or something.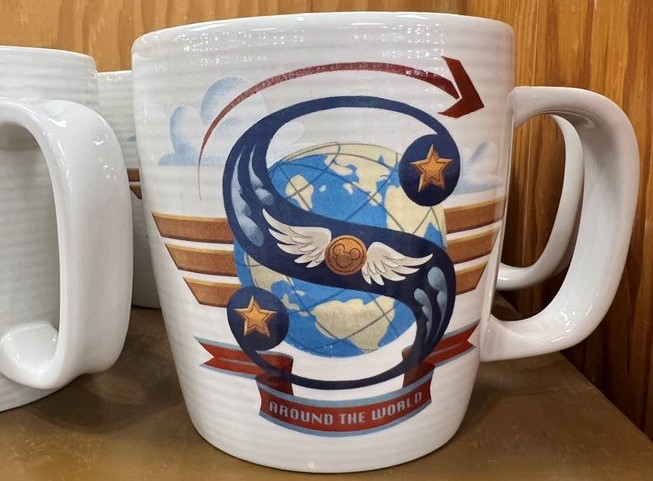 There was a lot of items from the Disney Cruise Line at the Outlets, from 2020 sailings which most likely were cancelled (we will try to confirm with Captain Cruiseline himself of the Disney Cruise Line Blog.) One item of particular note was this hexagon shaped postcard for the Disney Wonder Alaska sailing. The artwork is pretty decent…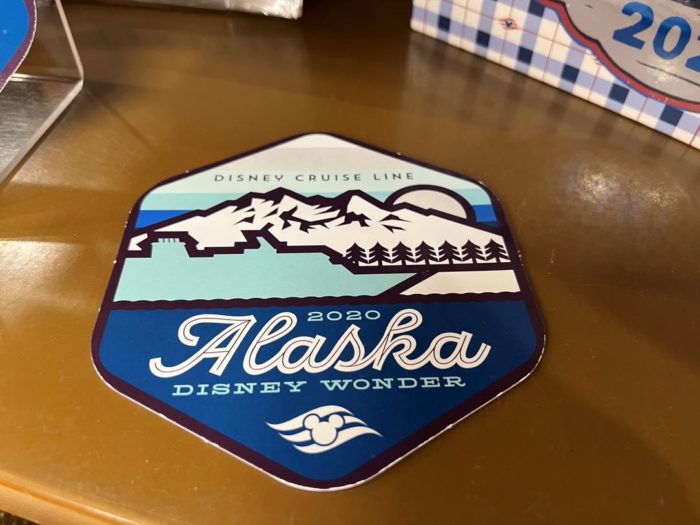 …but the price of just 25 cents is a rarity, even at the Disney Outlet Store.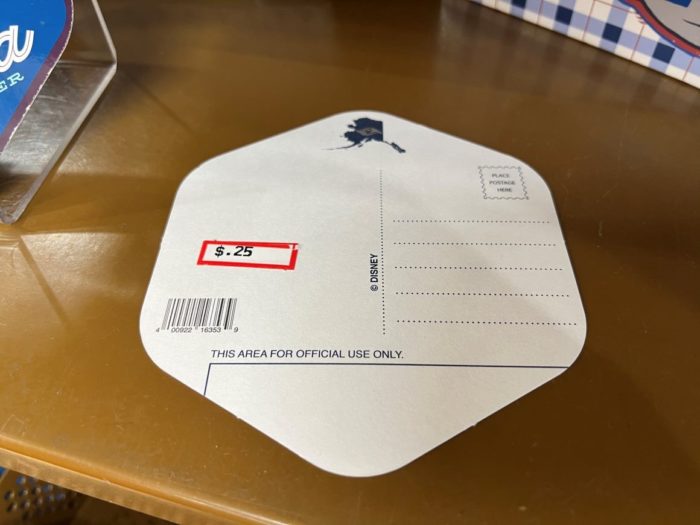 This Peter Pan pirate ship play set is intriguing. I like the price ($29.99, reduced from $79.99) and it looks great. However, it doesn't come with any characters. WHAAAAAAAAAT?!!!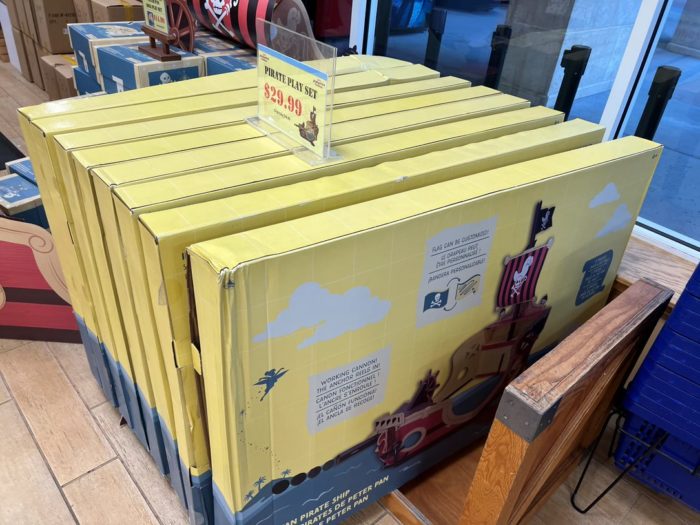 I'm assuming this drum set came from Animal Kingdom. Originally $29.99, now $20.99.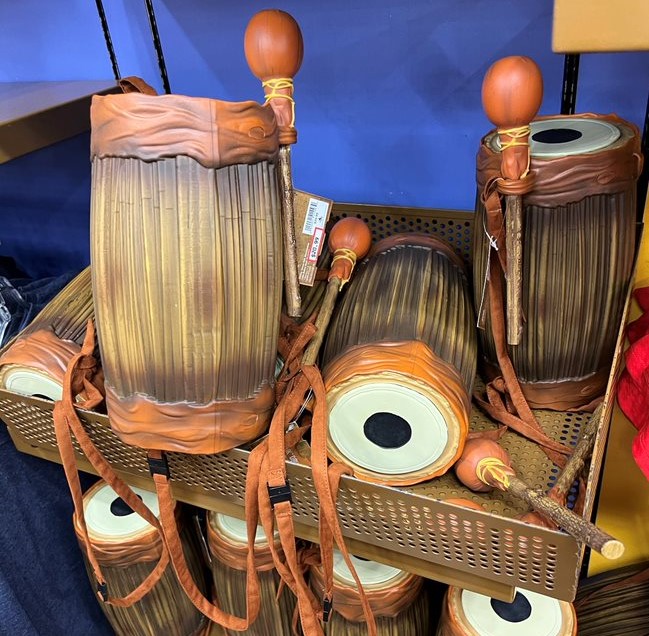 This is great. On the sign for this Star Wars toy below it points out it is from "Star Wars E9." That is the weirdest way I have ever seen anyone refer to Star Wars episode 9, The Rise of Skywalker. There is literally no reason to put "E9" because only the hardcore Star Wars fans even know what that is referring to and they wouldn't need you to point it out. Anyway, among my myriad of problems with the actual Rise of Skywalker movie being incomprehensible (including the most unearned moment in the history of Big Budget films with Lando's "There's more of us, Poe." line) was the droid D-O. The design of the D-O is cute enough, but the droid was literally just shoved into the film to sell toys instead of actual story related reasons, and that's how it felt to viewers. Hence why D-O never "got over" with the fans or toy collectors. For those keeping track that is our THIRD phrase from the world of professional wrestling used in this article. One more and I get a set of steak knives. Two more references and I get fired. That's how fickle the world of theme park blogging can be.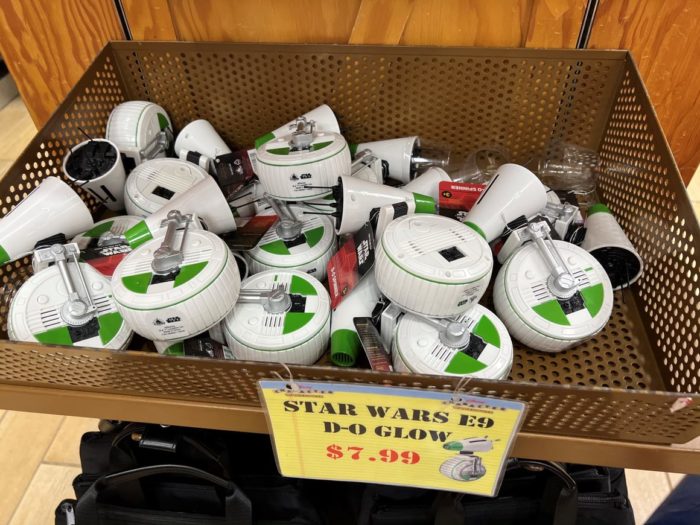 No surprise seeing a million of these Black Spire Outpost pins show up. The surprising part is why they even came to the Outlets when you could earn a lot of good will by just giving them out at to guests on the Galactic Starcruiser. For example, the Dinner Show was created with seating that includes OBSTRUCTED VIEW, something that unlucky guests like TouringPlans' own Guy Selga don't discover until they've been seated. Despite dropping $5,000-$6,000, every two nights a group is seated at a table which can't see Gaya's performance. It's mindboggling enough that Disney is still seating people at tables like this instead of keeping them empty because of the bad show, but maybe give them a small "make good" goodie bag filled with stuff you can't give away like this Black Spire Outpost pins?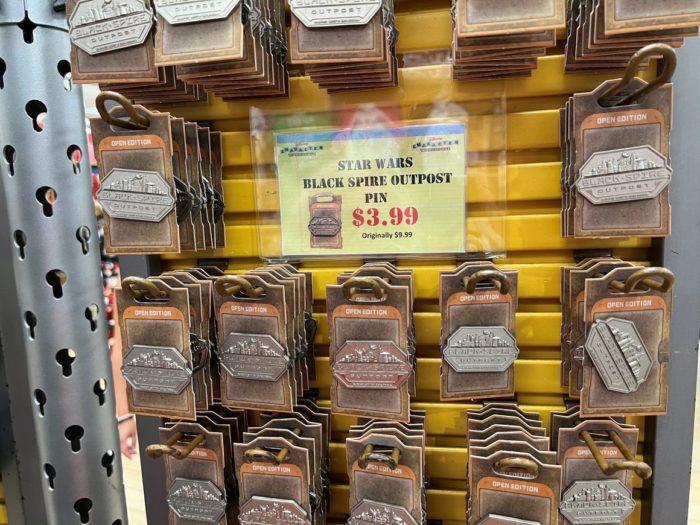 Reminder that Disney cancelled the mega-popular Hyperspace Hoopla from Star Wars weekends, and also doesn't have the Disney characters (like Mickey Mouse/Donald/Goofy) dress up as Star Wars characters anymore because they want to brand to be taken "serious." Meanwhile they are selling "Baby Yoda" in a Christmas outfit. Originally $24.99, now $10.99. Don't get me wrong. I LOVE THIS PLUSH, but if you are going to sell something like this inside the parks, then it's not going to hurt having an awesome meet-and-greet with Goofy-as-Darth Vader or Stormtrooper Donald. Heck put the Fab Five as Star Wars characters in Launch Bay and it immediately becomes an E-Ticket attraction instead of a "what is the point of this?!" attraction.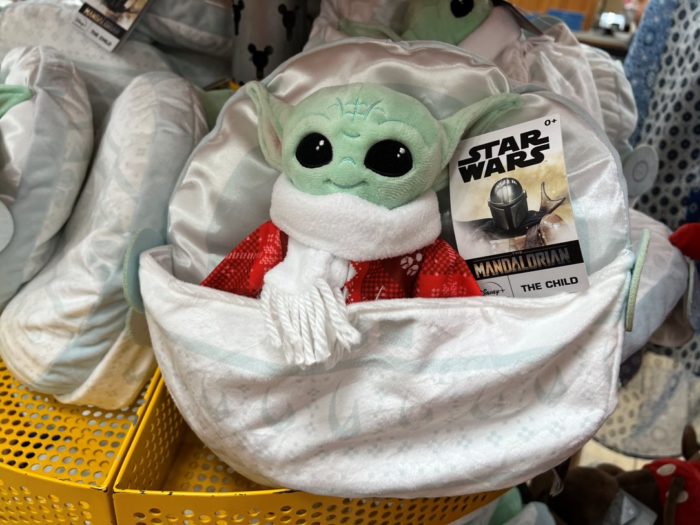 A whole bunch of other Christmas related items were at the Outlets this month, including this 2021 Train Set. Originally $149.99, it was reduced down to just $49.99. That's a pretty good deal because the Disney train and monorail sets are pretty  high quality in my book.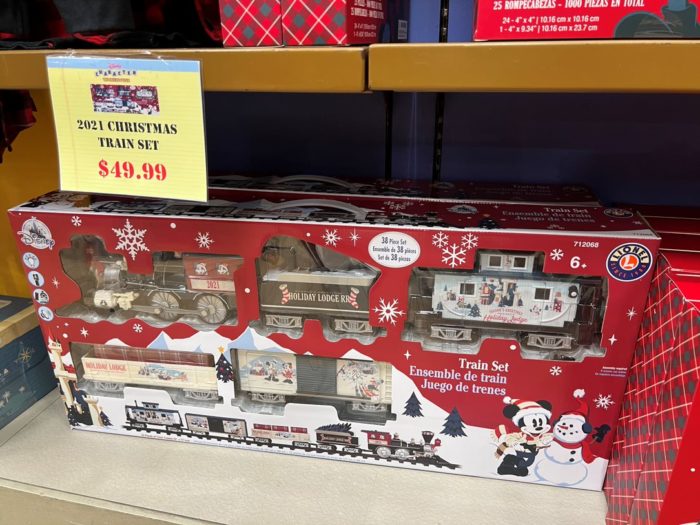 This Count Down Calendar was originally $49.99, marked down to $27.99 and remarkably uses a 1:1 scale model of Disneyland's castle.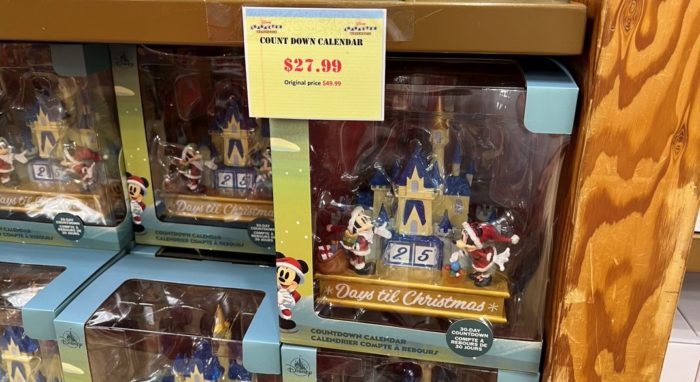 I don't even understand this one. Who would want this? Originally $40?!!!!!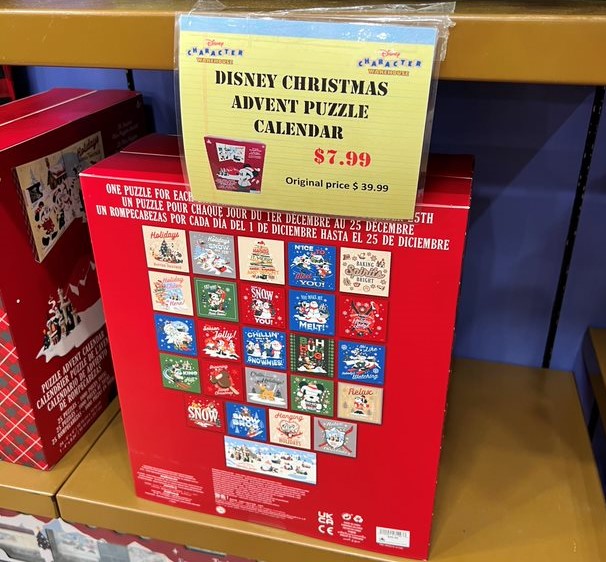 I do like this Santa Mickey hat though. Originally a bonkers $29.99, now a more reasonable $4.99.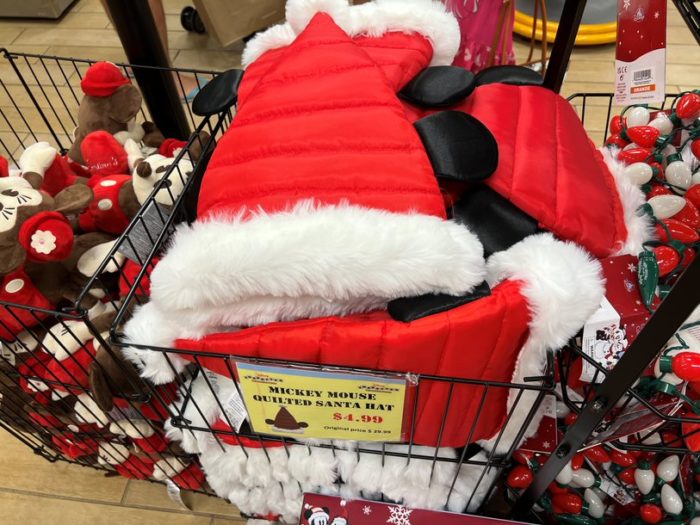 Another sign you will only see at the Disney Outlet Store. "LAMP FIG LUP." Is a human even involved in the process of making these signs at any point in the process? Or is it just a Sales Algorithm that prints up the signs and a robot who then tapes up the signs without seeing how ridiculous they look. These are the questions which keep me up at night.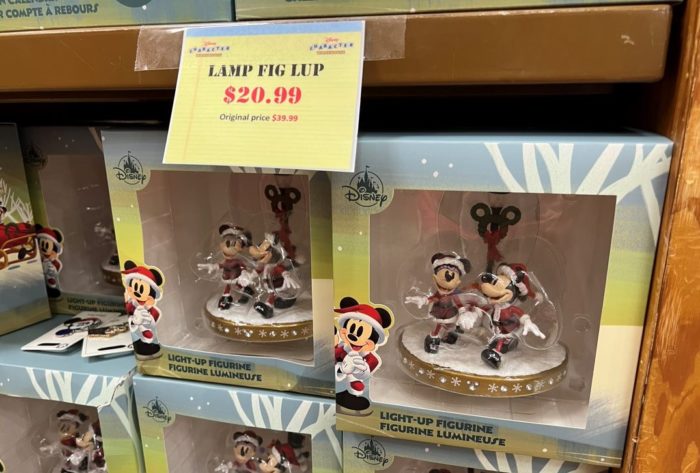 Our last item this month is from another commercially-driven holiday… Valentine's Day. This Mickey & Minnie plush set was originally $39.99, now $14.99.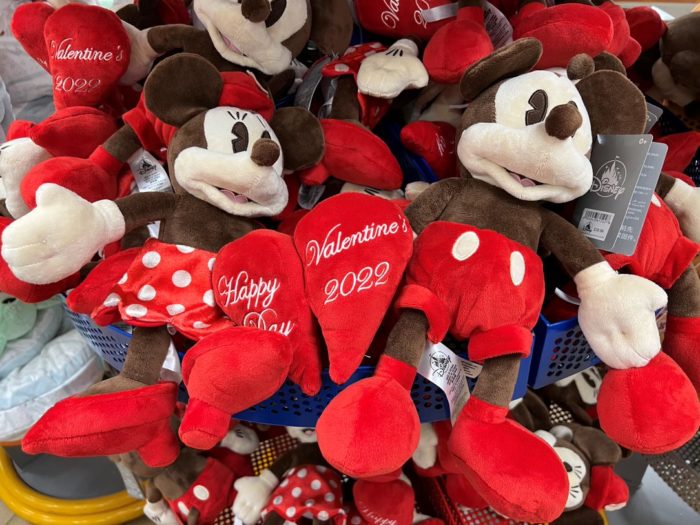 Last month's Theme Park Enjoyment Index: 53
This month's net change: -8
Current enjoyment level: 45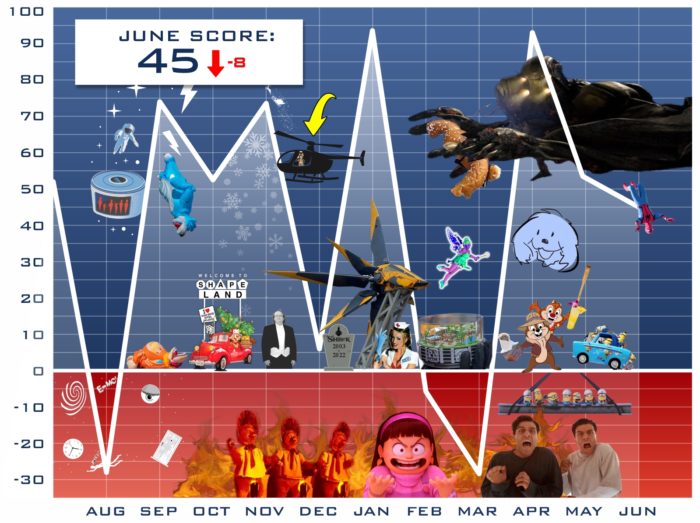 Writer Derek Burgan, when not cleaning Len Testa's pool, can be found reading comic books, watching professional wrestling, and taking his dog Bacini to Universal and Disney. organizing his various Tsum Tsums in alphabetical order. He will not, we repeat not, be found at a Disney Outlet Store. An official DisTwitter Influencer, you can interact with him @derekburgan
Digital Artist Scott Walker hails from Scotland and is the fifth most famous person from this country following Alexander Graham Bell, Ewan McGregor, Gerard Butler, and Groundskeeper Willie.