Theme Park Enjoyment Index for OCTOBER 2022 (Hurricane Ian Recovery, EPCOT 40th, The Great "E.T. Queue Smell" Debate and MORE!)
The Theme Park Enjoyment Index (TPEI) is a monthly look at the events that have made an impact, both positive and negative, in this wild world of theme parks we all love so much. Each TPEI comes out on the last Saturday every month, and we assign each piece of news a positive or negative number, tally it all up at the end and chart it. The range goes from 0-100 with 0 being
Stitch's Supersonic Celebration
 while a perfect score of 100 would be 
Pandora: The World of Avatar
.
Remember, all links in TPEI open up in a new browser window. So feel free to check stuff out, we'll be here when you get back!
*Previously, on TPEI….
Just several days after last month's edition of TPEI was posted, Hurricane Ian ripped through the state of Florida. The storm made landfall on the west coast of Florida, made it's way through Central Florida (including Orlando), before leaving the state on the east coast by Jacksonville. For those who followed the storm on the news, the after effects for many Floridians was catastrophic. Both Disney and Universal prepared for the storm by shutting down their theme parks, which happens about as often as my Los Angeles Chargers making the Super Bowl. As everyone reading this knows, the theme parks almost NEVER shut down. That's one of the only risks you take when planning a Disney or Universal vacation. You can plan and save for years, only to get to Florida and discover a week full of rain or abnormally low temperature making your vacation miserable… but the parks are Still Open.
It is a good thing Disney and Universal prepared for the worst, because Hurricane Ian brought some severe flooding to the Orlando area.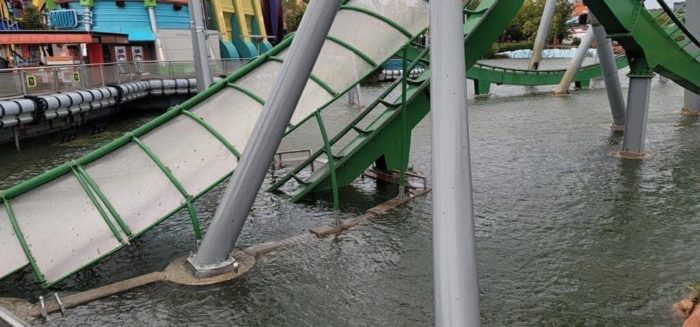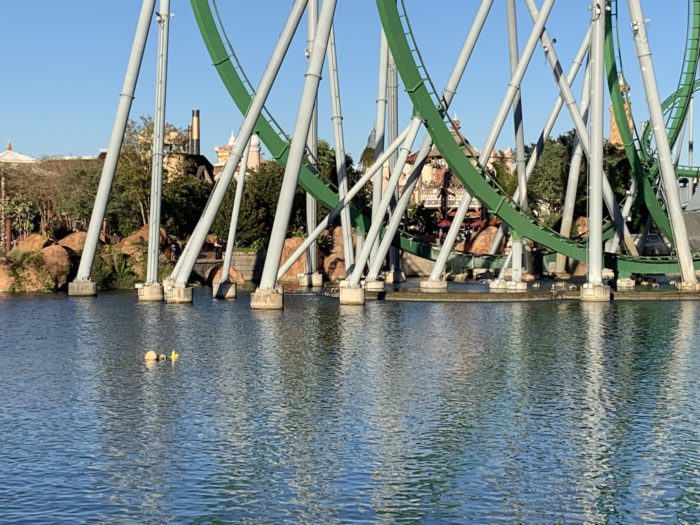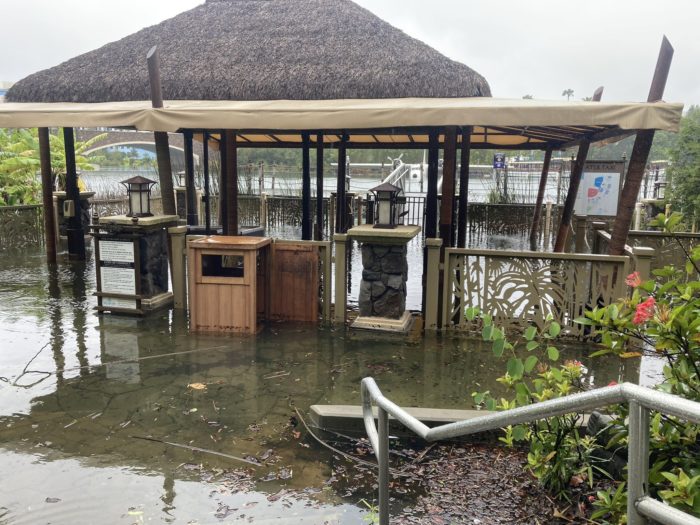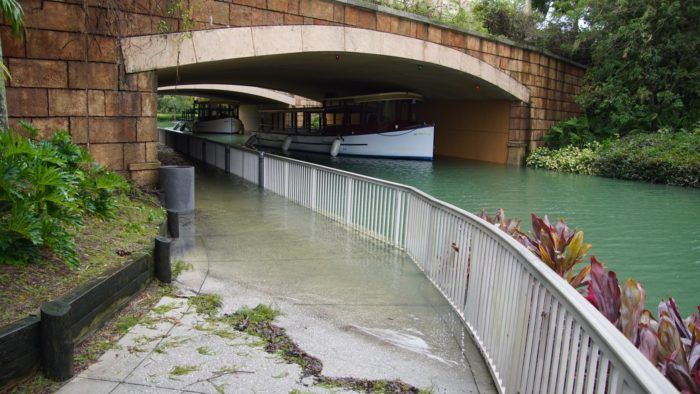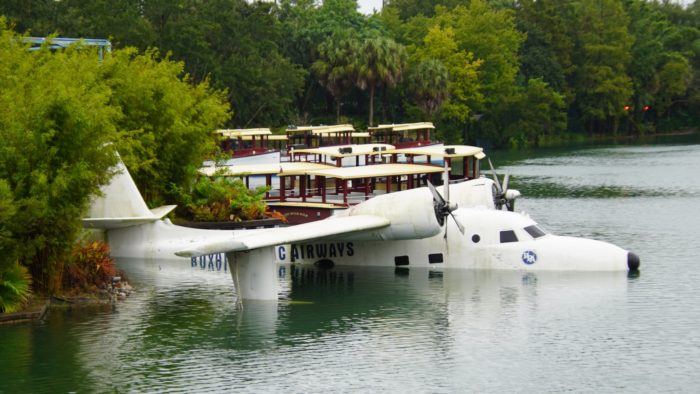 Thankfully, all things considered, the damage to the theme parks wasn't nearly as bad as it could have been. One of the most noticeable items was the show building for the Jurassic Park River Adventure, which had a huge section of the outside wall torn off from Hurricane Ian's wind. Humor can get us through some pretty rough times in life, so I loved this meme from DisTwitter….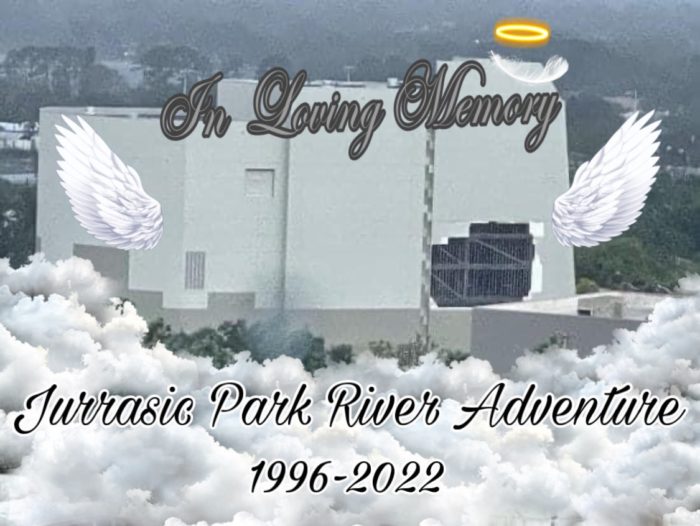 One thing that doesn't get much attention in the Real World during scares like Hurricane Ian is how much the Orlando Vacation District is used by Everyone Else In Florida who is evacuating. Because of Florida's history with severe storms, many of the hotels in the Orlando area (and all the ones at Universal and Disney) are rated to withstand the forces of a Category 5 Hurricane. Unfortunately in today's day and age you would just assume that these hotels would take this opportunity to increase profits by gouging desperate guests, but instead they generally go the other way and offer disaster rates. The Rosen hotel chain is particularly good for this.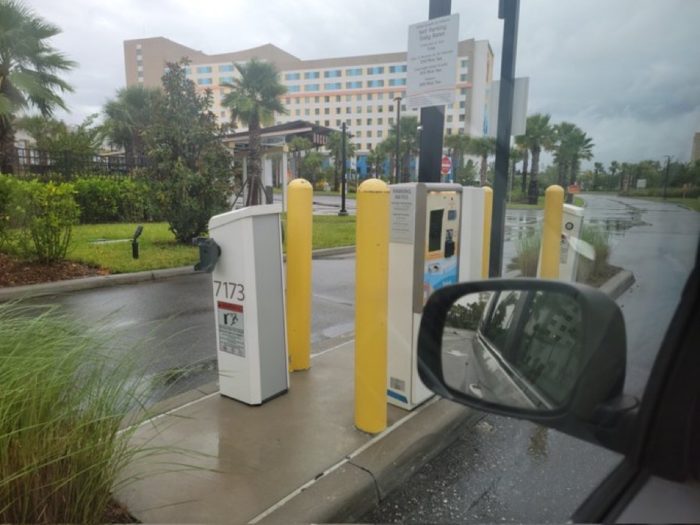 For those of us who travel with our pets, the general choice for which Disney and Universal hotels that are pet-friendly is limited. Don't get me wrong, there are some great options (you can read our reviews of taking a pet to Universal's Hard Rock Hotel, Royal Pacific, Sapphire Falls Resort and a cabin at Disney's Fort Wilderness) but the majority of hotels at both Disney and Universal do not allow pets. During a Hurricane emergency, ALL onsite hotels become pet-friendly for evacuees.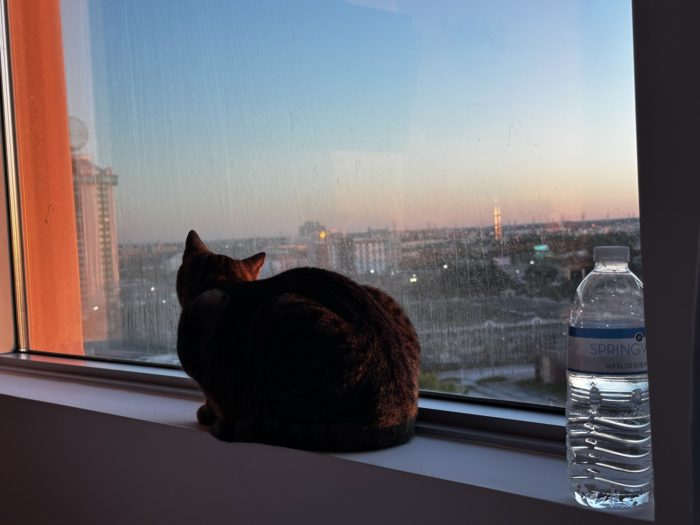 Pet-Friendly resorts like the Hard Rock Hotel, Sapphire Falls, and Portofino Bay have large areas set aside to walk your pets and let them "do their business," but the other hotels have to find ways to squeeze a pet relief area in.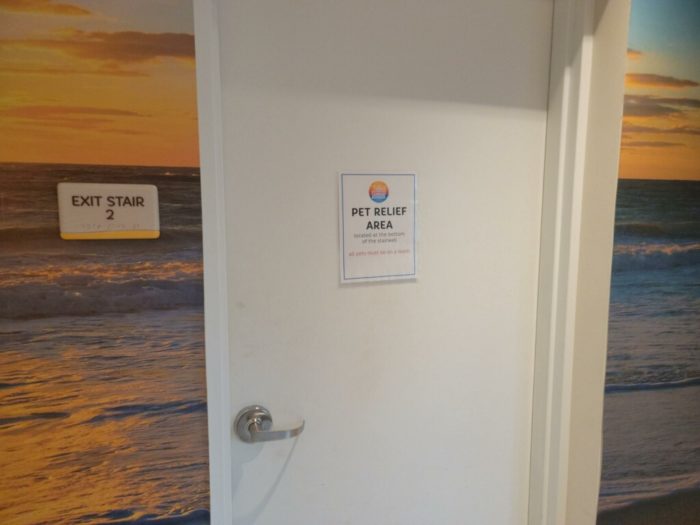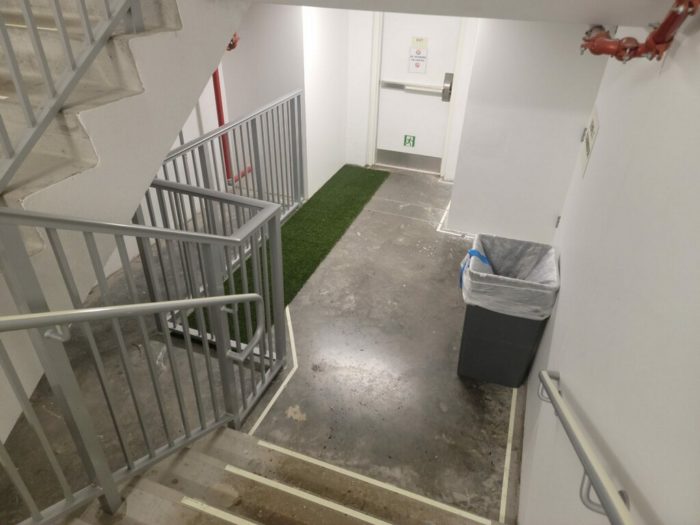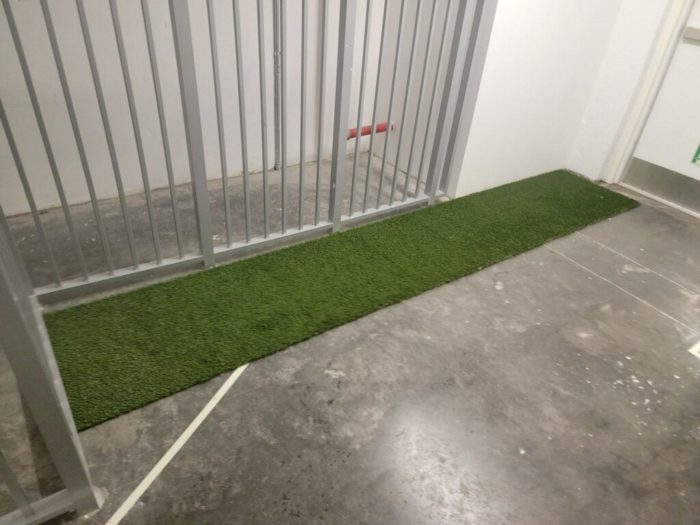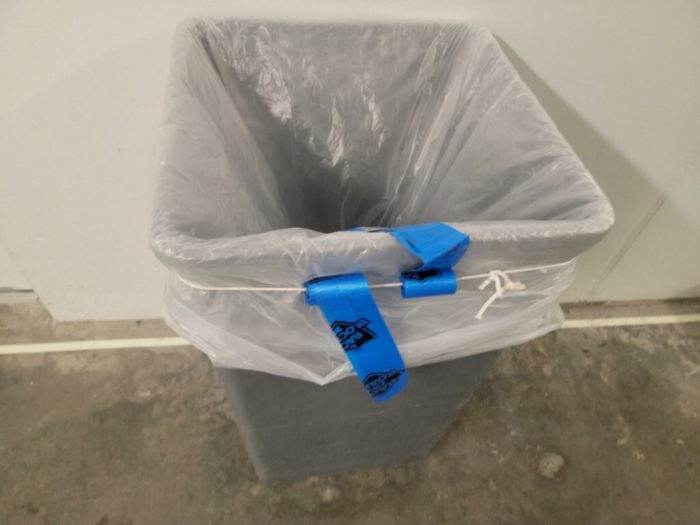 For the two legged animals staying onsite through Hurricane Ian, Disney brought out characters along with scheduling many activities for those "stuck" at the hotels. One thing to remember is that pretty much EVERYONE working at the hotel was also dealing with the ramifications of Hurricane Ian at their own home nearby. The strength of character it takes to do everything you can to put a smile on a stranger's face while your life may be in shambles is something I respect and admire about these front line Cast Members.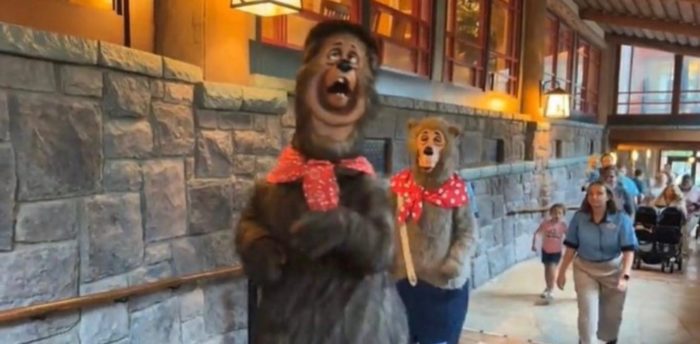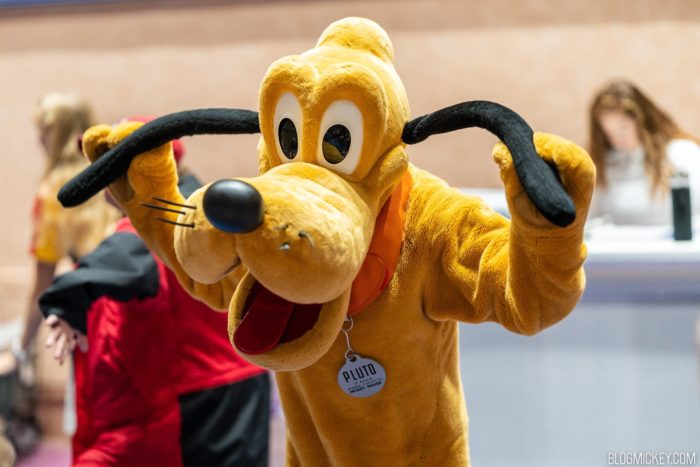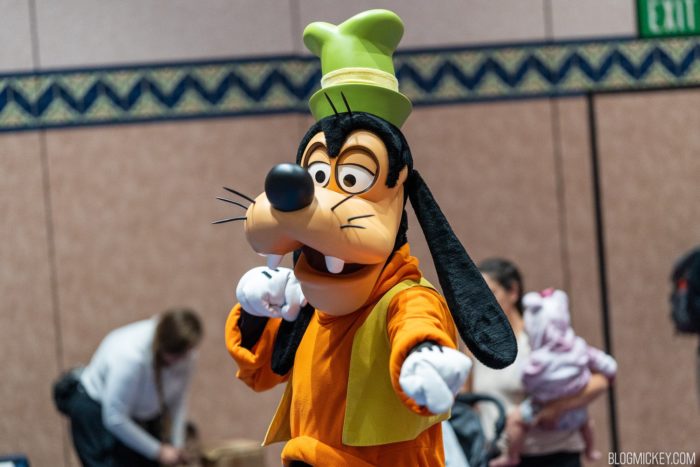 The damage caused by Hurricane Ian is still something many Floridians are dealing with, and if you have a moment we did do a special SAT 6 offering some ways YOU can help with this situation. CLICK HERE to find out more.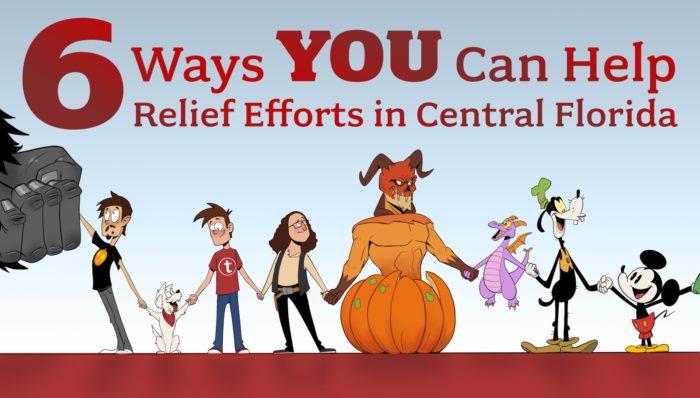 TPEI Score: – 10 If we never see another Hurricane in Florida again it will still be too soon.
*EPCOT 40th
We have joked in this fine blog series about the ridiculousness of the amount of "birthdays" and "anniversaries" that we celebrate in the theme park world, but even we can admit there are some big ones that probably should get a lot of TLC. 10th, 20th, 25th, 30th, 40th, and 50th are what I would consider special enough to deserve a celebration. Unfortunately for us theme park fans, Walt Disney World is currently in the middle of two major anniversaries (the 50th anniversary of Walt DisneyWorld and the 40th anniversary of EPCOT) and both are the most lackluster celebrations you could possibly imagine.
EPCOT turned 40 on October 1st, and it is hard to think of a more revolutionary theme park that truly "changed the game." Despite the park now being a shell of its former self, Disney still could have put in the effort to bring back some major names from the past or put out a line of merchandise that would be designed to appeal to the "EPCOT purist" (so to speak) but for whatever reason the company decided that Disney+ Day back in September was more important.
We did get a special EPCOT 40 commemorative guidebook…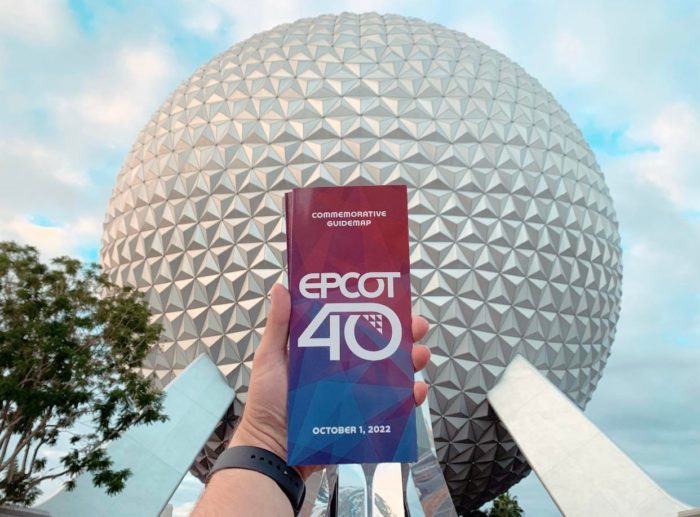 …and this "snack" themed to Figment, THE most iconic character ever created specifically for theme parks.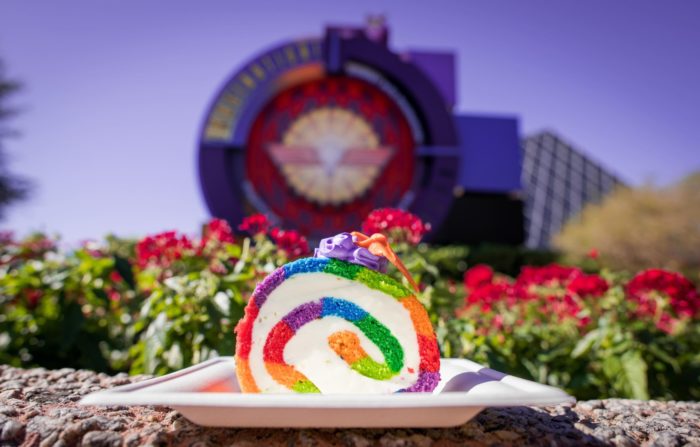 Connections Café offered an EPCOT 40 waffle.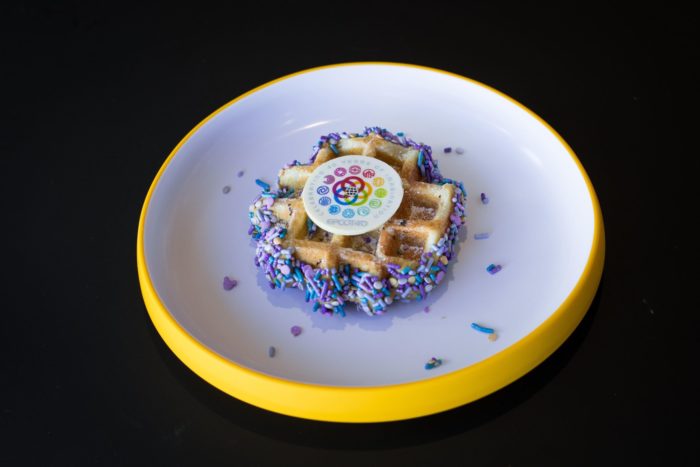 Believe it or not, they offered TWO different EPCOT 40 waffles. You couldn't make this up if you tried.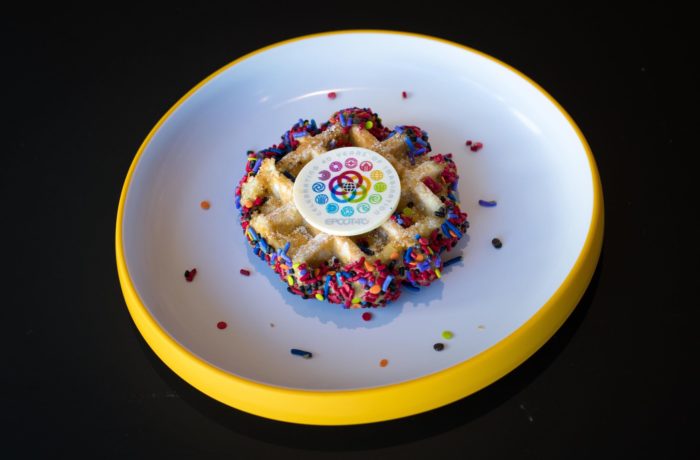 There were some nice elements added to the lighting package of Spaceship Earth…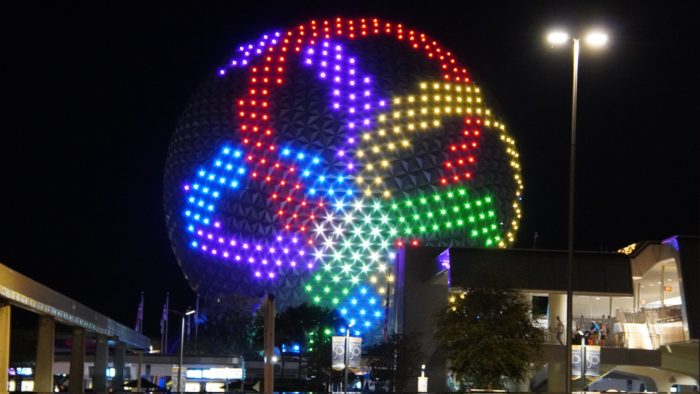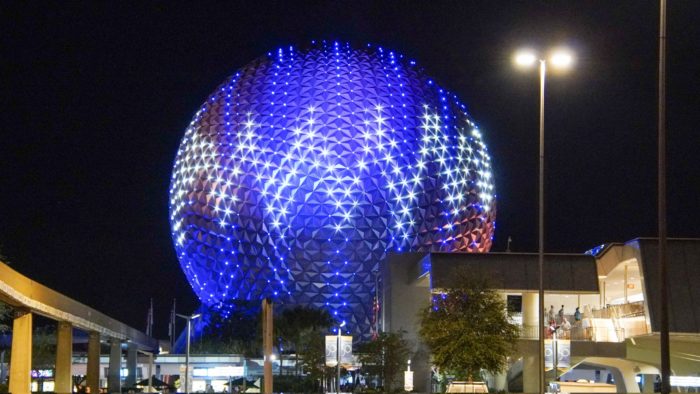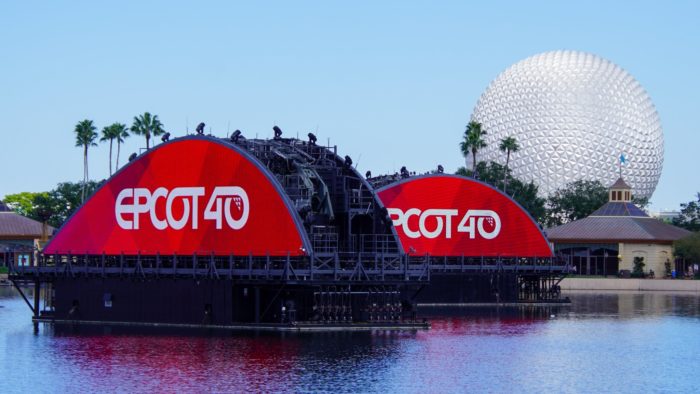 One of the few touches of actual respect to Old School EPCOT was this Mickey and Minnie pair in the Creations gift shop. They are wearing their iconic rainbow space outfits from the opening of EPCOT.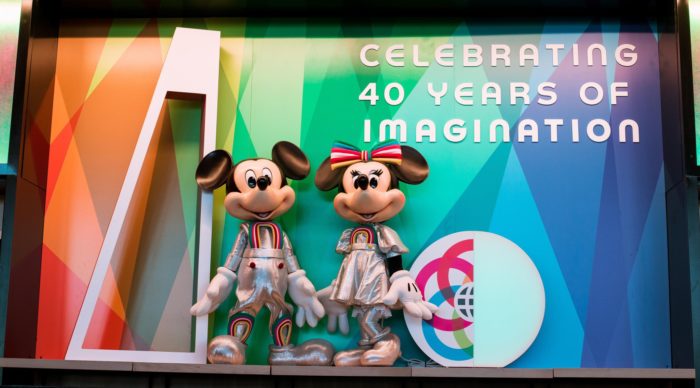 It is almost the very definition of "when you care enough to do the very least," but Creations gift shop also had Figment wearing an EPCOT 40 shirt.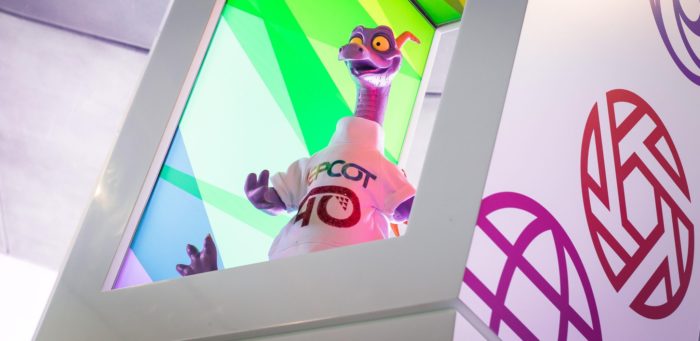 Believe it or not, the actual EPCOT 40 Figment plush you can buy doesn't even have the same shirt as the Figment in the store. "Inconceivable!" – The Princess Bride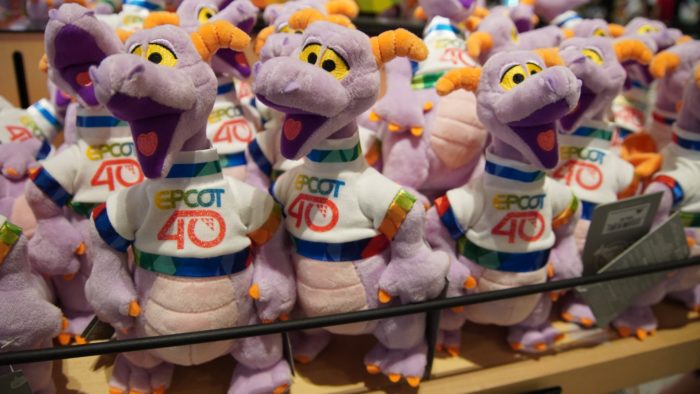 Let's take a look at some more of the EPCOT 40 merchandise…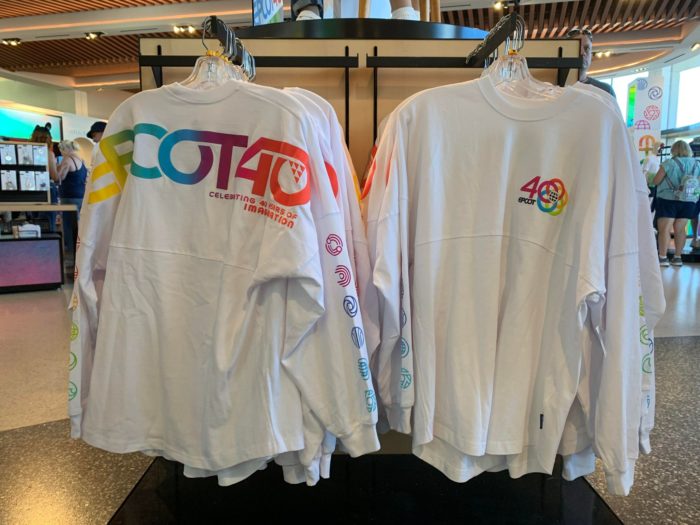 Lip service being paid to the original EPCOT Pavilion logos.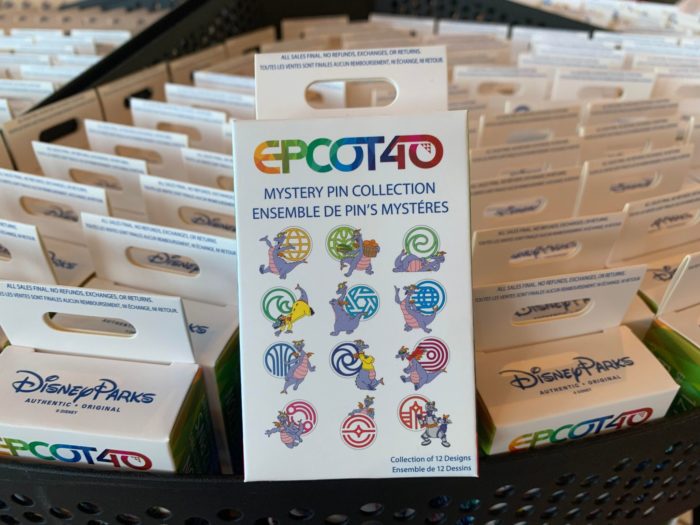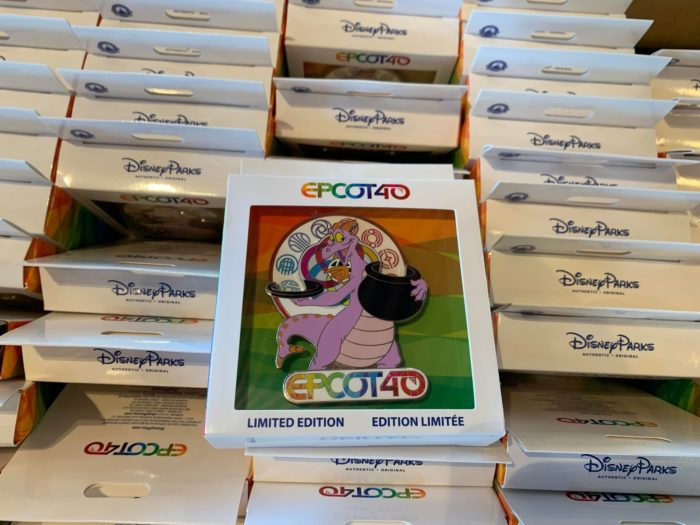 In keeping with the time honored tradition of Annual Passholder exclusive merchandise, the options for APs are worse than the open editions for everyone.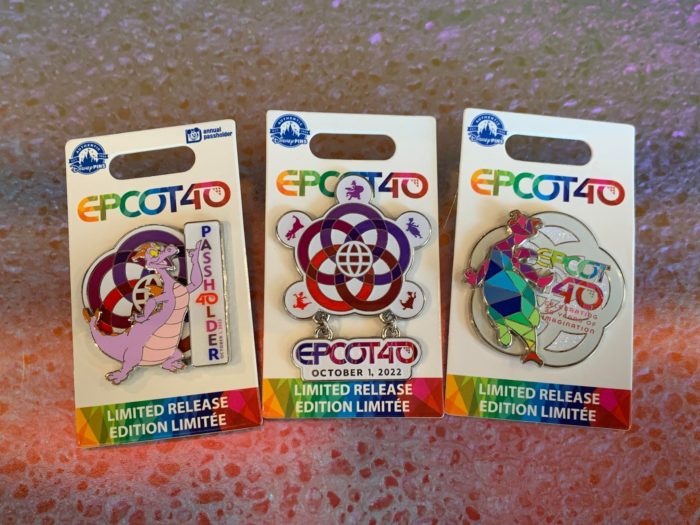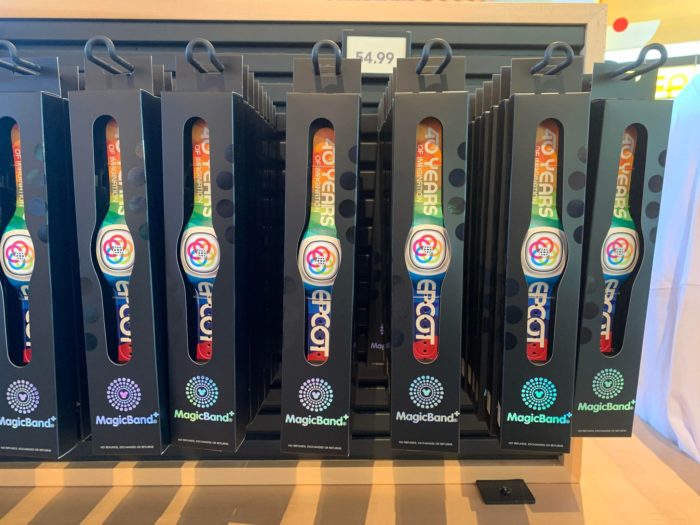 Thankfully, the Disney Fan Community put out some brilliant artwork inspired by EPCOT 40, including this piece featuring Mickey and Minnie in front of Spaceship Earth.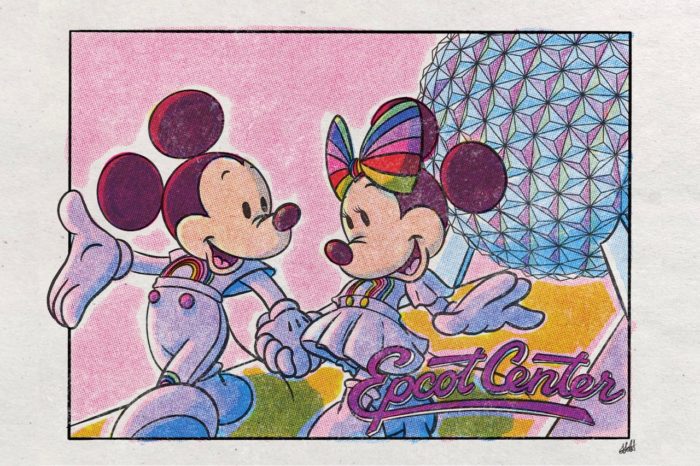 One of our favorite artists – SonderQuest – created a series of EPCOT 40 themed drawings, including our beloved Horizons attraction…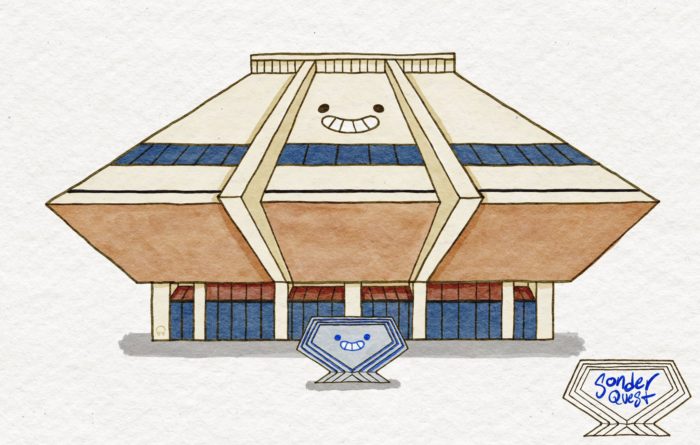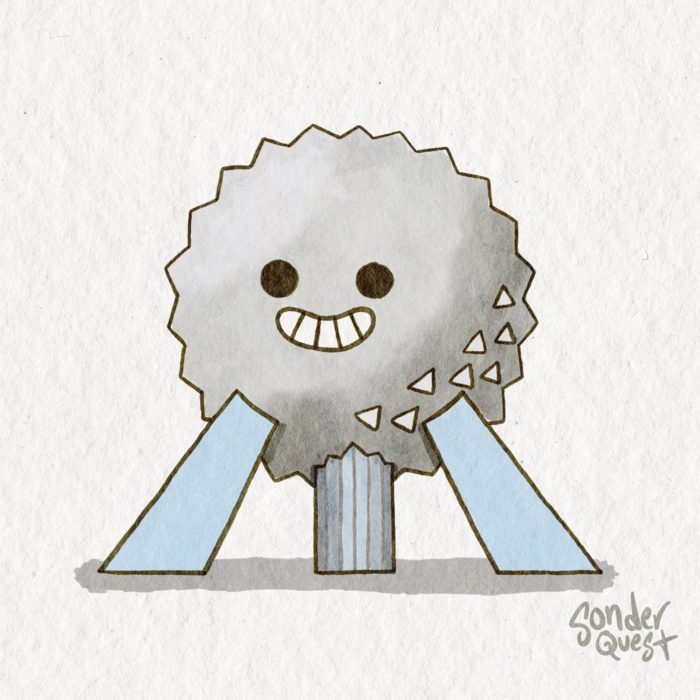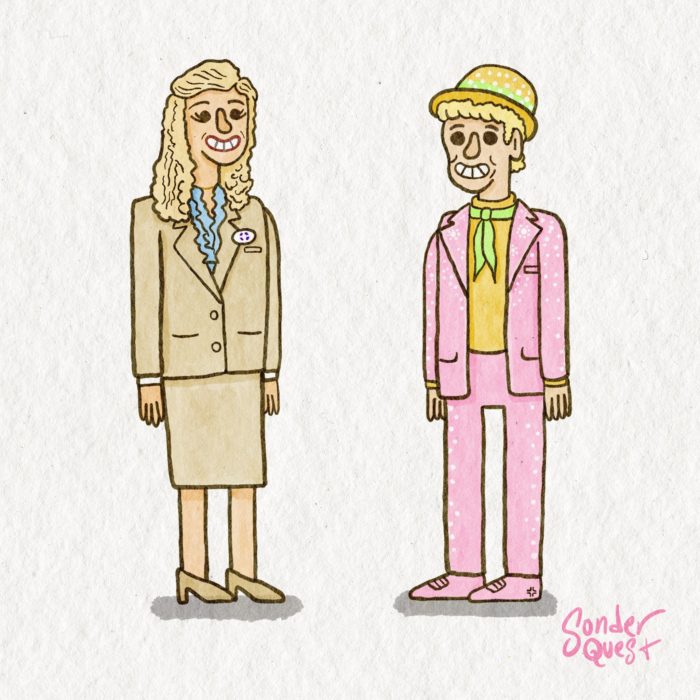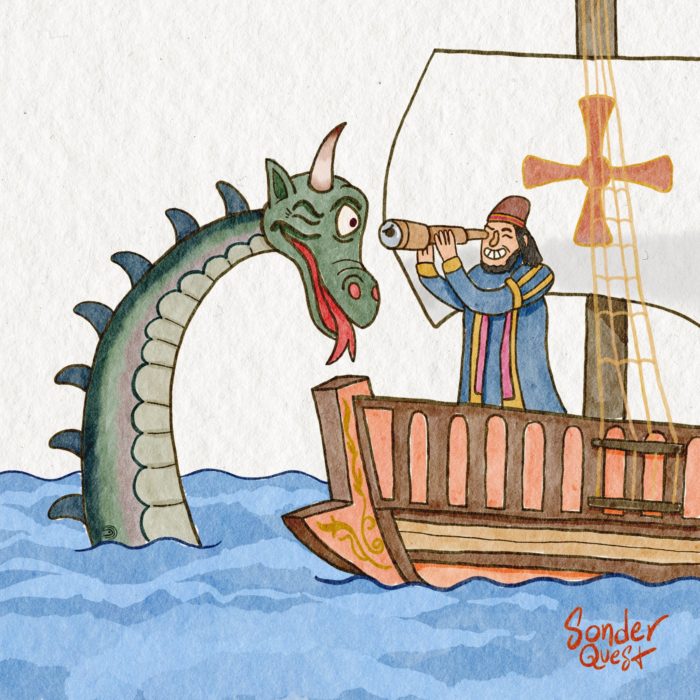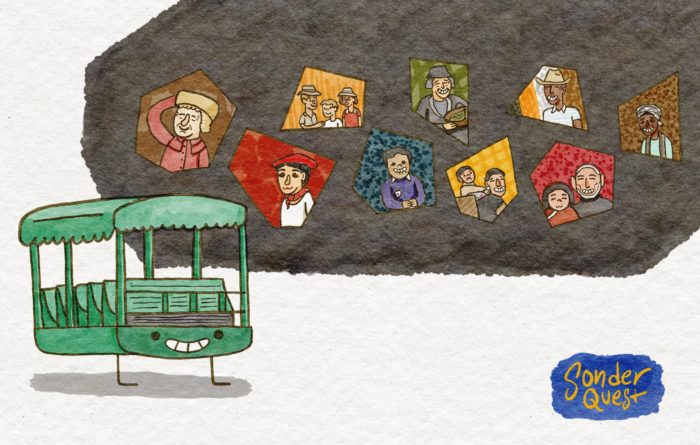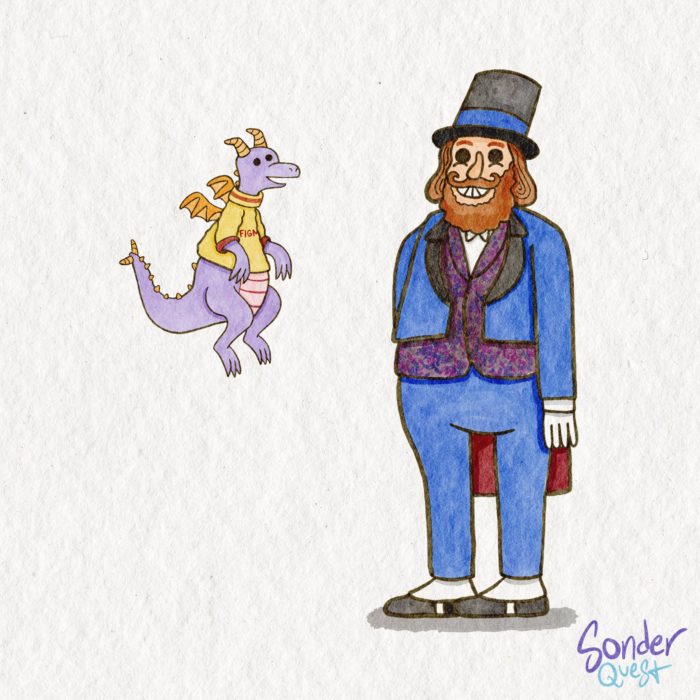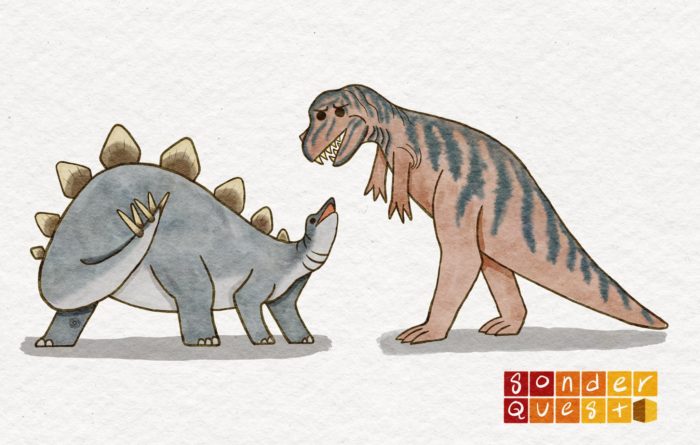 TPEI Score: – 22 I would say the current Disney management team should be embarrassed by the EPCOT 40th anniversary "celebration" but they clearly have no shame. Which leads us to our next story….
*Disney Goes ALL IN on Building More Rides and Adding Capacity Raising Prices and Making Vacations More Complex
We got even more Disney price increases this month. My favorite addition was out in Disneyland where they added a new "Tier 0" ticket, making for a total of 7 different tiers of ticket pricing. This is straight out of the movie Spinal Tap when Nigel Tufnel explains his amp can "go to 11." Can't wait to see what Tiers Disneyland creates next. Negative number Tier? Tier Tiger Blood? Maybe just go to a symbol like The Artist Formerly known as Prince with Tier $.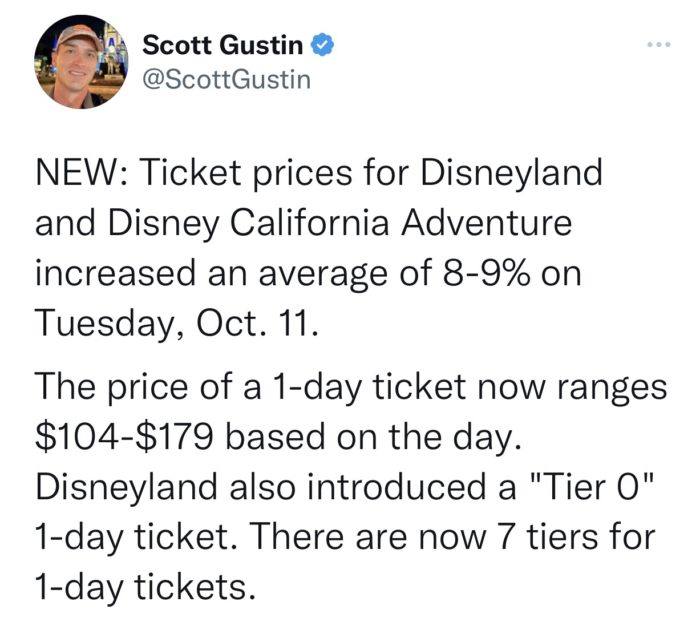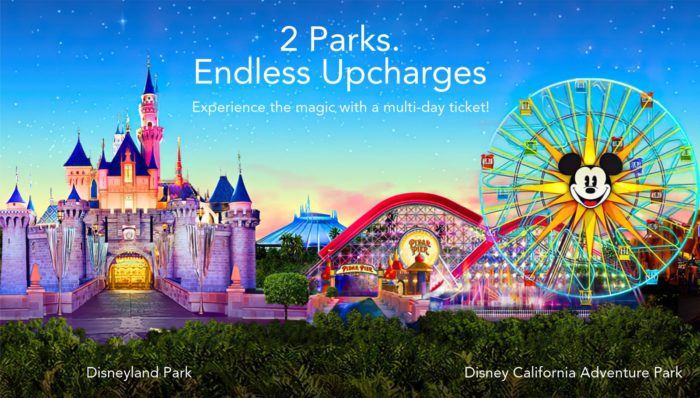 Yes, we've heard complaints about prices before, but it seems we may be seeing a tipping point for many when you have the massive price increases across the board mixed with everything else going down.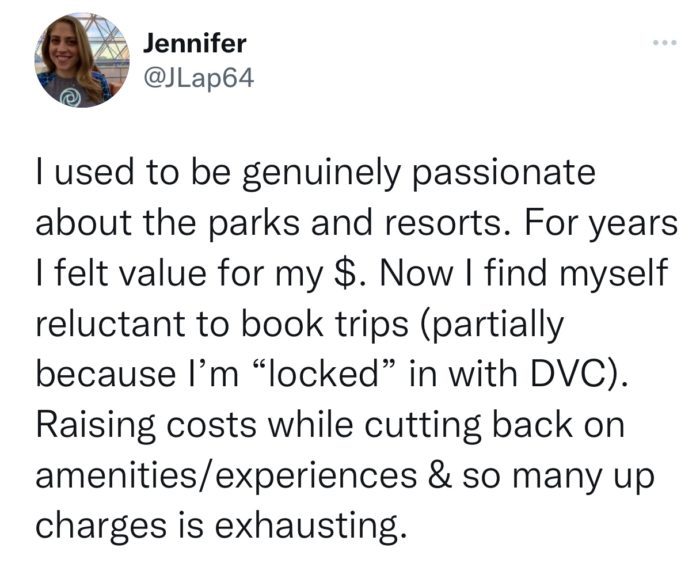 But the reality is, things are going to get worse before they get…well, much worse.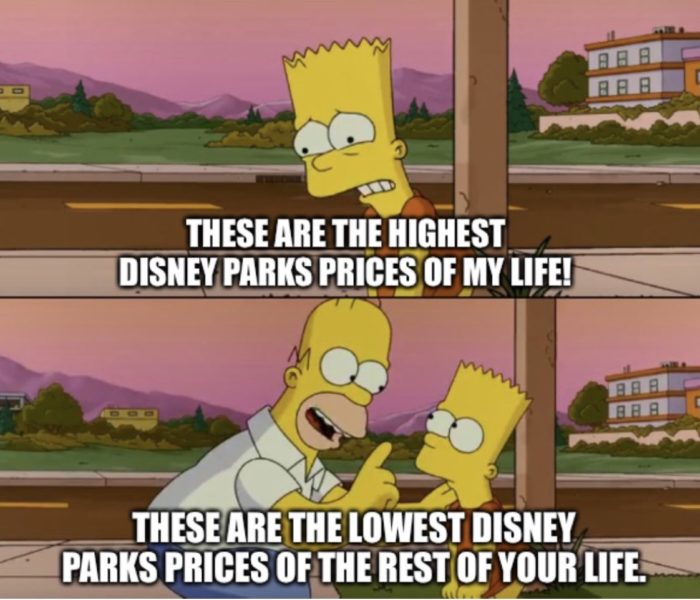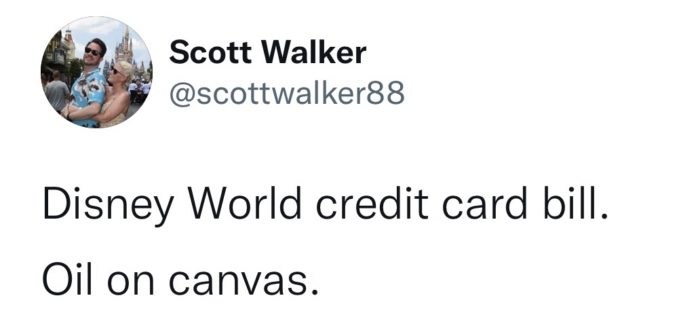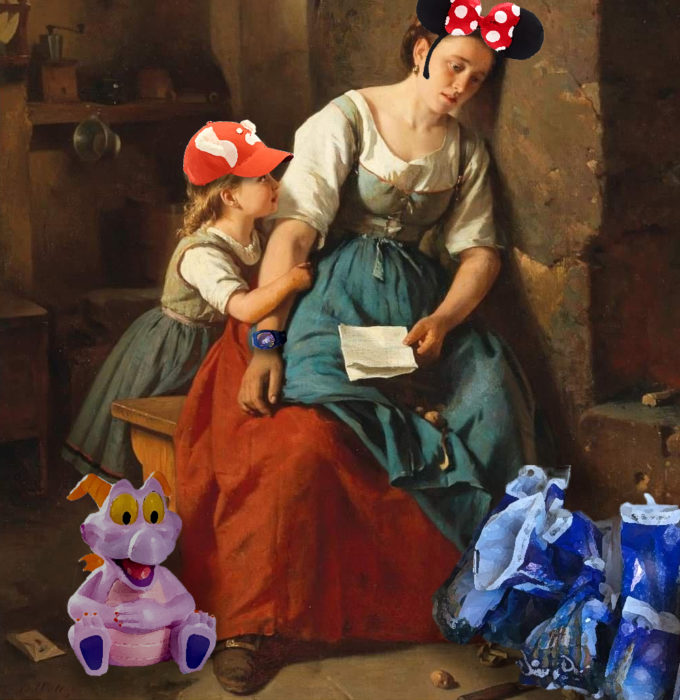 In my opinion, people won't have that much of a problem paying more money (A LOT MORE) for what they consider a premium product. I think many would make the case that the product Disney is delivering now is nowhere near what it was just a short time ago.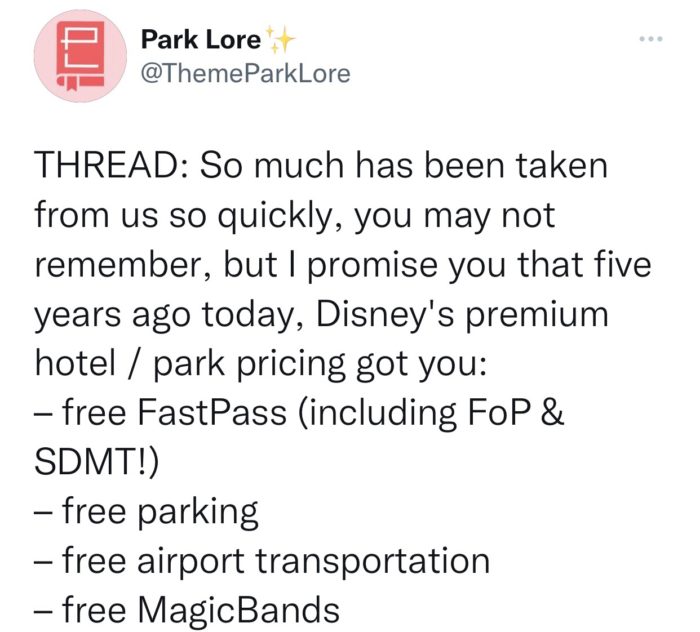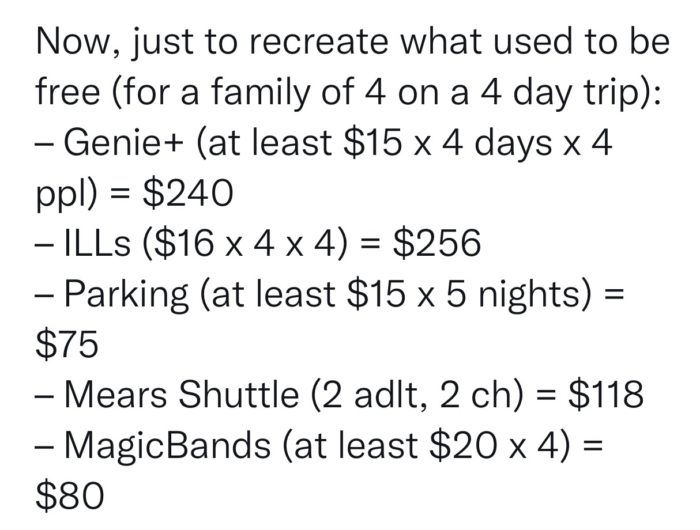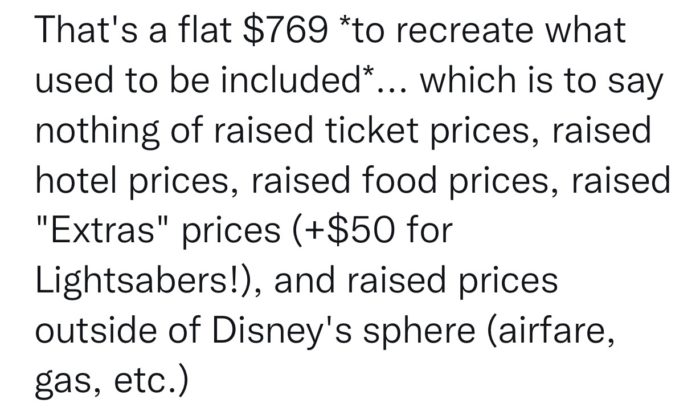 Things that were just introduced are already having huge price increases, such as Genie+…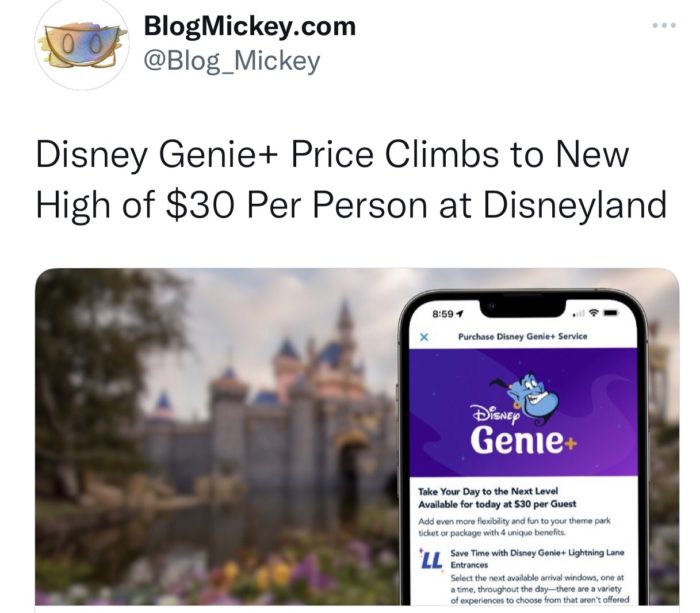 DID YOU KNOW, it takes FOUR STEPS on the Disney app to even find out the price of Genie+.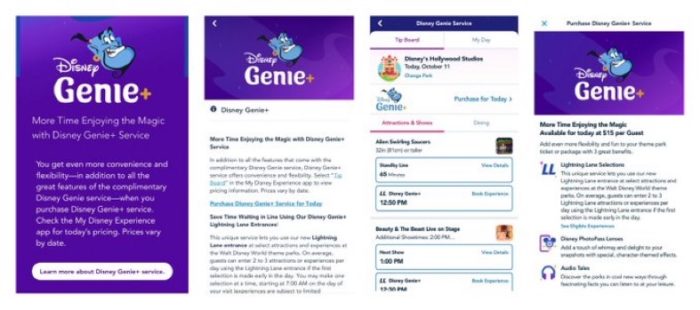 Even to seasoned theme park goers, Genie+ adds a layer of complexity to vacation planning that is – at best – frustrating…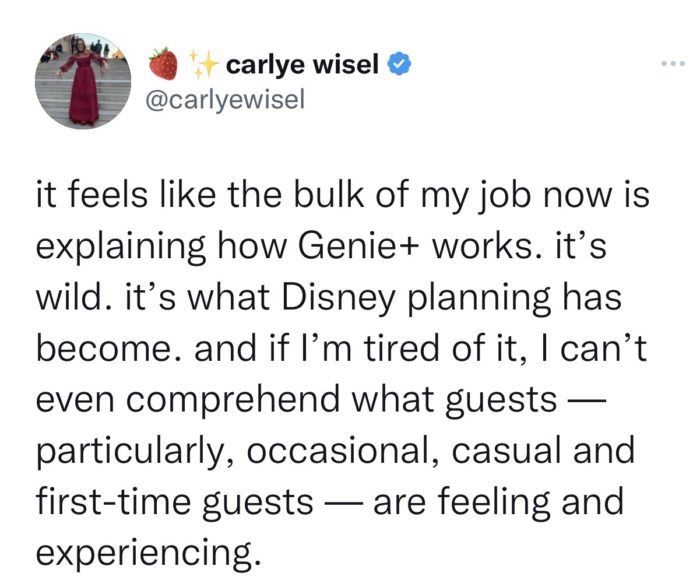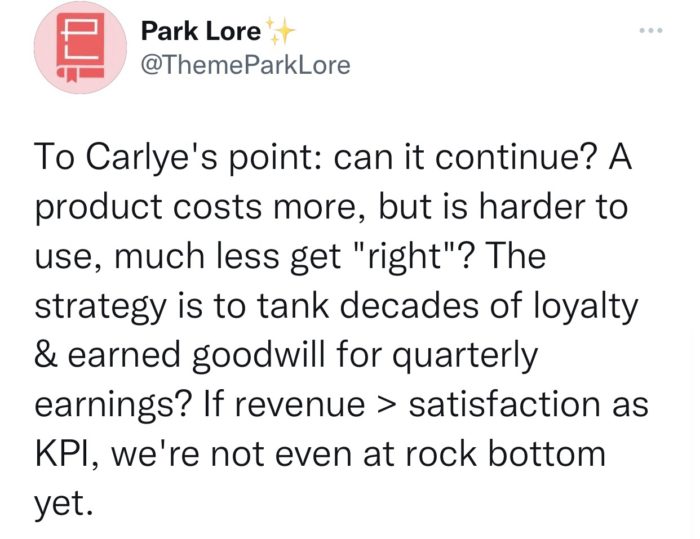 Oh, we're not even CLOSE to the bottom yet. Something like mobile ordering, which should have been a huge benefit to guests, instead has turned into the following…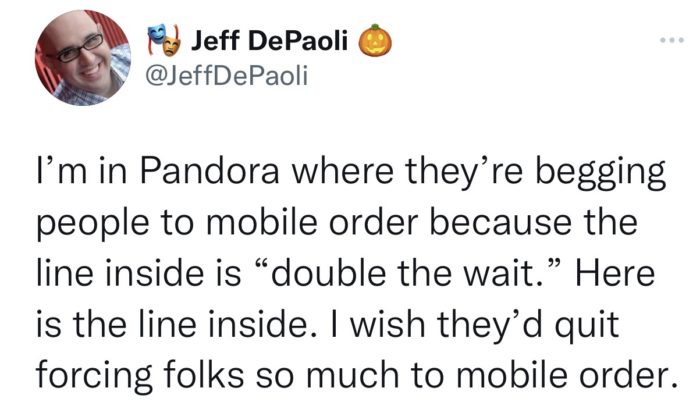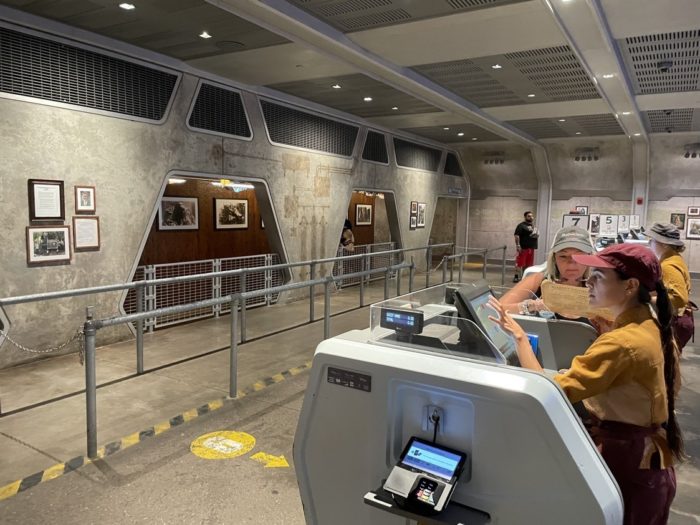 Imagine a day guest in Disney's Magic Kingdom or Disneyland just wanting to order a Dole Whip, but having to mobile order it and no slots are available for who knows how long. Meanwhile you are standing in front of the Quick Service Venue and there are Cast members standing around with nothing to do and aren't allowed to take your order. It's insanity to the point where it almost seems Disney is going out of their way to ensure guests have one negative experience after another.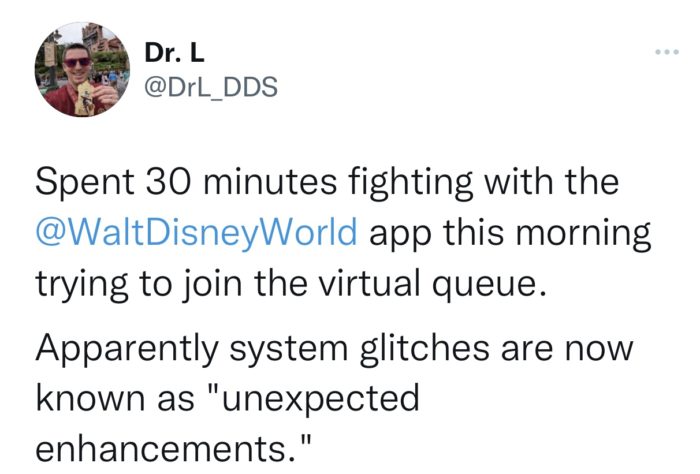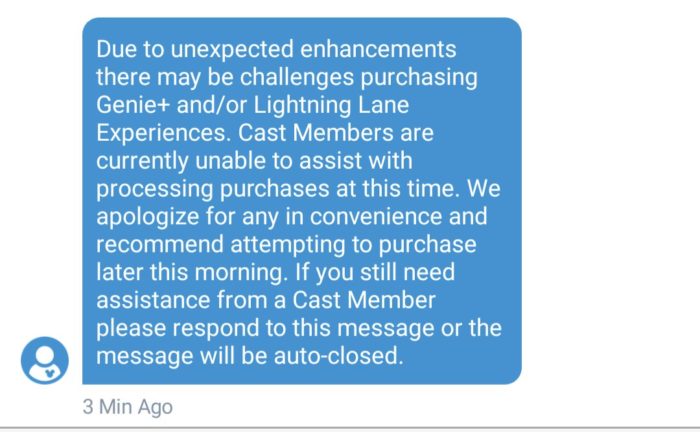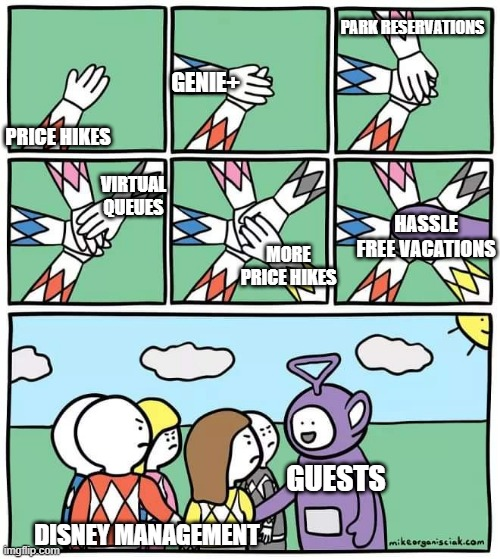 We are a long, LONG way from the Disney many of us grew up with…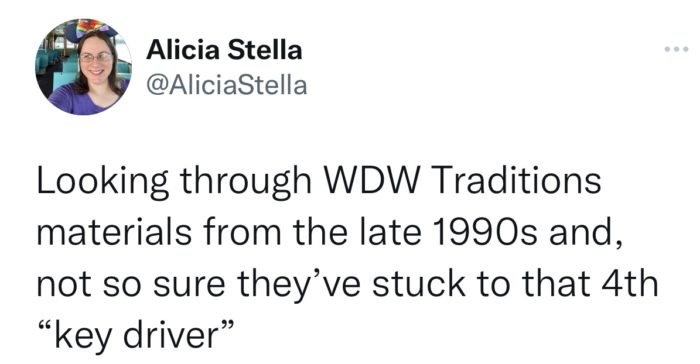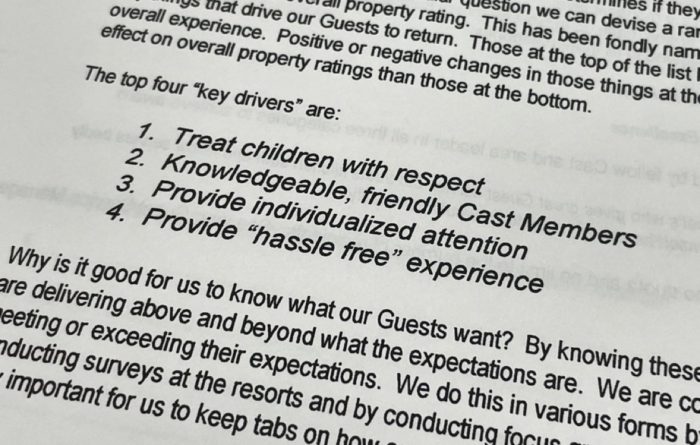 Instead, a generation of theme park fans are growing up like this…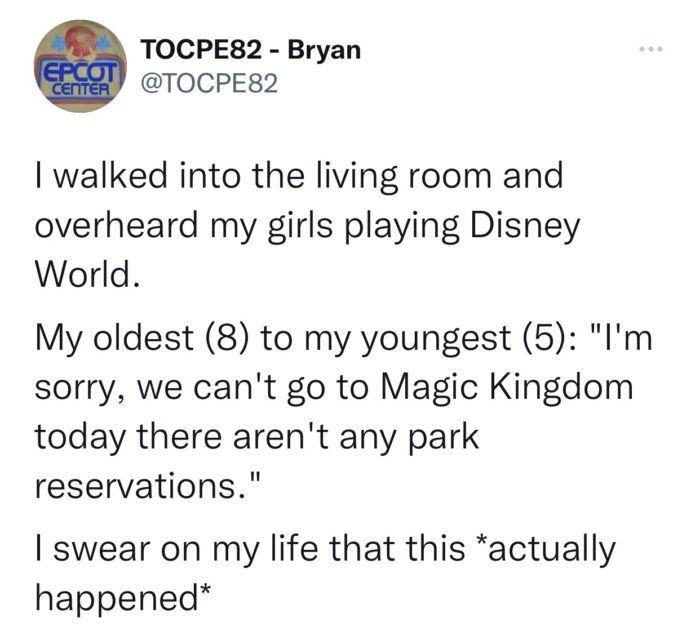 TPEI Score: – 8 There's even more we DIDN'T cover this month, including a next level bananas interview with Bob Chapek where the fictional family from Denver (now they are from Seattle) was always subject to phased closures in the past and now everyone loves Park Reservations. Chapek also dismissed any criticism of the way Disney is running its business by implying anyone complaining is just one of those theme park nerds who would complain if a churro cart was moved 10 feet. I get there are some people reading this who will Knight Up For Disney and say "it's a business, stupid" not understanding the graveyard of companies over the years who have taken the exact same approach to over pricing  and under delivering to their fanbase.
*Disneyland Gets MagicBands
Let's get some positive numbers flowing this month as Disneyland (AKA "The Golden Child") finally were able to use MagicBands at the parks this month. There are no ifs, ands, or buts about it, the debut of the MagicBand at Walt Disney World was overall a great addition to the guest experience. While not perfect, and nowhere NEAR what they promised us back in the day, the things that the MagicBand can do, it does great.
Not only did Disneyland get MagicBands, they even got the brand new top-of-the-line MagicBand+!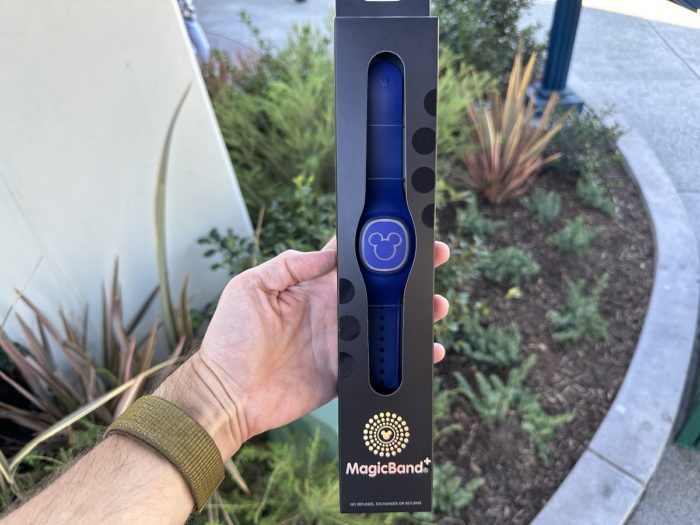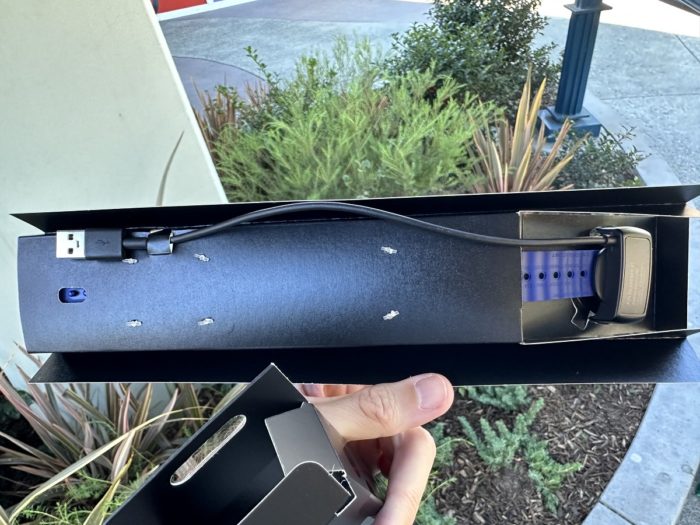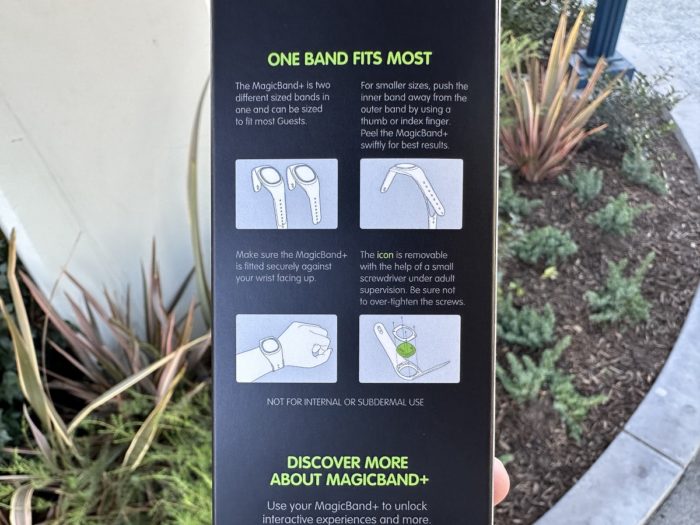 Several styles were available to purchase.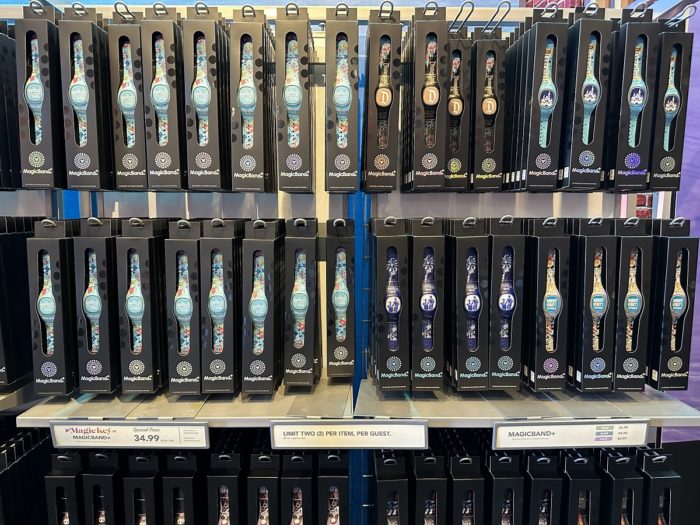 I love the Old Timey Disneyland logo on the blue MagicBand+ on the right. I also appreciate that they can fit a 1:1 scale picture of Sleeping Beauty Castle on the front.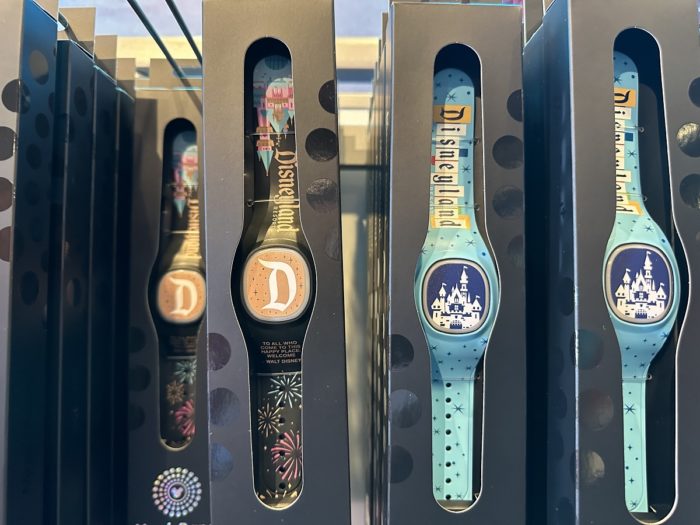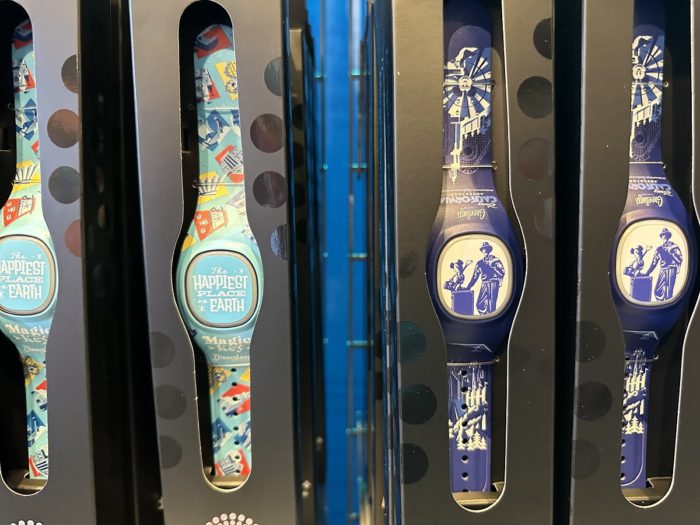 Haunted Mansion stretching room MagicBand+ is pretty neat too.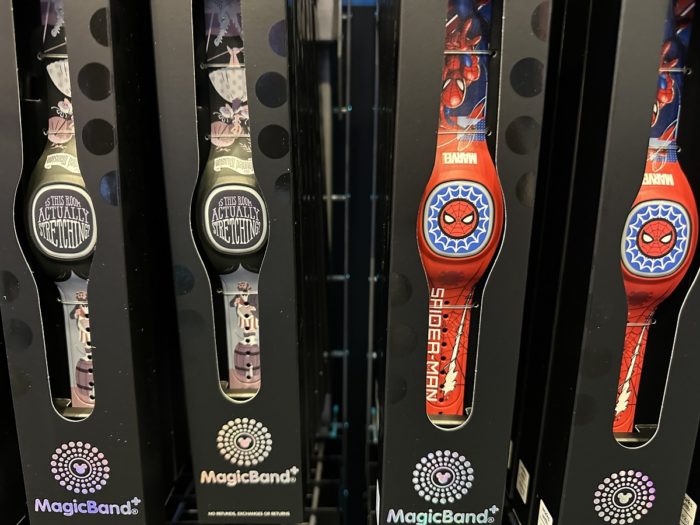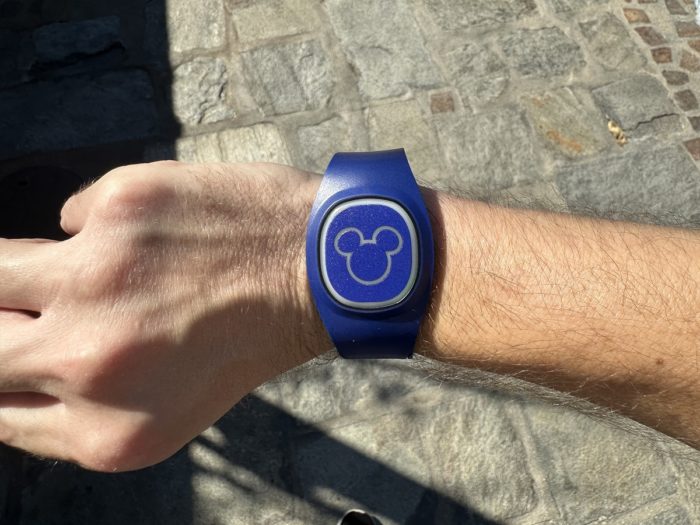 MagicBand+ has several features old school MagicBands do not have. You can read TouringPlans' own Guy Selga's review of using a MagicBand+ at Disneyland by CLICKING HERE.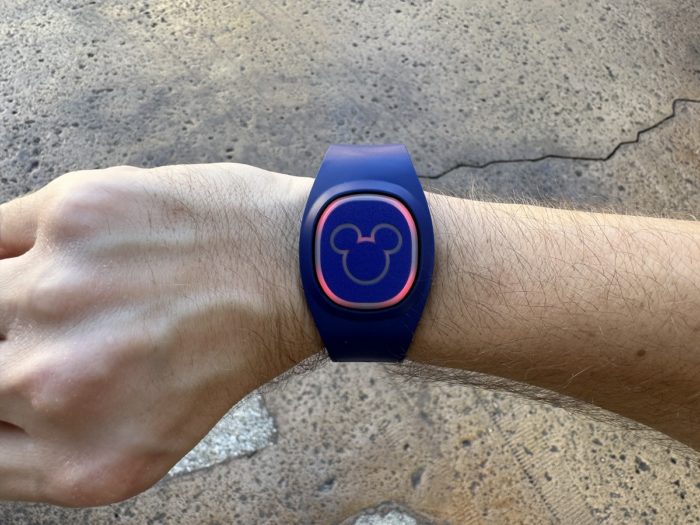 Unfortunately, as of right now Disneyland turnstiles do not have the tap points like the WDW parks do. So instead, the Cast Members scan your band via a smart phone.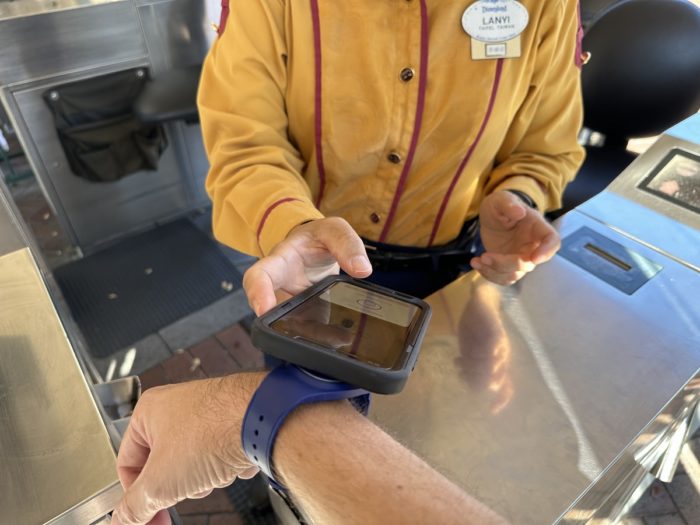 Here's another review of the MagicBand+ experience.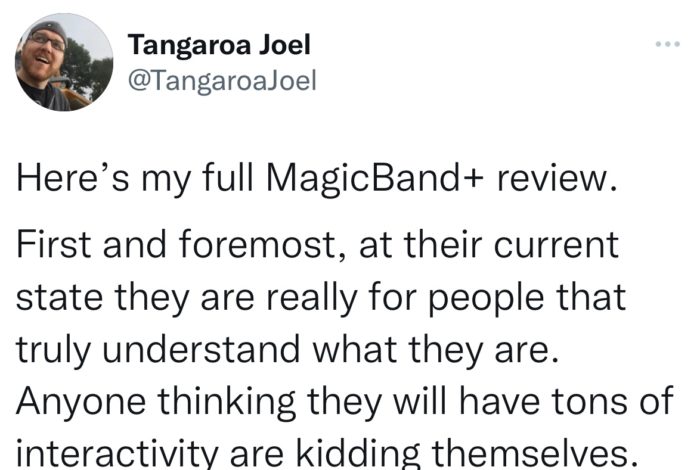 For more of Joel's review CLICK HERE.
One thing that was introduced along with the debut of the MagicBand itself out in California, was an interactive "game" in Star Wars: Galaxy's Edge.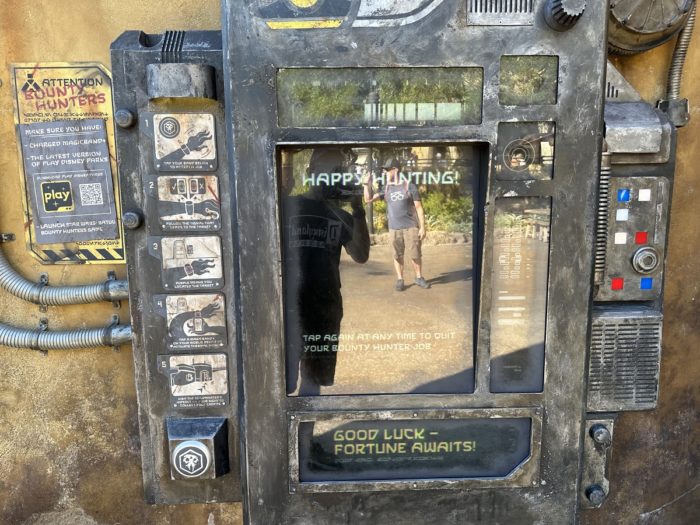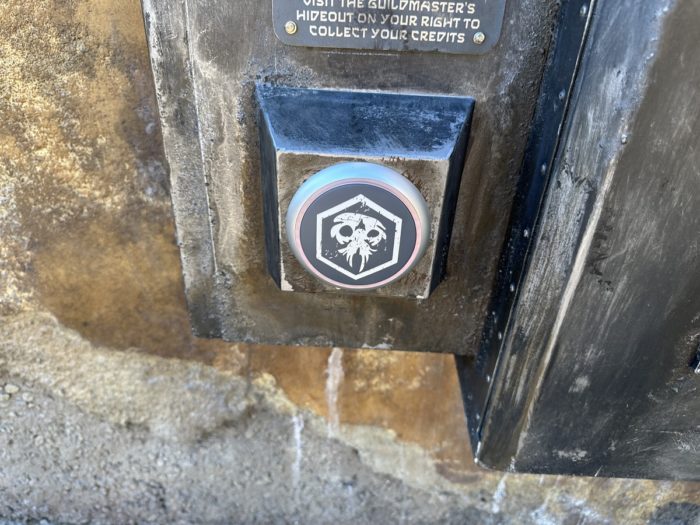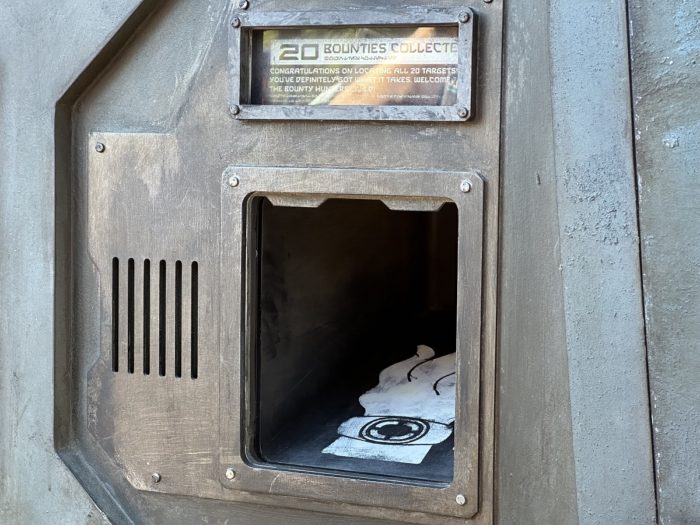 The ability for the MagicBand+ to display color is certainly interesting…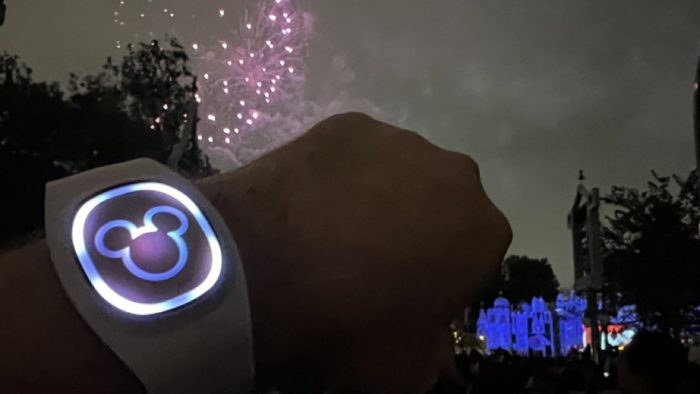 …and of course was immediately used to great comedic effect because of the Great Burning of Harmonious, which also happened this month.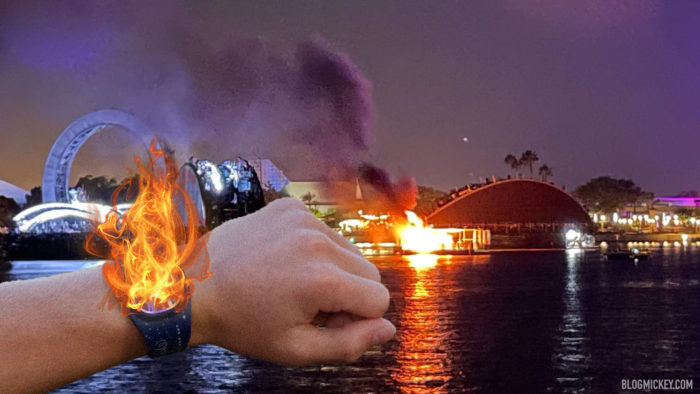 But we're not going to turn this story into a negative. NAY NAY. Well, maybe one more Burning Harmonious meme before we go…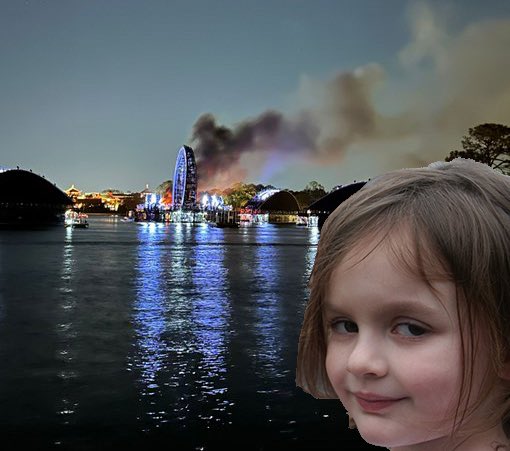 TPEI: + 6 MagicBands can make a Disney vacation experience easier. Period.
*Dead Coconut Club Gets EVEN BETTER
Last month in this fine blog series we did an entire article dedicated to the DEAD COCONUT CLUB in Universal CityWalk. The reimagination of the Red Coconut Club (which closed during the Covid shutdown in 2020 and never reopened) was a huge critical and financial success (the latter also drawing the ire of fans because it kept being bought out for private events at night.) In fact, the success was so great that the transformation continued and in October the second floor of the club became fully themed as well!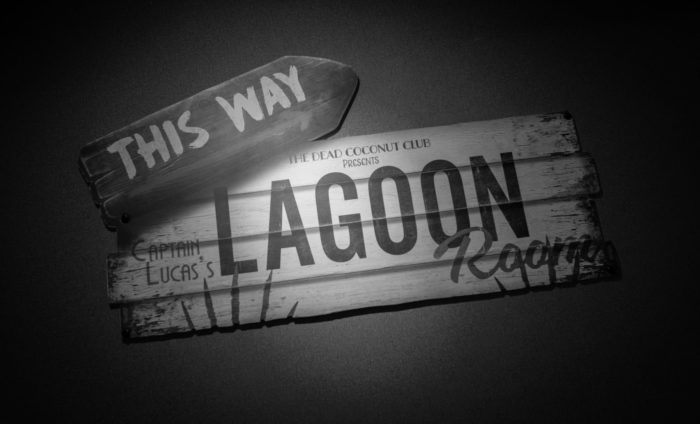 Even better? The theme was based on one of my personal favorite Universal Classic Monsters, The Creature From the Black Lagoon!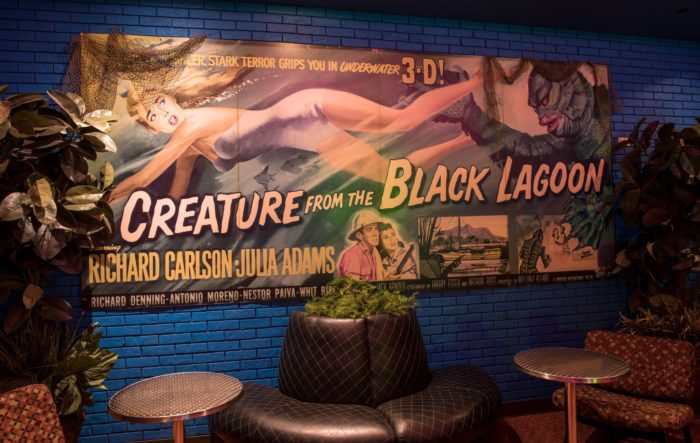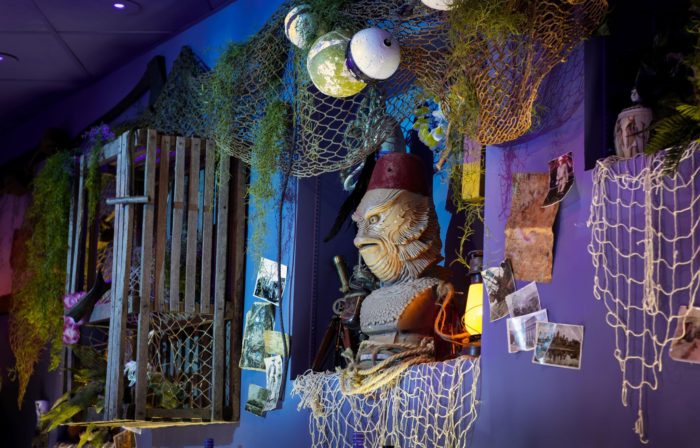 But that's NOT ALL. In October, the Dead Coconut Club also introduced walk around characters! Frankenstein's Monster, Bride of Frankenstein, and Dracula have been seen in the club, providing atmosphere, interacting with guests and taking photos.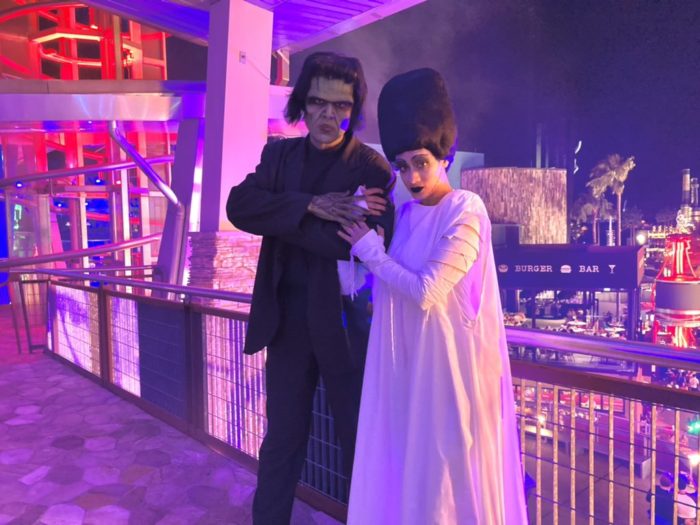 BUT IT GETS EVEN BETTER…
In October, the Dead Coconut Club also added a Mold-A-Matic machine featuring a plastic mold of The Creature of the Black Lagoon.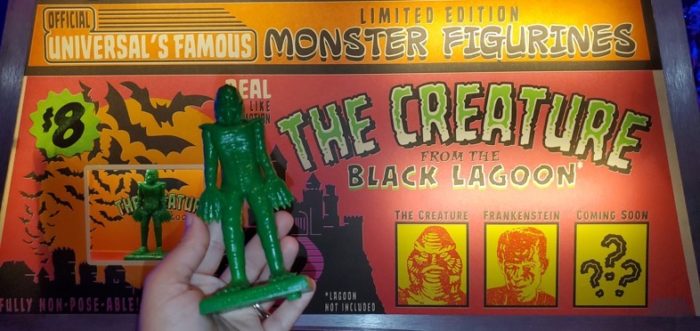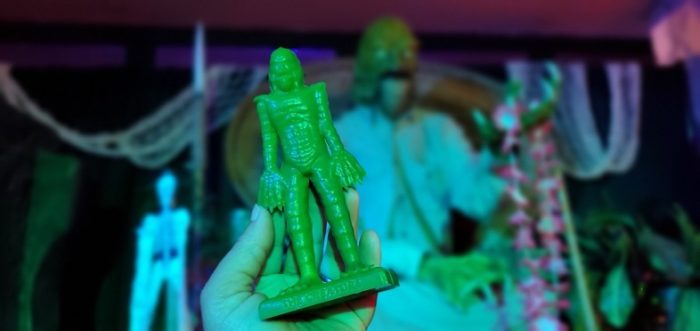 TPEI Score: + 4 This is a true Pinch Me, I'm Dreaming moment. Here's hoping the Dead Coconut Club remains long after HHN season is over.
*Getting Closer to the First Ever Escape Room at Universal
Let's stay in Universal CityWalk and go a few doors down from the Dead Coconut Club as Universal's Great Movie Escape is getting closer to opening. This escape room experience replaced The Groove nightclub.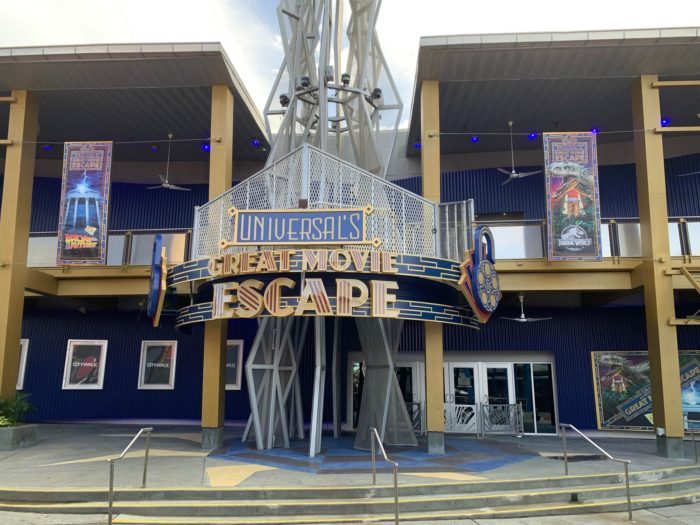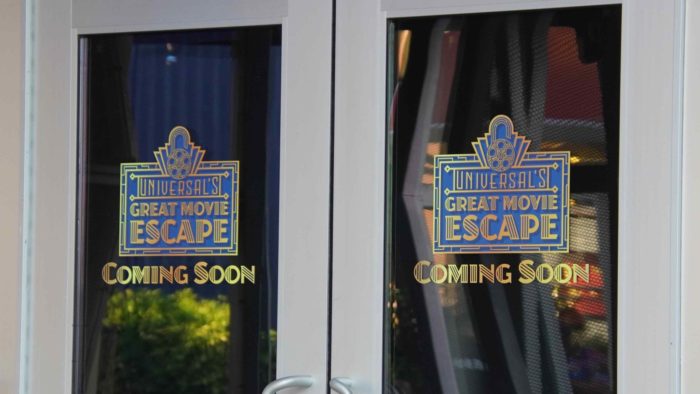 Escape Room experience themed to Jurassic World and Back to the Future? This is going to be a MONSTER hit.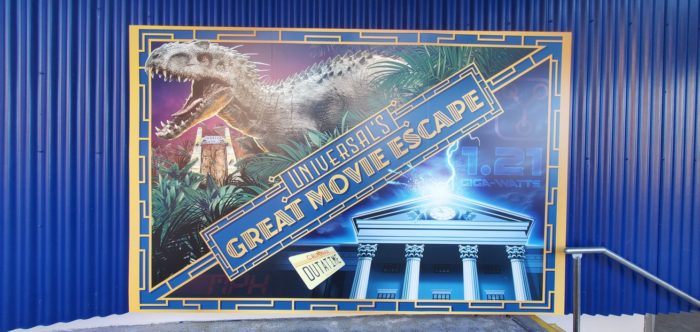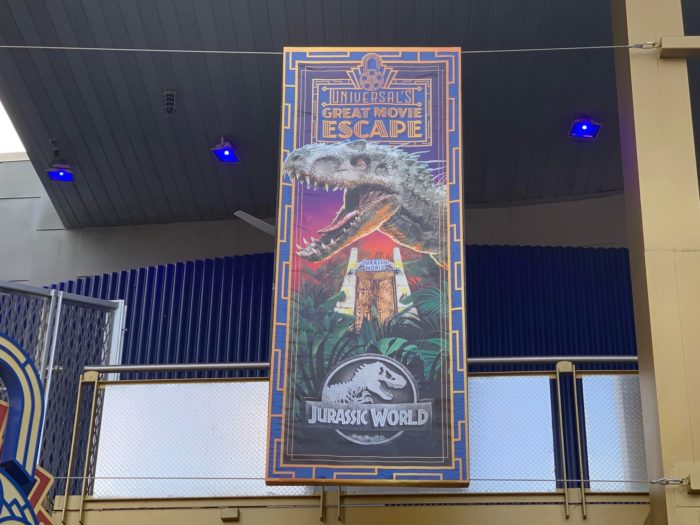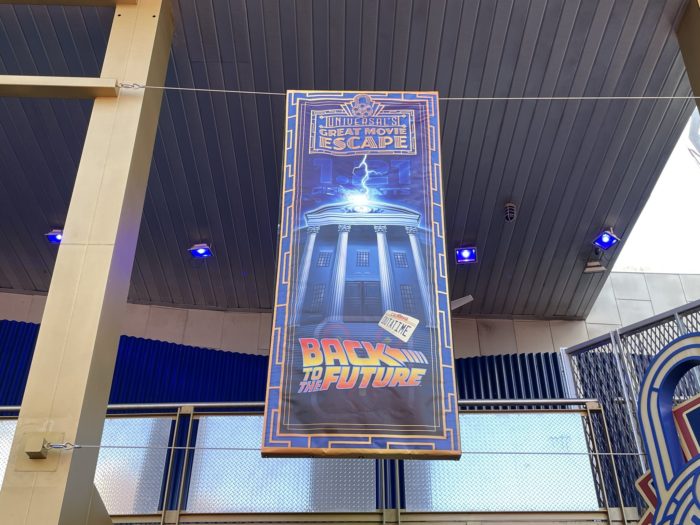 TPEI Score: + 2 The only trepidation I have about this Escape Room experience is that if Universal follows the model of almost all other Escape Rooms and places groups together. I love doing an Escape Room with friends and family. I think it is one of the most fun things you can do as a group. However, I *hate* doing an Escape Room being paired with strangers. Hollywood Drive-In Mini-Golf is possibly my favorite mini-golf experience in all of Orlando and I love doing it, but if I got paired up with strangers to play a round? I'd never go back.
*The ORIGINAL "Escape" at Universal Orlando….
Here's an interesting thread detailing an interesting part of Universal Orlando's history that is a Must Read.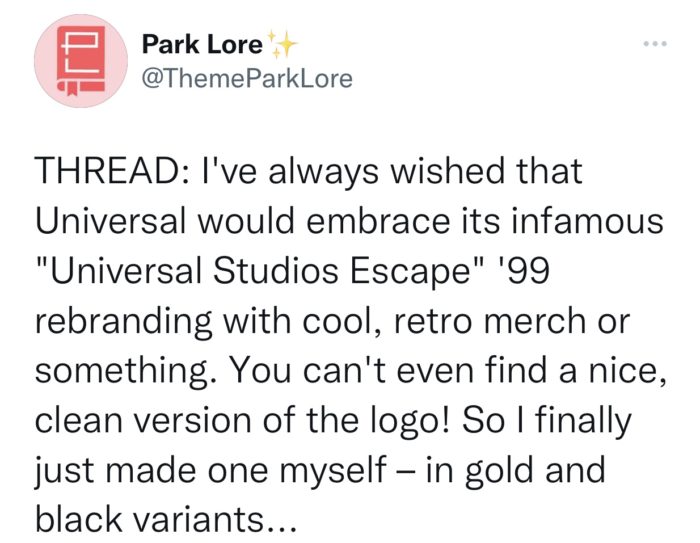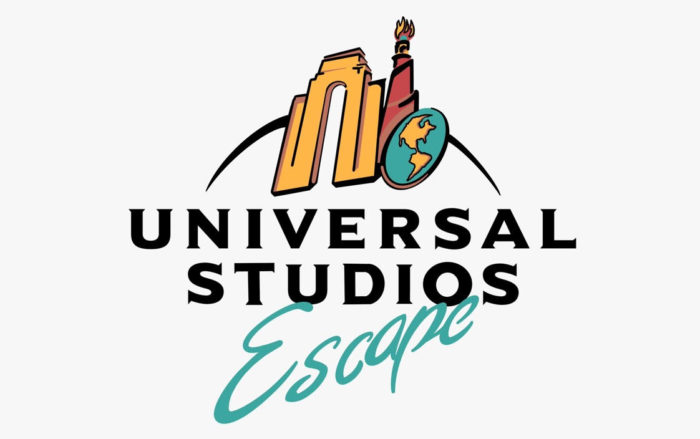 Again, make sure to read the great thread on history of Universal Studios Escape and how Universal learned the hard way on how to market a theme park as we prepare for the upcoming Epic Universe. So many "What Ifs" thanks to Universal Studios Escape because Rumors and Innuendo suggest Disney had the finger on the trigger ready to respond if Universal took any market share, but held off after Uni's strategy crashed and burned.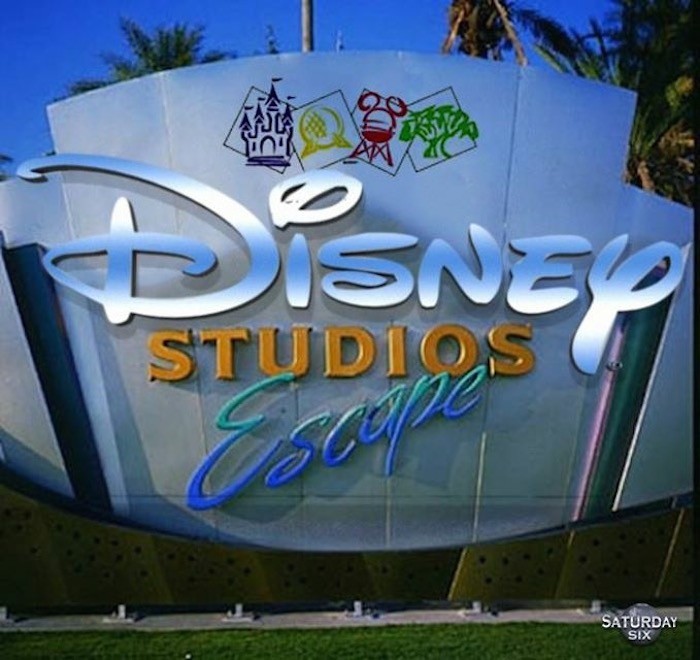 TPEI Score: + 2 Love great threads like this on DisTwitter giving us a history lesson on some wild times. One thing I never understood is why Universal never took advantage of this "negative" by producing a line of merchandise featuring the logo. There will always be a market for Disney-MGM Studios, EPCOT Center, and even Universal Studios Escape shirts and hats.
*The Great E.T. Queue Smell Debate
While Disney fans are used to parks filled with Opening Day Attractions, Universal Studios Florida has extremely small amount of rides and experiences that are still around 30 years after the park opened. One of those attractions is E.T. Adventure, which is beloved to many fans with it's Peter Pan-like ride experience and straight up E-Ticket queue.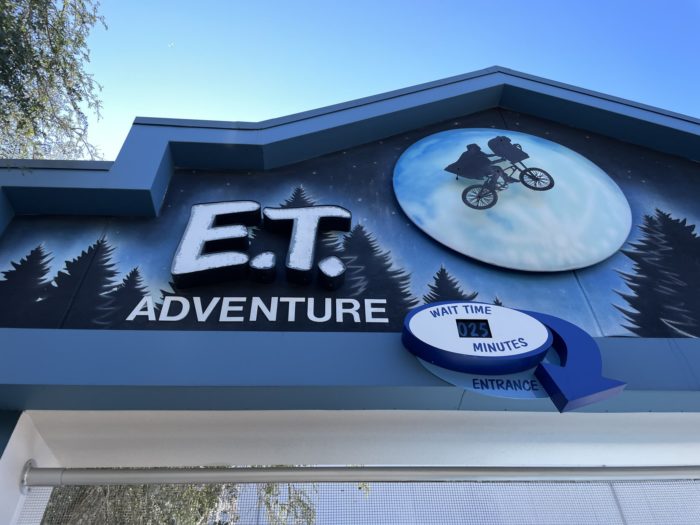 But something happened this month which caught the attention of many park goers…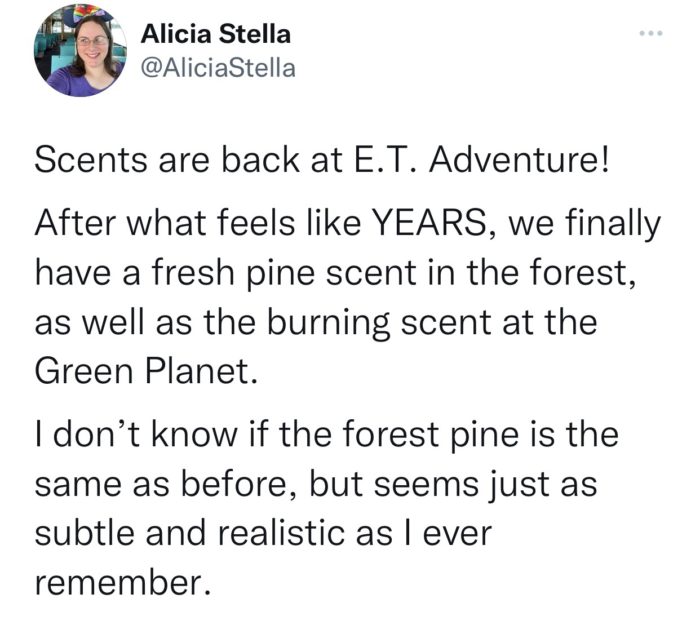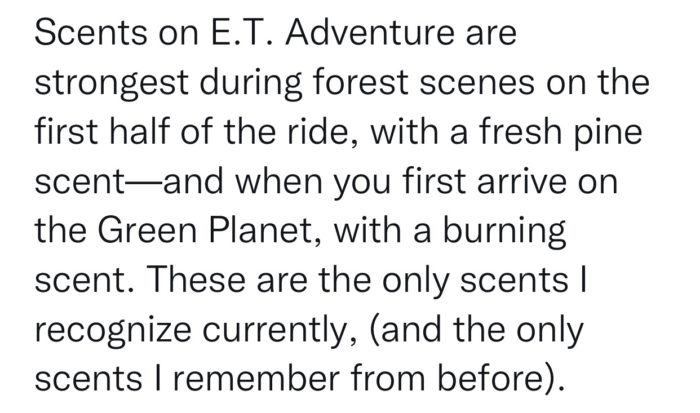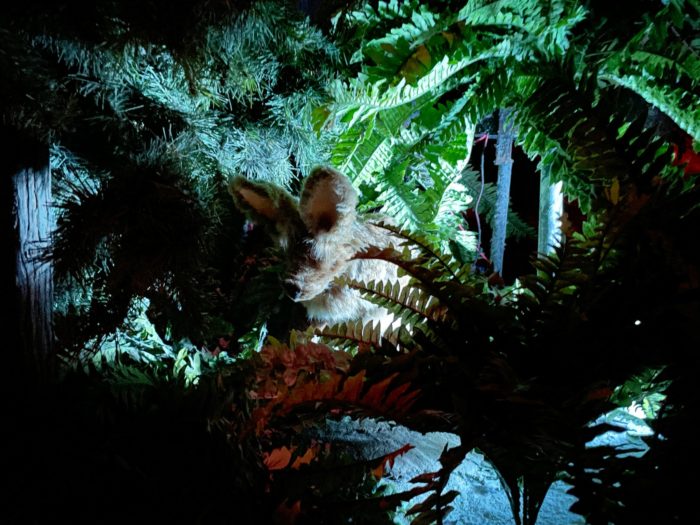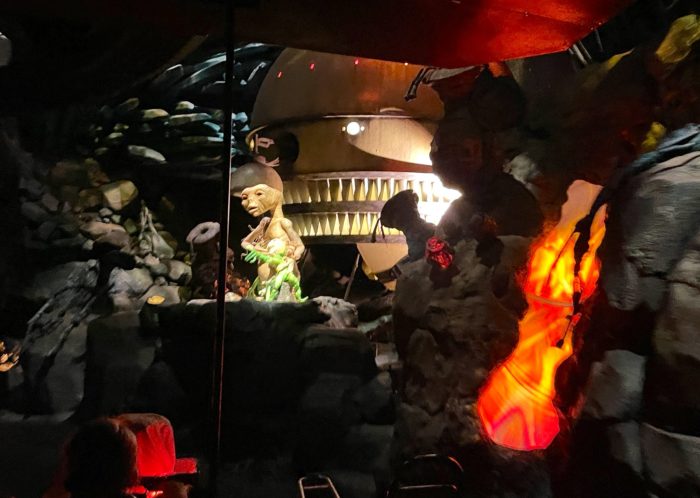 A funny thing happened though. MANY people went online and said that Universal changed the scents used in the attraction. They were ADAMANT about this "fact." This led to a reasonable explanation by Alicia…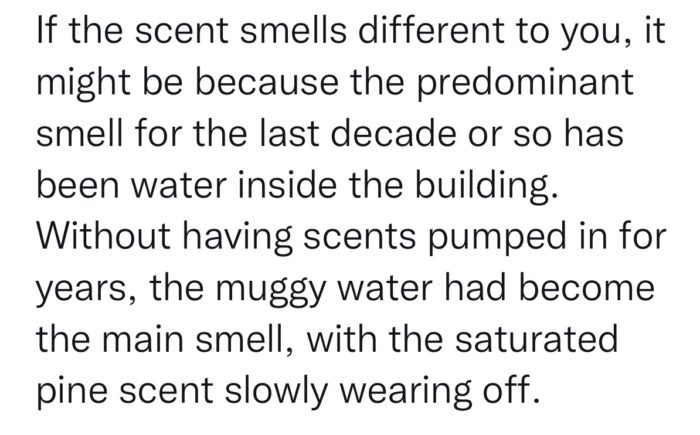 Did people believe Alicia? Well, not everyone. However, Universal confirmed the news of "no news."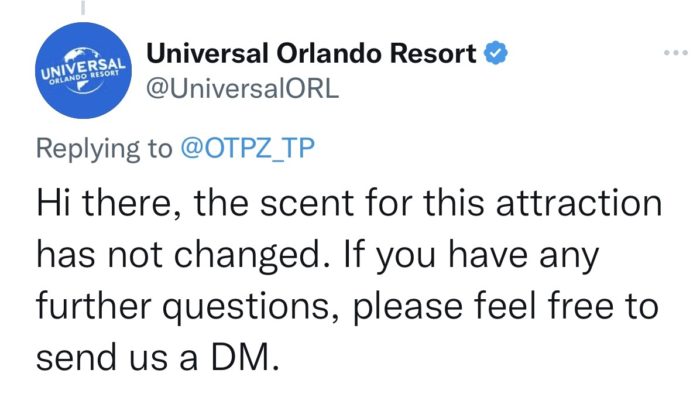 Thanks to special TPEI Investigation, digital maestro Scott Walker discovered what actually happened this month to cause the scents to "change"…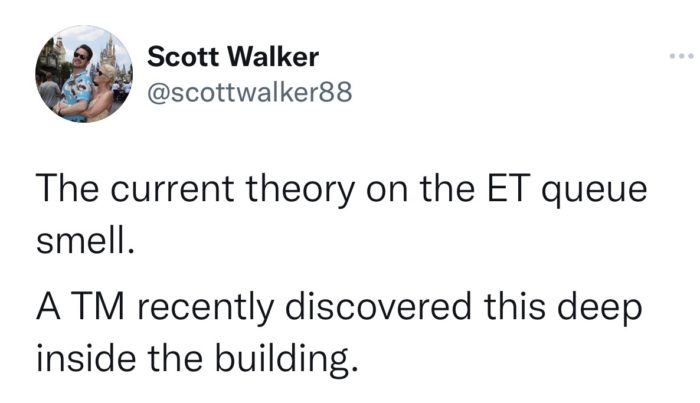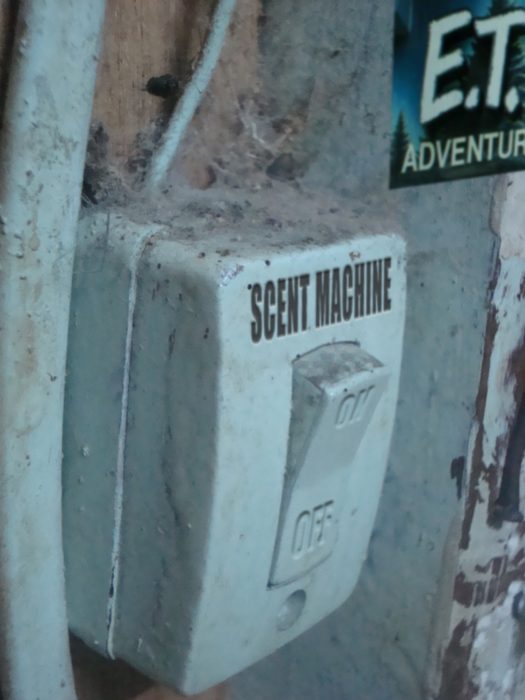 TPEI Score: + 4 Always good news to have more scents used in rides, especially the iconic smells used in a classic attraction like E.T. Adventure. I'll admit, I did like the conspiracy theory that Universal had changed the scent to align with the E.T. candles they are now selling in the parks. Now THAT is synergy I can get behind. Speaking of synergy, has Universal considered selling car air fresheners in the Universal Parking Garage…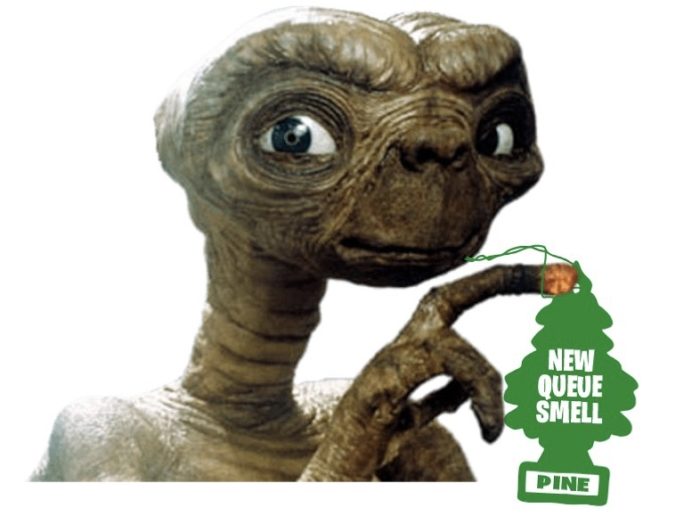 We should also point out this month also brought us a sneak peek at a current Work In Progress drawing of Botanicus from the E.T. Adventure by none other than SonderQuest.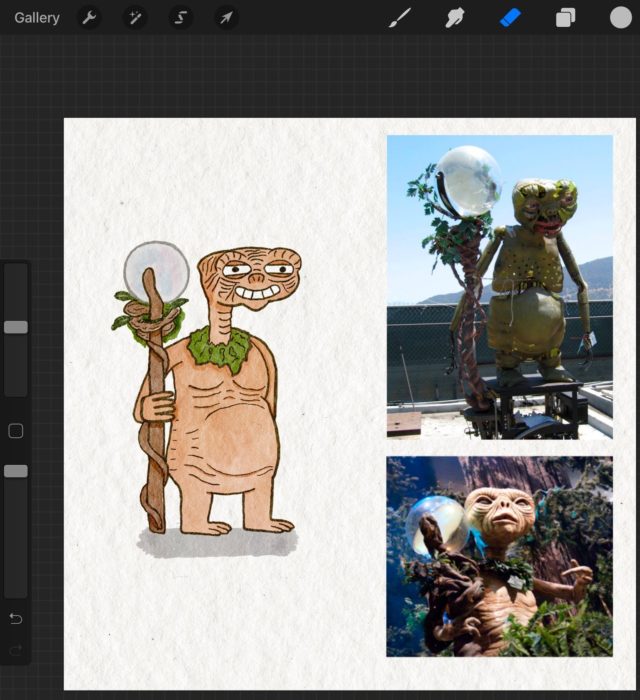 How great is this Easter Egg? Hidden inside the drawing is 1990, the  year the E.T. Adventure opened!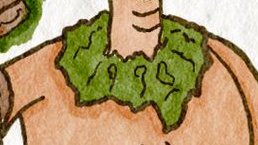 QUICK HITS…
Twitter user Maria Mondloch found a very intriguing Blind Item story on The 'Gram…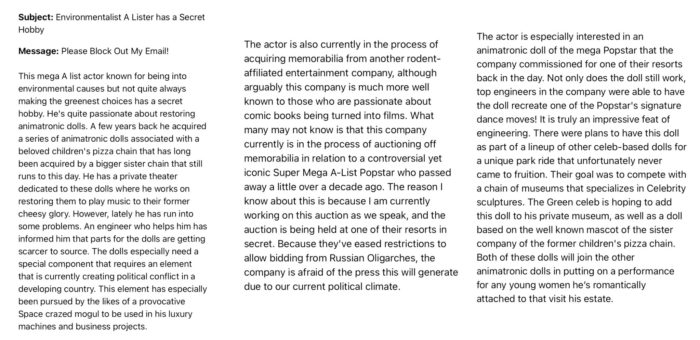 As many questions as that story opens up (how would Disney be able to have a Double Secret auction at one of its resorts without word getting out?) filmmaker Josh Bailey quickly stamped out any legs the story might have had.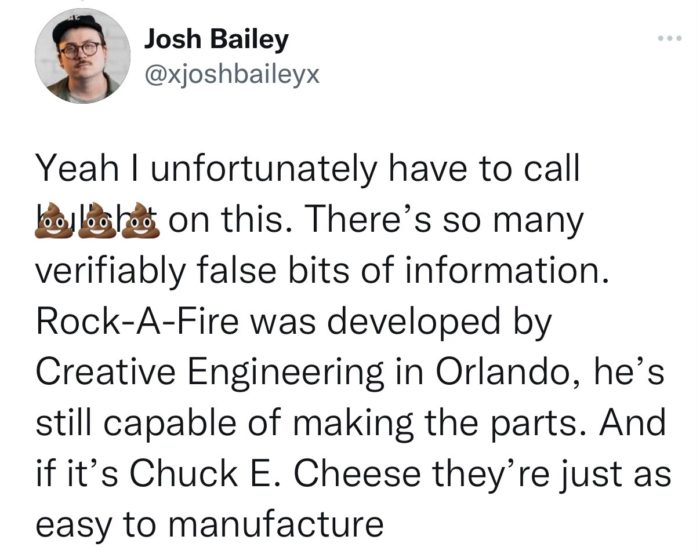 For those who don't know, Josh Bailey is one of the people who are developing the documentary film STOLEN KINGDOM. This is one of the movies I am most looking forward to it as it will cover the theft of the Buzzy animatronic from the Wonders of Life Pavilion at EPCOT.
We have – for the most part – avoided discussing the theft of Buzzy in the SATURDAY SIX. Even for our Turkeys of the Year articles, the next level bonkers saga of Patrick Spikes is a bit much. I don't mind goofing on people who are being idiots (like the guy drinking water out of the Disney fountains for clout), or rude to Cast Members (like the no-tipper "Disney Expert" at Via Napoli), but don't want to put too much a spotlight on anyone who acts maliciously. The story of Patrick Spikes and his exploits at Disney is a fascinating one though, and we only know part of the story. Can't wait for STOLEN KINGDOM to provide even more context for the craziness.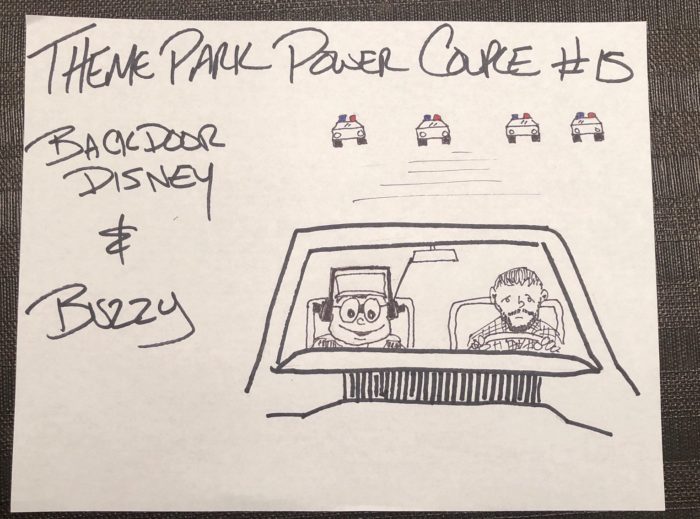 Speaking of Buzzy, check out this AMAZING Buzzy Identification Guide drawn by artist @bunny_wars. Truly awe inspiring as so much research and love was clearly put into this project.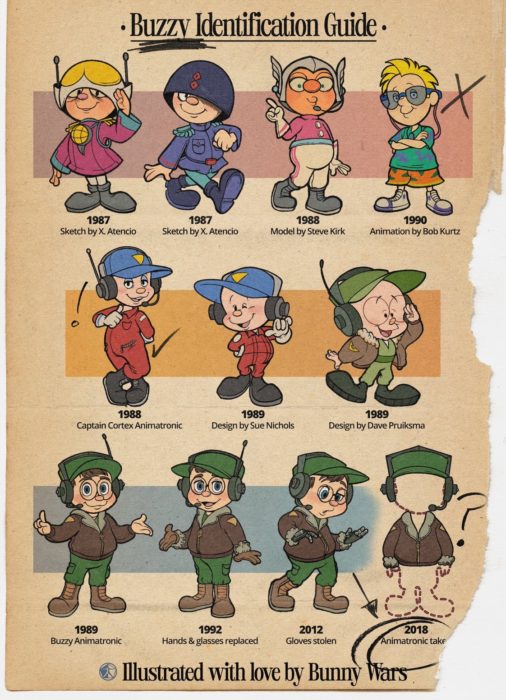 Buzzy was featured in our Artist Spotlight feature on Ava Buric and is beloved by many Disney fans. Amount of items and/or references Disney made with Buzzy in honor of the 40th anniversary of EPCOT, the park Buzzy was featured in? Zero.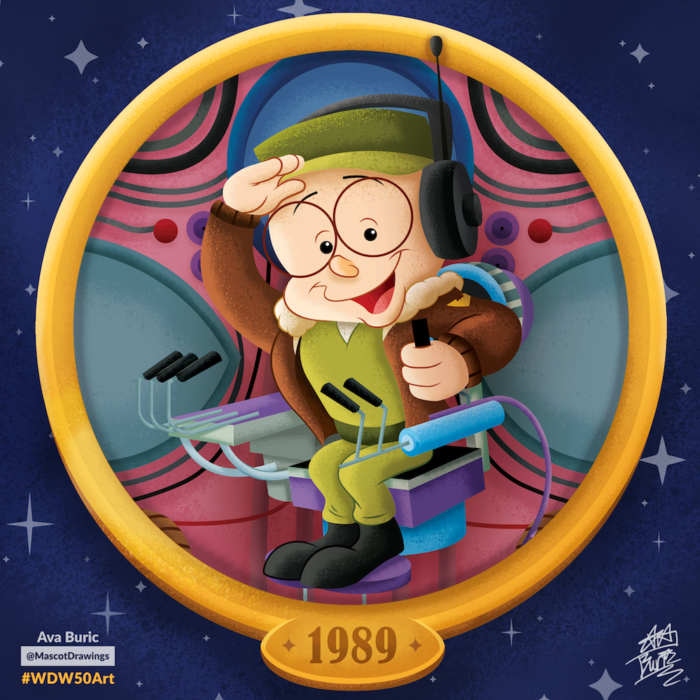 *Graphic Design is Disney's Passion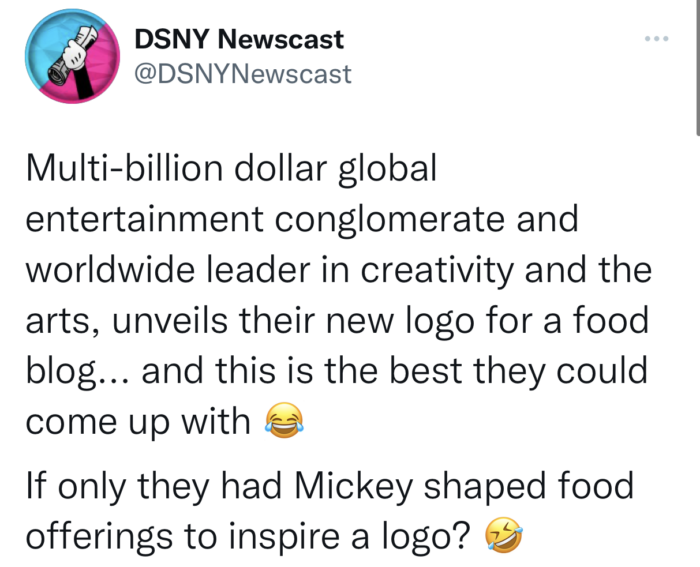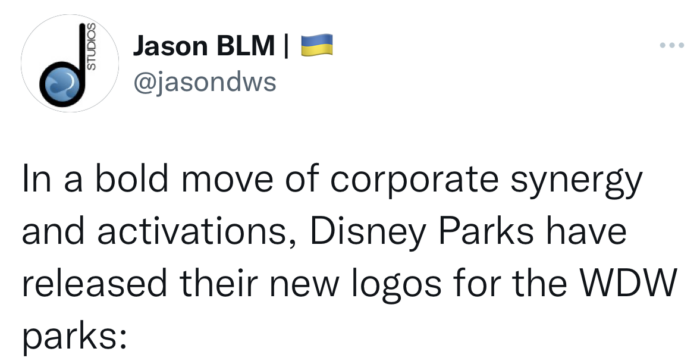 We are also reminded that Disney, to this day, are putting out merchandise with Cinderella Castle as the "O" in the word "HOME" despite the fact the Castle looks a hundred times more like an "A."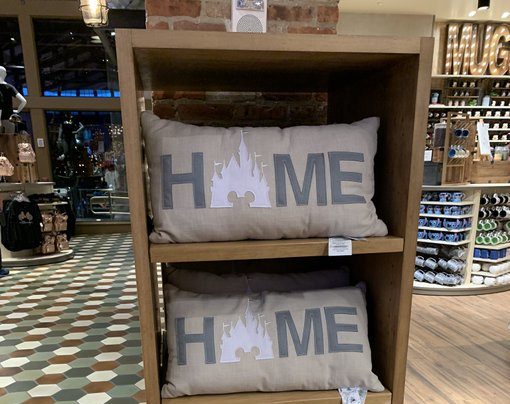 So be prepared for some possible new merchandise down the road…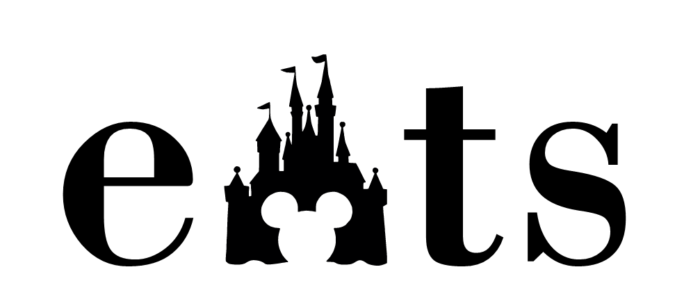 *Theme Park Food Update…
Ever open a bag of chips only to discover the bag is only half filled with chips and half the bag is empty? Well, Disney saw those bags and had an idea…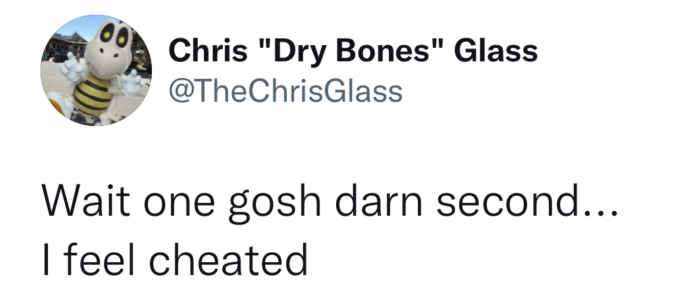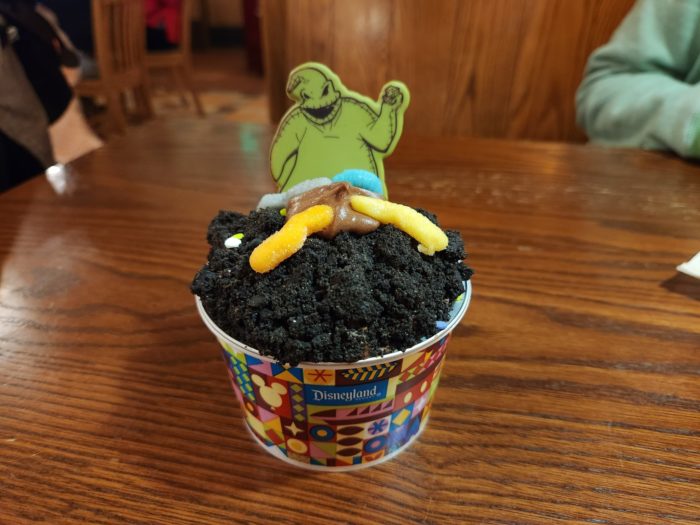 ARE YOU KIDDING ME?!!!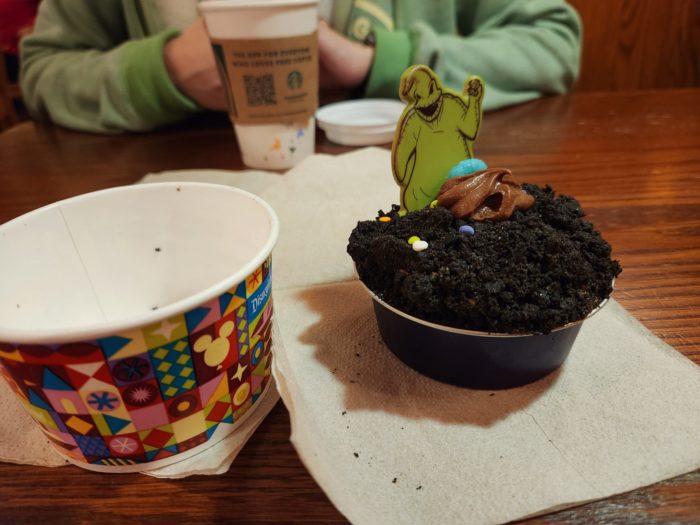 However, this doesn't look that bad at all…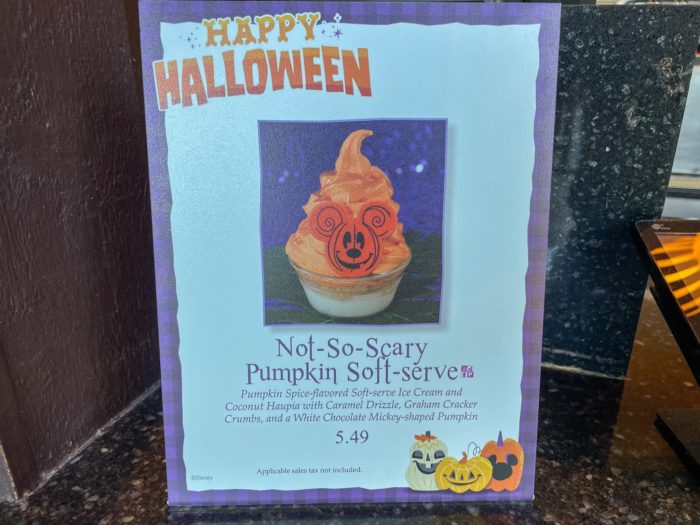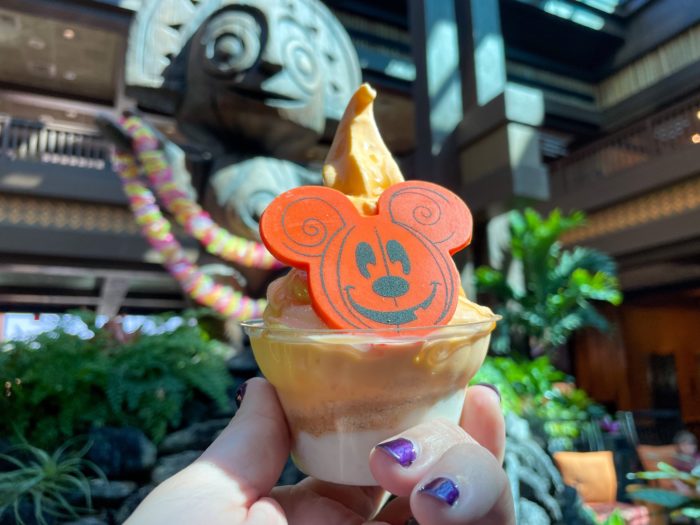 Over at Universal they leaned into the HHN-theme a bit with the debut of Monster Cookies. From the outside these look like pies, but upon closer inspection are GIGANTIC cookies.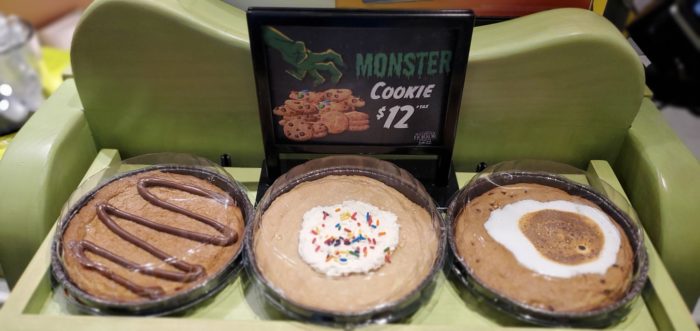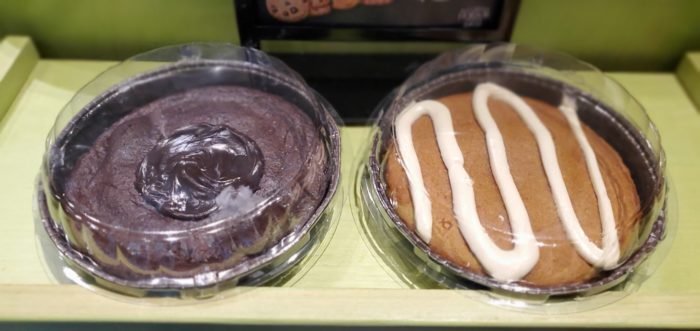 Good Question…
Twitter user @TOCPE82 asked Who Would Be On YOUR Mount Rushmore of Imagineering/WDEI?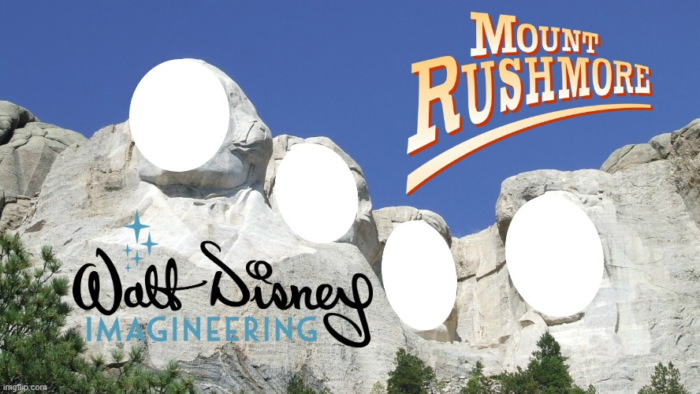 You can see the thread by CLICKING HERE, and as you can imagine there was a wide array of suggestions. These included: Marc Davis, Marty Skylar, Joe Rohde, Mary Blair, Tony Baxter, X Antencio, John Hench, Bob Gurr, Blaine Gibson, Wally Crump, Herb Ryman, Claude Coats,
My personal Mt. Rushmore would include Mary Blair, Joe Rohde, Marc Davis, and – showing my bias here – Star Wars: Galaxy Edge's own Scott Trowbridge. However, watching the Imagineering Story on Disney+ makes me want to have a Mt. Rushmore of 50 people as just so many talented people have worked and are currently working for the company.
*Bio's EPIC three flights
Our boy @bioreconstruct spent more money on helicopter fuel this past month than SeaWorld makes in year. With weekly flights, Bio was able to show Epic Universe's recovery from the water it took on from Hurricane Ian. Here is a series of three photos showing the change at the main water feature that will essentially be the center of Epic Universe.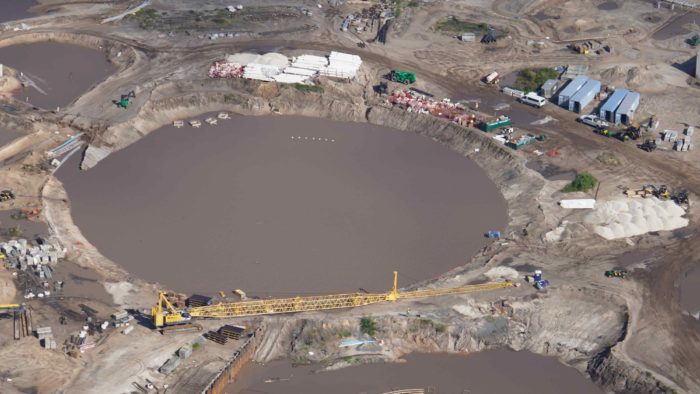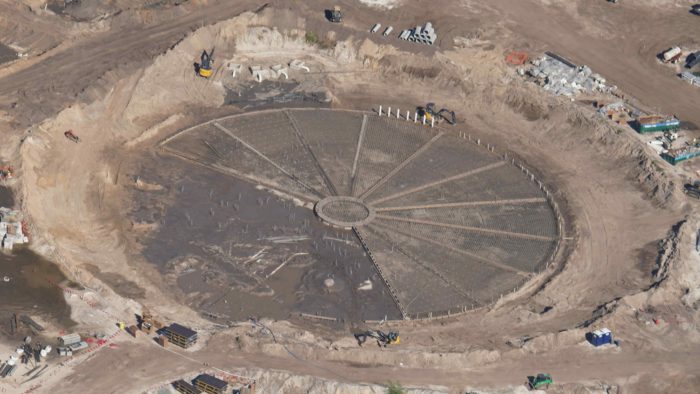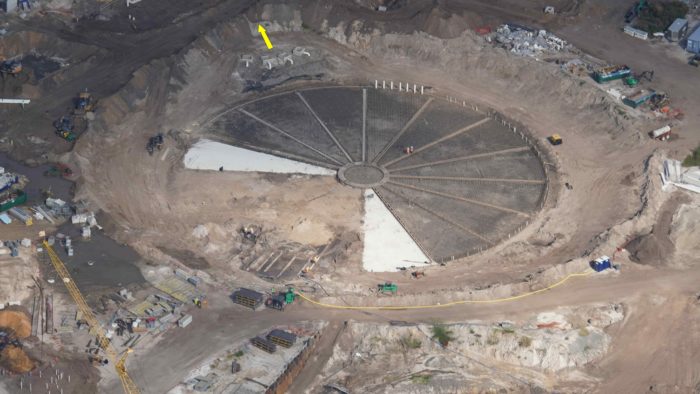 Now we'll take a mini "Before and After" look at the How To Train Your Dragon Land and the water it took on.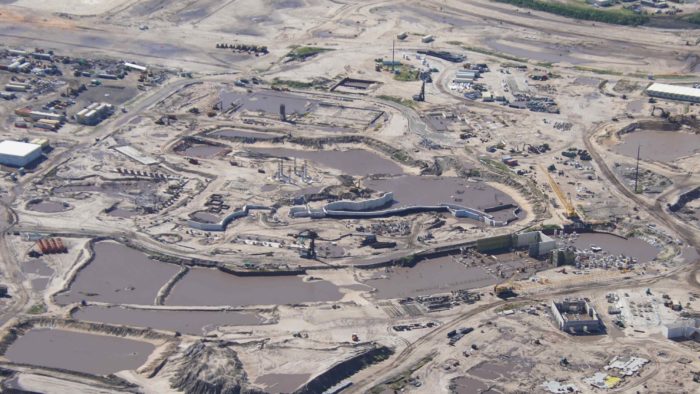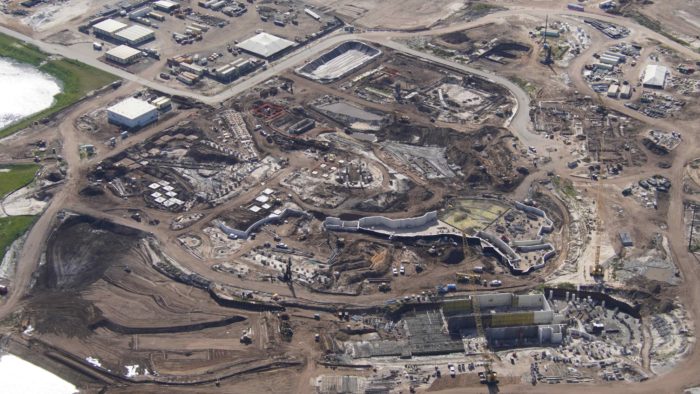 Now let's just get to the good stuff, CONSTRUCTION UPDATES!!! This includes a look at a Donkey Kong attraction that looks like it will blow our minds…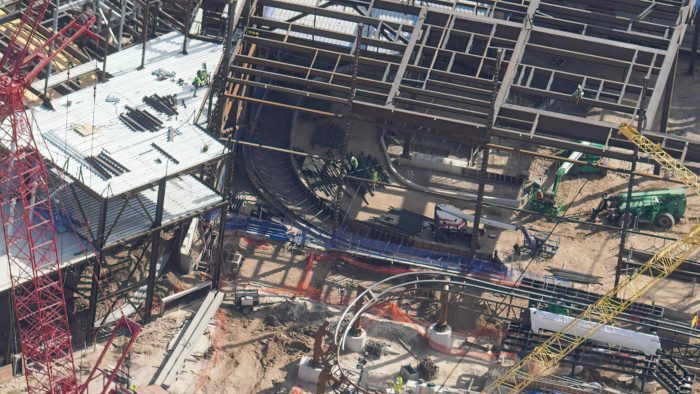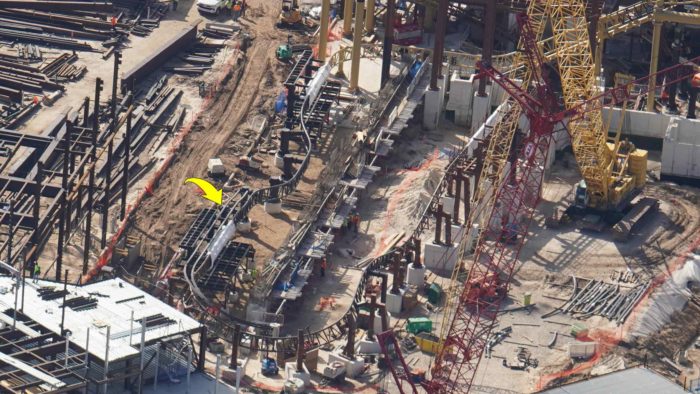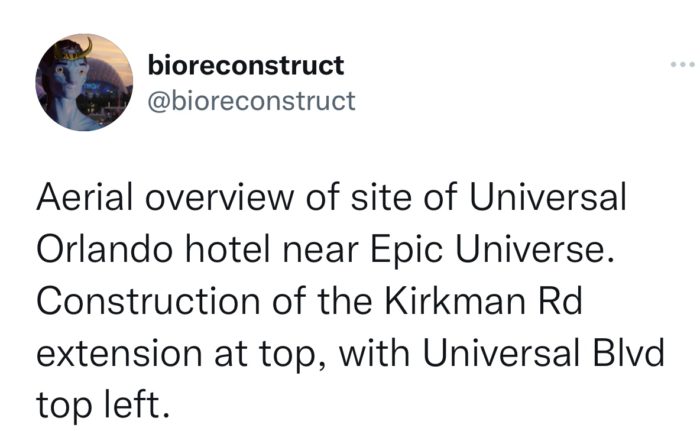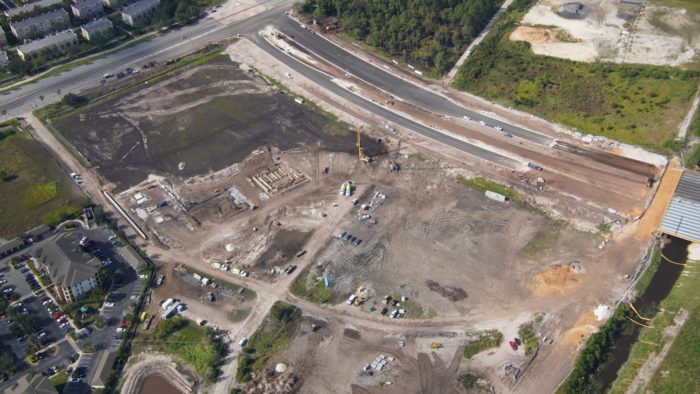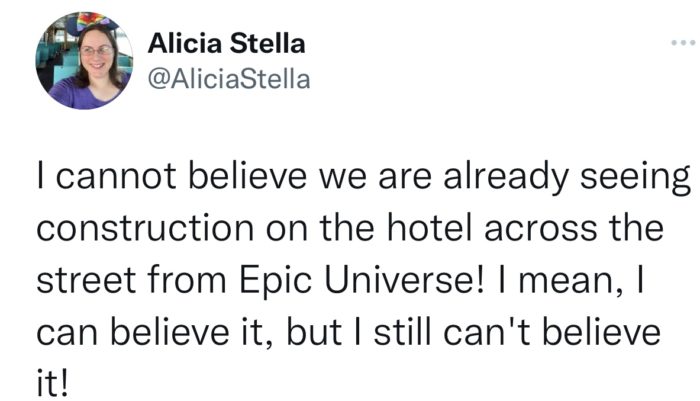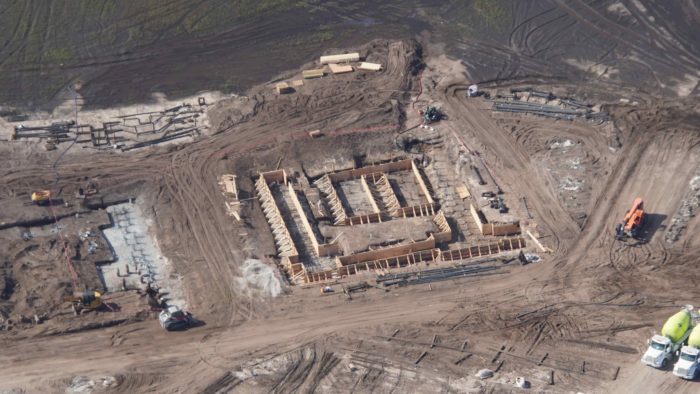 How does @bioreconstruct do it? We'll never know, but we have some ideas…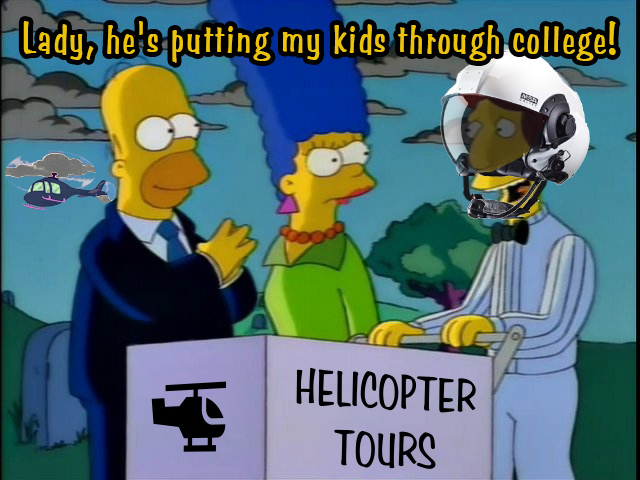 *Bio Then Took ANOTHER Flight…
Bio's fourth flight of the month caught some interesting things over by Walt Disney World, including some construction behind Woody's Lunch Box in Toy Story Land at Disney's Hollywood Studios. Reminder that this was a theme park land designed for families with kids based on one of the most popular IPs in animation history and the entire and was built with ONE quick service "restaurant" containing two take out windows (we covered the massive changes from the Toy Story Land Concept Art to What We Actually Got back in THIS EDITION OF TPEI.) This was a completely idiotic decision made by Disney which STILL hasn't fixed (the land opened in 2018 and the Roundtable Roundup BBQ table service restaurant unfathomably isn't even CLOSE to being open.)
The seating area outside Woody's Lunch Box is a madhouse every single day, but some relief may be in sight as the eye-in-the-sky blogger caught the construction of an additional seating area behind Woody's Lunch Box.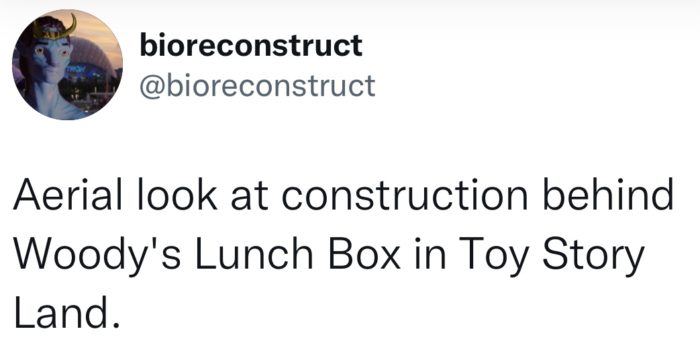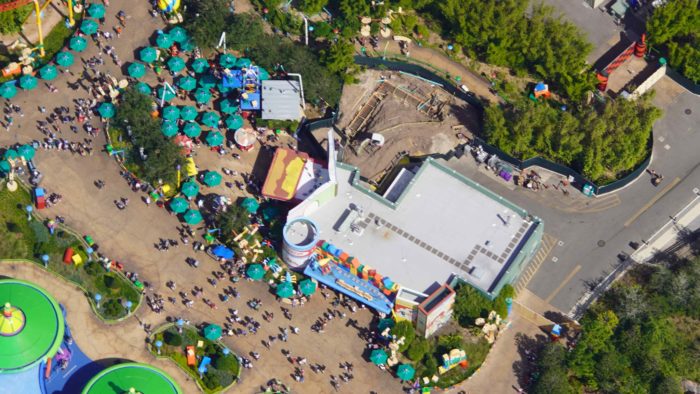 Although, maybe this shouldn't be a surprise. Have we considered that Disney just slipped in this announcement when they overwhelmed us with new additions to Walt Disney World back at the D23 Expo?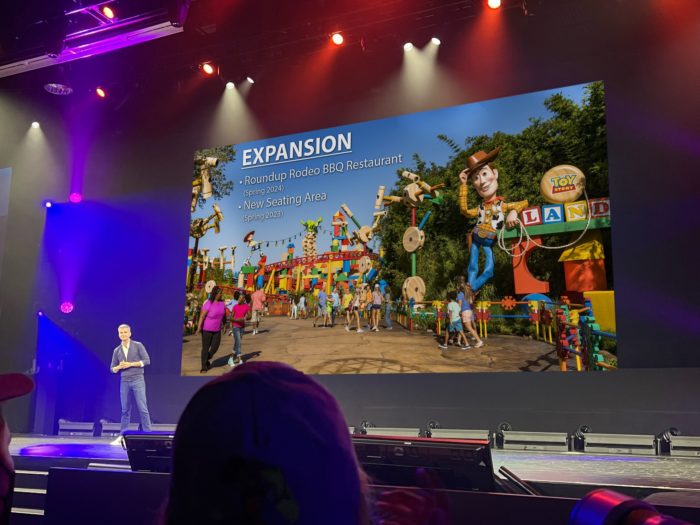 *EPIC Universe? What's that?
There are occasionally tweets on DisTwitter that are designed to get a rise out of people. They are intentionally obtuse to provoke a response.  Such a tweet was made this month.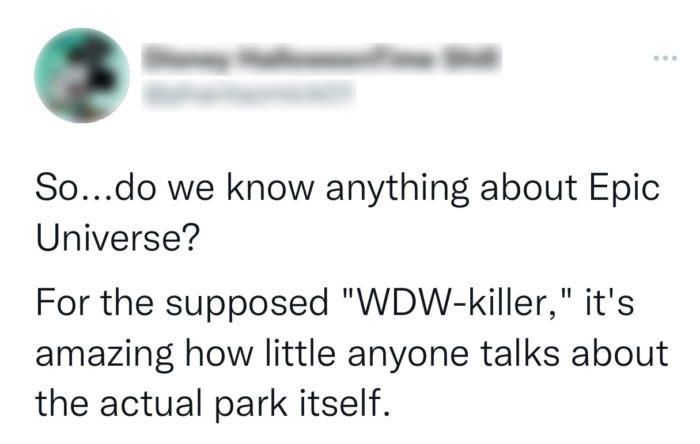 First of all, NO ONE (at least no one with any credibility) is calling Epic Universe a "WDW-killer." Nothing Pepsi creates is going to destroy Coca Cola and the streaming networks can create a million NFL rip-offs and not a single one of them will "kill" the NFL. It's just ridiculous to say that anything Universal Orlando, SeaWorld, Fun Spot or Gator Land could make would be a "WDW-killer." However, like the Wizarding World of Harry Potter, the addition of Epic Universe might once again take a piece from Disney's share of the Orlando Vacation pie.
That said, you would have to deliberately living under a rock to not notice anyone talking about Epic Universe. The New Media World is driving by algorithms and "clicks." Even the DISNEY ONLY websites and YouTube vloggers are covering Epic Universe. The original question asked was completely disingenuous and should be ignored. However, it did lead to some fun follow-up on DisTwitter, including a response by Yours Truly.
My favorite responses were people pretending to be bewildered about Epic Universe and coming up with some great answers to what it could be.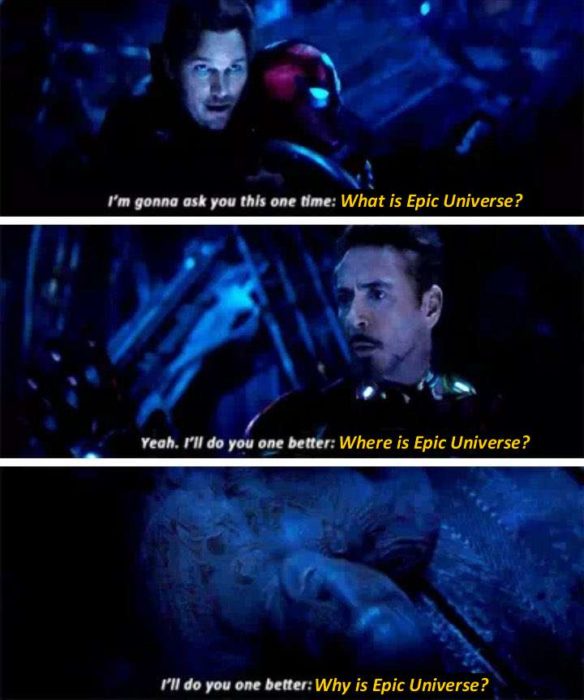 New Article for the WORST IDEA EVER Series…
Over the years in the SATURDAY SIX we have put out several editions of the WORST THEME PARK IDEA EVER series, including the Value Resort Bar Crawl and Worst Places to Propose at Walt Disney World. A recent tweet got me thinking though…we've seen Disney promote their "Disney Weddings" and all the cool places on property you can book, but what would be the WORST place you could get married at?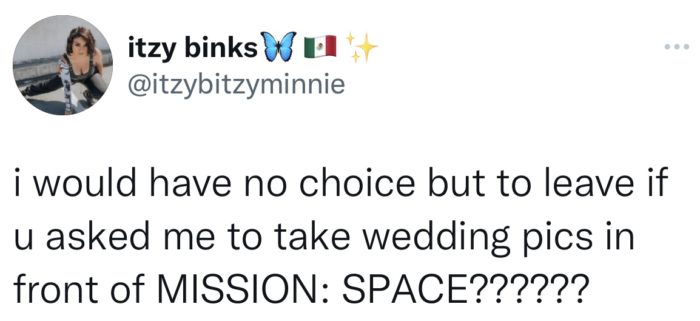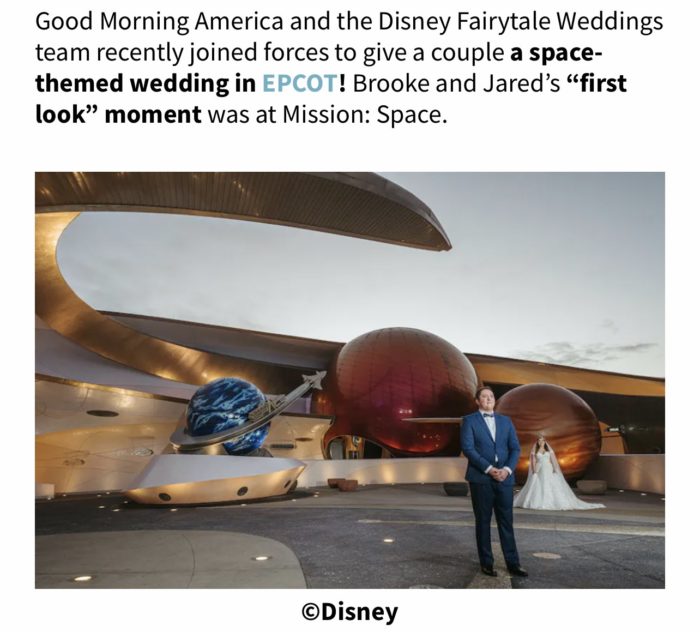 Gonna be hard to top what Disney ACTUALLY offers, like Dinoland USA in Animal Kingdom…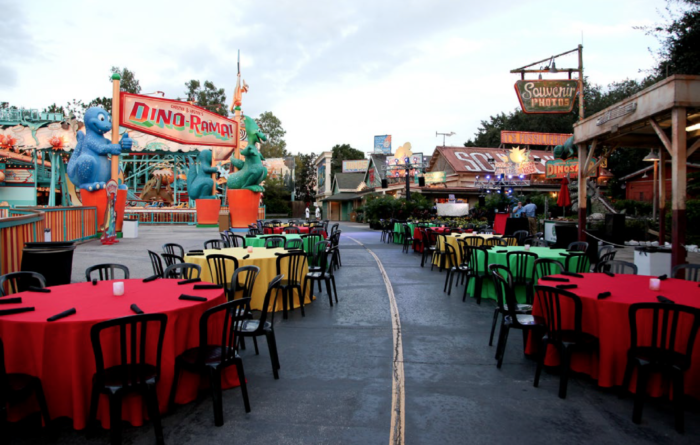 I'm sure some weirdoes perfectly normal people have already had wedding photos taken outside the Tangled restrooms in Disney's Magic Kingdom, but has anyone taken those photos at Daniel Boone's Wilderness Arcade at Fort Wilderness Campground? What about having a wedding reception at the All-Star Music pool? If you have any great ideas, post them in the comments and maybe we'll get the Worst Ideas Ever gang back together for a photo-shoot.
*Good News, the Walt Disney World Railroad MAY Return in My Lifetime…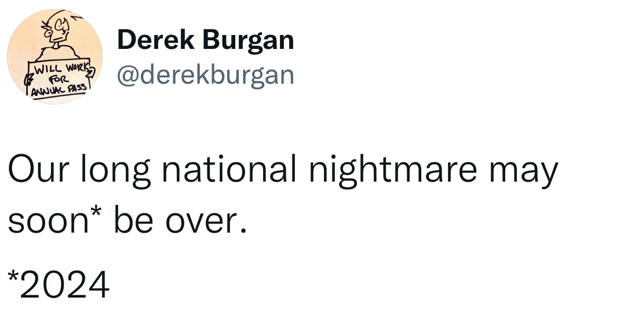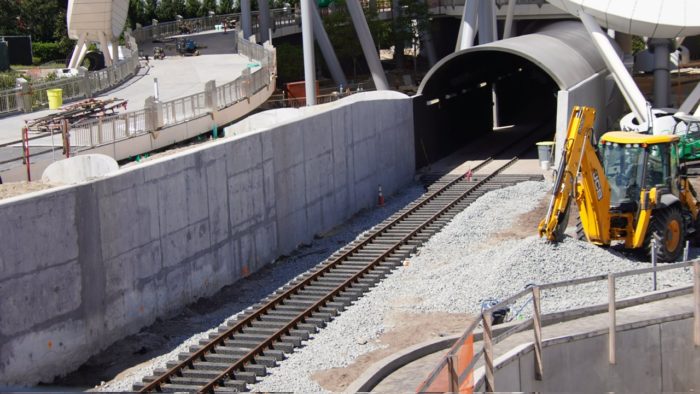 *RIP Play Pavilion, We Hardly Knew Ya…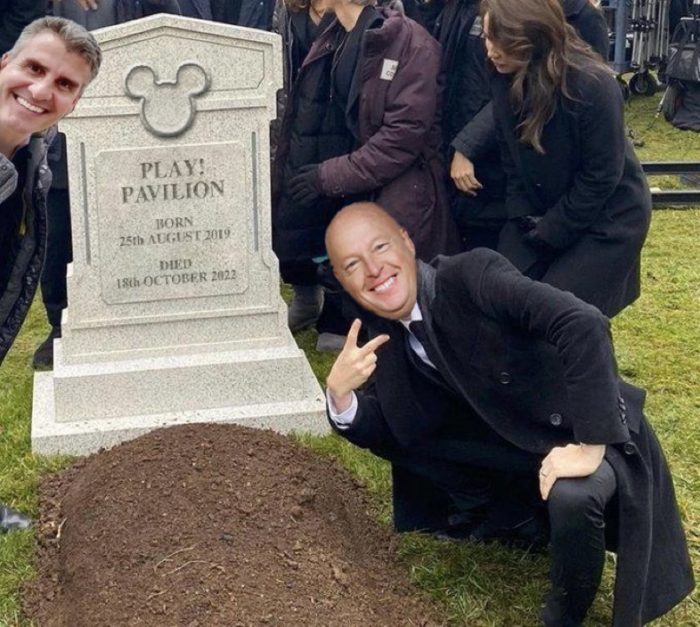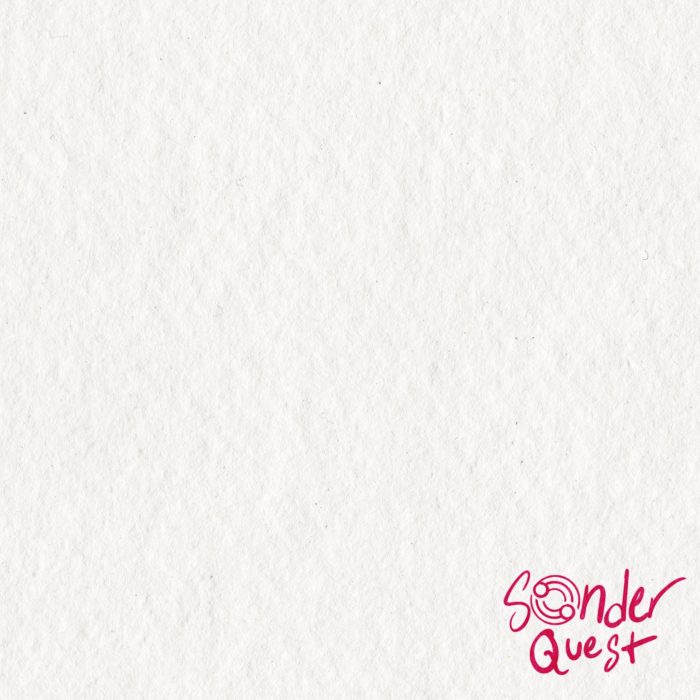 The following has ALMOST nothing to do with Disney or Universal, but it also kinda does and I love it.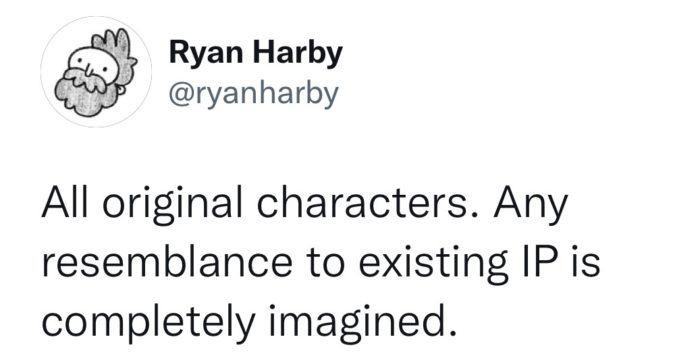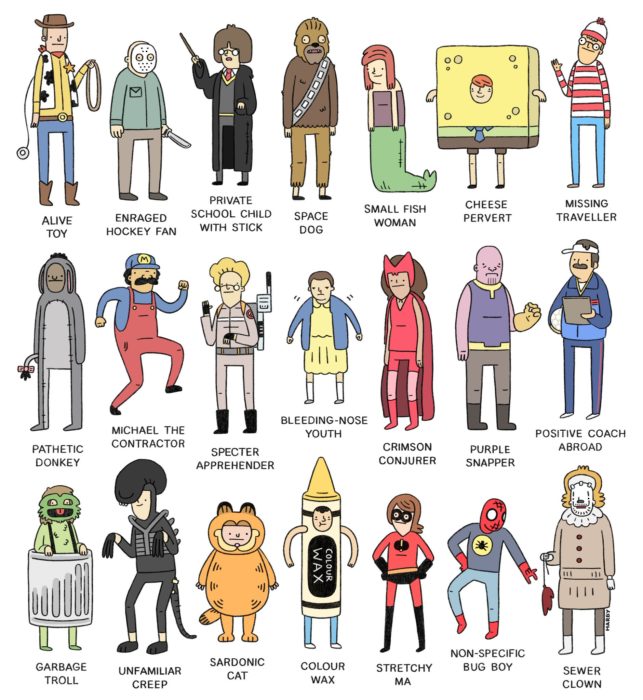 *Theme Park Merch Update
As a person who has bought Disney's Candyland, the Pirates of the Caribbean Battleship, and Tower of Terror Jenga, imagine how much I wanted this DVC-themed version of the classic game Operation.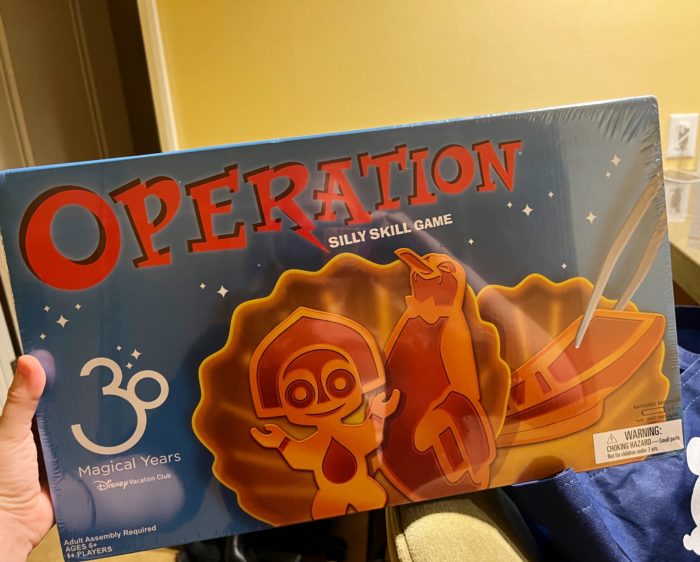 The game doesn't seem to have anything to do with Operation, but it's still amazing. Maybe we should create a more authentic Operation game. The Bob Chapek Operation game and you use tiny tweezers to extra coins, dollar bills, and credit cards from the "patient."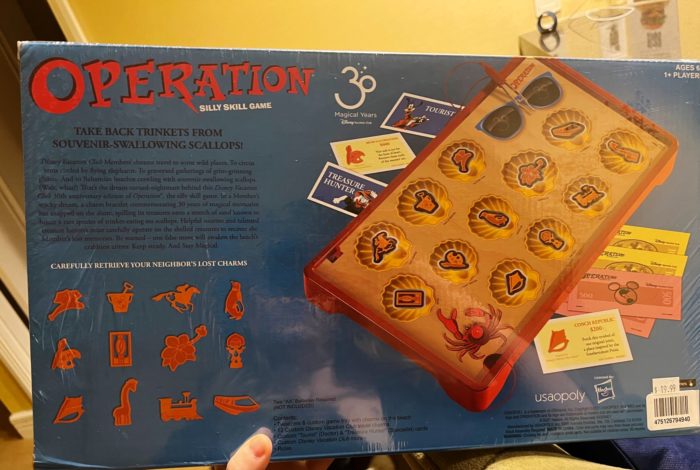 Saw several people posting photos of a new model series that Disney has been selling. You know what I think about Disney's Metal Earth kits, so I'm definitely happy to see the transition to something like this.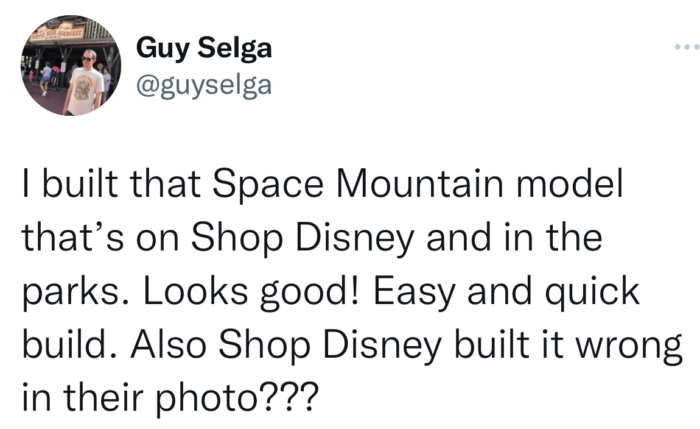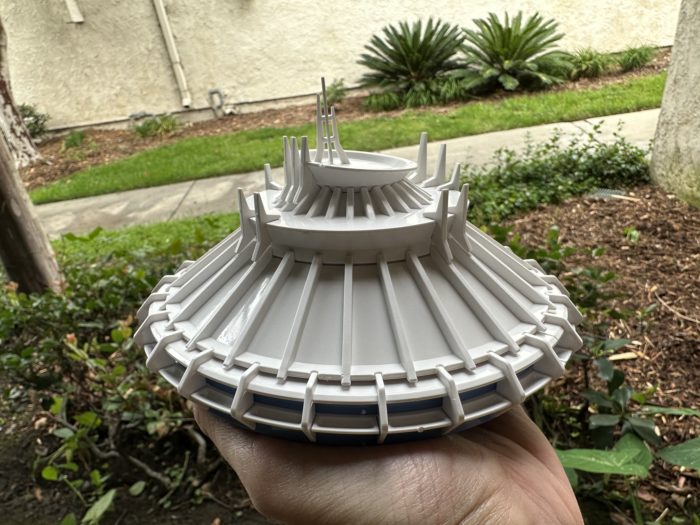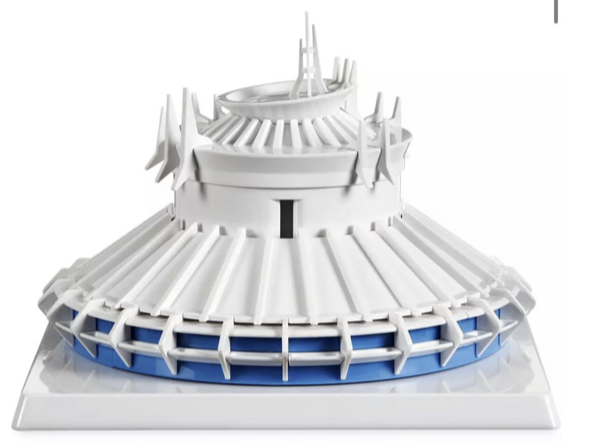 We'll see if Bacini and I can put this one together.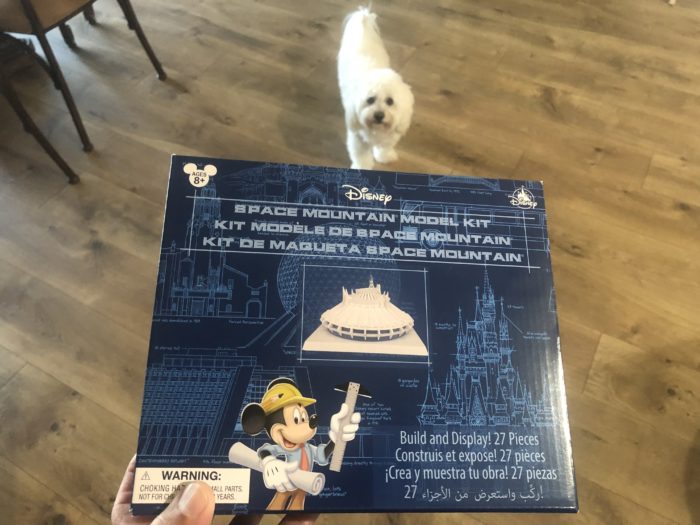 However, one of the COOLEST pieces of merchandise we've ever seen was posted this month. A VelociCoaster Nanocoaster! However this Nanocoaster (small scale reproduction of a roller coaster) was produced exclusively for people who worked on the VelociCoaster project.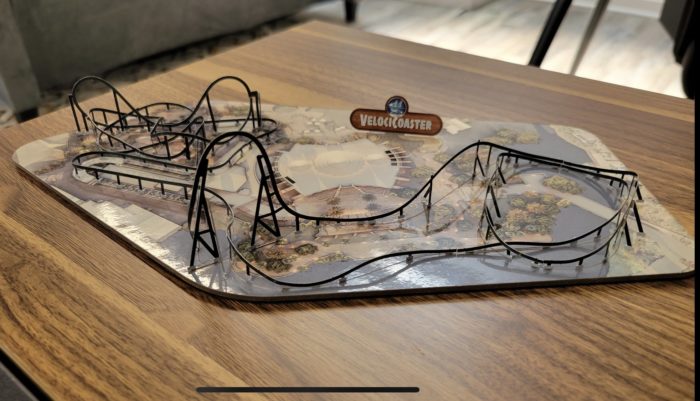 Look at this, they even made a custom box for the VelociCoaster Nanocoaster. HOW COOL IS THAT. You know, as someone who as written articles on the Grand Opening of the VelociCoaster, Artists Inspired by the VelociCoaster, and – of course – the definitive article on the VelociCoaster itself, I feel that I could possibly fit into that "Opening Team" demographic and should be getting one of these Nanocoasters. Who do I send an email to?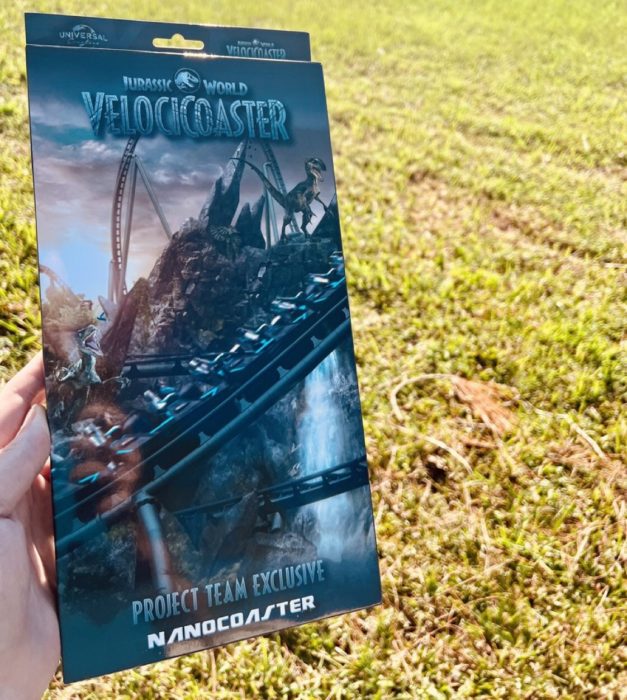 Merchandise looking pretty good this month, right? Not so fast….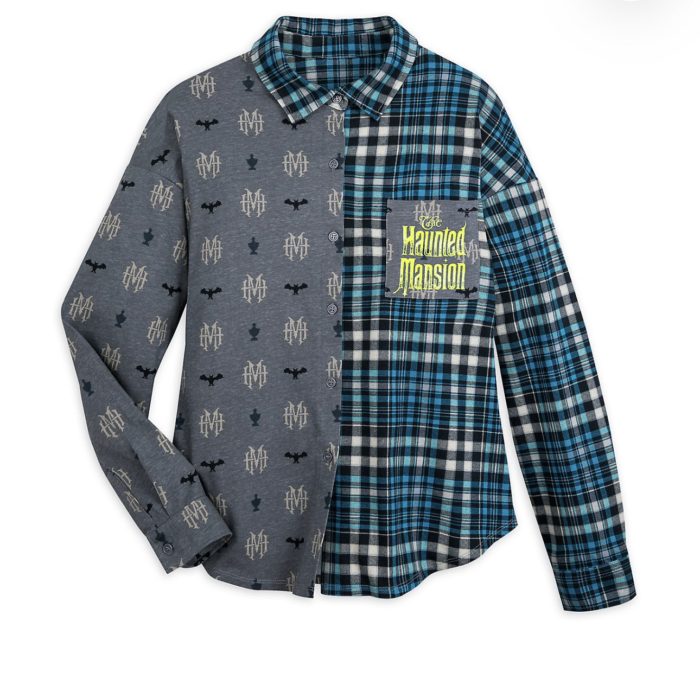 ShopDisney also released a series of make-up kits themed to the various Disney parks with color shades including Harmonious, Zebra Domes, and Slinky Dog Dash. As a man, this seems so insane it should be included in the Theme Park Turkeys of the Year, but maybe women we'll tell me that I'm the one who is wrong and these are actually great. All I can think of is a Universal's Island of Adventure version and we have color shades like Wimpy's, Churro Cart, and Honk Honkers.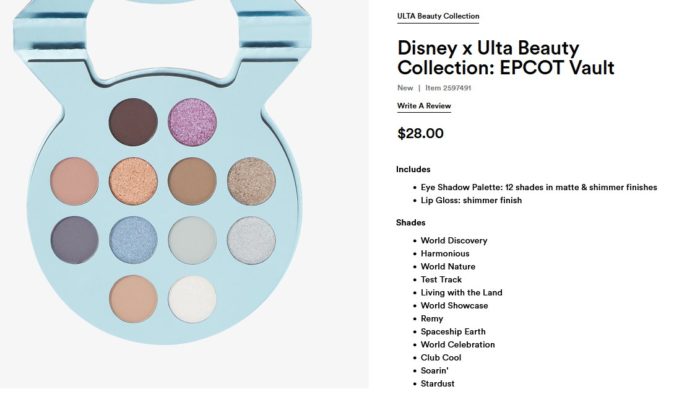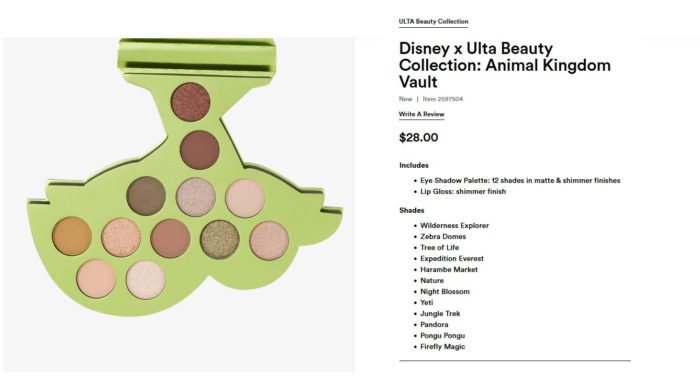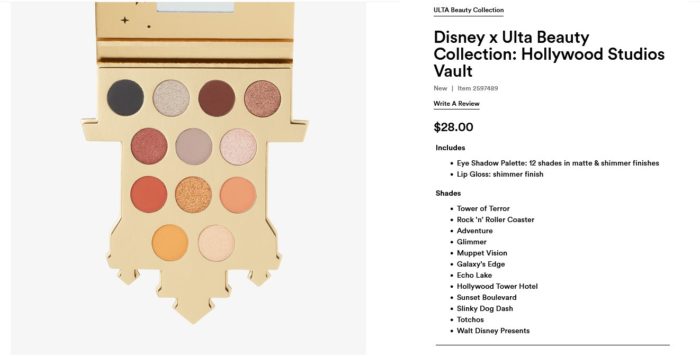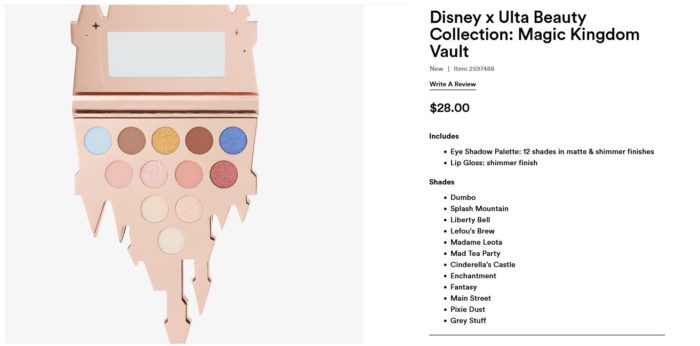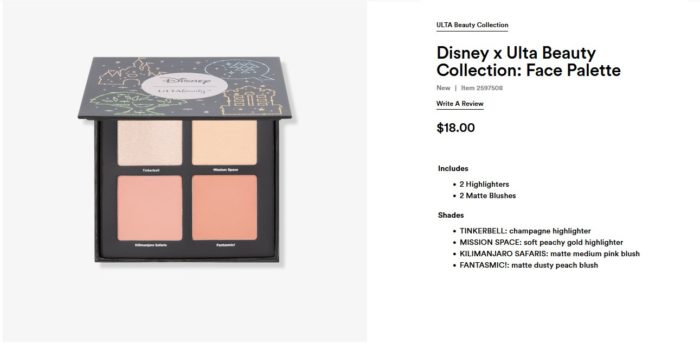 My FAVORITE piece of merchandise this month was just finding out the existence of "slabbed" Disney Fast Passes. Many reading this know I am a long time comic book fan, and one thing I really don't like about that hobby is the direction people are going in getting their comic books "slabbed" (encased in an un-openable hard plastic shell) and graded. However it blew my mind that you could also get Disney Fast Pass tickets slabbed and graded too. Below is a Fast Pass for Space Mountain at Hong Kong Disneyland. It has been slabbed and graded 7.5 (out of 10.)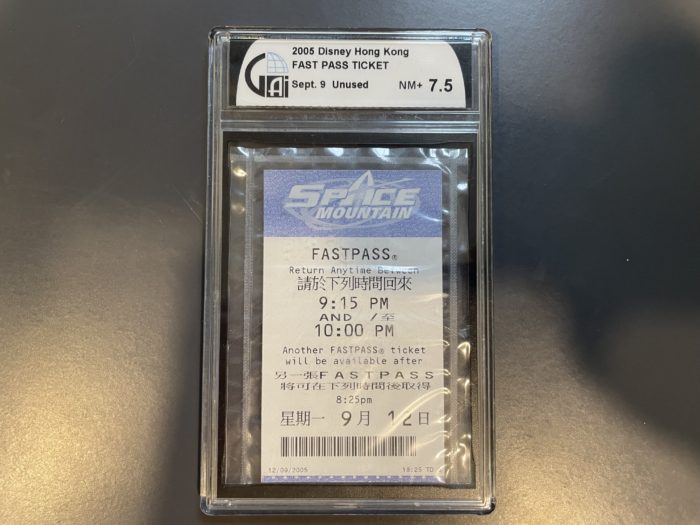 *What If Sonny Eclipse Had a Movie….
Over on Twitter, animator Kevin Temmer let Disney know he had created a teaser trailer for Sonny Eclipse: The Movie, and now we want this green lit for Disney+ immediately.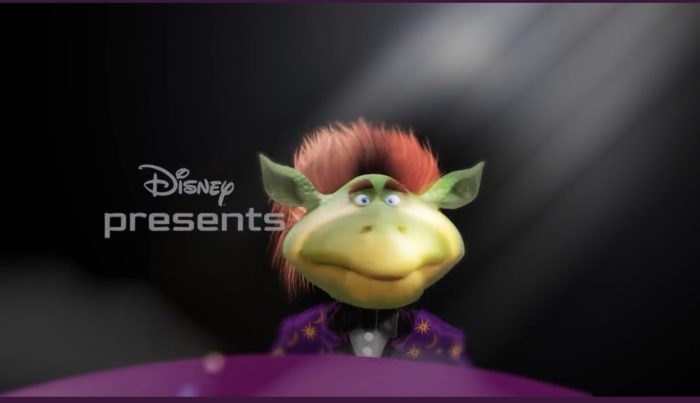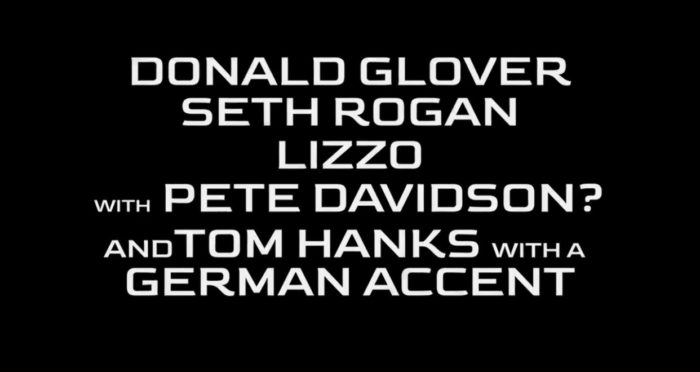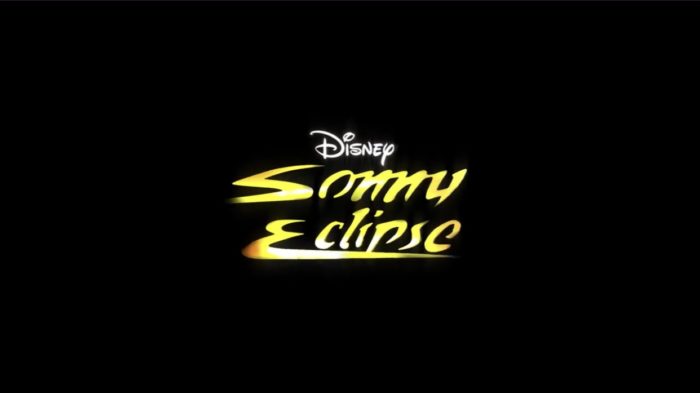 *The end of October means Christmas is right around the corner….
We are right at the end of Haunt Season, and one of our favorite things this year was the HHN 31 Tribute Store. You can see all the details and Easter Eggs in our article covering the store, but this past week one new item was added…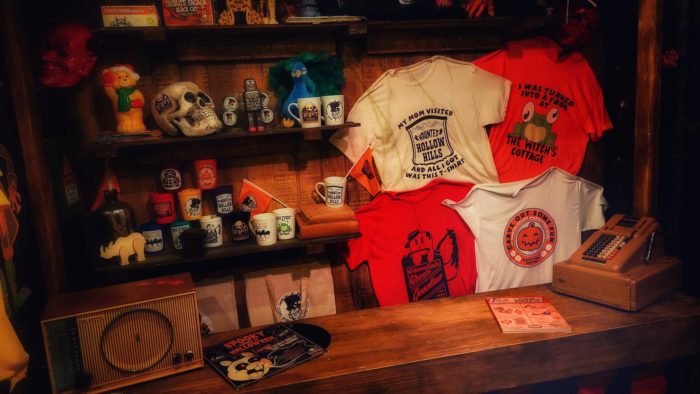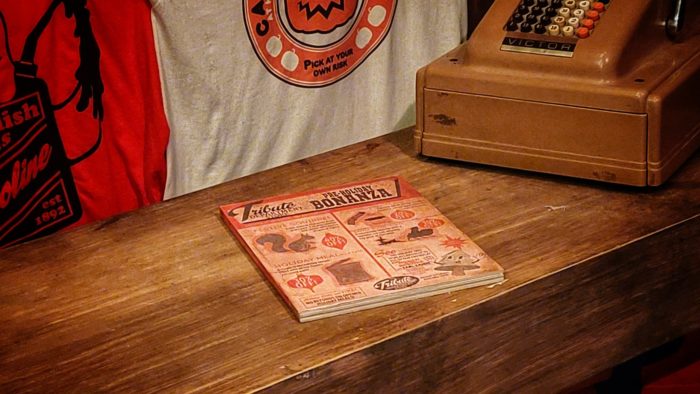 That's right, a preview of the Christmas Season Tribute Store!!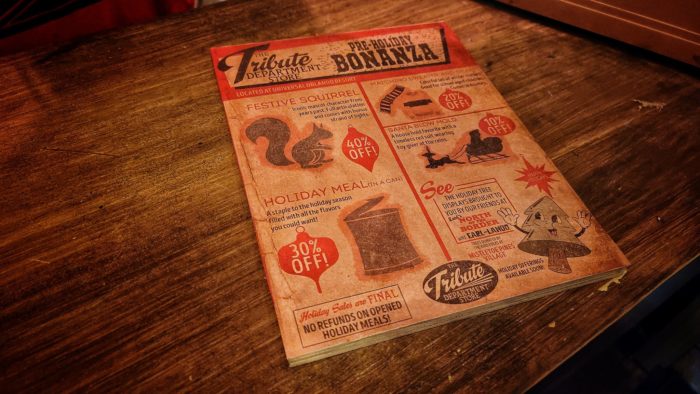 Meanwhile, over in Islands of Adventure business is already starting to pick up…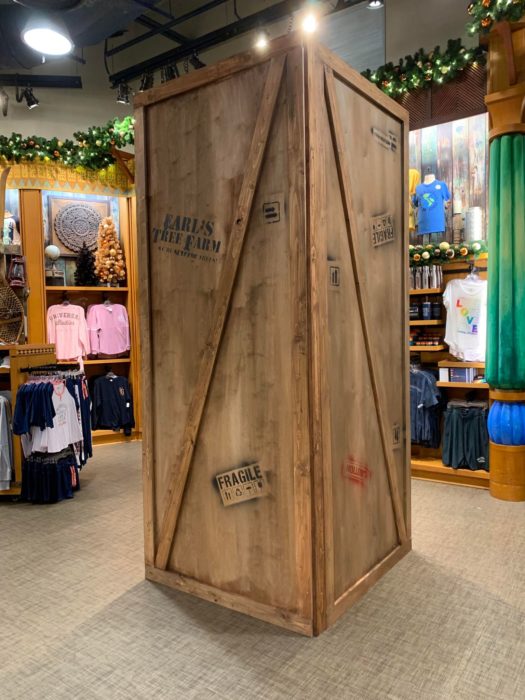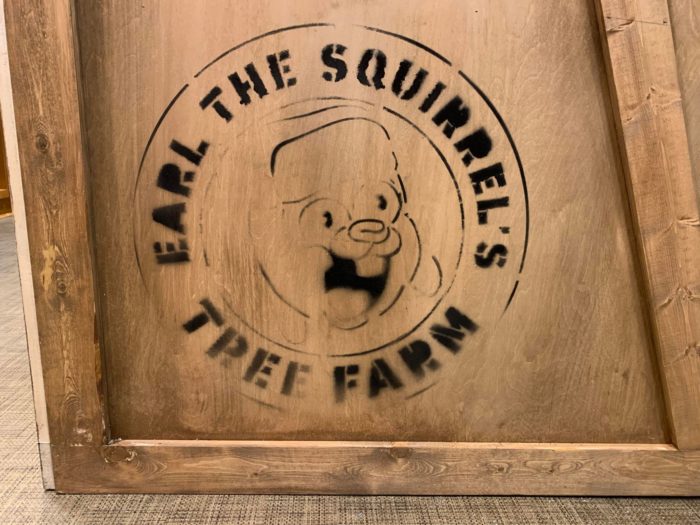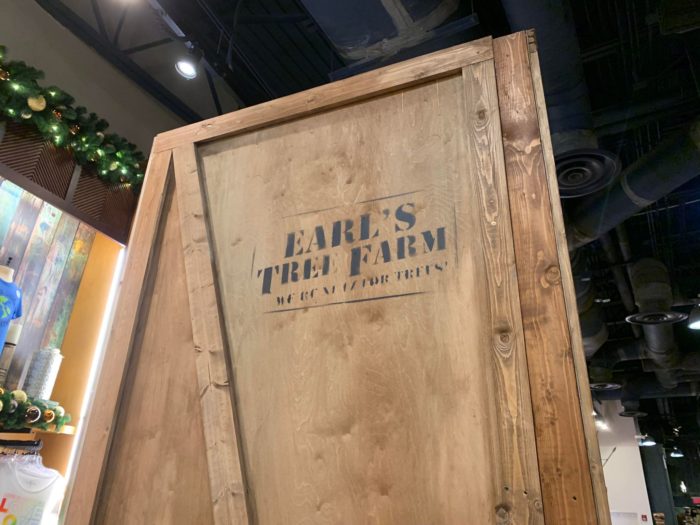 In fact, by the time you are reading this sentence, almost all of Islands of Adventure will be completely decorated for the Holiday Season. This is great news for people like me who LOVE CHRISTMAS!!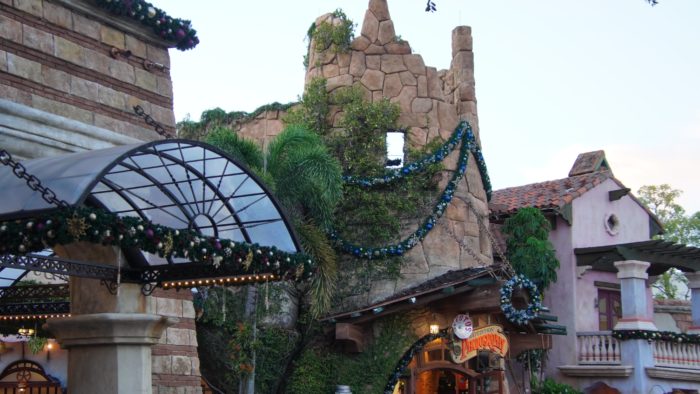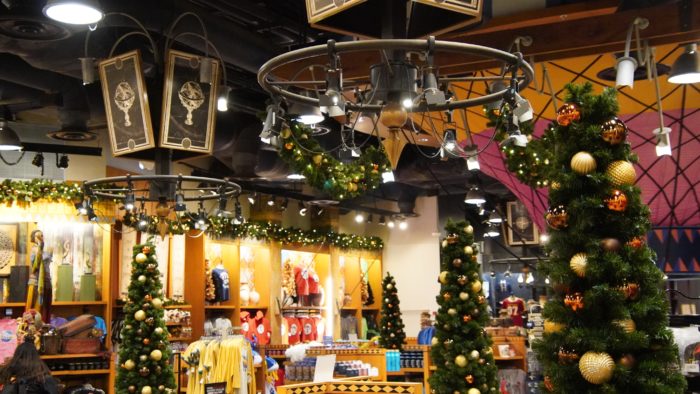 Last month's Theme Park Enjoyment Index: 50
This month's net change: -18
Current enjoyment level: 32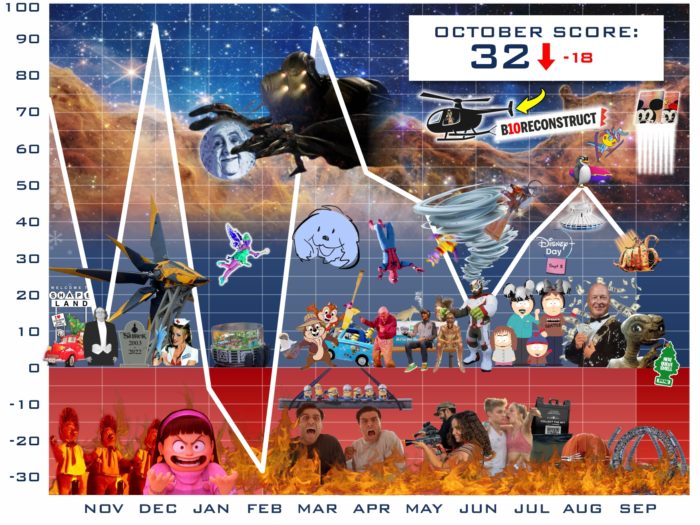 Writer Derek Burgan, when not cleaning Len Testa's pool, can be found reading comic books, watching professional wrestling, and taking his dog Bacini to Universal and Disney. organizing his various Tsum Tsums in alphabetical order. He will not, we repeat not, be found at a Disney Outlet Store. An official DisTwitter Influencer, you can interact with him @derekburgan
Digital Artist Scott Walker hails from Scotland and is the fifth most famous person from this country following Alexander Graham Bell, Ewan McGregor, Gerard Butler, and Groundskeeper Willie.
NEXT WEEK… the SATURDAY SIX looks into the Dark Arts at the Universal Orlando Resort!