Animal Kingdom One-Day Touring Plan Updated For COVID-19
Today we wrap up our look at all the touring plans that reflect changes in the Walt Disney World theme parks from social distancing rules and closures due to COVID-19. The Animal Kingdom One-Day Touring Plan is the standard one-day touring plan of the park, and includes major attractions. If you then wish to ride Flight of Passage without an excessive wait we suggest you arrive at the Animal Kingdom gates one hour before the park opens and ride Flight of Passage first.
STEPS

1) Avatar Flight of Passage

Take flight on Avatar Flight of Passage as soon as the park opens.

Avatar Flight of Passage is one of the most technologically advanced rides Disney has ever produced: a flight simulator in which you hop on the back of a winged, dragonlike Pandora banshee for a spin to take in the planet's scenery. The flying effects are very well done. You can turn your head almost 90° either way, and about 45° up and down, to survey the Pandora landscape. Flight of Passage ranks high with all age groups.

2) Na'vi River Journey

Take a cruise on Na'vi River Journey.

The Na'vi River Journey is a 4½-minute boat ride through the Pandora jungle. You begin by boarding one of two small, hewn rafts joined together. Each raft has two rows of seats, and each row can fit up to three adults. The big star is displayed in the ride's culminating scene: the Shaman of Songs, easily one of  the most lifelike animatronic figure Disney has ever created.

3) Expedition Everest – Legend of the Forbidden Mountain

Confront the yeti on Expedition Everest.

The only true roller coaster in Animal Kingdom, Expedition Everest vies with Avatar Flight of Passage for the park's longest waits in line—and for good reason. Your journey begins in an elaborate waiting area modeled after a Nepalese village; then you board an old train headed for the base camp of Mount Everest. Throughout the waiting area are posted notes from previous expeditions, some with cryptic observations regarding a mysterious creature said to guard the mountain. These ominous signs are ignored (as if you have a choice!), resulting in a high-speed encounter with the Abominable Snowman himself.

4) DINOSAUR

Go to DinoLand and ride Dinosaur.

Dinosaur is a combination track ride and motion simulator. In addition to moving along a cleverly hidden track, the ride vehicle also bucks and pitches (the simulator part) in sync with the visuals and special effects. Dinosaur serves up nonstop action from beginning to end, with brilliant visual effects. Elaborate even by Disney standards, the tense, frenetic ride is embellished by the entire Imagineering arsenal of high-tech gimmickry.

5) Maharajah Jungle Trek

Walk through the Maharajah Jungle Trek.

This walk is similar to the Gorilla Falls Exploration Trail but with an Asian setting and Asian animals. You start with Komodo dragons and work up to Malayan flying foxes. Next is a cave with fruit bats. Ruins of the maharajah's palace provide the setting for Bengal tigers. From the top of a parapet in the palace you can view a herd of blackbuck antelope and Asian deer. The trek concludes with an aviary. Labyrinthine, overgrown, and elaborately detailed, the temple ruin would be a compelling attraction even without the animals.

6) Eat Lunch

Eat lunch. Our favorite counter-service restaurants are Flame Tree Barbecue on Discovery Island and Satu'li Canteen in Pandora.

7) Kilimanjaro Safaris

Take a trip on Kilimanjaro Safaris.

Animal Kingdom's premier zoological attraction, Kilimanjaro Safaris offers an exceptionally realistic, albeit brief, imitation of an actual African photo safari. Guests board tall, open vehicles and are dispatched into a simulated African veldt habitat. Animals such as zebras, wildebeests, impalas, Thomson's gazelles, giraffes, and even rhinos roam apparently free, while predators such as lions, as well as potentially dangerous large animals like hippos, are separated from both prey and guests by all-but-invisible, natural-appearing barriers. Another high ranking attraction for all ages.

8) Gorilla Falls Exploration Trail

Explore Gorilla Falls Exploration Trail.

As the trail winds between the domain of two troops of lowland gorillas, it's hard to see what, if anything, separates you from the primates. Also on the trail is a hippo pool with an underwater viewing area, plus a naked mole rat exhibit. A highlight is an exotic-bird aviary so craftily designed that you can barely tell you're in an enclosure.

9) Feathered Friends In Flight!

Watch Feathered Friends In Flight.

10) Discovery Island Trails

Walk through Discovery Island Trails.

Winding behind The Tree of Life is a series of walking trails that include around a dozen animal-viewing opportunities, from otters and kangaroos to lemurs, storks, and porcupines. Besides the animals, you'll find verdant landscaping, waterfalls, and quiet spots to sit and reflect on your relationship with nature.

11) Eat Dinner

Eat Dinner if you're hungry. Tiffins is the best Table Service restaurant in Animal Kingdom, or eat at Quick Service restaurant that you did not have lunch at.

12) Kali River Rapids

Ride Kali River Rapids.

Kali River Rapids is an unguided trip in a circular rubber raft down an artificial river; each raft has a topmounted platform that seats 12 people. The raft essentially floats free in the current and is washed downstream through rapids and waves. Because the "river" is fairly wide, with various currents, eddies, and obstacles, each trip is different and exciting. Oh, and you WILL get wet.

13) Valley of Mo'ara

This is the part of the plan where we would tell you to tour Pandora after dark, but Animal Kingdom currently closes before the sun goes down. We'll leave this step here for when Disney keeps the park open later than 5 p.m.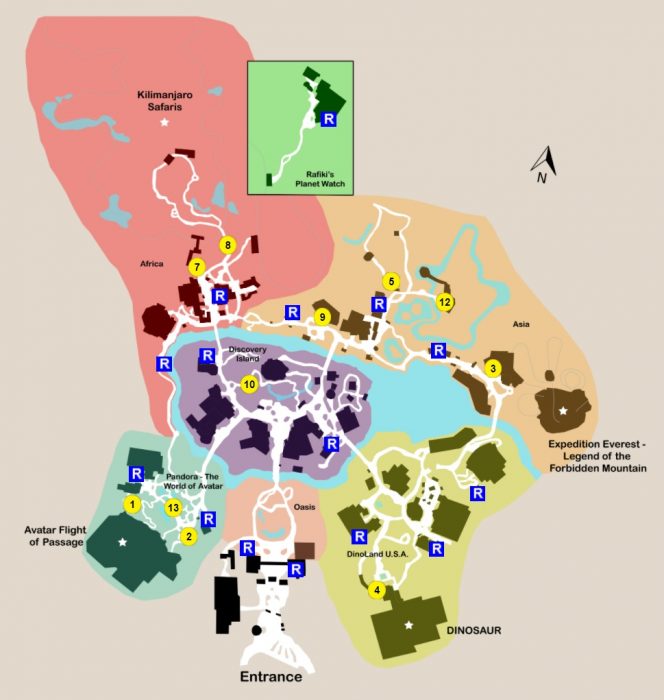 There's no FastPass+ being offered at this time so you'll have to do only standby lines. Don't forget, you can customize and optimize this or any of our other touring plans using our personalized touring plans creator on the site or in our mobile app, Lines. Be sure to check out our other touring plans that will help you save time and money in Walt Disney World.