EPCOT One-Day Touring Plan for Adults: Updated for COVID-19 Closures
Continuing with our series of posts that highlight our touring plans that reflect the closures due to the ongoing pandemic, today's post is about our EPCOT One-Day Touring Plan for Adults. This is the standard one-day touring plan of EPCOT and it includes Soarin', Test Track, Mission: Space, and World Showcase countries.
STEPS

1) Frozen Ever After

Start of in Norway and ride Frozen Ever After.

Frozen Ever After is a nice boat ride through the pretend kingdom of Arendelle. The premise is that you've arrived just in time for the Winter in Summer celebration, in which Elsa will use her magical powers to make it snow during the hottest part of the year. Nearly every major and minor character from the film is represented, from Olaf the snowman to Sven the reindeer, along with much of the soundtrack's songs with brand-new lyrics.

2) Gran Fiesta Tour Starring The Three Caballeros

Make your way to the Mexico pavilion and ride the Gran Fiesta Tour.

The Gran Fiesta Tour is a slow-moving boat ride that incorporates animated versions of Donald Duck, José Carioca, and Panchito—an avian singing group called The Three Caballeros from Disney's 1944 film of the same name.

3) China Pavilion

Explore the China Pavilion.

Peruse the China Pavilion's shops or grab a drink. If you have extra time there's a  360-degree movie called Reflections of China that's worth a try.

4) Eat lunch.

Grab some lunch if you're hungry. You'll be in World Showcase for this portion of the touring plan so there's plenty of good food to try.

5) The American Adventure

Watch The American Adventure.

The American Adventure demonstrates how good Disney theater presentations can be. The 29-minute show is a stirring, albeit sanitized, rendition of American history, narrated by an animatronic Mark Twain and Ben Franklin. Behind a stage almost half the size of a football field is a 28-by-155–foot rear-projection screen— the largest ever used—on which motion picture images are interwoven with onstage action.

6) Japan Pavilion

Visit the Japan Pavilion.

See some neat items imported directly from Japan in The Mitsukoshi Department Store, or try sake at the sake bar. Be sure to stop by the Bijutsu-kan Gallery, which exhibits colorful displays from Japanese pop culture.

7) Italy Pavilion

Explore the Italy Pavilion.

The entrance to Italy is marked by an 83-foot-tall campanile (bell tower) said to mirror the tower in St. Mark's Square in Venice. Left of the campanile is a replica of the 14th-century Doge's Palace, also in the famous square. The pavilion has a waterfront on the lagoon where gondolas are tied to striped moorings.

8) Germany Pavilion

Visit the Germany Pavilion.

A clock tower, adorned with boy and girl figures, rises above the platz (plaza) marking the Germany Pavilion. Dominated by a fountain depicting St. George's victory over the dragon, the platz is encircled by buildings done in the style of traditional German architecture.

9) Test Track

Try Test Track in Future World East.

Test Track takes guests through the process of designing a new vehicle and then "testing" their car in a high-speed drive through and around the pavilion. Guests board a six-seat ride vehicle, attached to a track on the ground, for an actual drive through Chevrolet's test track. The vehicle's tests include braking maneuvers, cornering, and acceleration, culminating in a spin around the outside of the pavilion at speeds of up to 65 miles per hour. Test Track is one of EPCOT's most popular rides.

10) Mission: SPACE Orange

Start your astronaut training at Mission: SPACE on the orange mission.

Guests enter the International Space Training Center, where they're introduced to the deep-space exploration program and then divided into groups for flight training. After orientation, they're strapped into space capsules for a simulated flight, where, of course, the unexpected happens. Each capsule accommodates a crew consisting of a group commander, pilot, navigator, and engineer, with a guest functioning in each role.

11) The Seas with Nemo & Friends

Go to the Seas pavilion and ride The Seas with Nemo & Friends.

The Seas with Nemo & Friends is a high-tech ride featuring characters from the animated hit Finding Nemo. You ride in a "clamobile" for your journey through the aquarium. The attraction features technology that makes it seem as if the animated characters are swimming with live fish. Almost immediately you meet Mr. Ray and his class and learn that Nemo is missing. The remainder of the odyssey consists of finding Nemo with the help of Dory, Bruce, Marlin, Squirt, and Crush. Unlike the film, however, the ride ends with a musical finale.

12) Journey Into Imagination With Figment

Visit the Imagination Institute and ride Journey Into Imagination With Figment.

Journey into Imagination takes you on a tour of the zany Imagination Institute. Sometimes you're a passive observer and sometimes you're a test subject as the ride provides a glimpse of the fictitious lab's inner workings. Stimulating almost all your senses (thank goodness for no taste tests!), it hits you with optical illusions, a room that defies gravity, and other brain teasers. All along the way, Figment (a purple dragon) makes surprise appearances. Ranks high with Preschoolers and grade school age.

13) Living with the Land

Walk to the Land Pavilion and ride Living with the Land.

The boat ride takes visitors through swamps, past inhospitable farm environments, and through a futuristic greenhouse where real crops are grown using the latest agricultural technologies.

14) Soarin'

Staying in the Land Pavilion, take a ride on Soarin'.

Soarin' is a thrill ride for all ages. Rows of seats swing into position, making you feel as if the floor has dropped away, and you're suspended with your legs dangling. You embark on a simulated hang-glider tour, with IMAX-quality images projected all around you and with the flight simulator moving in sync with the movie.

15) Eat Dinner

Eat dinner. Since you're in The Land pavilion you could try a quick service meal at Sunshine Seasons. If you want a table service meal you could try one of the many restaurants in World Showcase, which is where you're headed next in the plan.

16) Morocco Pavilion

See the Morocco Pavilion.

The bustling market, winding streets, lofty minarets, and stuccoed archways re-create the romance and intrigue of Marrakesh and Casablanca. Attention to detail makes Morocco one of the most exciting World Showcase pavilions. It also has a rotating exhibit of Moorish art and culture. 

Spice Road Table

serves up tasty tapas-style Mediterranean dishes.

17) France Pavilion

Take a trip to the France Pavilion.

A replica of the Eiffel Tower (a big one) is this pavilion's centerpiece. In the foreground, streets recall la belle epoque, France's "beautiful time" between 1870 and 1910. The sidewalk cafe and restaurant are very popular, as is the pastry shop. You won't be the first visitor to buy a croissant to tide you over until your next real meal. And this probably explains why readers rank the France Pavilion as the best in World Showcase.

18) Impressions de France

While in France, see Impressions de France.

Impressions de France is an 18-minute movie with beautiful scenery, beautiful music, beautiful people, and beautiful towns, all projected over 200 degrees onto five screens.

19) United Kingdom Pavilion

Wrap up your trip to World Showcase with a trip to United Kingdom.

A variety of period architecture attempts to capture Britain's city, town, and rural atmospheres. One street alone has a thatched-roof cottage, a four-story timber-and-plaster building, a pre-Georgian plaster building, a formal Palladian exterior of dressed stone, and a city square with a Hyde Park bandstand. Note: If you have time, or interest, check out the Canada Pavilion before moving on to the next step.

20) Spaceship Earth

End the day with a ride on Spaceship Earth.

EPCOT's signature landmark, Spaceship Earth spirals through an 18-story geosphere, taking visitors past animatronic scenes depicting mankind's developments in communications, from cave painting to printing to television to space communications and computer networks. Spaceship Earth ranks high with all ages.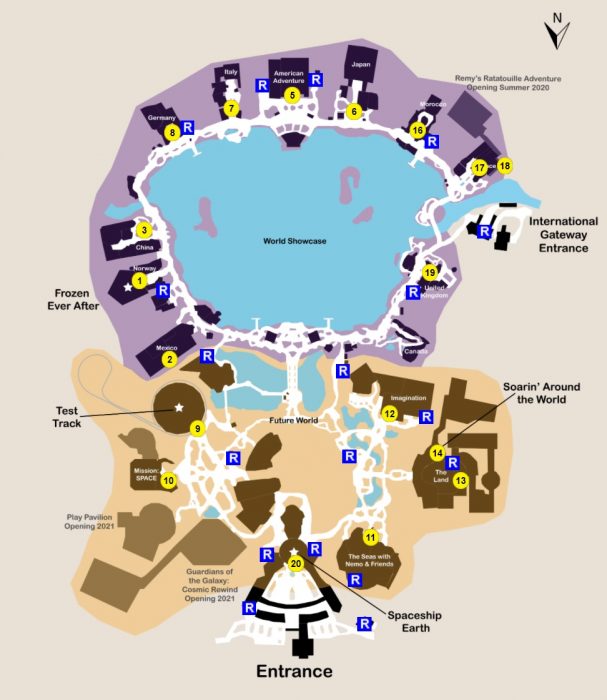 There's no FastPass+ being offered at this time so you'll have to do only stand-by lines. Don't forget, you can customize and optimize this or any of our other touring plans using our personalized touring plans creator on the site or in our mobile app, Lines. Be sure to check out our other touring plans that will help you save time and money in Walt Disney World.