Magic Kingdom One-Day Touring Plan for Parents with Small Children Updated for COVID-19 Closures
Are you curious about how to tour Magic Kingdom now that there are many closures and modifications due to social distancing rules? We're here to help. In this post I'll walk you through our Magic Kingdom one-day touring plan for parents with small children. This plan features attractions that rated highest in our surveys with kids in preschool and grade school. You may notice there are no character meet and greets or stage shows are included. That's because they're all currently closed. Luckily there's still plenty of things to do during your visit. When using this plan, arrive at the entrance to the Magic Kingdom 45-60 minutes before opening and rent strollers (if necessary).
1) Jungle Cruise

Start off by heading to Adventureland for a trip on the Jungle Cruise.

Jungle Cruise is an outdoor group boat ride through some of the world's best-known simulated tropical waterways. You'll pass through forest and jungle populated entirely by animatronic animals while your skipper comically narrates your journey.

2) Pirates of the Caribbean

Ride Pirates of the Caribbean in Adventureland

 A slow moving boat ride through a series of sets that depict a pirate raid on an island settlement, from bombardment of the fortress to debauchery after the victory. Arguably one of the most influential theme park attractions ever created. It ranks high with all age groups.

3) The Haunted Mansion

Head to Liberty Square and try The Haunted Mansion.

The Haunted Mansion serves up some of the Magic Kingdom's best visual effects. "Doom Buggies" on a conveyor belt transport you through the house from parlor to attic, then through a graveyard. It's only slightly scarier than a whoopee cushion, but preschoolers may still find it a bit too spooky.

4) "it's a small world"

Make a short walk to Fantasyland and take a cruise on "it's a small world."

Small boats carry you on a tour around the world, with singing and dancing dolls showcasing the dress and culture of each nation represented. Small World ranks high with preschool and grade school kids.

5) Mickey's PhilharMagic

Staying in Fantasyland, watch Mickey's PhilharMagic.

Mickey's PhilharMagic is a 3-D film with an odd collection of Disney characters, mixing Mickey and Donald with Simba and Ariel as well as Jasmine and Aladdin. Presented in a theater large enough to accommodate a 150-foot-wide screen, the movie is augmented by an arsenal of special effects built into the theater. PhilharMagic ranks high with all ages.

6) Seven Dwarfs Mine Train

Experience the Seven Dwarfs Mine Train.

Seven Dwarfs Mine Train is a roller coaster geared to older grade-school kids who've been on amusement park rides before. There are no loops, inversions, or rolls in the track, and no massive hills or steep drops; rather, your ride vehicle's seats swing side-to-side as you go through turns.

7) Under the Sea ~ Journey of the Little Mermaid

Go see Ariel on Under the Sea ~ Journey of the Little Mermaid.

Guests board a clamshell-shaped ride vehicle running along a continuously moving track (similar to 

Haunted Mansion

's). Then the ride "descends" under water (which is just a lighting effect), past Ariel's grotto and on to King Triton's undersea kingdom. Preschoolers and grade schoolers rank it high. Other age groups? Not so much.

8) The Barnstormer

Storm some barns with Goofy and ride The Barnstormer.

The Barnstormer is a dinky little coaster with a brief-but-zippy ride. Of the 53 seconds the ride is in motion, 32 seconds are consumed in leaving the loading area, being ratcheted up the first hill, and braking into the off-loading area. The actual time you spend careering around the track: 21 seconds. This is a good candidate for a kid's first roller coaster.

9) Dumbo the Flying Elephant

Take flight on Dumbo the Flying Elephant.

Parents and kids sit in small fiberglass elephants mounted on long metal arms, which spin around a central axis. Controls inside each vehicle allow you to raise the arm, making you spin higher off the ground. Despite being little different from rides at state fairs and carnivals in parking lots, Dumbo is the favorite Magic Kingdom attraction of many younger children.

10) Buzz Lightyear's Space Ranger Spin

Walk to Tomorrowland and help defeat Emperor Zurg on Buzz Lightyear's Space Ranger Spin.

Another ride system similar to Haunted Mansion. Here you'll move along a track in slow moving space ships. Each car is equipped with two laser cannons and two scorekeeping displays, enabling you to compete with your riding partner. A joystick allows you to spin the car to line up the various targets. Each time you pull the trigger, you release a red laser beam that you can see hitting or missing the target.

11) Rest

Take a break and eat lunch. You're in Tomorrowland, but next up you'll be heading to Frontierland. Try Cosmic Ray's in Tomorrowland or head to Pecos Bill in Frontierland.

12) Tom Sawyer Island

In Frontierland, take the raft over to Tom Sawyer Island. Allow at least 30 minutes to explore the island, Fort Langhorn, and the barrel bridges.

Tom Sawyer Island is a getaway within the park. It has hills to climb; a cave, windmill, and pioneer stockade (Fort Langhorn) to explore; a tipsy barrel bridge to cross; and paths to follow. You can watch riverboats chug past. It's a delight for adults and a godsend for children who want to cut loose after being closely supervised all day.

13) Country Bear Jamboree

Watch my personal favorite, Country Bear Jamboree, and have each person in your family decide who their favorite bear is.

A charming cast of animatronic bears sings and stomps through a series of country and Western songs. On the plus side, it's an air-conditioned refuge on hot days, and the remix of "The Ballad of Davy Crockett" and "Ole Slew Foot" is genius.

14) Swiss Family Treehouse

If you have time, experience the Swiss Family Treehouse in Adventureland.

An immense replica of the Swiss Family Robinson's arboreal abode. Don't do Swiss Family Treehouse unless you're prepared to climb stairs. For your effort you'll be rewarded with some wonderful bird's-eye views of the Magic Kingdom.

15) Peter Pan's Flight

Ride in a flying pirate ship on Peter Pan's Flight.

Peter Pan's Flight is superbly designed and absolutely delightful, combining beloved Disney characters, beautiful effects, and charming music. Embark on a relaxing trip in a "flying pirate ship" over old London and thence to Never Land, where Peter saves Wendy from walking the plank and Captain Hook rehearses for Dancing with the Stars on the snout of the ubiquitous crocodile. Nothing here will jump out at you or frighten young children.

16) The Many Adventures of Winnie the Pooh

Take a voyage to the Hundred Acre Woods on The Many Adventures of Winnie the Pooh.

Ride a Hunny Pot through the pages of a huge picture book into the Hundred Acre Wood, where you encounter Pooh, Piglet, Eeyore, Owl, Rabbit, Tigger, Kanga, and Roo as they contend with a blustery day. There's even a dream sequence with Heffalumps and Woozles.

17) Rest

Your plan is done! Use your remaining time to ride anything again, or try something new. Don't forget to grab dinner.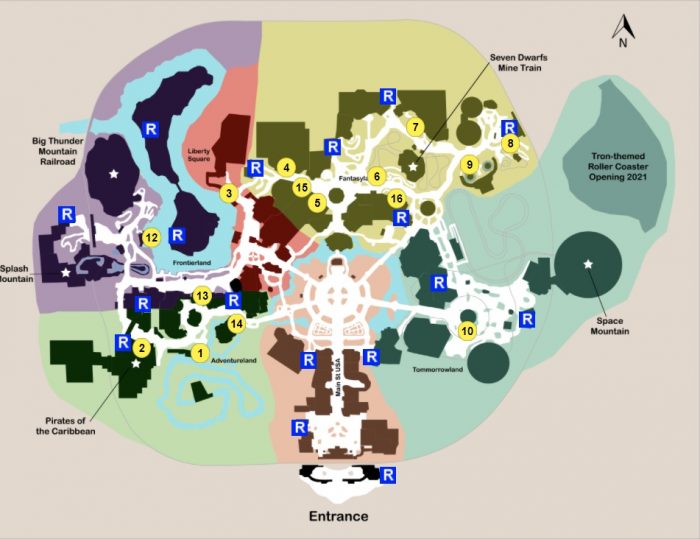 There's no FastPass+ being offered at this time so you'll have to do only stand-by lines. Don't forget, you can customize and optimize this or any of our other touring plans using our personalized touring plans creator on the site or in our mobile app, Lines. Be sure to check out our other touring plans that will help you save time and money in Walt Disney World, and become a subscriber today to unlock even more benefits.